Gallery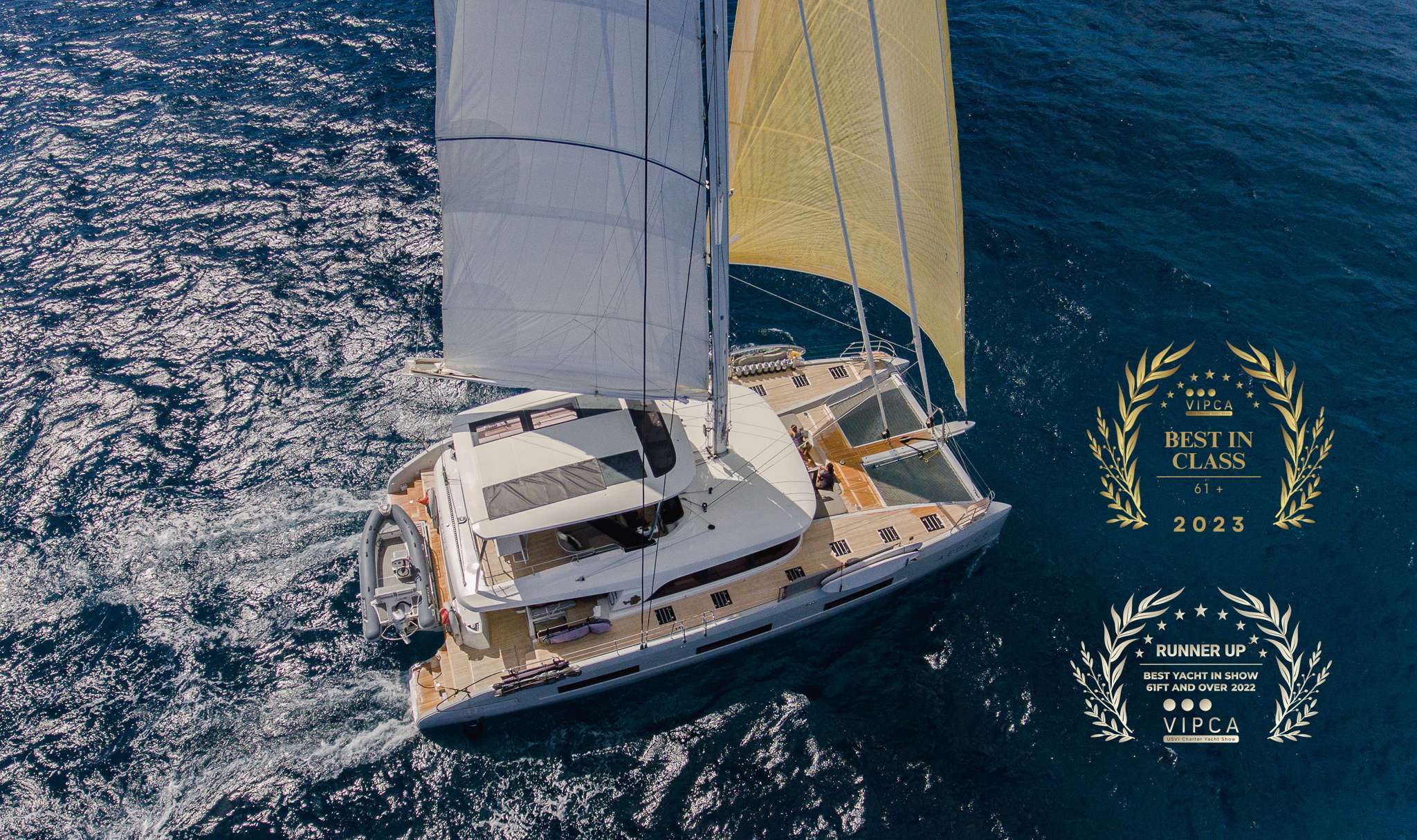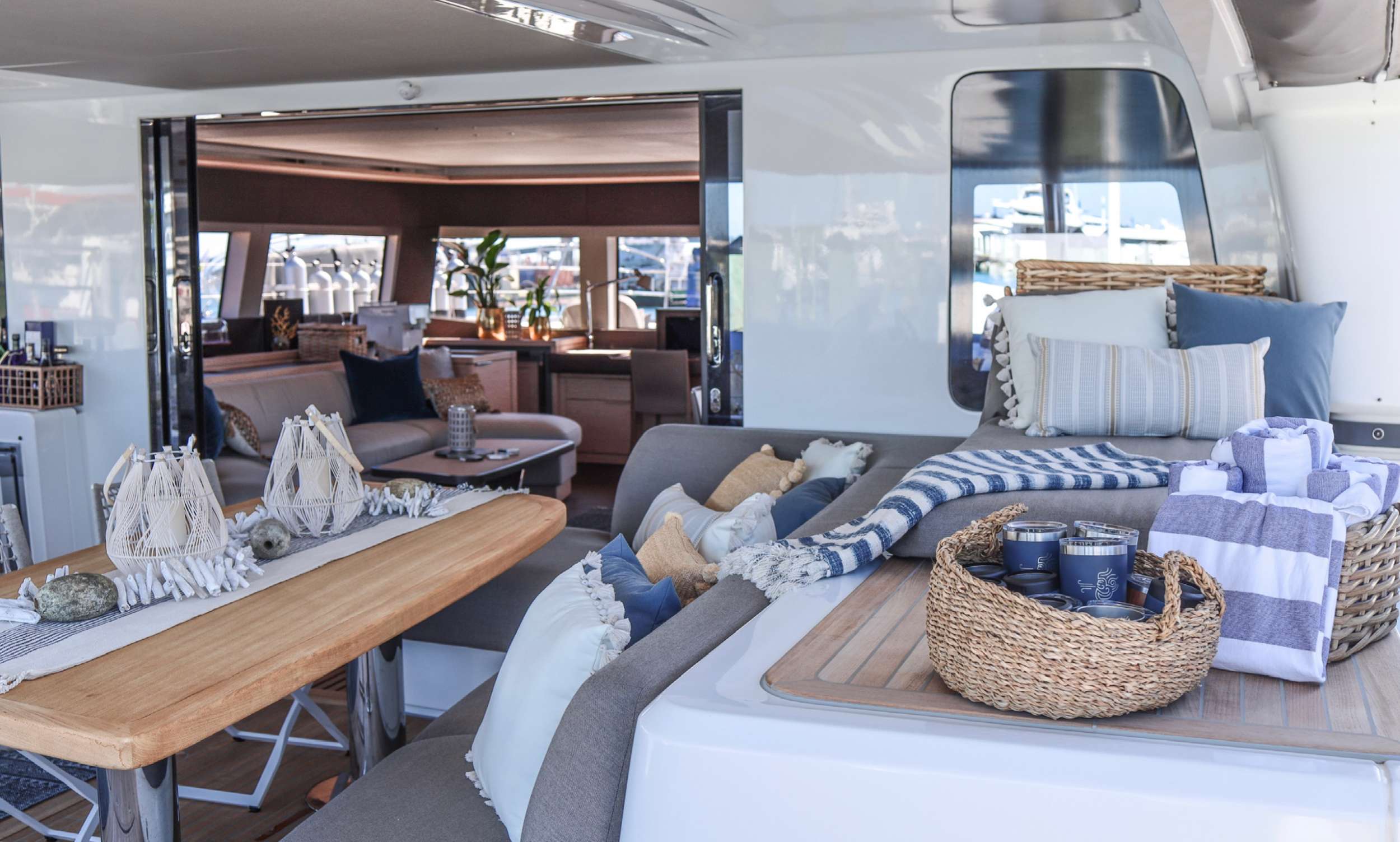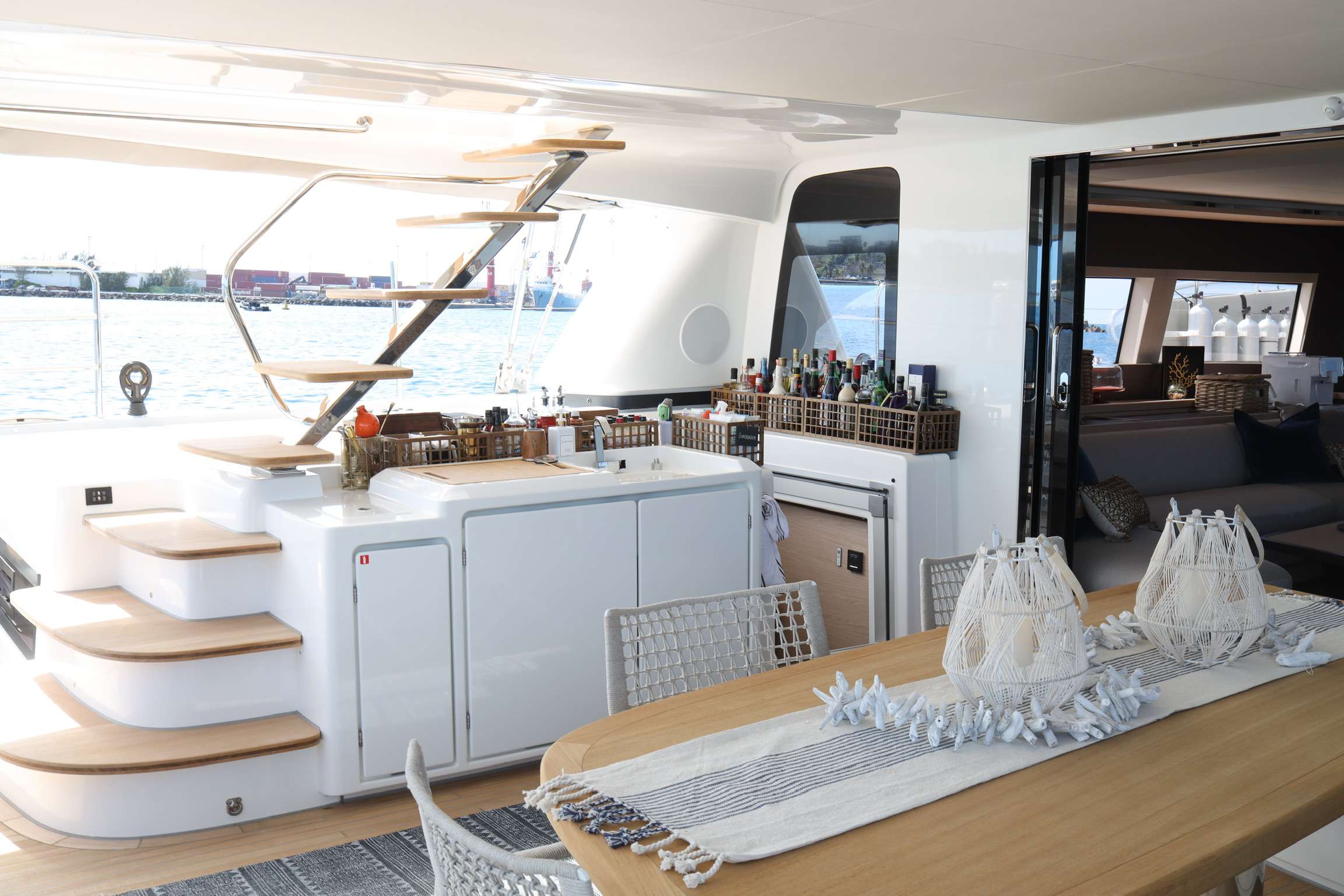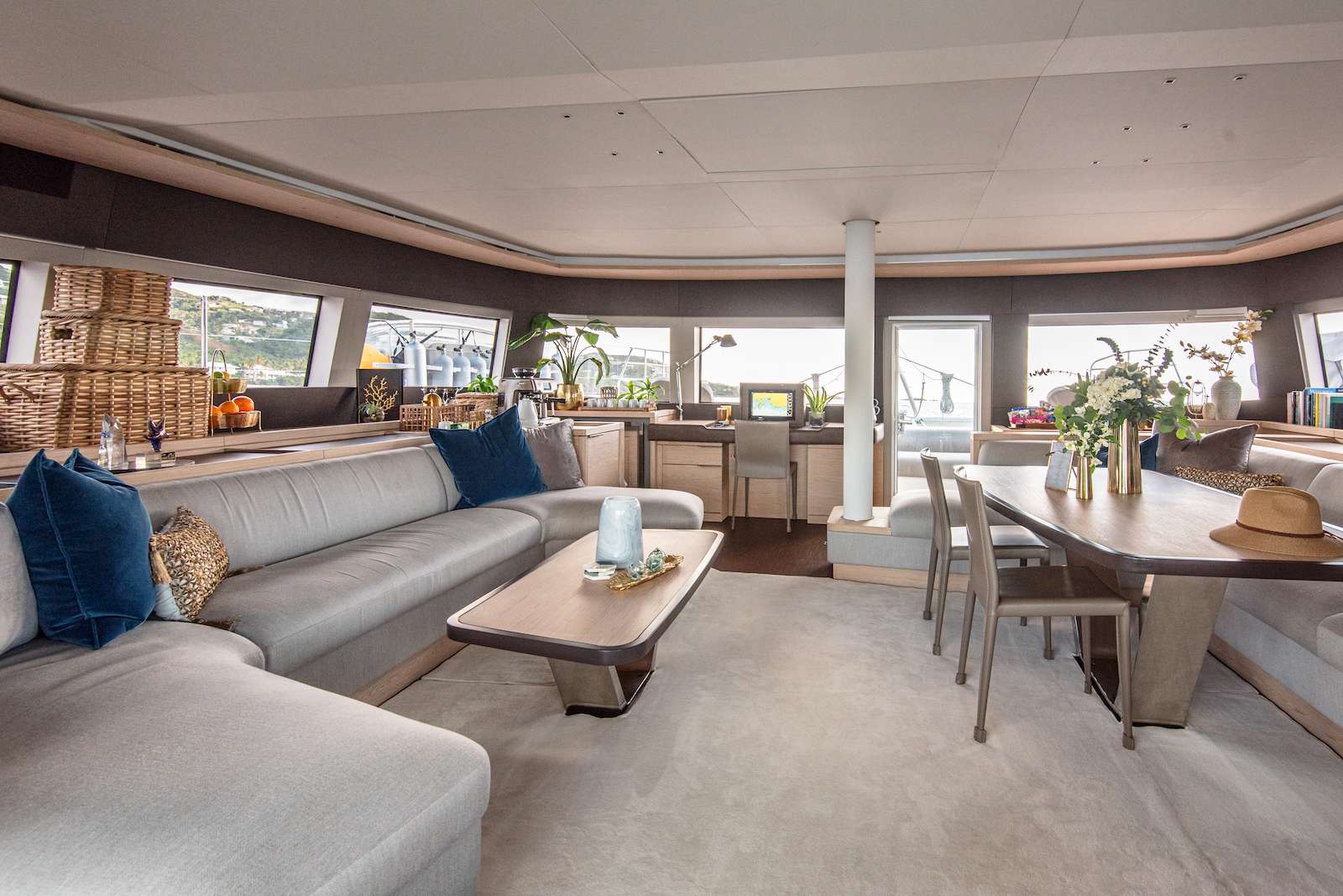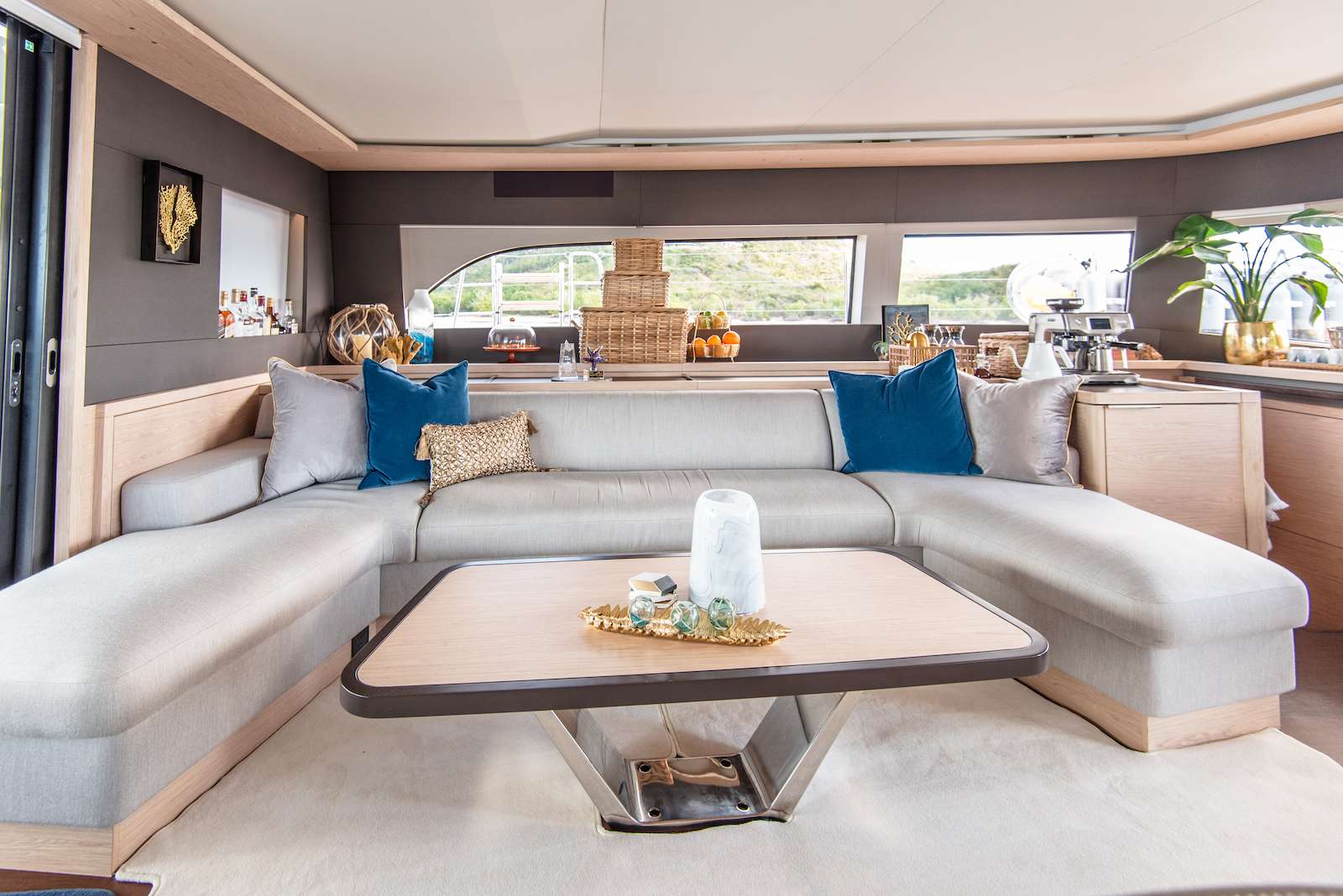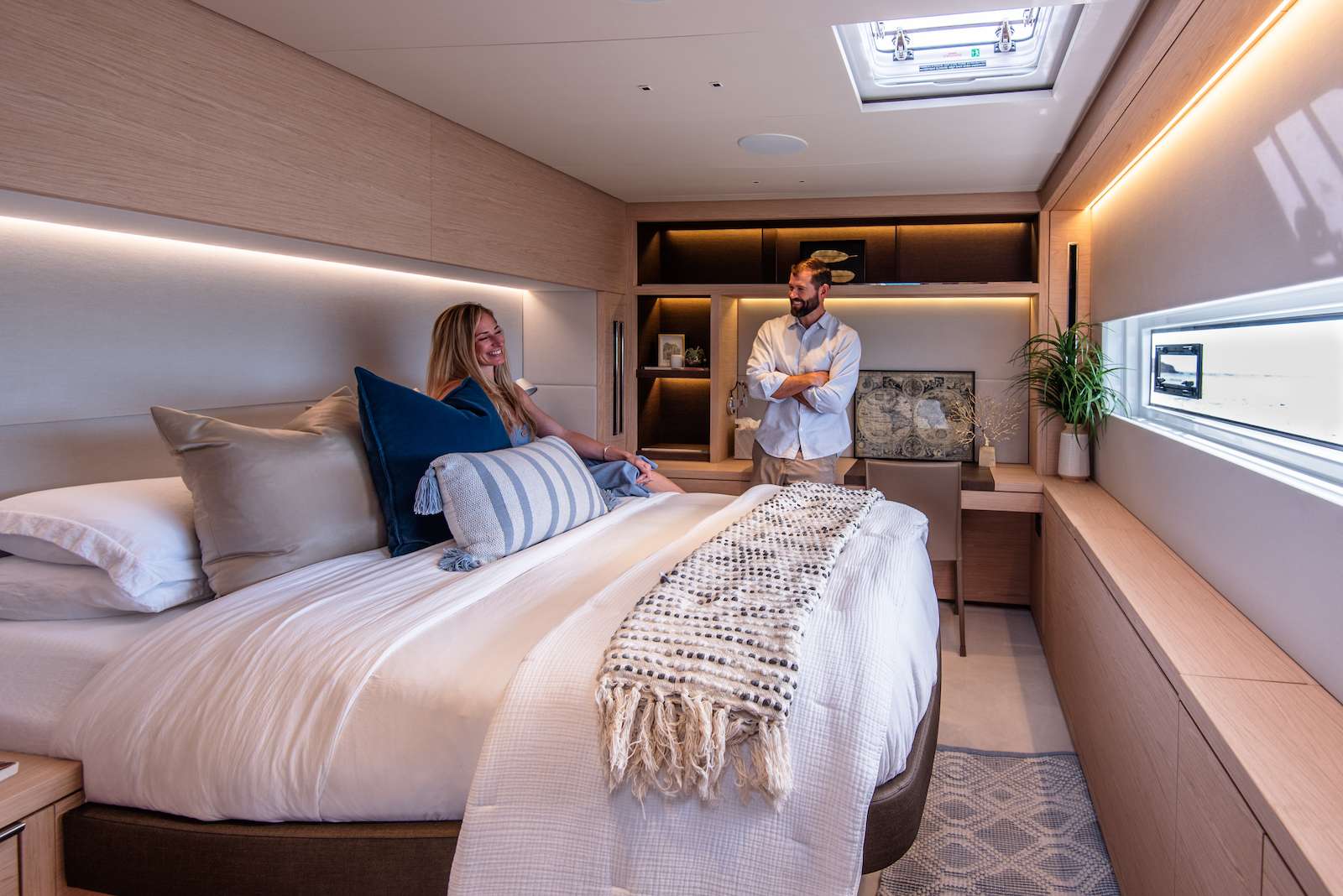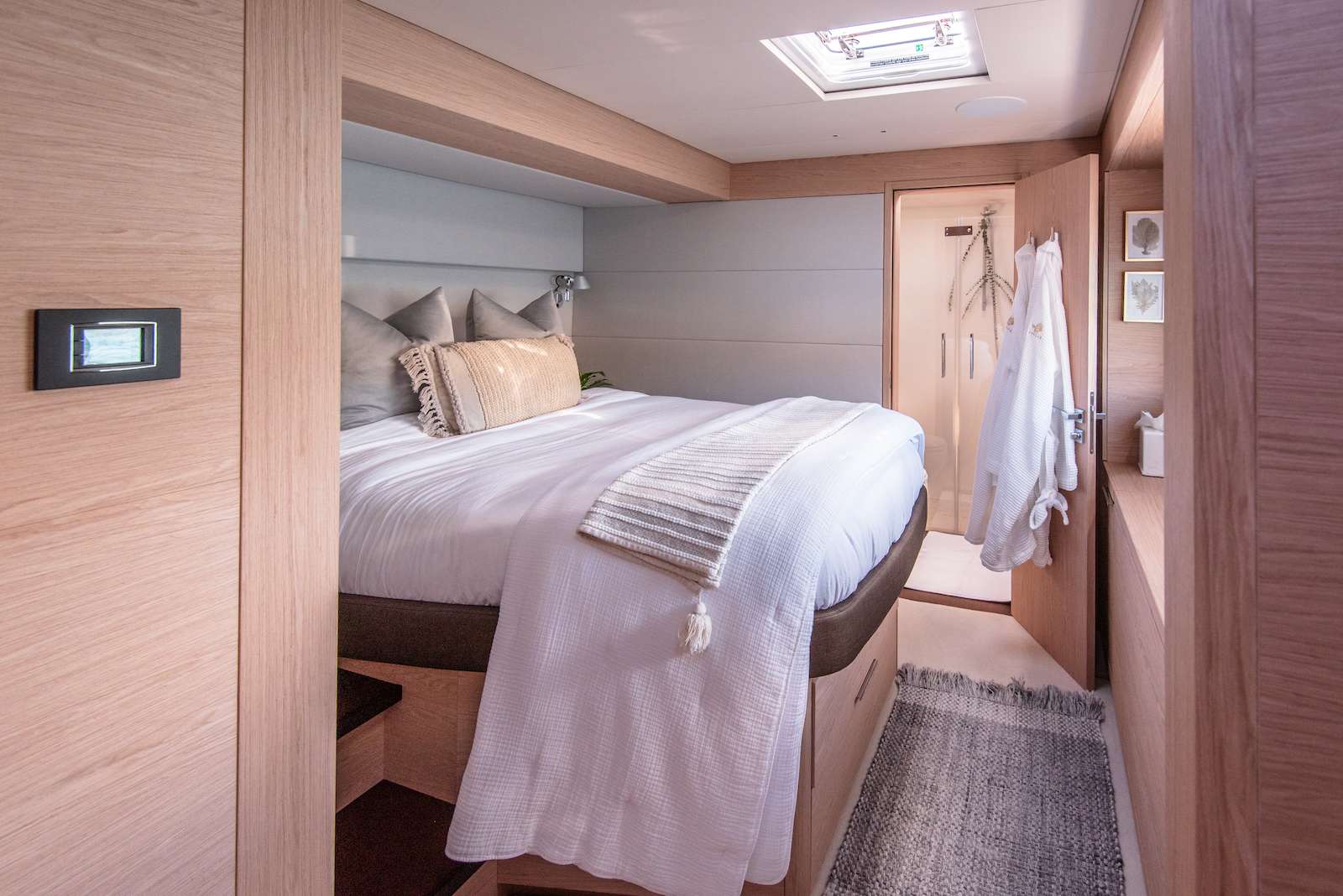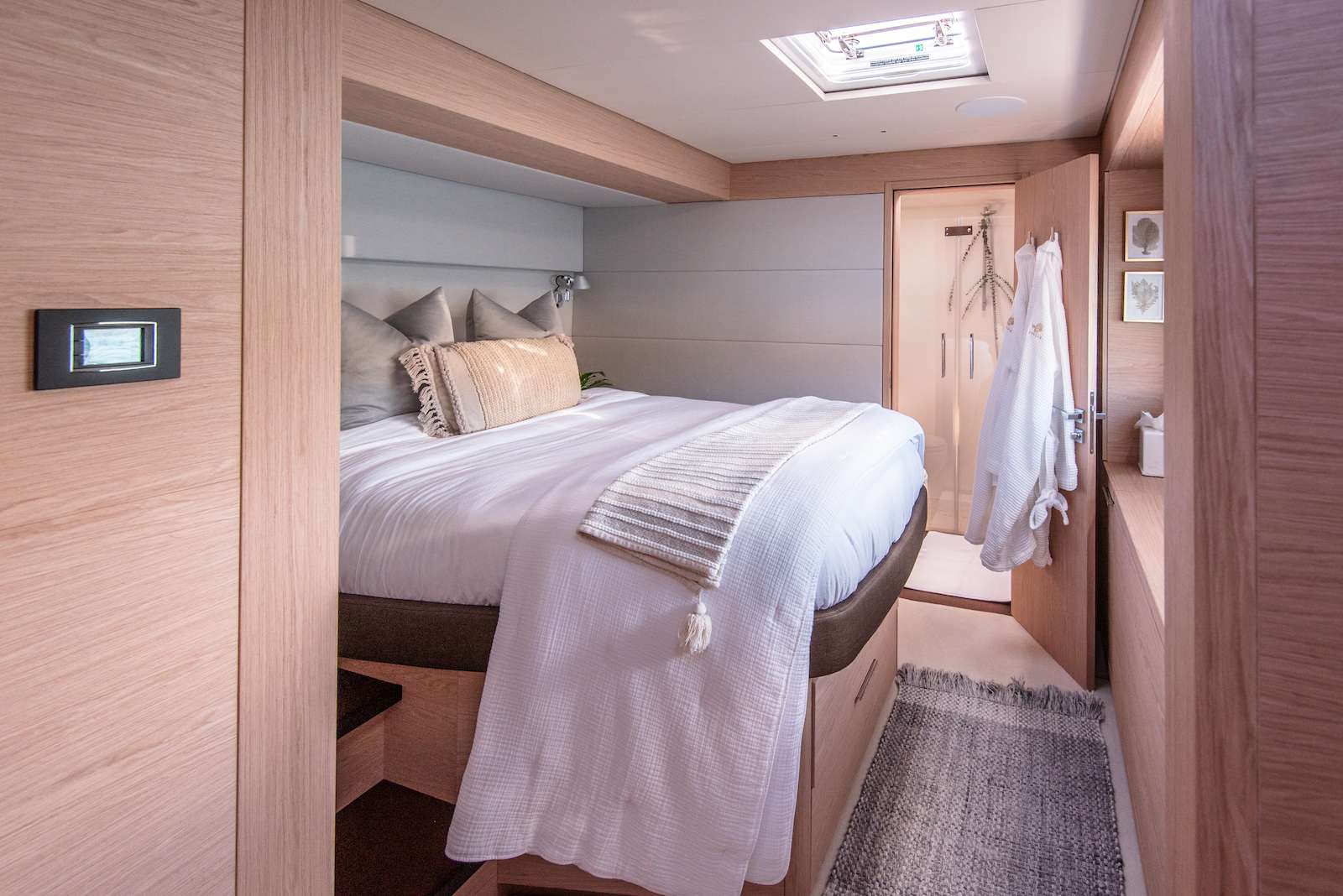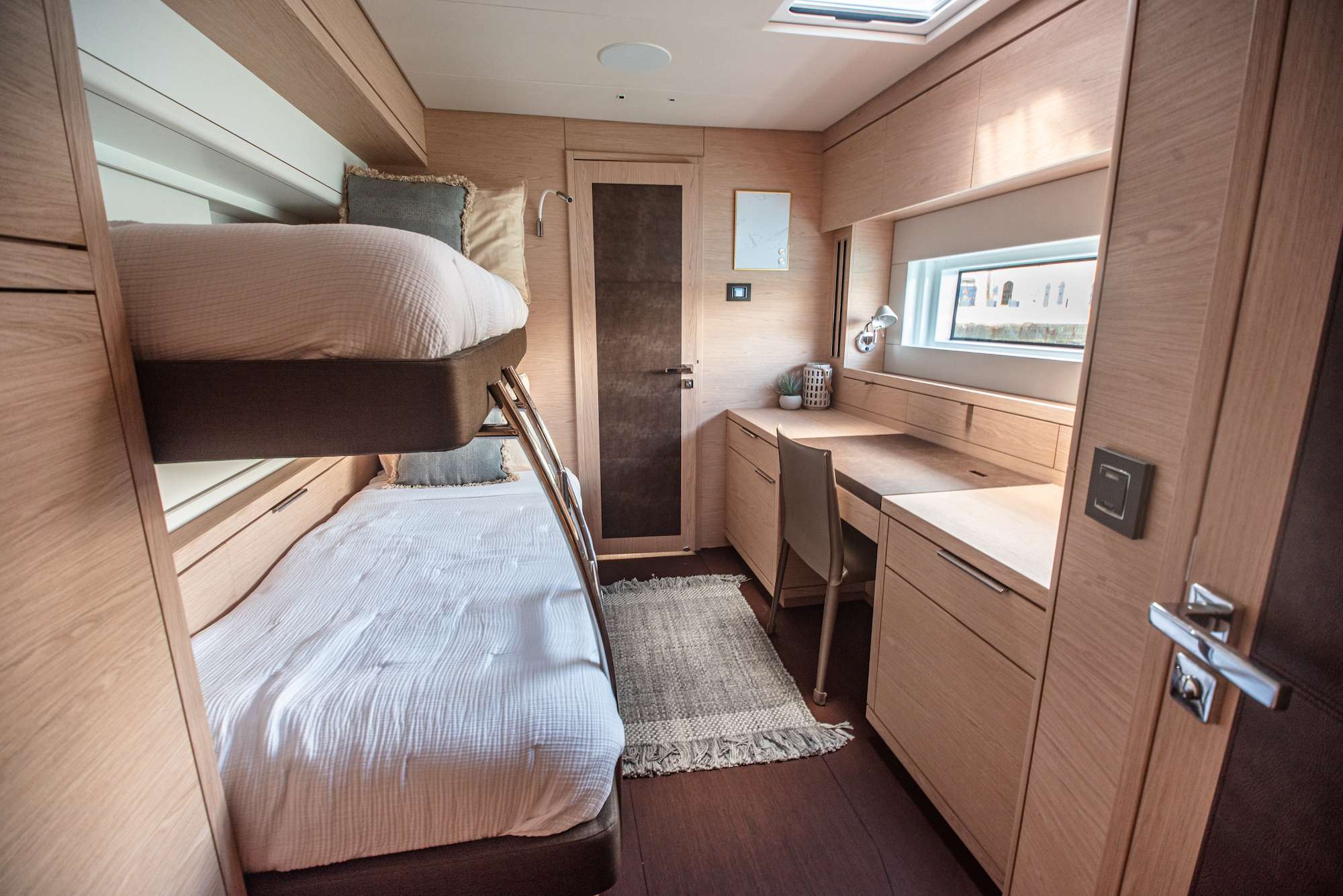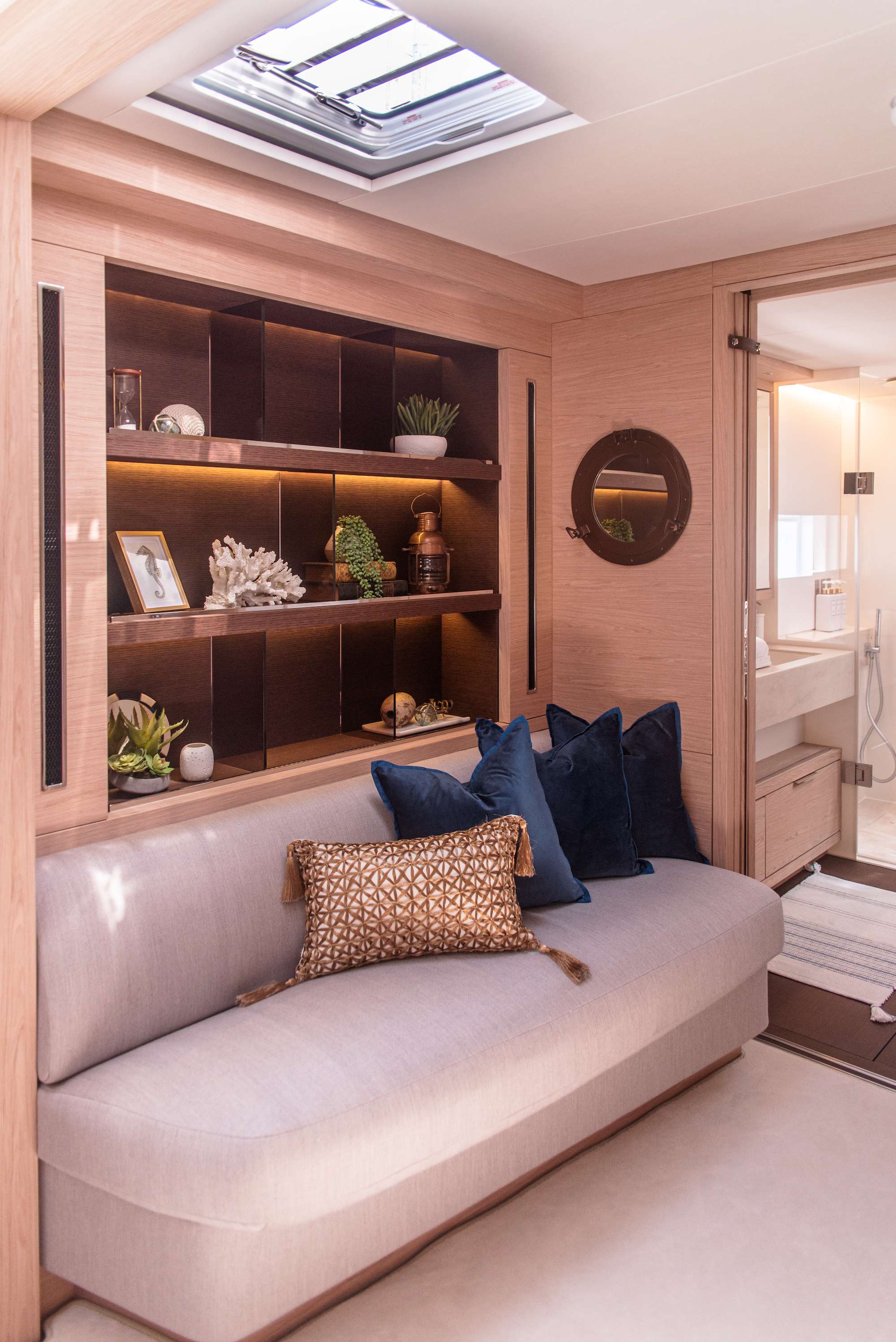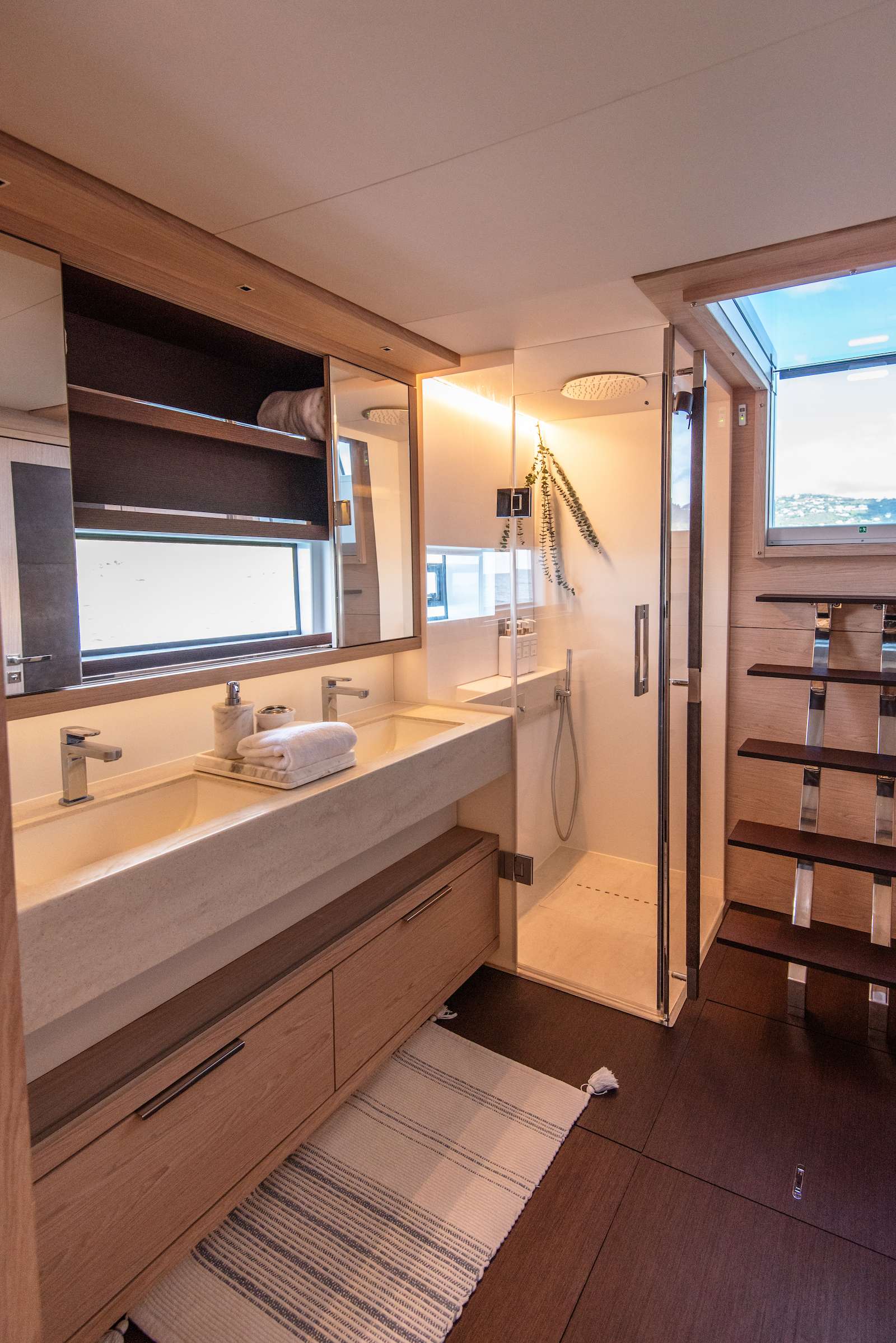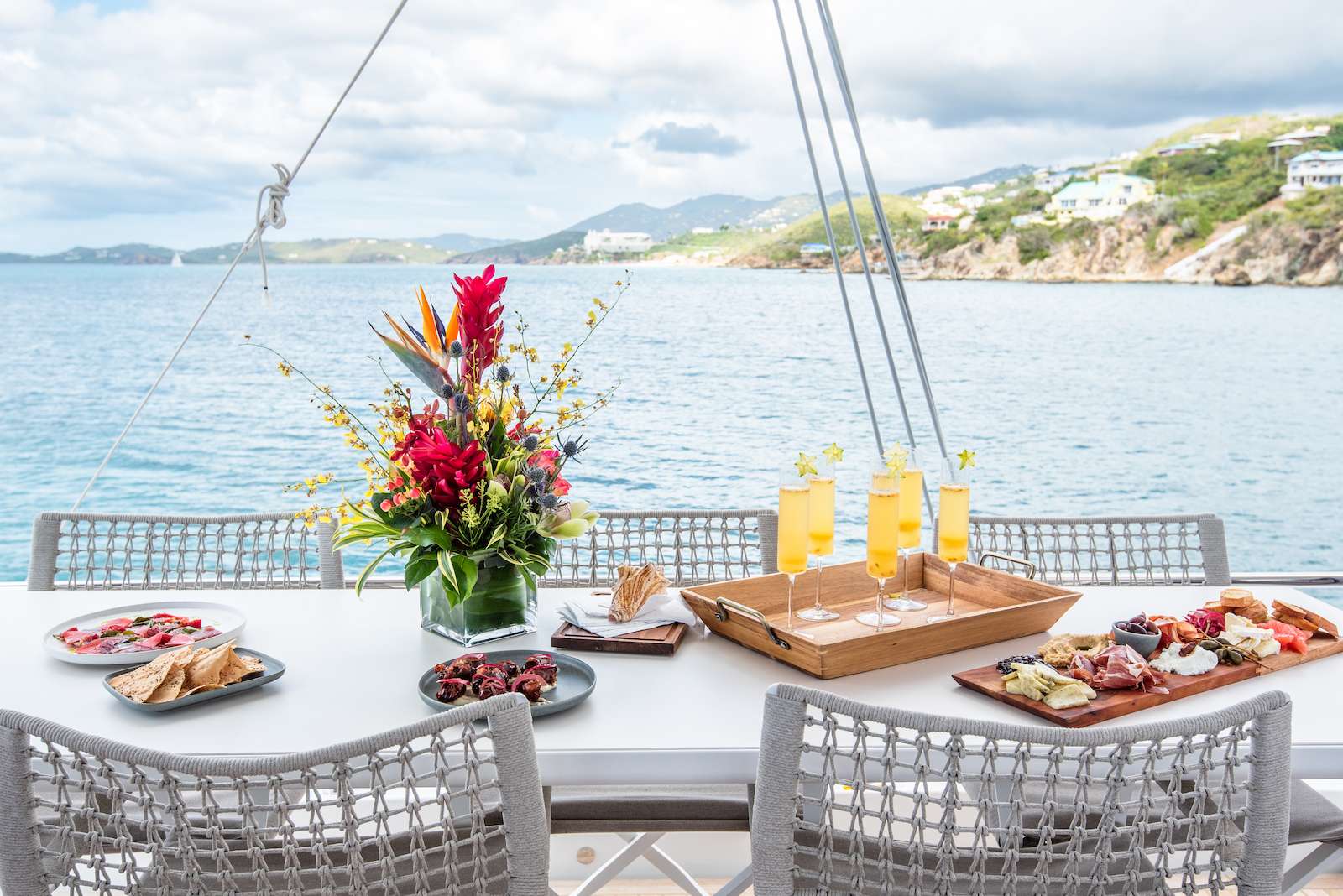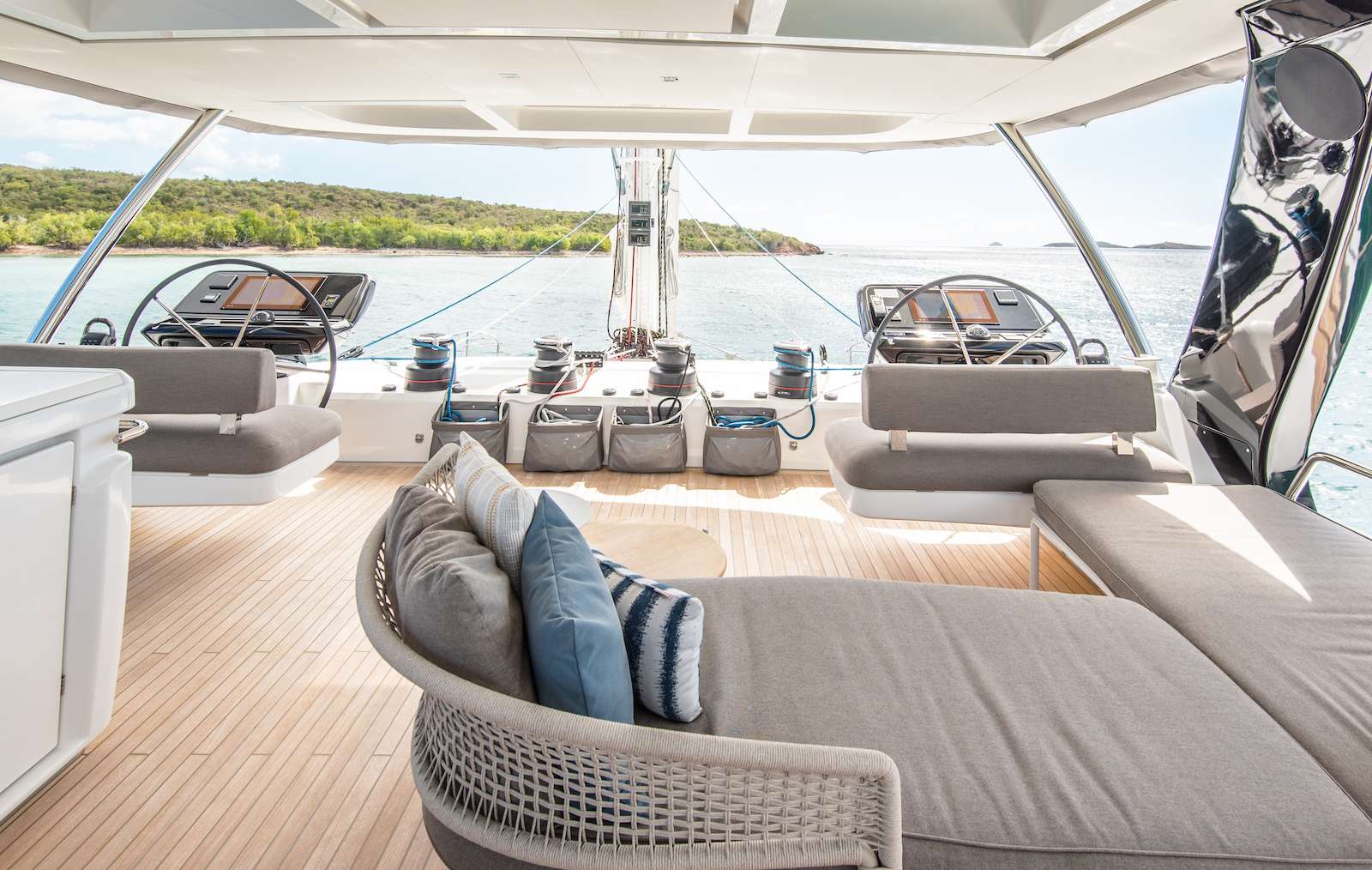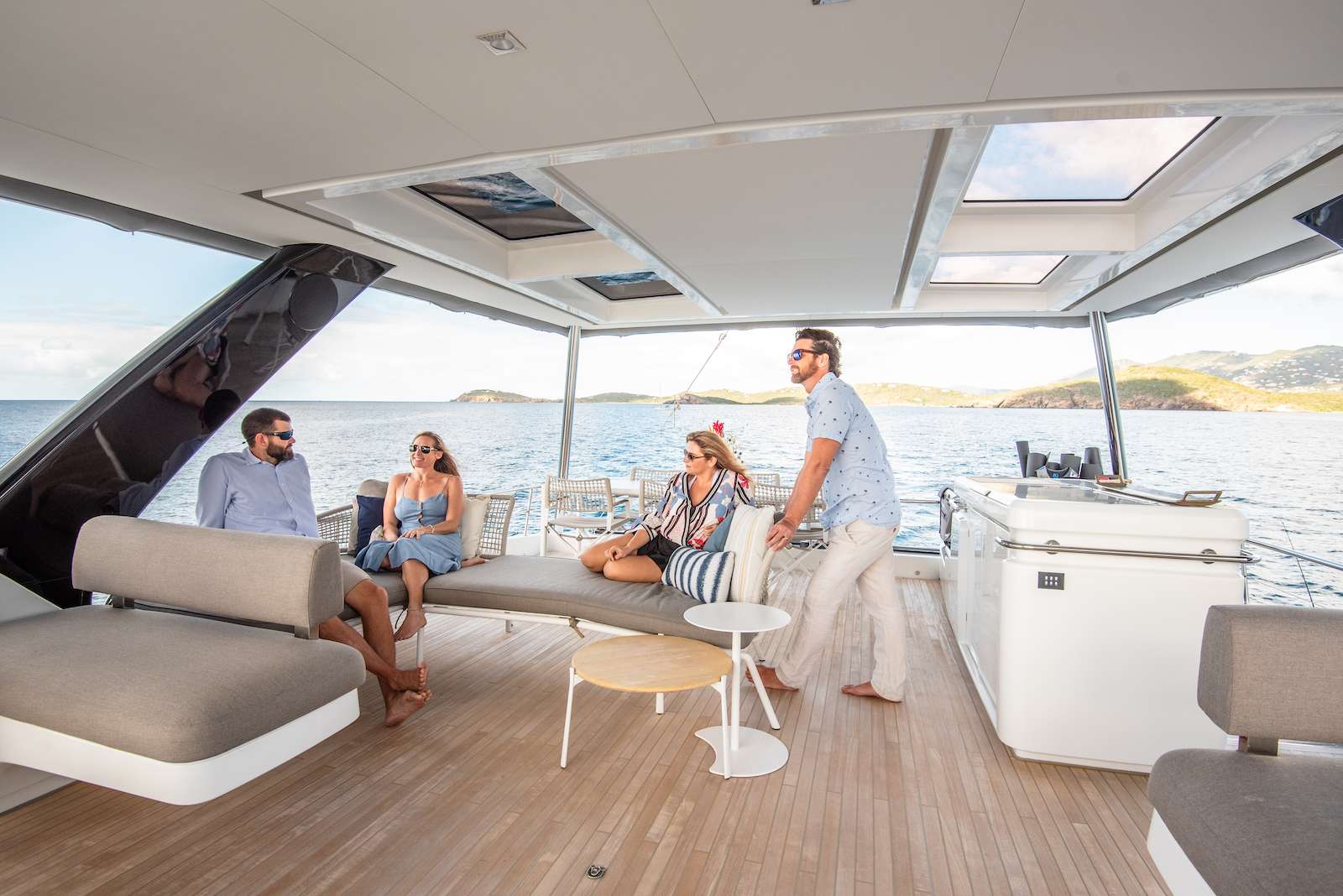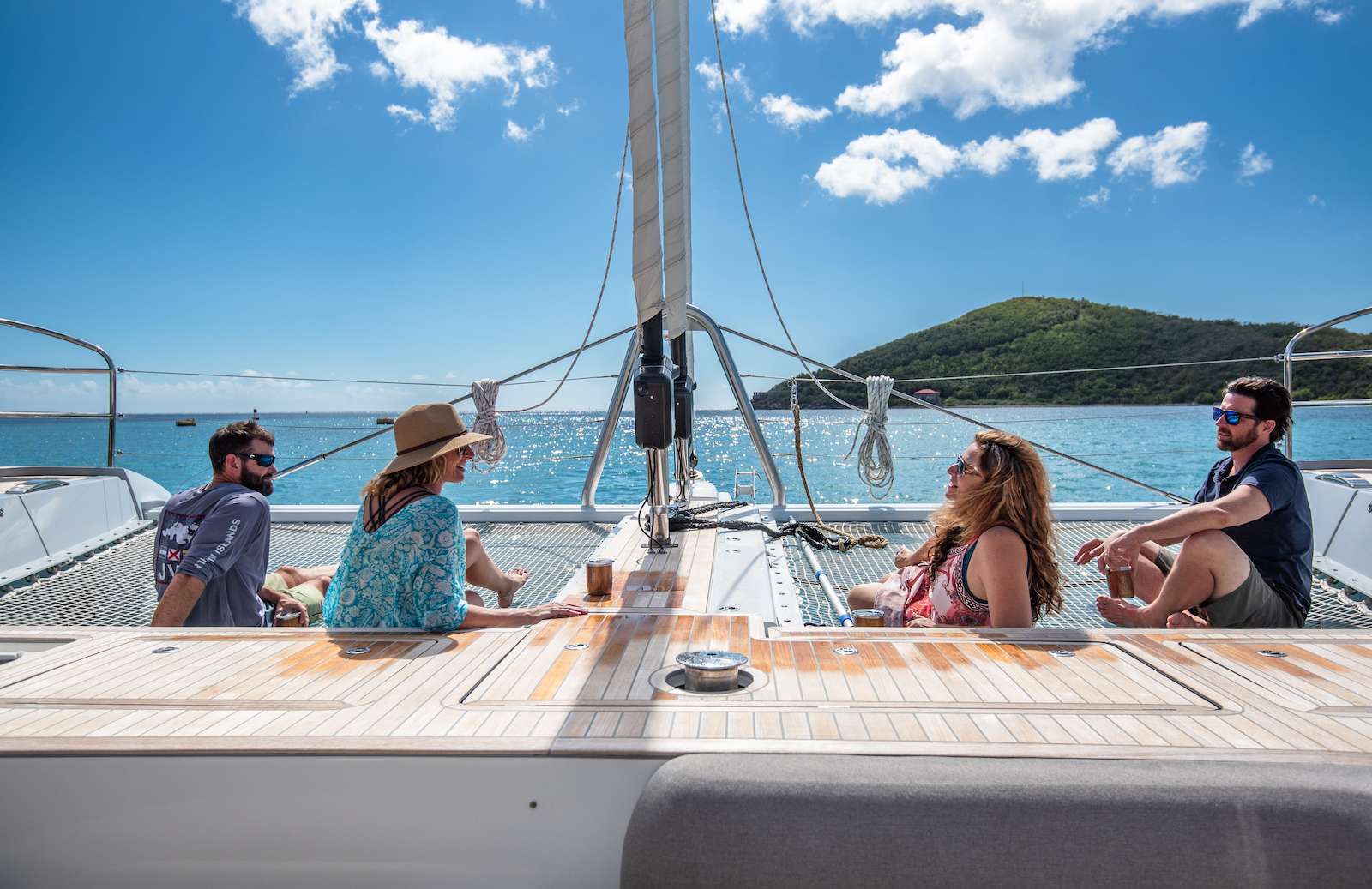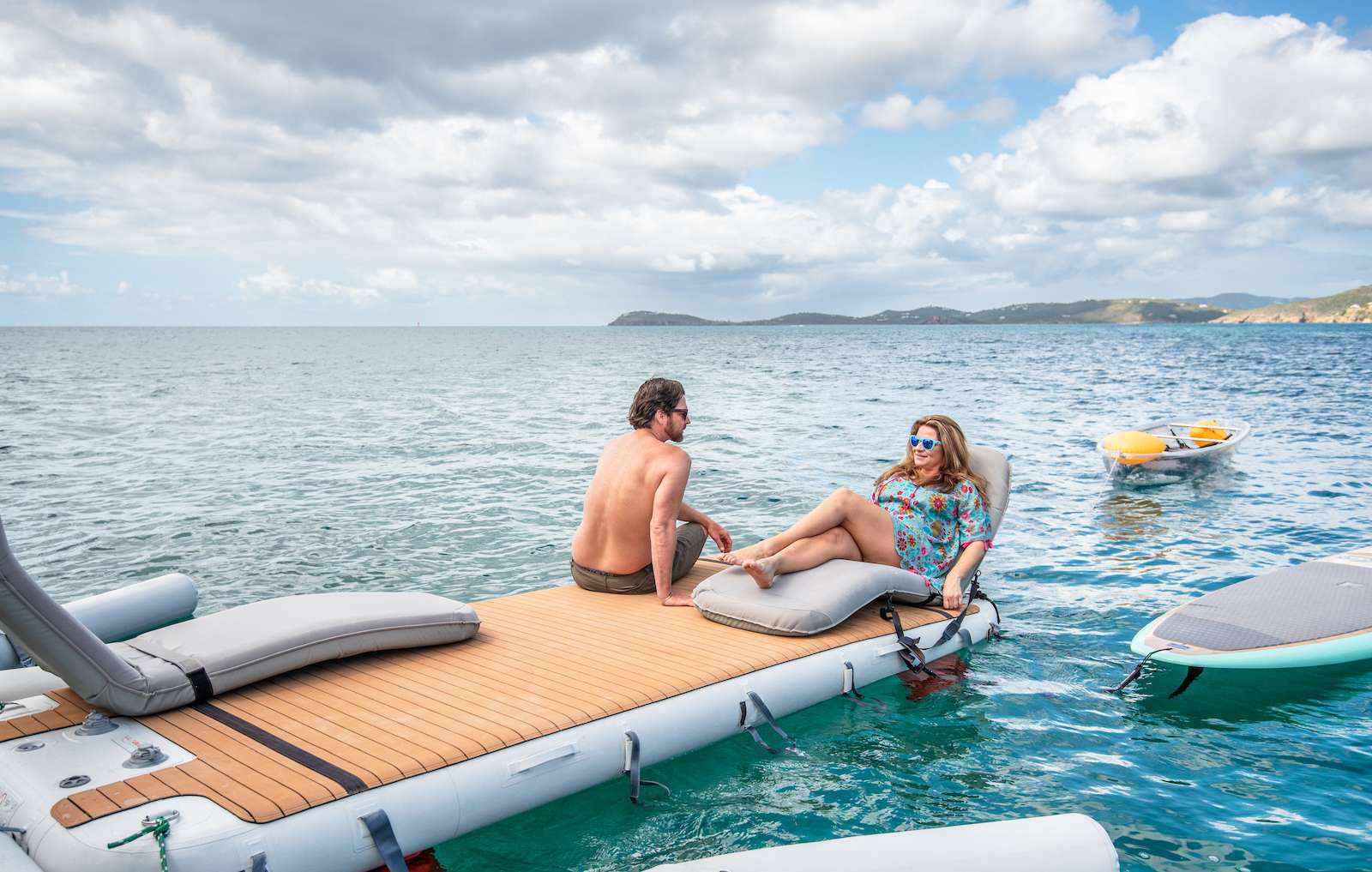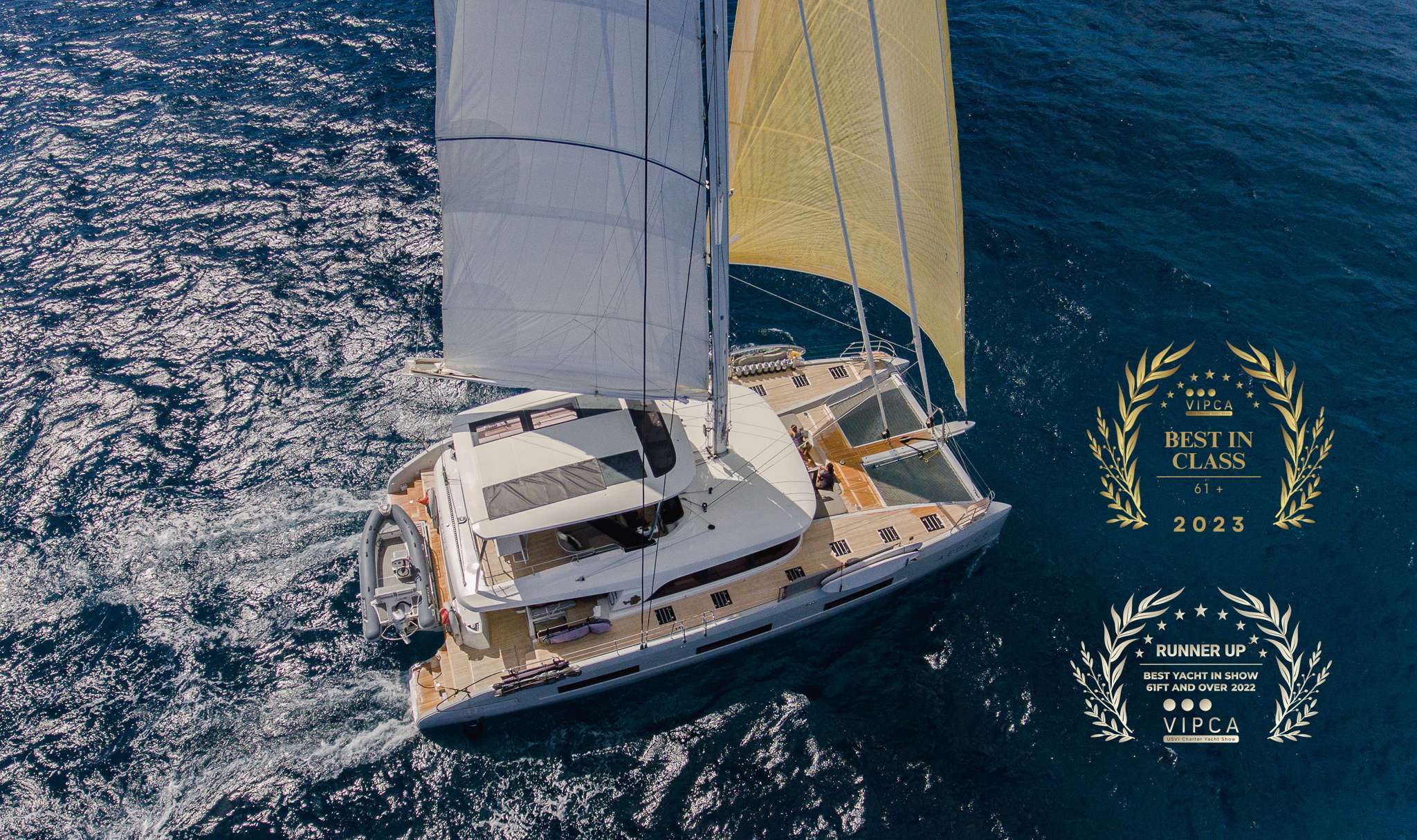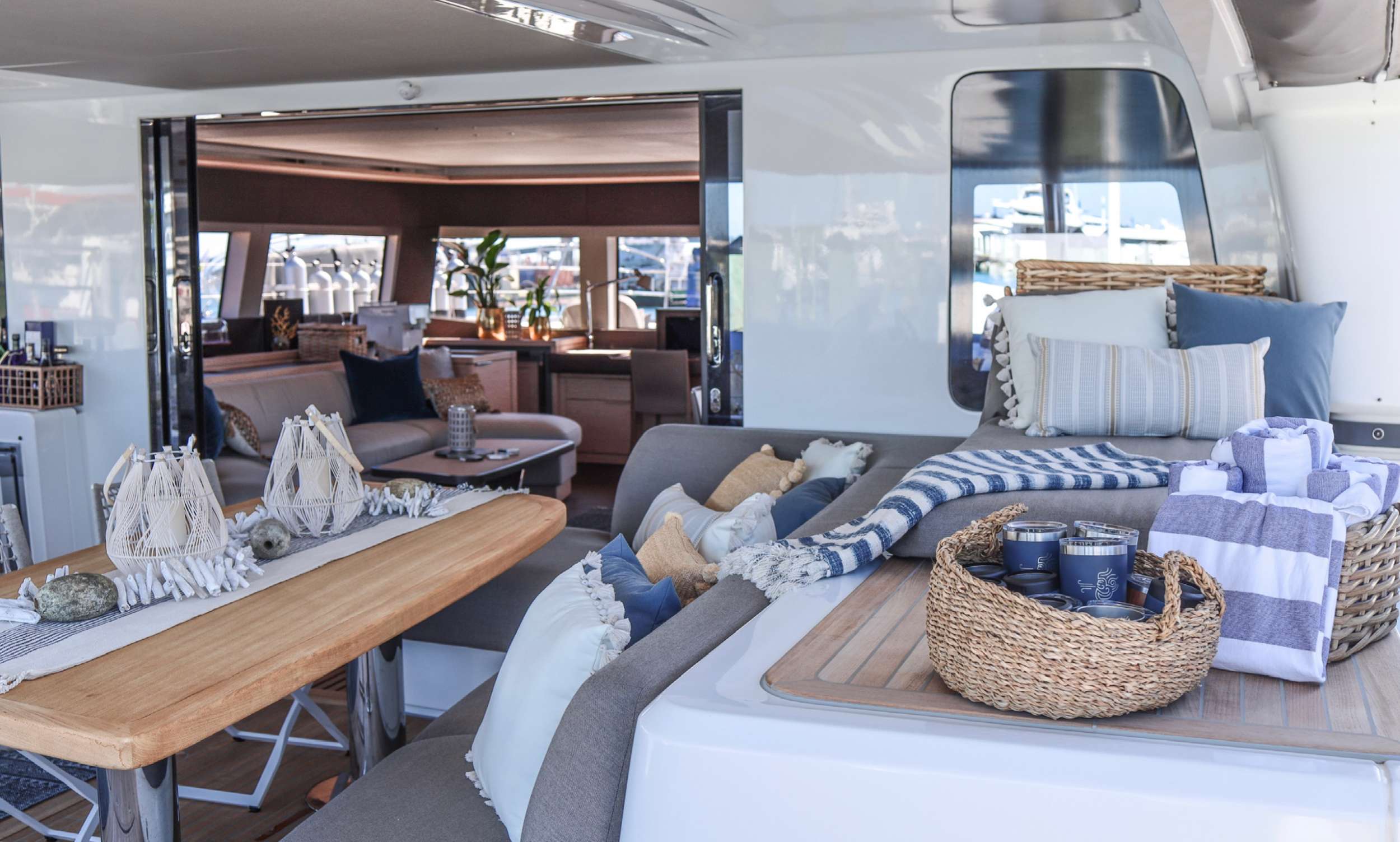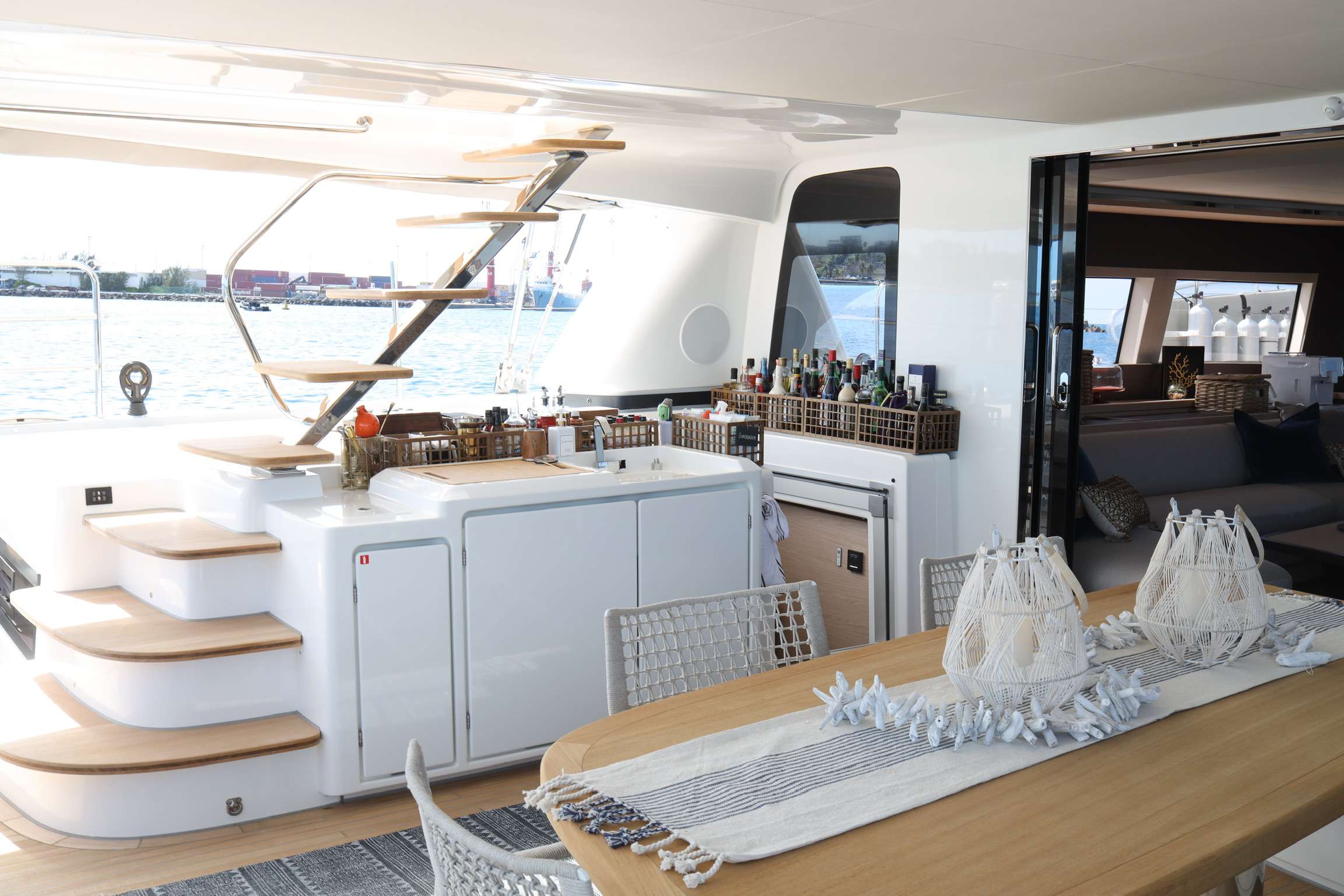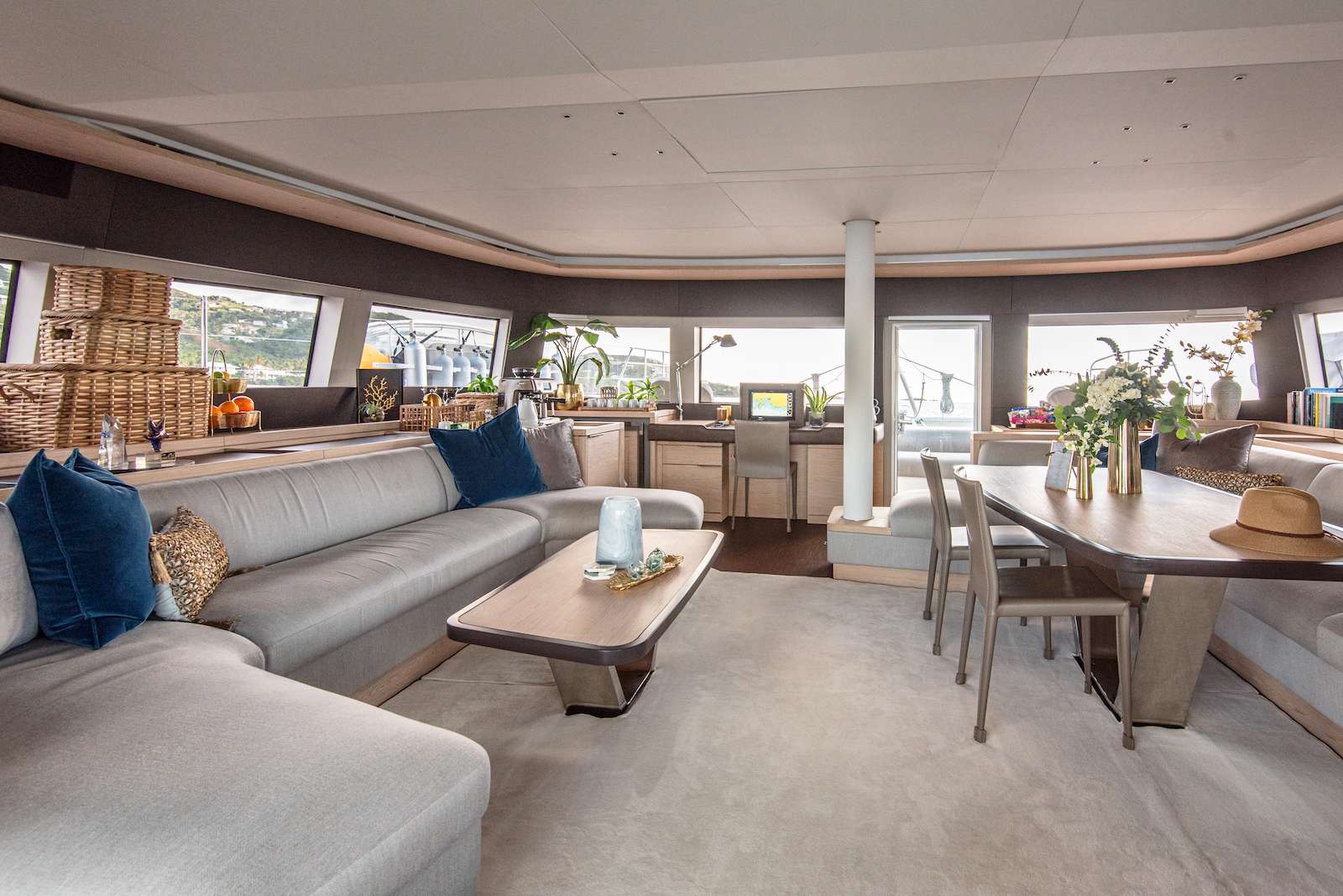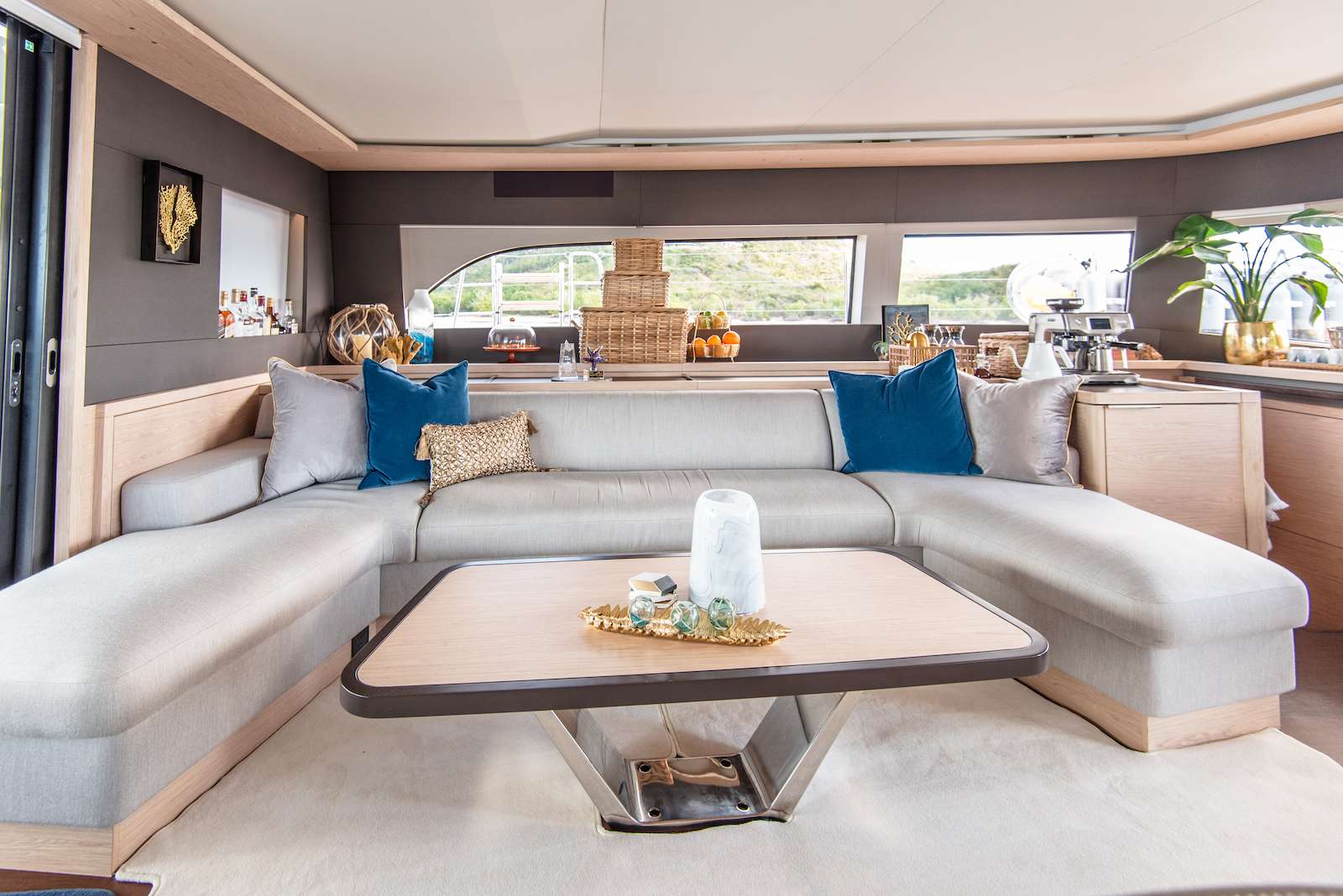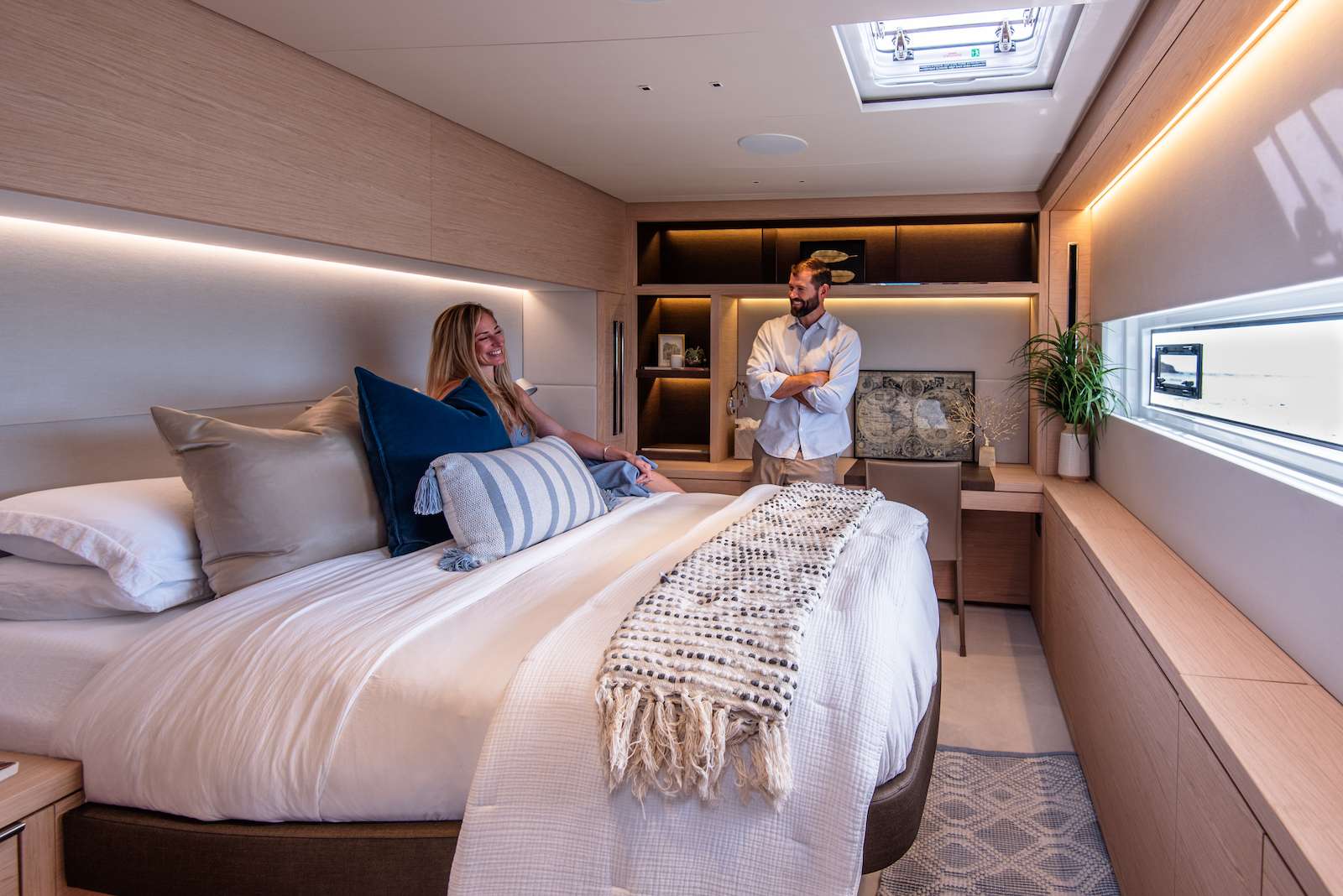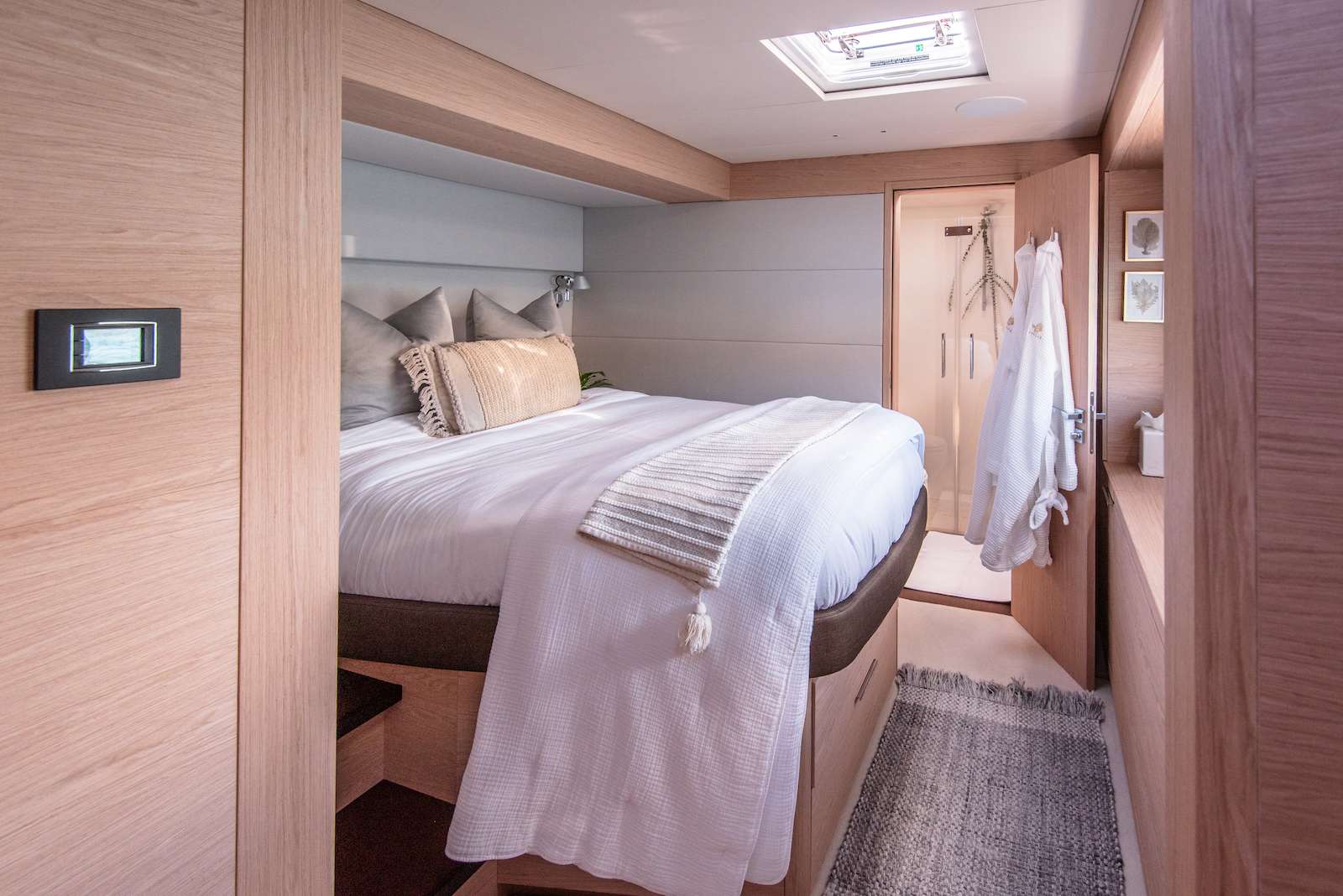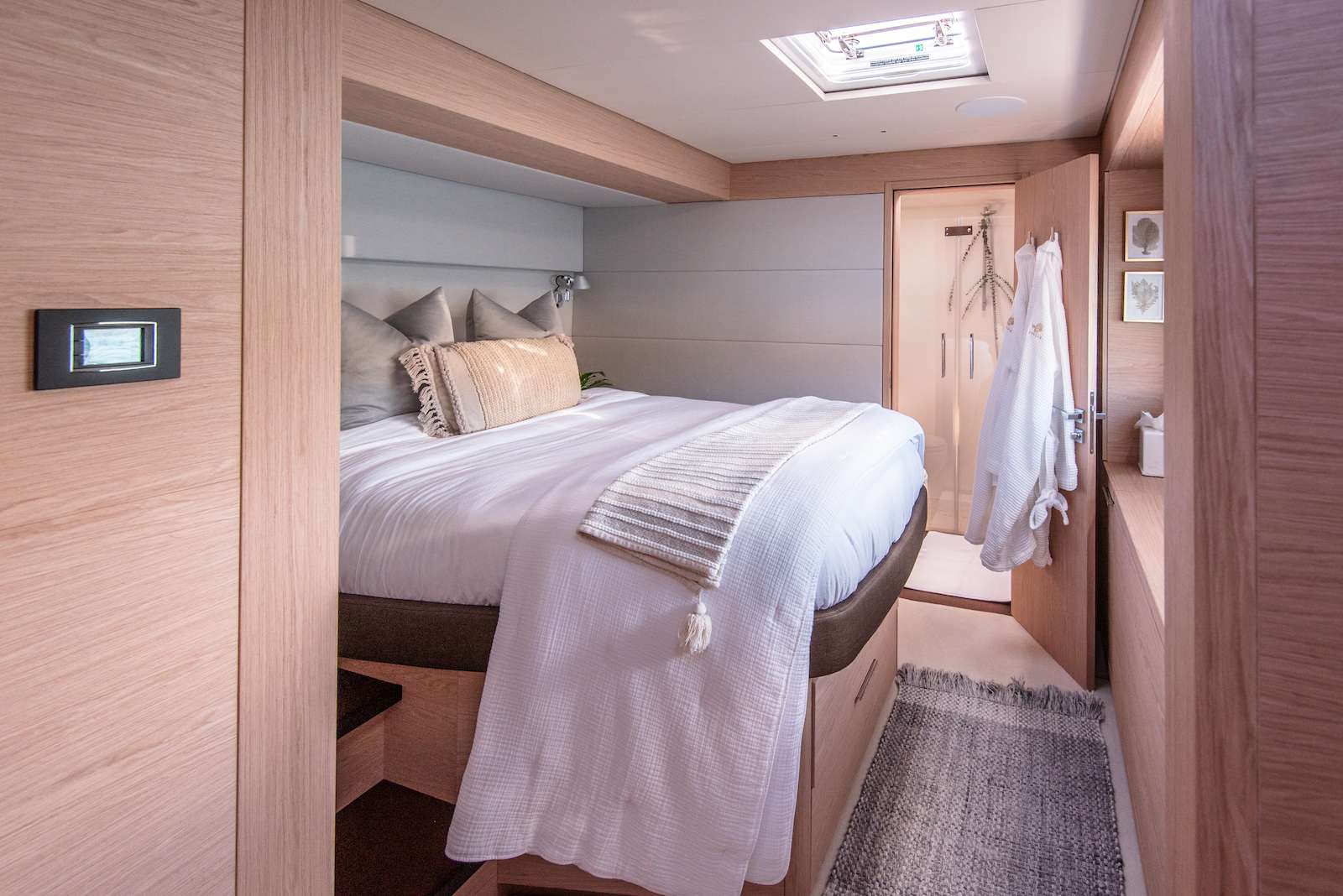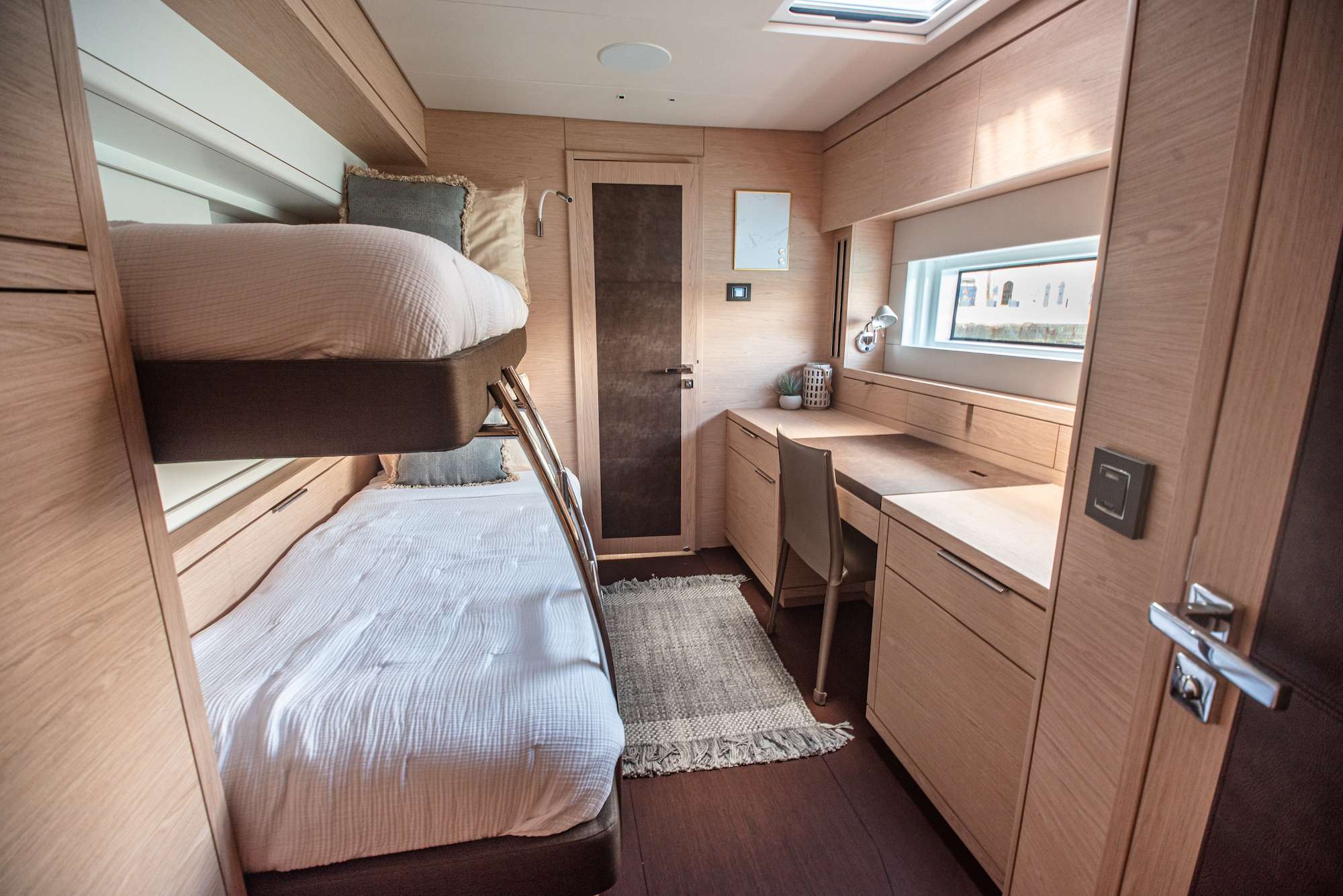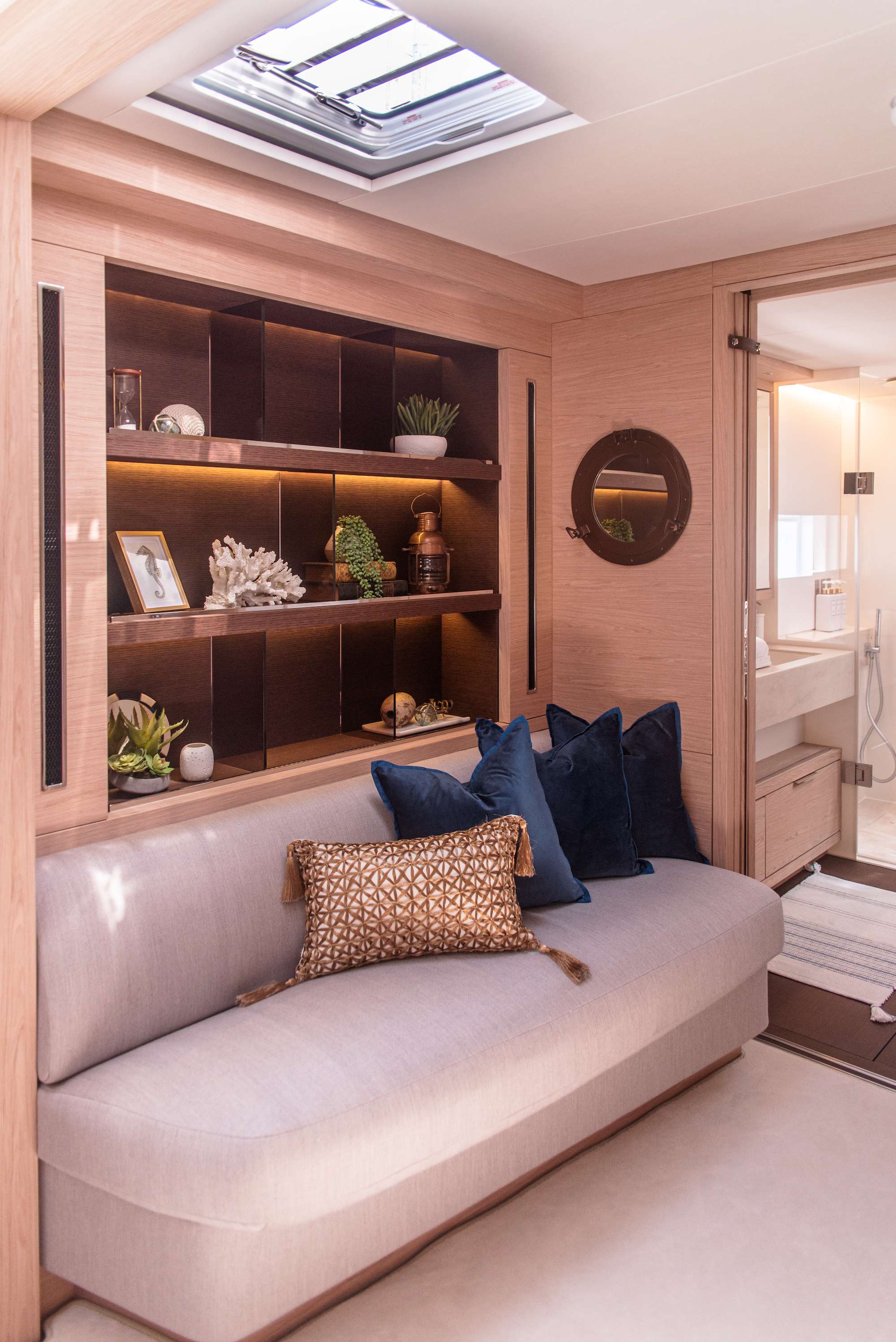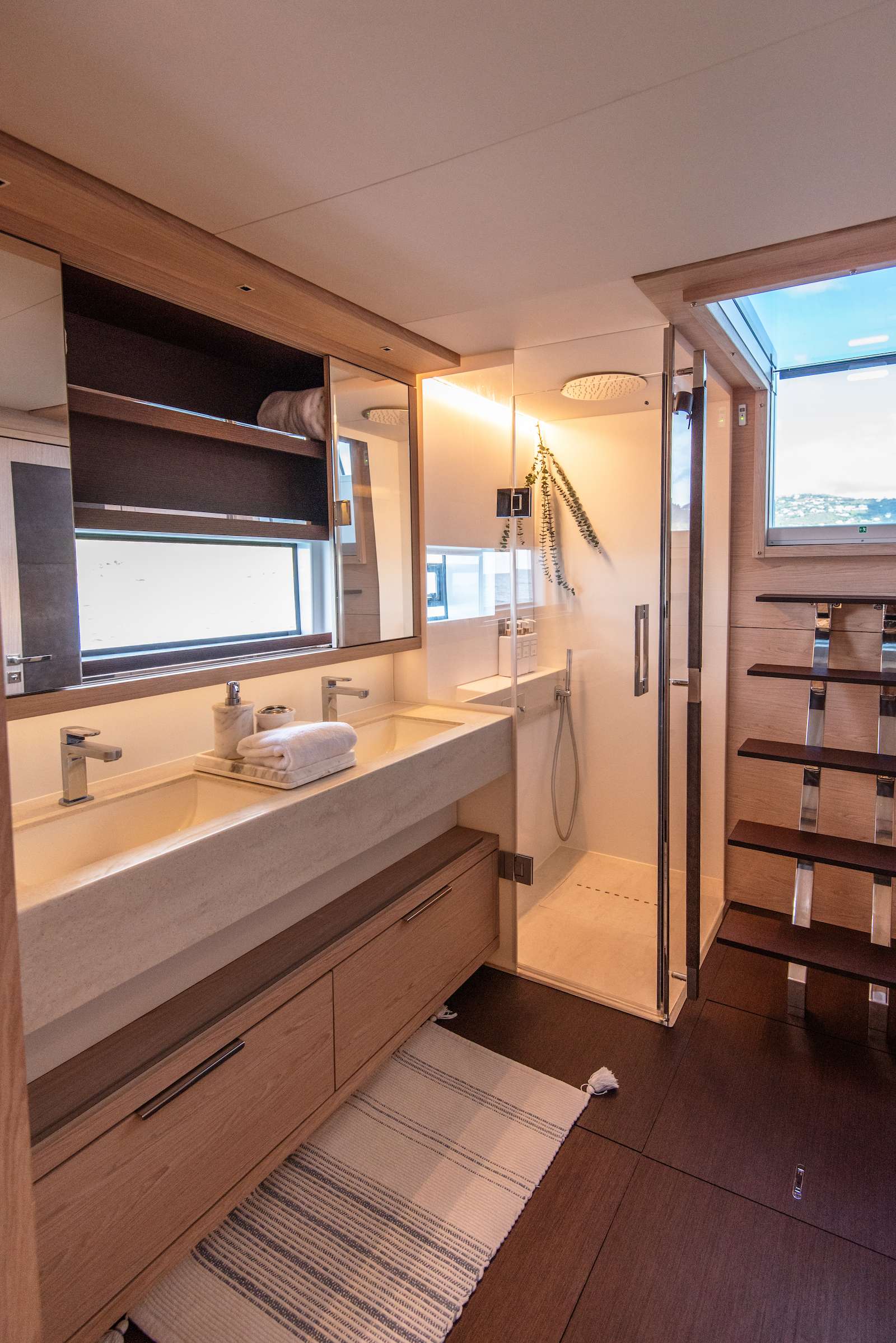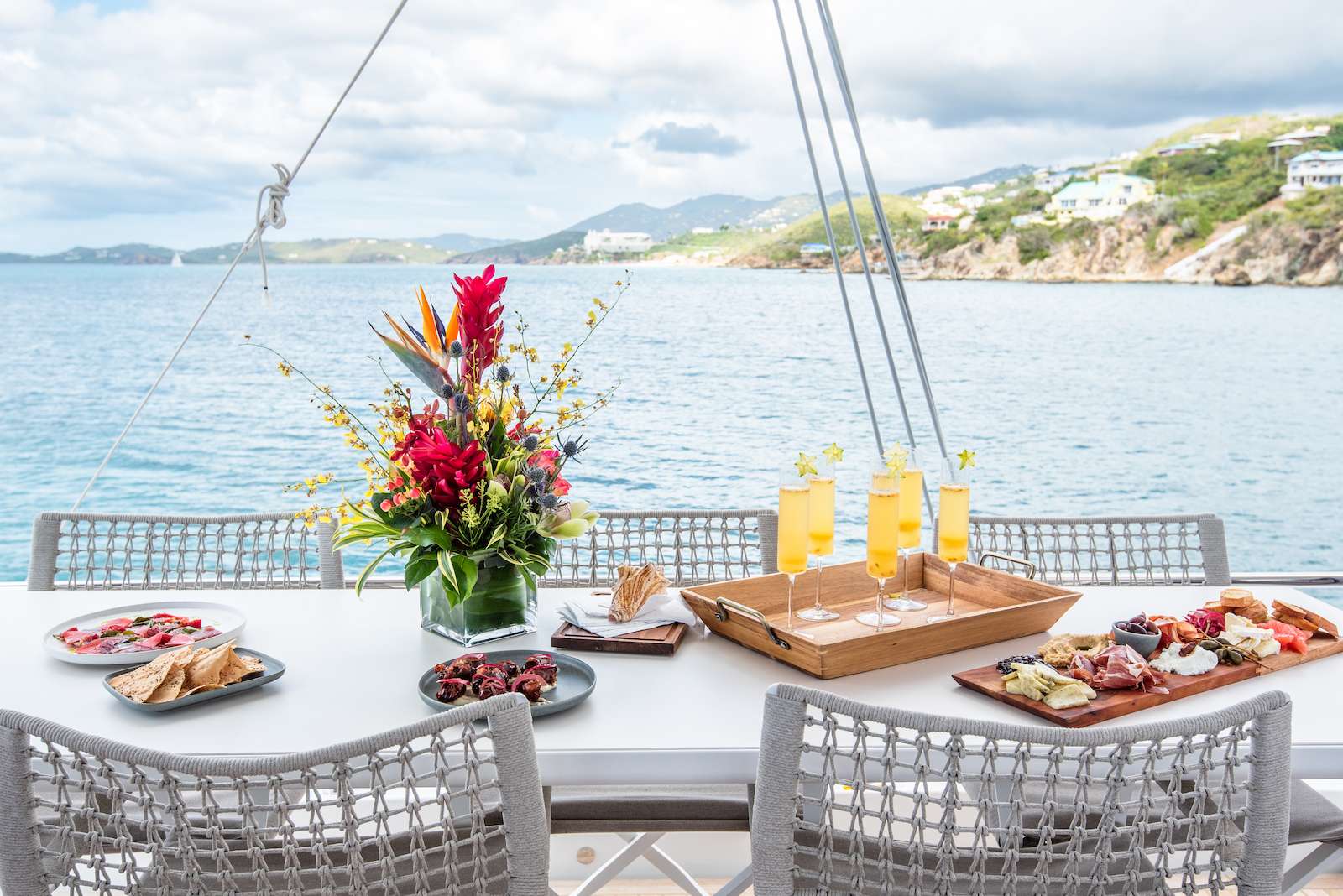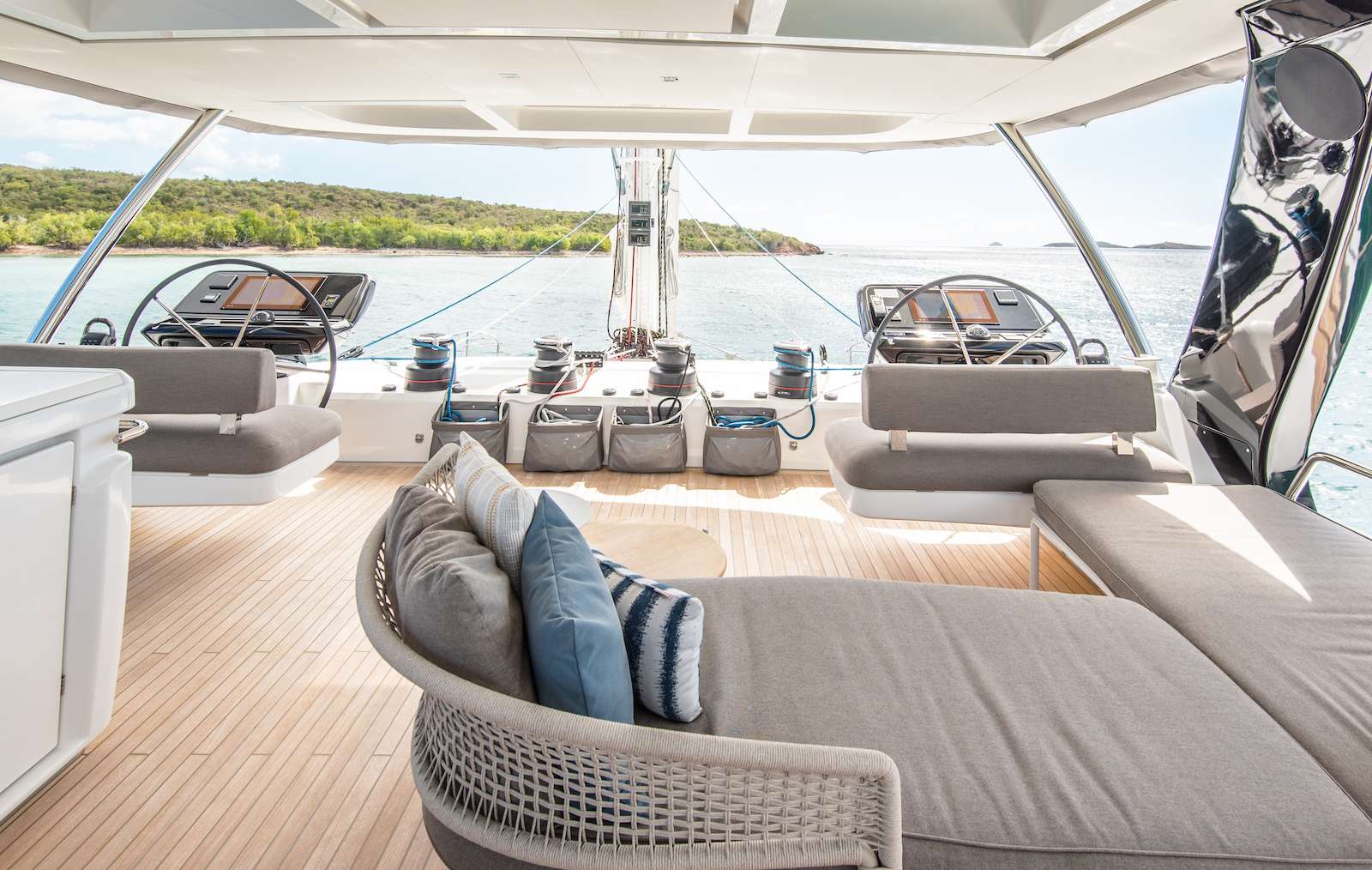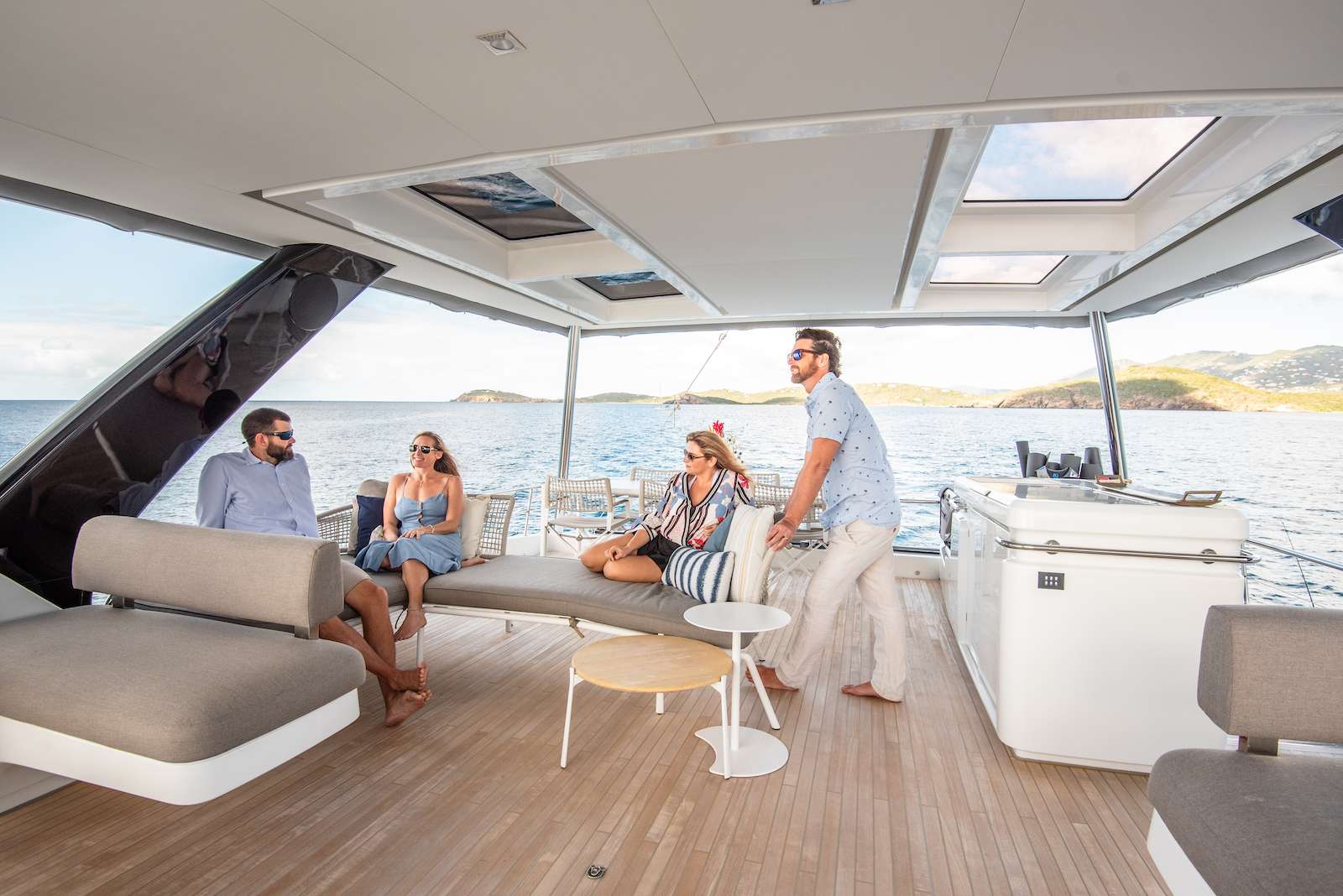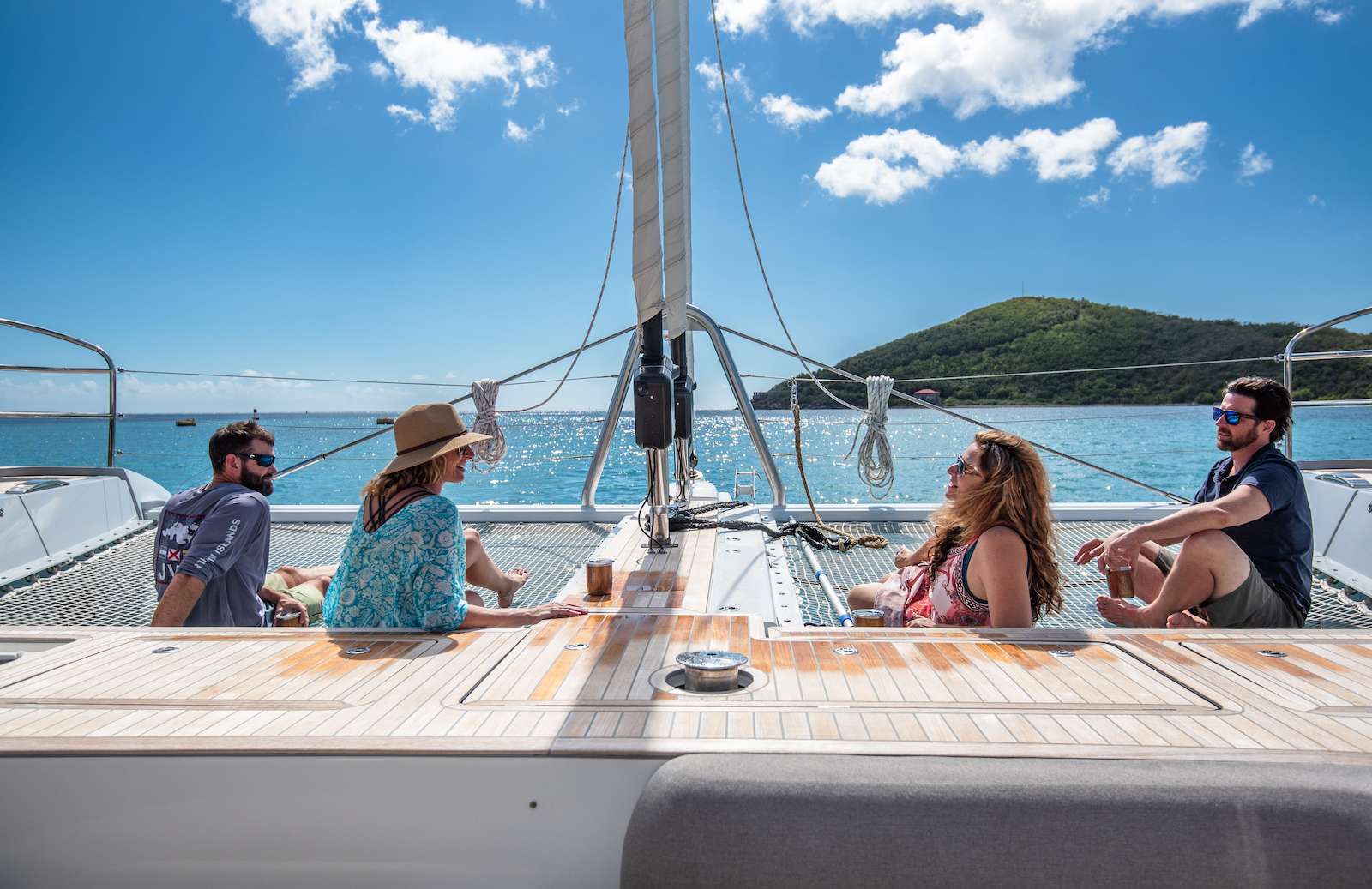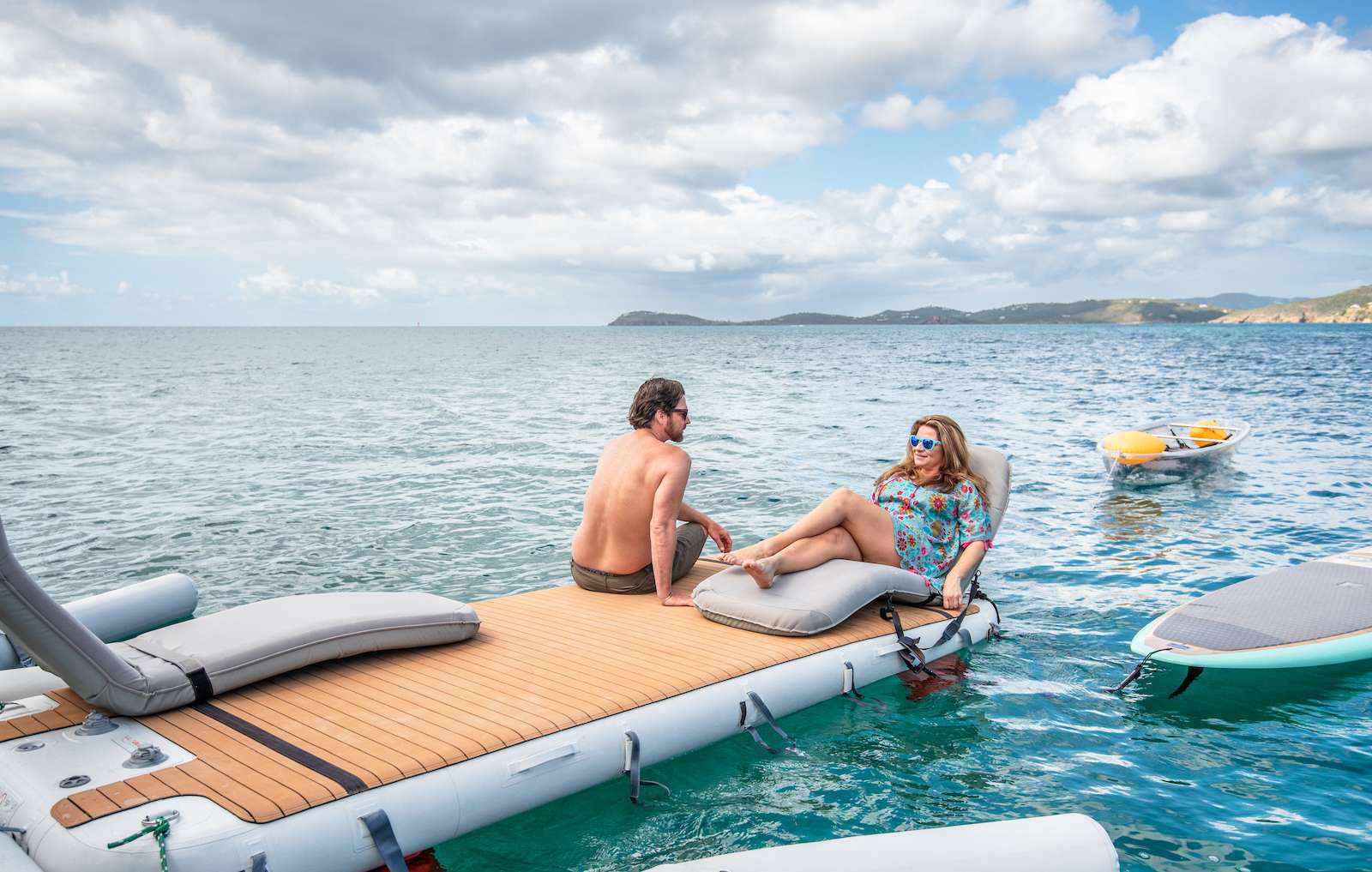 Accommodations
| | |
| --- | --- |
| Sleeps 8 guests in 4 guest stateroom(s). | |
| 3 with Queen Bed(s) | |
| 1 with Twin Bed(s) | |
Details
Rates are for the 3 queen cabins
By inquiry only for 6 pax and under, guests can have access to the bunk cabin for an additional cost of $3,000. This applies to all charters including holidays. Please inquire before presenting to clients.
Layout Diagram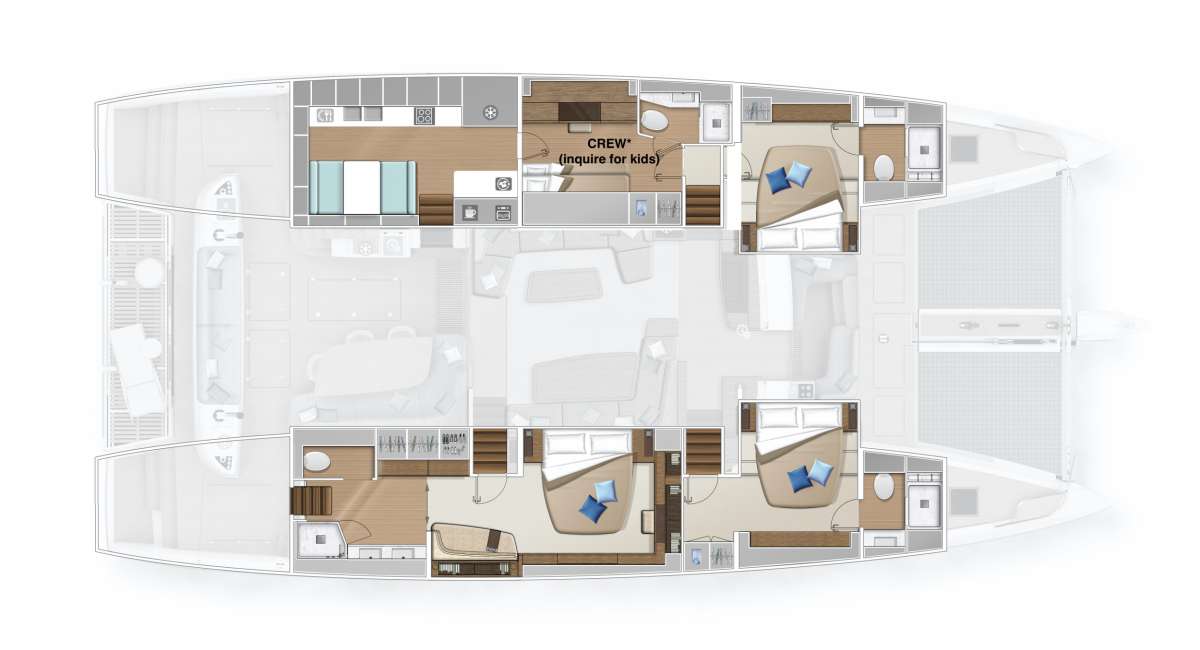 Specifications
| | |
| --- | --- |
| Guests | 8 |
| Staterooms | 4 |
| Length | 65.00 Ft / 19.00 m |
| Beam | 33 ft |
| Draft | 5 ft |
| Built - Refit: | 2021 - [] |
| Builder | Lagoon |
| Cruising Speed | 8-10 kts |
Watersports
| | |
| --- | --- |
| Dinghy. | 16ft Highfield |
| Dinghy HP | Yamaha 60hp |
| Paddle Boards | Yes |
| Double Kayaks | Yes |
| Adult Water-skis | Yes |
| Kids Water-skis | Yes |
| Snorkeling gear | Yes |
| Inflatable, towable tubes | Yes |
| Fishing Gear | Yes |
| Scuba Diving | Onboard |
Other Toys

Diving
Foiling
Dive Compressor
2 Seabobs
Floating Islands

Kids water skis are upon request only

you name it!!!
Pricing
From:
59,000

To:
70,000
Winter 2022 to 2023
| | |
| --- | --- |
| 2 Guests | 59,000 |
| 3 Guests | 60,000 |
| 4 Guests | 61,000 |
| 5 Guests | 62,000 |
| 6 Guests | 63,000 |
| 7 Guests | 64,000 |
| 8 Guests | 65,000 |
Summer 2023
| | |
| --- | --- |
| 2 Guests | 59,000 |
| 3 Guests | 60,000 |
| 4 Guests | 61,000 |
| 5 Guests | 62,000 |
| 6 Guests | 63,000 |
| 7 Guests | 64,000 |
| 8 Guests | 65,000 |
Winter 2023 to 2024
| | |
| --- | --- |
| 2 Guests | 59,000 |
| 3 Guests | 60,000 |
| 4 Guests | 61,000 |
| 5 Guests | 62,000 |
| 6 Guests | 63,000 |
| 7 Guests | 64,000 |
| 8 Guests | 65,000 |
Summer 2024
| | |
| --- | --- |
| 2 Guests | 59,000 |
| 3 Guests | 60,000 |
| 4 Guests | 61,000 |
| 5 Guests | 62,000 |
| 6 Guests | 63,000 |
| 7 Guests | 64,000 |
| 8 Guests | 65,000 |
Pricing Details
For charters confirmed as of March1st 2022, BVI Customs fees and cruising permits are included in the rate.

For Charters with BVI Cruising Grounds, confirmed prior to March 1st 2022 an additional $250pp will be paid by the charterer for BVI Customs and Cruising Permits to Charter Caribe prior to the charter.

Rates are for the 3 queen cabins
By inquiry only, guests can have access to the bunk cabin for an additional, non-commissionable cost of $3,000. This applies to all charters including holidays. Please inquire before presenting to clients.

Boat Requires 48hr Turns


*7 Night Minimum* Inquire for short charters.

HOLIDAYS:

2023
Christmas Rate for 1-6 Guests $70,000
St Thomas pick up and drop off. 7 night minimum.
New Years Rate for 1-6 Guests $70,000
St Thomas pick up. 7 night minimum.



CHILD DISCOUNTS: Discount Applied First
Children 15 and under $500 discount
***must be 15 or under at the time of charter***


PLEASE INQUIRE FOR FURTHER PRICING DETAILS
Crew Profile
Cameron, Sam, and Jada: February - July 2024
Captain Mayon Hight
Qualifications
-100TON MASTERS NEAR COASTAL WITH SAILING ENDORSEMENT
-NAUI Dive Instructor
-CURRENT STCW & BRITISH RED CROSS CPR/FIRST AID TRAINING
-INTERMEDIATE SAUCIER GRADUATE FROM ASHBURTON COOKERY SCHOOL
-MECHANICAL ENGINEER GRADUATE WITH GOOD UNDERSTANDING OF HOW TO TROUBLESHOOTMECHANI- CAL AND ELECTRICAL SYSTEMS
-FCC MARINE RADIO OPERATORS PERMIT
-APCA DRUG CONSORTIUM -LICENSED PRIVATE PILOT
-PROFICIENT INSTRUCTOR OF MOST ACTION SPORTS INCLUDING SURF- ING, SCUBA, SUP, WINDSURFING, MOUNTAIN BIKING, PARAGLIDING, ETC.
Mayon was born in Maryland on the east coast of the USA with sailing blood passed down from his grandfather and mother. With access to a small sailboat as a kid he has many memorable "learning" experiences as a young adventurous water man in the making. He then went on to finish his childhood on the Big island of Hawaii where he truly fell in love with the ocean. After completing a bachelors degree in mechanical engineering he switched gears back to the ocean and sailed from Maryland down to the Caribbean where he started his career as a boat captain. With the sails up and underway, Mayon exudes the kind of contagious enthusiasm that will have everyone aboard excited. His calm, collected nature and willingness to share his thoughts, techniques, and plans, bring an inclusive and confident feel to the boat. You are sure to feel empowered to learn, explore, and relax while in the comfort of this kind, relaxed, true sailor.
Chef Sam Middeke
Sam Middeke comes from a tight family of 4 brothers, born and raised just outside of St.Louis MO. Sam started his culinary path at a young age, always interested in learning how things are made and what it takes to get to the end goal of a completed dish. Throughout his formative years, he picked up cooking and started to pursue a restaurant job just as soon as he was able to. Working several years in private clubs and golf courses, Sam learned the work it took to be able to make this passion a career. Meanwhile obtaining an applied science degree in culinary arts from Forrest Park in St.Louis. From there his desire to grow in this industry led him to the ever growing city of Nashville TN. There he worked and learned under admirable, acclaimed chefs leading him to eventually make a name for himself as the Executive Chef of a prominent restaurant fixture in the booming Nashville culinary scene. After 5+ years in music city, he found himself exploring a new dynamic of the hospitality industry aboard Aeolus. Sam brings years of fine dining experience and a thoughtful approach to food. Sourcing locally as often as possible allows guests to experience a fresh and authentic dining experience. His goal is to show guests a creative application to ingredients while still being approachable for guests to enjoy every bite in an elegant and balanced application. All the while serving guests in whatever way necessary to ensure their time aboard is the best experience possible.
In his free time, Sam loves to stay active. Whether it's a bike ride, hiking, or kickboxing, volleyball, soccer, or anything in the water. He also loves exploring new foods and restaurants to learn and grow his craft to contribute to whatever community he finds himself a part of. If staying inside, Sam loves to roll fresh pasta and test new ingredients and recipes, as well as reading cookbooks of various cuisines and restaurants.
First Mate Elizabeth Bork
Qualifications
-ASHBURTON COOKERY SCHOOL GRADUATE: DEVON, UK
-YOGA ALLIANCE CERTIFIED YOGA INSTRUCTOR (RYT 200)
- SPECIALIZING IN VINYASSA FLOW & SUP YOGA
-PADI OPENWATER DIVER -DANCE/FITNESS INSTRUCTOR
-7 YEARS EXPERIENCE IN THE EVENT & MEETING PLANNING INDUSTRY
-SOCIAL MEDIA MANAGER -FOOD & SAFETY LEVEL 2
-CURRENT BRITISH RED CROSS CPR/FIRST AID TRAINING
-MASTER ORGANIZER -ENTERTAINER EXTRAORDINAIRE
From a young age, Elizabeth always new she was going to be a dancer. After years of hard work and dedication, she realized her dream at the age of seventeen and began dancing with the Radio City Rockettes. Over the next eight years, she kicked her way as a Rockette throughout the entirety of the US, and joined music video & television productions with the likes of Pitbull and Beyoncé. After her performing career, Elizabeth transitioned to the event planning industry, where she got to show off her natural knack for organizing and creativity. With the "mainland experience" out of her system, it was time she moved to the islands. First up -Maui! Here she worked on day charter boats where she met the love of her life, Captain Mayon. For the past three years, Elizabeth has been the chef, first mate, hostess, and ringmaster of fun for all ages. She receives rave reviews for her culinary delights, cocktails of the day & entertainment tours, all while ensuring Captain Mayon has a reliable deck hand to guarantee a safe passage. But don't think that her strengths end there. Elizabeth exudes a tranquility to the guests that is based on her lifelong practice of yoga and meditation, allowing everyone the opportunity to absorb the soothing nature of the sea. You can't go wrong with Elizabeth- from her attention to detail, to her carefully crafted cocktails, the sunsets will be all the sweeter knowing you are in her care.
Mayon and Elizabeth fell in love on the beaches of Maui, Hawaii as two young, adventurous, ocean lovers. Lucky enough for them both, their fist encounter was as unknown roommates who happened to move in under the same roof of a mutual friend. At first sight they knew that keeping the social norm of "don't date your roommate" was out of the question!
Their kindred spirits attracted them together from the very first night they met, where an impromptu sunset sailing trip on Mayon's Hobie 18' took them well into the night. After their "love at first sight", the duo went on countless more Maui adventures before moving aboard a Cosmos 49' catamaran in Thailand. After sailing that boat to Sri Lanka they solidified their joint dream of running their own charter boat and started their career together as captain and hostess. Mayon and Elizabeth's togetherness is the solid core on which their charters are built, putting their guests at ease no matter the challenge. They are passionate for the trip they deliver, cultivating a feeling of adventure and well being, that is sure to last far beyond your time in their care.
Captain Cameron Channing
Qualifications
RYA Yacht Master Offshore (Sail & Power) Commercially Endorsed
PADI Dive Master
RYA Power Boat 2
RYA Personal Watercraft
GMDSS Radio License
VHF & SRC Radio Certificate
Super Yacht Deckhand Course (2014)
SAS Day Skipper Instructor & Examiner
Frist Mate Jada Dickie
Qualifications
STCW 95 (updated in 2019)
Smart Serve Certification (2016)
Level 2 Food Safety and Hygiene for Catering (2020)
Quarterdeck Hostess Academy (2016)
Born in South Africa, and growing up on a safari near the coast, Cameron has always been on or near the water. Jada was born and raised in Toronto, Canada and has always thrived in fast-paced environments with a strong emphasis on service and food.
We met for the first time in 2017 while working seasonally for a flotilla company in Croatia. After working for 3 successful seasons in the Mediterranean, we decided to head to the BVI to pursue our careers as a captain and chef team. Since then, we have worked together for 3 busy seasons in the BVI, 1 season in the Bahamas and have taken numerous trips down to Saint Vincent & the Grenadines. We have worked primarily on sailing catamarans in the 50-60 ft range comfortably. We enjoy curating the perfect vacation for our guests and love hosting different groups on board.
<b>Crew fully vaccinated<b/>
Additional Information
AEOLUS - "The Keeper of the Winds..." Aeolus is first Lagoon SIXTY5 available for luxury charter vacation and the first of its kind to be present in and around North America. This enormous catamaran features accommodation for 6 adults and 2 children in a Master Cabin, two VIP Cabins, and a Bunk Bed Cabin. The beautiful down-galley allows for masterful culinary creations to appear out of thin air, while preserving various selections of seating and dining areas around the vessel. The completely redesigned Flybridge area highlights the future of yachting and sailing onboard catamarans with full bar, dining area, lounges and dual helms. The Experience onboard Aeolus is meant to be the perfect mix of Luxury and Modern Adventure. Three Crew are onboard to provide seamless service and guide the best vacation of your life. All of today's top technology accompanies the vessel including Dive equipment, Dive Compressor, Seabob's, E-foil, watersports equipment, floating lounge, huge tender and more. Come change your perspective with us on aboard Aeolus... We're looking forward to your arrival. With its slender hulls and sculptural curves, the Lagoon SIXTY 5 has rightly earned its place in the world of luxury sailing yachts. The secret of its beauty lies in the sensual lines. They are an alliance of both tradition and modernity that orchestrate its generous proportions. On board the SIXTY 5, the flybridge is a key space that is accessed via wide, safe stairs. Electric sliding doors give the option of this space being fully enclosed as required. The SIXTY 5's flybridge is a beautifully appointed deck with two helm stations. One on each side, for clean, unobstructed views. The rigid bimini is fitted with see-through glass. It allows the skipper to keep an eye on the sails when they are hoisted up. The flybridge is home to a huge, comfortable and sleek looking sofa. You will also find spacious storage lockers underneath the sofa and a reclining backrest. A large dining table and another wet bar with a plancha grill, fridge and cutlery lockers, complete the picture. When on board the Lagoon SIXTY 5, you can look straight through fore to aft and out over your surroundings with commanding 360° views. Her elegant interior is by Nauta Design, and demonstrates the new signature "Connect" outfit from Nauta. The main saloon is comfortable and luxurious with open spaces and natural light. The same design concept has been applied to the guest cabins. They enjoy good overhead height and excellent natural light and views. The high level of finishing throughout every cabin reflects the luxury feel of the main saloon. The bright and spacious saloon is located forward. It has a design palette that includes grey oak and beige upholstery for the sofas. A large dining table is positioned on the starboard side, with a u-shaped sofa and lounge area with a low coffee table on the port side. This first hull has a galley-down layout with four cabins. It delivers the massive main deck saloon space for guests to enjoy. From the saloon there is direct access to the foredeck terrace. This area offers features sofas, a coffee table and an optional canopy shade that can be installed on to stainless pillars. This space is also ideal for storing diving gear.
Destinations