Gallery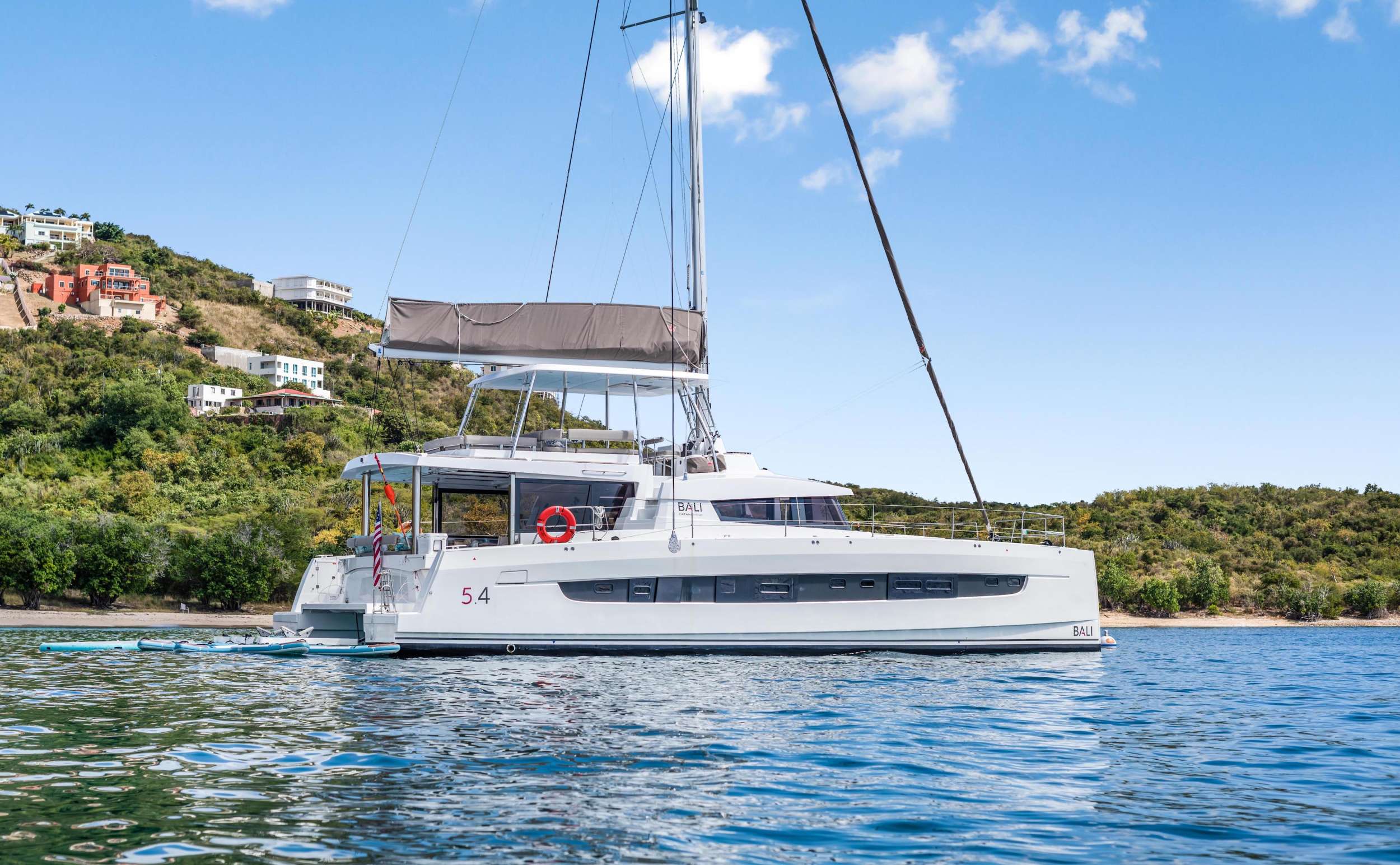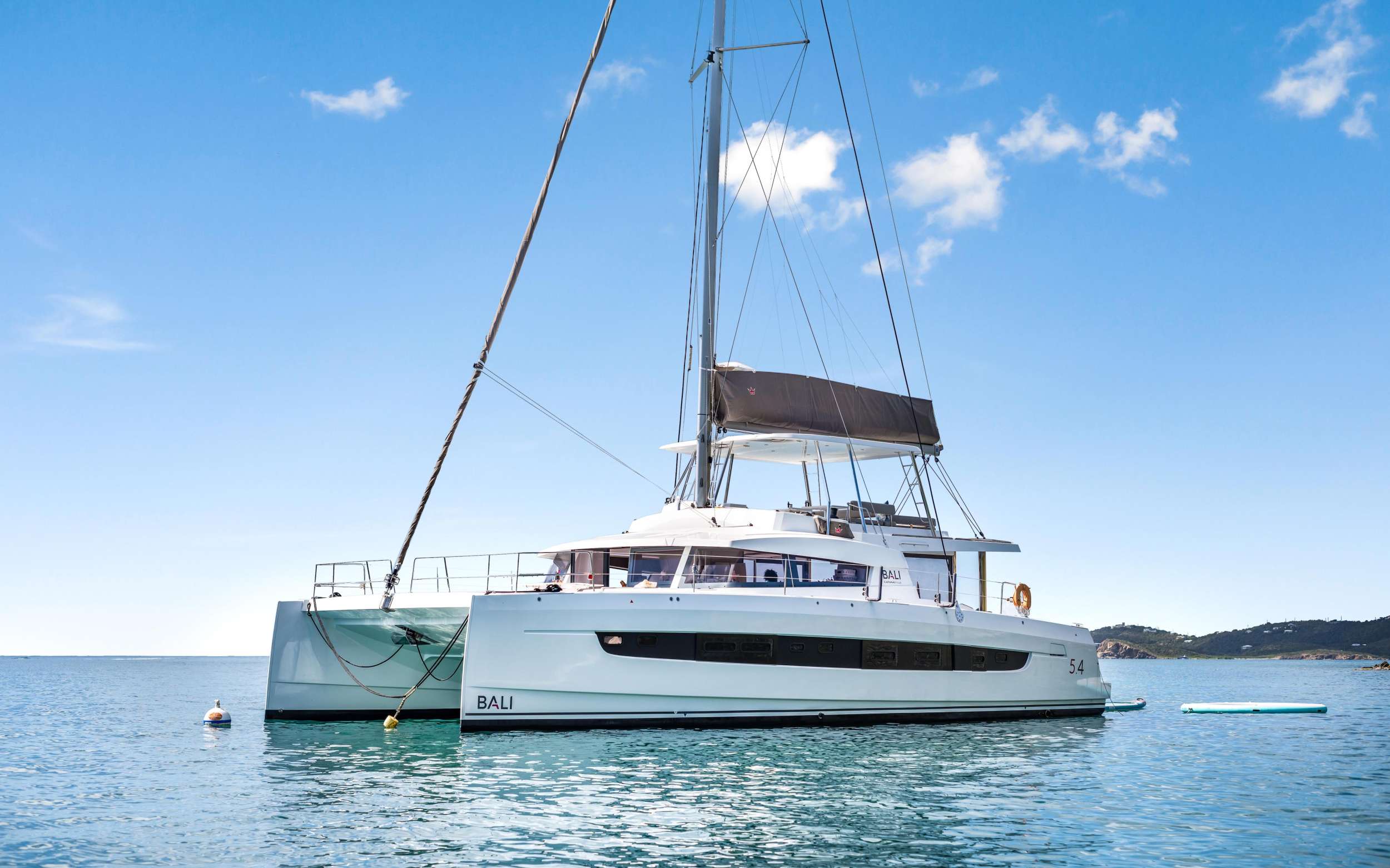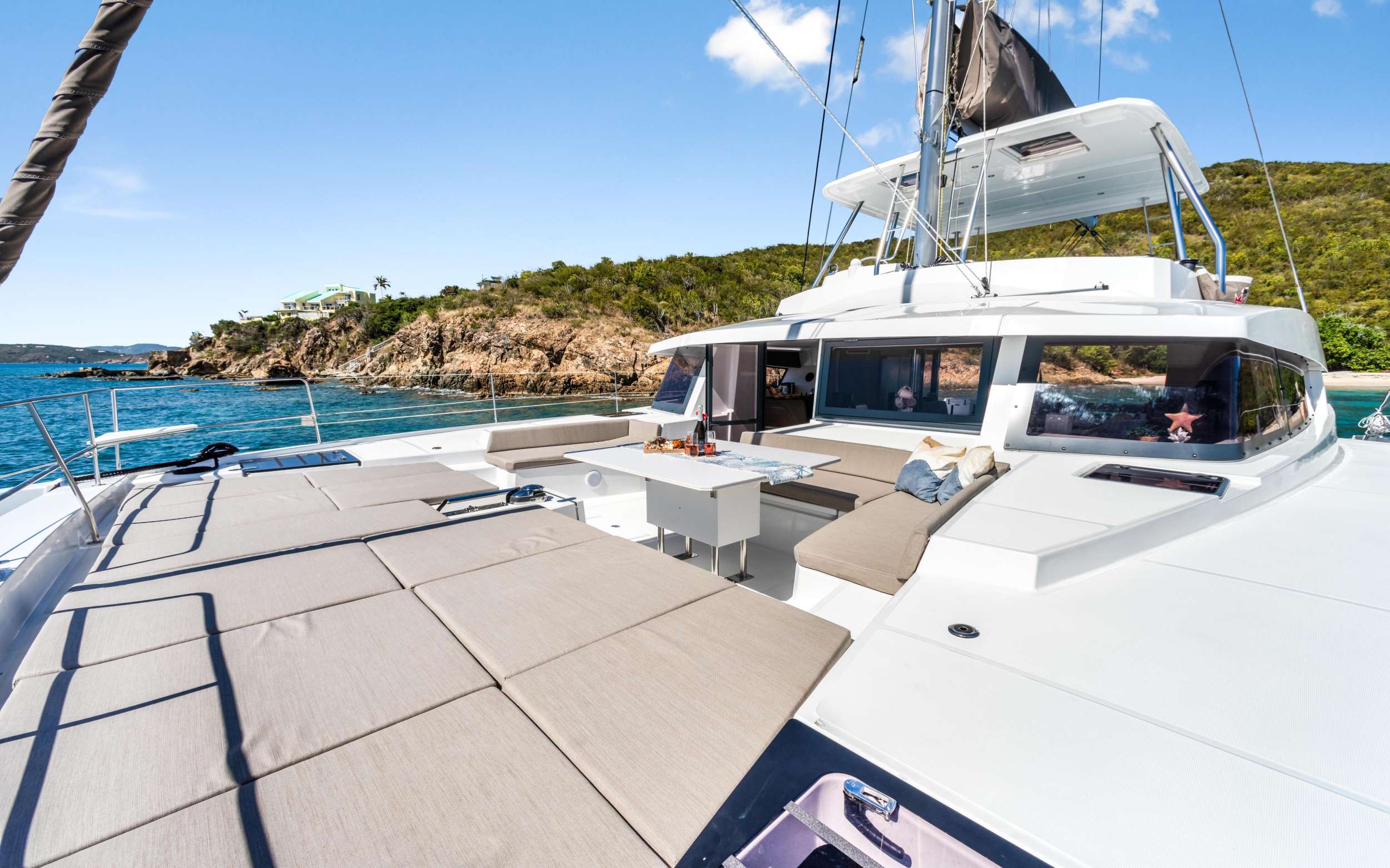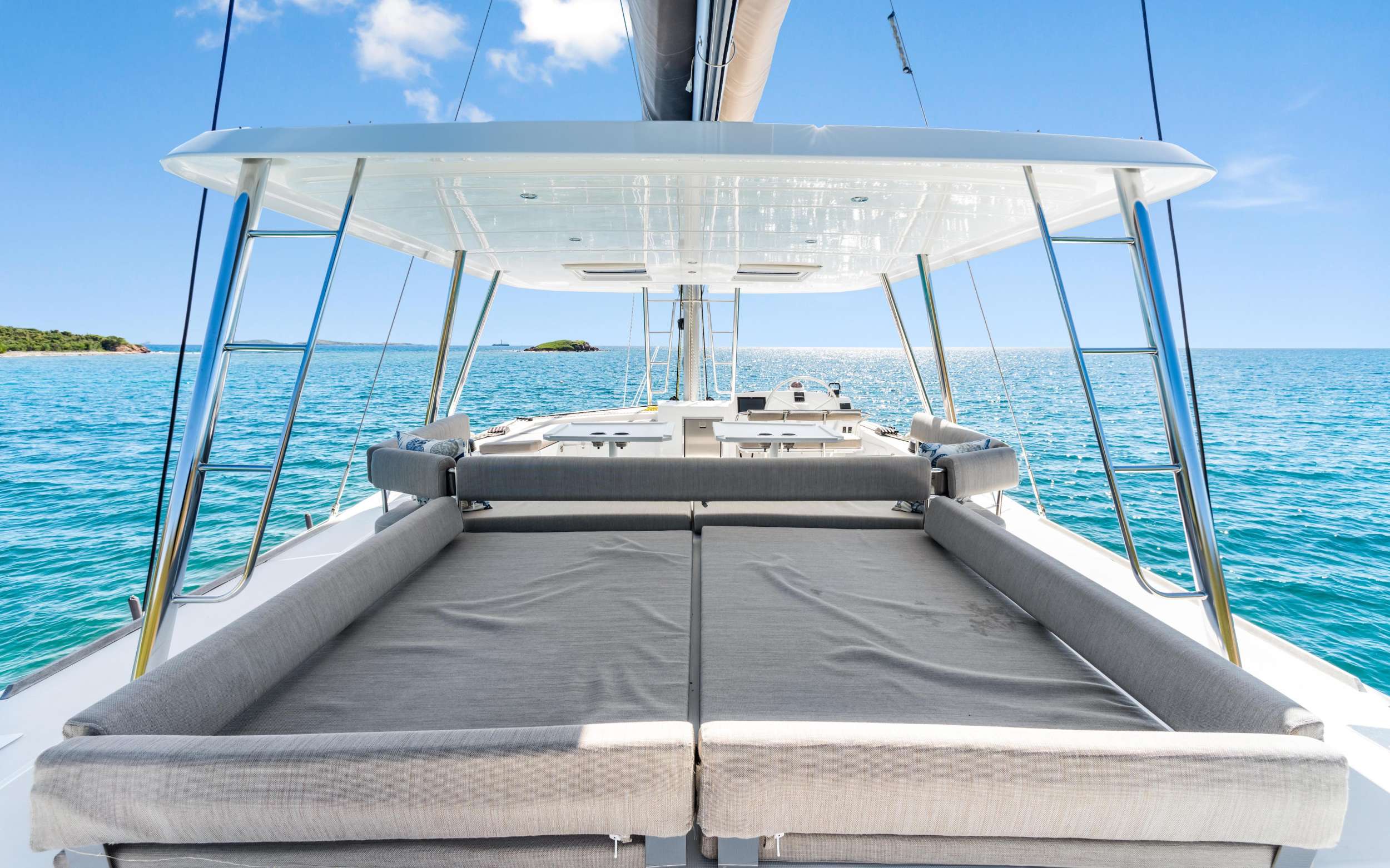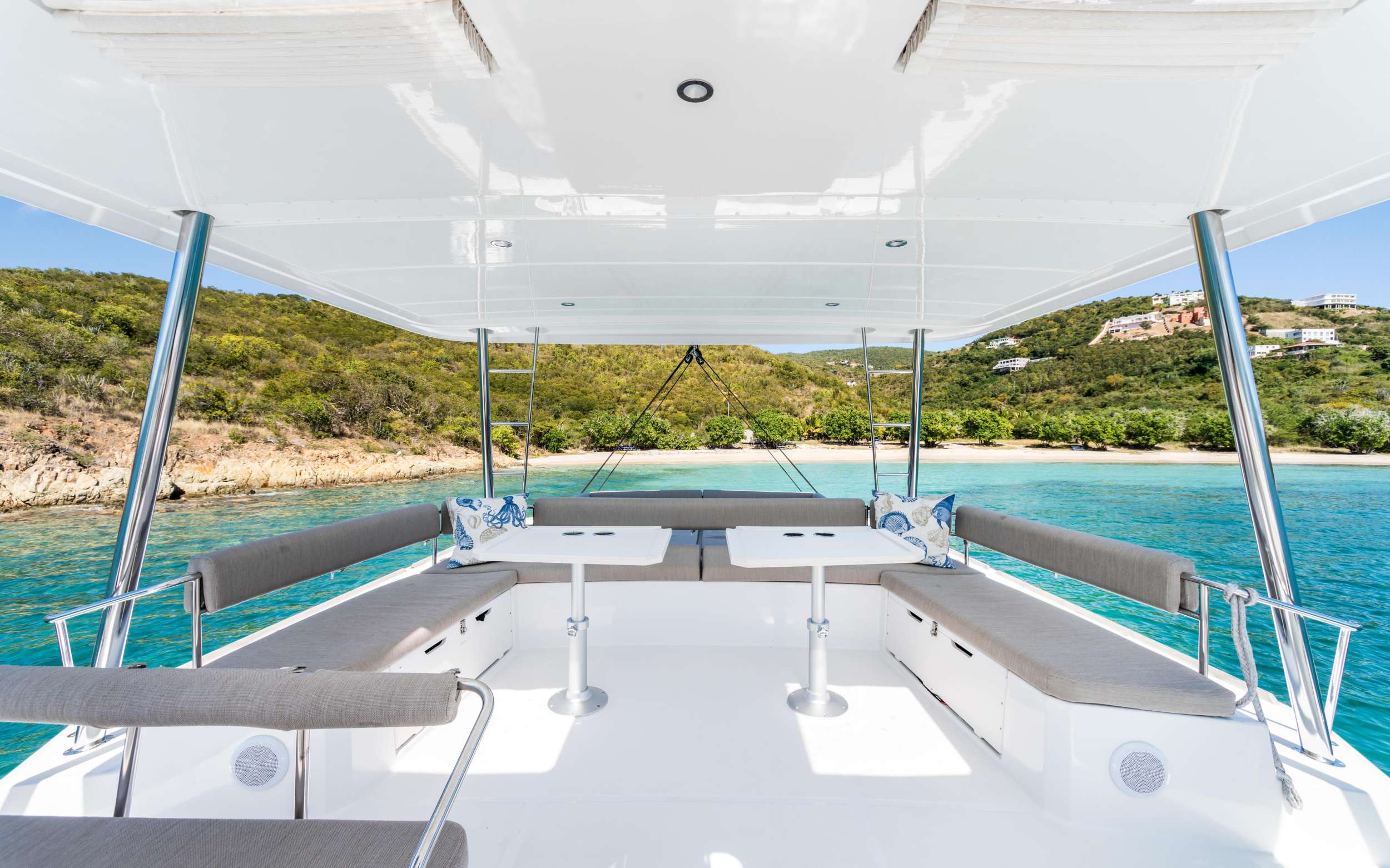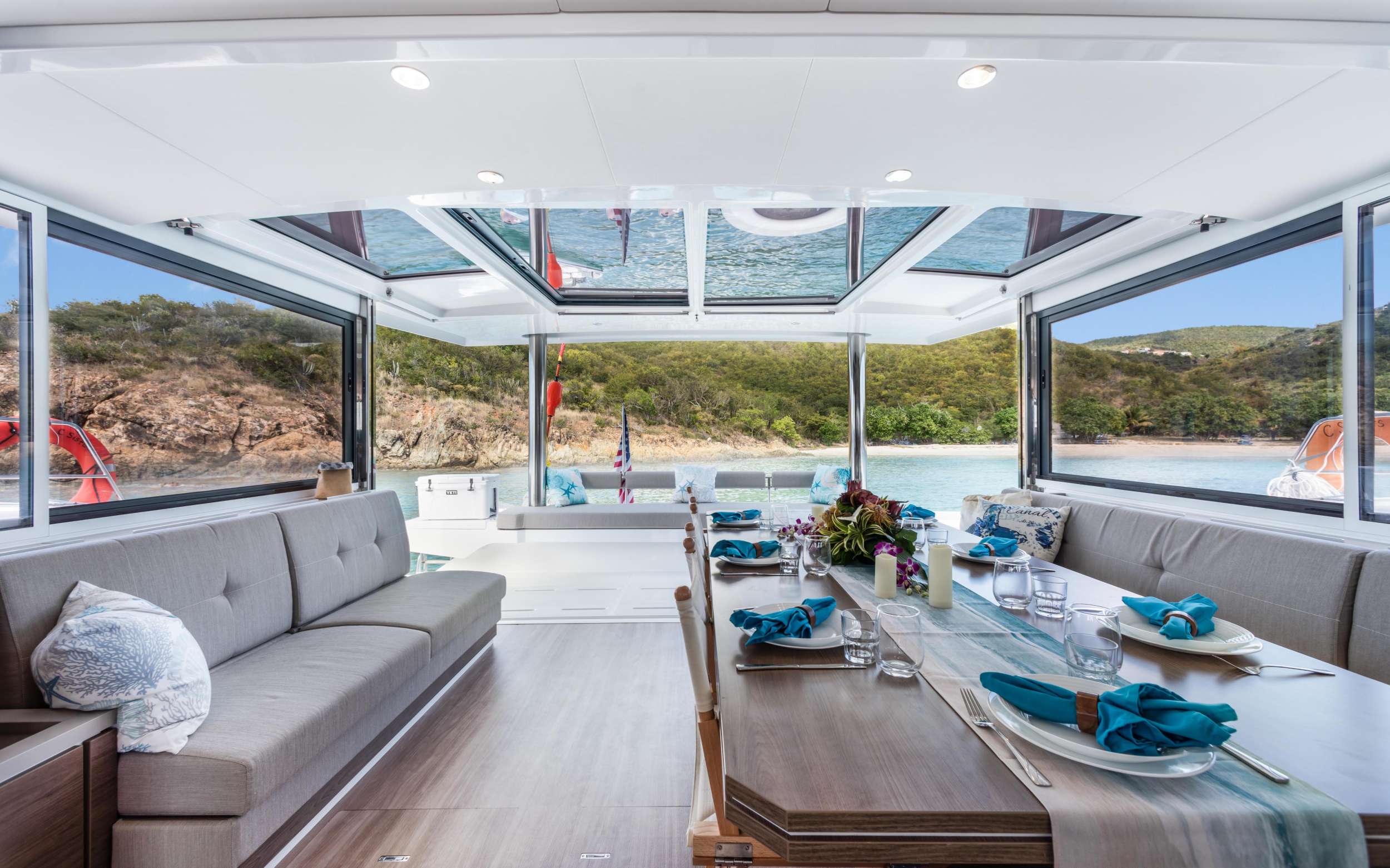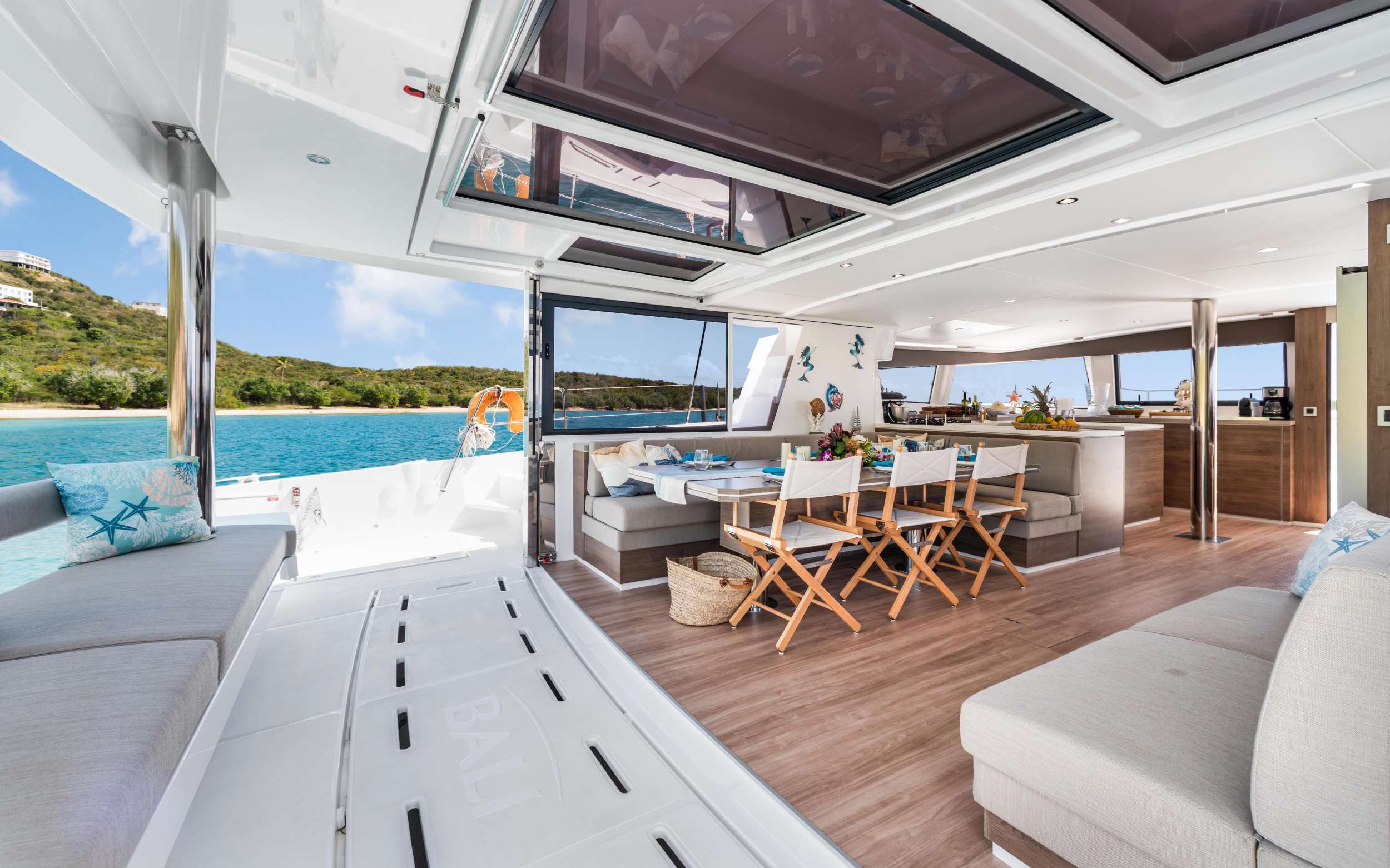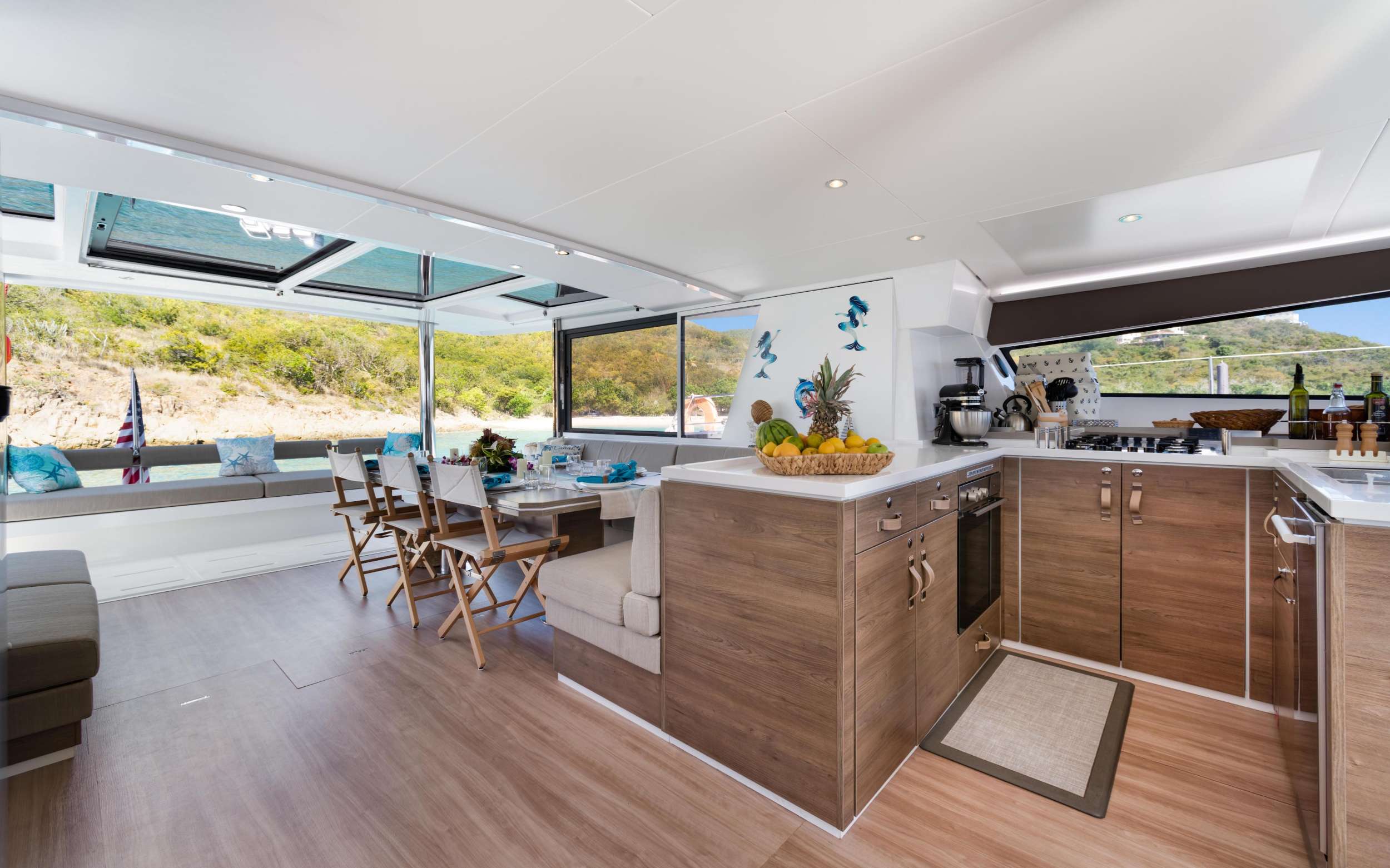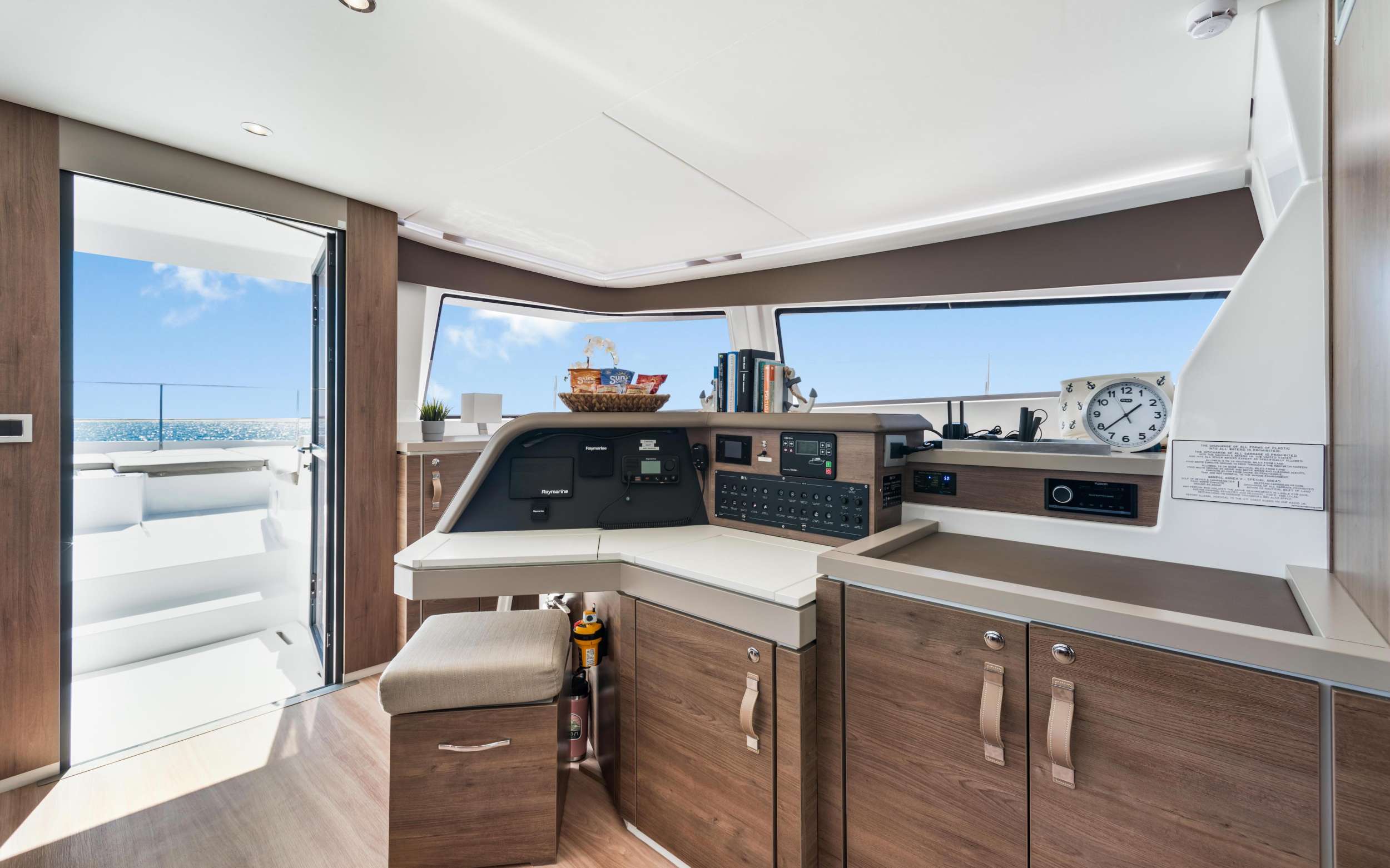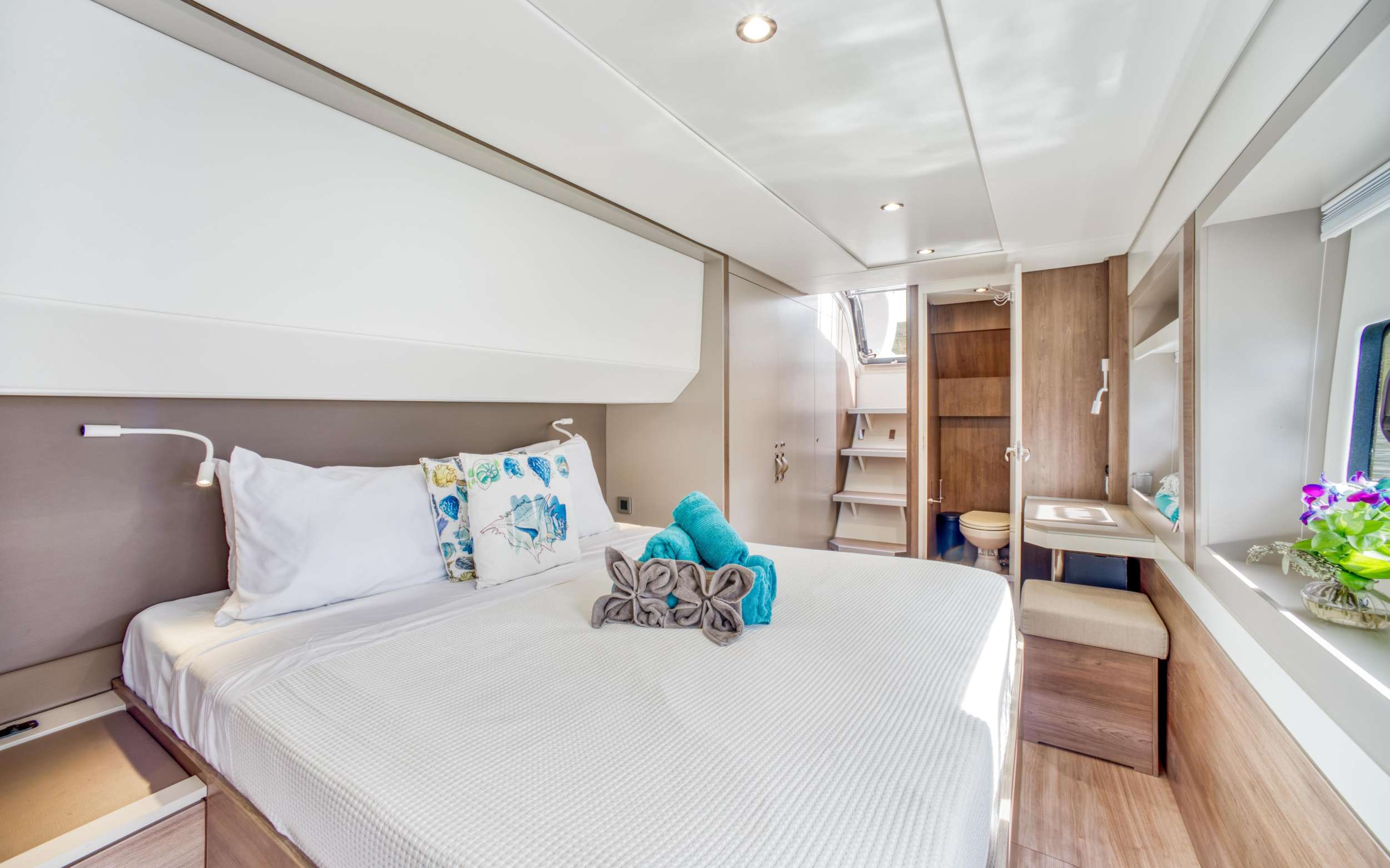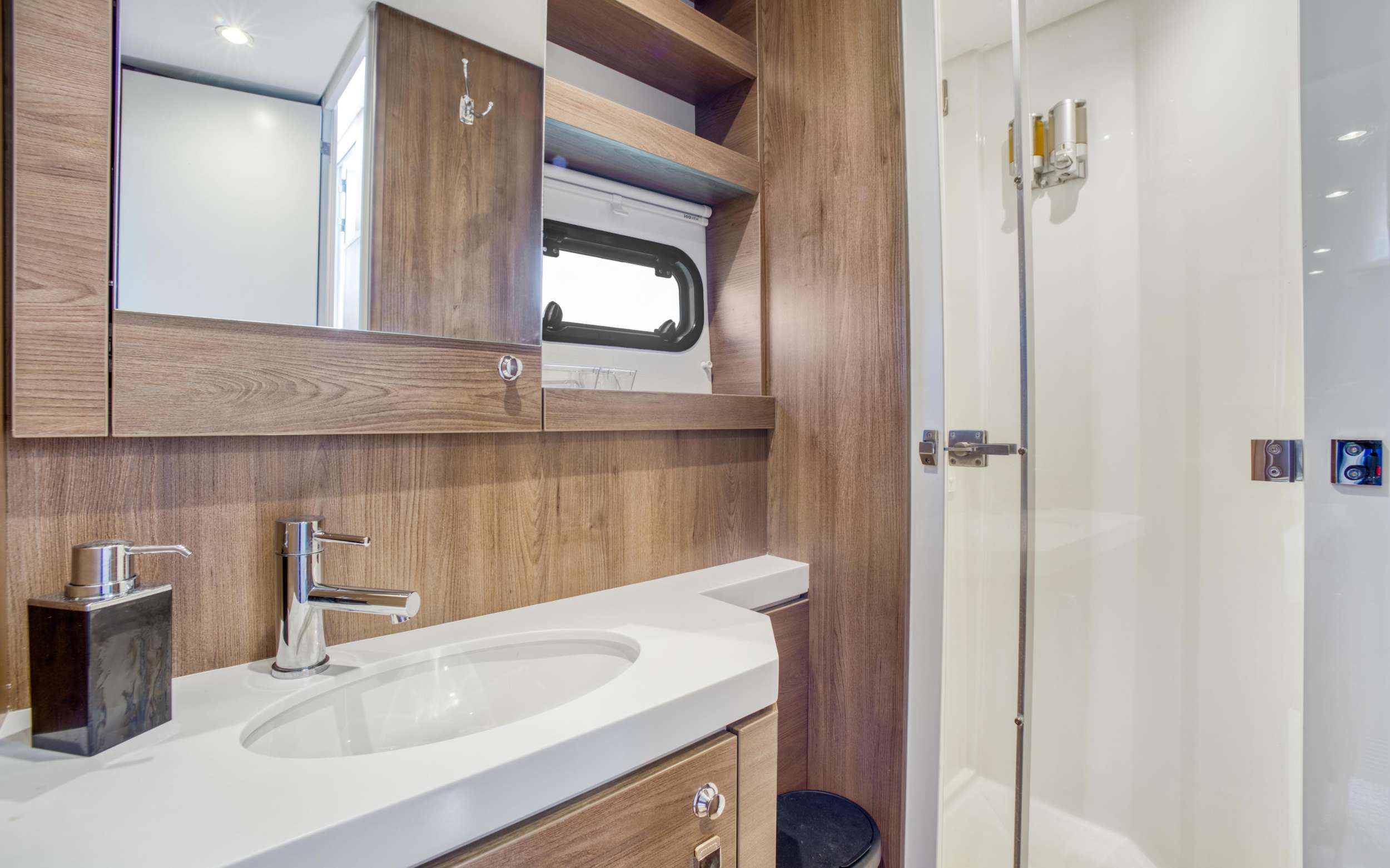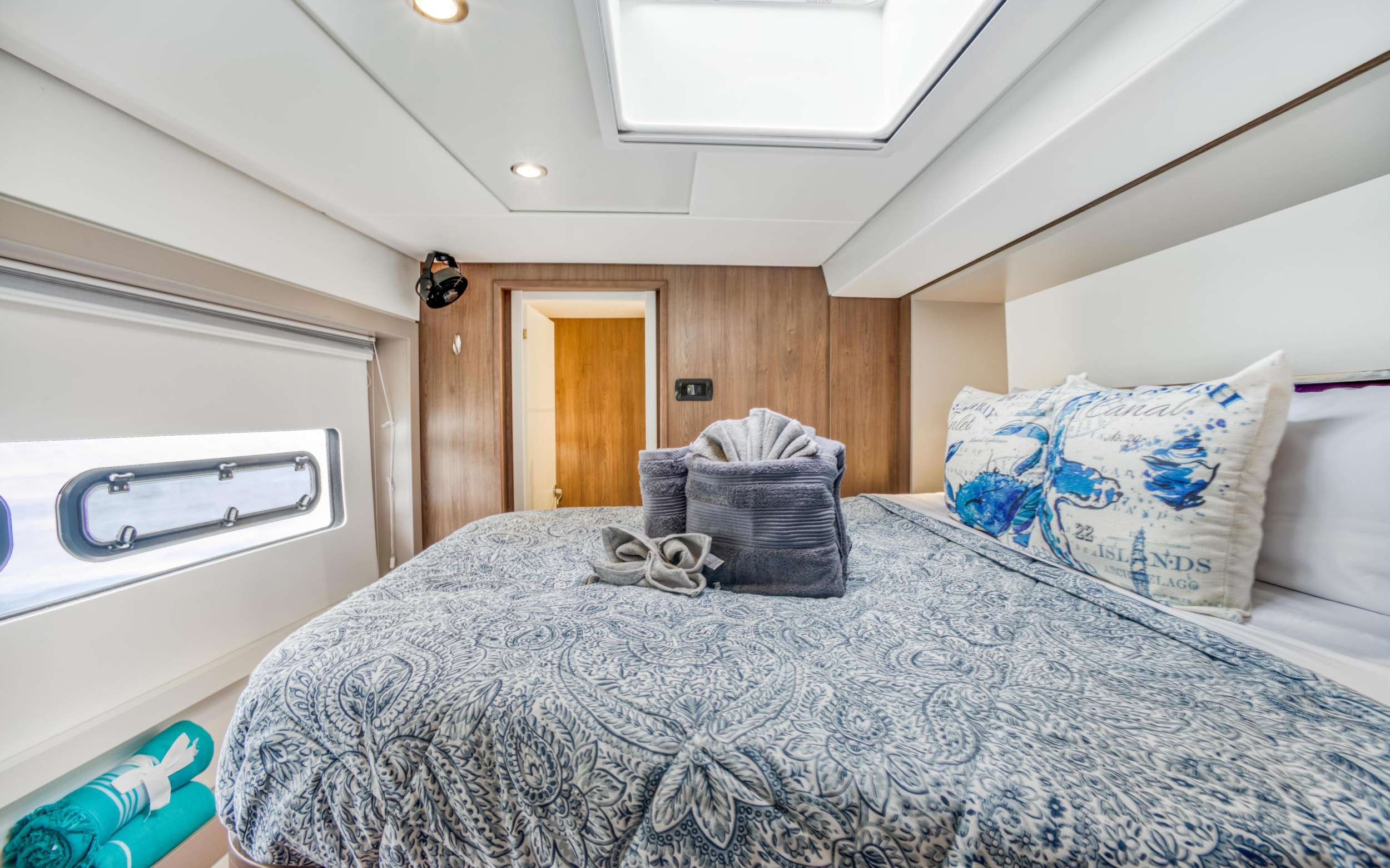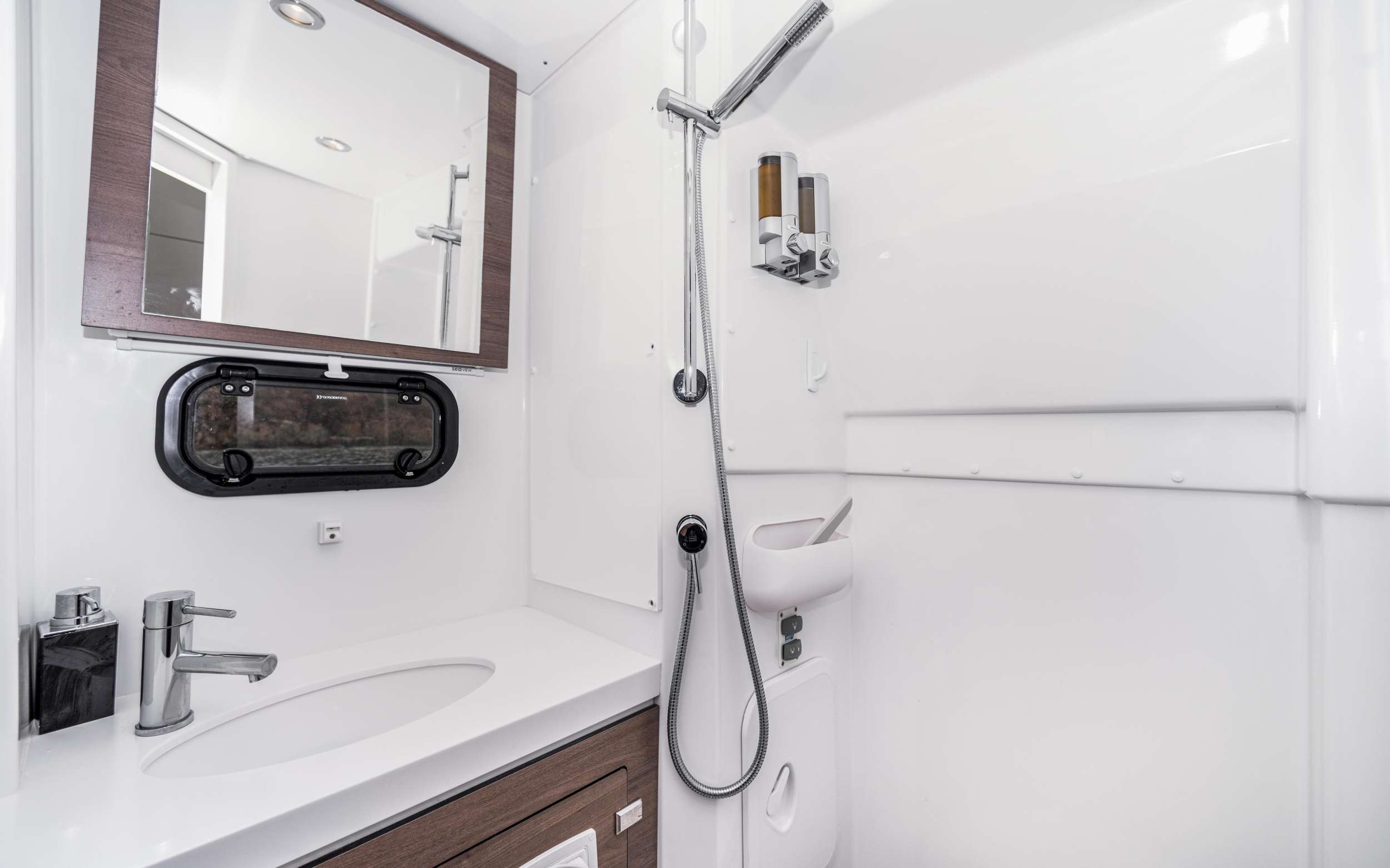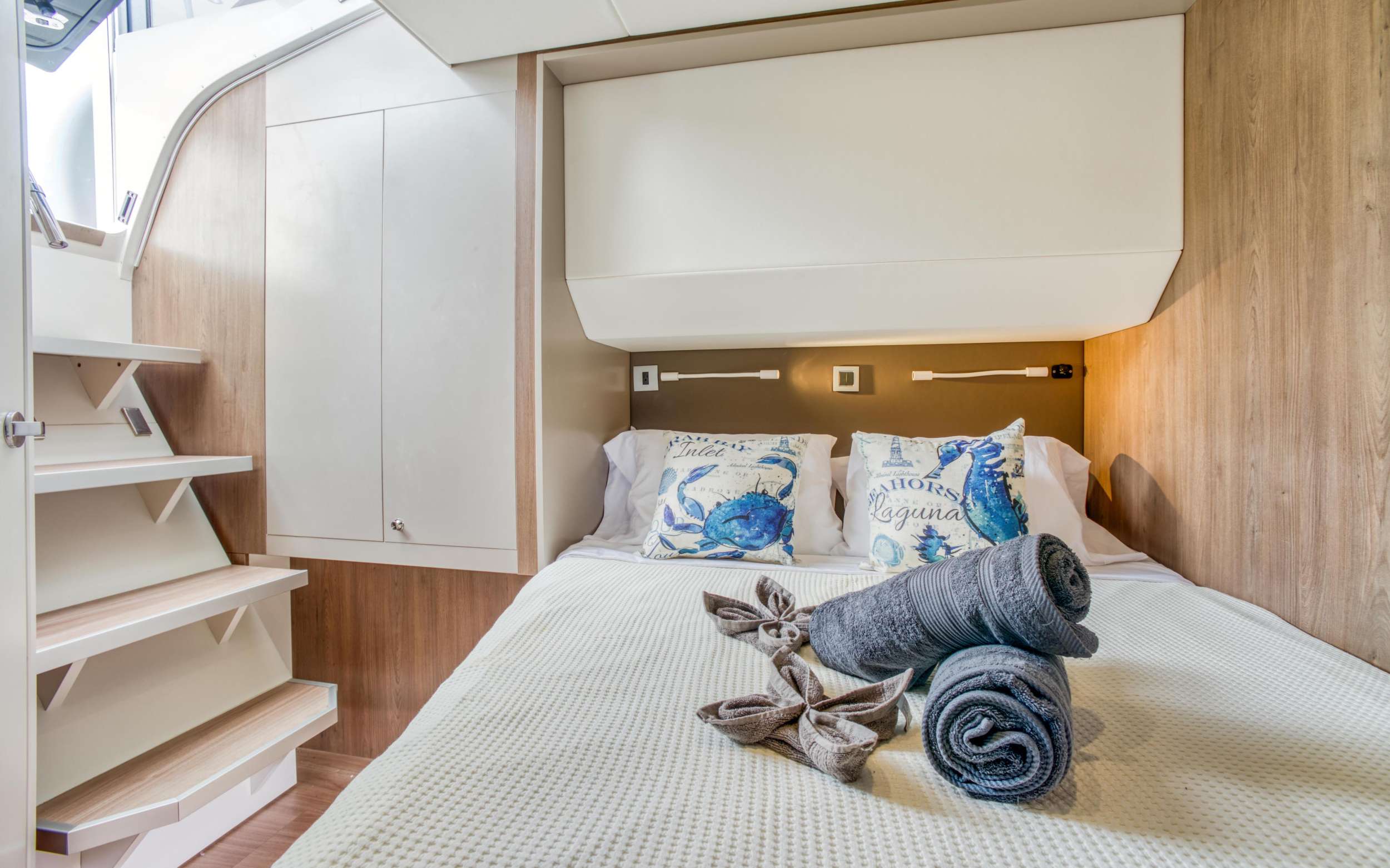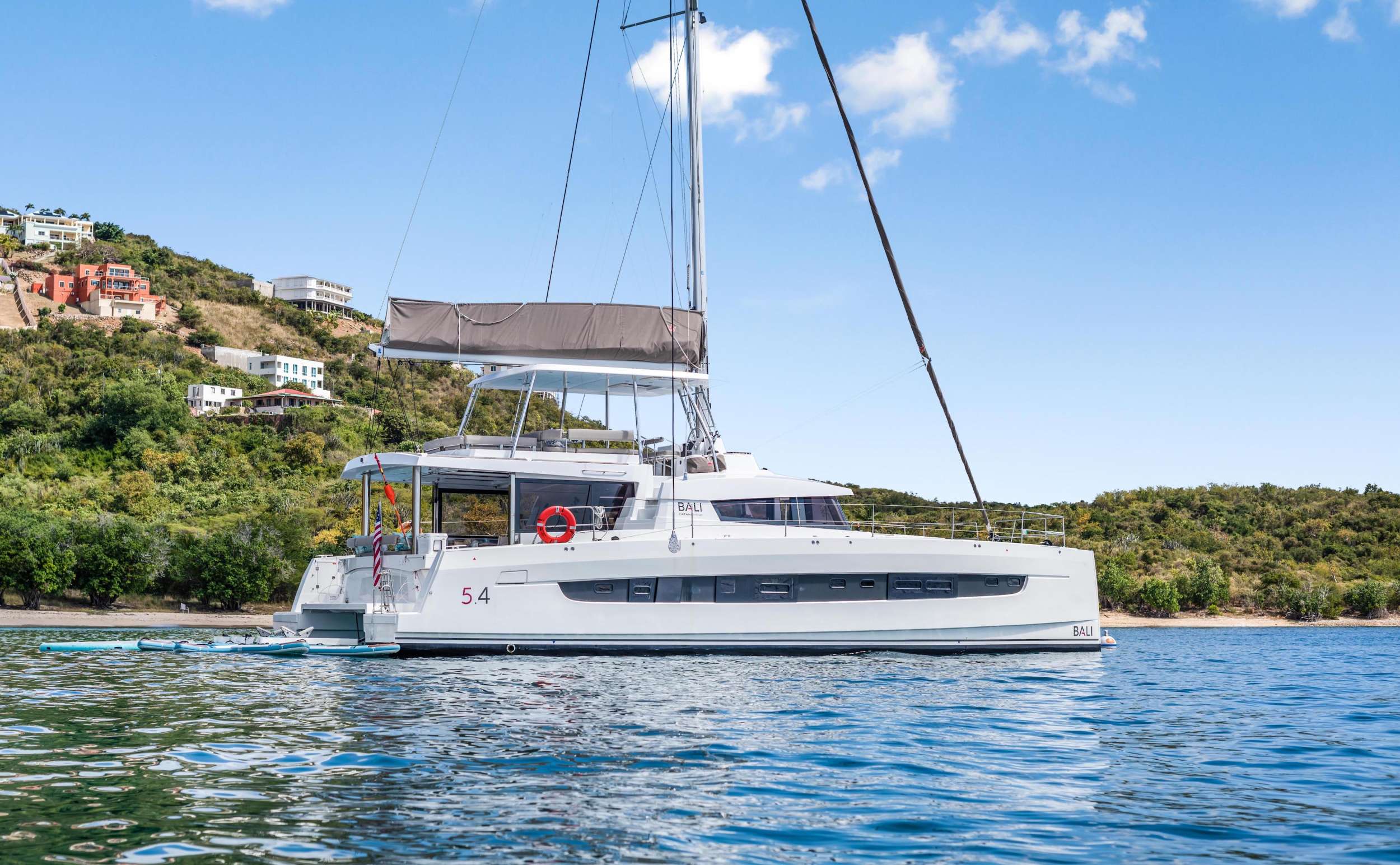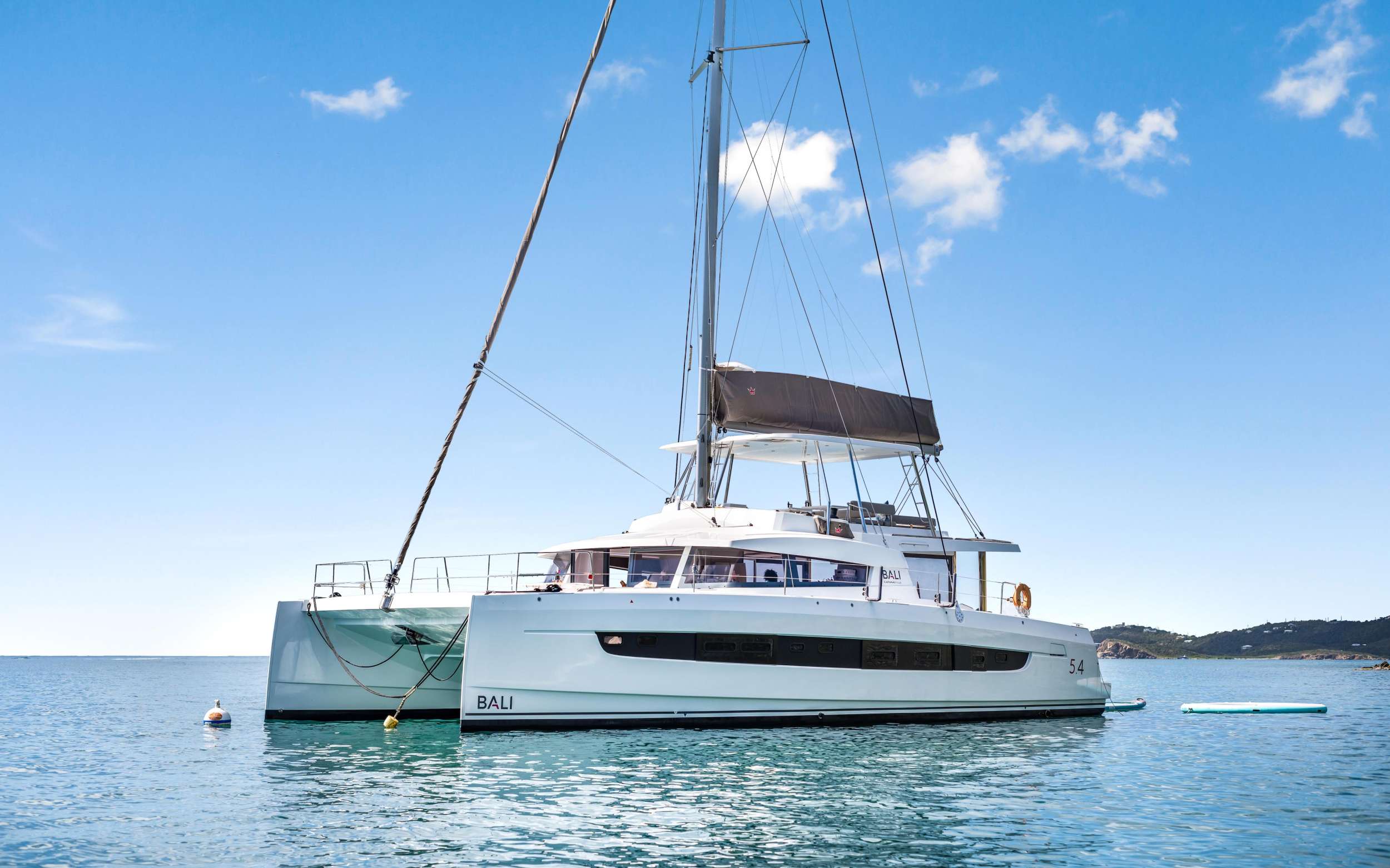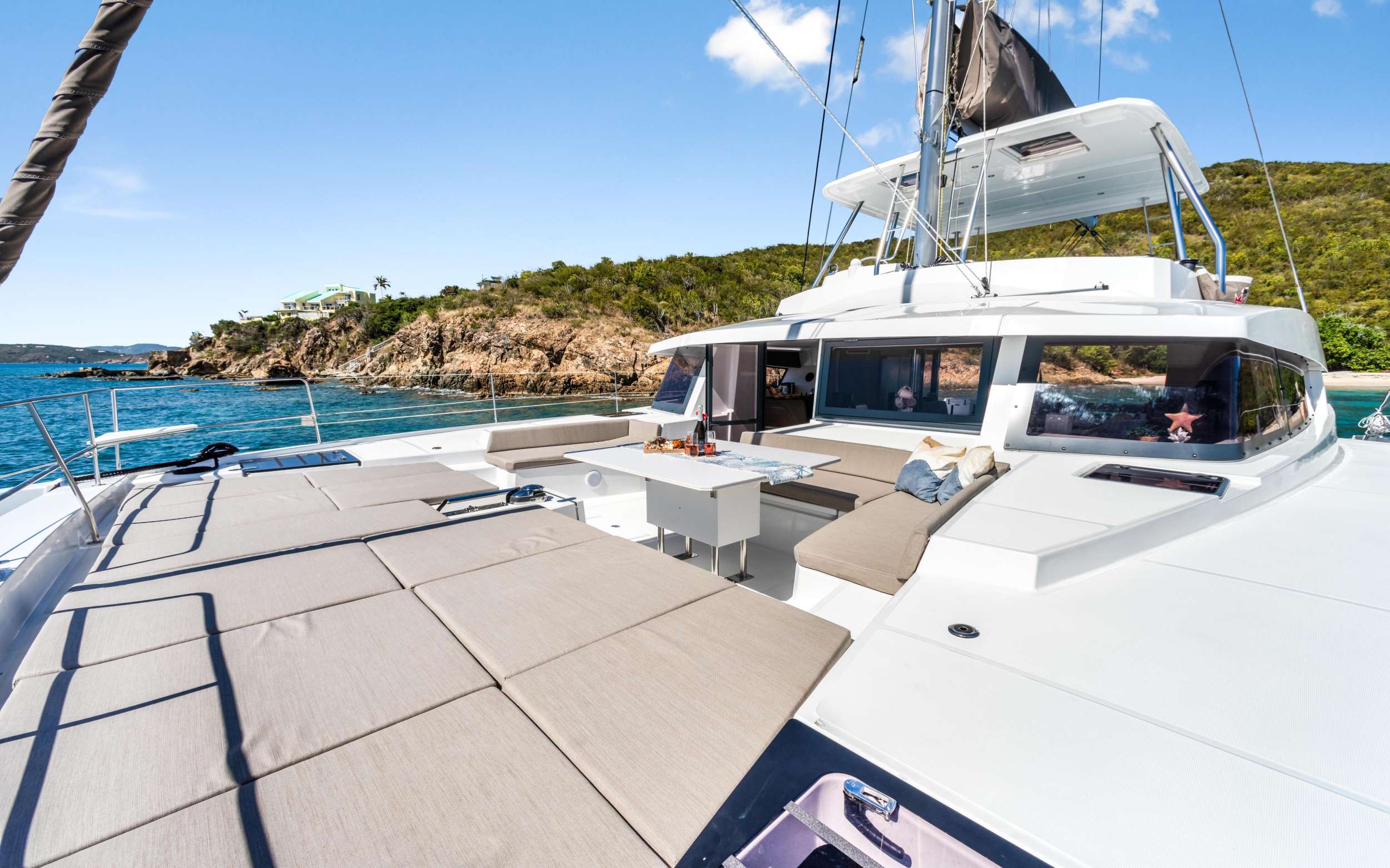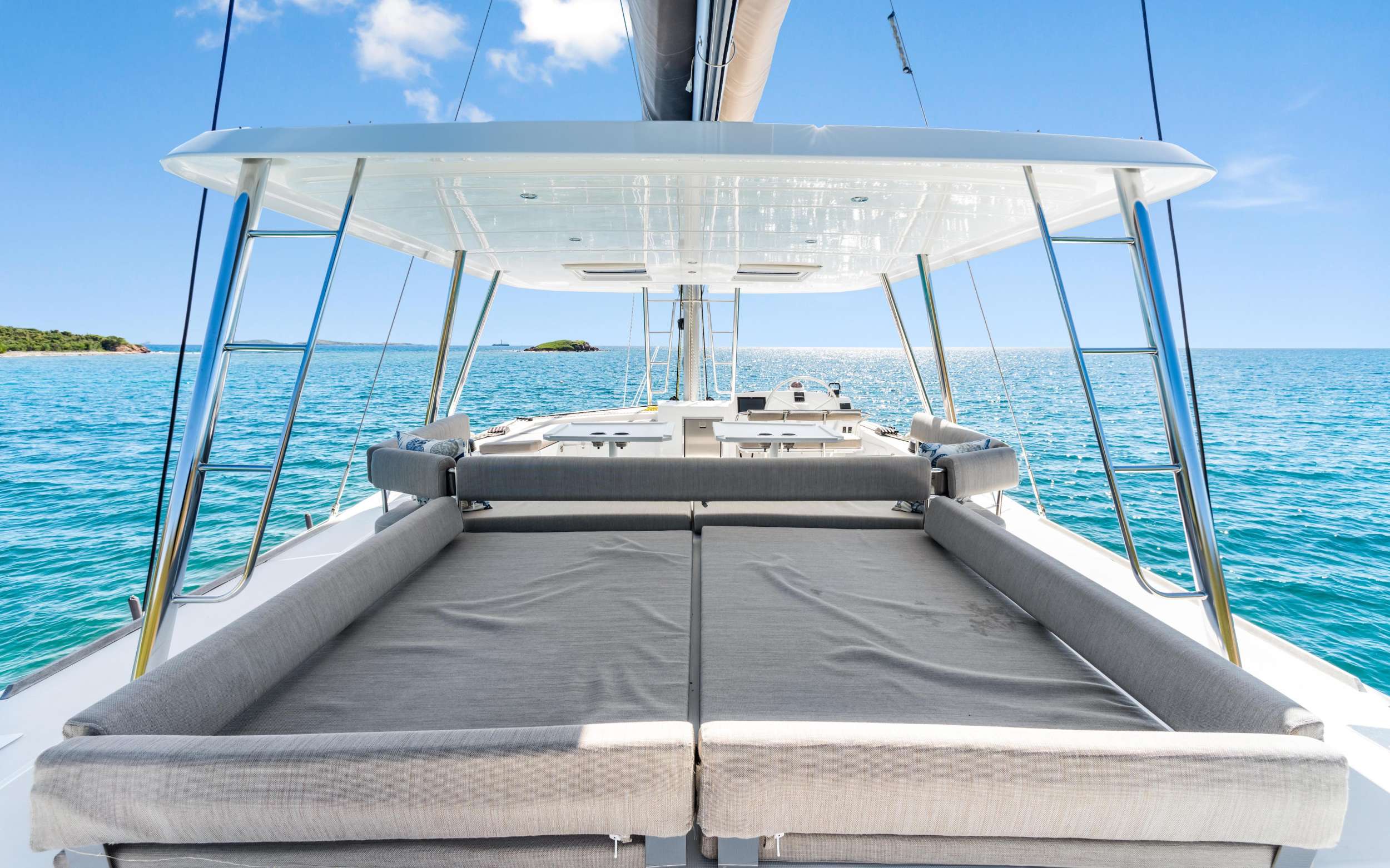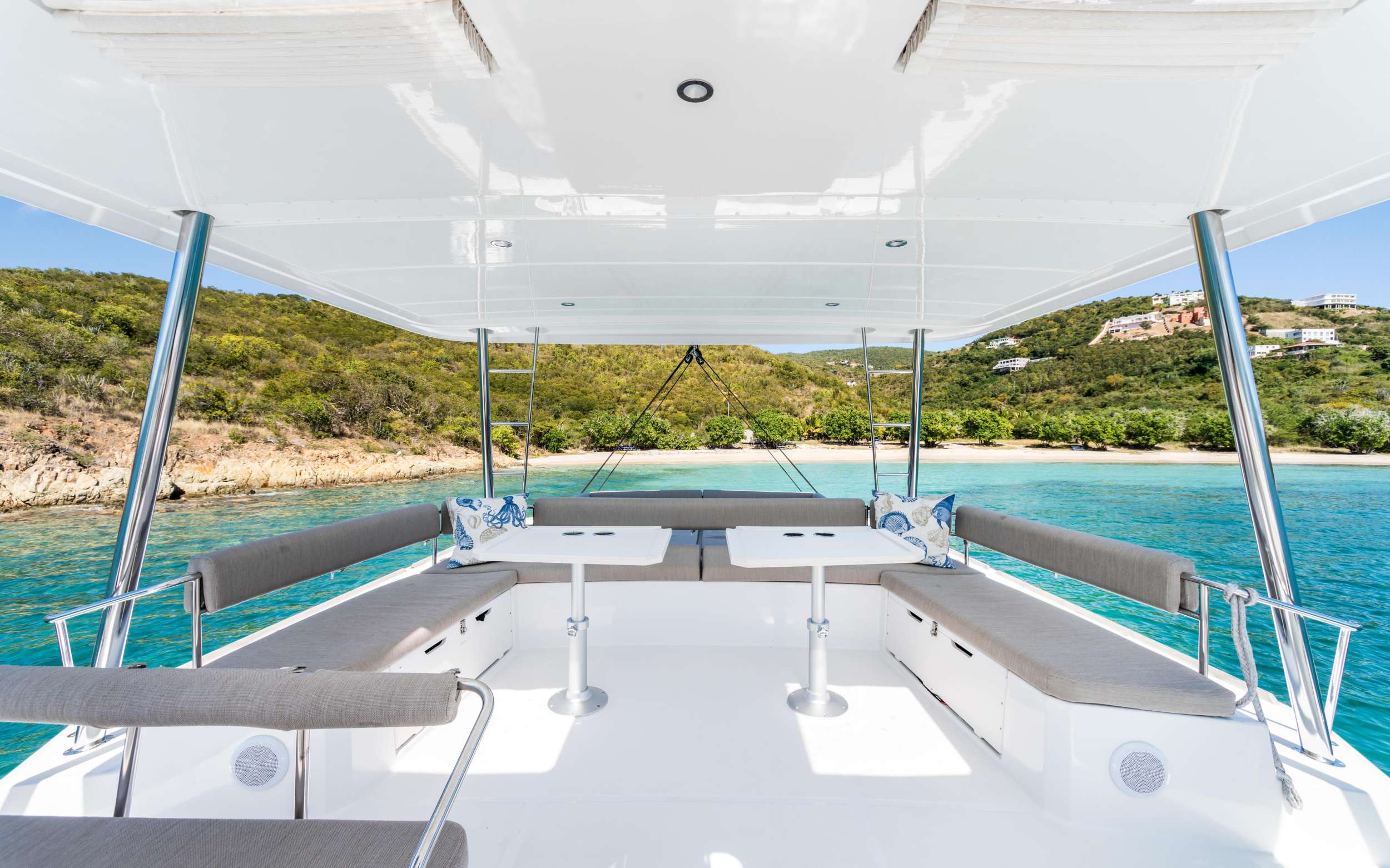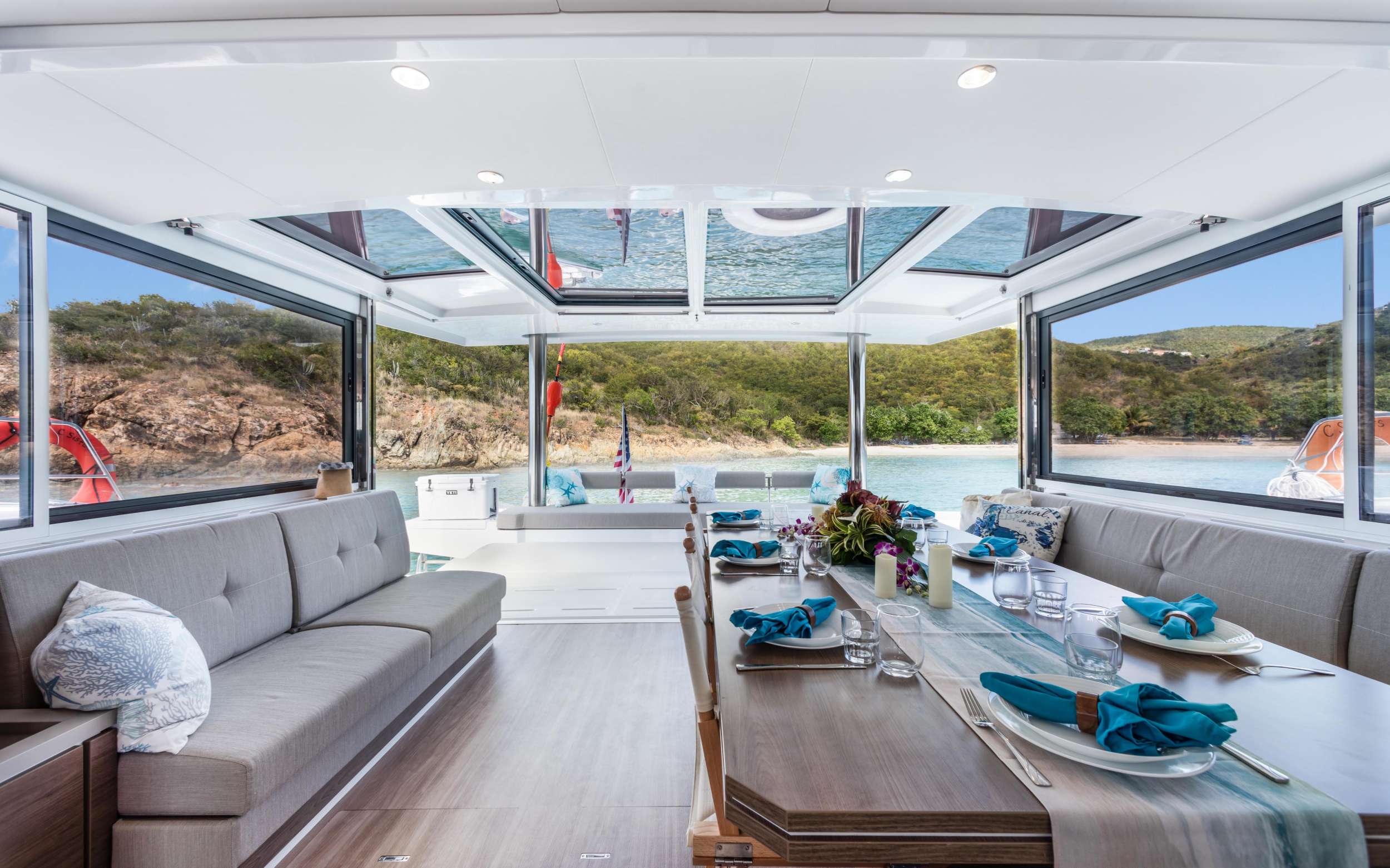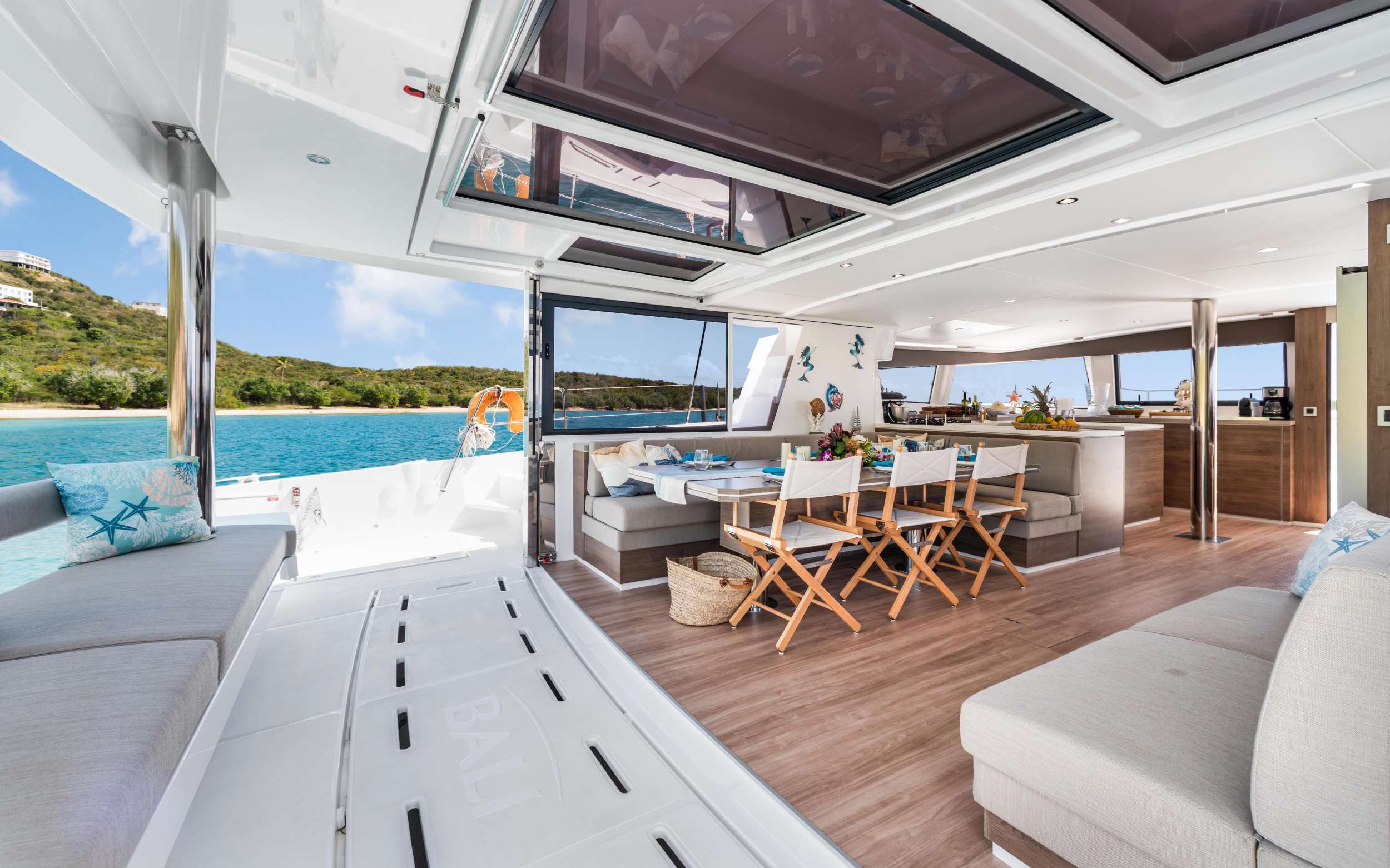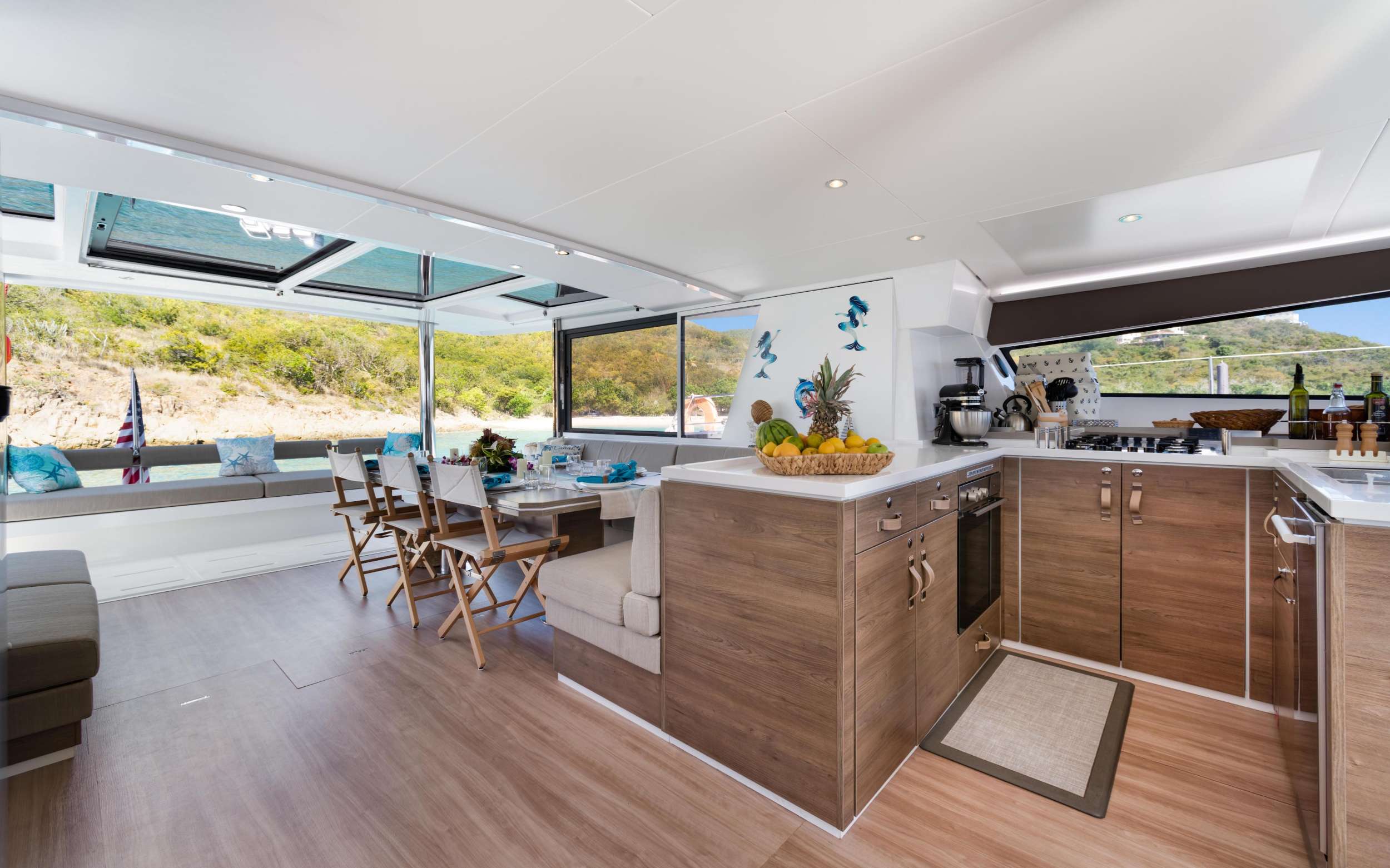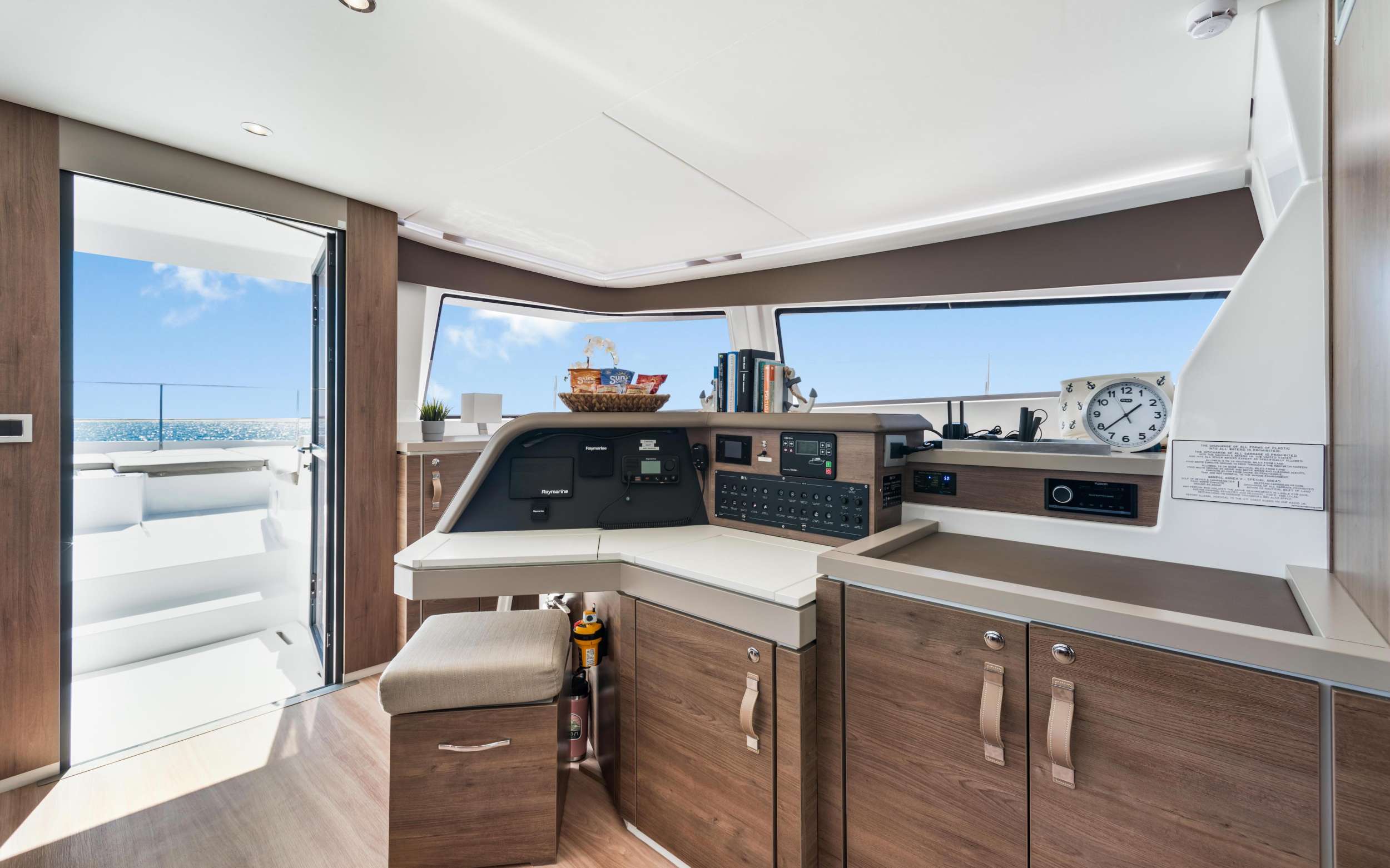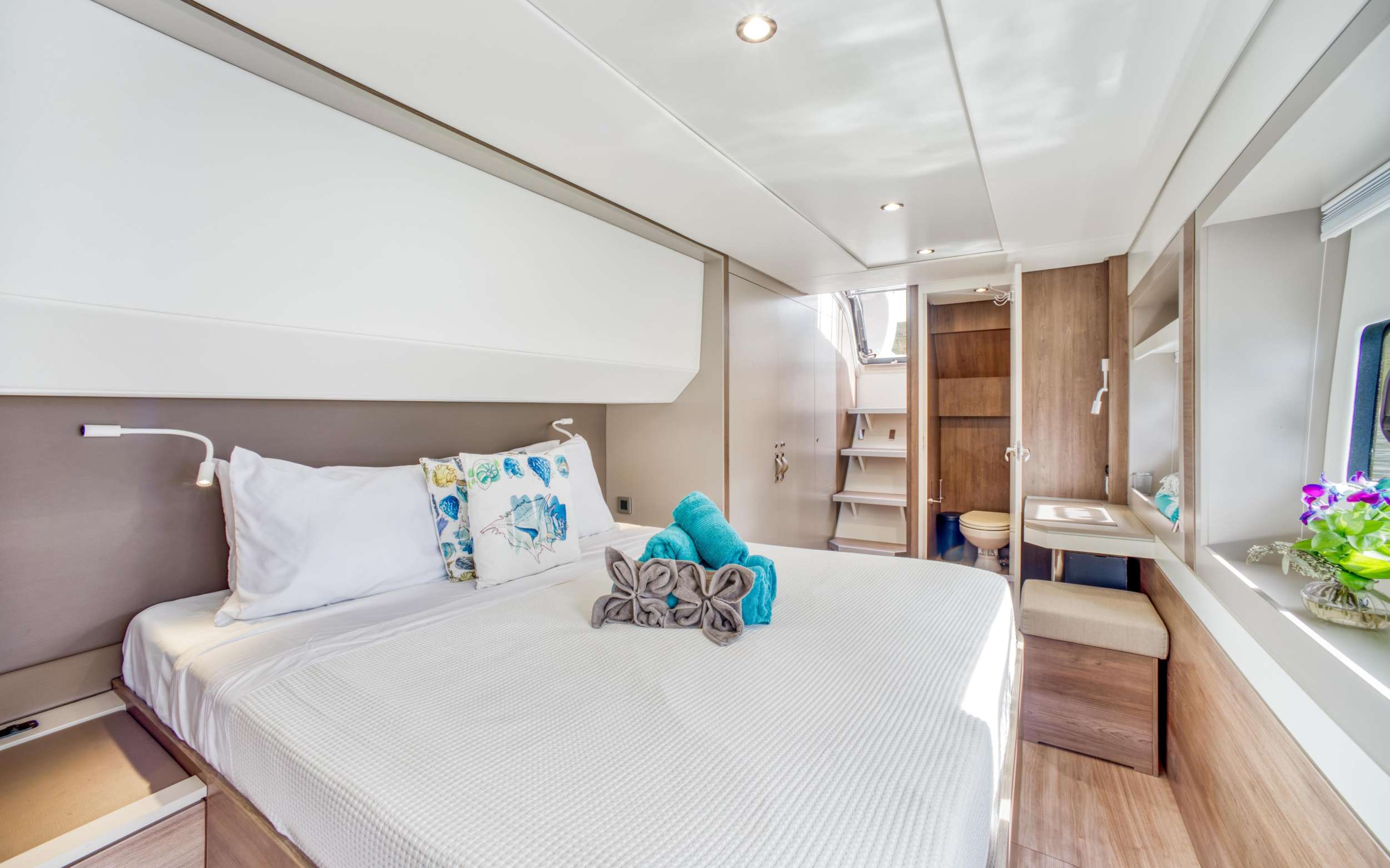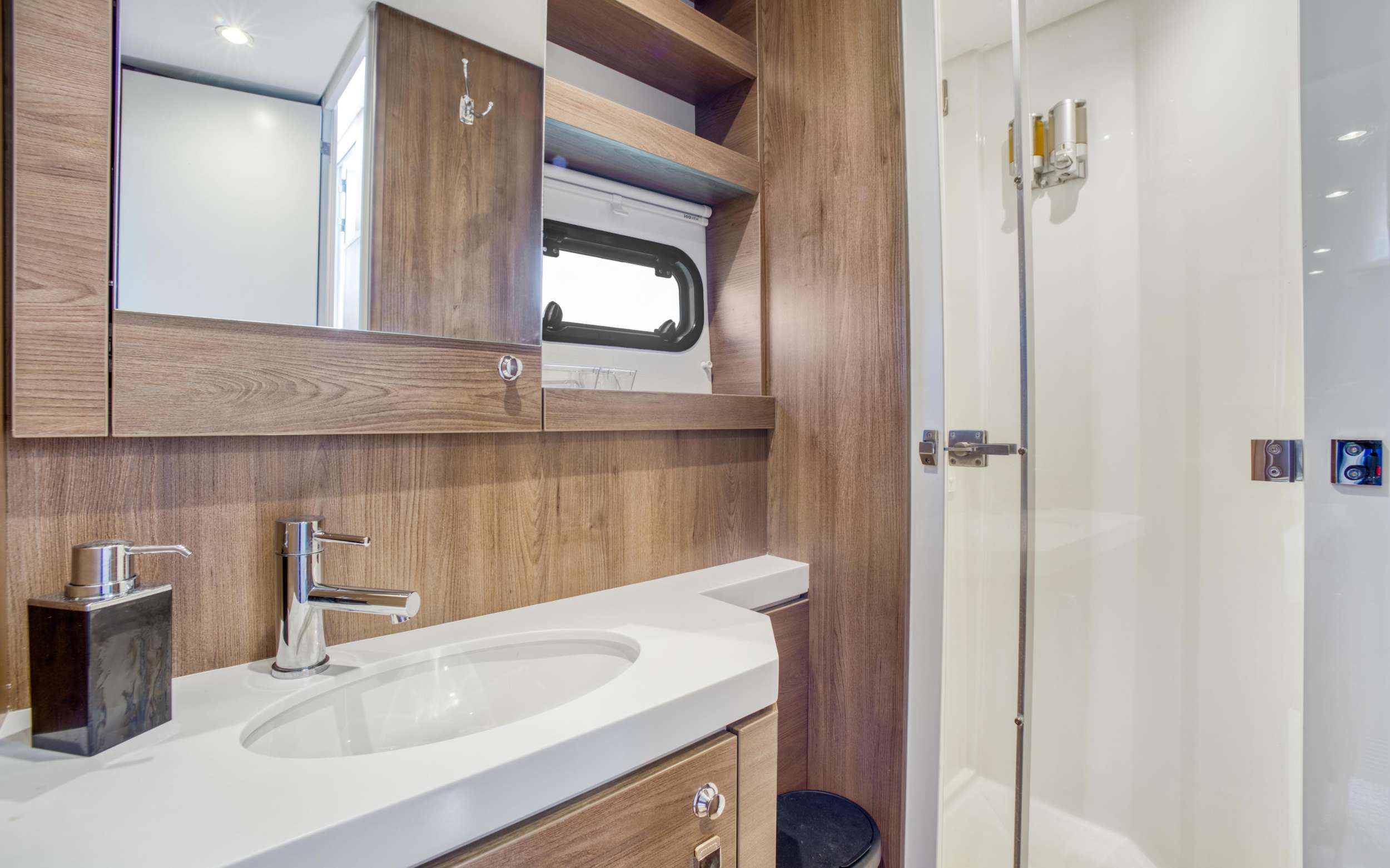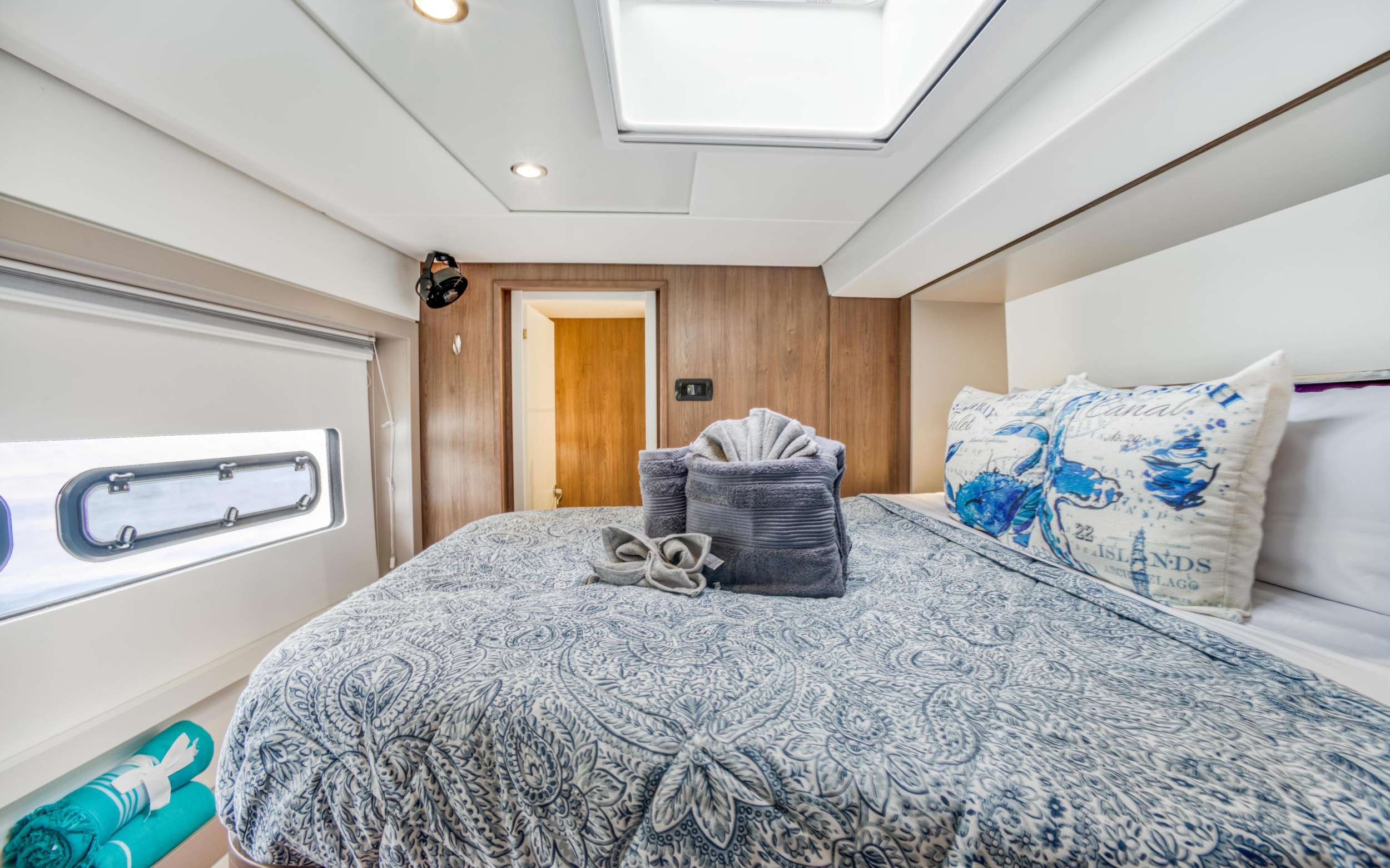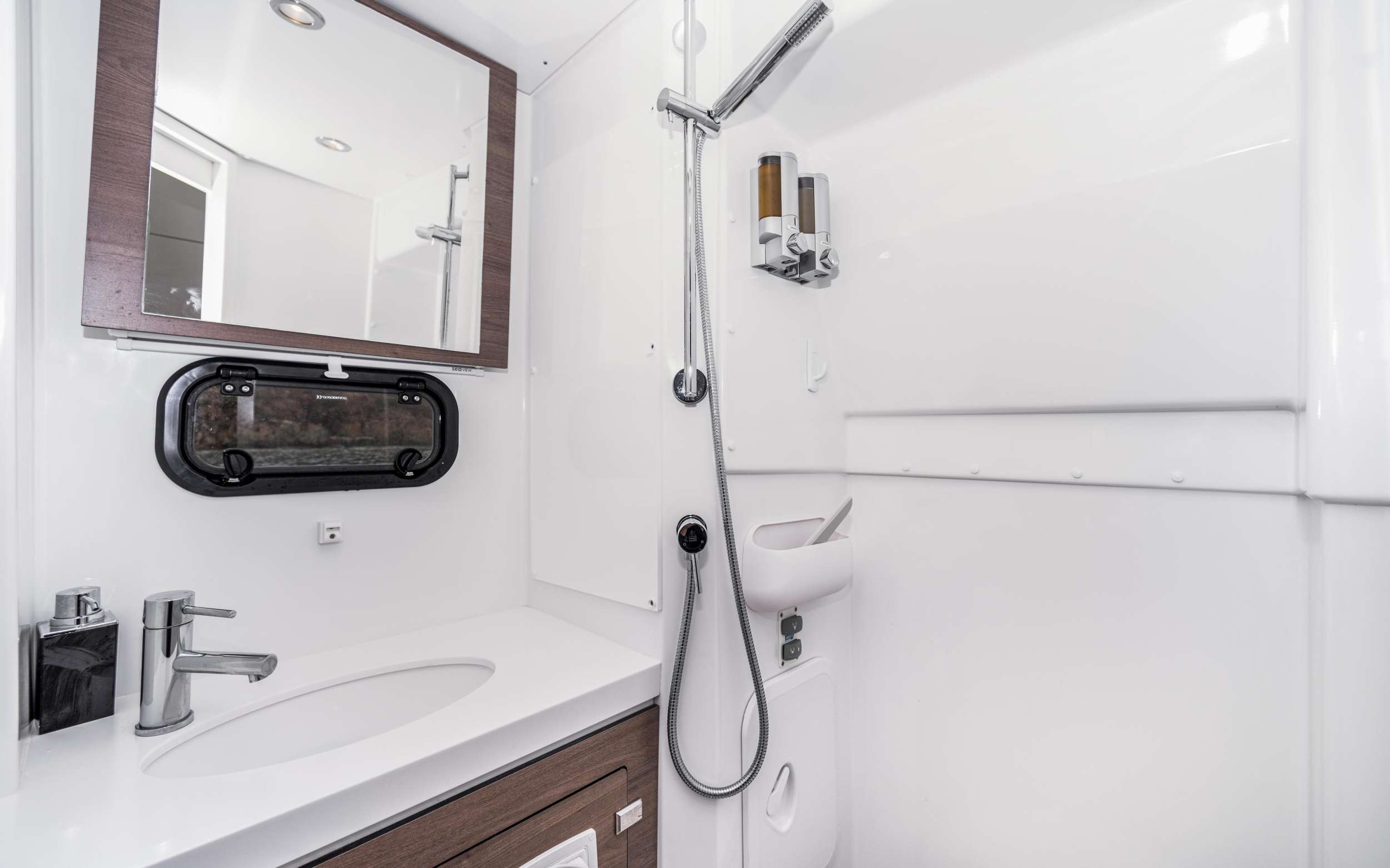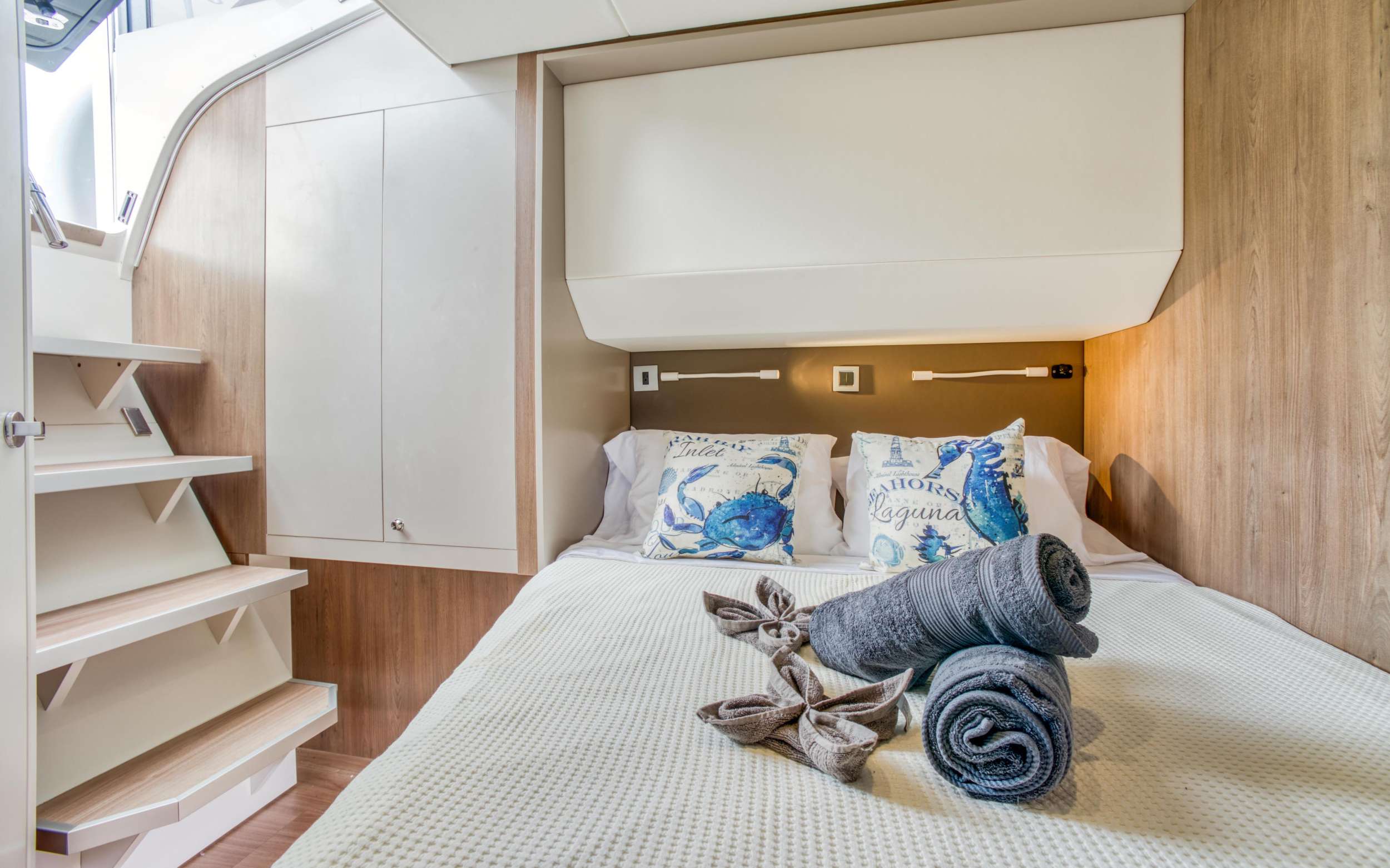 Accommodations
| | |
| --- | --- |
| Sleeps 10 guests in 5 guest stateroom(s). | |
| 4 with Queen Bed(s) | |
| 1 with Twin Bed(s) | |
Layout Diagram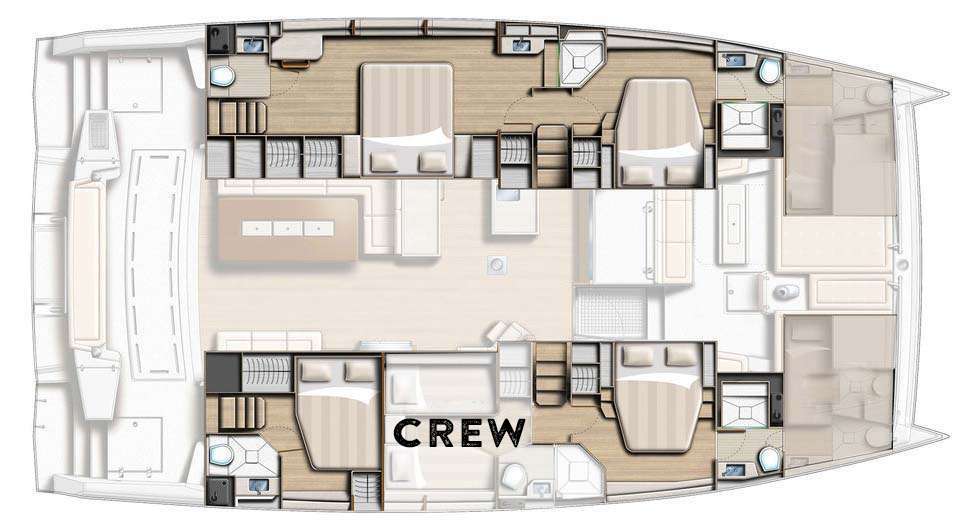 Specifications
| | |
| --- | --- |
| Guests | 10 |
| Staterooms | 5 |
| Length | 54.00 Ft / 16.00 m |
| Beam | 29 ft |
| Draft | 5 ft |
| Built - Refit: | 2023 - No Refit Date Set |
| Builder | Bali Catamarans |
| Cruising Speed | 8 |
Watersports
| | |
| --- | --- |
| Dinghy | 3.9m Highfield 390 rib |
| Dinghy HP | 50HP Honda |
| Paddle Boards | Yes |
| Snorkeling gear | Yes |
| Fishing Gear | Yes |
| Scuba Diving | Yacht offers Rendezvous Diving only |
Pricing
From:
31,700

To:
45,000
Summer 2023
| | |
| --- | --- |
| 2 Guests | 32,000 |
| 3 Guests | 32,500 |
| 4 Guests | 33,000 |
| 5 Guests | 33,500 |
| 6 Guests | 34,000 |
| 7 Guests | 34,500 |
| 8 Guests | 35,000 |
Winter 2023 to 2024
| | |
| --- | --- |
| 2 Guests | 32,000 |
| 3 Guests | 32,500 |
| 4 Guests | 33,000 |
| 5 Guests | 33,500 |
| 6 Guests | 34,000 |
| 7 Guests | 34,500 |
| 8 Guests | 35,000 |
Summer 2024
| | |
| --- | --- |
| 2 Guests | 32,000 |
| 3 Guests | 32,500 |
| 4 Guests | 33,000 |
| 5 Guests | 33,500 |
| 6 Guests | 34,000 |
| 7 Guests | 34,500 |
| 8 Guests | 35,000 |
Winter 2024 to 2025
| | |
| --- | --- |
| 2 Guests | 32,000 |
| 3 Guests | 32,500 |
| 4 Guests | 33,000 |
| 5 Guests | 33,500 |
| 6 Guests | 34,000 |
| 7 Guests | 34,500 |
| 8 Guests | 35,000 |
Pricing Details
CURRENT SPECIAL: Christmas charters are offered at the standard seasonal rate and New Years charters at 15% above the standard seasonal rate. The charter must be booked and completed before 1/07/2024. This special cannot be combined with other offers.

Cruising Grounds: British Virgin Islands & U.S. Virgin Islands. ​Preferred pick up is either St. Thomas or Tortola. This vessel is in the process of becoming legal to conduct charters in the BVI, specifically being a BVI-based vessel with the crew holding annual work permits. The BVI customs and cruising permit fees are included in the rate. Inquire for details.

GENERAL NOTES:
LESS THAN 7 NIGHT CHARTERS: For 6 nights divide by 7N X 6N. For less than 6 nights, divide by 6N X number of nights.
MINIMUM NIGHTS: 5

HALF-BOARD OPTION:
Includes 7 breakfasts, 4 lunches & 3 dinners, happy hour canapes, standard ships bar and snacks. Other meals ashore at client expense.
2@$31,700 | 3@$32,050 | 4@$32,400 | 5@$32,750 | 6@$33,100 | 7@$33,450 | 8@$33,800

LOCAL FARE OPTION: Includes 7 breakfasts, 5 lunches & 6 dinners, happy hour canapes, standard ships bar and snacks. Other meals ashore at client expense.
2@$31,850 | 3@$32,275 | 4@$32,700 | 5@$33,125 | 6@$33,550 | 7@$33,975 | 8@$34,400

SLEEP ABOARD: Available for half of the daily rate. Includes boarding after 4pm, snacks, welcome cocktails & continental breakfast. Dinner ashore is additional. Select option upon booking. EXCLUDES: Christmas and New Year's weeks.

CHRISTMAS/NEW YEARS: 7 night minimum, VIRGIN ISLANDS
CHRISTMAS: 1-8 guests $44,000
NEW YEARS: 1-8 guests $45,000
New Year's must start no earlier than 12/27
Christmas must end no later than 12/26

**SEE BROKER NOTES FOR MORE INFORMATION - WAIVER REQUIRED IN ADDITION TO CONTRACT**

Copy link below & paste into browser to submit waiver:
https://bit.ly/cyawaiver
PLEASE INQUIRE FOR FURTHER PRICING DETAILS
Crew Profile

One of my favorite quotes of all time comes from JRR Tolkien's book, The Fellowship of the Rings, where Gandalf said to Frodo… "All we have to decide is what to do with the time that is given us."
Born and raised 20 miles north of Boston in Reading, Massachusetts, I loved the outdoors and playing any and all sports. My summers were spent in the White Mountains of New Hampshire until sports took over my life, along with my family's. After graduating from Reading Memorial High School, I decided to pursue my love for athletics and attended East Stroudsburg University in the Pocono Mountains of Pennsylvania to play college football.
A few years later, while living in Wells, Maine, I decided to follow in my grandfather's footsteps and become a bartender. That decision changed the course of my life forever. For the next 25ish years, I used the bartending profession to fuel my passion for traveling and adventure. I also learned as many trades as I could: carpenter, ski and snowboard tech, Alaskan fisherman, paint salesman, tour manager, and owner and operator of my own and muscular therapy business. I called Boston, LA, Sitka Alaska, Aspen Colorado, Squaw Valley/North Lake Tahoe, New York City, and St John, USVI my home. Of course, my life was not all work and no play. I found time to fall in love with the great outdoors all over again and became an avid backpacker, snowboarder, mountain biker, and traveler. I visited India, Nepal, Central America, Eastern and Western Europe, along with many states in the USA.
In 2003, friends showed me photos of Maho Bay on St John in the USVI. I had never heard of St John, or USVI in fact. However, the beauty I saw in those photos never left my thoughts. I almost visited several times over the years, but it never worked out. Then, one day in NYC, I decided it was time to make a change. So, I bought a one-way ticket to St John. On the first day after I arrived on St John, I found a bartending job. On my third day, I was invited to go sailing for the first time ever. That day was literally life changing. From the second I stepped on to the sailboat I knew I wanted to learn how to sail and become a captain. Now, I hold a USCG 100 Ton Masters License with Sailing Endorsements, CPR and First Aid certificates, as well as my STCW-95. Going on my seventh year here in the USVI, I am ready to accommodate your itinerary in a safe and knowledgeable way. My goal is to make sure your trip is a beautiful, lifelong memory; because…this is what you've decided to do with your time. Welcome Aboard!

Rachael Denning
Come Adventure in the Caribbean with Chef Rachael!

East coast, born and raised in the suburbs of Philadelphia, Rachael spent her summers living with her extended family in Newburyport, MA, and North Wildwood, NJ. These places are where sailing first caught her eye. For the past two years she has been a crew member of Sail Wild Hearts in sweet home Orange Beach, Alabama. Rachael enjoys surfing, yoga, tennis, playing her steel drum, braiding hair, and making people laugh. She attended the majority of her college years at the University of Pittsburgh Johnstown, majoring in Chemical Engineering with career aspirations of, one day, starting her own Holistic company. Having a deep passion for clean personal care products, Rachael aspires to fulfill a greater purpose by protecting public health from dangerous ingredients that are commonly found in our everyday household items.

Her culinary experience has been exemplified in her nine years dedicated to the restaurant industry. Fulfilling every position from the front of the house to the back of the house, Rachael took the most liking to the Food aspect of a restaurant. Notably, her "cheffing journey" really took off after her first sailboat delivery, where her crew consisted of two Israelis and a South American. This inspired her to continue developing the diversity of her culinary expertise in various locations including a Mediterranean kitchen and a quaint Italian cafe. Gaining knowledge every day through worldly experiences, Chef Rachael offers a wide variety of cultural cuisines. Today, her culinary style renders flavors of American, Asian, Italian, Mediterranean, Mexican, and is working on incorporating flavors of the Caribbean. As her grandmother always says, "If you can read a recipe, you can cook anything!".

Rachael is truly someone who cares about others. Understanding the role of her job, her goal is to ensure her guests are enjoying their time to the fullest. Nothing is too extravagant; she finds it important to go above and beyond for her guests to ensure your vacation will be unforgettable!

Additional Information
C SISTERS, a brand-new Bali sailing catamaran, showcases the remarkable design expertise of Bali. From the moment you step into the exquisite cockpit with teak floors, a dining table, and a cozy lounge bench, you know you're in for a unique charter experience. Ascending to the flybridge treats you to awe-inspiring views of the turquoise lake and the sails from every angle, making it an ideal spot for sunset cocktails, light fare, and leisurely reading. The spacious and bright main salon is surrounded by abundant windows, while all five guest quarters offer roominess and ample natural light through numerous windows. Each stateroom features a queen-sized bed, a private bathroom with a shower, a flat-screen TV, and a sound system with shipwide and in-cabin controls for your enjoyment. The high-end finishing work throughout the vessel complements its exceptional quality. C SISTERS provides a spectacular experience, with a variety of distinct settings that cater to everyone's preferences. ***Photos in this brochure of the vessel are stock photos. Decor of the vessel may vary***
Destinations