Gallery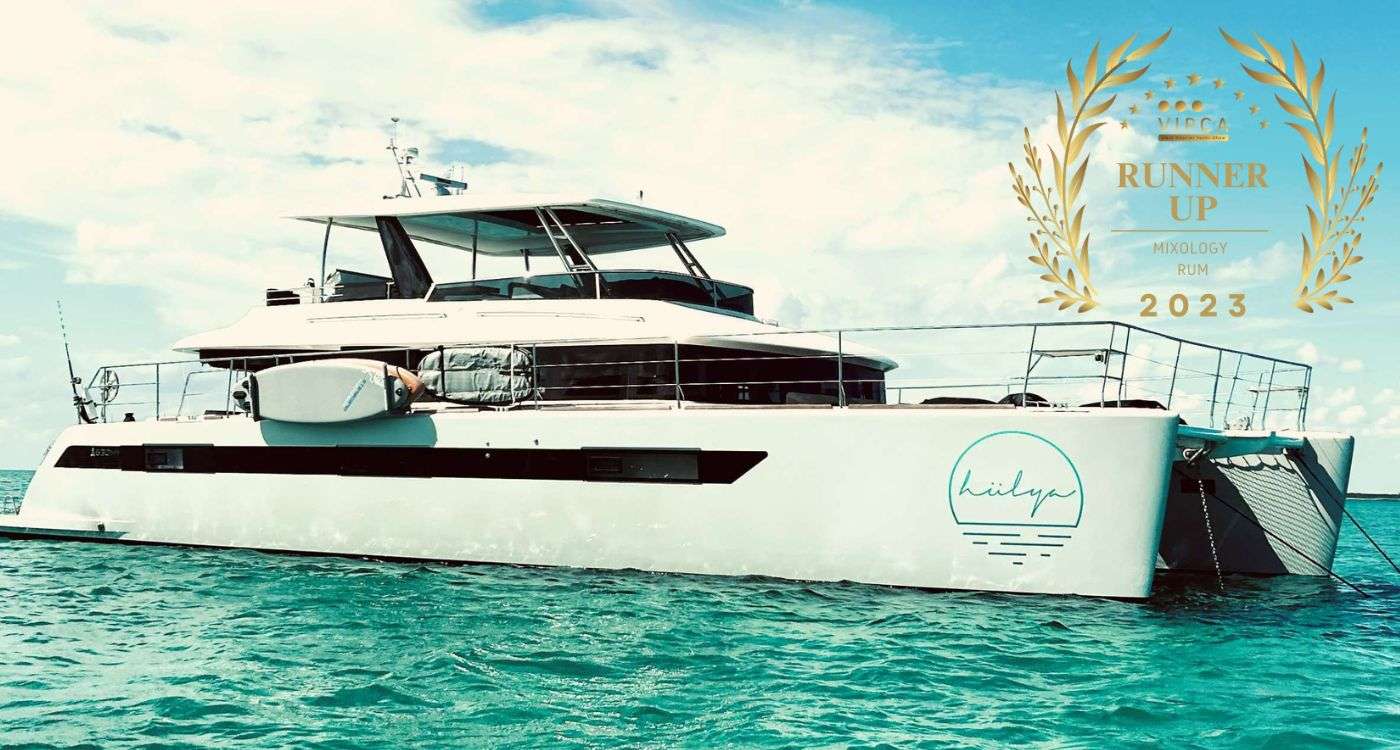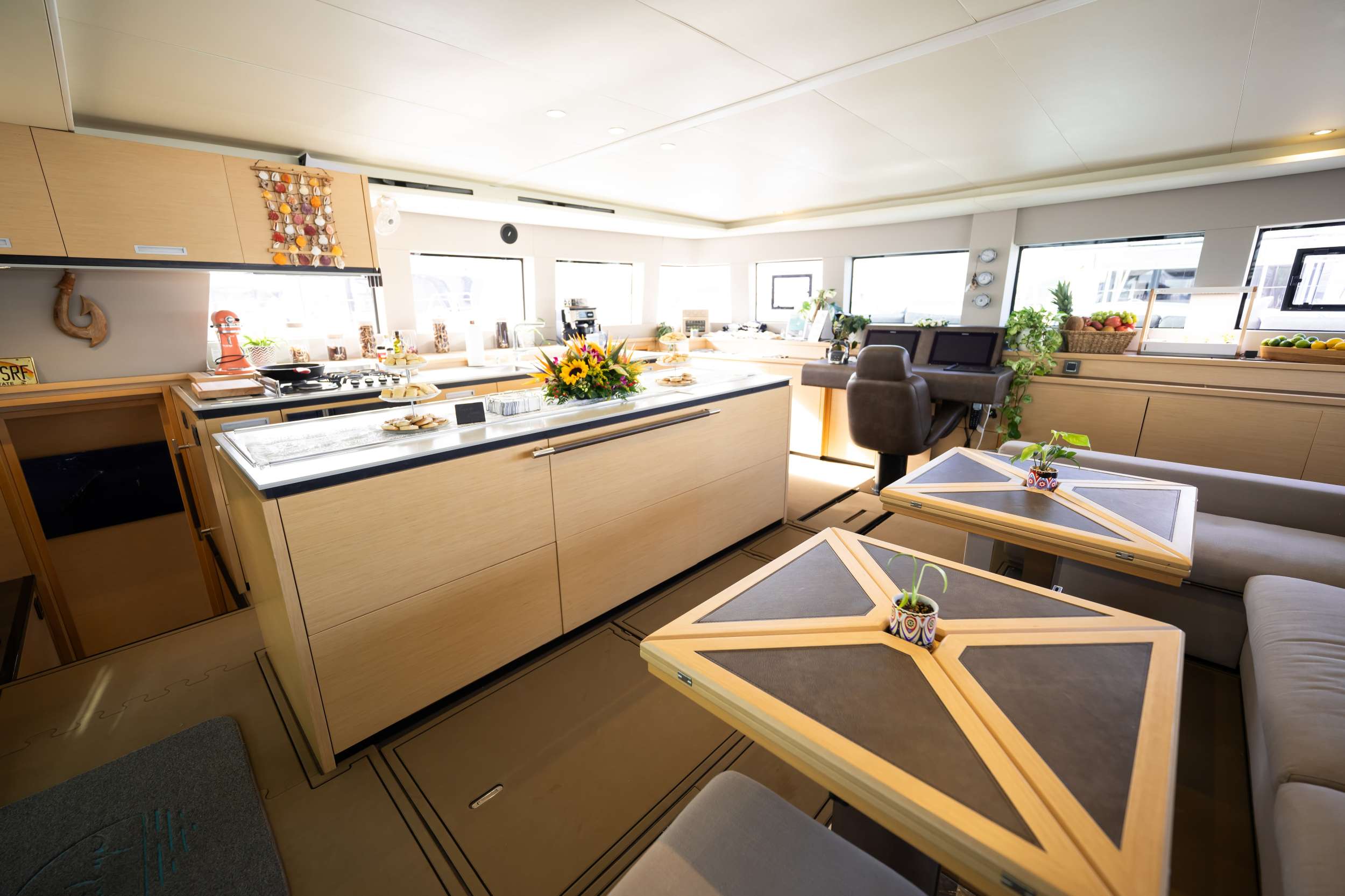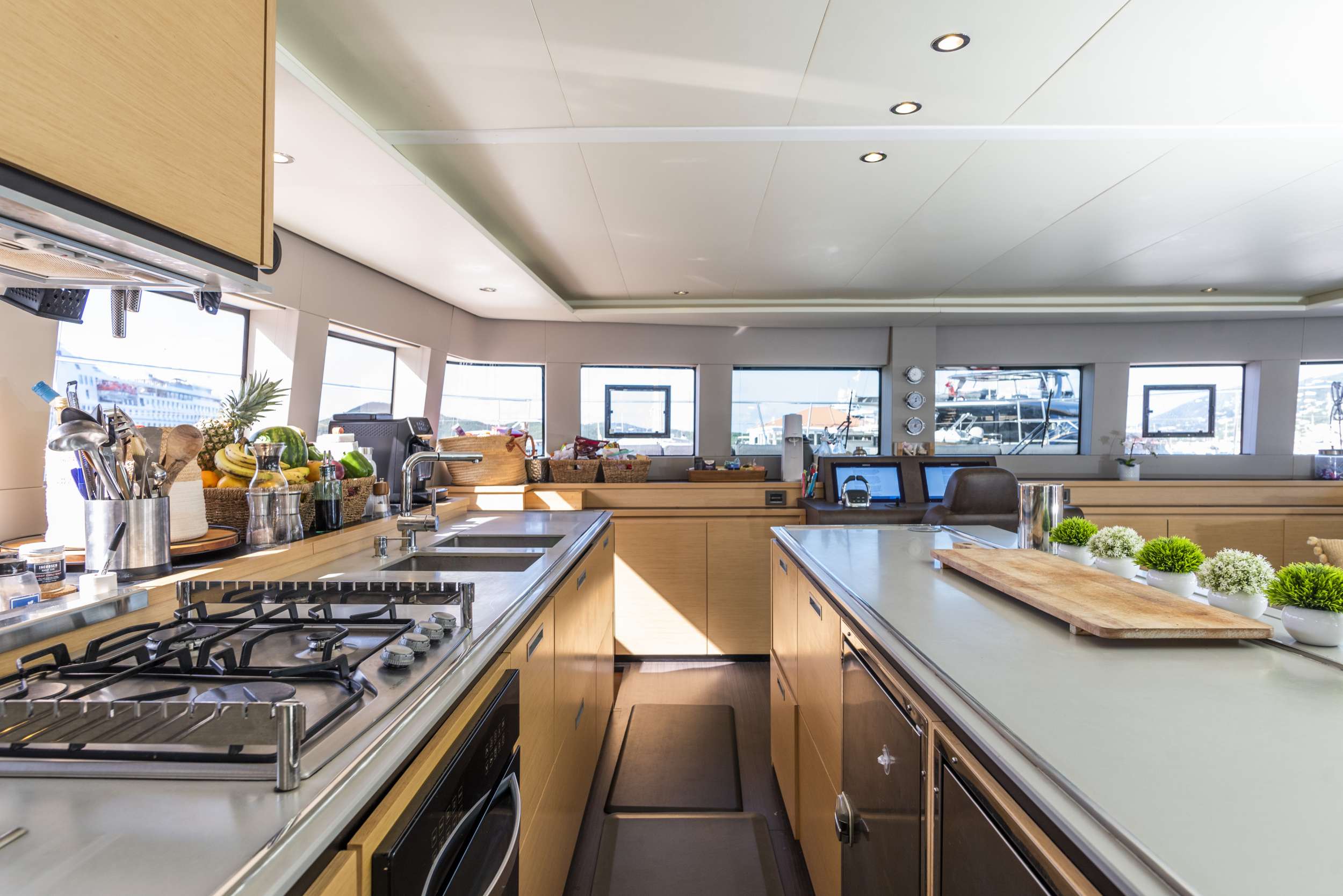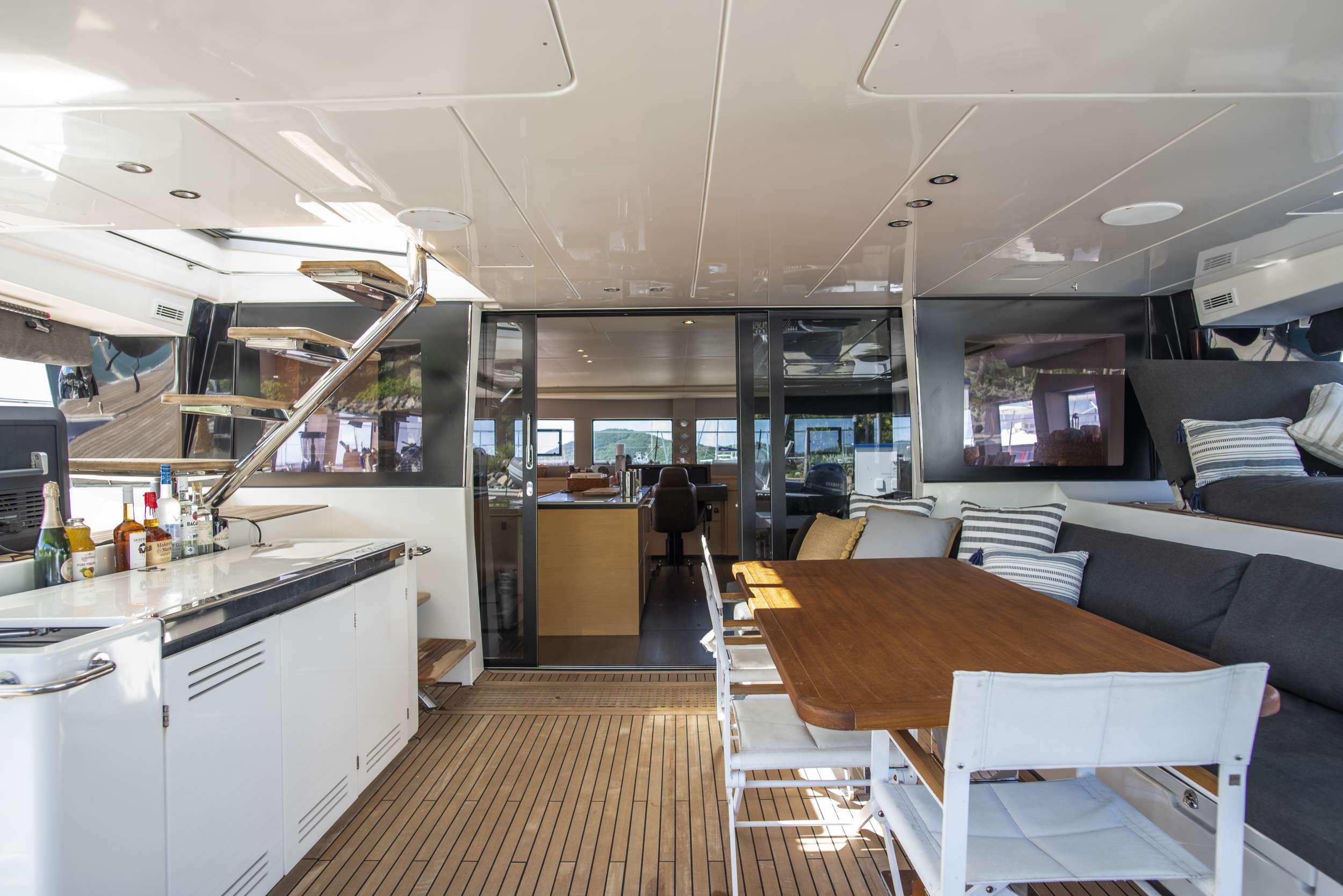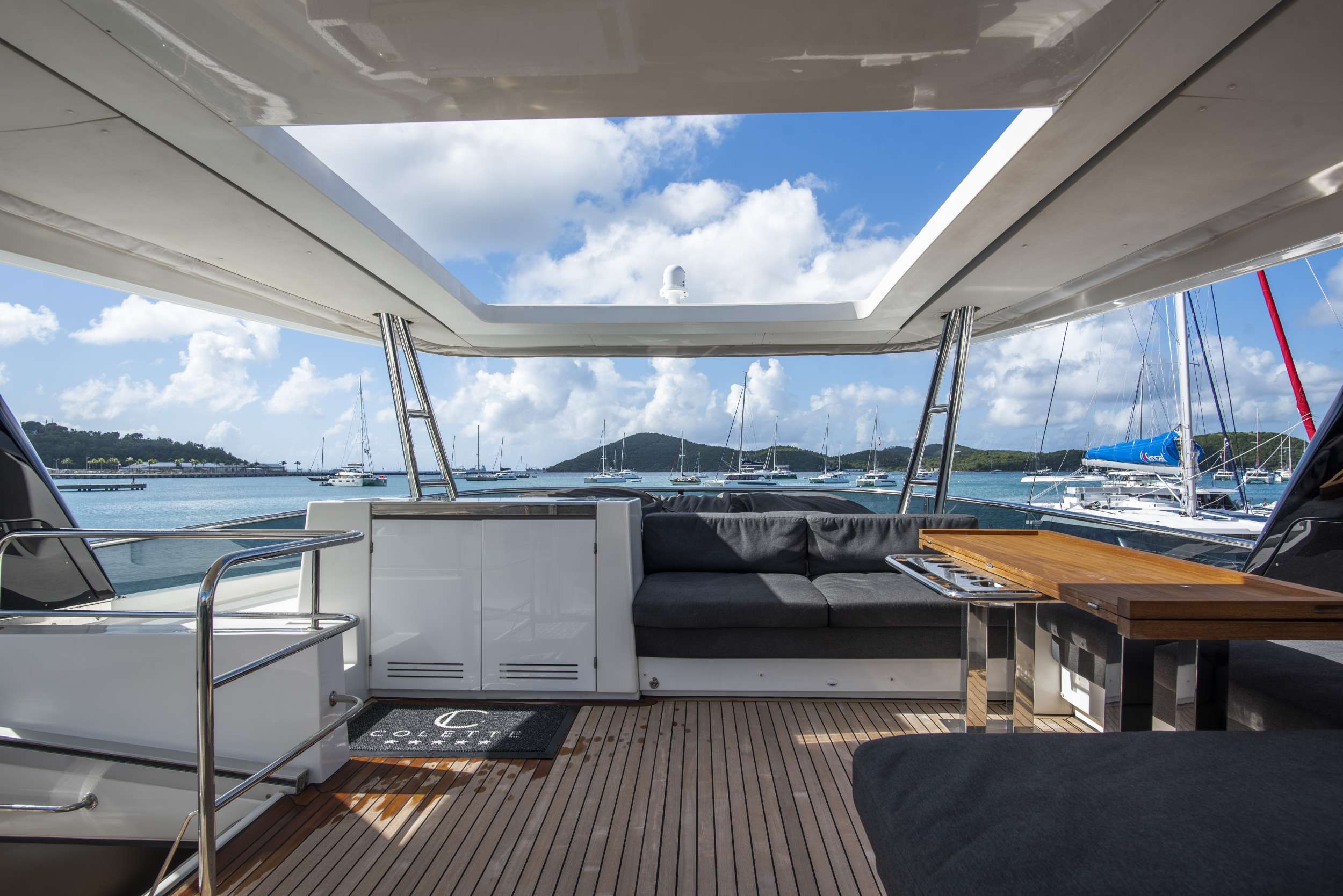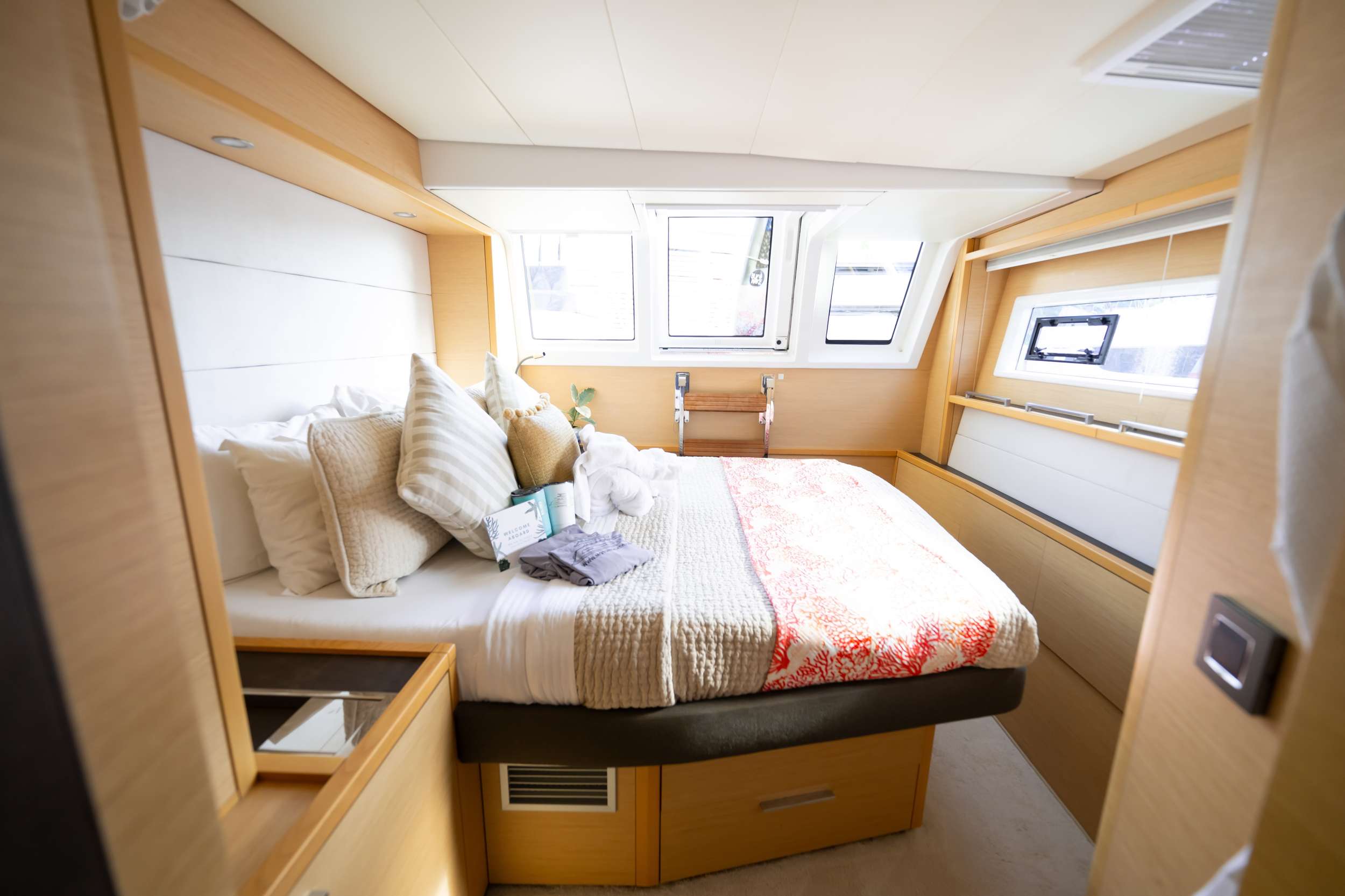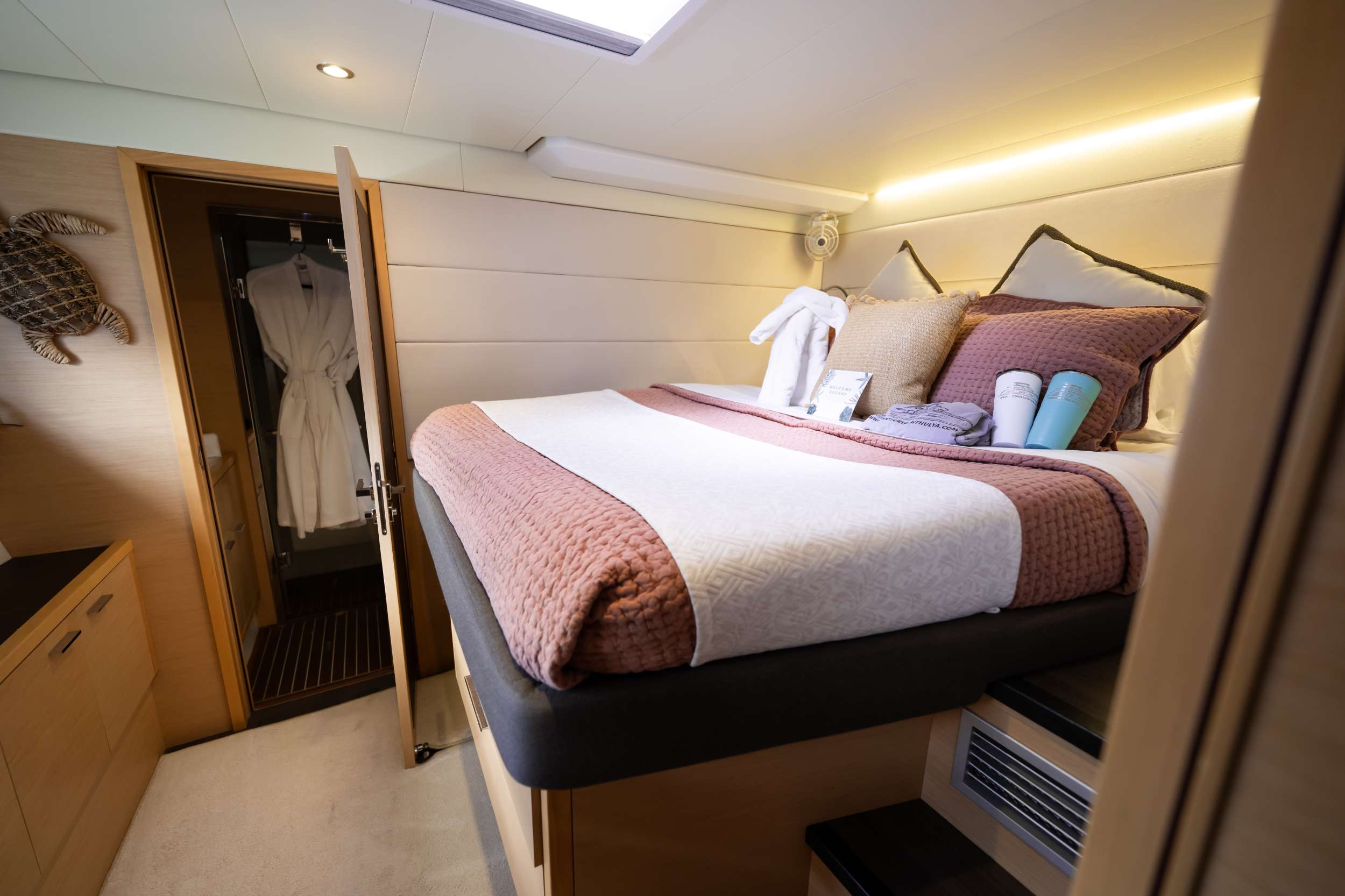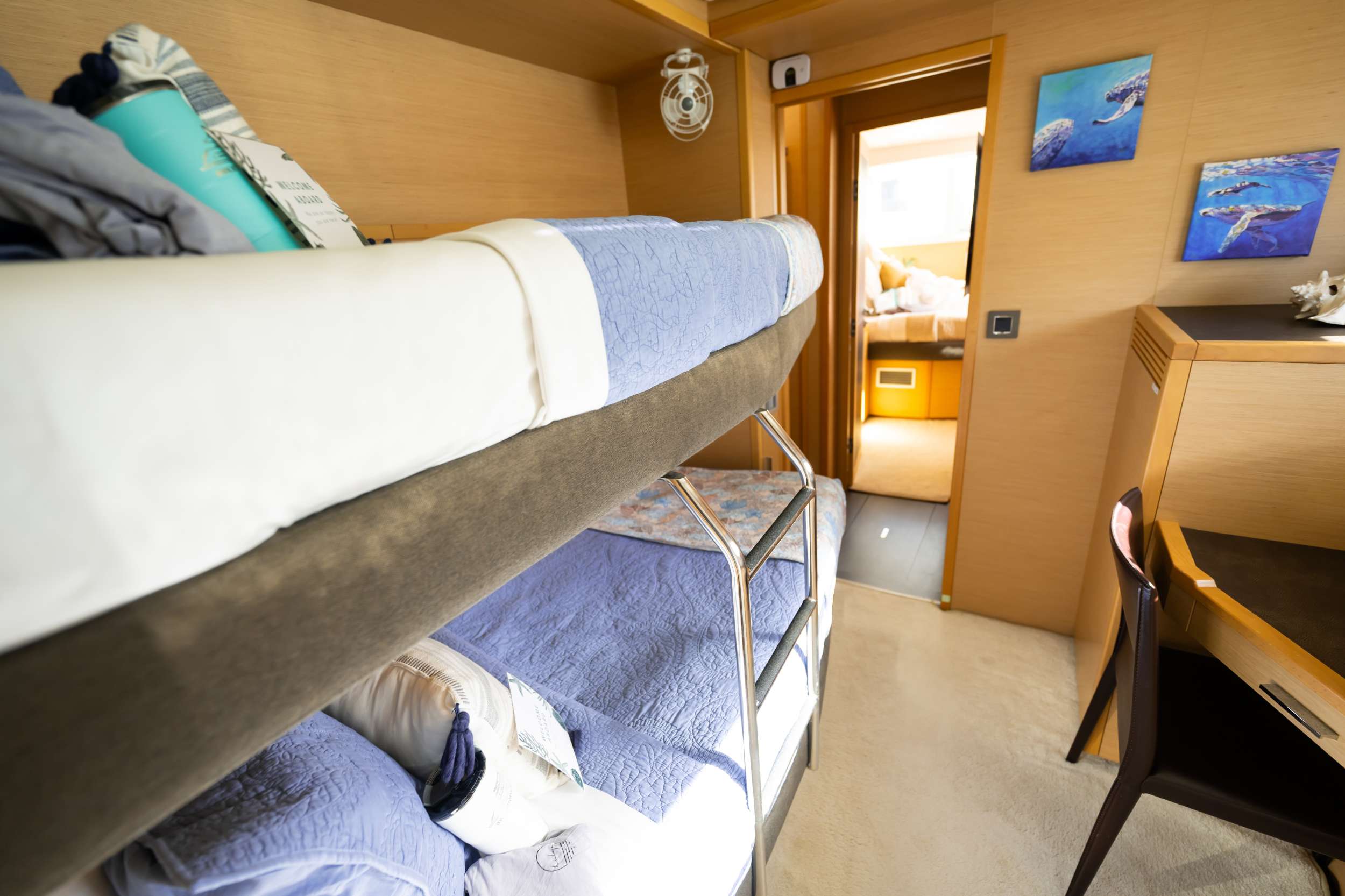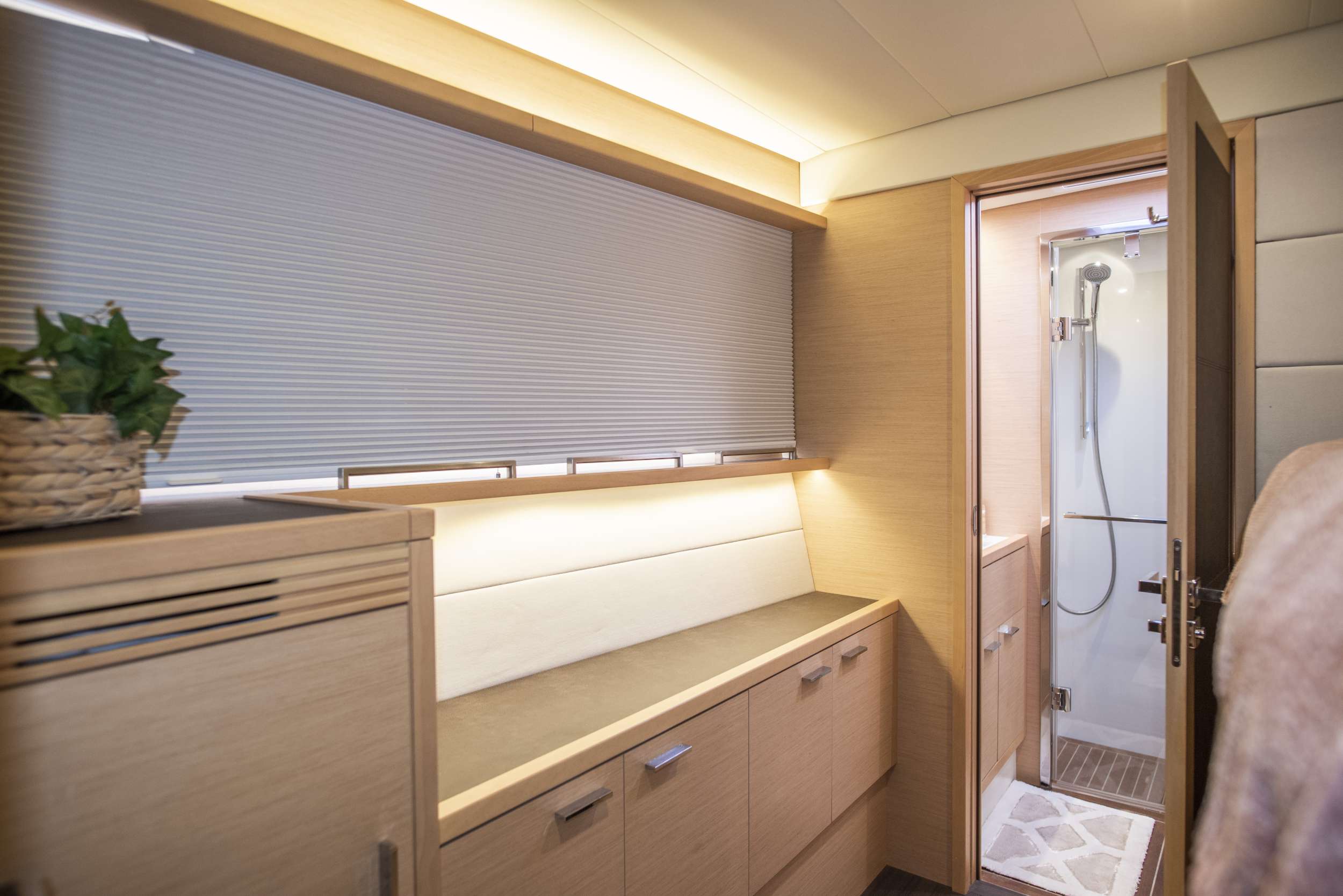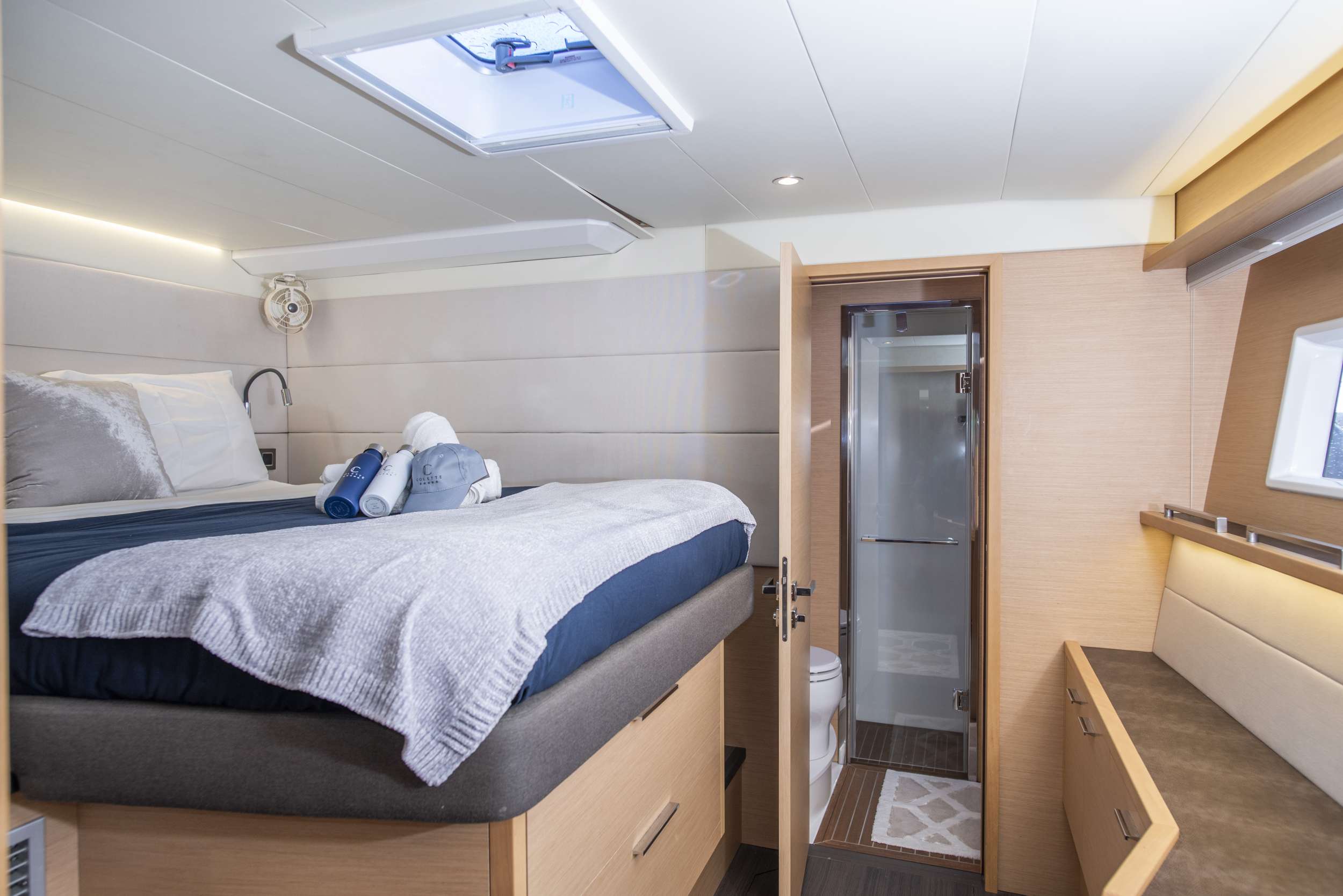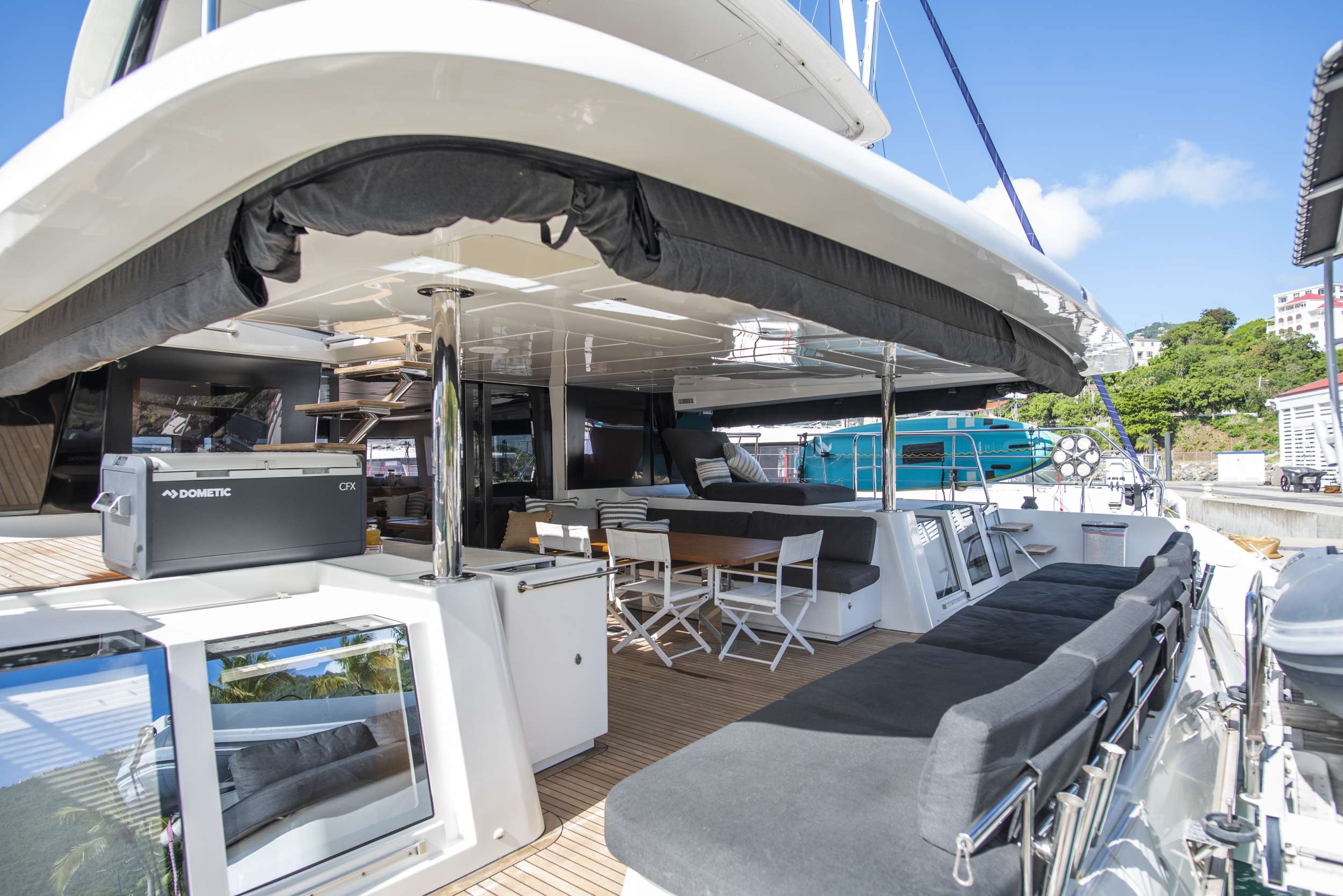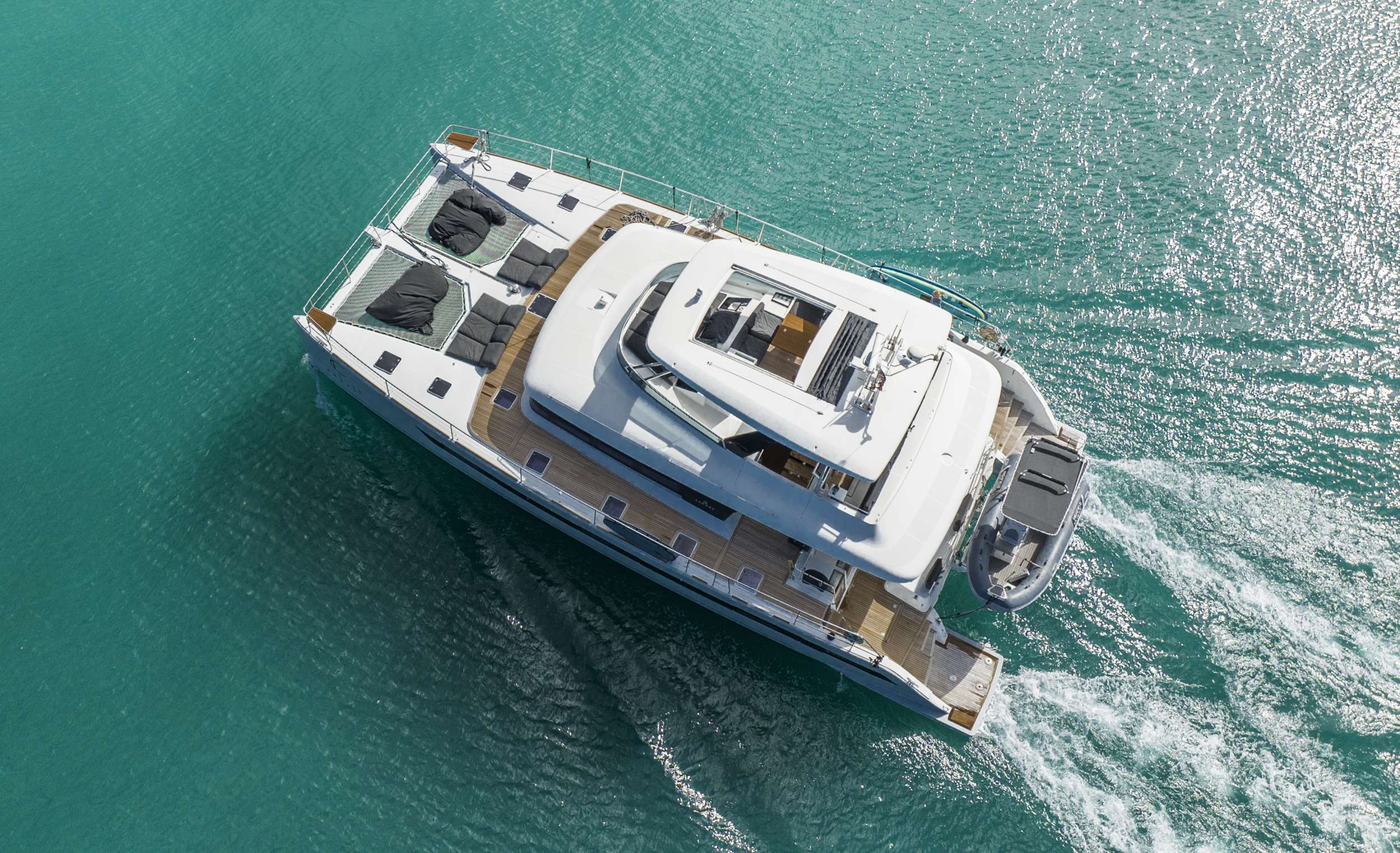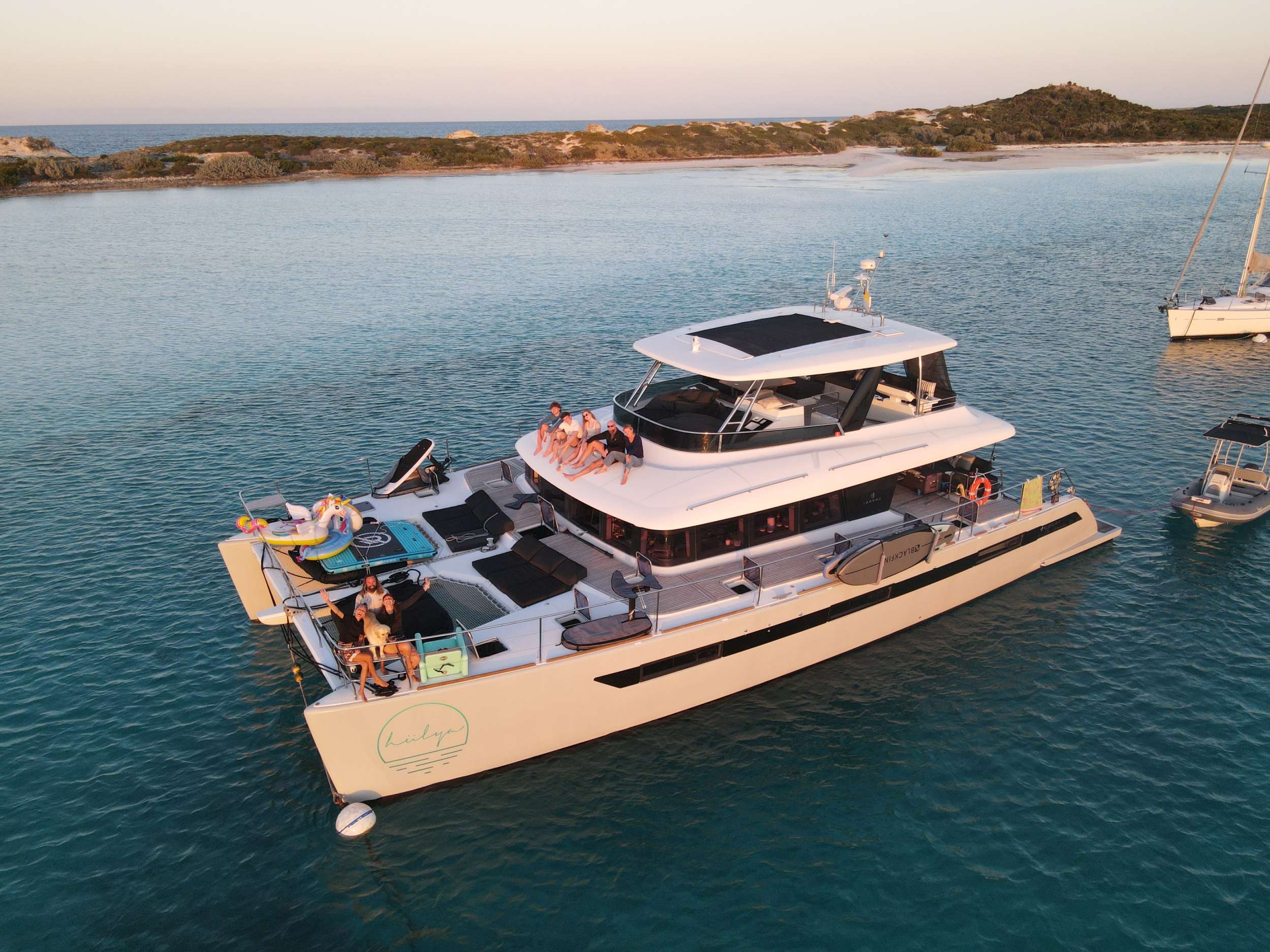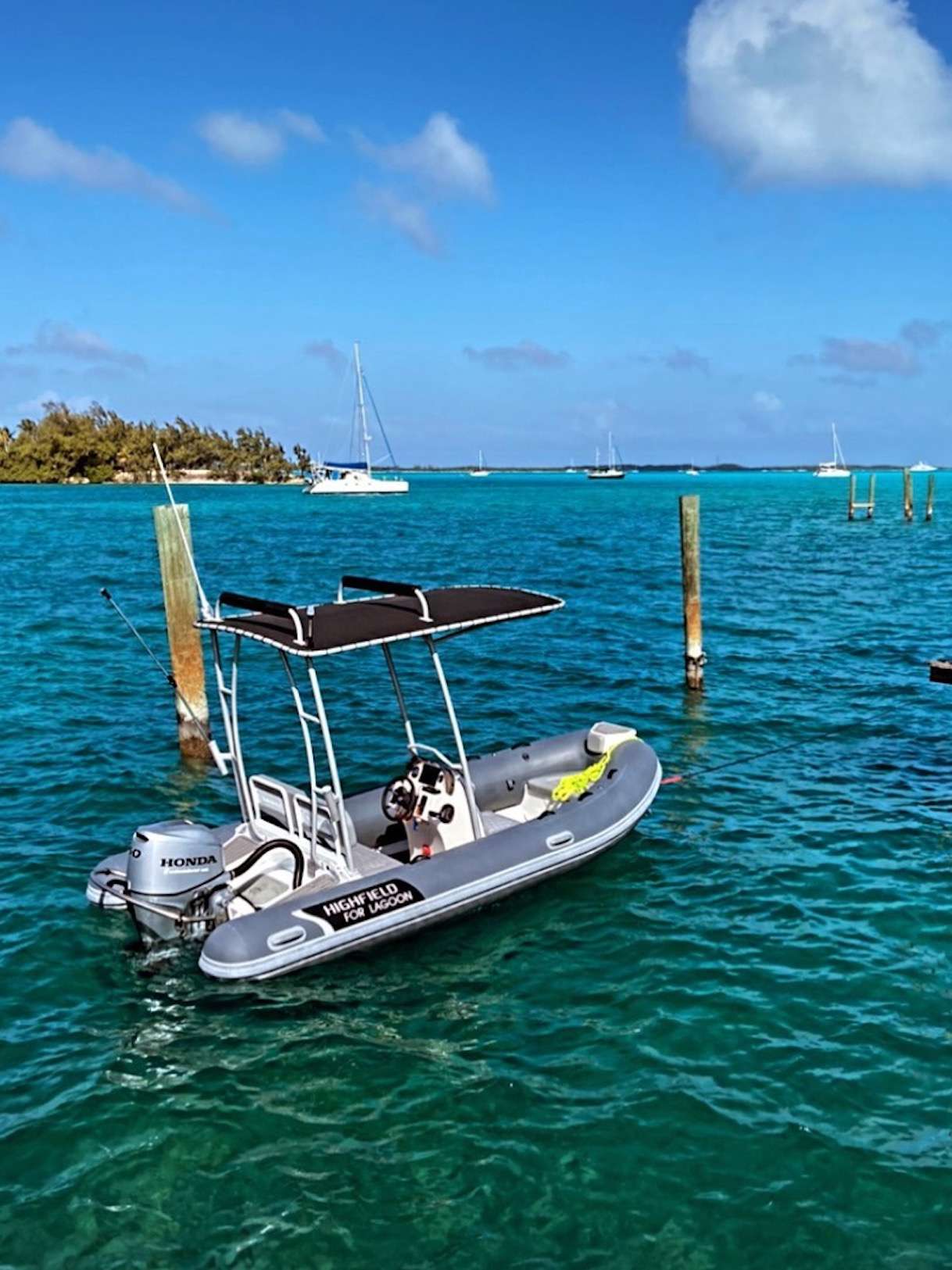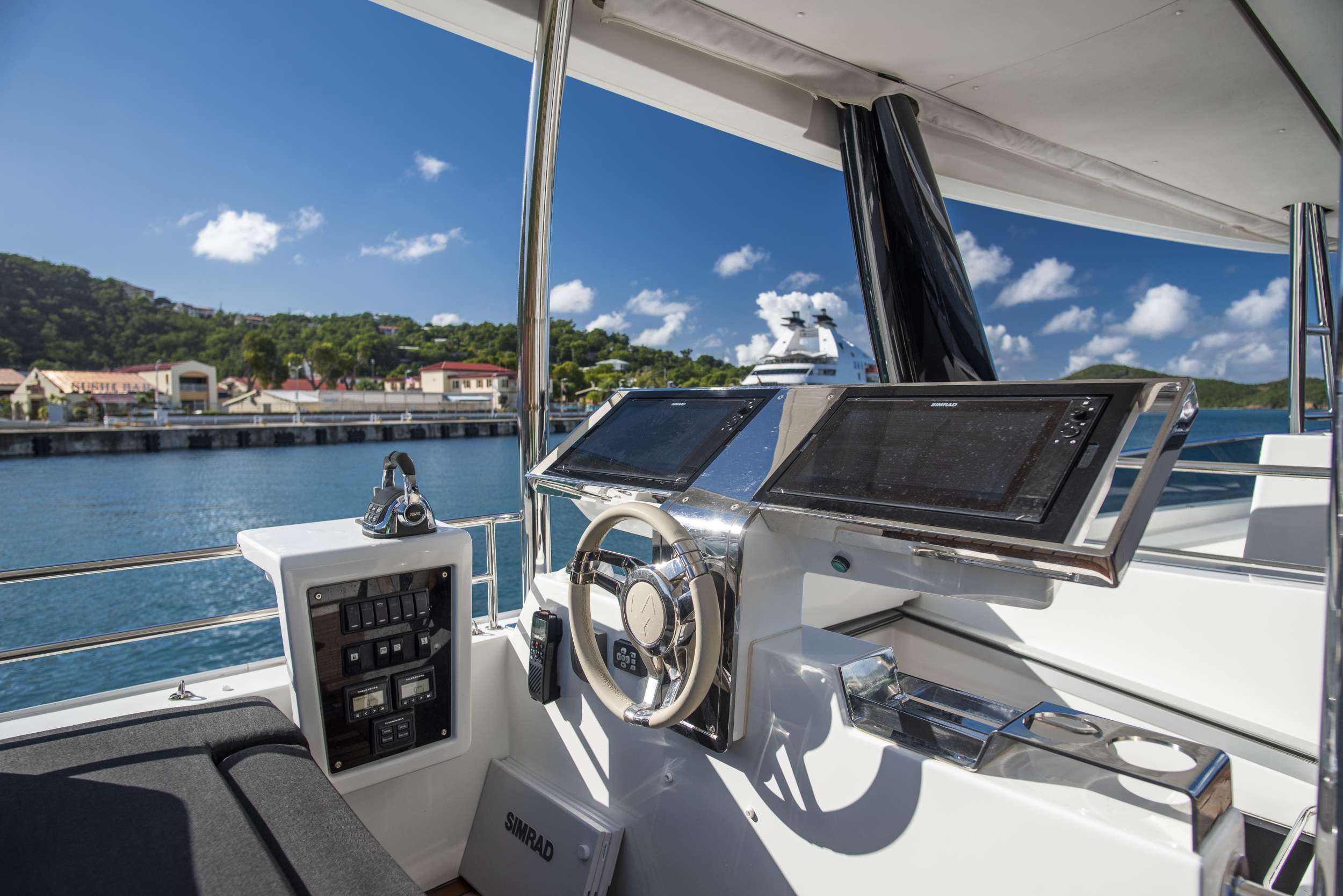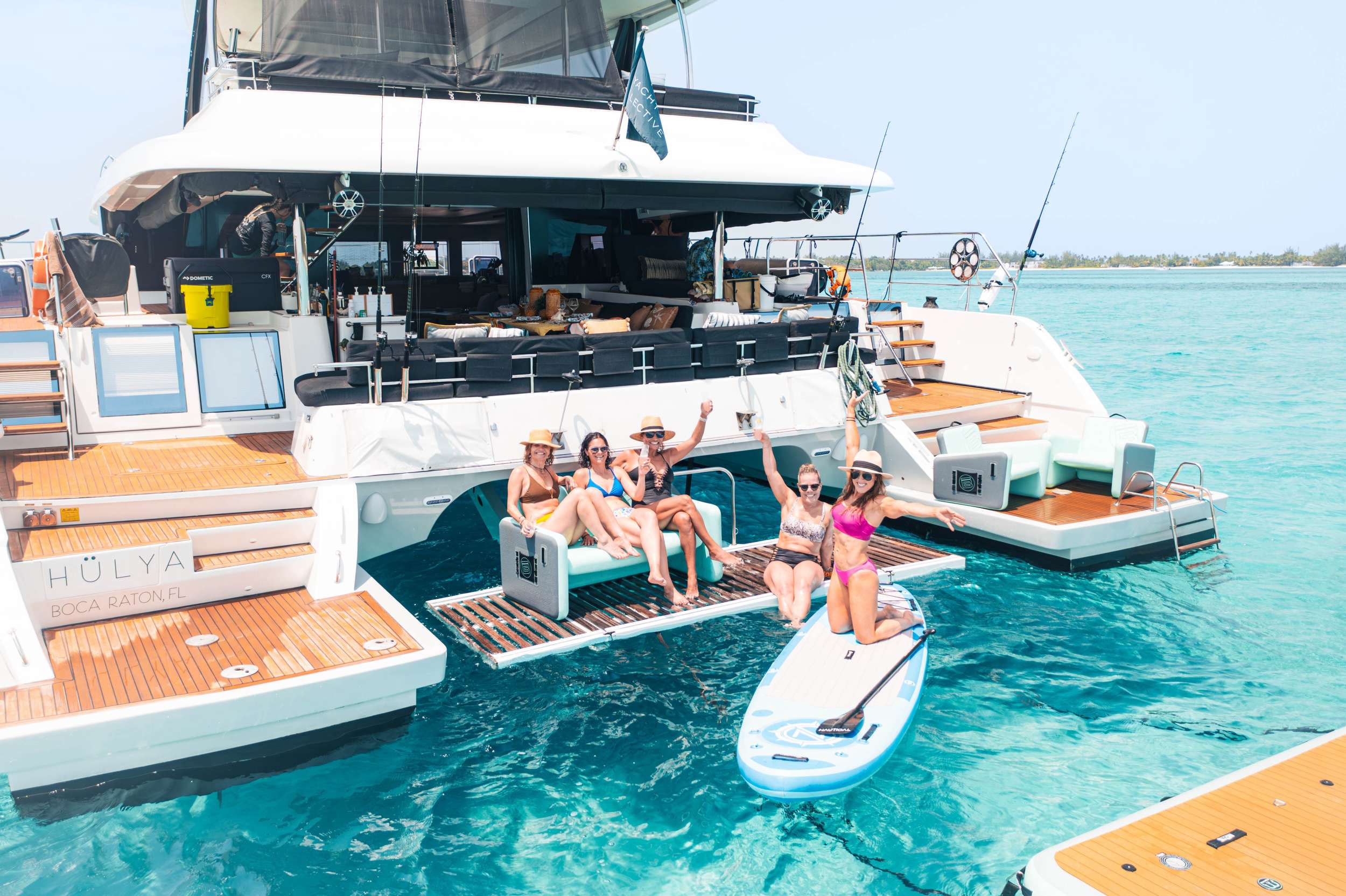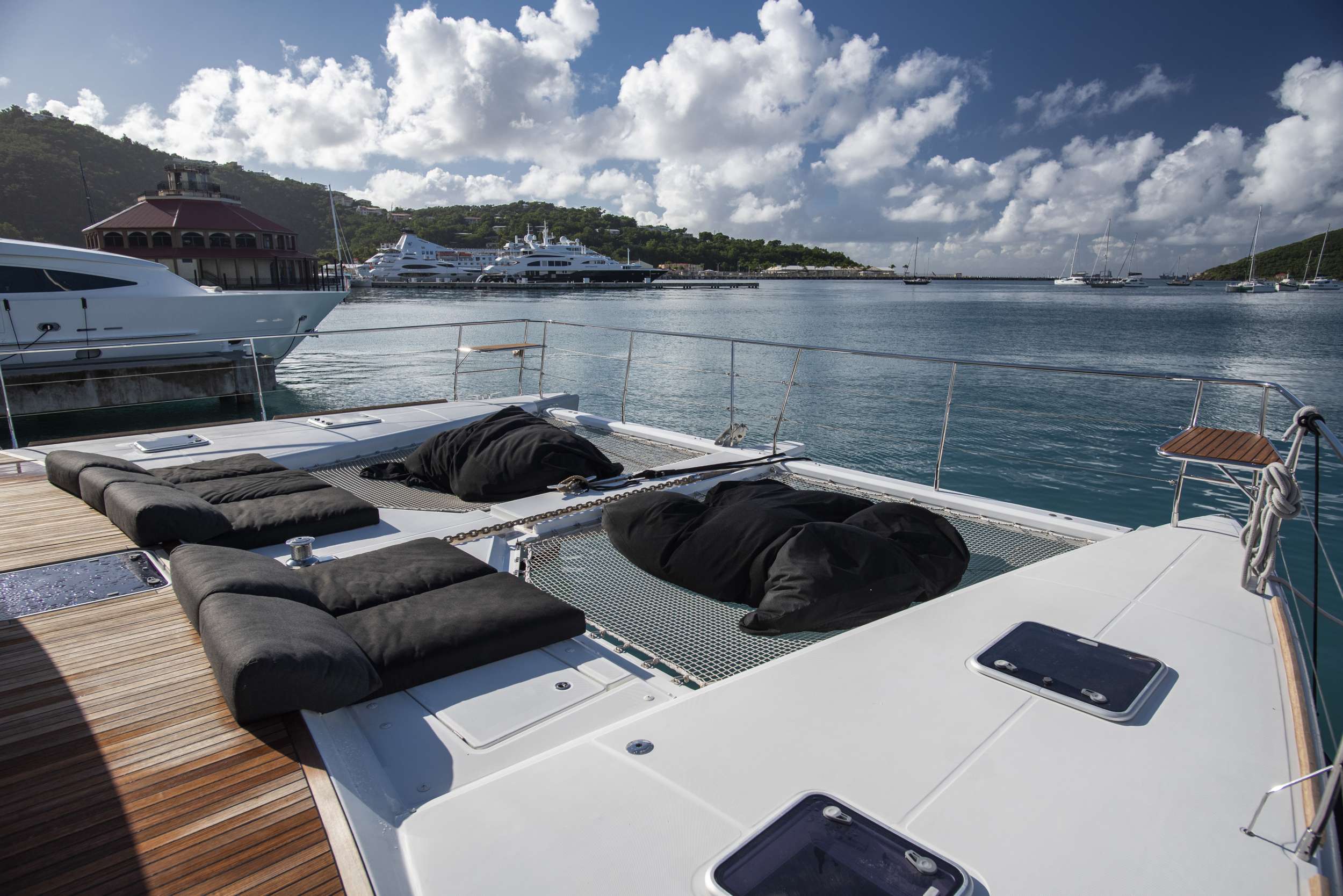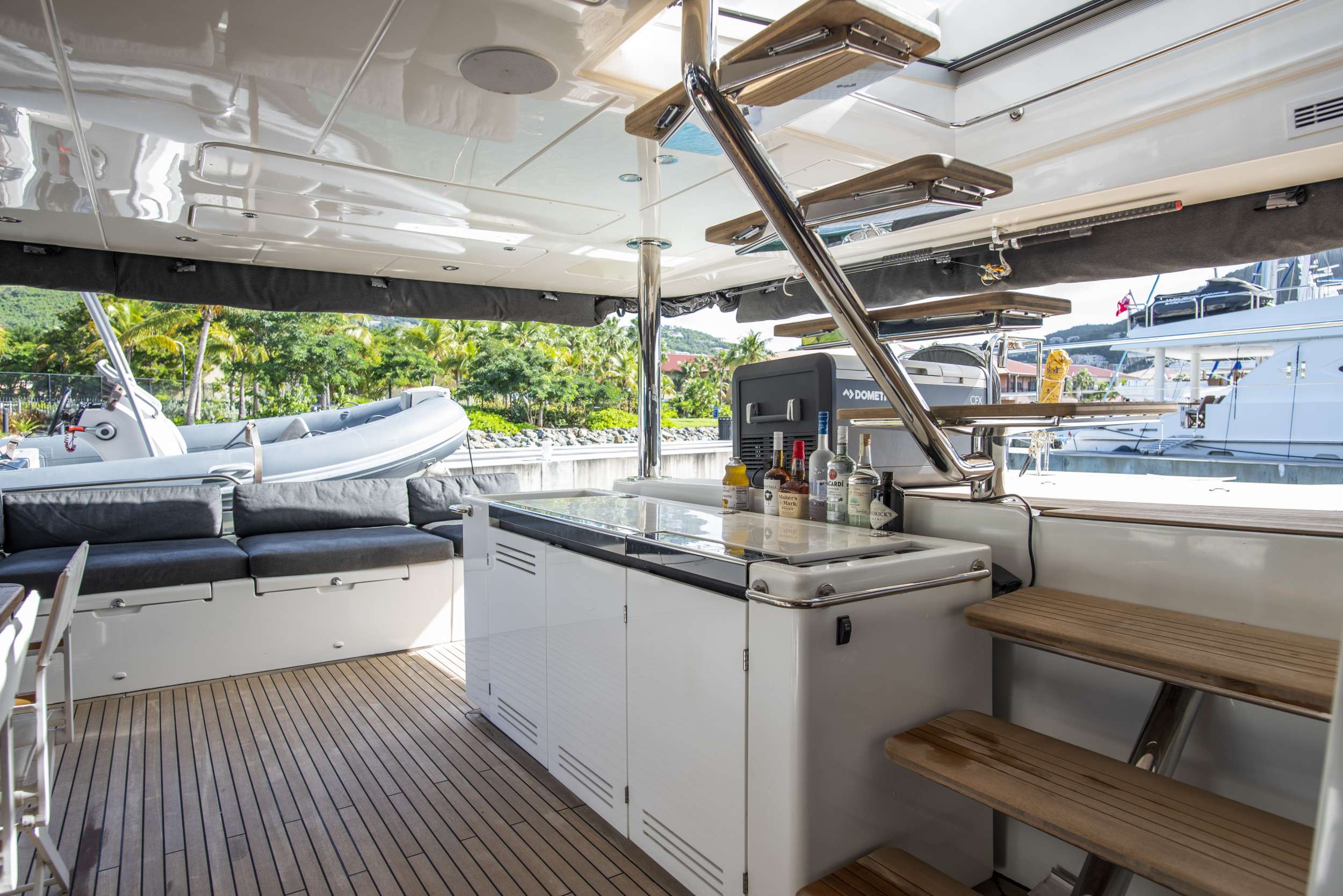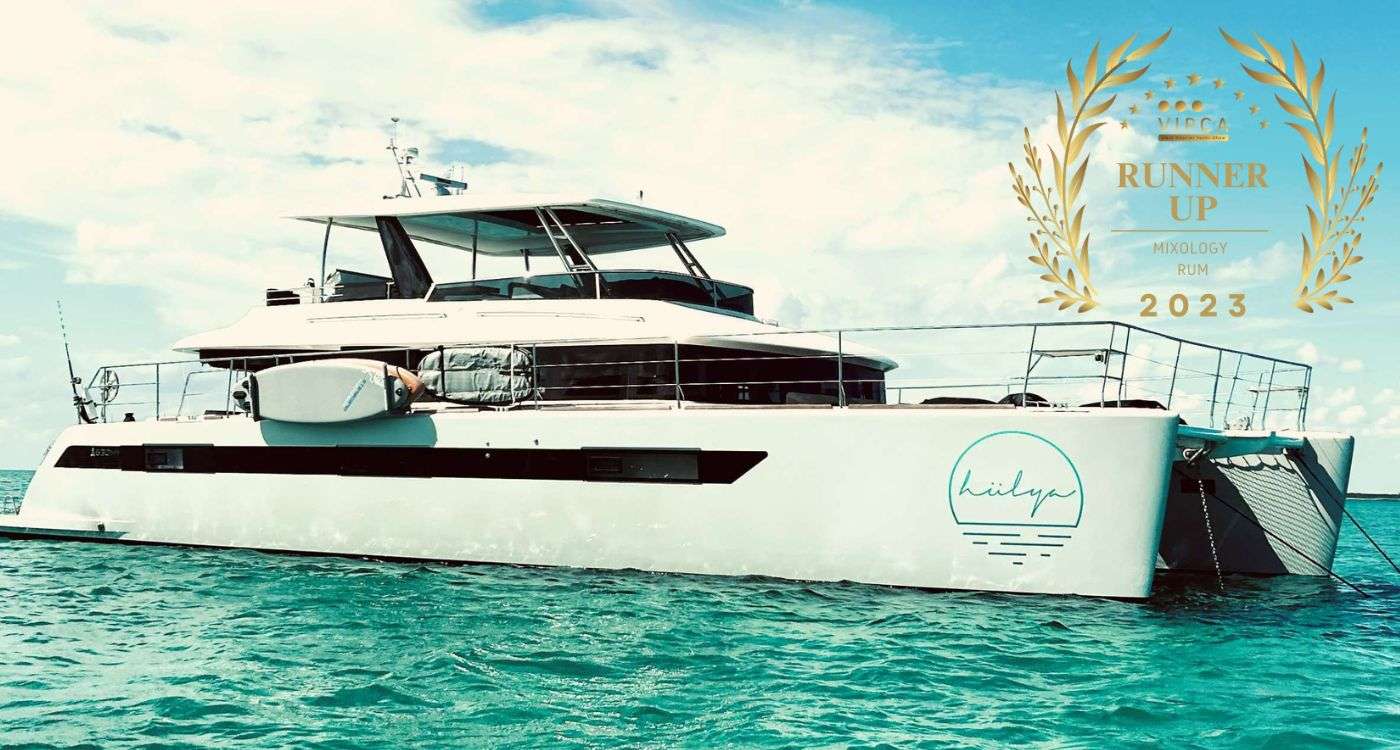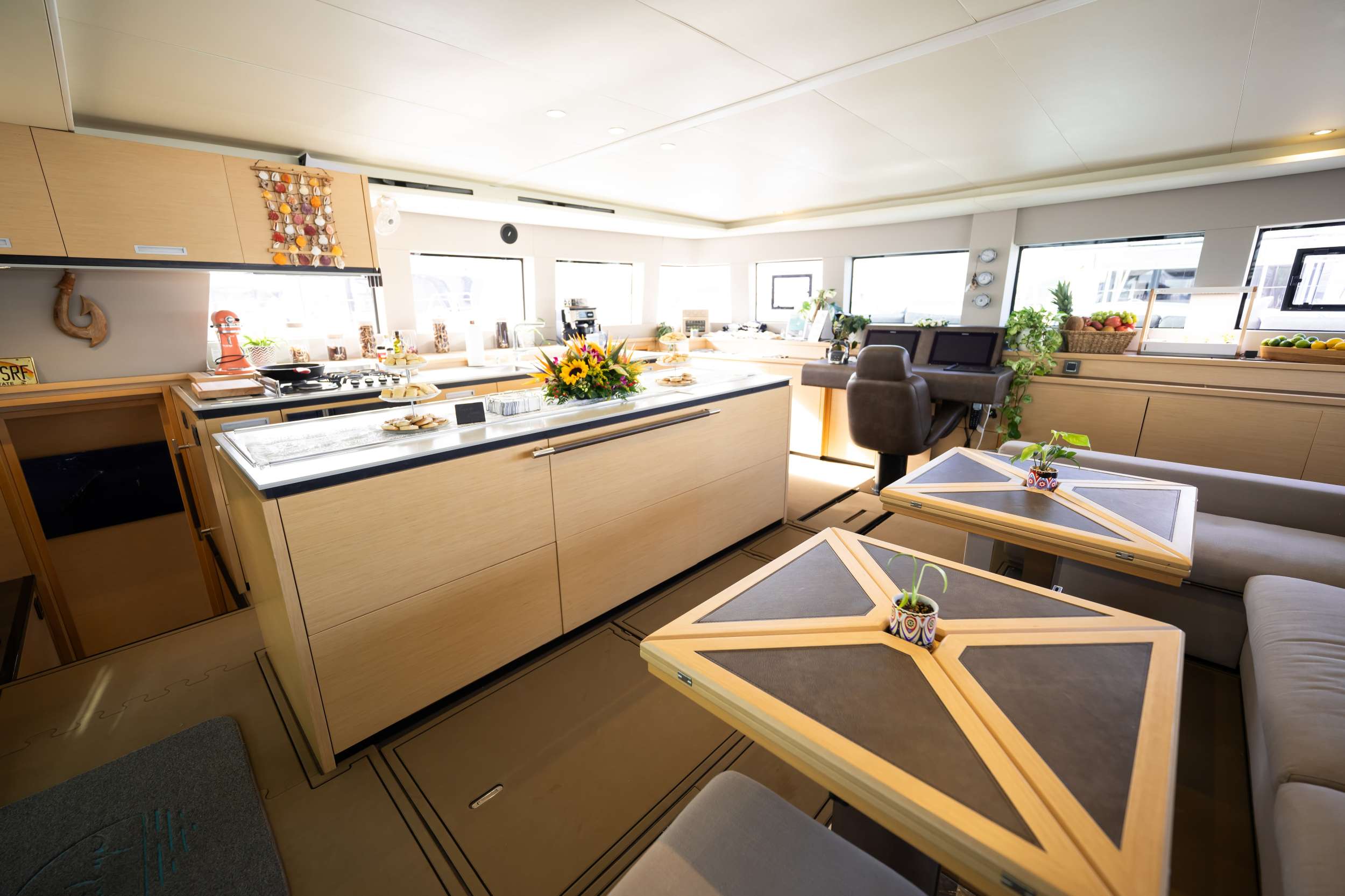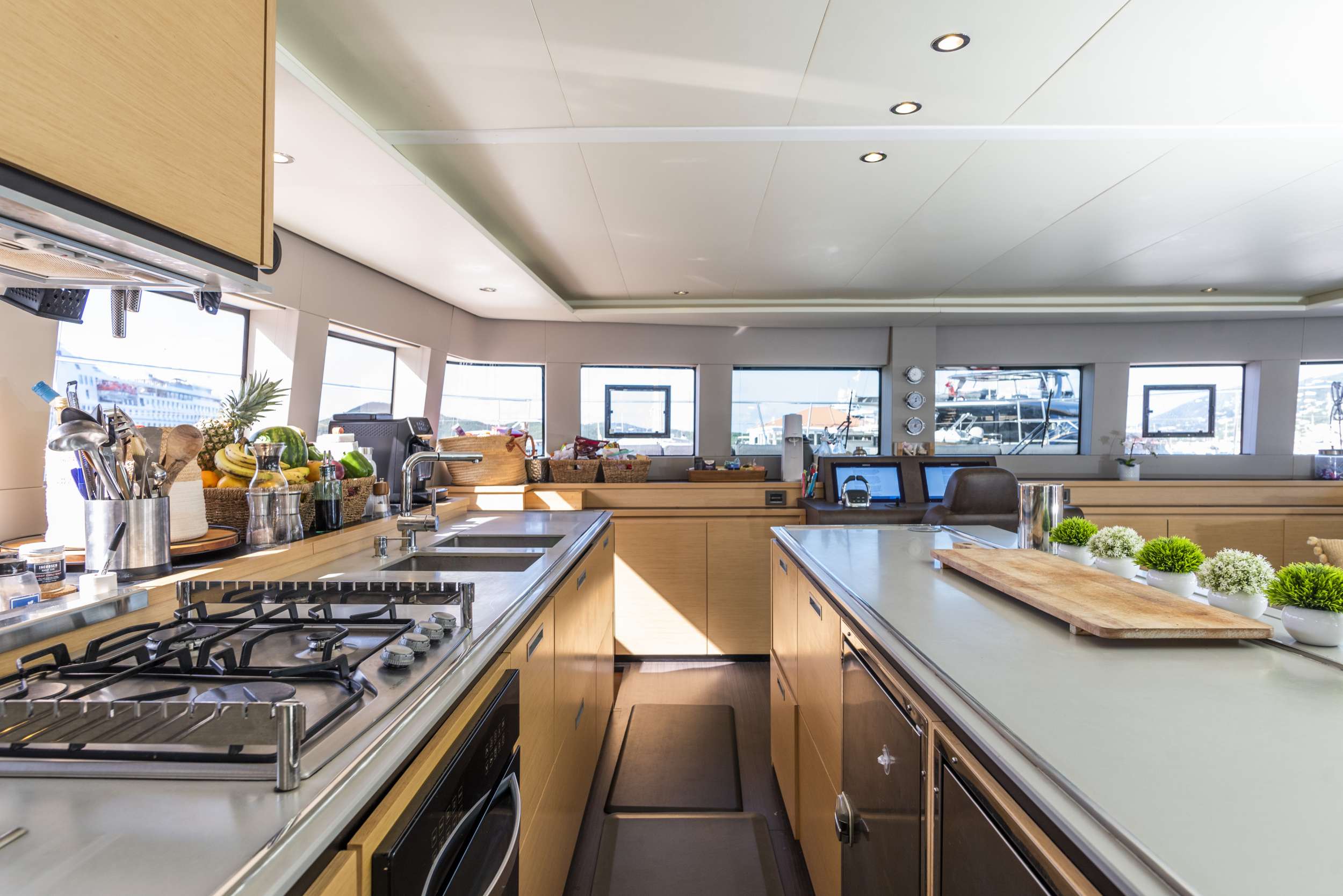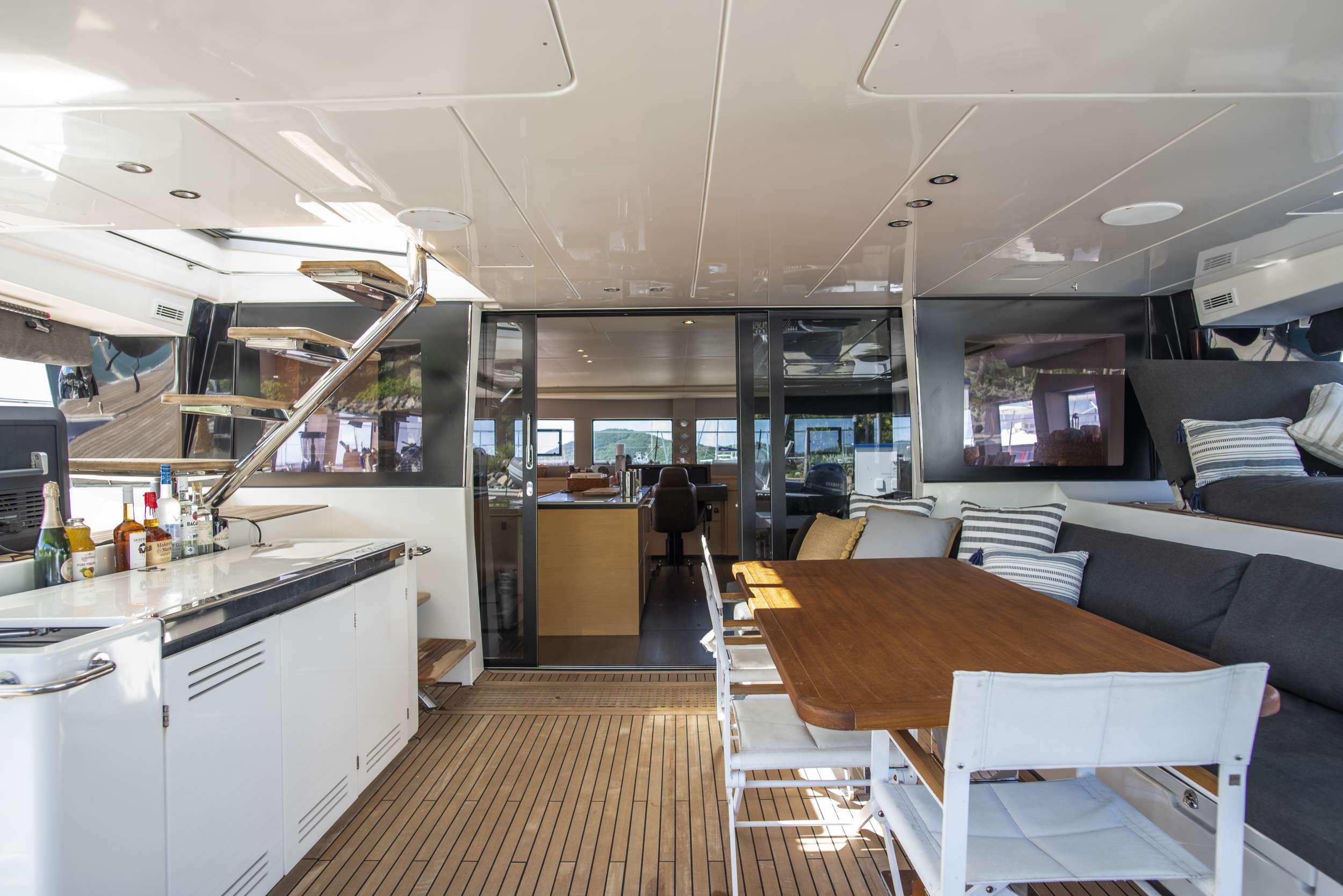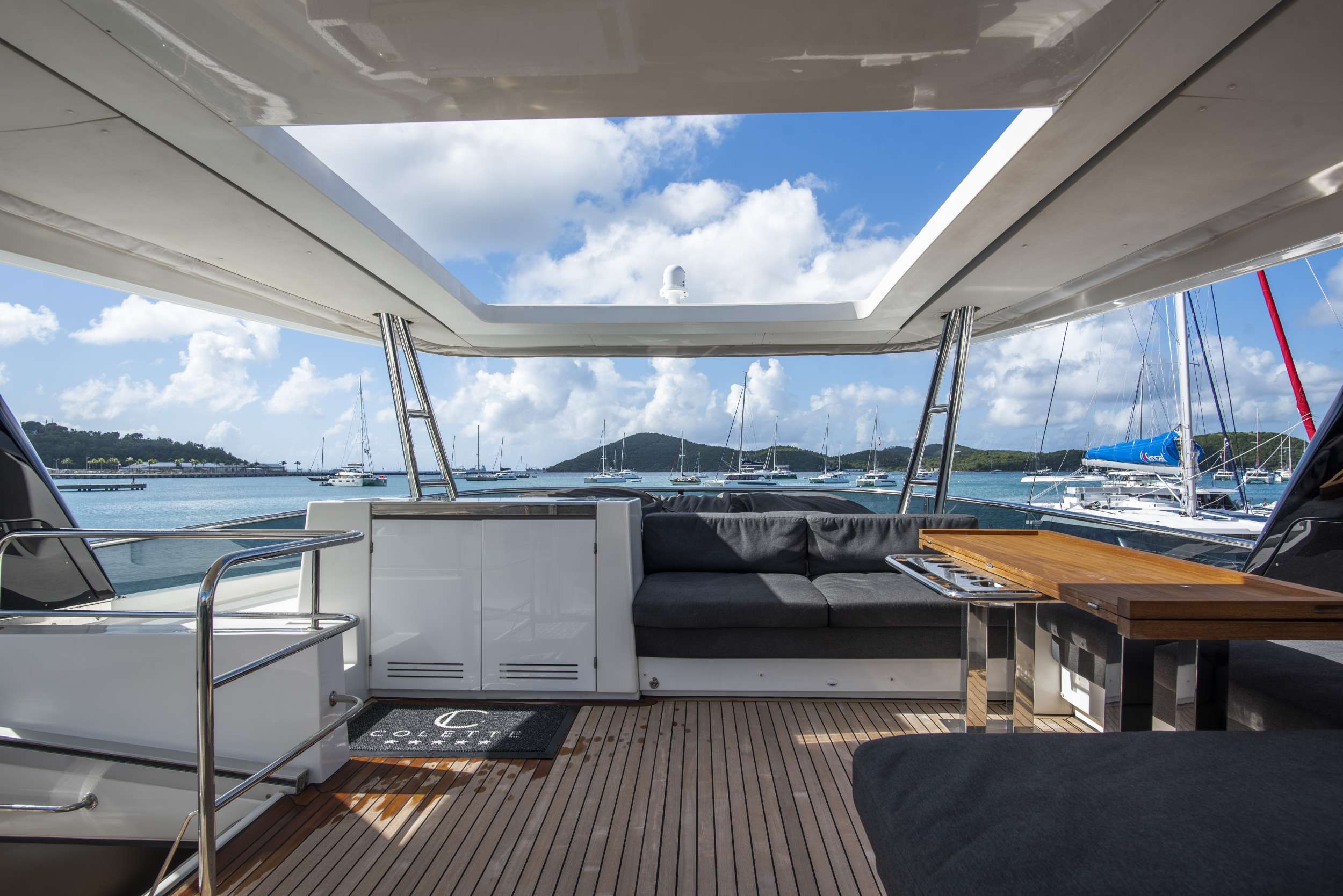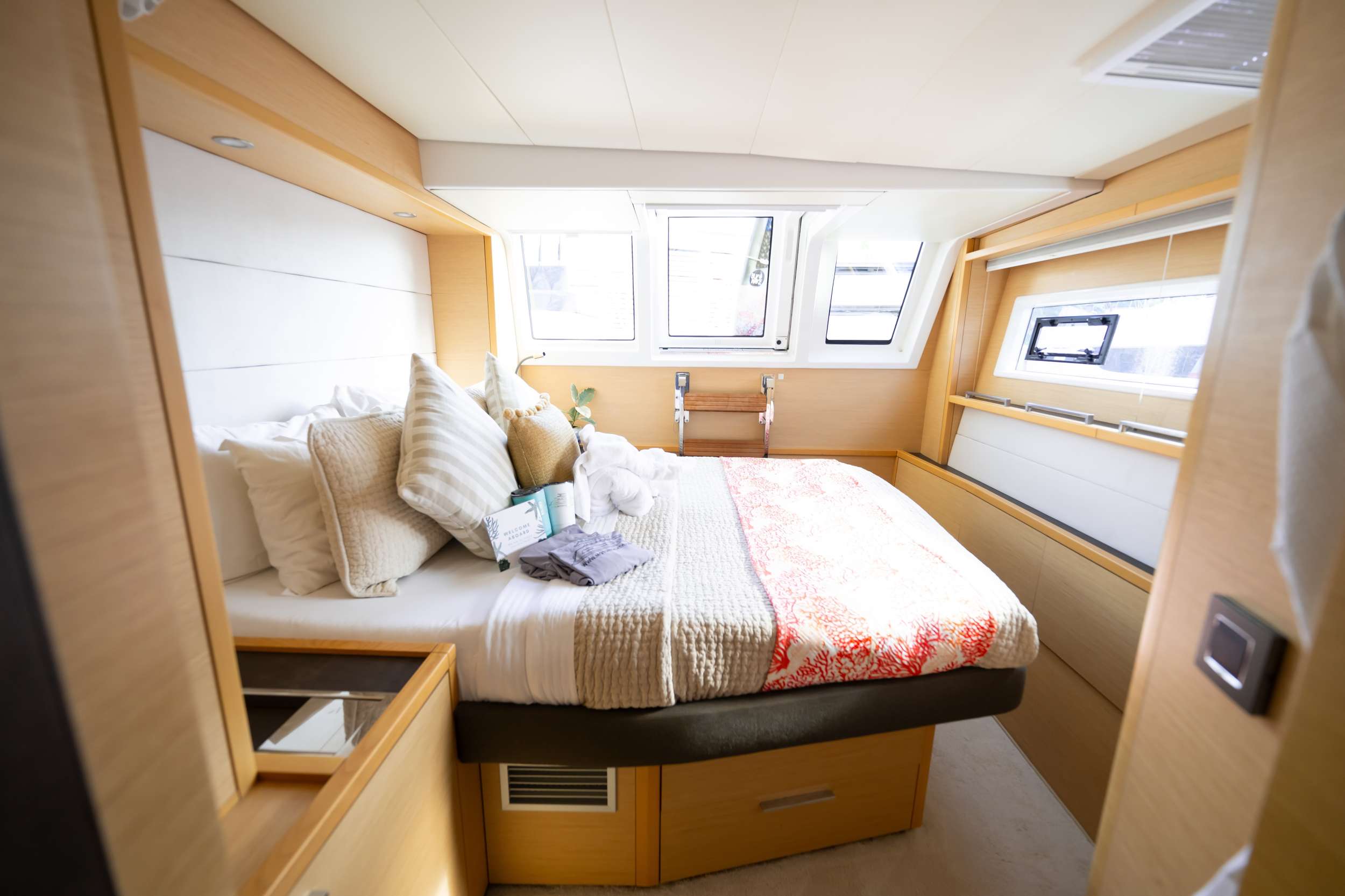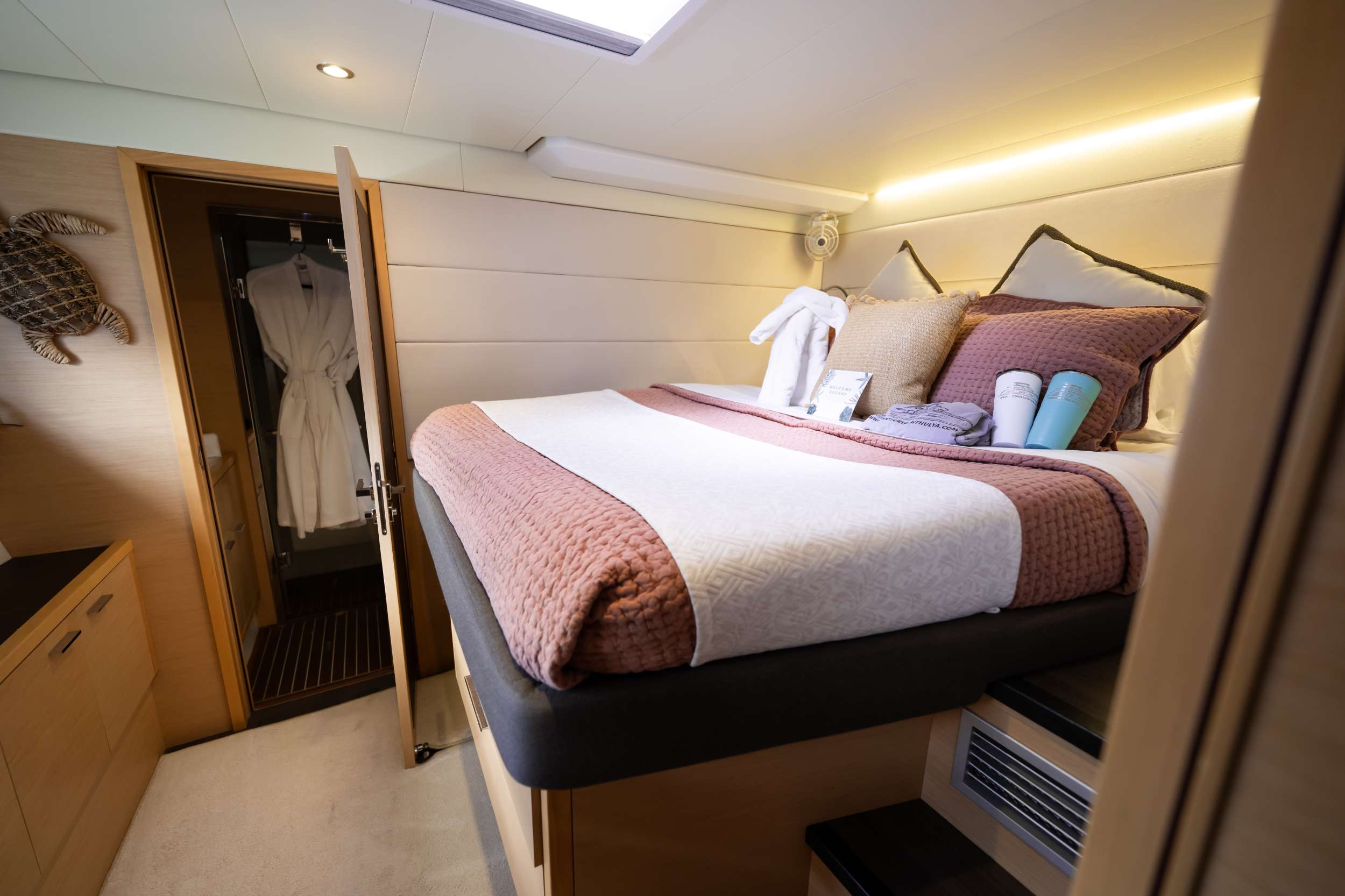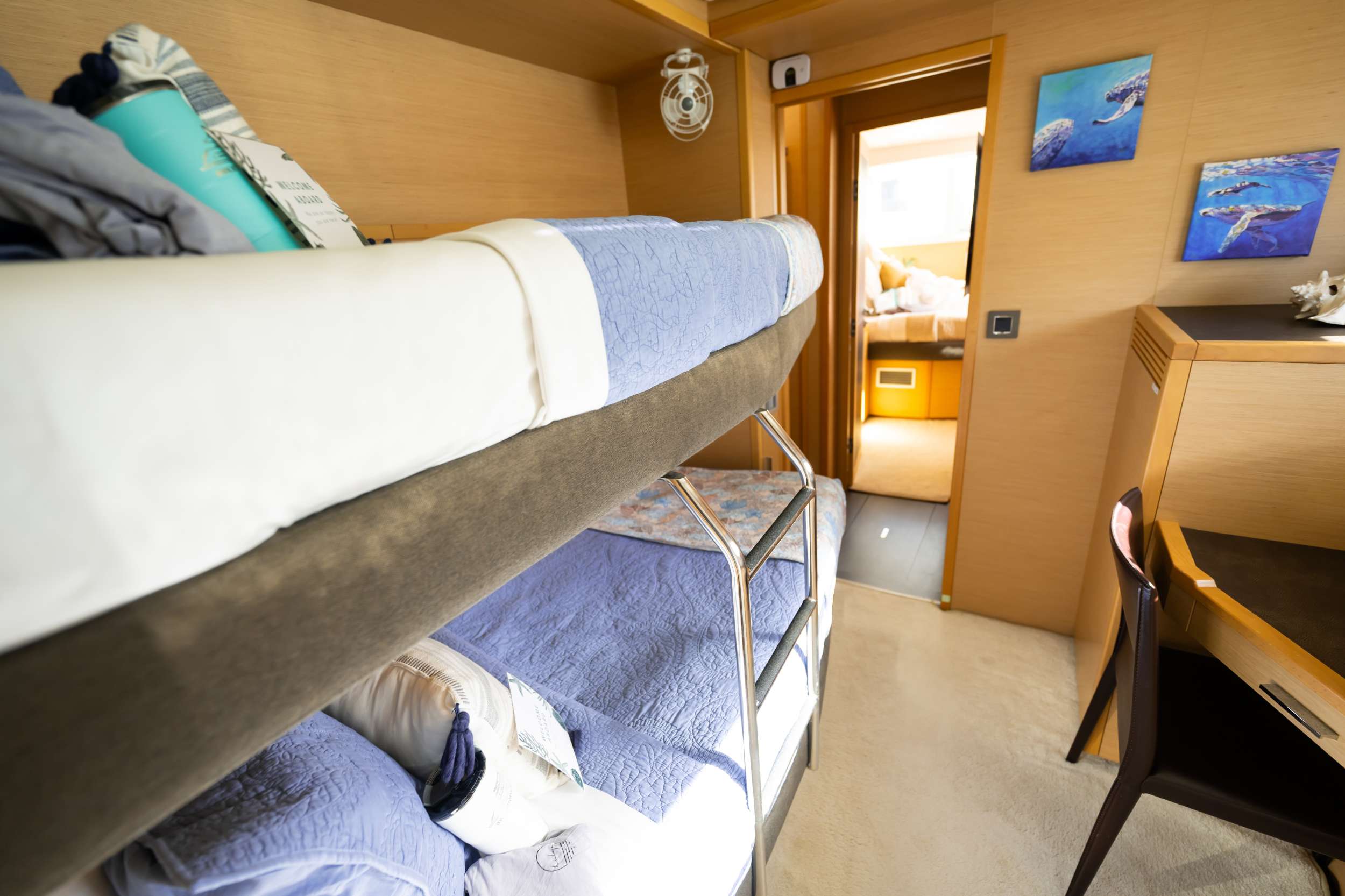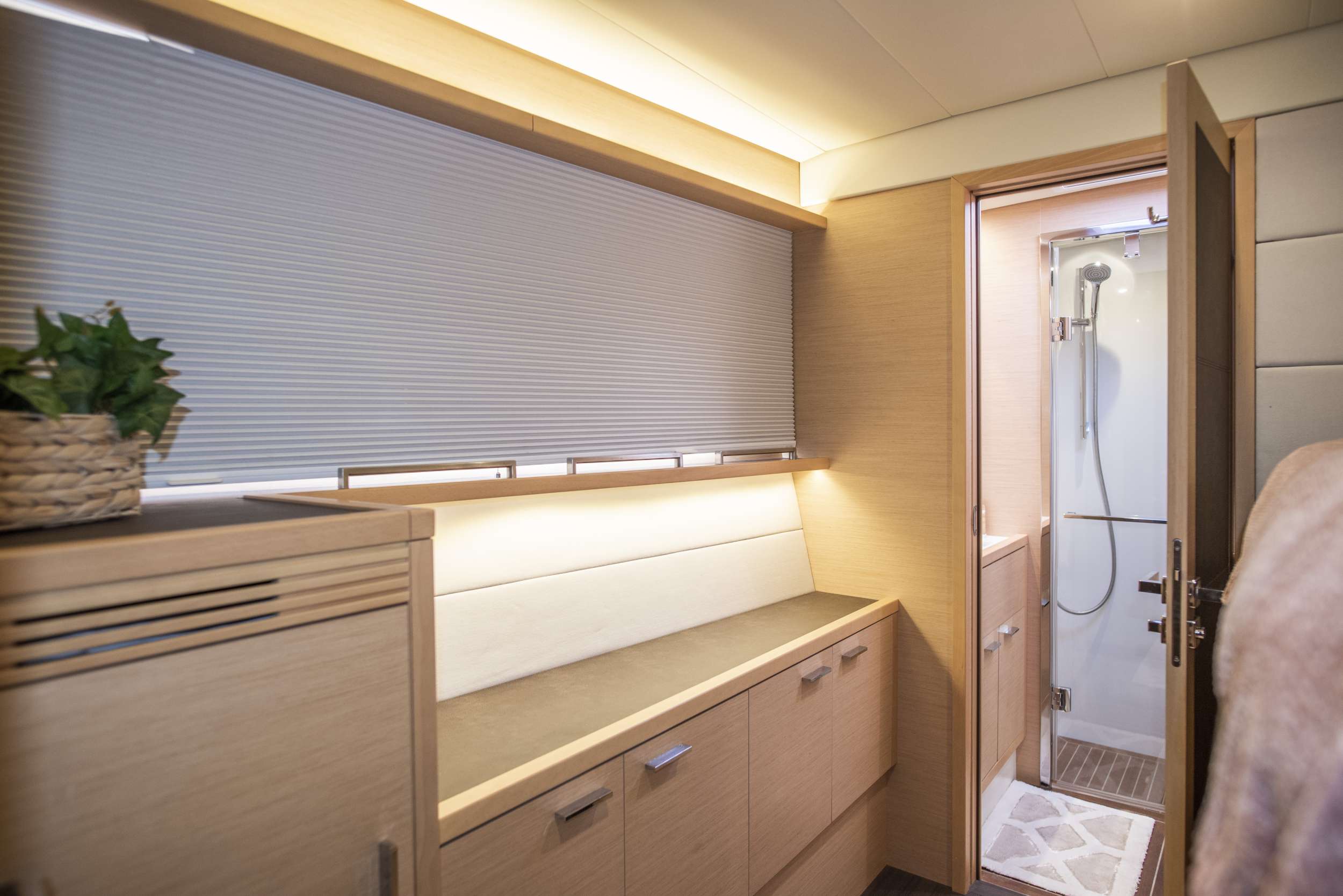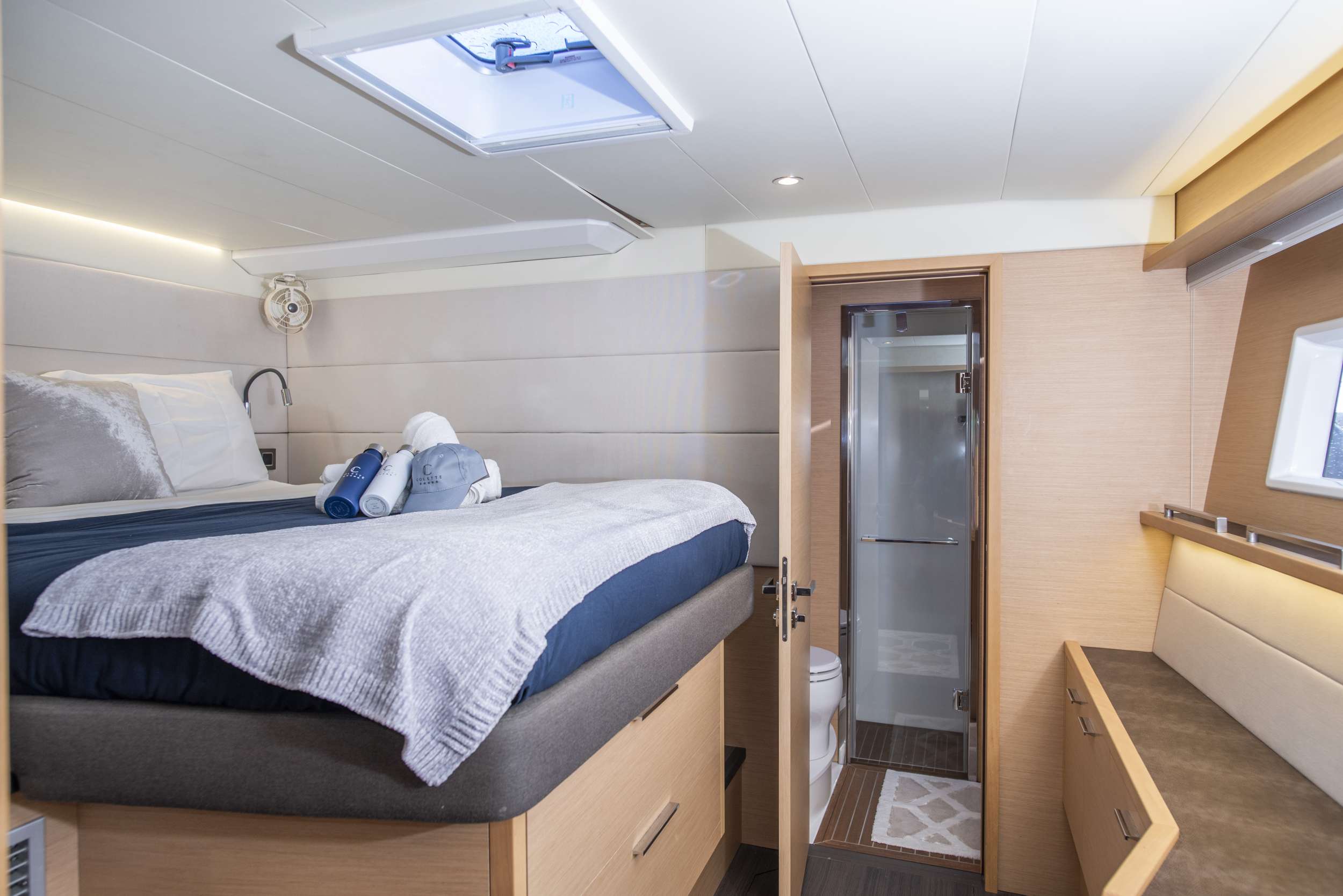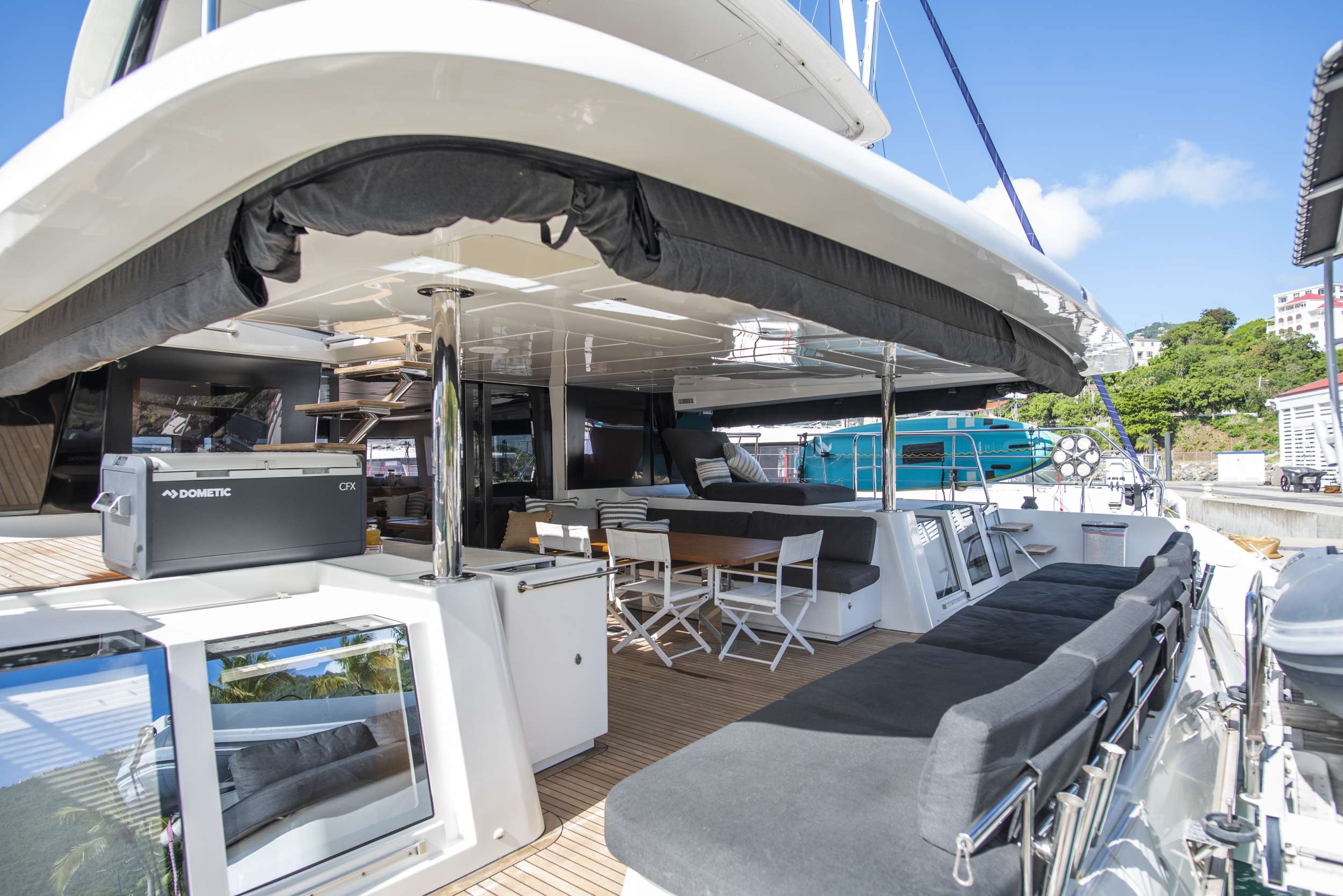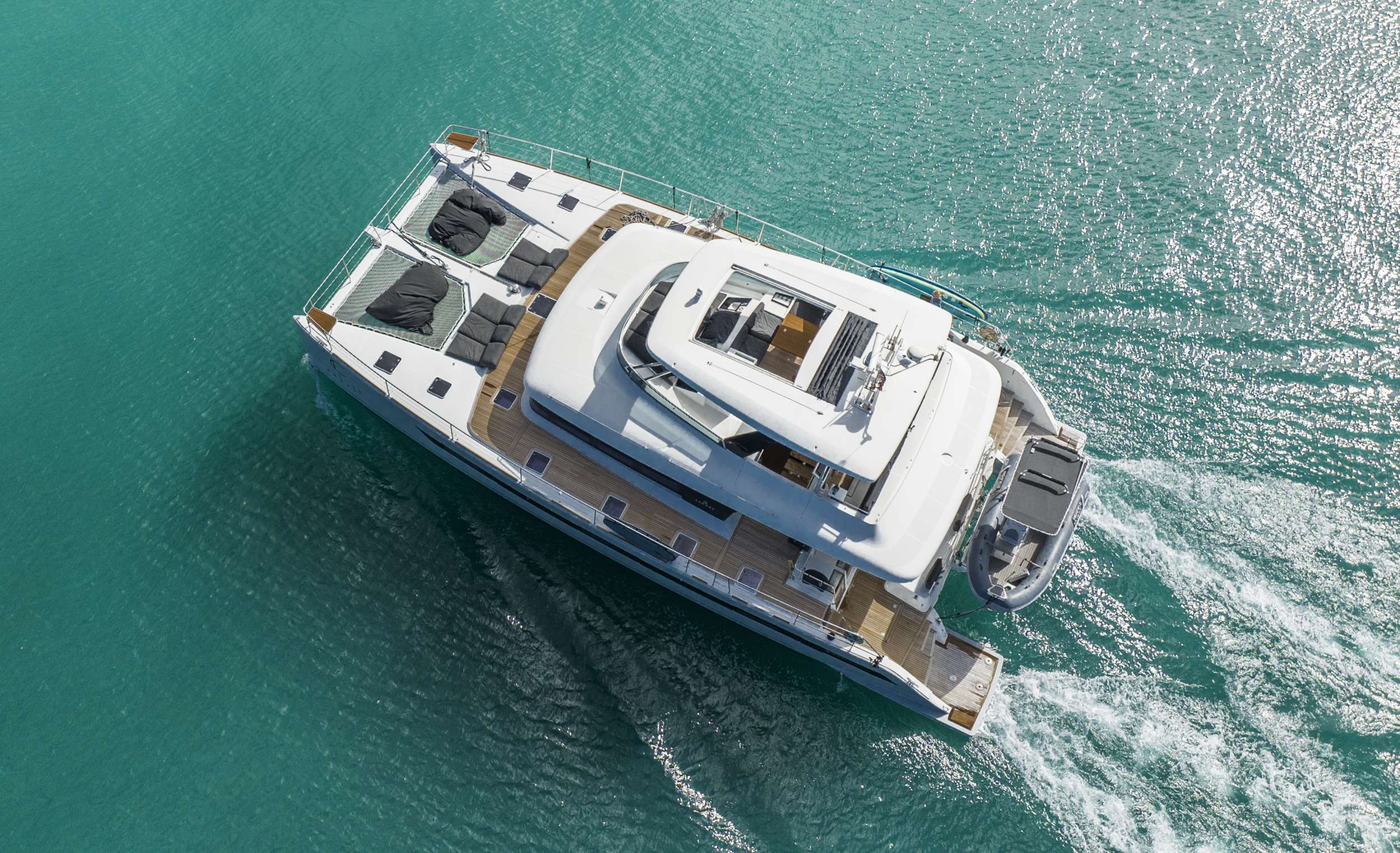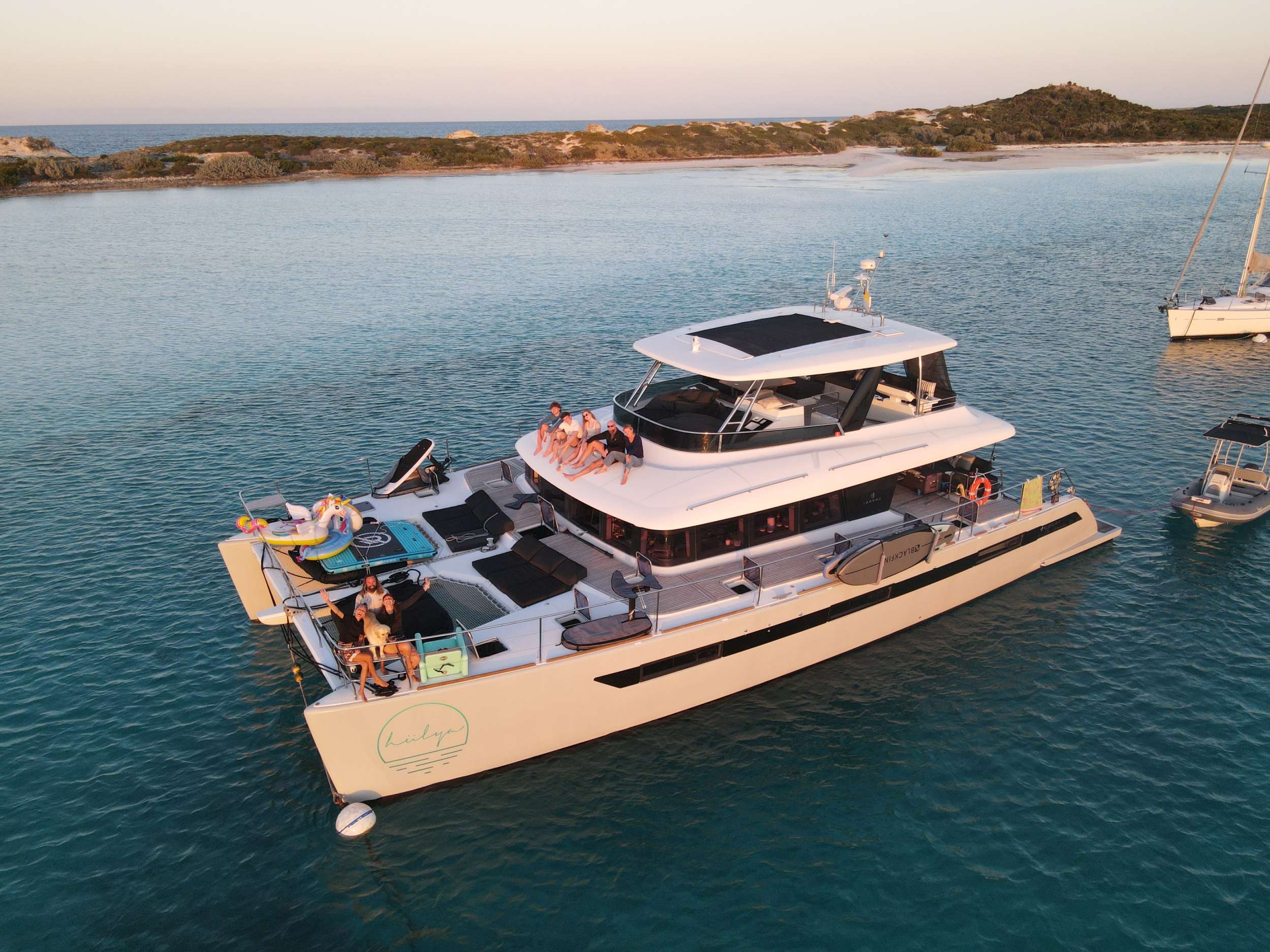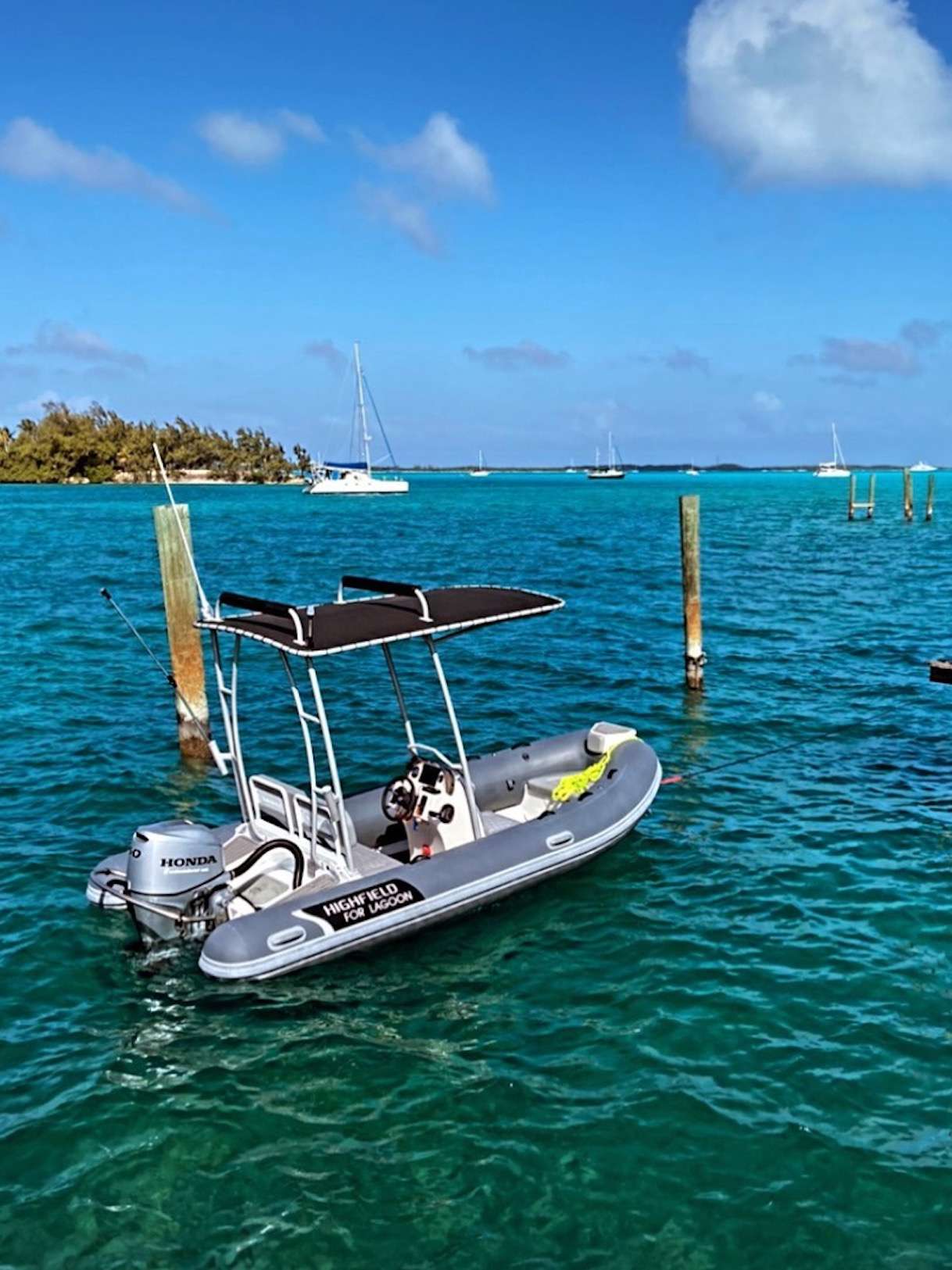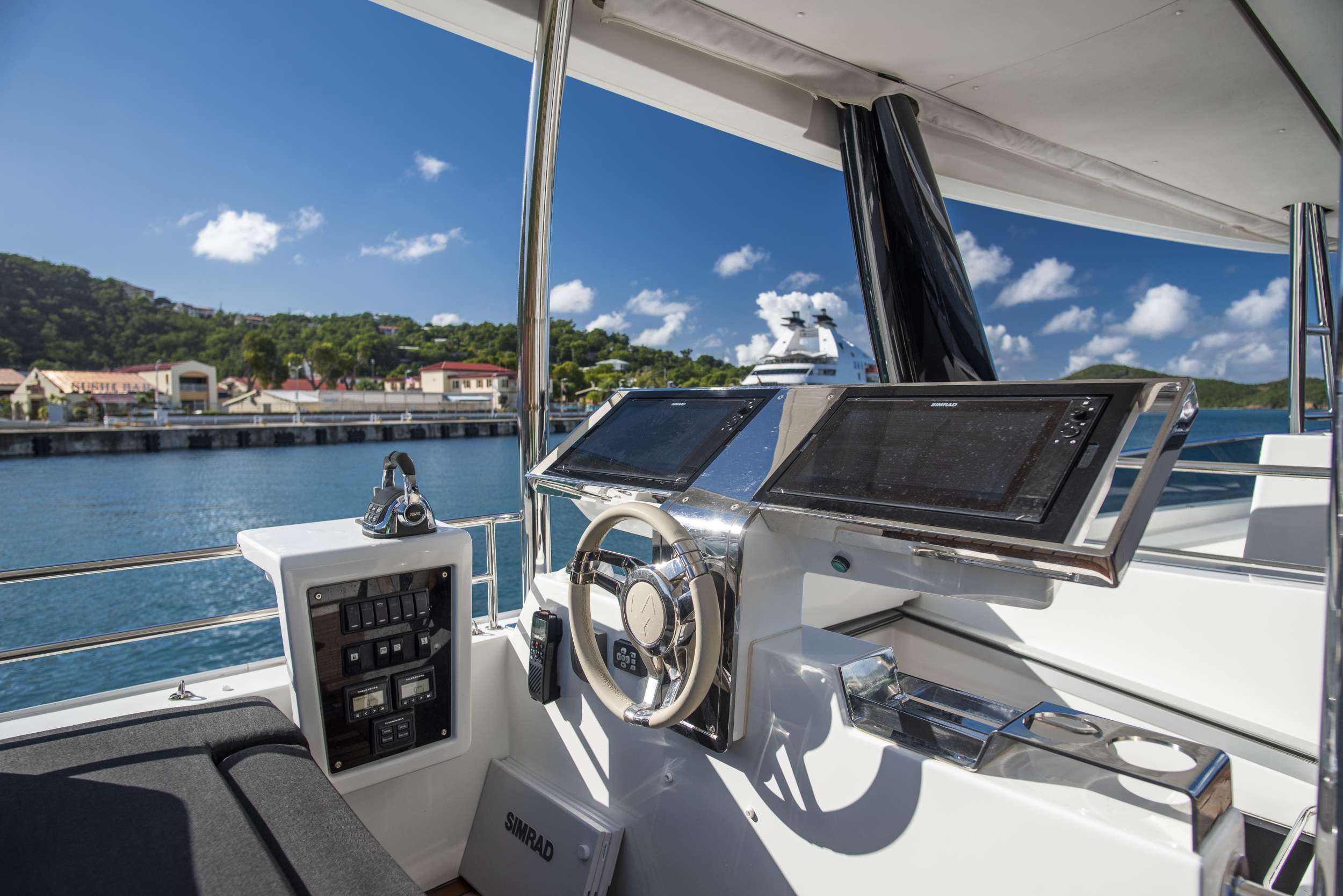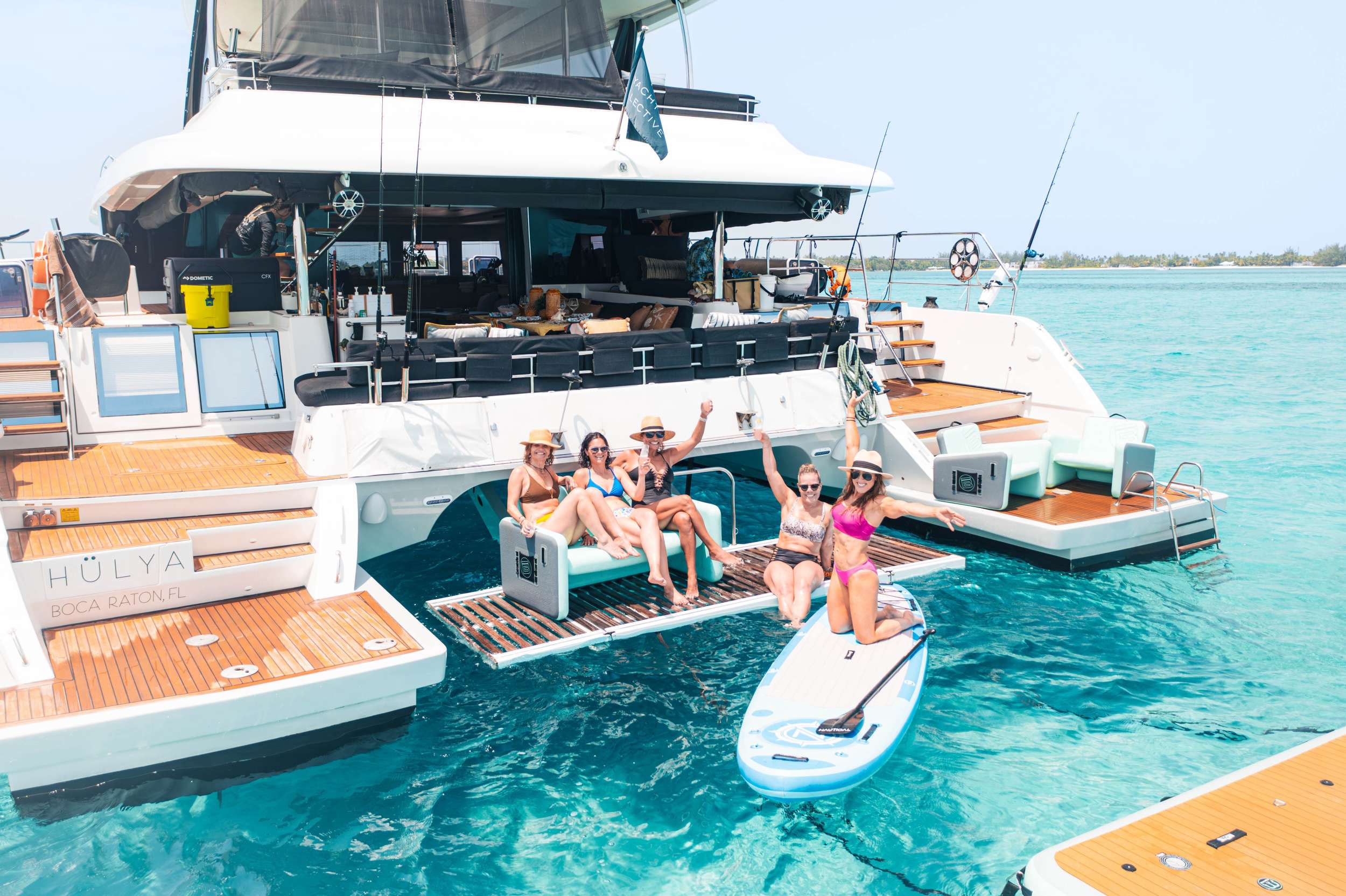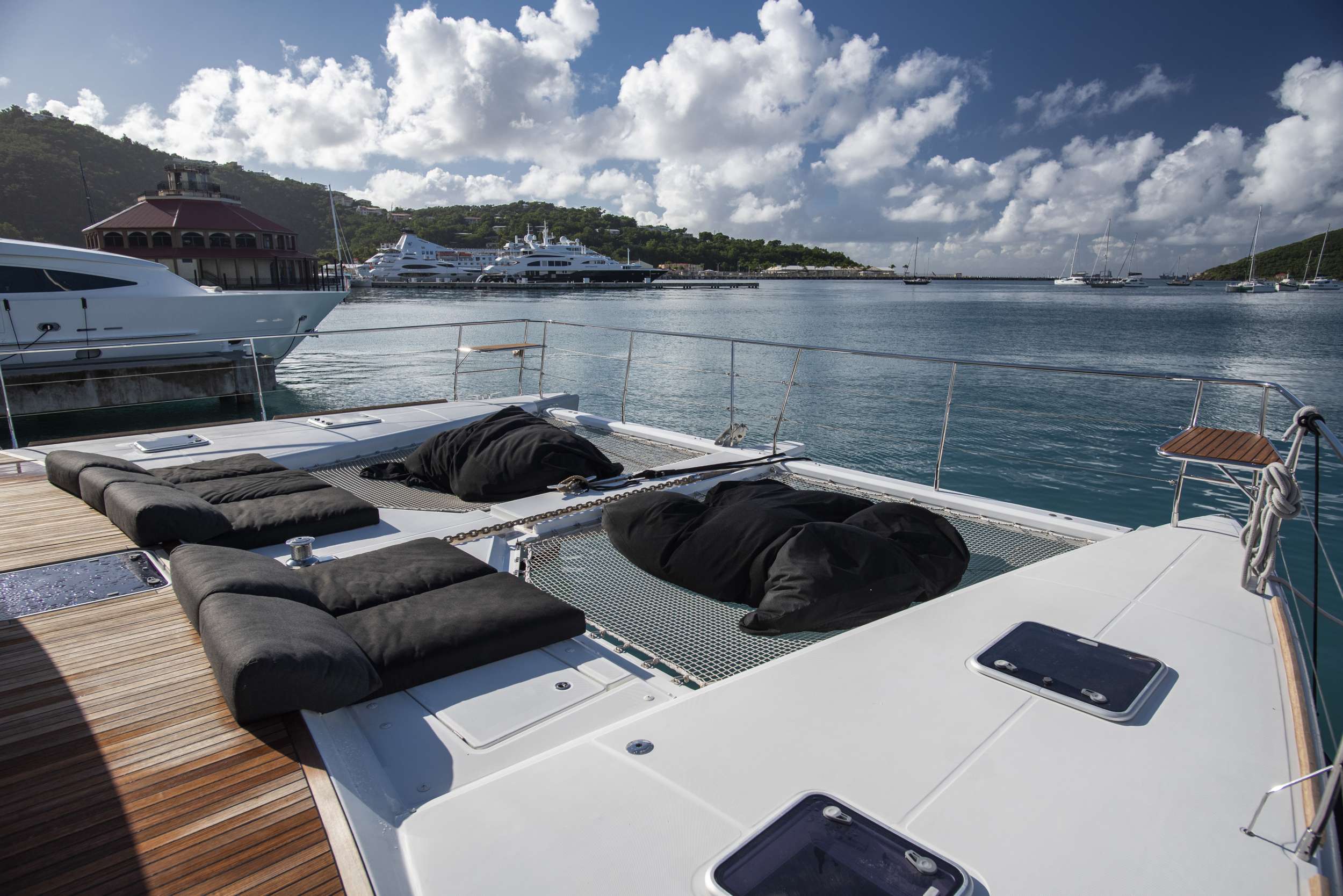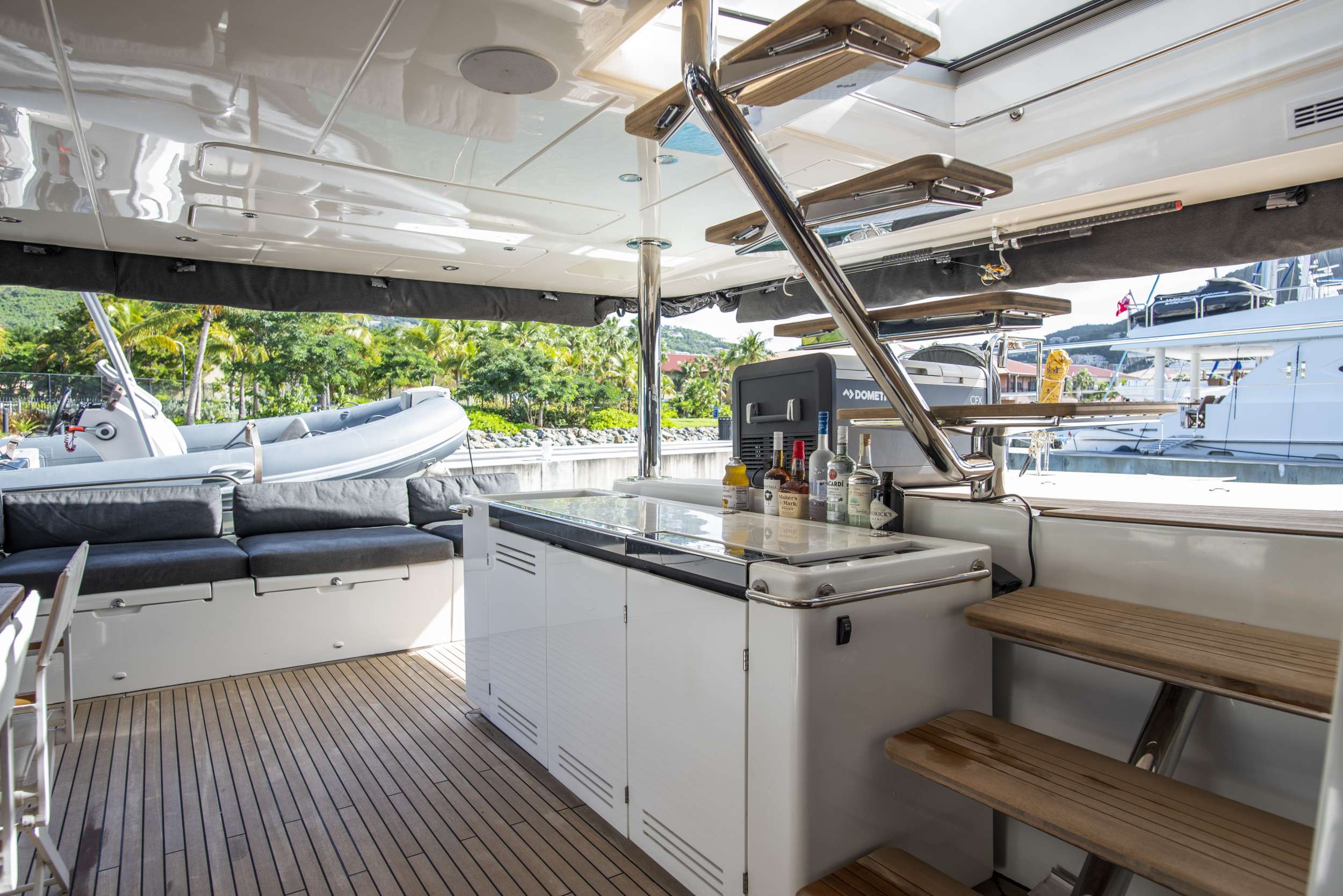 Accommodations
| | |
| --- | --- |
| Sleeps 8 guests in 4 guest stateroom(s). | |
| 4 with Queen Bed(s) | |
Details
4 ensuite Guest Cabins with A/C (each cabin has individual controls), Satellite Direct TV or Movie Theatre database, Bluetooth Connections, electric fans, USB charging stations:
Queen-Stbd-Aft – Primary Suite
Queen/Stbd/Fwd – VIP Suite
Queen/Port/Fwd – Guest suite
Queen/Port/Aft – Guest suite
Cabins Headroom – 6'9″
Salon Headroom – 6'9″
Layout Diagram
Specifications
| | |
| --- | --- |
| Guests | 8 |
| Staterooms | 4 |
| Length | 64.00 Ft / 19.00 m |
| Beam | 33 ft |
| Draft | 4 ft |
| Built - Refit: | 2019 |
| Builder | Lagoon |
| Cruising Speed | 8 |
Watersports
| | |
| --- | --- |
| Dinghy | Highfield 15' |
| Dinghy HP | 70 HP |
| Paddle Boards | Yes |
| Adult Water-skis | Yes |
| Wakeboards | Yes |
| Snorkeling gear | Yes |
| Inflatable, towable tubes | Yes |
| Fishing Gear | Yes |
| Scuba Diving | Onboard |
| Scuba Compressor | Onboard |
Other Toys
Hyperlite Wakeboards (one adult, and one child)
Hyperlite Wakesurf Boards (3)
2 E-Foils
3 Underwater scooters
2 Stand up paddleboards
10 Ft. Inflatable Bote dock with chairs and circle raft
Hooka System
Scuba Gear & Air Compressor
70 HP Dinghy
Subwing
Fishing Equipment
Spearfishing Gear
Snorkel Gear
Pricing
From:
34,000

To:
46,000
Winter 2023 to 2024
| | |
| --- | --- |
| 2 Guests | 34,000 |
| 3 Guests | 34,500 |
| 4 Guests | 35,000 |
| 5 Guests | 35,500 |
| 6 Guests | 36,000 |
| 7 Guests | 36,500 |
| 8 Guests | 37,000 |
Summer 2024
| | |
| --- | --- |
| 2 Guests | 34,000 |
| 3 Guests | 34,500 |
| 4 Guests | 35,000 |
| 5 Guests | 35,500 |
| 6 Guests | 36,000 |
| 7 Guests | 36,500 |
| 8 Guests | 37,000 |
Winter 2024 to 2025
| | |
| --- | --- |
| 2 Guests | 34,000 |
| 3 Guests | 34,500 |
| 4 Guests | 35,000 |
| 5 Guests | 35,500 |
| 6 Guests | 36,000 |
| 7 Guests | 36,500 |
| 8 Guests | 37,000 |
Pricing Details
CURRENT SPECIAL: M/Y HULYA is offering $1500 off charter rates for the 2023/2024 season. Come sail with them in the BVI from November to February or the Bahamas from March to August.
Book by: October 1st, 2023
Excludes Christmas and New Years, 5 night minimum


Weekly Rate is for 7 breakfasts, 6 lunches, and 6 dinners.
5 or 6 nights - 1 dinner ashore.
Christmas charter rate is $42,000 for 1-8 guests
New years charter rate is $46,000 for 1-8 guests

NOTE: RATES ARE FOR 2 CREW, A THIRD CREW MEMBER CAN BE ADDED FOR AN ADDITIONAL $2,000 PER WEEK.

Return delivery fees:
between Virgins and SXM - $3,000
between Virgins and Antigua - $5,000

PLEASE INQUIRE FOR FURTHER PRICING DETAILS
Crew Profile
Hannah Patten - Chef/Stew | Dive Master |Underwater Photographer | Yoga Instructor | Cinematographer
Meet Captain John, a renowned environmentalist and passionate marine explorer who has dedicated his life to raising awareness about the beauty and fragility of our oceans. From a young age, John's fascination with the sea inspired him to become an avid free diver, scuba diver, and professional photographer. As a photographer, John has captured stunning images of the ocean's unique beauty, which have been featured on the covers of well-respected magazines and eco-advocacy campaigns. Through his photography, John seeks to inspire compassion and a sense of awe towards the ocean, encouraging people to become more invested in protecting its delicate ecosystems.
With over 10 years of experience as a yacht captain, John's love of the ocean has led him to pursue his own endeavor as the captain and owner of MY Hülya, a state-of-the-art yacht designed for eco-tourism and scientific research. Through his years of experience, John has gained a deep understanding of the ocean and the delicate ecosystem that exists within it. With MY Hülya, he aims to use his expertise to change the way people view and interact with marine wildlife, particularly sharks, while also promoting sustainable tourism practices. Join Captain John aboard MY Hülya and experience the wonders of the ocean while learning how we can all play a role in preserving it for future generations.
Through his life aboard MY Hülya, John hopes to inspire others to appreciate and protect the ocean's diverse inhabitants. Whether through guided eco-tours or scientific research expeditions, John is committed to promoting a deeper understanding of the ocean and its vital importance to our planet.
Join Captain John on his journey towards creating a more sustainable future for our oceans and all the creatures that call it home.
Hannah Patten - Chef/Stew:
With over a five years of yachting service, Hannah is the Chef and owner of the luxury yacht, MY Hülya. Four years ago, Hannah became increasingly
concerned about the abundance of plastic in the oceans and waterways, which prompted her to create a bikini line made from recycled plastics
found in the ocean, which is lovingly named Hülya Swim.
As a trained chef and stewardess of MY Hülya, Hannah not only serves as a guide to her guests but also as a personal chef who expertly prepares
local, sustainable for their enjoyment. Her years of experience as a yacht chef have taught her the importance of responsible tourism practices, and
she is dedicated to promoting sustainability in all aspects of her work.
Through her efforts aboard MY Hülya, Hannah hopes to create a movement of sustainable tourism, where people can experience the beauty of the ocean without harming it. She believes that by educating people about the importance of sustainability and environmental conservation, we can create a brighter future for our planet.
Join Hannah on her mission to dream, discover, and sustain, and witness the positive impact that years of yachting service and dedication to sustainability can have on the world.
Abby Garner -Mate:
Abby's roots trace back to Naples, FL, where she discovered her lifelong affection for the sea, sand, and sun. The ocean, to her, is both a source of tranquility and an inspiration for adventure.
She leads a vibrant, active life, embracing every moment. Competitive swimming honed her skills in the water, and now she's an adept free diver. Her cherished pastimes include lobstering, fishing, snorkeling, kayaking, and leisurely strolls along the beach.
When she's not by the water's edge, you can find Abby whipping up culinary delights, engrossed in a good book, or planning her next journey.
Abby is a firm believer in pursuing dreams fearlessly and savoring the simple pleasures of life. She aspires to share her love for exploration, the joy of new experiences, the peace of disconnecting, an appreciation for life's small joys, and the value of making memories with others.
Her career aspirations lie in hospitality and tourism, and she's eager to start her journey. Abby is thrilled to be part of the MY Hulya team, where she'll learn the ropes from Captain John and Hannah. She can't wait to embark on sea adventures, connect with new people, forge lasting relationships, and create unforgettable memories for guests.
Coral - Comfort Companion
Meet Coral, a lovable dog who was originally trained by the Southeastern Guide Dog program to serve as a guide dog for individuals with visual impairments. However, due to a visual defect of her own, Coral was unable to fulfill her duties as a working dog and was adopted by Hannah
to serve as her companion.
Now, Coral proudly serves as the mascot of Hannah and John's sailing yacht, accompanying them on their oceanic adventures and providing endless joy and entertainment. Despite her disability, Coral is a dream dog who has a thirst for knowledge and is always eager to learn new tricks. Her favorite pastime is going for rides on the boat and swimming in the ocean with her human companions. Coral is a natural-born swimmer who loves to explore the depths of the ocean, catching conch and lobster with her mouth. She has an undeniable passion for the water and is a true adventurer at heart
Coral's playful and affectionate nature has endeared her to everyone she meets, and she has become an integral part of Hannah and John's sailing crew. Whether lounging on deck or splashing in the water, Coral's presence brings a sense of joy and companionship to all those around her.
Join Coral on her oceanic adventures and witness the bond between humans and animals that transcends all boundaries
Additional Information
Charter M/Y Hülya accommodates up to 8 guests sleeping in 4 deluxe cabins with ensuite bathroom facilities of which 1 master suite, 1 VIP and two double cabins making her ideal for families and couples and couples at the same time. It goes without saying that all cabins are air conditioned featuring Direct TV with access to a movie library, Bluetooth sound, USB sockets, and electric ventilation fans and not to mention Starlink Wifi. M/Y Hülya luxury power catamaran for charter in the Caribbean is also characterized by plenty of space available with her generous outdoor areas. Thanks to a large flybridge as well as a forward and aft deck, guests will have several options for sunbathing, dining, relaxing, and socializing to choose from. M/Y Hülya is a perfect blend of a long-range blue-water cruising yacht with the high standards of a luxury motor yacht without compromises to comfort and fuel-efficiency. With our outstanding captain and chef/hostess, an impeccable crew service is guaranteed making M/Y Hülya one of the most striking luxury power catamarans available for charter in the Caribbean at all.
Destinations