Gallery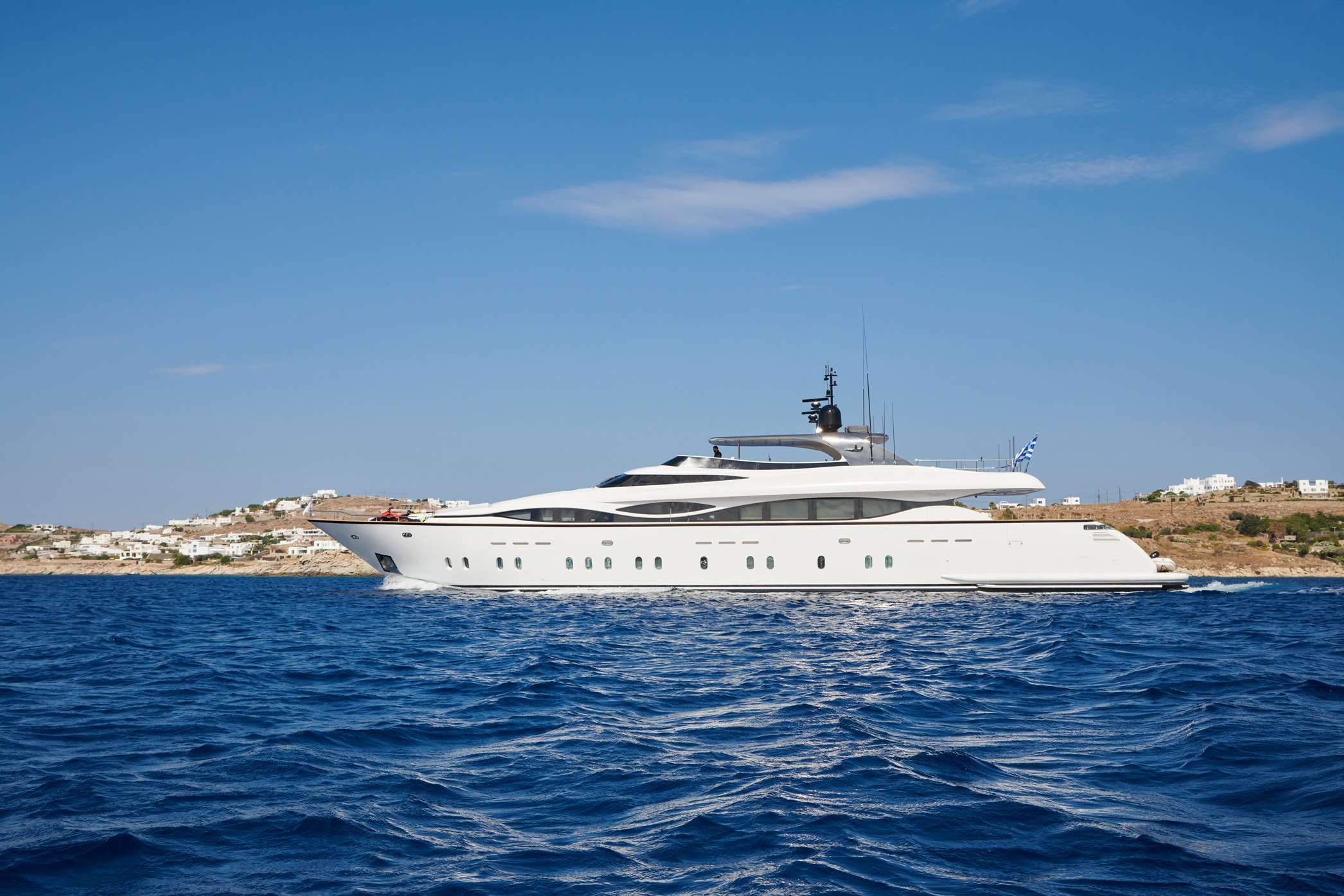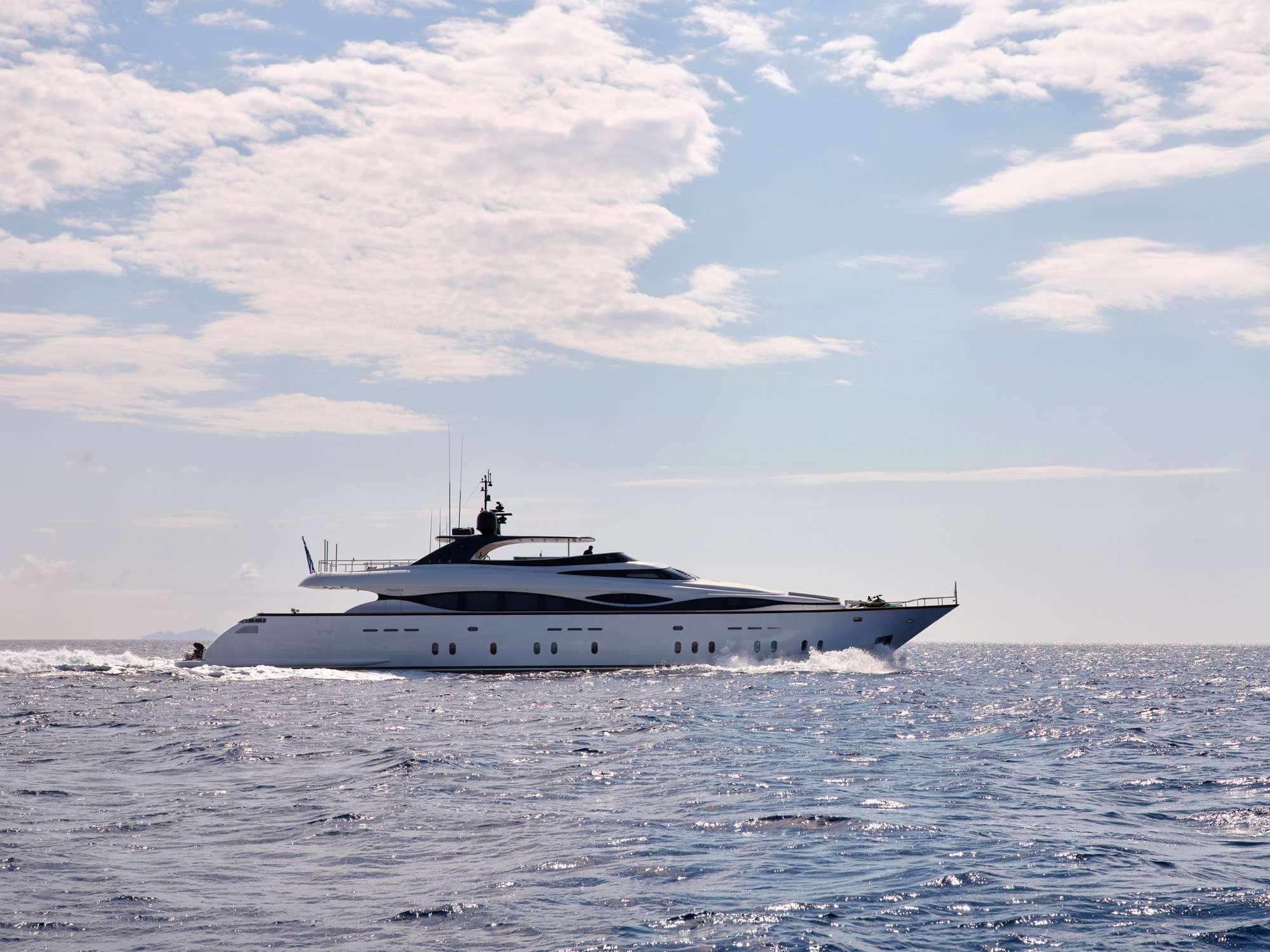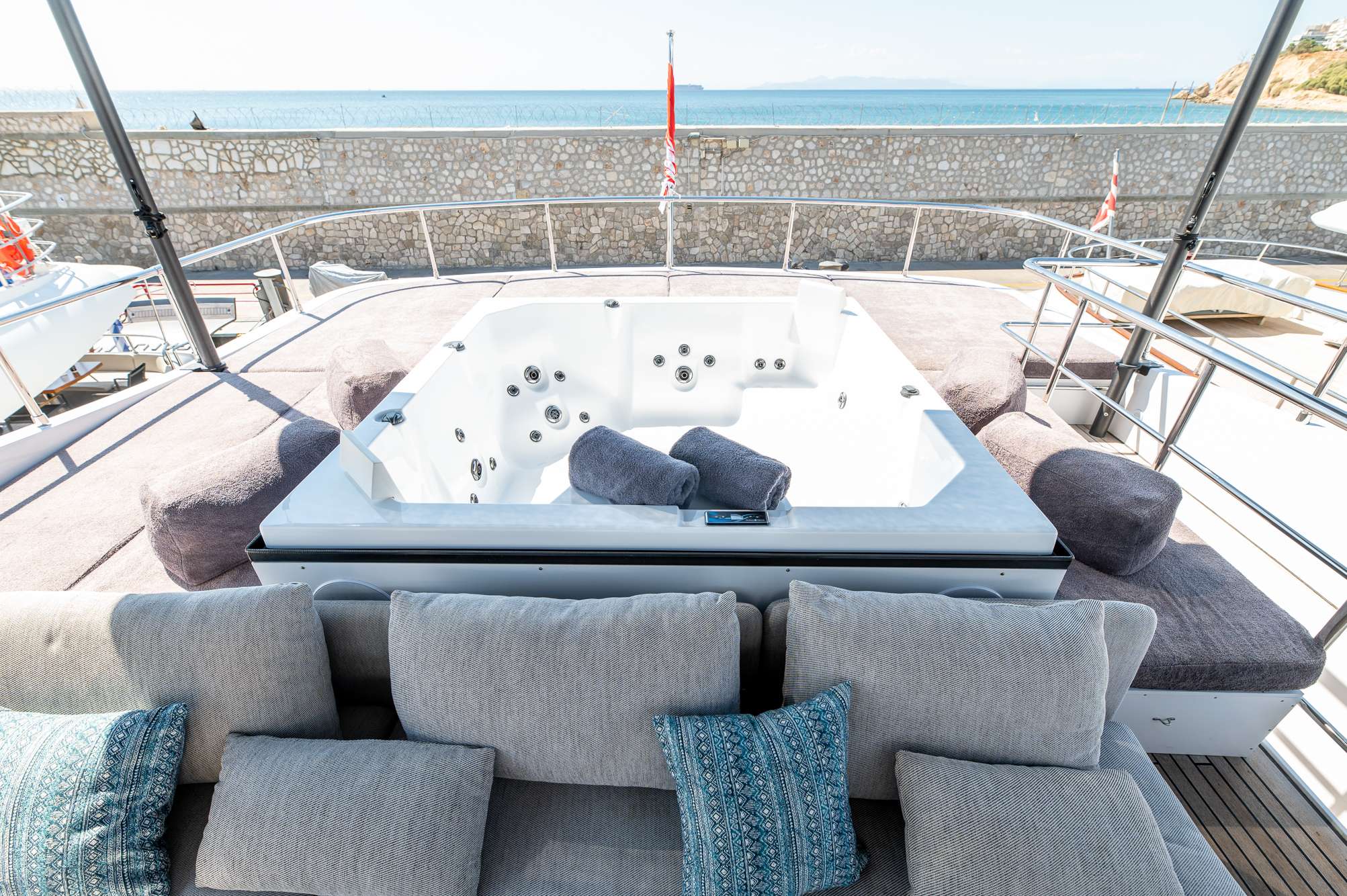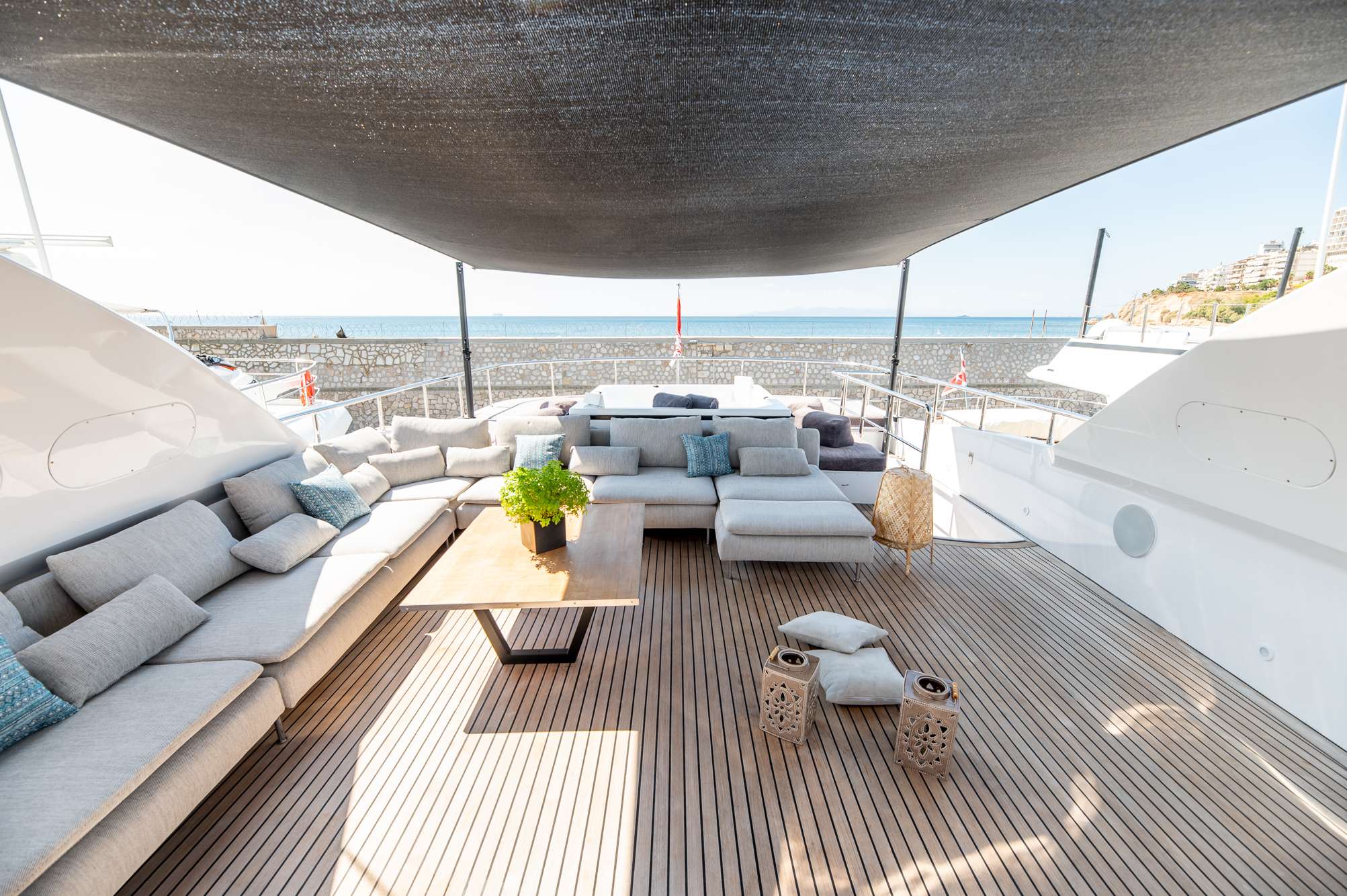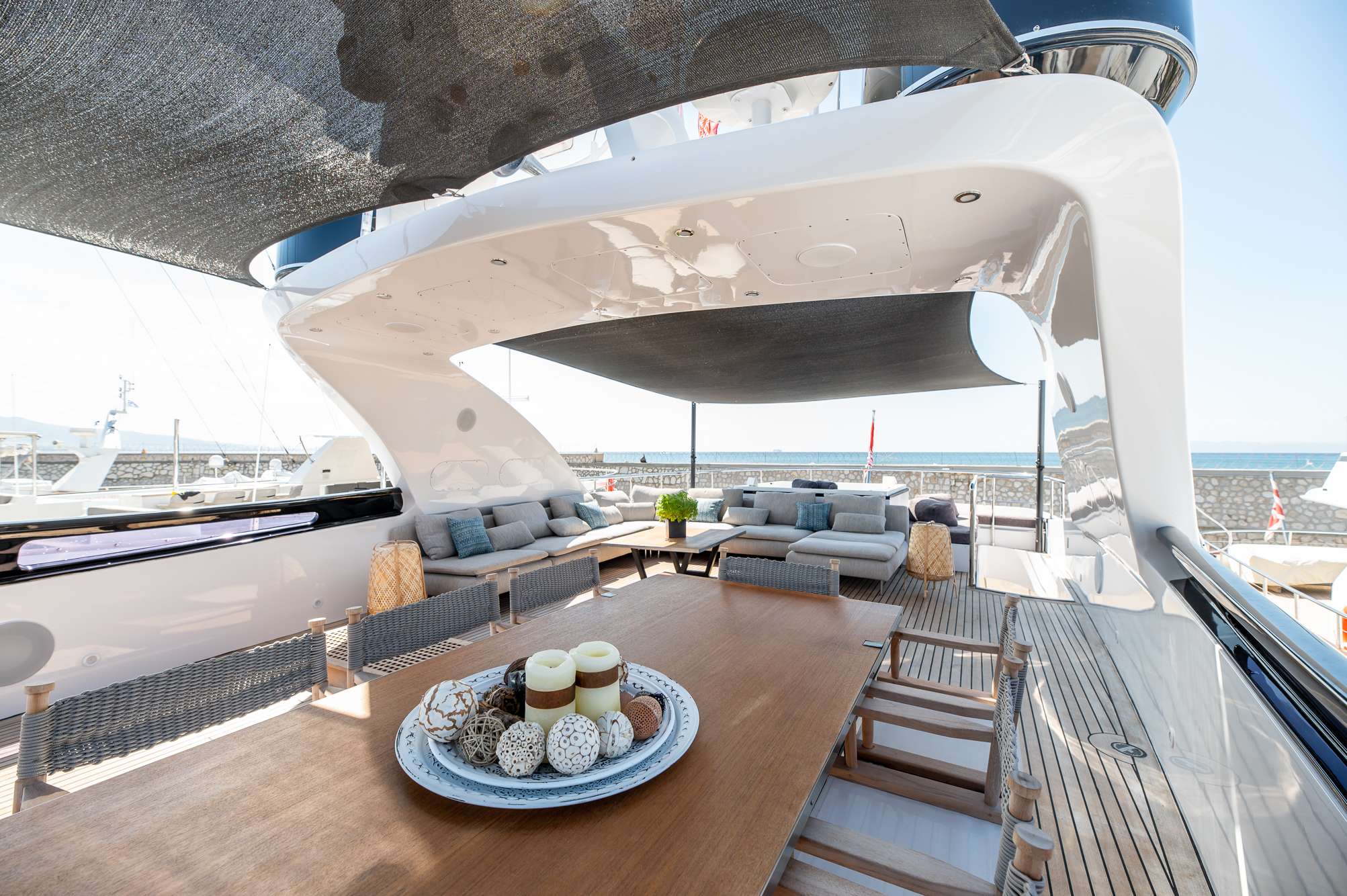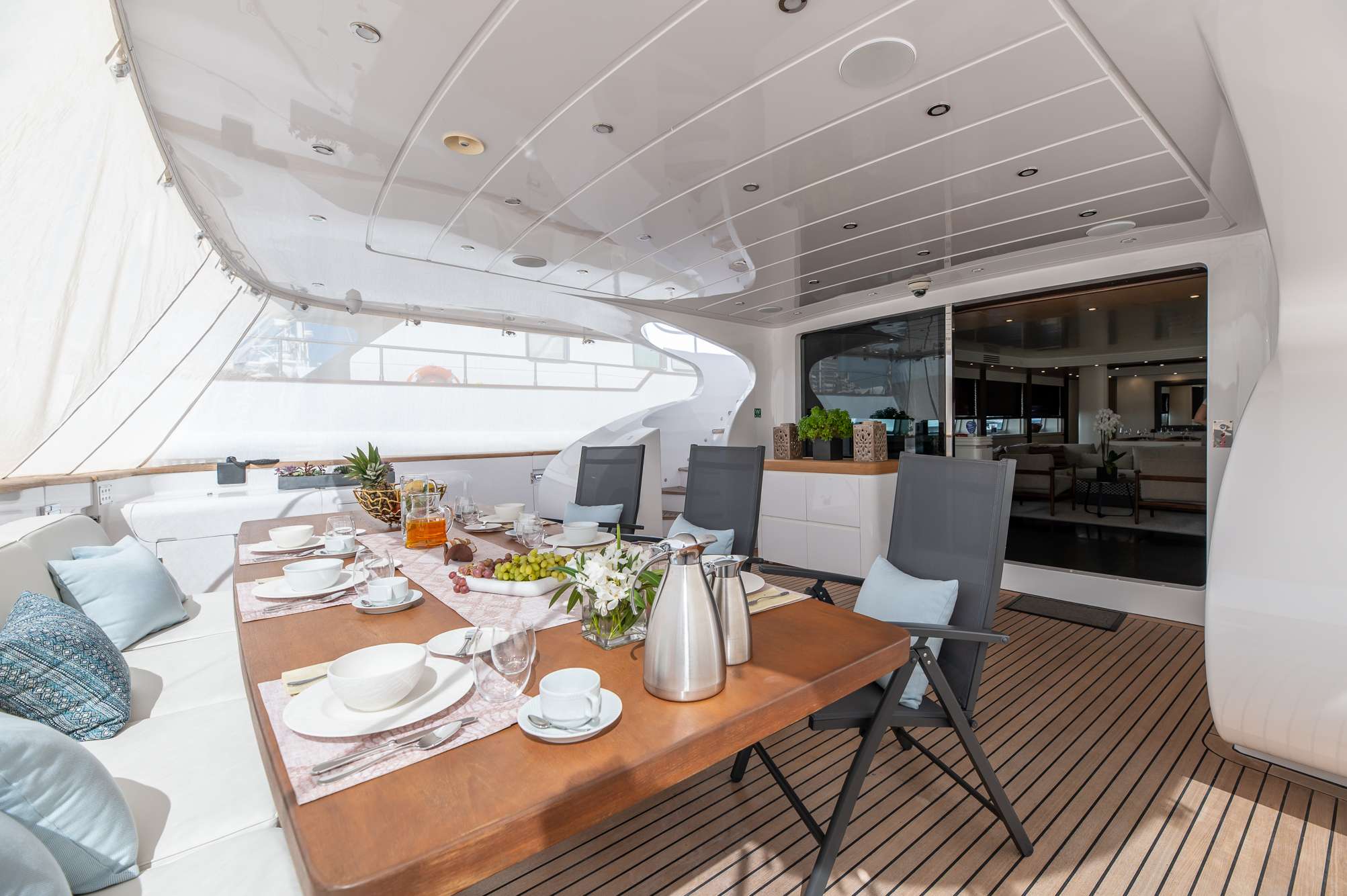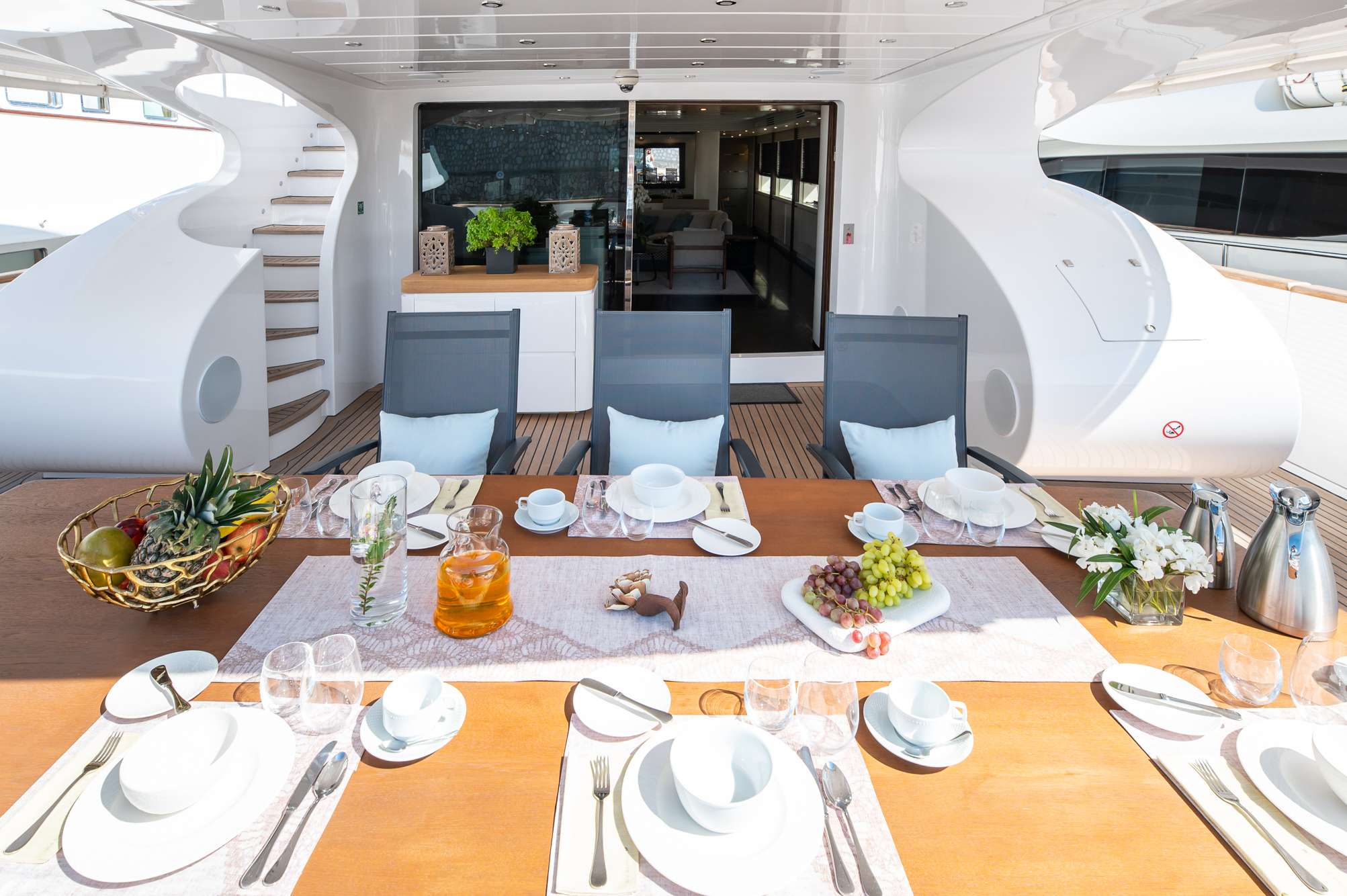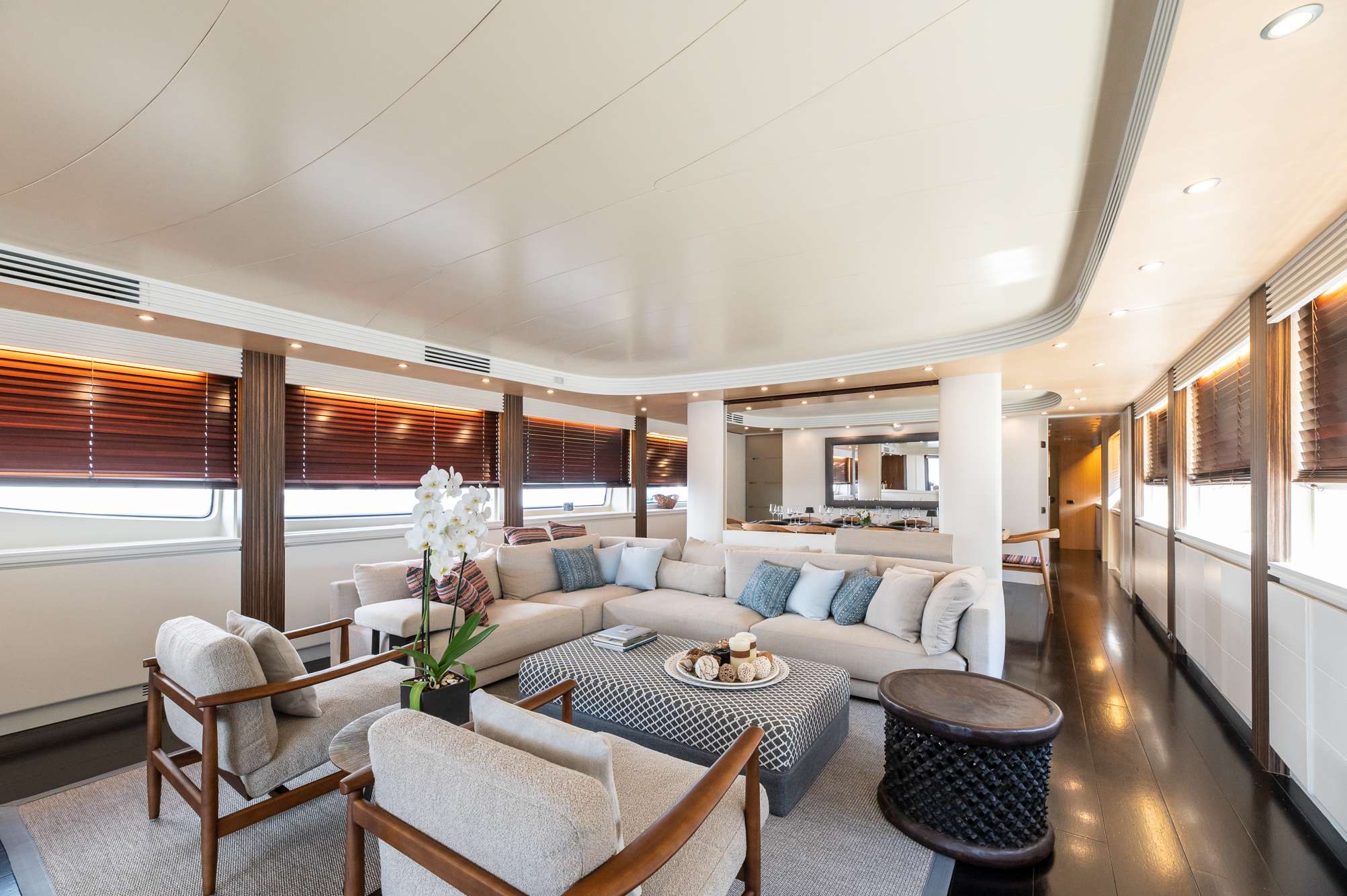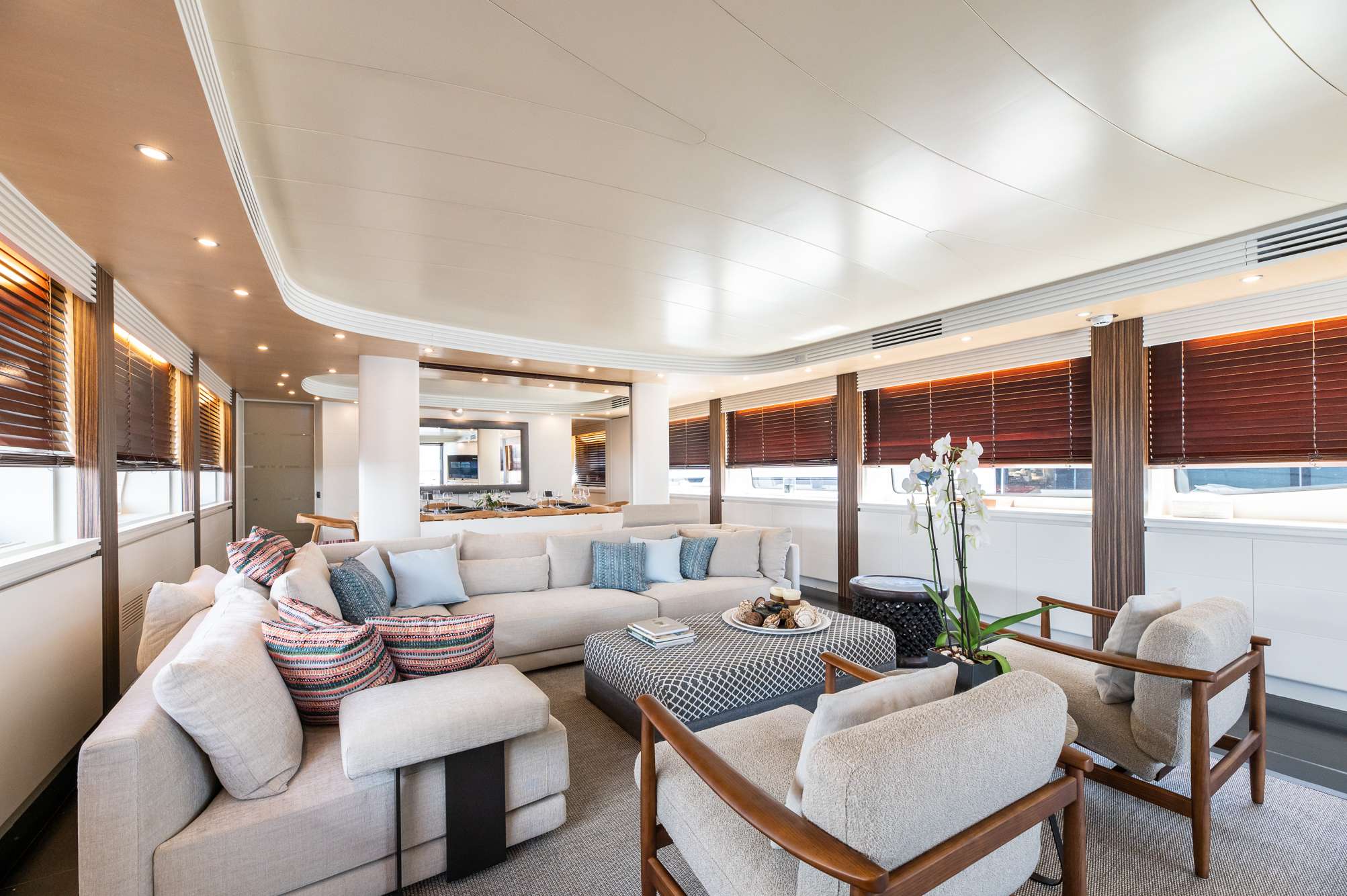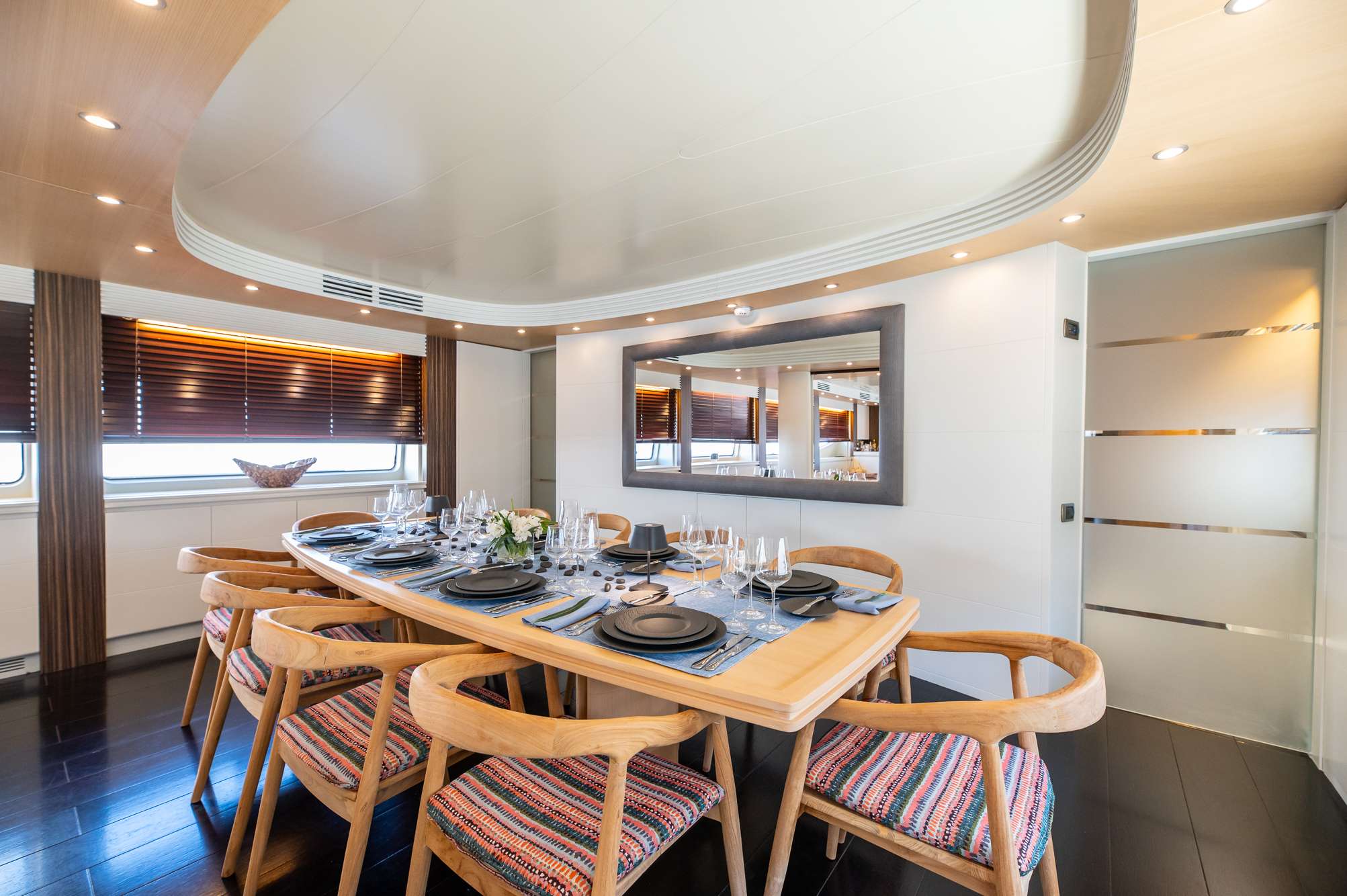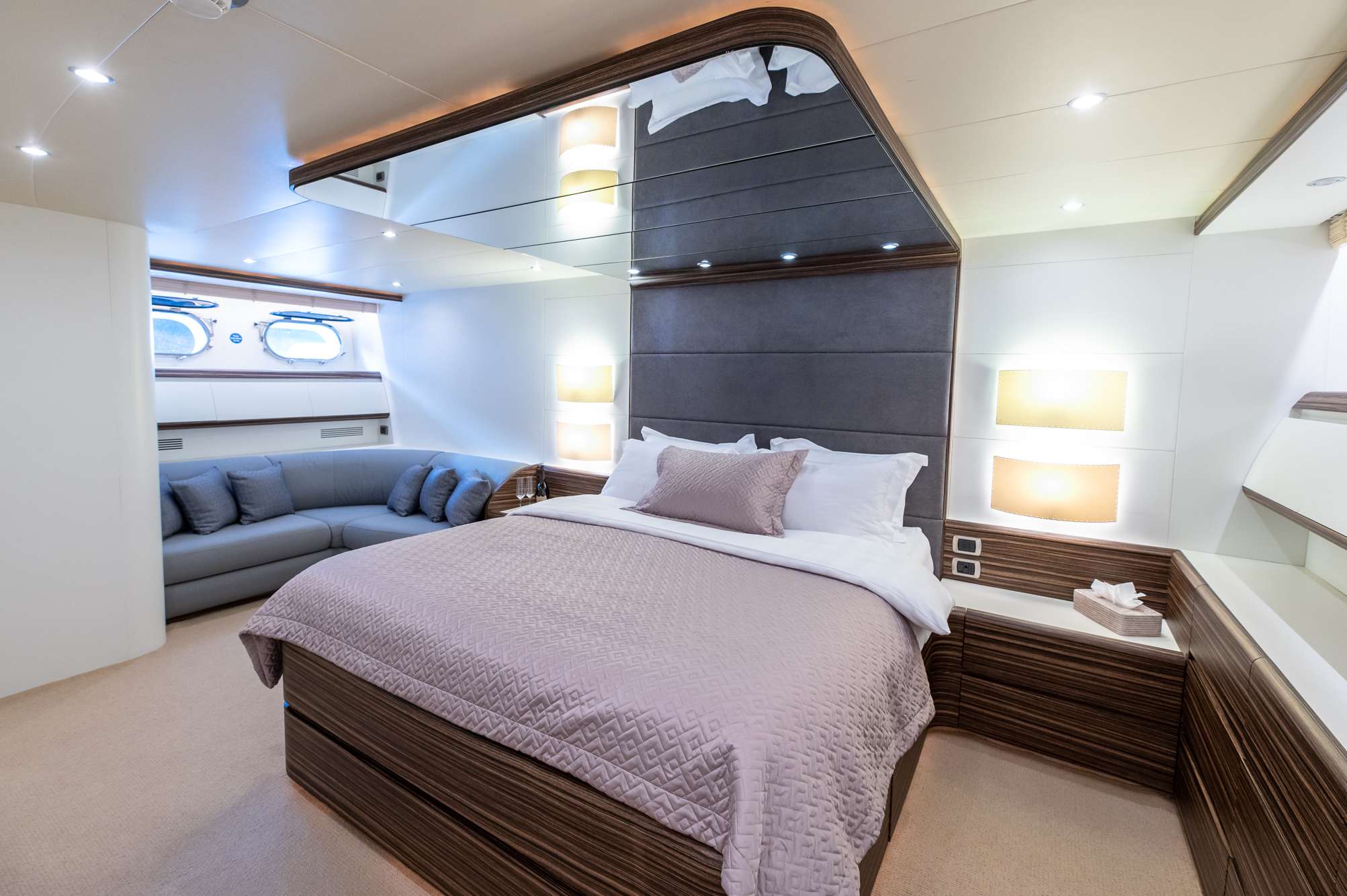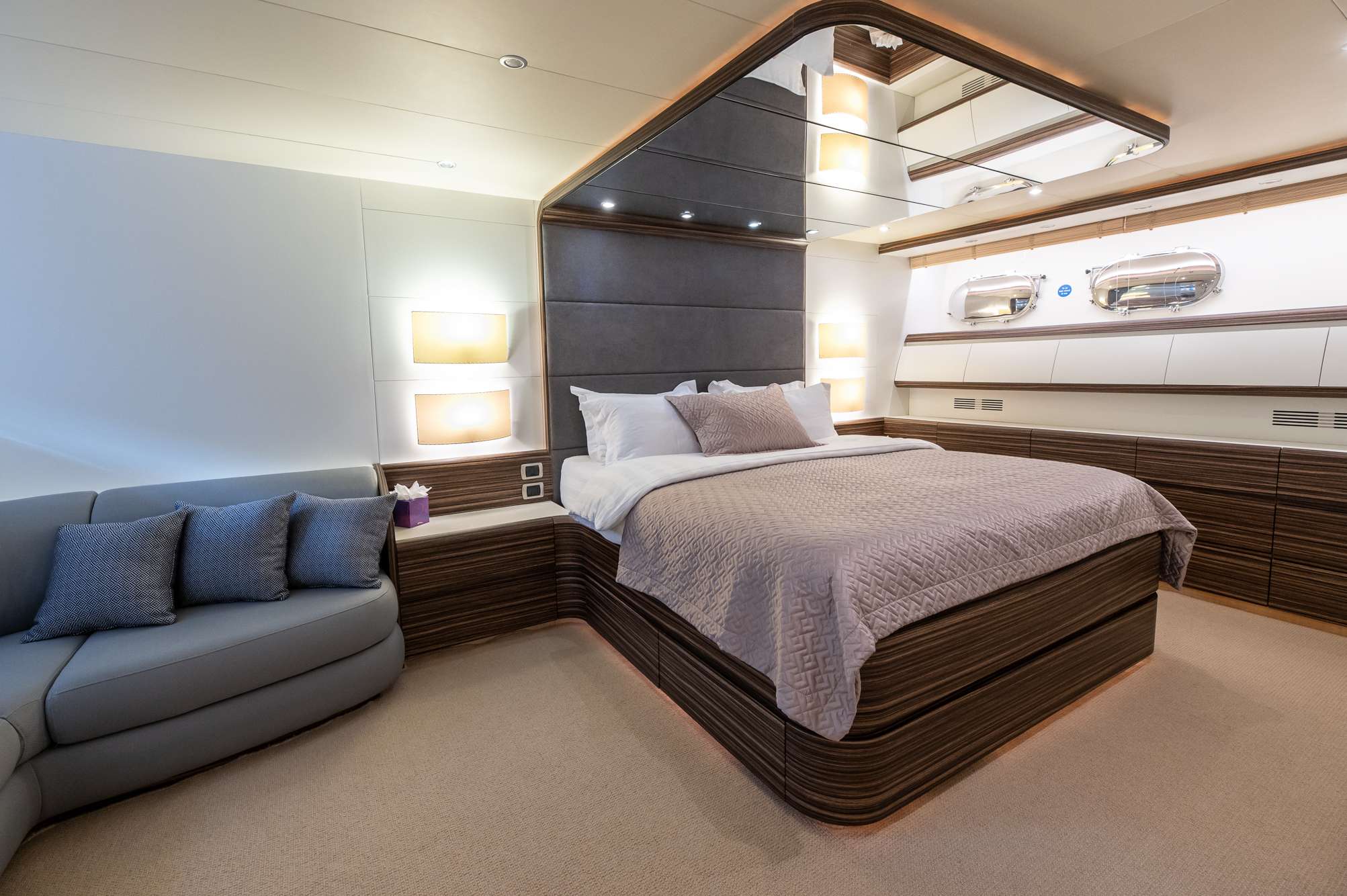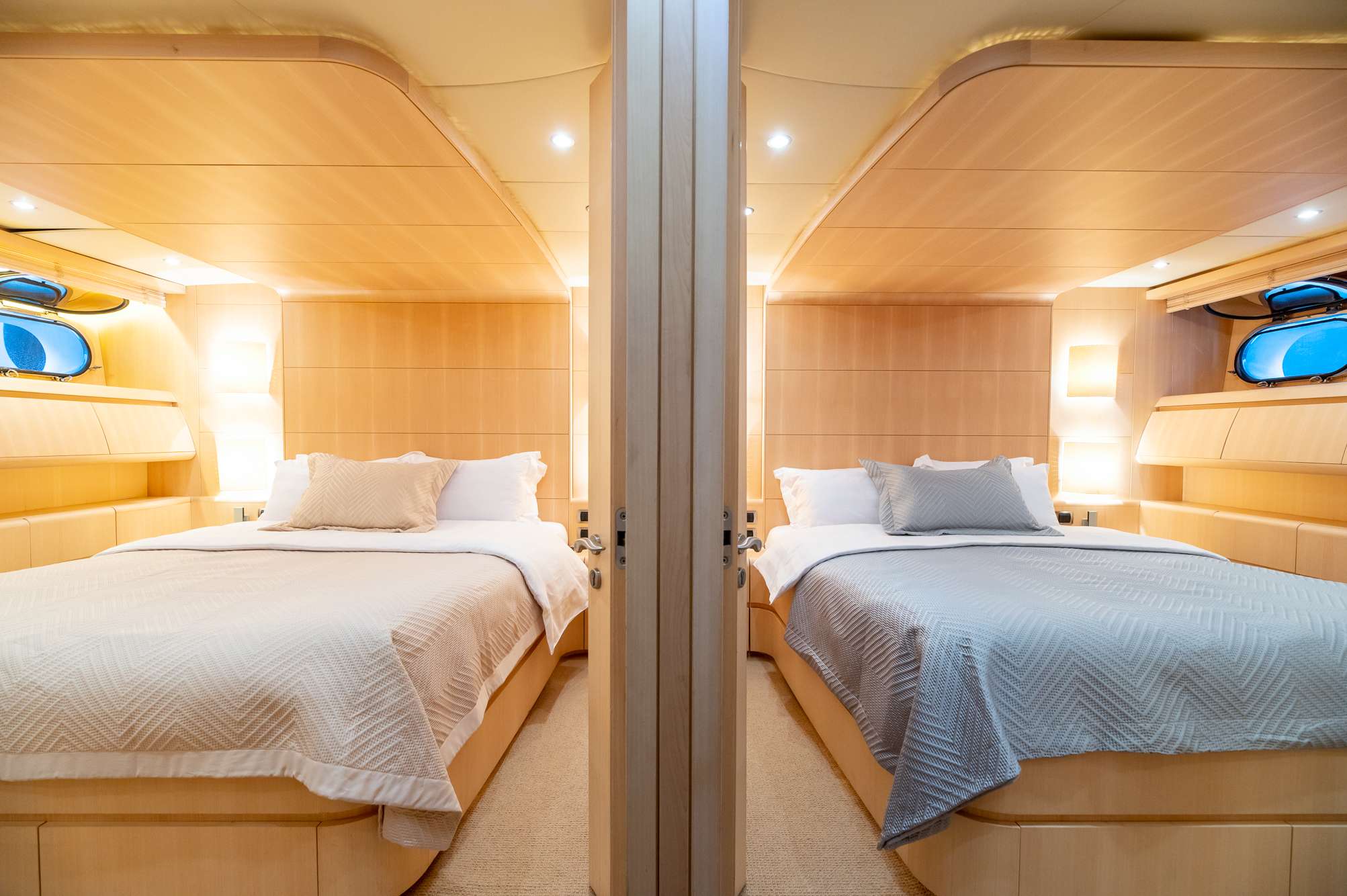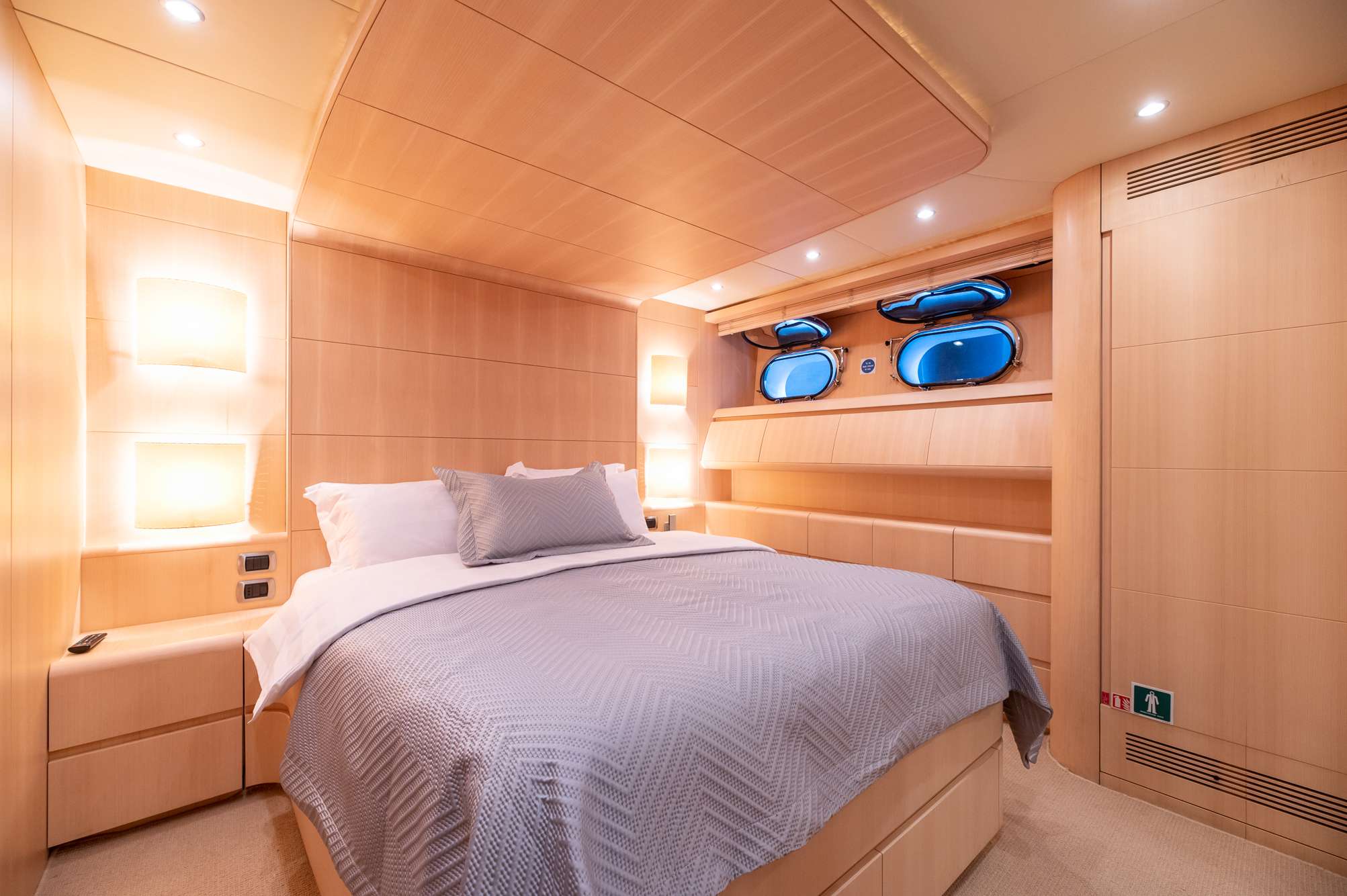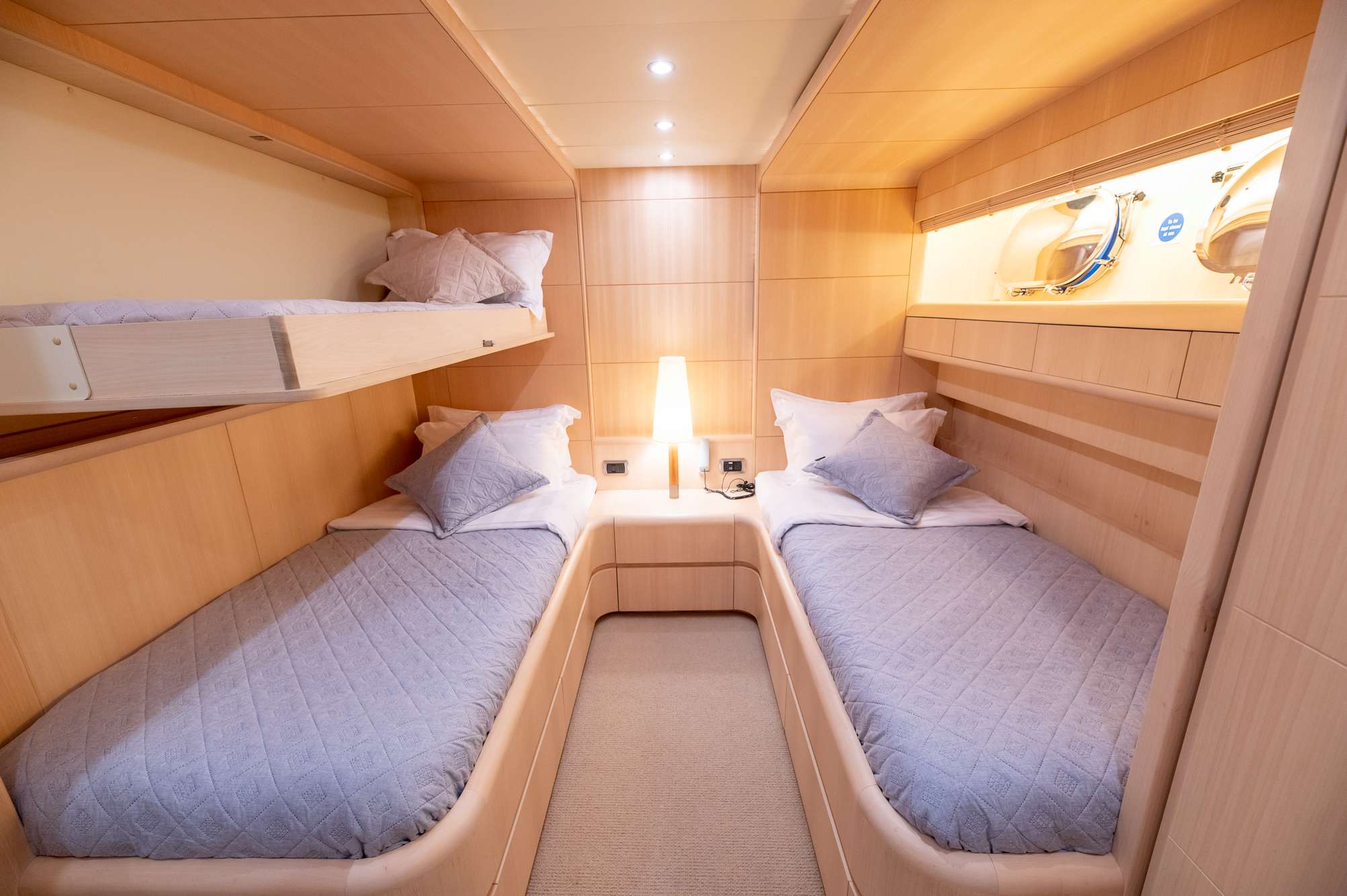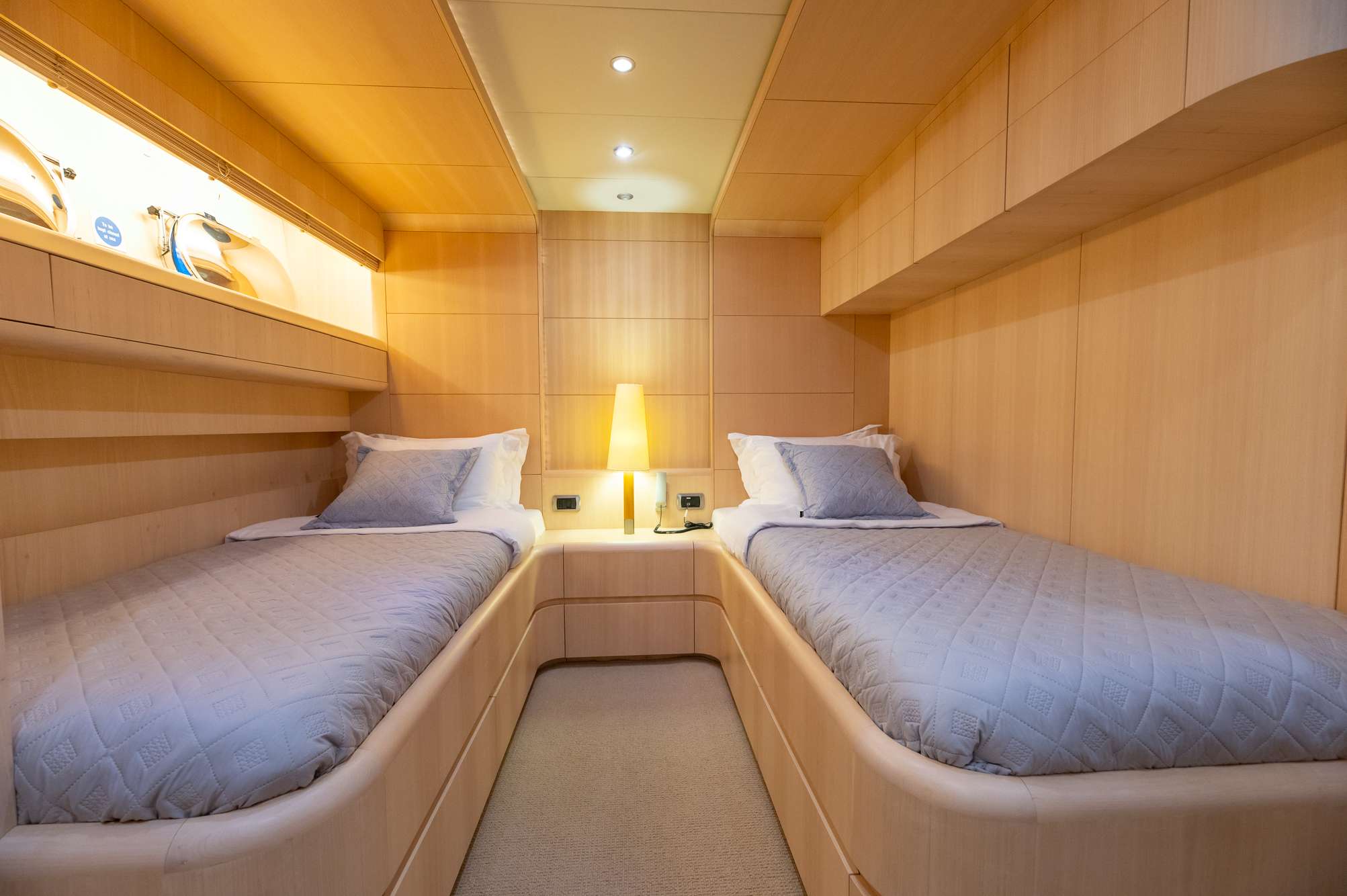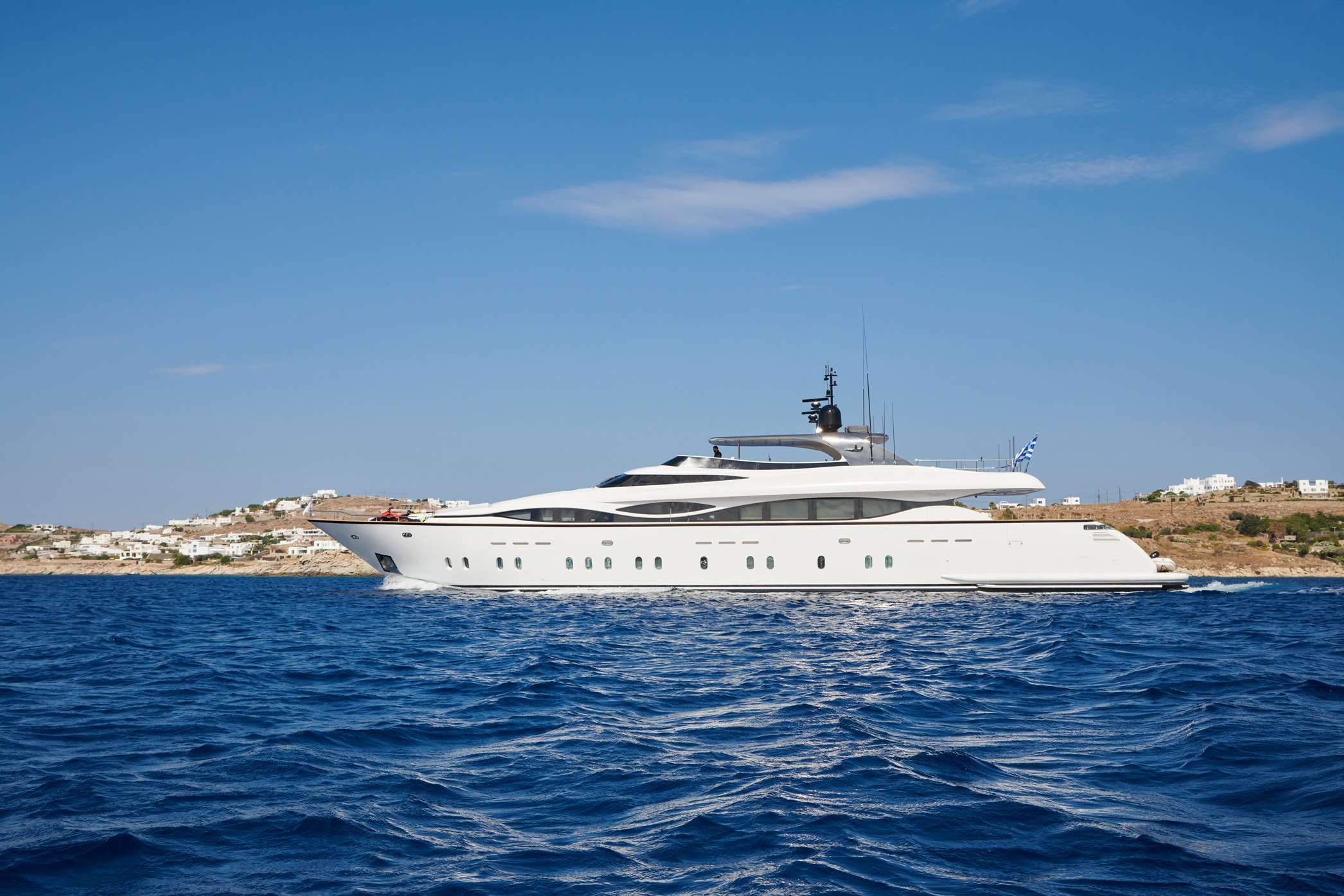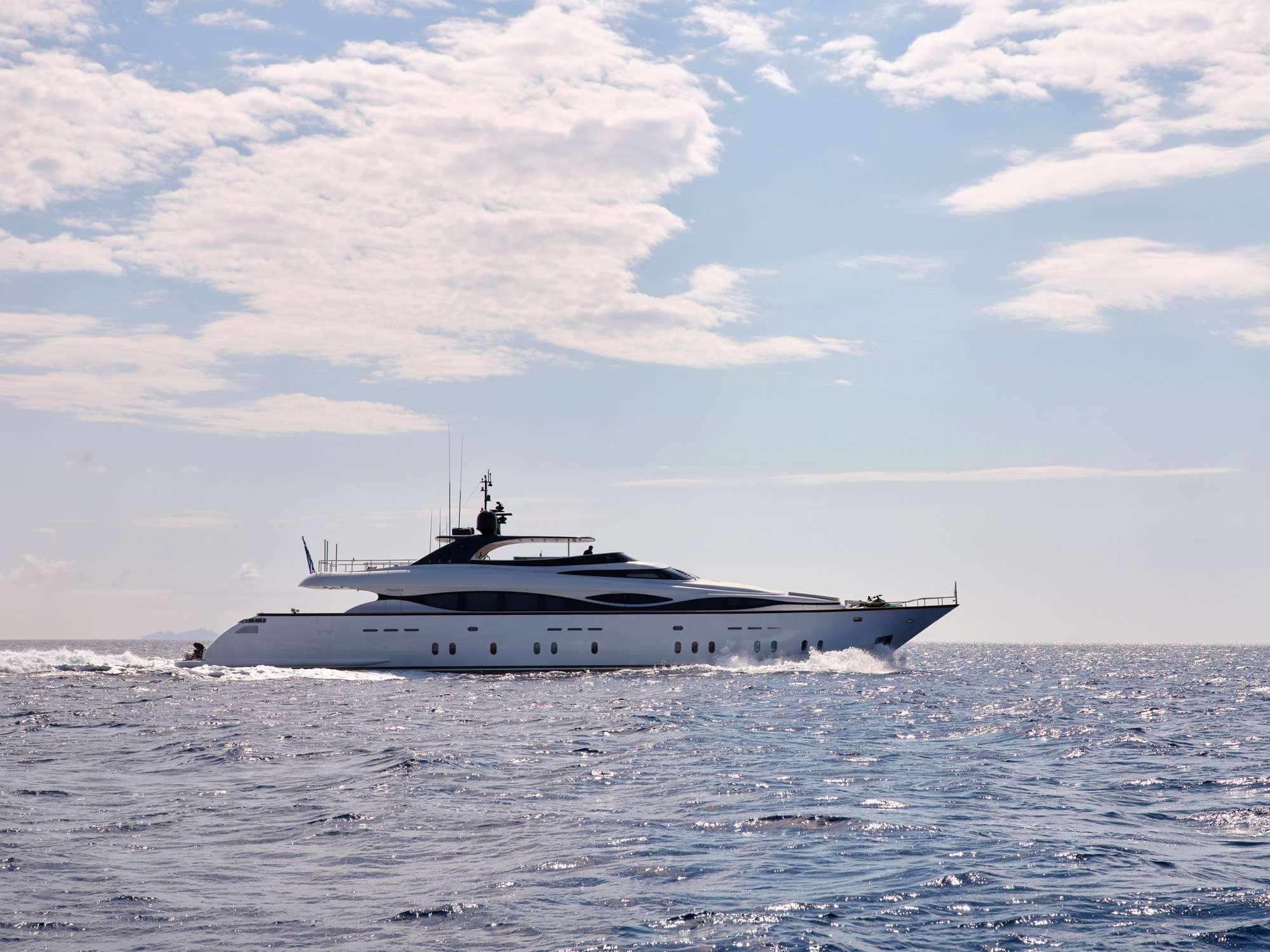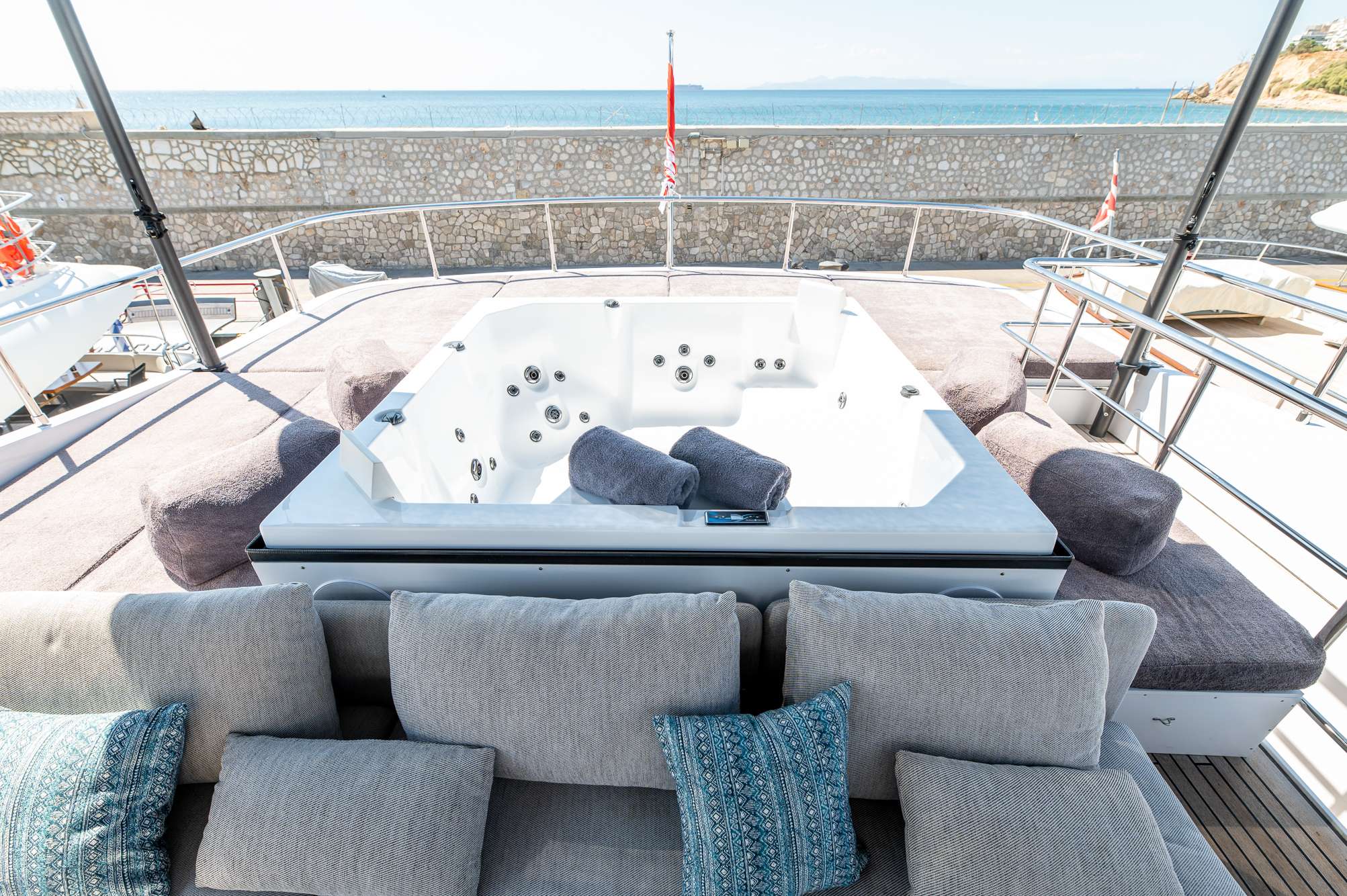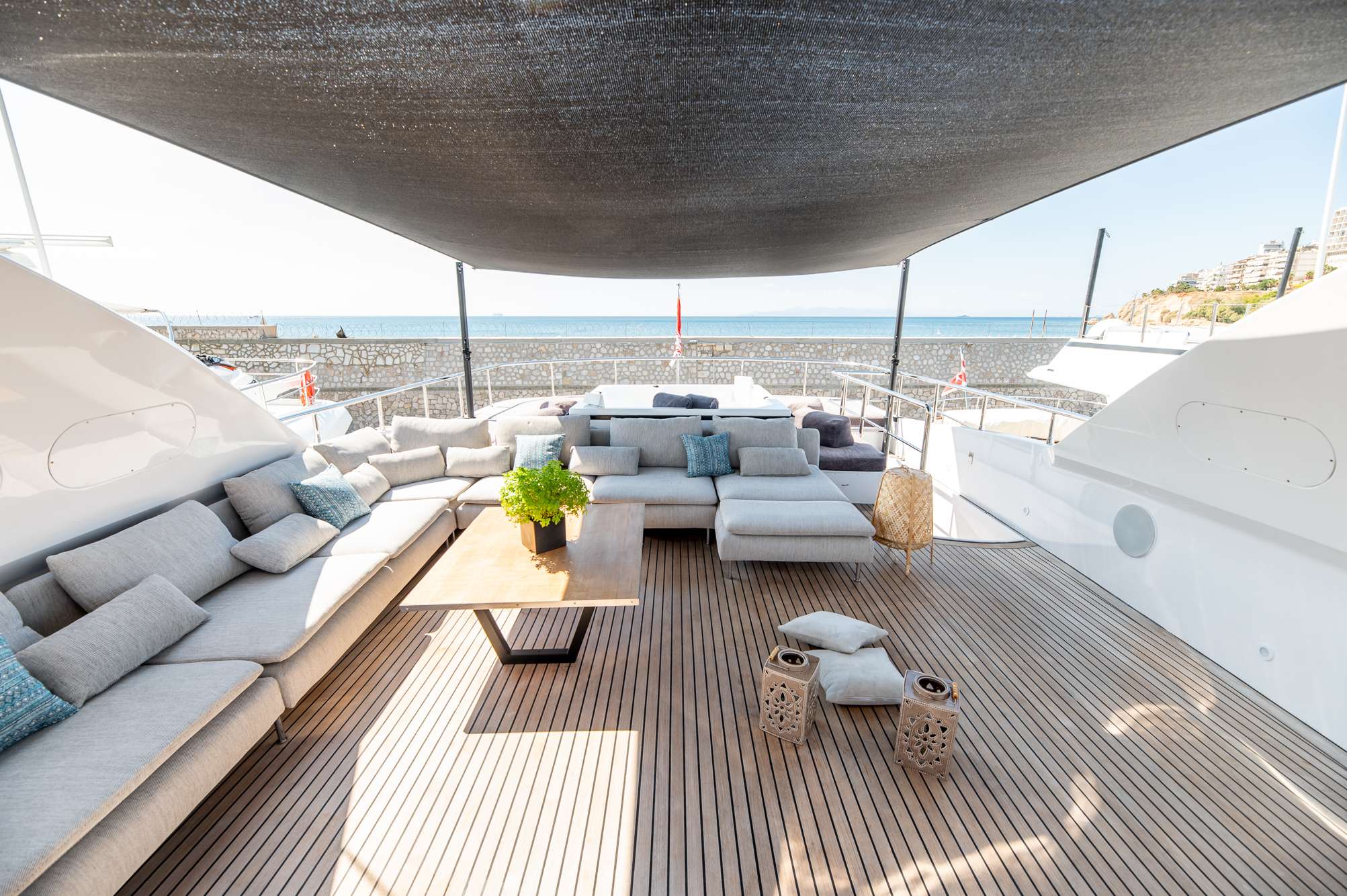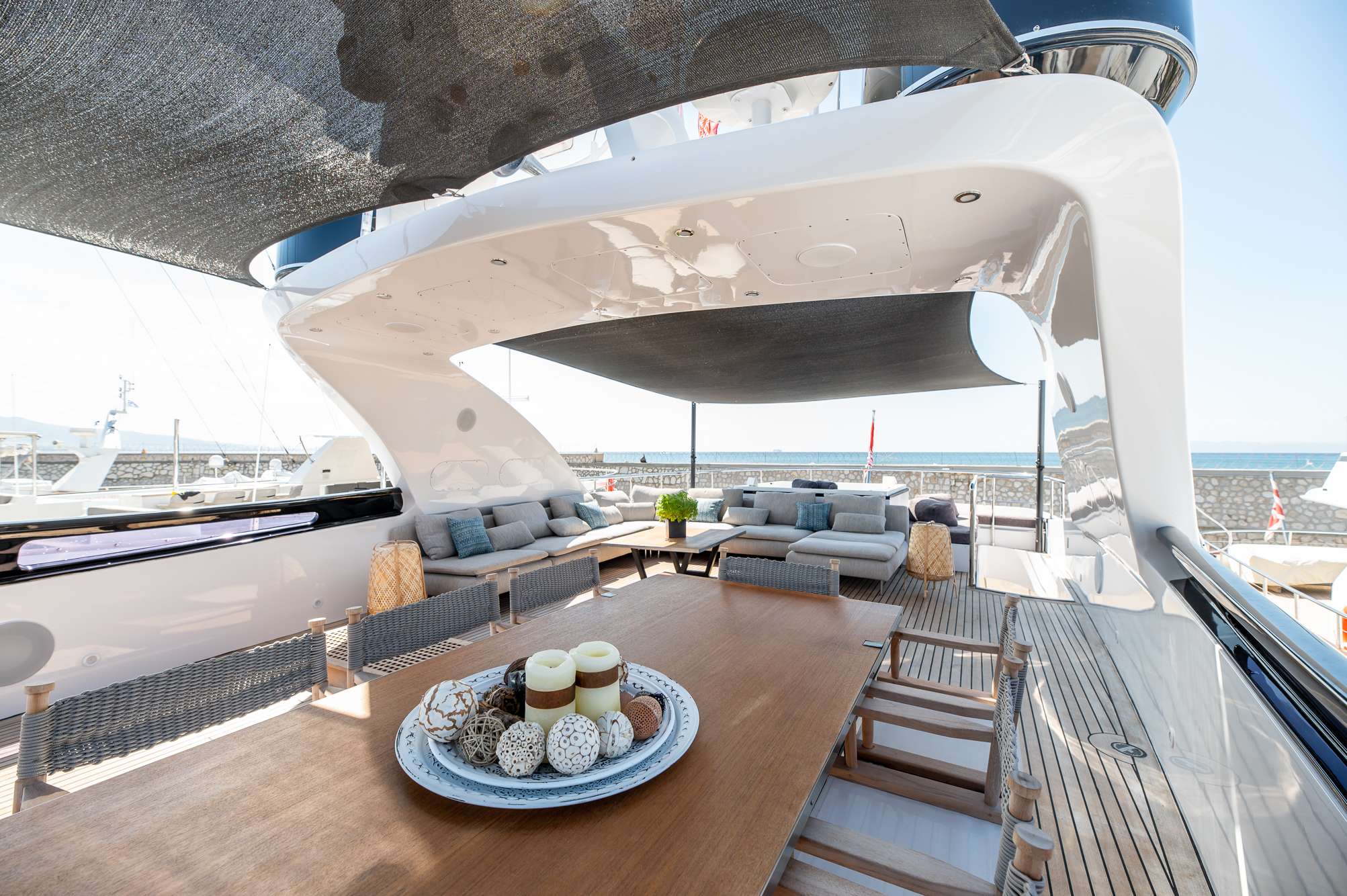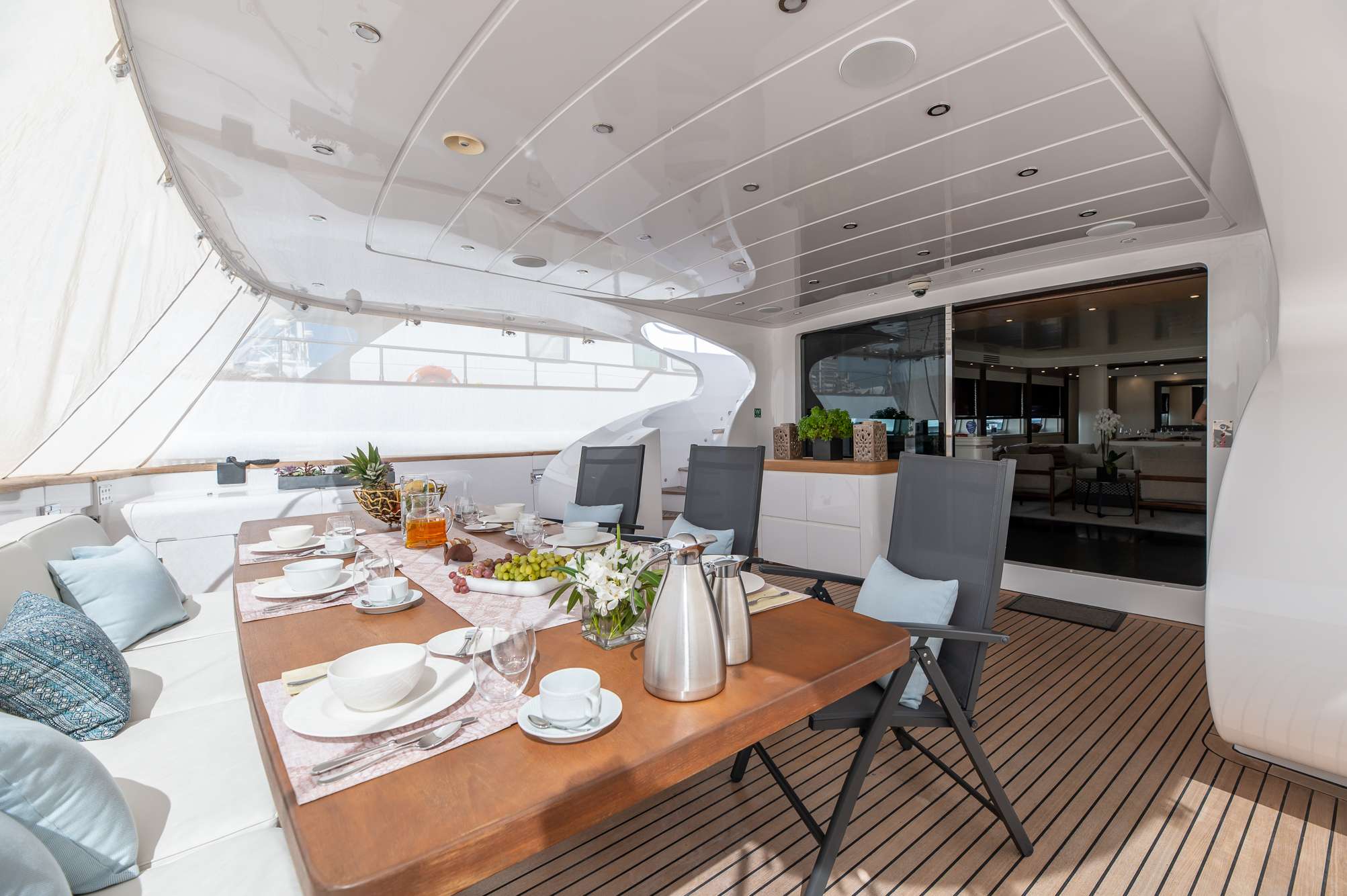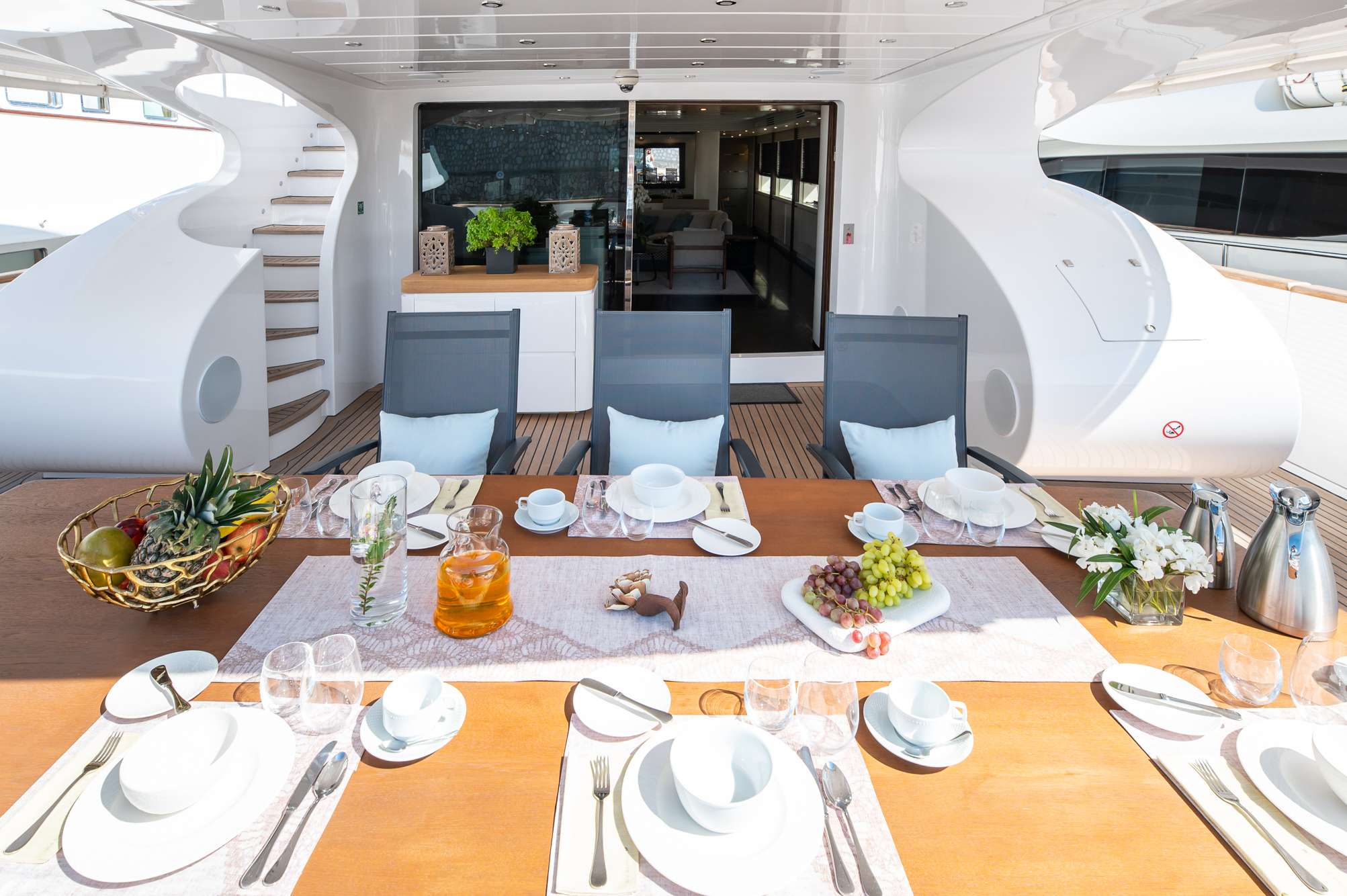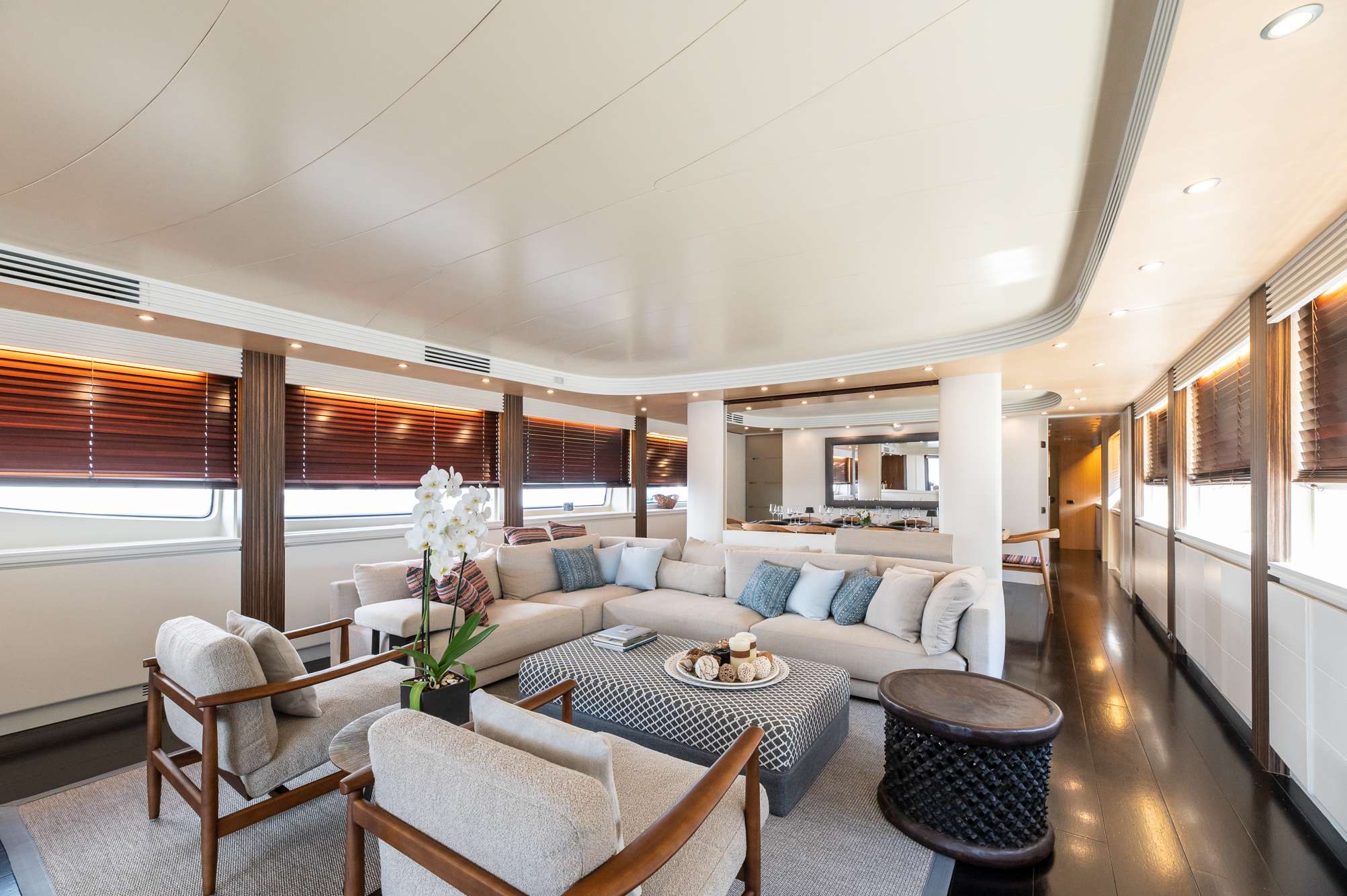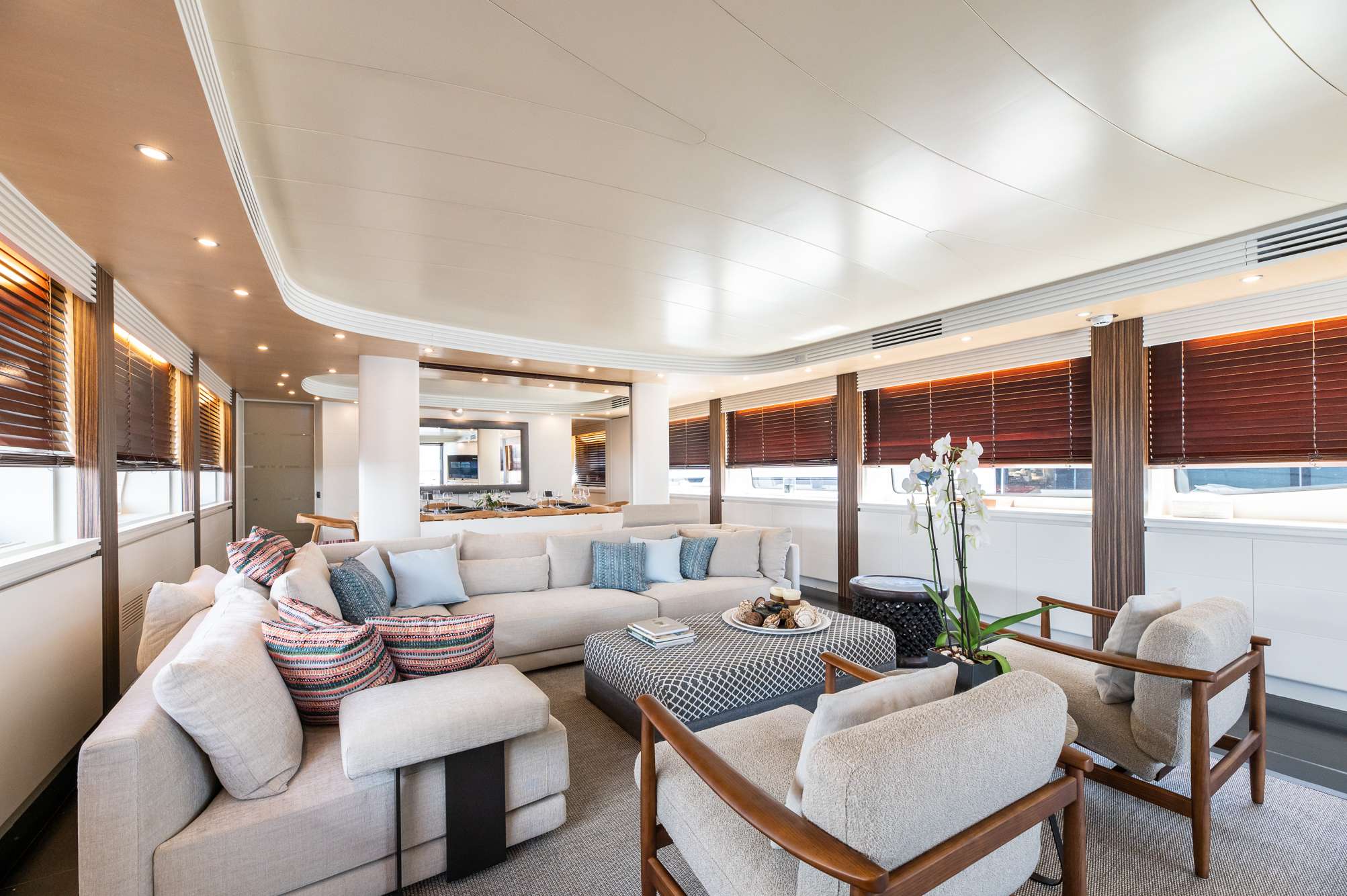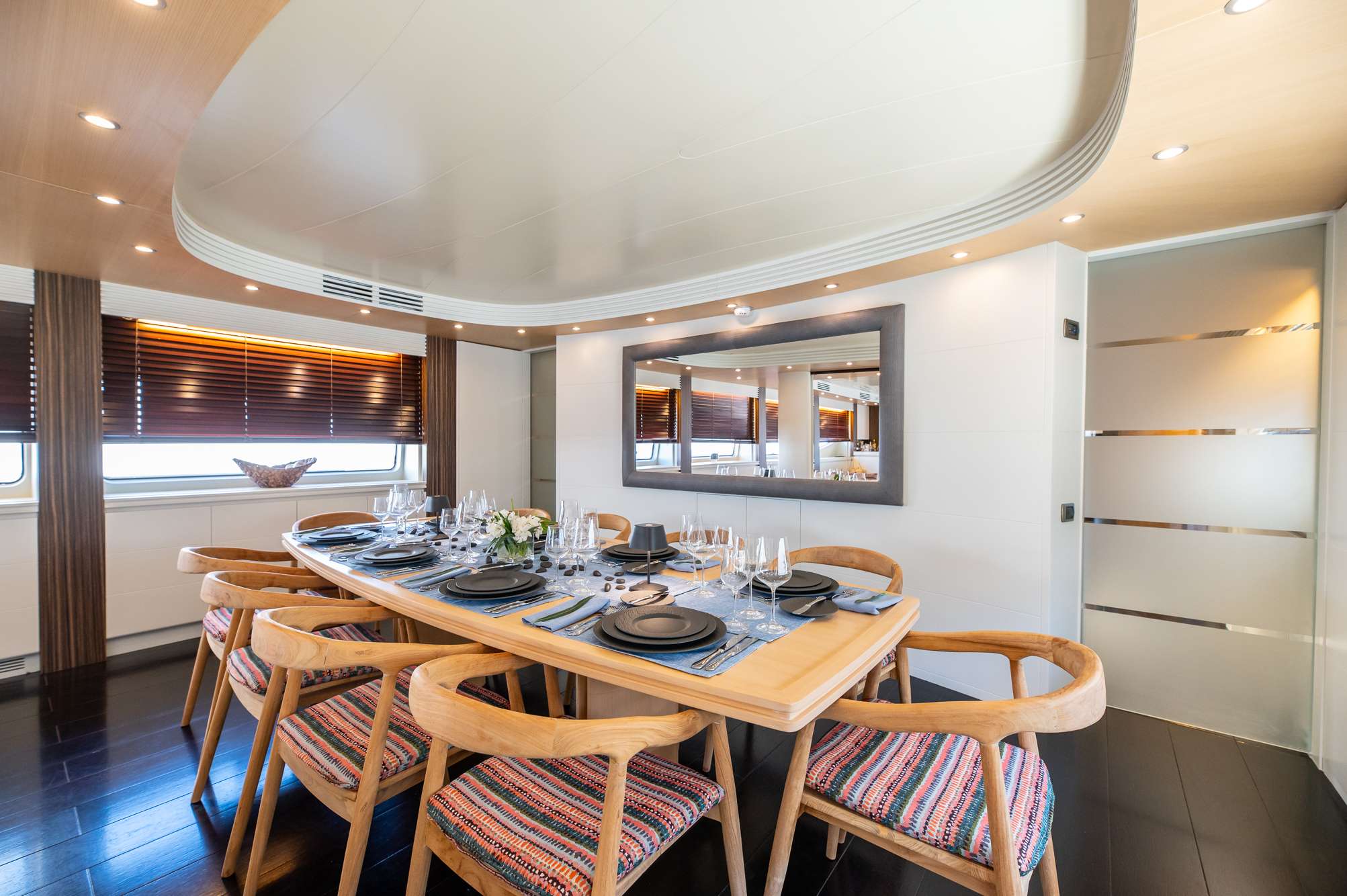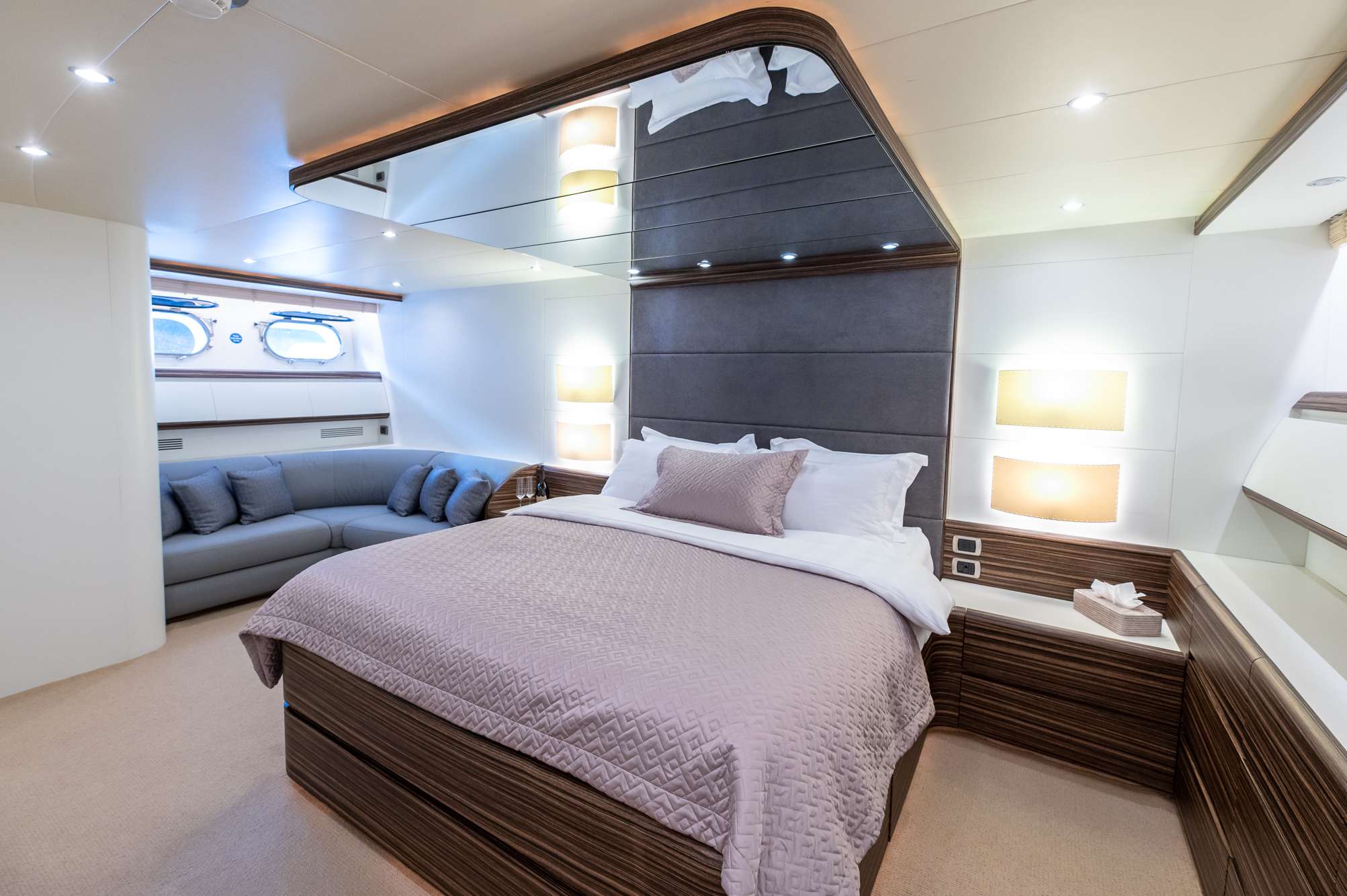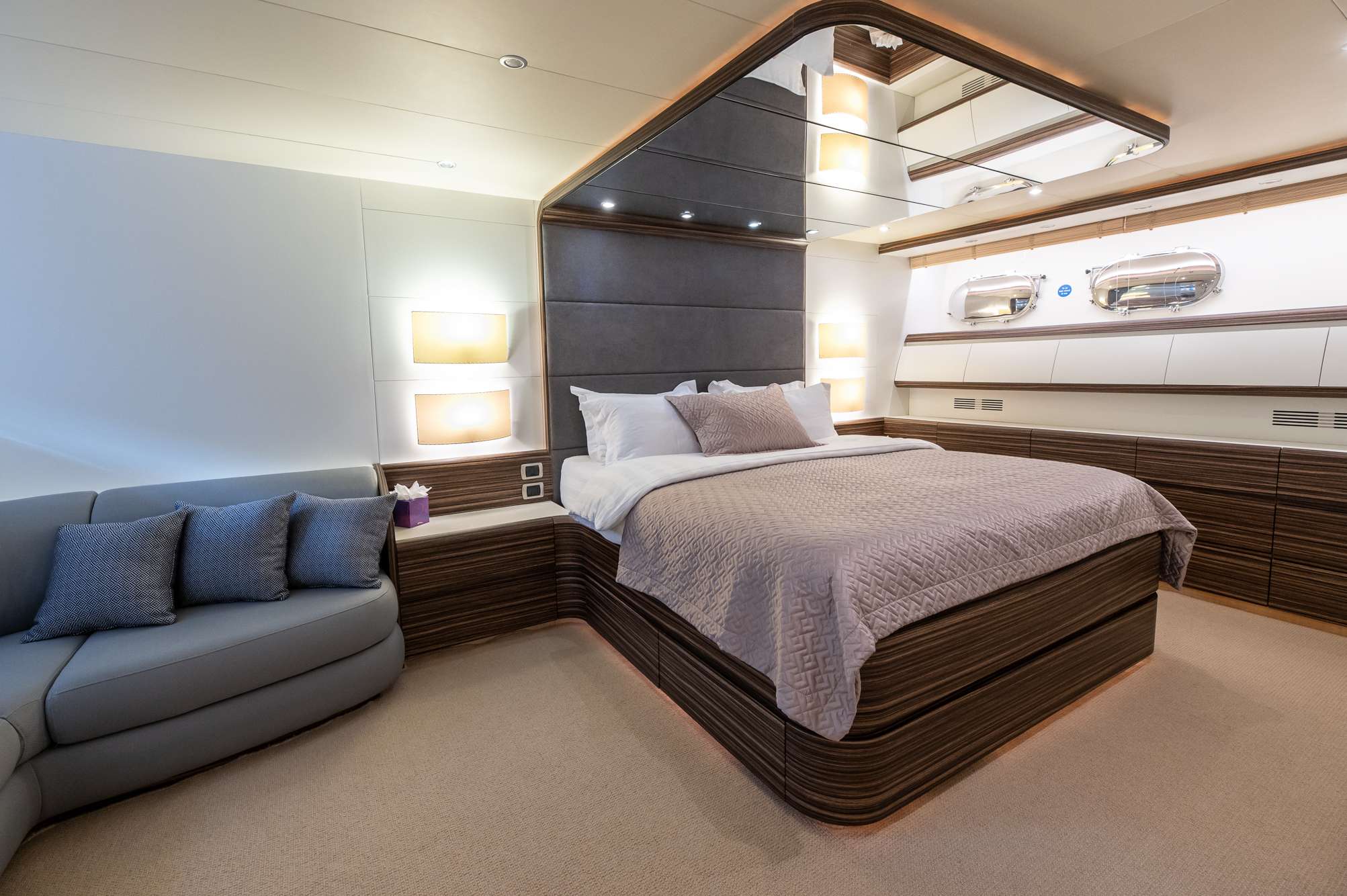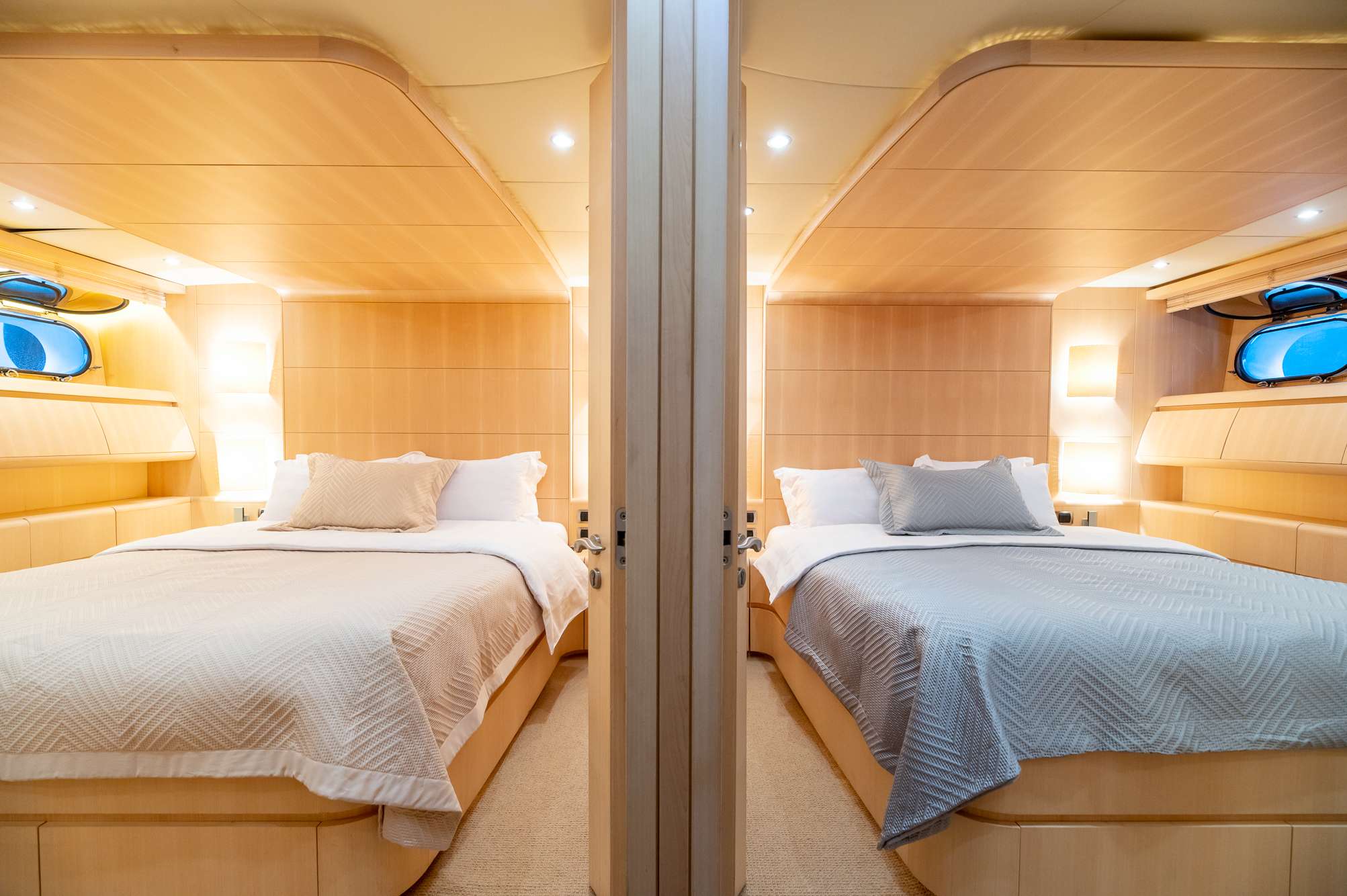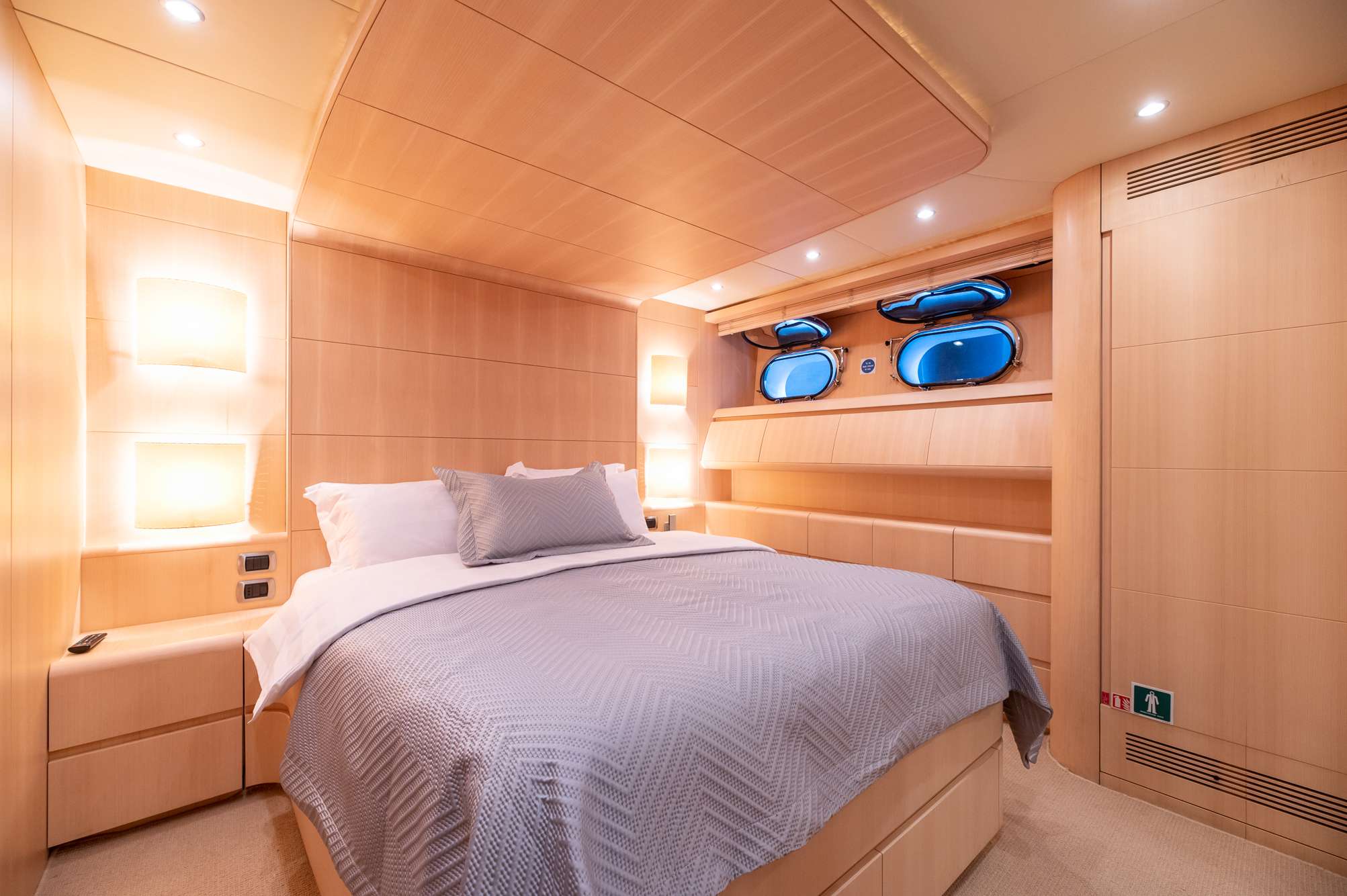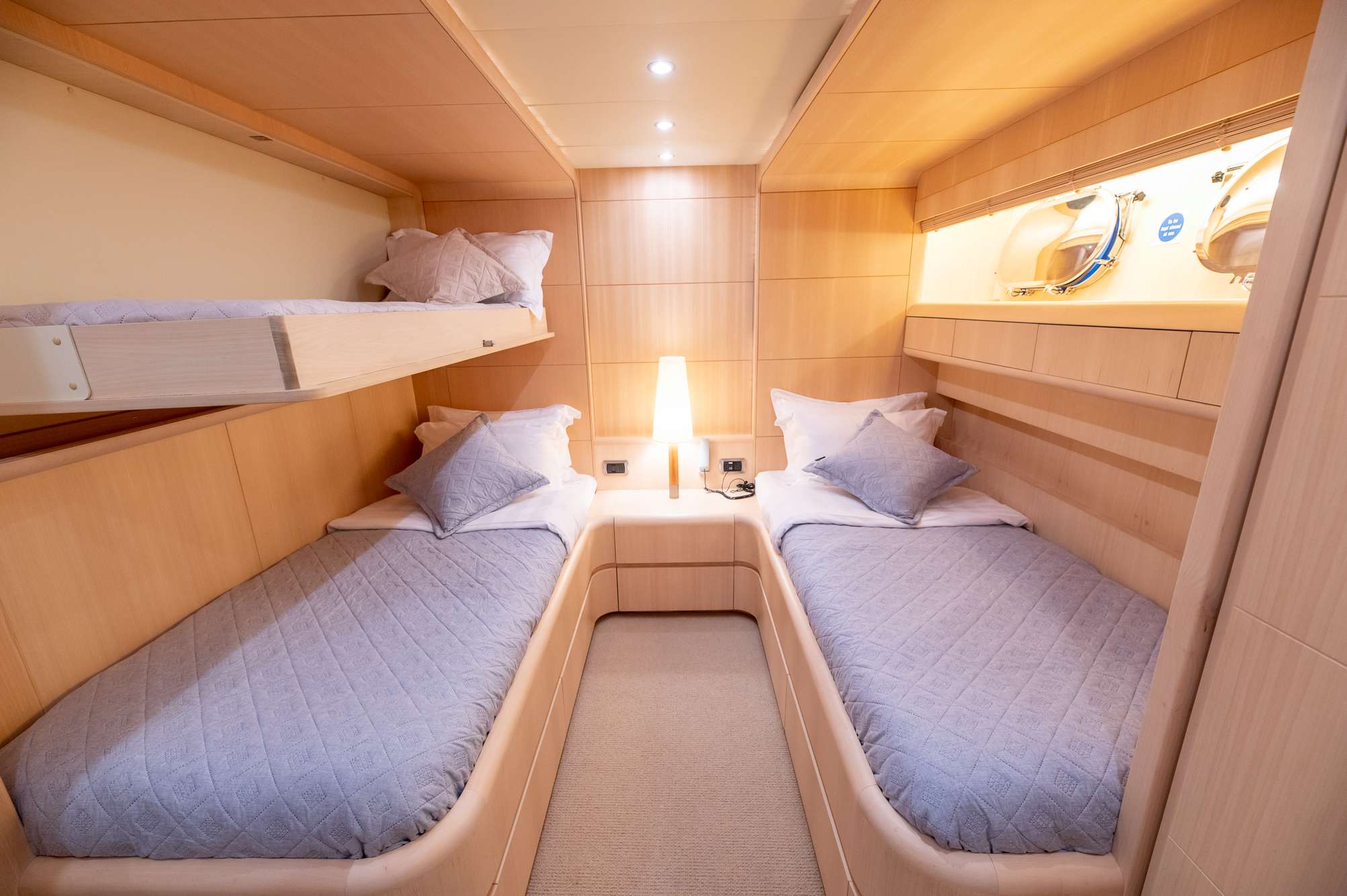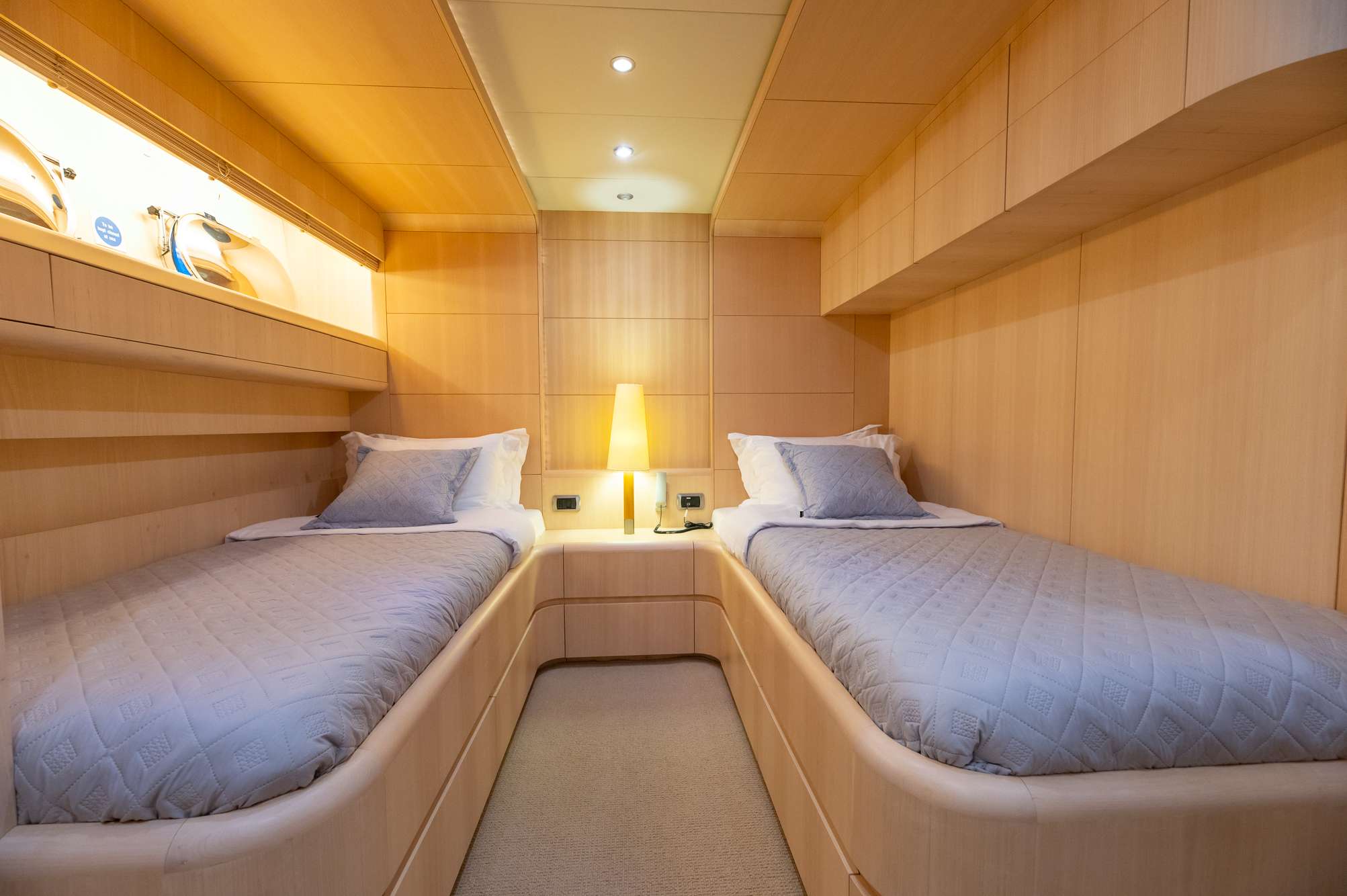 Accommodations
| | |
| --- | --- |
| Sleeps 11 guests in 5 guest stateroom(s). | |
| 3 with Double Bed(s) | |
| 2 with Twin Bed(s) | |
| 1 with Pullman Bed(s) | |
Details
1 x Master Suite on lower deck
2 x Double Staterooms on lower deck
2 x Twin Staterooms on lower deck + 1 Pullman
1 x Office on main deck
All with ensuite facilities
Layout Diagram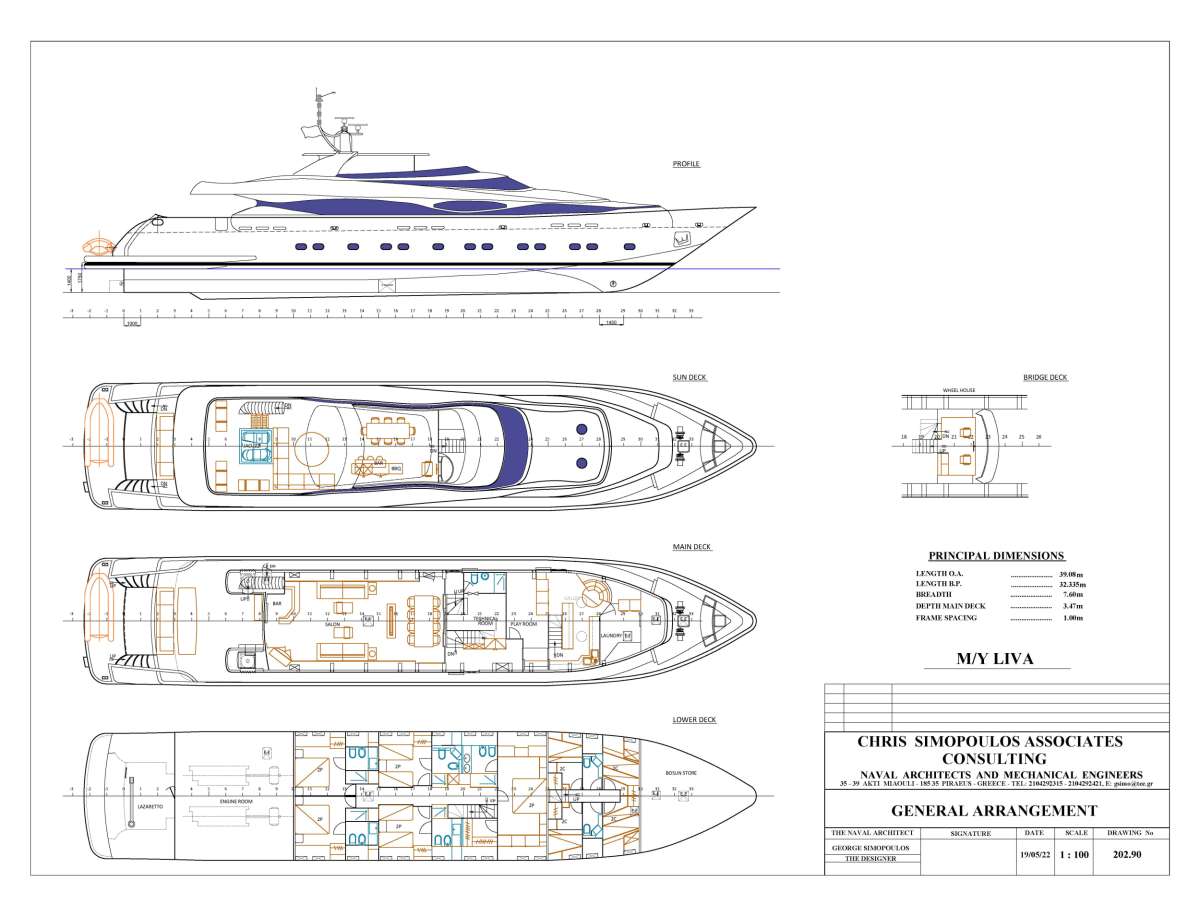 Specifications
| | |
| --- | --- |
| Guests | 11 |
| Staterooms | 5 |
| Length | 132.00 Ft / 40.00 m |
| Beam | 7.6 ft |
| Draft | 2.85 ft |
| Built - Refit: | 2006 - 2022 |
| Builder | Maiora |
| Cruising Speed | 22 |
Watersports
| | |
| --- | --- |
| Scuba Diving | Yacht offers Rendezvous Diving only |
Other Toys
1 x Zodiac RIB YL470 DL 4.70m WITH Mercury 100 hp
1 x Towable RIB Kardis K12 Nirvana 12m with 2 X 300hp SUZUKI
1 x set kid's water skis
1 x set adult's water skis
1 x Jobe hotseat (1 seater)
1 x Jobe chaser towable (3 seater)
1 x Jobe sonar towable (2 seater)
2 x Stand up paddleboards
2 x Sublue underwater scooter
1 x Jobe underwater scooter
4 x Dive mask
1 x Inflatable swimming platform
1 x Underwater Scooter ALTIVS APX

Pricing
From: 85,000
To: 95,000


Pricing Details
High Season: July & August
Low Season: all other months



PLEASE INQUIRE FOR FURTHER PRICING DETAILS
Crew Profile
Spyros Vlachos / Captain
Nationality: Hellenic
Date of birth: 1973
Languages: Greek & English

Captain Spyros graduated from the Merchant Marine Academy in 2011 and holds a Captain Class B diploma. He has been at sea for the last 30 years, firstly as an Apprentice Officer, then building his way up to Captain on luxury yachts of 40m+. Captain Spyros has been building his extensive knowledge and experience and holds true passion and enthusiasm, is highly organized, trustworthy, and meticulous in fulfilling any requirement, task, or duty to reach the maximum level possible. His strong team onboard LIVA creates a memorable experience for his guests. His primary focus is the safety of his guests and crew, and this, combined with his commitment and seamanship skills, ensures a safe and enjoyable cruise for all.

Panagiotis Dragatis / Chief Officer
Nationality: Greek
Date of birth: 1988
Languages: Greek & English & Italian

Chief Officer Panagiotis holds a Captain Class C certificate. He has completed a diploma in Marine Science and Technology from the Hellenic Merchant Marine Academy of Aspropyros. He has been at sea for the last 10 years, first as an apprentice then building his way up to Chief Officer and captain working onboard tankers before joining the luxury yachting industry. He is a great team leader and works well under pressure. His interests include travelling, sailing, reading, diving and water sports.


Konstantinos Boukas / Chief Engineer

Nationality: Hellenic
Date of birth: 1984
Languages: Greek & English

Konstantinos graduated with all the necessary certificates starting off as an apprentice engineer working onboard tanker and cargo ships before finally joining the luxury yachting industry. His strong leadership skills as well as his organized nature together with his ability to remain calm under pressure make him a great asset to the team! In his spare time, he enjoys reading, rebuilding motorcycles, taking photographs, listening to music and travelling. His private yachts include M/Y Al Salamah, M/Y Shaf and M/Y Light Holic.

Antonios Gavalas / Chef
Nationality: Hellenic
Date of birth: 1969
Languages: Greek, English + basic French

Antonios graduated from the School of Tourism in Crete specializing in the Culinary Arts. He built his career by firstly gaining experience & professional knowledge working as a chef at luxury hotels & 5-star restaurants.
He specialises in Greek cuisine both traditional and modern, has excellent knowledge of Mediterranean and Italian cuisine, worldwide selected recipes, knowledge in pastries & baking, Peruvian & Japanese cuisine including sushi! In 2004, Antonios joined the yachting industry where he decided that this would be his life's path. This turning point made Antonios realize how very passionate his love for gastronomy, the sea, travelling, and communicating with his guests were, and he is always eager to increase his knowledge and take his standards even higher, by exceeding expectations. Antonios is a very communicative, hard-working, creative individual and is very focused on food safety & sanitation. His love and passion for gastronomy allow him to create tastes that guests will savour for a lifetime! In his free time, Antonios enjoys Taekwon Do, spearfishing, football, basketball & nature-based activities. Additionally, his interest in psychology & helping others led him to complete a diploma in counselling in 2017.

Eleni Patsiopoulou / Chief Stewardess
Nationality: Hellenic
Languages: Greek, English & French

Eleni completed a bachelor's degree in Maritime Studies at the IEK Omiros of Pireaus. She joined the yachting industry in 2007 starting off as 2nd Stewardess and working her way up to Chief Stewardess. Her strong worth ethic, positive attitude, and enthusiastic, organised nature ensure her guests are taken care of to the utmost of standards. She is experienced in flower arrangements, silver service, bar & cocktail mixology as well as conducting events. Eleni has also completed a Sommelier course and will gladly guide her guests to an unforgettable dining experience! During her free time, she enjoys reading, playing chess, travelling, photography and painting.

Katerina Miroschnichenko / 2nd Stewardess
Nationality: Ukranian
Languages: Russian, Greek, English

Following her high school studies Katerina completed a Tourism Management diploma at the ALFA College of Tourism in Athens. Prior to joining the luxury yachting industry her customer service skill base was developed by working as an administrative assistant for Hellenic Insurance in Athens. She joined the luxury yachting industry in 2014 working onboard private and charter yachts. She will be happy to assist wherever needed always adhering to the highest of standards. When out of uniform, you'll find her diving, sailing or travelling.


Katerina Liosi / 3rd Stewardess
Nationality: Greek
Date of Birth: 1980
Languages: Greek, English

Katerina joined the luxury yachting industry in 2018. She has certificates and knowledge in Silver Service and Cooking and is looking forward to assisting you onboard! Her previous yachts include: M/Y Makani and M/Y Blue Ribbon.

Antonis Kalouris Steward / Deckhand
Nationality: Hellenic
Date of birth: 1981
Languages: Greek & English

Antonis joined the yachting industry in 2008 working on commercial yachts before moving to charter yacht M/Y Liva in 2021. He is extremely hard working and dedicated to taking care of his guests, with his gentle and friendly manner. Antonis is polite and communicative, and his priority is to make his guests feel like they are at home. He is very organized, detail-oriented, and dedicated. Antonis is keen to assist his crew members, making sure all operations are carried out smoothly!

Valeriu Blindu / Deckhand

Nationality: Moldovan
Date of birth: 1983
Languages: Romanian, Russian, Greek & English
 
Valeriu was born in Moldova and is a very enthusiastic and hardworking individual. He is very approachable and friendly, making sure his guests are well taken care of! He joined the luxury yachting industry in 2006 and also holds a speed boat operator license. He is happy to assist wherever needed and is very committed to ensuring both comfort and security for all onboard, making him a genuine team player. In his free time, he adores travelling!

Destinations