Gallery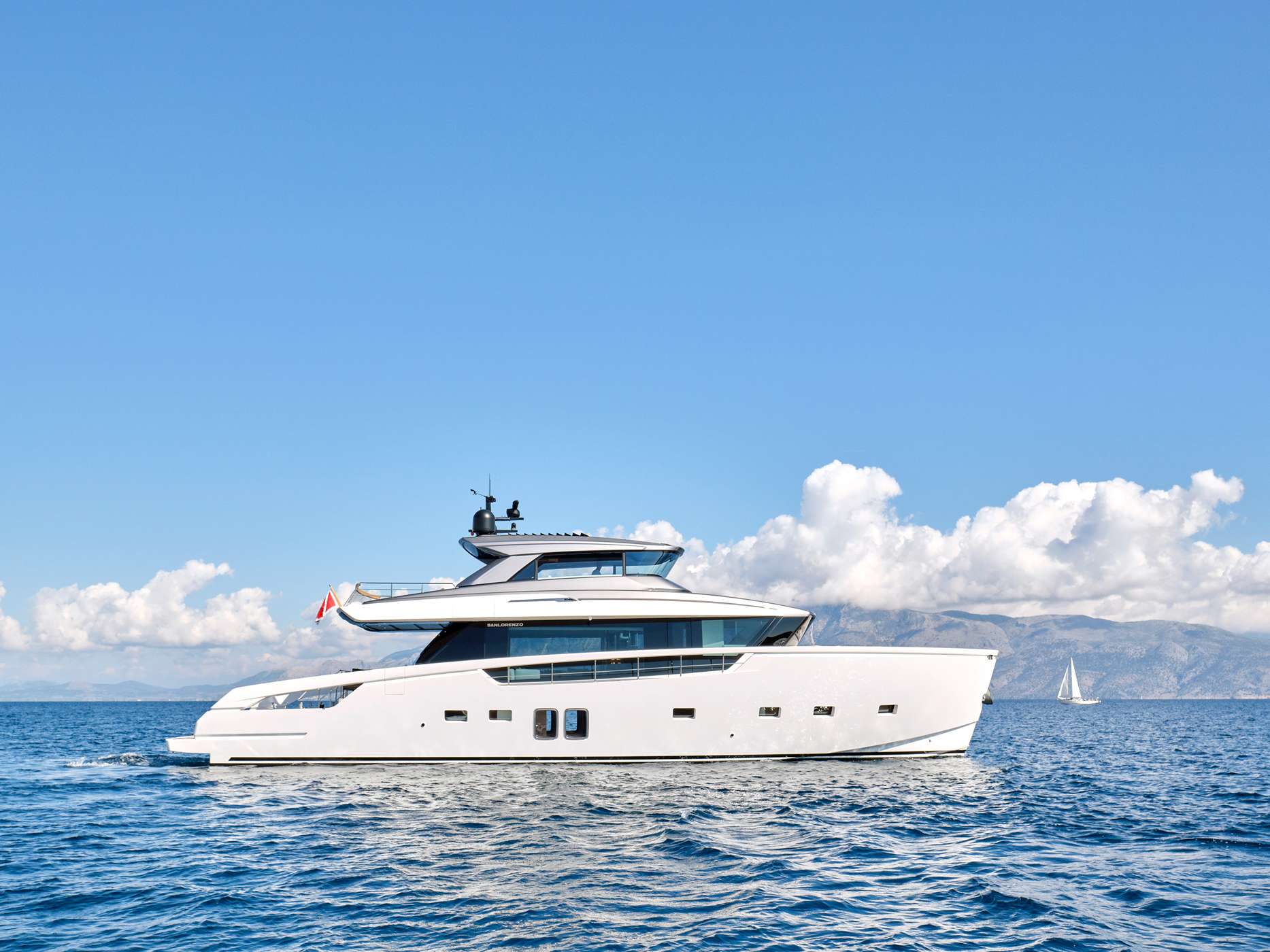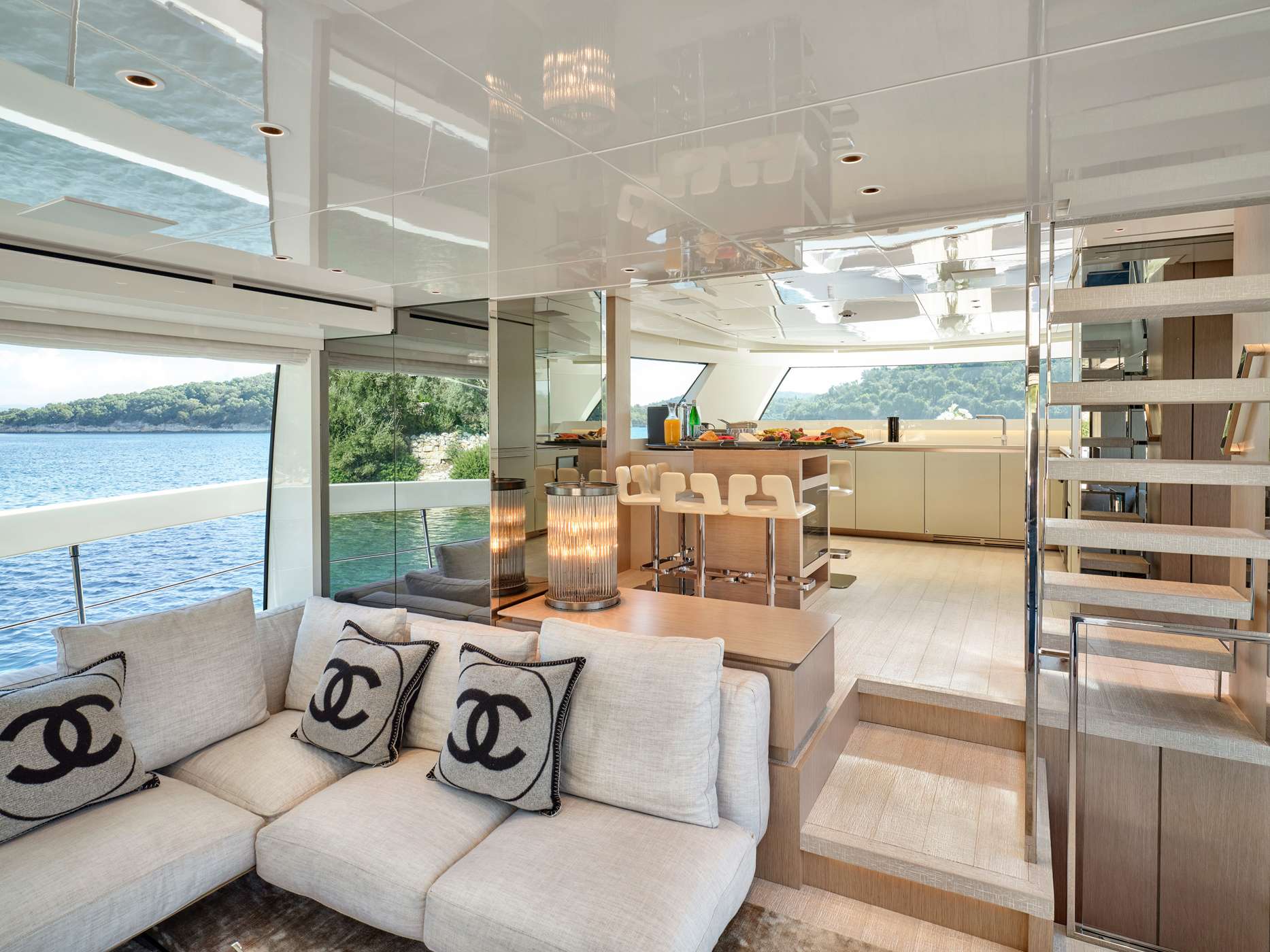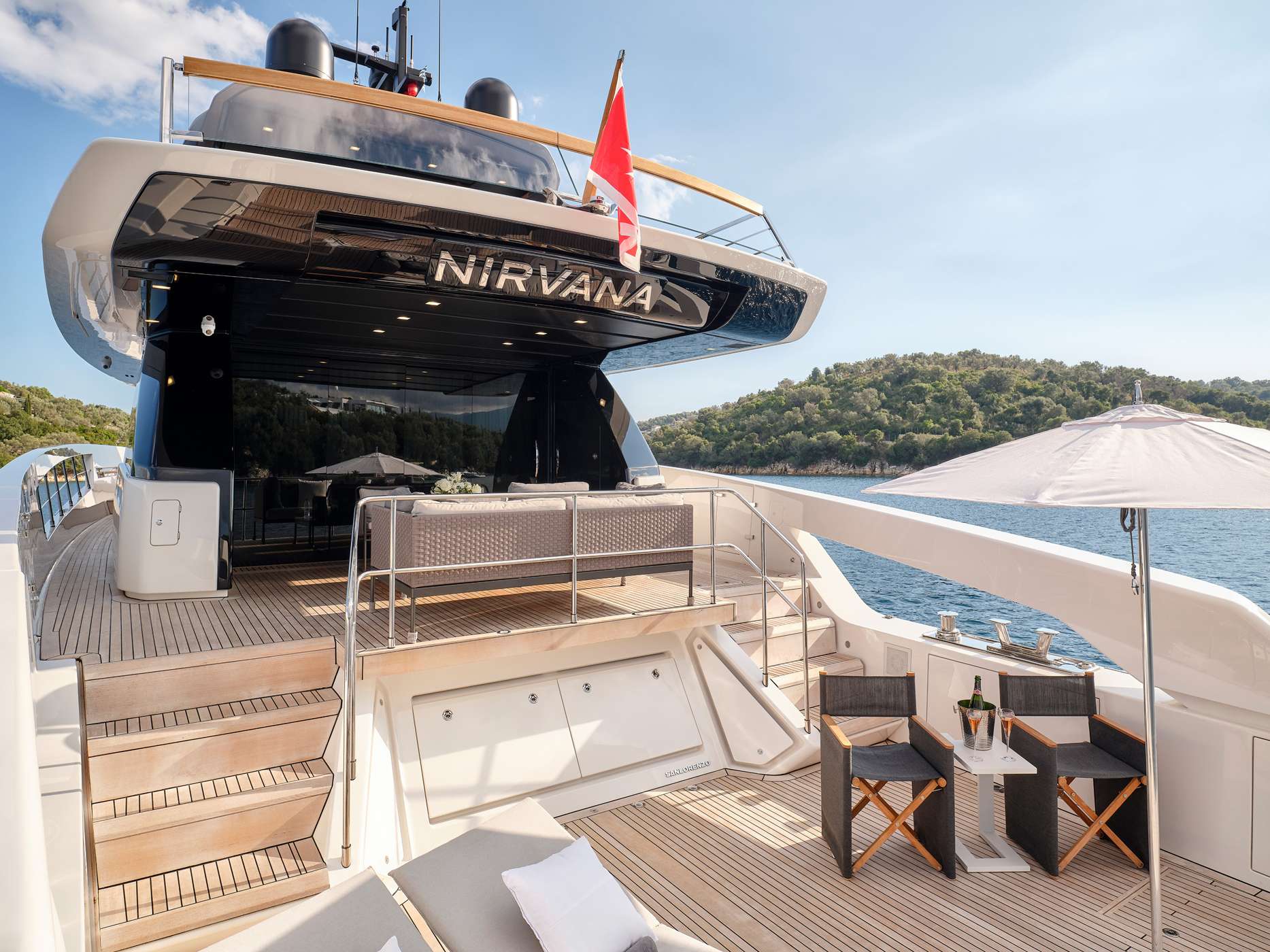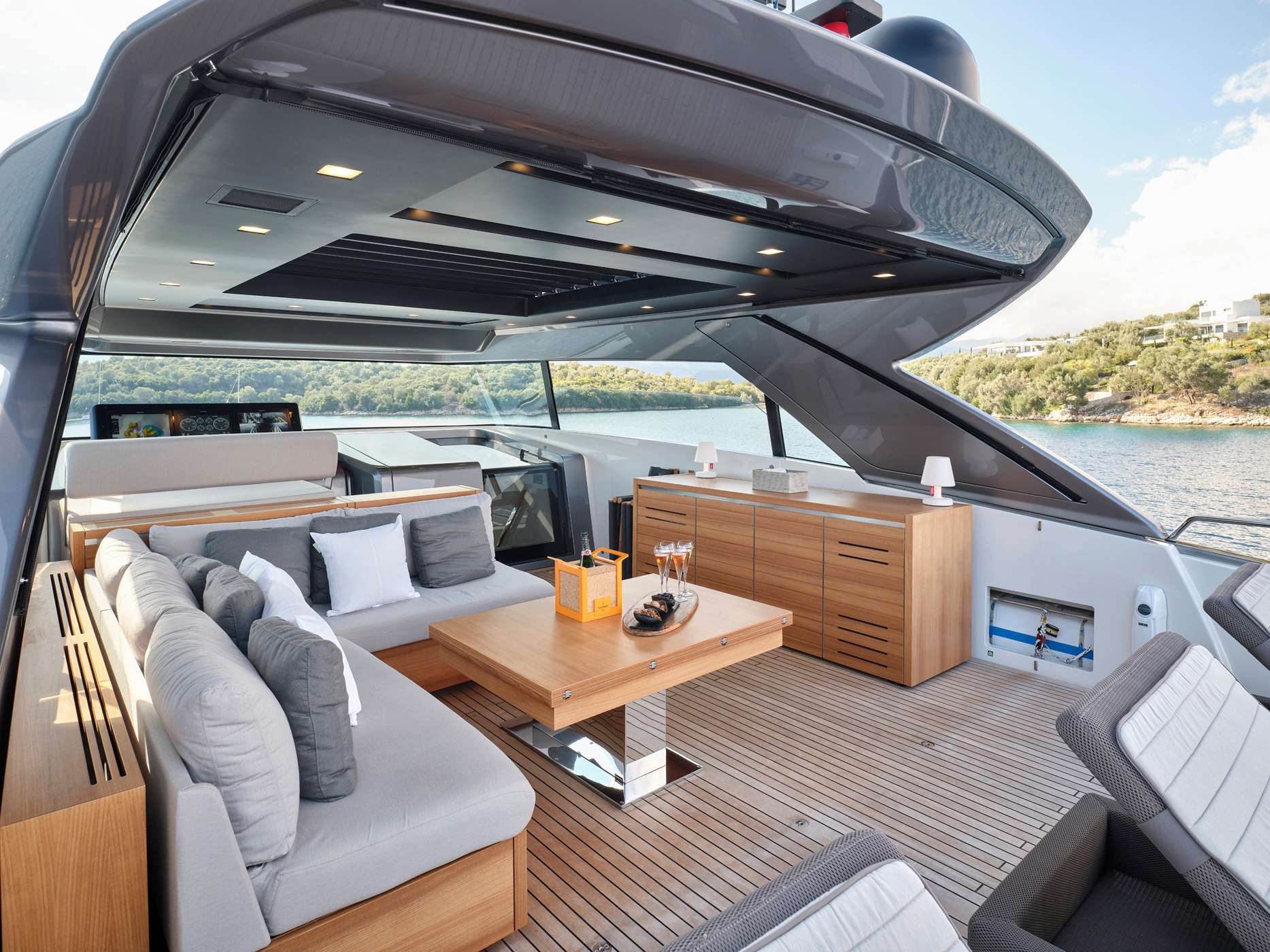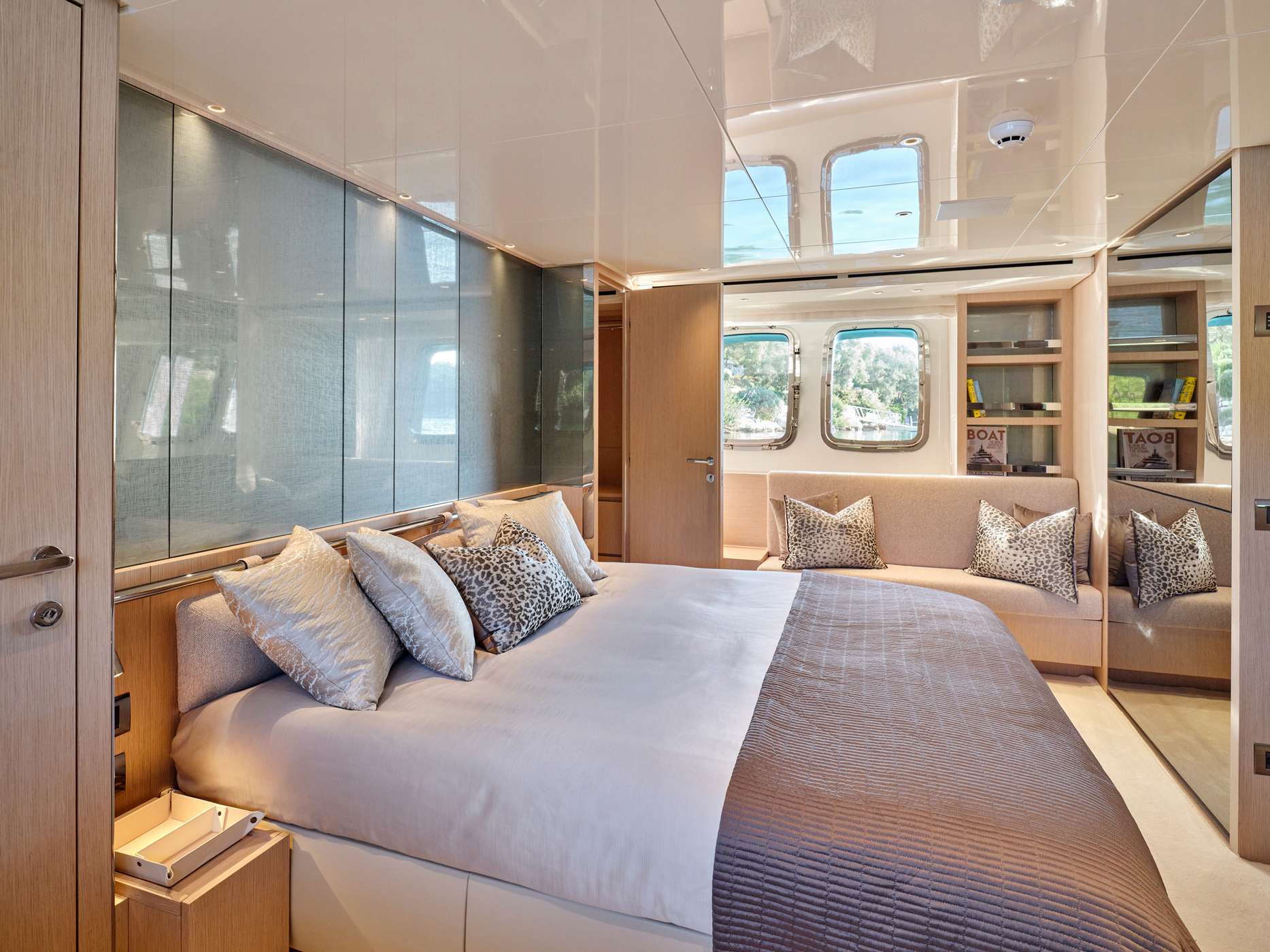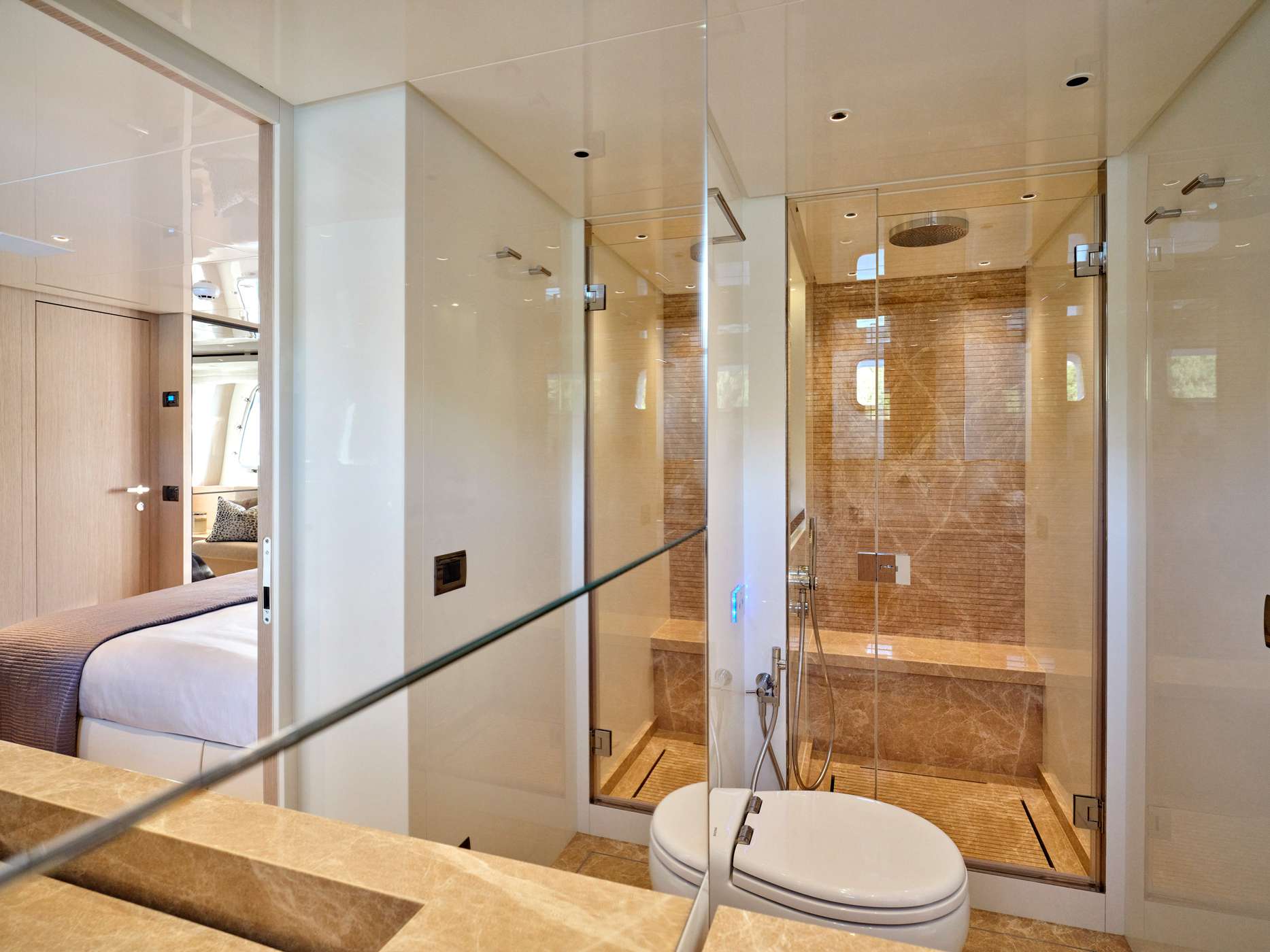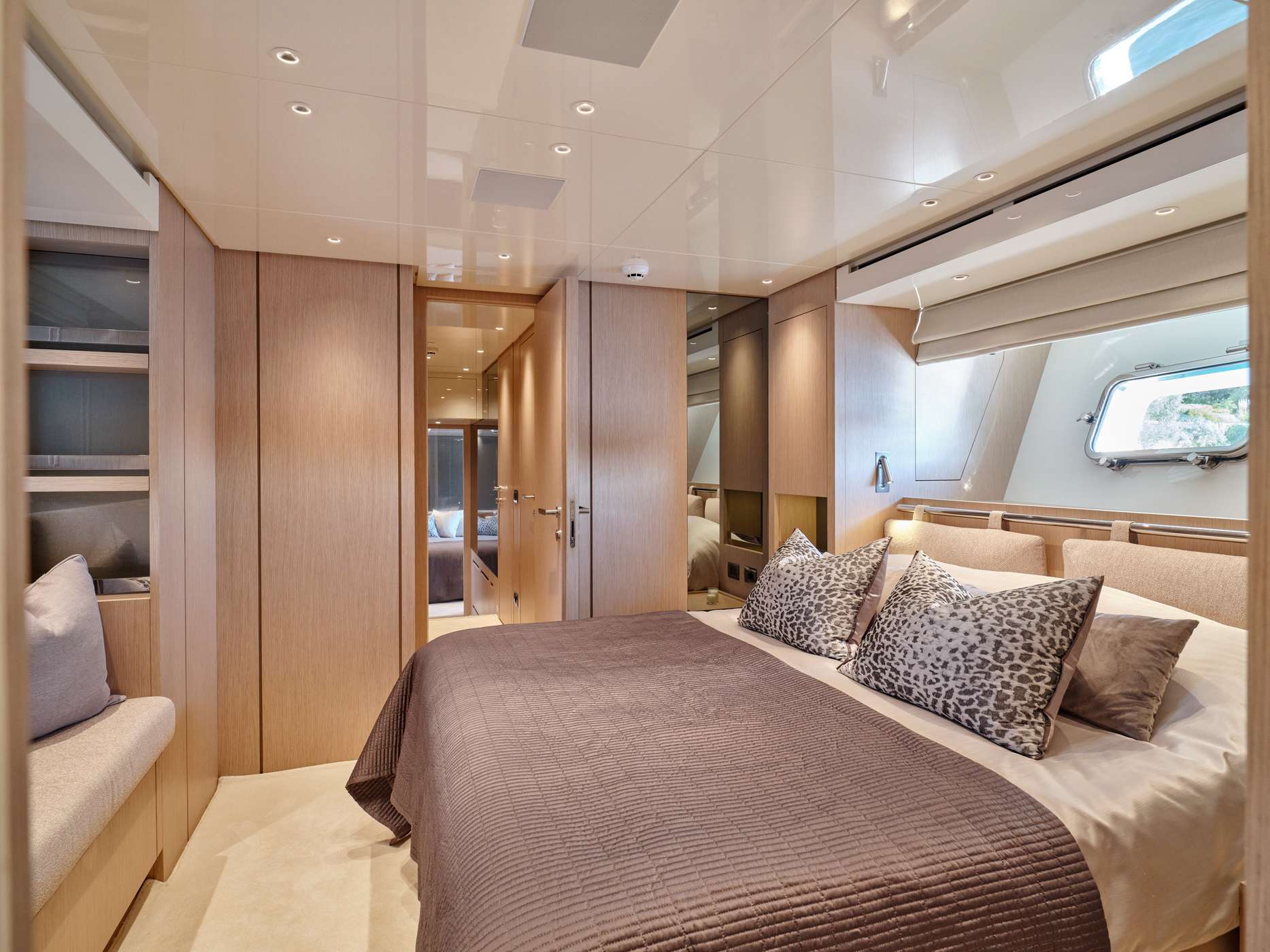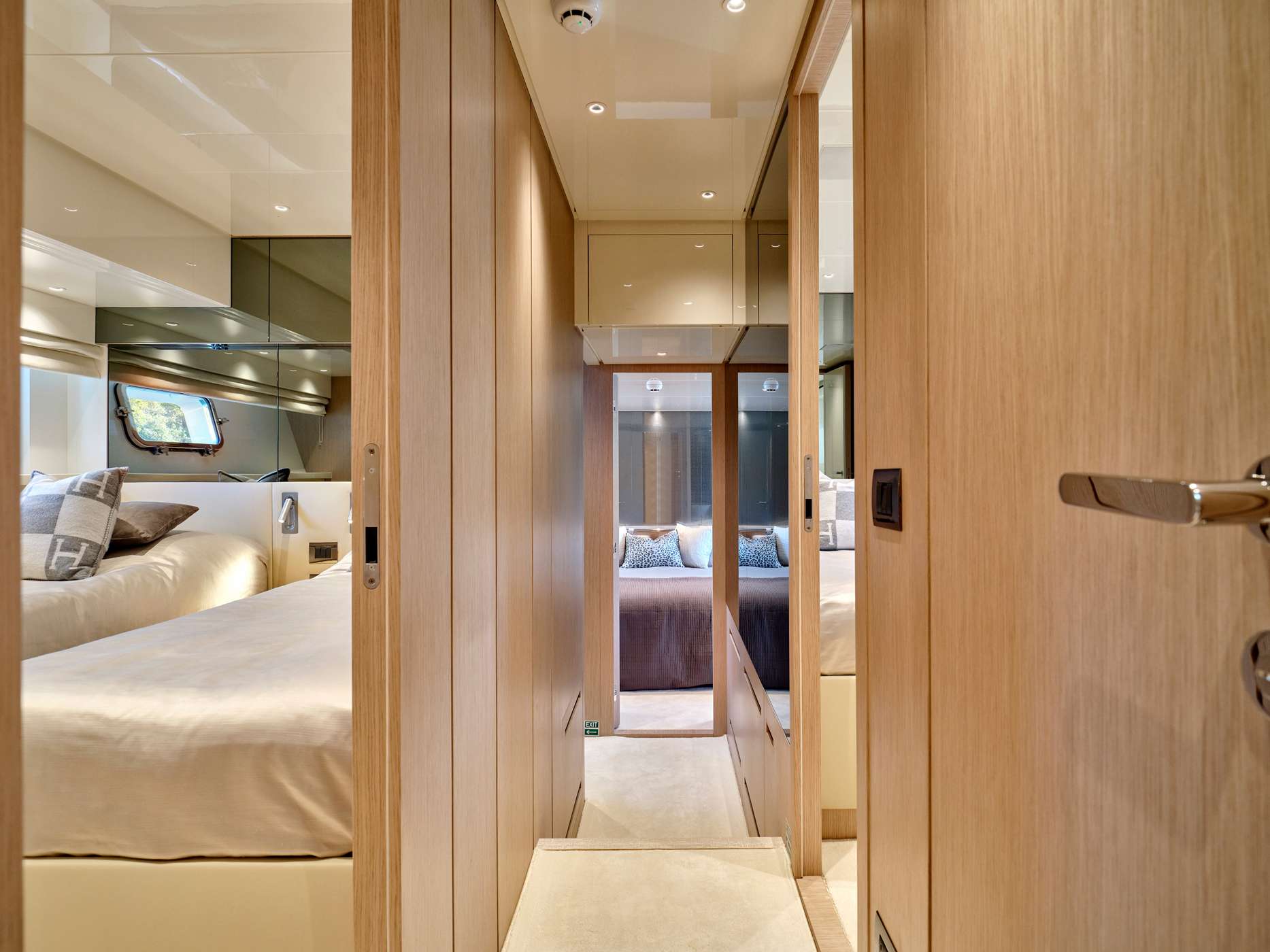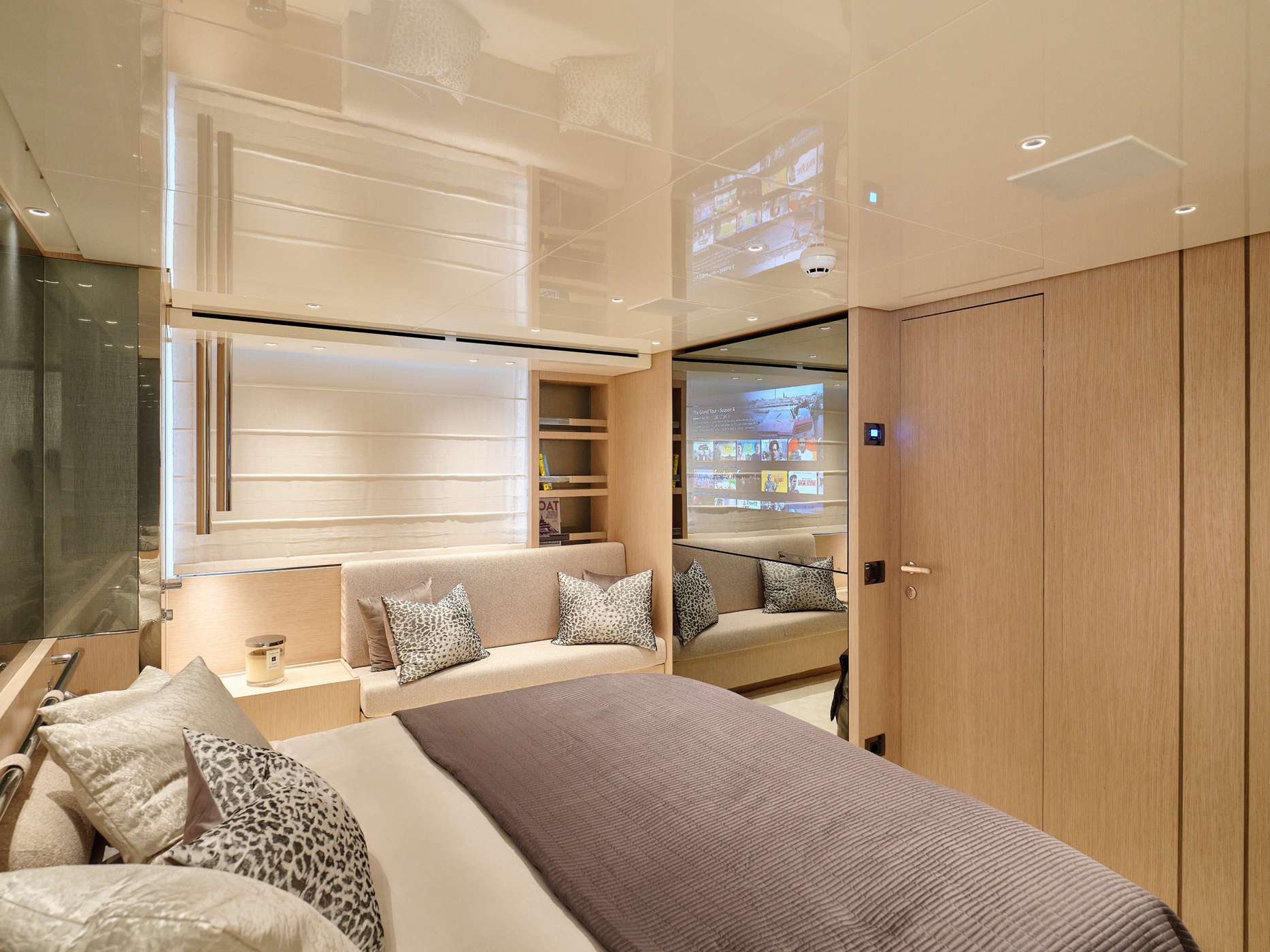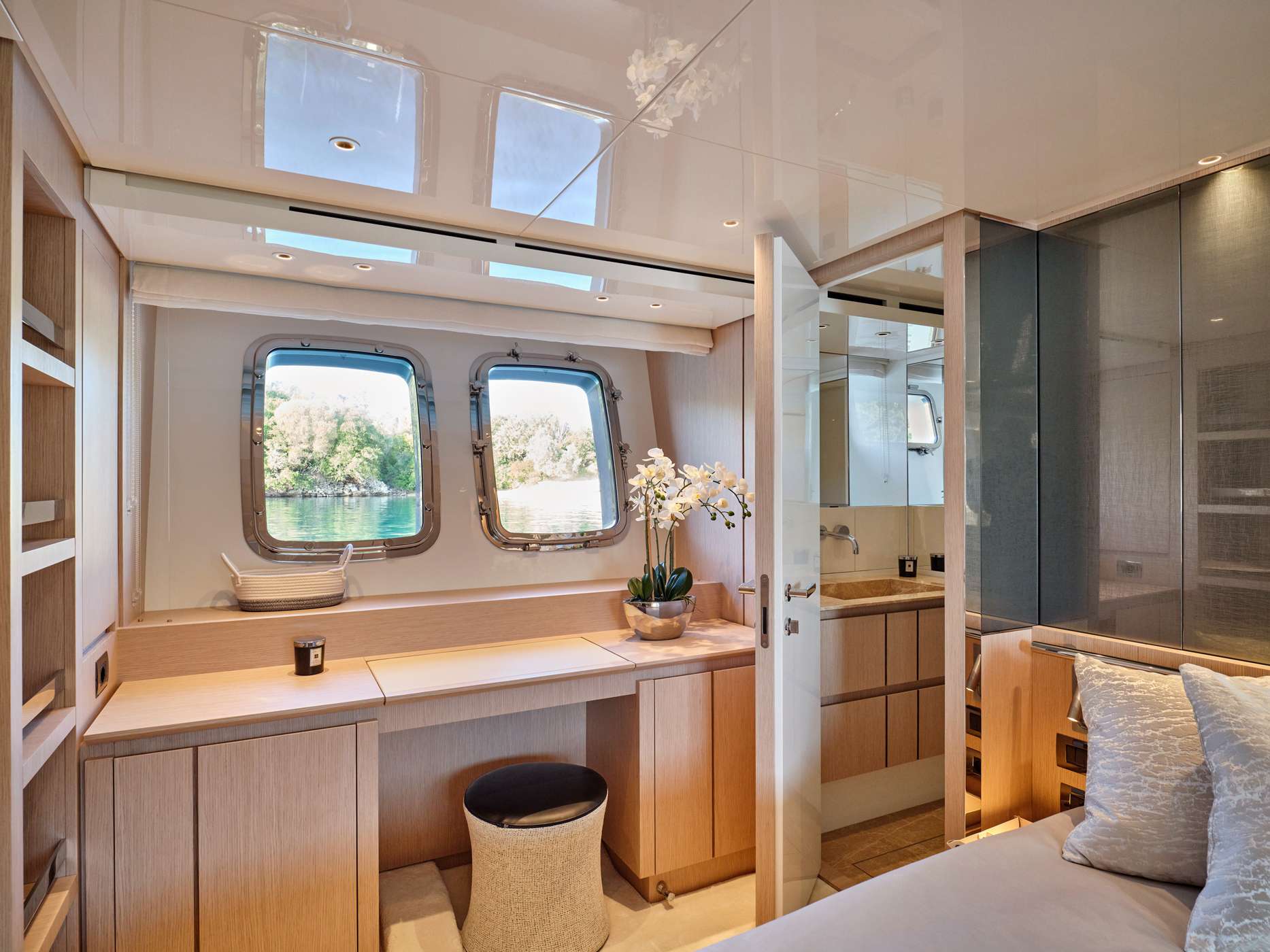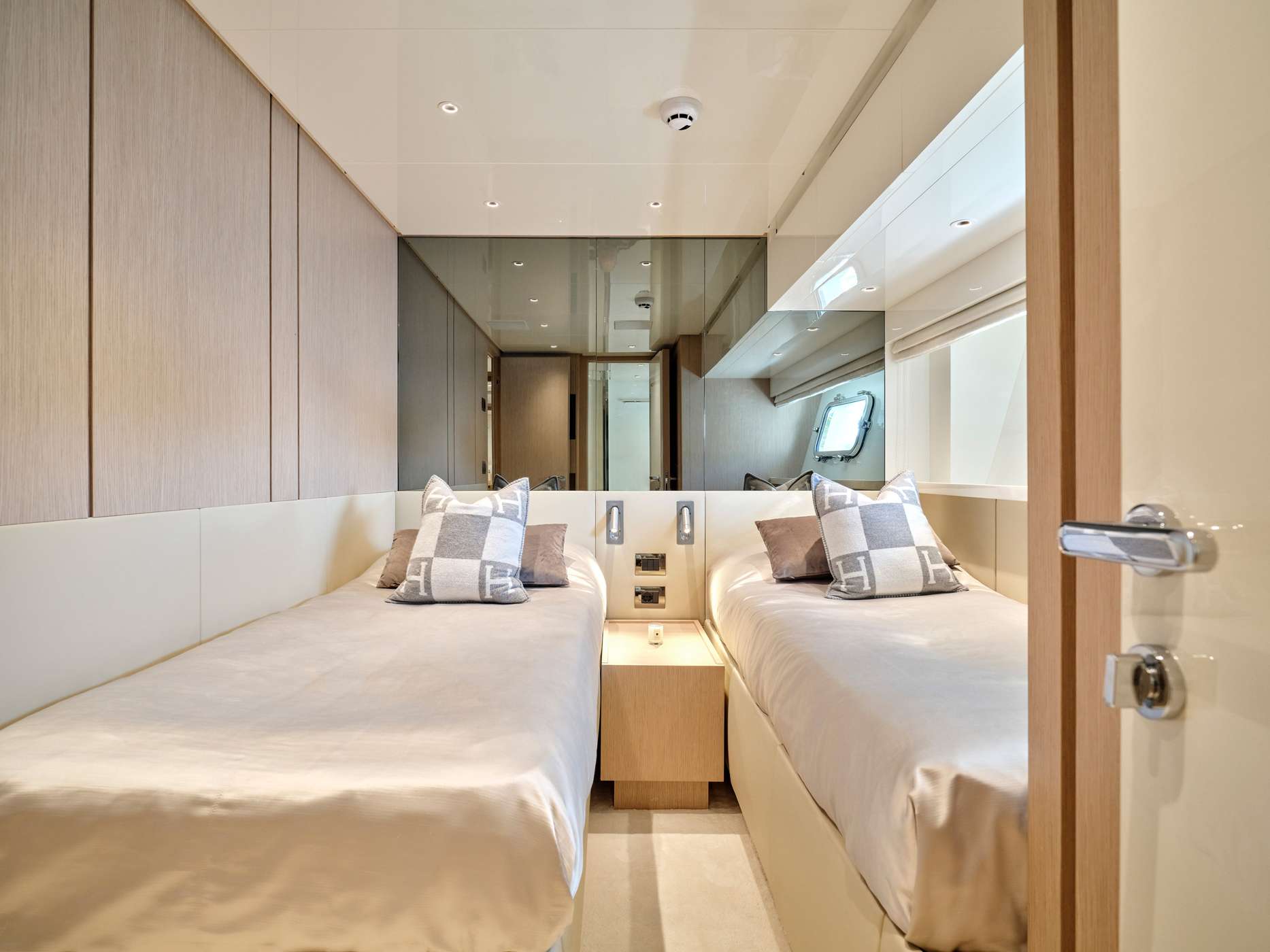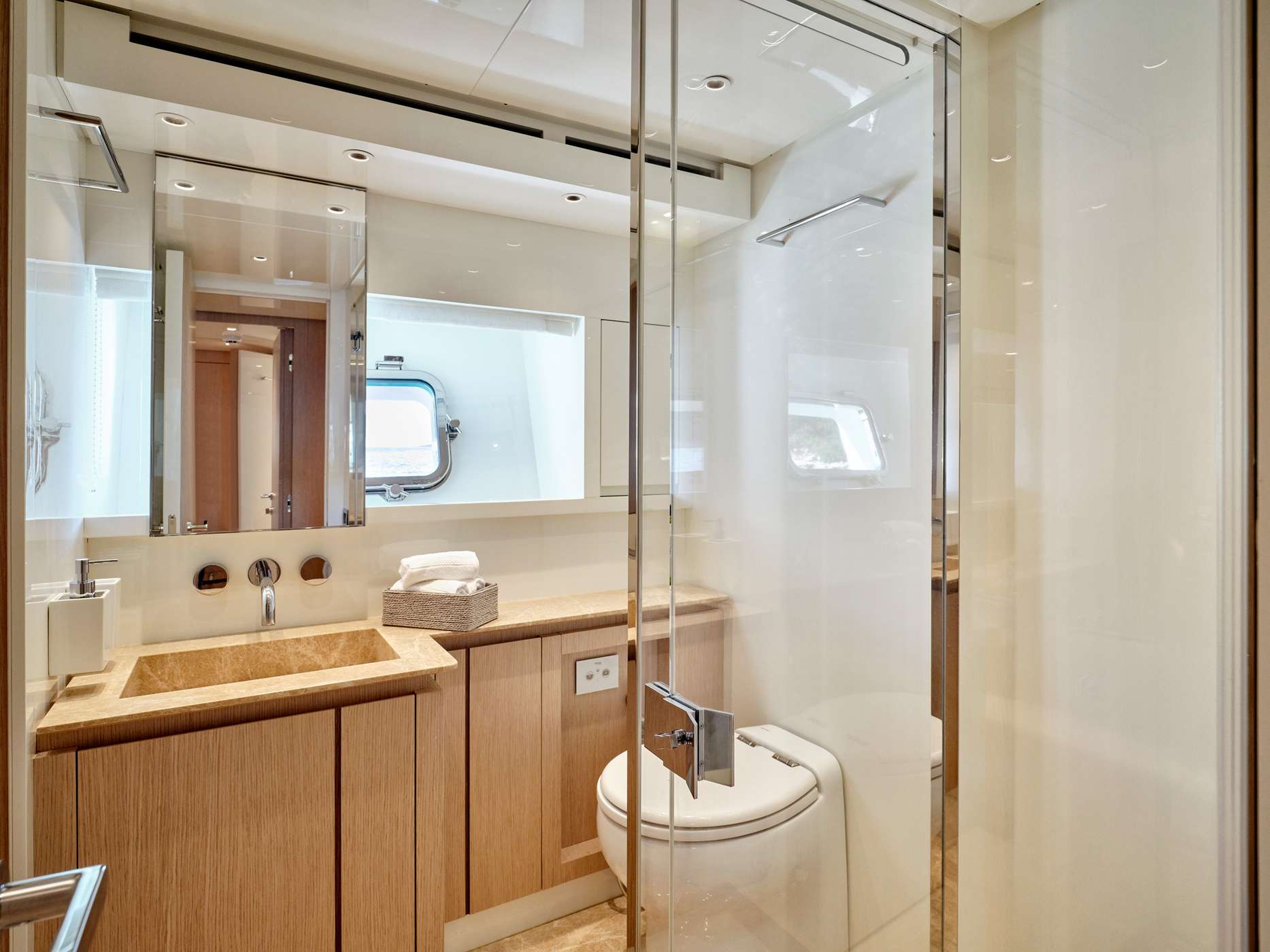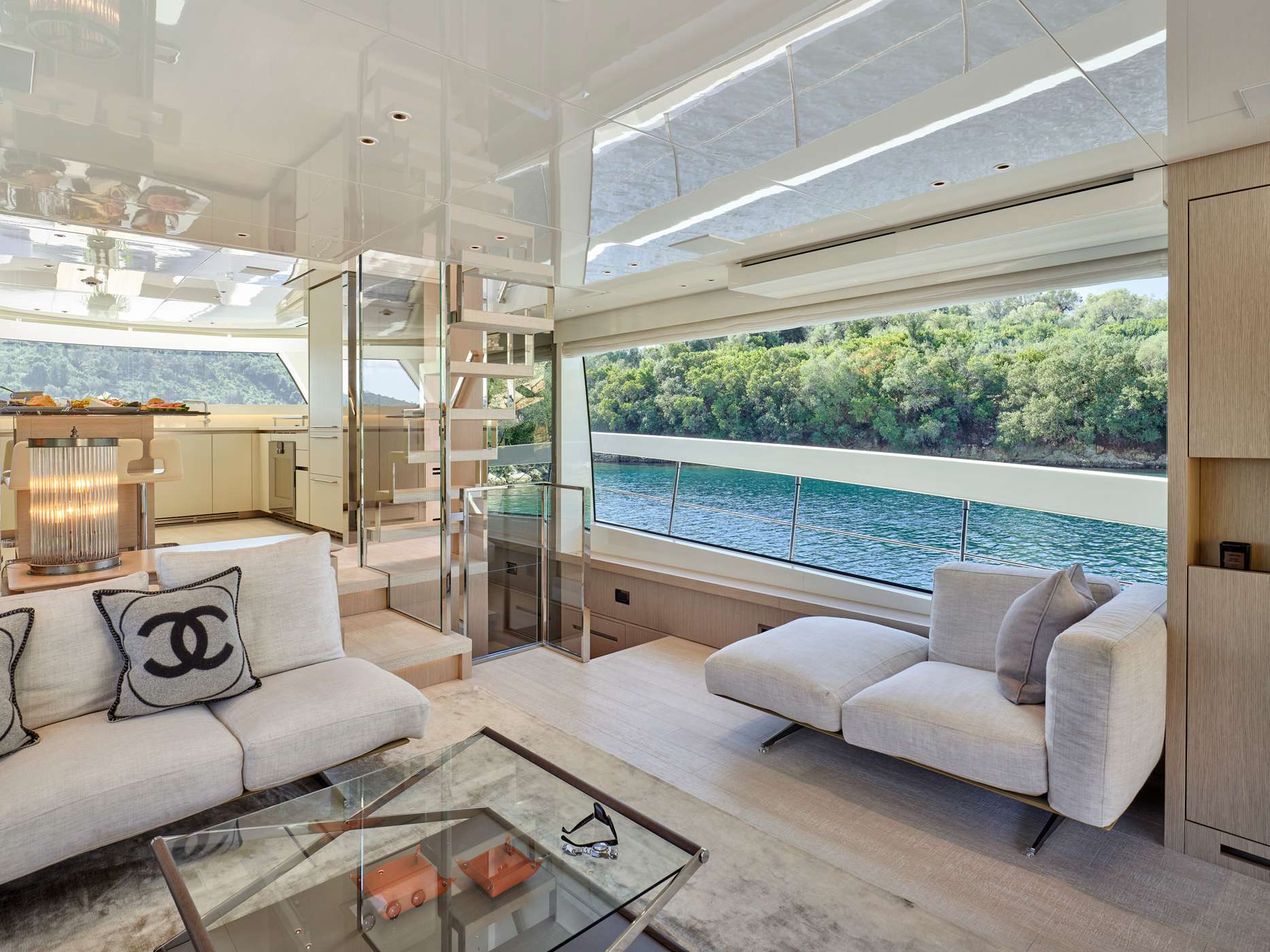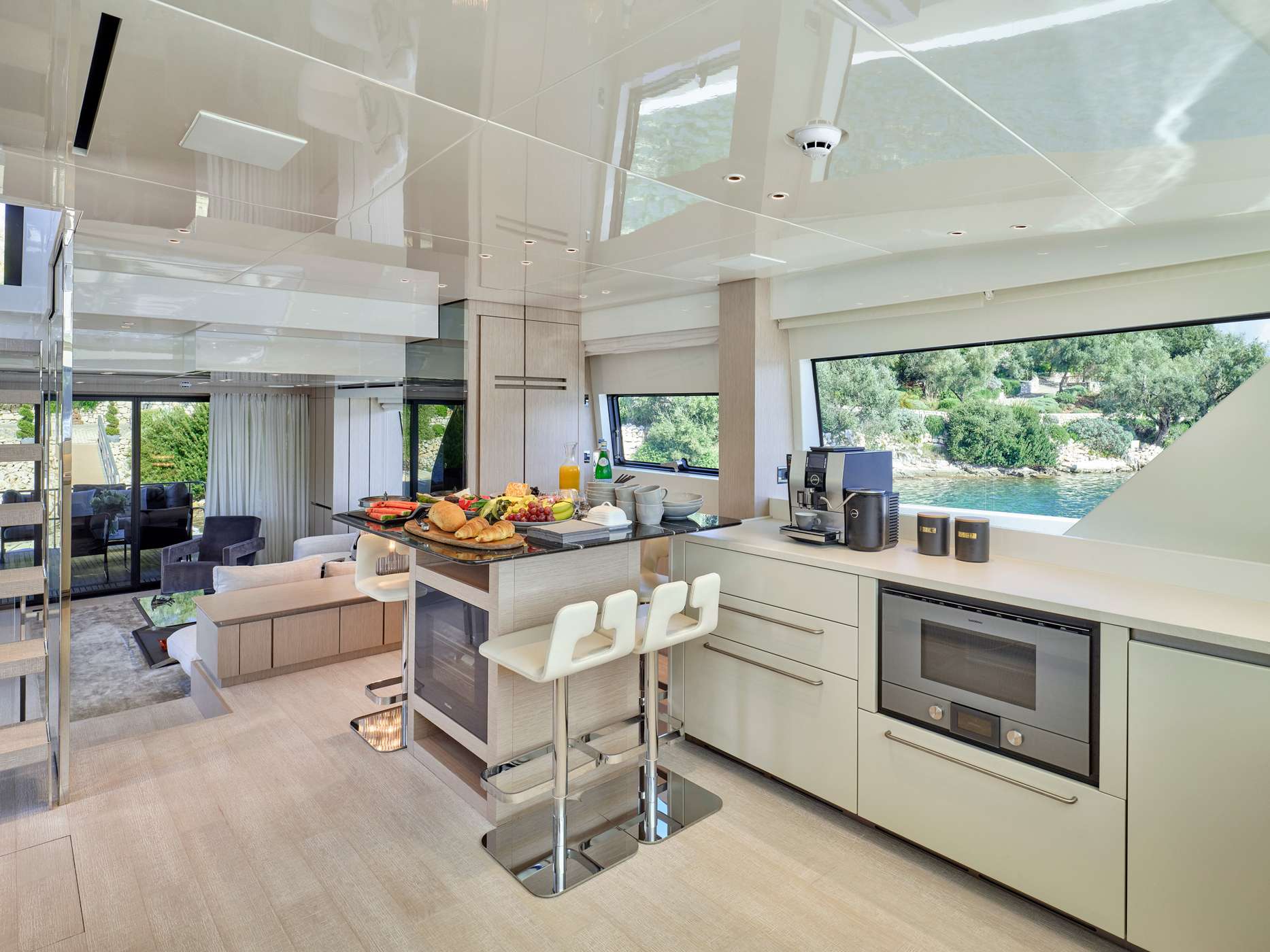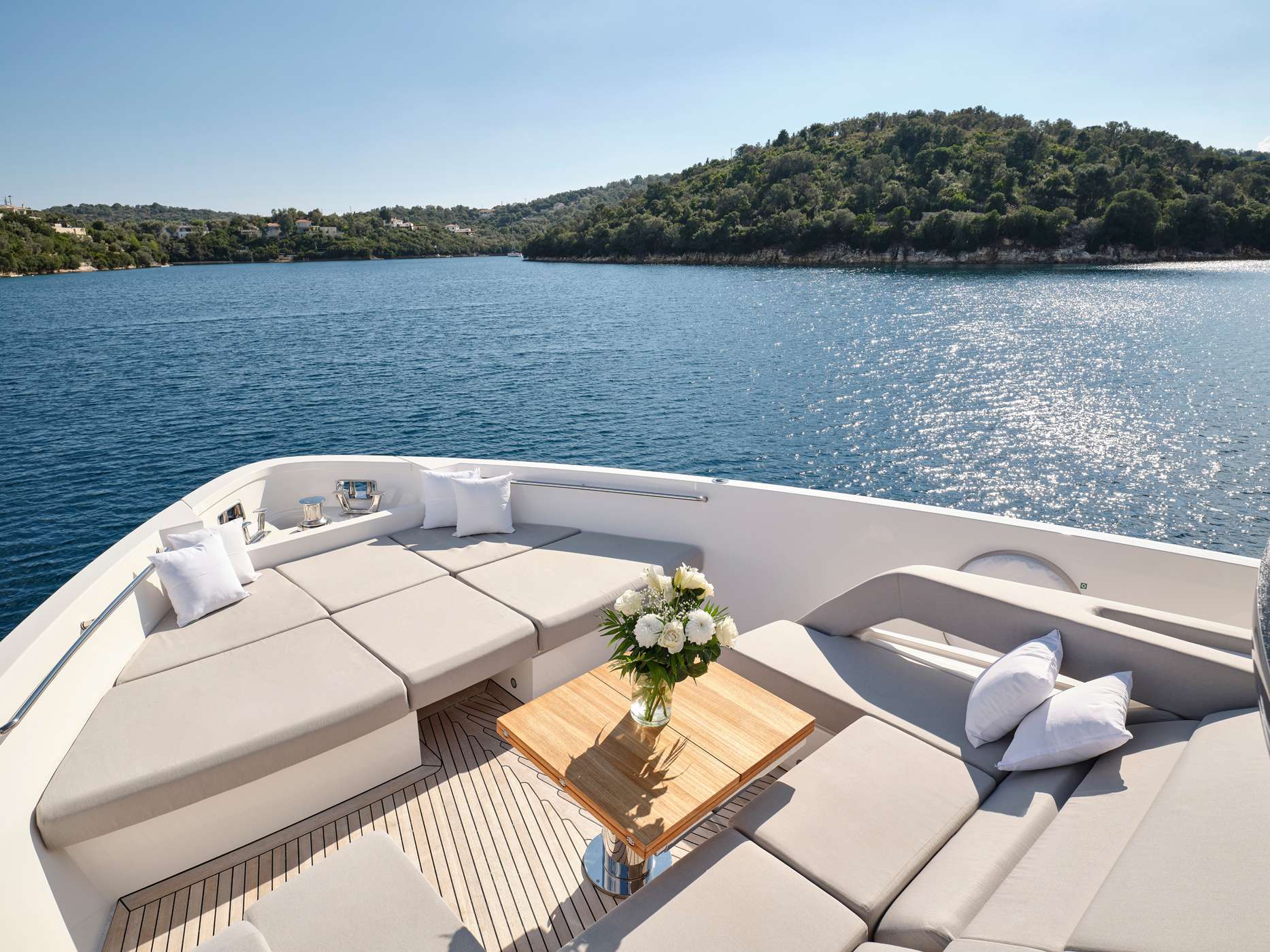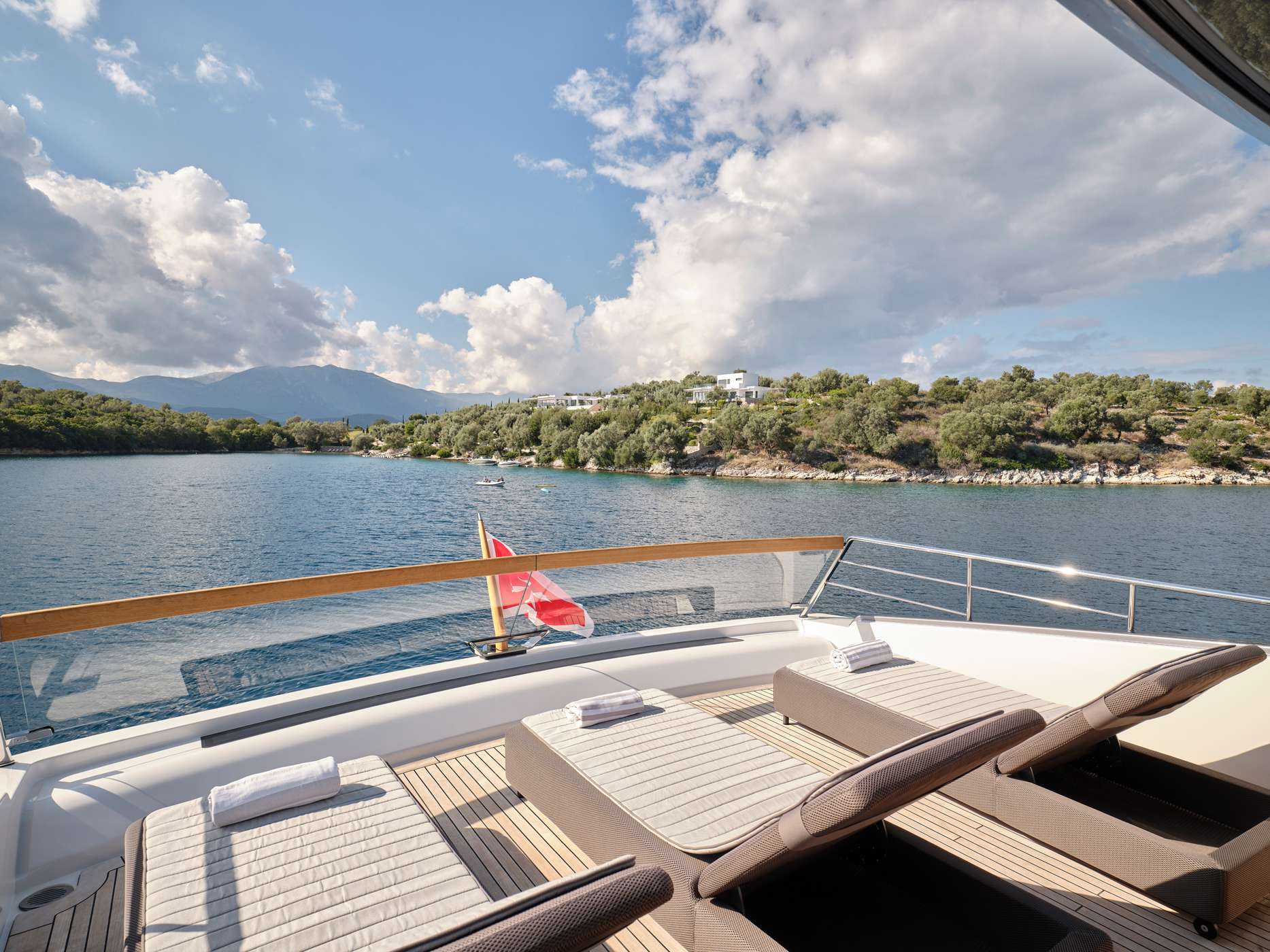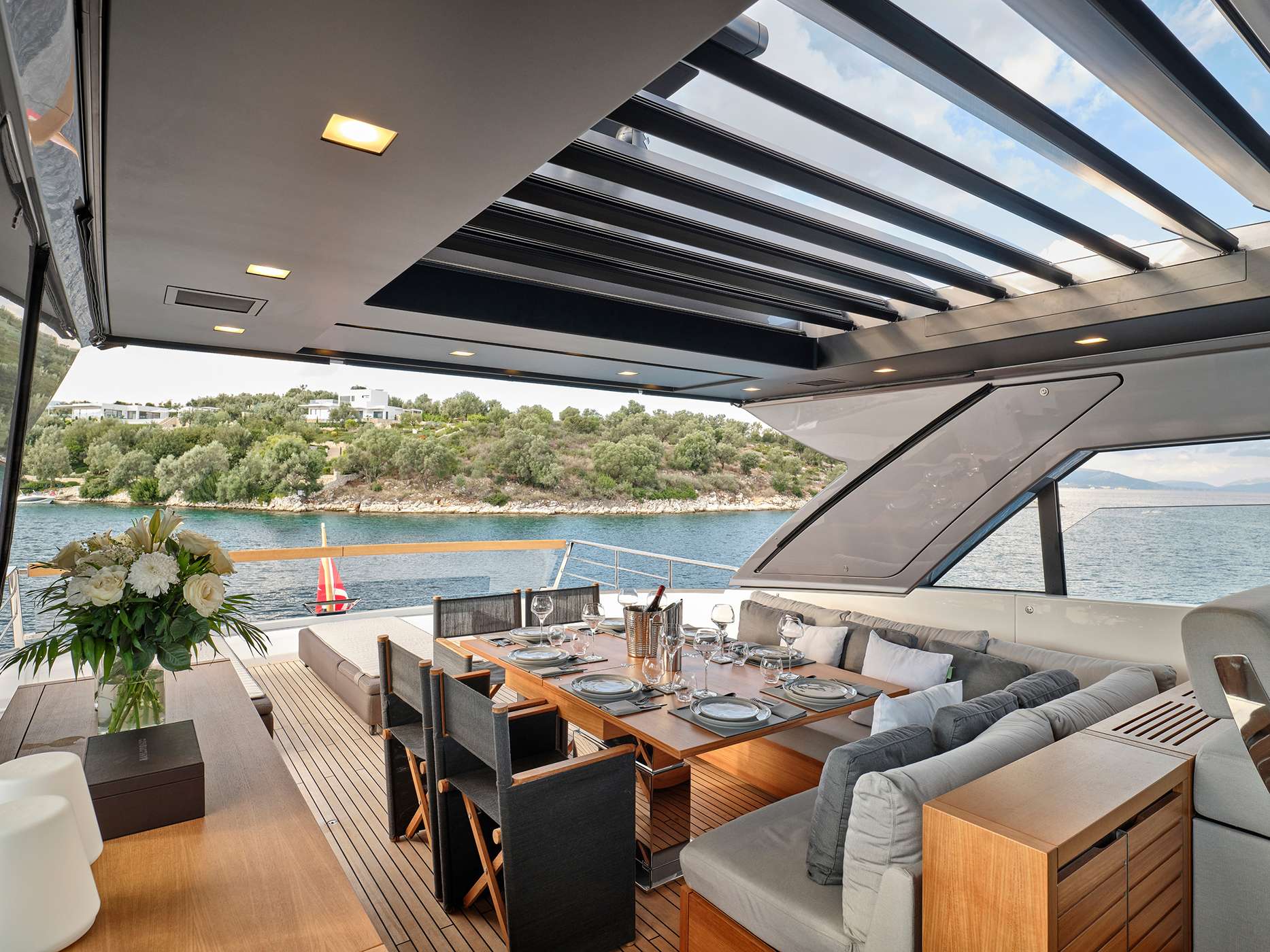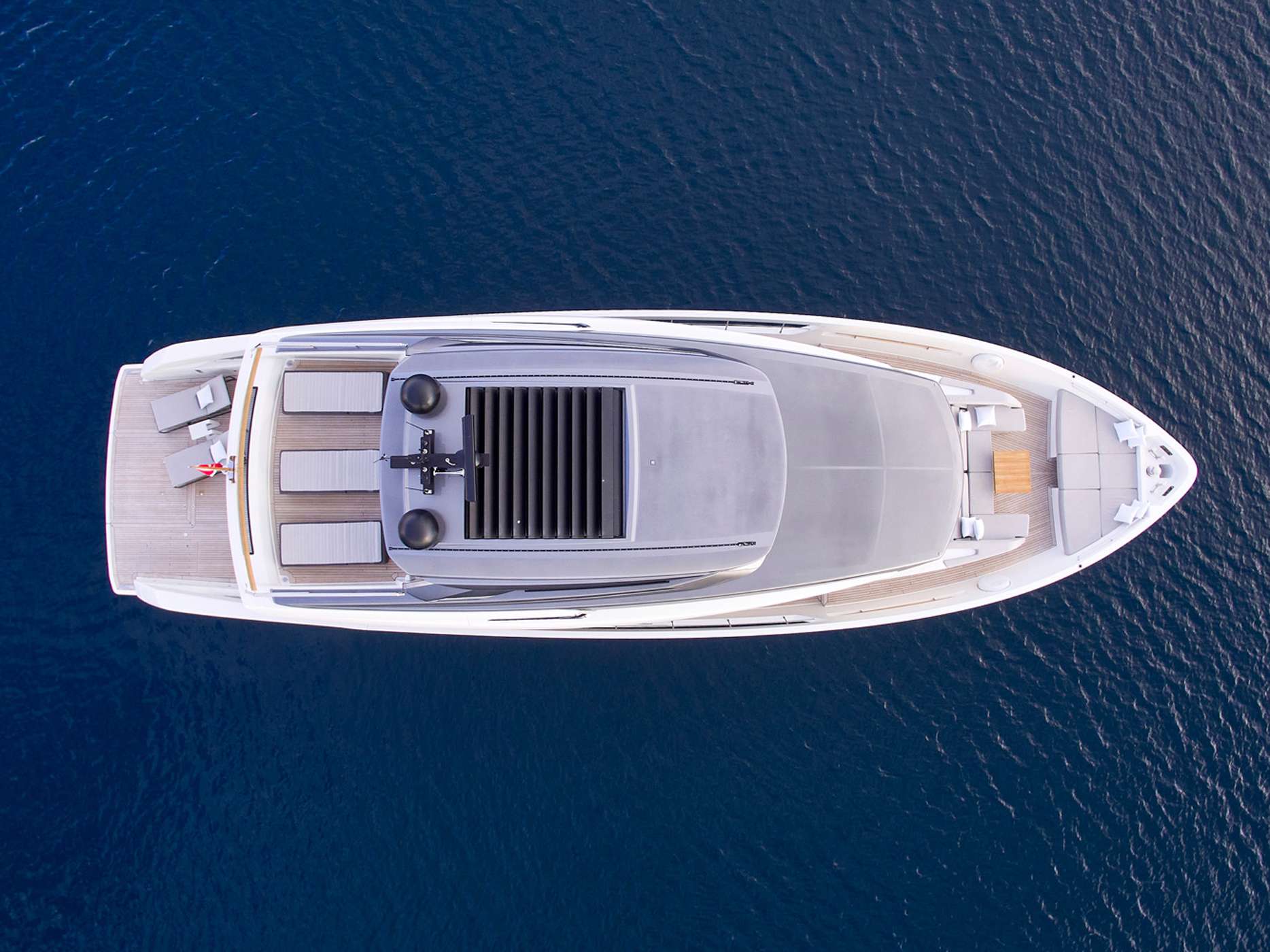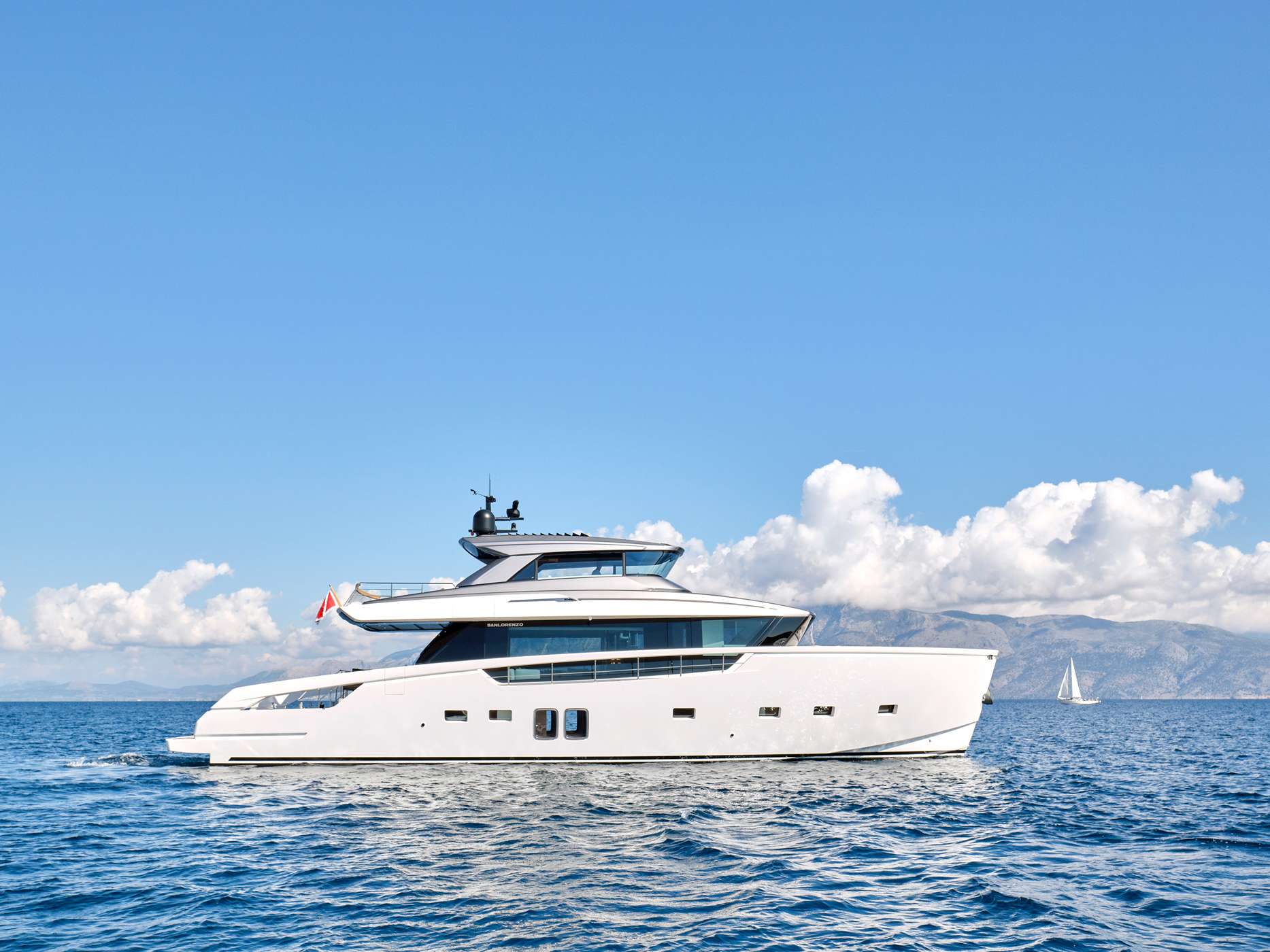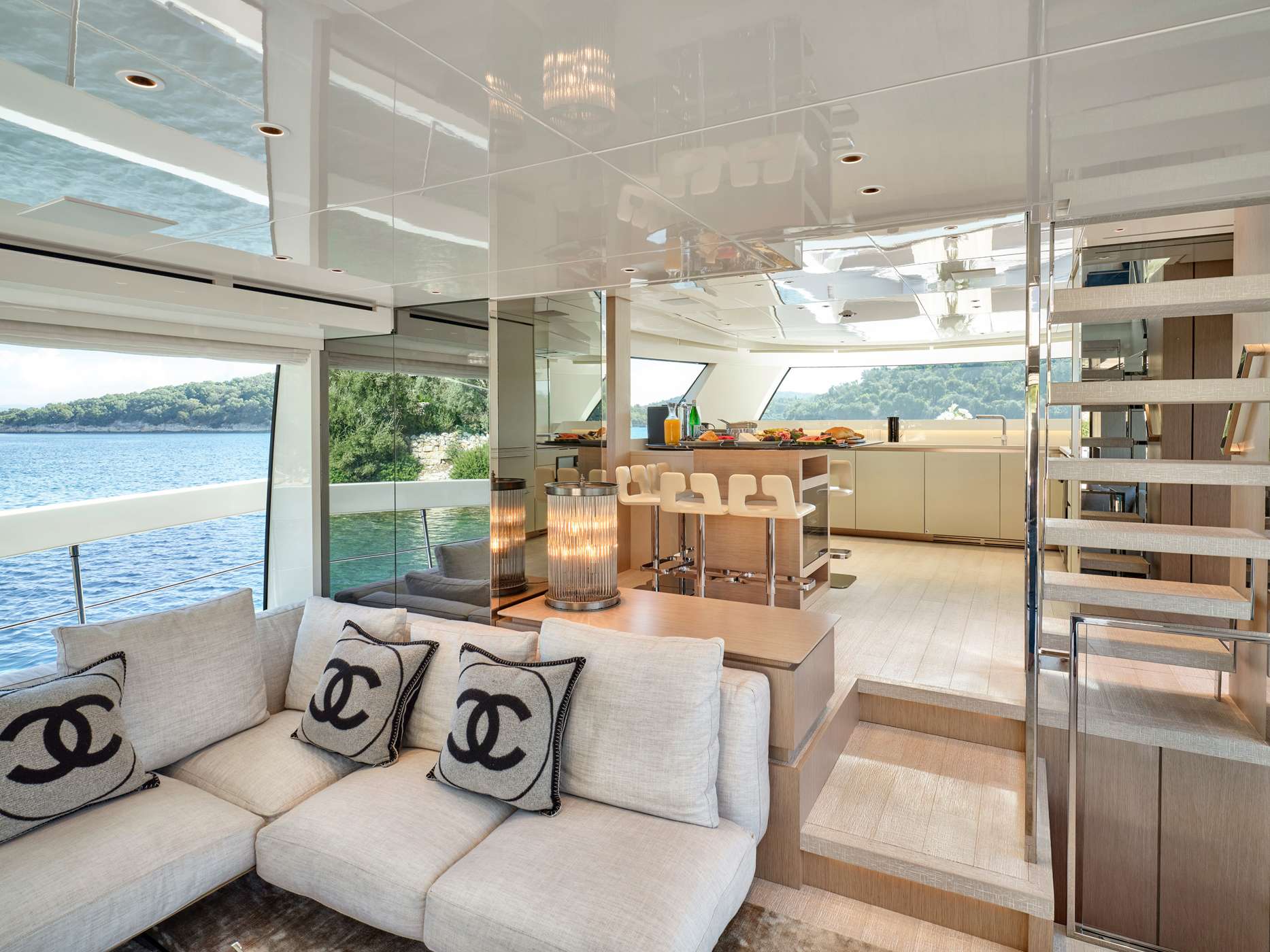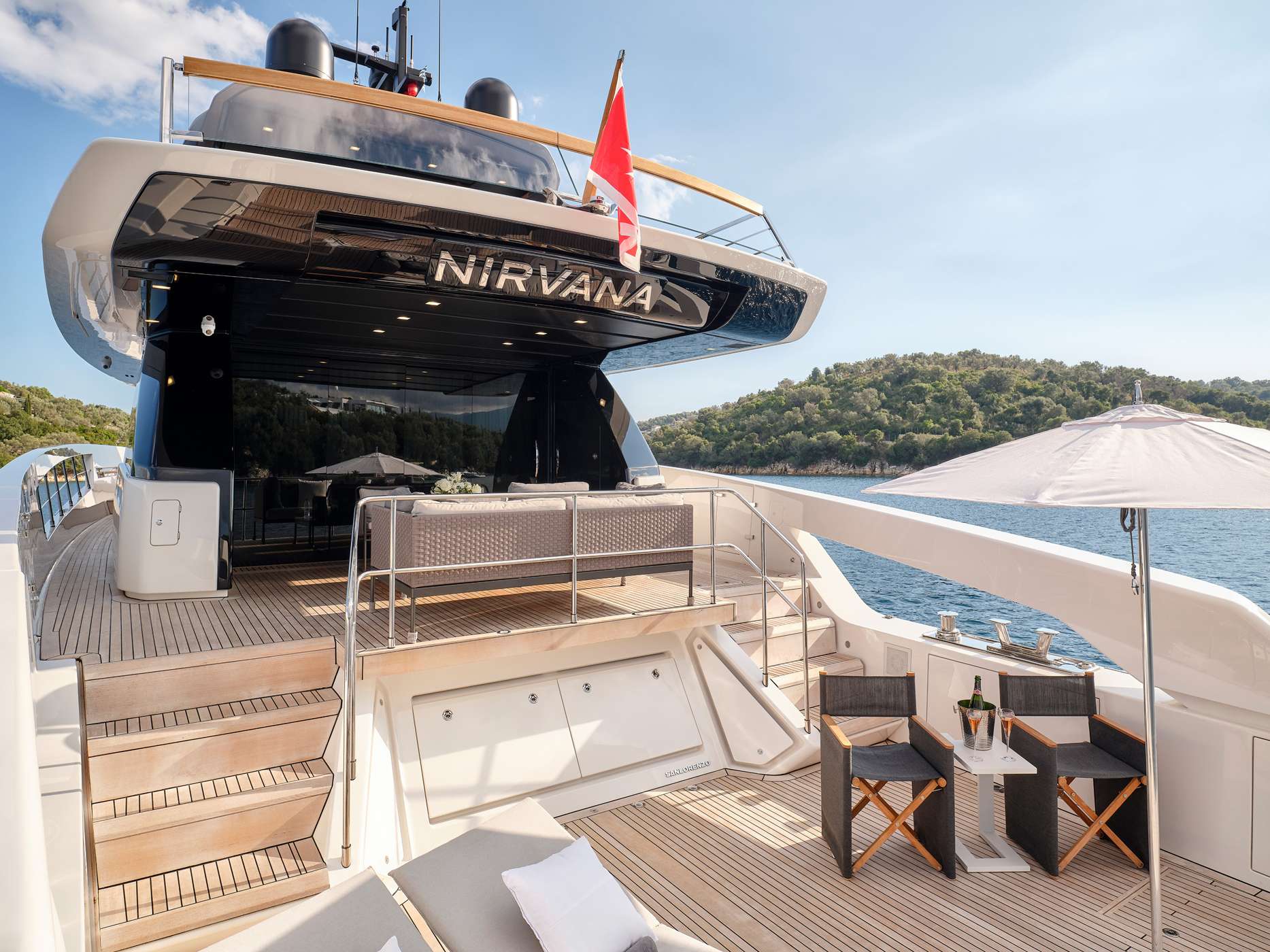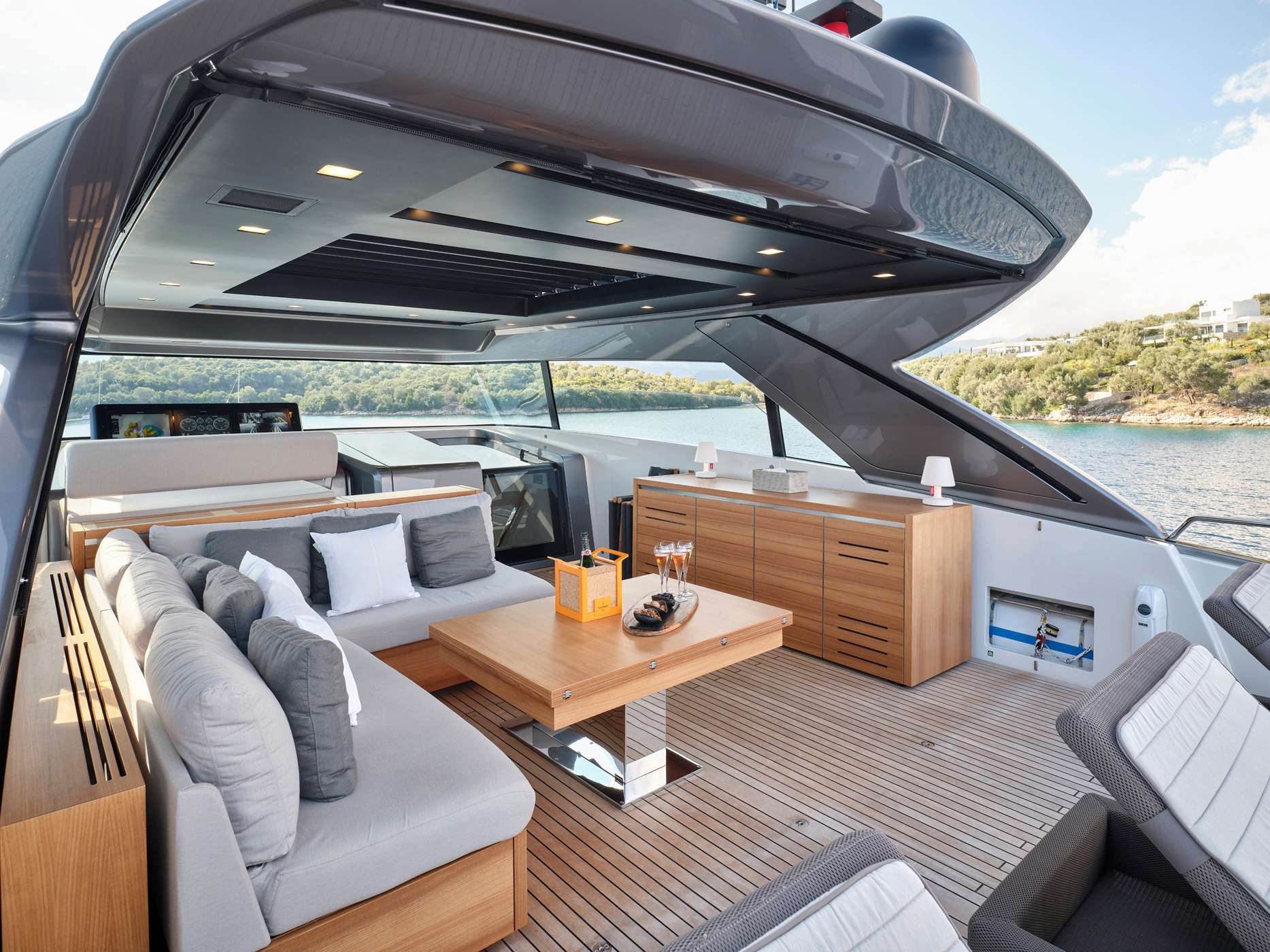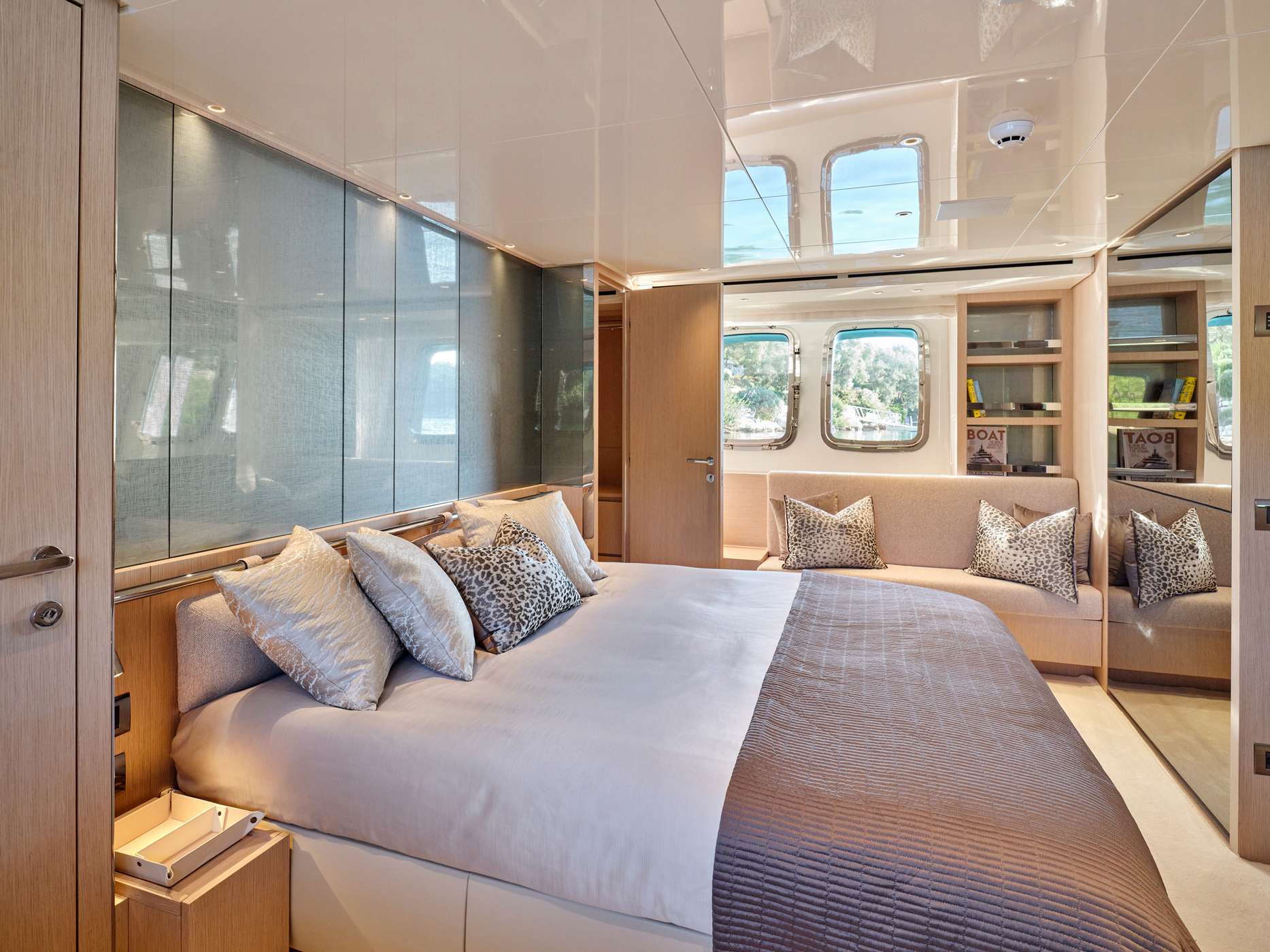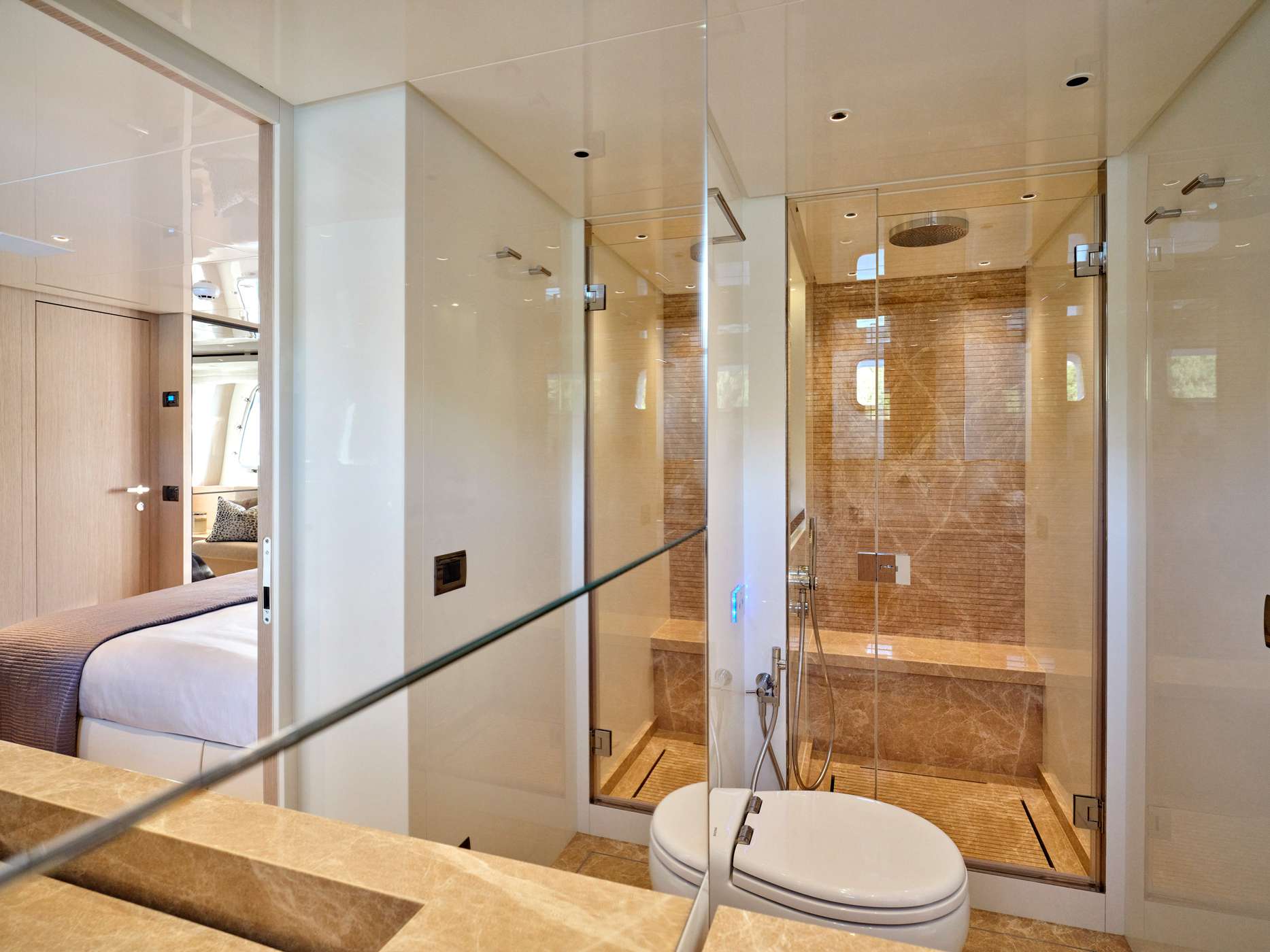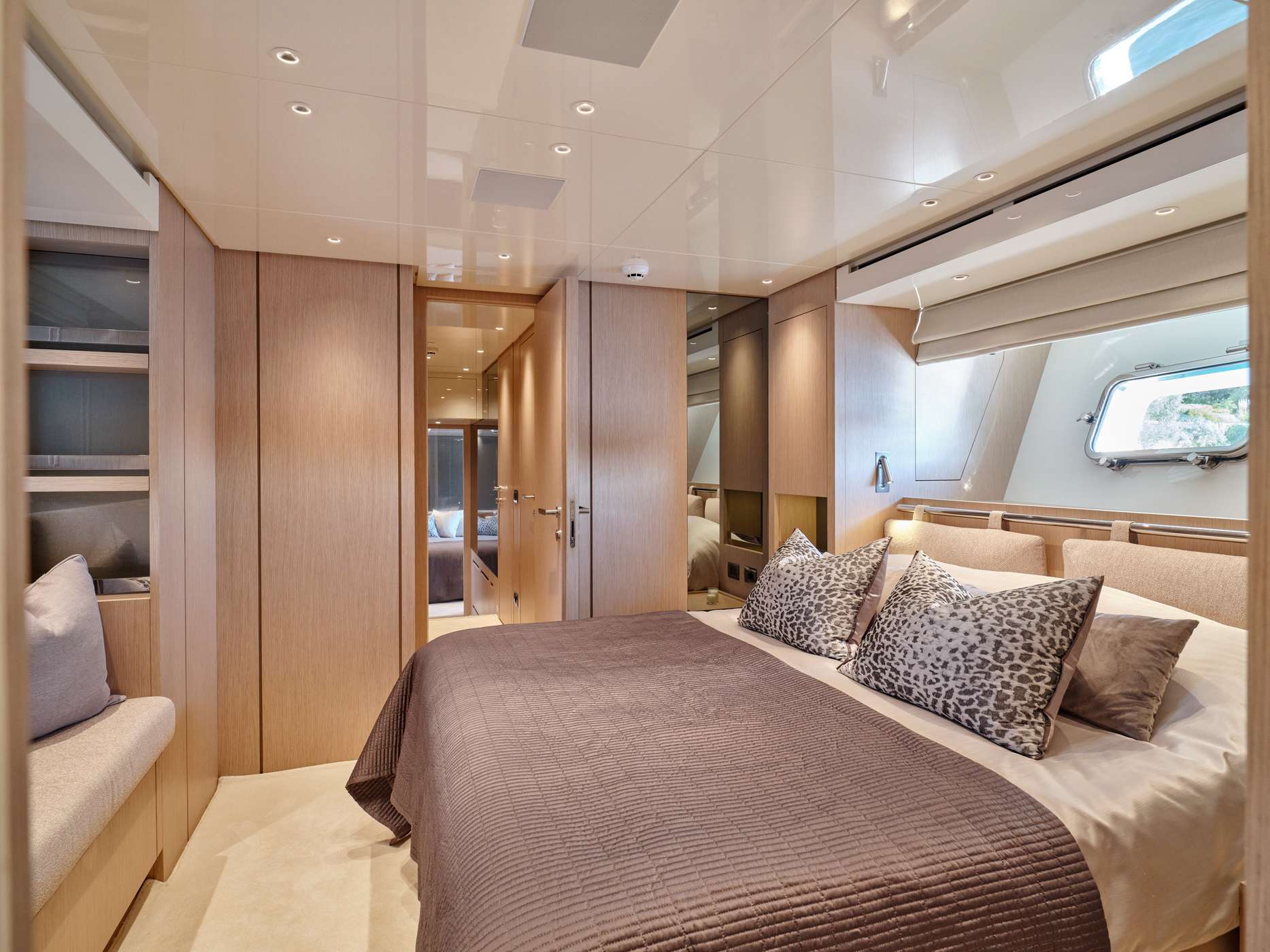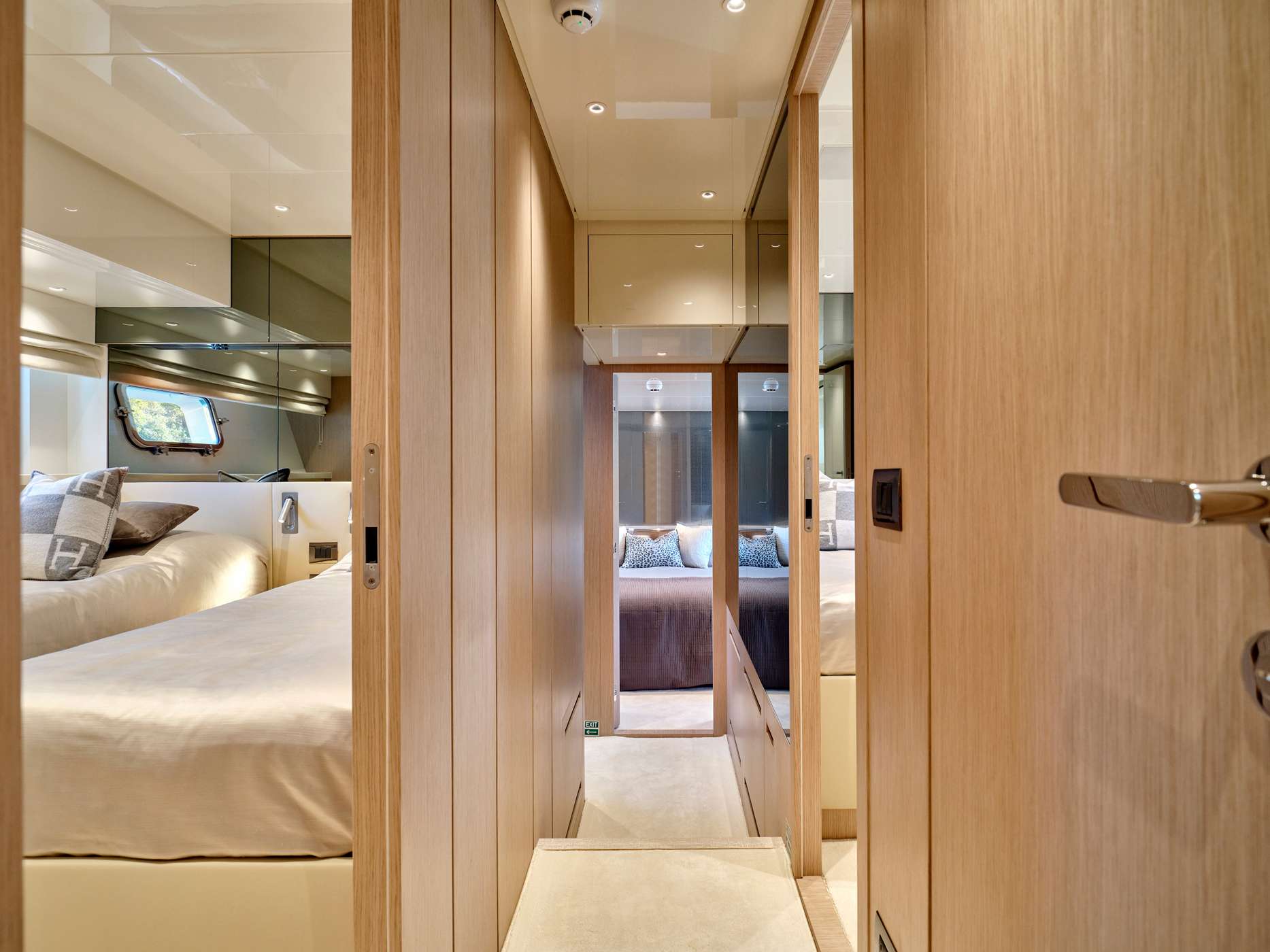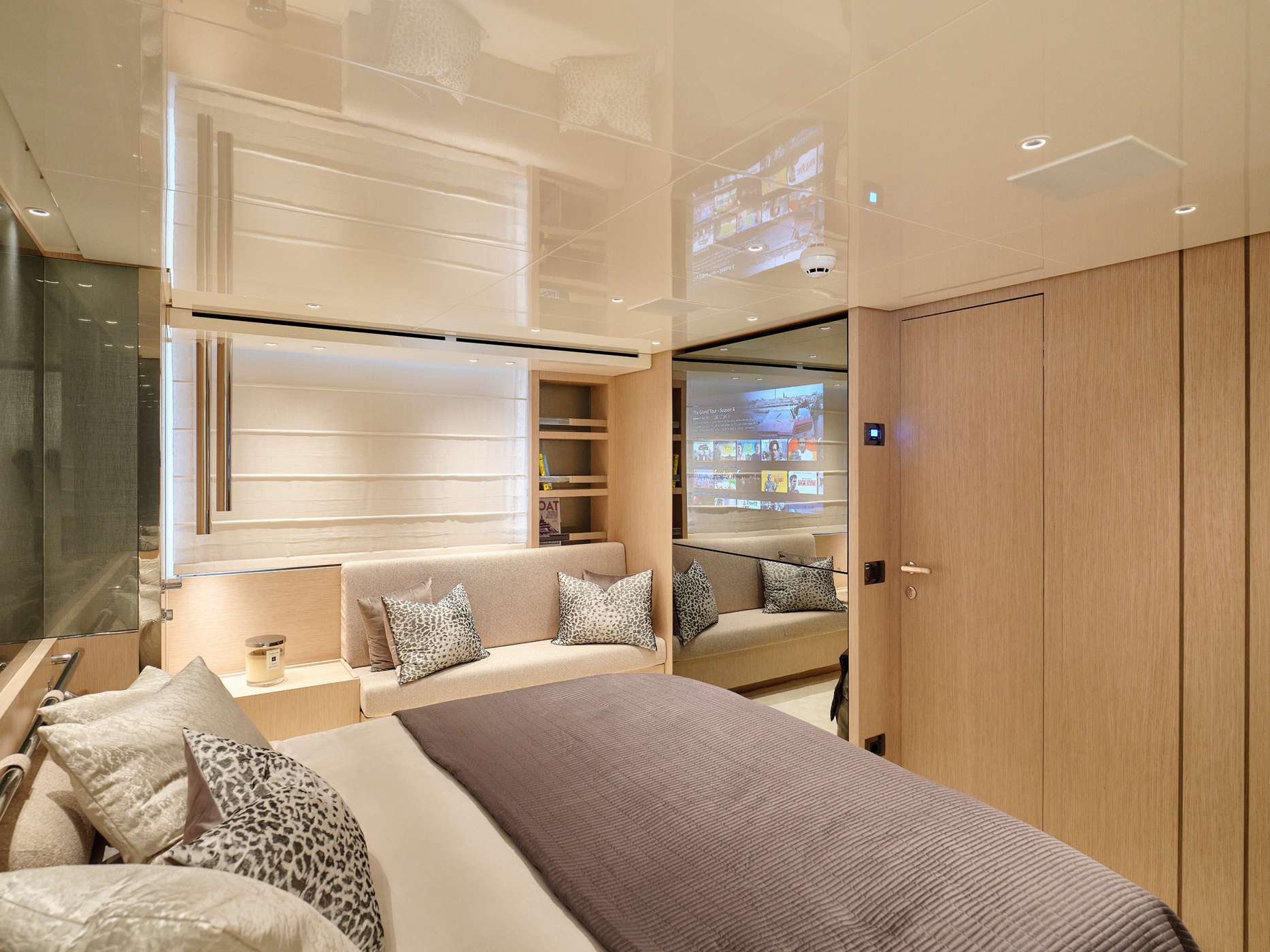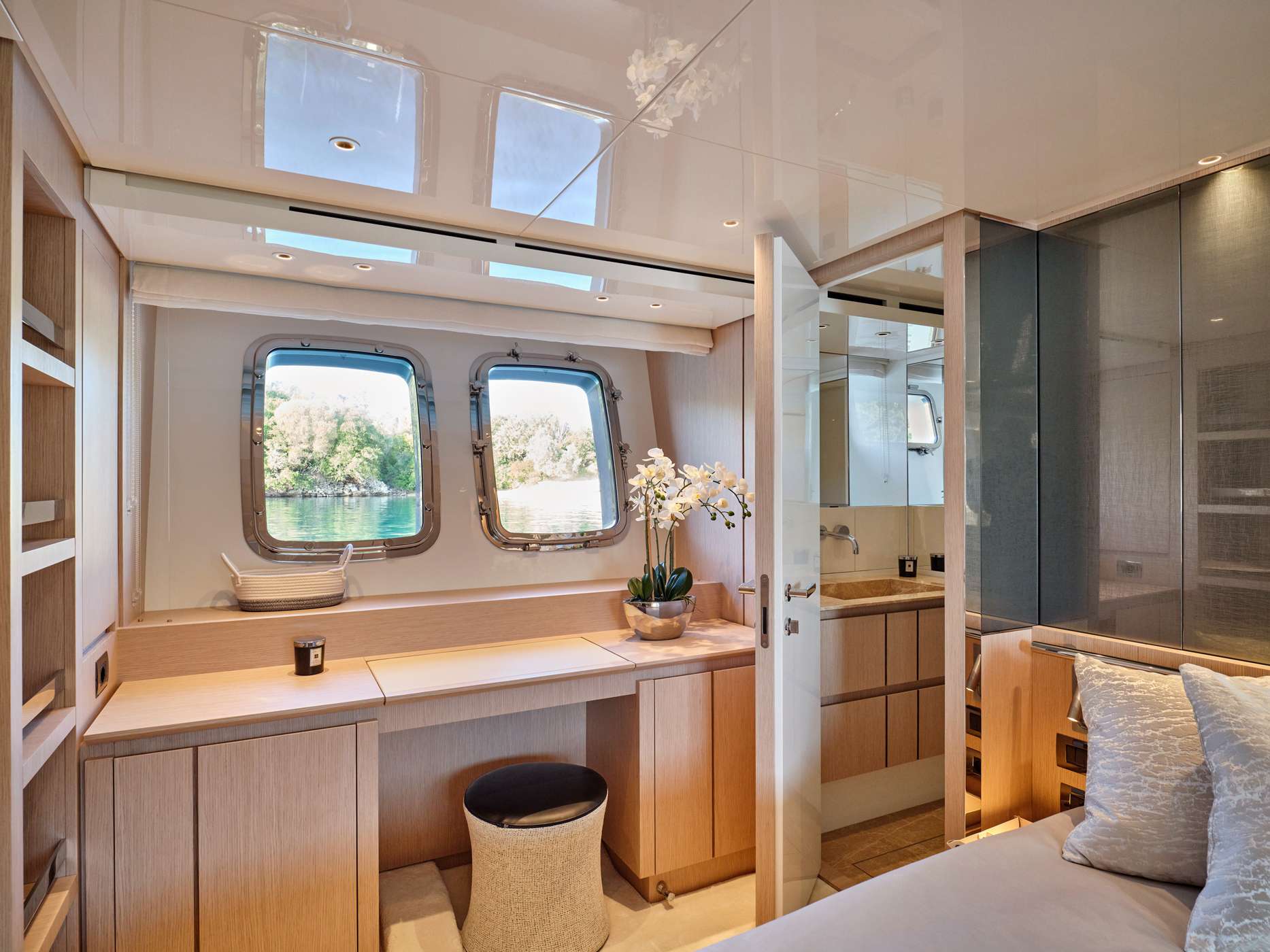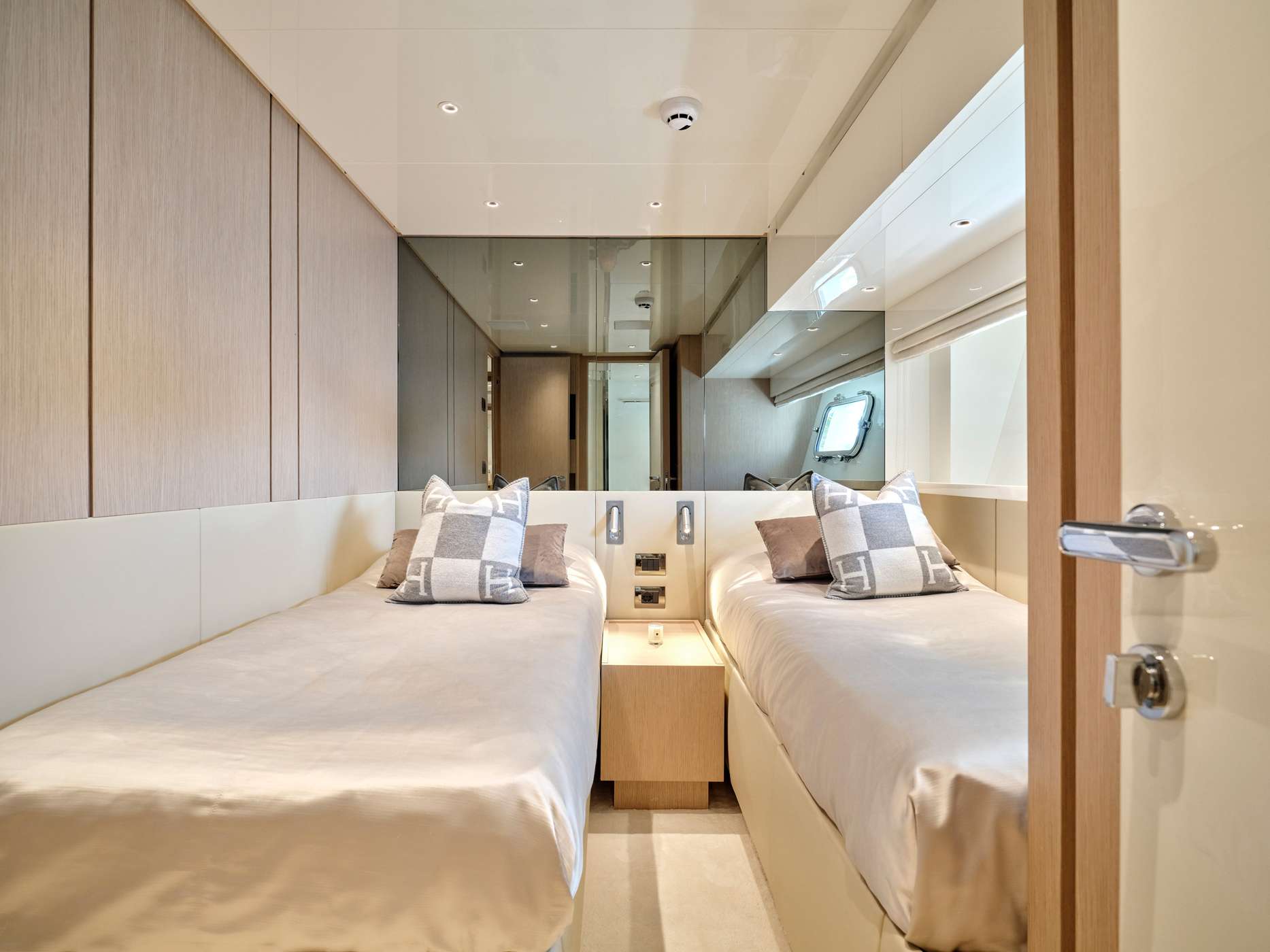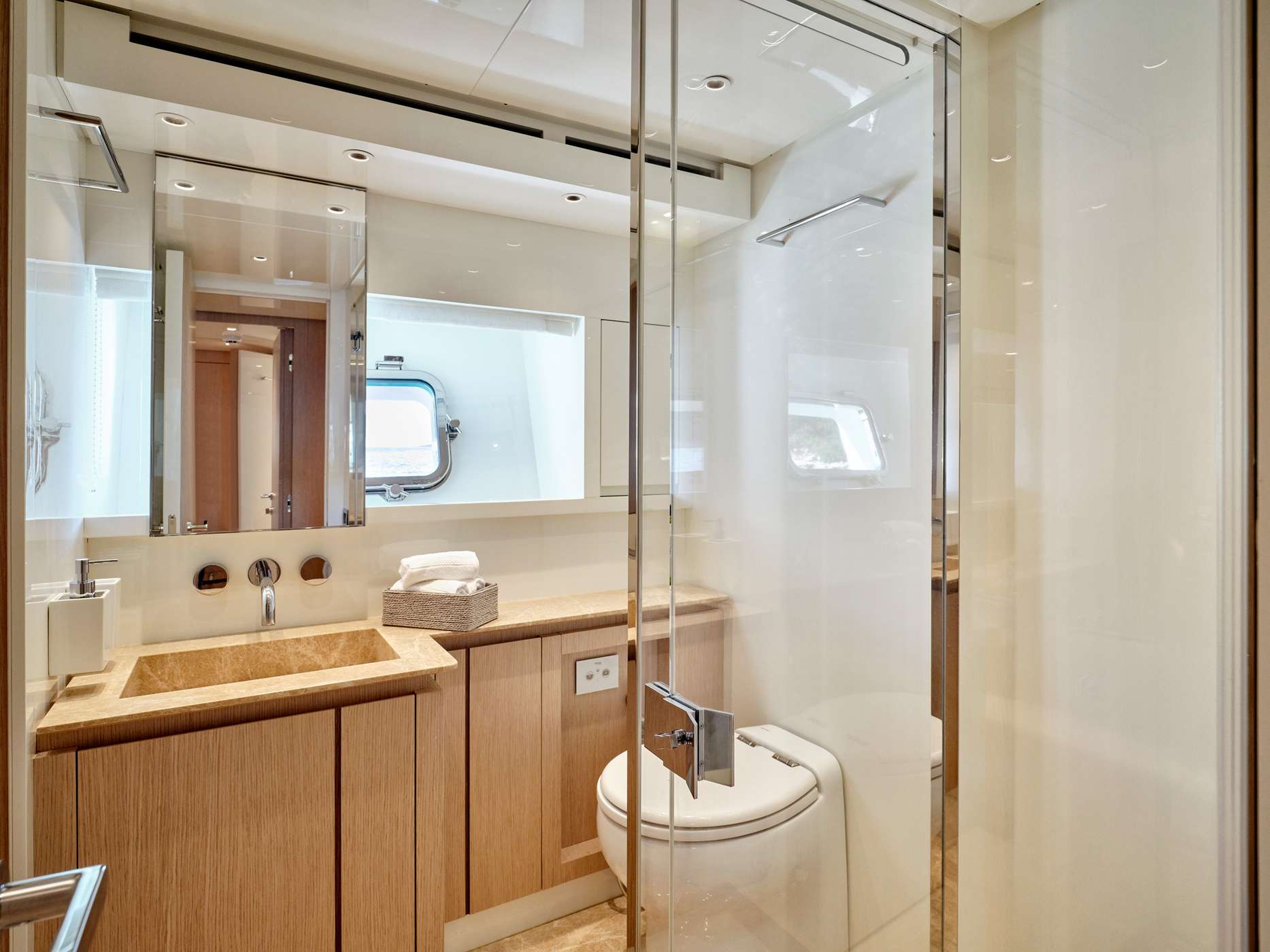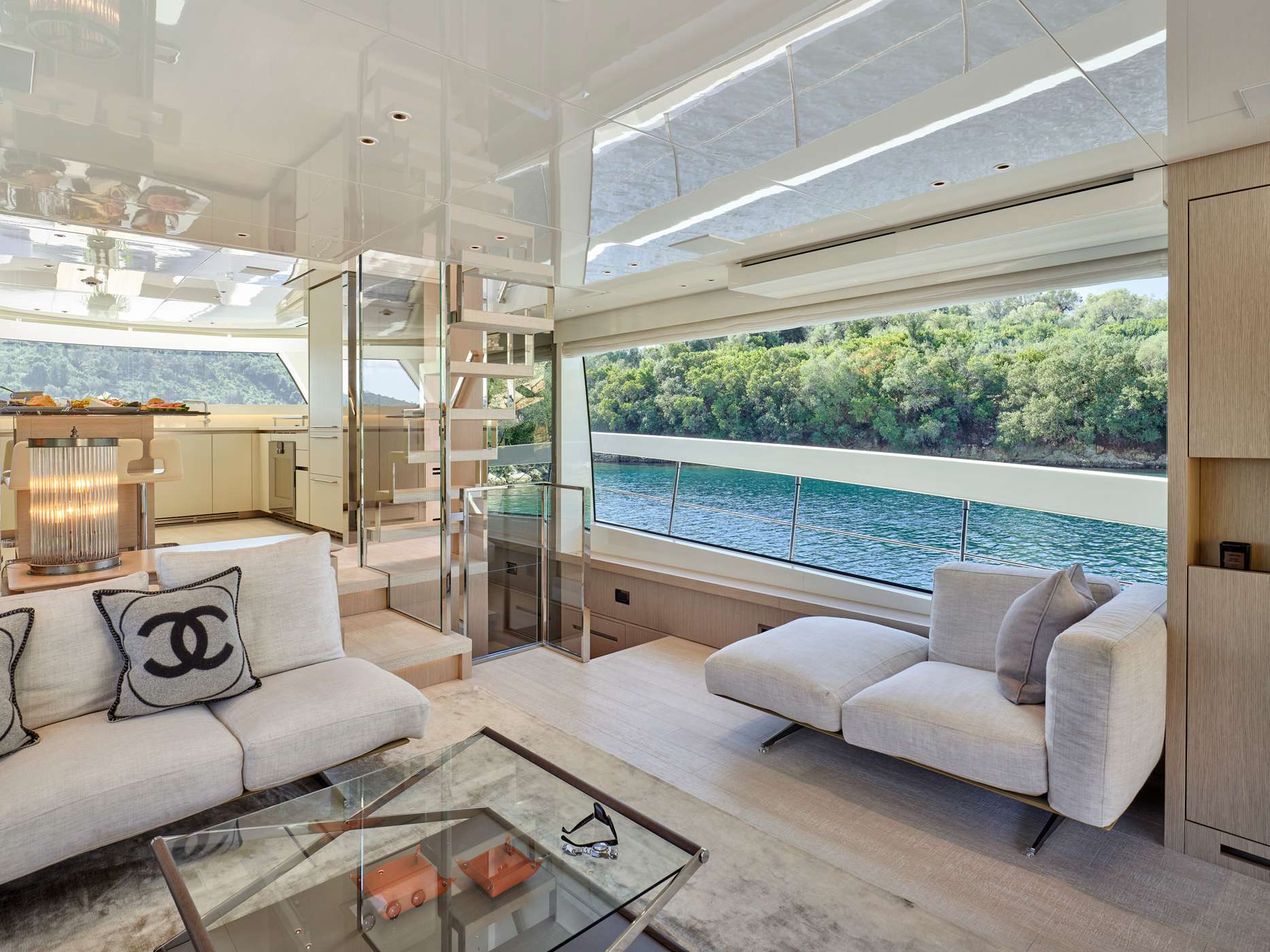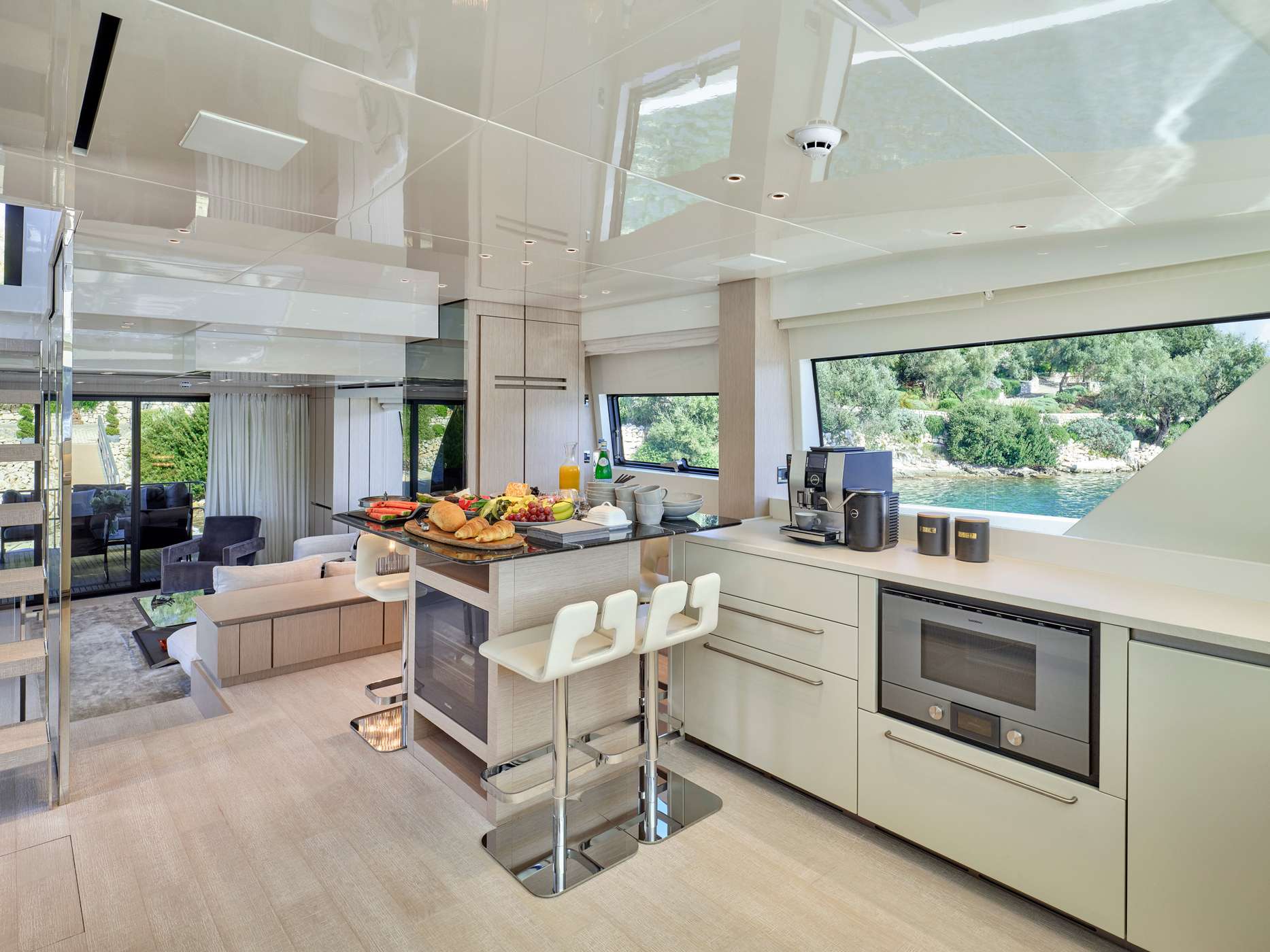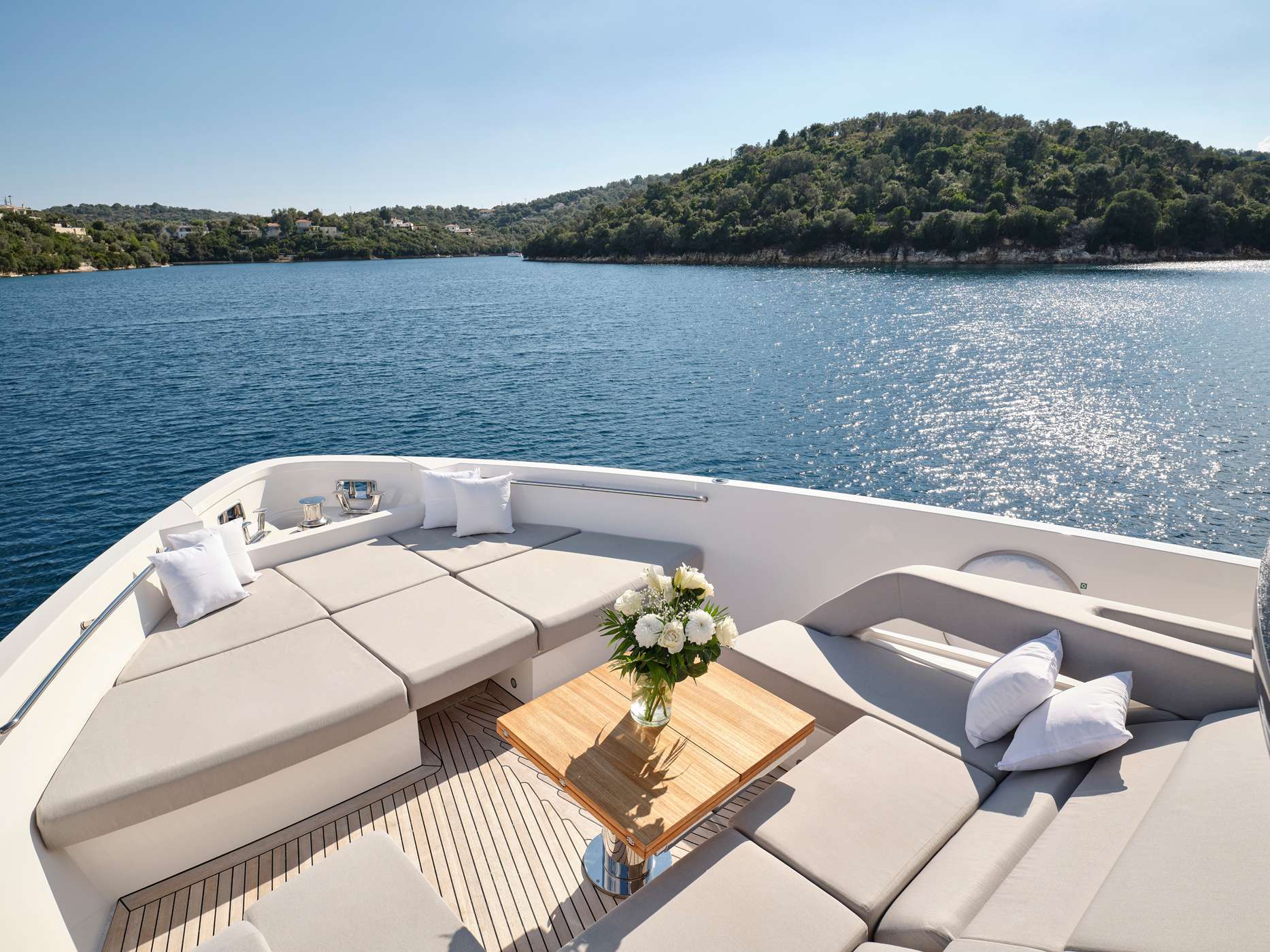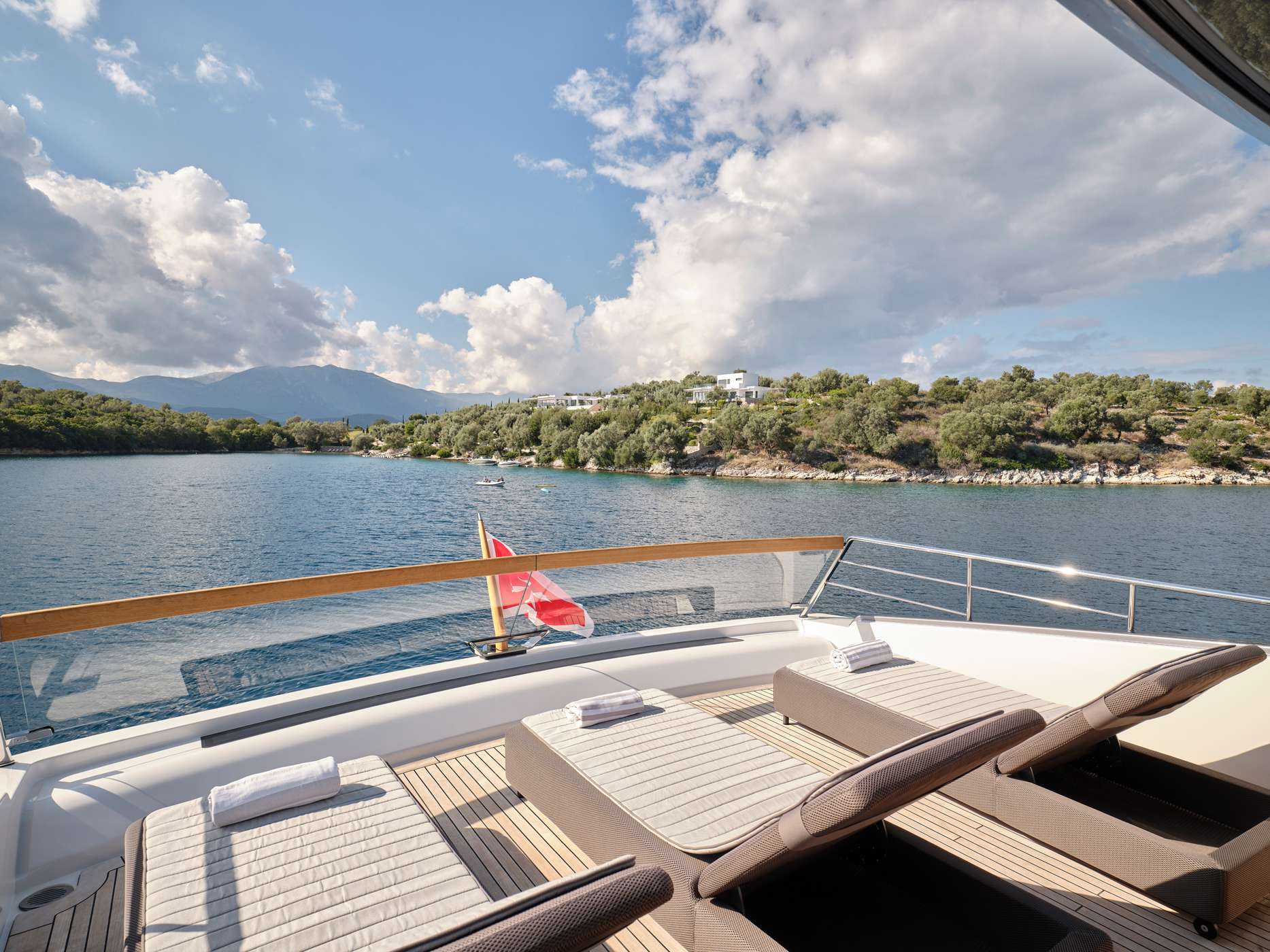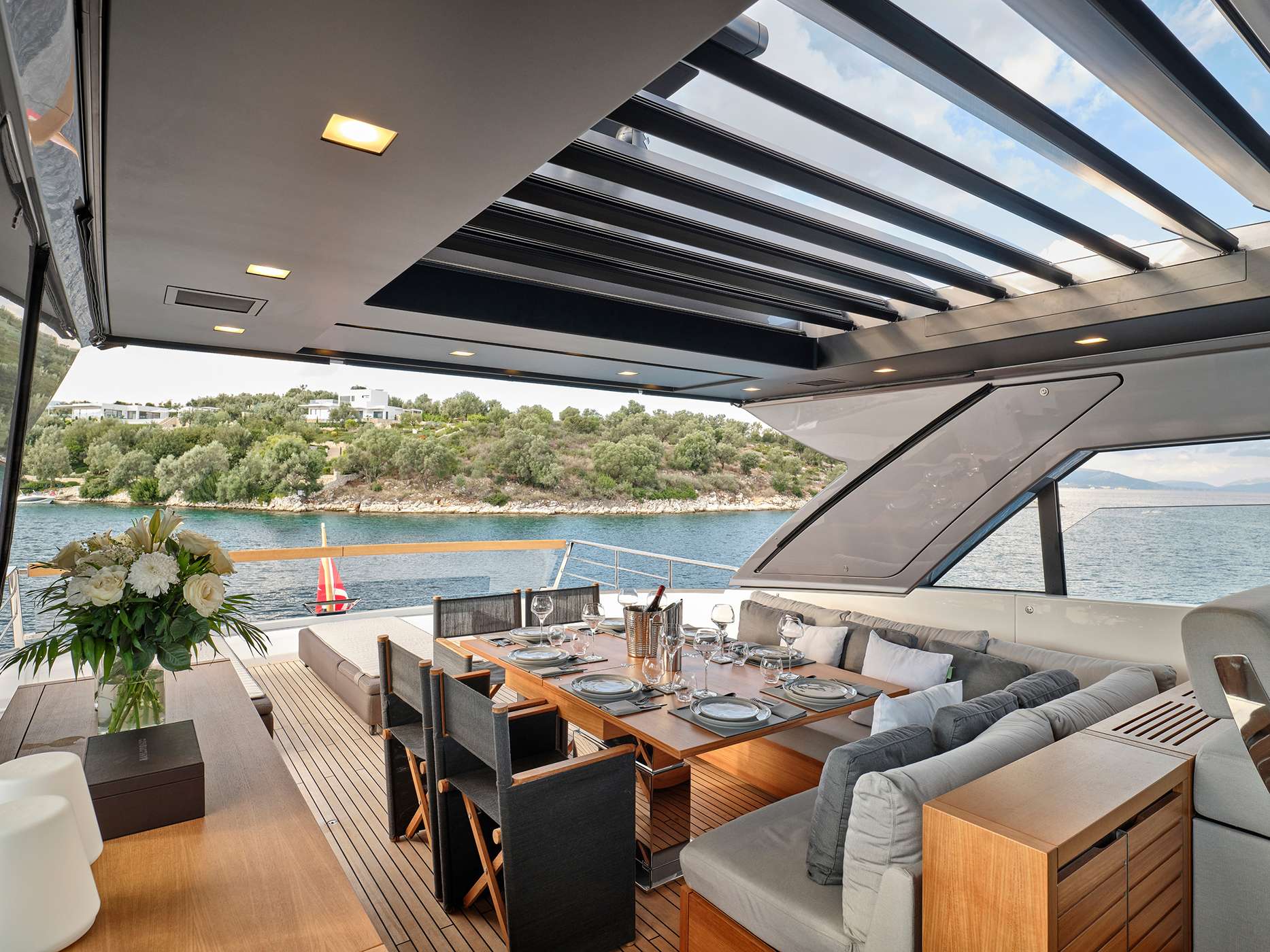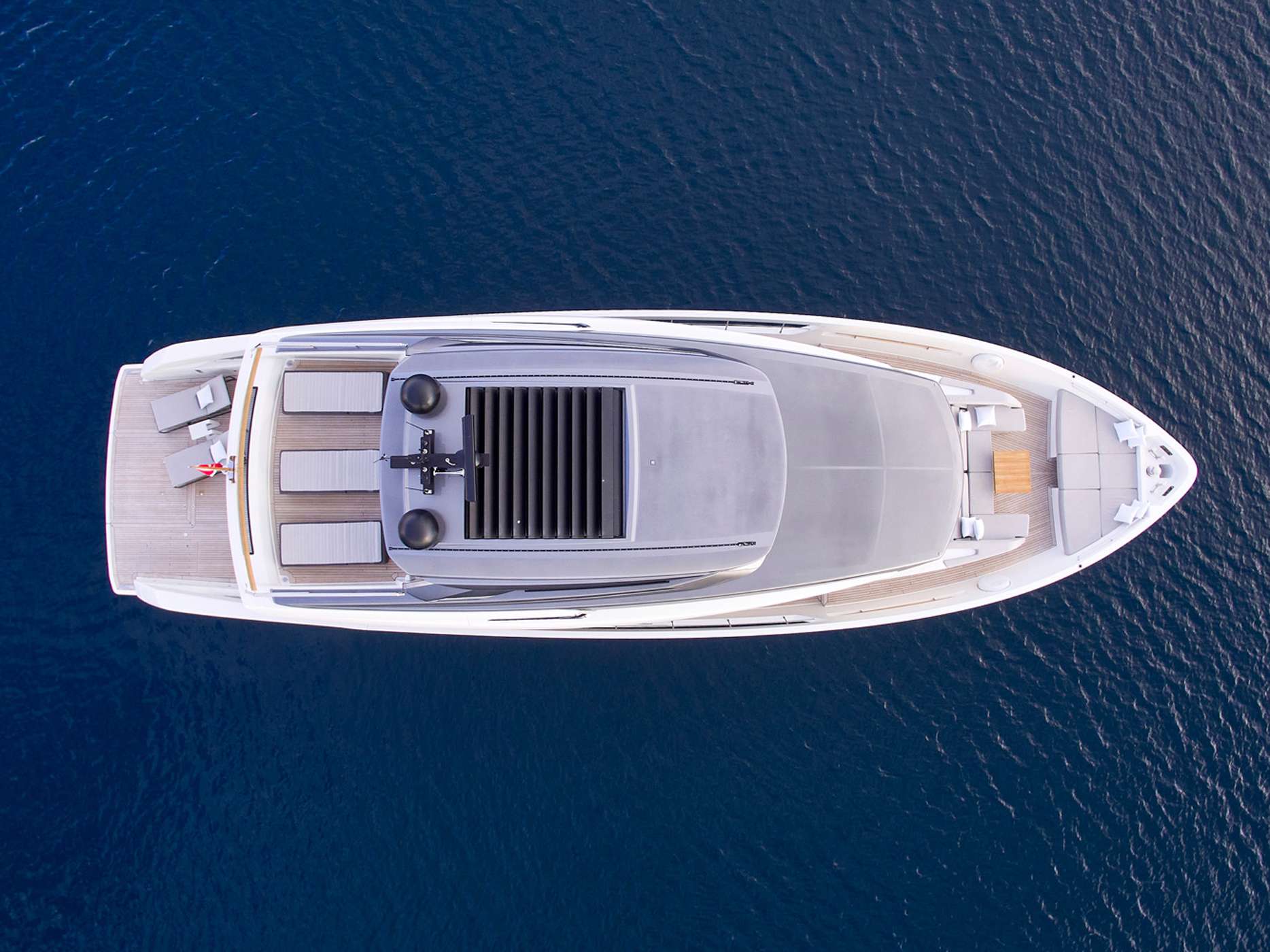 Accommodations
| | |
| --- | --- |
| Sleeps 8 guests in 4 guest stateroom(s). | |
| 2 with King Bed(s) | |
| 2 with Twin Bed(s) | |
Details
Master cabin with King Size Bed, Walk-in Closet and en-suite facilities
VIP cabin with King Size Bed and en-suite facilities
Two Twin Cabins with en-suite facilities
Specifications
| | |
| --- | --- |
| Guests | 8 |
| Staterooms | 4 |
| # Of Crew | 4 |
| Length | 77.00 Ft / 23.00 m |
| Beam | 6.60 m |
| Draft | 1.65 m |
| Built - Refit: | 2021 - No Refit Date Set |
| Builder | San Lorenzo |
| Cruising Speed | 16 knots |
Watersports
| | |
| --- | --- |
| Paddle Boards | Yes |
| Adult Water-skis | Yes |
| Wakeboards | Yes |
| Snorkeling gear | Yes |
| Scuba Diving | Yacht offers Rendezvous Diving only |
Other Toys
Axopar 37XC, Brabus Line Chase Boat
2 Seabob F5SR
2 Hobie Mirage Eclipse (stepper- paddle board)
1 Red paddle SUP
1 inflatable Sofa
1 Adult Ski's (plus mono ski)
1 Wakeboard
Snorkeling gear for Adults and kids
Flite E-foil boards can be rented at extra cost
Pricing
From: 55,000
To: 65,000

Crew Profile
Michael O'Donovan
Captain (Rotation)
Irish
Michael O' Donovan is the proud captain of Nirvana and has been on-board since her launch in 2021. Born in Ireland in 1991, he is an architecture graduate from the Waterfold Institute of Technology but has since propelled into the yachting industry—with already 8 years of experience and an IYT-200 limited certificate, the most internationally accredited and trusted standard of excellence in yacht training. He has completed additional courses from RYA (level-2 powerboat handler), the STCW (safety training) and the level 2 food-safety-at-sea training. He has spent 4 years cruising the Ionian Sea, so is the perfect host to show you around the area's hidden gems. Michael's sense of responsibility and diligence are some of the skills that set apart such a well-educated and enthusiastic captain. In his free time, he enjoys exercising, hiking and various sports such as golf and soccer.

Joseph Simpson
Captain (Rotation)
British
Joe, who was born in 1987, is a talented engineer and a passionate sailor. "My life has been dominated by my passion for working on boats for the better part of 20 years." His credentials include RYA power boat level 2, an MCA engineering course, and the MCA Yachtmaster Offshore. Apart from consistently gaining yachting industry experience, he has also had a variety of positions during his career, including those in hotels, villa remodeling, and boat restorations. He has experience in front-facing positions as a manager of Boats Ibiza, a captain of RIB trips in Ibiza, a coordinator of watersports, and in tasks requiring him to serve meals and mix drinks. His engineering abilities are of a high caliber; he has had positions requiring such abilities, such as running a fleet of six catamaran boats. He has commanded ships in the Atlantic and the Mediterranean, particularly in the southern regions of France, Corsica, and Sardinia. He is a superb team player and has a lot of enthusiasm. All the qualifications to provide a wonderful charter experience. Joseph is ebullient, diligent, and conscientious. Along with excellent Spanish, he also has some working knowledge of French and Italian.

Kseniya Bryzhakhina
Chef / Head of Interior
Ukranian
Meet Kseniya Bryzhakhina, the culinary queen of the high seas! With over 25,000 nautical miles of sailing experience and a passion for cooking that is as fiery as the flames on her stove, Kseniya is the perfect chef for the charter yacht 'Nirvana'. Her sharp eye for detail, positive personality, and enthusiastic approach make her an outstanding fit for the job. Kseniya is equally comfortable working independently or as part of a team and has a knack for organizing everything to perfection. She is an expert in Mediterranean and European cuisine and has a RYA/MCA Certificate of Competence Yachtmaster Coastal, and other certifications that make her stand out from the rest. Kseniya has worked in various roles, from deckhand and stewardess to skipper and chef, and has traversed the seas on private and charter yachts in the Mediterranean, Seychelles, Montenegro, Canary Islands, Caribbean Islands, and Corsica-Sardinia, including a daring crossing of the Atlantic Ocean. Besides her professional qualifications, Kseniya is fluent in English, Ukrainian, and Russian. When she's not in the galley, she enjoys cross-stitching and exploring the beauty of the sea.

Casey-Jane Paehua
Stewardess/deckhand
New Zealand
Meet Casey-Jane Paehua, the newest addition to the crew of 'Nirvana'. With her infectious smile, dedication to providing exceptional service, and expertise in housekeeping, food & beverage service, and guest relations, Casey-Jane is an excellent fit for her role. Originally from New Zealand, Casey-Jane has travelled the world honing her skills, earning certifications such as STCW Basic Safety Training, Superyacht Interior Certificate, CIEH Food Safety Level 2, and more. During her most recent position as a Deck/Stew on board a 27-metre charter yacht, Casey-Jane was responsible for everything from linens and restocking cleaning products to assisting with water sports activities and general exterior maintenance. She's a hardworking and enthusiastic individual who goes above and beyond to ensure that guests have an unforgettable experience on board. When she's not working, Casey-Jane loves to keep active and stay fit. You can usually find her doing high-intensity workouts or exploring new hiking trails. With her positive attitude and strong work ethic, Casey-Jane is a valuable addition to the team, and 'Nirvana' is lucky to have her on board!

Jacob Babinski
Chief Mate
Greek-Polish
Jacob, who was born in 1997, grew up in Greece and is a passionate sailor who loves the sea. Having finished the two years of skipper training, he graduated from the vocational training institute. His first job in the tourism industry was as a water ski and wakeboard instructor at the EverEden Beach Resort. Since then, he has had positions as a deckhand on sailing tours on catamarans as well as a day boat captain on rib boats in Santorini. His previous 2-year position on the 100ft sailing yacht Thirtynine was similar to the one on NIRVANA: captain of a 37' Axopar and deckhand on the main boat. Jacob is constantly eager to pick up new skills and enjoys being a part of a highly effective, competitive team. He has worked for owners that demanded meticulous attention to detail. In addition to enjoying winter sports, he also enjoys water activities like wakeboarding and water skiing. He speaks fluent English.
Destinations