Gallery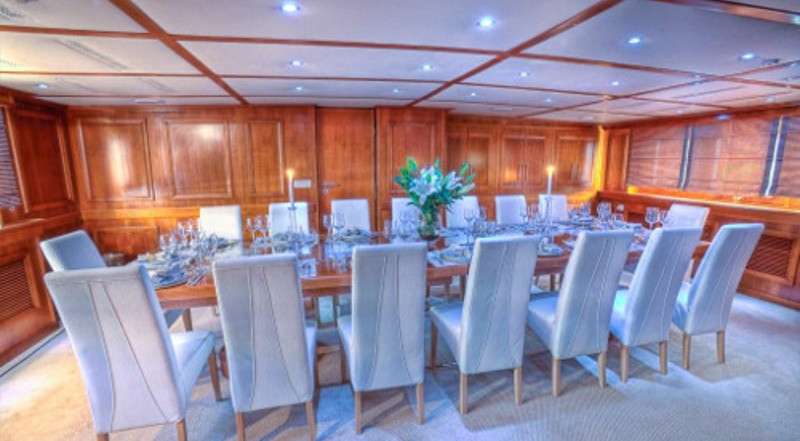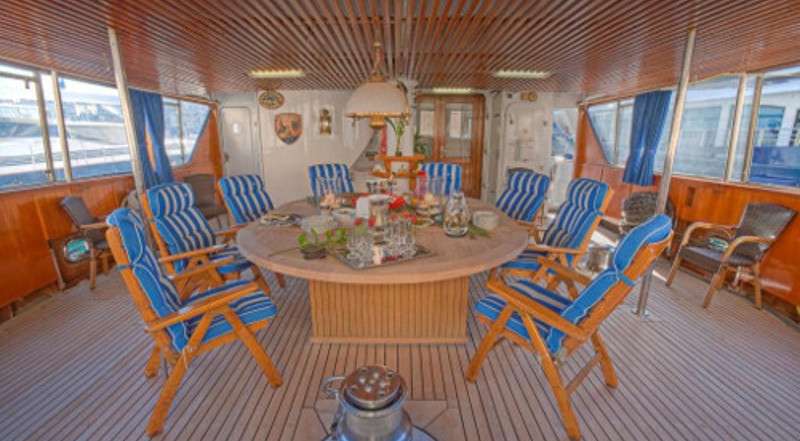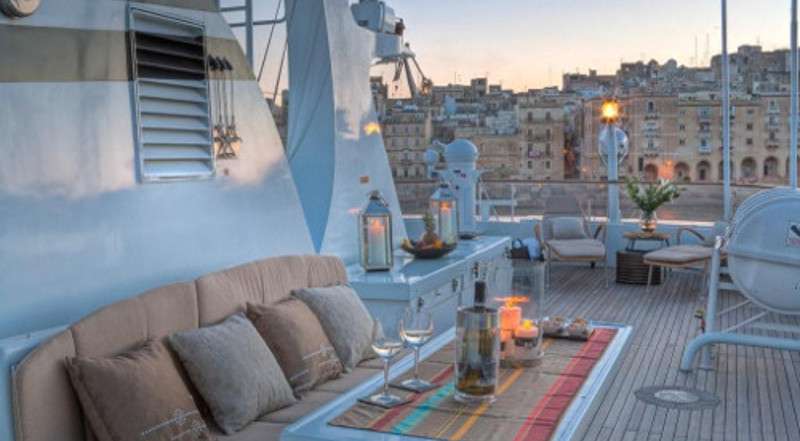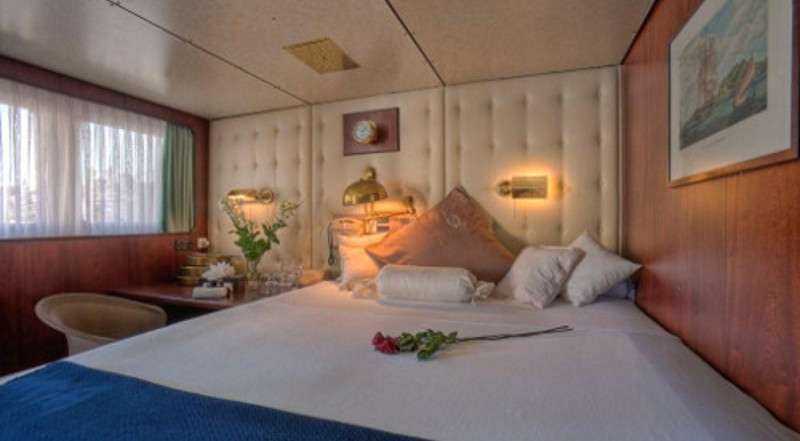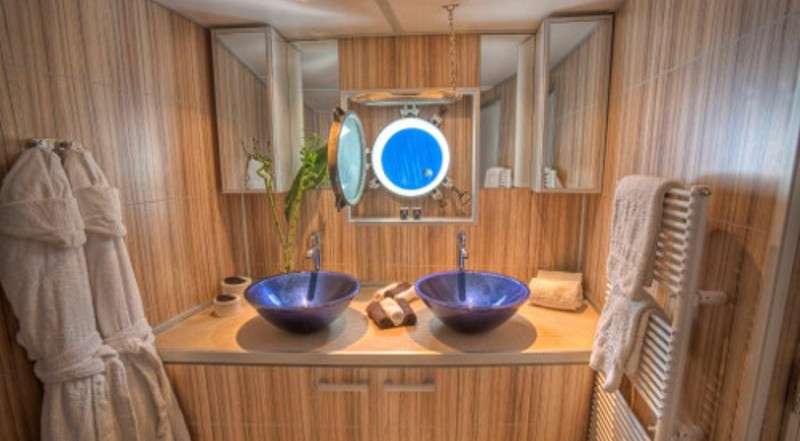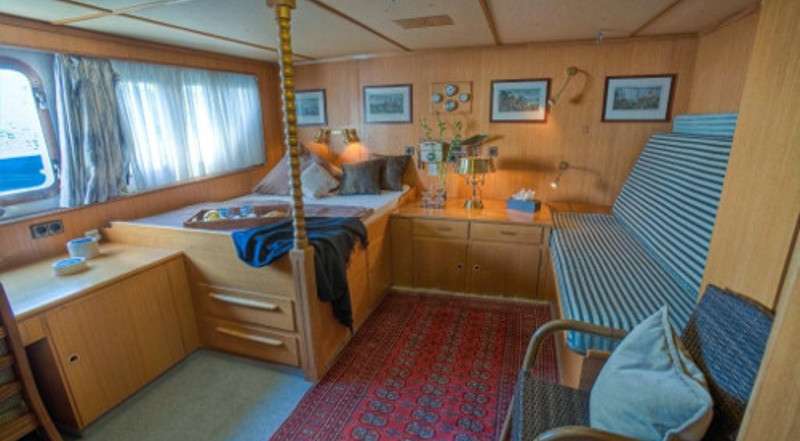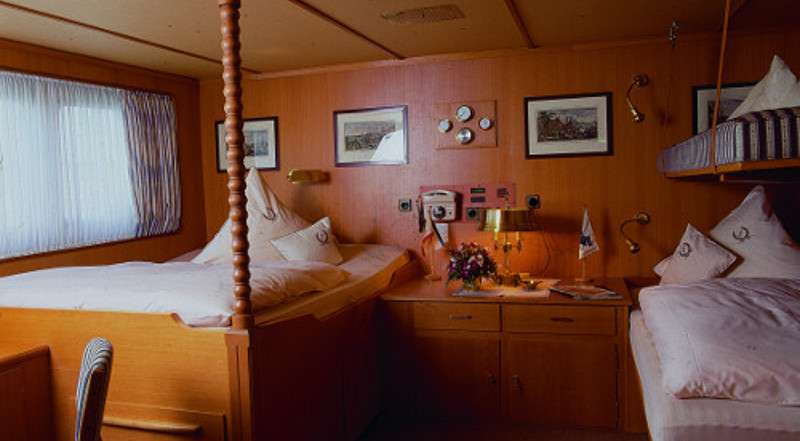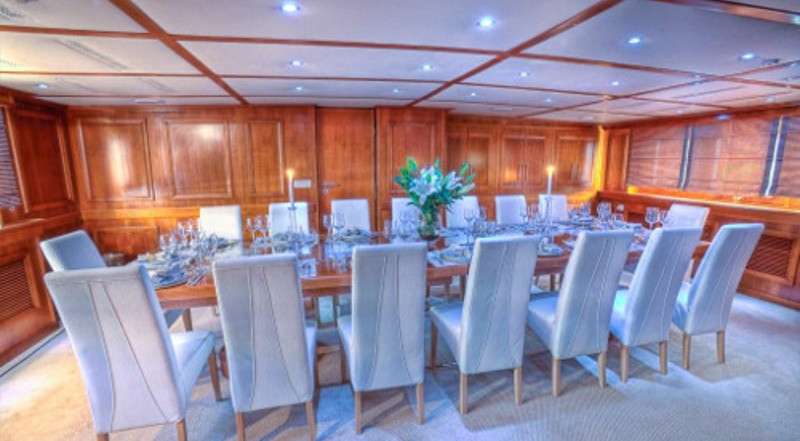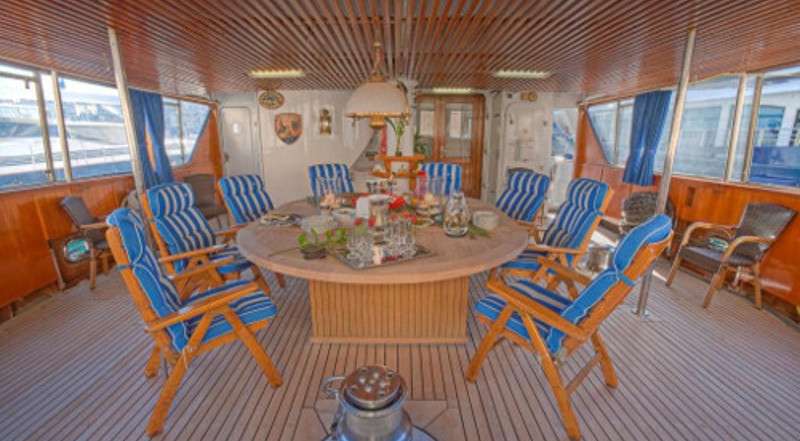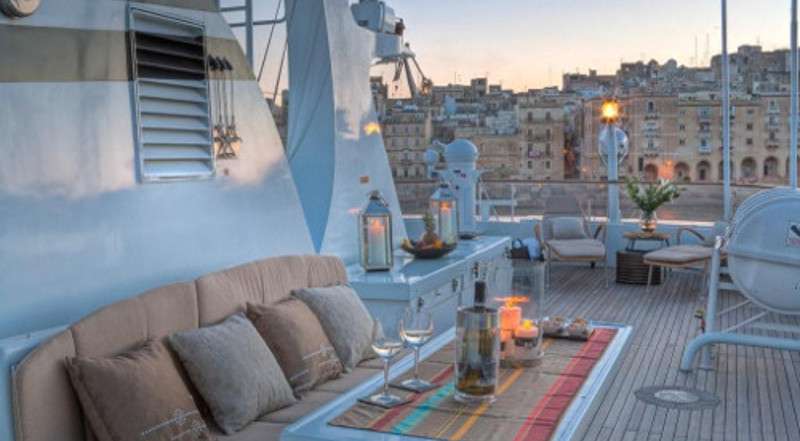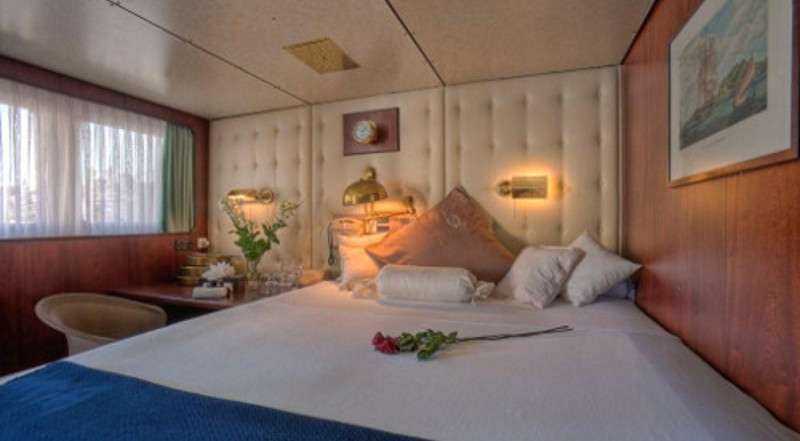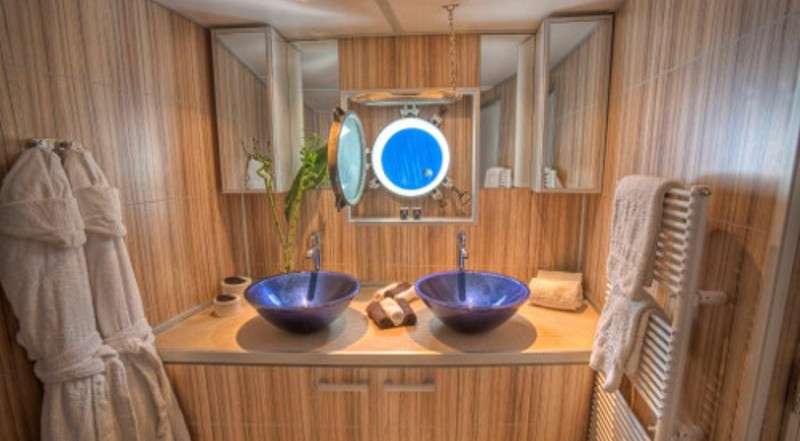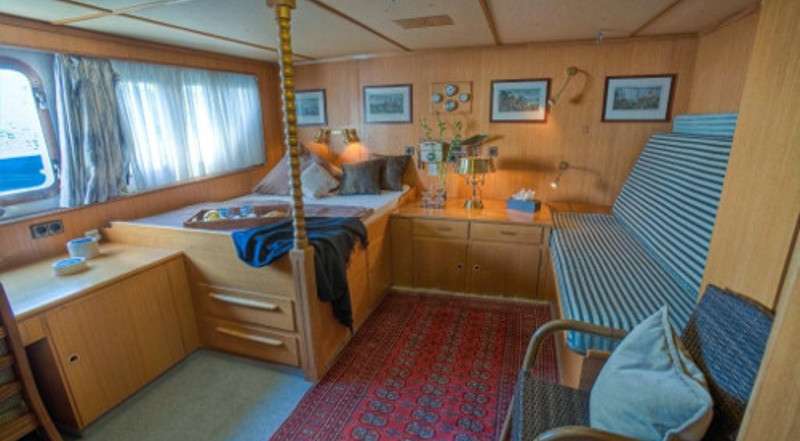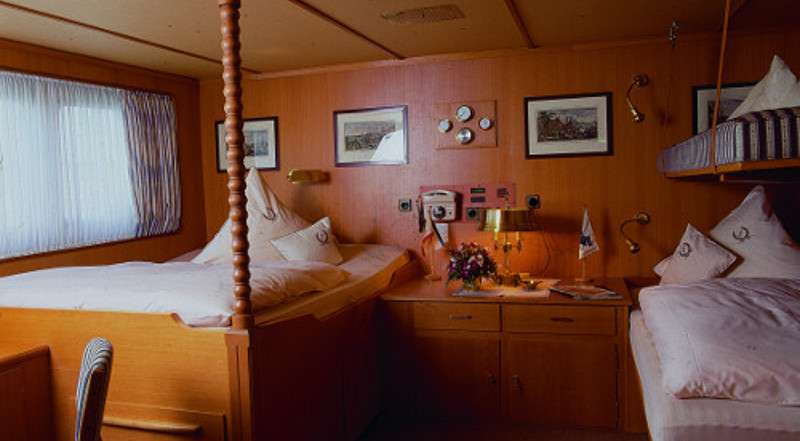 Accommodations
| | |
| --- | --- |
| Sleeps 12 guests in 7 guest stateroom(s). | |
Details
• Upper deck : 1 owner's cabin (2/3 sleeps) with 2 en-suite bathrooms
• Main deck : 1 VIP cabin (2 sleeps) with en-suite bathroom, 1 VIP cabin (2 sleeps) with en-suite bathroom
• Lower deck : 1 standard cabin (2 sleeps) with en-suite bathroom, 1 standard cabin (2 sleeps) with en-suite bathroom, 1 twin cabin (2 sleeps) with en-suite bathroom, 1 twin cabin (2 sleeps) with en-suite bathroom
Layout Diagram

Specifications
| | |
| --- | --- |
| Guests | 12 |
| Staterooms | 7 |
| # Of Crew | 0 |
| Length | 155.00 Ft / 47.00 m |
| Beam | 25.3 ft |
| Draft | 8.10 ft |
| Built - Refit: | 1982 - 2019 |
| Builder | Husum Schiffswerft GmnH & Co |
| Cruising Speed | 12 knots |
Watersports
| | |
| --- | --- |
| Scuba Diving | Yacht offers Rendezvous Diving only |
Other Toys
7.2m Tender GRFP with 2x 1500 HP VOLVO Penta Turbo engines - 40 knots at high speed
1x Canoe
Pricing
From: 95,000
To: 115,000

Pricing Details
High Season: June - Aug
Low Season: Sep - May
PLEASE INQUIRE FOR FURTHER PRICING DETAILS
Crew Profile
CAPTAIN - Jens Jorgensen
SAIL AND WORK EXPERIENCE
Born in Denmark in 1950, Jens has been at sea as both a deckhand and a captain since finishing navigation school in 1975. For nearly 20 years, he
has been Captain of passenger ships throughout Scandinavia working every other year aboard SANSSOUCI STAR. Jens is keen to sail with guests, showing them the best places in Scandinavia and organising an unforgettable charter.
JOB DESCRIPTION
Jens is responsible for navigation, safety, the overall running and financial management of the vessel, crew and guests. He ensures the safe and efficient operation of the yacht at all times, including compliance with all safety procedures and regulations. He takes care of adhering to flag regulations, port state and local laws and regulations, and manages the crew to ensure adherence to, and a full understanding of, the vessel's policies. He provides daily leadership for the crew and encourages teamwork, individual growth and personal attention by delegating duties and supervising all crew tasks.
LANGUAGES
English and Danish
------------------------------------------------------------------------------------
DECKHAND - Harold Verra Lonzaga
SAIL AND WORK EXPERIENCE
Harold is an enthusiastic and proactive crew member who is committed to his role of deckhand and tender driver. His goal is to progress his way up through the yachting industry to a senior position, hence to make his captain and guests happy.
JOB DESCRIPTION
Harold has the expertise required to stand in for Captain in his absence, acting as second in command. He assists the captain during navigation and participates in all on-deck operations, respecting guest's activities. He has extensive knowledge of sailing yachts maintenance and is responsible for the running of deck equipment and machinery.
LICENCES AND CERTIFICATES
Small Power Boat and RIB Master
Deck Watchkeeping
MARPOL Consolidated
LANGUAGES
English
------------------------------------------------------------------------------------
MOTORMAN/OILER - Renz Denore Nisnisan
SAIL AND WORK EXPERIENCE
Beginning his career on yachts in 2020 as an oiler aboard the MV LUNG YUIN, he gained experience on another larger vessel (MV NAVIOS NERINE). Keen to expand his horizons, he is now onboard SANSSOUCI STAR to ensure the yacht is in pristine, working condition for the safety of the guests.
JOB DESCRIPTION
Renz is primarily responsible for maintenance and fault finding of all machinery and systems onboard. He also plays a critical part in the sailing and navigation of SANSSOUCI STAR. Renz further takes part in supporting his crew mates in their daily tasks in order to provide an exquisite service to charterers on board.
LICENCES AND CERTIFICATES
• Basic Training
• MARPOL Consolidated
• Bilge Water/Waste Oil Separation Operational Course
LANGUAGES
English
------------------------------------------------------------------------------------
SHIP MECHANIC - Rico Schmaus
SAIL AND WORK EXPERIENCE
Previously working for the German government on a survey ship as a ship mechanic, Rico has decided to expand his horizons into the yachting industry. A very skilled worker, Rico is excited to take on the exciting challenges of SANSSOUCI STAR.
JOB DESCRIPTION
Rico is responsible for testing the performance of the engine and electrical systems onboard, carrying out services and minor repairs where necessary. He conducts the plumbing and intake repairs of the yacht, as well as replacing broken or worn-out engine parts. Rico maintains the electrical air conditioning system and keep accurate service records.
LICENCES AND CERTIFICATES
• STCW Basic Training
LANGUAGES
German and English
------------------------------------------------------------------------------------
CHEF - Massimo Cuculi
SAIL AND WORK EXPERIENCE
A highly skilled chef, Massimo began his career in 2000 as an assistant chef at a prominent Italian restaurant. Moving up to sous chef, he began creating innovative dishes while maintaining order in the kitchen in London restaurants and wine bars from 2012. From 2017, Massimo became owner and executive chef of an alternative and modern restaurant in Rome, fully in charge of the menu and staff. Earning skills in organisation and leadership, Massimo is ready to move on from his position as executive chef of a 4* hotel and become head chef of SANSSOUCI STAR, delighted to provide delicious and nutritious food for guests onboard.
JOB DESCRIPTION
Massimo is responsible for all guest and crew meals, providing a wide variety of nutritional food. He plans all the meals and reviews stocks on
board to ensure that adequate supplies of fresh food are always available. He manages all the food preparation in order to have meals prepared for particular times, often packaging and freezing samples of all the served food in compliance with health regulations.
LICENCES AND CERTIFICATES
• Health and Safety Certificate
• Level 3 Award in Supervising Food Safety
• Food Safety Certificate
• Level 2 Award in Emergency First Aid
• HAACP Certificate
LANGUAGES
Italian (native), English (fluent), French and Spanish (conversational)
------------------------------------------------------------------------------------
STEWARDESS - Delia Morelli
SAIL AND WORK EXPERIENCE
Working as a freelance in marketing consultancy, advertising and web design since 2010, Delia became very skilled in her field with a range of successful projects for prominent clients. With excellent communication and organisation, Delia is perfect for the role of stewardess onboard SANSSOUCI STAR. Her teamwork skills and eagerness to provide the highest standard of care for guests will be essential as a stewardess.
JOB DESCRIPTION
Delia oversees the galley and the interior, always maintaining very high standards of cleanliness and order on board with a meticulous eye for detail. She sometimes also helps with all deck operations including sailing, navigation, mooring and anchoring as well as preparing meals alongside the chef before service.
AREAS OF EXPERTISE
• Diploma in Advertising Graphics
• Certificates in Web and Social Marketing
LANGUAGES
Italian (native), English (conversational)
Destinations
Inquire about SANSSOUCI STAR