Gallery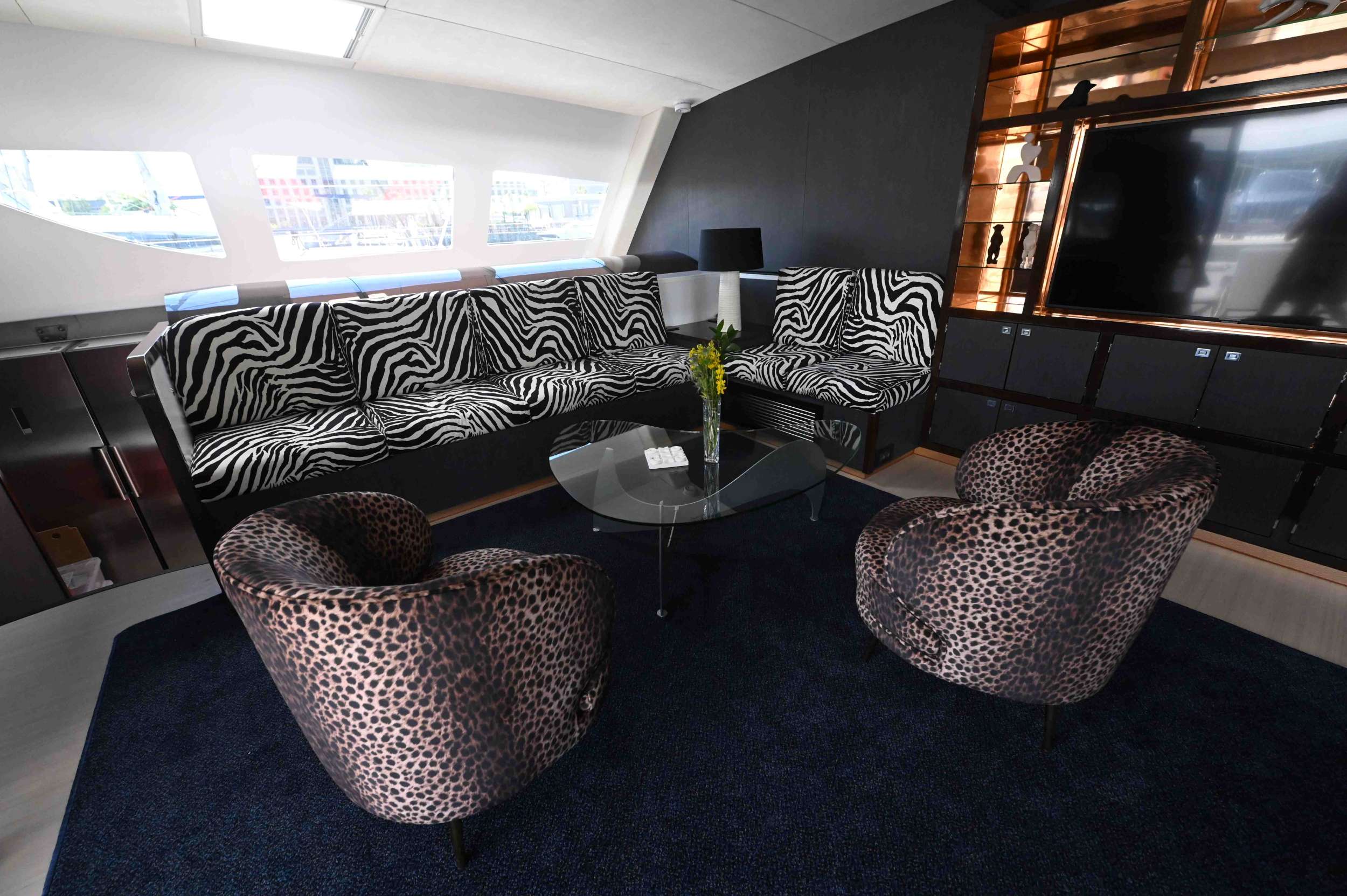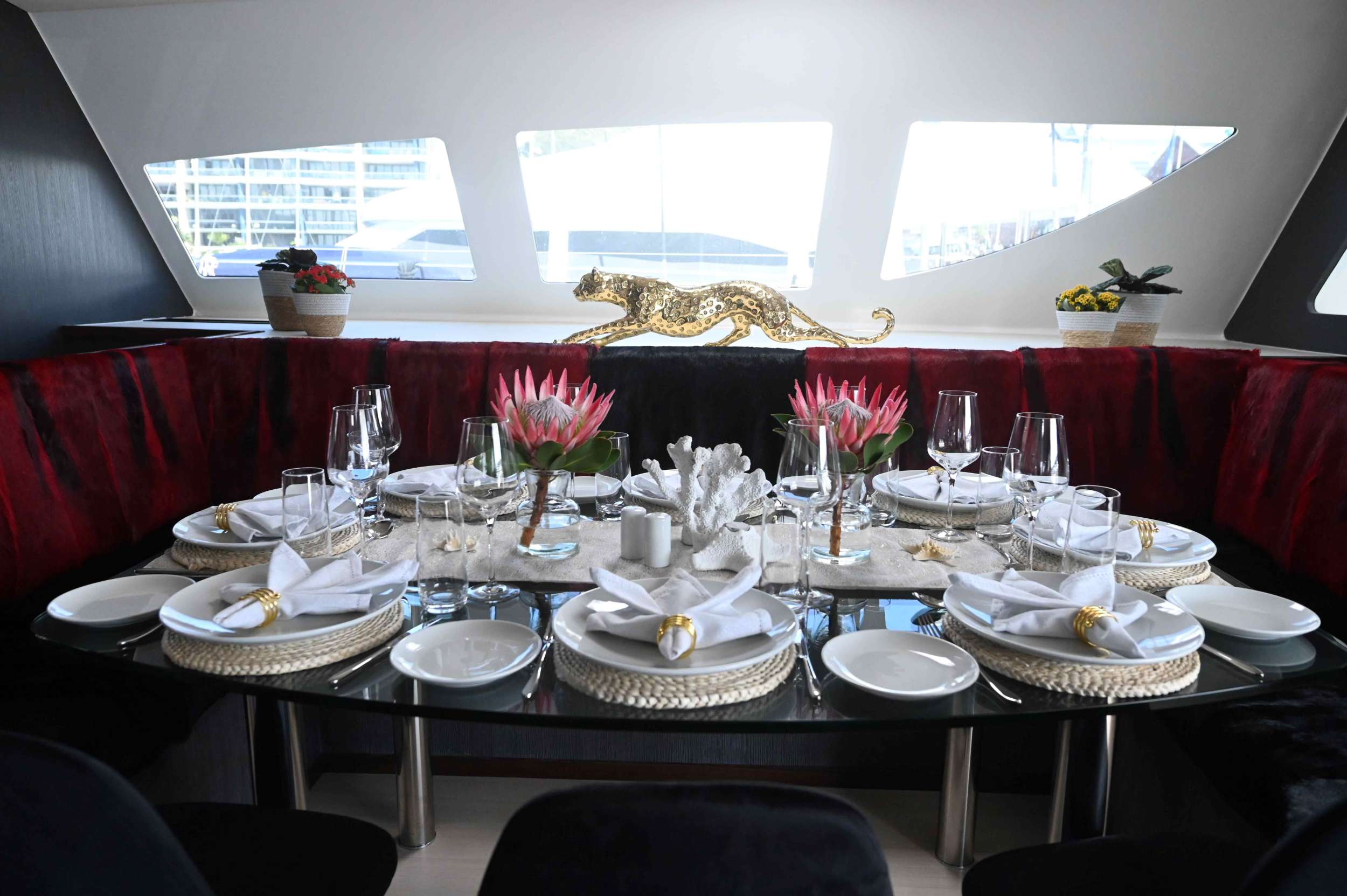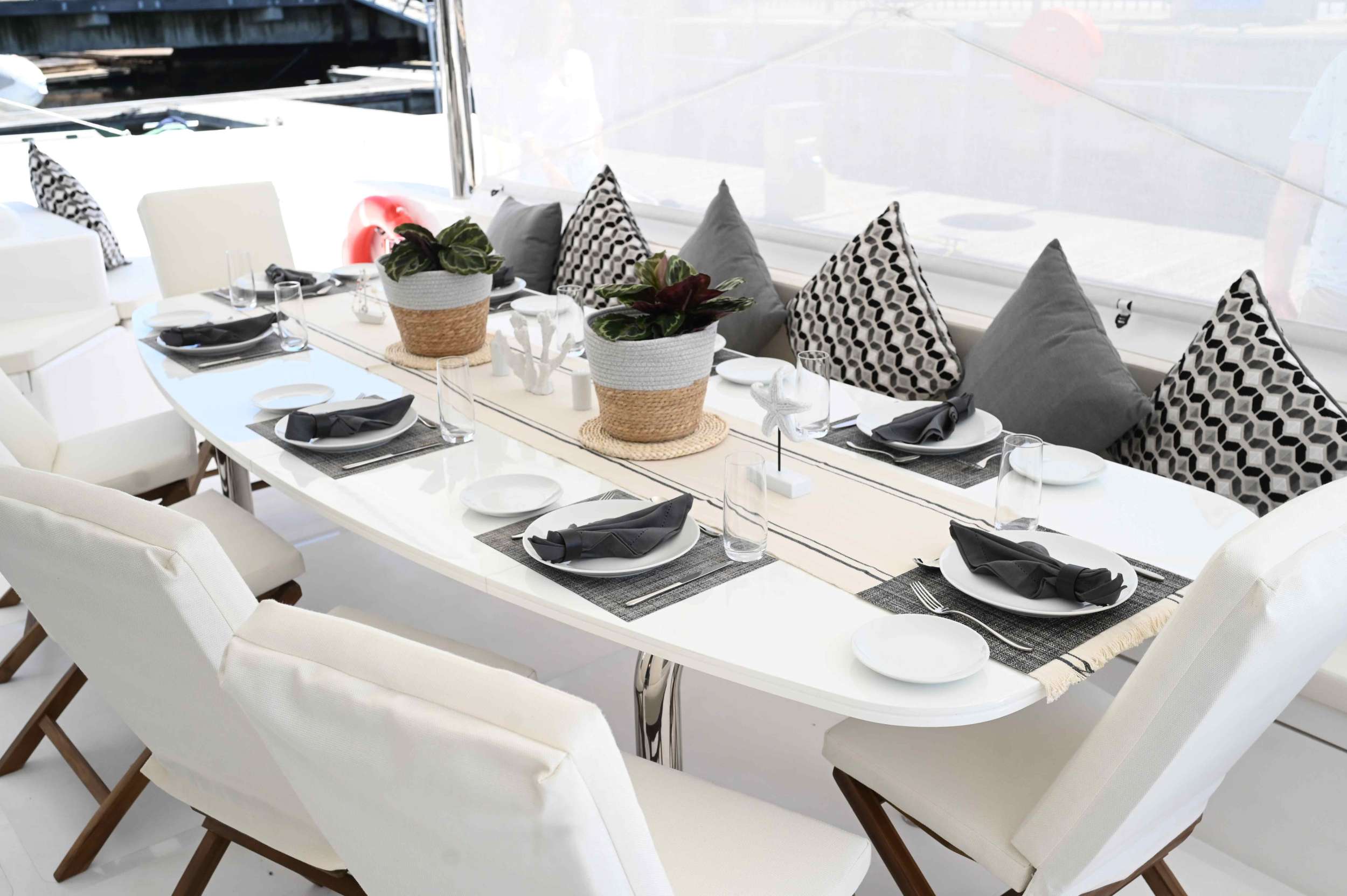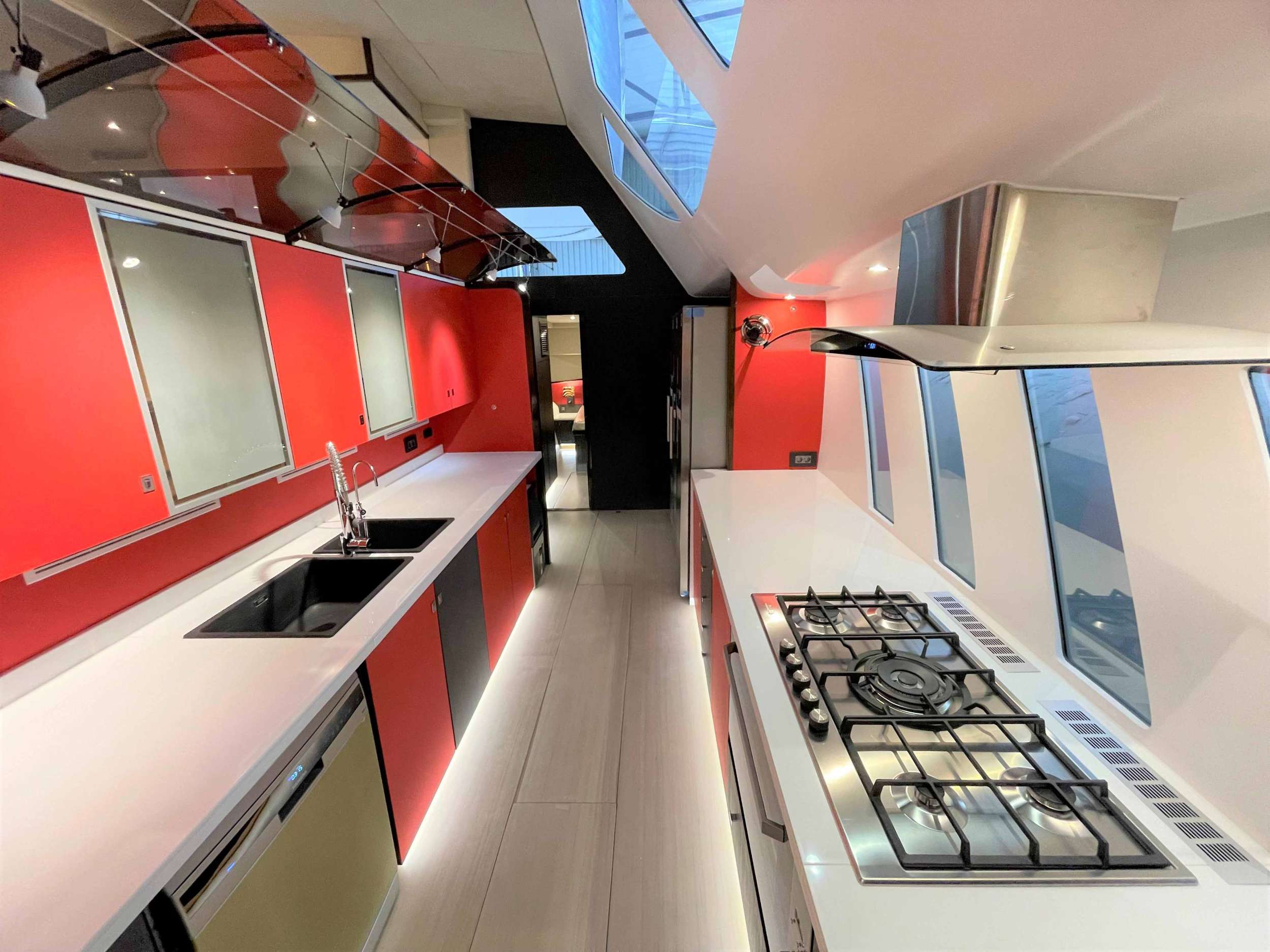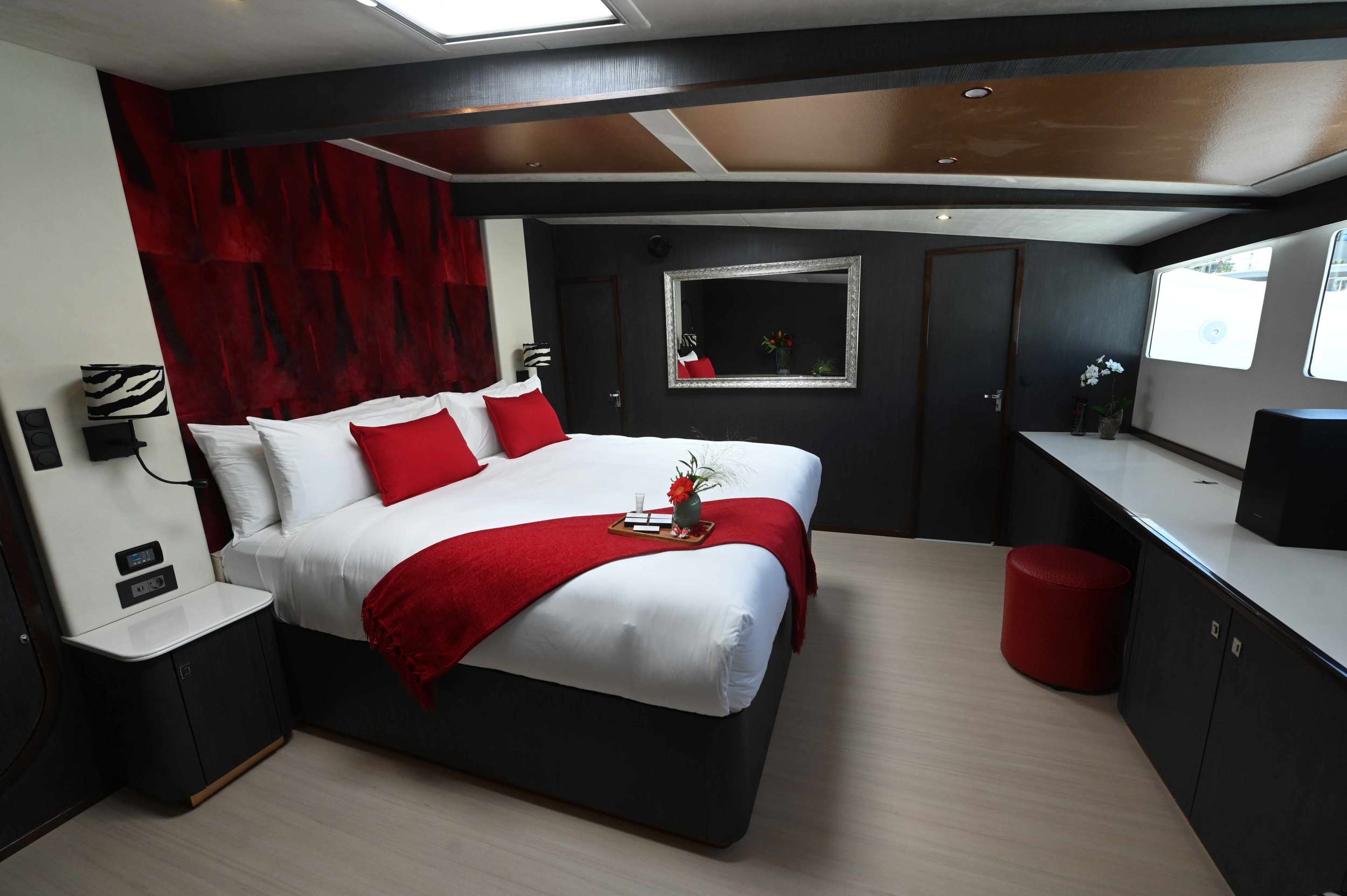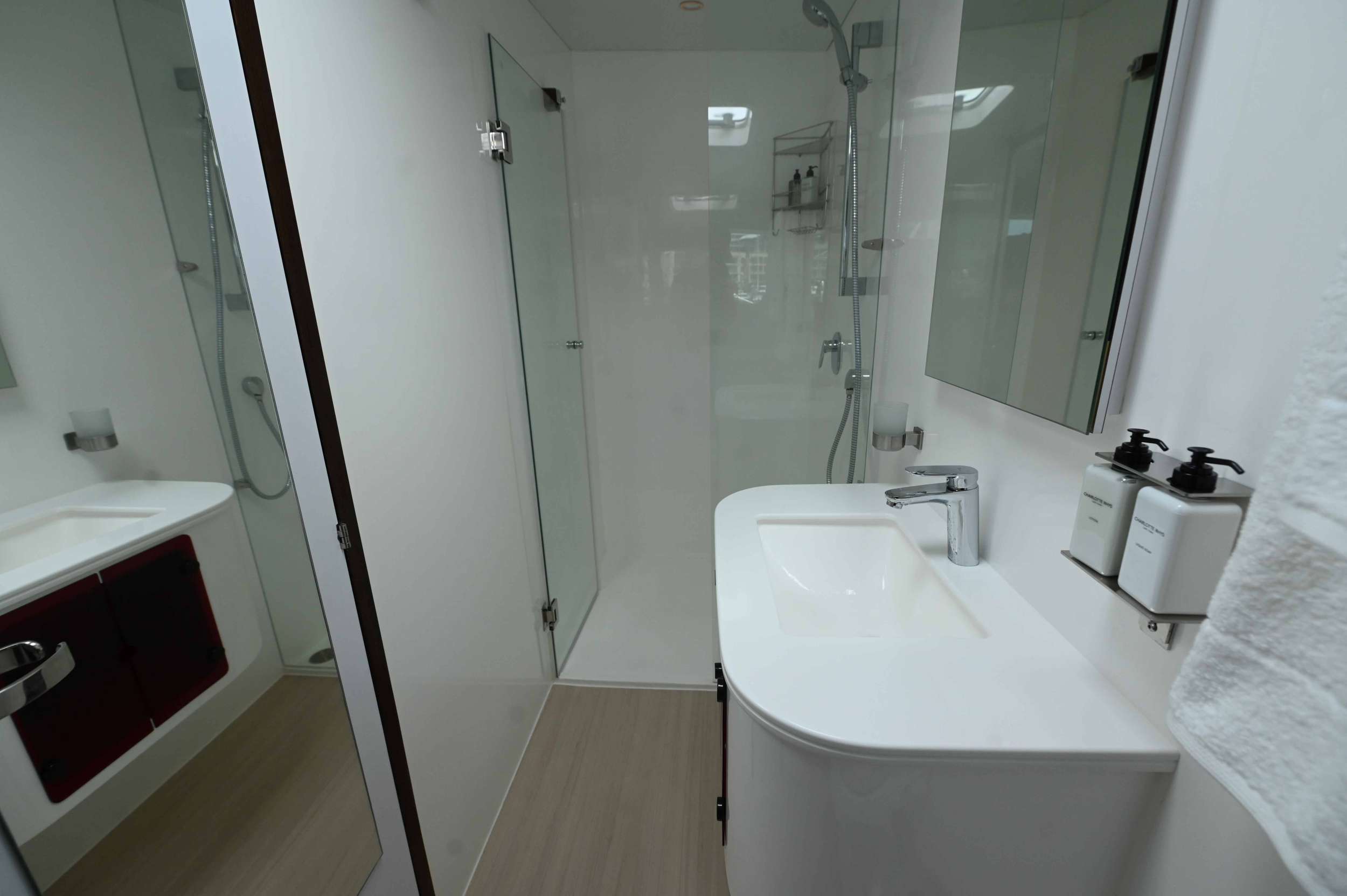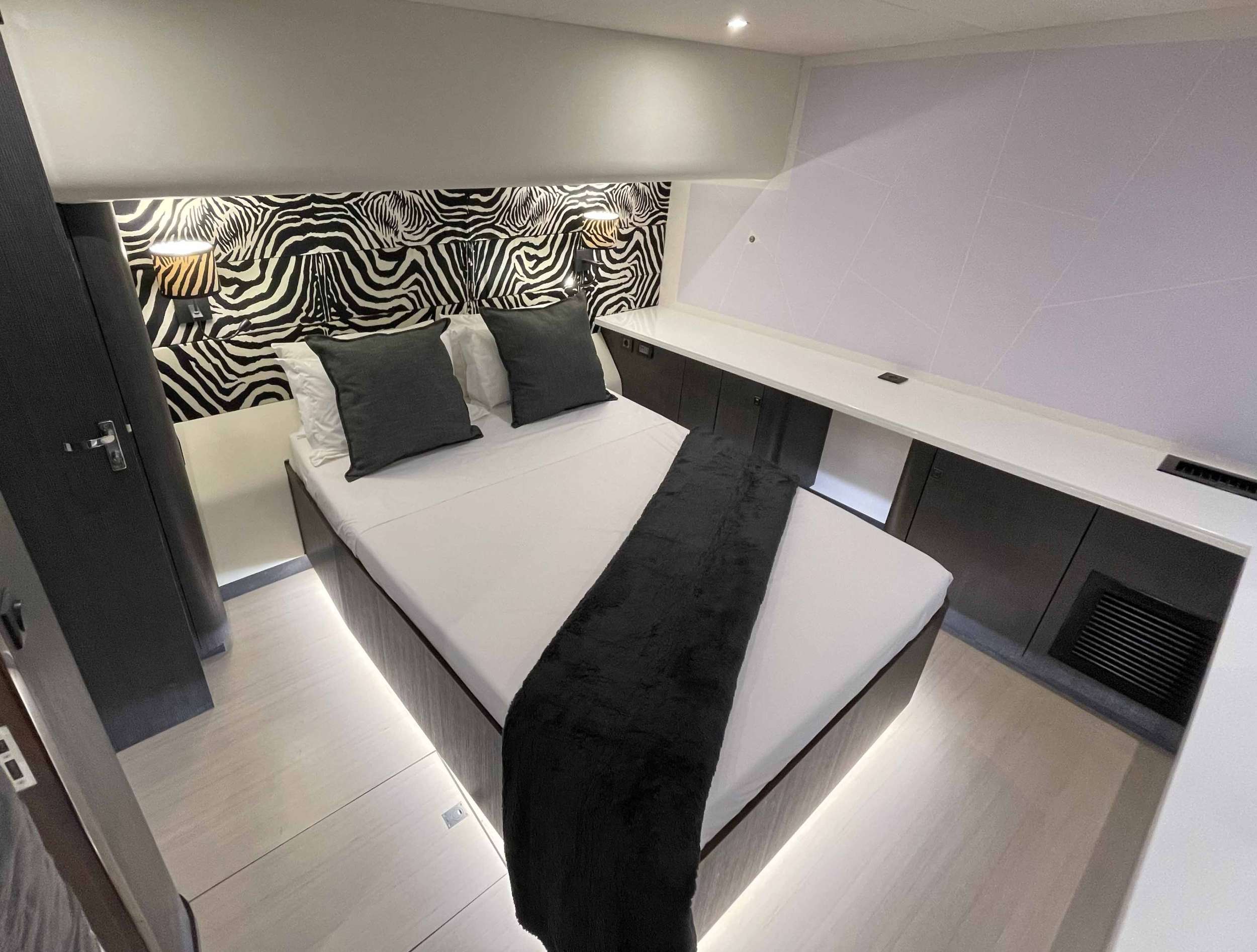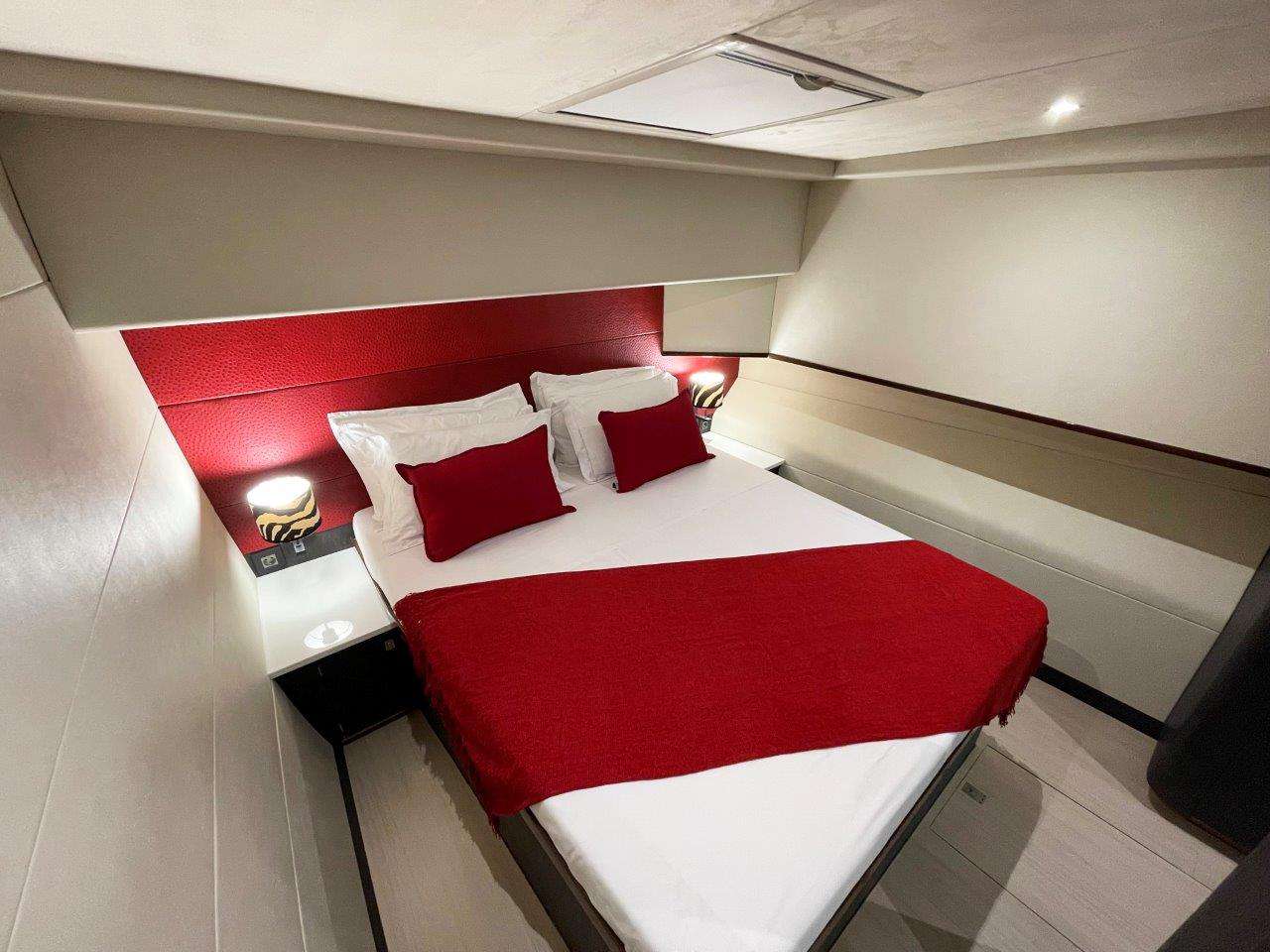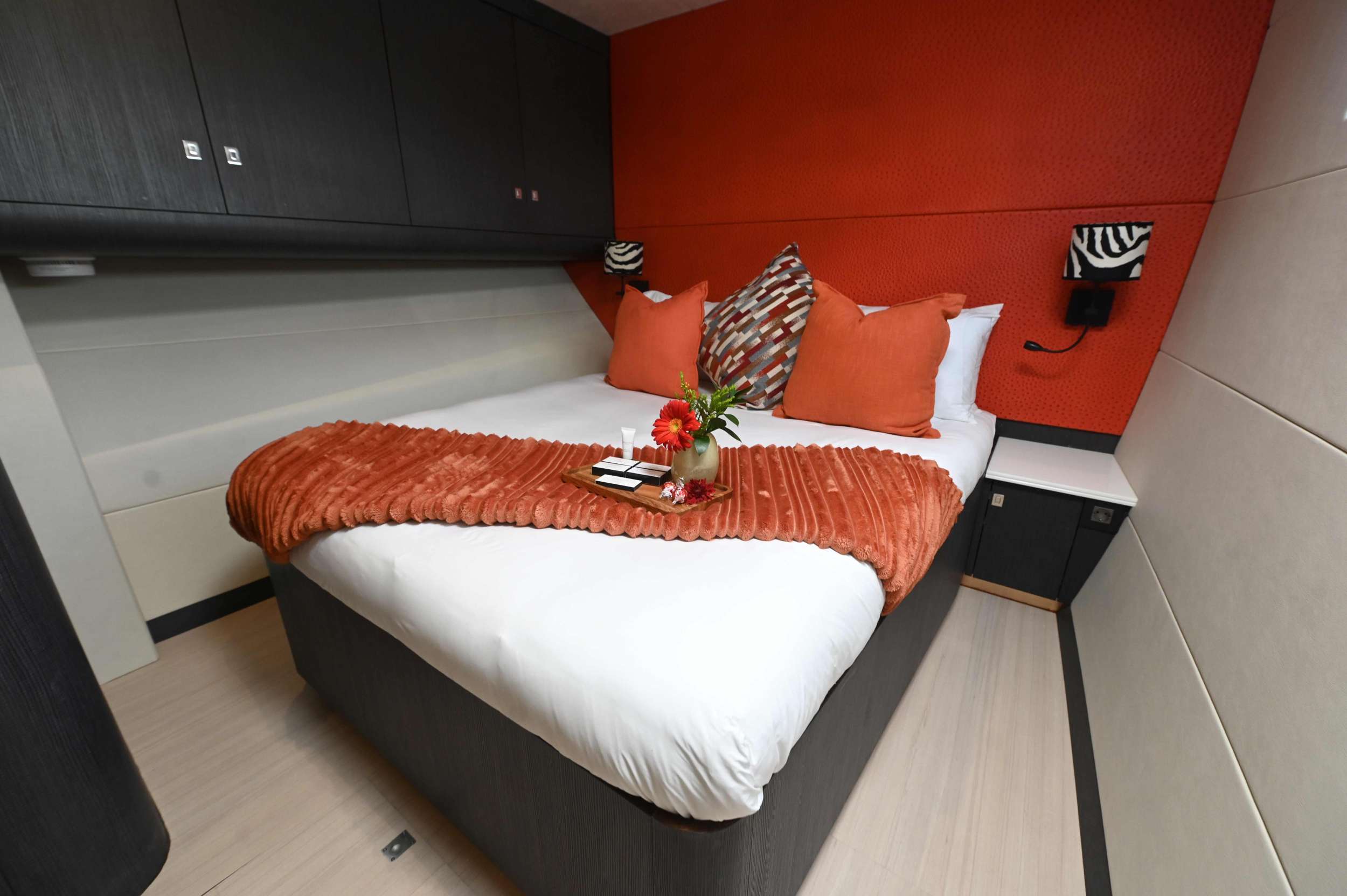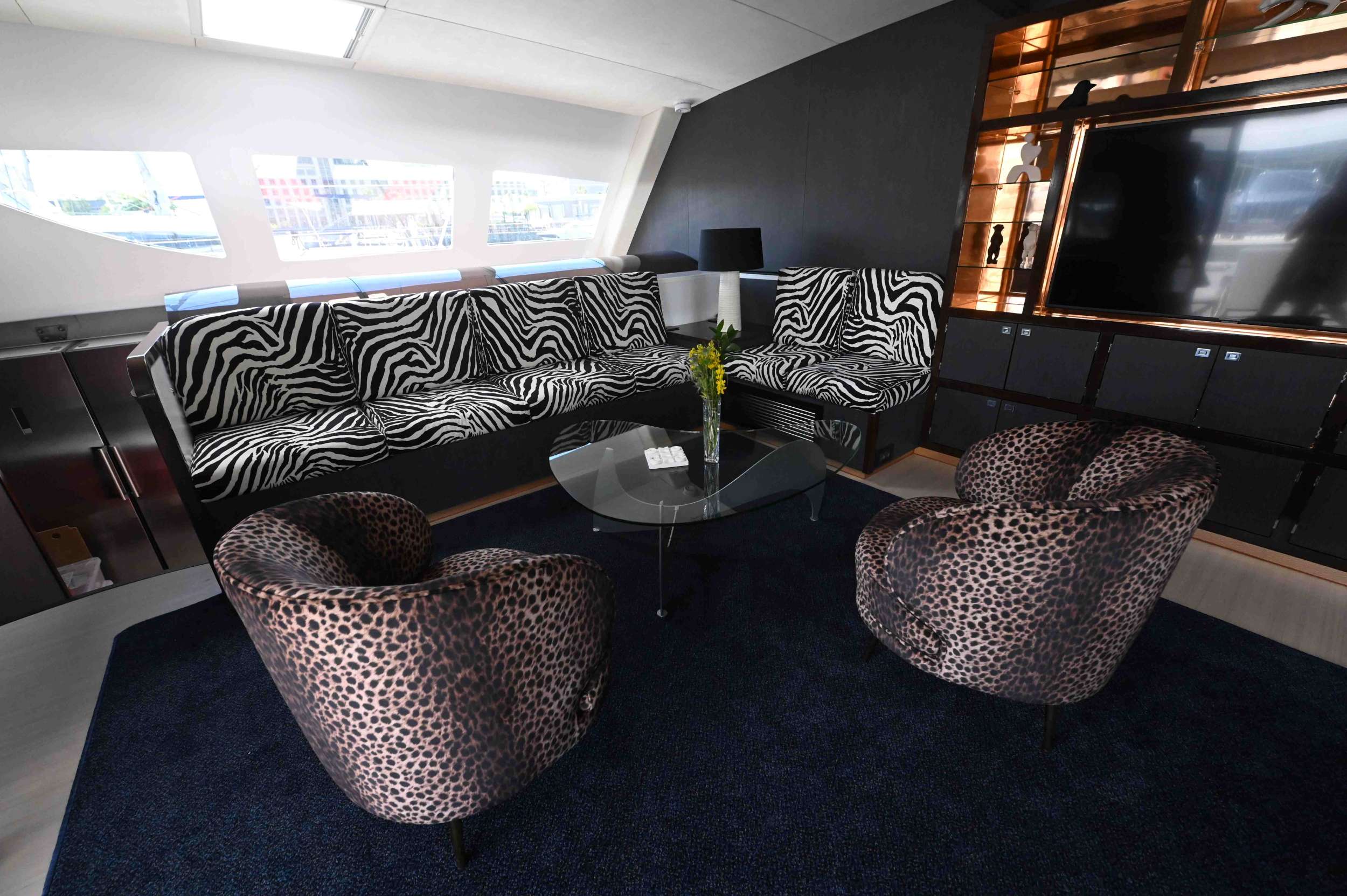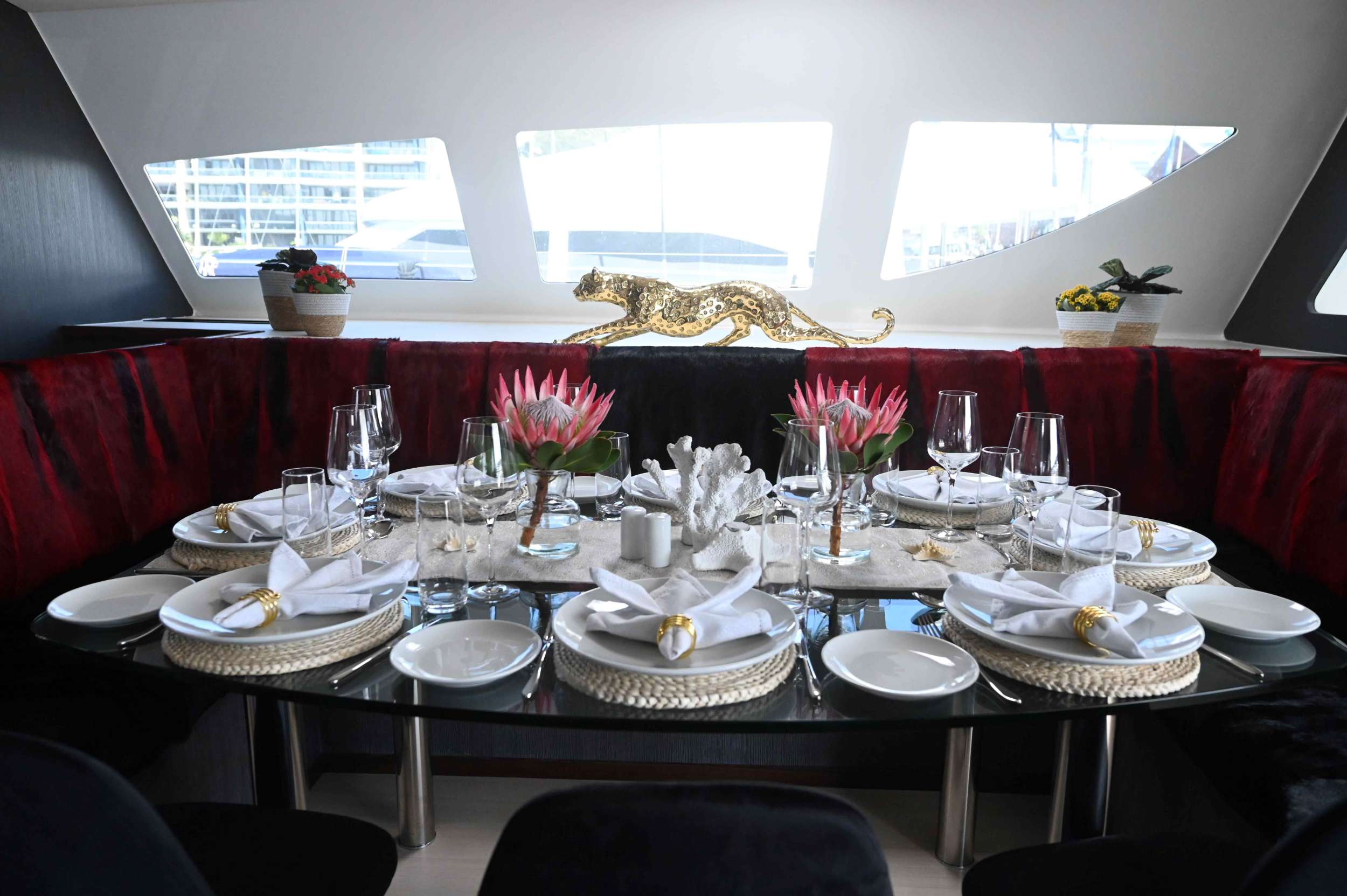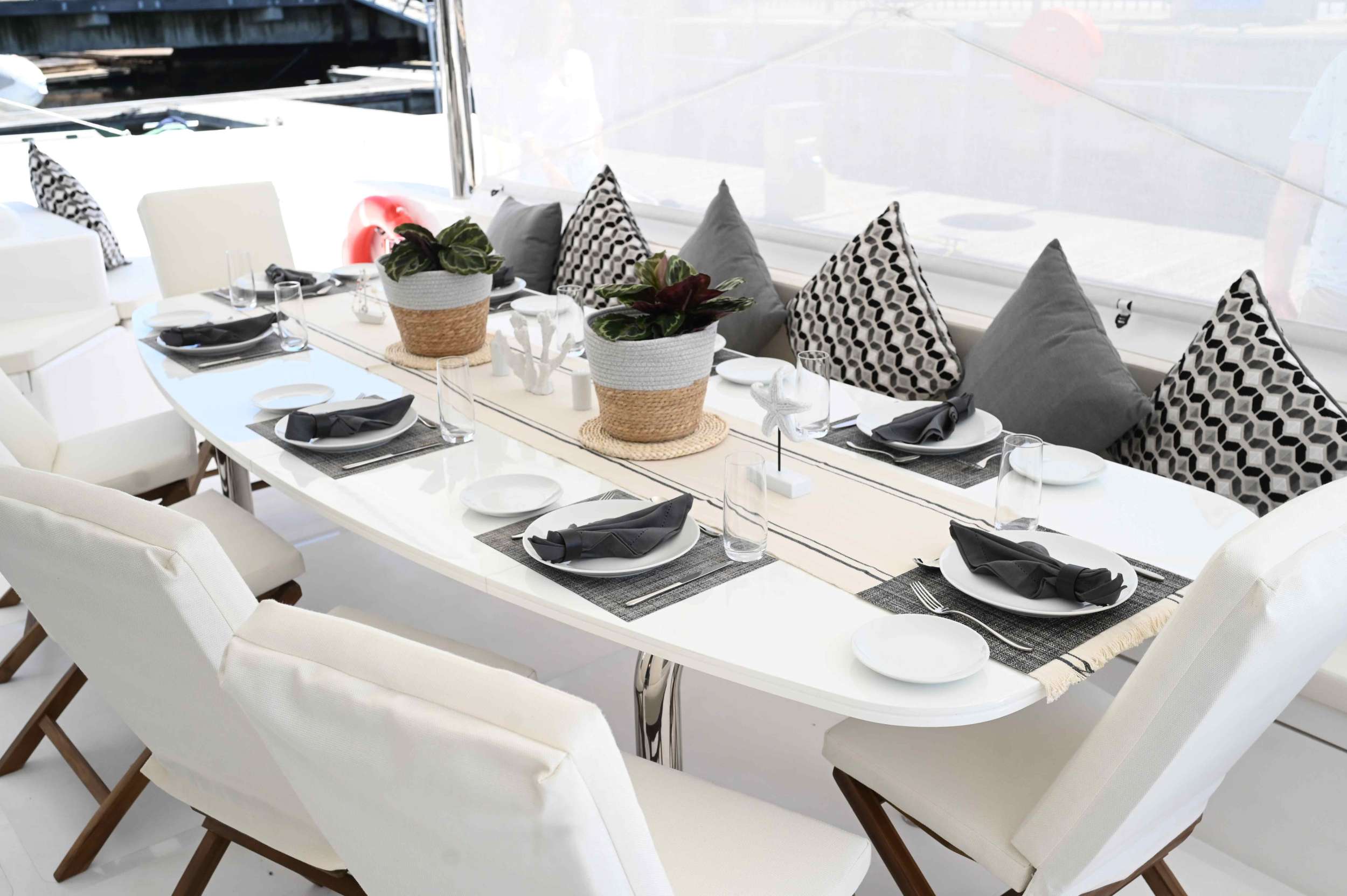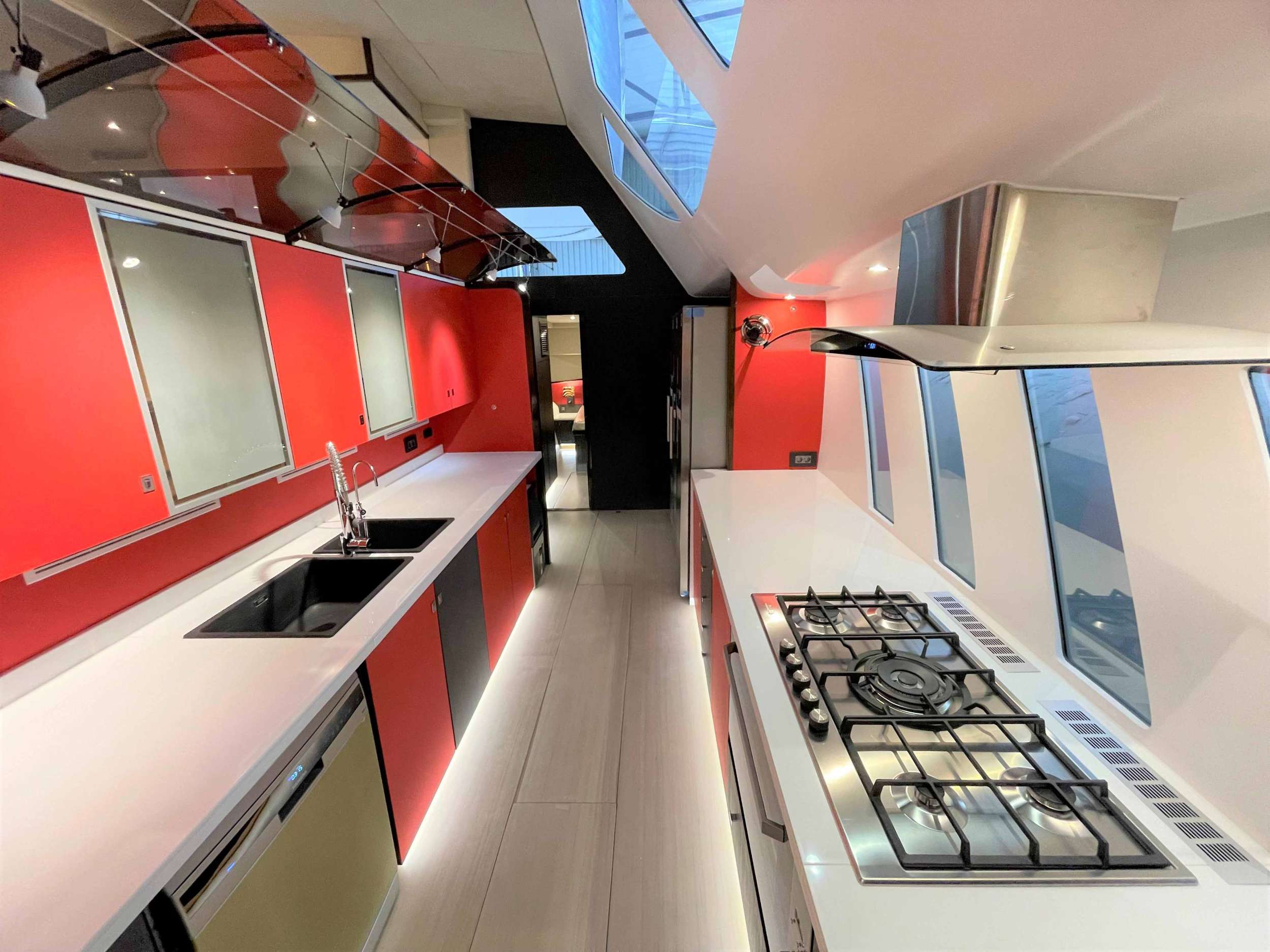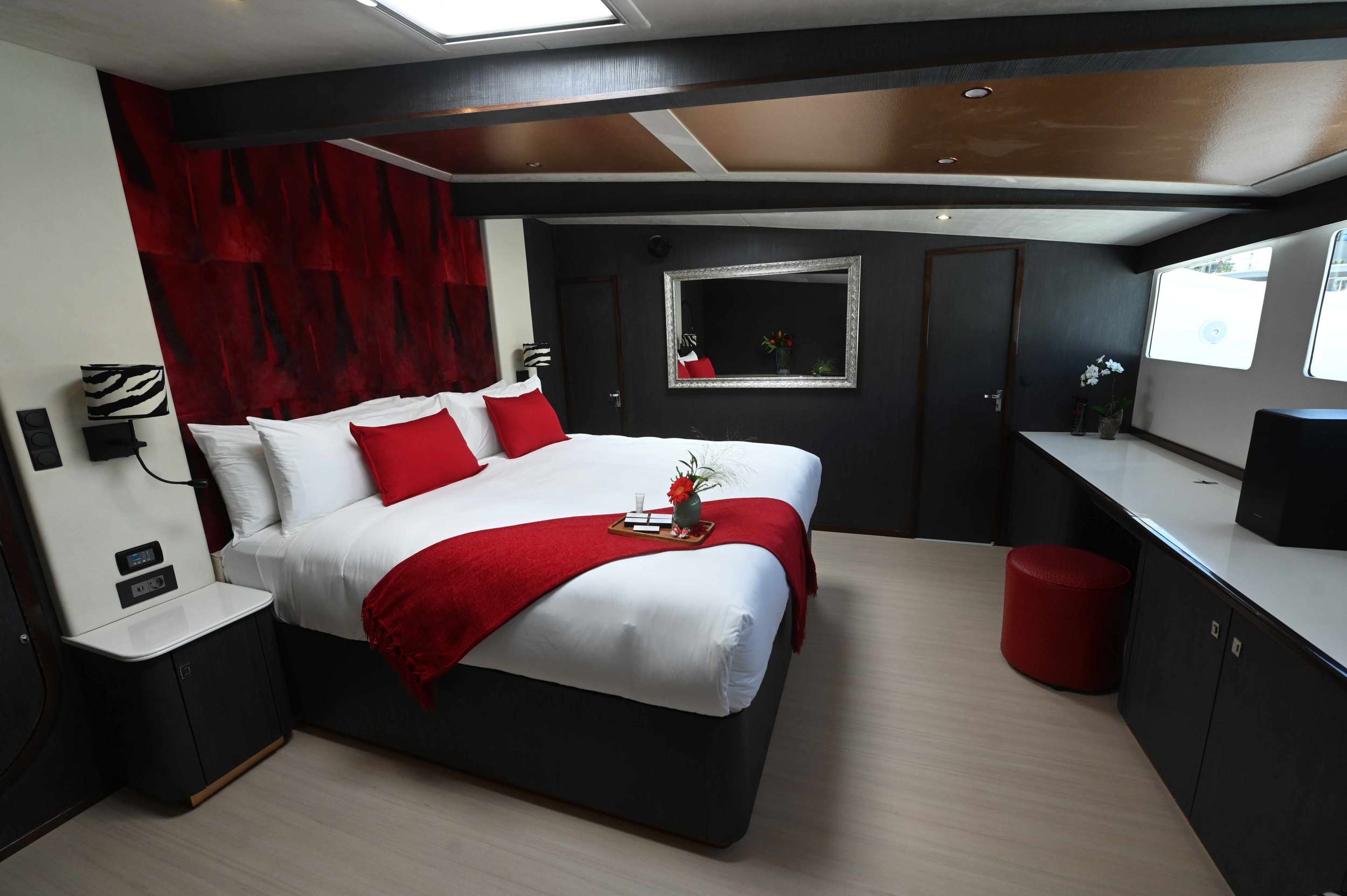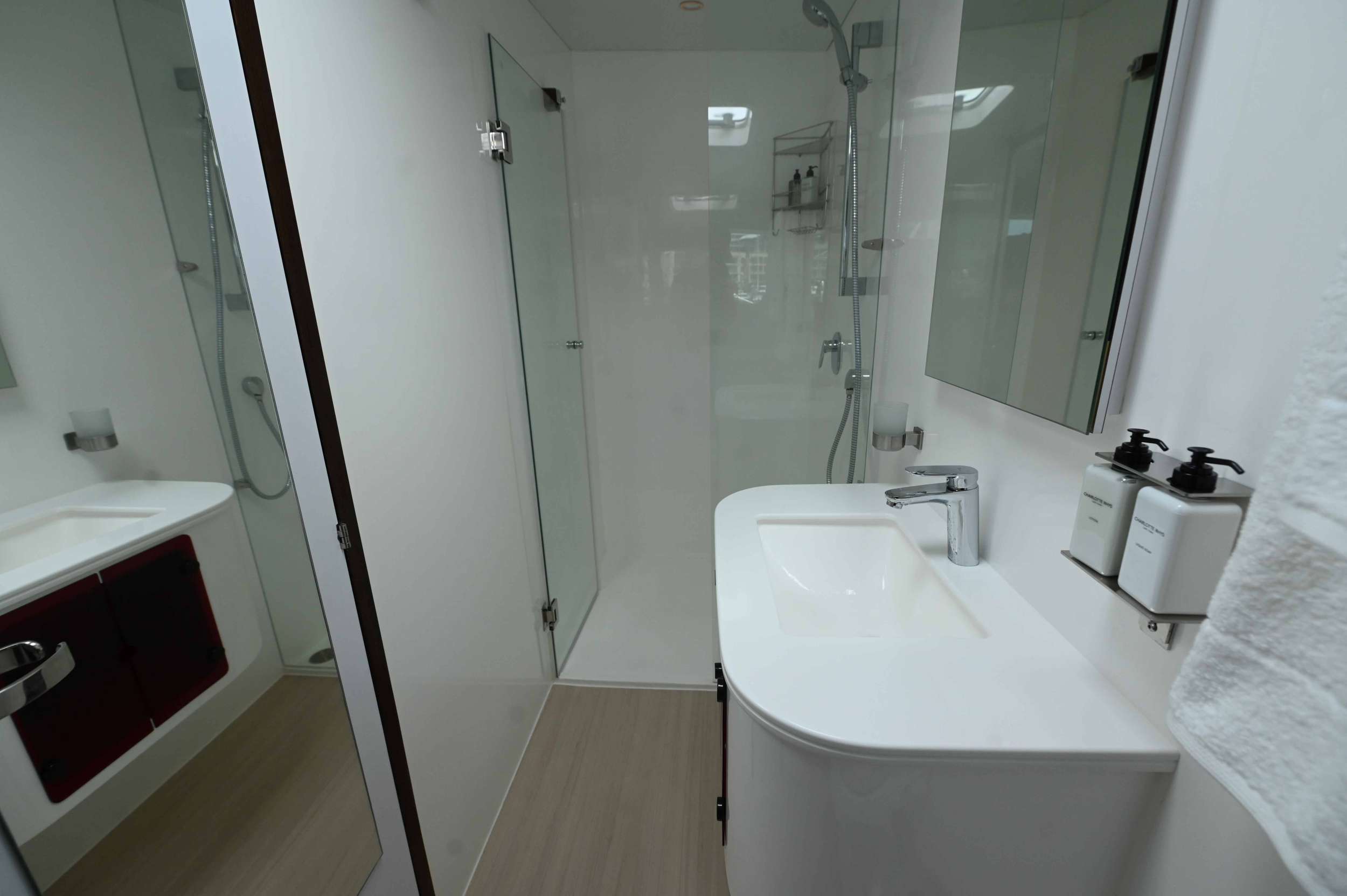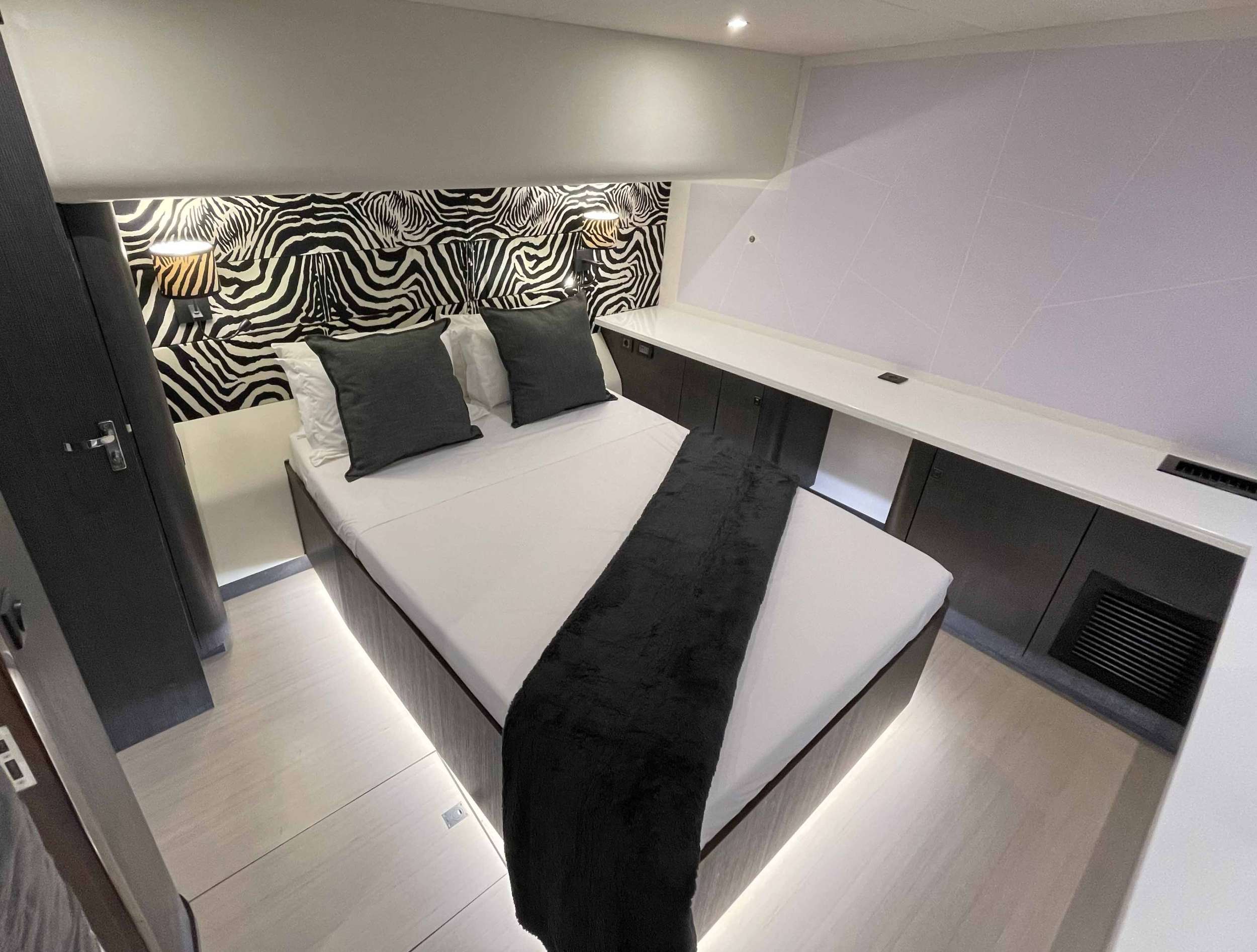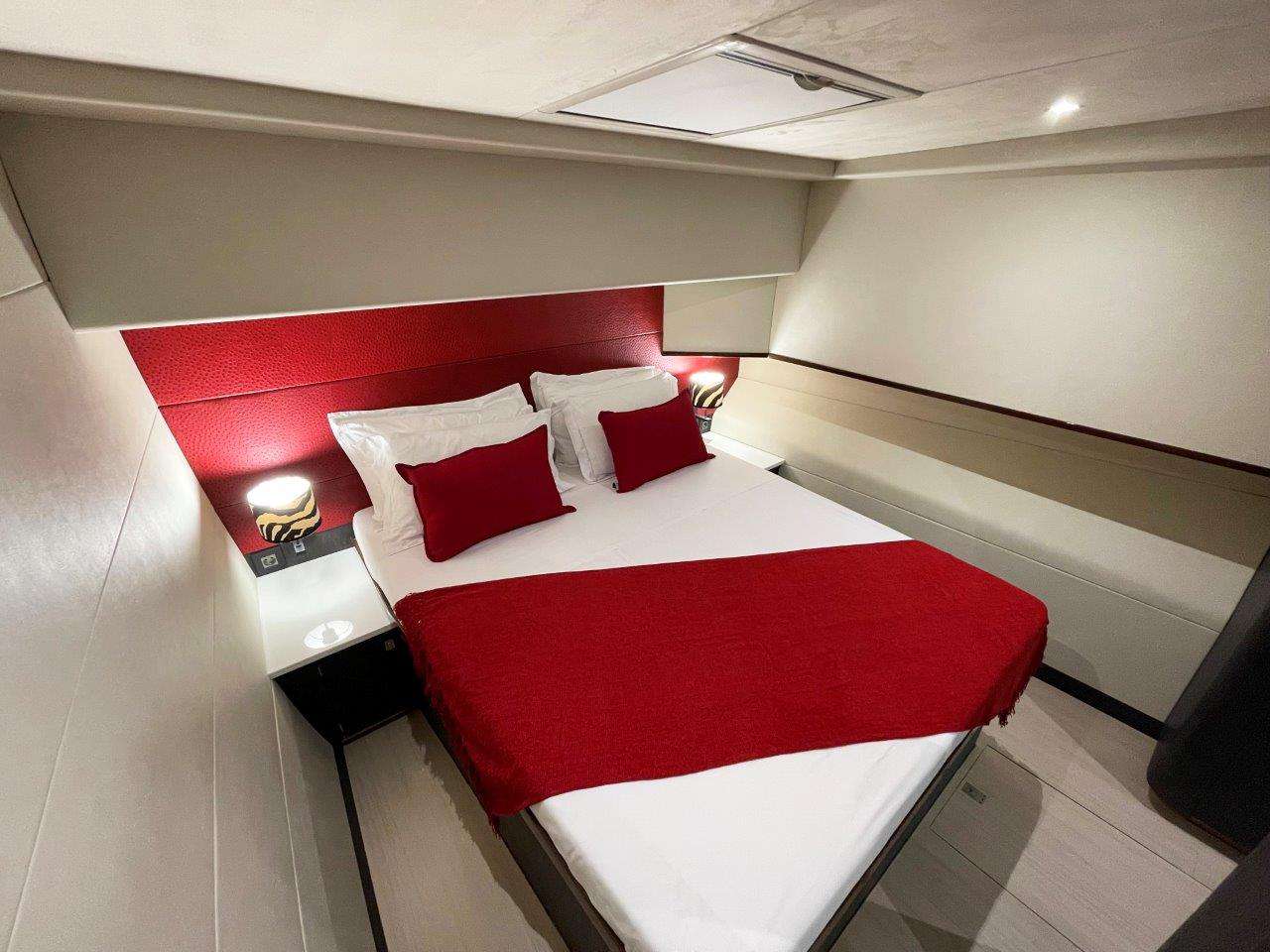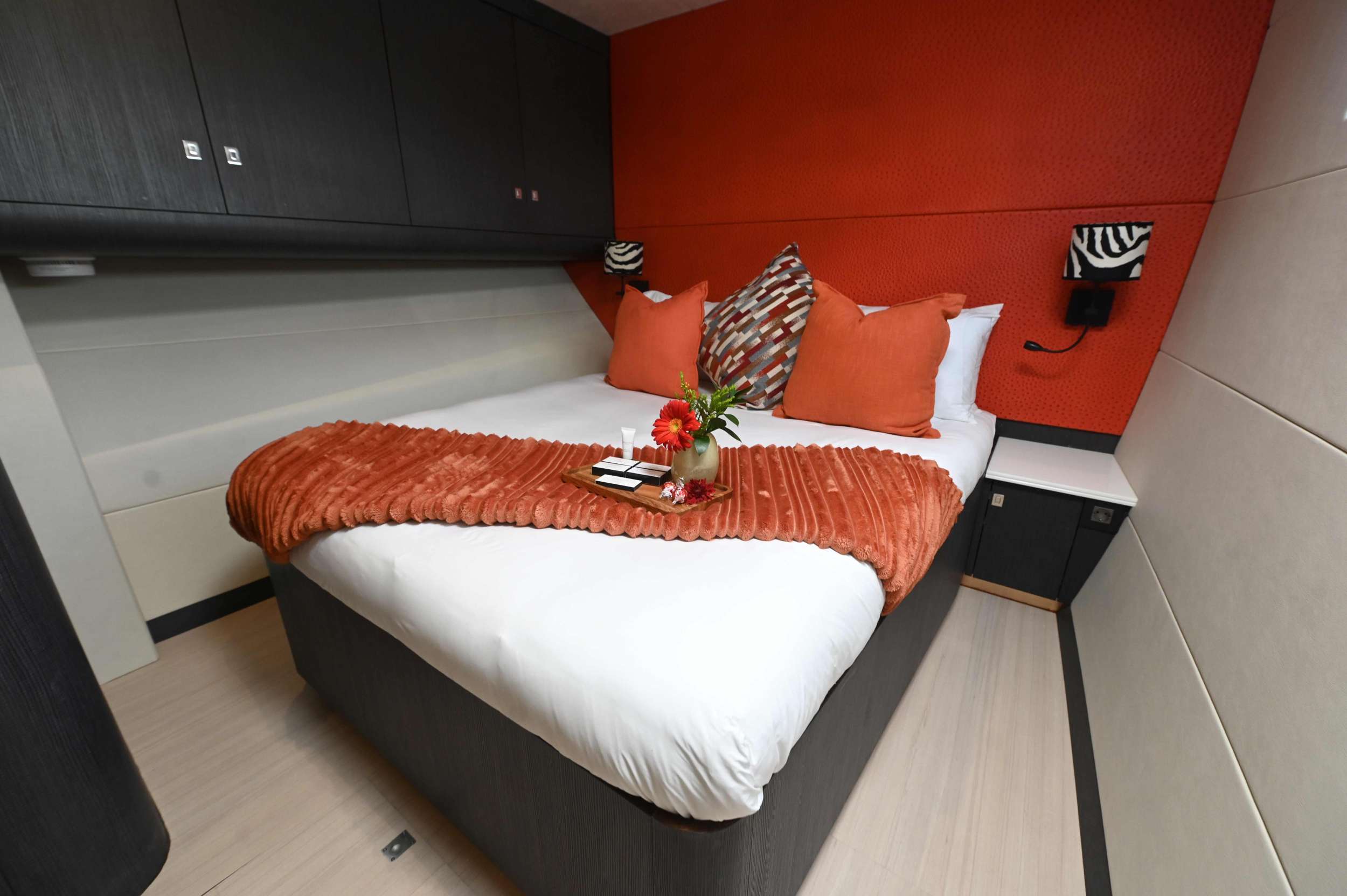 Accommodations
| | |
| --- | --- |
| Sleeps 10 guests in 5 guest stateroom(s). | |
| 1 with King Bed(s) | |
| 4 with Queen Bed(s) | |
Details
The master cabin's location on the main deck, facing forward, provides guests with a commanding view and easy access to the exterior spaces. This prime positioning allows for an impressive and spacious suite that is often preferred by those seeking the utmost in comfort and privacy.
The master includes:King size bed with upholstered head board, Remote controlled roller blinds for windows, Upholstered lounge settee, Vanity dressing table and ottoman,138 cm UHD TV. Ensuite bathroom with frameless glass shower
Meanwhile, the four guest cabins below deck maintain a cozy and private atmosphere, ensuring that all guests have their own dedicated space for relaxation and rest. The thoughtful layout and design to include amenities and features to enhance the overall guest experience, such as en-suite bathrooms, ample storage, and comfortable sleeping arrangements.
MASTER FWD 68″ x 76″
STB FWD 62″ x 63″
STB MID 57″ x 77″
STB AFT 58″ x 74″
Port AFT 58″ x 74″
Layout Diagram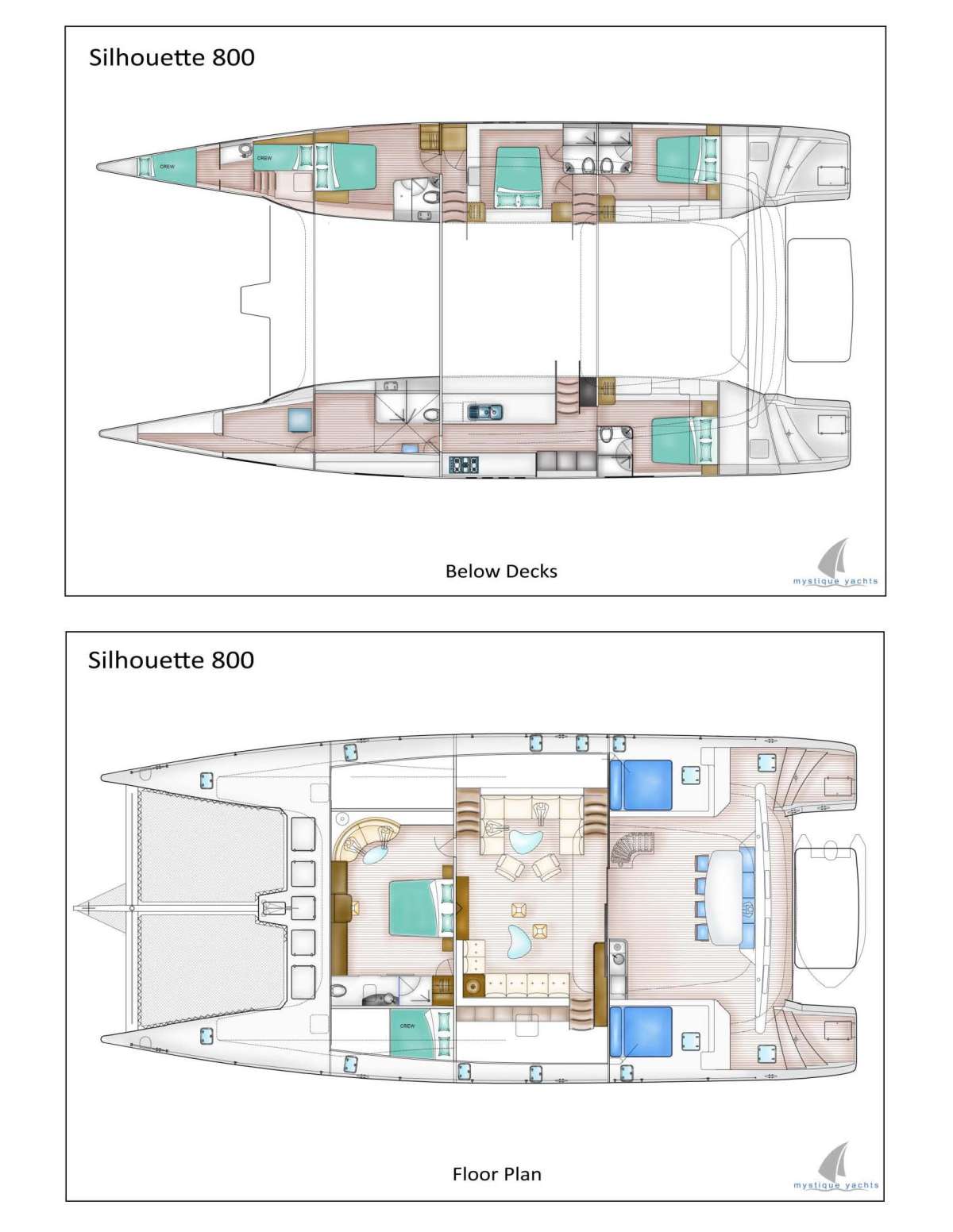 Specifications
| | |
| --- | --- |
| Guests | 10 |
| Staterooms | 5 |
| # Of Crew | 4 |
| Length | 80.00 Ft / 24.00 m |
| Beam | 36 ft |
| Draft | 5.7 ft |
| Built - Refit: | 2023 - No Refit Date Set |
| Builder | Silhouette |
| Cruising Speed | 12 kts |
Watersports
| | |
| --- | --- |
| Dinghy | 14 FT |
| Dinghy HP | 100 |
| Paddle Boards | 4 |
| Double Kayaks | 2 |
| Adult Water-skis | 1 |
| Kids Water-skis | 1 |
| Wakeboards | 1 |
| Snorkeling gear | Yes |
| Inflatable, towable tubes | 1 |
| Fishing Gear | Yes |
| Scuba Diving | Yacht offers Rendezvous Diving only |
Pricing
From:
75,000

To:
102,000
Winter 2023 to 2024
| | |
| --- | --- |
| 2 Guests | 75,000 |
| 3 Guests | 75,000 |
| 4 Guests | 75,000 |
| 5 Guests | 75,000 |
| 6 Guests | 75,000 |
| 7 Guests | 80,000 |
| 8 Guests | 80,000 |
| 9 Guests | 85,000 |
| 10 Guests | 85,000 |
Summer 2024
| | |
| --- | --- |
| 2 Guests | 75,000 |
| 3 Guests | 75,000 |
| 4 Guests | 75,000 |
| 5 Guests | 75,000 |
| 6 Guests | 75,000 |
| 7 Guests | 80,000 |
| 8 Guests | 80,000 |
| 9 Guests | 85,000 |
| 10 Guests | 85,000 |
Pricing Details
GENERAL RATES NOTE: All rates are for 7 nights, 8 days.
For short charters please use the divide-by-6 rule for figuring short charter premiums.
Charters of less than 6 nights available depending on schedule and season, please inquire.

CHRISTMAS AND NEW YEARS RATES: 2023/24 season available for St Martin
- Two Separate Weeks, Please
CHRISTMAS 2023: 1-10 guests @ $85,000 inclusive, 7 night minimum.
NEW YEARS 2023/2024: 1-10 guests @ $93,500, 7 night minimum.

CHRISTMAS AND NEW YEARS RATES: 2024/25 BVI Only
CHRISTMAS 2024: 1-10 guests @ $102,000 inclusive, 7 night minimum.
NEW YEARS 2024/25: 1-10 guests @ $102,000 inclusive 7 night minimum.
PLEASE INQUIRE FOR FURTHER PRICING DETAILS
Crew Profile
Captain
Captain Paul Vivian's fascination with the water began at the earliest stages of his life, quite literally, with his first word being "water." His maritime journey commenced at just 8 days old, when his father took him aboard his power boat, laying the foundation for a lifelong love for the ocean. This enduring passion led him to a beginner's sailing course in 2008, steering his life towards a fulfilling career in sailing. Today, with 16 years of competitive sailing and professional yachting under his belt, he holds prestigious qualifications as an RYA & SAMSA Yacht Master.
Over the years, Captain Paul has been at the helm of a diverse range of sailing yachts including Multi-hulls, Mono-hulls, and Performance sailing yachts. His sailing prowess has earned him provincial sailing colors for competitive dinghy & keel-boat sailing, and allowed him to represent South Africa in numerous international regattas. Notably, he secured a triumphant 2nd place at the Rolex Maxi World Championships and proudly represented his country in the prestigious Youth America's Cup.

On board Sailing Yacht Skye, Captain Paul and his dedicated crew are committed to delivering exemplary service to guests amidst the breathtaking scenery of the British Virgin Islands (BVI). Ensuring the safety and satisfaction of the guests is at the forefront of every charter, with a meticulously maintained yacht and a crew proficient in safety protocols.
Beyond sailing, Captain Paul indulges in a variety of interests including competitive sailing, surfing, cycling, reading, and fishing. His engaging interaction with guests coupled with a harmonious camaraderie among the crew fosters a welcoming and enjoyable atmosphere aboard Skye.
With a collection of glowing testimonials from previous guests, Captain Paul Vivian is not just a captain, but a seasoned mariner, dedicated to making every charter aboard Sailing Yacht Skye treasured nautical adventure.

Chef

Deck Hand / Yacht Manager
Introducing Warren Pearce, the vibrant soul of Yacht SKYE, an experienced mariner whose enthusiasm for life and deep-seated love for the ocean guarantee that every voyage is a thrilling adventure. Hailing from the lively coastal city of Durban, South Africa, Warren is the living embodiment of the sea's spirit. At 37 years young, Warren boasts an impressive 18-year career in event management and hospitality, but his true essence shines when he's on the water. For five exhilarating years, he played a vital role aboard a splendid 76ft charter yacht along Cape Town's breathtaking coastlines. During this time, he expertly blended his sailing expertise with his event management finesse. Under Warren's capable guidance, the yacht ceased to be just a vessel; it transformed into a stage for mesmerizing theater productions, elegant dinners, soul-stirring concerts, and exclusive corporate soirées, all beneath the starry night sky and embraced by the vast, endless ocean.

As the Deck Hand of Yacht SKYE, Warren is more than just a mariner; he's a memory weaver. From snorkeling to wakeboarding to island adventures, each moment spent on board becomes an indelible part of your soul's tapestry, courtesy of his unwavering dedication and profound connection to the sea. Beyond the deck, Warren's interests lead him to thrilling outdoor escapades, making him an ardent enthusiast for watersports that will have your heart racing with excitement. His wanderlust carries him to exciting destinations, and he approaches each moment with the passion of a dedicated foodie, ensuring that every culinary experience is a mouthwatering delight. With Warren Pearce on board, Yacht SKYE promises more than a mere journey; it's an unforgettable odyssey, an exploration of the sea's beauty, and a thrilling adventure. Join him in crafting joyful moments that will forever be etched into your heart, reminding you of the sheer fun and excitement of life on the water.

Stewardess
Meet Caitlin Olivier. She is the heart and driving force behind the exceptional service on sailing yacht SKYE. Caitlin's dedication and passion are the cornerstone of the exceptional service experienced on Yacht SKYE.
Hailing from the scenic Cape Town, South Africa, Caitlin's love for water has been innate. From playful days at the beach to a daring ocean crossing spanning 6,500 nautical miles from Cape Town to Europe and around the Balearic Islands, Caitlin's journey has been nothing short of magical.
While her title aboard Yacht SKYE is that of a stewardess, Caitlin has multifaceted skills. She dove into the yachting world during her health and skincare studies, doubling as a spa stewardess on a yacht at Cape Town's local waterfront on her weekends off. This simultaneous journey saw her honing culinary skills, mastering line handling, and even playing the part of a deckhand when needed. Caitlin's versatility is evident: a qualified stewardess, a spa therapist,and an entrepreneur who once spearheaded her own mobile massage and nail business.

Just after she finished high school, Caitlin's time as an au pair in the Netherlands deepened hercultural understanding & love for children. This, combined with almost two years of elite silver service at esteemed U.S. country clubs like St Andrews, Jonathan's Landing, and The Waterfall, showcases her diverse and impressive background. Further reflecting her commitment topersonal growth, Caitlin balanced these experiences with pursuing a BA in Elementary Education online.

Onboard Yacht SKYE, Caitlin embodies warmth, professionalism, and intuition. Her ever-presentsmile, empathetic nature, and keen understanding of guests' needs ensure every voyage is memorable. Caitlin's organizational prowess, high energy, and team spirit elevate the SKYE experience. Her hobbies, which range from outdoor adventures to absorbing inspirational reads, further enrich the tapestry of her love for life.
Choosing Yacht SKYE means opting for a voyage of unparalleled service with a touch of magic. As she looks ahead, Caitlin's ambition remains clear: to carve a legacy in the world of yachting. Join her aboard SKYE for an experience that's both serene and sublime.




Additional Information
Skye is designed to provide an exceptional and luxurious experience for its guests. It can accommodate a total of 10 guests and 4 crew members, ensuring that everyone on board receives top-notch service and attention. One of the standout features of the yacht is the bridge-deck owner's suite, which is likely the most spacious and opulent cabin on board. This suite is designed to provide the utmost comfort and privacy for the owner of the yacht. In addition to the owner's suite, there are 4 guest cabins in the hulls of the yacht. These cabins are also described as spacious and well-appointed, indicating that they are equipped with high-quality furnishings and amenities to ensure a luxurious stay for the guests. The interior design of the yacht is characterized by bold red and black elements, creating a dramatic and visually striking ambiance. This design choice is likely to leave a strong impression on anyone on board and adds to the overall luxurious atmosphere. The yacht also features a spacious cockpit and a well-equipped flybridge, which are both designed to provide comfortable and enjoyable outdoor spaces for guests to relax and take in the surroundings. One of the notable features of the yacht is the large electronically operated dive platform at the aft dive deck. This platform serves multiple functions, including lifting a tender, providing a lounging area for guests to dip their feet in the water, and functioning as a swimming platform. The convenience of being able to raise and lower the platform with a push-button switch adds to the overall versatility and enjoyment of the yacht. Overall, this description highlights the meticulous attention to detail and the presence of luxury amenities that make this yacht an appealing choice for those seeking a high-end yachting experience. It combines comfort, style, and functionality to ensure a memorable and enjoyable voyage for all on board.
Destinations