Gallery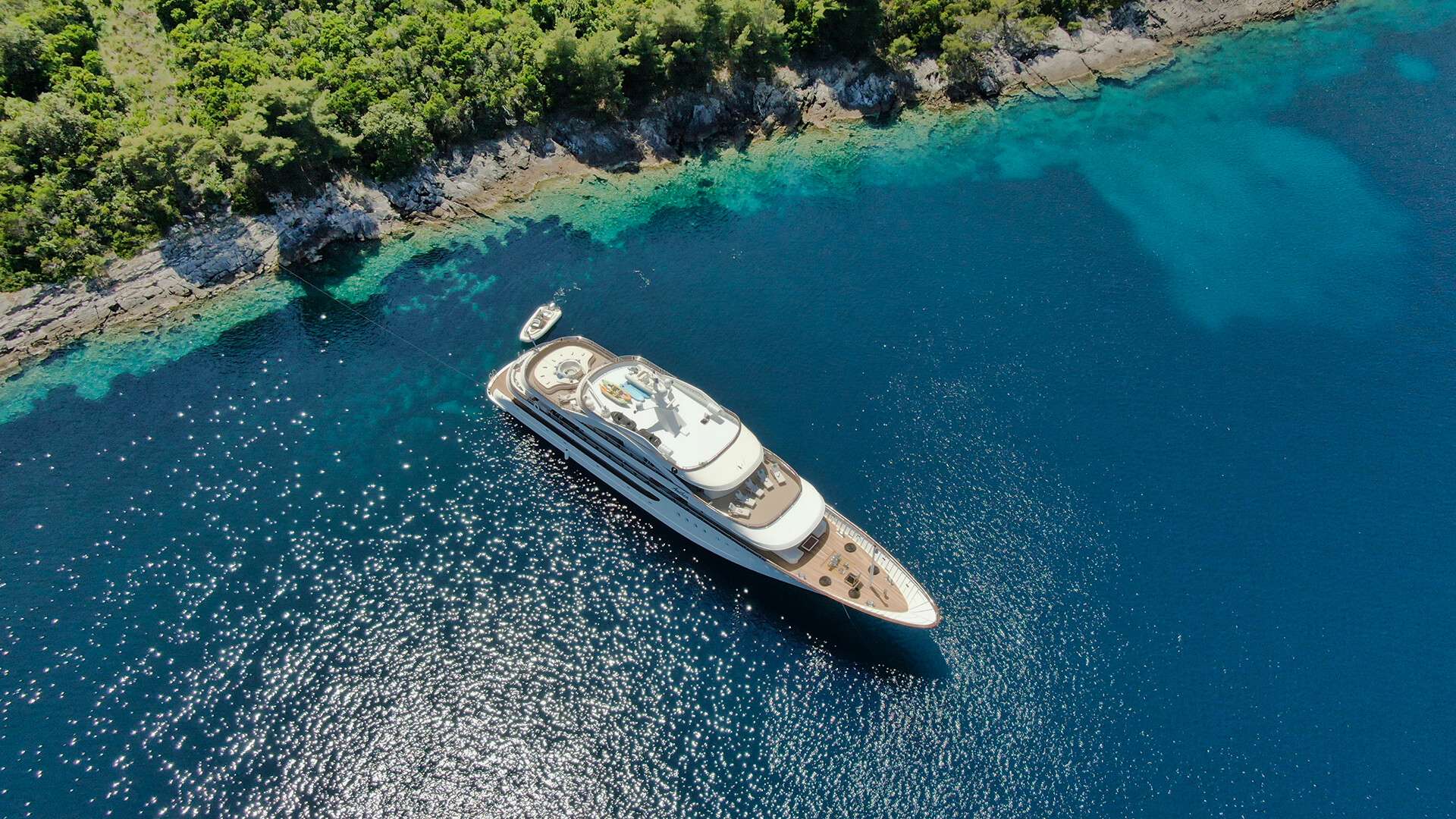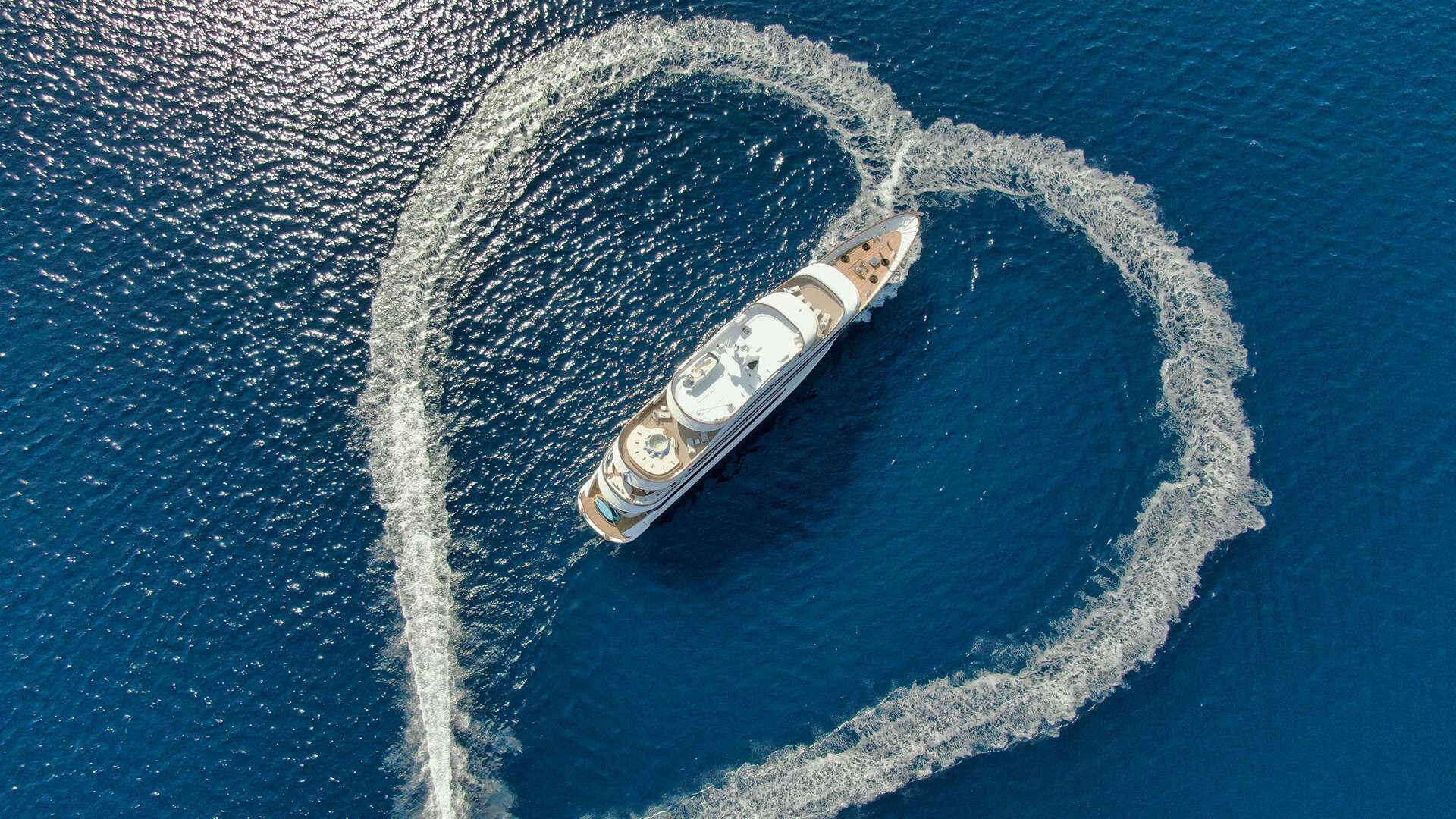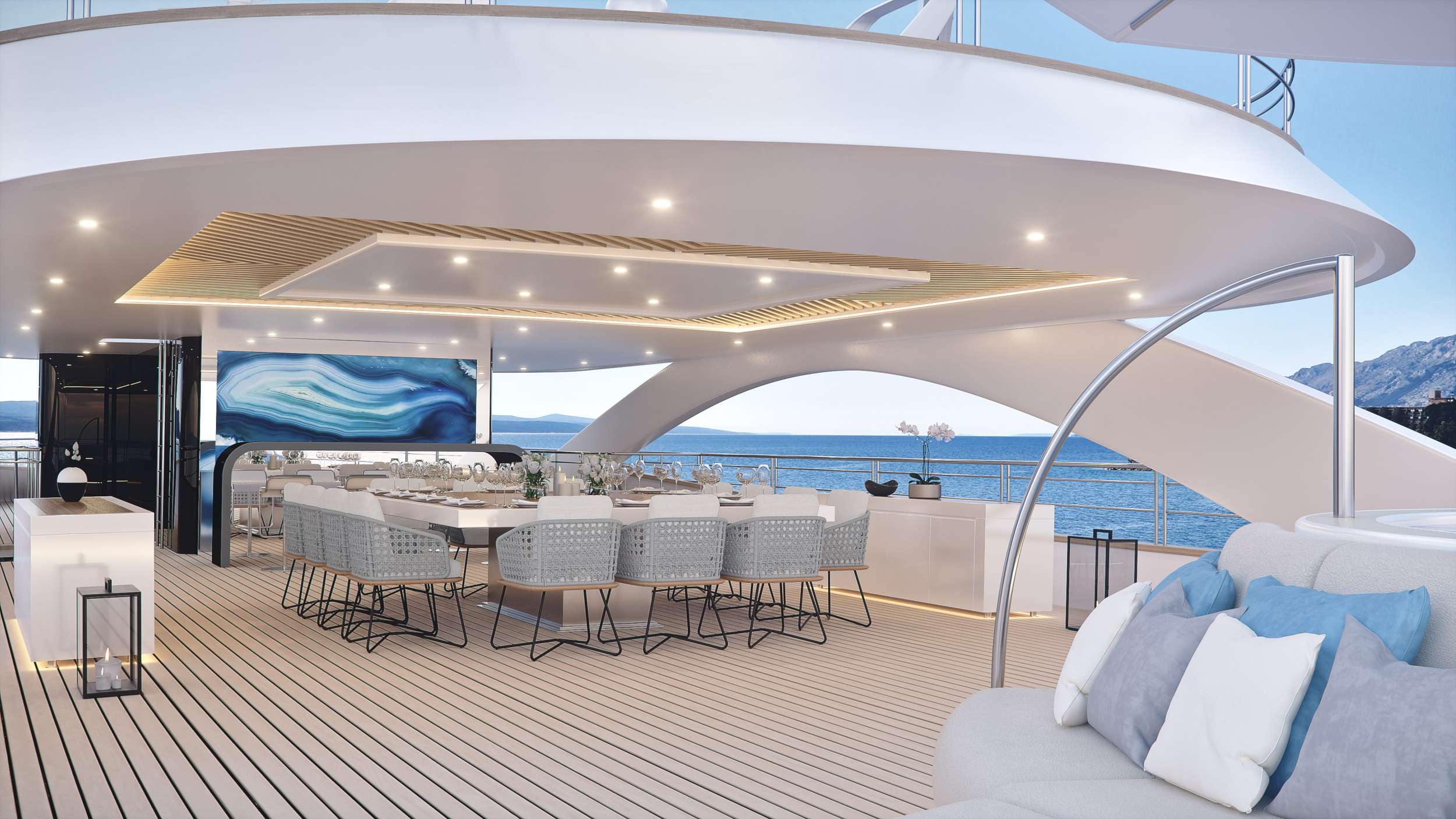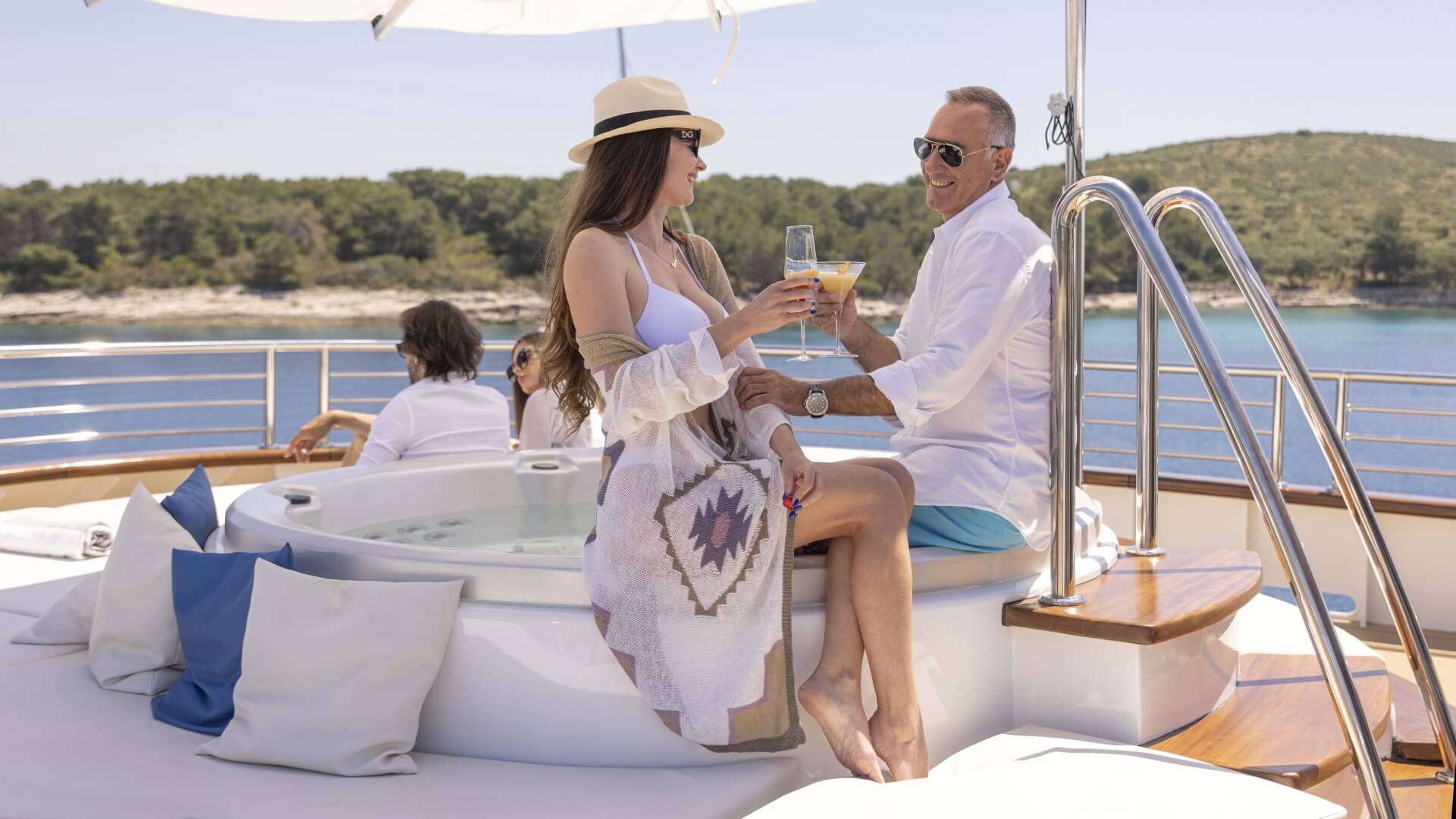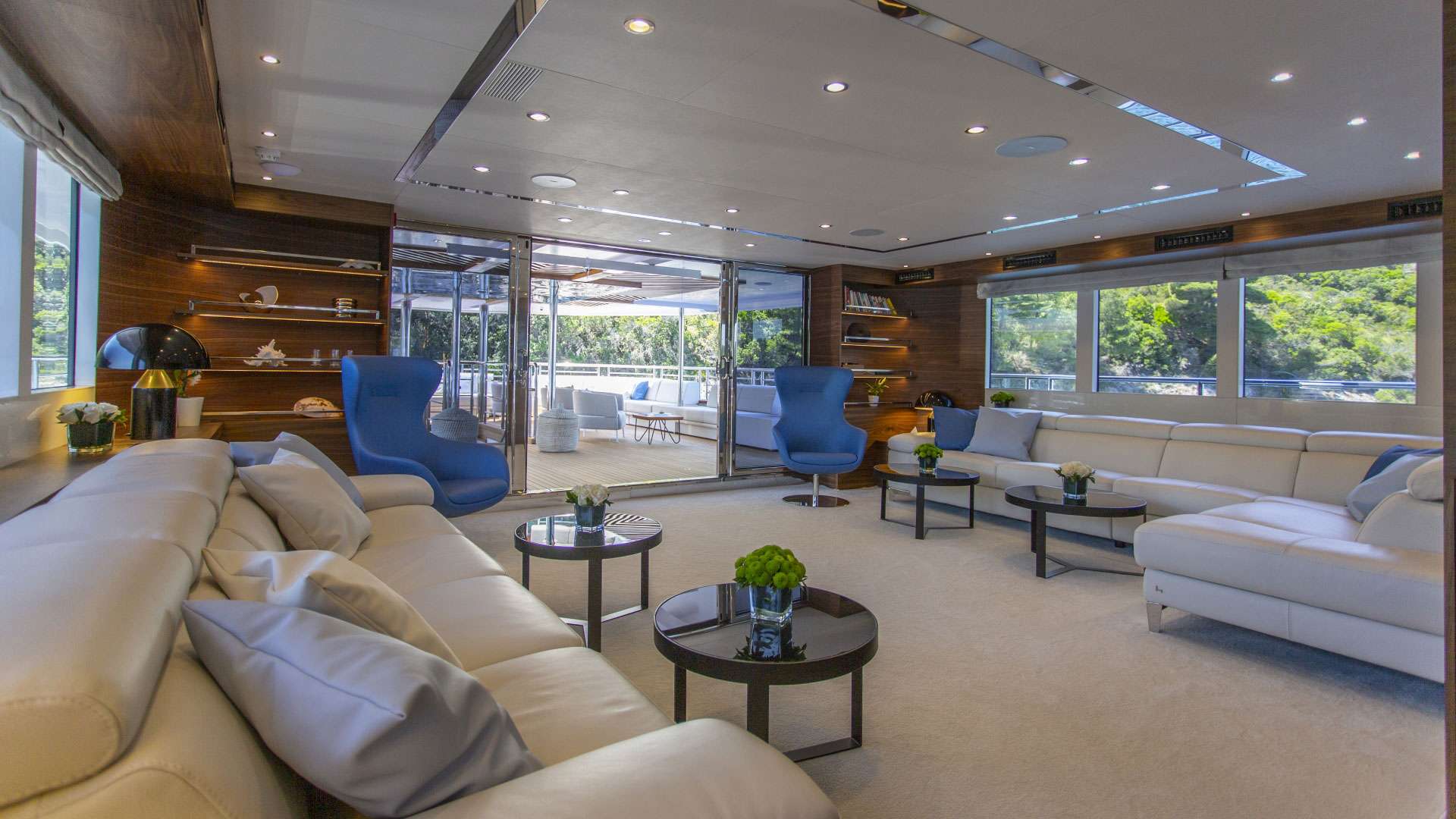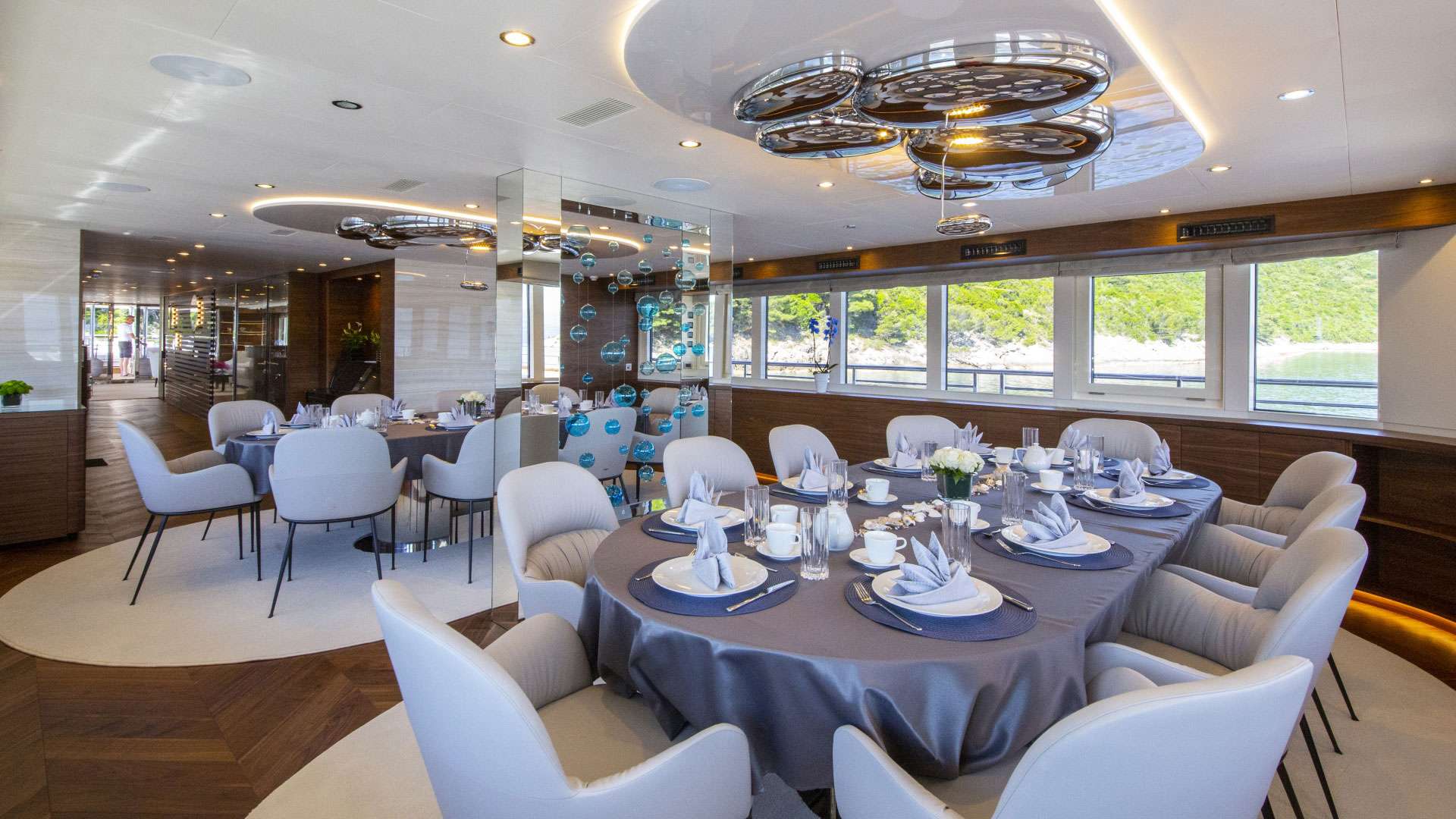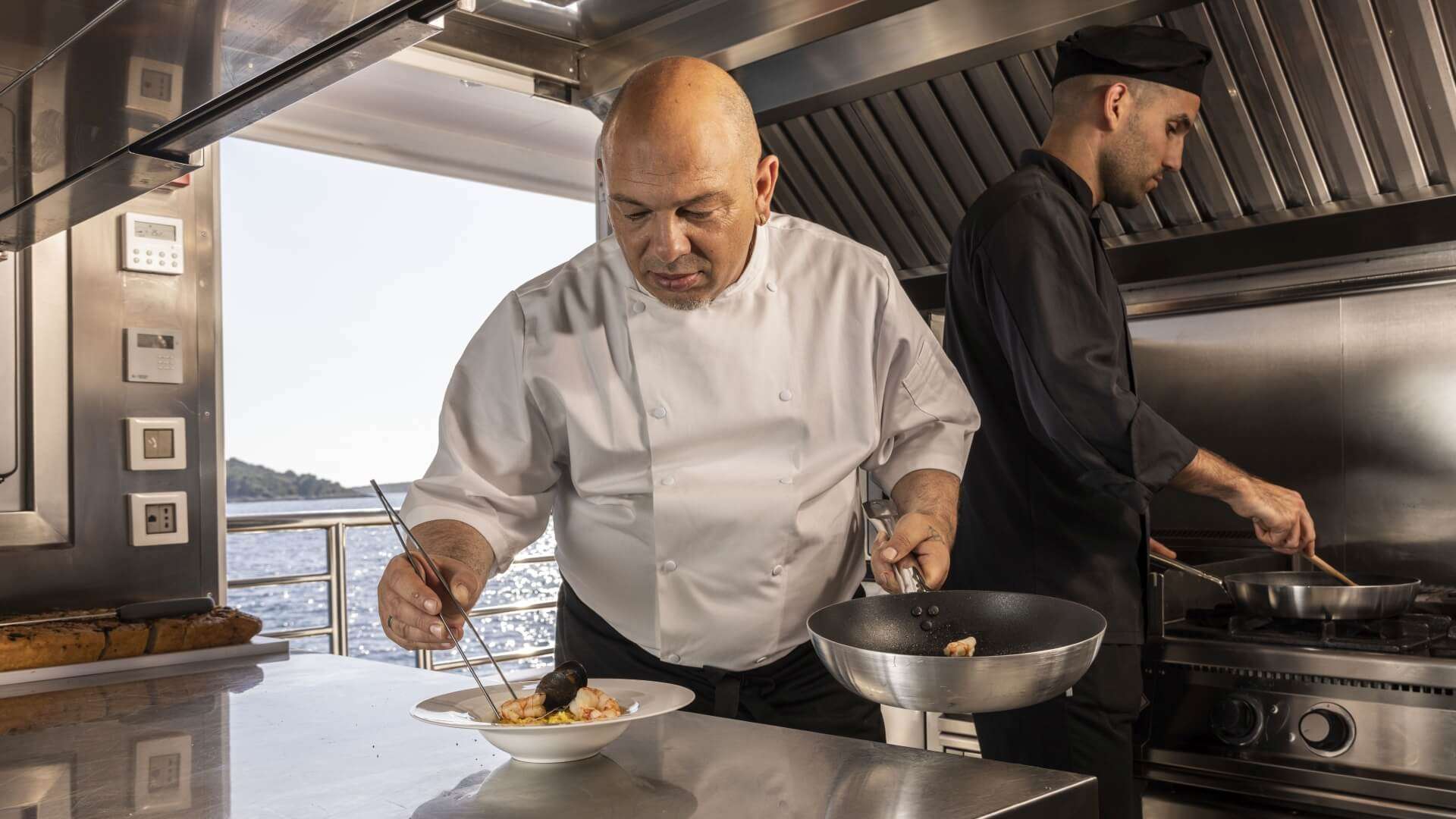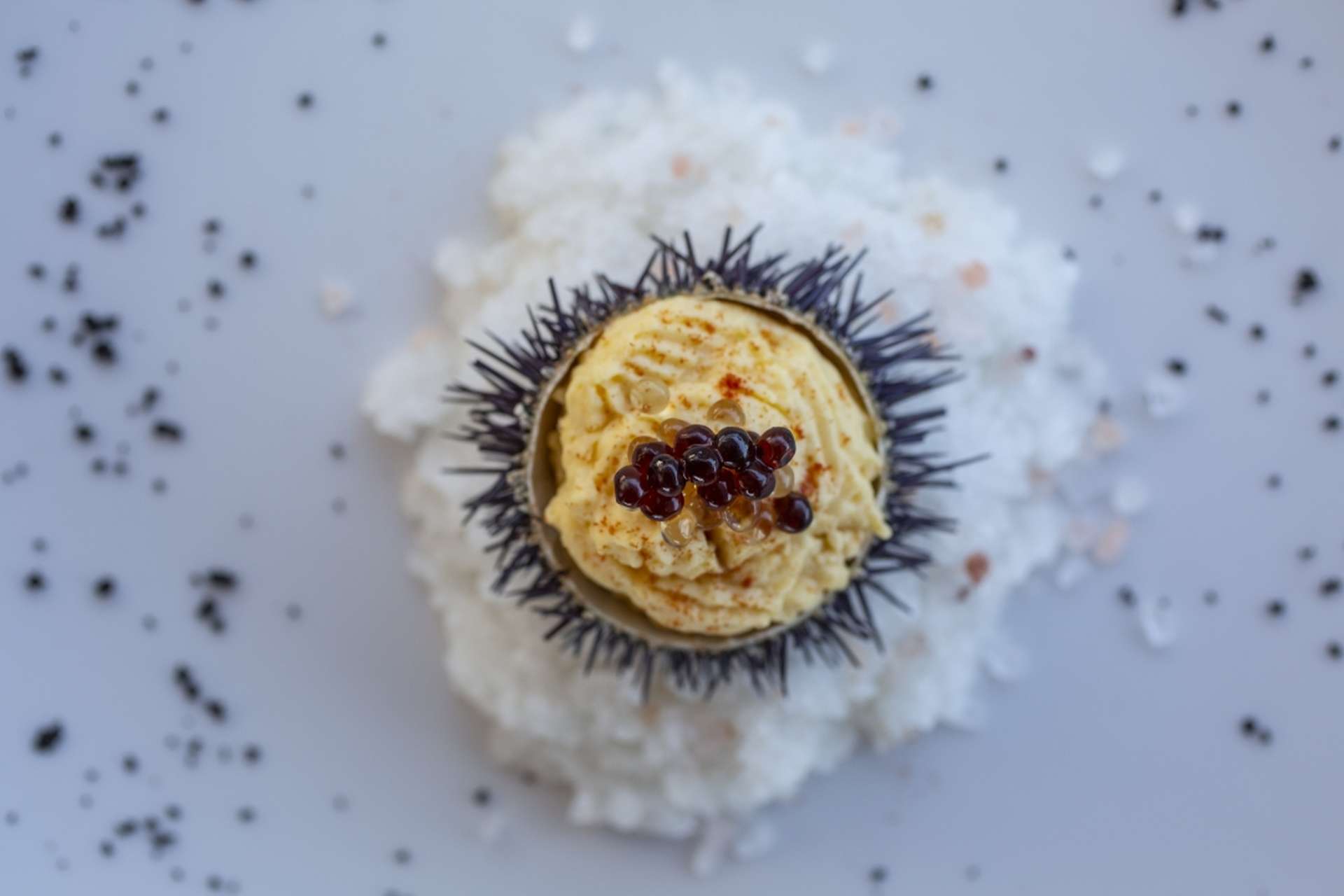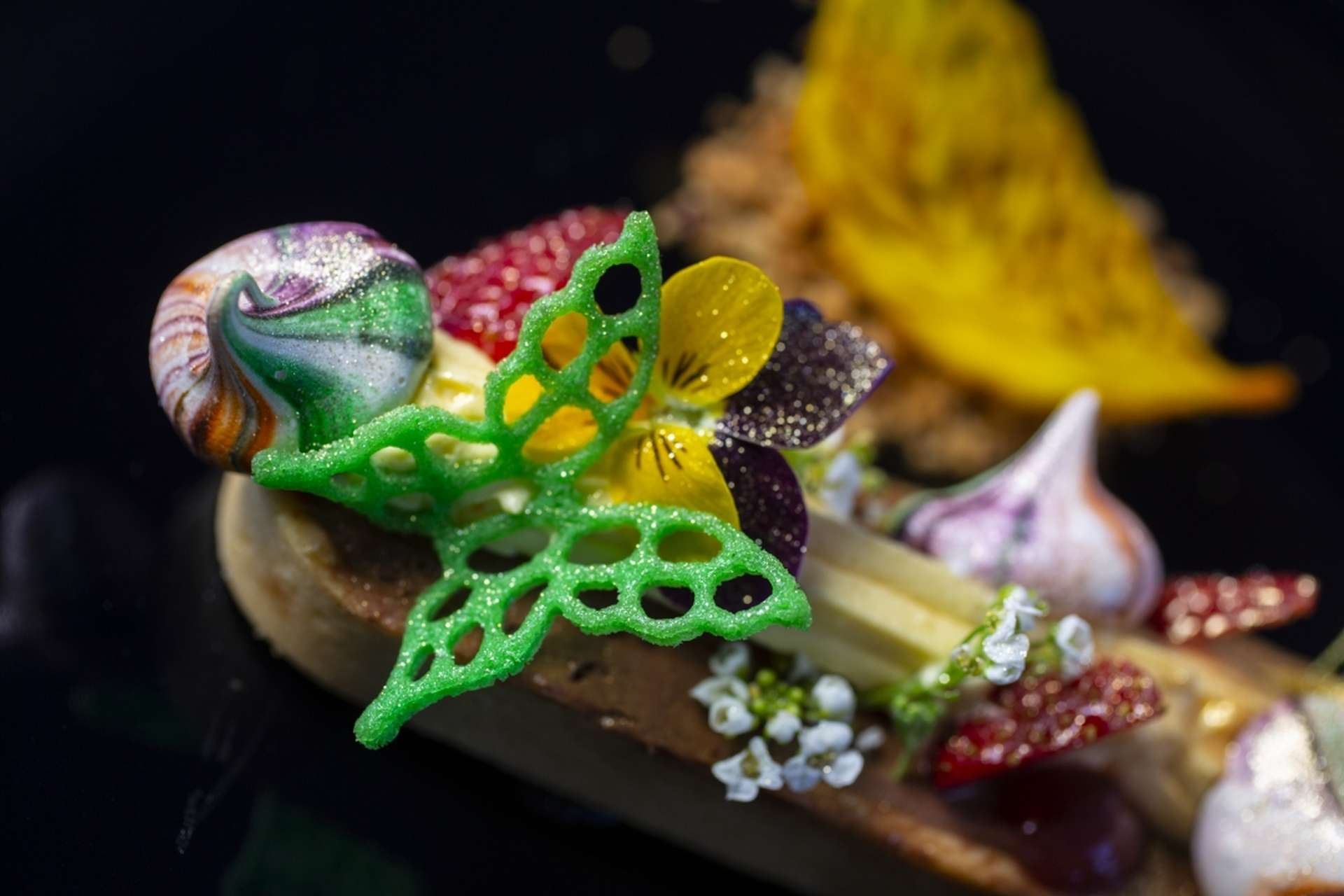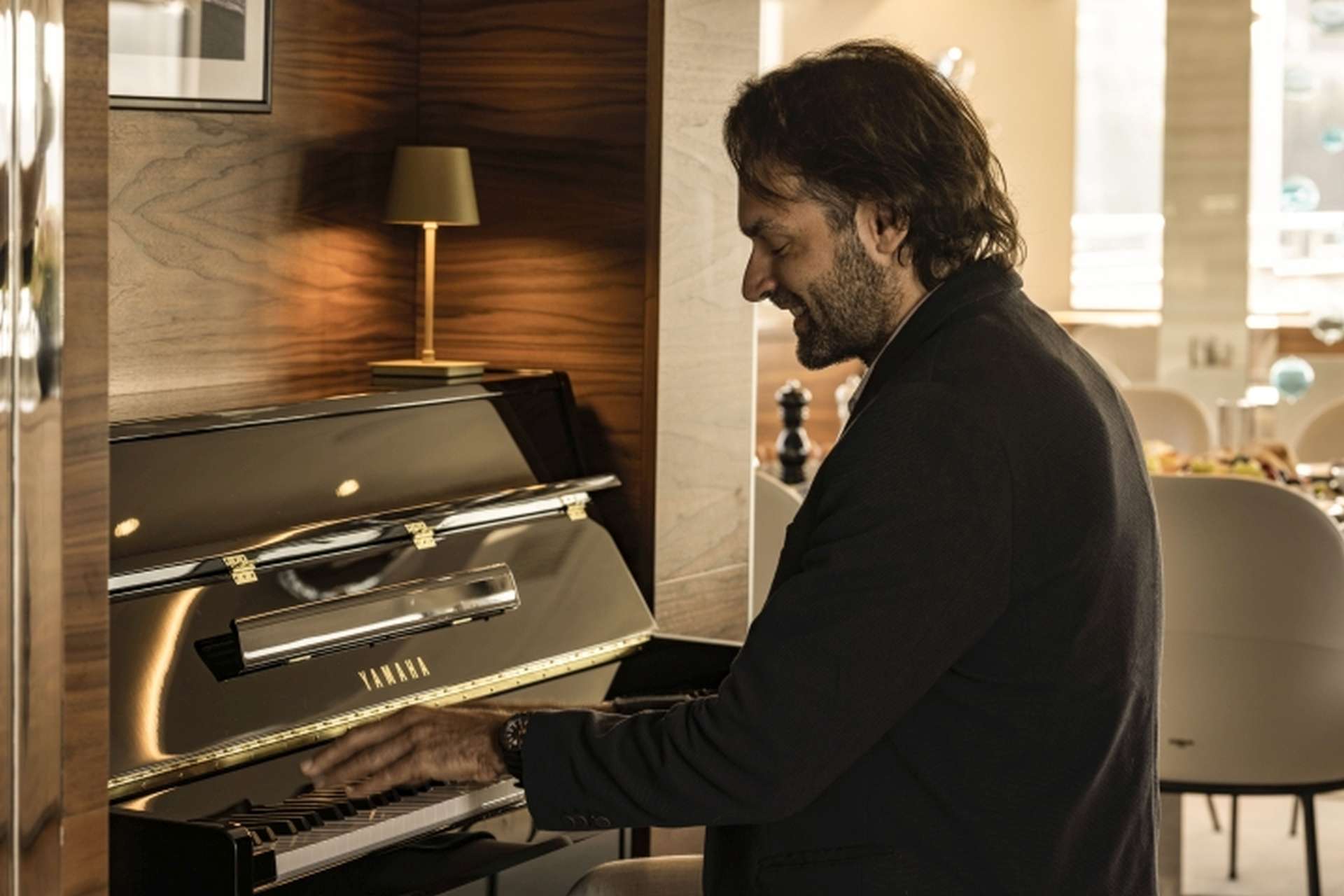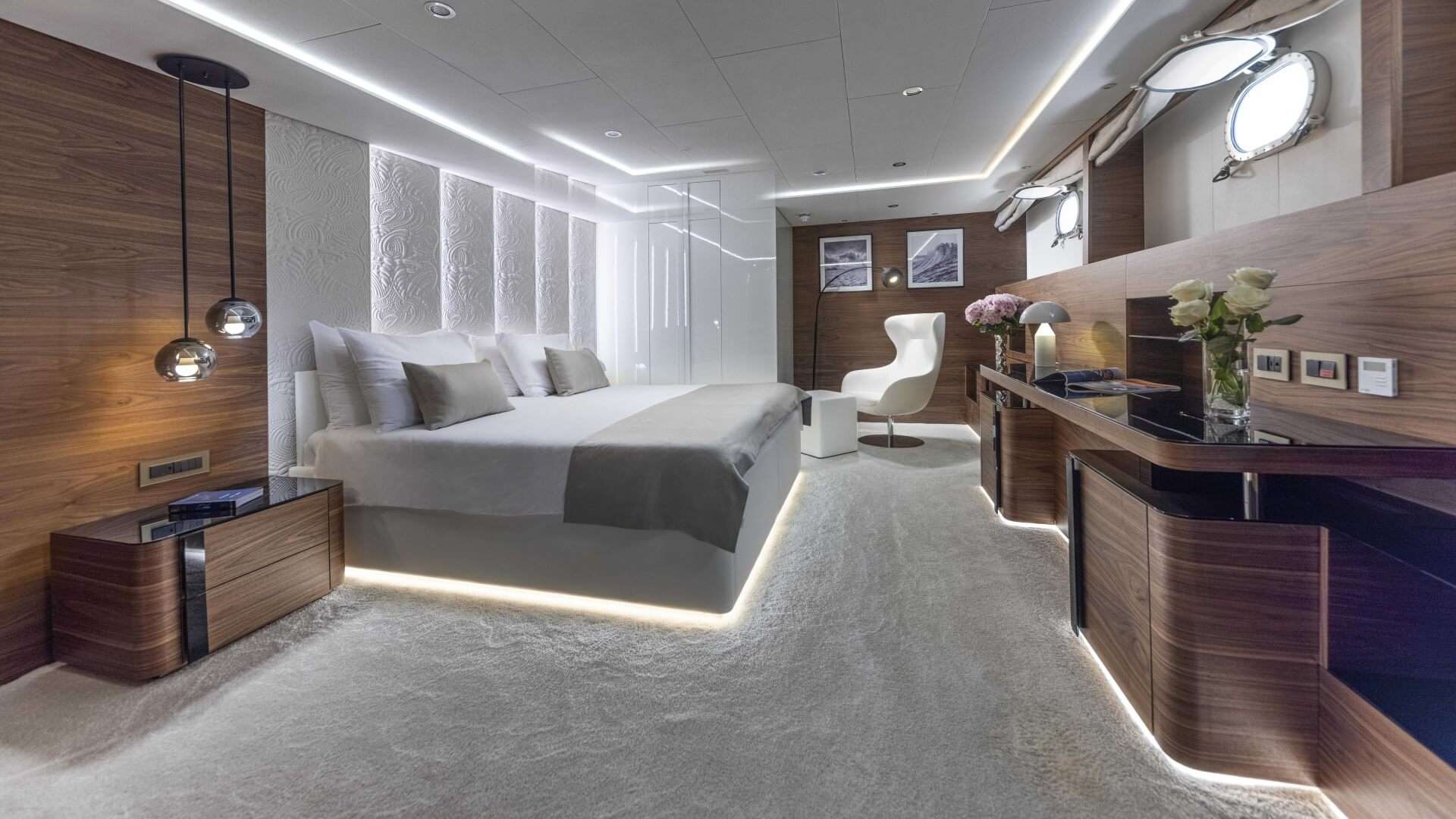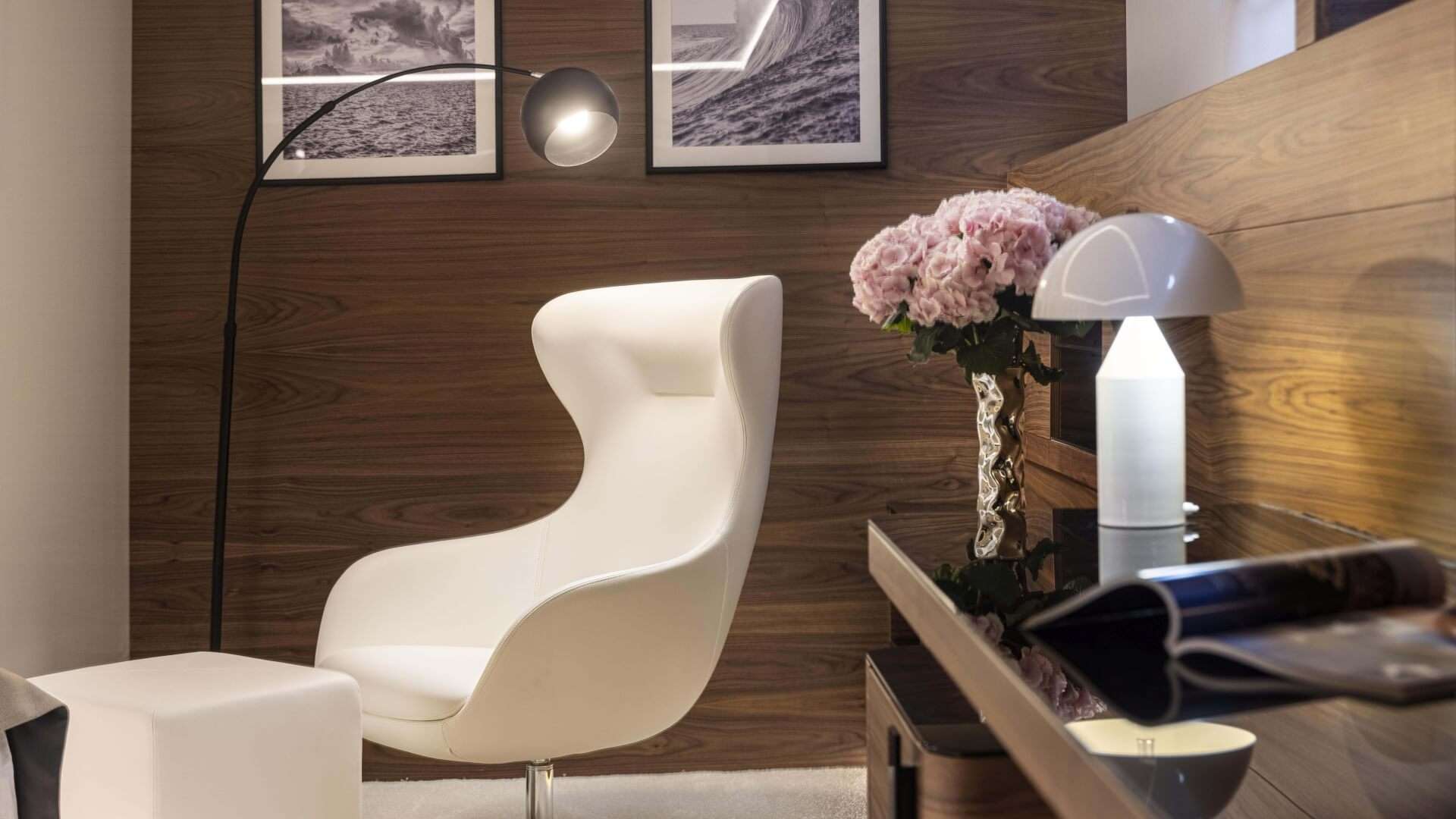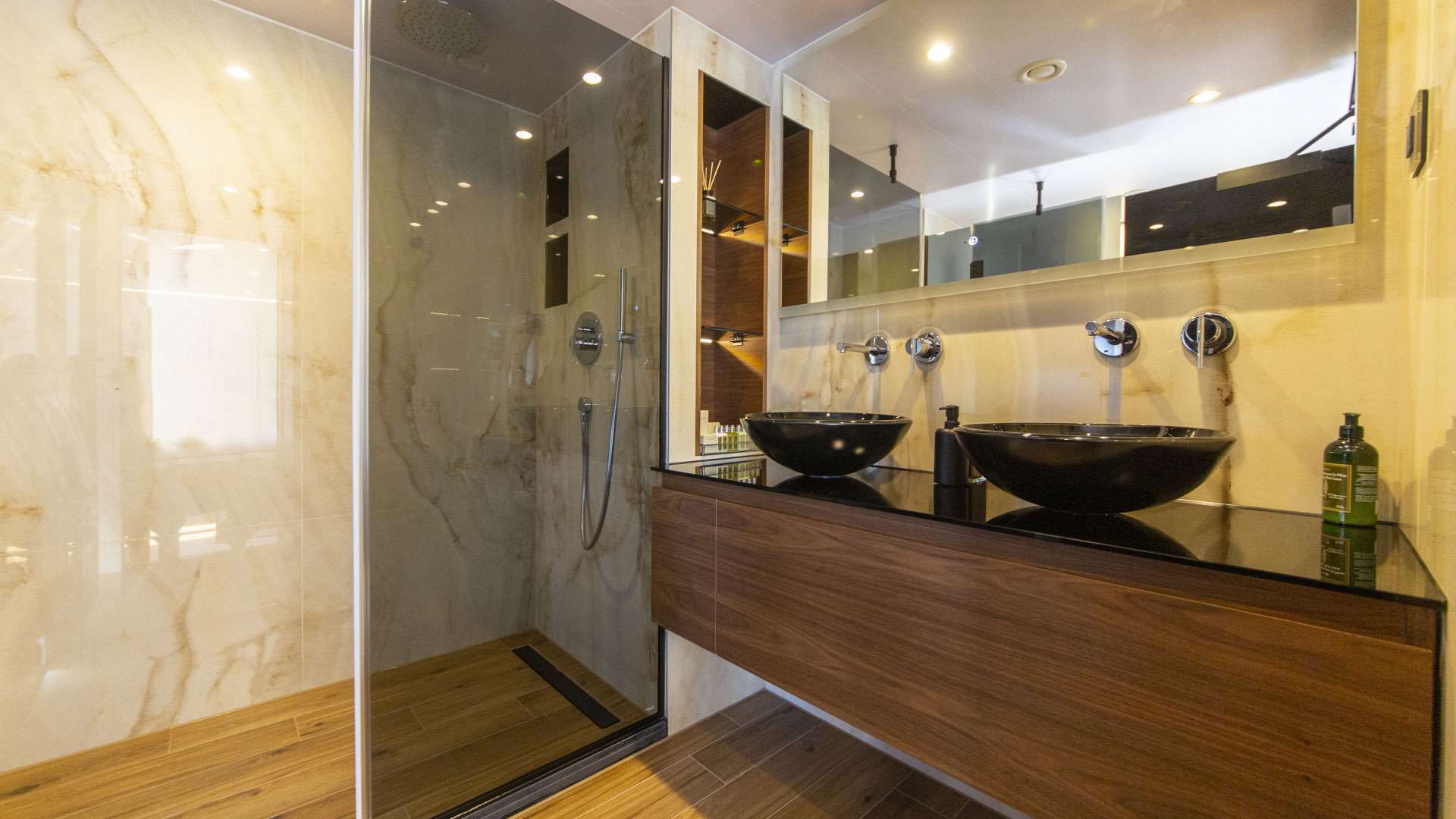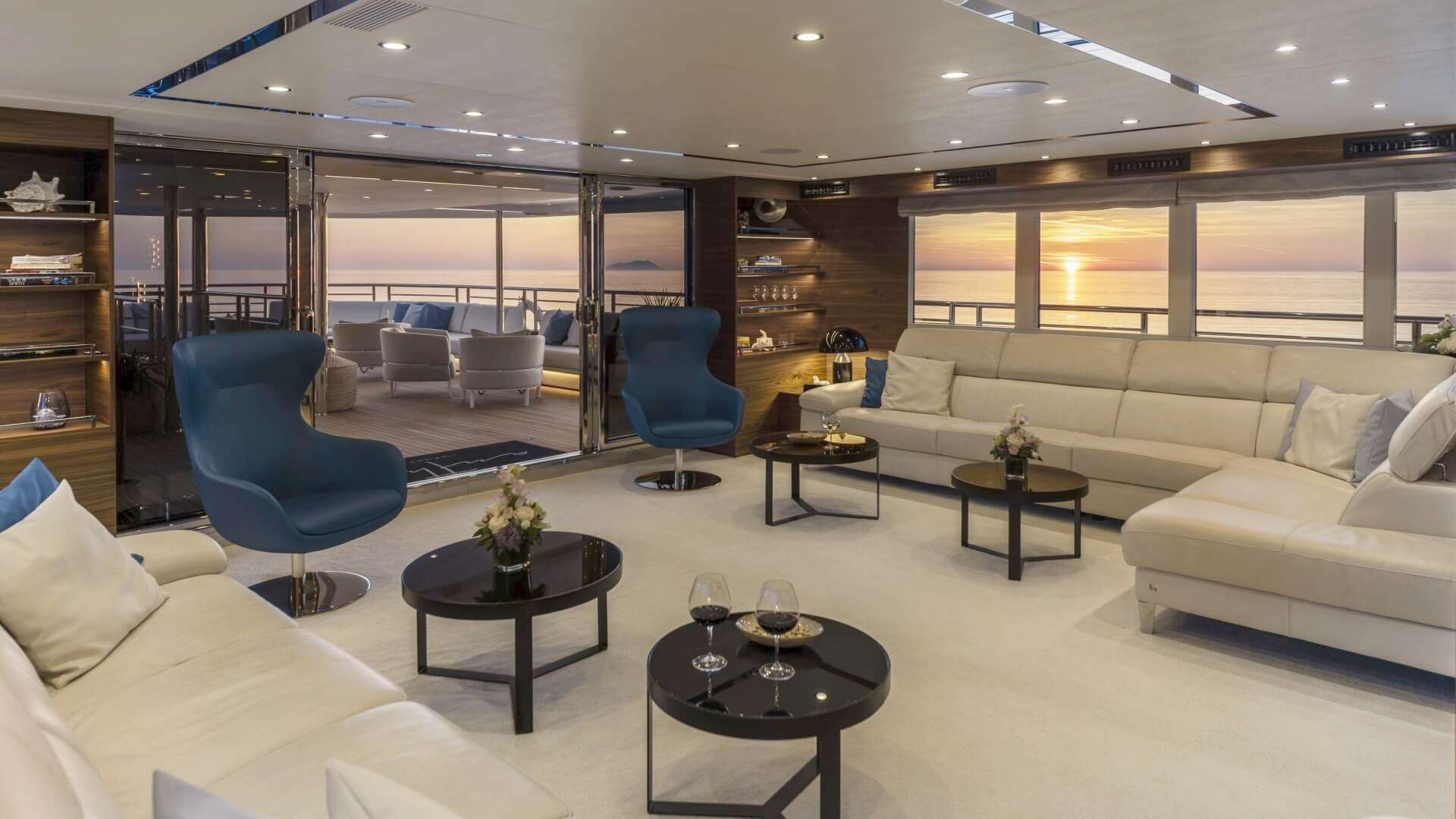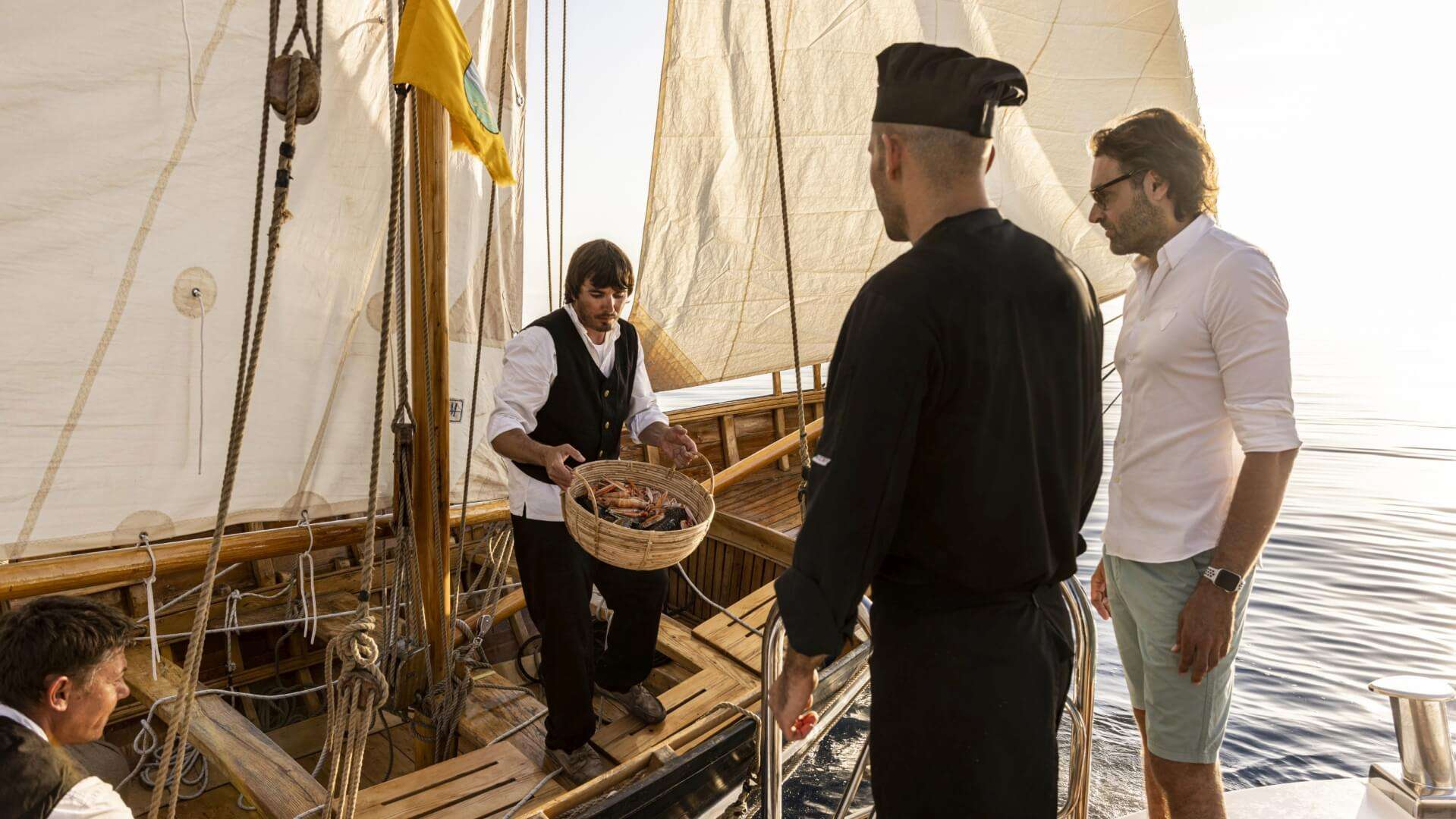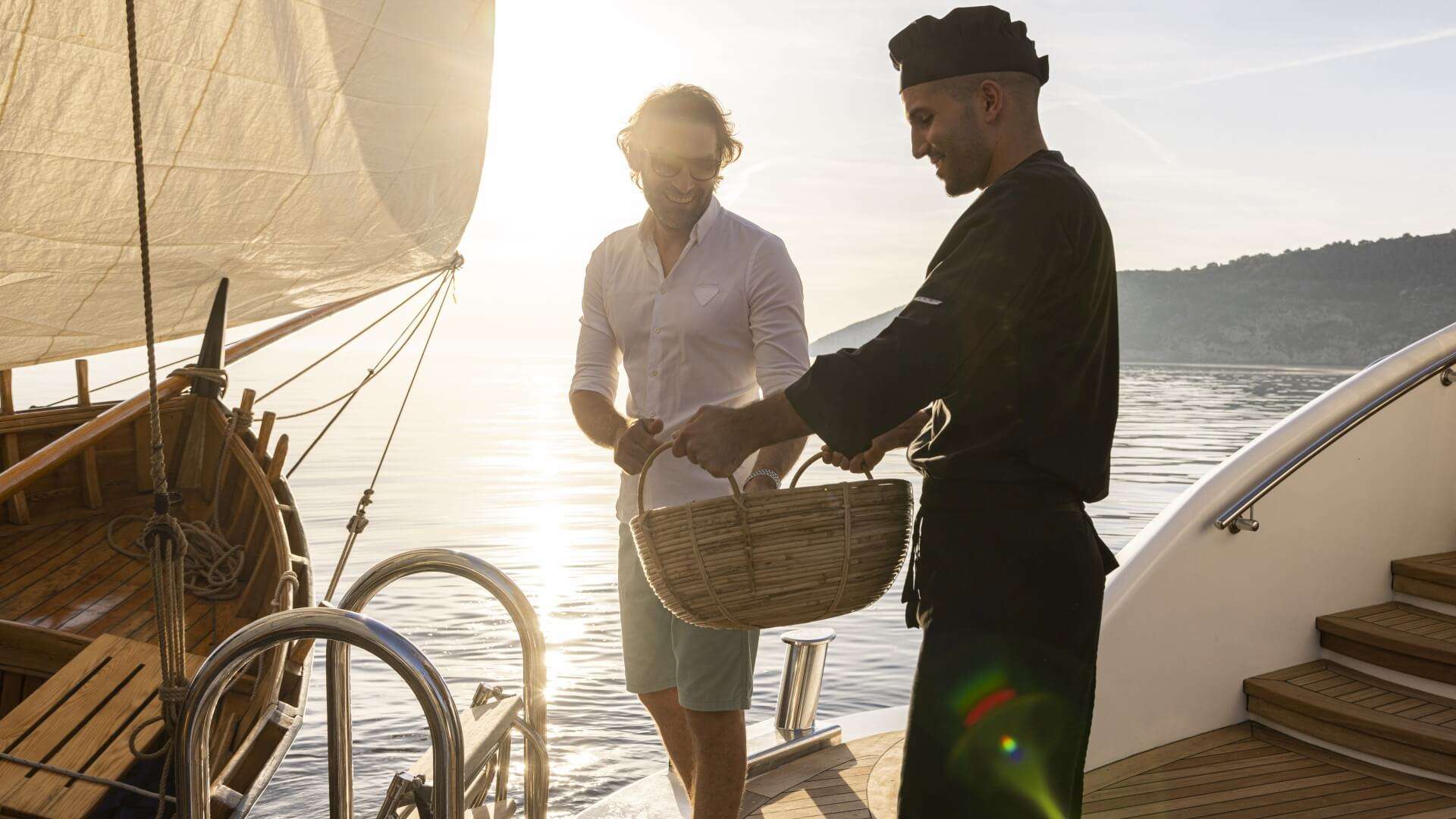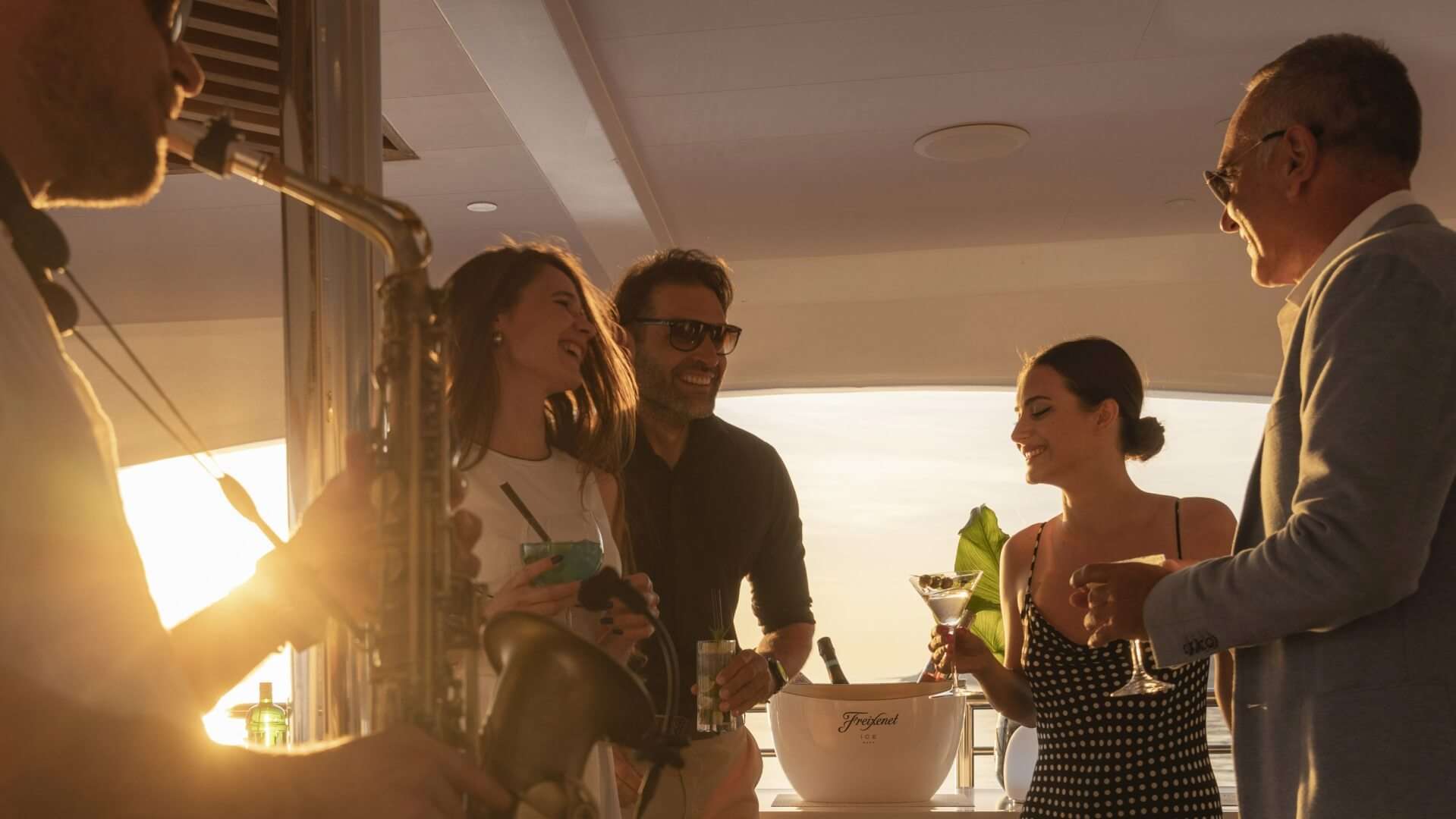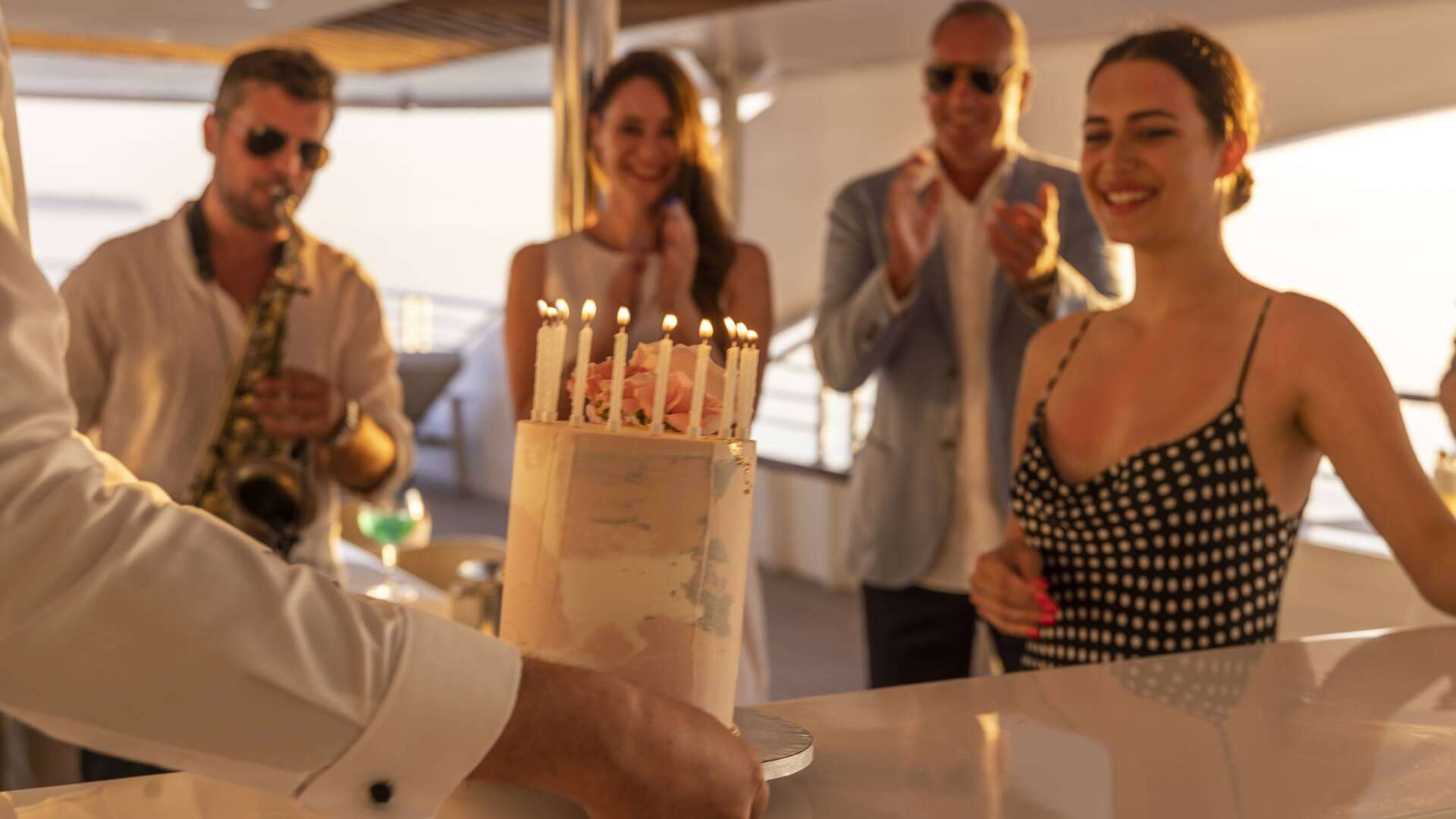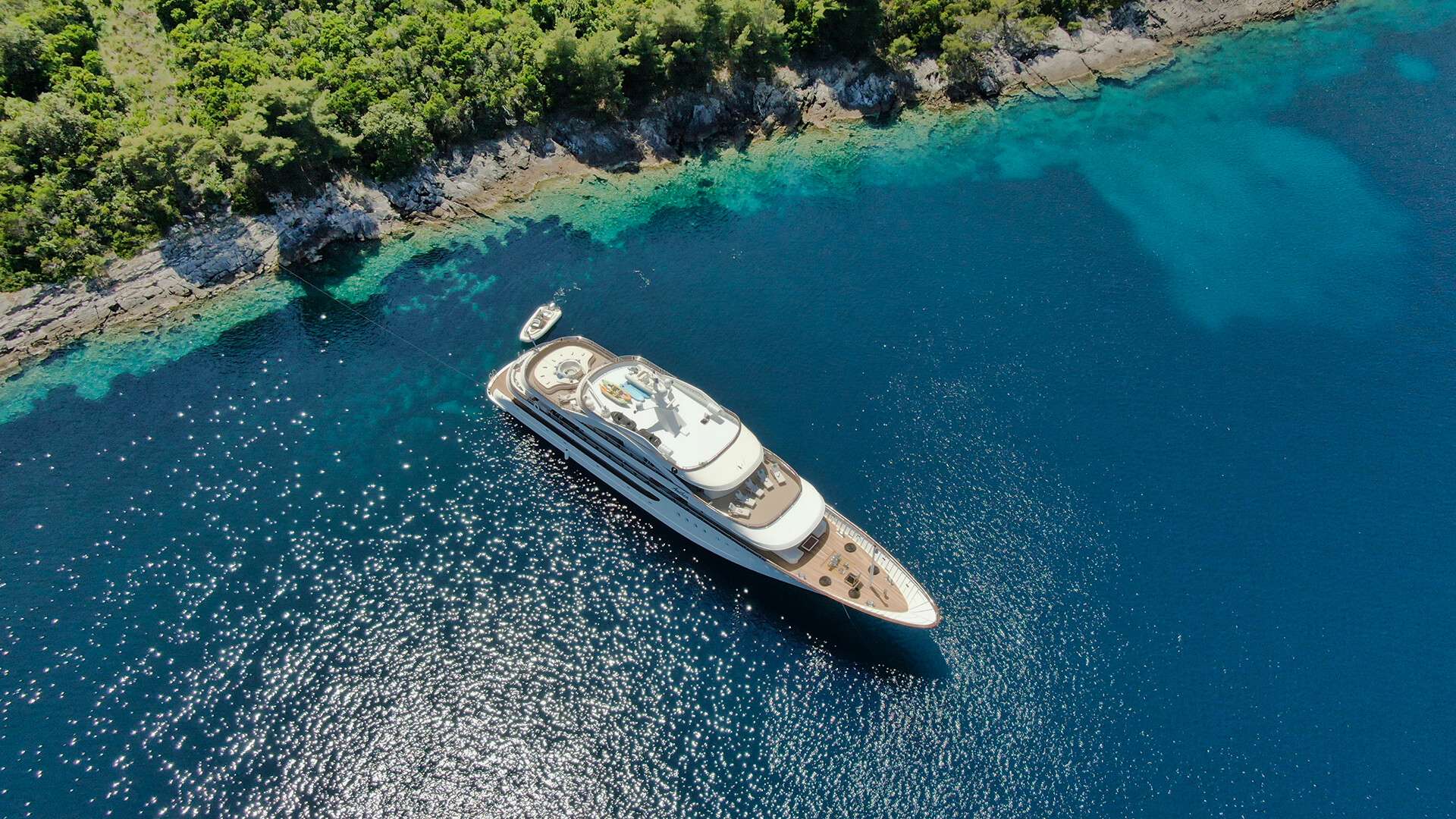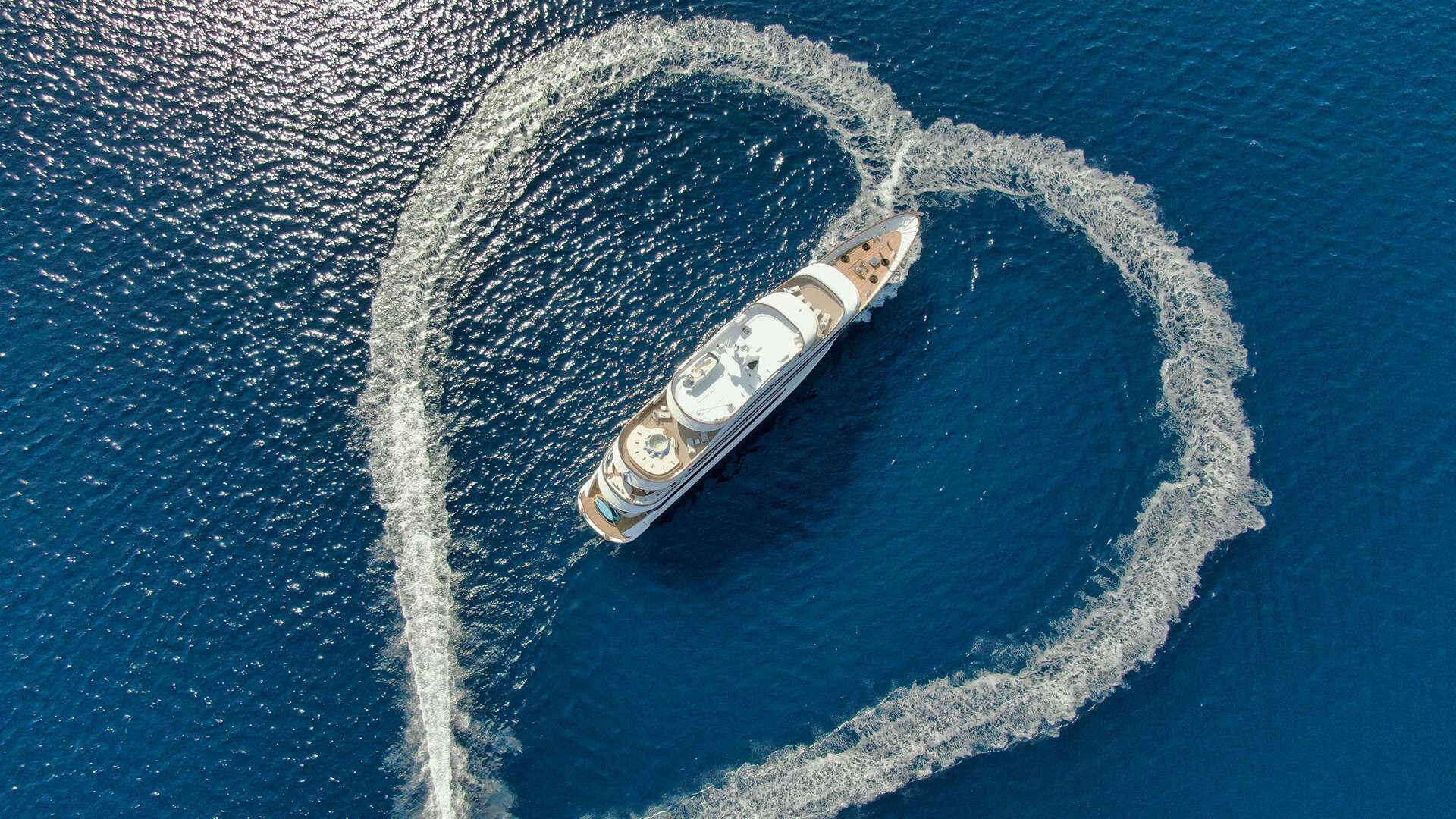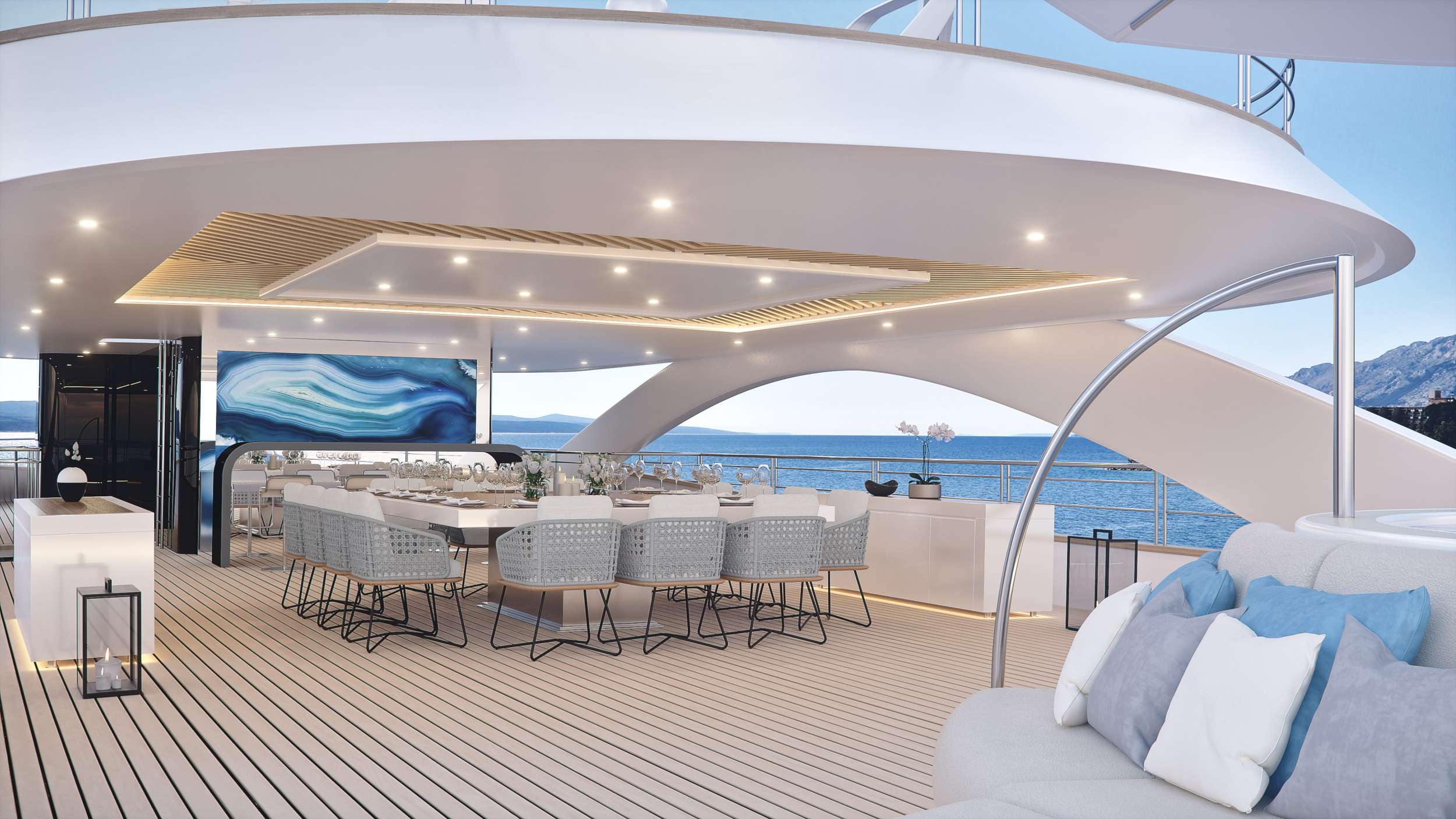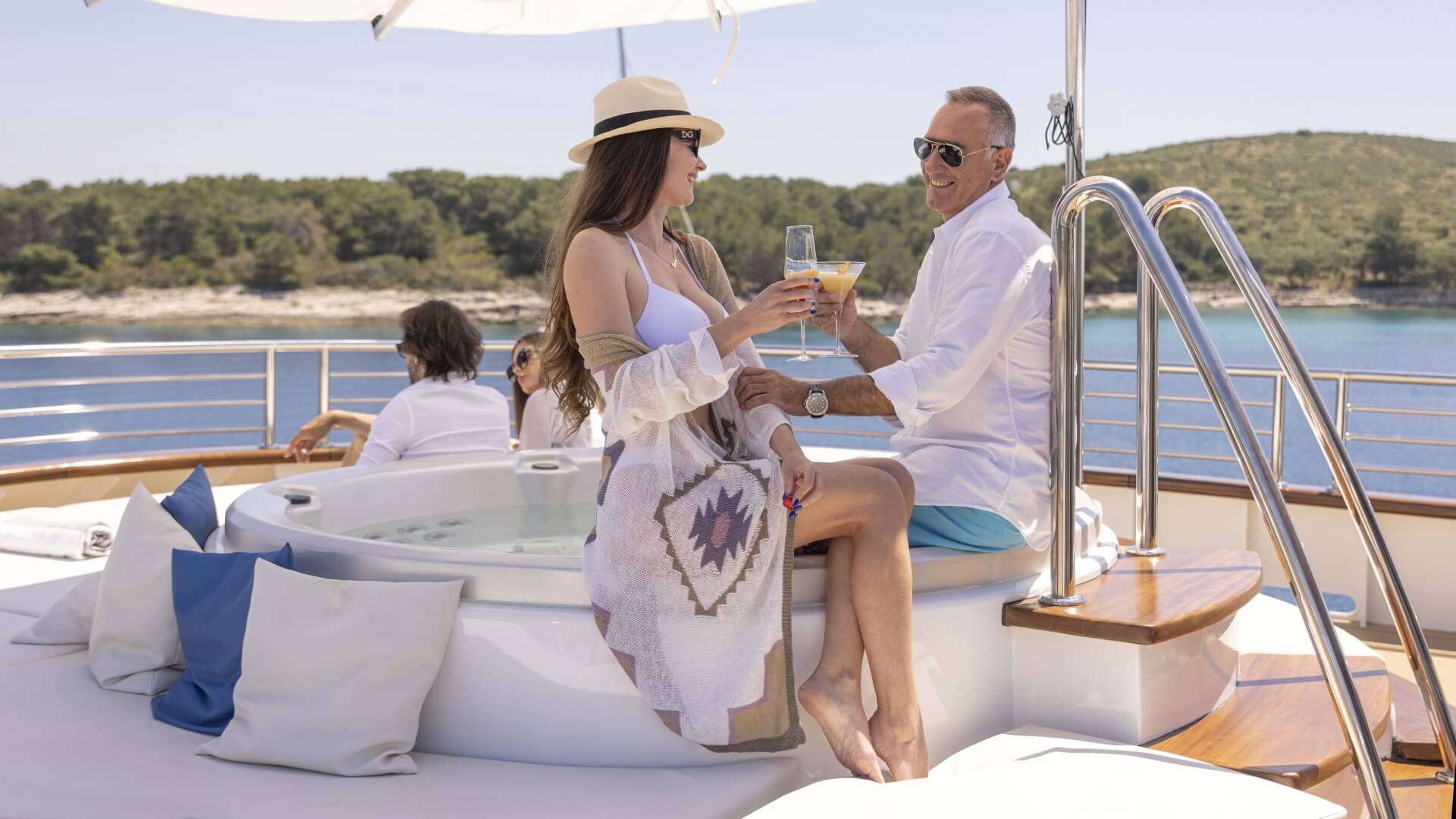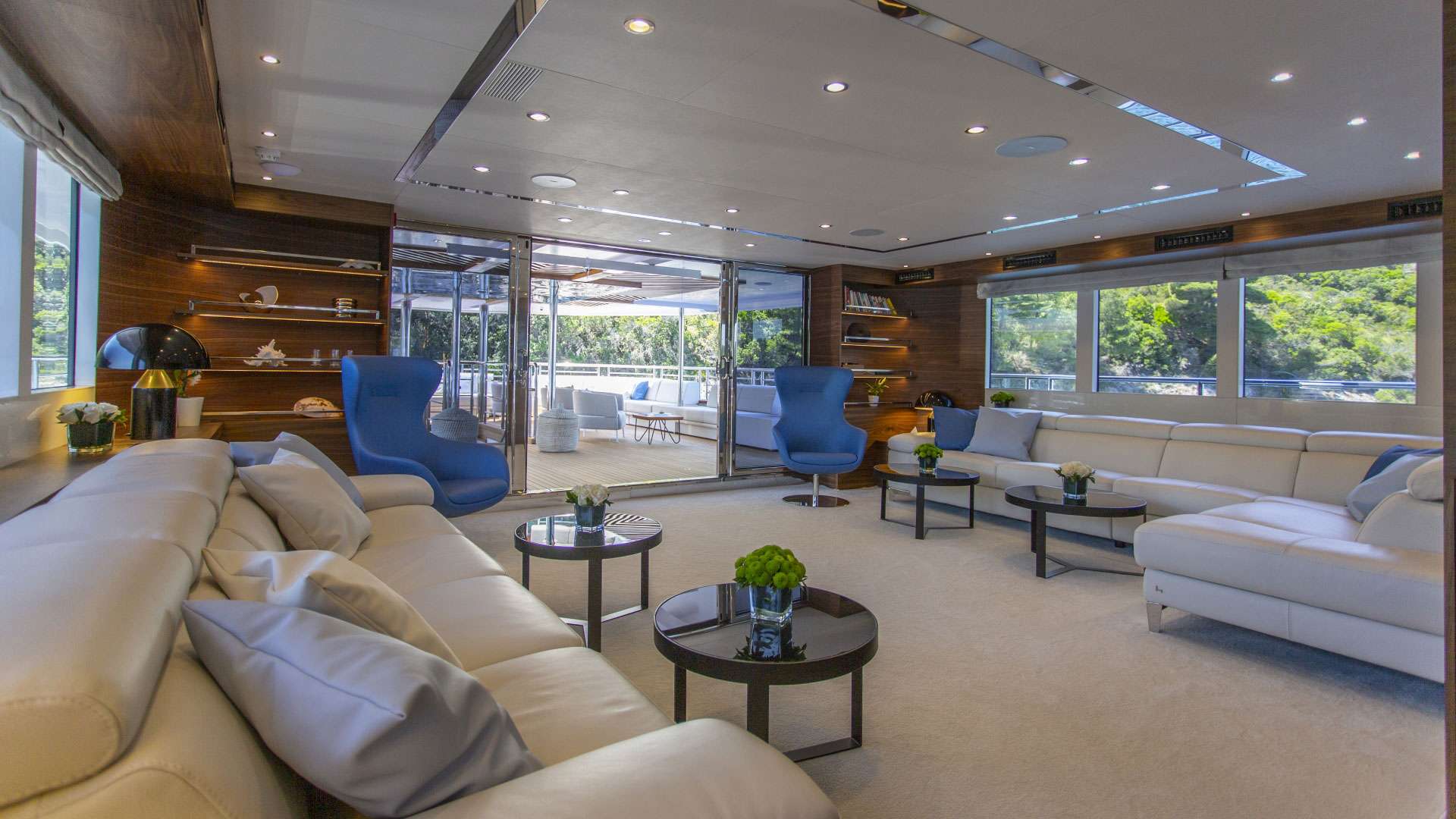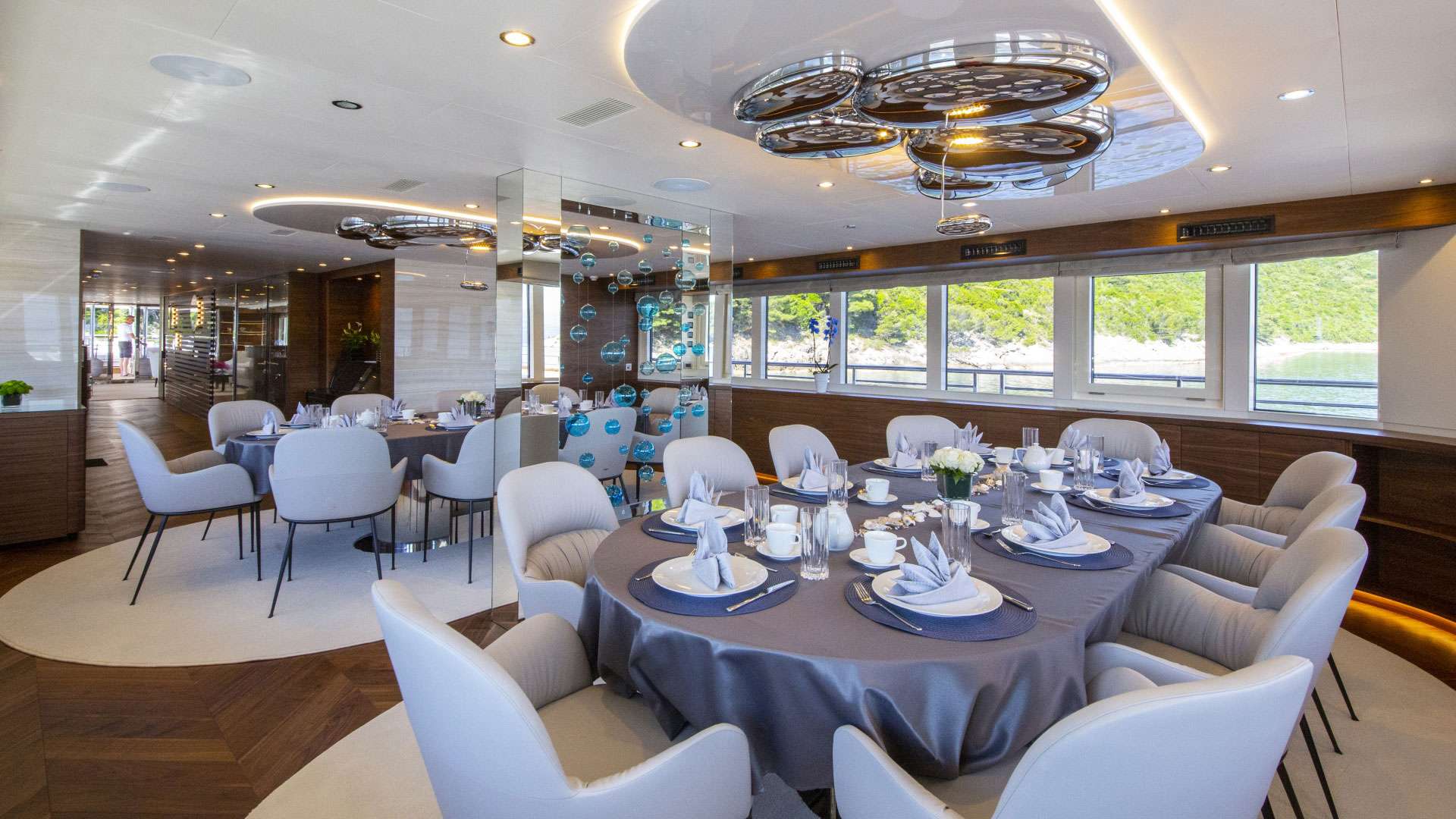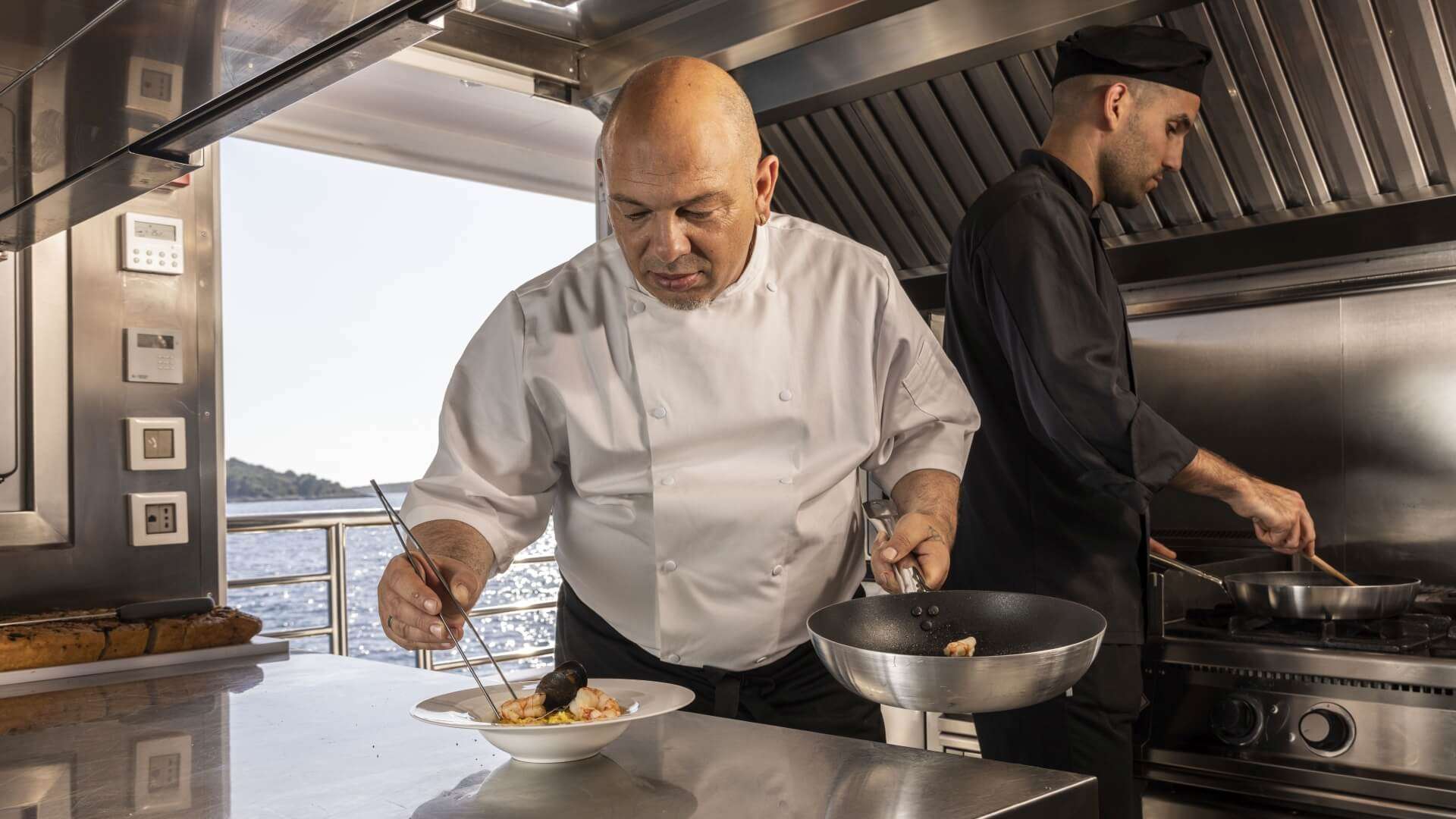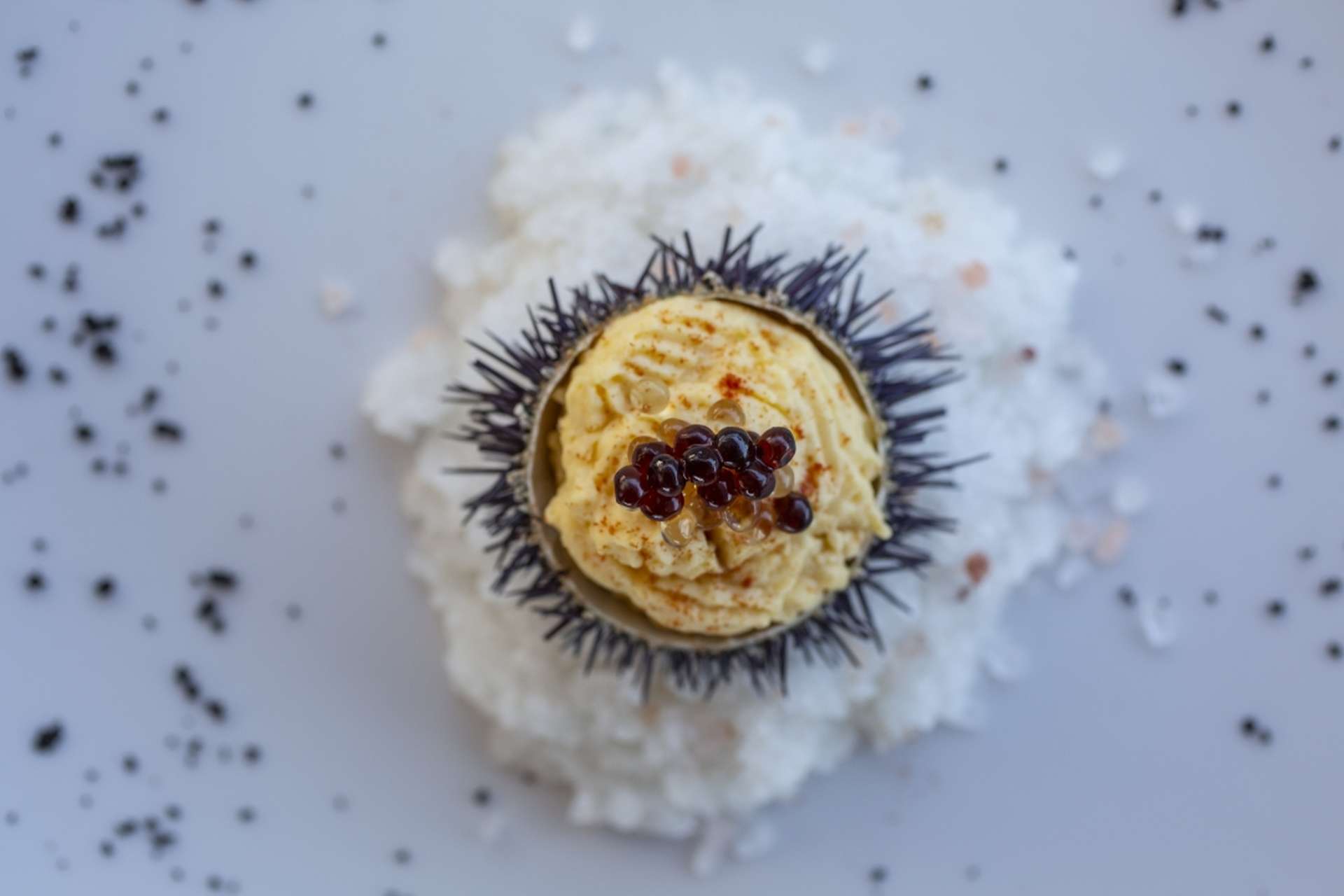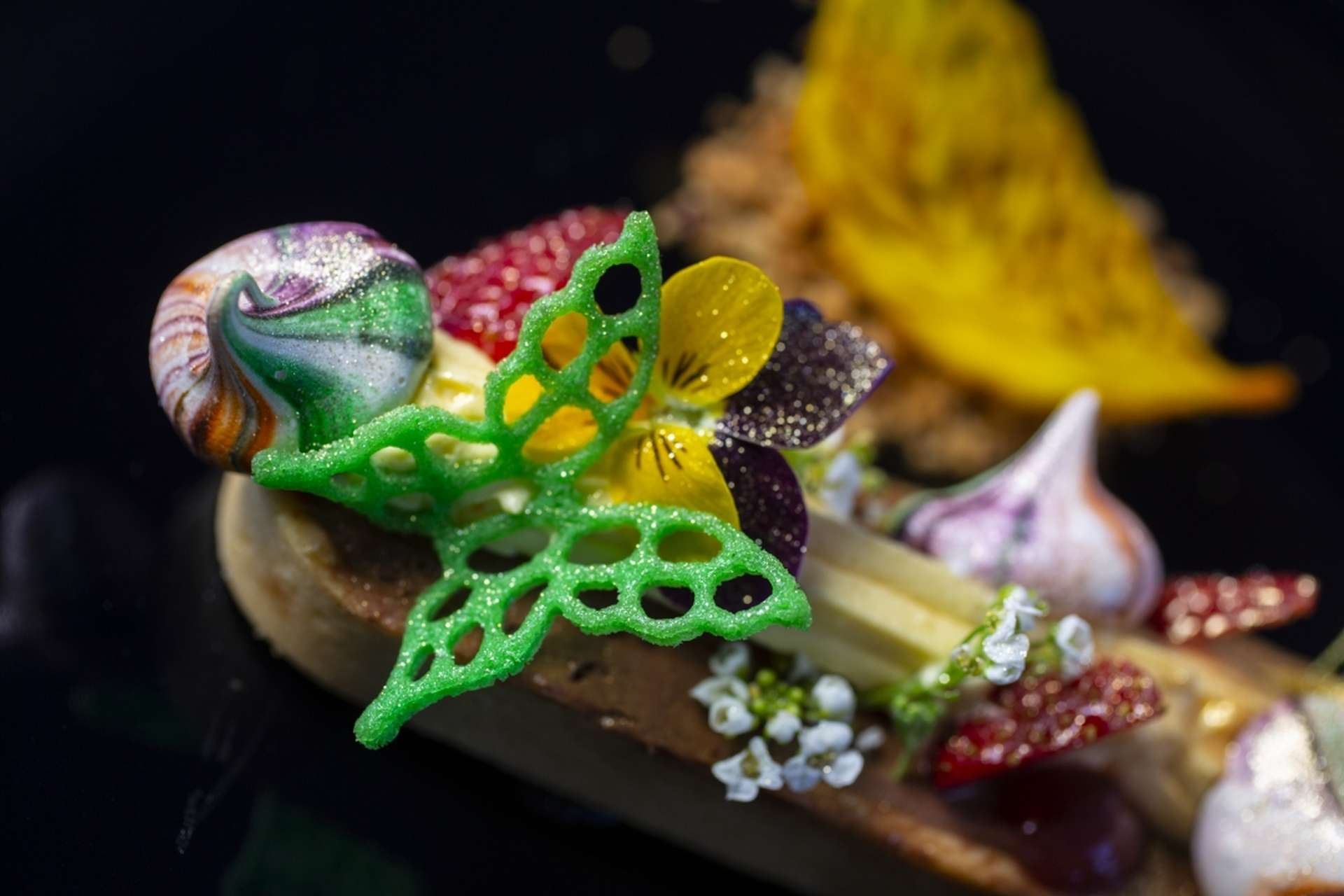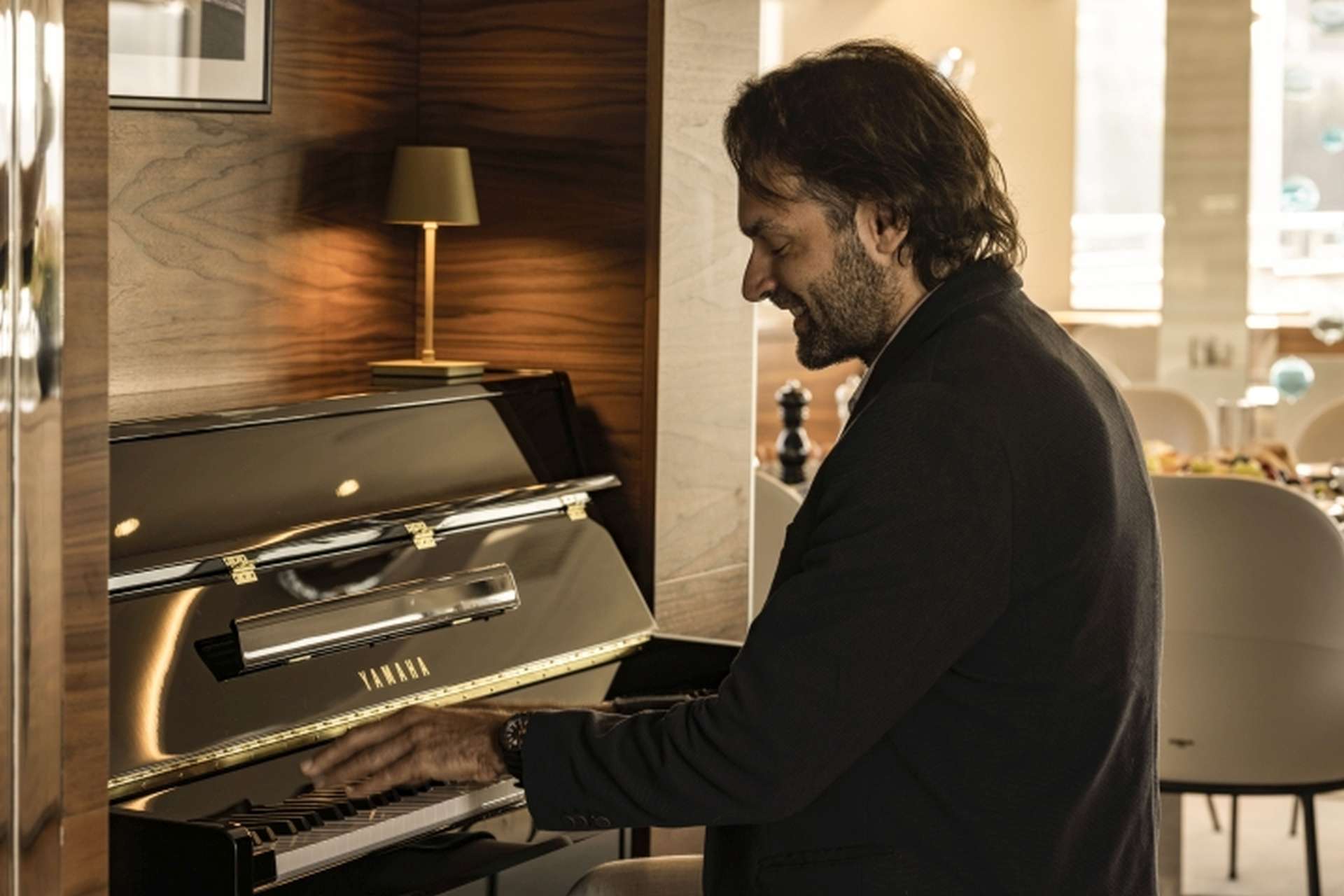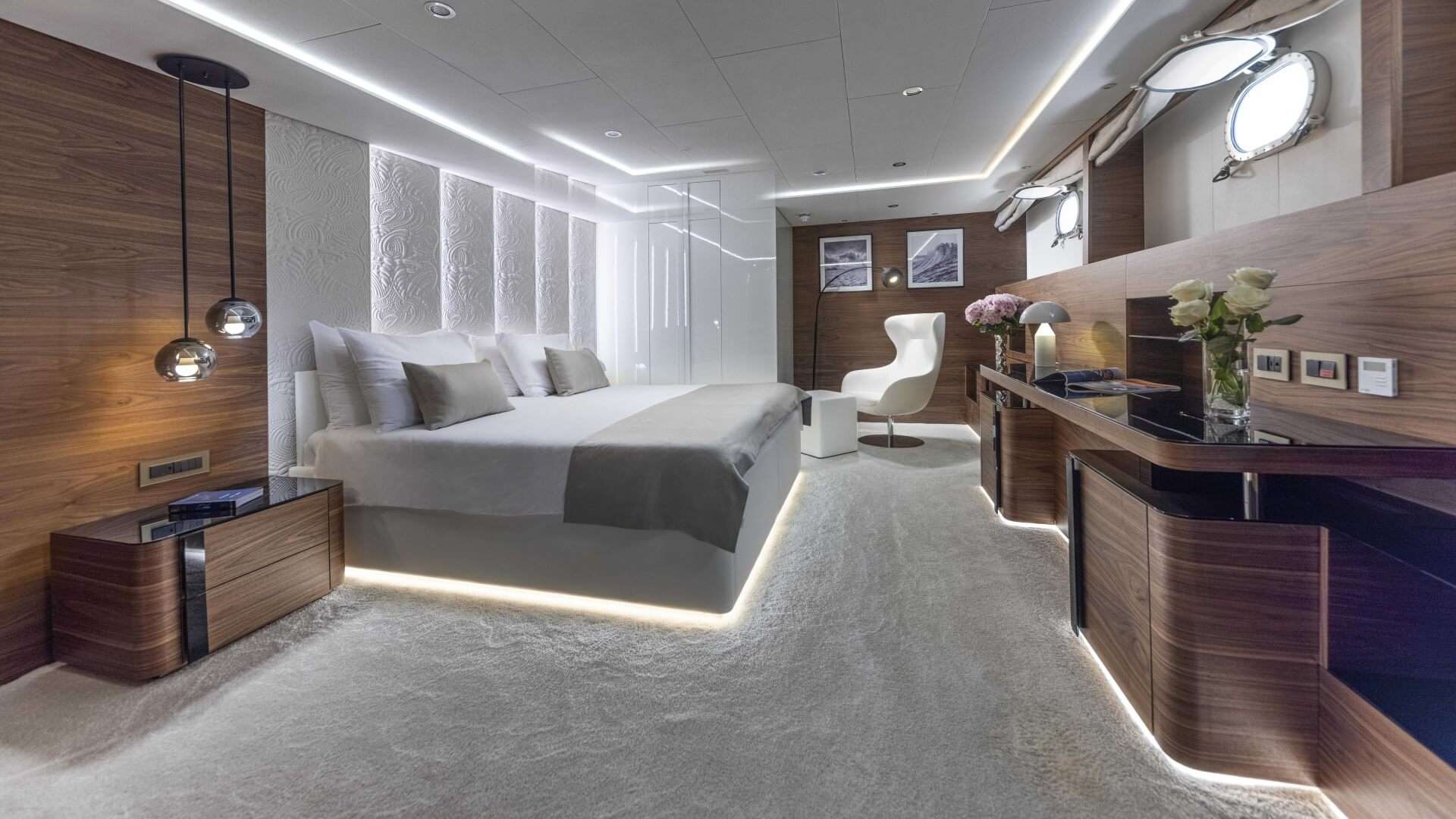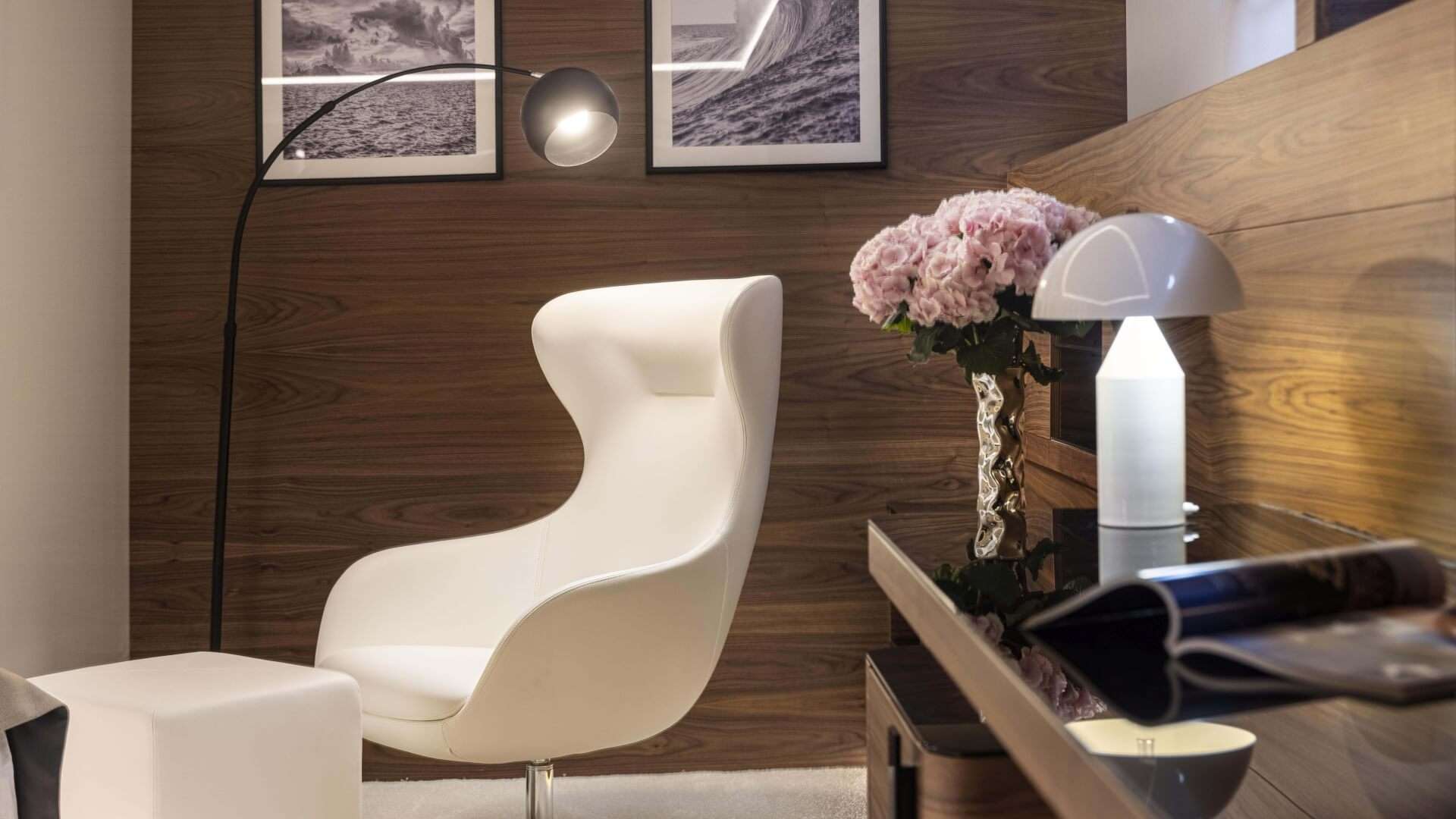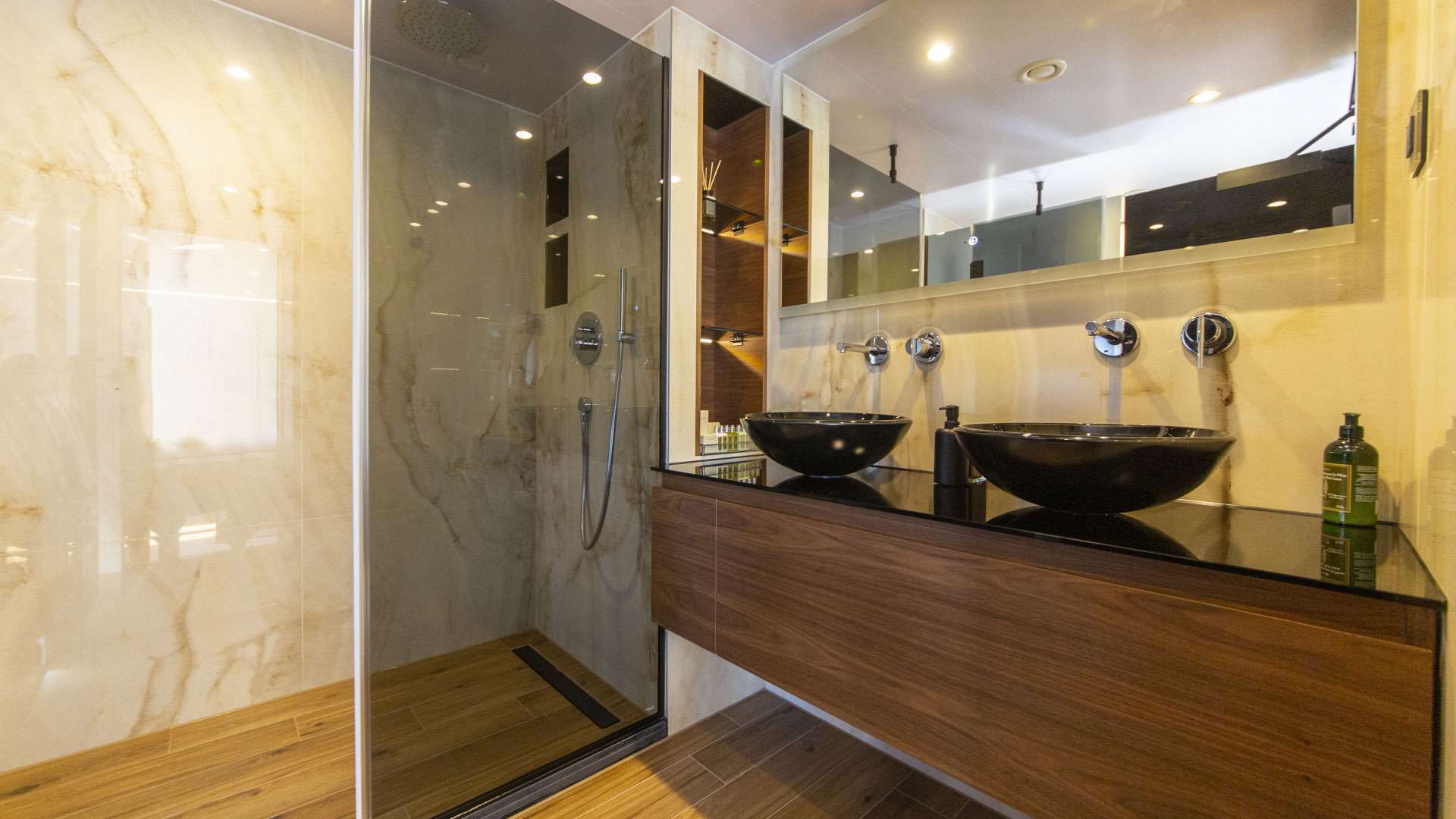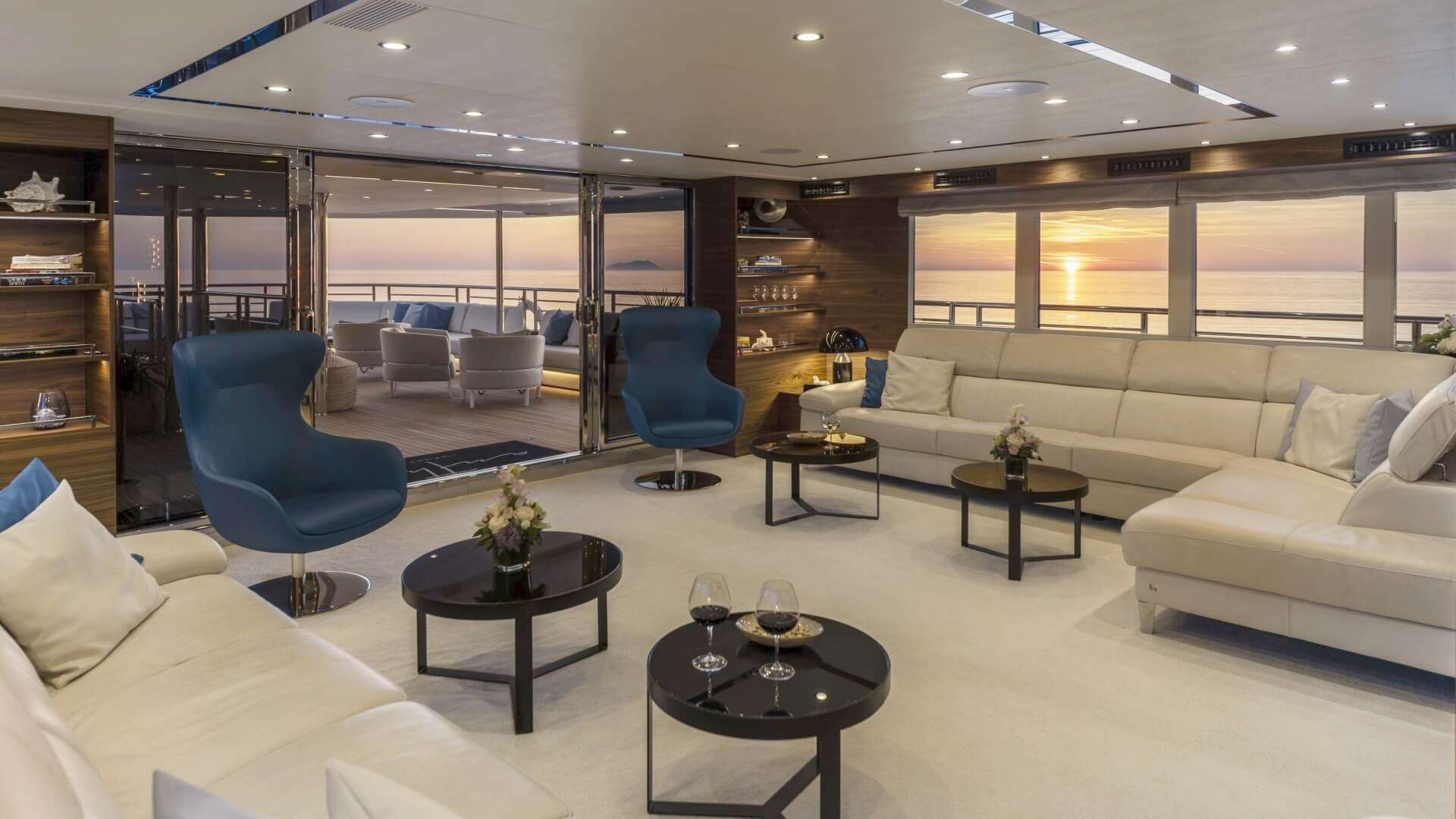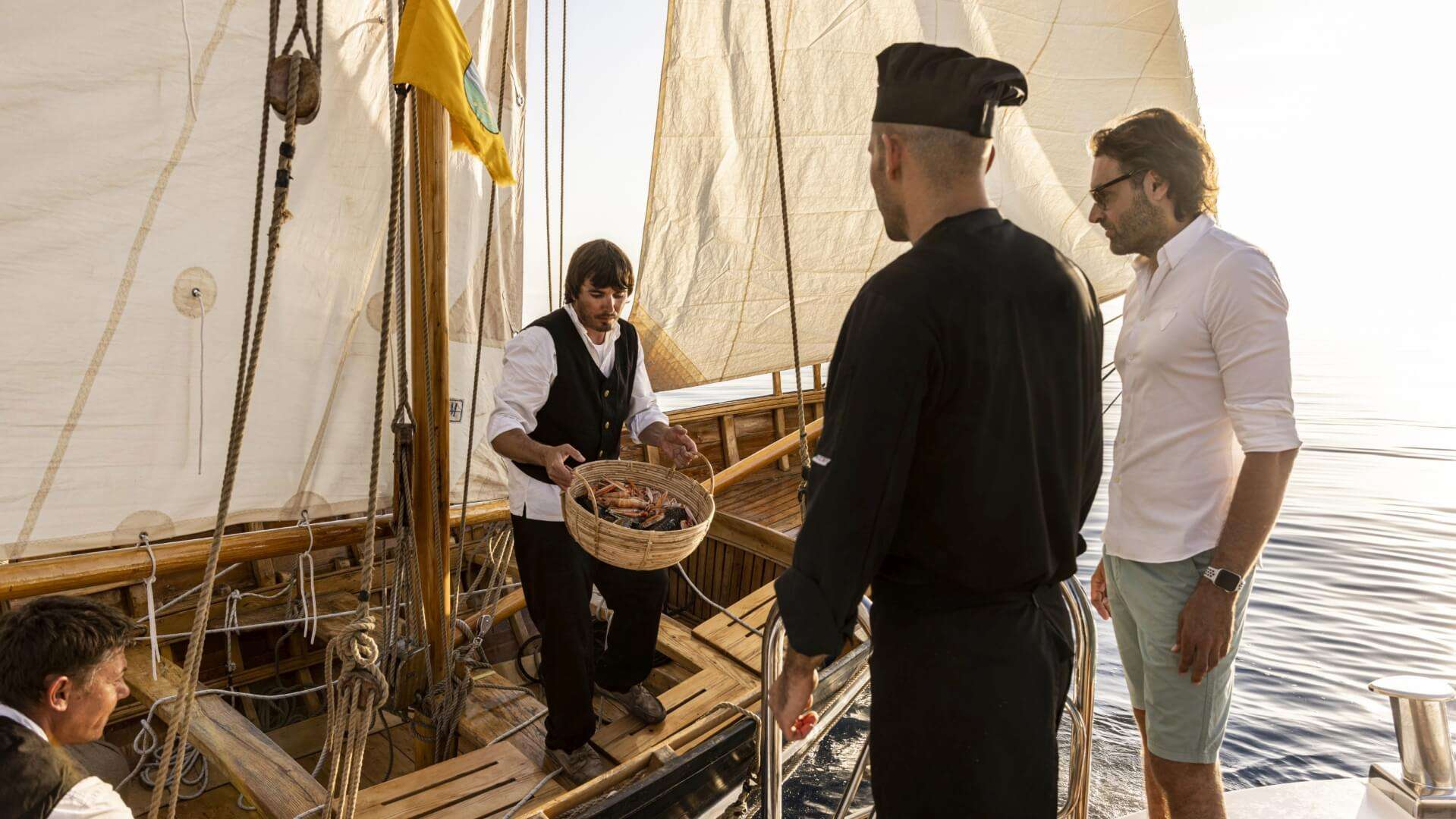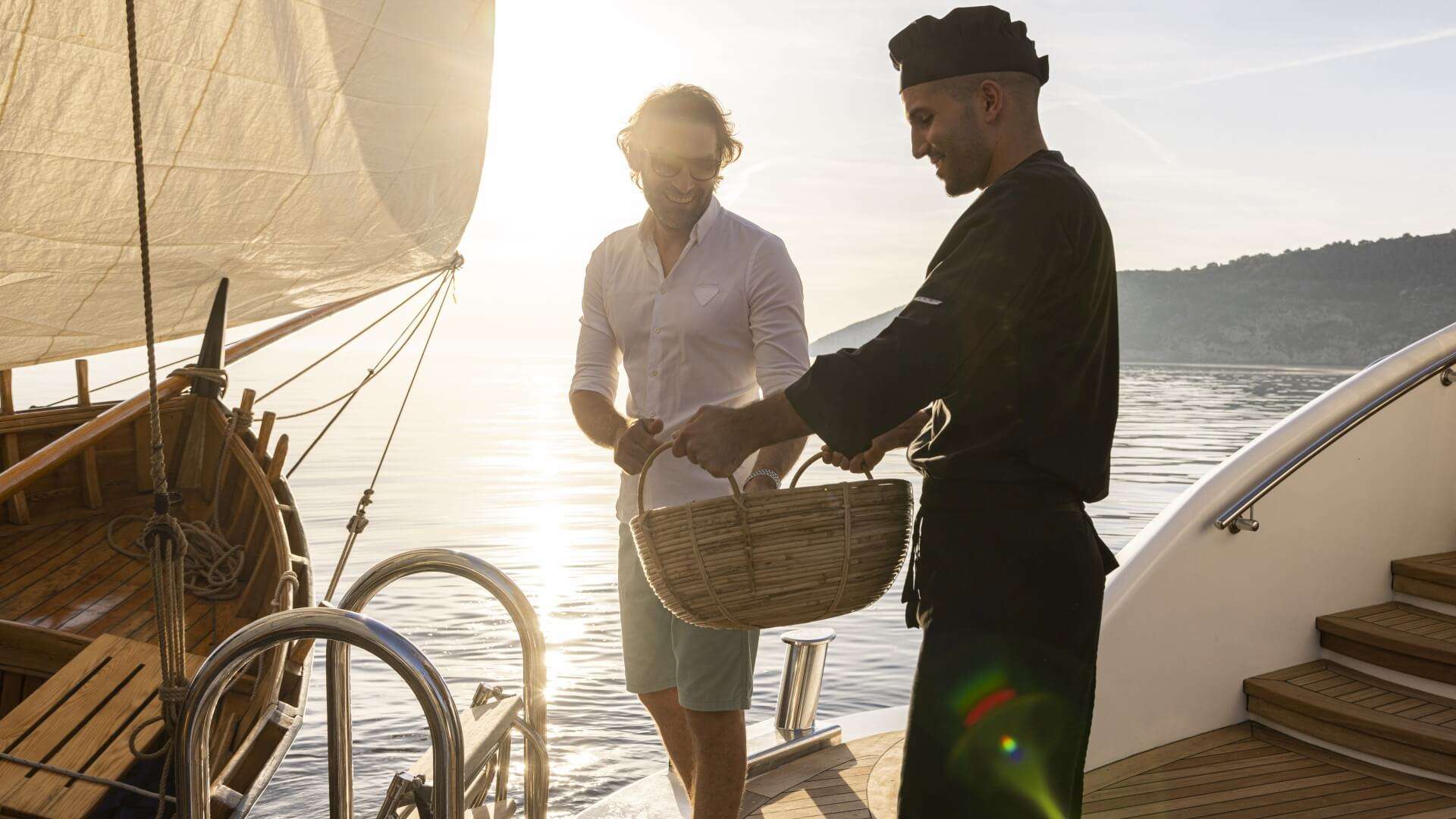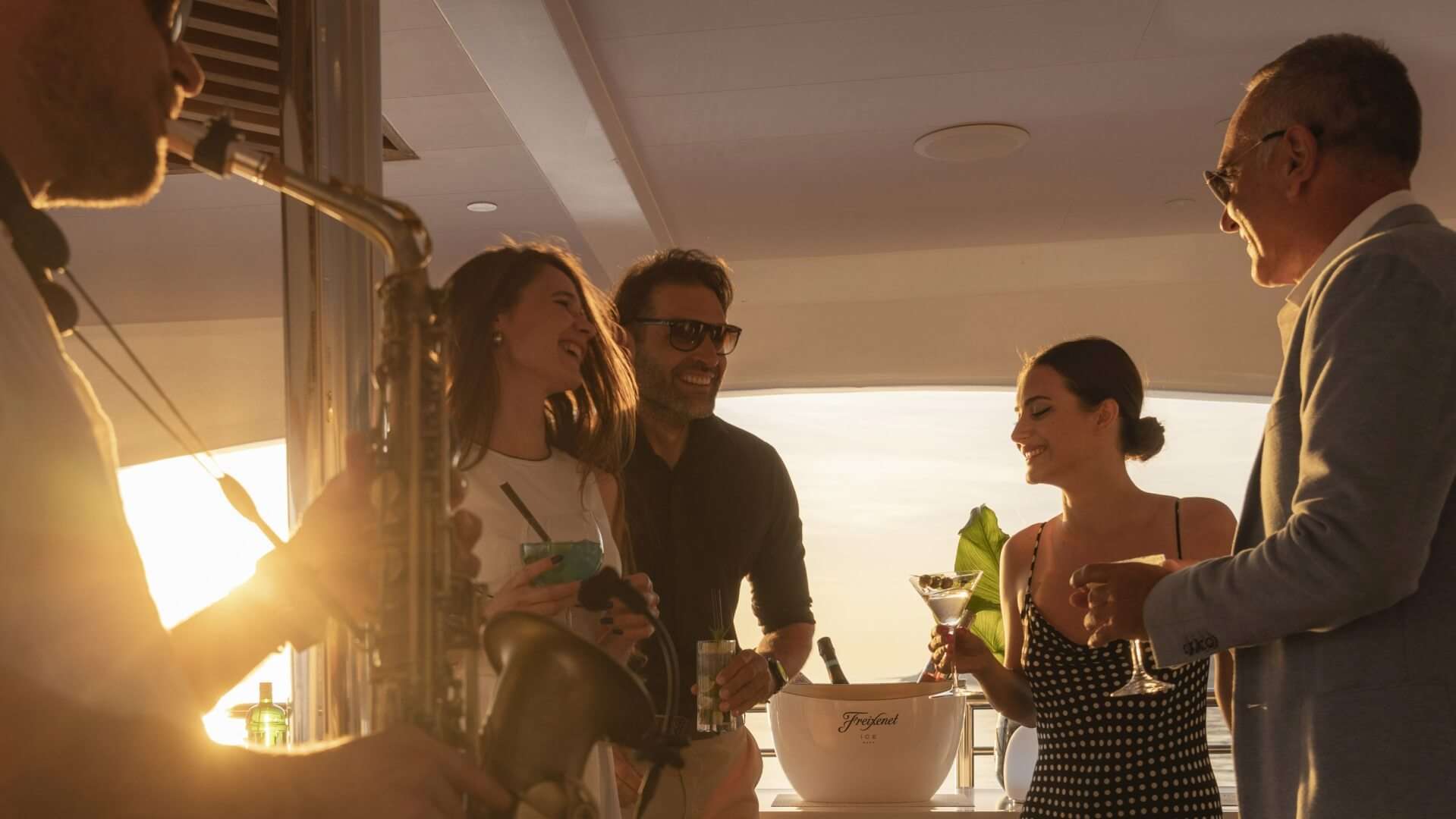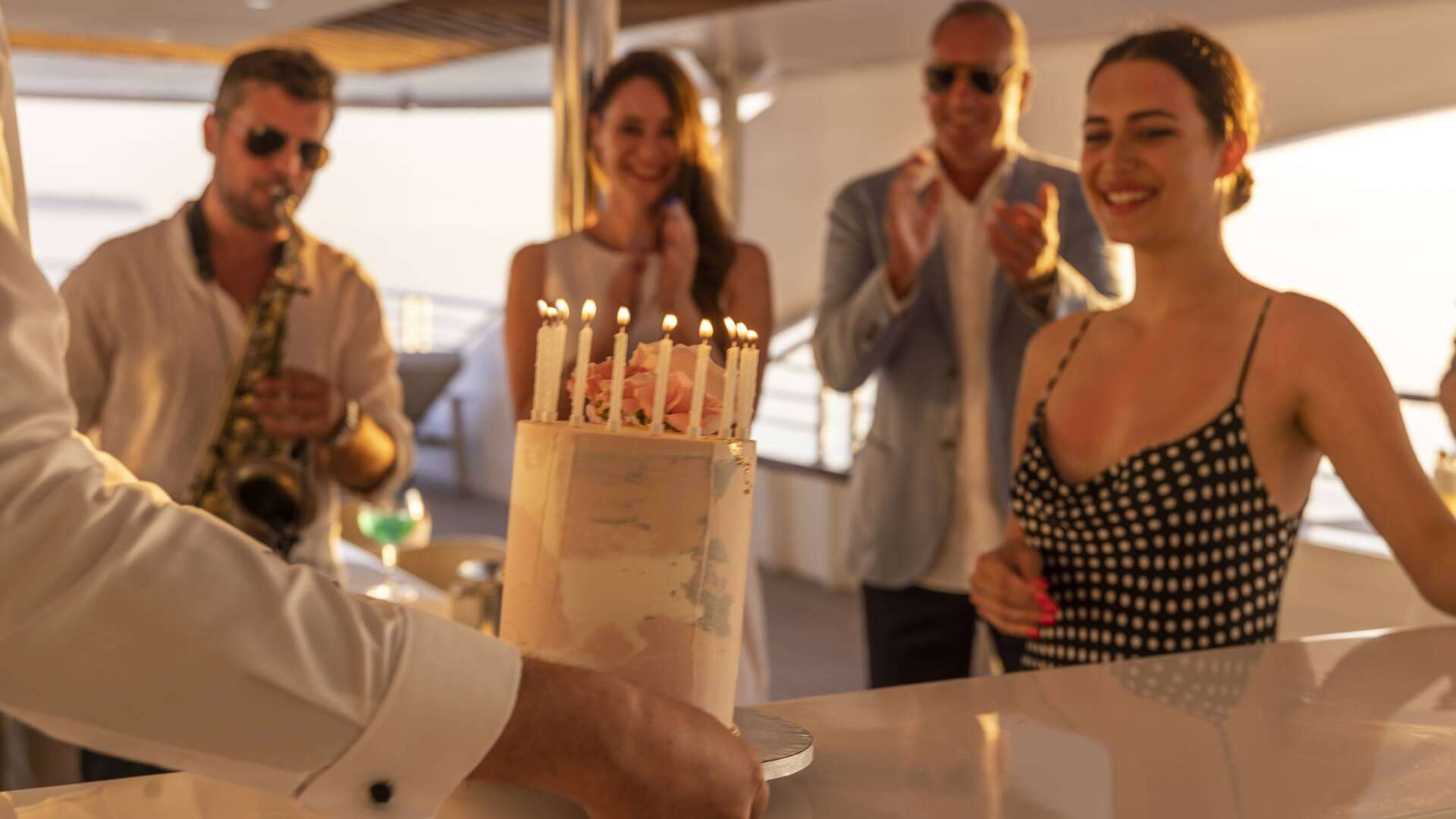 Accommodations
| | |
| --- | --- |
| Sleeps 20 guests in 10 guest stateroom(s). | |
| 8 with King Bed(s) | |
| 2 with Queen Bed(s) | |
| 10 with Double Bed(s) | |
Details
10 Luxury guest en-suite cabins: 6 guest cabins on the main deck and 4 guest cabins on the low deck:
Main deck:
Master cabin 25m2 with king-size double bed
3 x VIP cabins 20m2-24m2 with king-size double bed
2 x Guest cabins 19m2 with king-size double bed convertible into twin beds cabins
Low deck
2 x VIP cabins 29m2 with king size double bed
2 x VIP cabins 29m2 with king size double bed convertible into twin beds cabins
Layout Diagram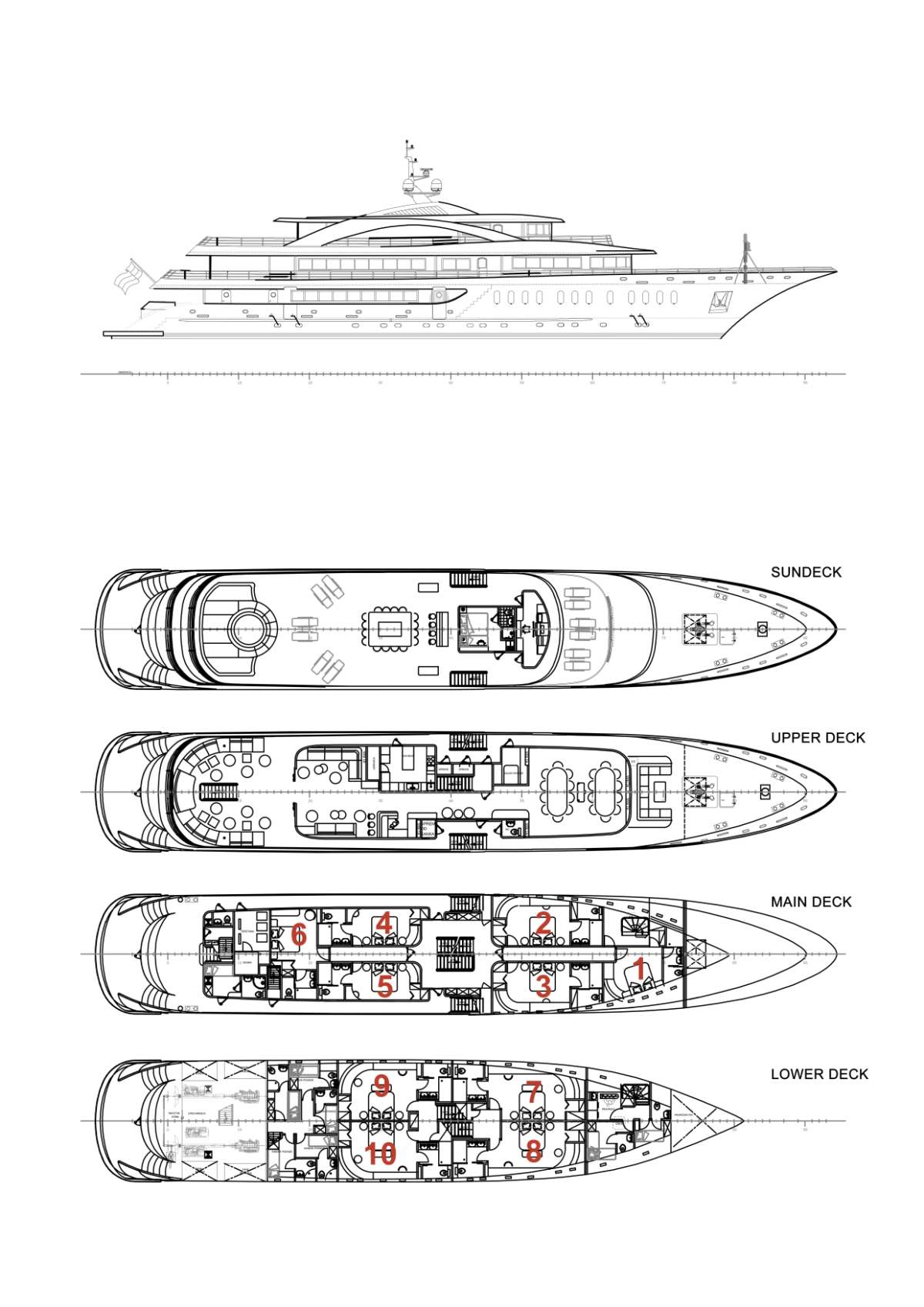 Specifications
| | |
| --- | --- |
| Guests | 20 |
| Staterooms | 10 |
| # Of Crew | 12 |
| Length | 170.00 Ft / 52.00 m |
| Beam | 8.50 m |
| Draft | 3.00 m |
| Built - Refit: | 2021 - No Refit Date Set |
| Builder | Custom |
| Cruising Speed | 10 knots |
Watersports
| | |
| --- | --- |
| Dinghy | Yes, 7.00 m |
| Dinghy HP | Rism marine 7.00m with Yamaha |
| Paddle Boards | 6 |
| Adult Water-skis | 4 |
| Kids Water-skis | 2 |
| Wakeboards | Yes |
| Jet Skis | 2 |
| Snorkeling gear | 15 |
| Fishing Gear | Yes |
| Scuba Diving | Yacht offers Rendezvous Diving only |
Other Toys
Floating beach
Inflatable Canoe x 2
Donut
El. bike x 4

From season 2024;
Water slide
Audi E-tron foil
More water toys available on request as extras


Pricing
From: 130,000
To: 155,000

Crew Profile
Captain: Ante Rakuljic
Nationality: Croatian

Born and bred in a family with a centuries-old seafaring tradition, Captain Ante Rakuljić was destined for the job. Already as a child, he spent all his time in or by the sea, so his last 15 years as an 'official' seafarer were a natural extension of the life-long passion.
Before joining the yachting industry in 2005, Ante studied at the Faculty of Economics, Business and Tourism at the University of Split. His efficiency and diligence were recognized early on in his career thus putting him in good stead with his job opportunities.
Captain Ante built his expertise over a decade and a half on the 38-meter MV Emanuel, mastering every duty onboard. After advancing to Captain in 2013, his continued work to upgrade the crew, navigation, safety, and service, resulted in innumerable guest comments in superlative terms.
Captain Ante's know-how has been crucial to MY Anthea since day one, as he took on an active role in the yacht building process, communicating with naval architects, liaising between the designers and the team, and providing valuable practical insights that helped streamline both her design and functionality.
Ante is a very professional and capable captain, who will treat your guests with special attention, and show them the most beautiful hidden spots of the Adriatic Sea. In his rare free time, he enjoys fishing, nature and soccer.


First officer: Marin Klaric
Nationality: Croatian

Marin grew up on the Adriatic coast where his passion for the sea started at a young age.
Literally the same year when he completed his mechanic studies, Marin Klarić discovered his true passion: boats. Spanning two decades, his seafaring career started with mini cruisers, and continued with passenger ferries and tugboats. Working on the position of deckhand/helmsman, he undertook a variety of duties, from engine and deck maintenance, steering, mooring, and unmooring, to winter dry dock works
Nine years ago, Marin ventured into the world of yachting, and has ever since been perfecting his skill set onboard a 37-meter commercial motor yacht. During his work in private yacht charters, he excelled in guest service and making guest's wishes come true in a heartbeat, adding to the list of aptitudes that make him a superb chief officer onboard MY Anthea.
Fluent in English, friendly and communicative


Chef: Pave Turic
Nationality: Croatian

In short, your Chef is a culinary wizard who started snooping around the stove already as a child. His career in the kitchen spans twentynine years today, and he has worked in fine-dining restaurants and traditional konobas, but also on private and commercial luxury super yachts. Over this period, Chef Pave masterminded creations that enthralled some of the most delectable palates.
From 2015 to 2020 he owned a restaurant in an ACI marina, catering to the most delectable of palates. After climbing the ladder from cook to sous chef to chef, he co-founded the catering company that has provided services for famous events like the Croatia Boat show, ACI Match race cup, Rimac cars promotions and Diocletian nights. His team player skills shine through not only in the galley but also in his participation in nationally relevant associations like the Chef's club Croatia.
Chef Pave's greatest passion is re-discovering the forgotten healthy ingredients of the Mediterranean and he loves to play with seasonal produce to tailor each dish to your preferences. With special access to an organic garden on the mainland where vegetables are grown for MY Anthea kitchen only, you can count of Chef Pave's dishes to be savory, healthy, and above all, packed with flavor.


Sous Chef: Davor Dadic
Nationality: Croatian

Youthful but incredibly experienced, your sous-chef Davor is the magician of Dalmatian and Mediterranean cuisine. He started working at 17 years old, immediately after graduating culinary high school, and has to date gathered a diverse portfolio of work experiences in both restaurants and on boats.
Davor started out in an iconic local konoba, preparing simple but signature dishes of the Adriatic region, such as grilled squid or fish. Recently, he explored the boundaries of his creativity at Split's fine-dining star, restaurant Apetit, creating delicacies like monkfish with leek risotto or macaroni with prosciutto and truffles.
Sous chef Davor has always been a fan of mixing the delights of the land and the sea – and not only on the plate. A larger portion of his career was spent working on the sea, both on passenger and yachts. While healthy soups and rejuvenating fish stocks remain his favorites to prepare, his guests might argue which one of his summer plates taste better: those with meat or fish, but always with fresh seasons veggies.
But his passion for organic doesn't end there. Davor is an avid fisherman and scuba diver, who might also treat you to some truly fresh catch. But he is also a very respectable sports opponent to his Chef: Davor was the champion of Croatia in kickboxing – not once, but three times. Certainly, one thing you can expect aboard MY Anthea is a power team in the galley!


Stewardess: Katarina Milic
Nationality: Croatian

A stewardess who built her expertise one step at the time, Katarina a is excellently qualified to provide you with superior service and stellar experiences aboard MY Anthea. Last five years, Katarina has been working on private and charter super yachts, developing her ability to tailor every bit of the experience to the level of a superpower.
While starting out as a stewardess and deckhand on superyachts Katarina mastered the relevance of details for your everyday joy. Under her watchful eye, you can rest assured that everything will be impeccably clean, served to your liking, and delivered with utmost finesse.


Chief Stewardess: Ivana Serences
Nationality: Croatian

Welcoming you aboard MY Anthea is the stewardess Ivana Serences. She is a true expert, with hands on experience in every aspect of her job. While working as a solo stewardess ,Ivana handled everything from service and cabins, to arranging on-land experiences for her guests.
During her working on land, Ivana handled different tasks – from organizing excursions and interesting local encounters for yachting and upscale cruise line guests, to financial controlling and planning in a shipyard. She holds a Master's Degree in Economics from the University of Split, and of course, all relevant boating safety and service certificates.
Born in Dalmatia's largest center, Split, Ivana is passionate about the sea and the environment. She volunteers with a local scuba organization partaking in seabed cleaning actions. She also undertook community work during her time in Mexico, rescuing sea turtles and cleaning beaches. Fluent in both English and Spanish, she is an ideal person to tell you about the beauty of the Croatian underwater world, to recommend not-to-miss local experiences, and also to read you mind and fullfil your wishes before you even know you have them.


Steward: Antonio Tomaš
Nationality: Croatian

Born in the small town of Omiš on the Croatian coast, where Dalmatia's longest river Cetina meets the Adriatic, Antonio always dreamt of venturing into the world and cruising its many seas. After graduating in Maritime Studies from the University of Split, he set out to learn the ropes of different passenger ships, from yachts to cruisers. Climbing the ranks from ordinary seaman to the third officer, he mastered not only operational tricks but many safety protocols, which today makes him an invaluable asset onboard MY Anthea, not only in stewarding, but also on the deck.
Over the last few years of his work in yachting, Antonio discovered a strong call for guest service and thus moved to master the tricks of food presentation and cocktail making. Always up for a good time, Antonio is passionate about cocktails and wine (ask him for some Croatian labels to try!) and loves putting on fun parties for all ages, with music that will have everyone on their feet in no time!
Pleasant, well-spoken and with refined manners, Antonio consistently excels in service that truly reflects his many years of work in the most demanding of cyachting environments. For him, yachting is a boyhood dream come true, and he has to date been to the Caribbean, Mediterranean, Arabic and Red Sea, along the east coast of the USA and coast of India, through Suez and across the Atlantic Ocean.


Stewardess: Senka Podrug
Nationality: Croatian

Ensuring that your M/Y Anthea stateroom dazzles you each time around is the cabin stewardess Senka Podrug. Neat by nature, stylish by vocation and thoroughly experienced in private luxury charters, Senka will leave no stone unturned to deliver the highest standard of cleanliness, order - and of course, beauty, in your private areas.
After completing her education in textile work, Senka spent nearly three decades perfecting the stewarding skill set. She brushed up her communication, motivation and customer service as she as worked in luxury environments before she started onboard M/V Antea Thanks to her versatile experience, she is able to take on the most demanding of challenges with ease and efficiency, which makes her an invaluable crew member. And if you are in the Central Dalmatian area, this recreational hiker can whisper a thing or two about some beautiful paths around her hometown of Sinj.
Senka is very warm and friendly person passionate about her job


Deckhand: Denis Lovric
Nationality: Croatian

Growing up in the seaside gem of Šibenik , Denis knew already then that his life's work would have to do with the sea.
He took the long way over, building a name for himself first on land, working in carpentry and hardware industry .Over the last 3 years Denis has been carving out his maritime career and joins Anthea with great experience and skills in his repertoire.
Quick, efficient, and a dedicated team player, he approaches everything he does with utmost responsibility, ready to do whatever is takes to get the job done. An avid hunter, he can share many enthralling stories and tales about the Dalmatian great outdoors. But his favorite thing in life remains walking and hiking with his daughter.


Deckhand: Boris Lušić Santibanez
Nationality: Croatian

Boris was born and spent his childhood years in the community of Quinta Normal in Santiago, Chile. But the call of his roots was strong, and after completing his secondary studies, he ventured across seas and oceans to the petite town of Šibenik. Inspired by its longstanding tradition of seafaring, Boris received his able body seaman certification from the local naval school, and set out to the sea. After 12 years of working as a sailor helmsman on cargo ships, he stepped foot onboard a passenger ship, and remained in service for the next 15 years.
Thank to this longstanding experience, Boris takes on all the tasks with a predictable ease and precision. Kind and pleasant, he possesses a vibrant sense of humor that he polished alongside his beautiful two children. With parenting stamina and keen affection, he is the one who will always amuse the little ones with activities on the sea, from water sports to jet-skiing to fishing.


Deckhand: Andrija Zelalic
Nationality: Croatian

Youthful, agile and energetic, Andrija is an invaluable member of the deck crew. His experience spans work on different-sized boats, giving him a well-rounded skill set that enables him to excel in everything he does.
Over his summers on the daily excursion and transfer boats, Andrija mastered both passenger safety and passenger service. Continuing on larger charter boats, and especially the first luxury motor sailer in Croatia, S/Y Nautilus, he learned everything about day-to-day operations, but also winter maintenance and seasonal preparation of the boats in shipyards. This provided him with a comprehensive understanding of the entire operation. An electronics technician with further education in maritime inspection management, Andrija also has the theory to back his hands-on skill.
Born and raised in Dalmatia's heart of Split, it doesn't come as a surprise that in his free time Andrija also enjoys spending time at the sea and doing water activities. His favorites are sailing and fishing but for everyday purposes, pretty much any sport will do for this active seaman.

Additional Information
The brand new 52 custom made M/Y Anthea makes for an unmatched addition to the luxury private crewed charter in the Adriatic sea. She combines a supreme yachting experience with accommodation for up to 20 guests. Her ten double cabins sit four on the lower and six on the main deck, the cabins range in size between 22 and 28m2, each with a king-size bed, en suite bathroom and walk-in closet. To accommodate single guests or guests with children, four of ten cabins can be converted into twins. Smart TVs, plug-ins for gadgets, and Intercom are featured in all cabins. The ample common spaces can host a variety of themes, feels and events. The breezy aft lounge on the upper deck is ideal likewise for afternoon siestas, sunset cocktails or even evening movie screenings, as it is equipped with a pull-down projector and screen.A retractable glass partition separates this space from the spacious saloon, and allows for smooth indoor-outdoor flow and easy transformation into a space for larger events. Après-lunch espressos and good reads feel even better in the many cozy corners with armchairs and coffee tables. Romantic moments become ever more so on the main deck bow where the U-shaped couch lures you to meditate over vistas and a glass of your favorite wine. And if work must be done, there is the mini office with a library by the saloon as well as flat Wi-Fi throughout. Guests can savor Mediterranean specialties by their Chef in the interior or sundeck dining area. The interior dining lounge on the upper deck features two tables seating ten persons each, but also cozy lounging sets ideal for aperitifs over mesmerizing views through panoramic windows. The sundeck dining area holds a barbecue for show-cooking and a table which can seat 20 guests, The showstopper is the sundeck bar, with a backlit feature wall lined with translucent Italian gem glass, making this the place for starlit toasts.The Jacuzzi and expansive sun bathing area will keep guests enjoying the sundeck in the daytime. The décor aboard MY Anthea is elegant and contemporary. In the exterior spaces, teak flooring and the neutral color palette of cool greys and warm sandy tones perfectly complement the turquoise Adriatic and pine-covered shores.Inside, walnut flooring and detailing add warmth and coziness. Setting the mood aboard MY Anthea is as simple as lifting a finger, with smart technologies, ambient lighting, upgraded surround system (operated as a whole or in individual spaces), and the piano by the interior dining room. As fun and fitness are the integral part of a true Adriatic experience, MY Anthea holds a plethora of toys and equipment for on water activities ( 2 x sea bob, 2c jet skis, SUPs, snorkeling and fishing equipment, wakeboards, water skis for adults and children, floating beach.. The gym and sauna on the main deck make it easy to upkeep the health regimes. Taking care of the guests' wishes, needs and safety is the handpicked, experienced, and professional crew of 12 members which can, upon request, be expanded to include a tour leader or masseuse/yoga instructor. Board MY Anthea for unforgettable charter holidays in Croatia!
Destinations