Gallery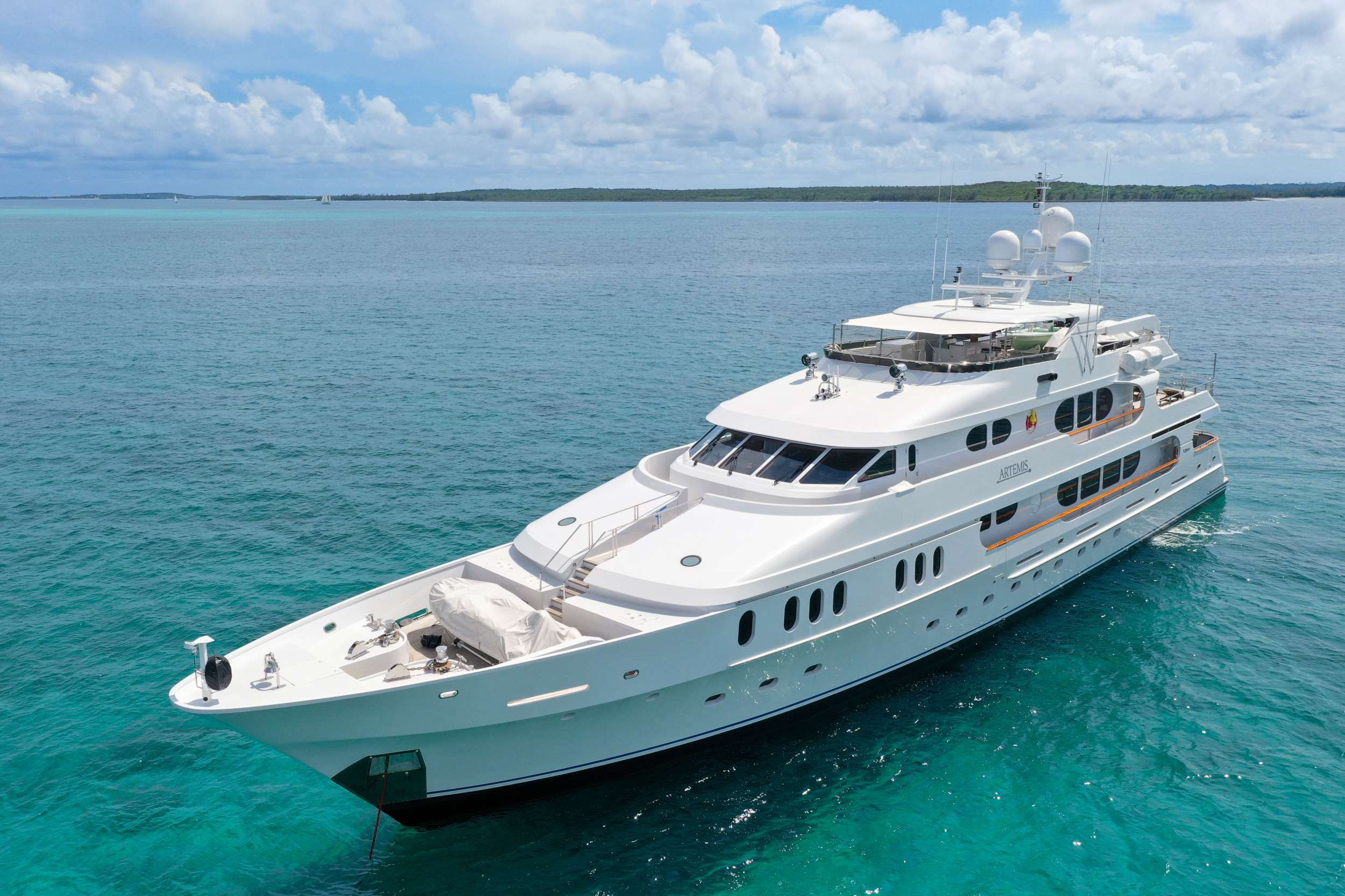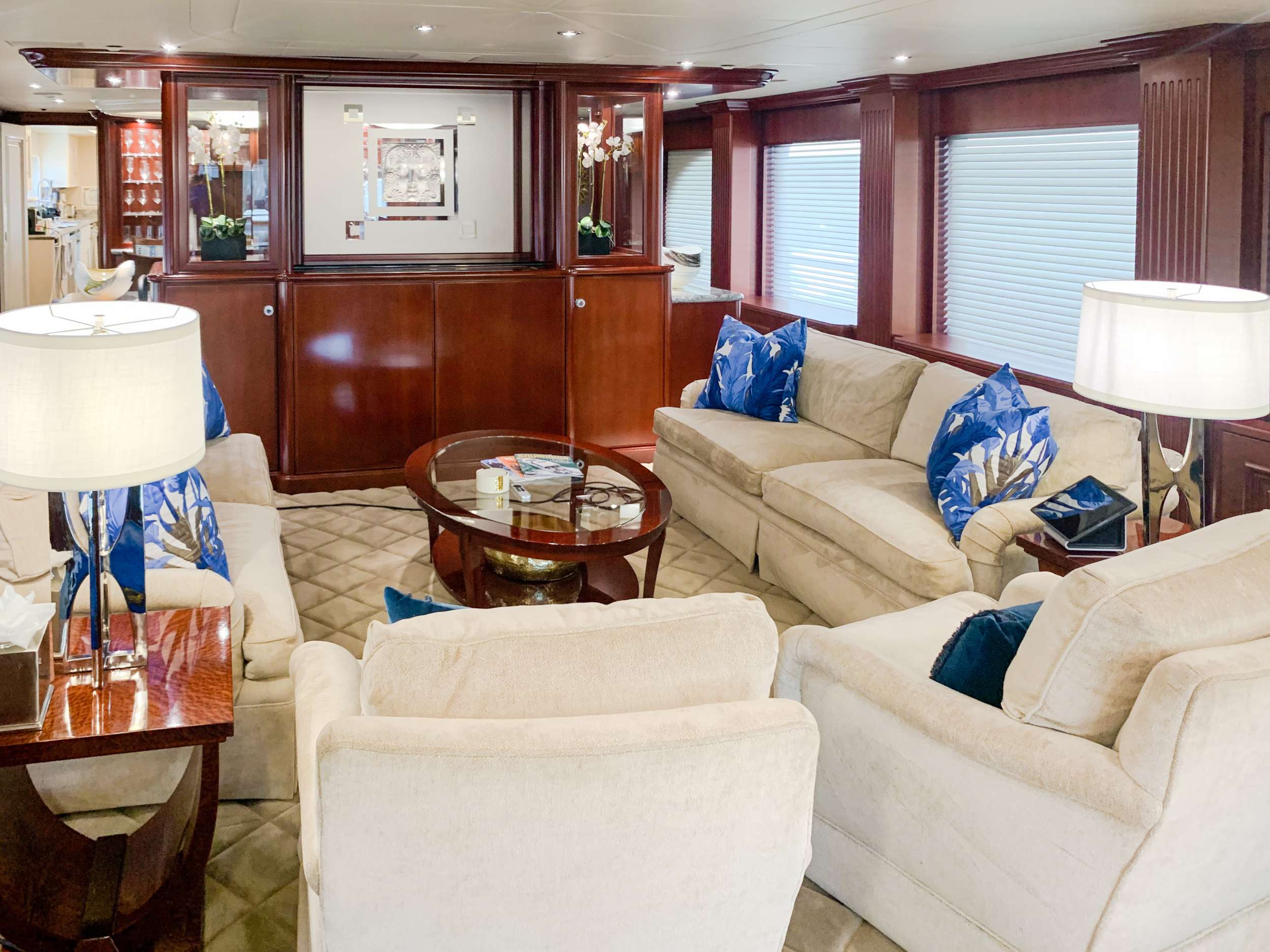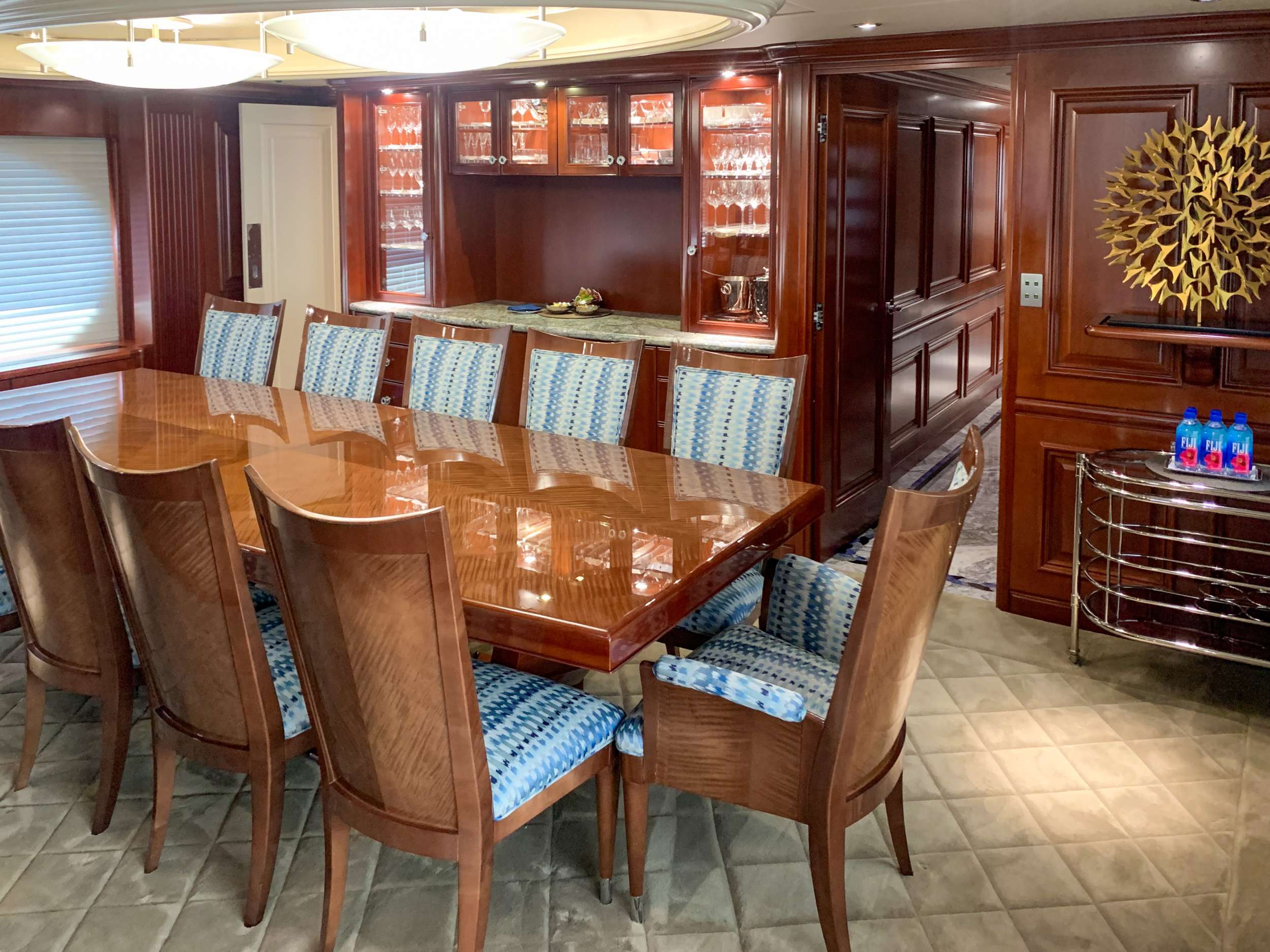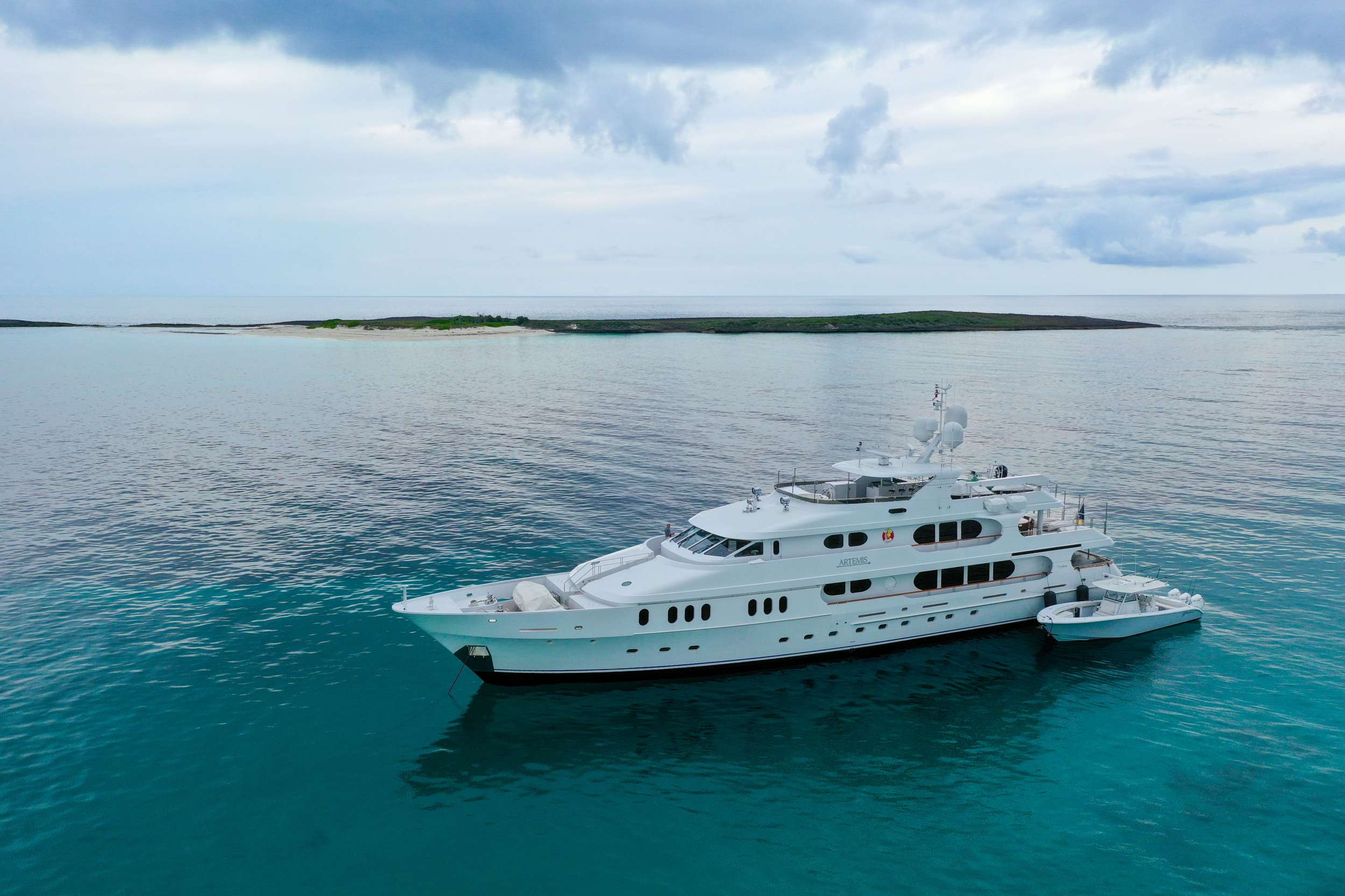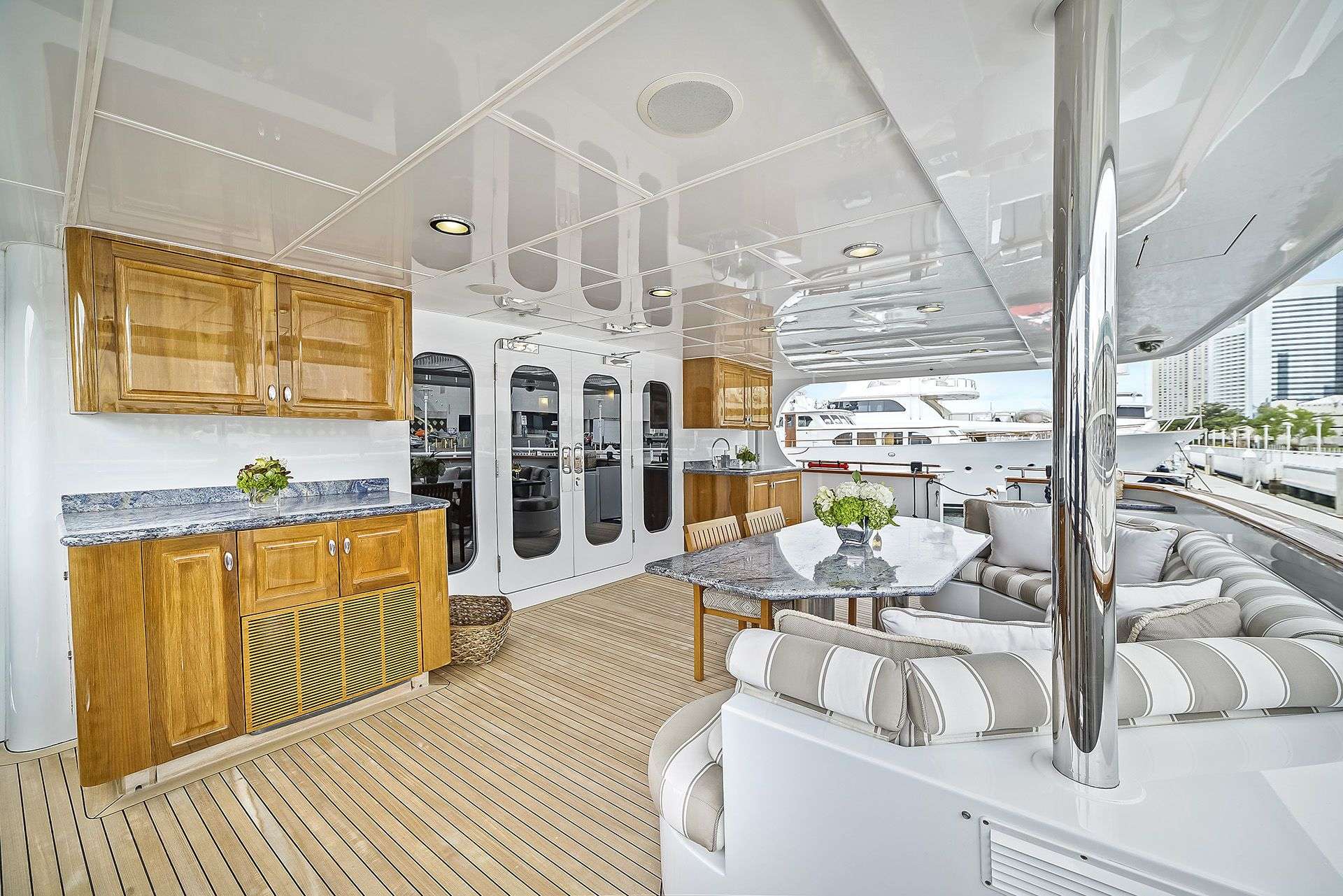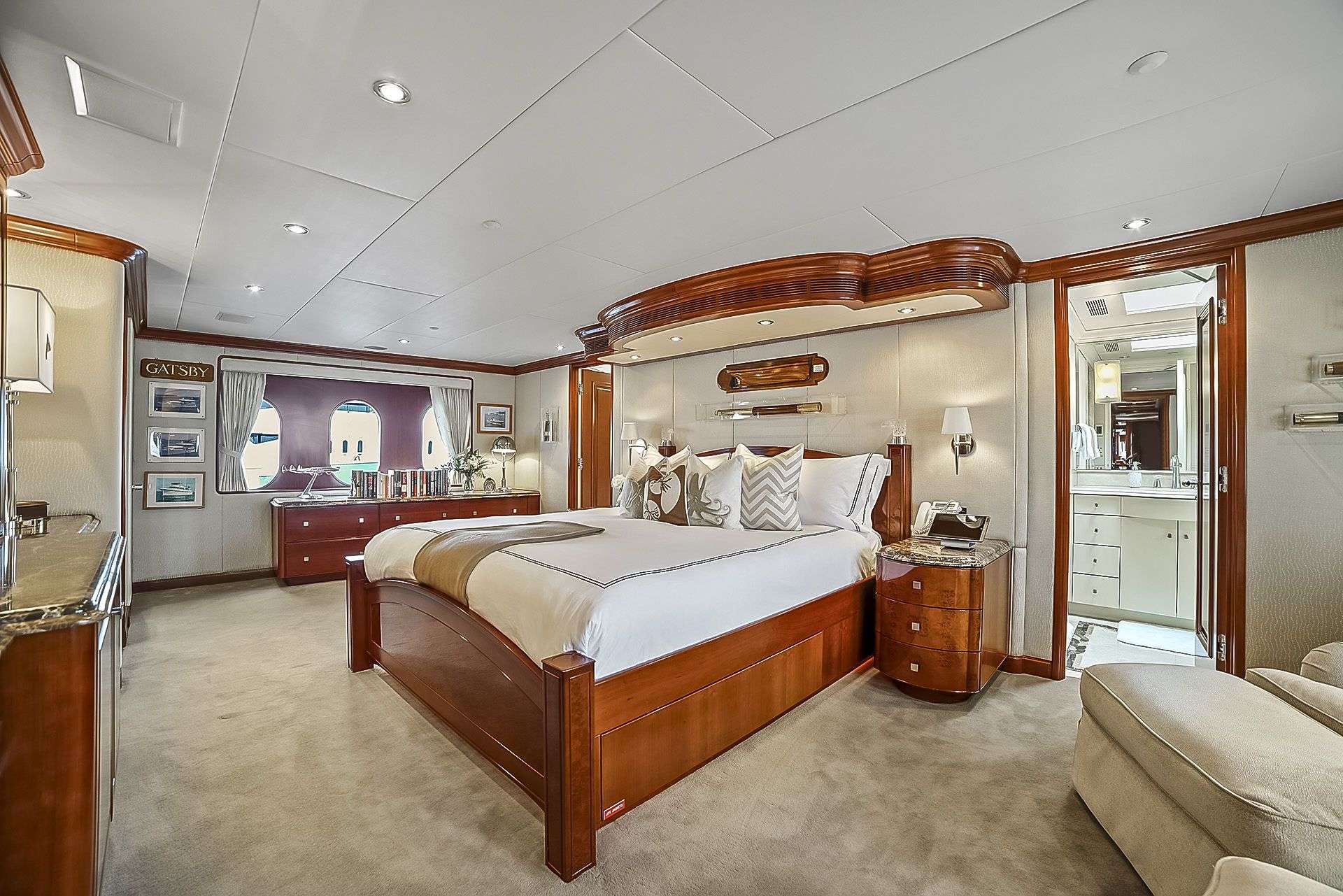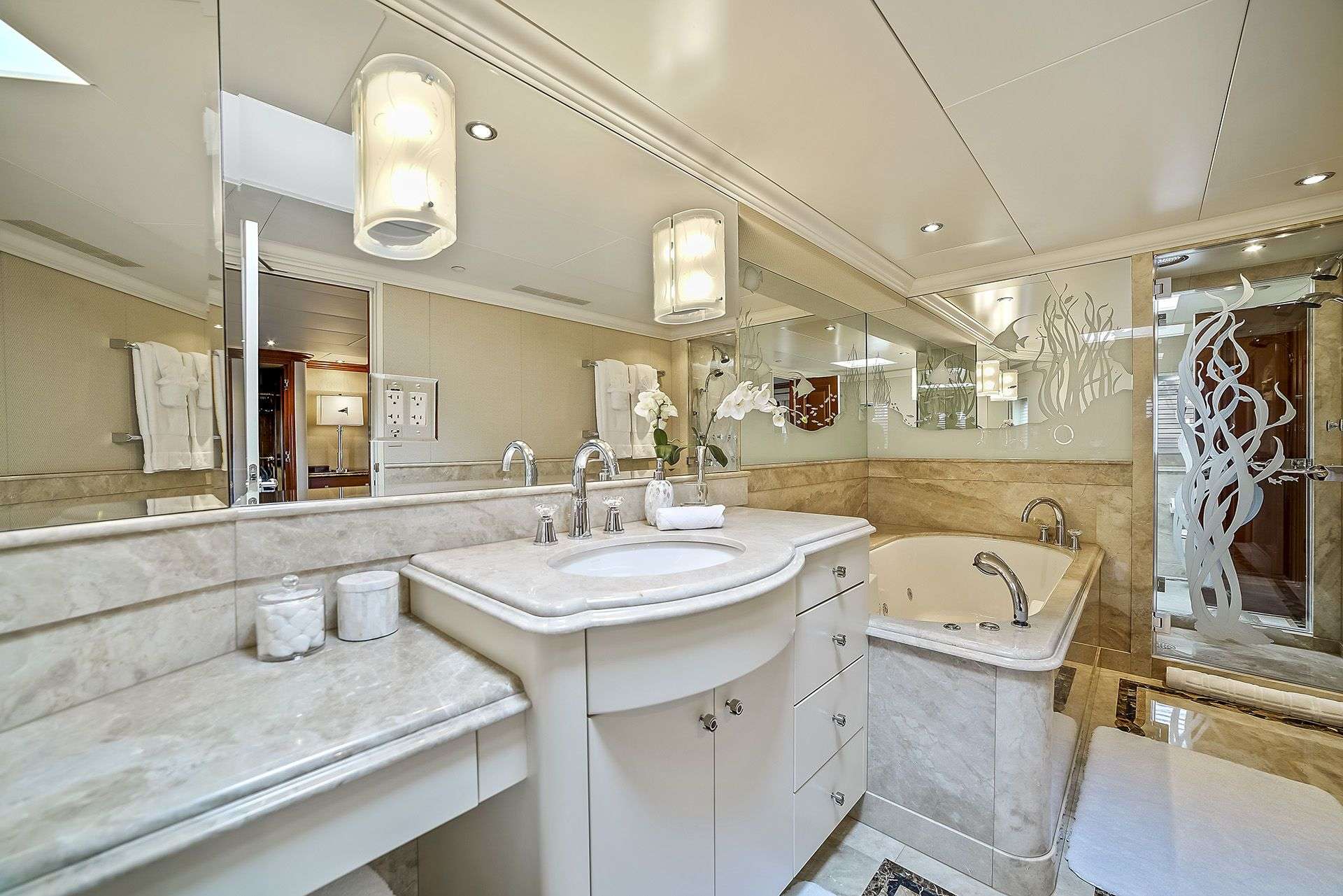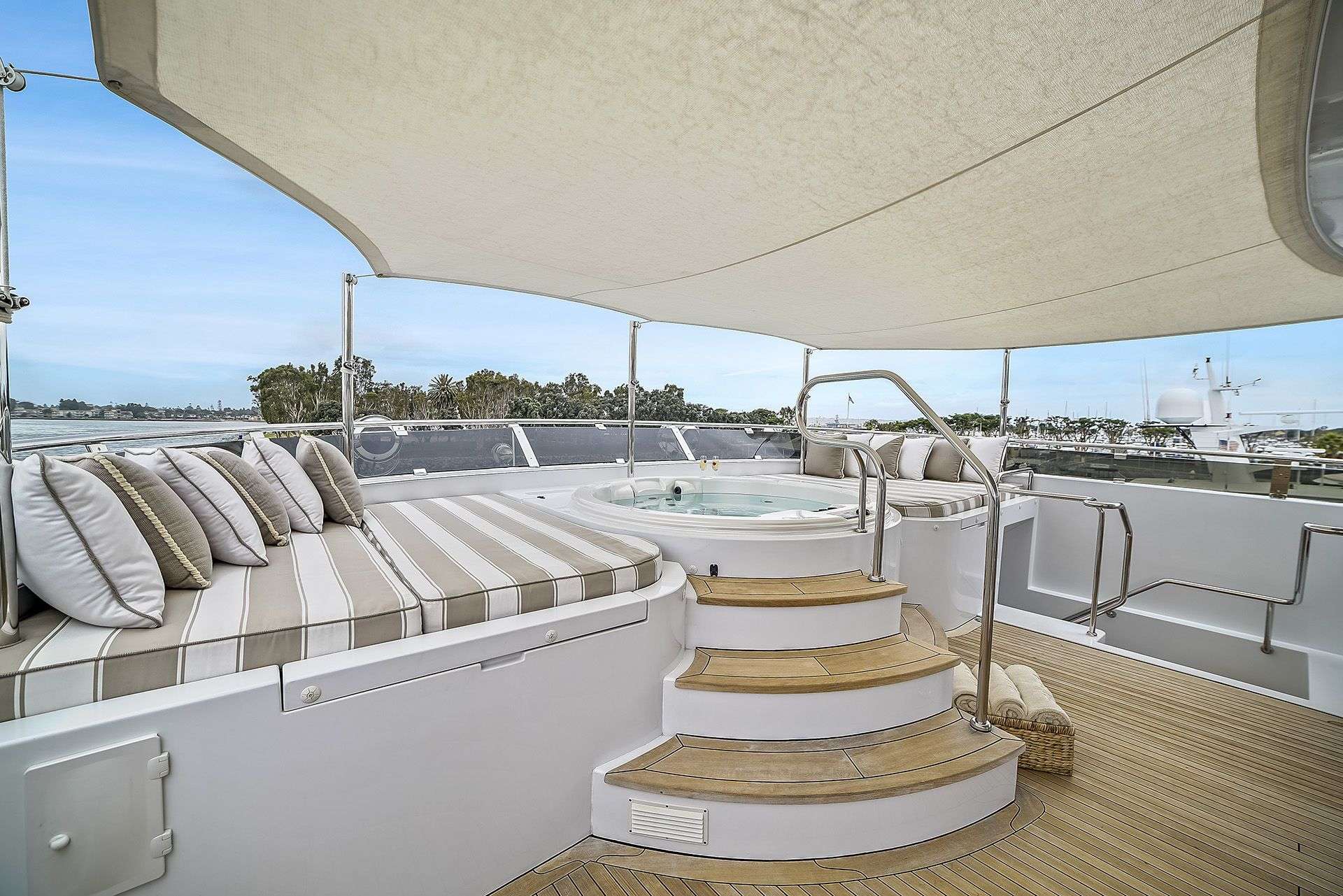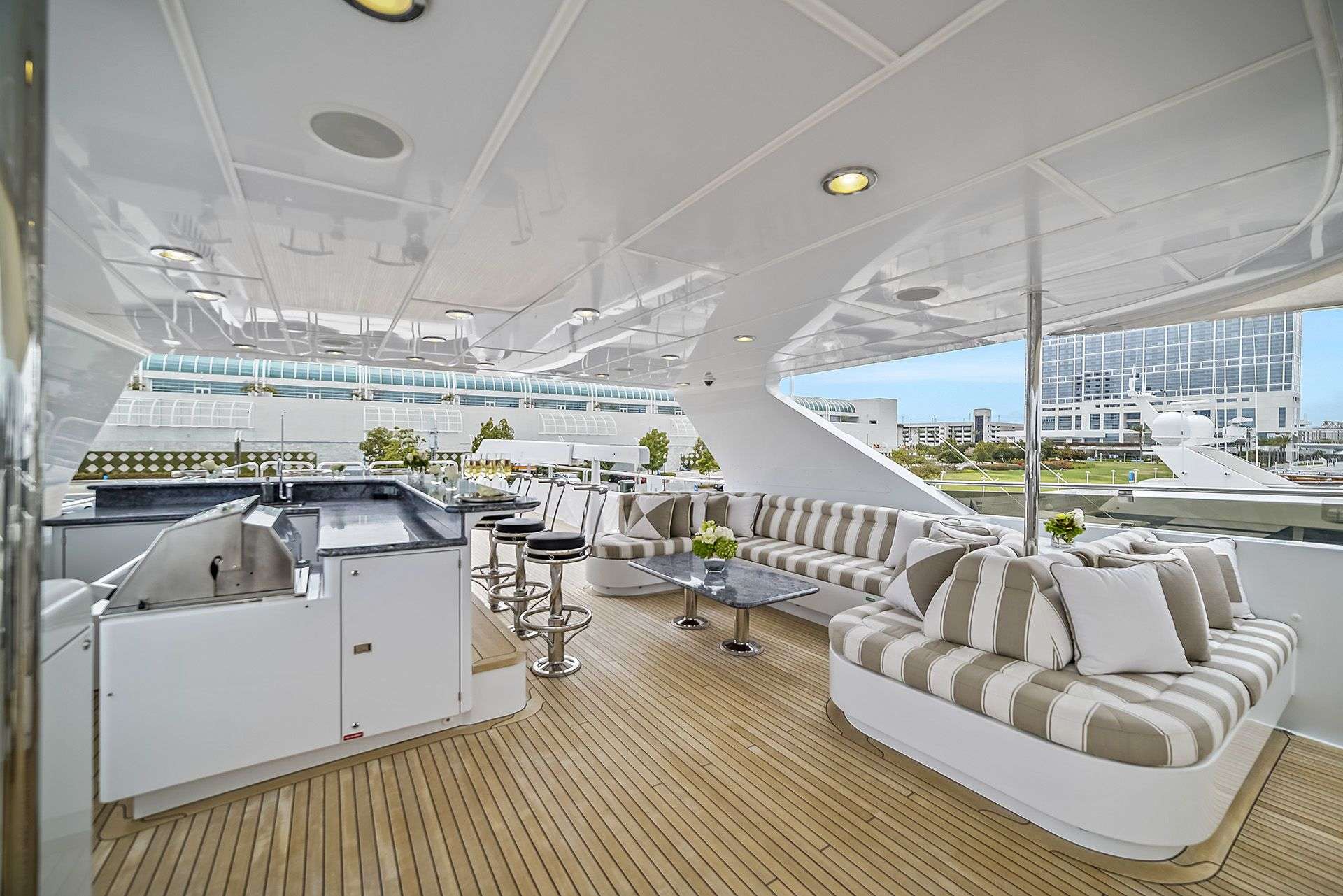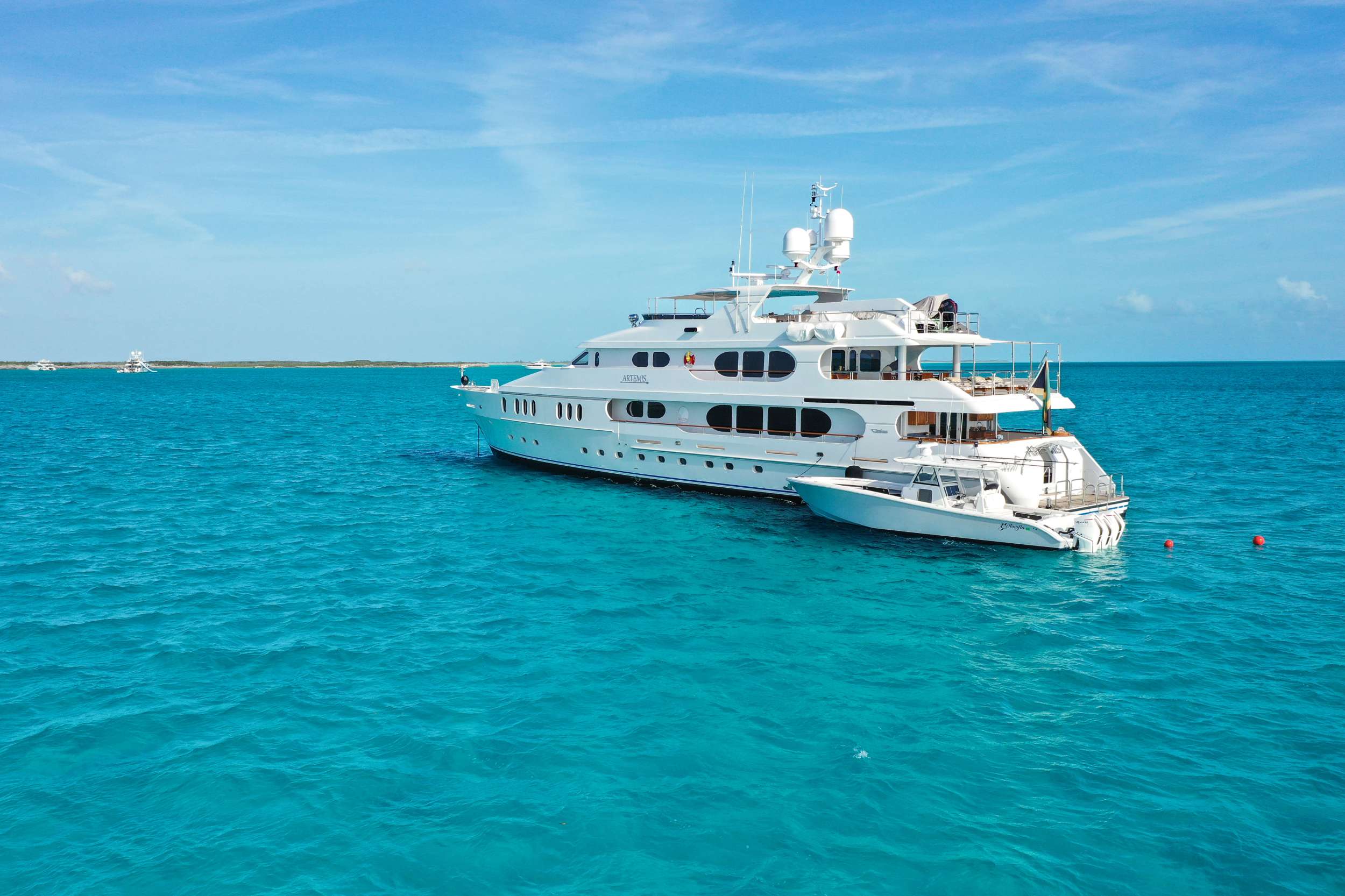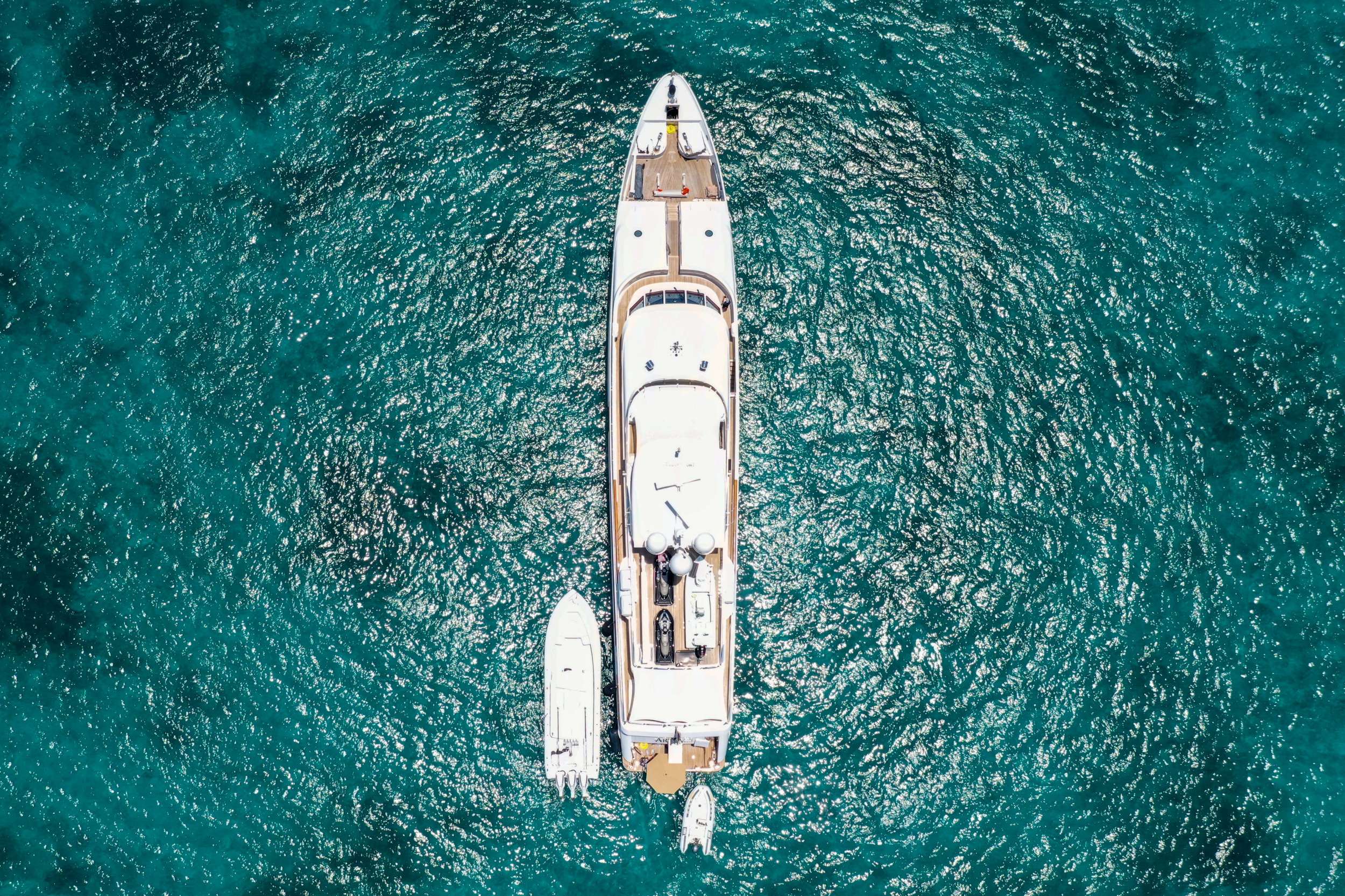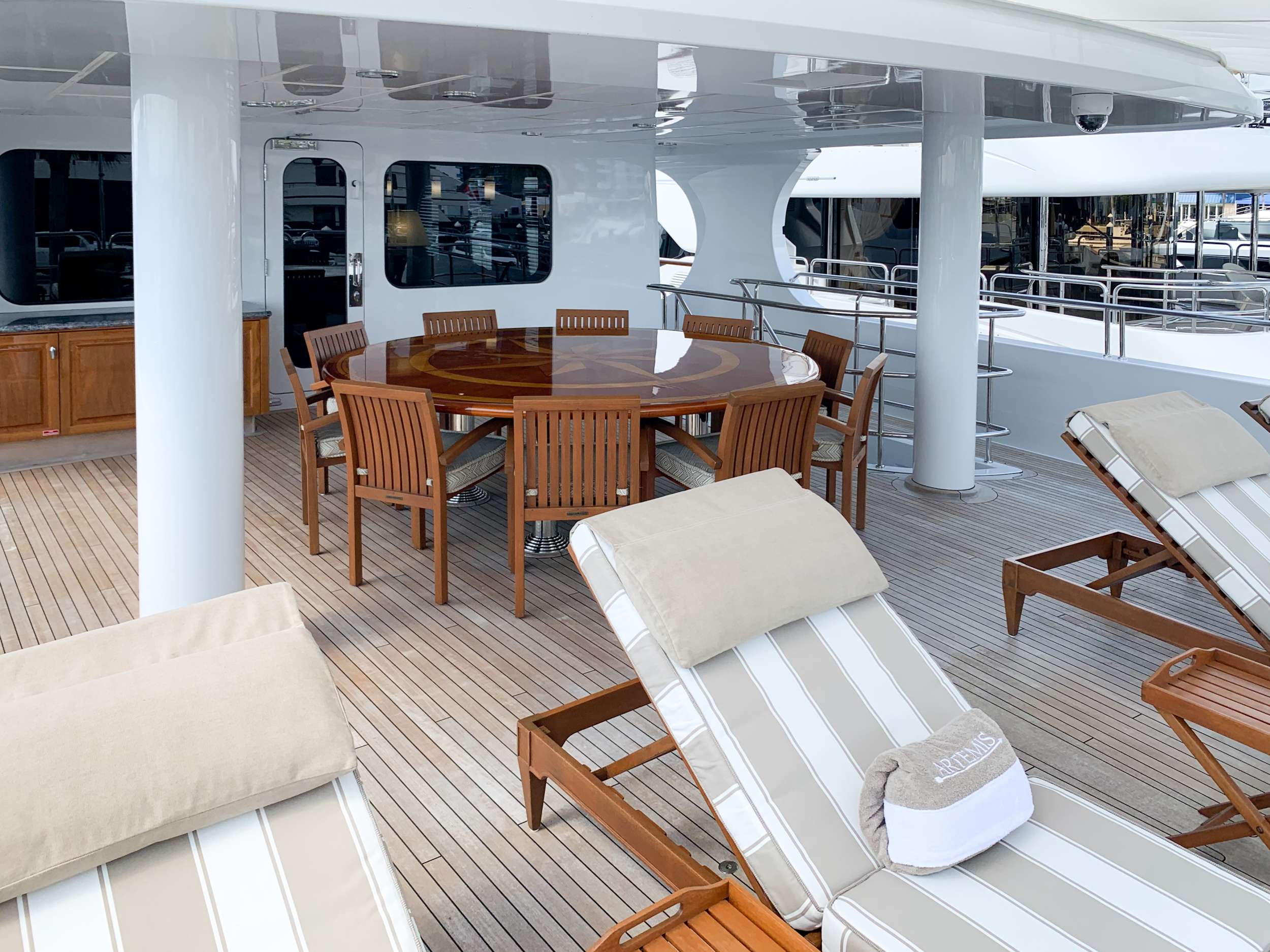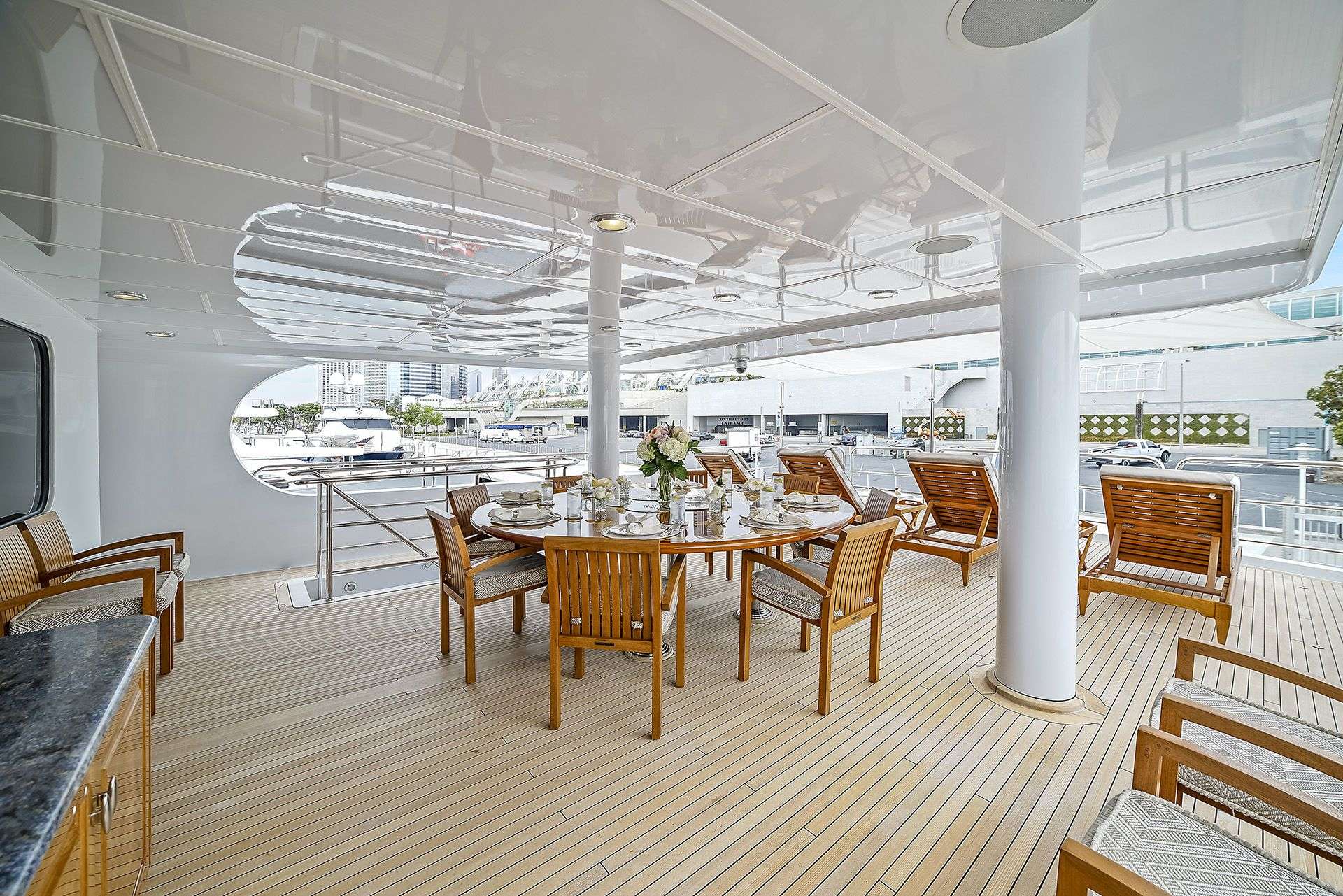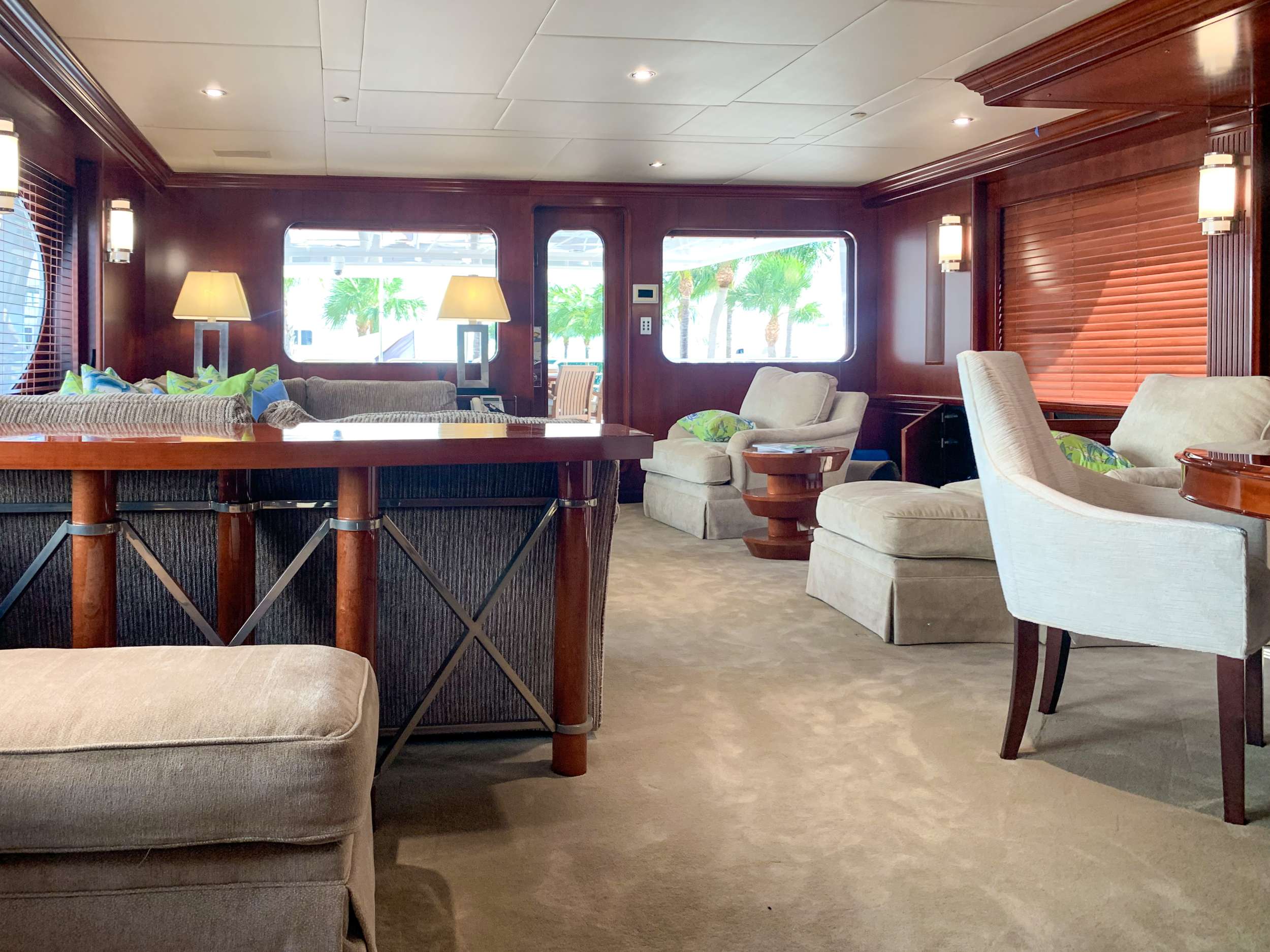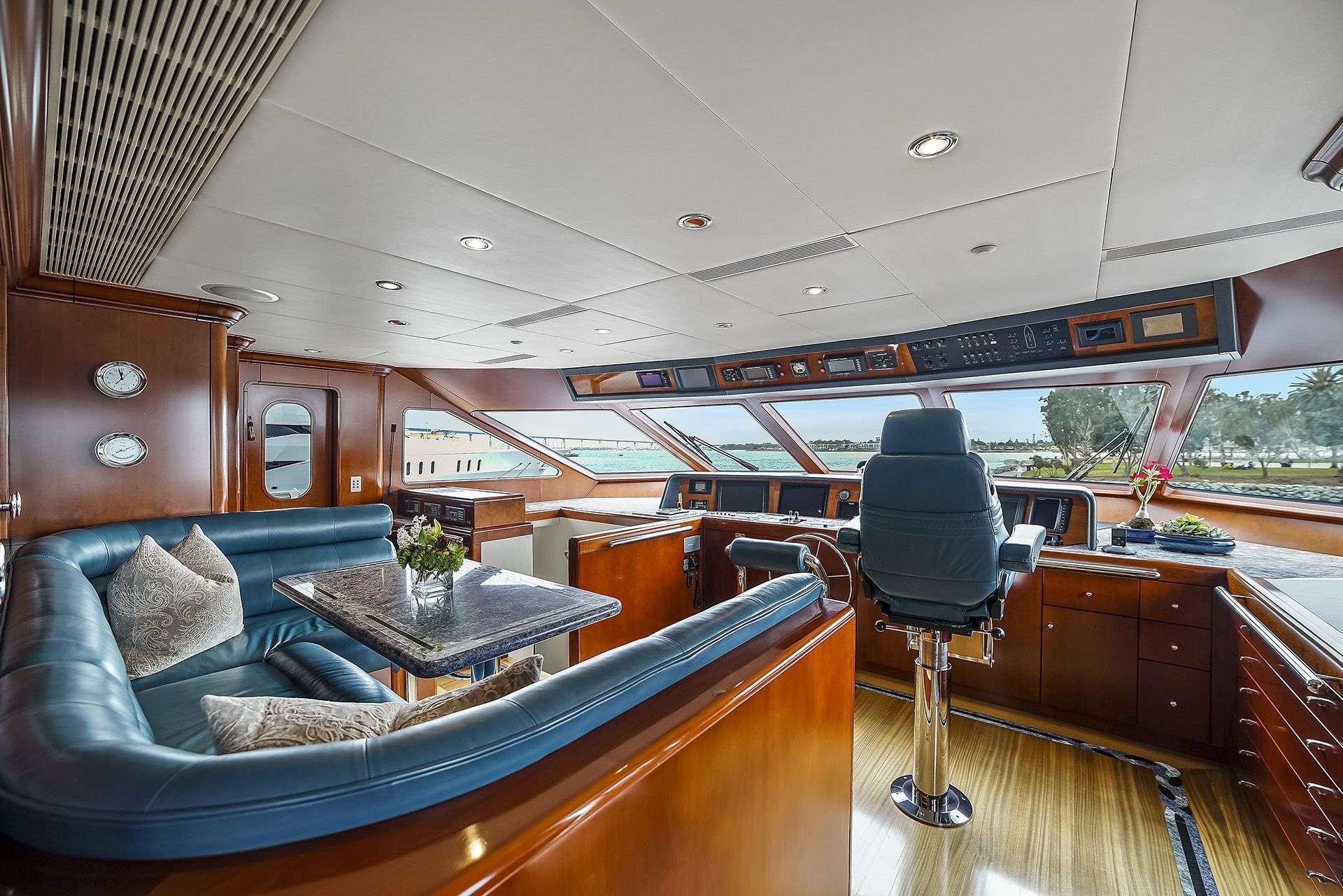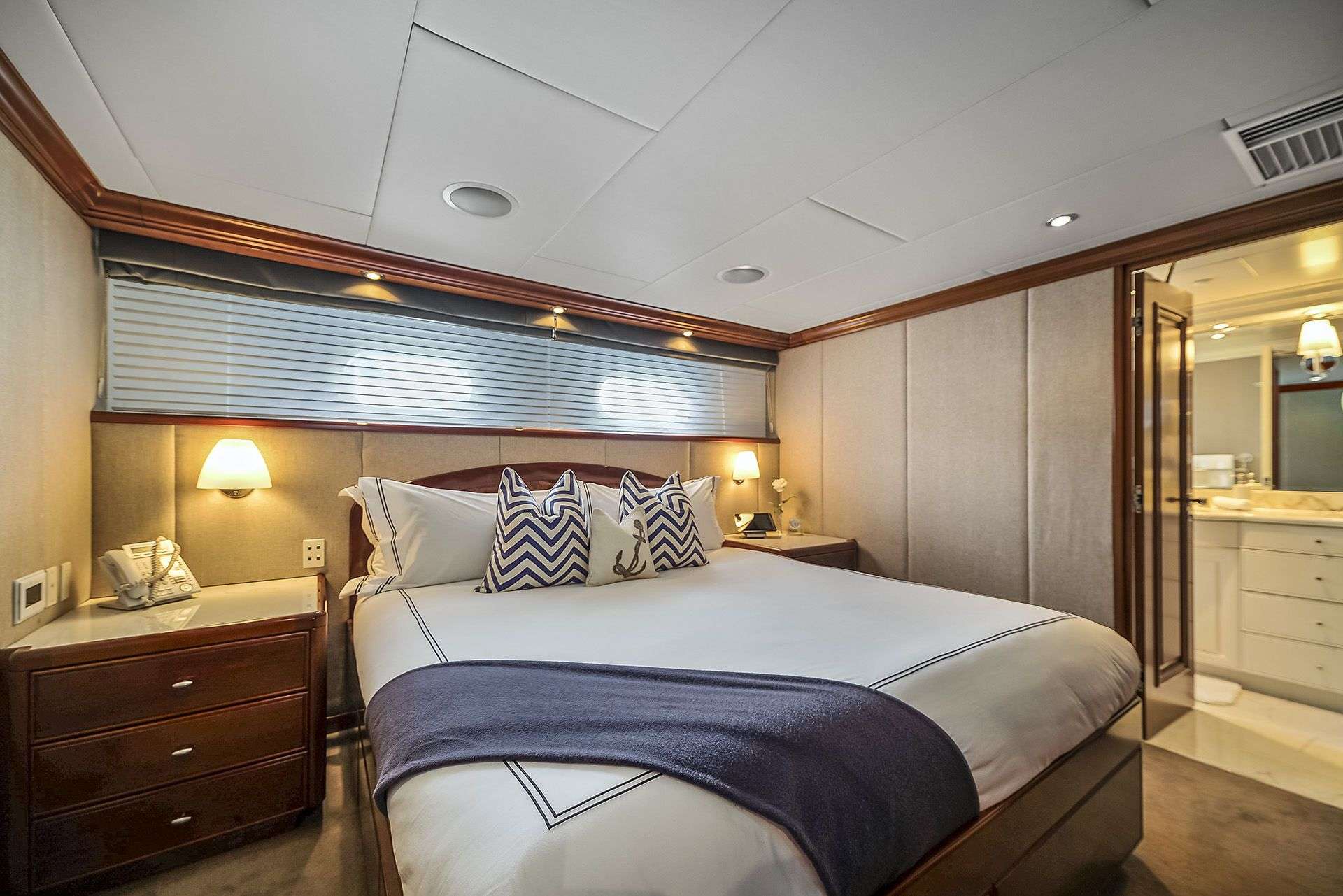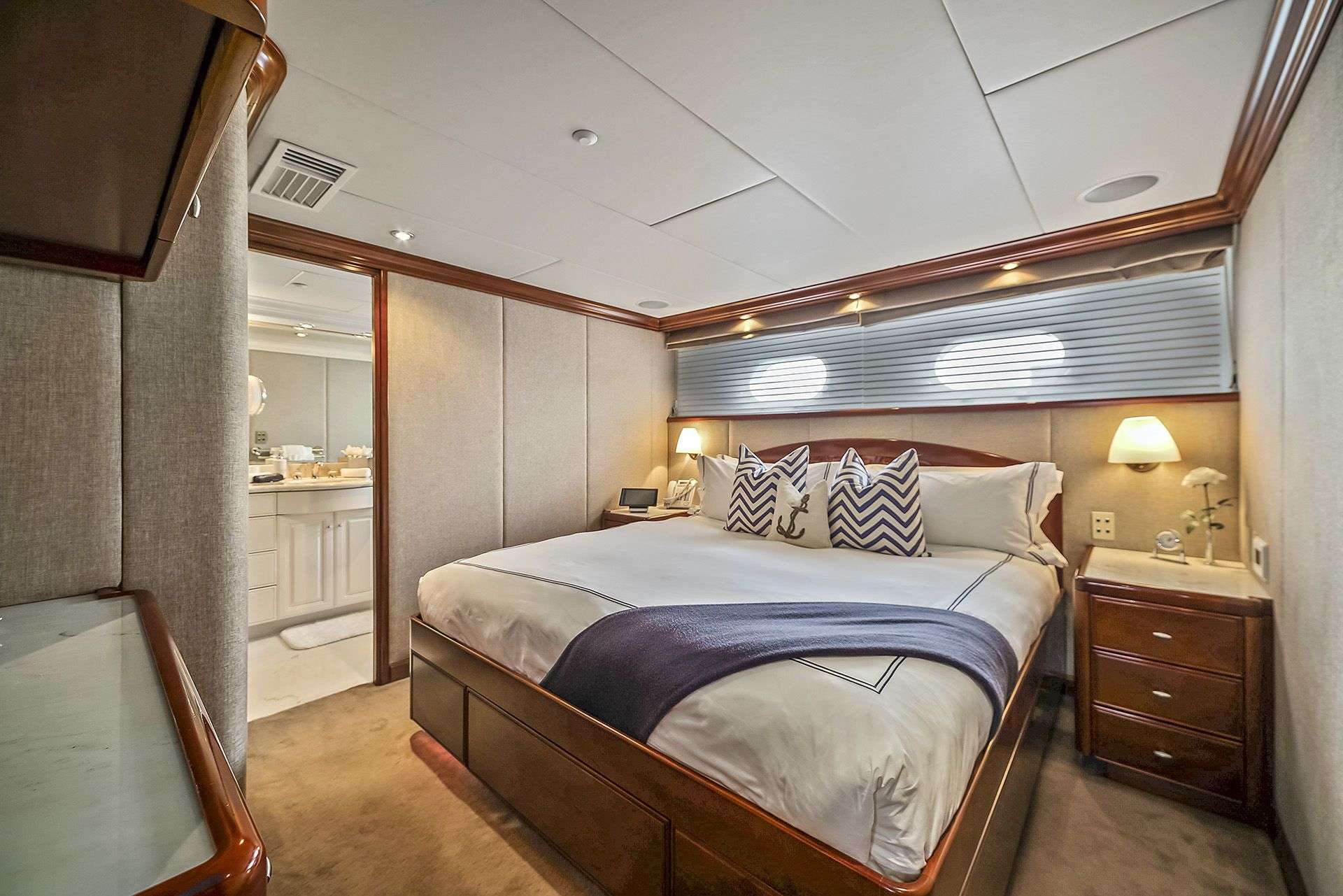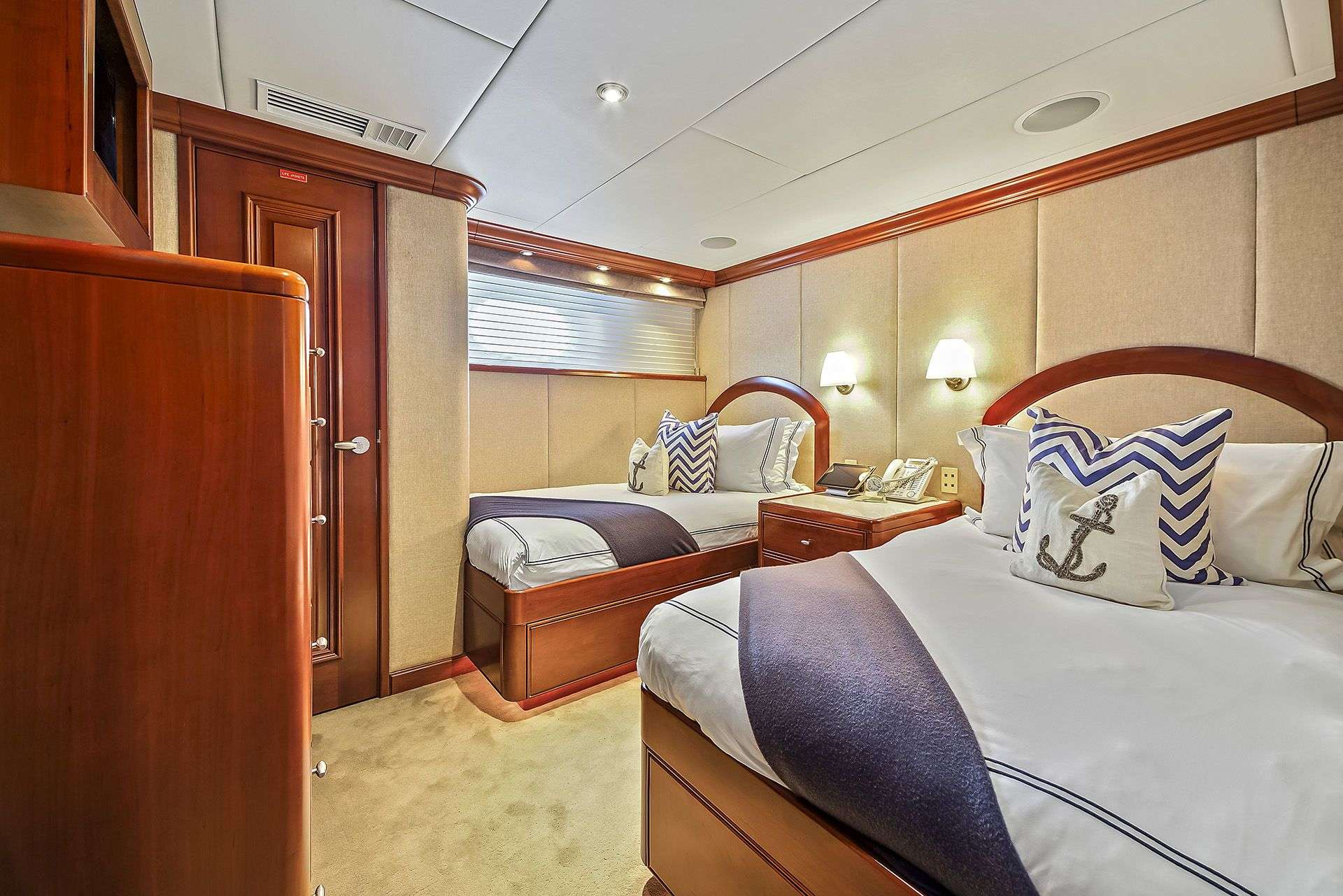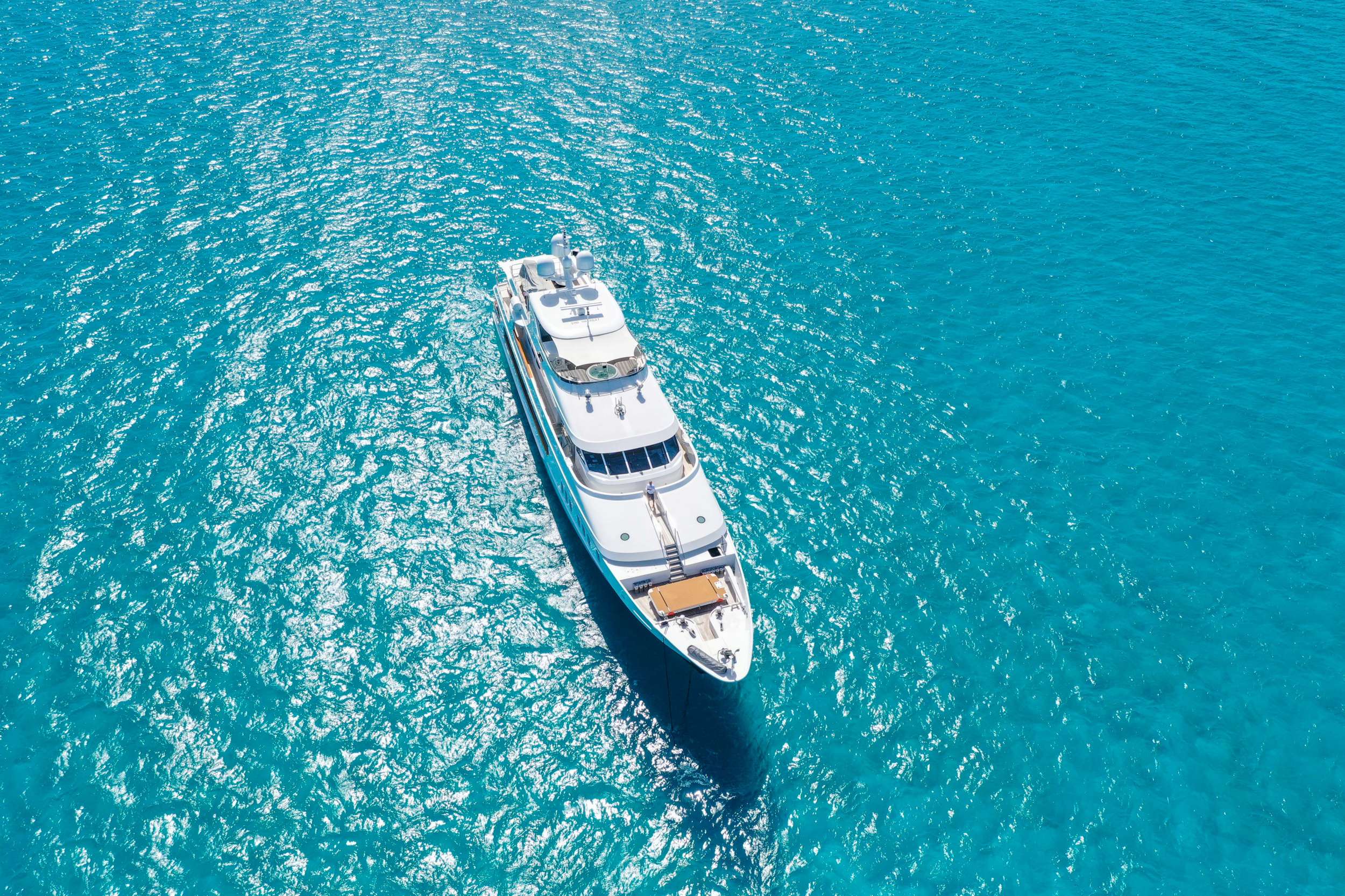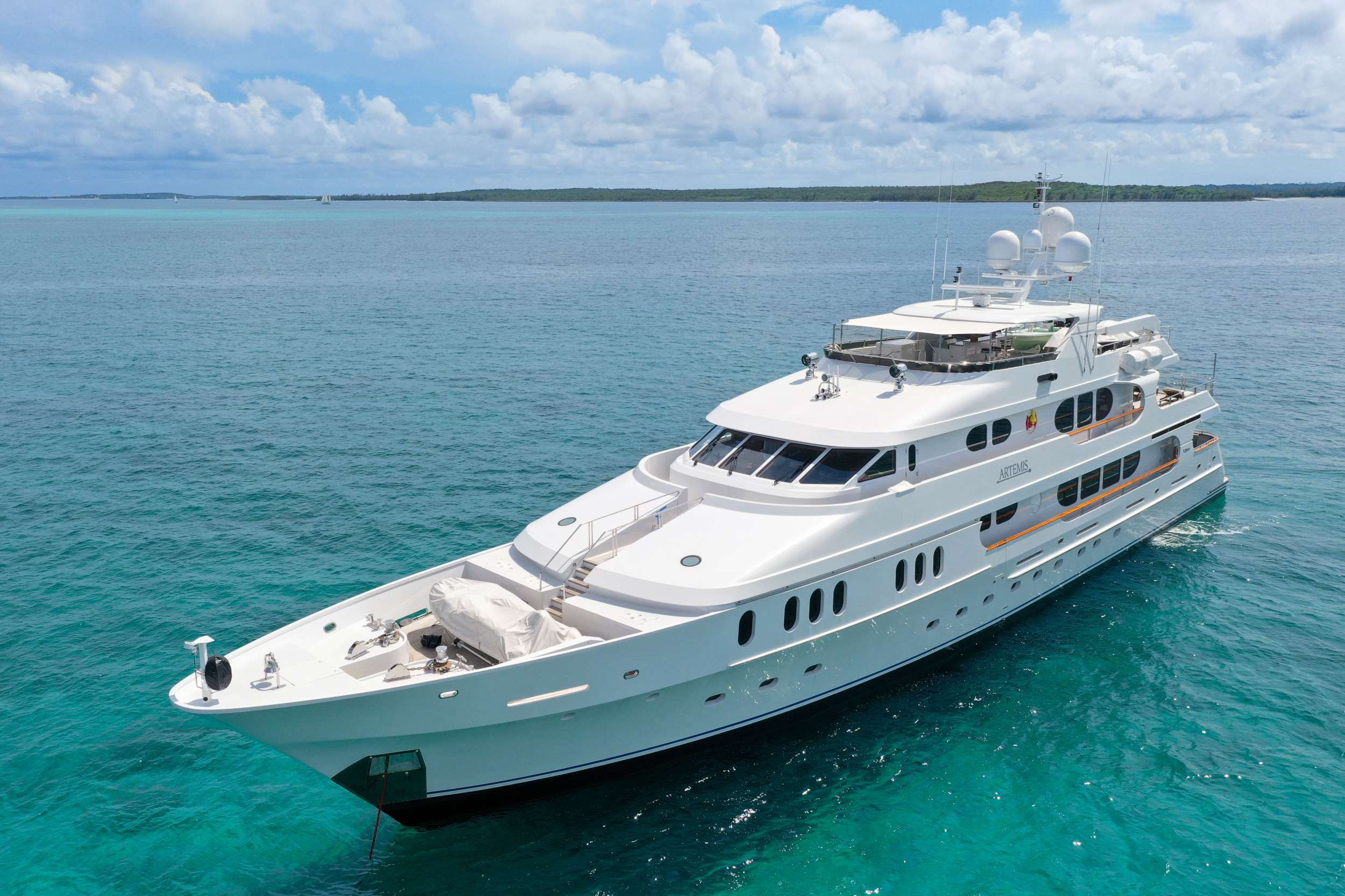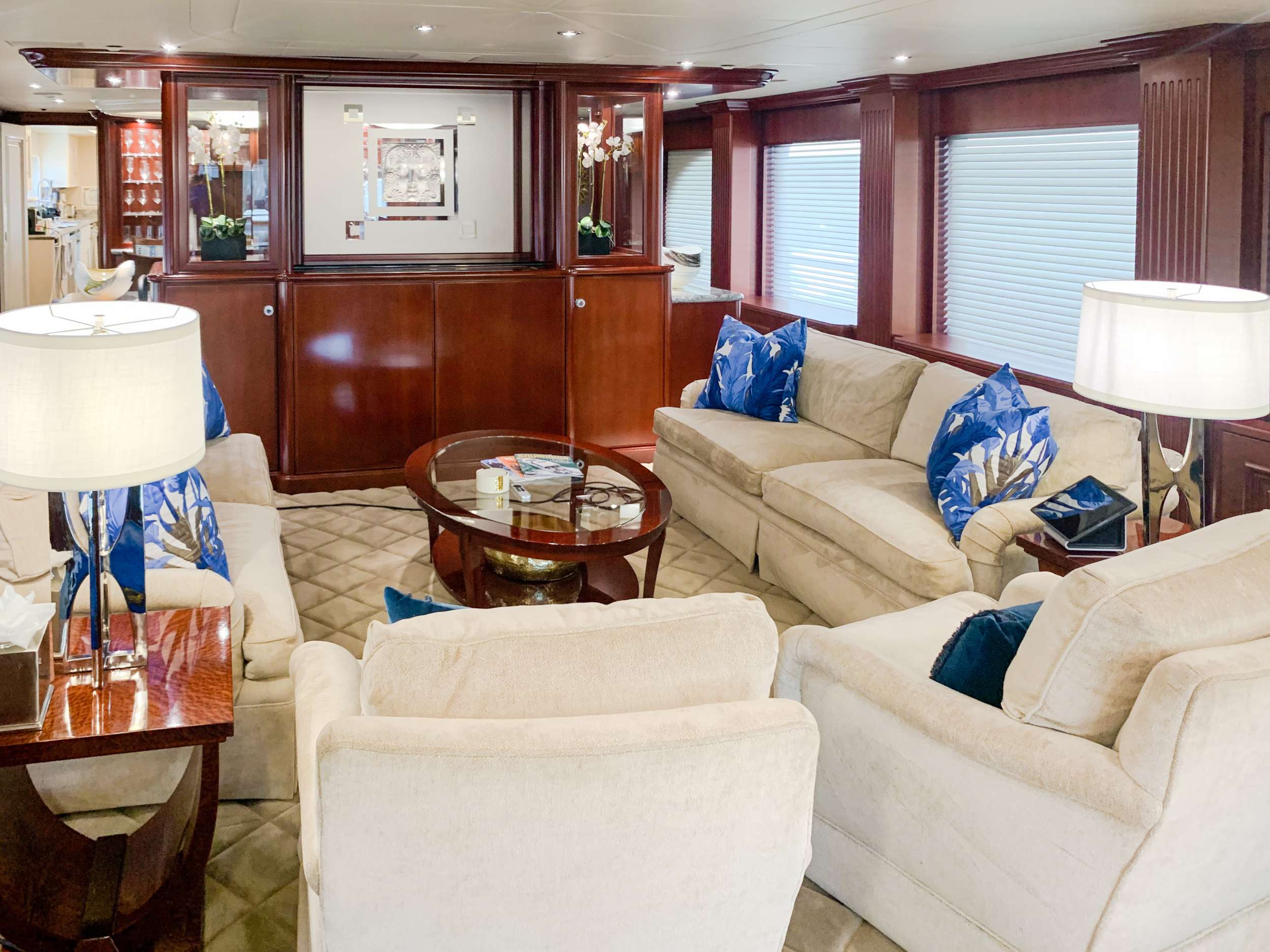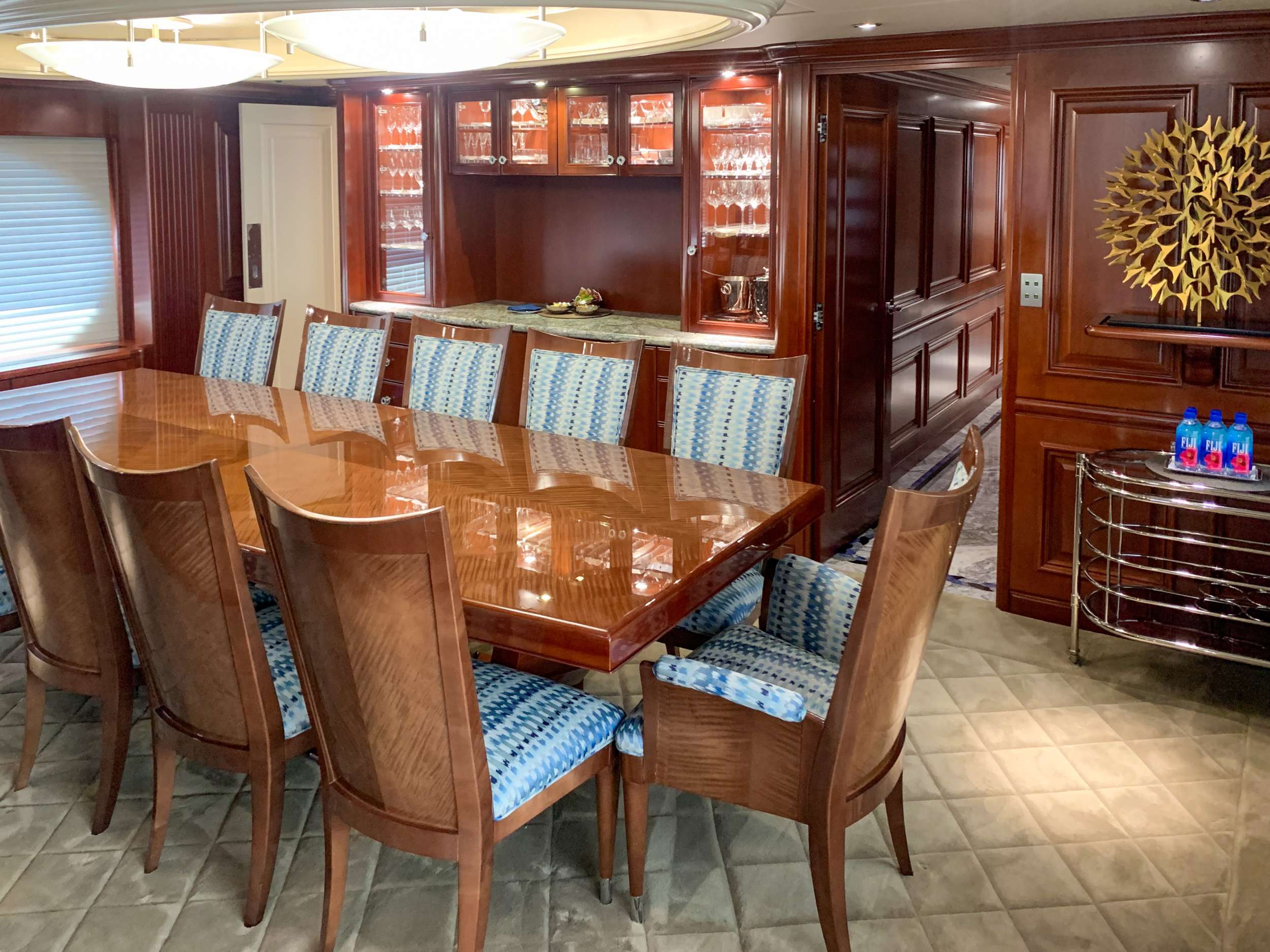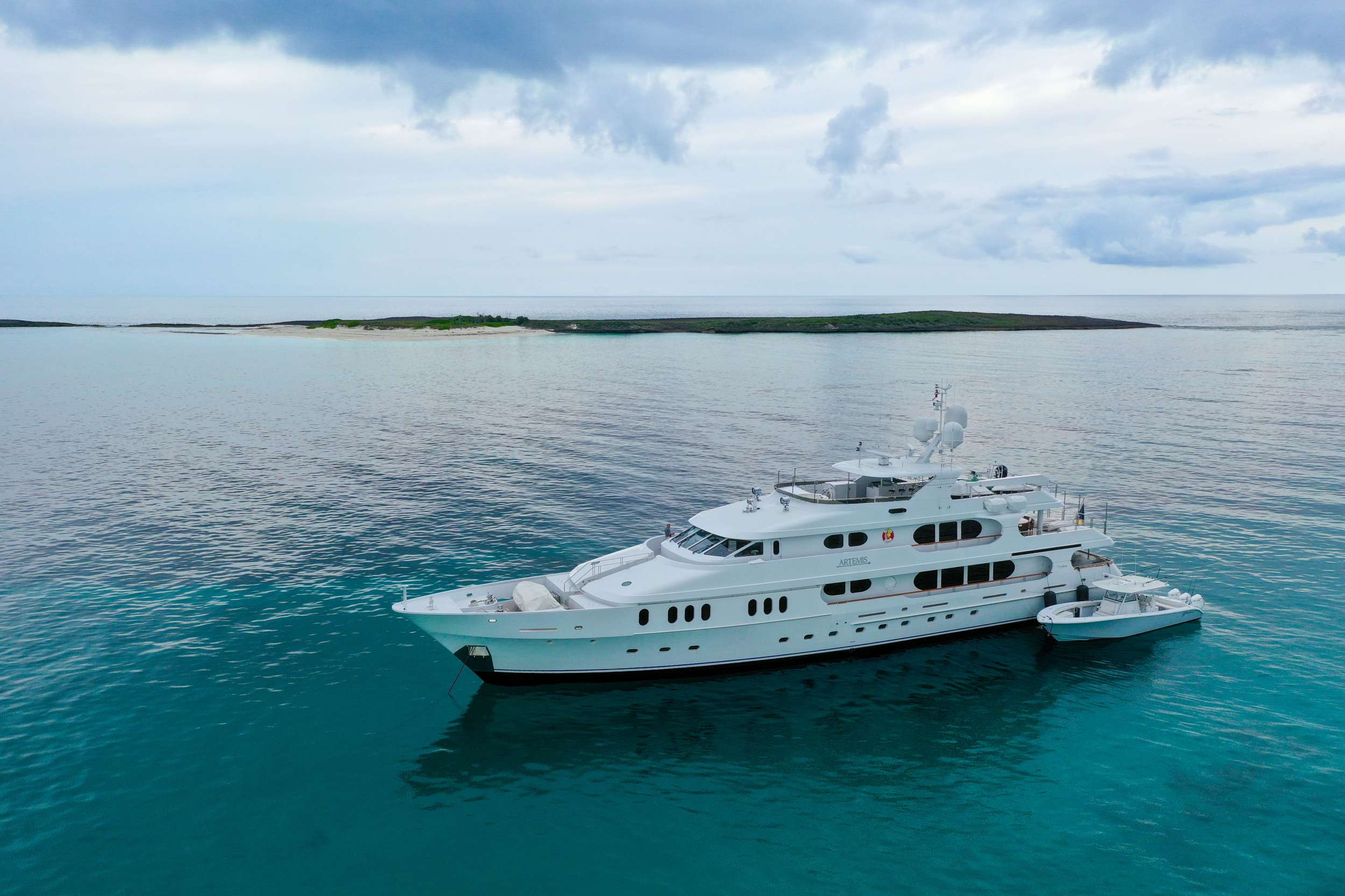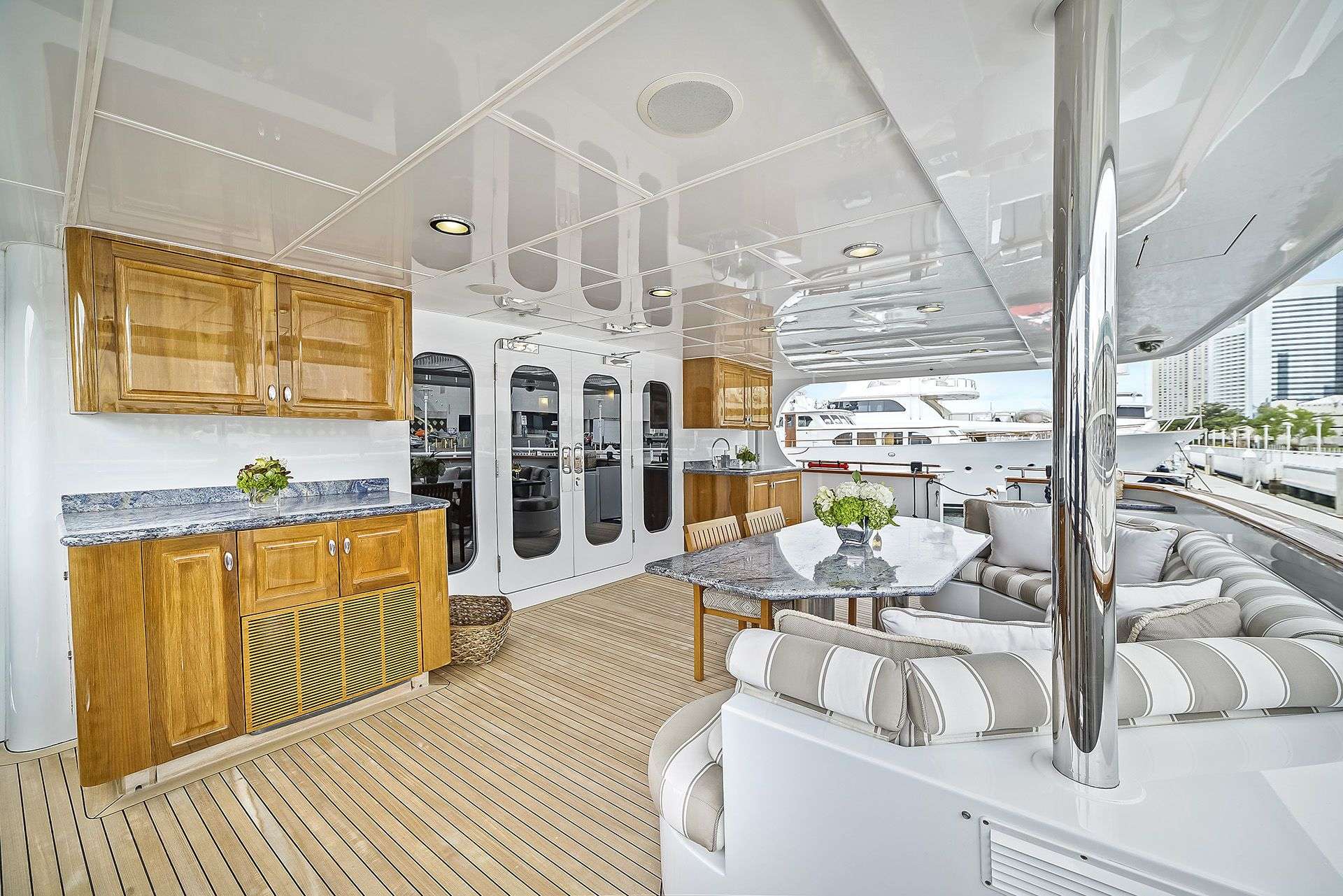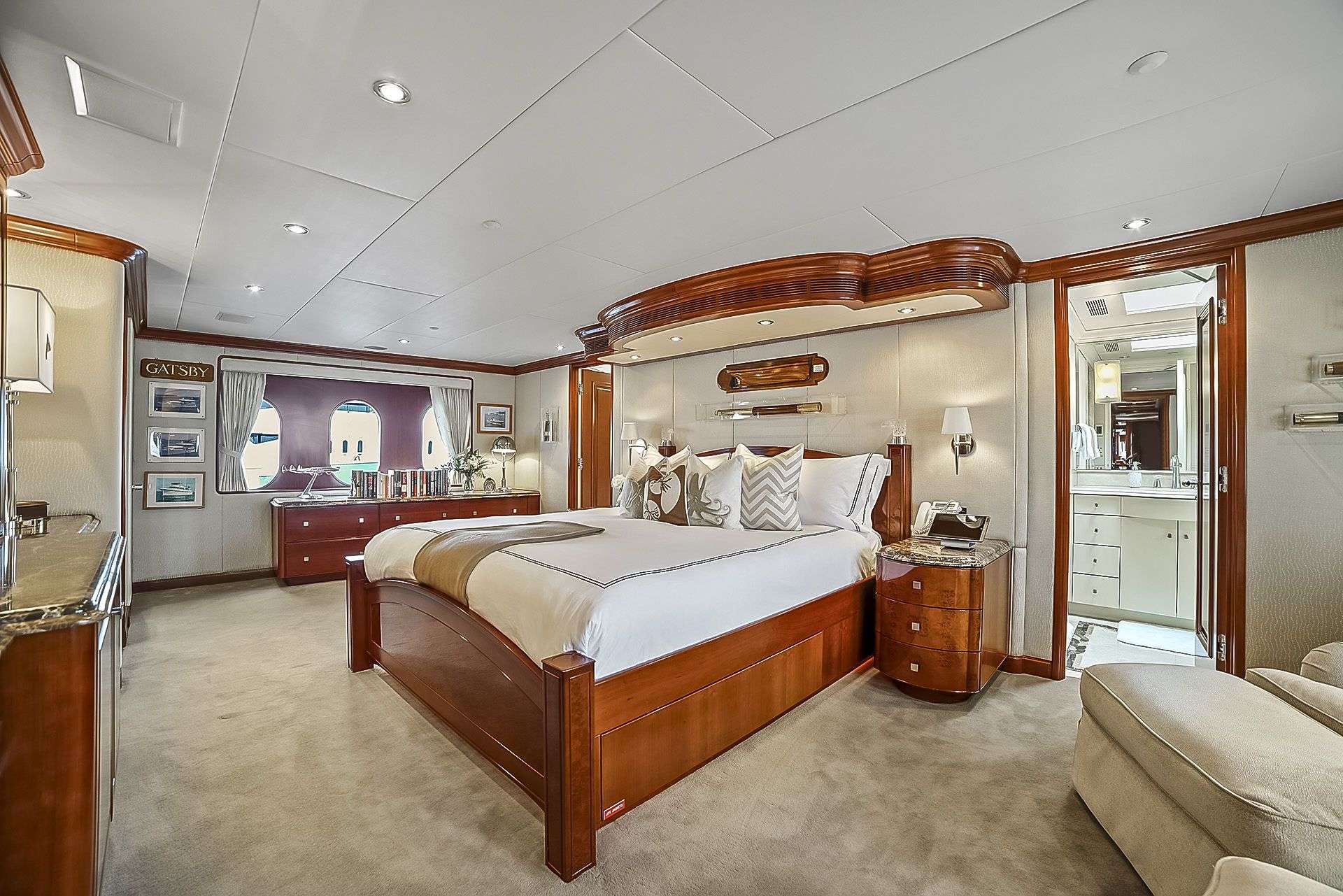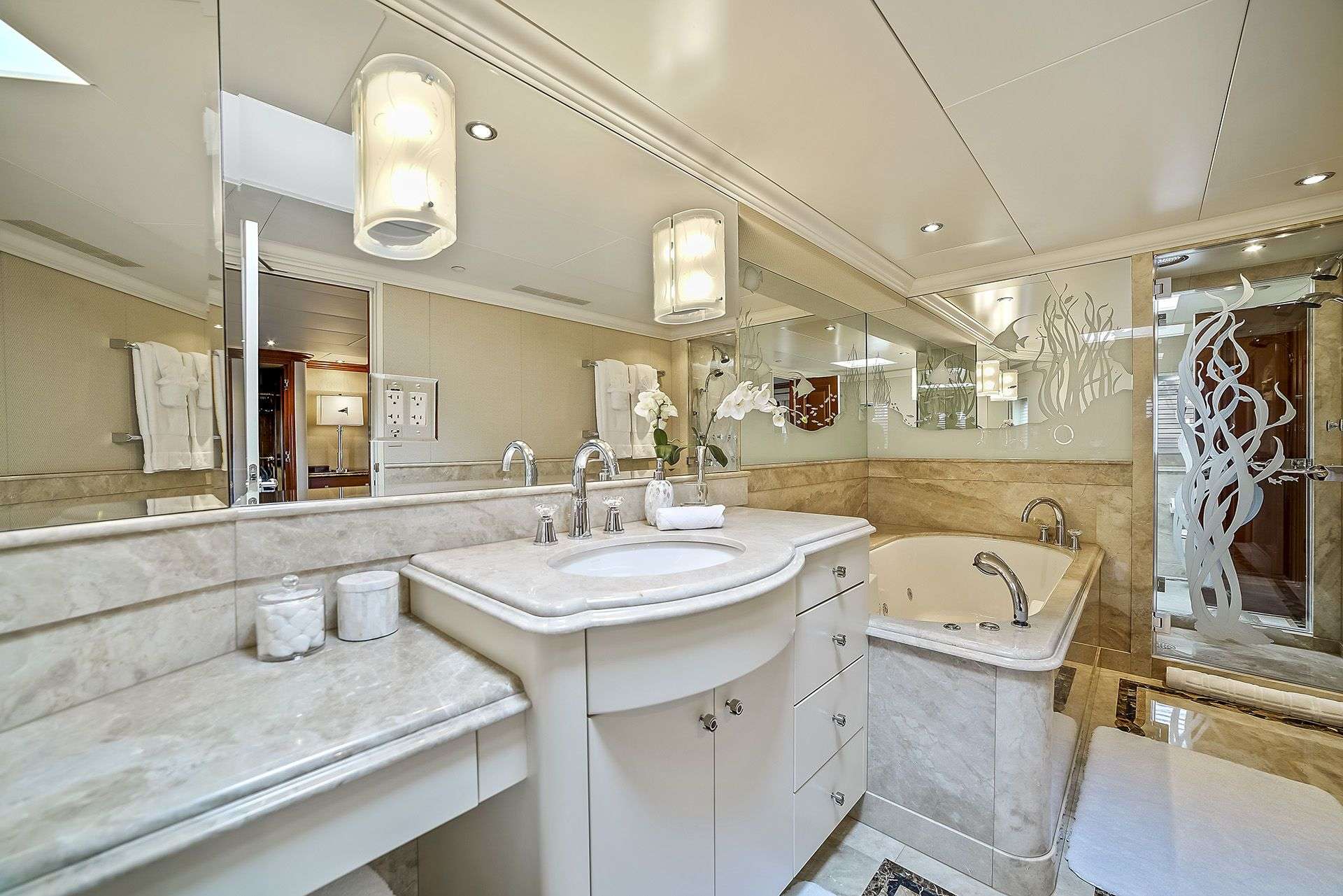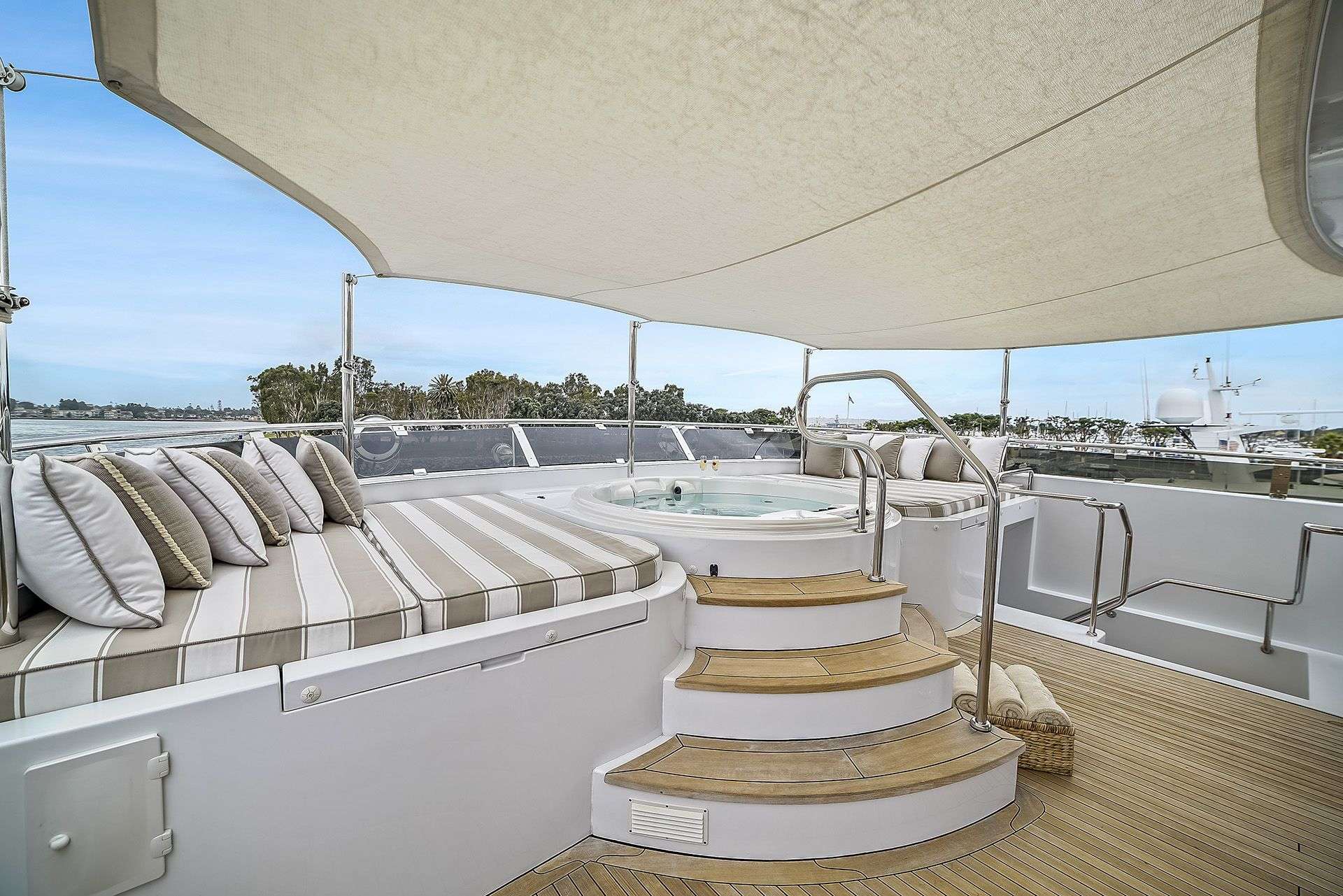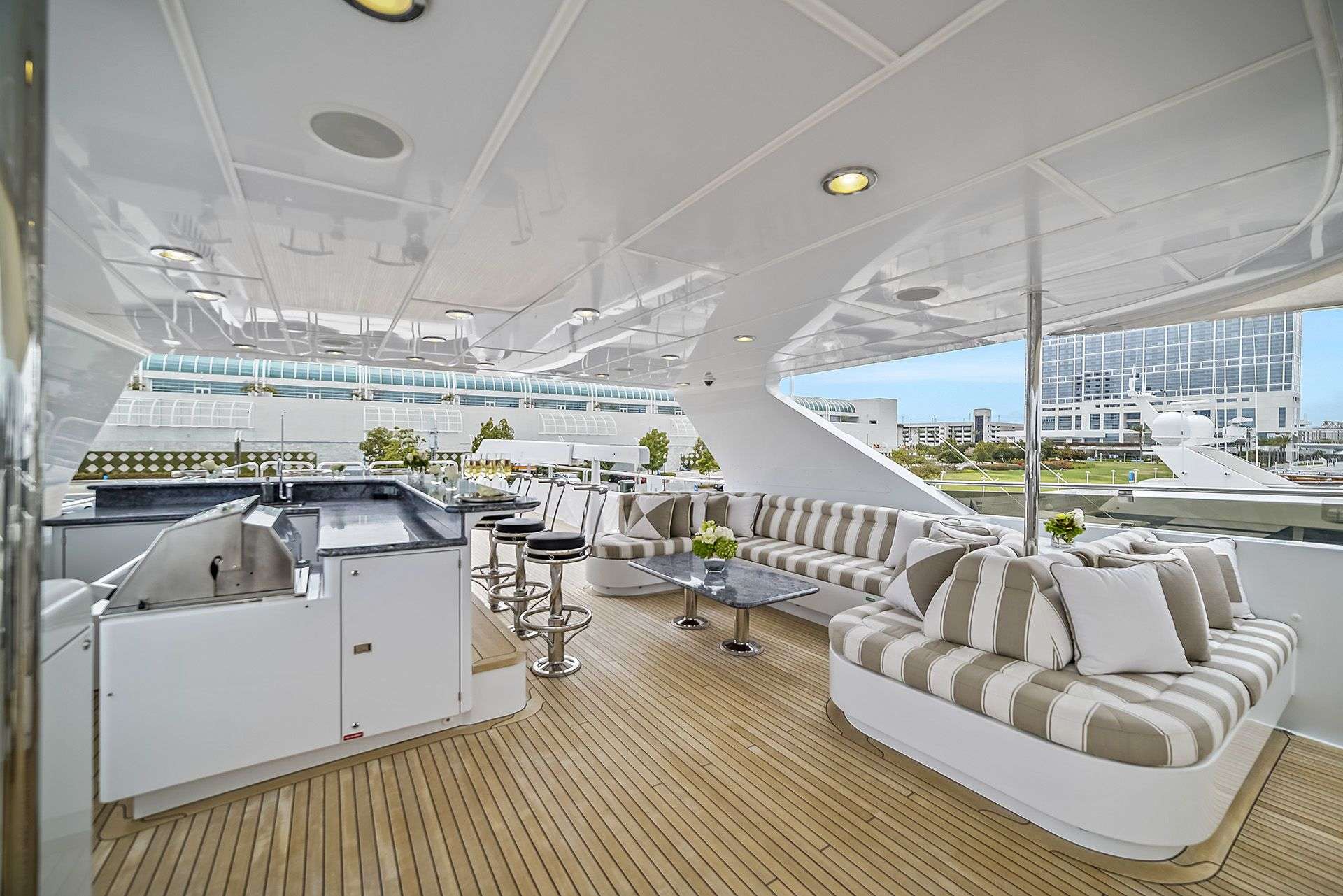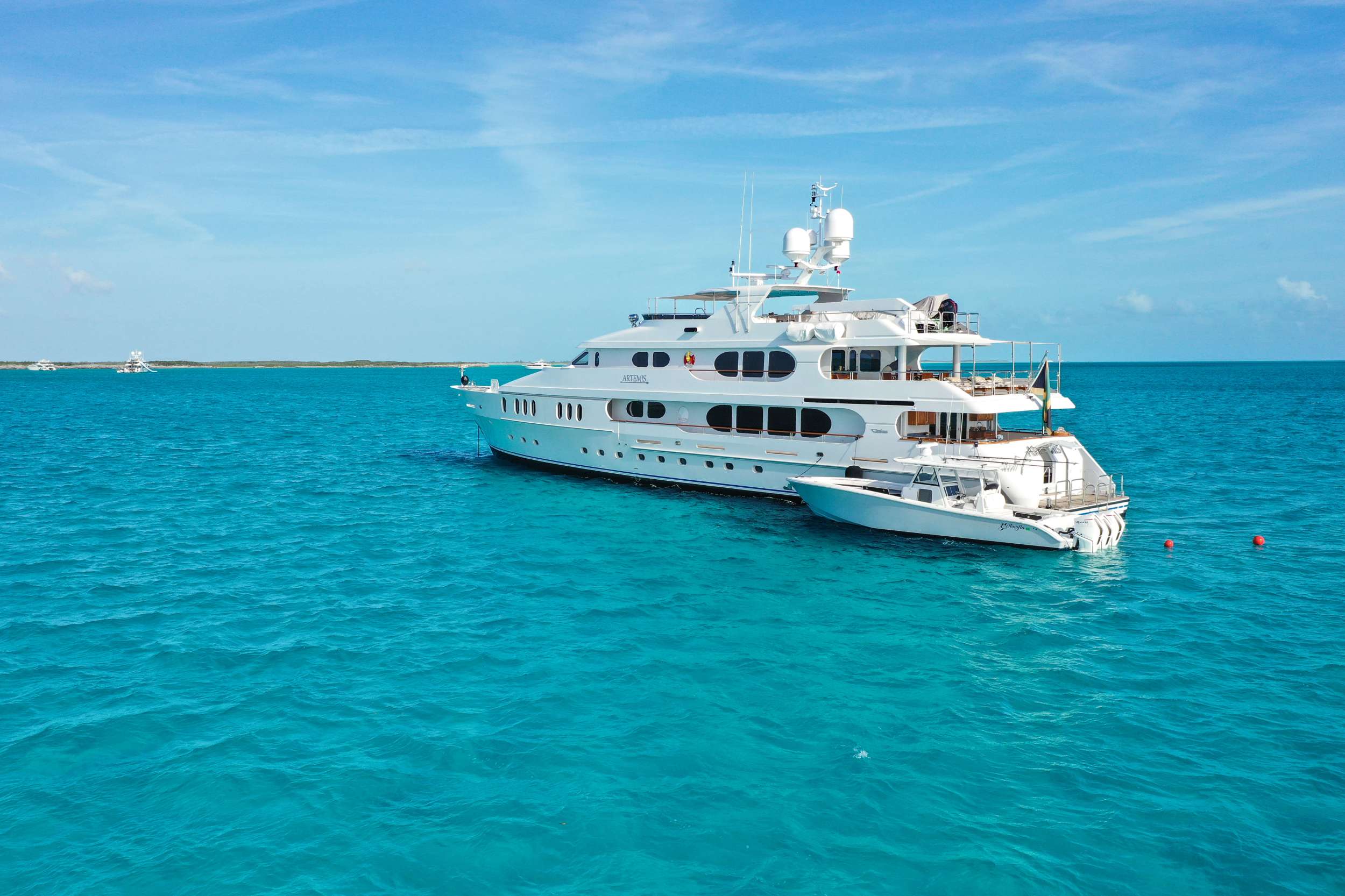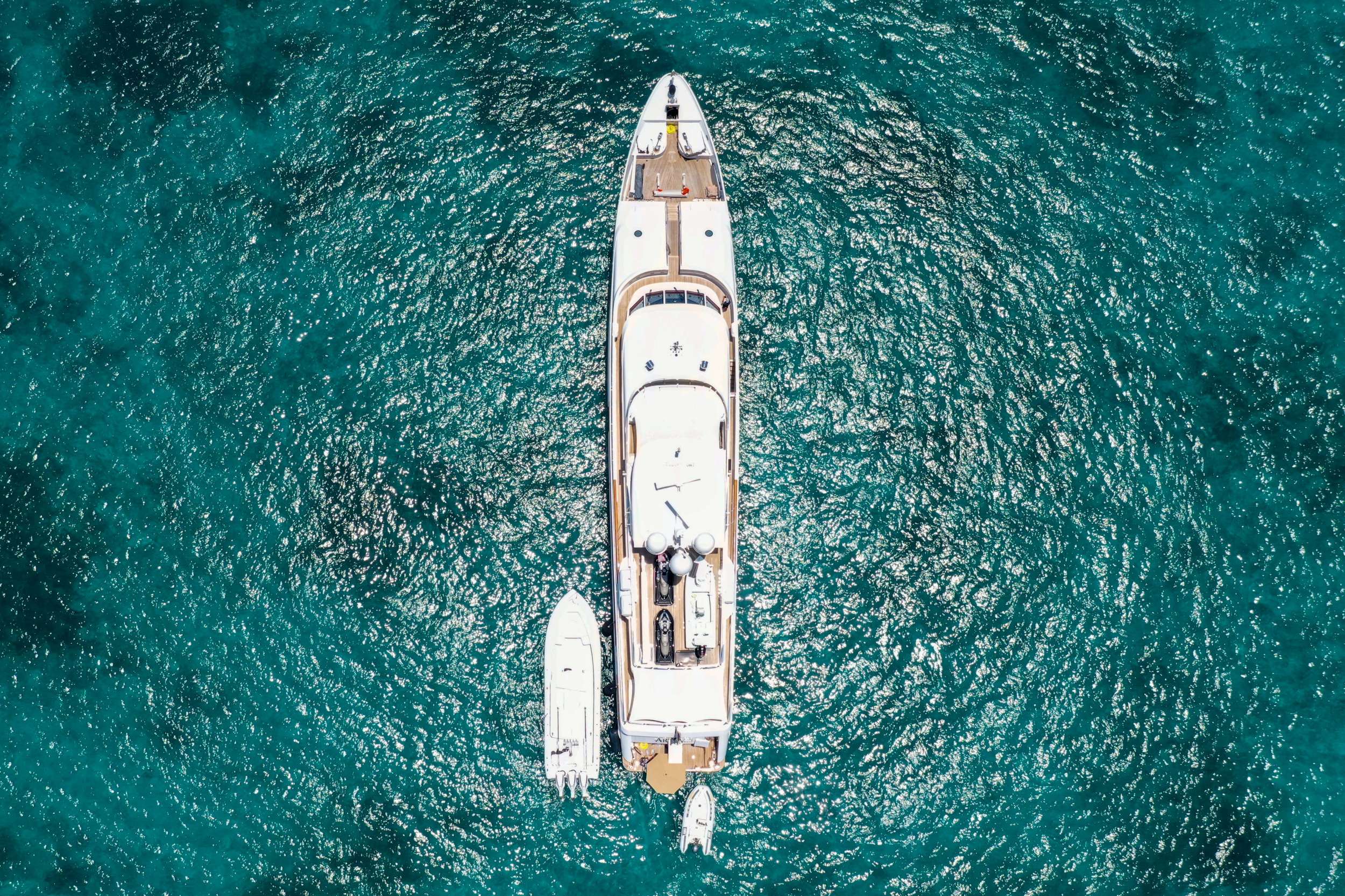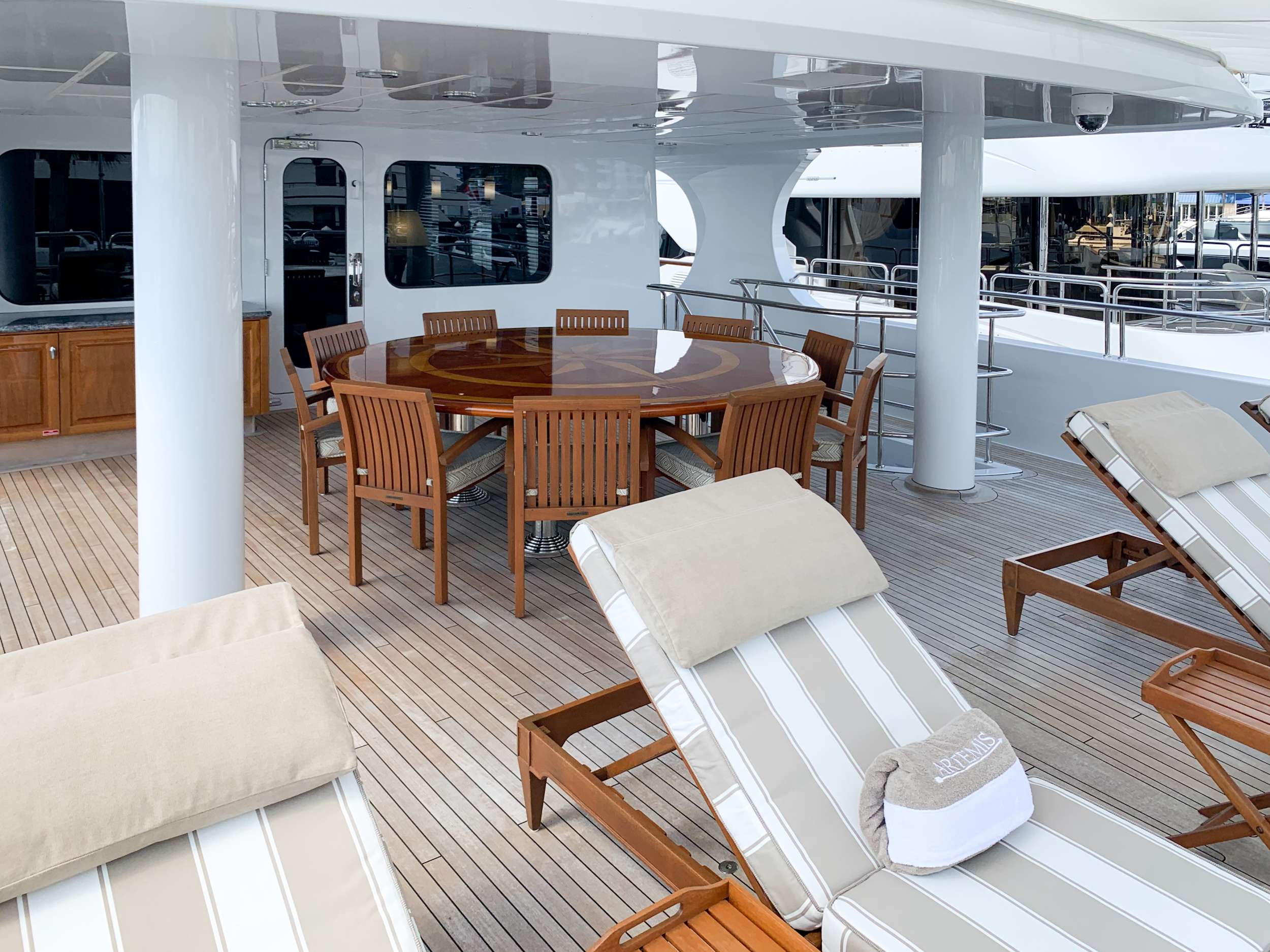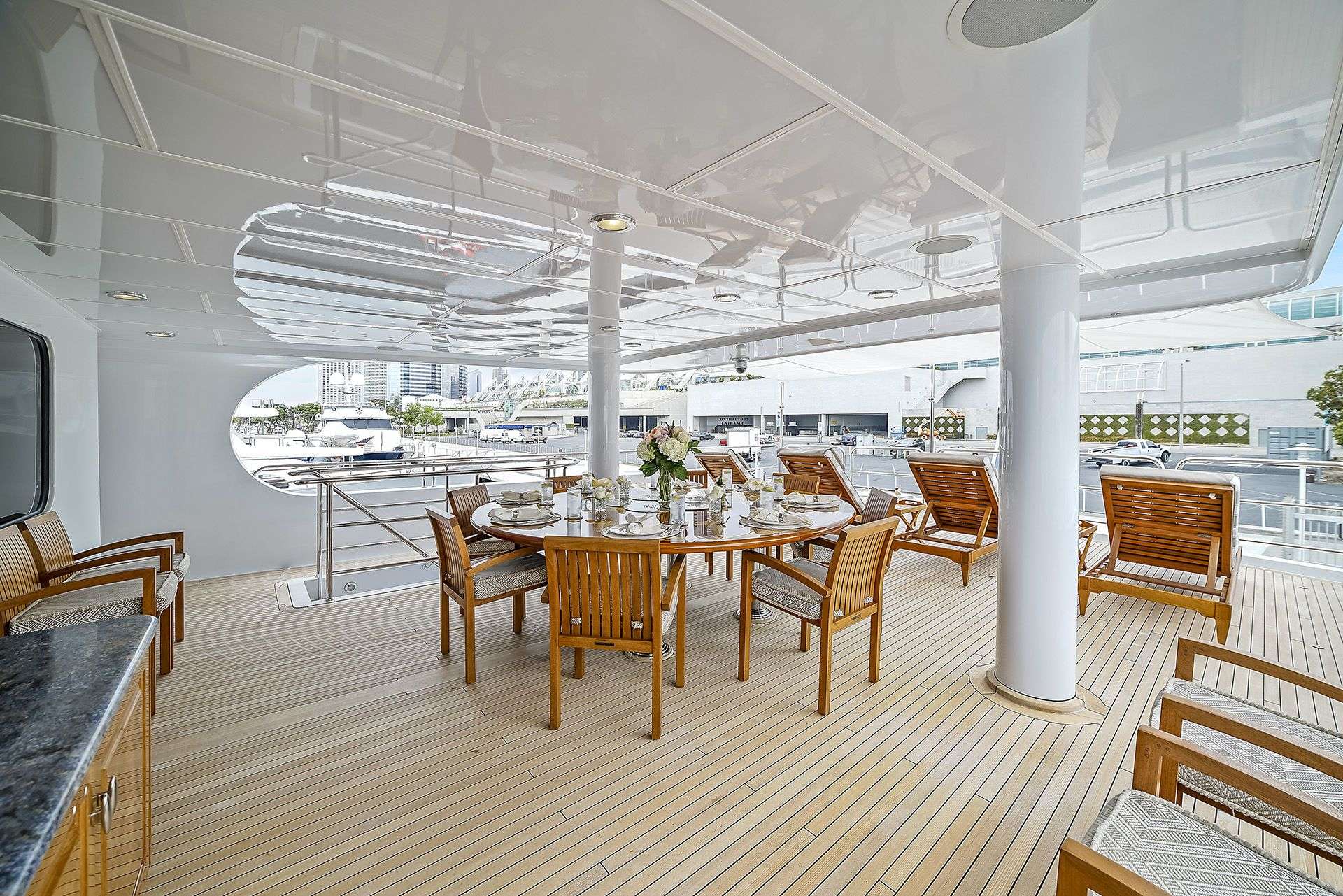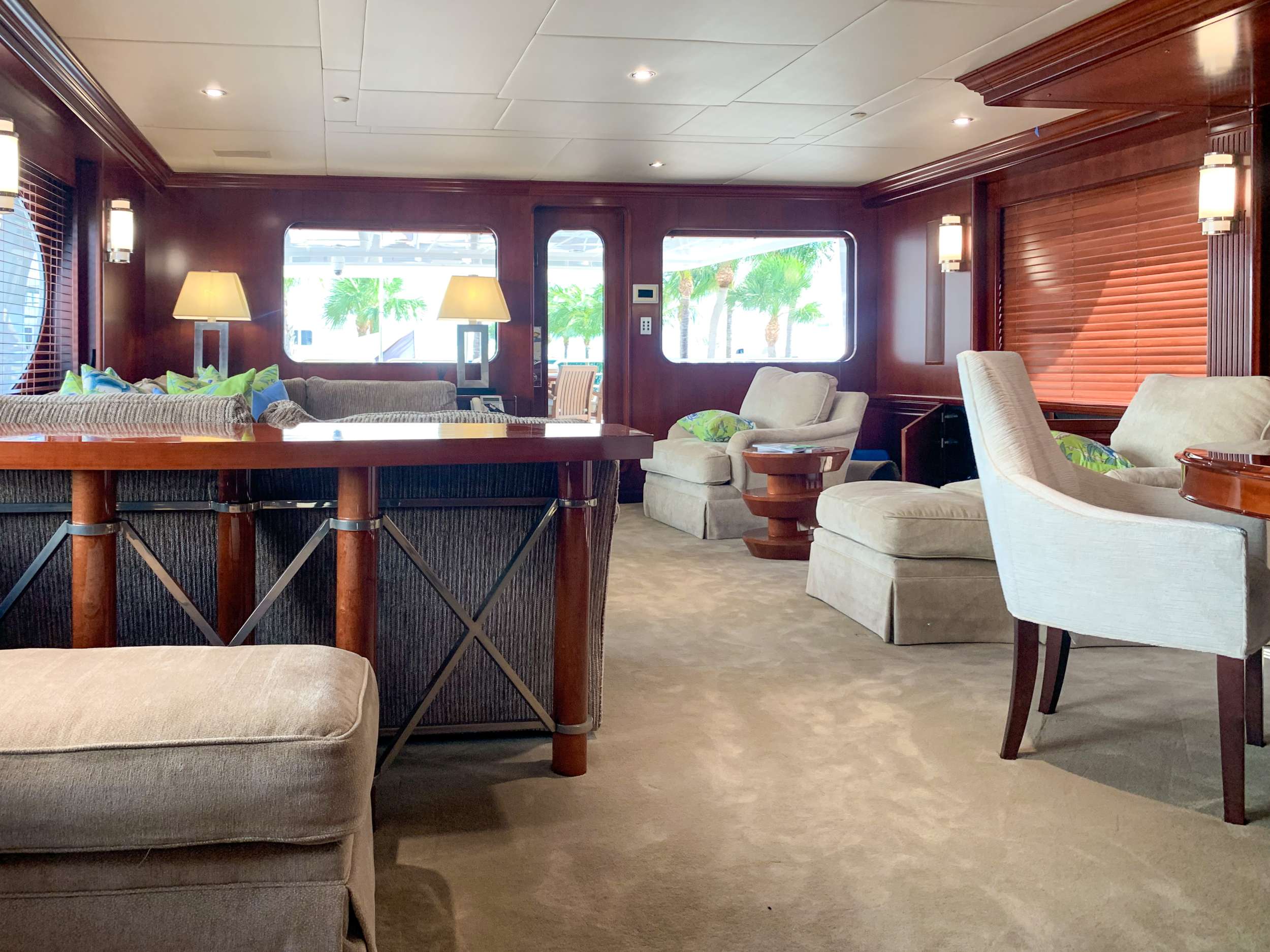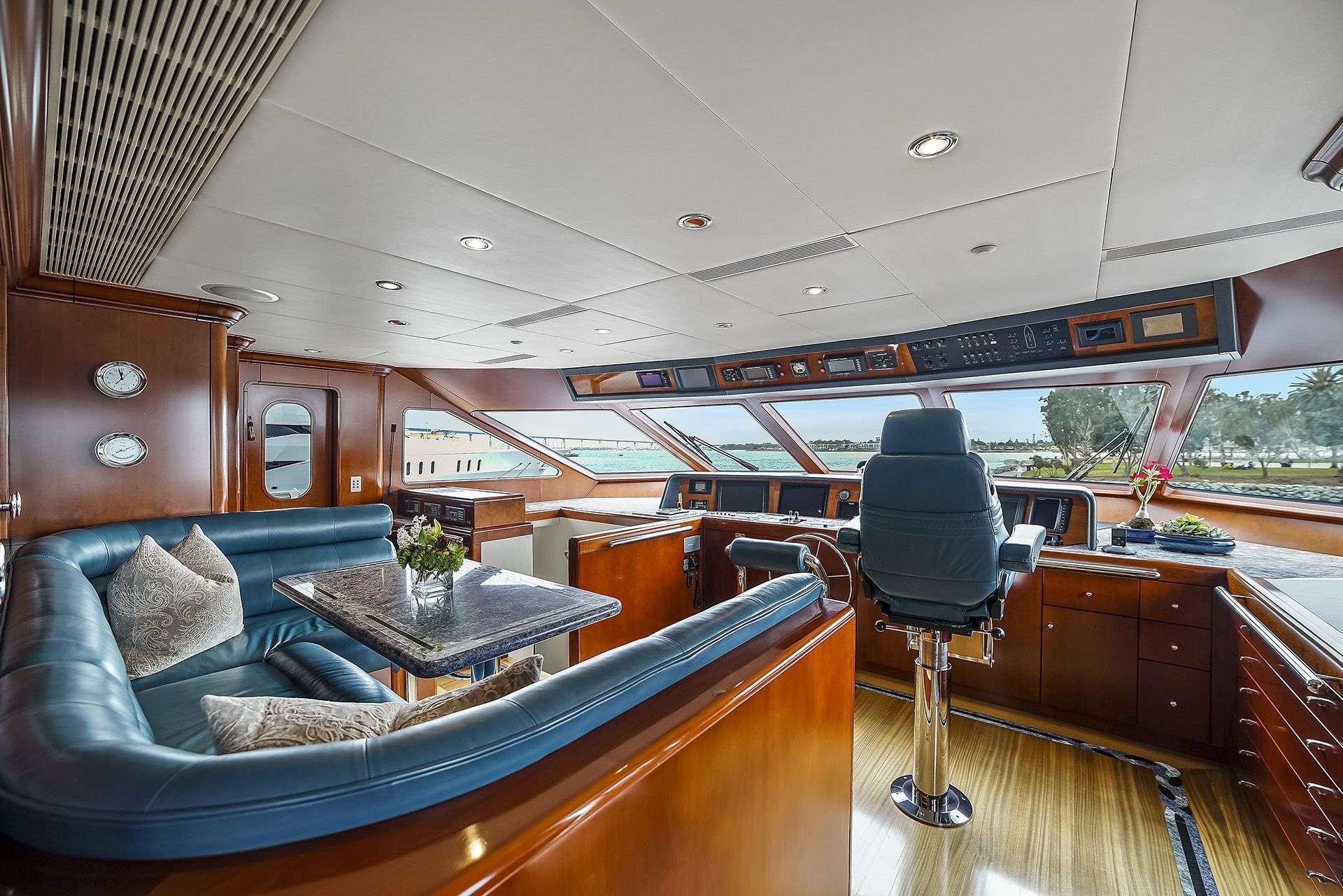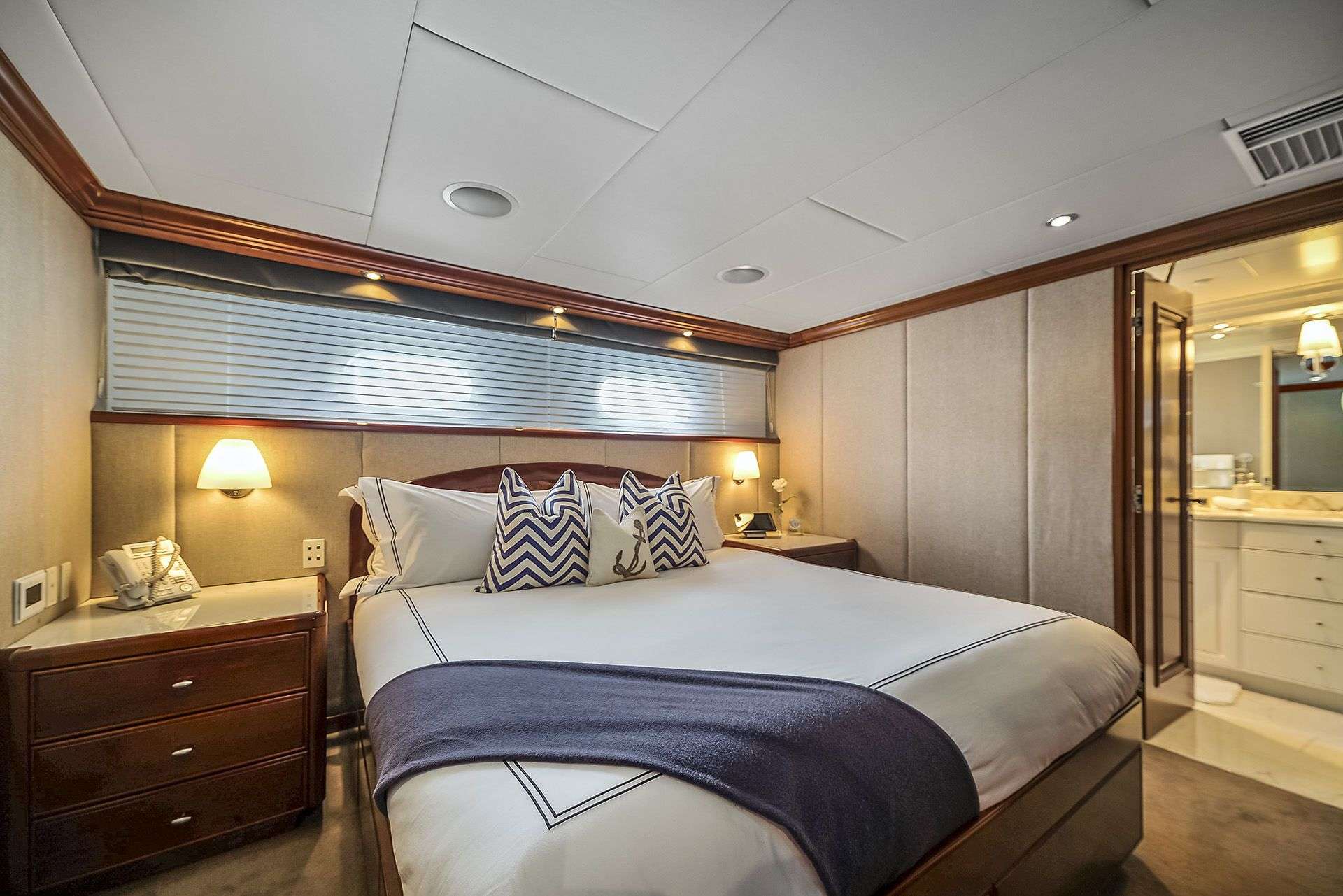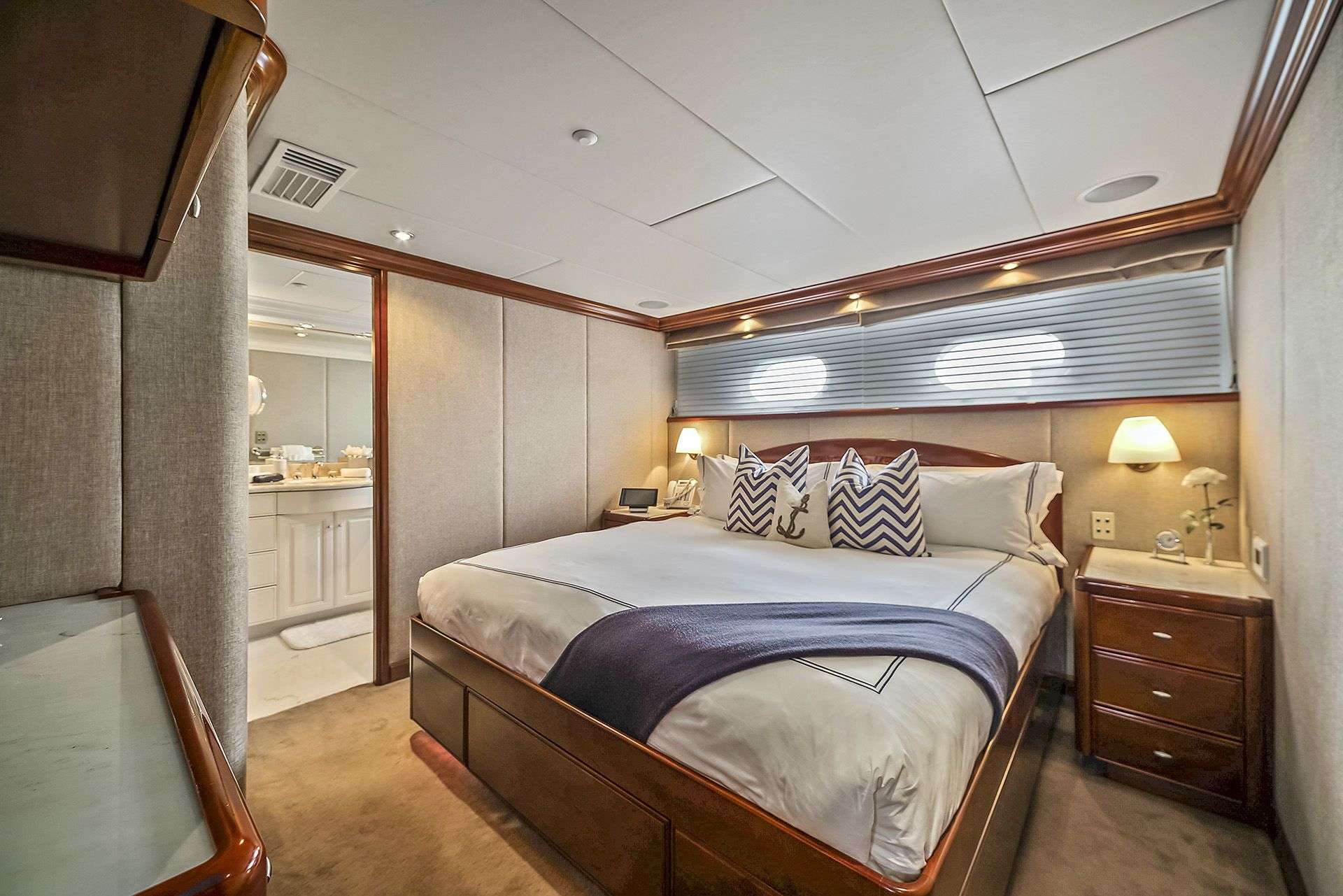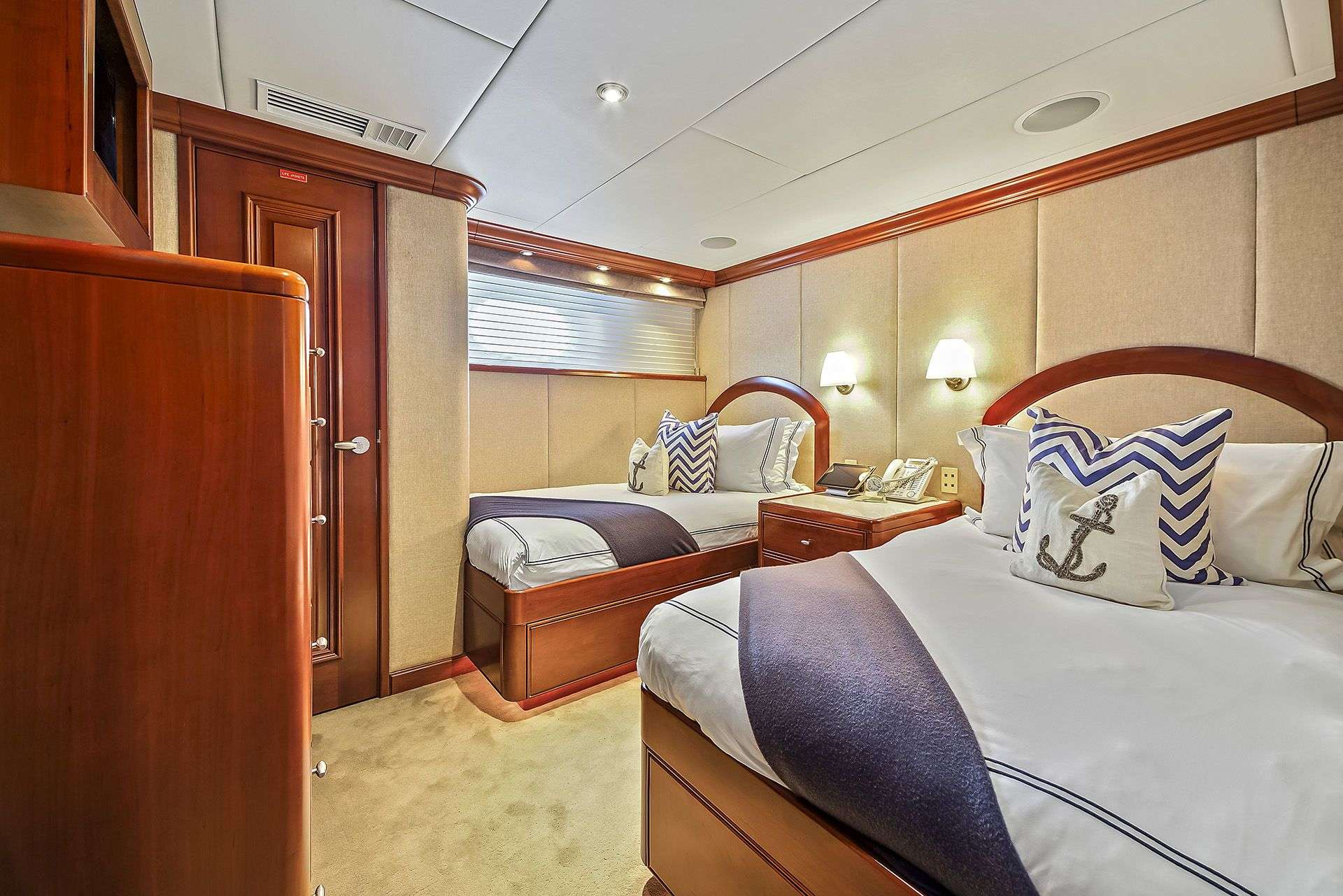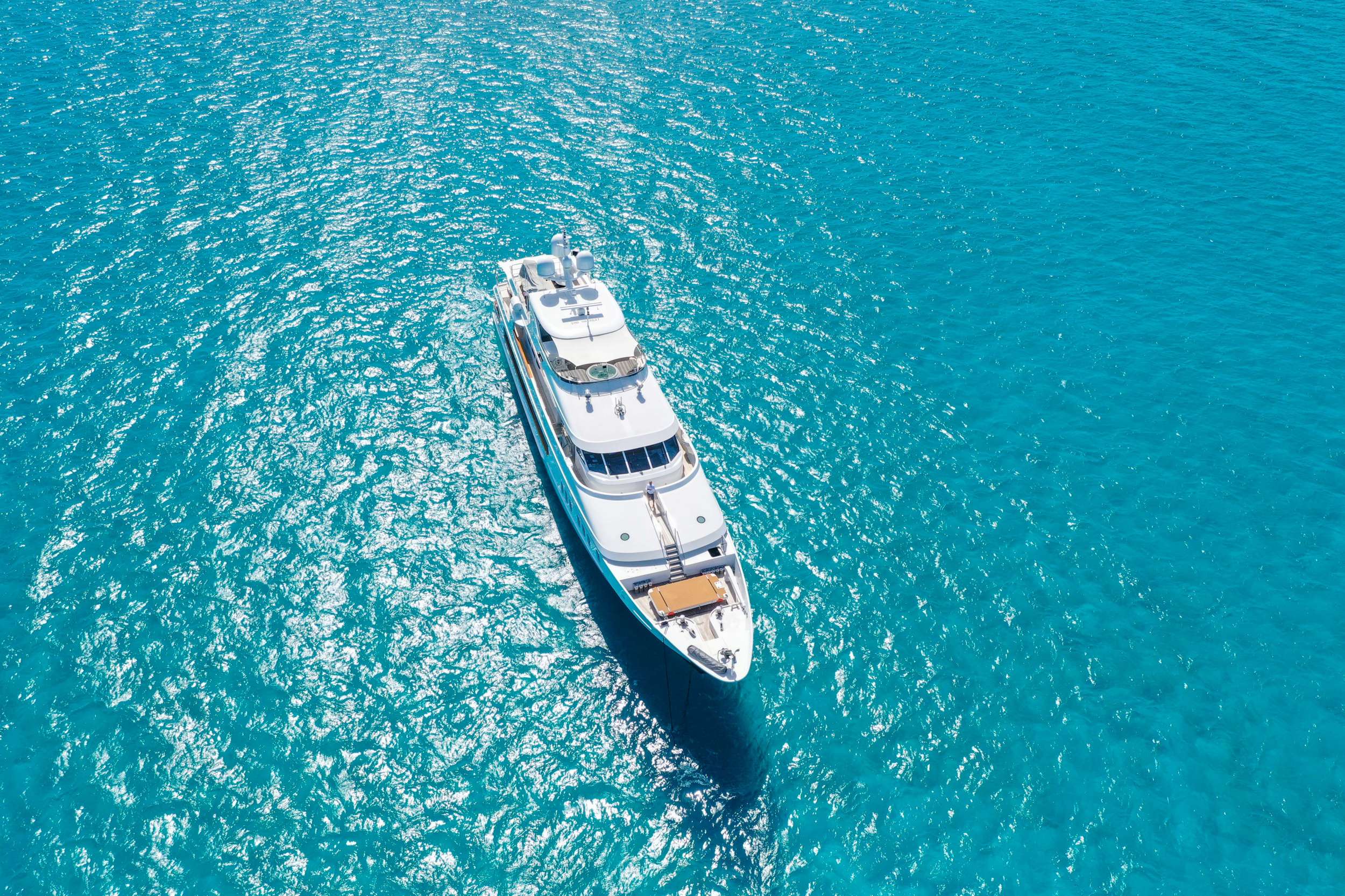 Accommodations
| | |
| --- | --- |
| Sleeps 12 guests in 6 guest stateroom(s). | |
| 3 with King Bed(s) | |
| 2 with Queen Bed(s) | |
| 2 with Twin Bed(s) | |
Details
Six staterooms sleeping a total of twelve guests. The master stateroom is on the main deck with full walk-in closet and his and hers bathrooms. The other five staterooms are on the accommodations deck. The two aftermost staterooms have king sized beds, the mid-port and forward-port staterooms have queen sized beds, and the starboard-forward stateroom has side-by-side twins. All of the guest staterooms have ensuite heads with full size stall showers. The interior is traditional and features finely crafted American Cherry joinery throughout, complimented by elegant stonework and high-quality fixtures. A 3-person elevator services all decks.
Specifications
| | |
| --- | --- |
| Guests | 12 |
| Staterooms | 6 |
| Length | 150.00 Ft / 45.00 m |
| Beam | 27.6 ft |
| Draft | 7.2 ft |
| Built - Refit: | 2003 - 2022 |
| Builder | Christensen |
| Cruising Speed | 16 |
Watersports
| | |
| --- | --- |
| Dinghy | 22' Nautical RIB 22 Deluxe |
| Dinghy HP | 225hp |
| WaveRunners | 3 |
| Scuba Diving | Yacht offers Rendezvous Diving only |
Other Toys
Tenders & Toys:
• 22' Nautica RIB – Yamaha 225hp
• 2 X Jetskis
• 2 X Seabobs
• 1 X Yujet surfboard – battery operated
• Wakeboards
• Skis
• 2 X Inflatable Kayaks
• 2 Paddleboards
• Assorted snorkelling equipment
• Assorted fishing Equipment
• Nautiboy platforms
• Beach setup equipment

Pricing
From: 175,000
To: 195,000


PLEASE INQUIRE FOR FURTHER PRICING DETAILS
Crew Profile
Captain - Steve Foster
Previous Yachts: M/Y Bella, M/Y Icon, M/Y Entourage, M/Y Gladius, M/Y Kampai, M/Y Monaco, M/Y Gladiator, M/Y Excellence III, M/Y Excellence V
Biography: Steve is from Albany in the SW of Western Australia. He was born and raised on a farm before discovering his true passion lay on the world's oceans. He began his education at a maritime college, which initiated an early career on fast ferries before discovering the exciting world of yachting. With more than 22 years as a professional in the industry you are in safe and capable hands. He has extensive experience in managing, operating, and
maintaining yachts to a high level on vessels up to 67m. His goal is to ensure you have an enjoyable and memorable trip.
Waters Cruised: USA East/West Coast, Western Mexico, Bahamas, Caribbean, Mediterranean,
Pacific Islands, Indian Ocean Islands,
Hobbies: Golfing, Cycling, Fishing, Hiking and Property Investing

First Officer - Alwyn Engelbrecht
Previous Yachts: M/Y Vibrance, M/Y Eternity, M/Y Spectre, M/Y Gazzella II, M/Y Yalla, M/Y Giada, S/Y Dubdah, S/Y Cape Storm
Biography: Alwyn was born in South Africa and grew up in a small town on the East Coast. At a young age he developed his passion for fishing, outdoors and the ocean. He started his yachting career in 2014 at the age of 18 and has since become an experienced leader with a desire for teaching and maintaining a good training culture onboard. Being able to fish in the most incredible destinations and catching different species all over the world is by far the highlight of Alwyn's journey in yachting. His current species count is 28 over the last two years. His next personal target species on his bucket list is marlin, giant trevally, salmon, sturgeon, and giant tigerfish.
Waters Cruised: Caribbean, Bahamas, Mediterranean, Hong Kong, USA East Coast, South China,
North & South Pacific
Hobbies: Fishing, Spearfishing, Enduro Motorcycle Riding, Golf

Chief Engineer - Jarryd Noah
Previous Yachts: M/Y Vixit, M/Y Marina Wonder, M/Y MMM, M/Y Emerald, M/Y Tsumat, M/Y Blue Night
Biography: Jarryd has now close to a decade in the yachting industry and still loves the challenges engineering brings to his career. Jarryd was born and raised just inland of Durban, on the East Coast of South Africa. He spent most of his childhood growing up on the water, enjoying fishing and watersports, and that is where he found is adoration for the ocean, making yachting the ideal career choice for him.
Waters Cruised: Mediterranean, Atlantic, Red Sea, Bahamas, USA East Coast
Hobbies: Fishing, Golf, Enduro Motorcycle Riding, Water Sports

Chief Stewardess - Jana Swart
Previous Yachts: M/Y Utopia IV, M/Y My Secret, M/Y EIV
Biography: Jana was born in a city called Pretoria, in South Africa. Since she was young, she had a great sense of adventure, and loves the outdoors. Often spending her free time scuba diving, snorkeling or by the ocean. After completing a diploma in Events Management and Coordination, she has spent a great deal of time in the hospitality industry, coordinating and planning corporate functions & weddings. It has now been 5 years in the yachting industry, where she hasn't looked back since day one. Having the opportunity to do what she loves, whilst visiting some of the most beautiful and remote places in the world is truly a dream come true.
Waters Cruised: Mediterranean, USA East Coast, Bahamas
Hobbies: Scuba Diving, Cooking, Hiking, Interior Design, Adventure sports

2nd Stewardess - Megan du Preez
Previous Yachts: M/Y Seawolf III, M/Y EIV, M/Y Atina, M/Y Beatrix, M/Y Rose of Kingston II, M/Y Alfie Buoy
Biography: Megan was born and raised on the West Coast of South Africa. Having spent most of her life living by the sea, she knew that she wanted to spend her days on the ocean rather then climbing the corporate ladder. That being said, in 2019 Megan started working on her first yacht and it's been smooth sailing ever since. She is excited by the culture and opportunities that come with traveling. She is a great person to have on your team as she is always willing to help, and continuously makes sure that she provides you with a professional, relaxing, and memorable experience onboard M/Y Artemis.
Cruised: Bahamas, Mediterranean
Hobbies: Reading, Cooking, Spending time with friends and family, Horse riding and Travelling

3rd Stewardess – Jade Lee Wolf (South African)
Previous Yachts: M/Y Burkut
Biography: Jade was born in s small town in South Africa, called Knysna. A town situated in an area called the Garden Route, which is a big tourist attraction in South Africa. Jade studied Psychology at University, and thereafter decided to Au Pair in Amsterdam, Netherlands for a year. Jade loves travelling and working with different people. Learning from people and gaining knowledge from them and their experiences excites Jades. Jade is a positive, happy-go-lucky person, who always tries to see the best in people and in all bad situations.
Waters Cruised: Mediterranean
Hobbies: Reading, Teaching dance classes, Pilates, exploring new places, Socializing & making new connections

Chef – Reneé Dreyer (South African)
Previous Yachts: M/Y Explora, M/Y Top Five, M/Y Berco Voyager, M/Y Gladius, M/Y Sovereign, M/Y Big Fish, M/Y Blind Date, M/Y Chosen One, S/Y Aventura.
Biography: With nearly 14 years' experience in the hospitality industry, and a further 11 years actively cooking onboard luxury yachts, Reneé is no stranger to this business. Reneé's passion and dedication for cooking is shown through many of the qualifications she holds, including Cake Decorating, Vegan Cooking, and Health & Nutritional Cooking.
Her first time working on a luxury yacht was S/Y Aventura in 2011, from there she has loved every moment. Not only does she love exploring different parts of the world, but also loves experiencing the different cuisines they have to offer. Outside of yachting Reneé is a yoga enthusiast. During her study she achieved the Vinyasa Yoga & Pre-Natal Yoga Teacher Training course in Bali. Living in Bali allowed her to experience the unique culture, ingredients and flavors which offered her the opportunity to be more creative in her cooking styles and techniques. She enjoys cooking healthy foods with a creative twist. Her style of cooking is Mediterranean-Fusion, and therefore enjoys using fresh seasonal produce.
With Reneé's tremendous talent, she will ensure all your dining requirements are met onboard Motor Yacht Artemis.
Waters Cruised:
Hobbies: Traveling, meeting people from all walks of life, reading, the outdoors

Bosun – Evert Bredenhann
Previous Yachts: M/Y Albula, M/Y R&R, M/Y Child's Play, M/Y Coltess.
Biography: Evert was born in a small town called Paarl in South Africa. He is passionate about the ocean and outdoors and has been from a from a very young age; making yachting the ideal career for him. He was fishing before he could walk and to this day you'll find him with a fishing rod in his hand any chance that he gets. However, if he is not fishing he'll most certainly be outdoors taking on a new challenge whether it be a kind of water sport or even practicing his golf swing.
He started his yachting career in 2019 after he realized that an office job is not made for him and that he rather wanted to spend his days working outside, outdoors in the sun. No matter what task Evert is giving it is without a doubt that you will find him working hard with nothing but a smile on his face.
Waters cruised: USA East Coast, Bahamas, Mediterranean
Hobbies: Fishing, Golf, Scuba Diving, Spearfishing, Adventure Sports


Additional Information
Fresh off an interior refit, ARTEMIS showcases an elegant interior with timeless styling that features fine-crafted American cherry joinery throughout complimented by beautiful stonework and high-quality fixtures. The main salon and sky lounge provide the perfect spaces to relax in comfort as well as entertain with friends and family. Indoor dining can be enjoyed in the formal dining located forward of the main salon. ARTEMIS allows for easy mobility throughout with an all-levels elevator. ARTEMIS offers six well-appointed staterooms for up to twelve guests. Her full-beam master suite on the main deck offers a plush king-size bed, private study, walk-in closet, and his-and-hers en-suite baths. Additional accommodations can be found below deck include two king staterooms, two queen staterooms and a twin stateroom. Each stateroom is complete with its own private en-suite bath with full-size shower stall. ARTEMIS's exterior living spaces are vast allowing for true enjoyment of the al fresco lifestyle. The sun deck is a spectacular space to spend your day. Take in the 360 degree view while soaking in the Jacuzzi, sipping on a drink at the bar and enjoying a meal prepared on the barbecue. ARTEMIS offers impeccable spaces for al fresco dining on both the main deck aft and bridge deck aft. Lounging in the sun also can be enjoyed on the bridge deck aft.
Destinations