Gallery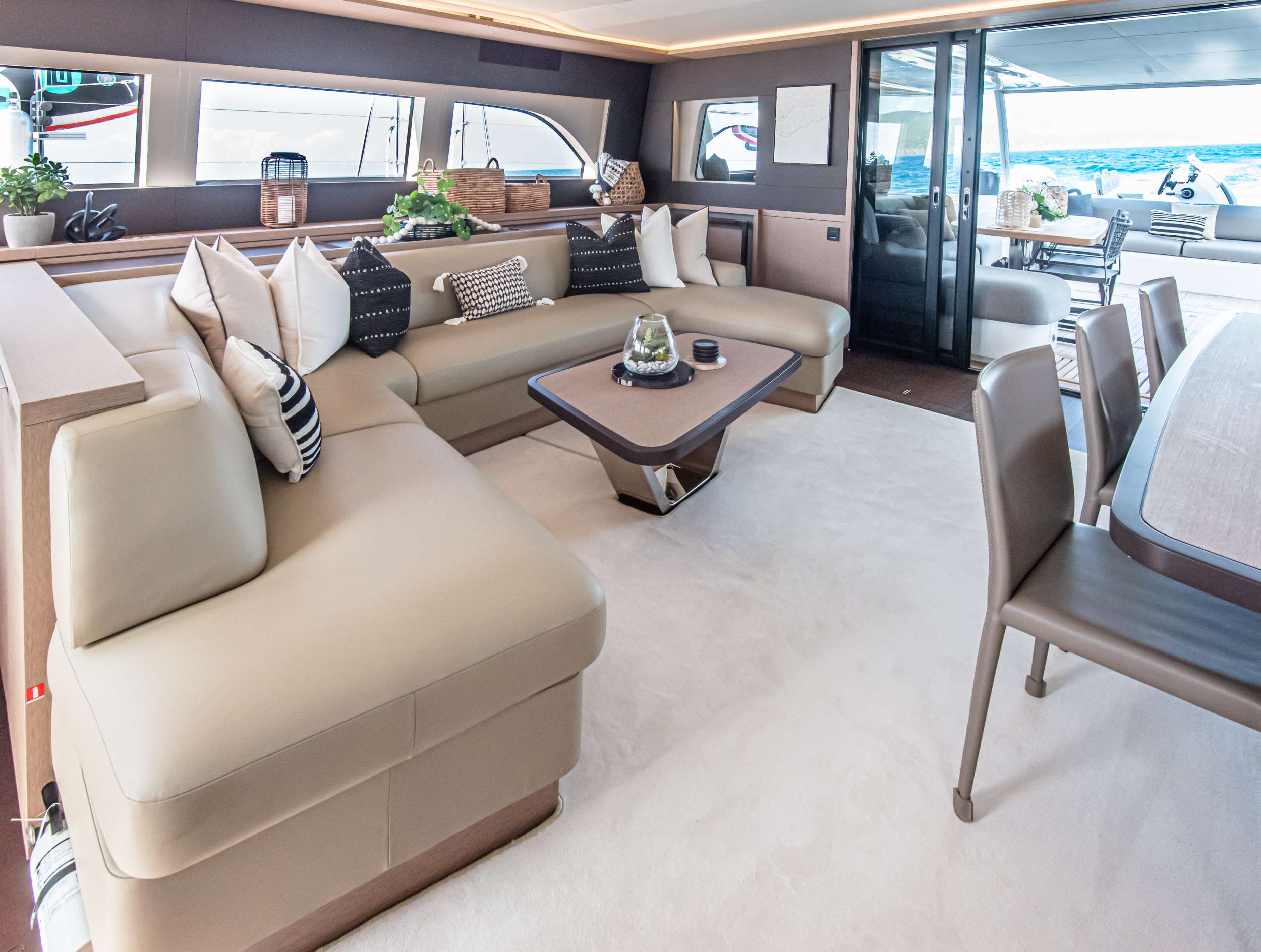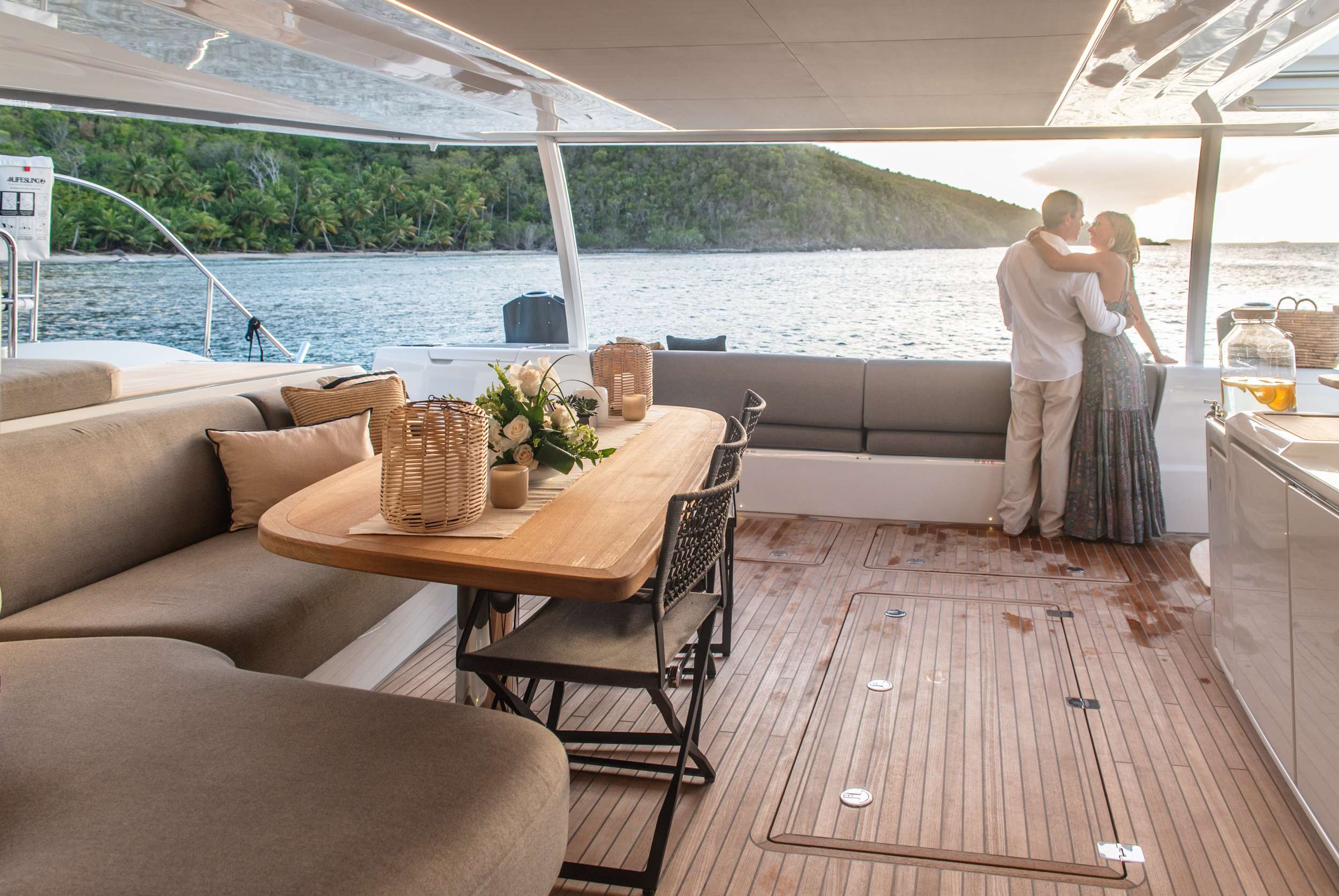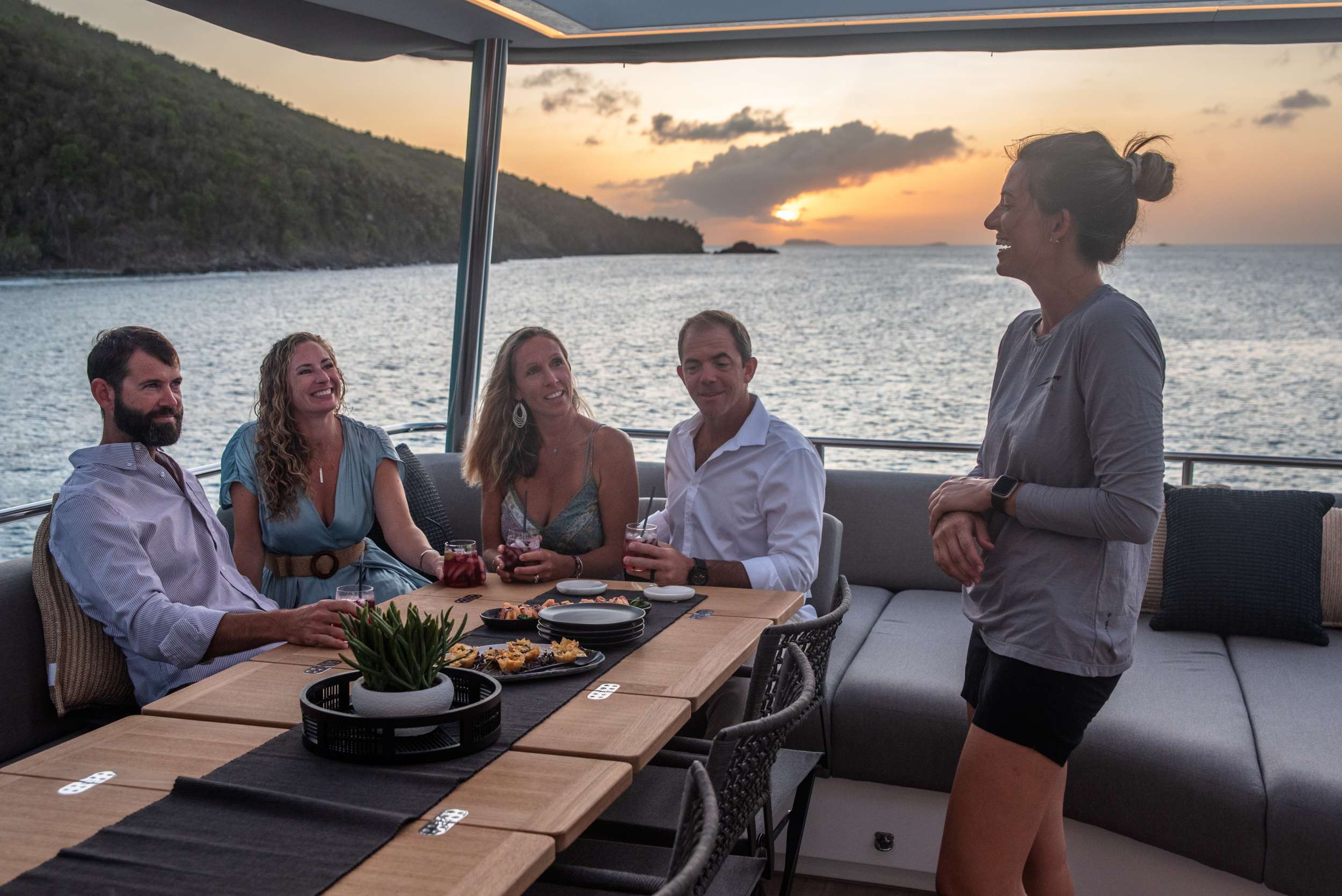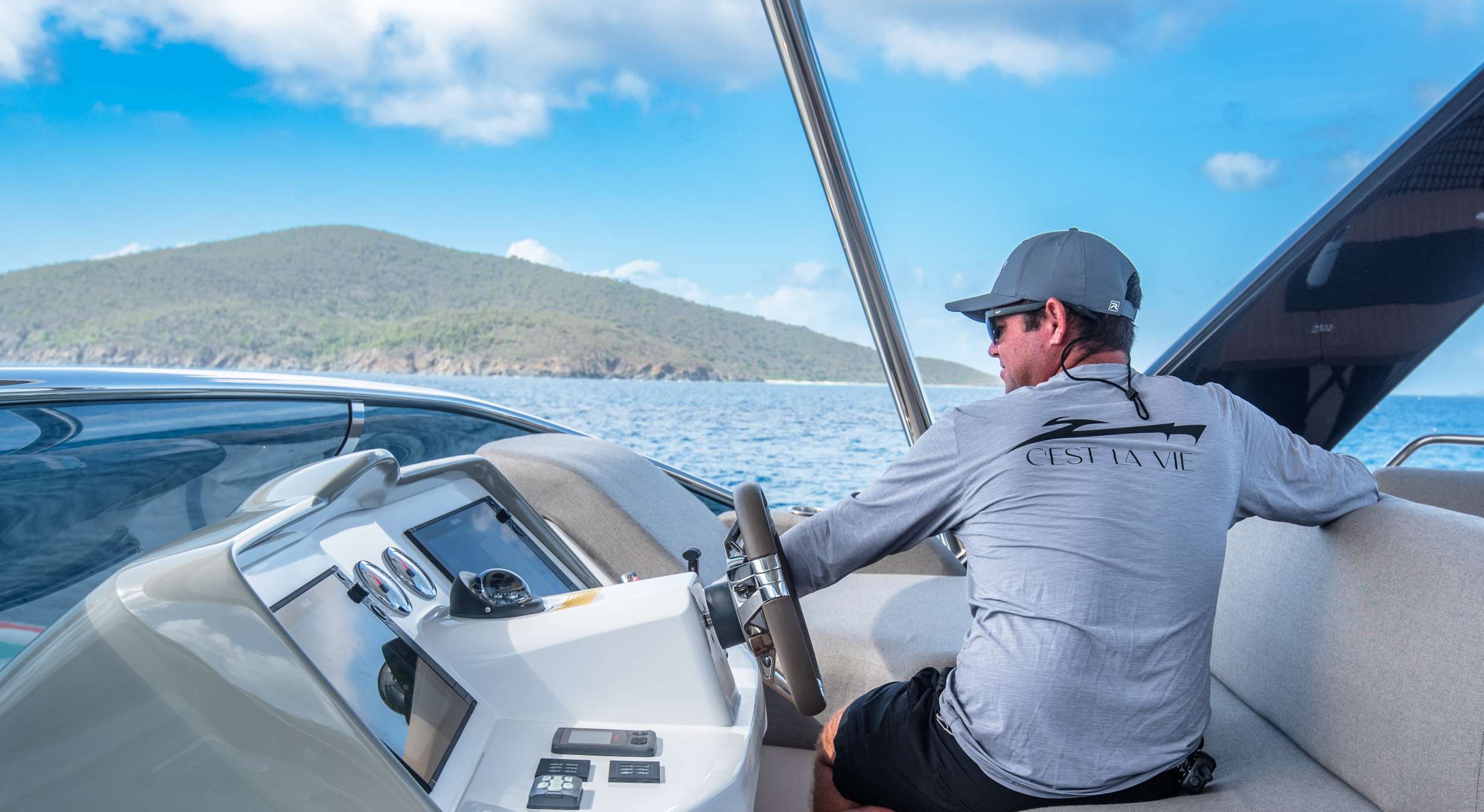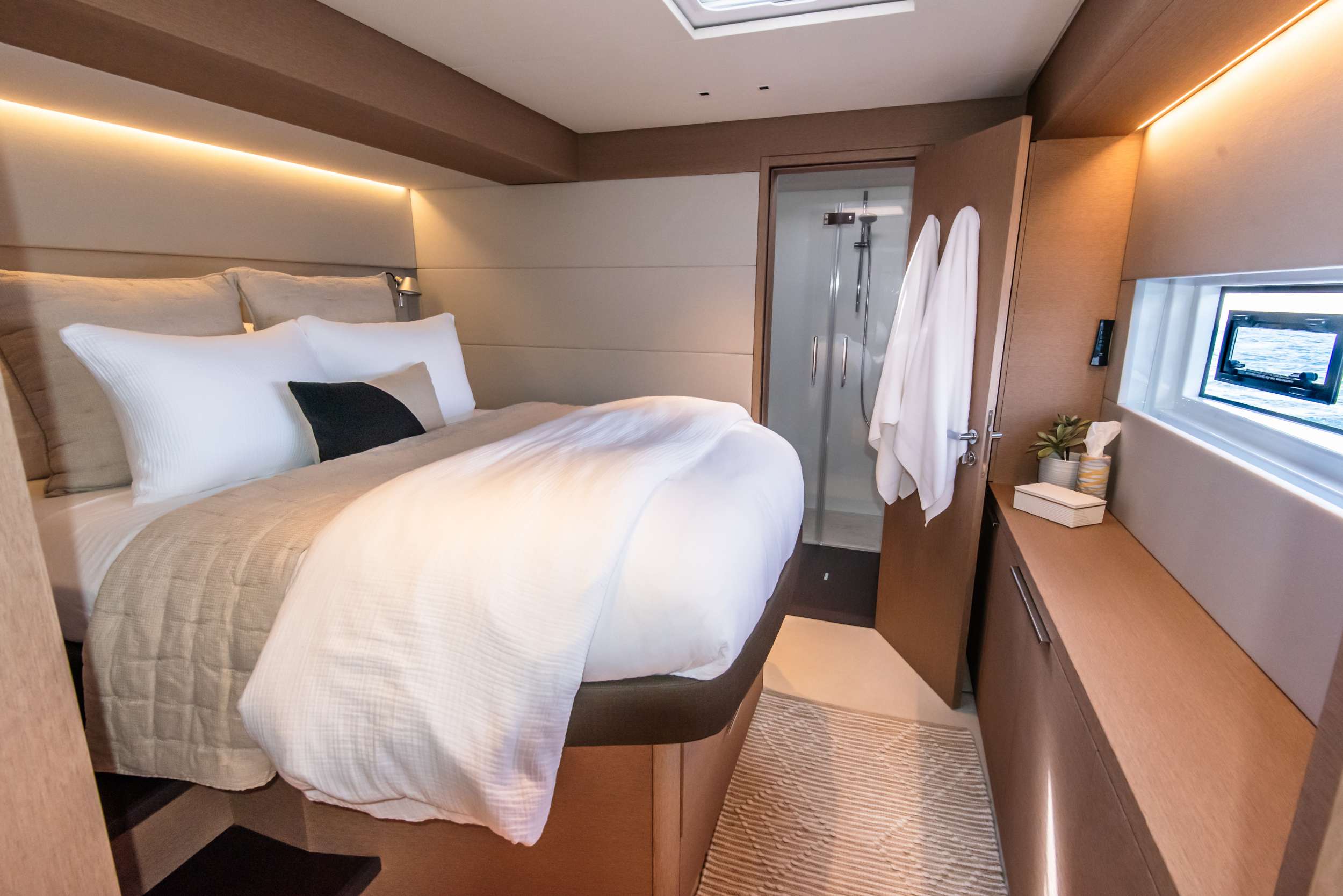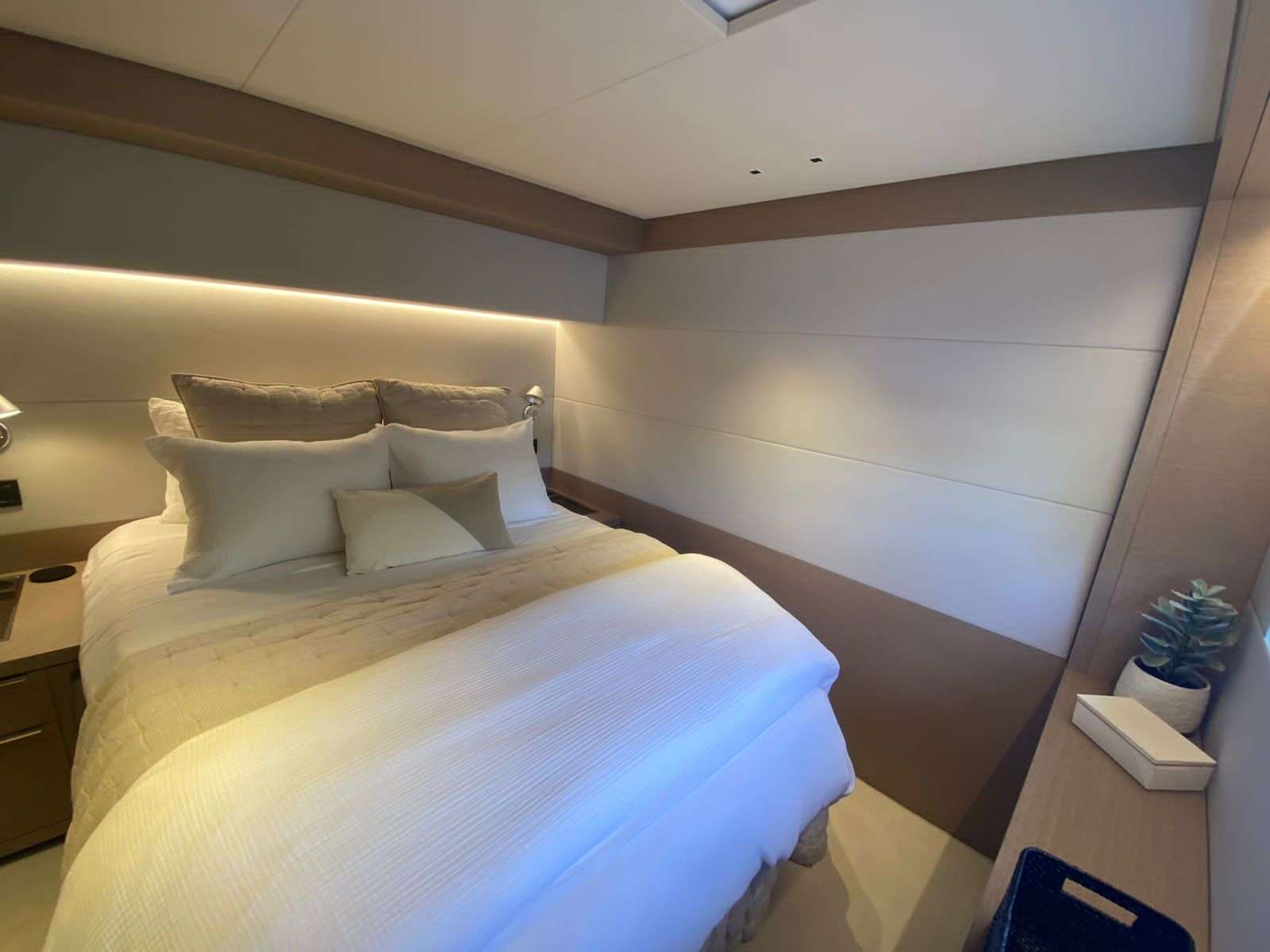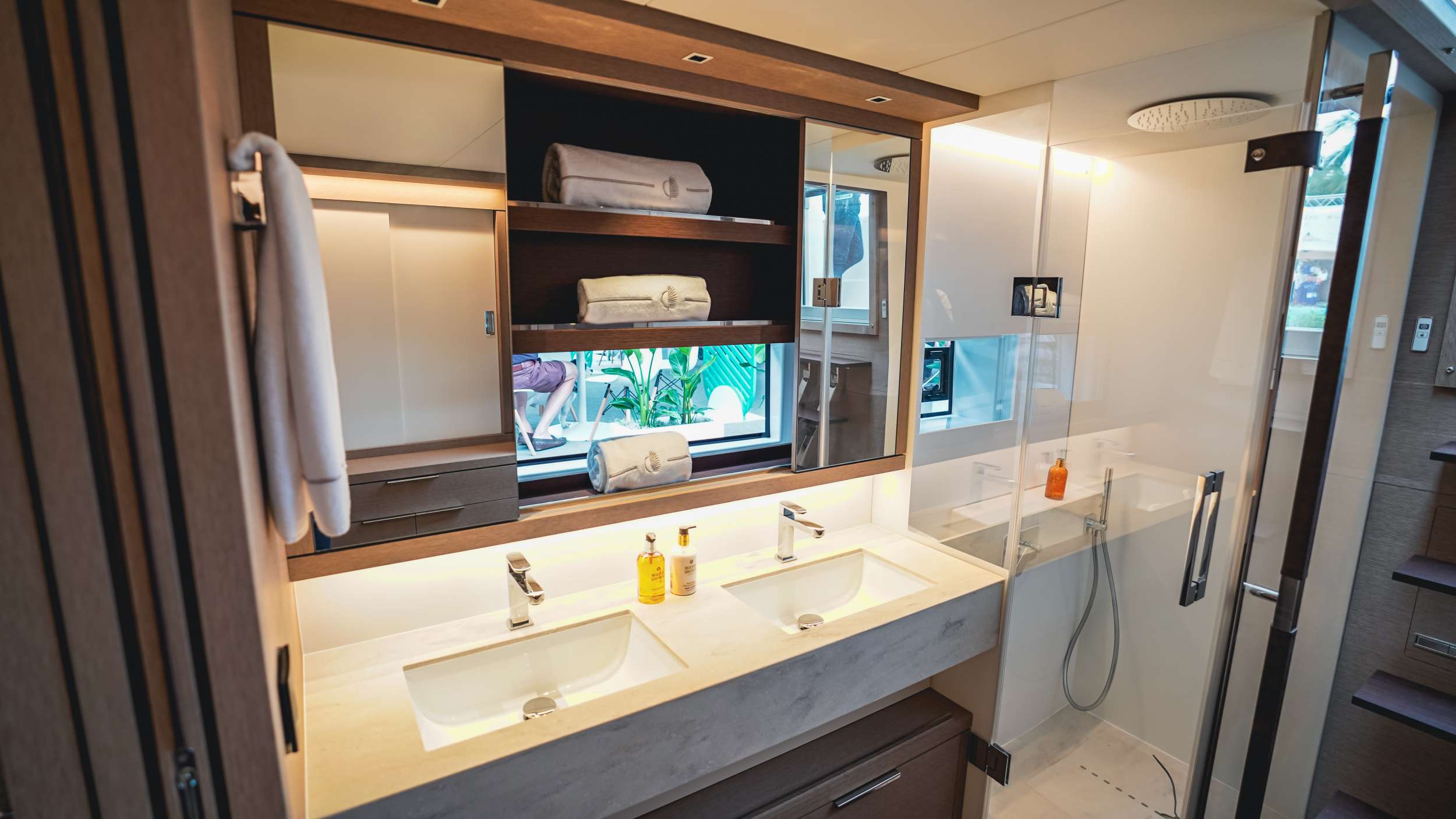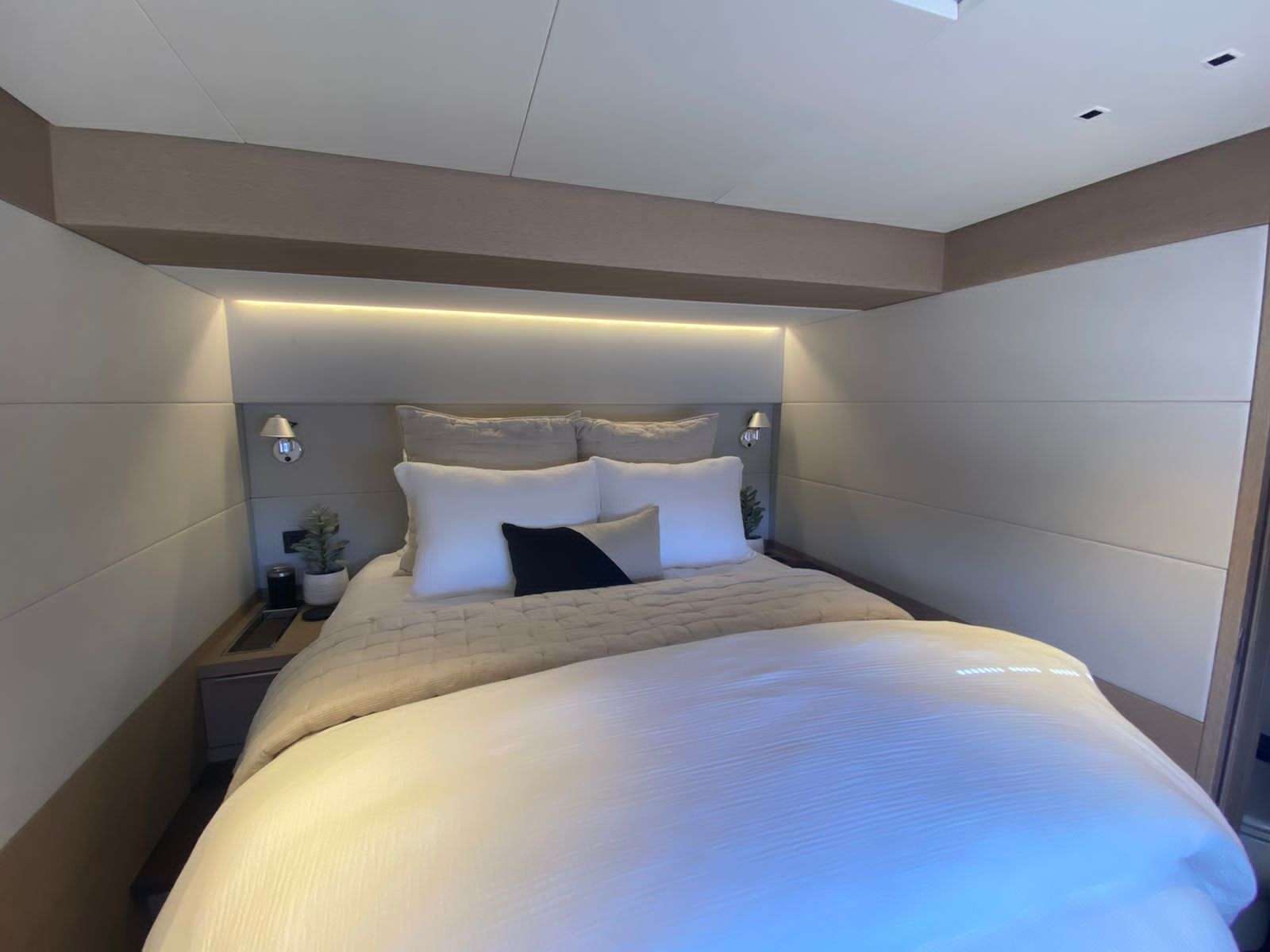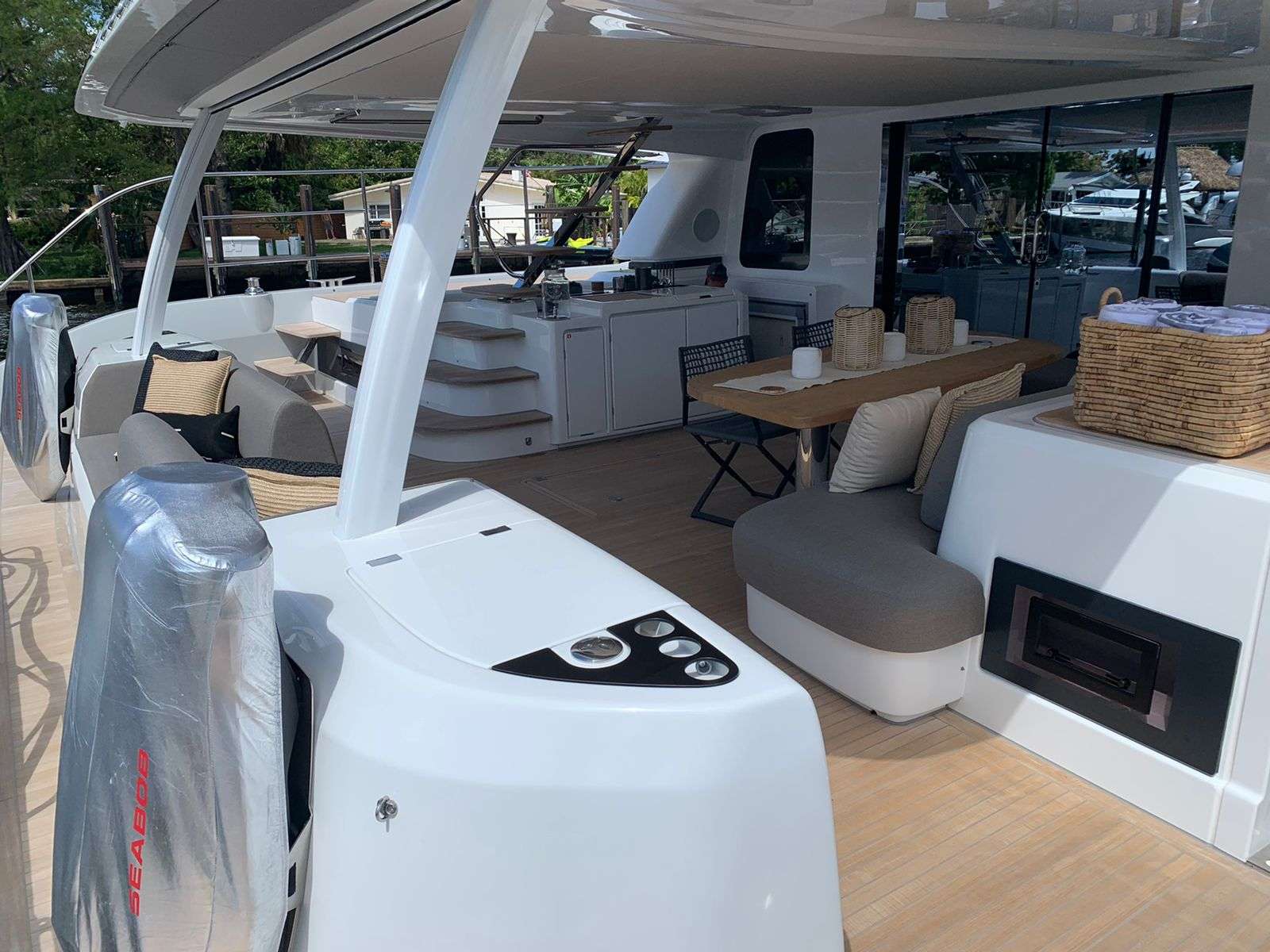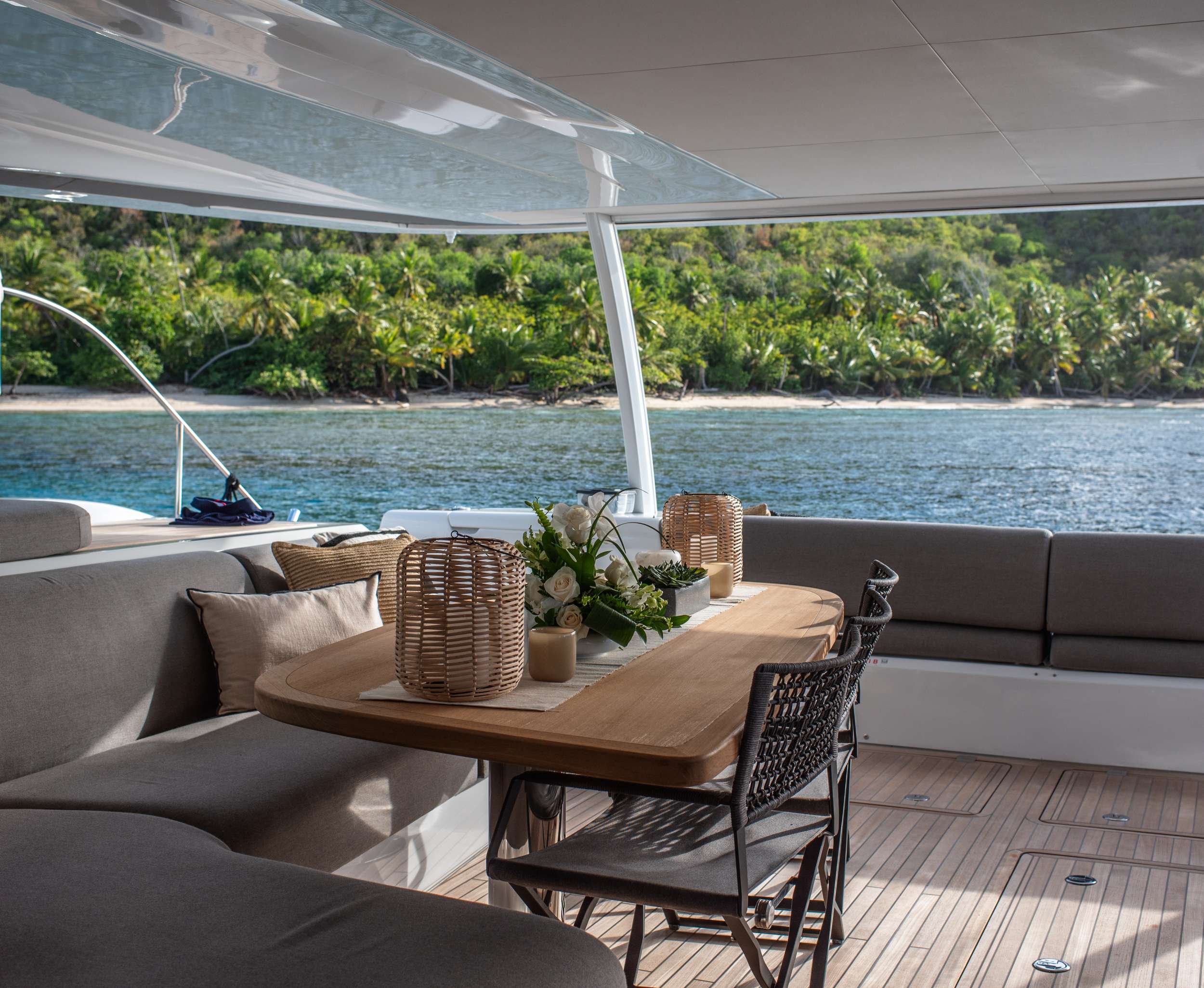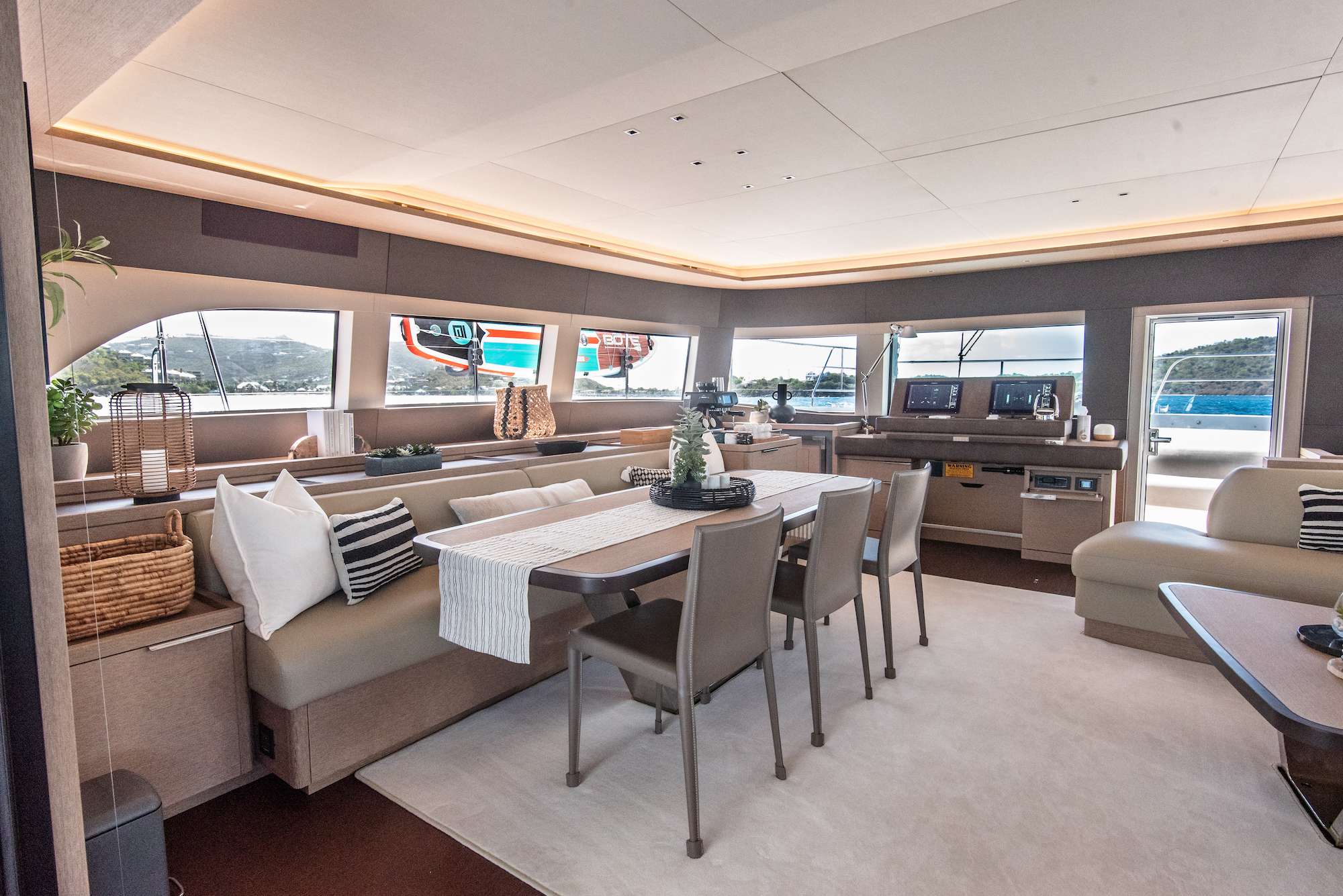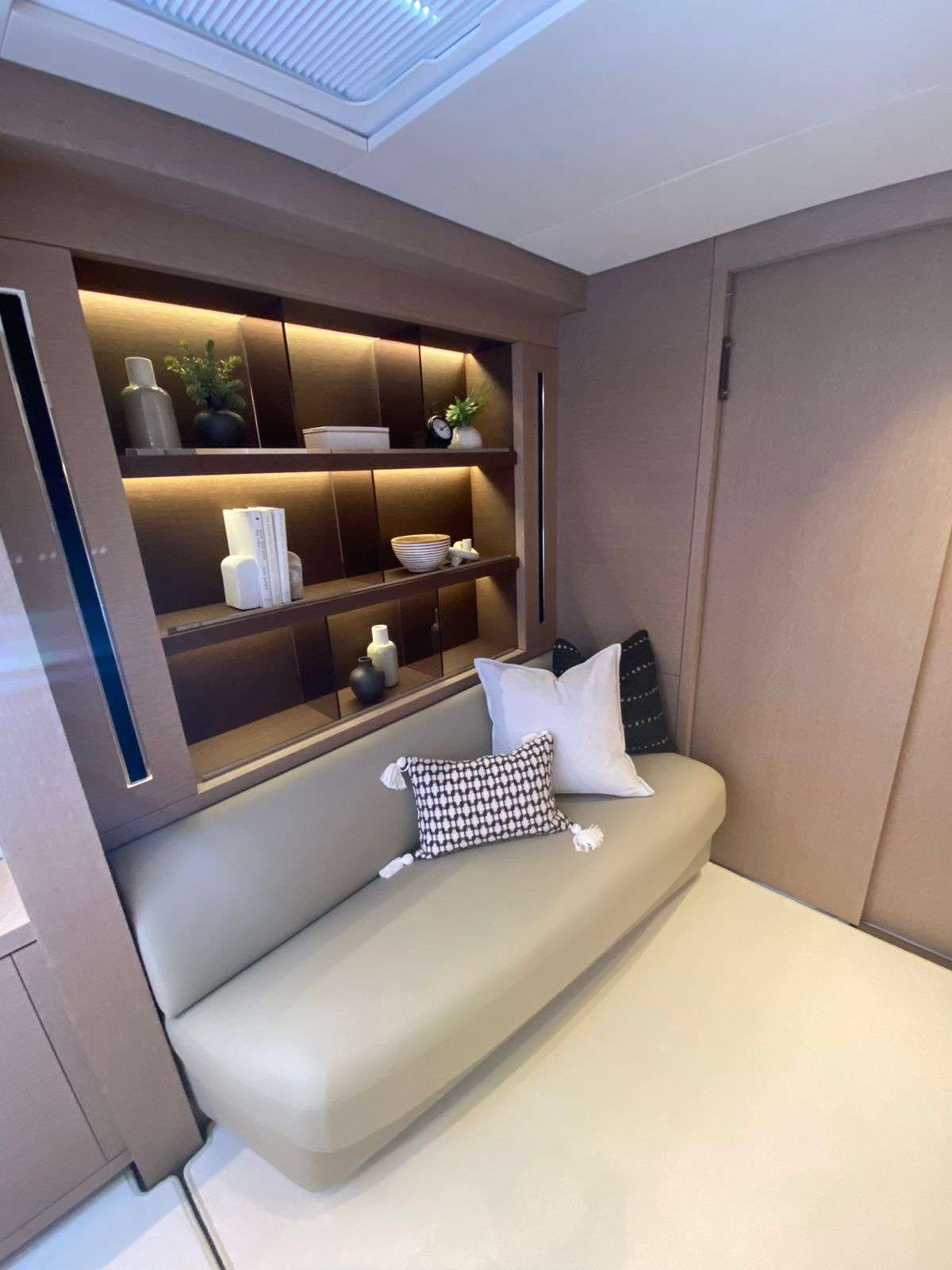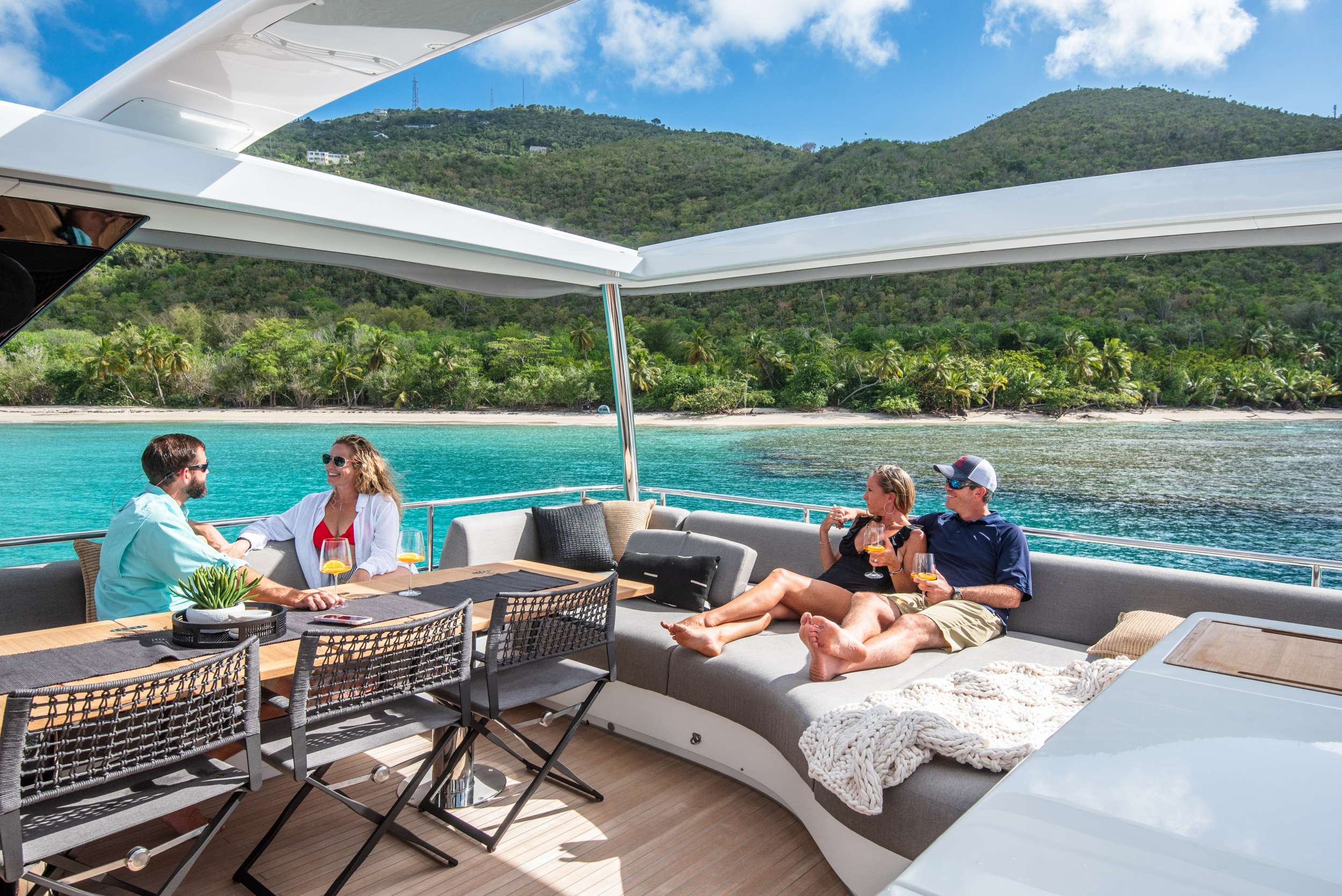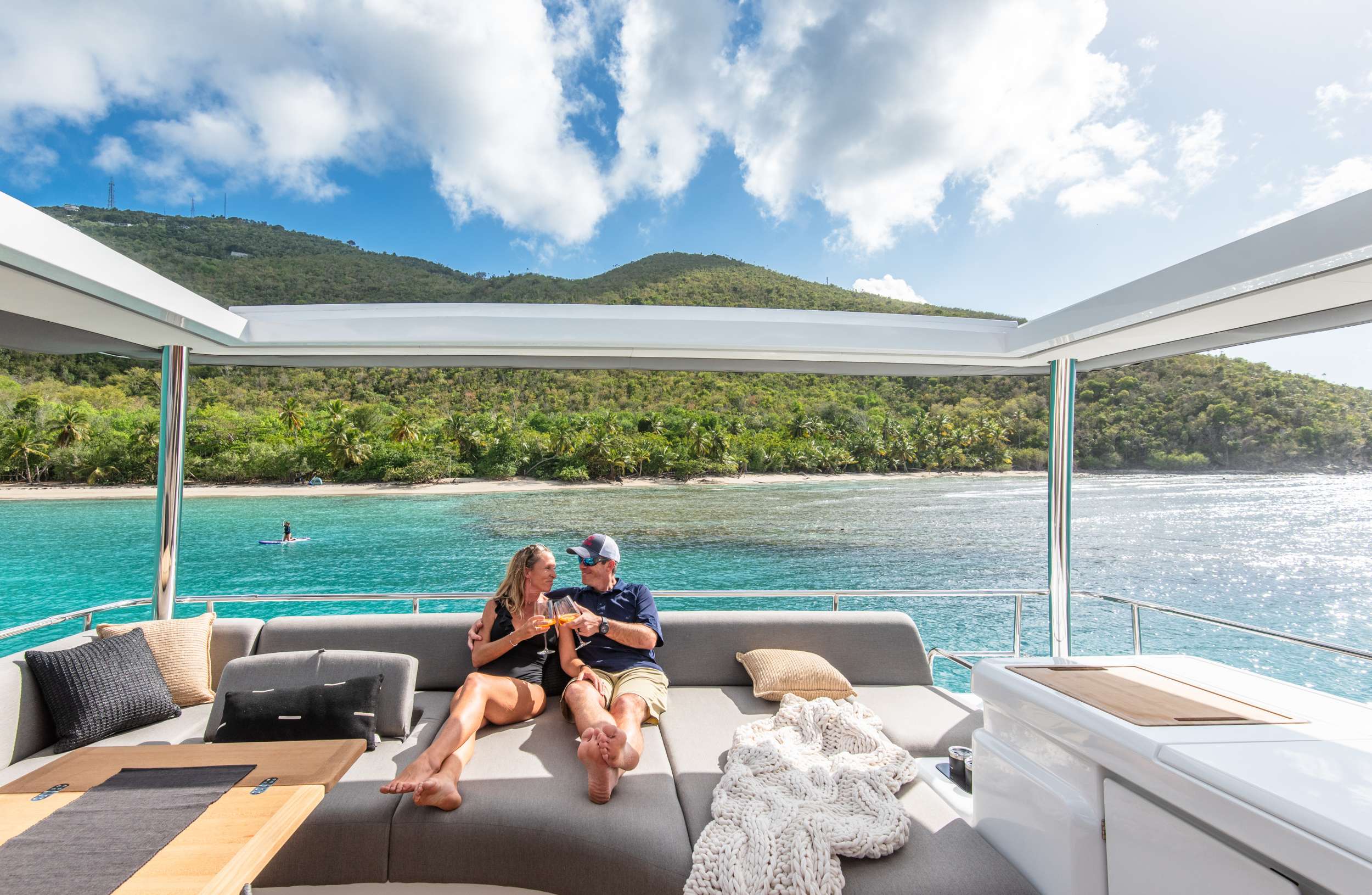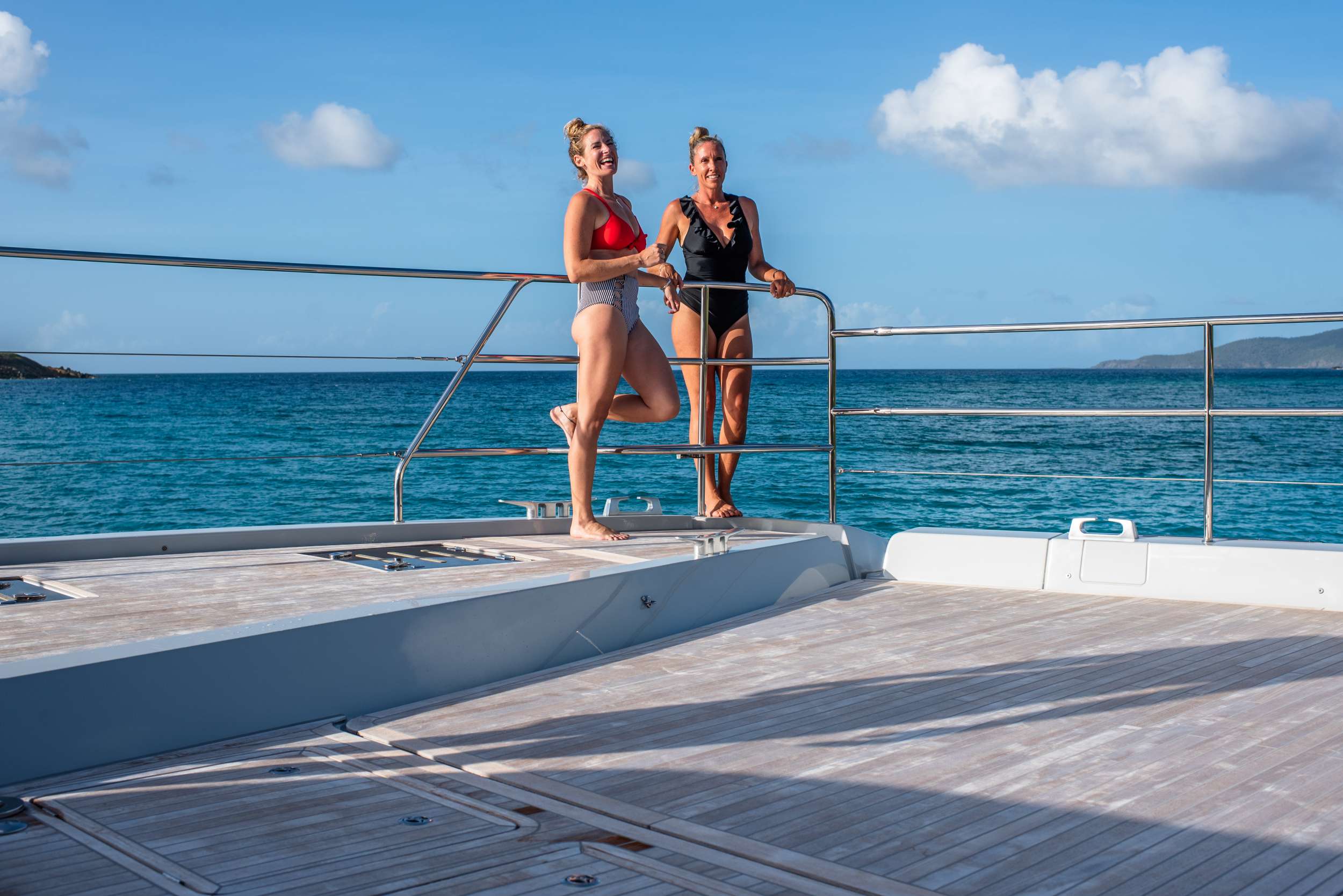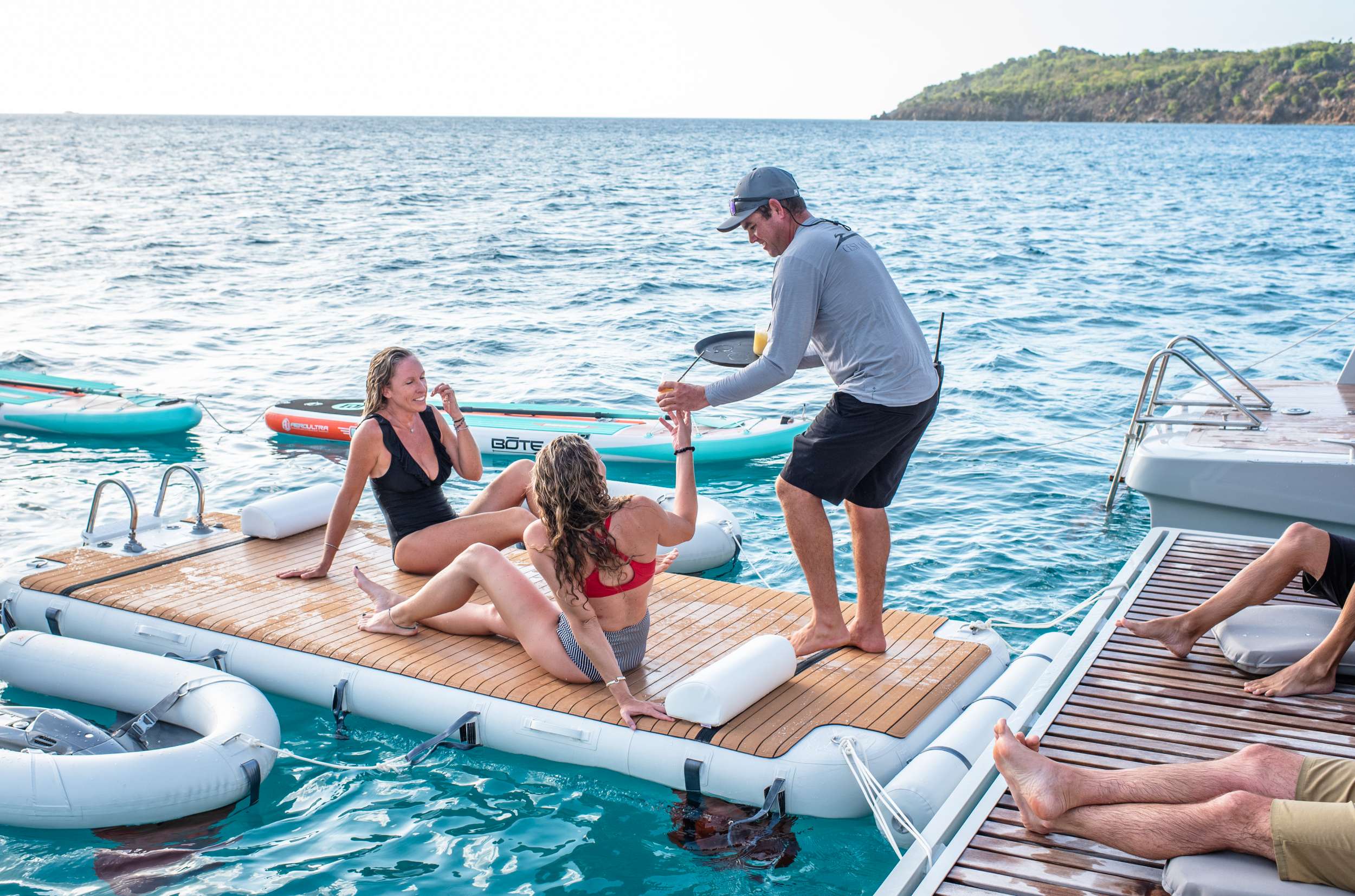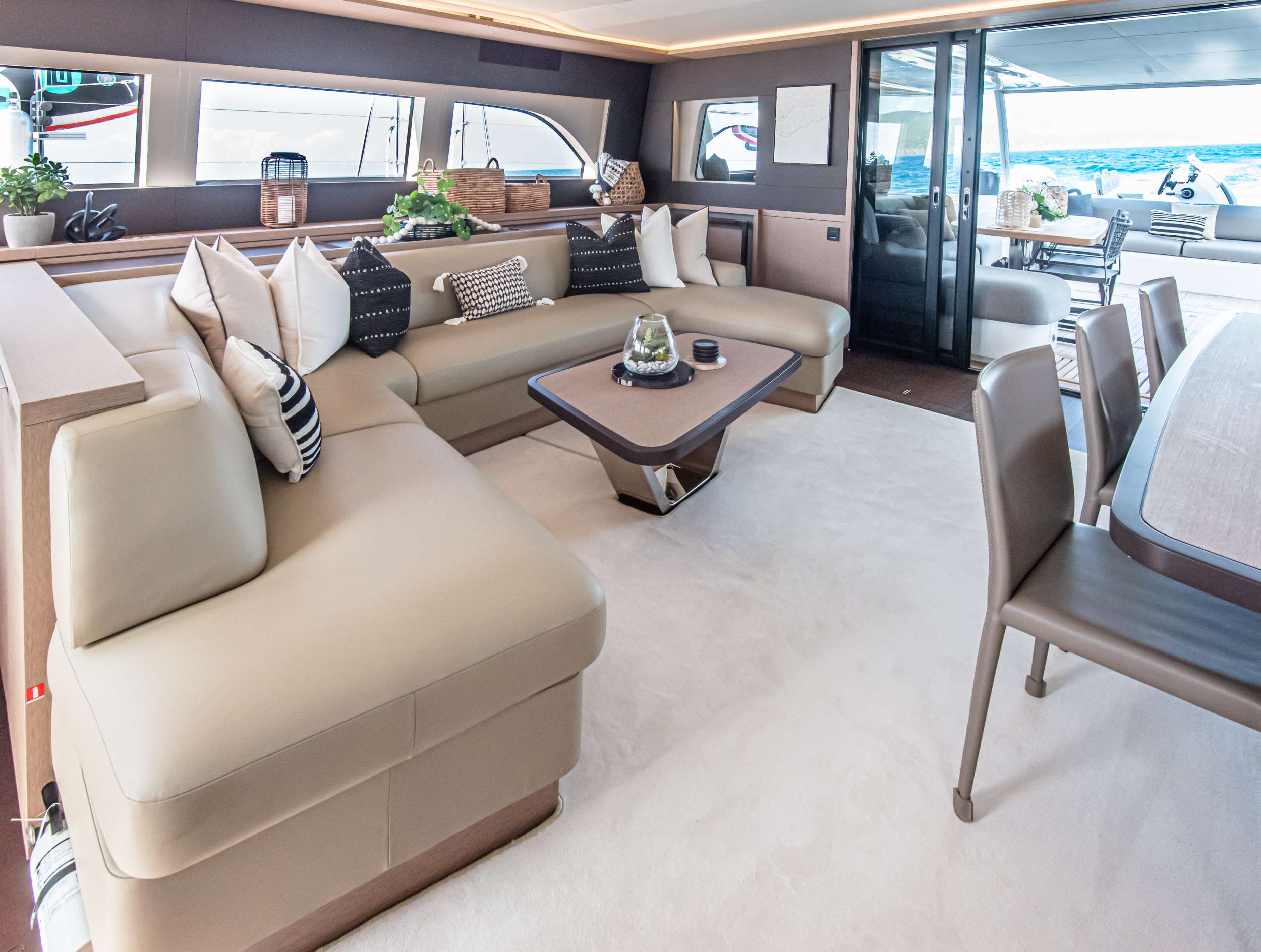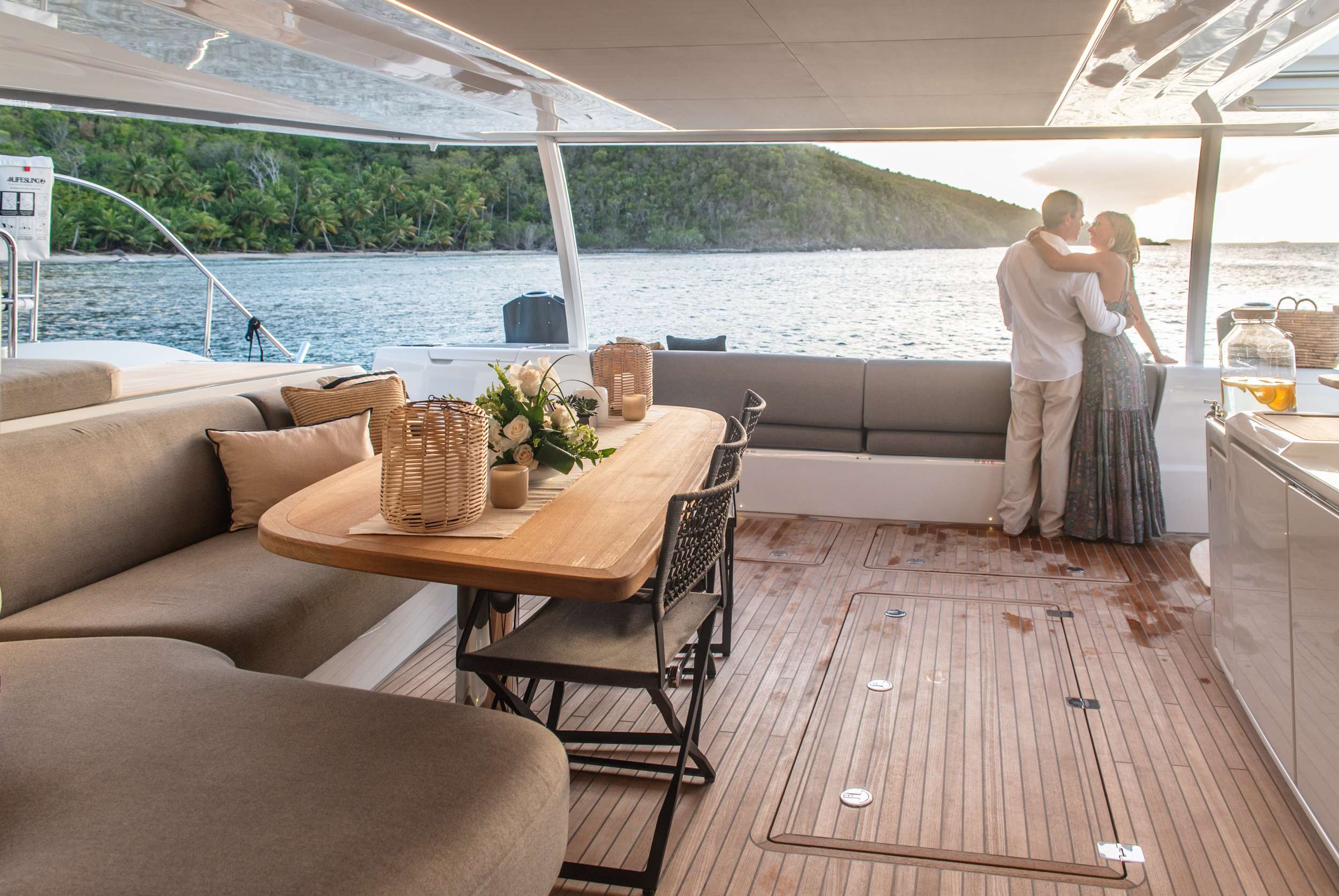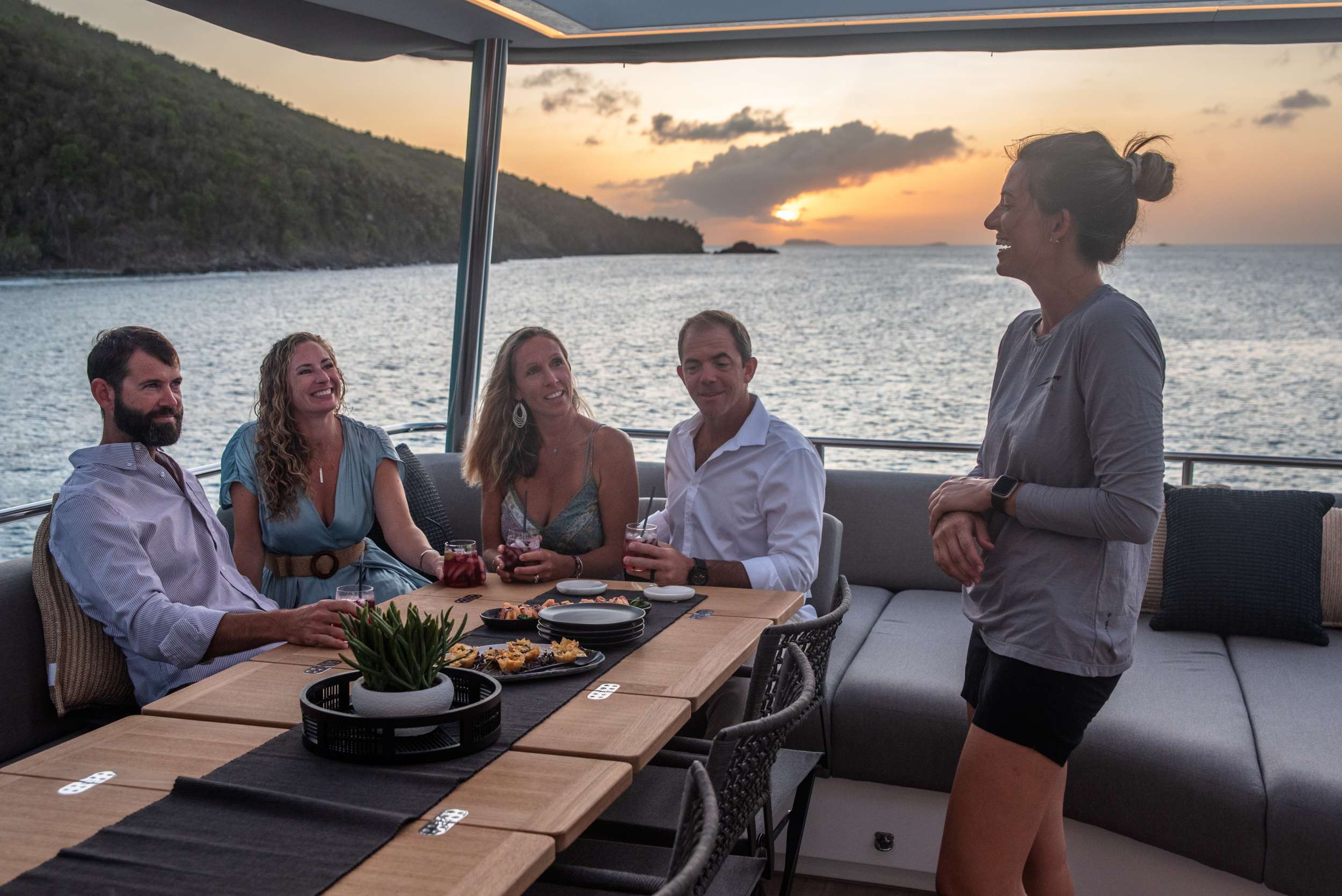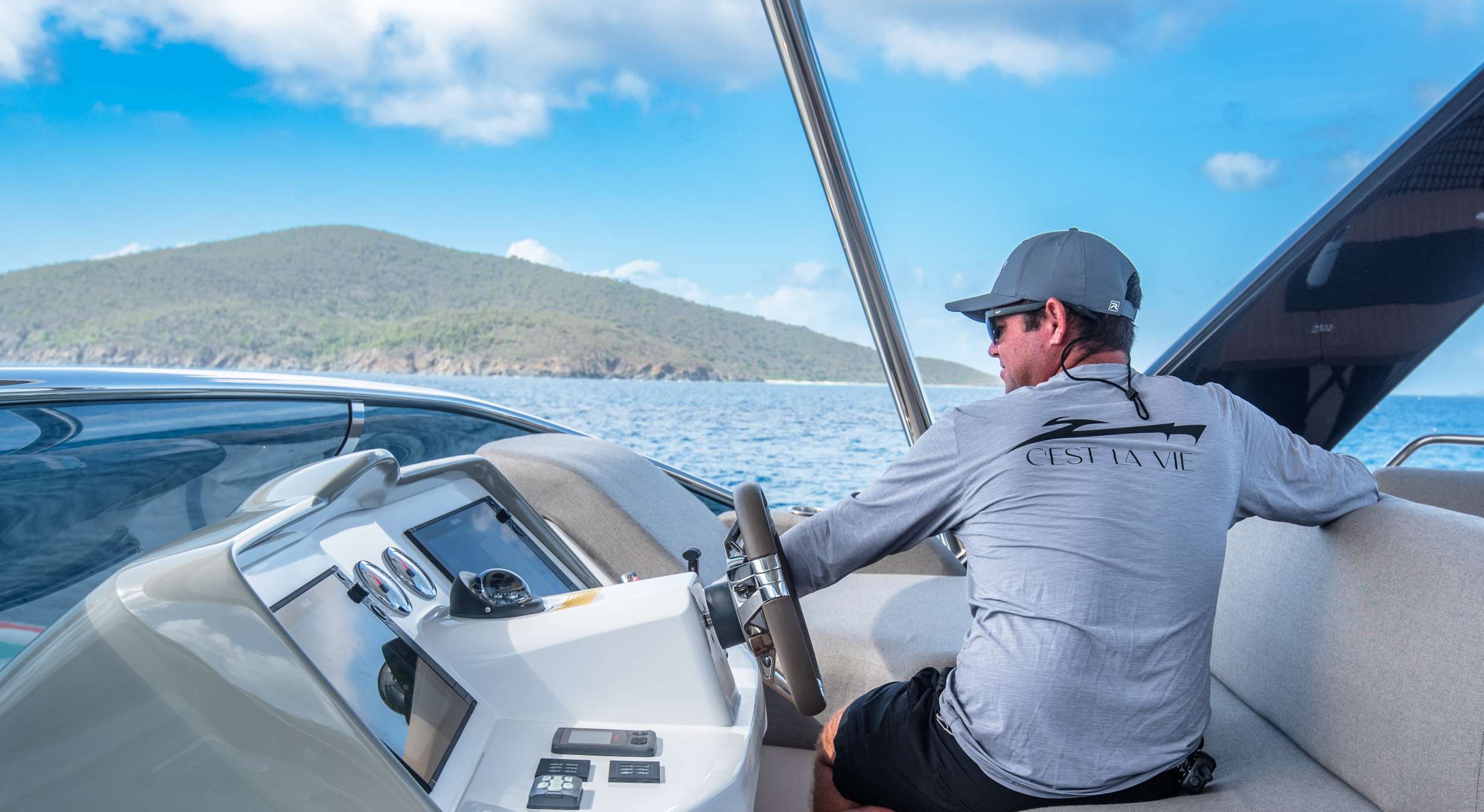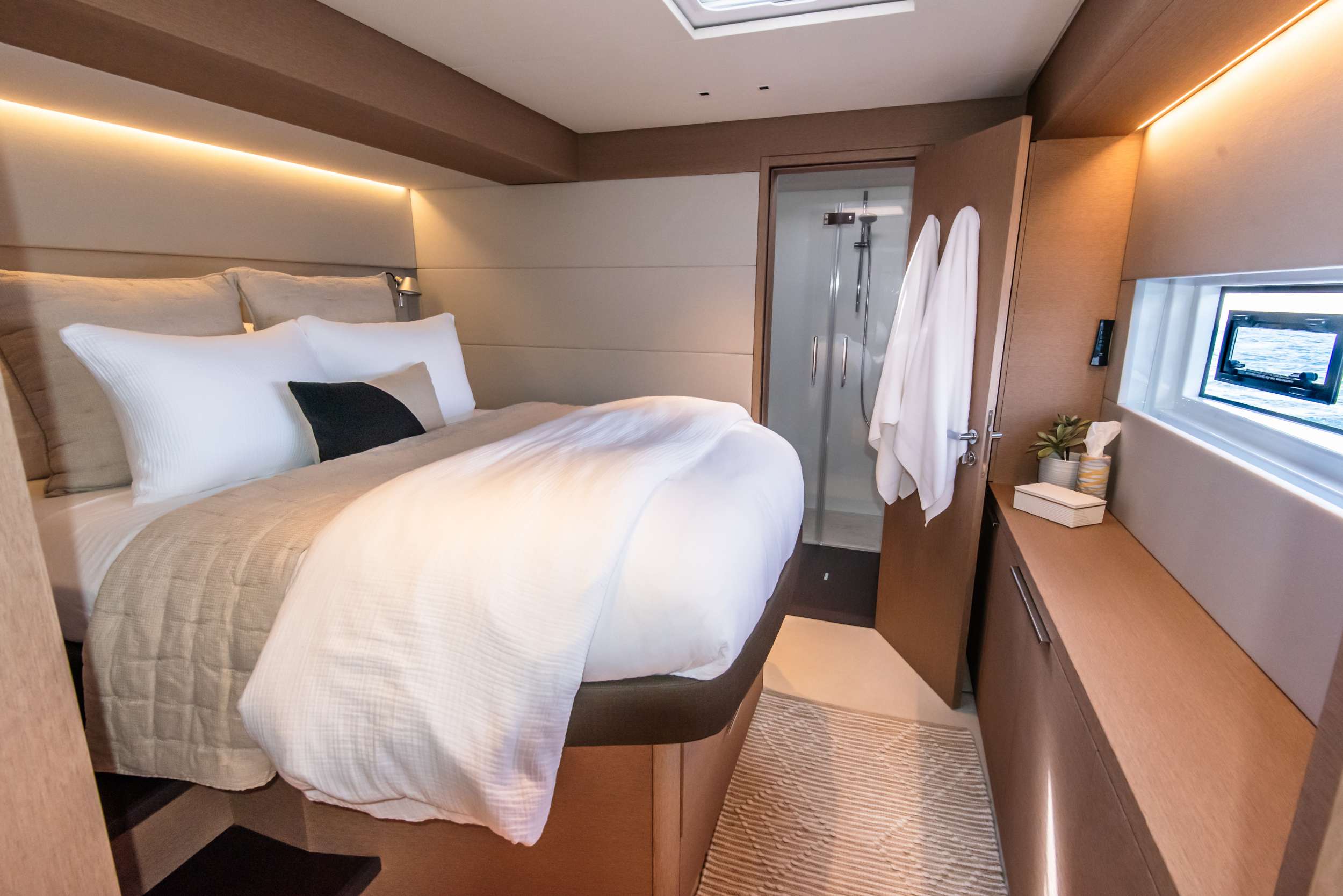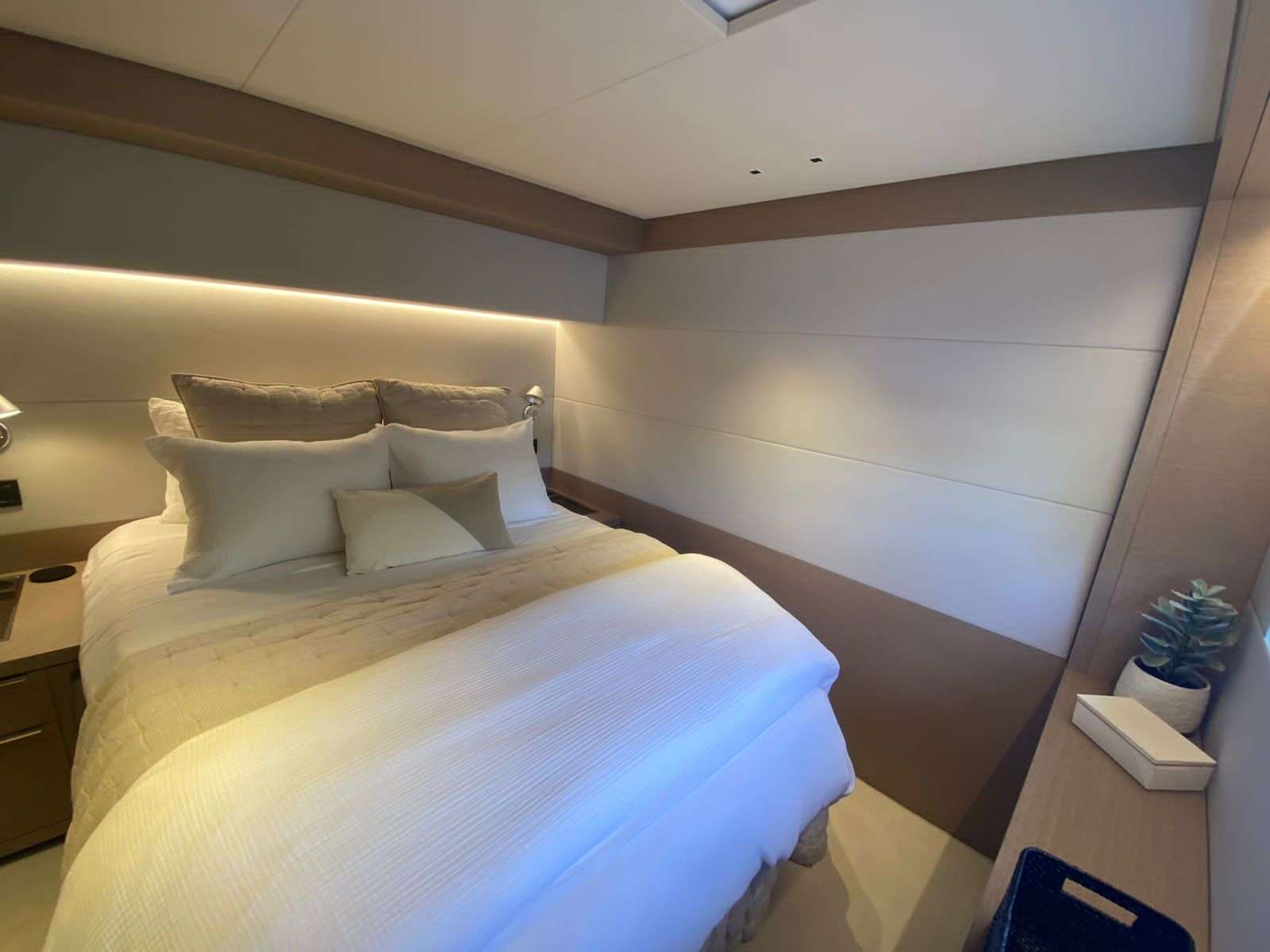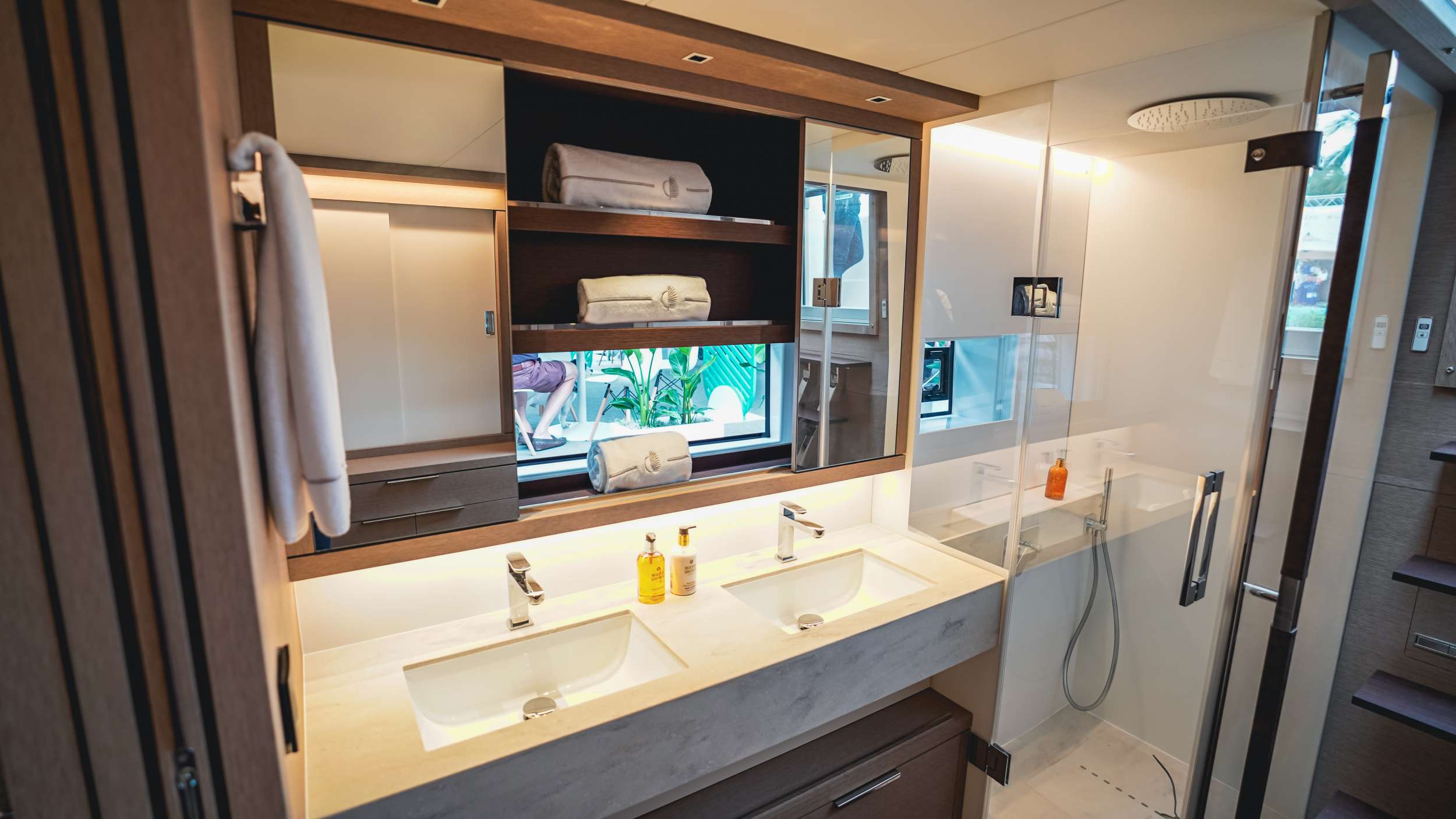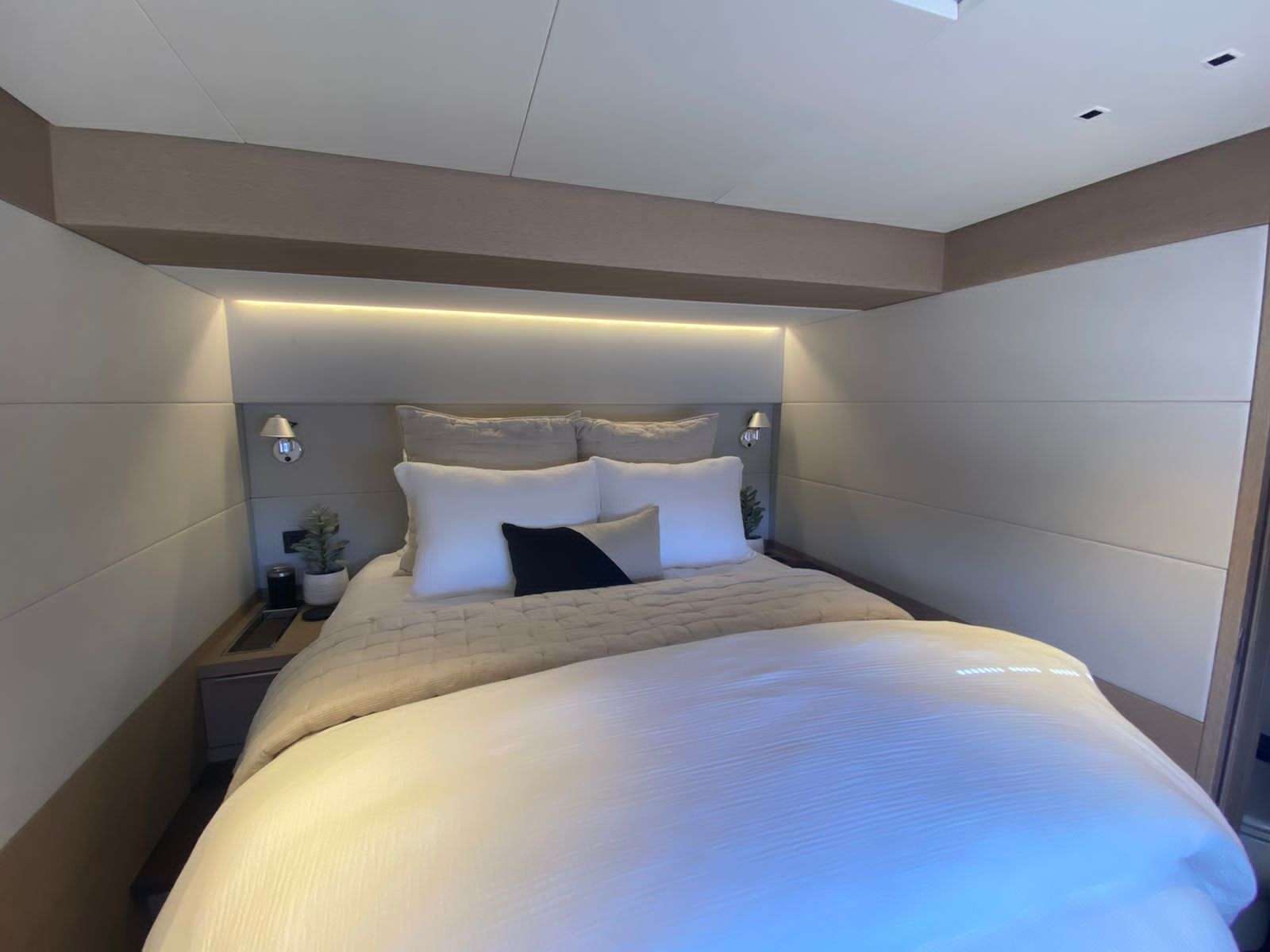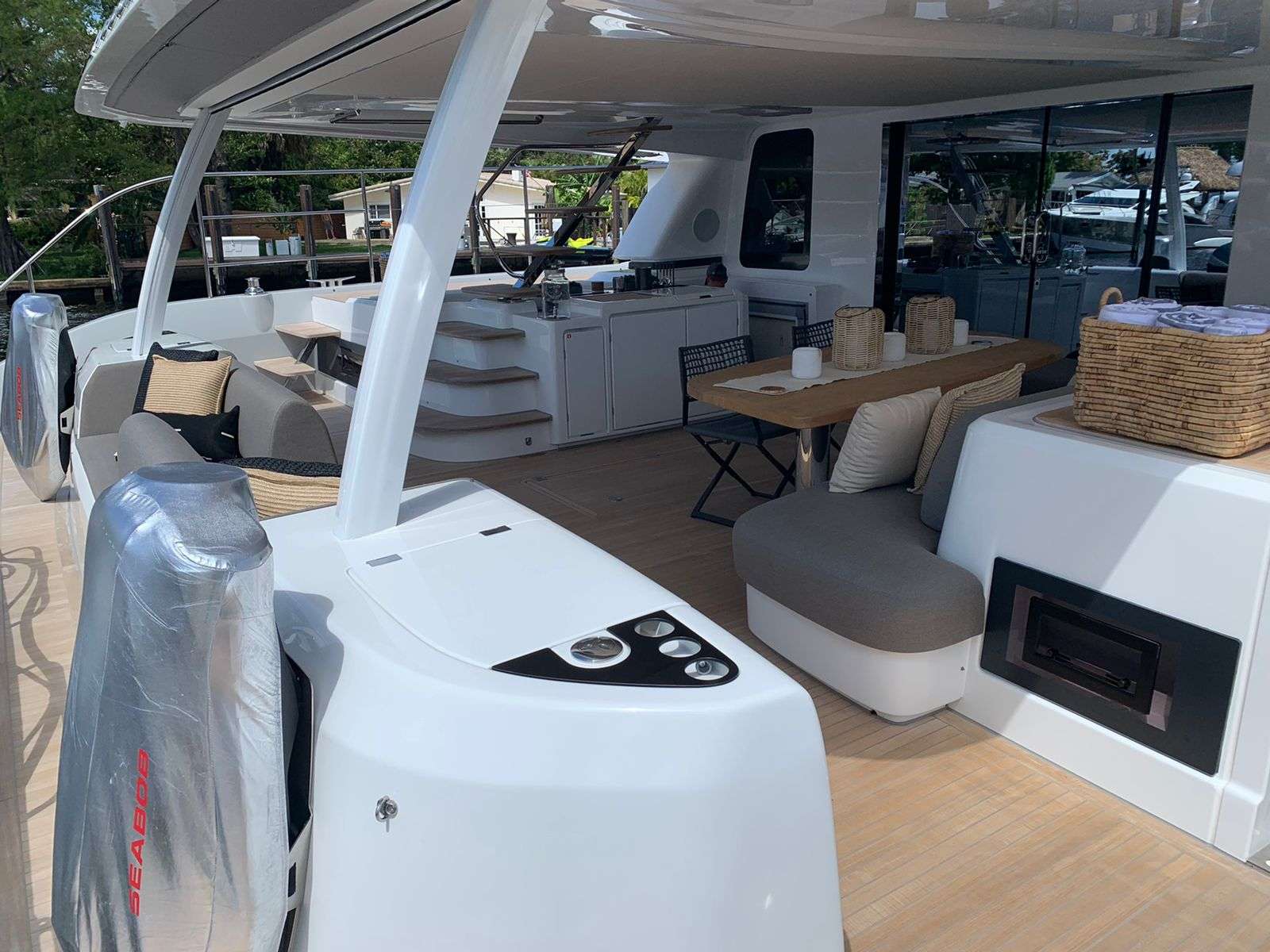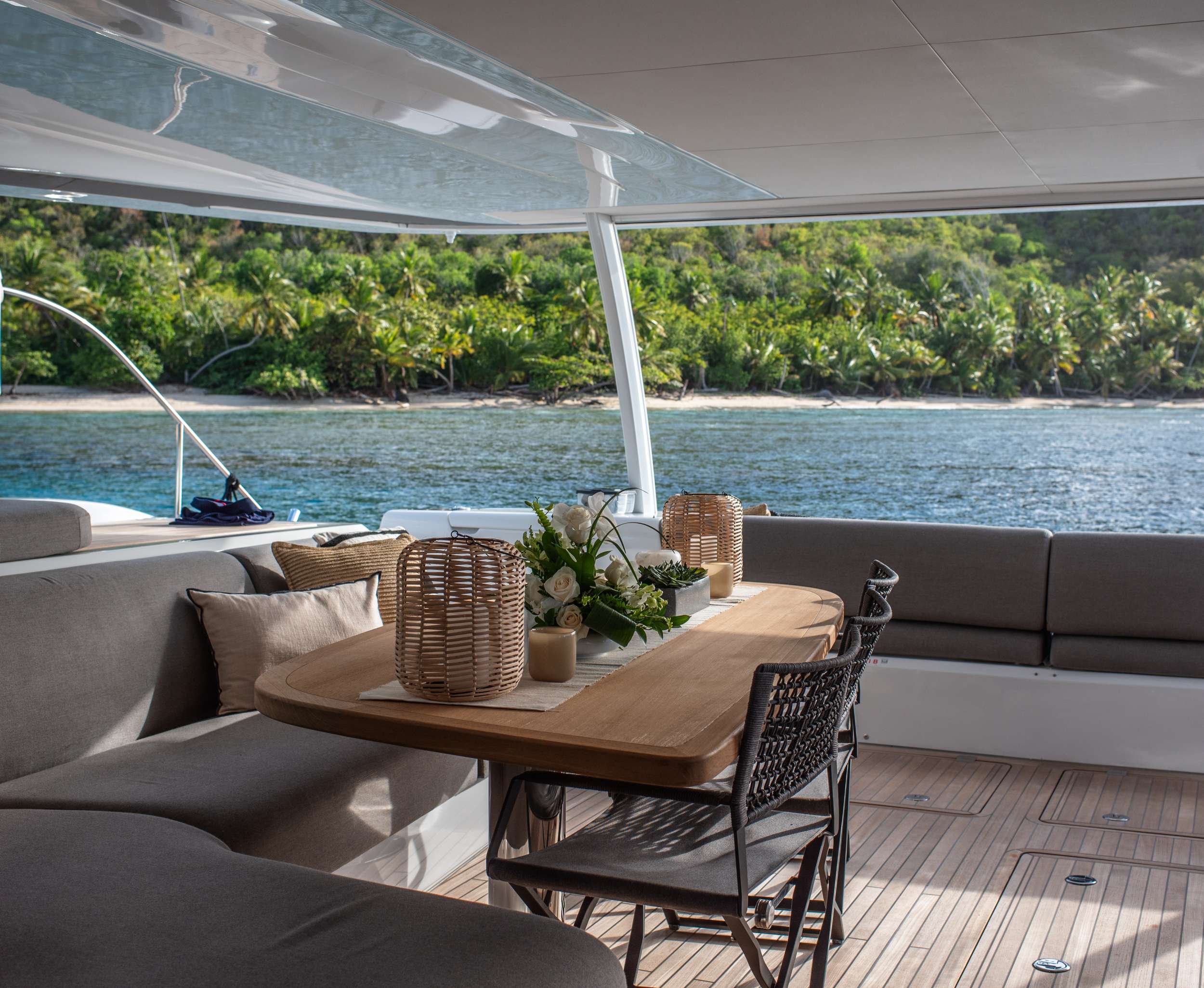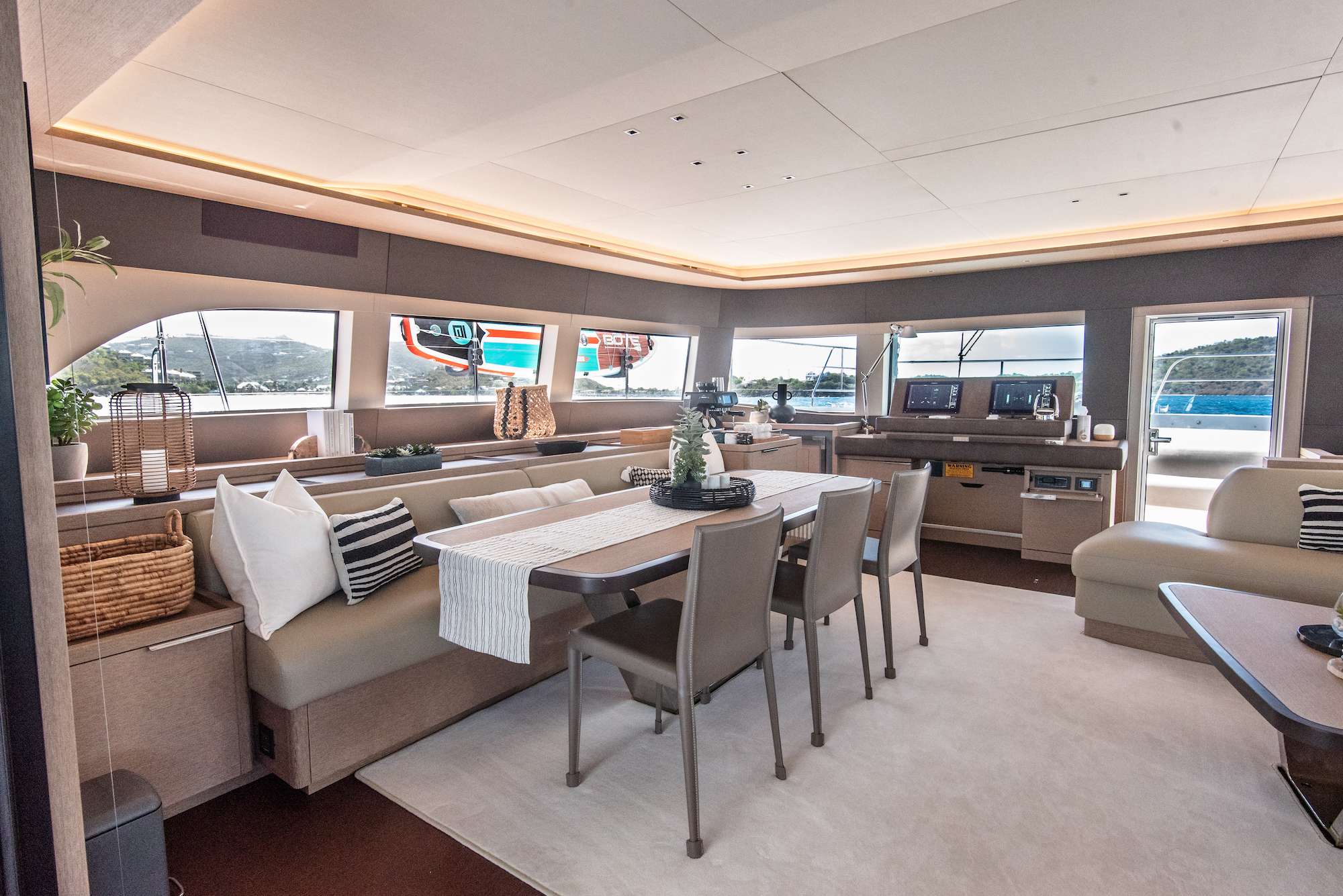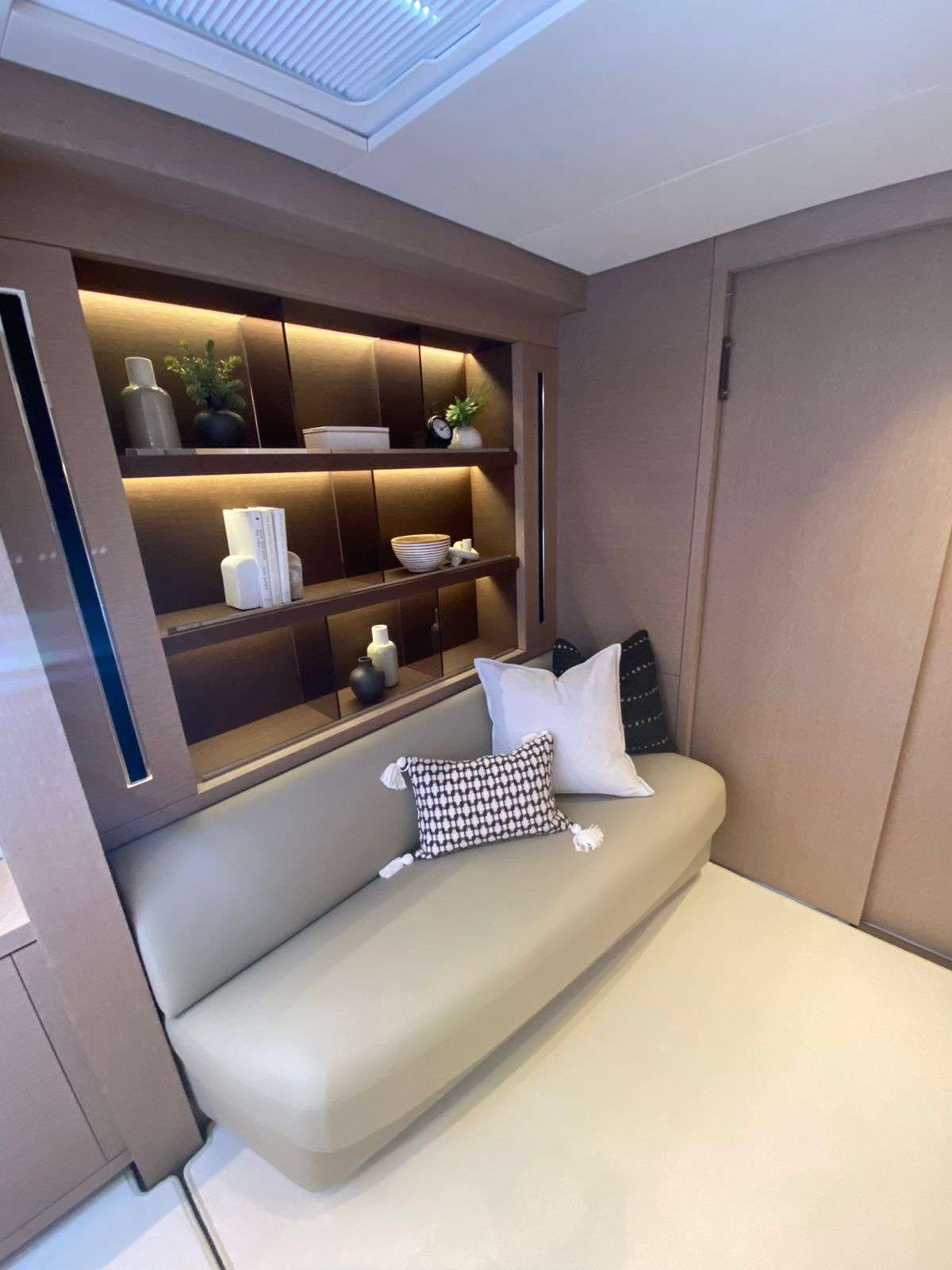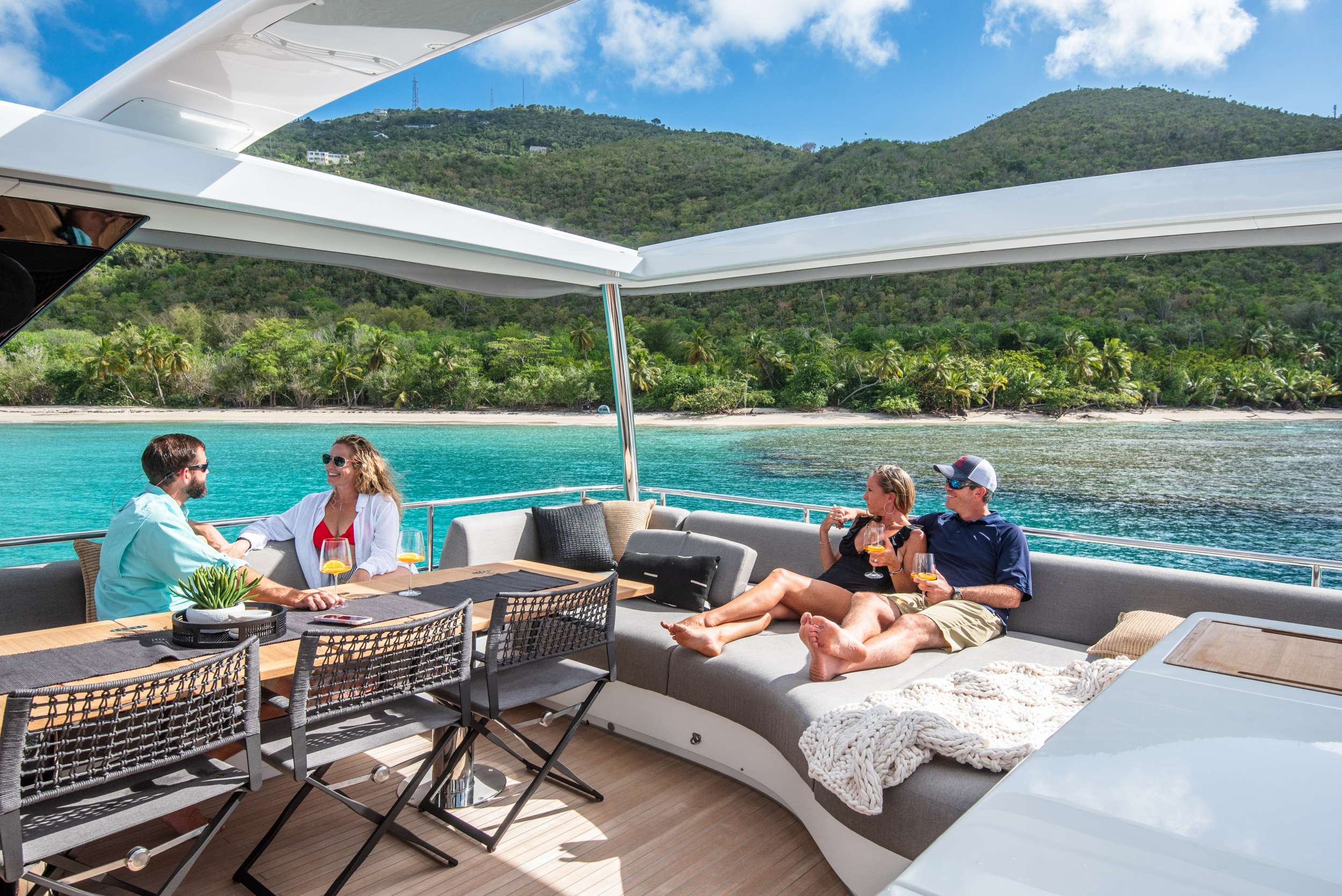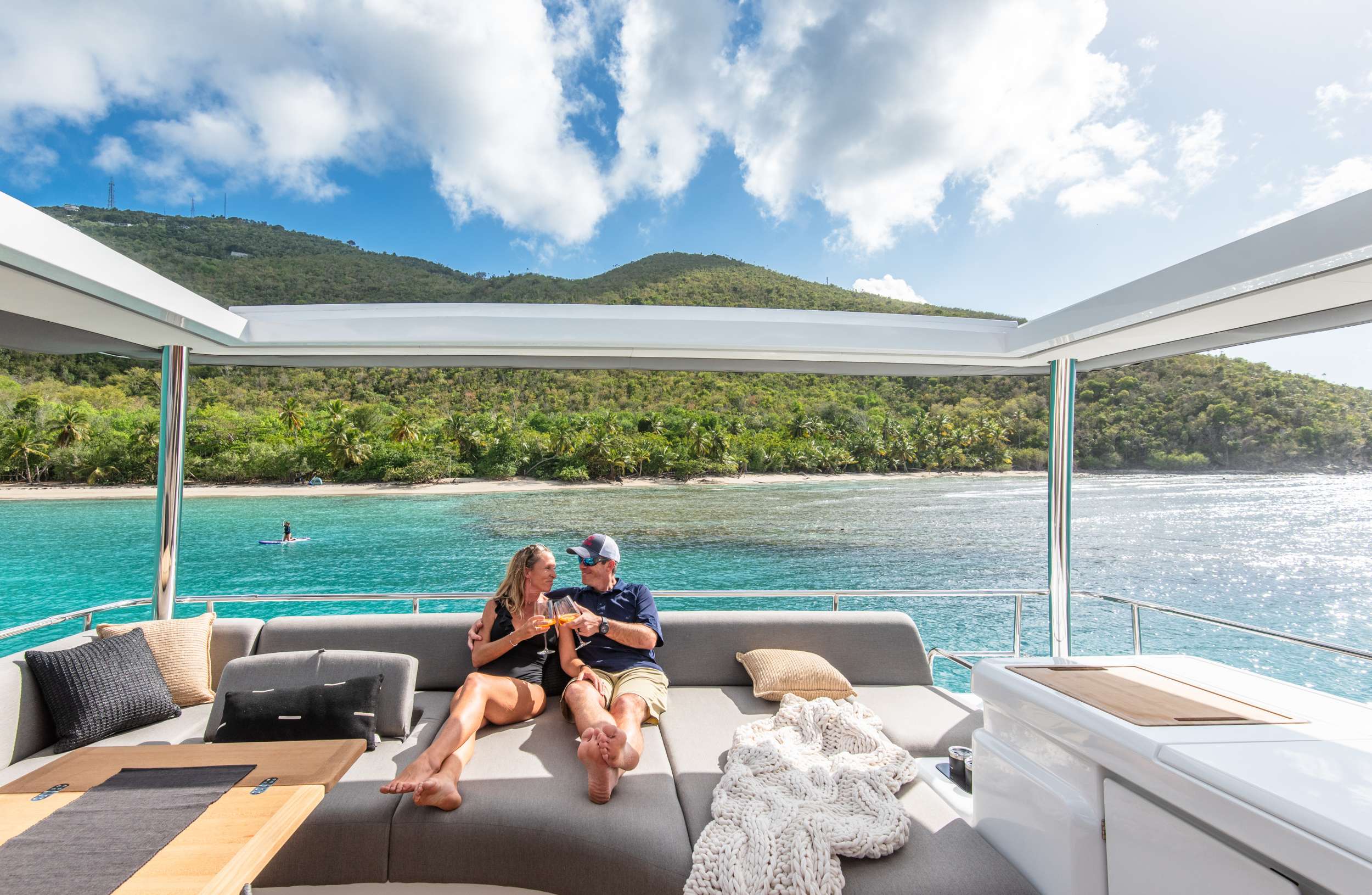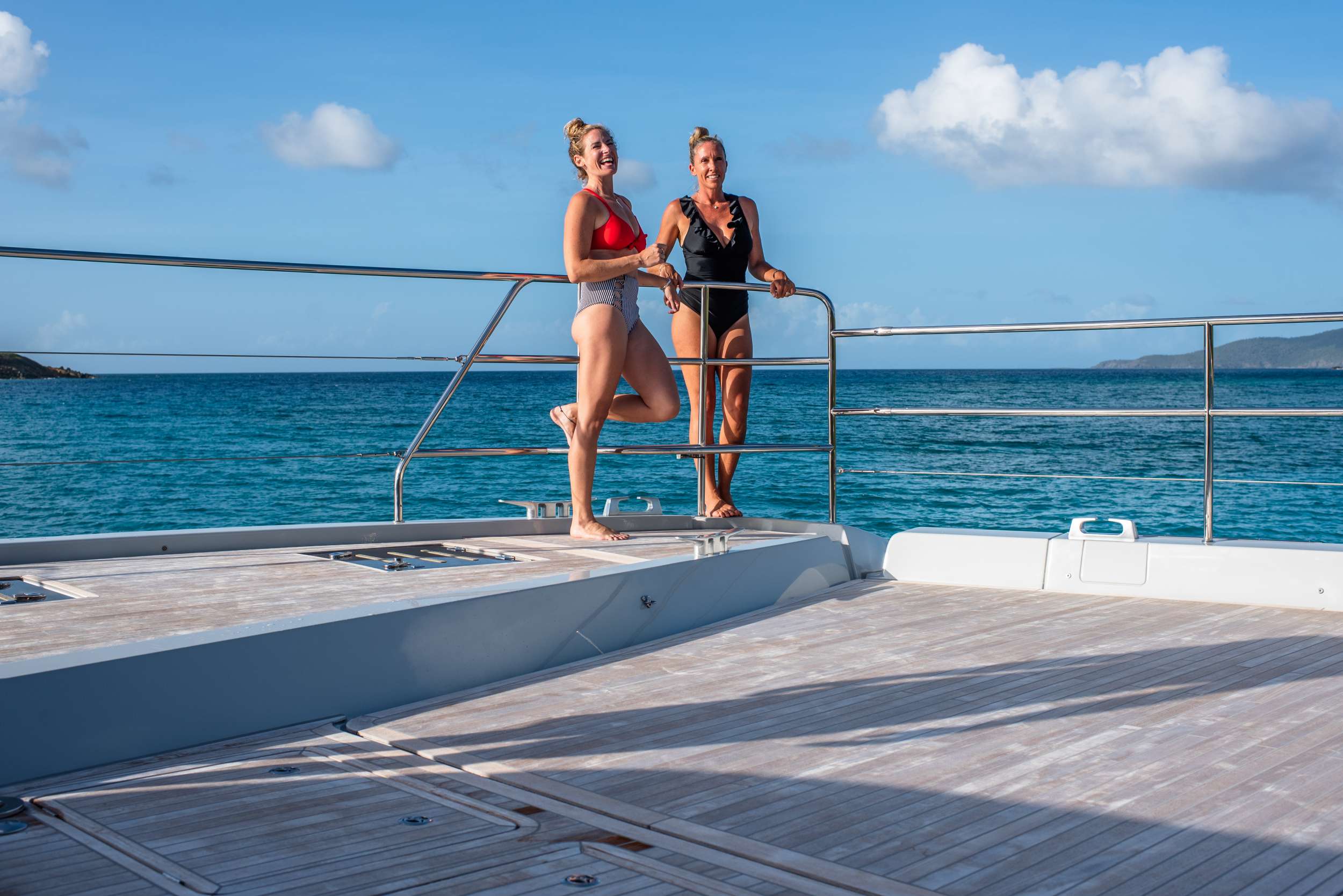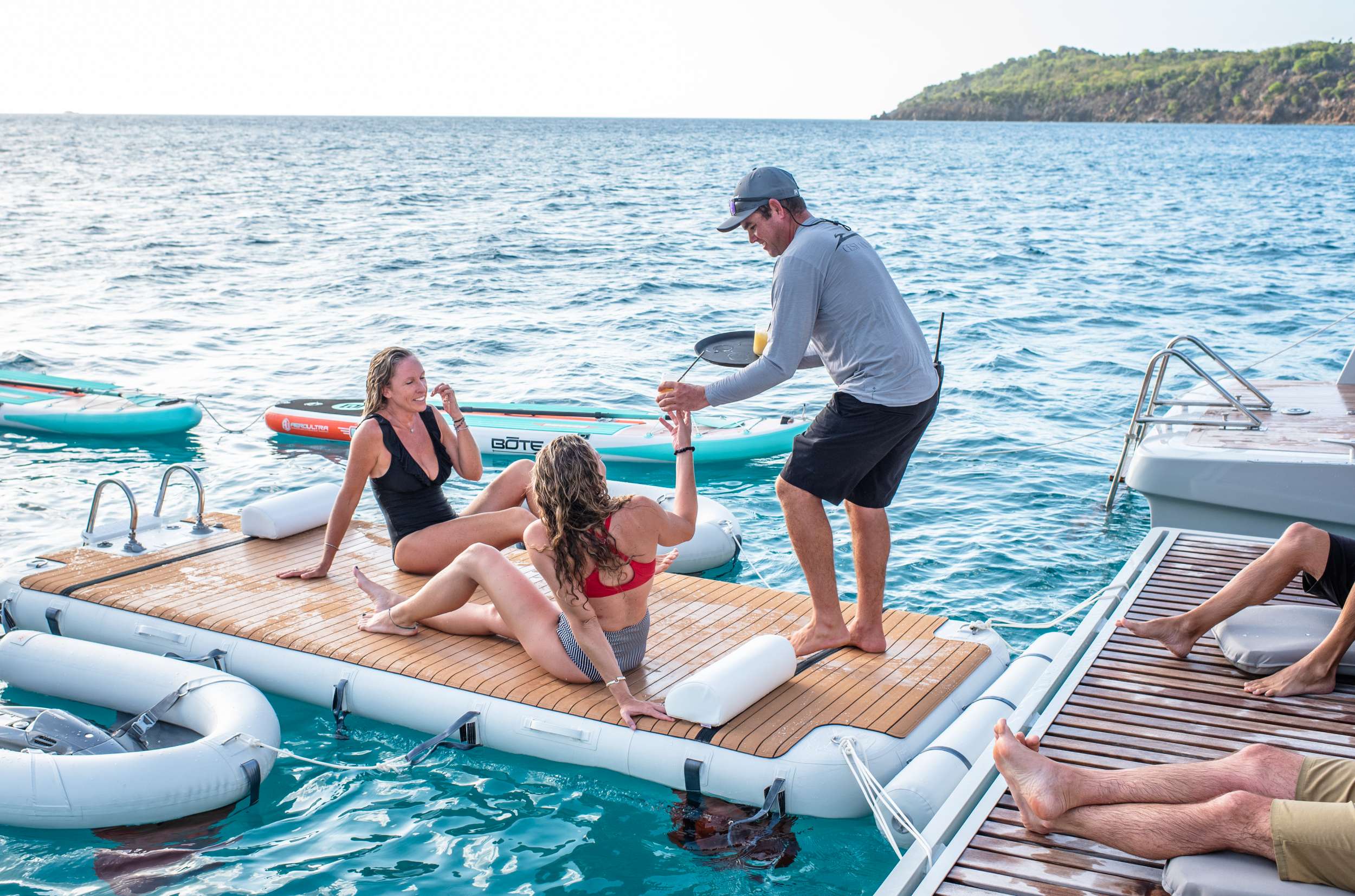 Accommodations
| | |
| --- | --- |
| Sleeps 8 guests in 4 guest stateroom(s). | |
| 4 with Queen Bed(s) | |
Details
Crew will take port midship cabin
Rates are for 3 queen cabins
By inquiry only for 6 pax and under, guests have access to the 4th cabin for an additional fee of $3000. This applies to all charters including Holidays. Please inquire before proposing to clients
Layout Diagram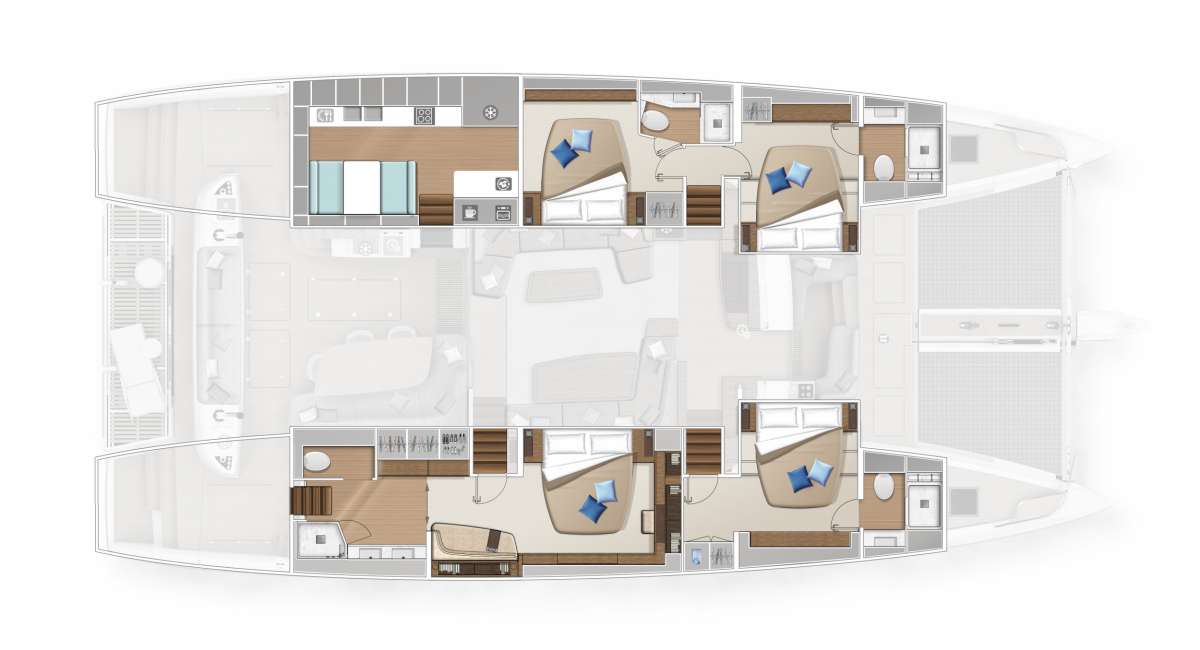 Specifications
| | |
| --- | --- |
| Guests | 8 |
| Staterooms | 4 |
| Length | 67.00 Ft / 20.00 m |
| Beam | 32 ft |
| Draft | 4 ft |
| Built - Refit: | 2022 - [] |
| Builder | Lagoon |
Watersports
| | |
| --- | --- |
| Paddle Boards | 2 |
| Double Kayaks | 2 |
| Wakeboards | 1 |
| Snorkeling gear | Yes |
| Inflatable, towable tubes | Yes |
| Scuba Diving | Onboard |
| Scuba Compressor | Onboard |
Other Toys
- 2x seabobs
- 2x efoils
- 1x wakeboard
- 1x sub wing
- Tubing
- Diving (dive gear, compressor onboard- with dive instructor)
-1x nauti bout leisure floating dock(with seabob docking stations)
-2x paddle board/ kayak

Pricing
From:
59,000

To:
70,000
Winter 2022 to 2023
| | |
| --- | --- |
| 2 Guests | 59,000 |
| 3 Guests | 60,000 |
| 4 Guests | 61,000 |
| 5 Guests | 62,000 |
| 6 Guests | 63,000 |
| 7 Guests | 64,000 |
| 8 Guests | 65,000 |
Summer 2023
| | |
| --- | --- |
| 2 Guests | 59,000 |
| 3 Guests | 60,000 |
| 4 Guests | 61,000 |
| 5 Guests | 62,000 |
| 6 Guests | 63,000 |
| 7 Guests | 64,000 |
| 8 Guests | 65,000 |
Winter 2023 to 2024
| | |
| --- | --- |
| 2 Guests | 59,000 |
| 3 Guests | 60,000 |
| 4 Guests | 61,000 |
| 5 Guests | 62,000 |
| 6 Guests | 63,000 |
| 7 Guests | 64,000 |
| 8 Guests | 65,000 |
Summer 2024
| | |
| --- | --- |
| 2 Guests | 59,000 |
| 3 Guests | 60,000 |
| 4 Guests | 61,000 |
| 5 Guests | 62,000 |
| 6 Guests | 63,000 |
| 7 Guests | 64,000 |
| 8 Guests | 65,000 |
Pricing Details
For charters confirmed as of March1st 2022, BVI Customs fees and cruising permits are included in the rate.


Boat Requires 48hr Turns

Rates are for 3 queen cabins
By inquiry only, guests may have access to the 4th cabin for an additional fee of $3000, which is non-commissionable. This applies to all charters including Holidays. Please inquire before proposing to clients

*7 Night Minimum* Inquire for short charters.

HOLIDAYS:
2023
Christmas Flat Rate $70,000 inquire about pick up and drop off. 7 night minimum.
New Years Flat Rate $70,000 inquire about pick up. 7 night minimum.

CHILD DISCOUNTS: Discount Applied First
Children 15 and under $500 discount
***must be 15 or under at the time of charter***

Please Inquire for 2023 Holiday Rates



PLEASE INQUIRE FOR FURTHER PRICING DETAILS
Crew Profile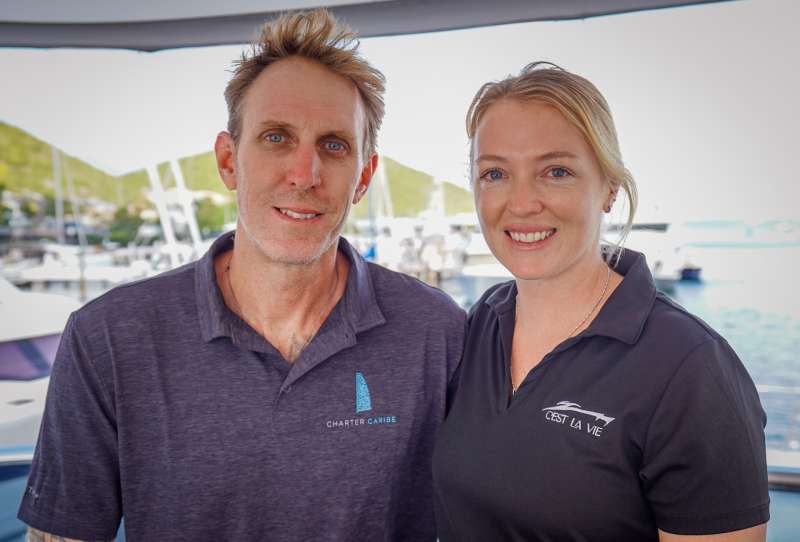 Originally from Zimbabwe, Robbie was brought up on a farm with a love for the outdoors, sport and a keen sense for adventure. His hobbies also include golf and darts but his favorite from a young age was and always has been fishing, whether it's fresh water or deep sea. After school, he moved to South Africa to play professional rugby, but it was not long before he decided on it being an unlikely permanent career choice. He turned towards scuba diving instead, despite the cold waters of Cape Town and worked his way up to becoming an instructor. After a few years of this, Robbie grew keen to search for warmer water to dive in and accepted a job in Raja Ampat, Indonesia. The travel bug set in, Captain's ticket in hand and many nautical miles later, there is nothing that Robbie loves more than finding new places to have fun in, both above and under the water.
MARITIME QUALIFICATIONS
• IYT Master of Yachts (200t) Unlimited
• IYT Master of Yachts (200t) Limited
(Practical & Theory)
• ENG 1 Medical (Valid 2022)
• STCW 95 - Complete Basic Training
• RYA Tender Operator
• RYA Powerboat Level II
• RYA Powerboat Advanced
• RYA Personal Watercraft
• RYA Shore based Day Skipper for Sail Power Craft
• RYA Radar Course
• RYA Diesel Engine Course
• RYA VHF Radio
• SYSA Deckhand Course
DIVING QUALIFICATIONS
• PADI Speciality Instructor
• EFR First Aid Instructor
• Bauer Compressor Operator
• ScubaPro Level1 Equipment Service Technician
• Aqualung Level 2 Equipment Service Technician
SOFIA 'SOFIE' RIBEIRO
Born and raised in the landlocked country of Zimbabwe, Sofia's love for water originated whilst growing up as a national swimmer and waterpolo player. Working throughout studying within restaurants and catering, it gave her an opportunity to build up experience in hospitality, develop professionalism within the service industry but most of all appreciate different cuisines. After graduating from University of Cape Town, South Africa with a Social Science degree, Sofia realized she wasn't motivated towards a formal office setting and sought after a career in which she could combine her love of travel with learning new skills. Discovering the world of yachting she has since worked in the Mediterranean, Australia, Indonesia, Florida and the Caribbean. Being able to explore new places and gain a passion for cooking along the way has been a dream realized.
Robbie and Sofie met in Singapore, soon found common ground of similar roots and have been working together within the industry since then for the last 5 years. Their combined passion for food, travel and most of all the ocean has brought them together to love what they do. They have been lucky enough to get to know some extraordinary, remote locations around the world but also appreciate being able to share time with family and friends in their home country, Zimbabwe.
As a team, they love being able to entertain, share stories and meet new people to learn theirs. Robbie and Sofie are keen on keeping charters light-hearted while making it a priority to go above and beyond so that their guests always have an adventure to remember.
OQUALIFICATIONS
• ENG1 (Valid 2022)
• IYT Master of Yachts (200t) Unlimited
• IYT Master of Yachts (200t) Limited
(Theory & Practical)
• STCW & PDSD
• International Driver's Licence (Valid 2021)
• PADI Open Water Diver
• Food Safety & Hygiene Level II
• RYA Powerboat Level II
• RYA Personal Watercraft
• Beginner's Course in Floristry
• Basic Cocktail Masterclass
• Bachelor of Social Science
KIRSTIN KLOPPERS
Kirsten, a native of South Africa, grew up enjoying the pleasant climate and taking part in various outdoor activities, such as photography, swimming, and showjumping. She excelled in golf and earned several titles and a place on provincial teams before scuba diving captured her imagination during her first dive in the ocean. She attended the University of Johannesburg where her studies in Industrial Design deepened her appreciation of the ocean ecosystem and sparked a passion for developing projects to address ocean conservation. As her interest in photography shifted to the underwater world, she found herself drawn to a non-traditional career and pursued full-time work in diving and sailing. She honed her skills in Tuna fishing and spearfishing while working for a fishing charter company in Cape Town. Today, her love for the ocean and marine life remains one of her greatest passions.
Maritime Qualifications
RYA/MCA Yachtmaster Offshore (Sailing) Commercial Endorsement (200GT)
SAS Yachtmaster Coastal
SAMSA SRC/VHF Radio
RYA Personal Watercraft
RYA Powerboat Level II
RYA Competent Crew
Food Safety at Sea Level II
RYA Superyacht Training
ENG1 Medical
STCW 2010
PADI IDC Staff Instructor
PADI Specialty Instructor
Diploma Industrial Design
Additional Information
C'est La Vie was designed to create unforgettable vacation experiences exploring a range of activity and relaxation, mixed with high end luxury and unrivaled adventure, all amidst a tropical backdrop. A well-appointed 2022 Lagoon Sixty7, C'est La Vie offers bespoke luxury in 2 spacious Queen cabins and a massive master cabin, each with en-suite washrooms and plenty of living space. Topside you will find multiple sun beds, loungers and wet bars aplenty. Her crew of 3 leaves no need unmet; offering decades of combined professional experience to create a seamless, customized and highly interactive encounter. No finer culinary experience can be found ashore or afloat, as chef Sofia provides a rich understanding of all things epicurean while undertaking the constant search for the finest and freshest ingredients. Captain Robbie will keep you feeling at ease, with his unassuming, patient approach and his dry wit. He is an avid waterman, excelling in scuba, fishing and engaging in a keen interest for Nautical lore. First mate Dean knows all of the best snorkels and hikes, and at the end of a long day (or morning hike) will shake up a cocktail that would make Hemingway swoon. C'est La Vie's offerings are second to none, including electric foiling surfboards, sea bobs, scuba compressor and gear, floating docks and a massive tender to get you to the finest beaches. Interested in becoming dive certified? Captain Robbie is a PADI dive instructor and can indulge guests of all abilities in exploring the underwater world. Sit in the lap of luxury via a professionally designed and decorated interior. In addition to outdoor activities, the yacht boasts a powerful hi-fi system, lots of games and movies.
Destinations
Inquire about C'EST LA VIE