Gallery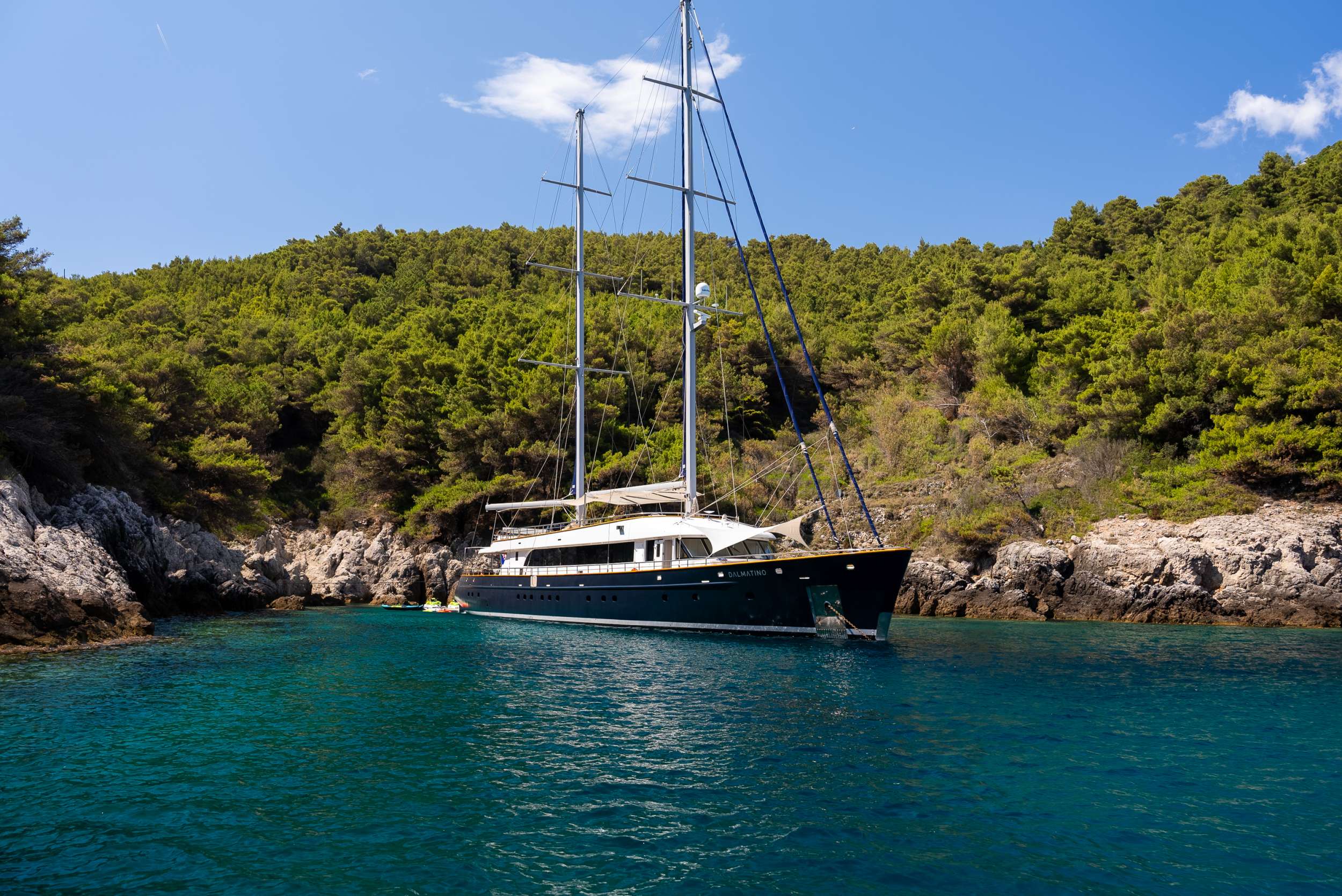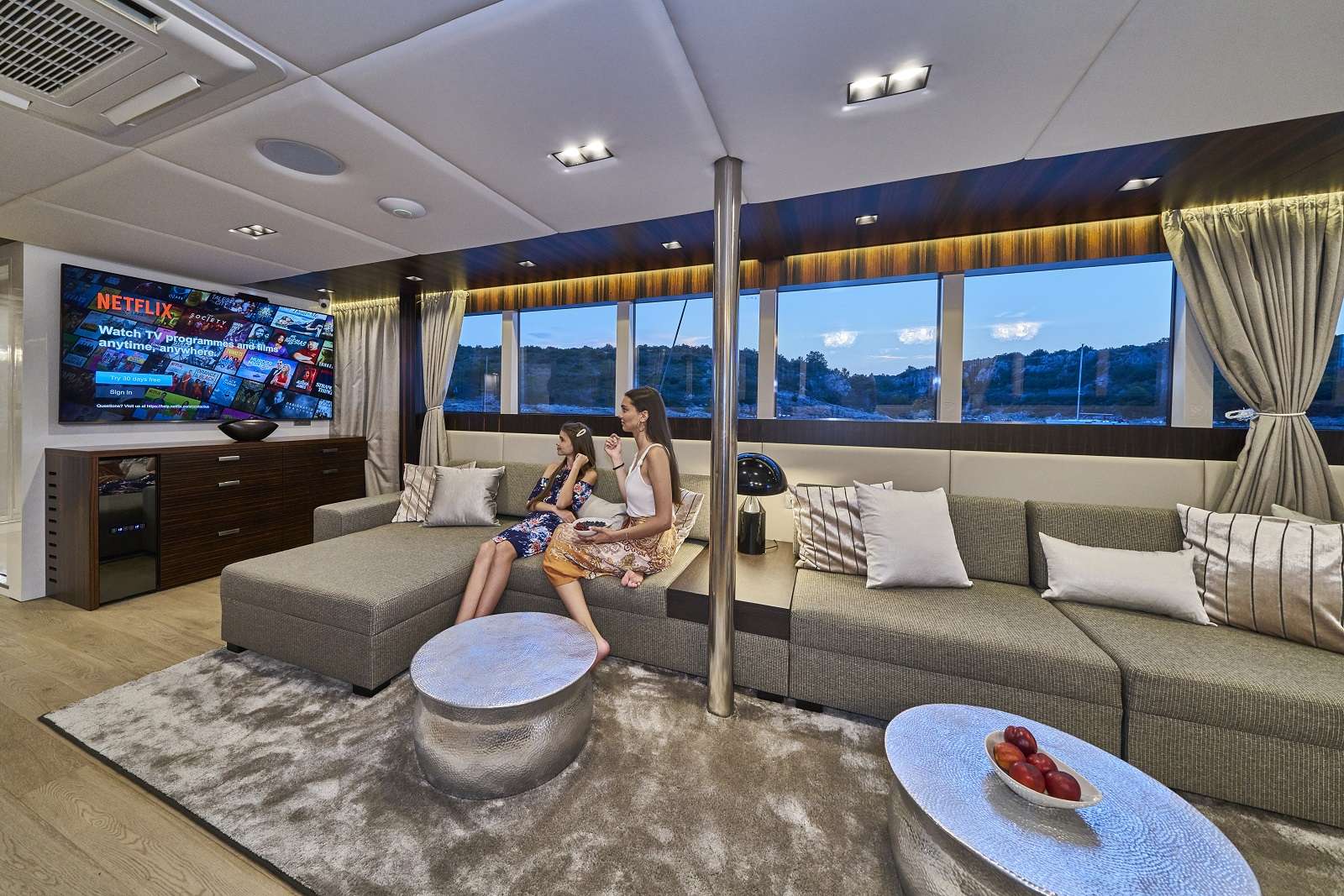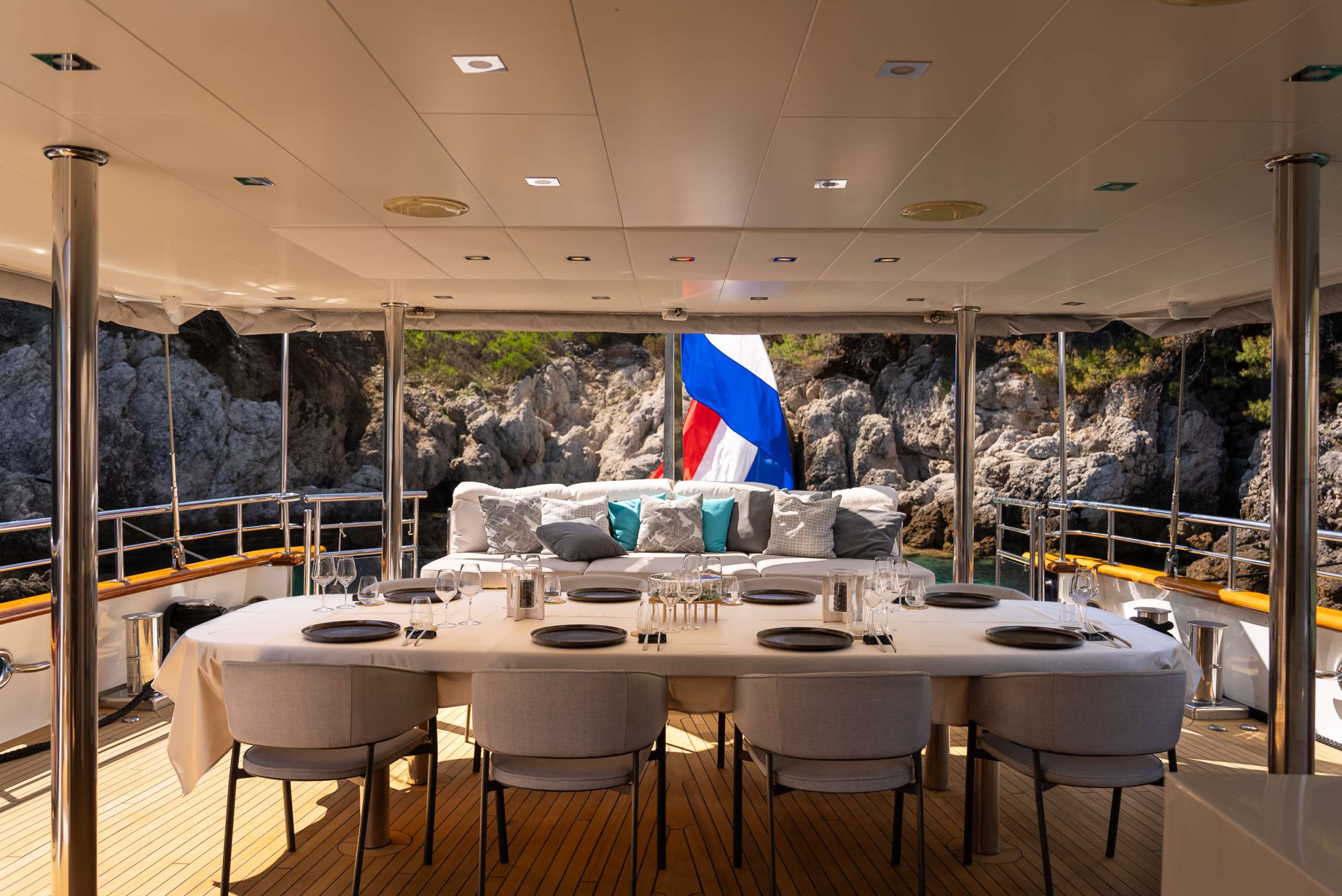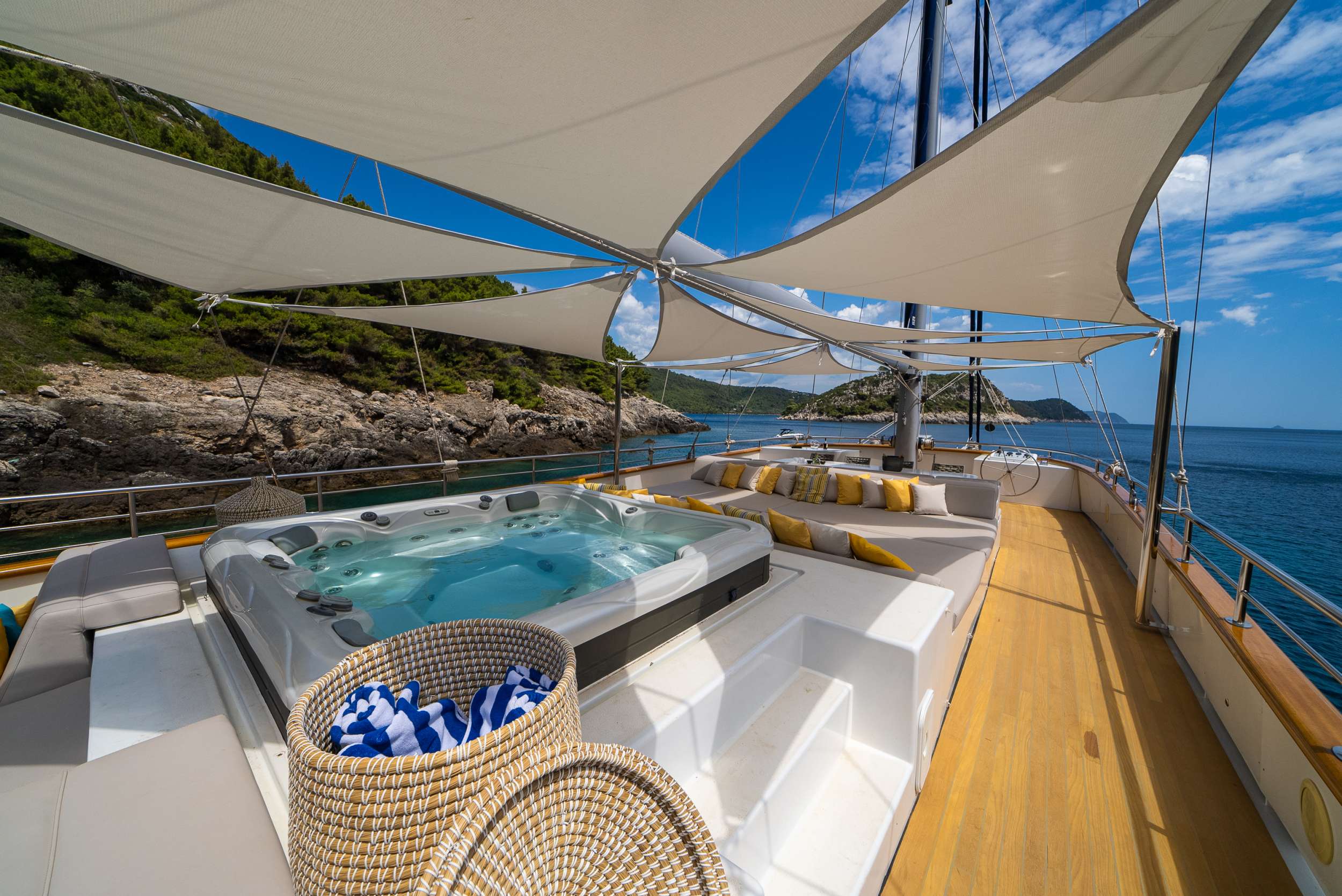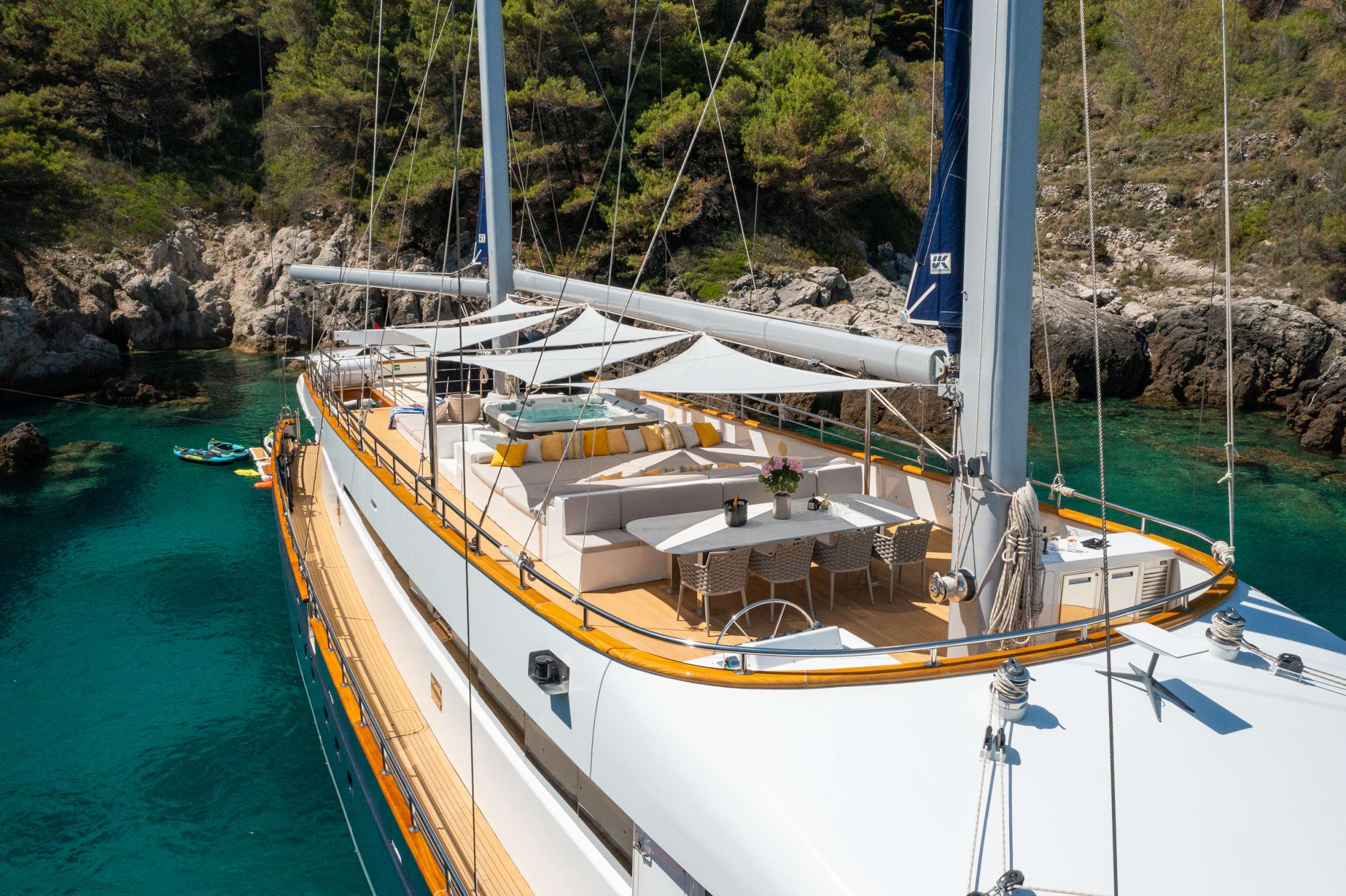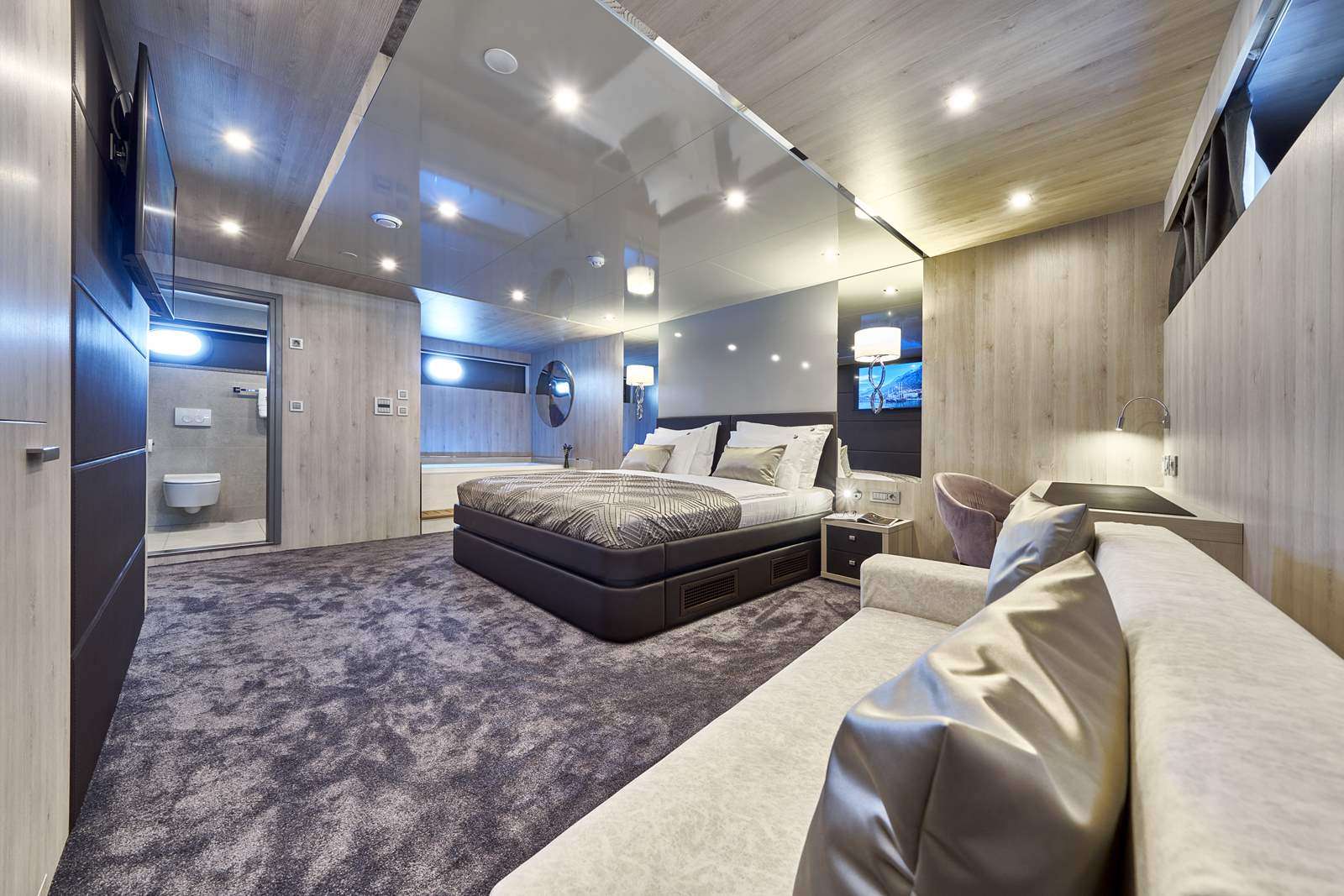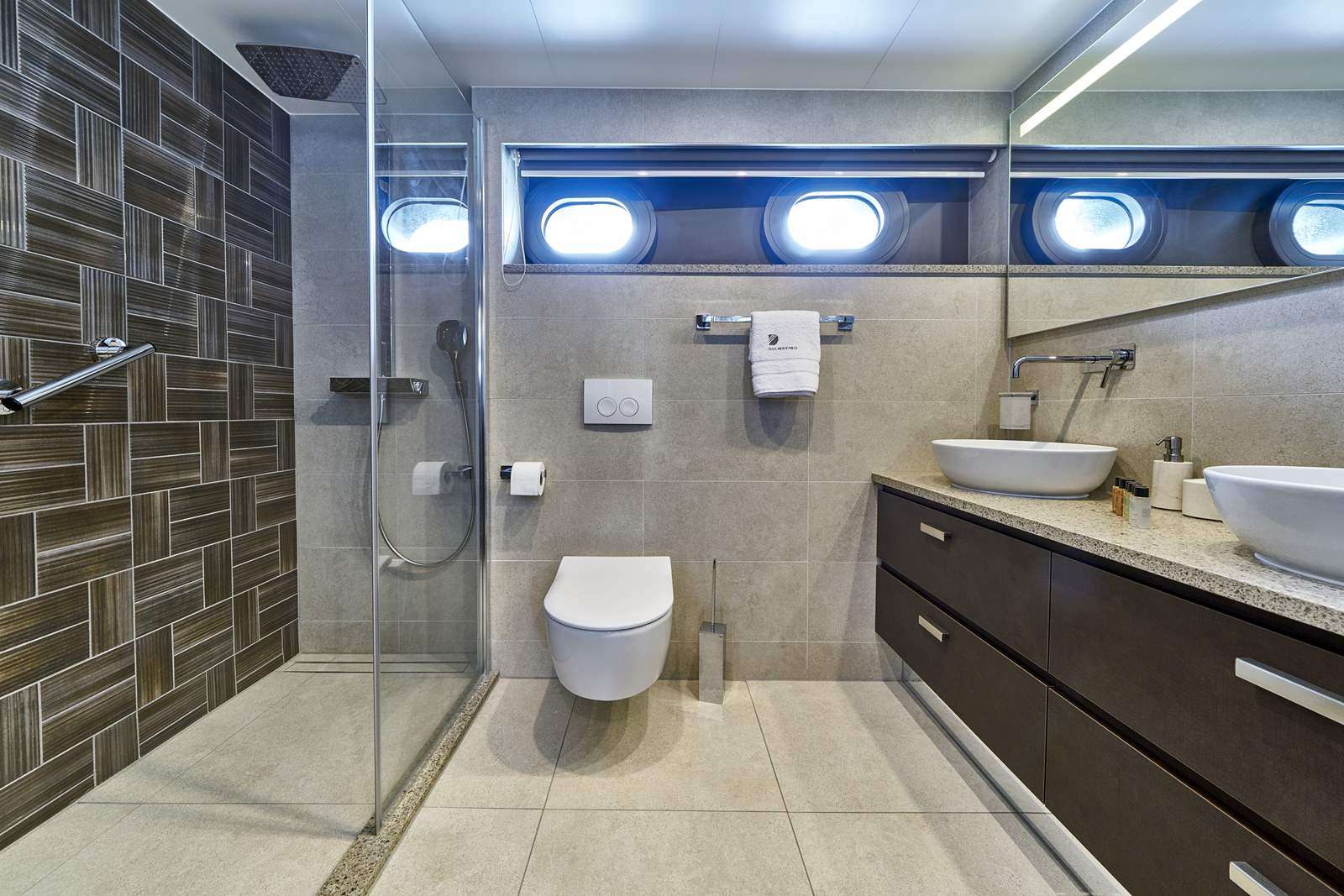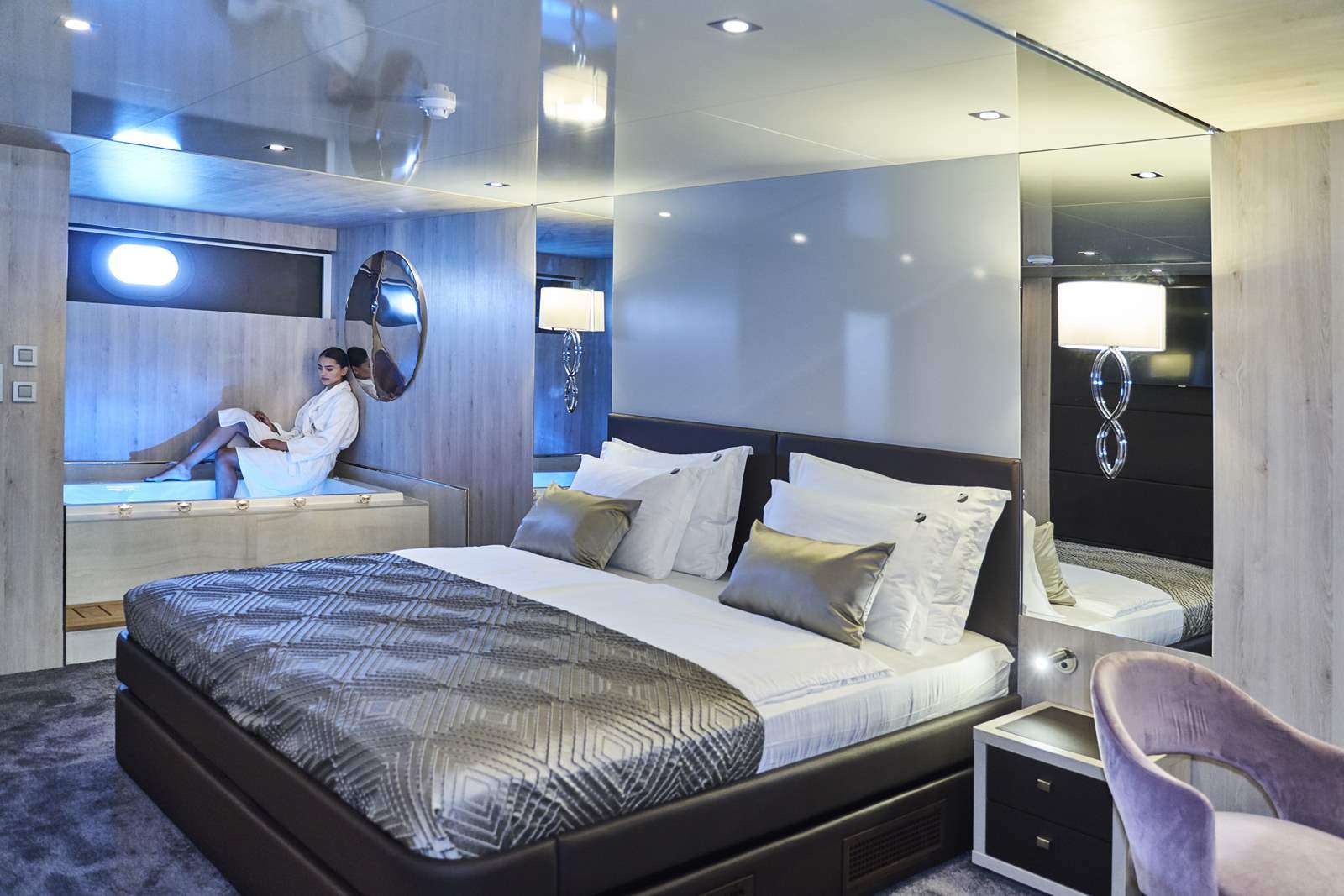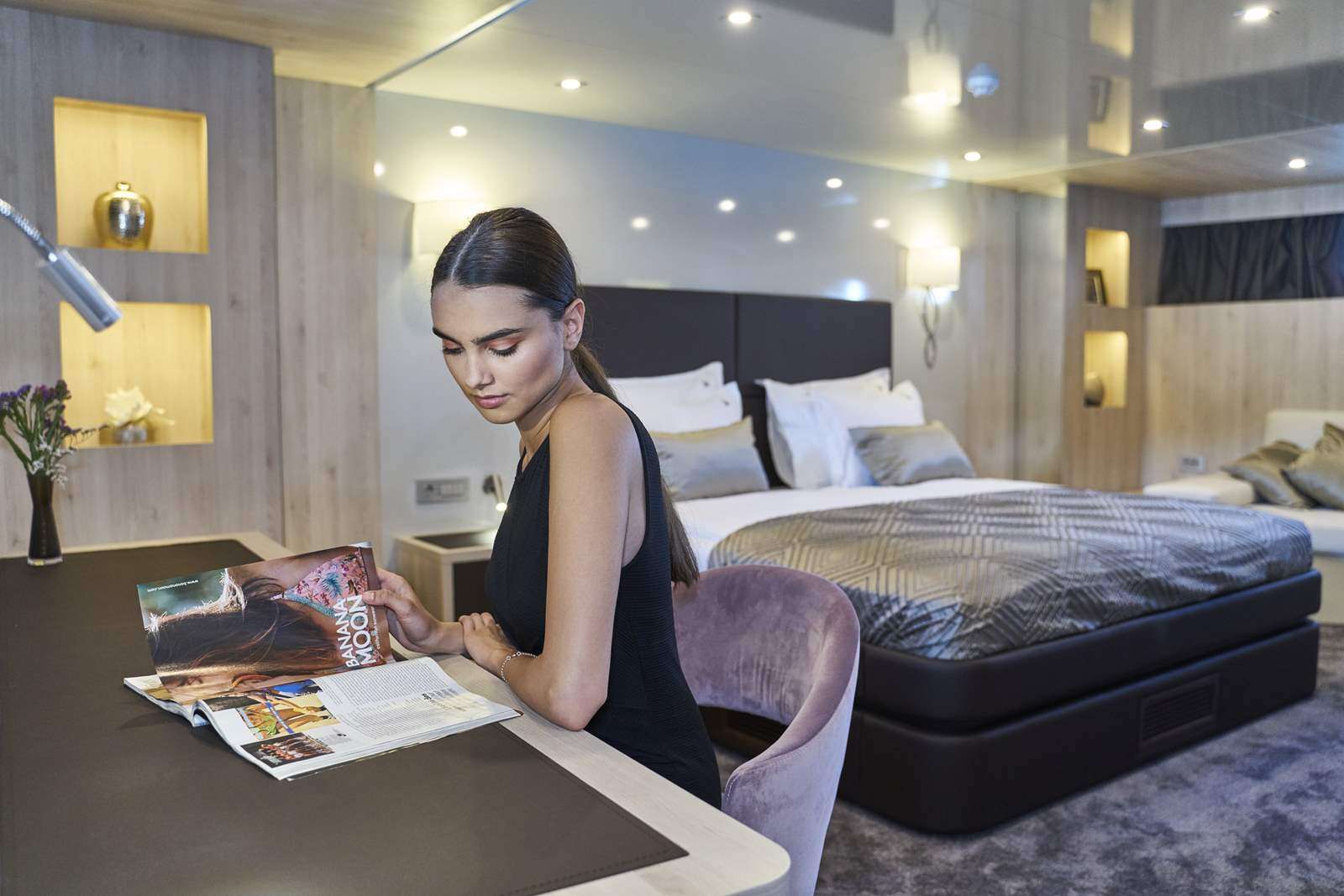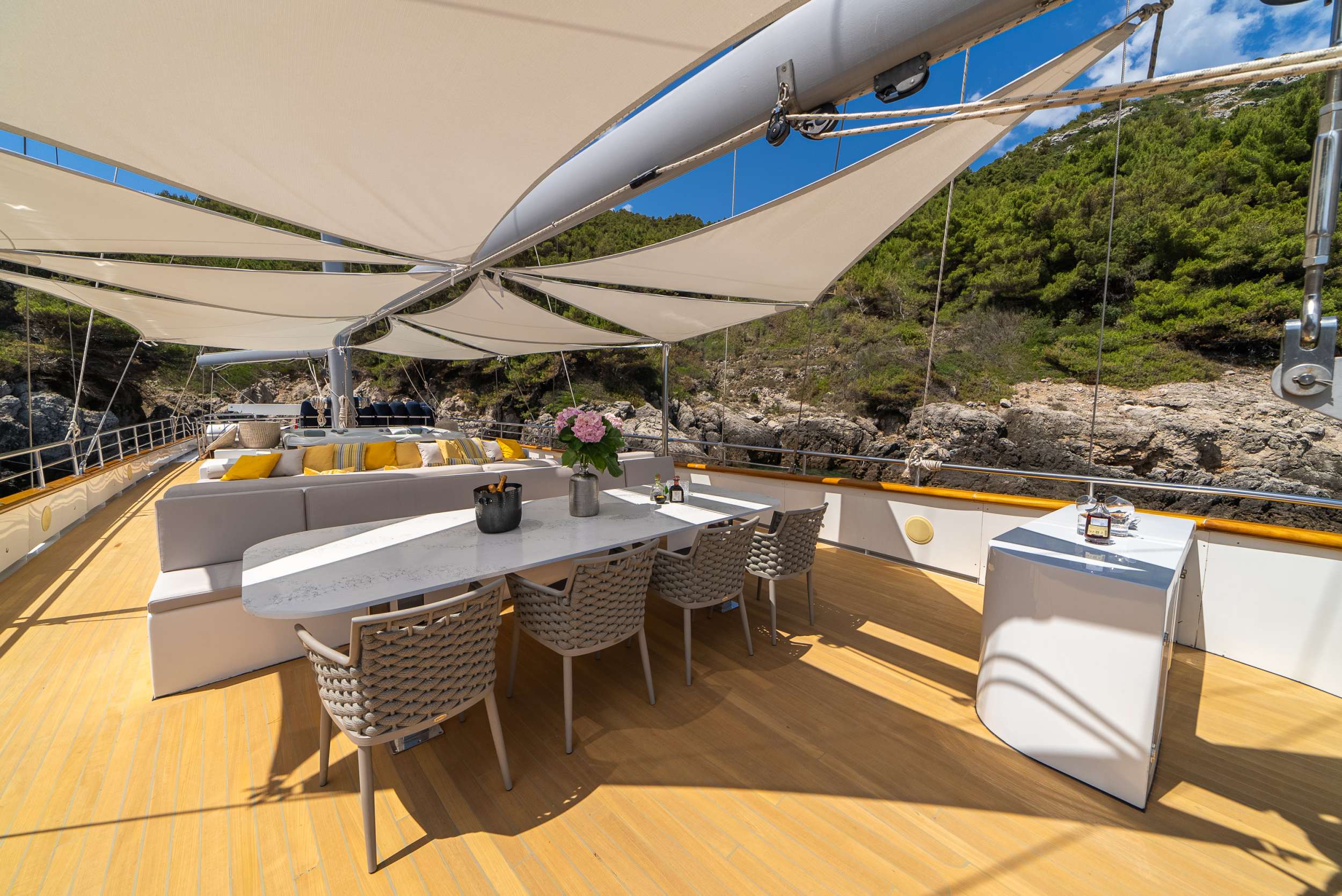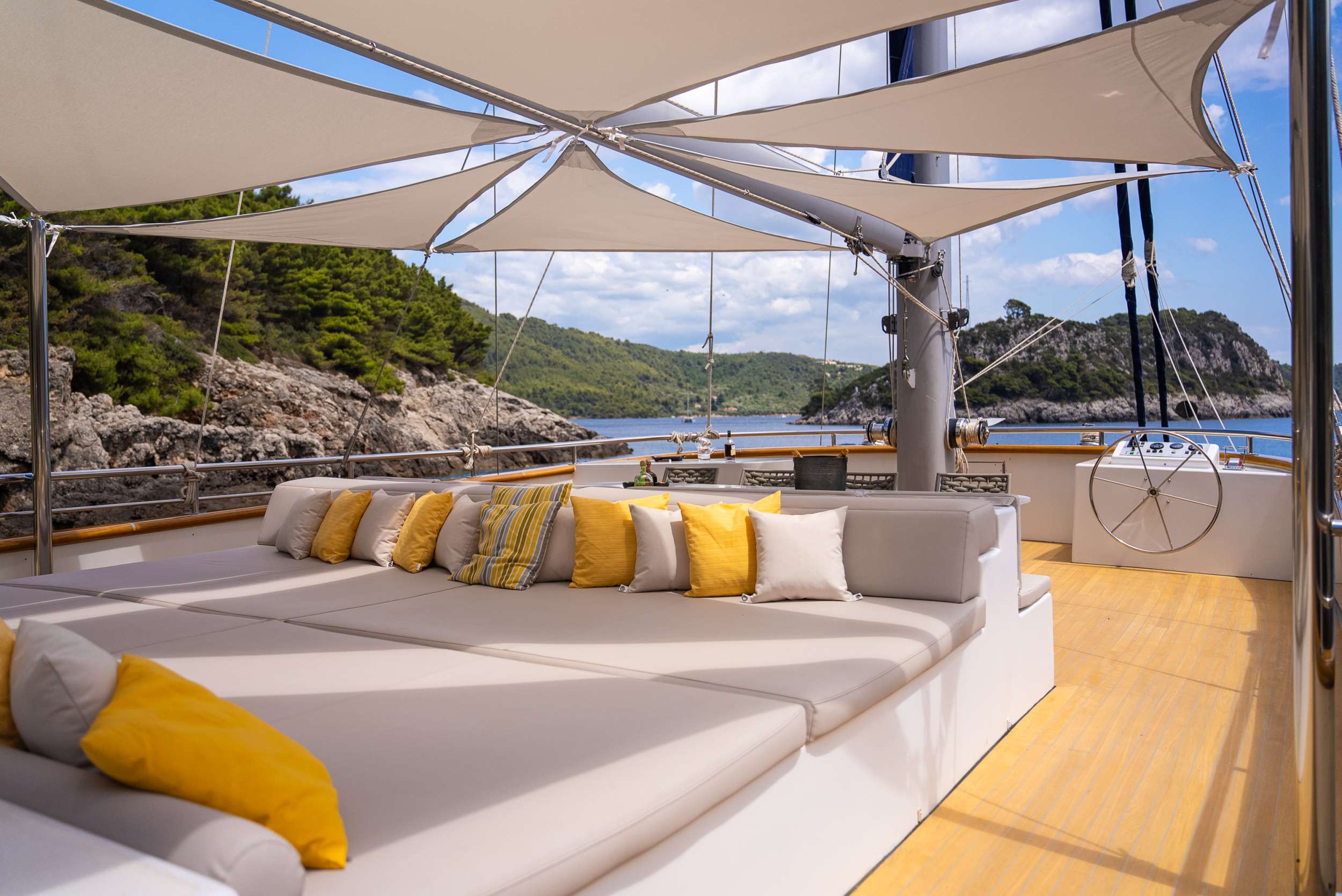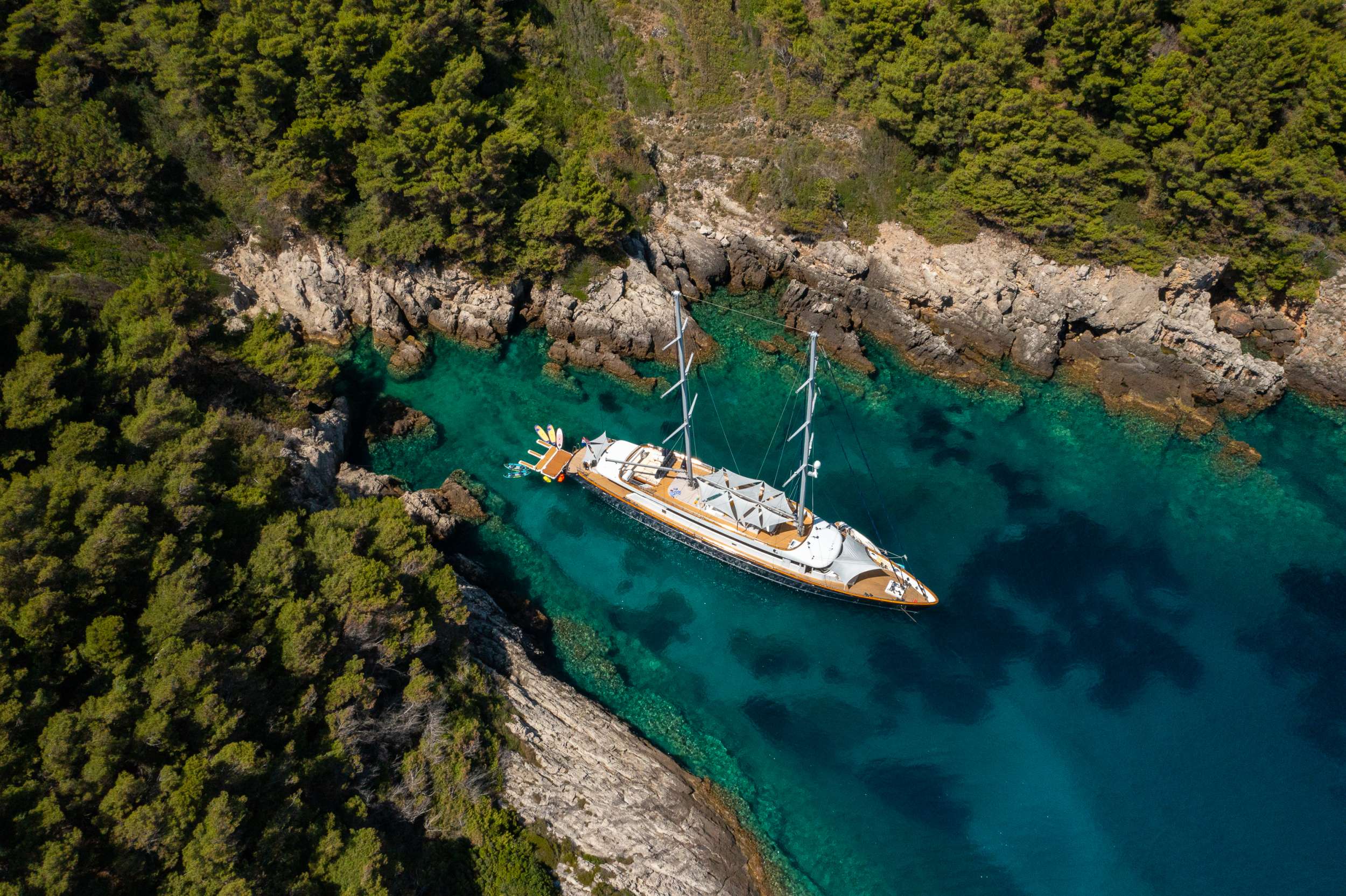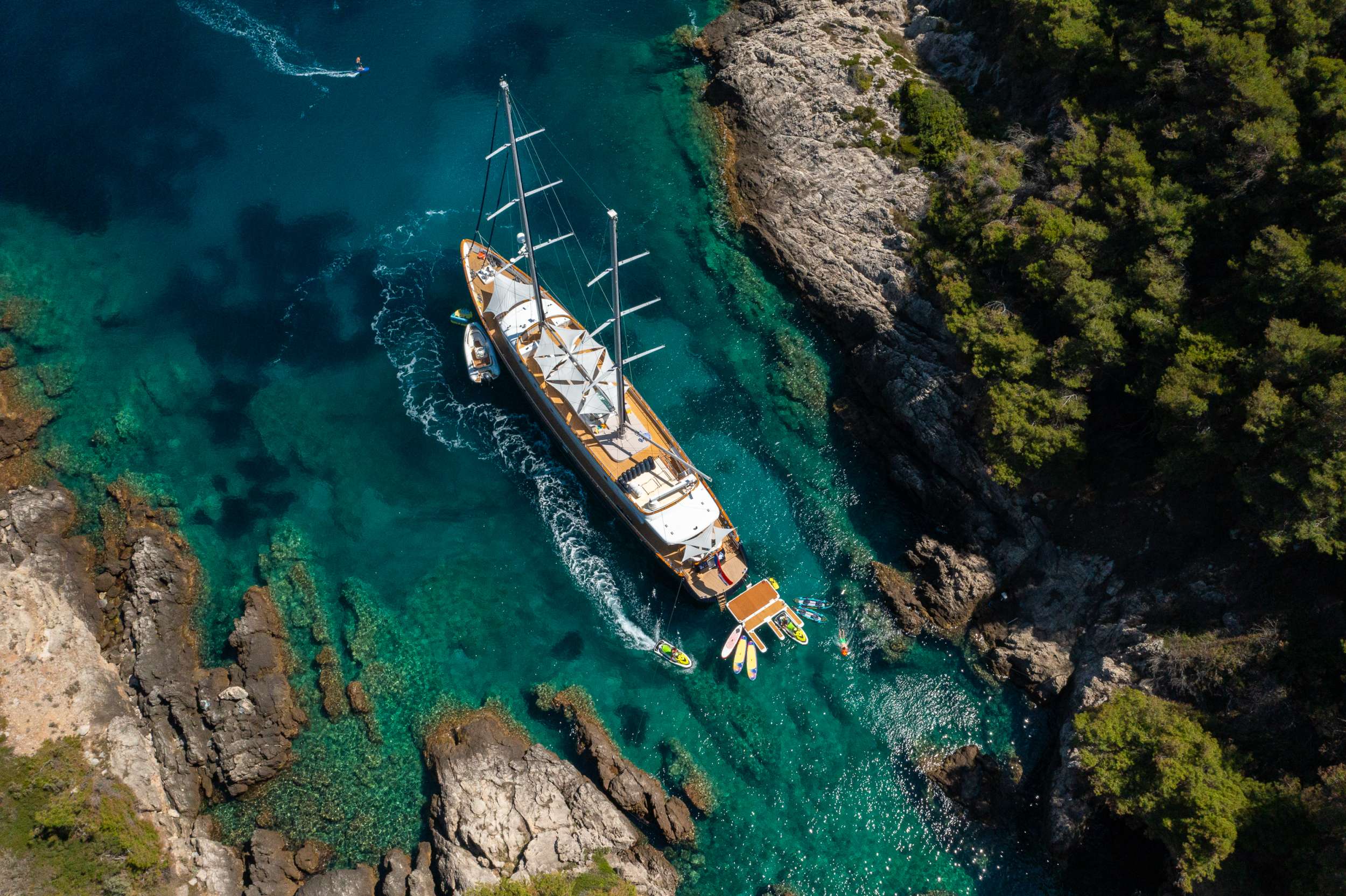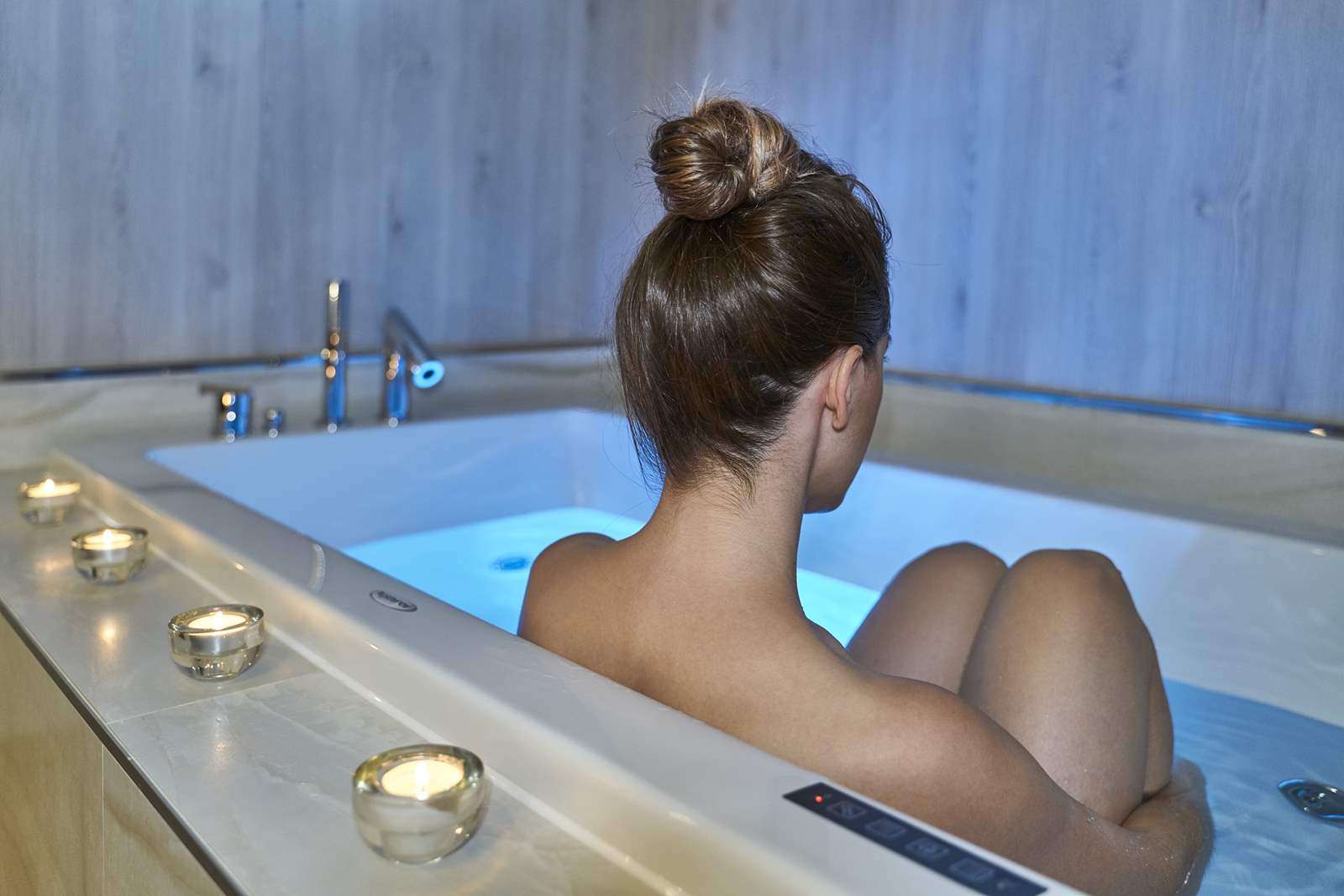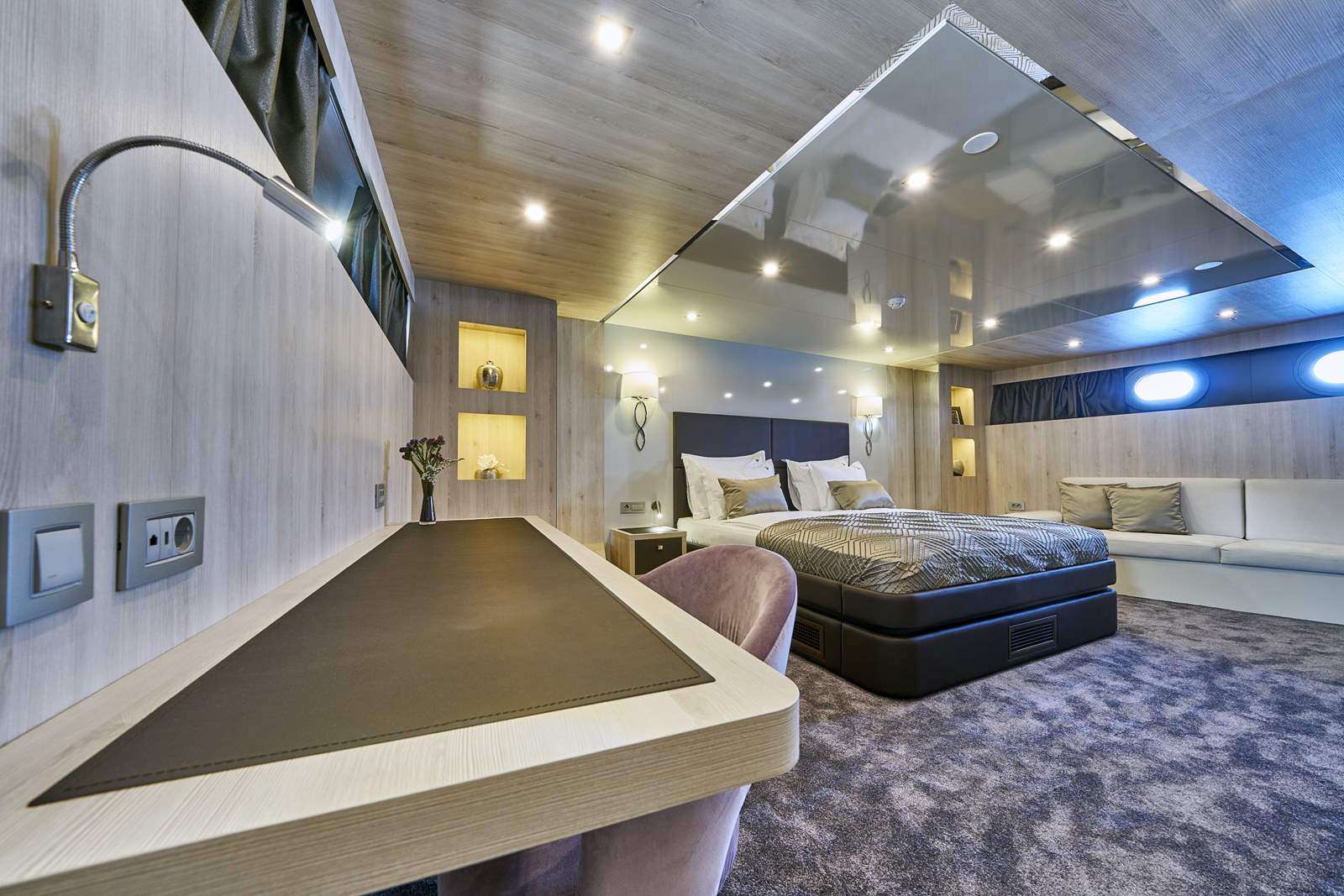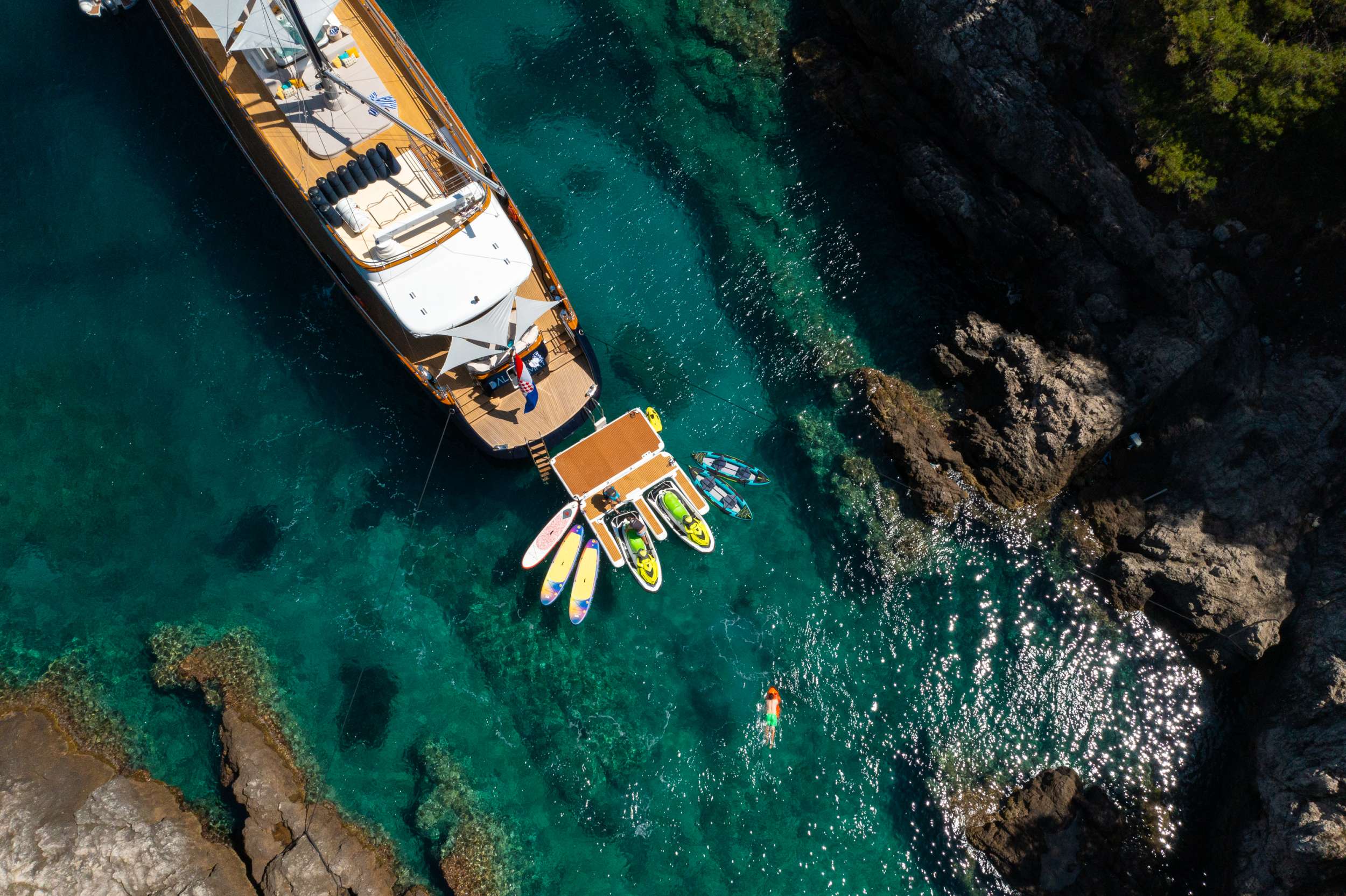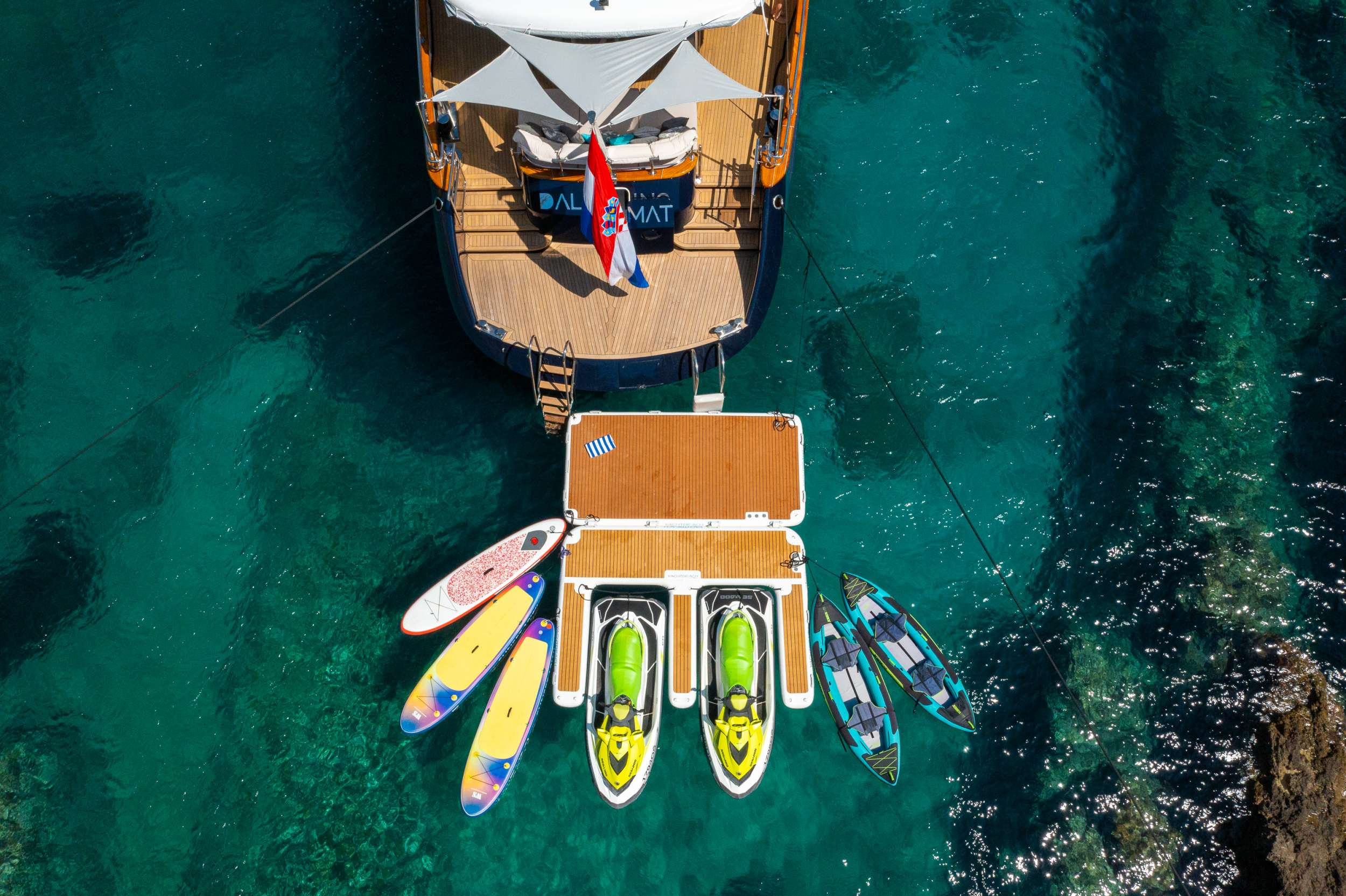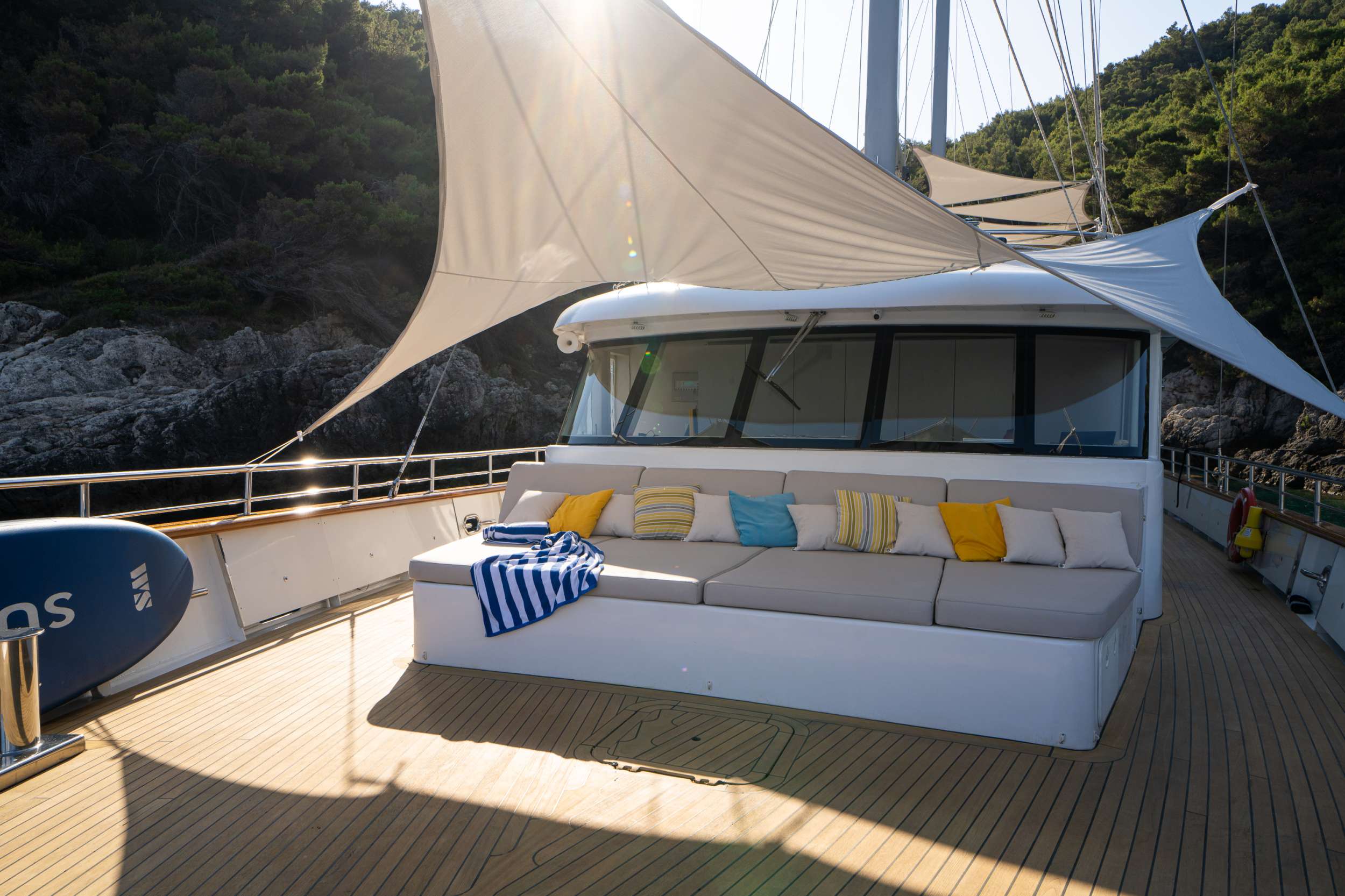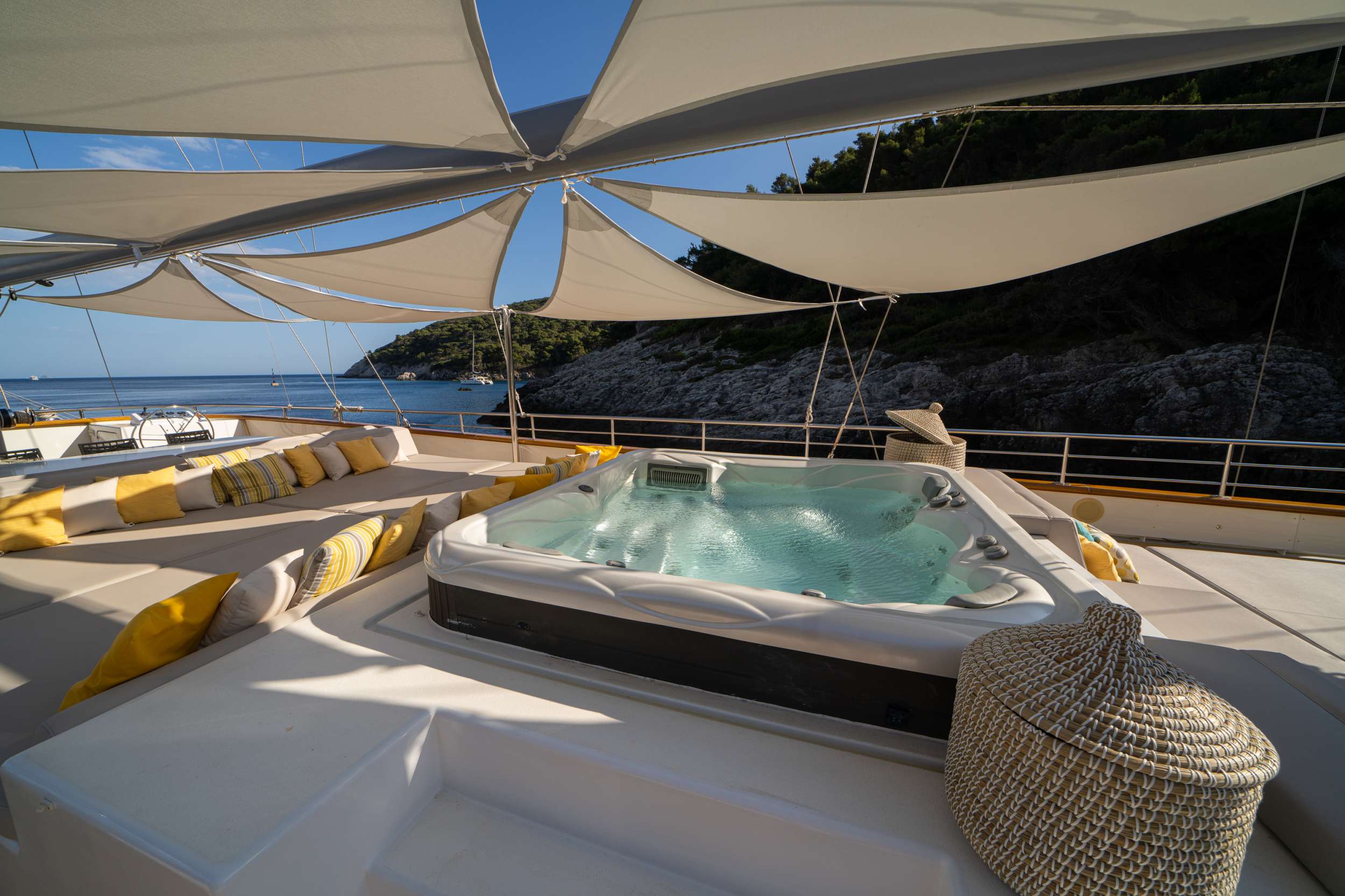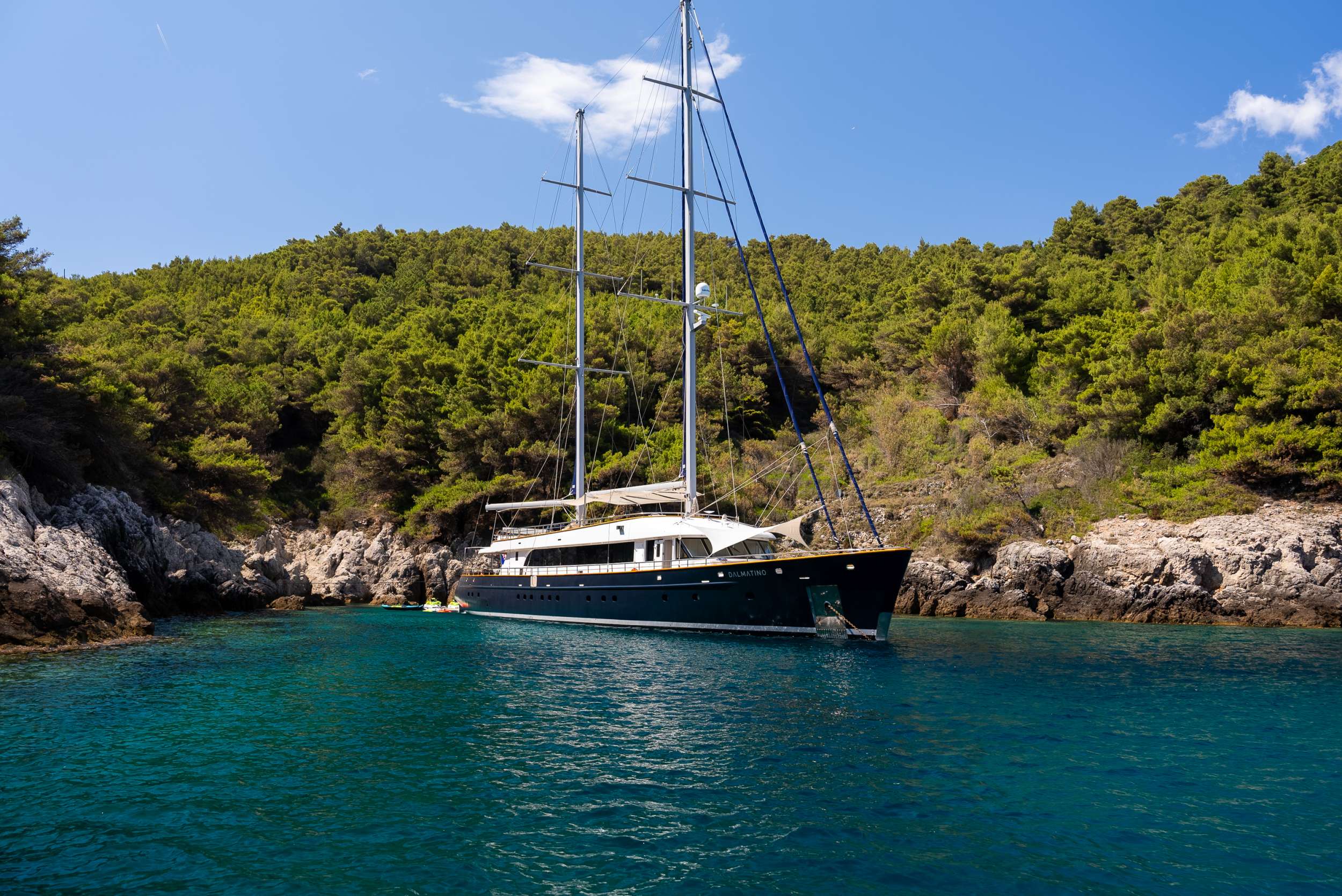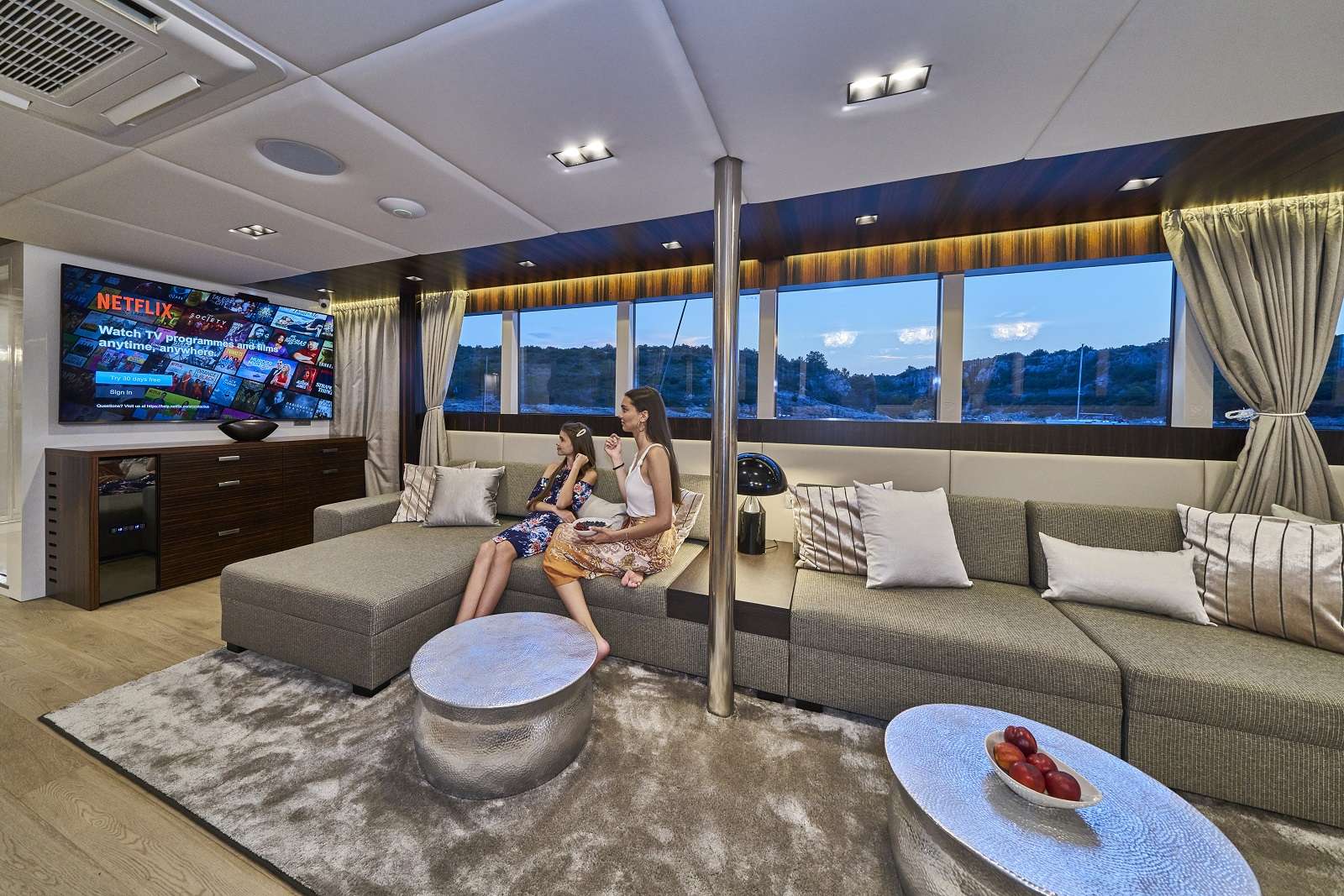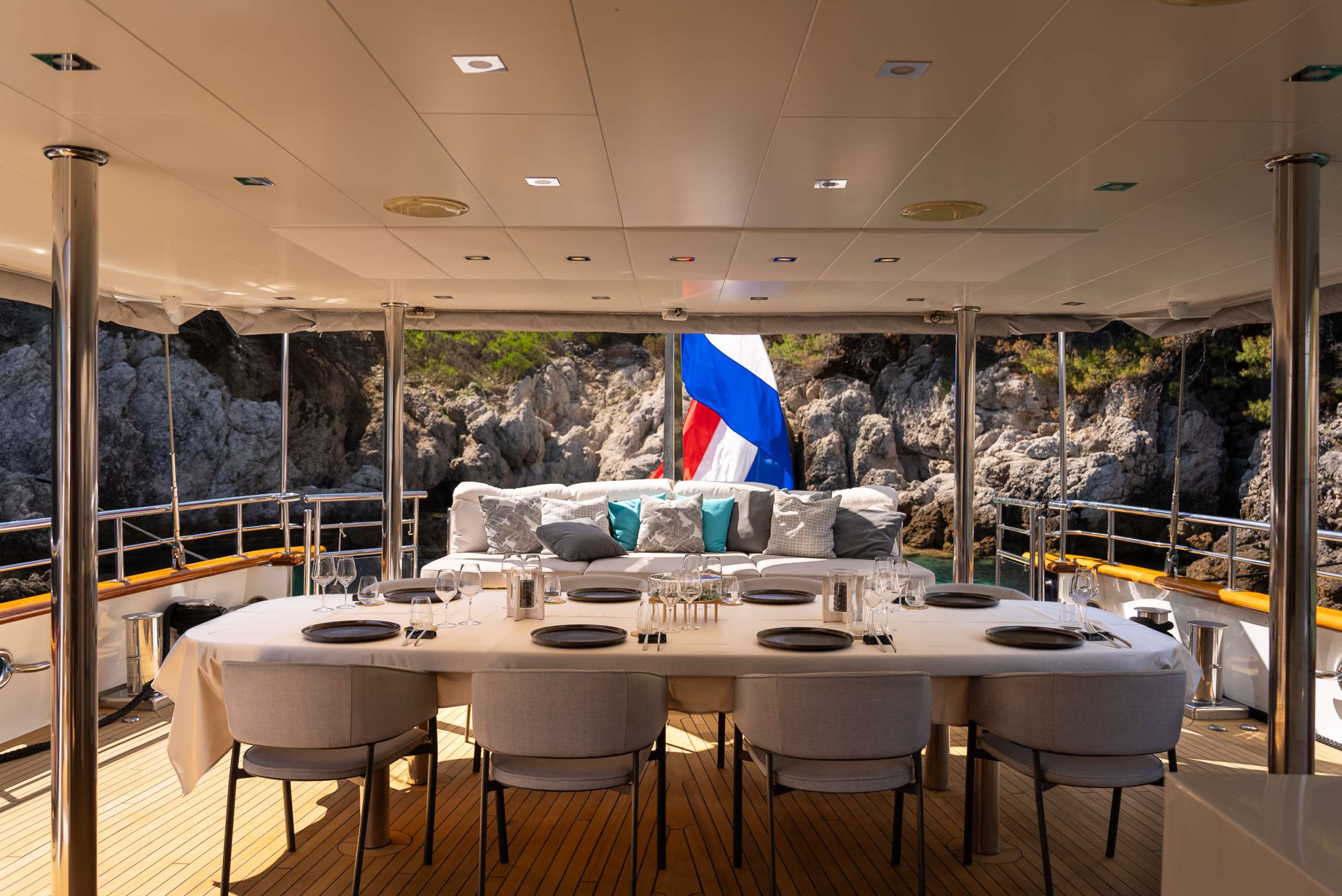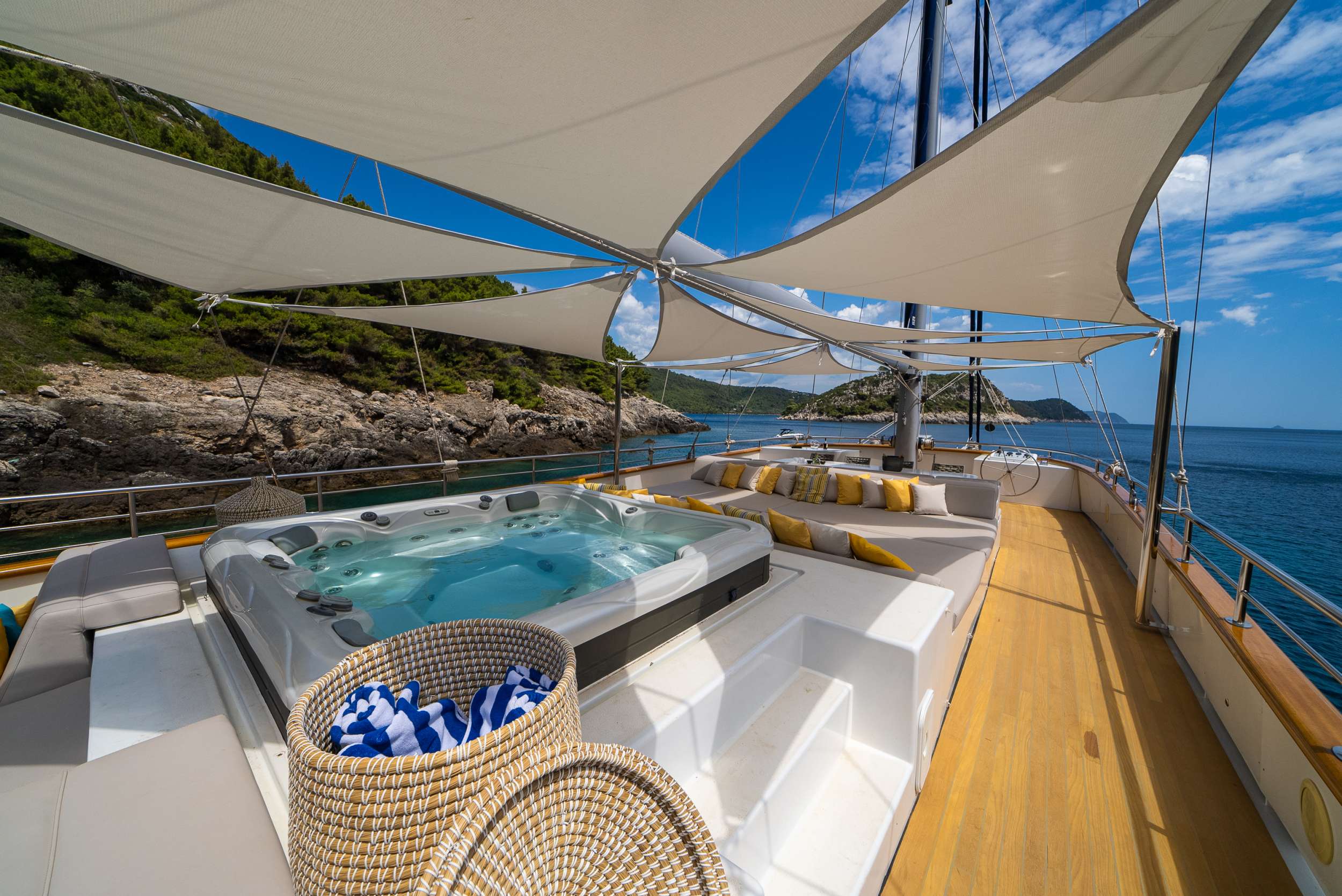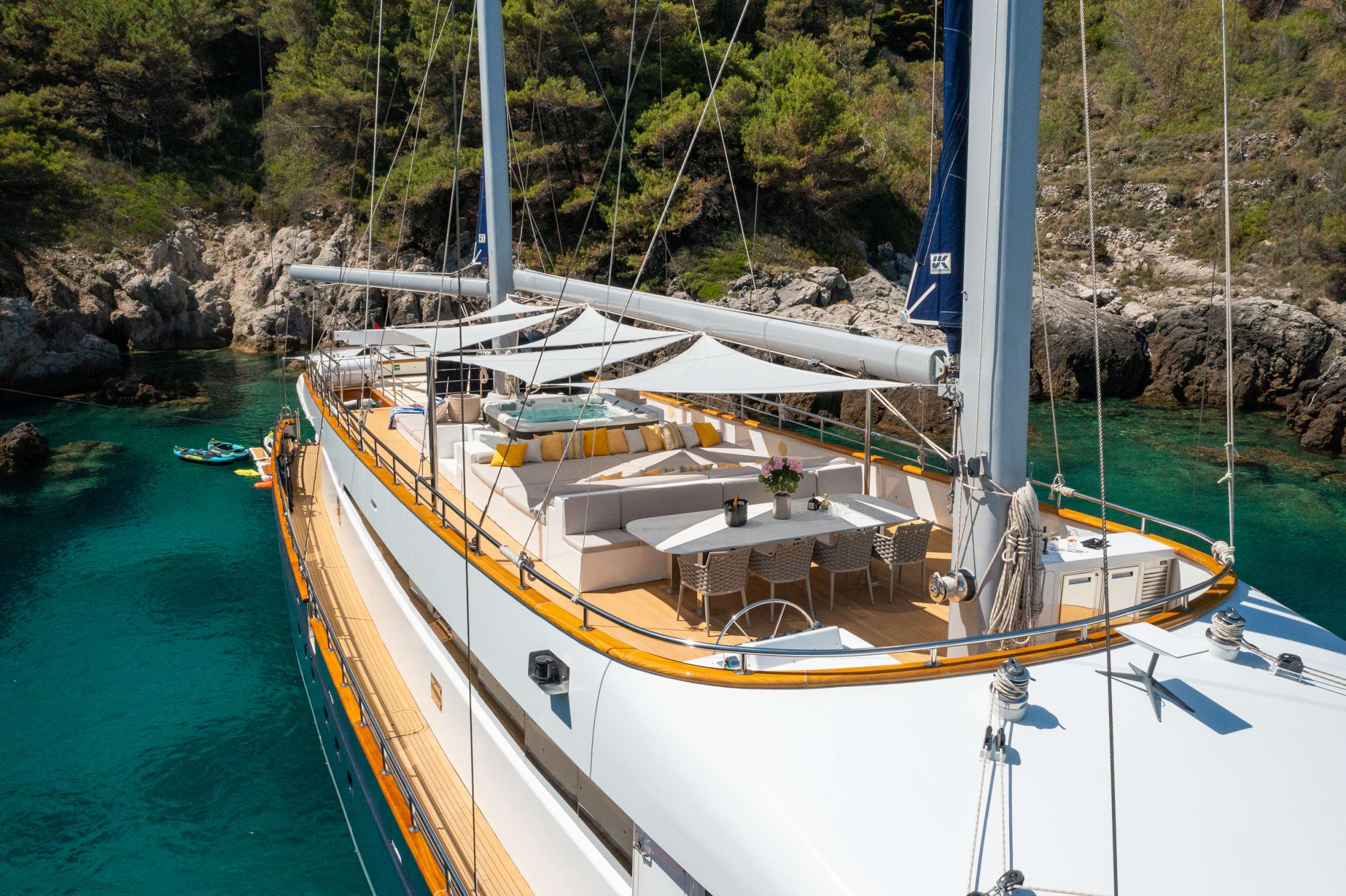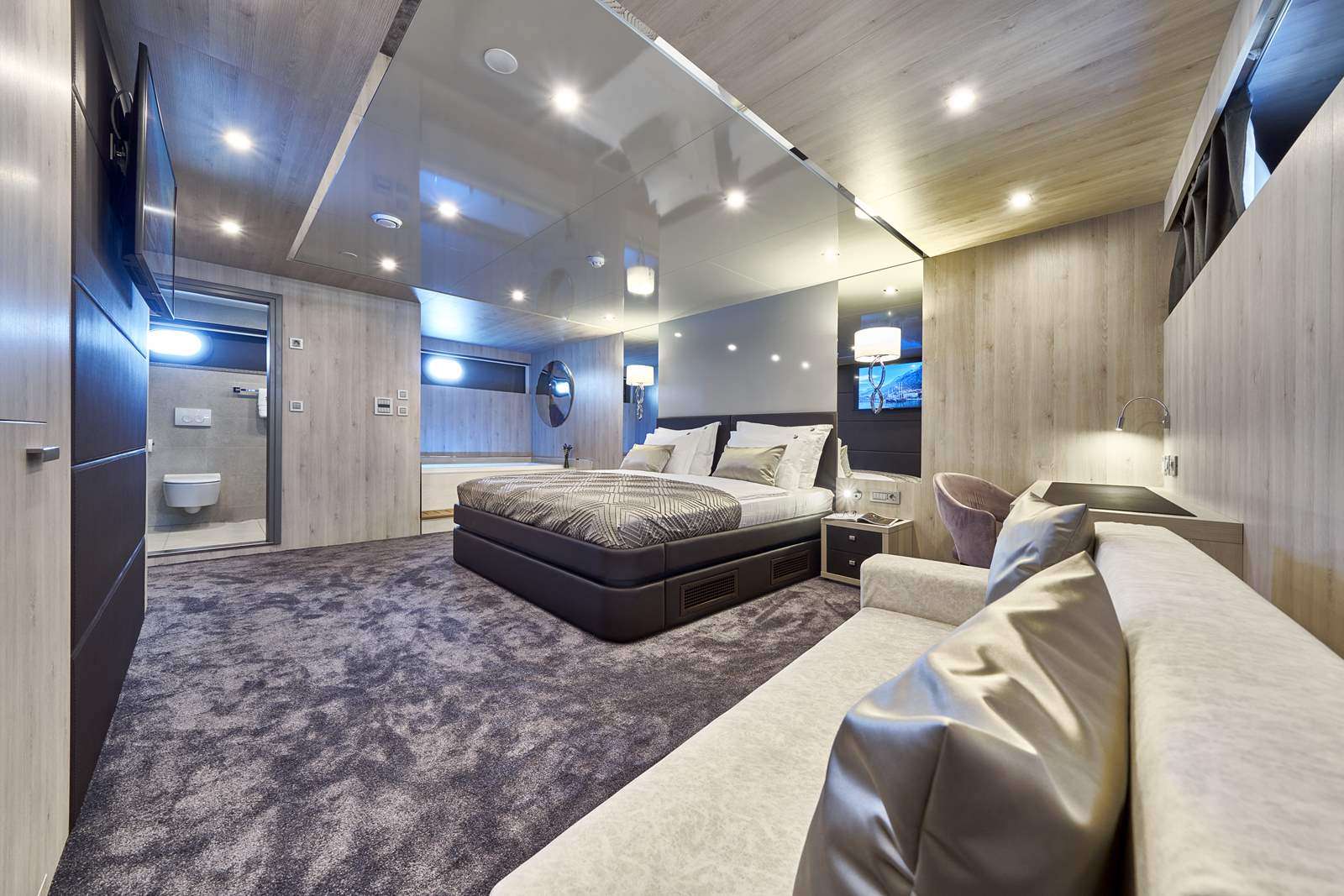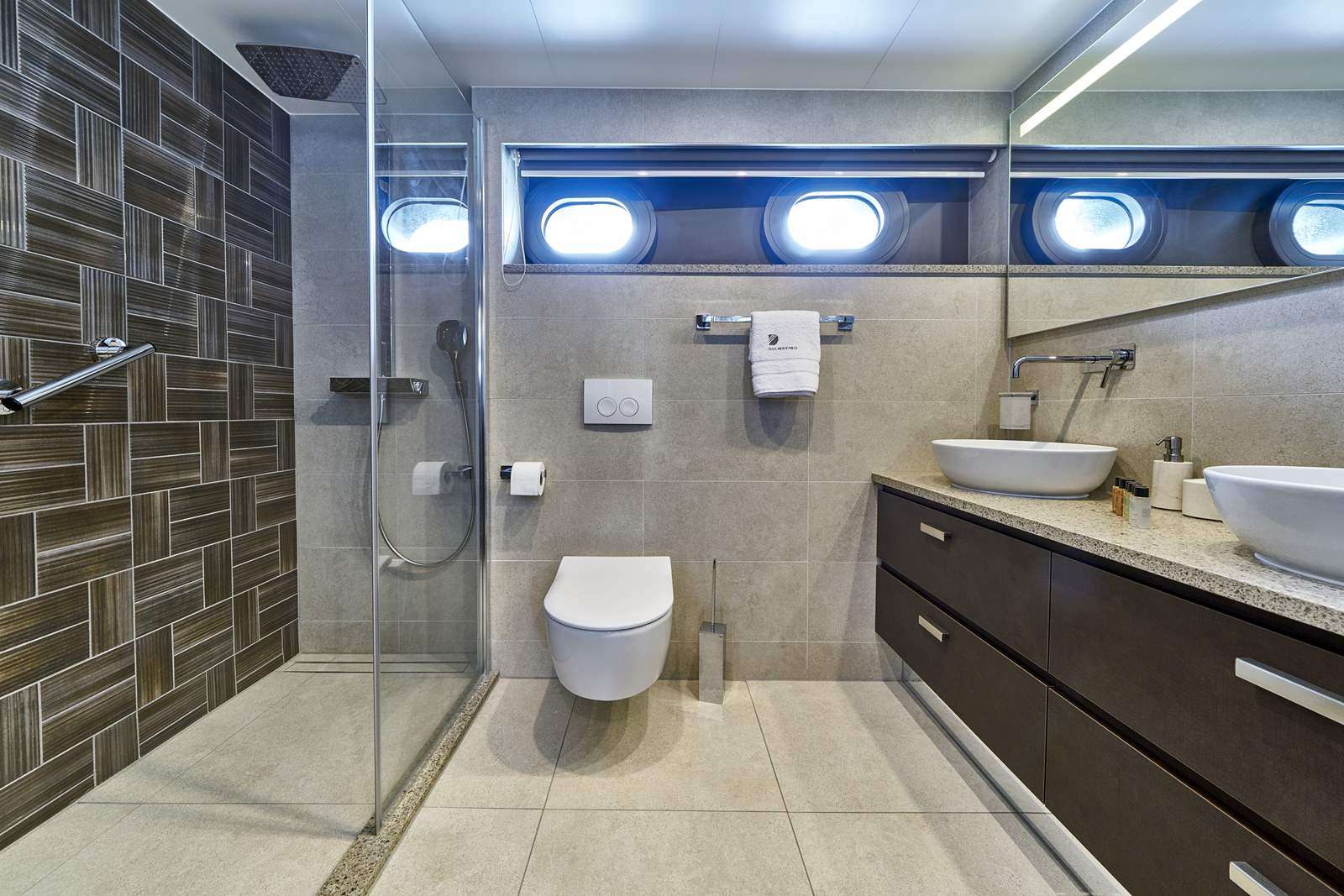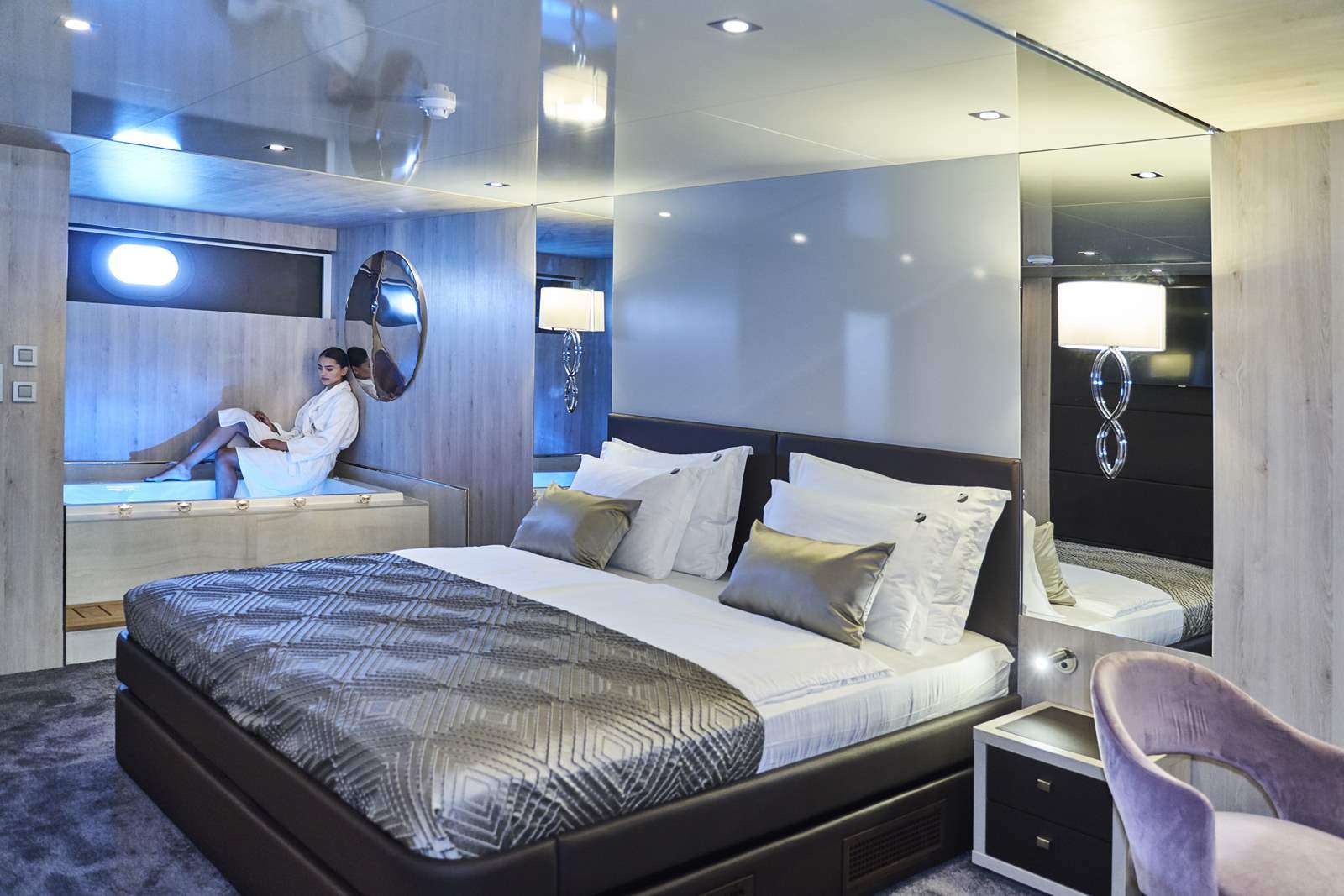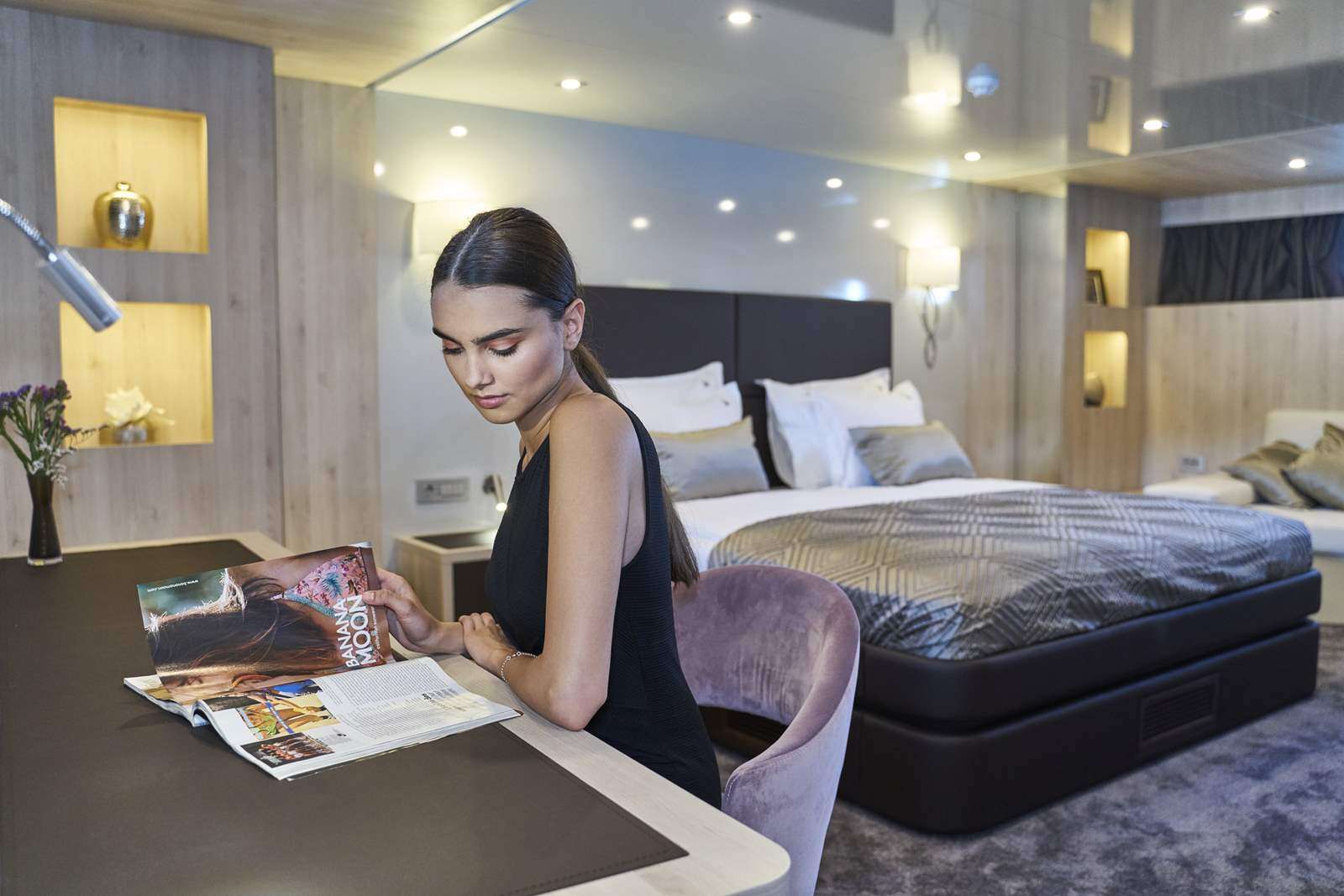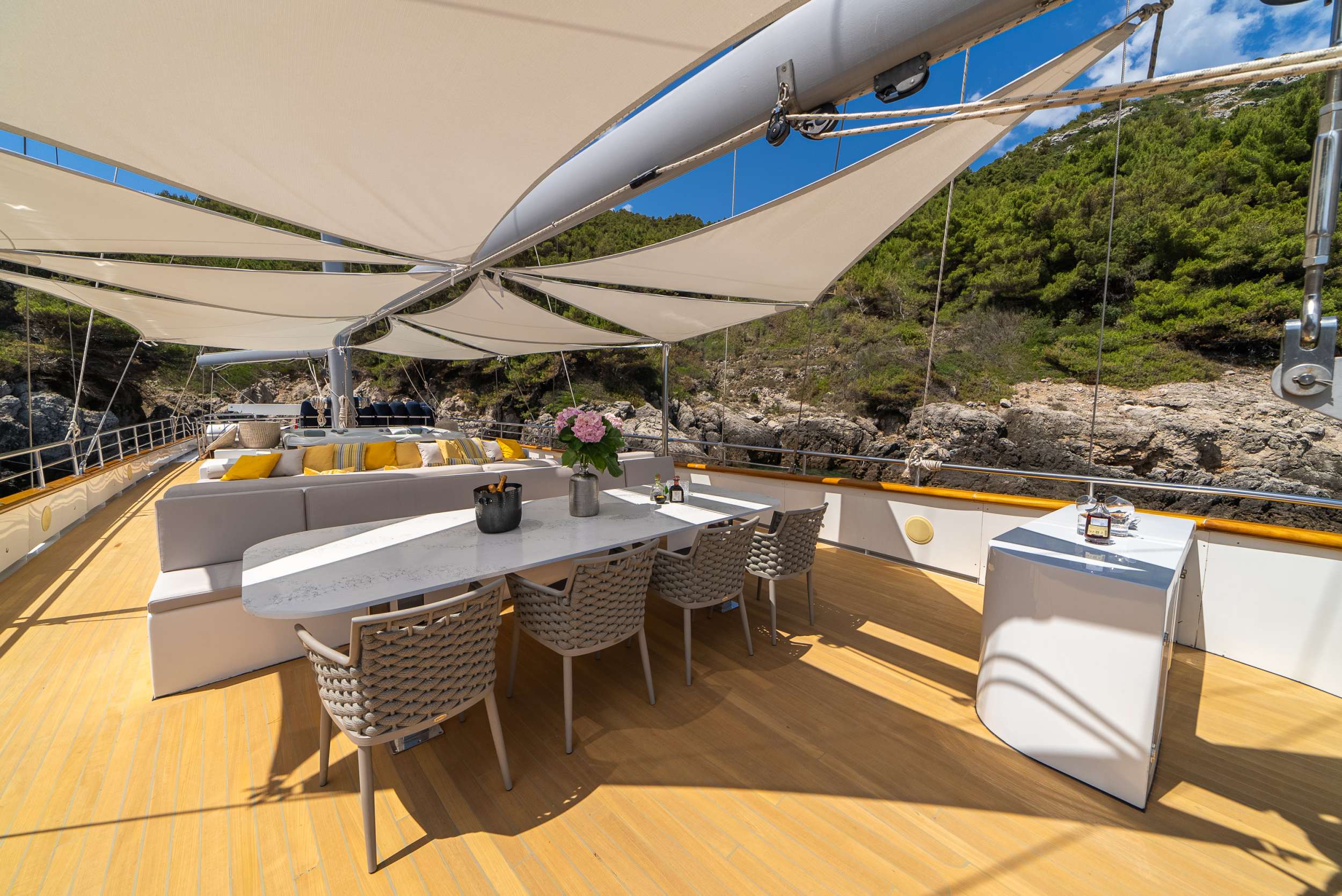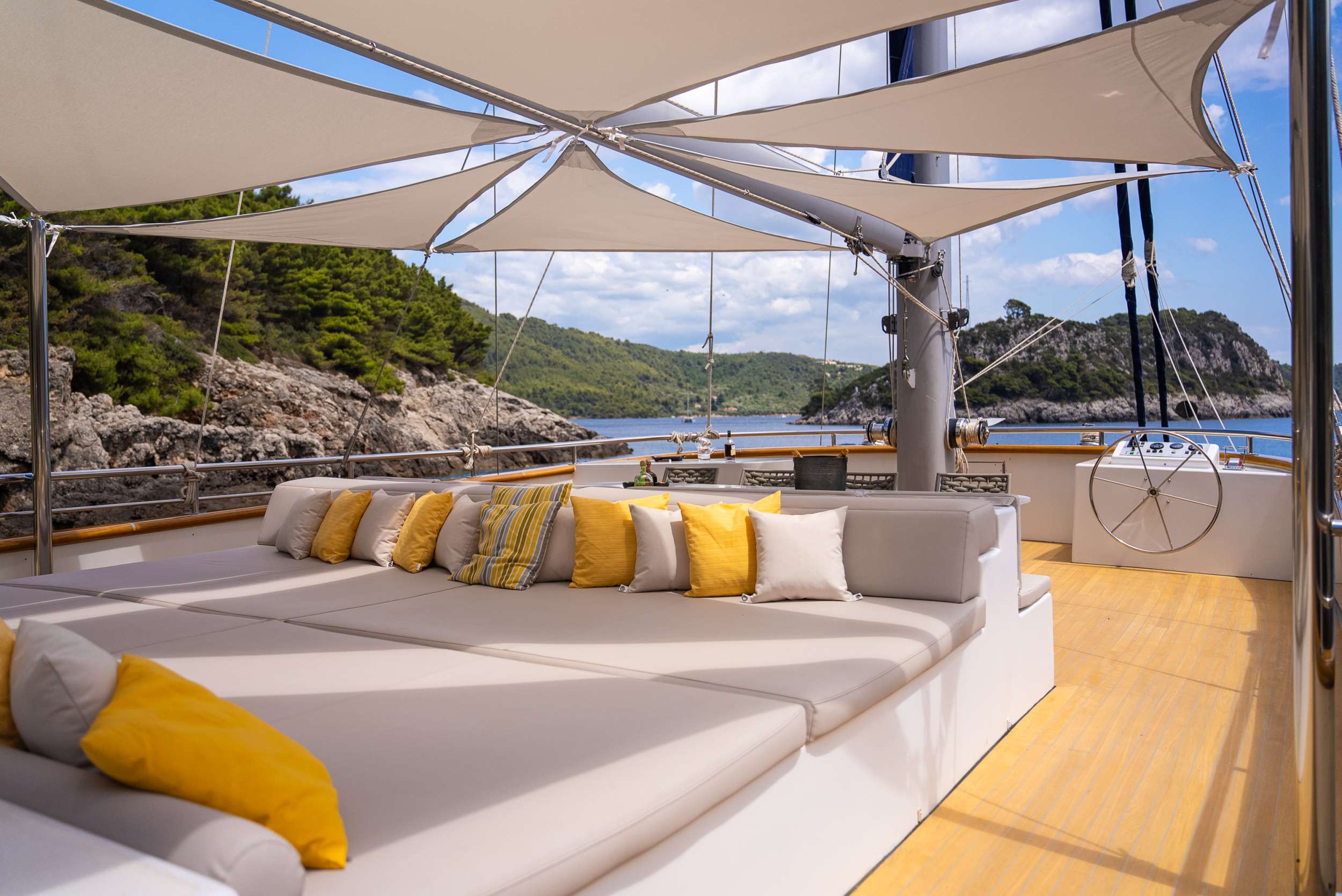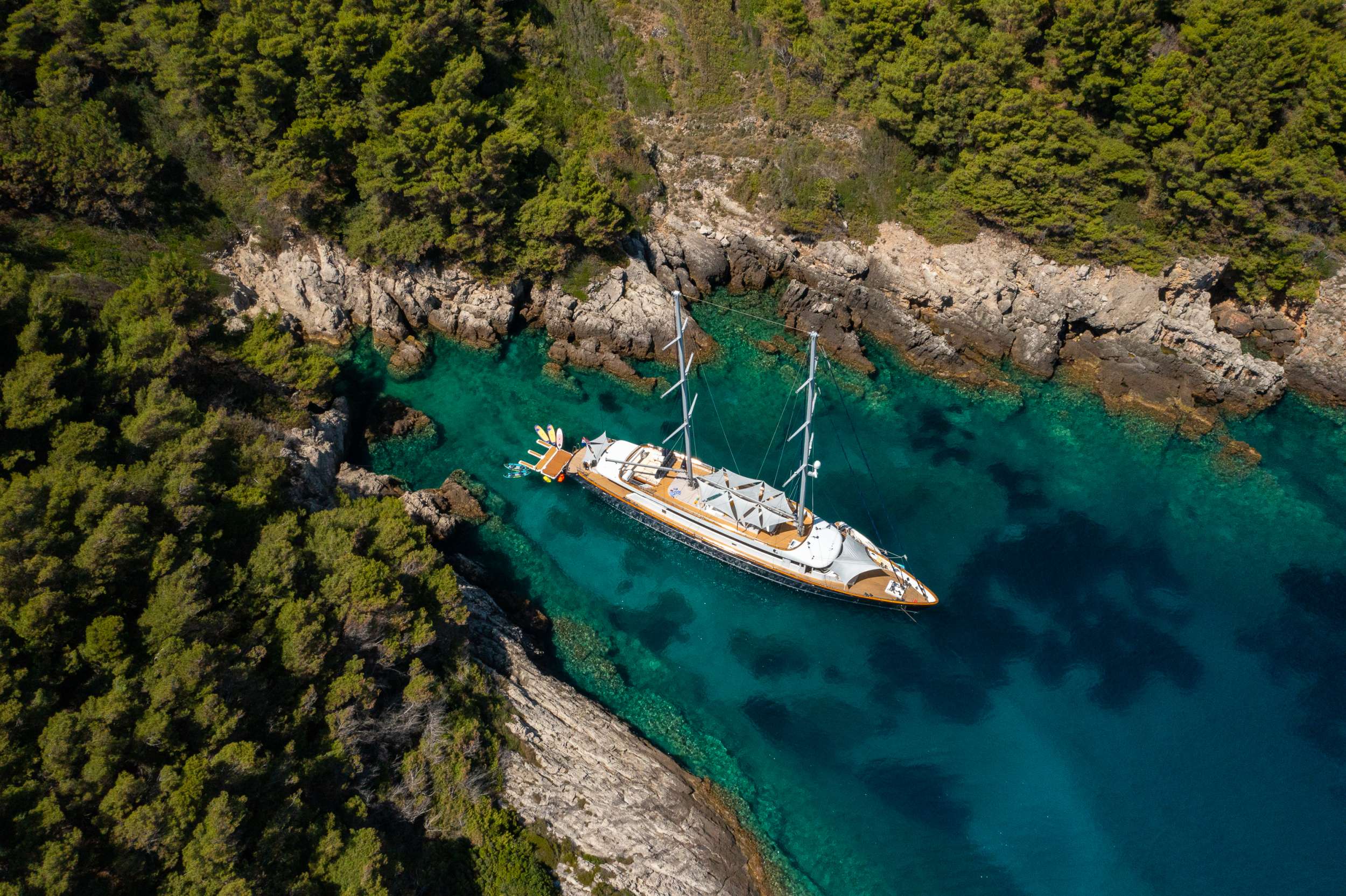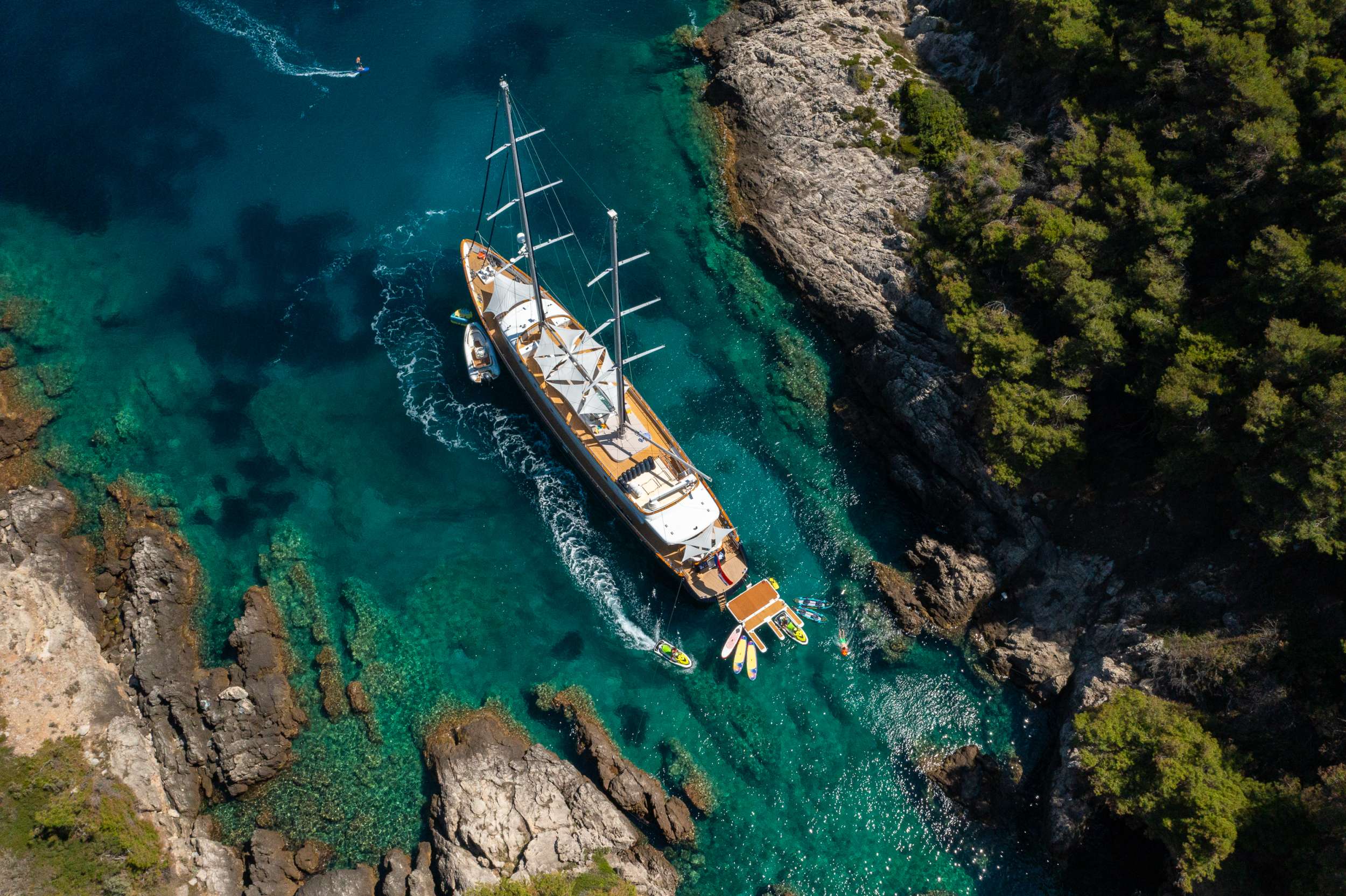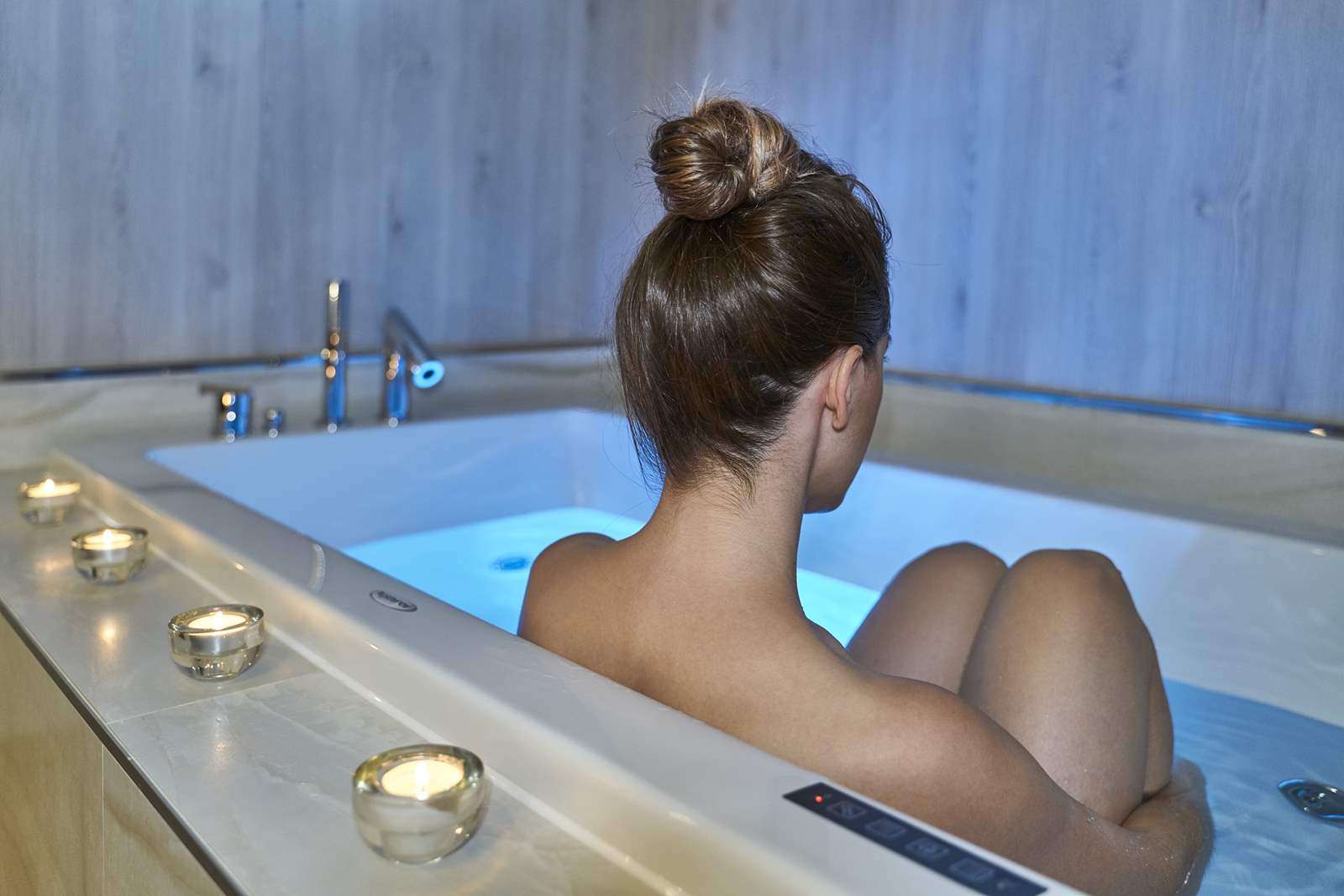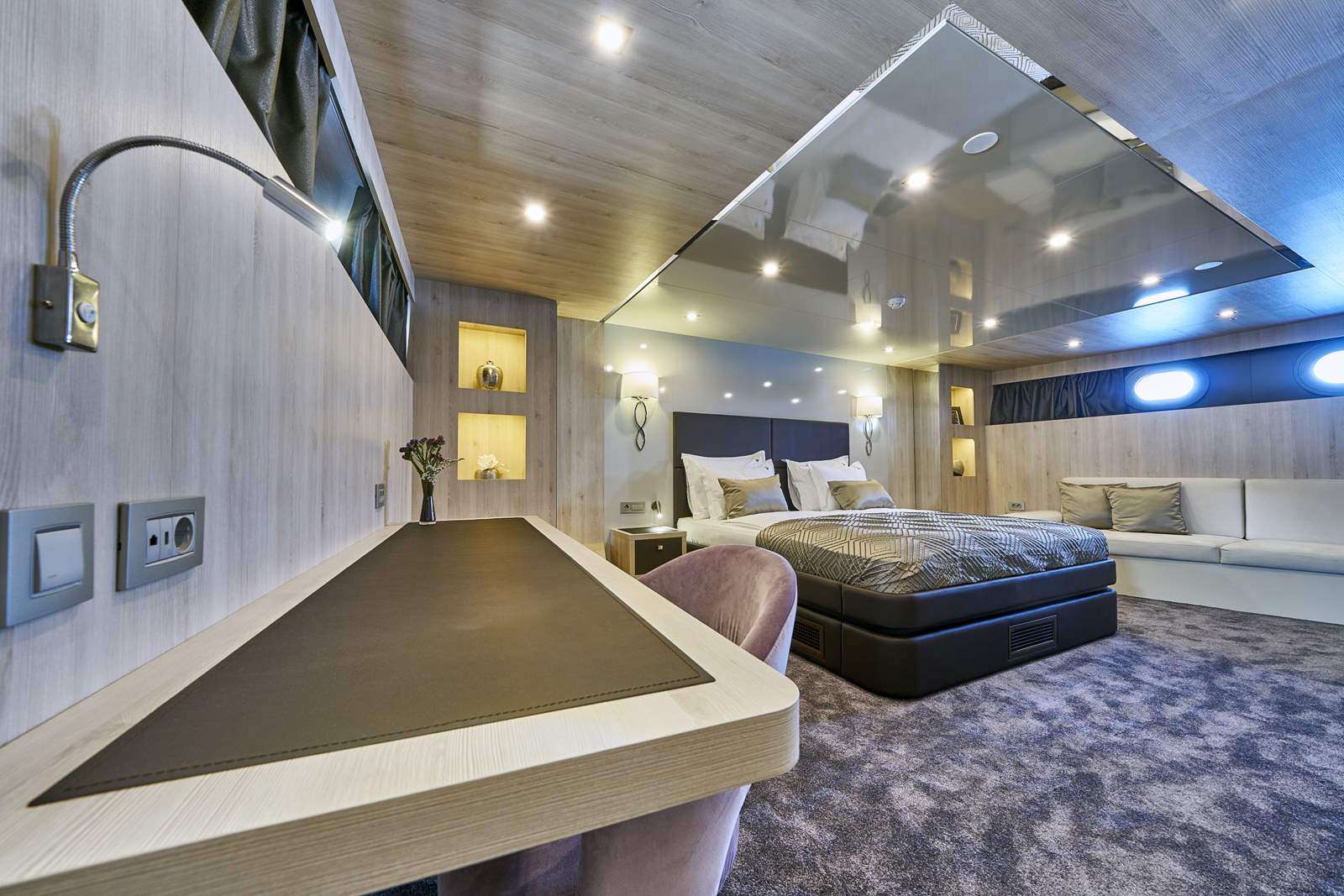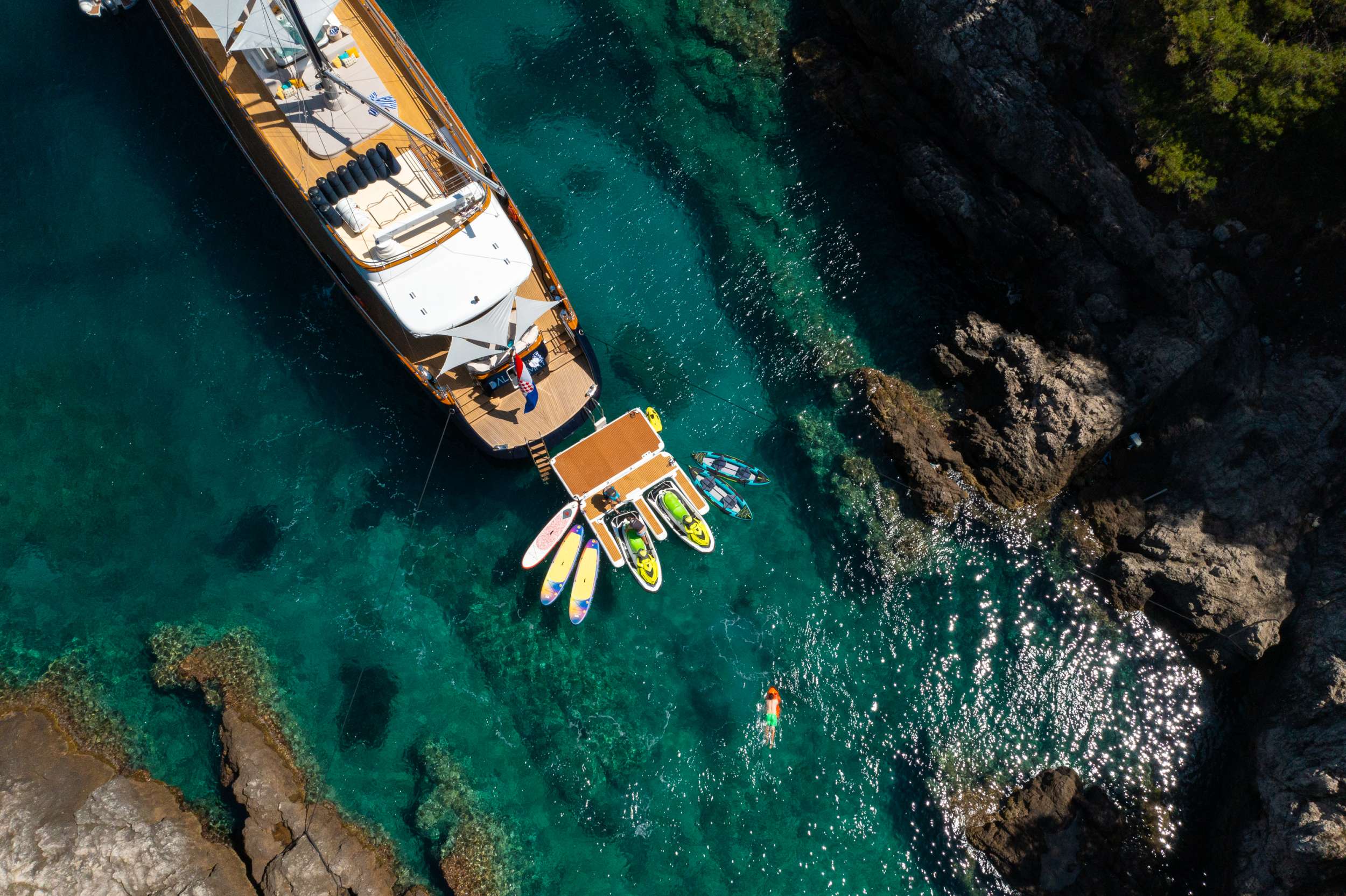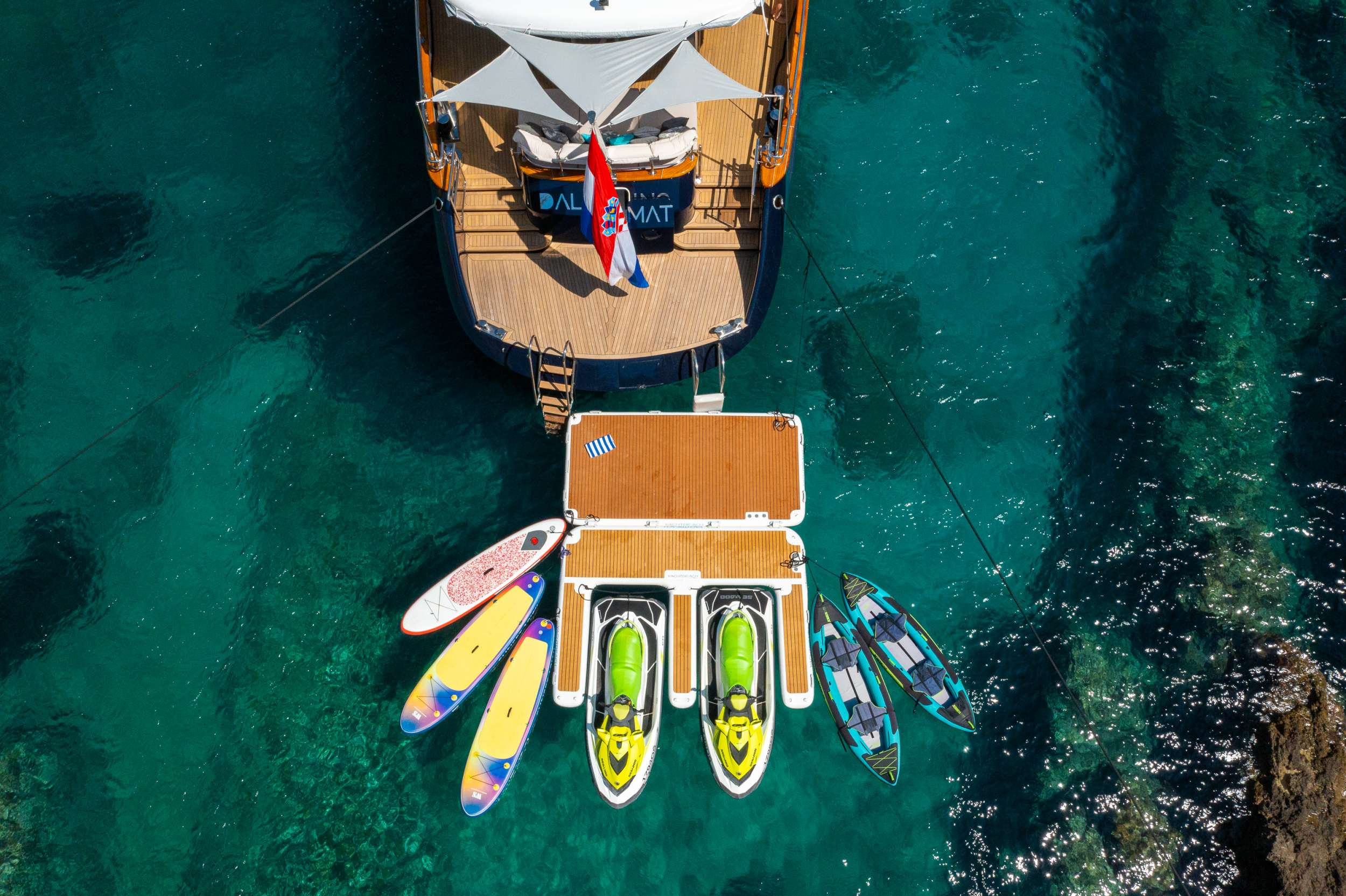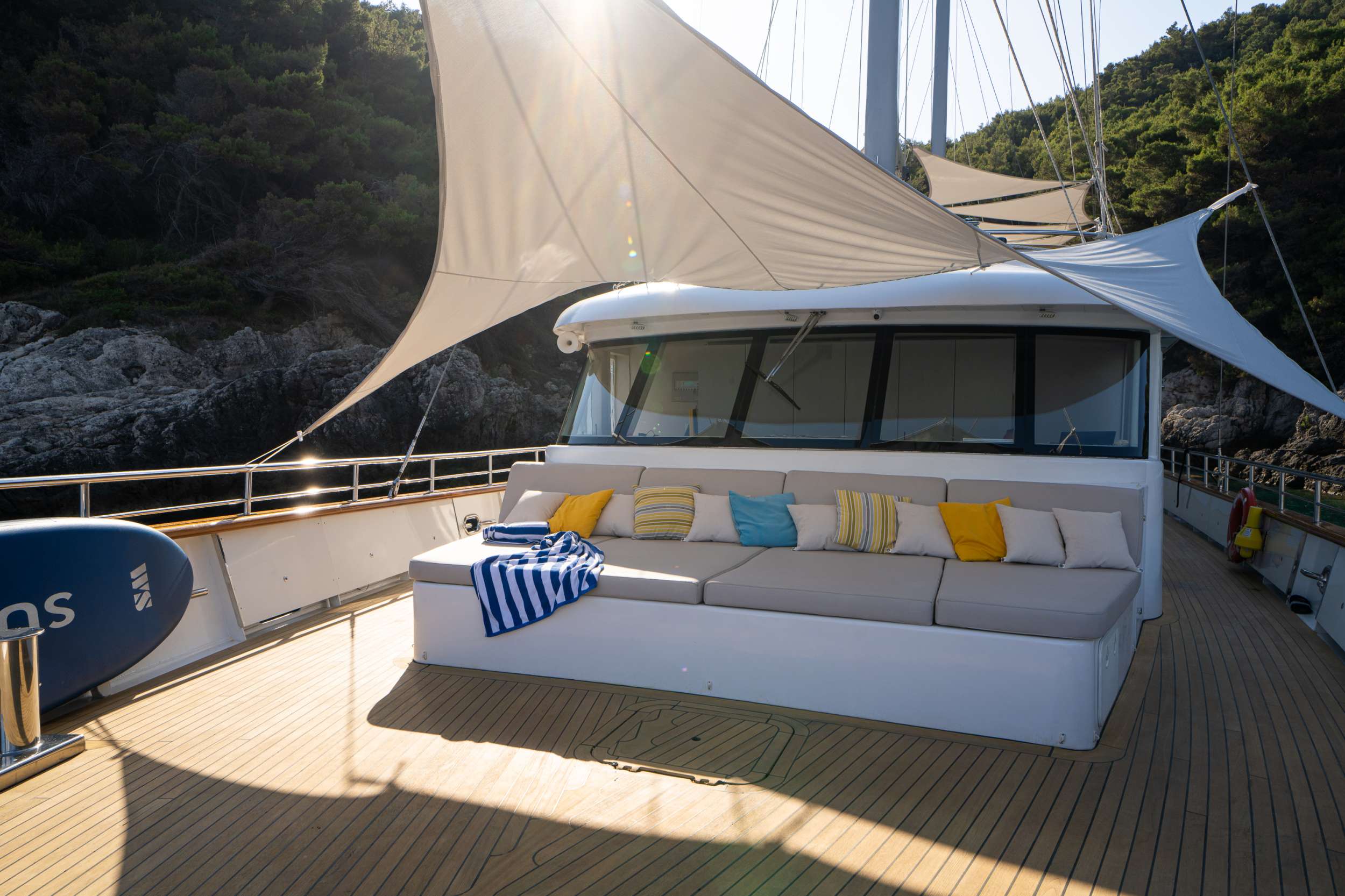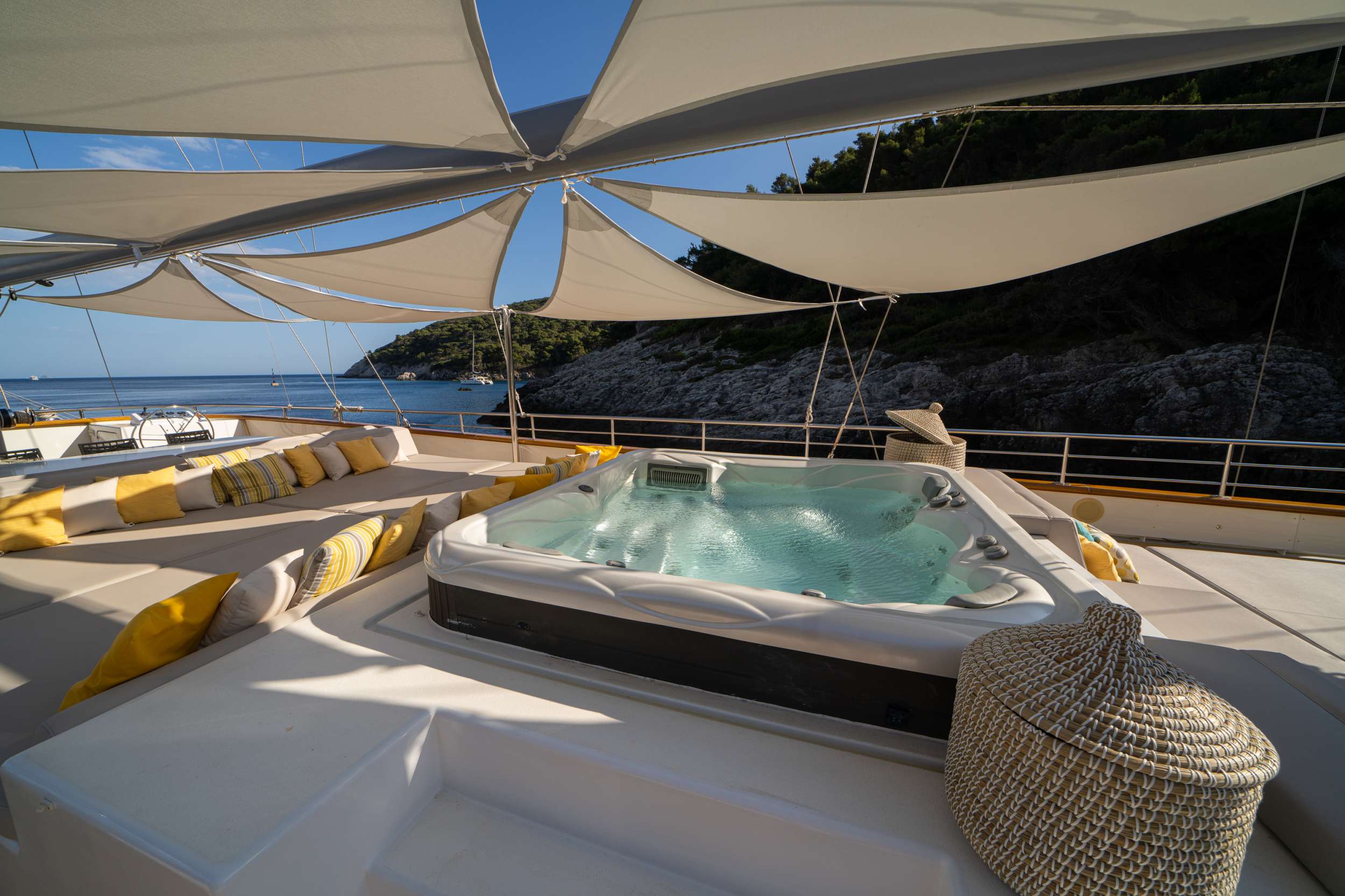 Accommodations
| | |
| --- | --- |
| Sleeps 12 guests in 6 guest stateroom(s). | |
| 2 with King Bed(s) | |
| 4 with Double Bed(s) | |
Details
Cabin 42 m2, with double bed (200*200 cm)
Cabin 35 m2, with double bed (200*200 cm)
Cabin 12 m2, with double bed (180*190 cm)
Cabin 16 m2, with two twin beds convertible into double bed (100*190 cm)
Specifications
| | |
| --- | --- |
| Guests | 12 |
| Staterooms | 6 |
| # Of Crew | 8 |
| Length | 142.00 Ft / 43.00 m |
| Beam | 8.10 m |
| Draft | 2.70 m |
| Built - Refit: | 2019 - No Refit Date Set |
| Builder | Custom |
| Cruising Speed | 9-10 |
Watersports
| | |
| --- | --- |
| Dinghy | 6m, 70 HP Rismarine |
| Dinghy HP | 70 HP |
| Paddle Boards | 2 |
| Single Kayaks | 3 |
| Adult Water-skis | 2 |
| Wakeboards | 1 |
| Jet Skis | 2 |
| Inflatable, towable tubes | 1 |
| Scuba Diving | Yacht offers Rendezvous Diving only |
Pricing
From: 75,000
To: 80,000

Pricing Details
Current Croatian VAT rate for yacht charters: 13%

APA (Advance Provisioning Allowance): 25% of charter fee paid with the balance for covering running costs during the charter: port and marina fee, fuel for jet ski and tender ope rated watersports, national park entrances, custom fees and charter licenses if chartered outside of Croatia, food and drinks options, and anything else that guests might need while on charter. A strict set of accounts is held by the captain throughout the charter and any funds not spent are refunded to the client in full.


24-hour turnover

From 04 May 2024 till 28 June 2024
From 09 September 2024 till 02 October 2024
75 000 € / week + 13% VAT + 25% APA

24-hour turnover

From 29 June 2024 till 08 September 2024
80 000 € / week + 13% VAT + 25% APA
PLEASE INQUIRE FOR FURTHER PRICING DETAILS
Crew Profile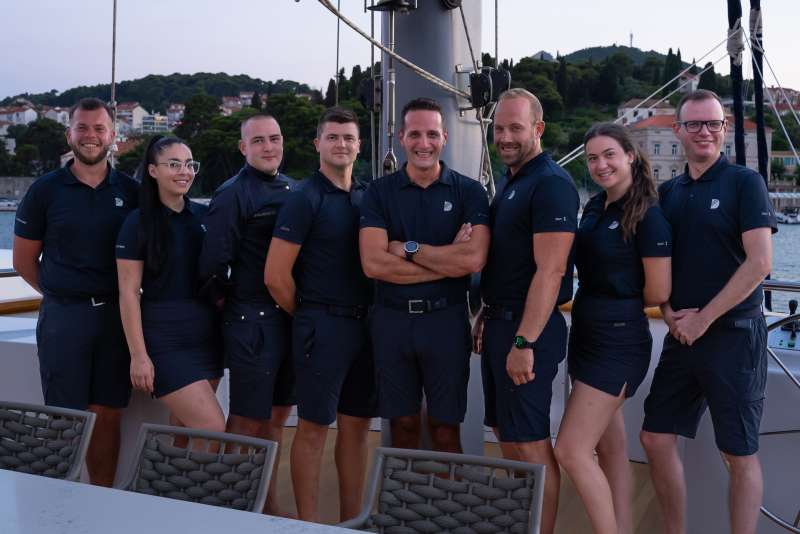 ANDRIJA ERCEGOVIĆ-CAPTAIN (08/06/1991)
Captain Andrija was born in Split into a family with a 30-year long tradition of maritime enterprise.
He spent most of his childhood helping his father and brothers on different ships owned by their
family so he knew very early where he sees himself in the future, happy at sea.
Graduated from the secondary Maritime high school in Split as a nautical officer of the deck but with
his eagerness to run a ship on his own, he was slowly upgraded to a Captain, with more than 8 years
of experience so far.
Andrija is a very athletic person; in his free time his passions are spearfishing and free climbing. He
used to play a guitar very well but he gave that hobby up in order to pursue new interests.
His crew speaks very highly of him as he runs his ship professionally and diligently.
Overall, Andrija is very warm and easy-going person, which you can see for yourself if you decide to
book M/S "Dalmatino" for an extraordinary Croatian cruising experience.
ANTON GRGIĆ-DECKHAND
Anton is a natural-born seafarer, born in Split 1995!
He has been honing his maritime skills since graduating from Maritime High School and continuing with further study at the faculty. Since 2014, working on motor yachts and sailboats, he has become an expert deckhand, engineer, and captain, showing dedication to every role that comes his way.
With his fluent knowledge of English and German, Anton will be a valuable asset to the Dalmatino yachting team!
When the temperature drops and yachts head into winter berth, he's working in the shipyard. But when his shift is over, this seafaring enthusiast loves spending time on those same waters fishing or sailing and visiting new places.
ANTE ERCEGOVIĆ-DECKHAND
Ante Ercegović was born in the beautiful city of Split, Croatia, on 17/12/1999. After completing his elementary and secondary school education there, he yearned to continue learning but found himself torn between studying medicine or pursuing a lifelong passion for sailing at sea.
In the end, that love for life by the se won out – Ante chose to major in Nautical studies from then onwards!
During the summer months of the last six years, with his mastery of English, Ante spends his days enjoying life at sea, working as a deckhand. When winters arrive, and he returns home shore side, it's a new world of activities that transpire; engaging in pub quizzes, playing goalkeeper in futsal games with friends, and then winding down by reading books.
ZVONIMIR NOVOKMET-DECKHAND
Zvonimir Novokmet was born in 1995 in the charming city of Oakville, Canada.
Following his studies at a secondary technical school in Split, Croatia, he decided to search for work, and in 2015 he ended up on the open seas as a waiter on a vessel. In addition to his duties as a waiter, after a year of working in the salon, Zvonimir also tried his hand as an assistant cook.
After successfully mastering these waters over the years ago, Zvonimir achieved another milestone and became a deckhand.
On his days off, he loves socializing with friends and having a few laughs over board games. An avid film fan, he also enjoys watching quality movies in his leisure time. On the sports side of things, you'll find him following football! And when it comes to foreign languages – English is one of his strong points.
MARKO ŽULJEVIĆ – BARTENDER
Marko was born in Split where he finished his school education as an electronics technician but
being born by the sea made him take a different direction in life and he started working on
boats. He is experienced in his job, serving his customers in the best possible way.
People would describe him as a very communicative and an outgoing person. He speaks fluent
English and if you ever need good music, he is your go-to guy, when he is not on board of
Dalmatino, Marko is a DJ.
MARTIN GORETA-CHEF
Chef Martin has a mantra for life – love of food is the most authentic way to express yourself.
Born in Split in 2000, he was passionate about everything culinary from an early age! After graduating from high school with majors in cooking and the hospitality industry, he gained more experience by learning from some of the best chefs across Croatia.
Martin's diverse experience of working throughout Europe has given him the ability to bring a unique cultural touch, respect different cultures and perfect his English language skills. Martin is no stranger to working on ships, but he is ready for a new challenge this time! His faith drives his ambition to ensure the food is excellent.
Martin is always looking to expand his horizons through new education or travels. And when everyone comes together for a celebration, Martin adds an extra dose of joy with the music from his accordion!
SARA GENERALIĆ – CHIEF STEWARDESS
Sara is a highly ambitious individual who began her incredible life voyage in 1997. After successfully graduating from the Hotel and Tourism High School in Omiš, she set sail for more knowledge at Split's Maritime Faculty.
Now an accomplished engineer specializing in maritime management, Sara continues to reach new heights with additional education and is currently finishing her graduate studies at the same faculty.
After the experience gained in the institute for designing and managing geodetic projects, she set out for the Adriatic world of cruising! In between, she spent several seasons working in beach bars, where she further improved her English skills.
She loves spending time with her family and friends. When she's feeling adventurous, she can usually be found on long walks through nature, accompanied by her trusty four-legged companion, or exploring different cultures around the world.
IRA BARUNČIĆ - STEWARDESS
Ira Barunčić an adventurous spirit born in Split on August 25th, 2002. After graduating from the Tourism and Hospitality School, she decided to take a different path that would lead her onto luxury yachts as a hostess!
Ira sets off for new adventures with the Dalmatino crew – as their youngest member this season!
She loves exploring the world and discovering what different cultures offer. She is big animals lovers, speaks English fluently, and has a great handle on fundamental German! You can find her spending time in nature when she's not out adventuring.
Destinations