Gallery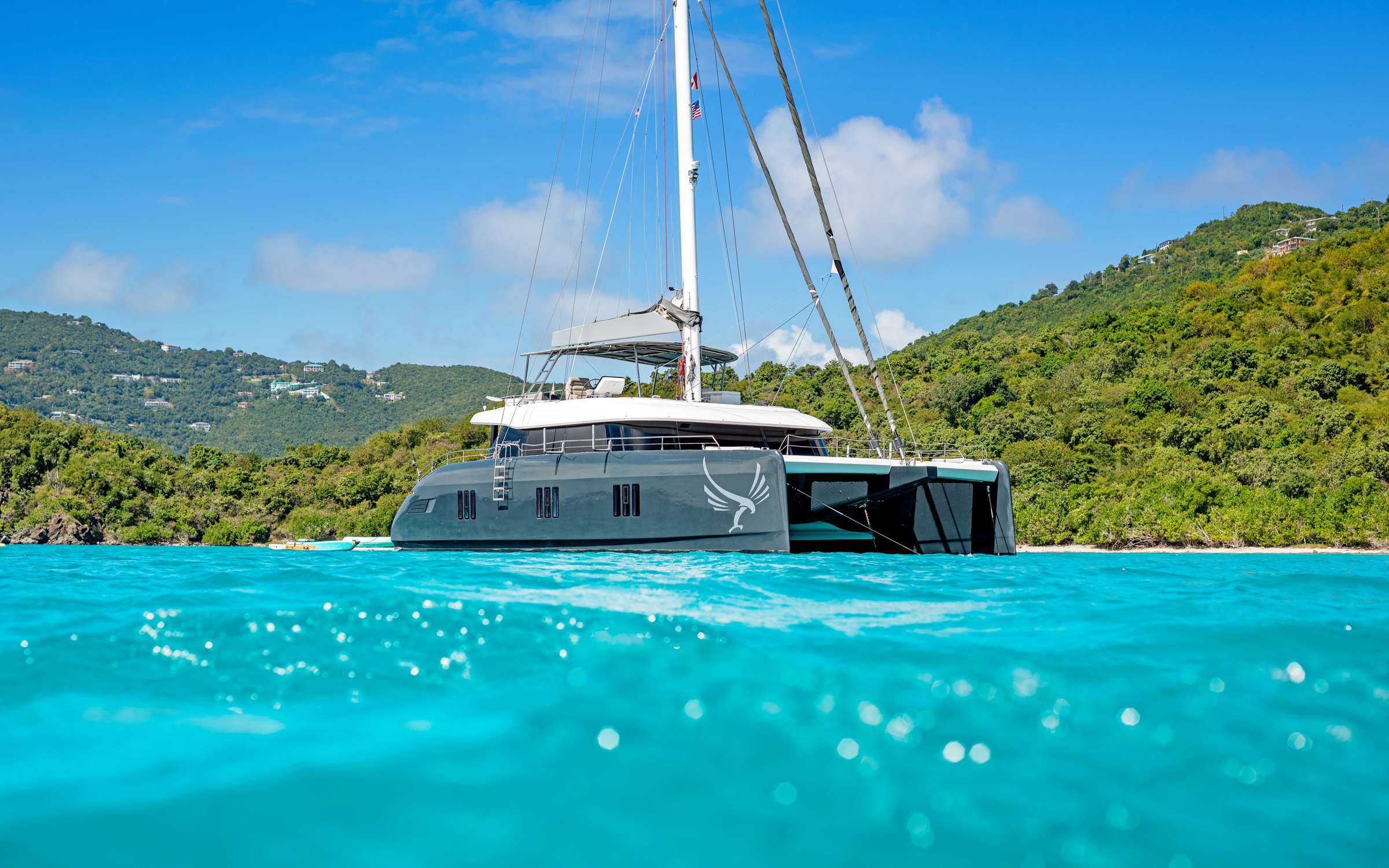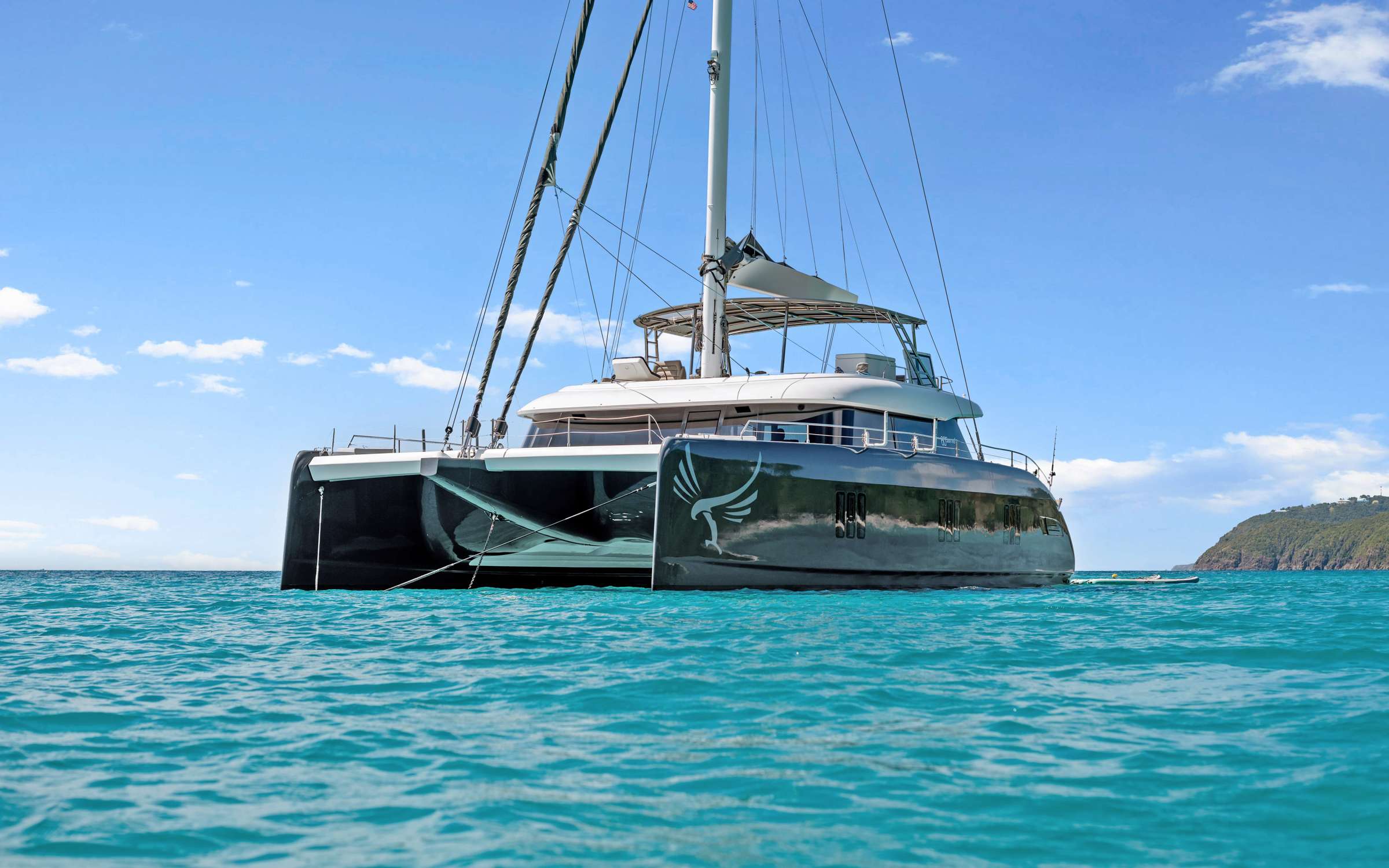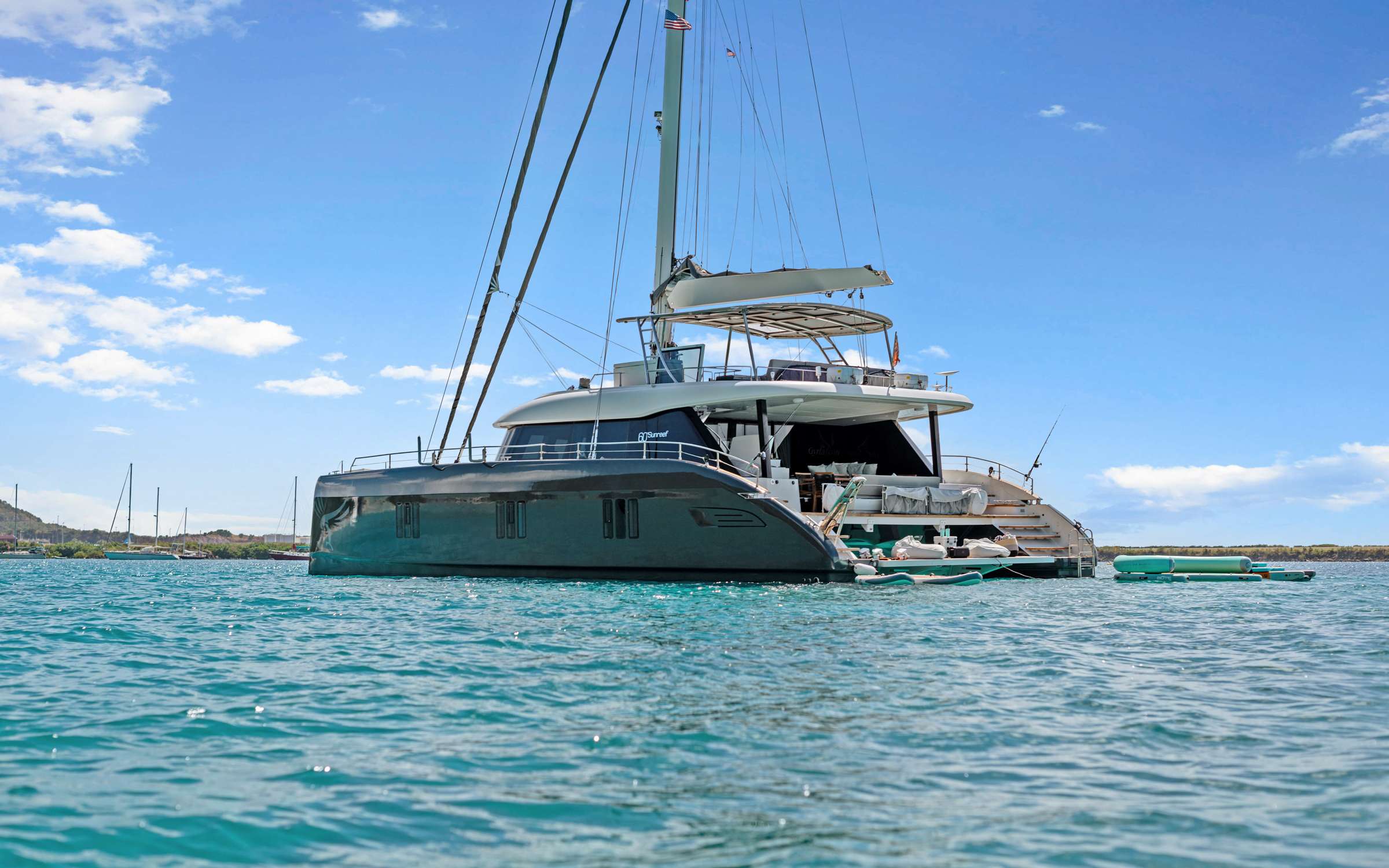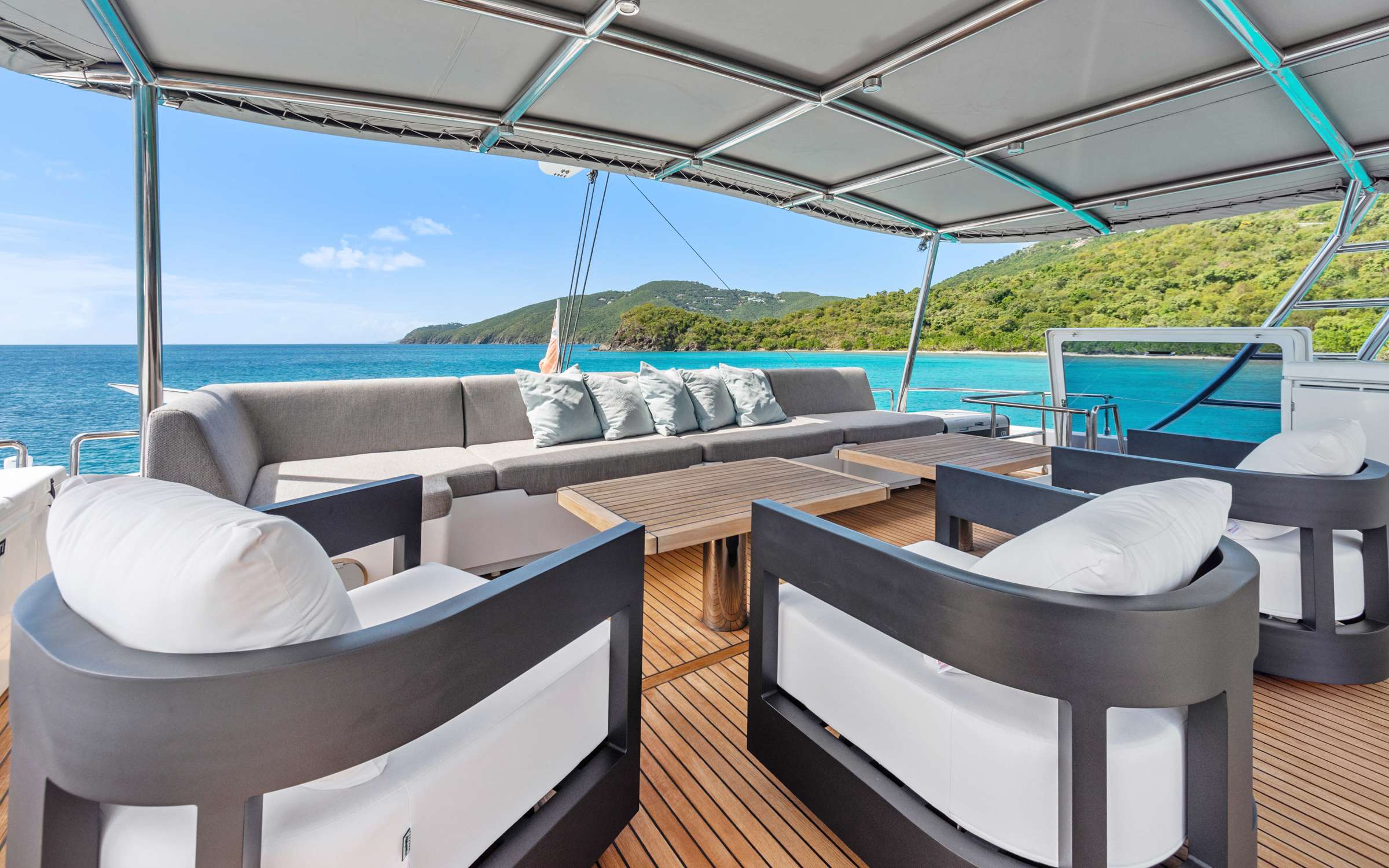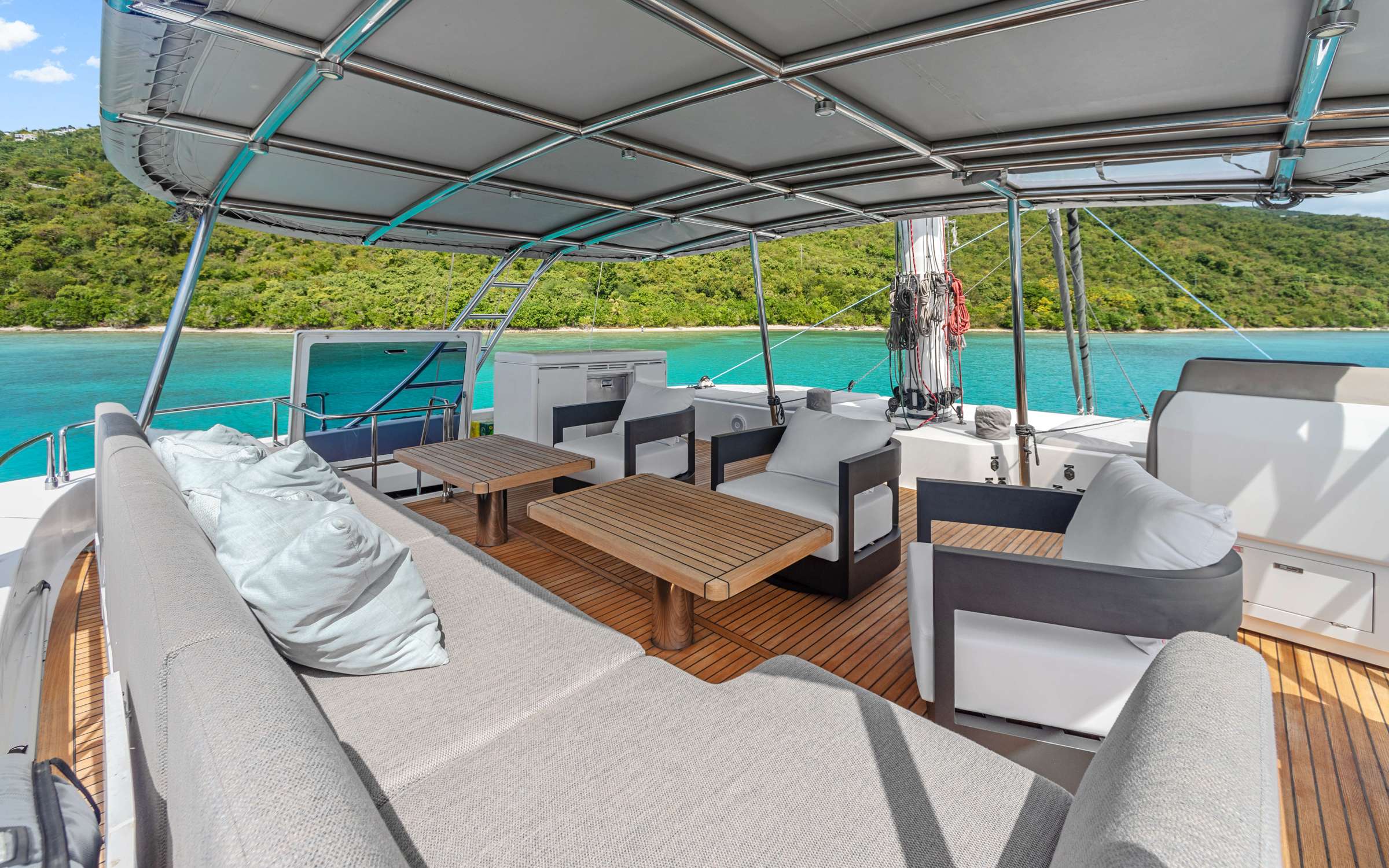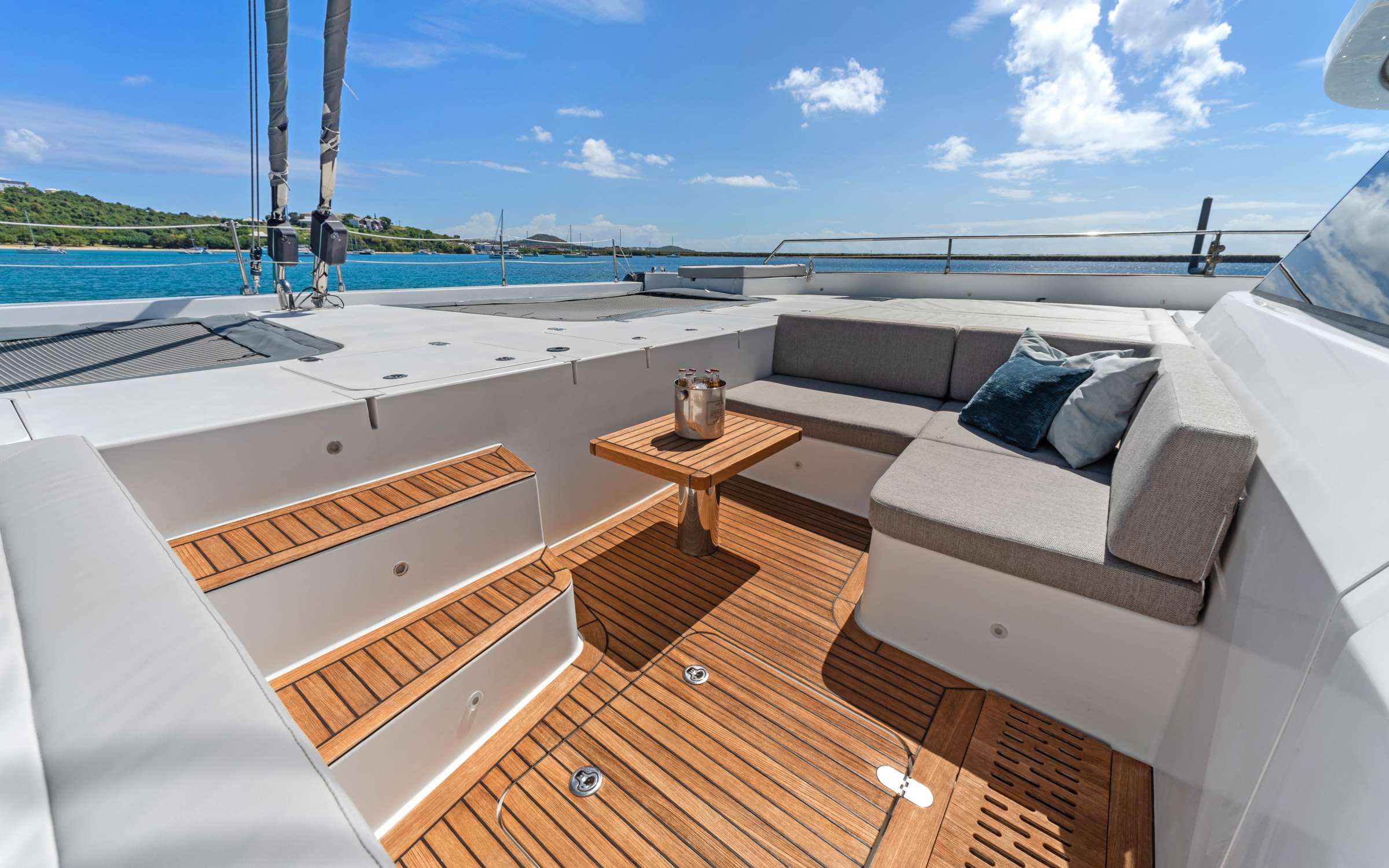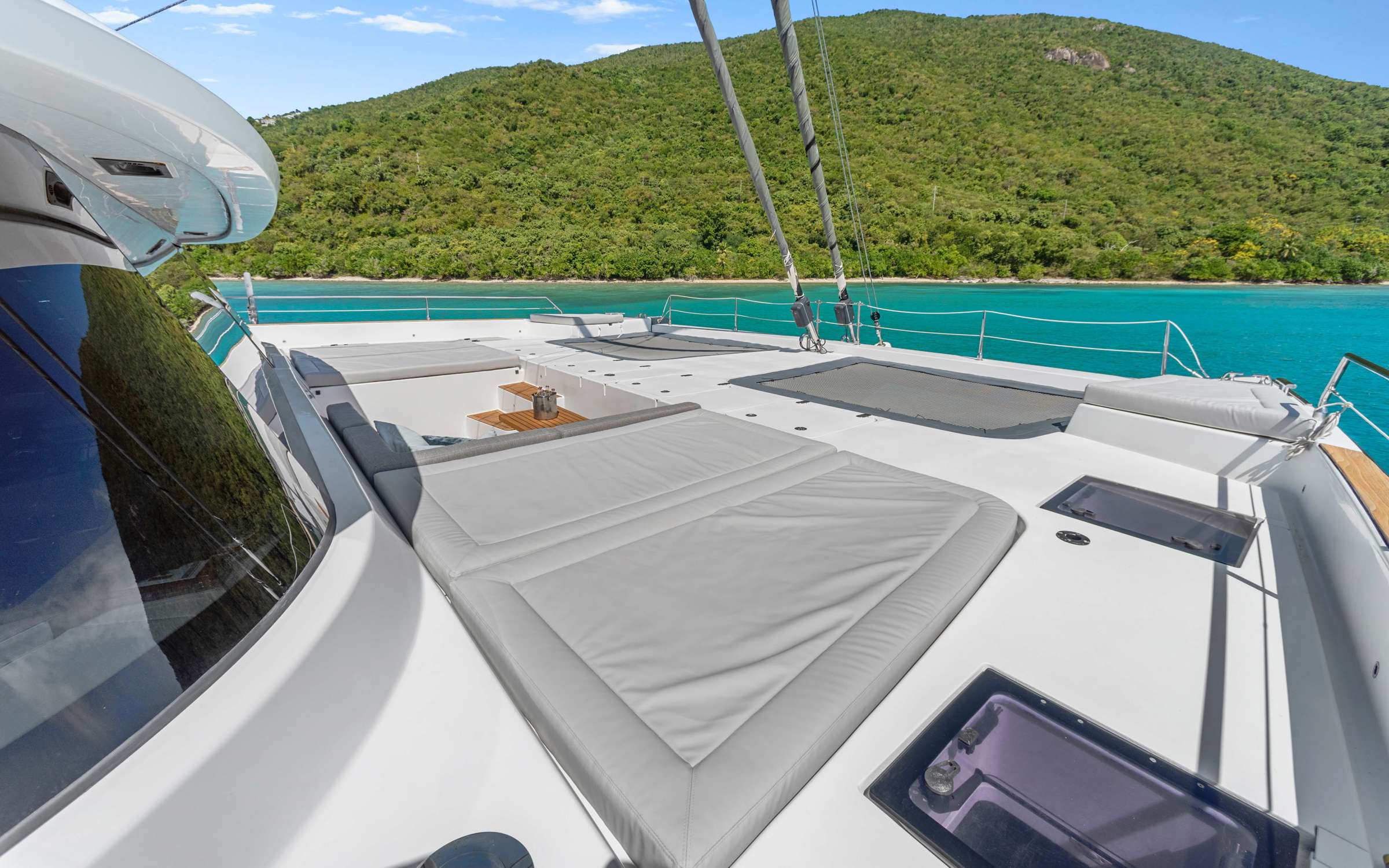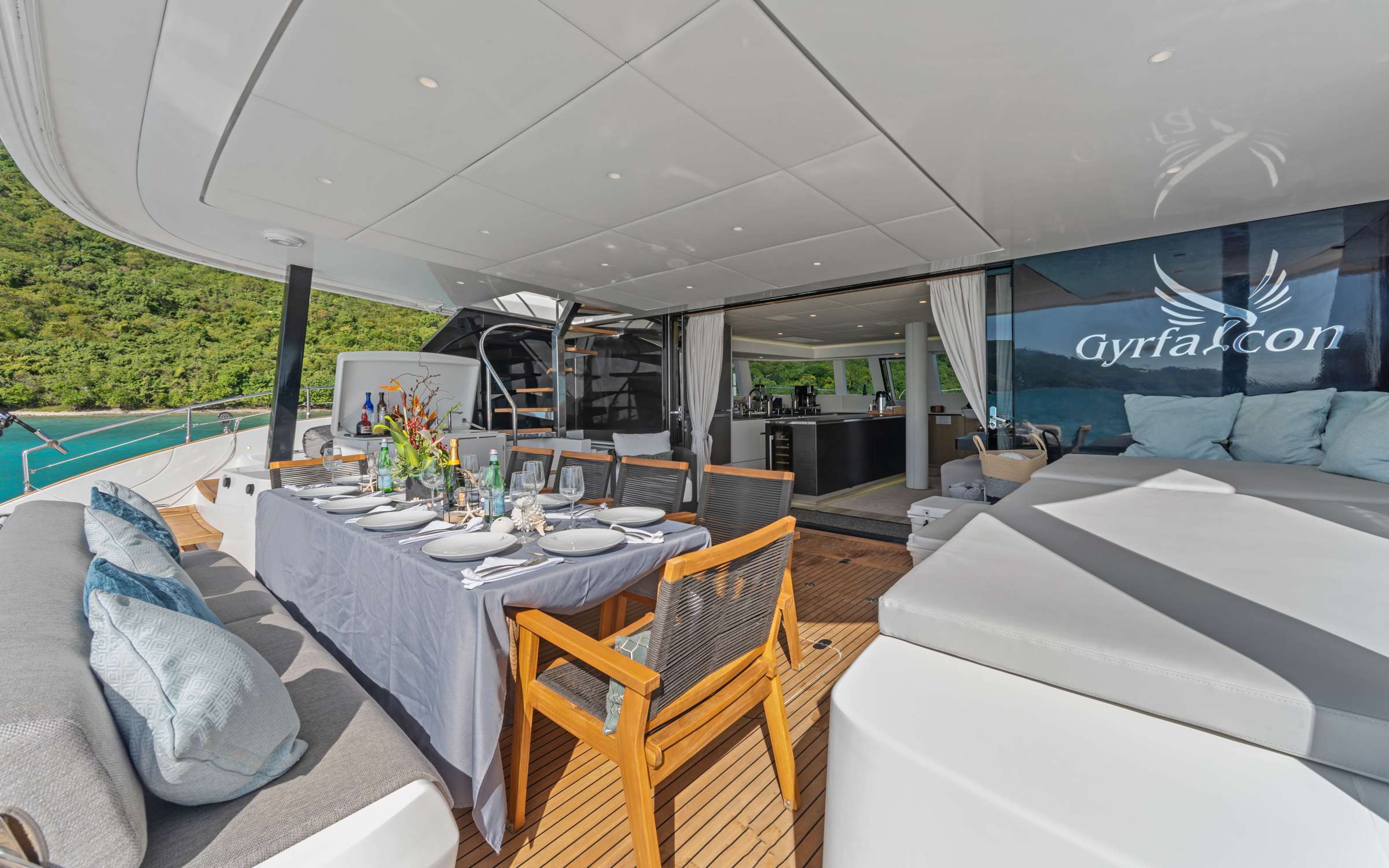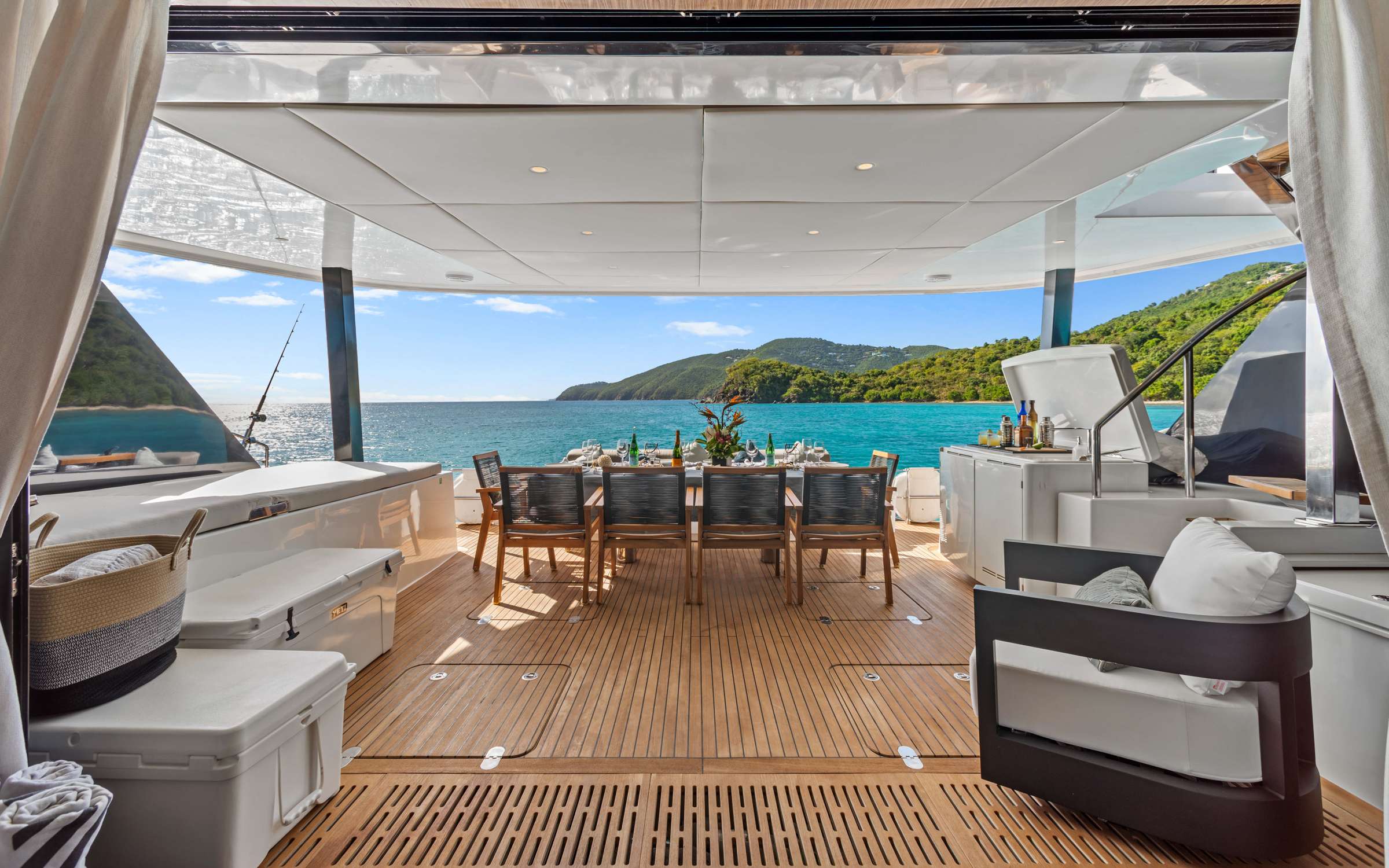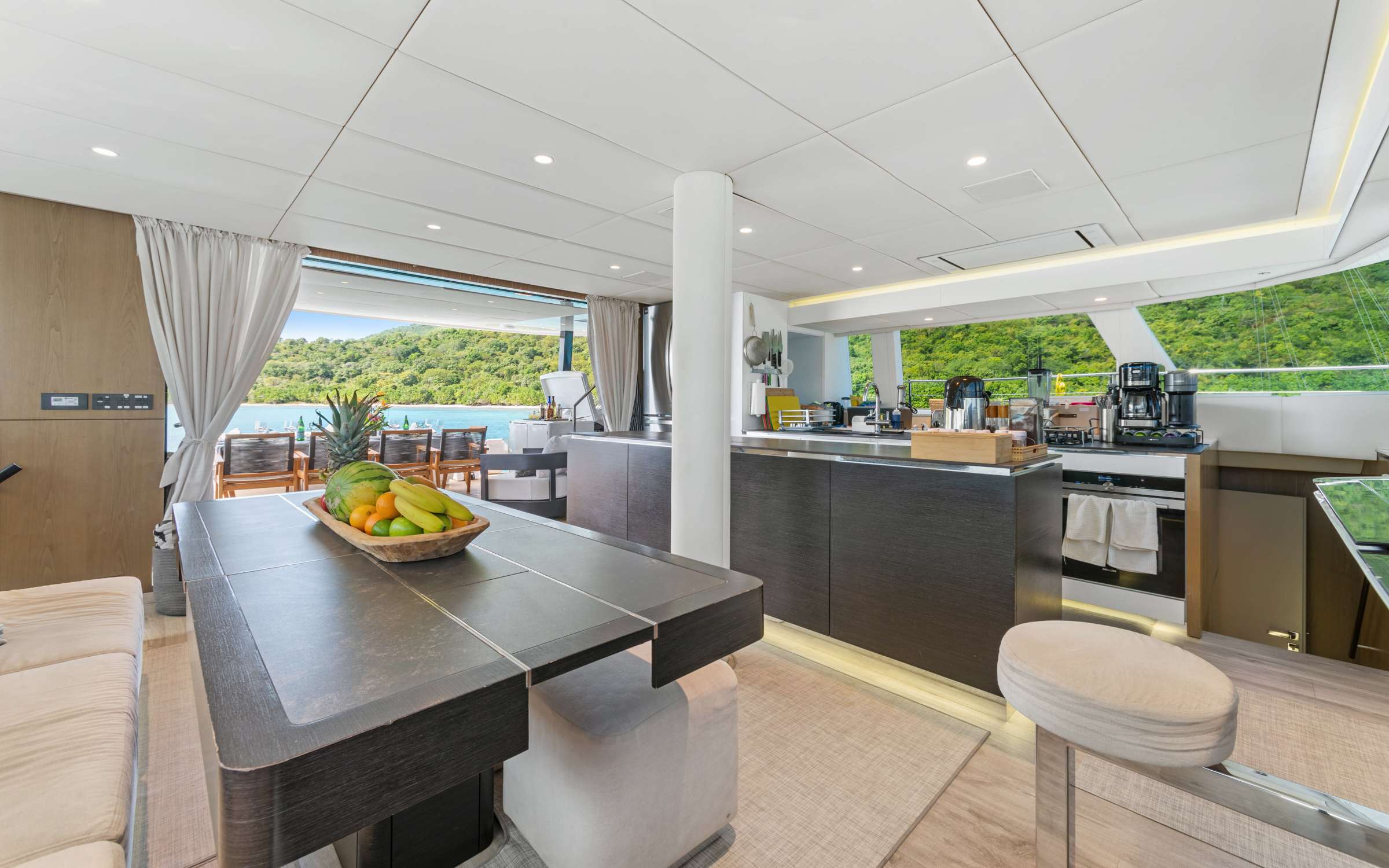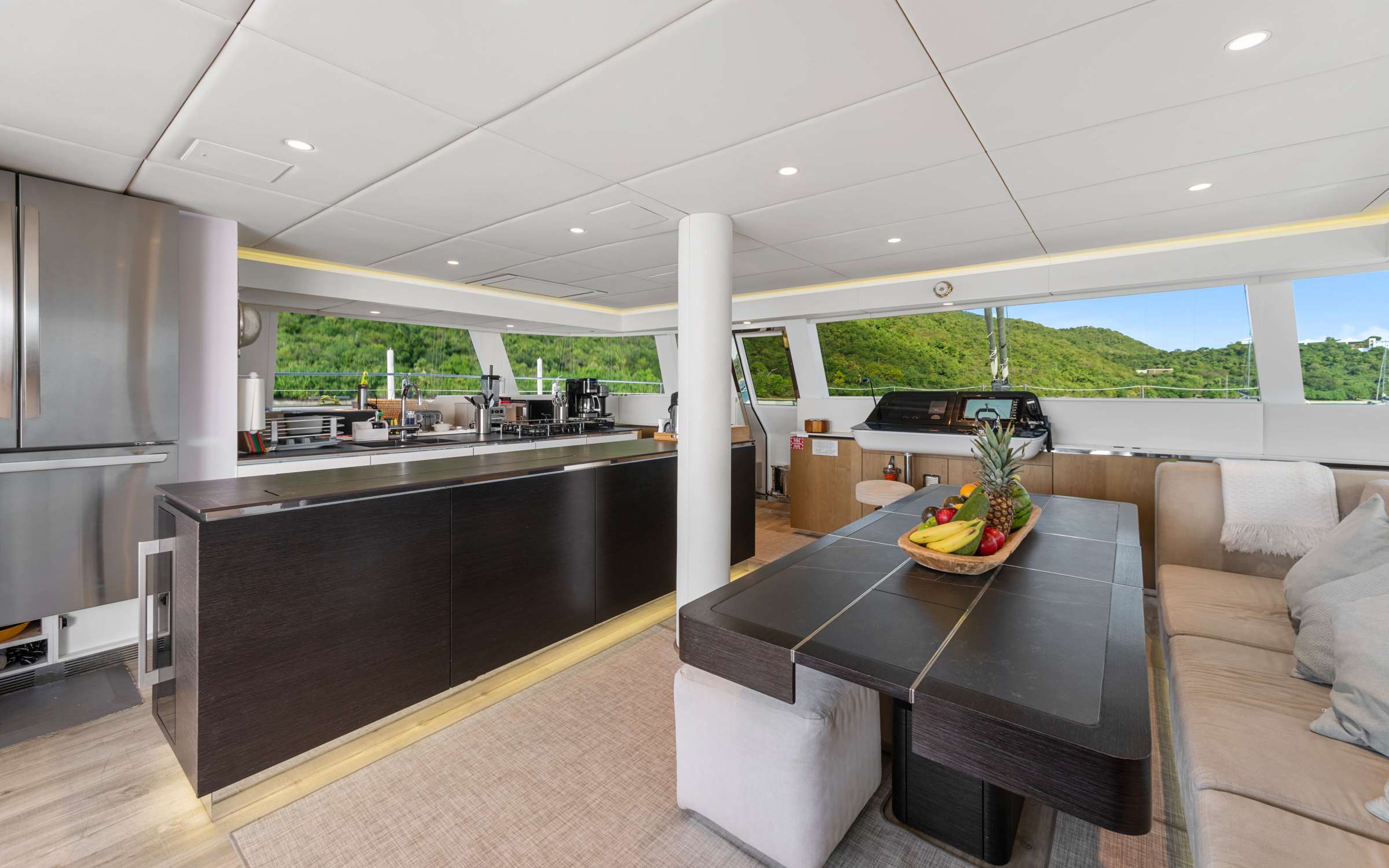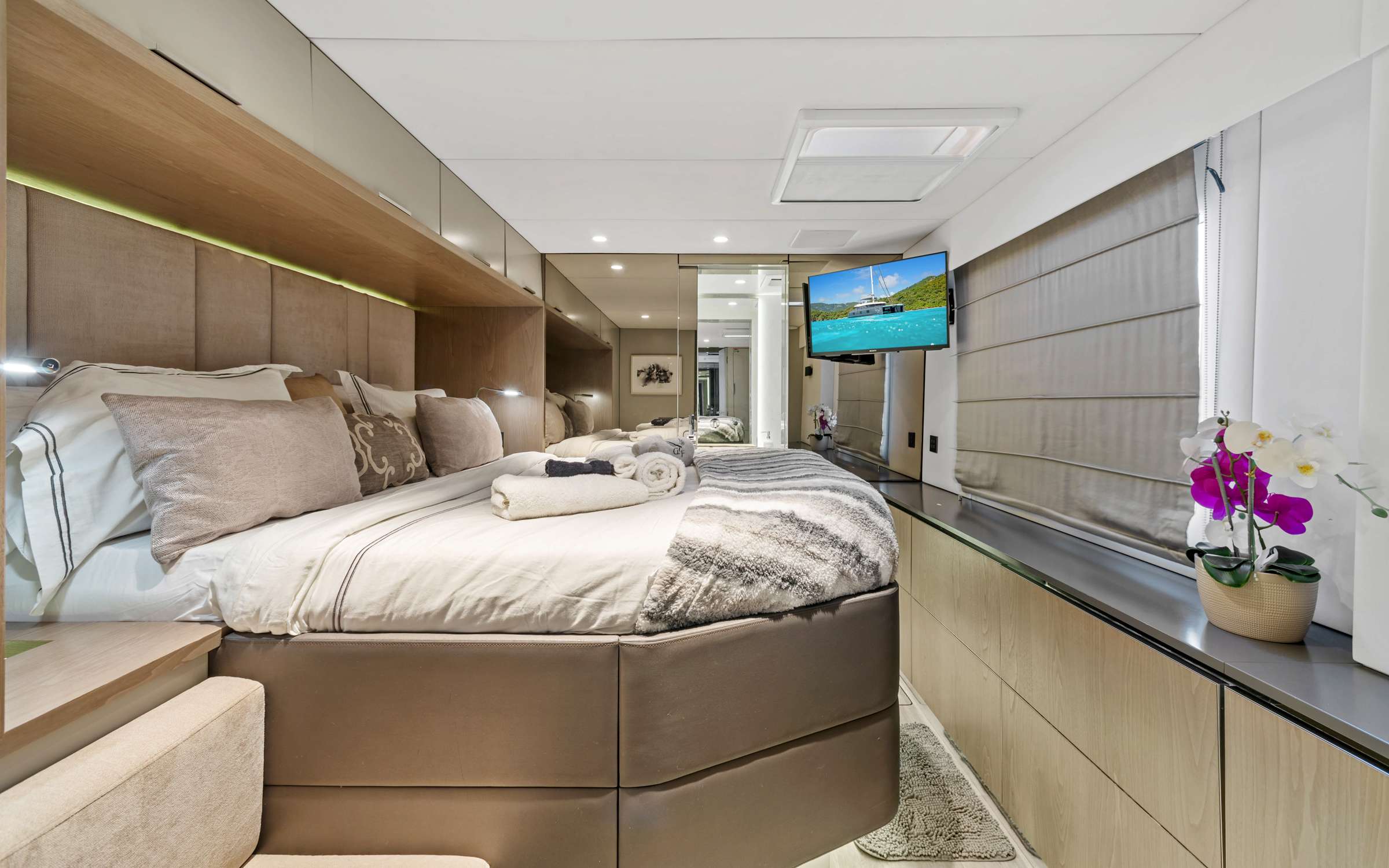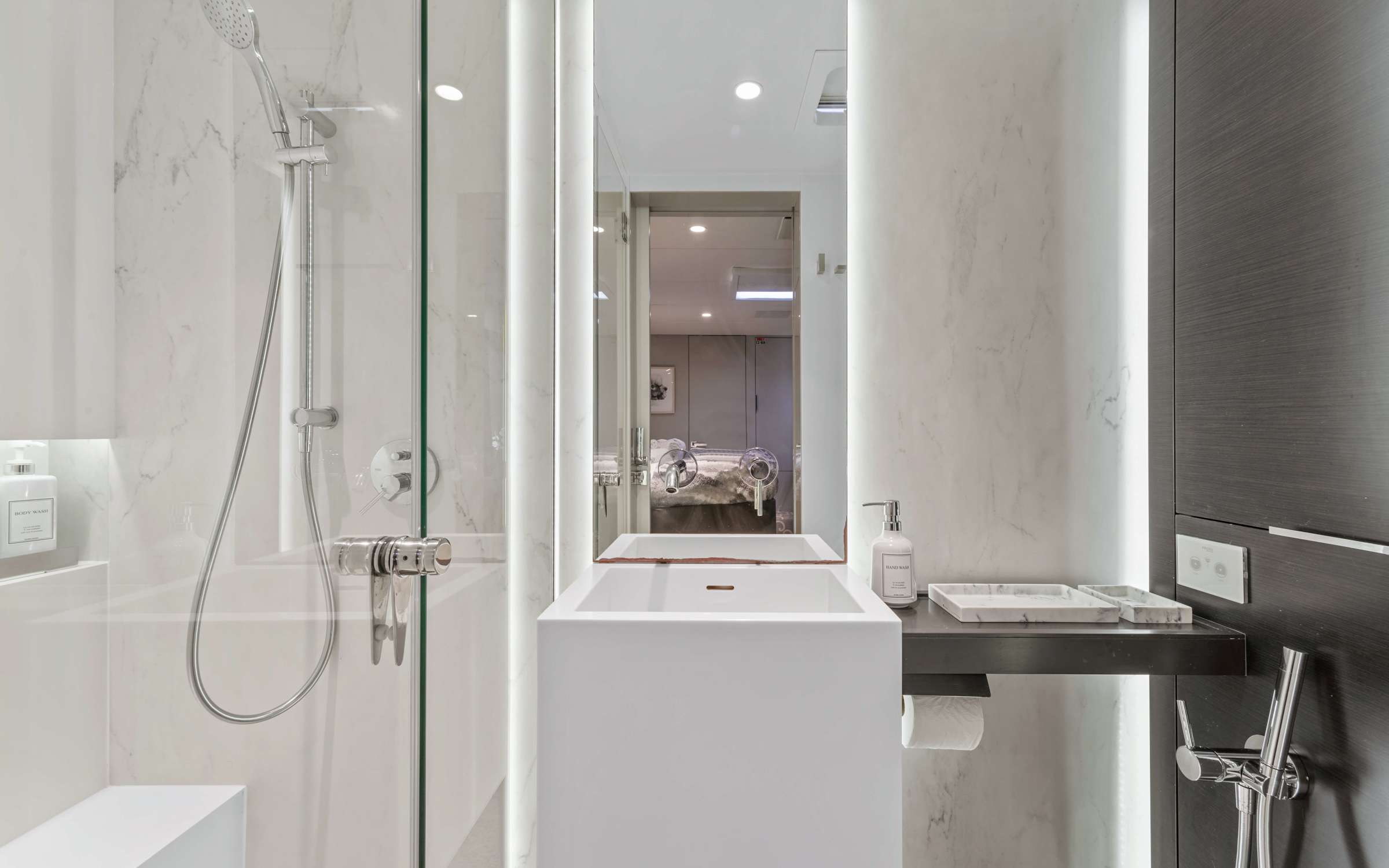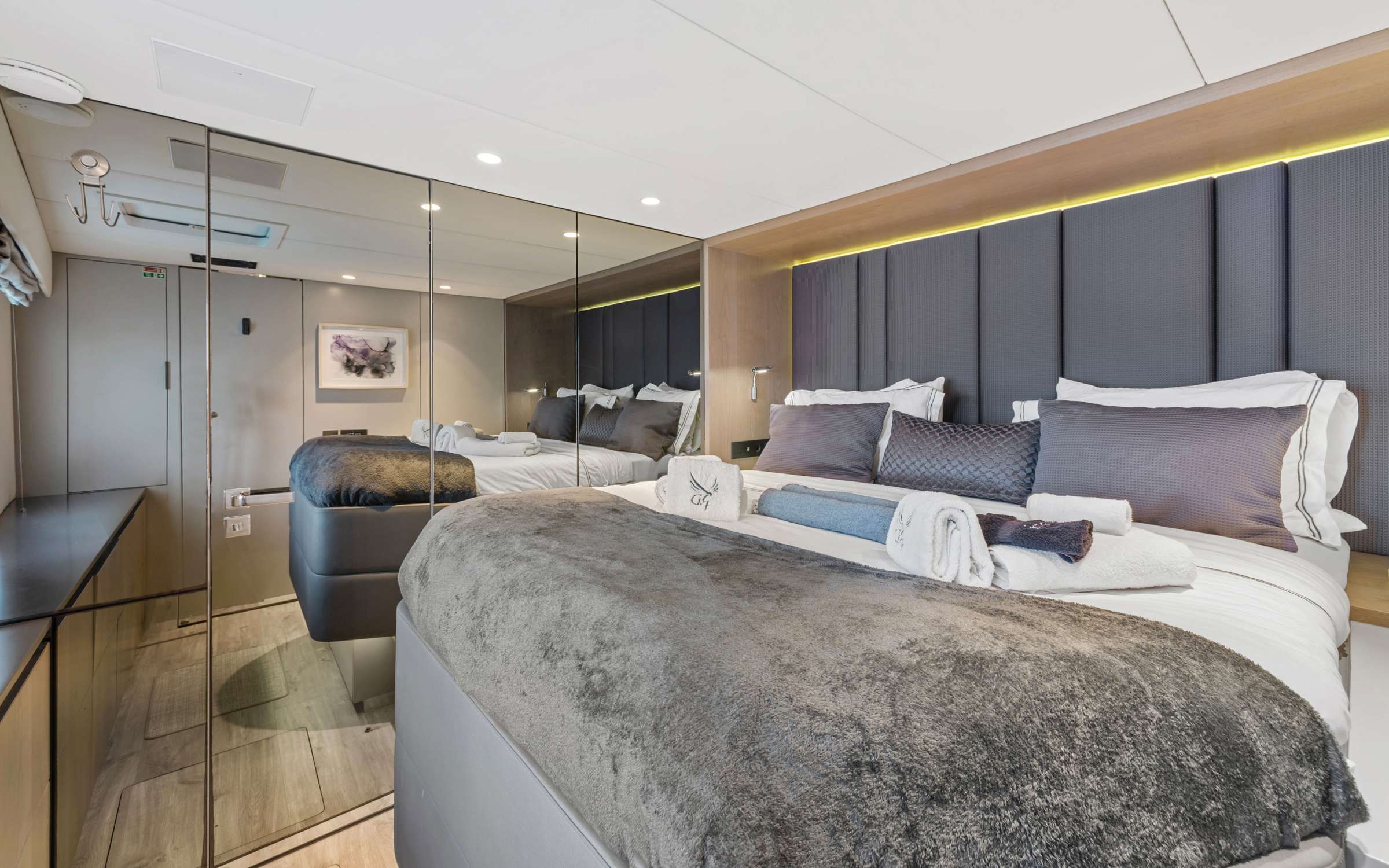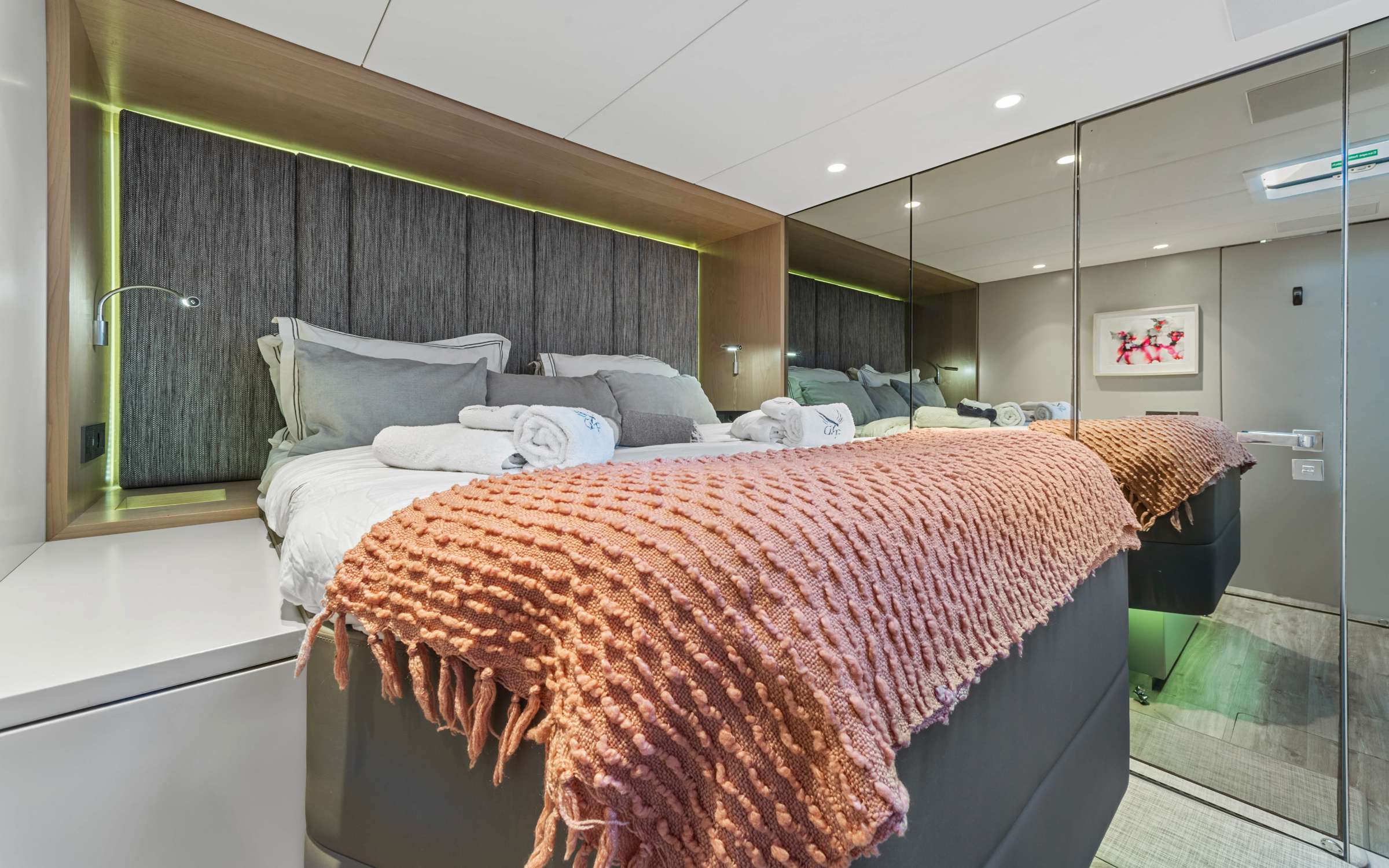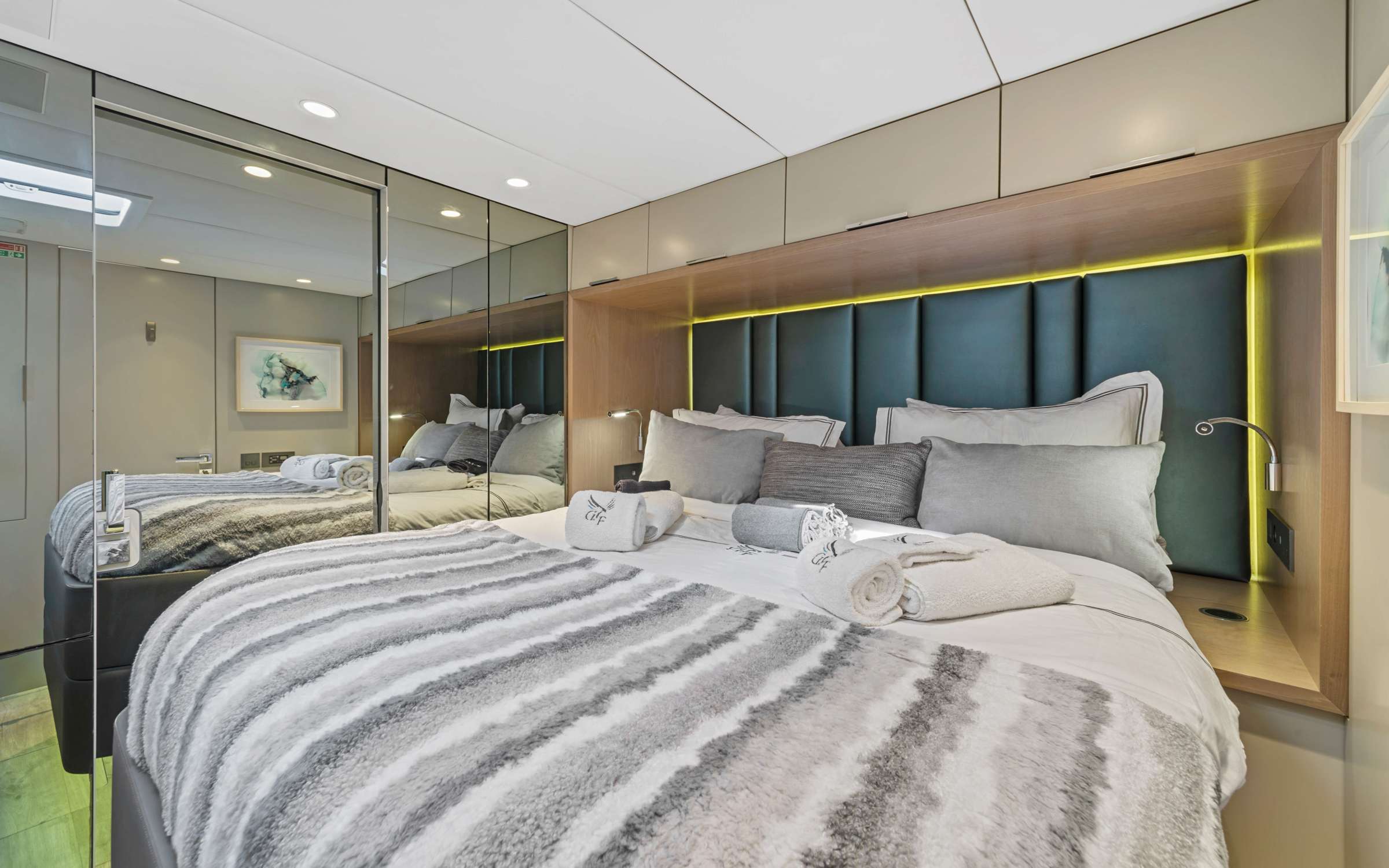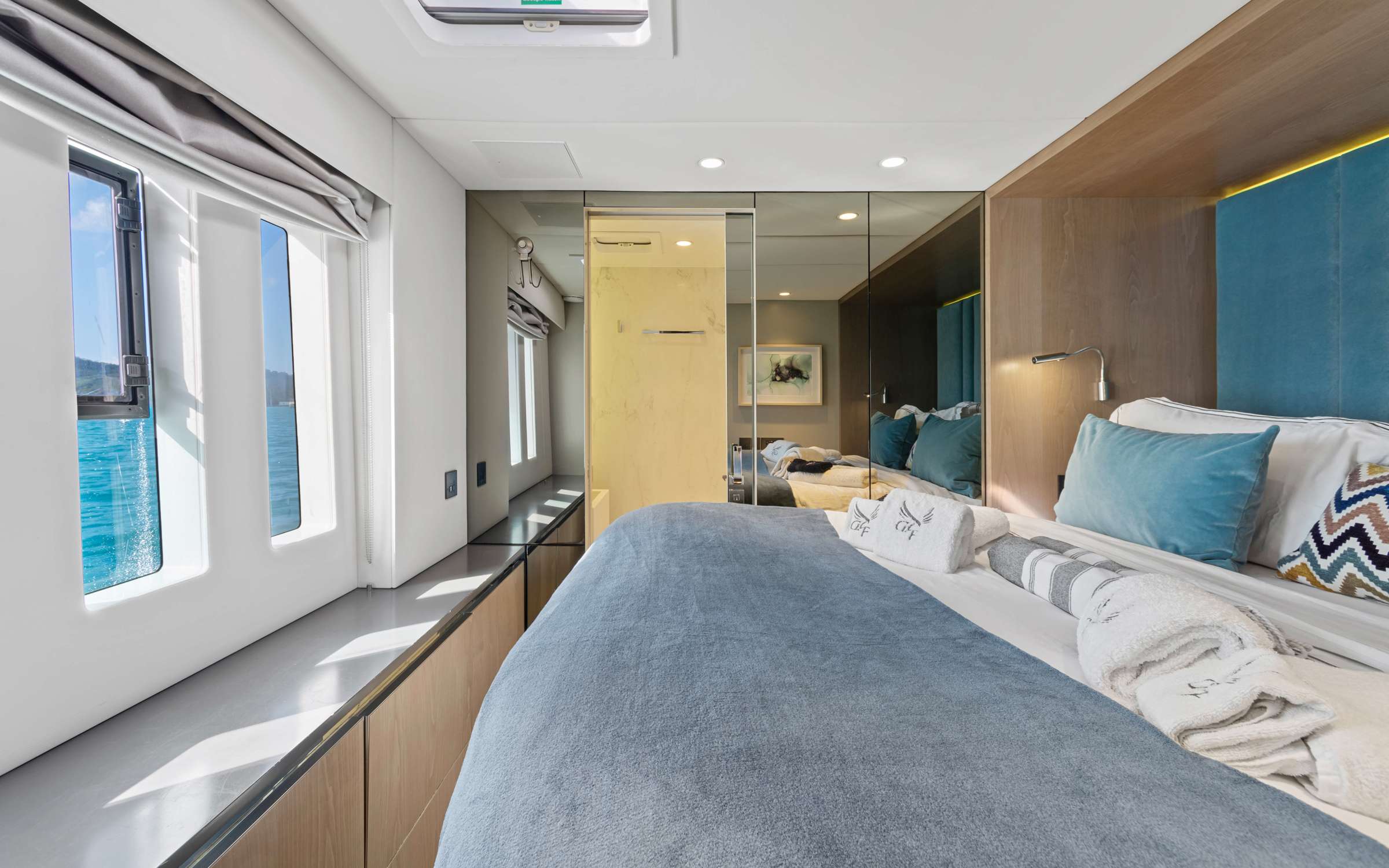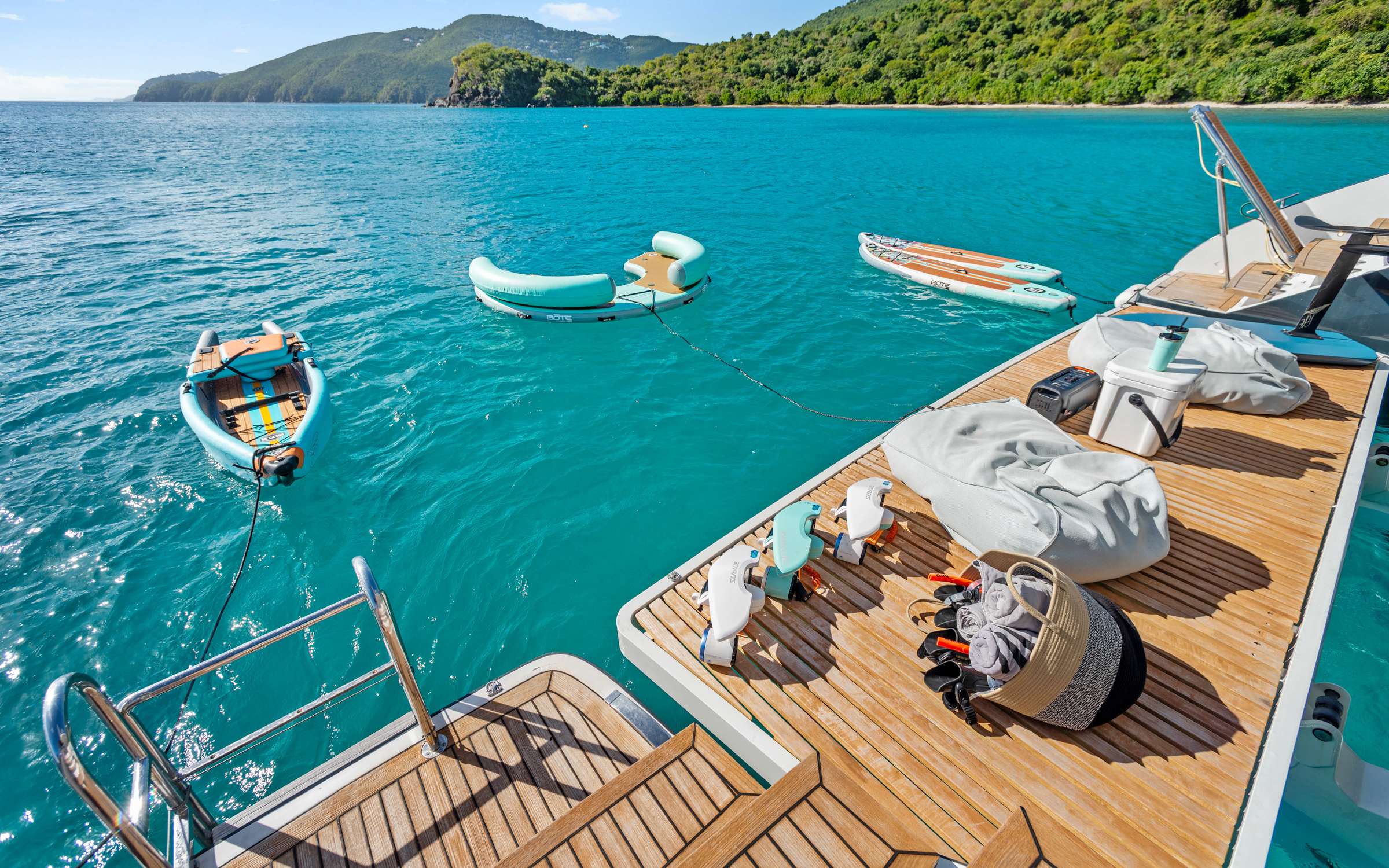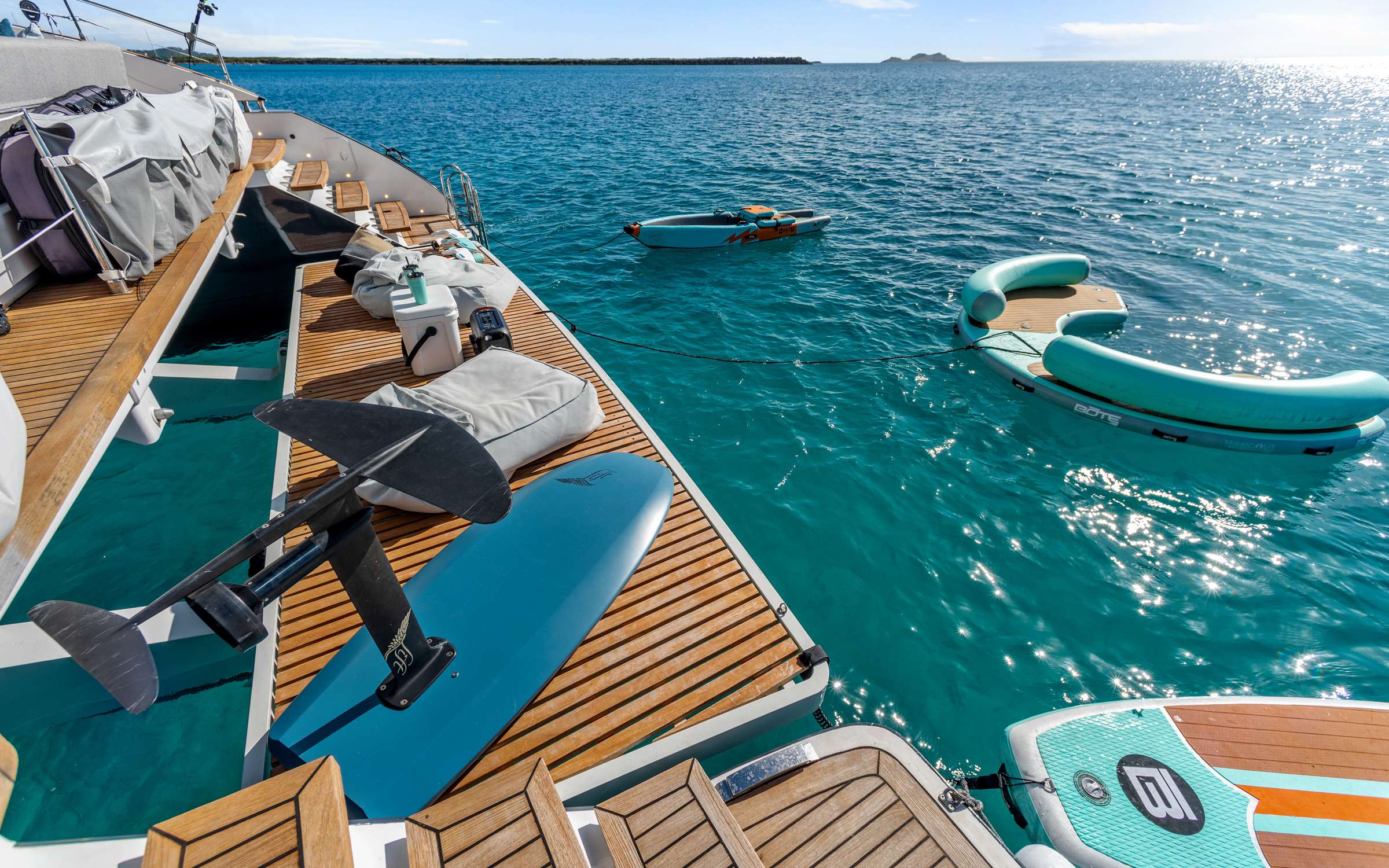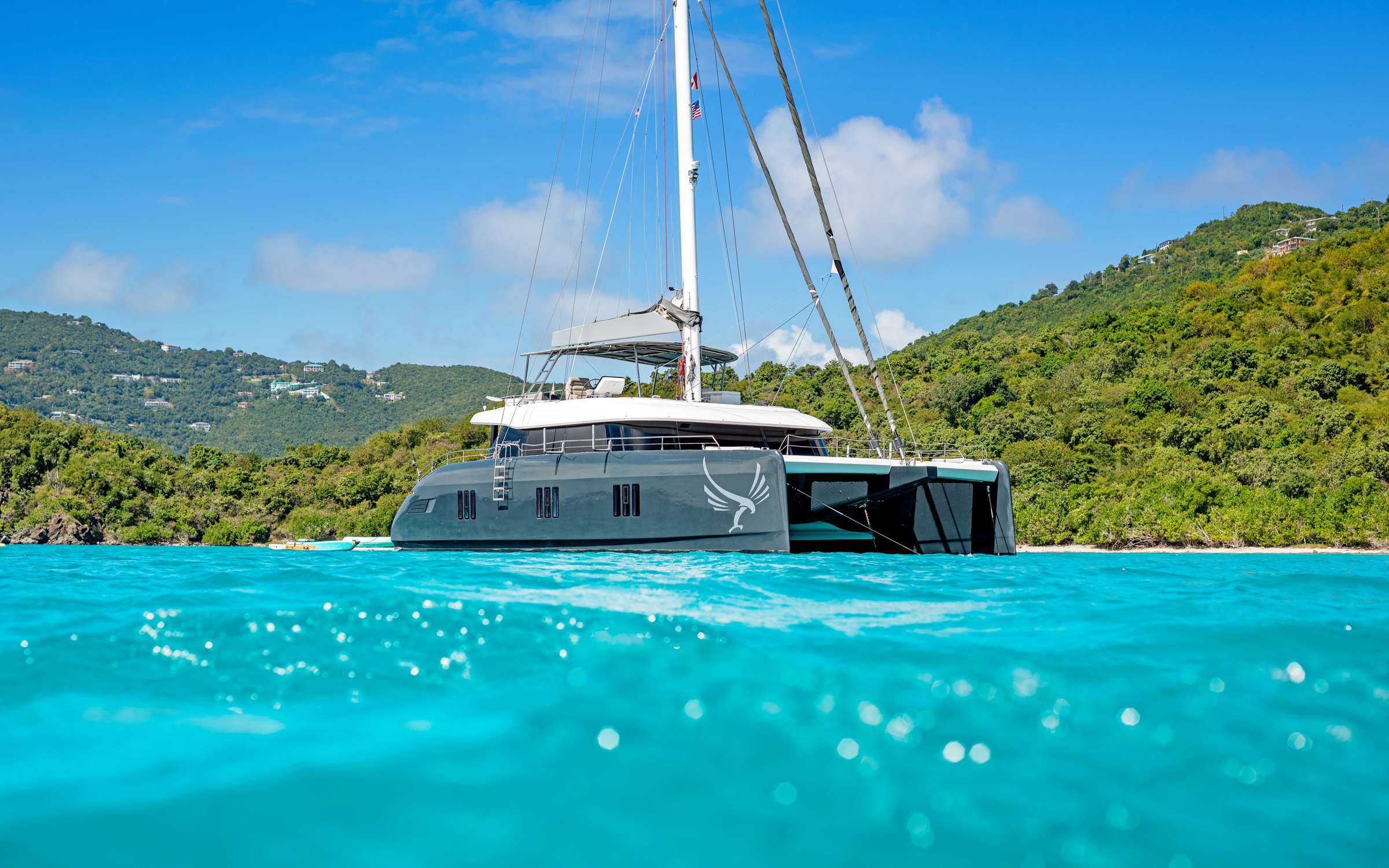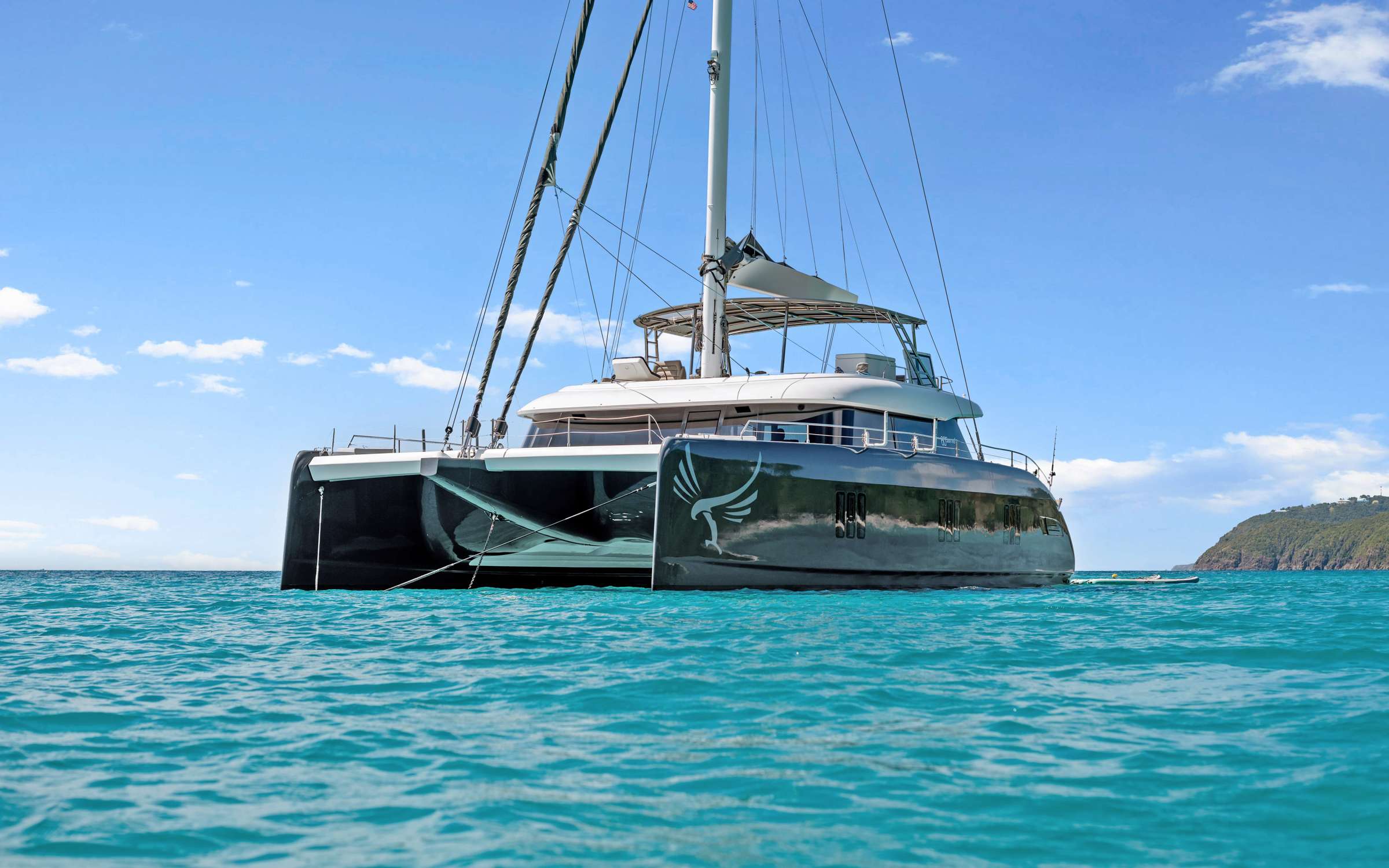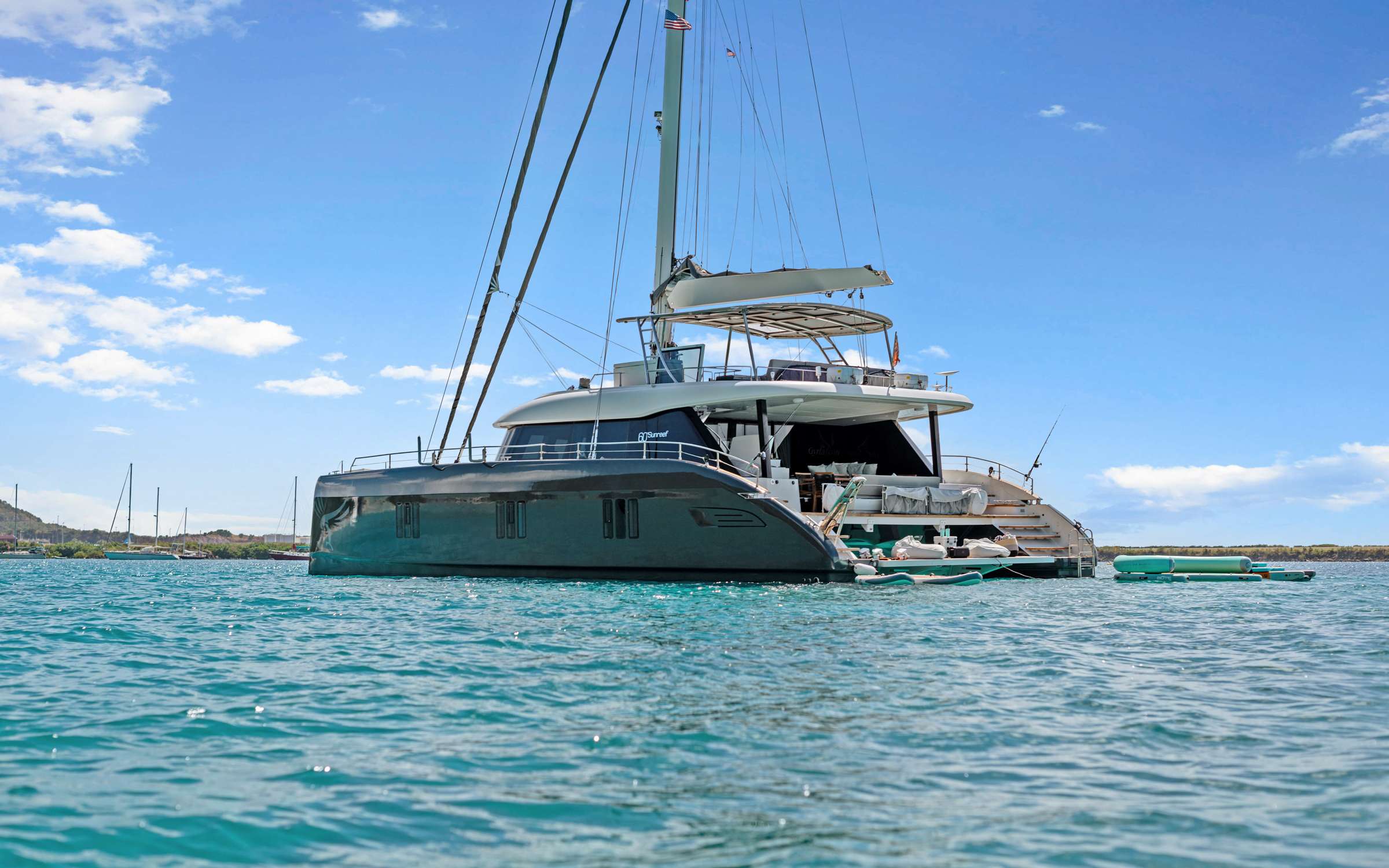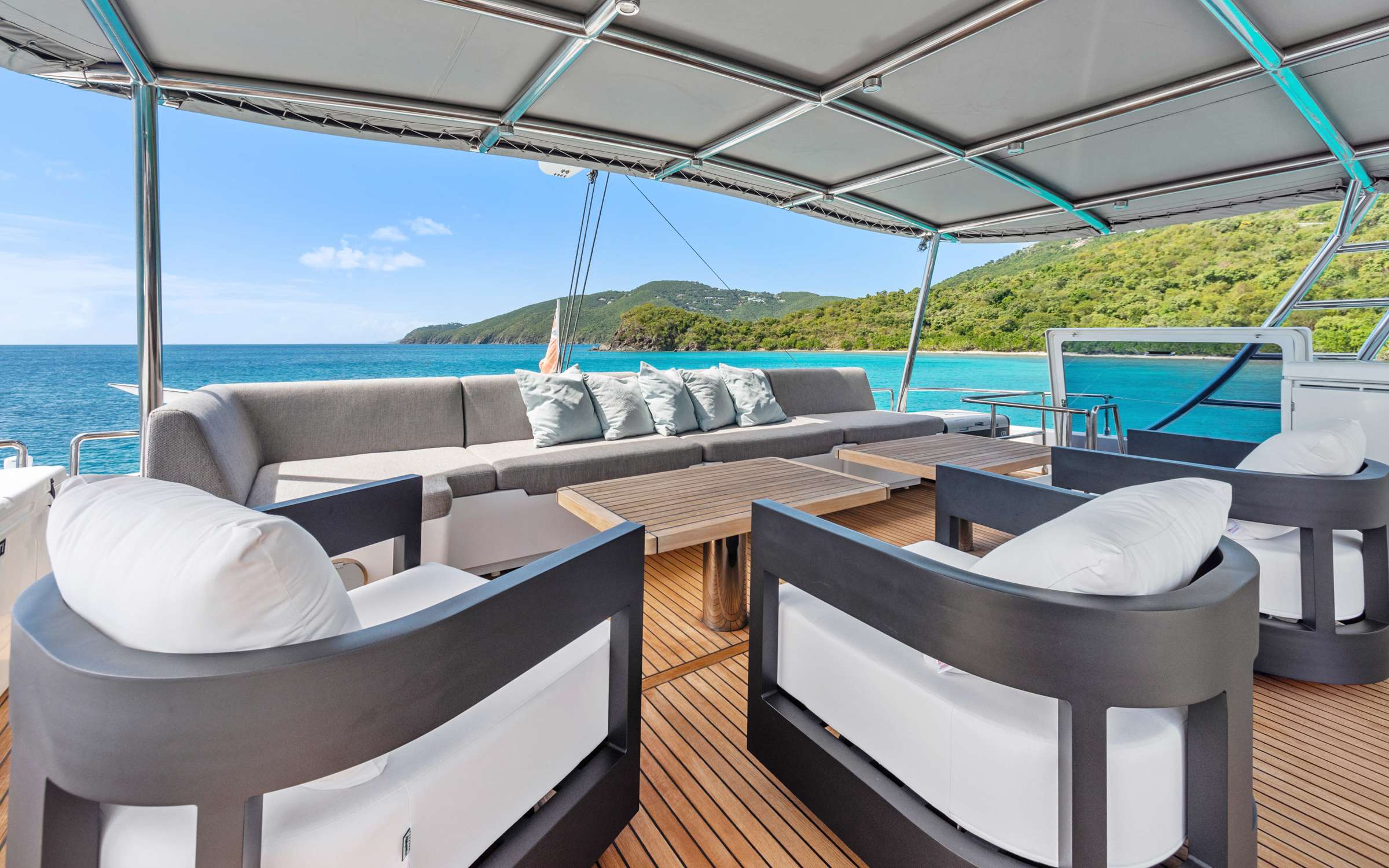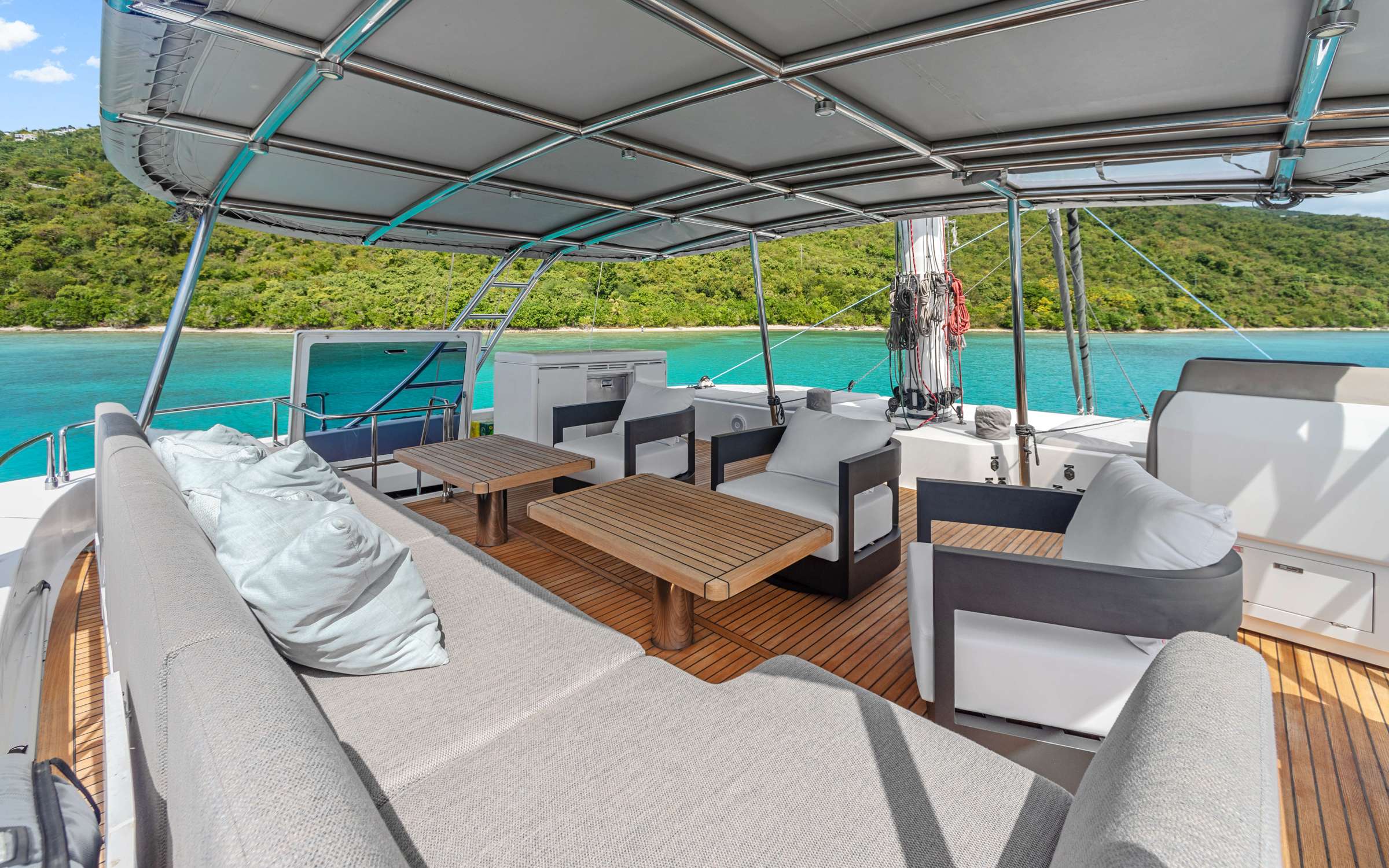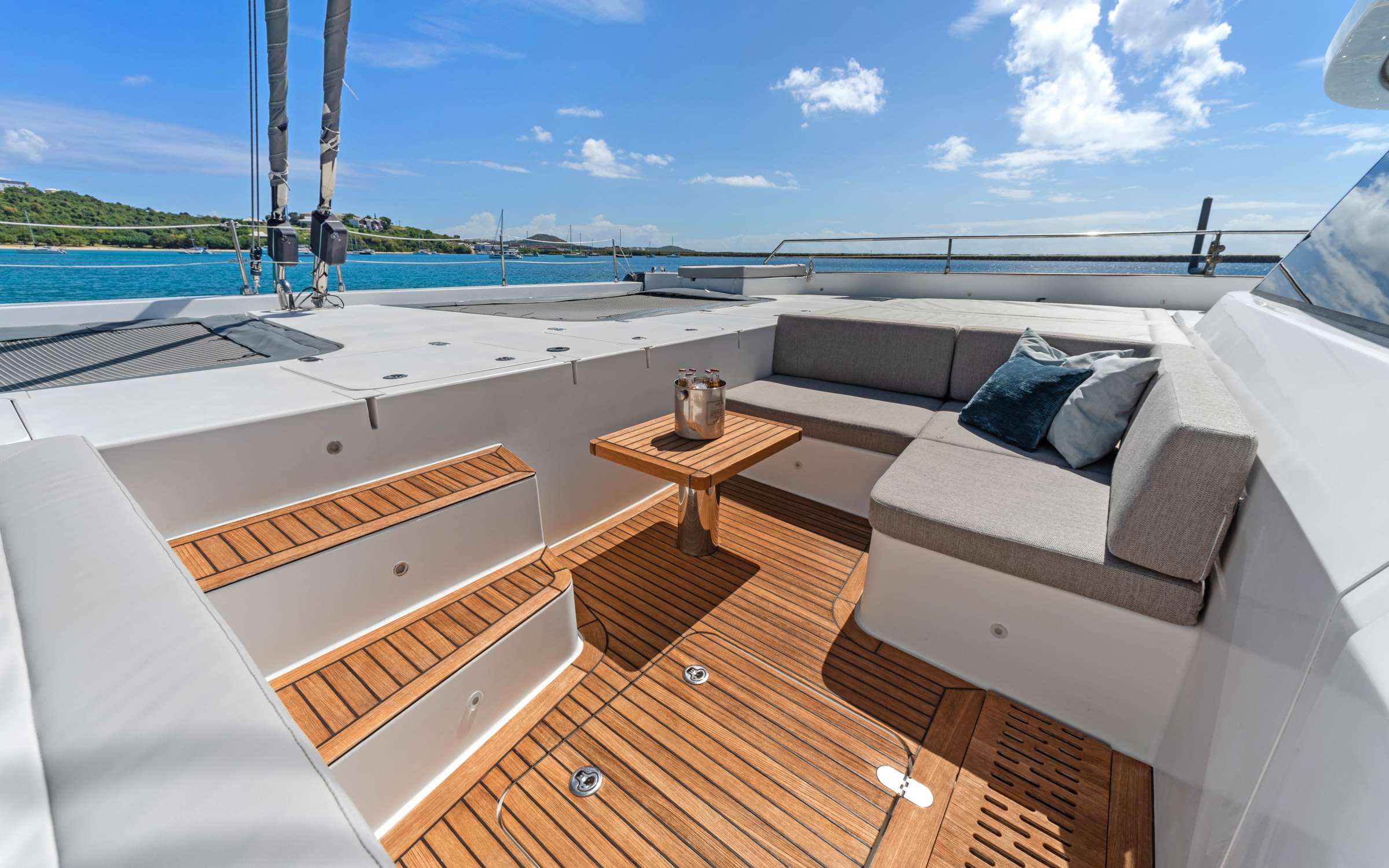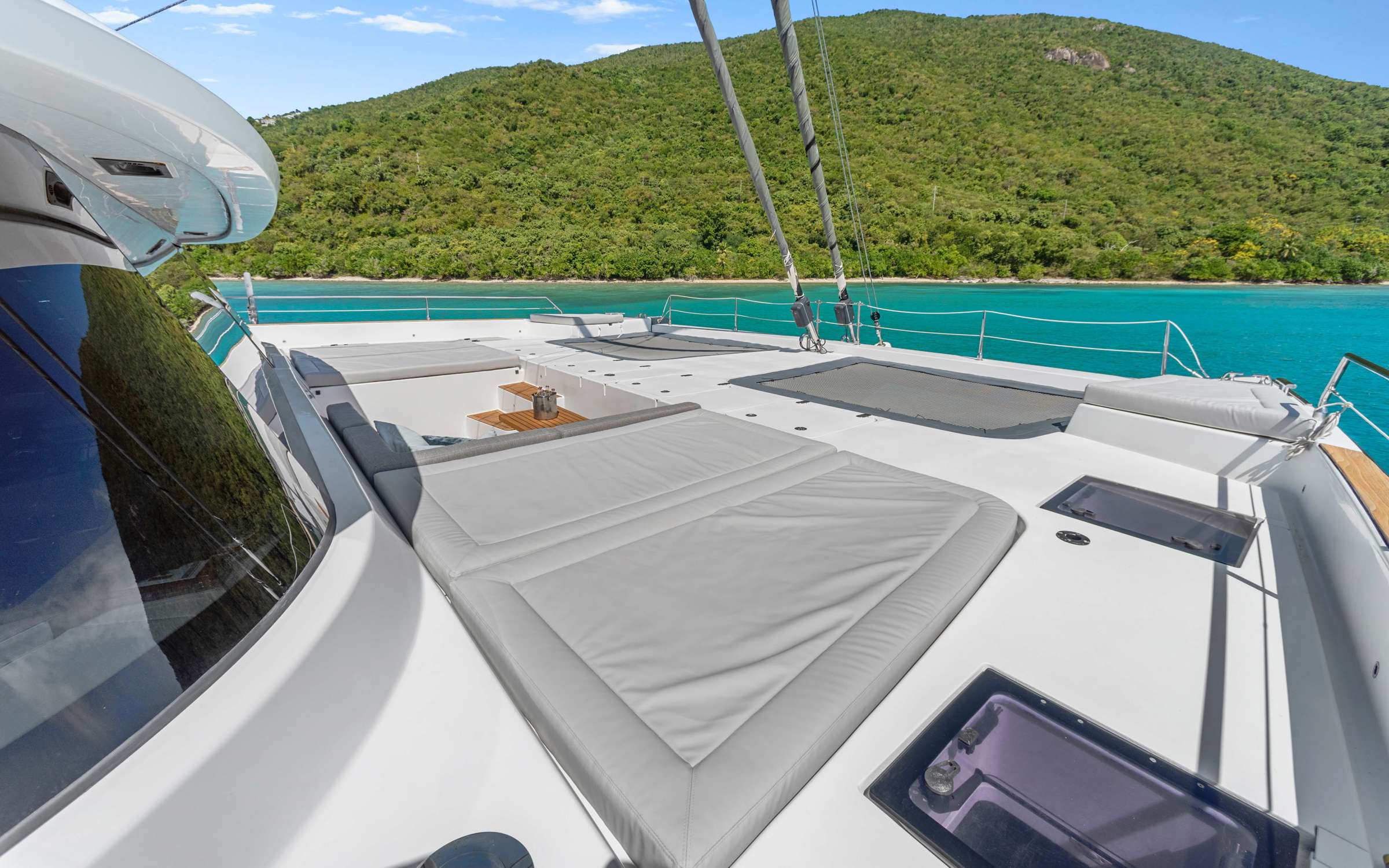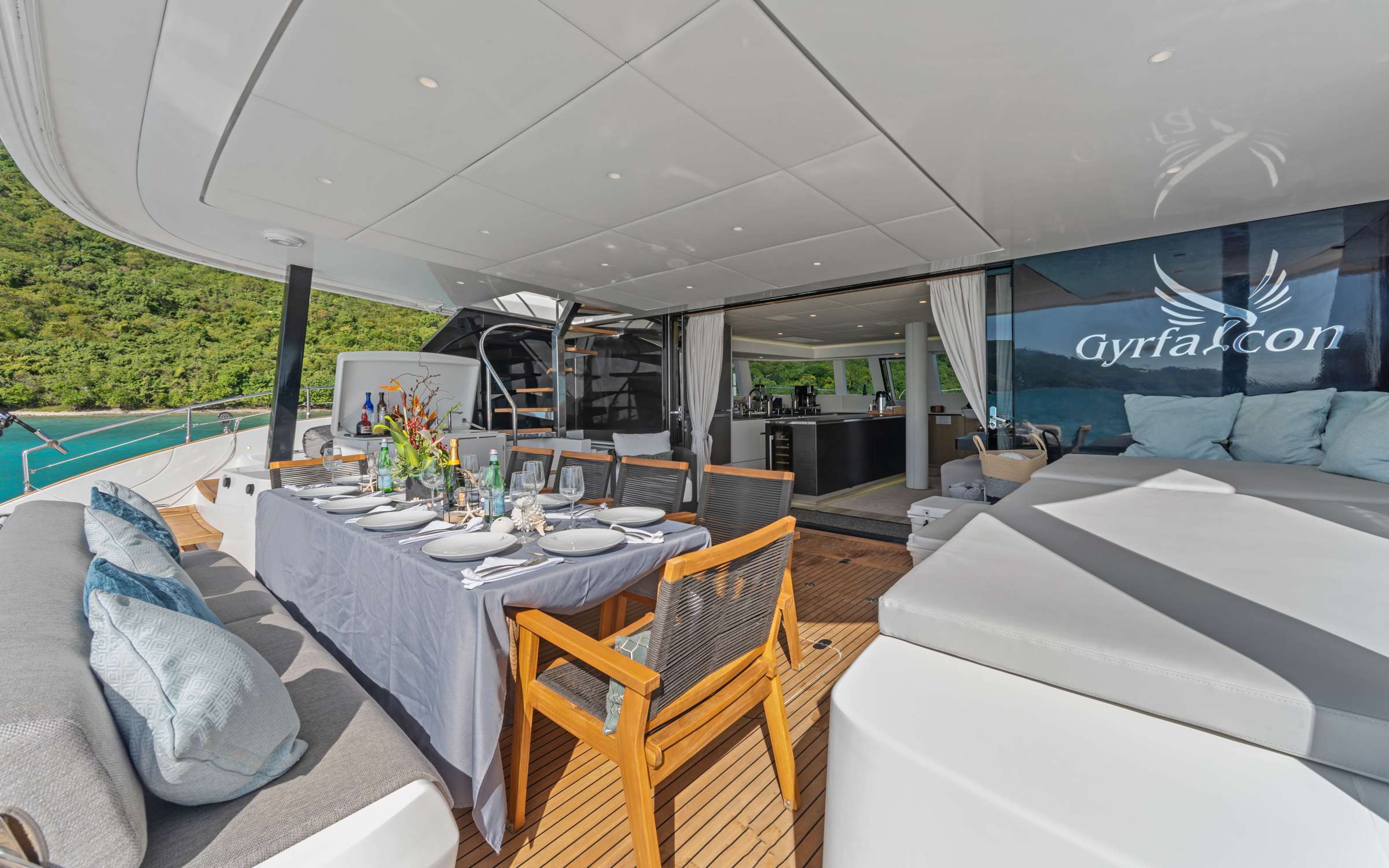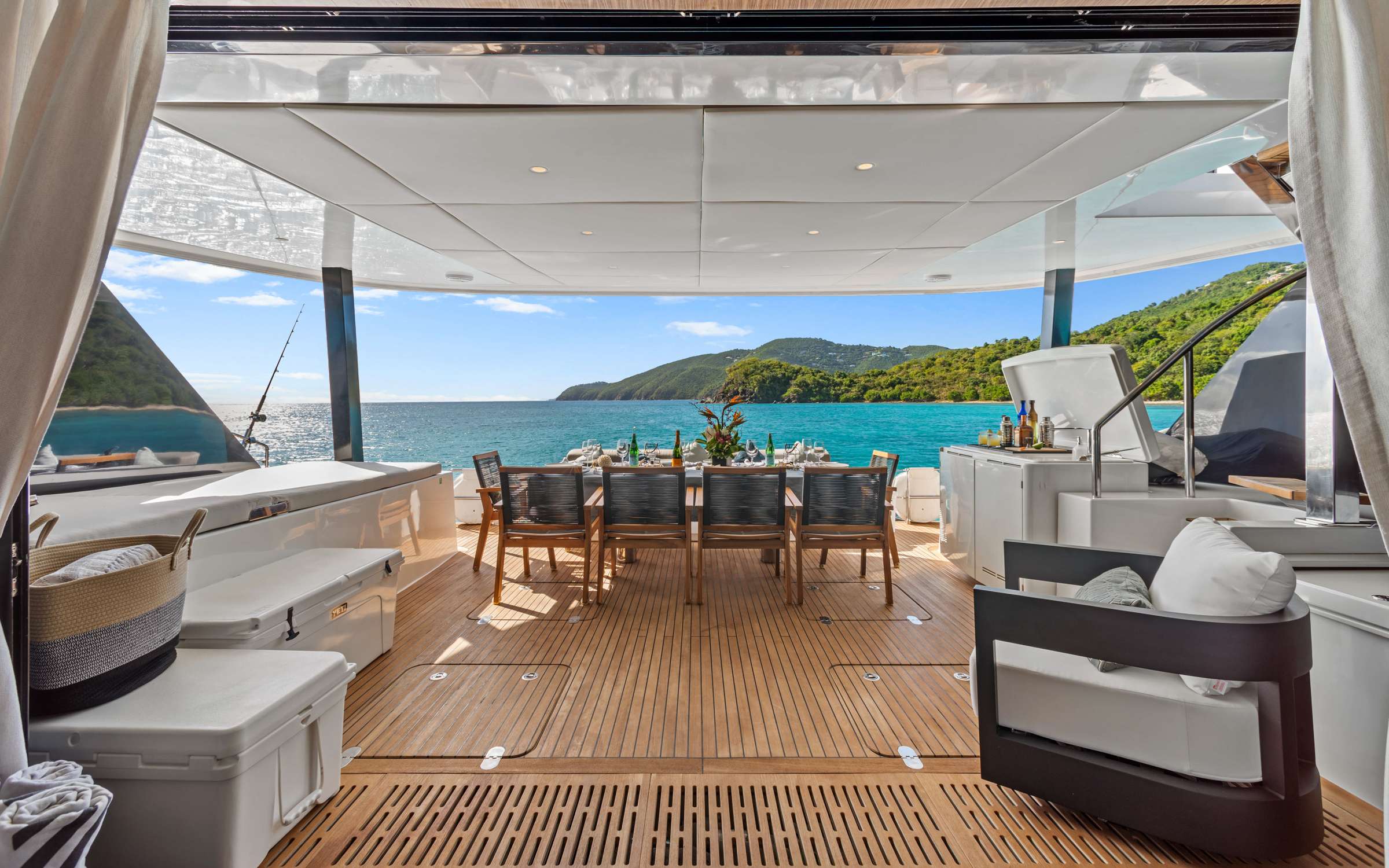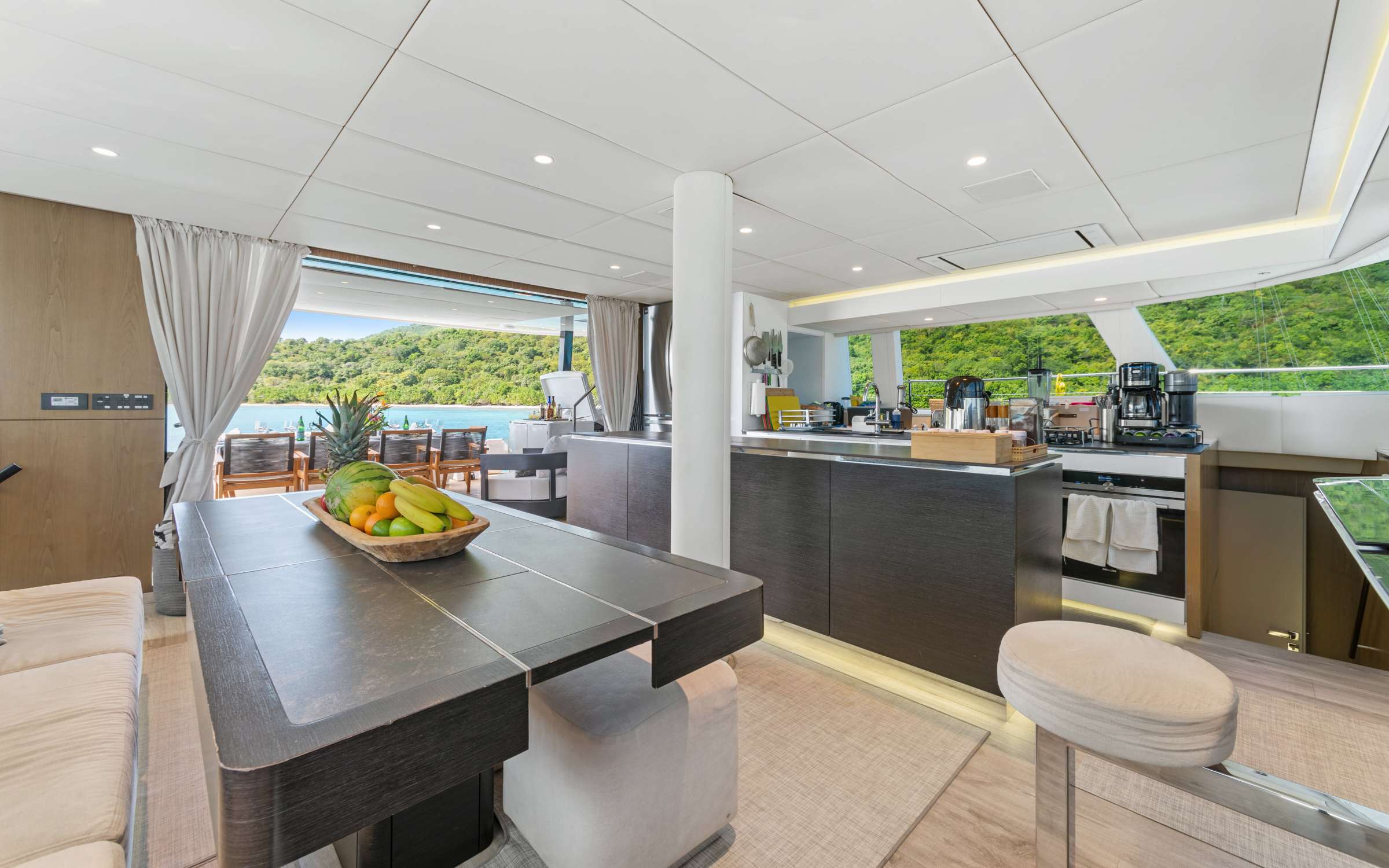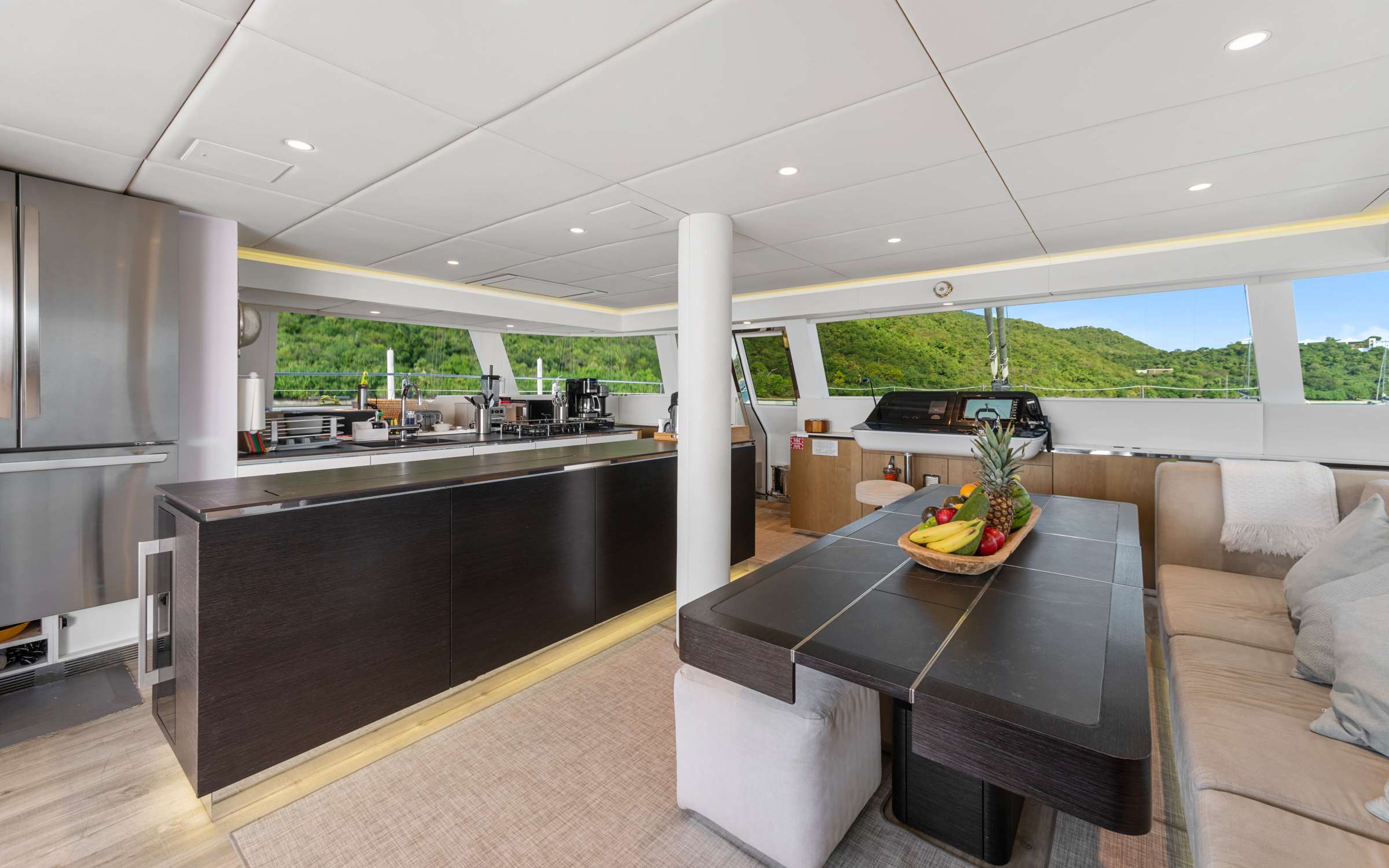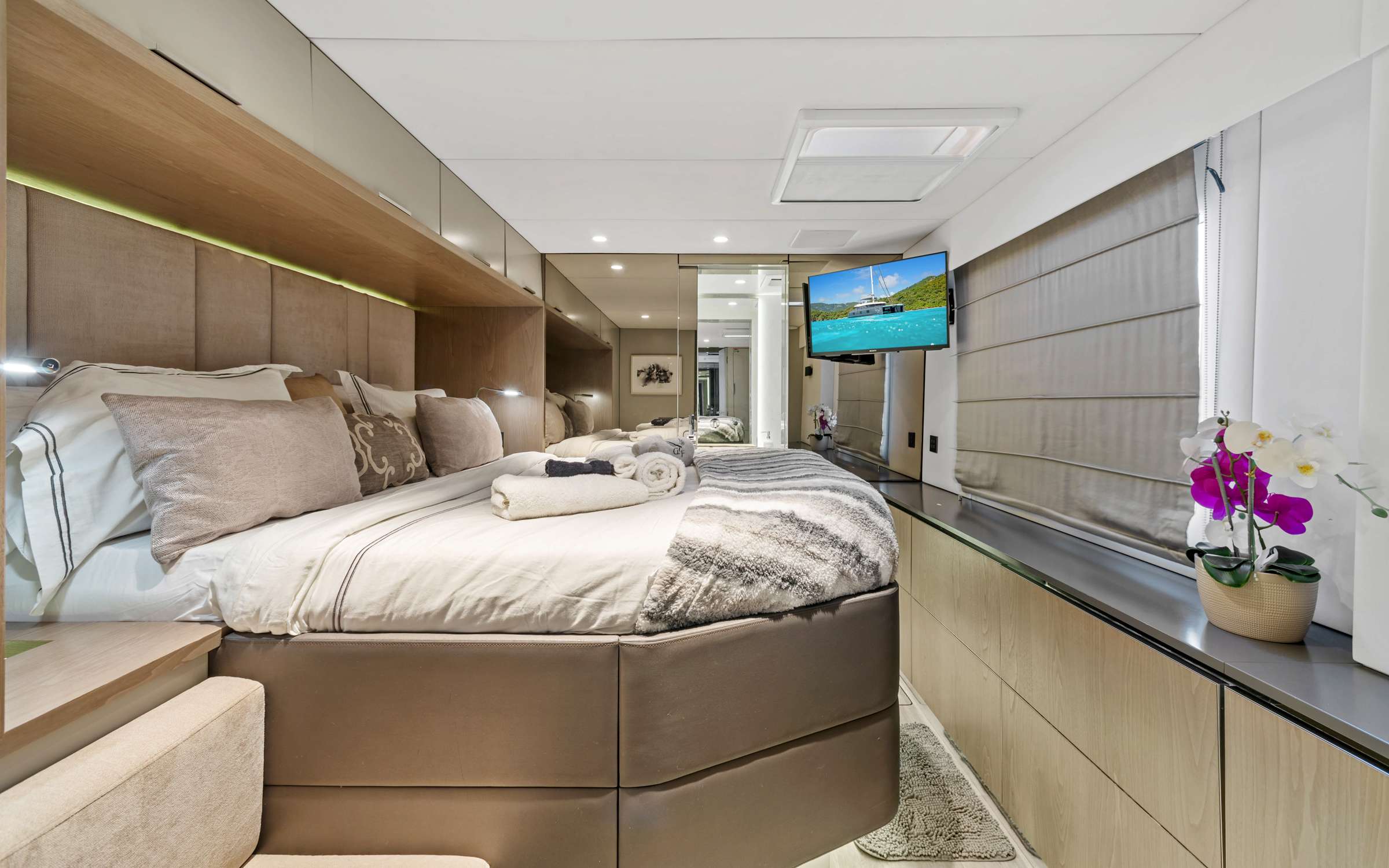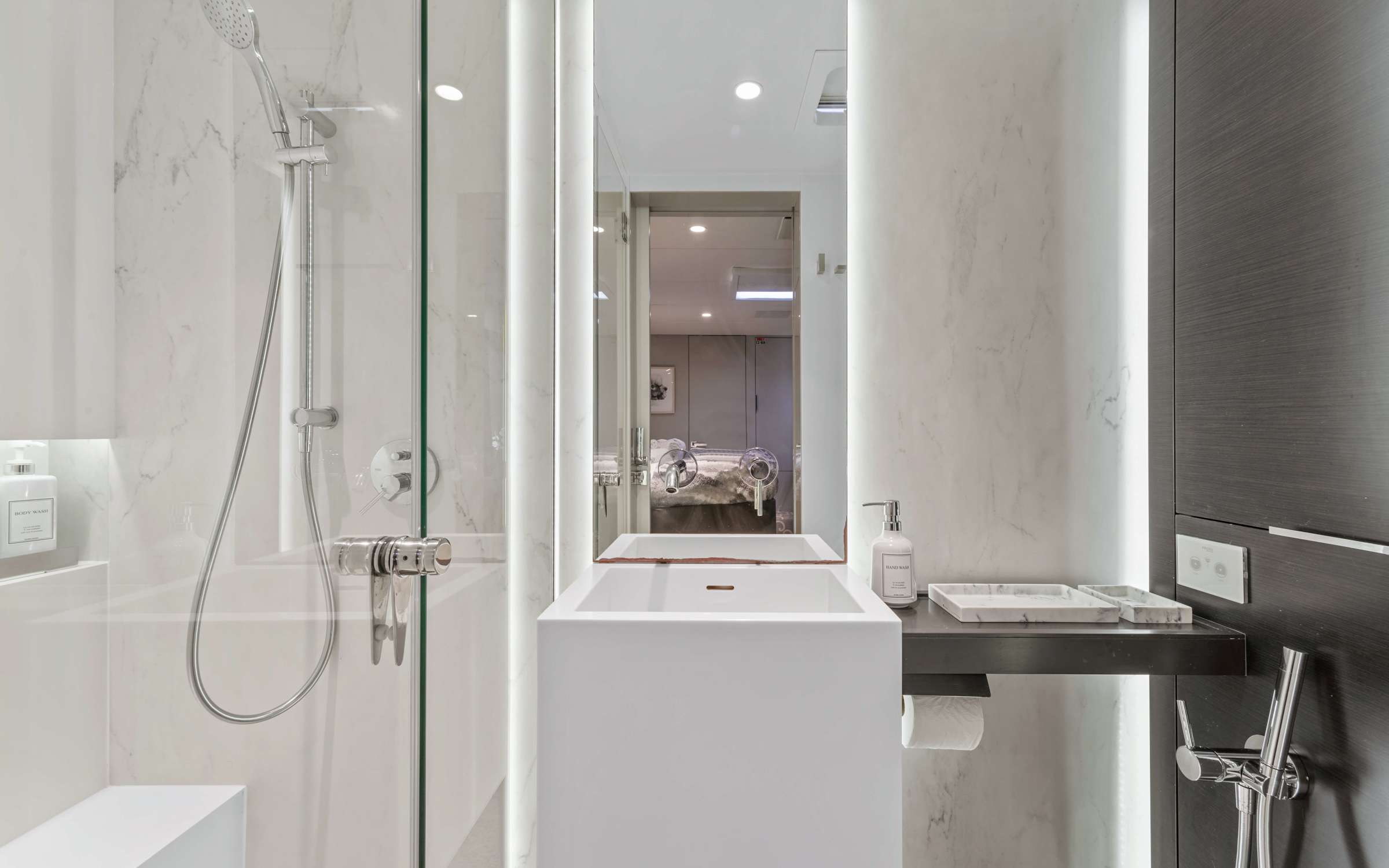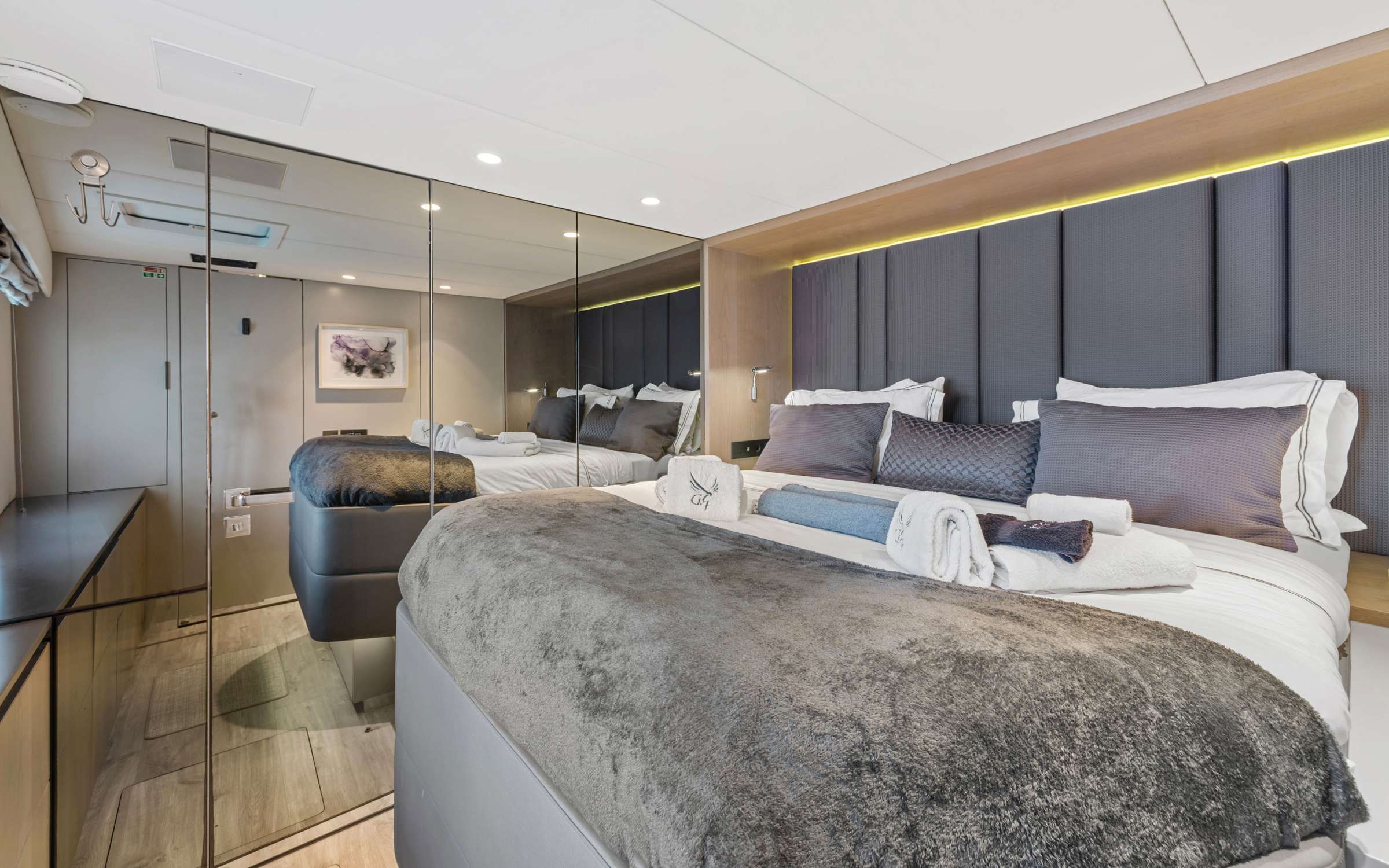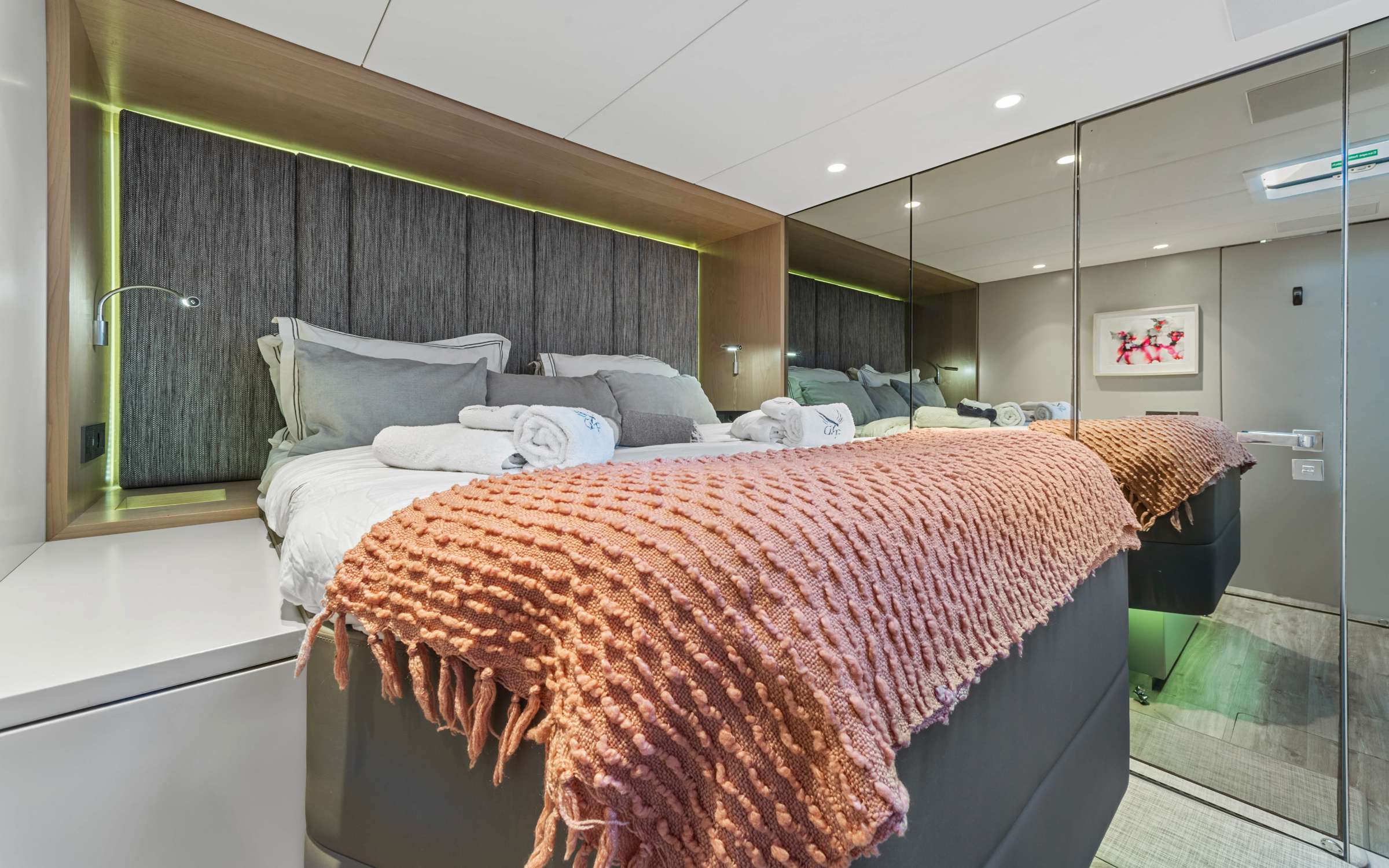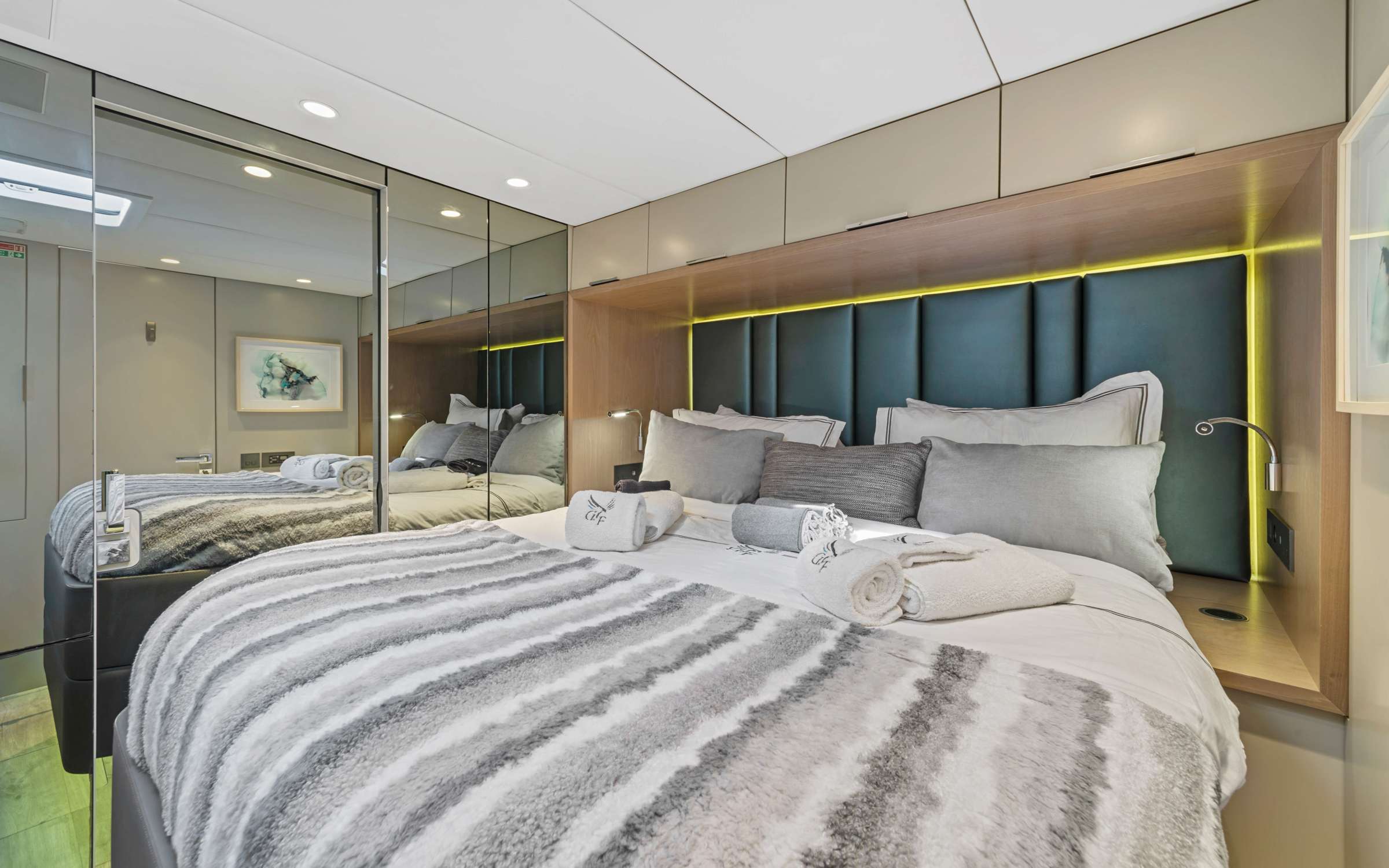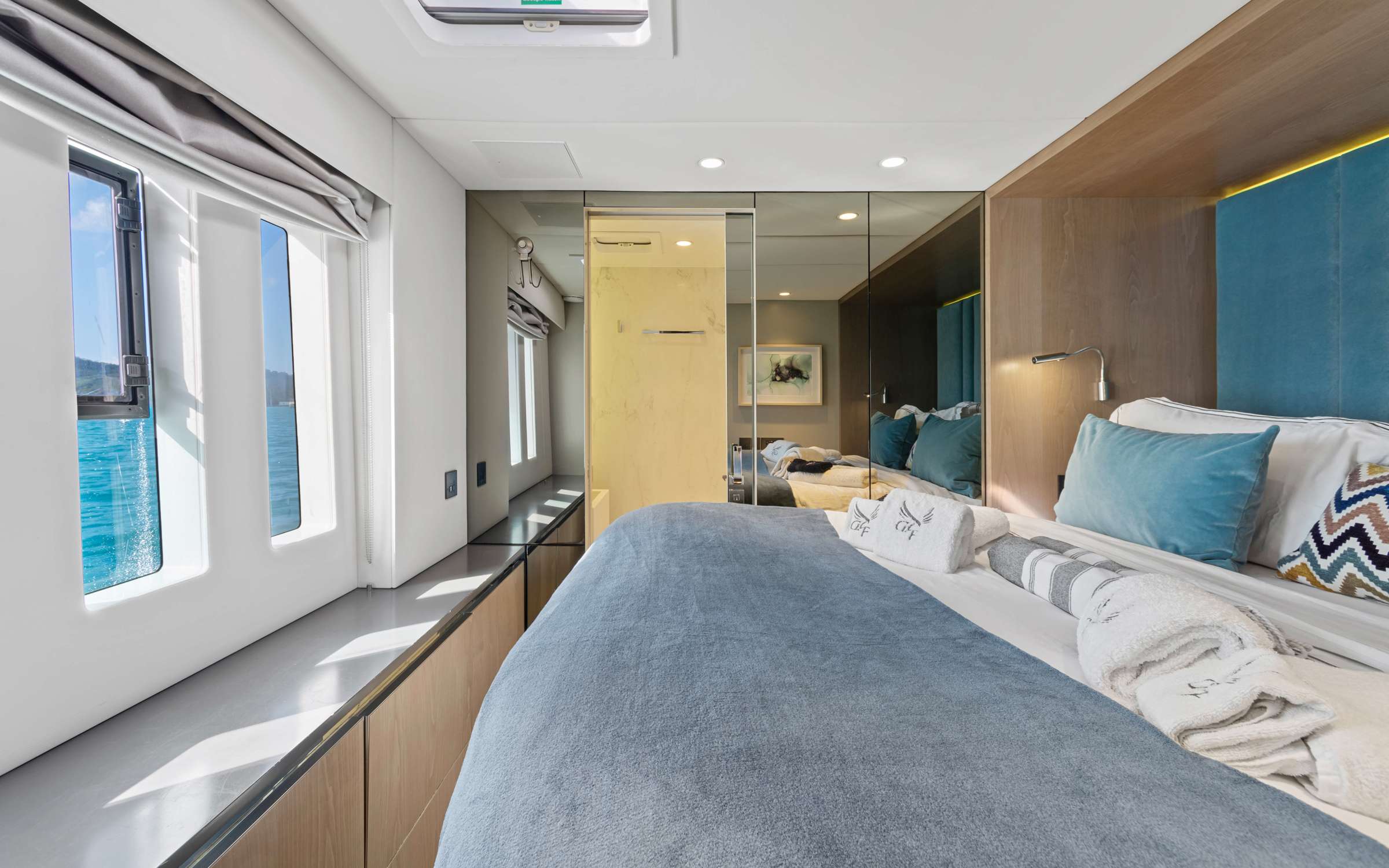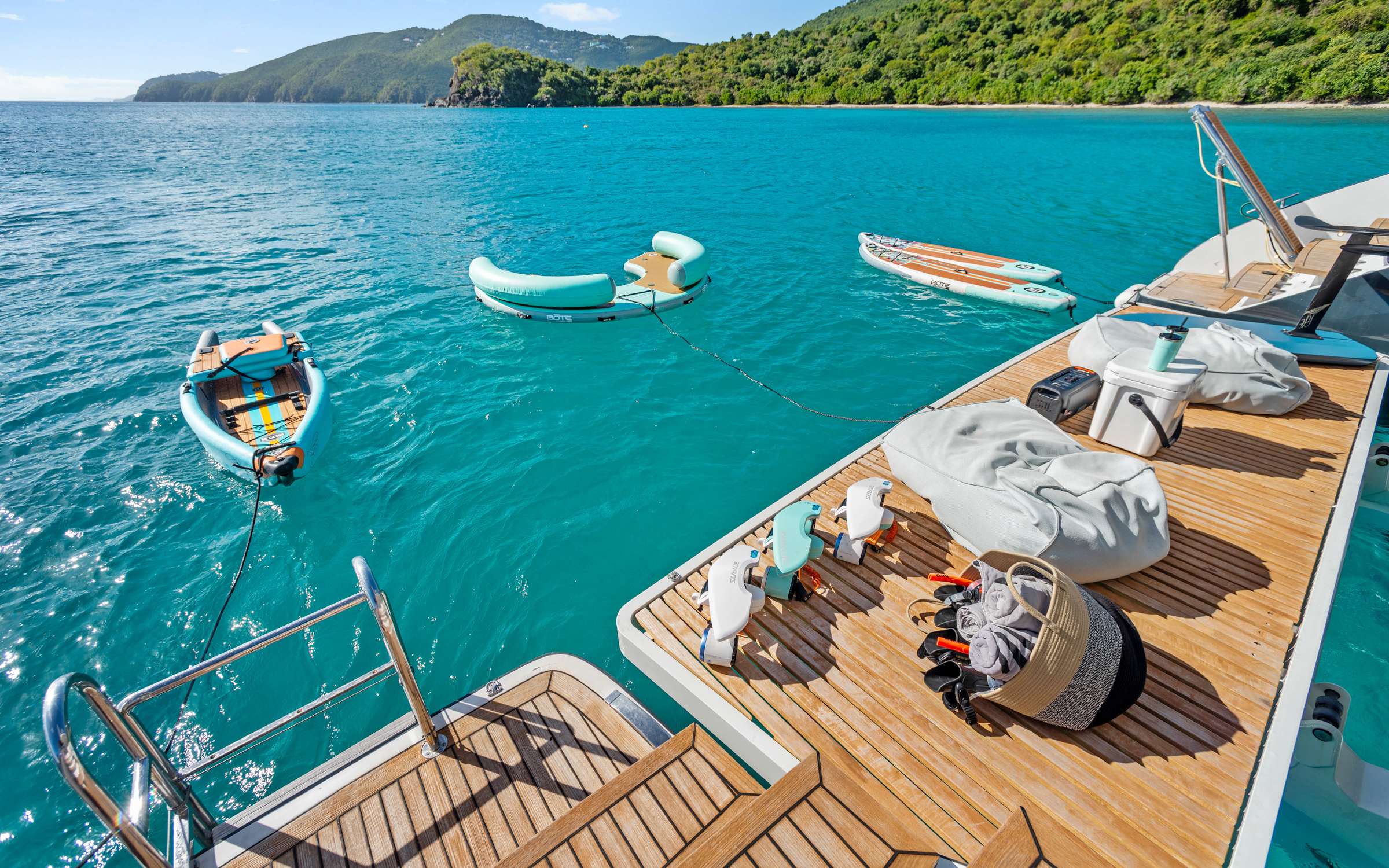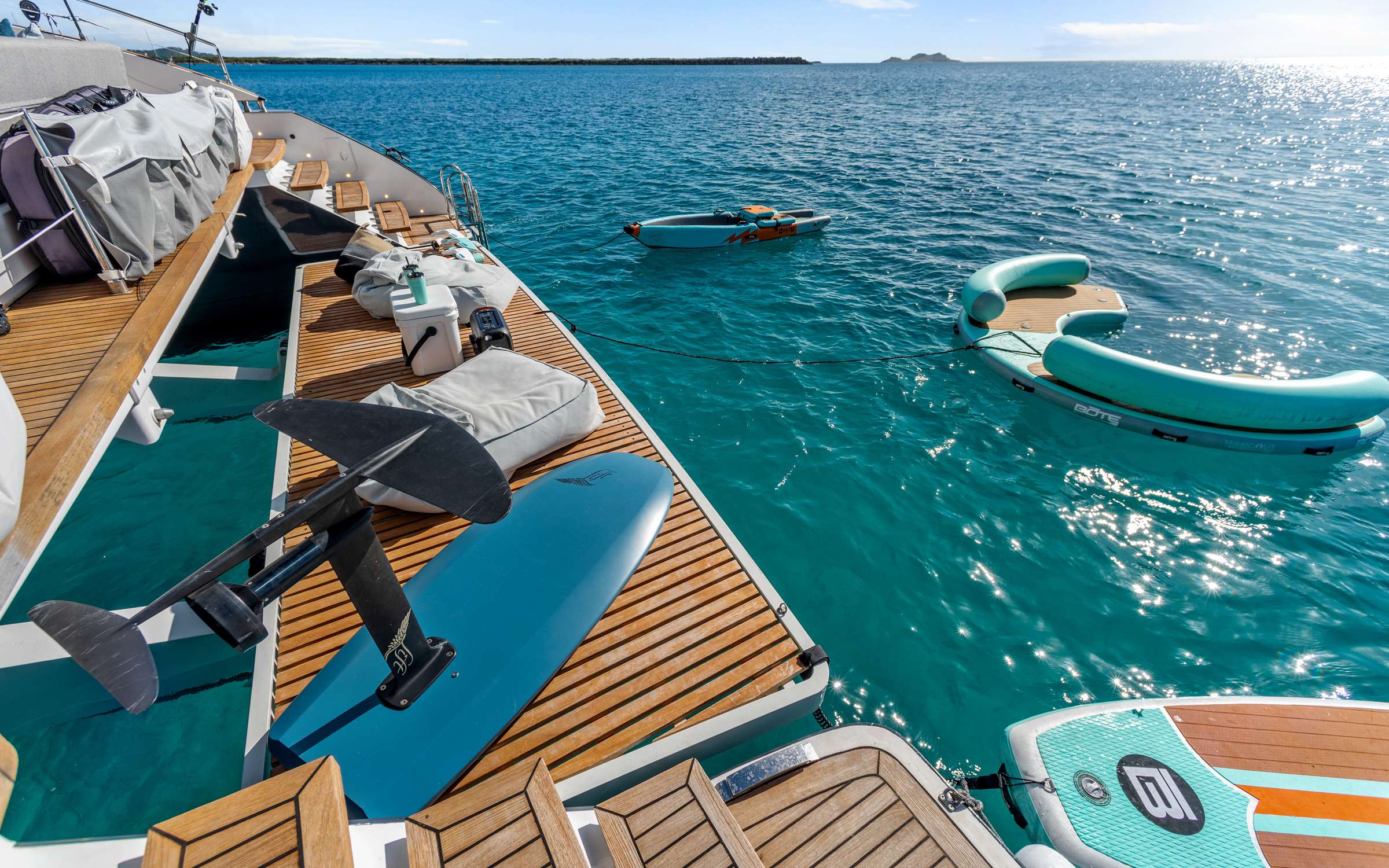 Accommodations
| | |
| --- | --- |
| Sleeps 10 guests in 5 guest stateroom(s). | |
| 5 with Queen Bed(s) | |
Details
1 x Master Cabin
4 x Guests Cabins
Layout Diagram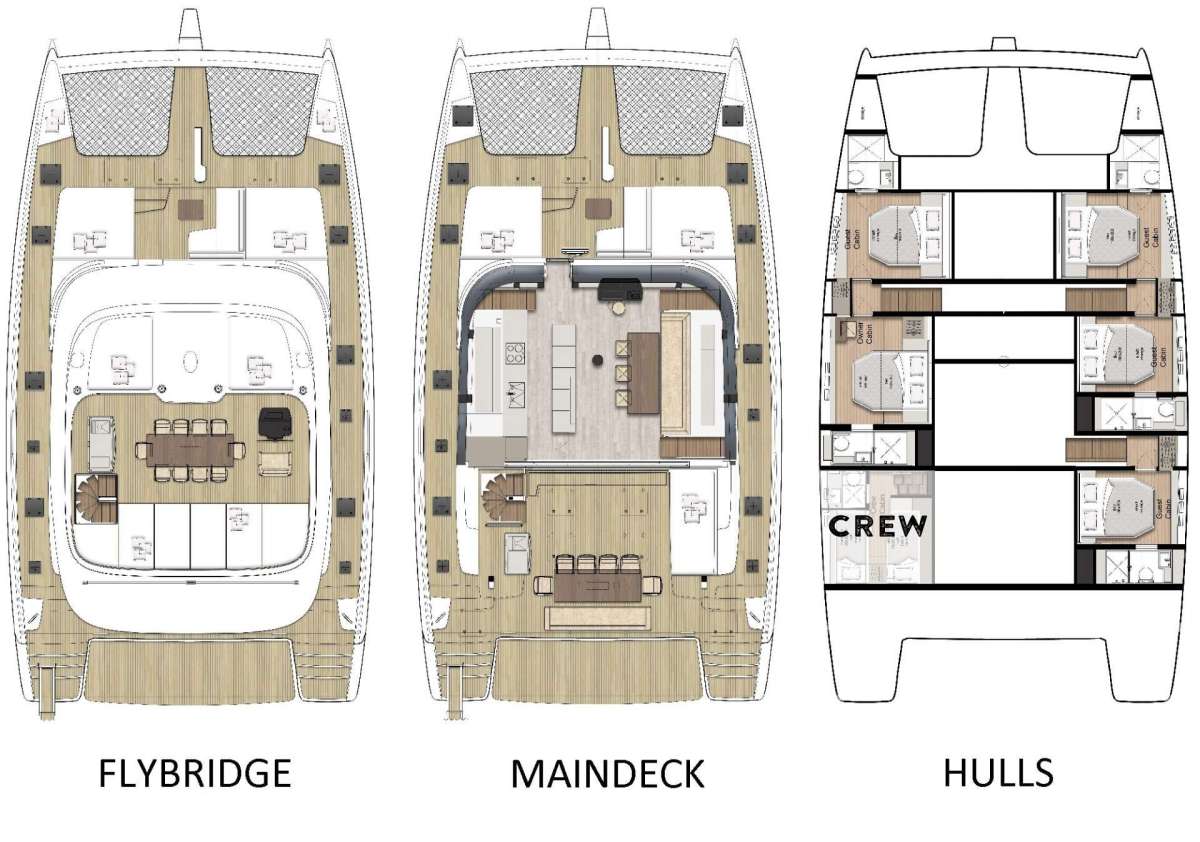 Specifications
| | |
| --- | --- |
| Guests | 10 |
| Staterooms | 5 |
| # Of Crew | 3 |
| Length | 60.00 Ft / 18.00 m |
| Beam | 33' 6 ft |
| Draft | 5' 11 ft |
| Built - Refit: | 2019 - No Refit Date Set |
| Builder | Sunreef Yachts |
| Cruising Speed | 8 |
Watersports
| | |
| --- | --- |
| Dinghy | ZAR 490 |
| Dinghy HP | 90 |
| Paddle Boards | Yes |
| Double Kayaks | Yes |
| Wakeboards | Yes |
| Snorkeling gear | Yes |
| Inflatable, towable tubes | Yes |
| Scuba Diving | Yacht offers Rendezvous Diving only |
Other Toys
starlink
Foil board
underwater scooters


SUMMER 2023 REFIT DETAILS:
1) New engines Yanmar 150, with 2 new electric stations, installation Sept 25th
2) New transmissions ZF 68IV drive Installation Sept 25th
3) Complete overhaul of the port generator including, fluids flush, belts, filters, water pumps, heat exchangers, valve adjustments, and electrical sensors
4) Complete overhaul of the Starboard generator including, fluids flush, belts, filters, water pumps, heat exchangers, valve adjustments, and electrical sensors
5) New electrical contactors for reliability of power delivery from Genset/Shore power to vesel
6) Bow thruster reconditioning, including refurbished motor new bearings, brushes, and springs, new solenoid, new temp sensor, new clutch,and new controller
7) New batteries for the entire vessel:14 victron AGM 200 amp hour for house, 2 group 31 AGM engine and genset start batteries
8) New AC chillers, including raw water pumps, chiller water circulation pump, 3 new remote screens, and reconditioned air handlers, pressure tested.
9) Watermaker new raw water boost pump and high pressure pump seals installed and new data cable for remote panel and pickled, Tested and proved
10) New 100 liter Dometic freezer for larger storage capacity of food, Installation Sept 30th
11) Dinghy fully patched and rewired , engine completely serviced with new OCA custom splash cover
12) Dinghy steering throttle and shifting redone, entire fuel system gone through, new bilge pump and transom dive ladder
12) Starlink installation with router and modem linked and tested
13) Canvas for shades redone exterior shade off of stern.
14) Canvas for exterior seat redone, Installation Sept 30th
15) Anchor windlass motor refurbished with new brushes, bearings, and fully serviced with new chain counter sensor
16) New anchor chain 250' 1/2 inch G4 high tensile with rhode
17) New trampolines with new trim pieces.
18) Hydraulic ram seals redone and fluid changed on steering rams, Sept 30th
19) New Navigation lights
20) New underwater lights
21) Roller furler motor done on inner staysail with new bushings
22) New rug liner for saloon area
23) New bilge pumps and control module for entire vessel 4 stations with Automatic and manual features
24) New Tecma head components including, macerators, display screens, valve solenoids and brain modules
25) New Johnson black water pump out system for holding tanks
26) New Johnson grey water sump boxes and pumps
27) Teak restored with snappy teak and Simco throughout entire vessel
28) New boat graphics and decals, including new paint job spring 2023
29) Saloon Door parts replaced and functioning
30) Vessel upholstery cleaned with machine
31) Forward waterproof door to bow repaired and operating
32) Wago system for multiplexing repaired and operating normally
33) Water heater heating elements and thermostats replaced and tested.
34) Port and starboard engine room ventilation louvers repaired and blower motor extractors replaced
35) House water pump and accumulator redesigned and installed, headhunter system 10 gallons per minute 67 psi
36) Fireboy fire control system repaired and tested with certification
37) Exterior courtesy lights on transom repaired and replaced
38) Haulout and bottom paint job on vessel to be performed Oct 10-15th
39) Saloon electric table repaired and operational
40) Saloon Television control for lift raising and lowering repaired and operational
41) Forward bow area tent shade repaired and functioning
42) Main refrigerator and freezer overhaul including seals and latches
43) Interior cabinet slides and hinges done with locking mechanisms
44) New fenders with covers, October 10th
45) New cushions in Main saloon area
46) Tender lift remote and system checked
47) New fire extinguishers with tags
48) Electric winch servicing
49) Life rafts removed and repacked with inspections and new tags
50) Running rigging inspection and new preventer line
51) Exterior deck wash shower with Hot and cold mixer installed
52) B and G electronics tested and updated.
53) head sail to quantum for restitching of suncover
54) interior decor and table settings
55) galley appliances
56) glasses/plates and dining linens
Pricing
From:
45,000

To:
49,000
Summer 2023
| | |
| --- | --- |
| 2 Guests | 45,000 |
| 3 Guests | 45,000 |
| 4 Guests | 45,000 |
| 5 Guests | 45,500 |
| 6 Guests | 46,000 |
| 7 Guests | 46,500 |
| 8 Guests | 47,000 |
| 9 Guests | 47,500 |
| 10 Guests | 48,000 |
Winter 2023 to 2024
| | |
| --- | --- |
| 2 Guests | 46,000 |
| 3 Guests | 46,000 |
| 4 Guests | 46,000 |
| 5 Guests | 46,500 |
| 6 Guests | 47,000 |
| 7 Guests | 47,500 |
| 8 Guests | 48,000 |
| 9 Guests | 48,500 |
| 10 Guests | 49,000 |
Summer 2024
| | |
| --- | --- |
| 2 Guests | 46,000 |
| 3 Guests | 46,000 |
| 4 Guests | 46,000 |
| 5 Guests | 46,500 |
| 6 Guests | 47,000 |
| 7 Guests | 47,500 |
| 8 Guests | 48,000 |
| 9 Guests | 48,500 |
| 10 Guests | 49,000 |
Pricing Details
Additional Rate Details:
Minimum charter length: 4 nights
FOR LESS THAN 7 NIGHT CHARTERS:
For 6 nights, divide by 7N X 6N. For less than 6 nights, divide by 6N X number of nights.

​BVI COMPLIANCE FOR THE 2023/2024 SEASON:
Cruising Grounds: ​​British Virgin Islands & U.S. Virgin Islands
​Pick Up/Drop Off: St. Thomas or Tortola
Yacht: BVI-Based
Crew: Permanent Annual Work Permits
​BVI Customs & Cruising Permit Fees: Included

LOCAL FARE: Includes 7 breakfasts, 5 lunches and 6 dinners, happy hour canapes, standard ships bar and snacks. Meals ashore are additional. 2@$45,850 | 3@$45,775 | 4@$45,700 | 5@$46,125 | 6@$46,550 | 7@$46,975 | 8@$47,400 | 9@$47,825 | 10@$48,250

HALF-BOARD: Includes 7 breakfasts, 4 lunches & 3 dinners, happy hour canapes, standard ships bar and snacks. Meals ashore are additional. 2@$45,700 | 3@$45,550 | 4@$45,400 | 5@$45,750 | 6@$46,100 | 7@$46,450 | 8@$46,800 | 9@$47,150 | 10@$47,500

7 night minimum over Christmas and New Years for 2-10 guests.
2023/2024 already booked.
Please inquire about 2024/2025.

Standard Caribbean Terms, all-inclusive.

The rates include:

• Private Yacht & Service of the crew (captain, chef/first mate)
• Local taxes
• Insurance for the yacht and the passengers (civil liability)
• Accommodation in 5 private air-conditioned cabins with ensuite bathroom
• Bedding, towels and beach towels
• Full board: breakfast, lunch, and dinner including soft drinks, beer, wine and cocktails
• Consumables for the yacht (diesel, fuel, and water)
• Water sports on board: snorkeling gear, kayak, fishing rod, underwater scooters, SCUBA, SUP
• Mooring fees, cruising taxes, park fees

The rates do not include:

• Cancellation Insurance and private insurance
• Premium beverage requests
• Dockage
• Transfer airport – base – airport
• Personal expenses
• Gratuity - suggested is 15-20% of total charter fee.


Base Port: Tortola, BVI
Winter Operating Area: Caribbean Virgin Islands, Caribbean Leewards, Caribbean Windwards





PLEASE INQUIRE FOR FURTHER PRICING DETAILS
Crew Profile


Born in Dublin, Ireland but spent his early years in the heart of London, alongside the iconic River Thames, fostering a deep-seated passion for sailing and power-boating since the age of 8. Throughout his years, Adam honed his skills in both match-fleet and powerboat racing, earning recognition for Team GB during his teenage years. It became abundantly clear that Adam's lifelong ambition was to become a successful Captain. In 2015, Adam achieved his Yacht-master Offshore 200-ton License, encompassing both Sail and Motor yachts. Waste no time he did, promptly immersing himself in the maritime industry. Over the course of seven years, his commitment and determination have propelled him to command various private and charter vessels.

Captain Adam takes immense pride in delivering an exceptional charter experience for all who step aboard. In his own words, "There is nothing more gratifying than taking guests to the world's most remarkable and secluded destinations, all while providing a personalized 5-star experience." This dedication to excellence has forged lasting friendships with numerous clients who return for future charters, attesting to Adam's exceptional service. With a delightful sense of humor and a supremely knowledgeable crew alongside him, Captain Adam ensures that your every need and desire will be diligently attended to during your voyage aboard Gyrfalcon. Your comfort and contentment are of paramount importance. Welcome aboard, where a journey with Captain Adam guarantees not only an excursion but a truly exceptional adventure.

Melissa Kodman

Melissa was born and raised in Phoenix Arizona and went on to attend university there as well. Her passion for traveling started at a young age and hasn't slowed down since! Six years ago she decided to make a career switch from sales and turn her focus on her love for cooking and seeing new places. Since then she's worked in Croatia, Montenegro, Greece, Italy, and throughout the Caribbean.

She has recently graduated from Ashburton Cookery School with a certificate in Culinary Arts. She can't wait to show you all the new things she's learned while you're on board. Melissa always tries to incorporate fresh and local ingredients to create a culinary experience you'll remember forever. With a reputation that precedes her, this chef leaves a trail of raving guests and unforgettable memories in her wake.

Adam and Melissa met working on a boat in the Bahamas and have been together ever since. This outgoing duo share the same enthusiasm for life and make a great team. Together they can't wait to show you around the British Virgin Islands and take you on a vacation you won't forget!

Chief Stewardess Danika Willows
I was born and raised in Durban, South Africa a country known for its beautiful beaches and great surf. The beach is where I spent most of my time growing up and where I convinced myself that the ocean is my home. My parents built and owned a boutique hotel where they hosted weddings, parties and all sorts of events. During this time I was able to see and learn about a variety of clientele and my passion for service began. I completed my primary and high school years here in Durban and when I left school I decided to get into beauty and entertainment. I worked as a nail technician and used my love for singing on the side line. My dad and my sister are both in the yachting industry. After hearing and learning about it I thought why not incorporate my love for the ocean, service and entertainment together and so I did and I have found my dream lifestyle.

I have been working on the water ever since. I began my journey in the Mediterranean as a stewardess where I was able to travel all around Europe learning and exploring different cultures. I loved my time in Europe but decided I was ready to try something slightly different. I made my way to the British Virgin Islands where I was able to expand my knowledge in all different areas including my stewardess role, being outside on deck as well as putting a smile on everyone's faces. I adapted to this lifestyle quickly and I am so excited to be doing another season in this enchanting paradise with amazing new people. I look forward to being apart of creating your trip of a lifetime.

** GYRFALCON has their own preference sheet. Please request from CA. **
Additional Information
Superb and elegant, GYRFALCON is a luxurious sailing Sunreef 60 catamaran launched in 2019. Destined for sailing adventures in ultimate comfort, GYRFALCON boasts a combination of exterior and interior areas easily flowing into one another. Her smart and well-designed layout offers sumptuous accommodation for 10 guests. Perfect to unwind and relax after a long day in the sun, five elegantly appointed en suite cabins with comfortable queen beds are designed in a soothing white and grey colour pallet. A generous saloon combined with a functional galley opens both onto the bow terrace and cockpit creating one huge lounging area. Decorated with bright powder blue accents, the saloon is equipped with a big unfoldable table and comfortable seating for 10, allowing guests to dine in comfort and relax in a homelike atmosphere. GYRFALCON features exterior spaces that are impressively vast and perfectly equipped for an unforgettable charter experience. The yacht's flybridge is ideal for revelling in pleasant sea breeze and spectacular views. Fitted with large sun pads, coffee tables, pouffes and a bar, it is the ultimate place to spend relaxing afternoons. Guests will also enjoy an additional terrace in the front benefitting from a cosy lounge which can be shielded from the sun. Operated by three outstanding crew members, GYRFALCON gifts an unparalleled experience in the world's most attractive yachting destinations.
Destinations