Gallery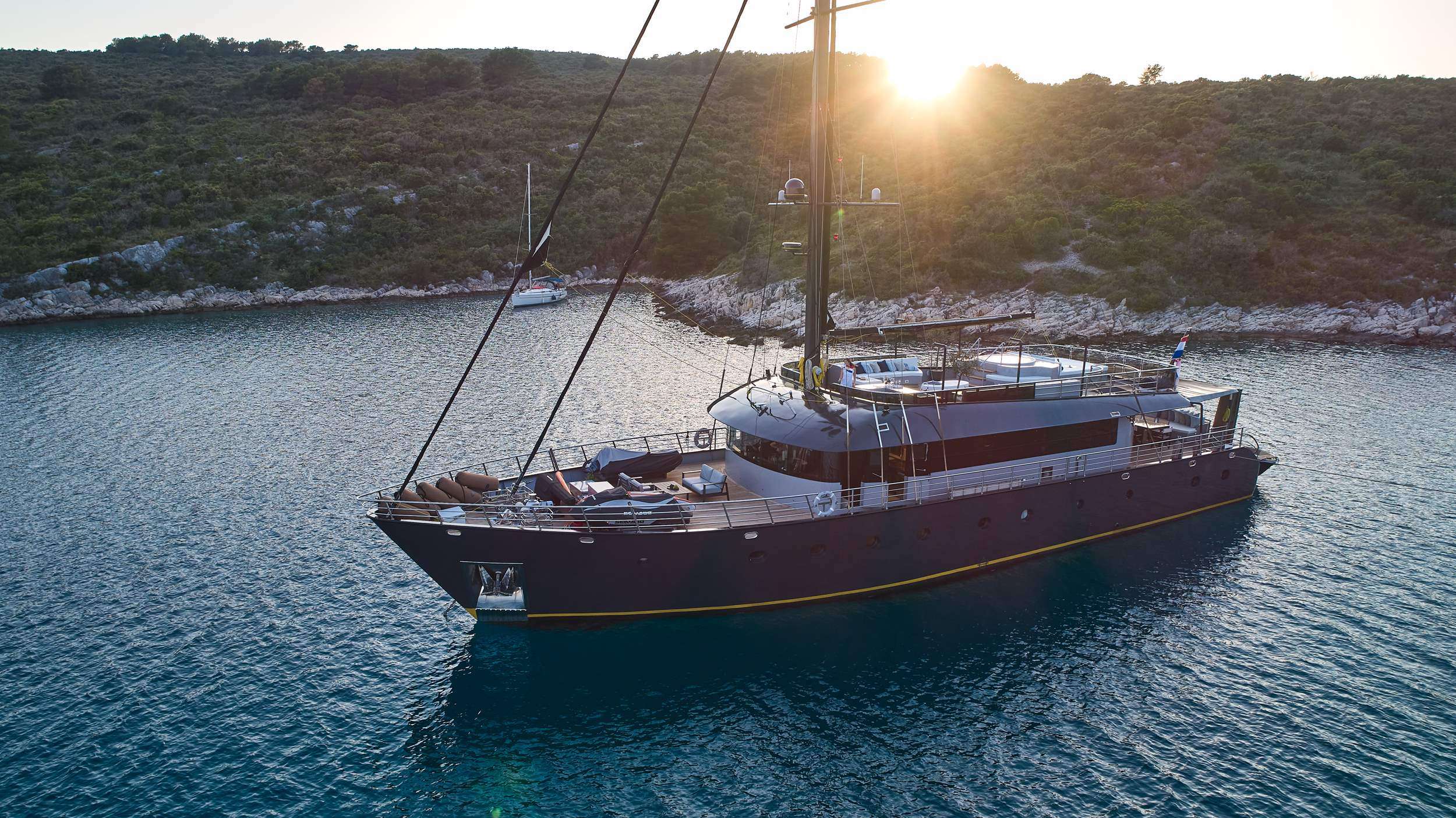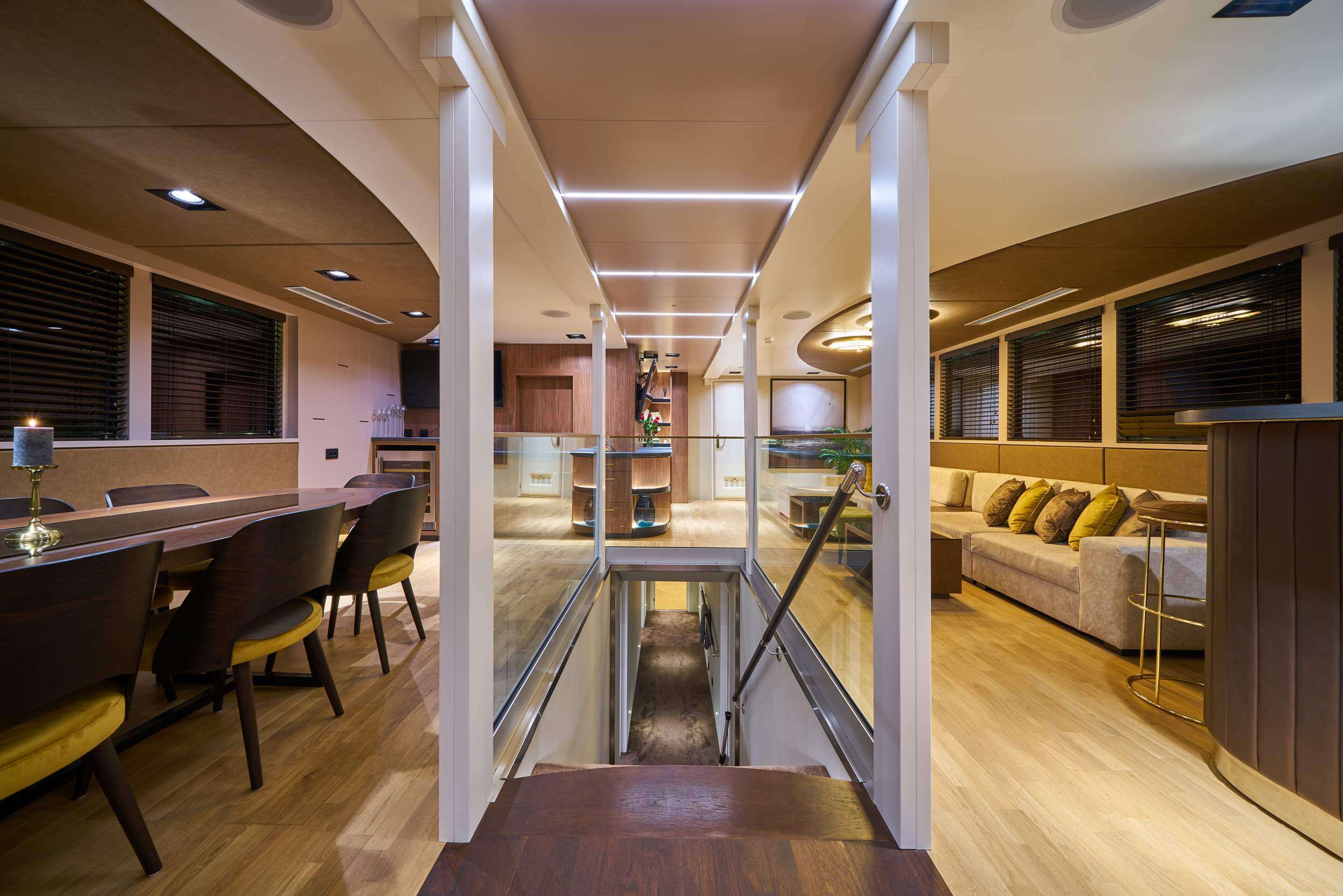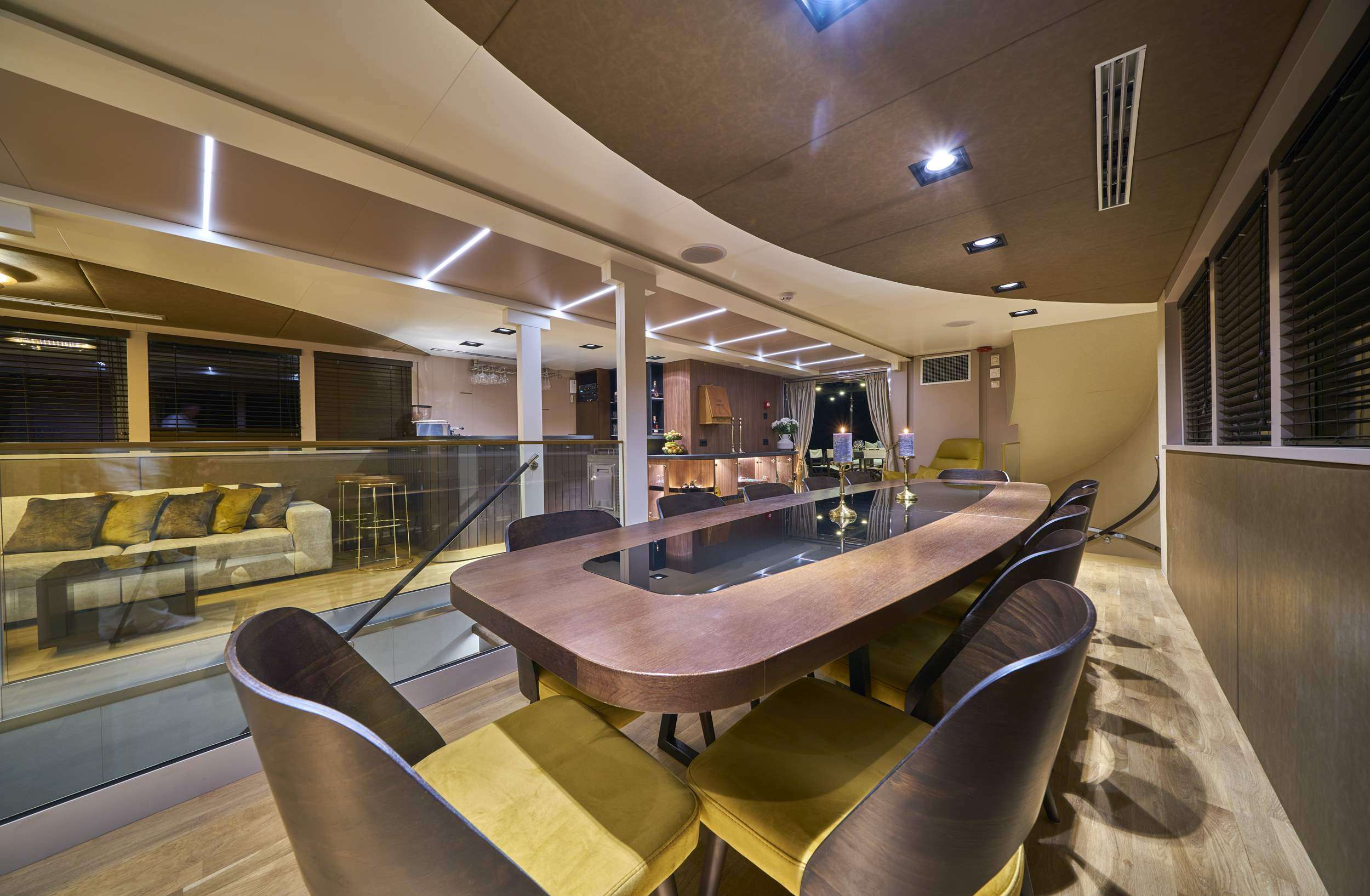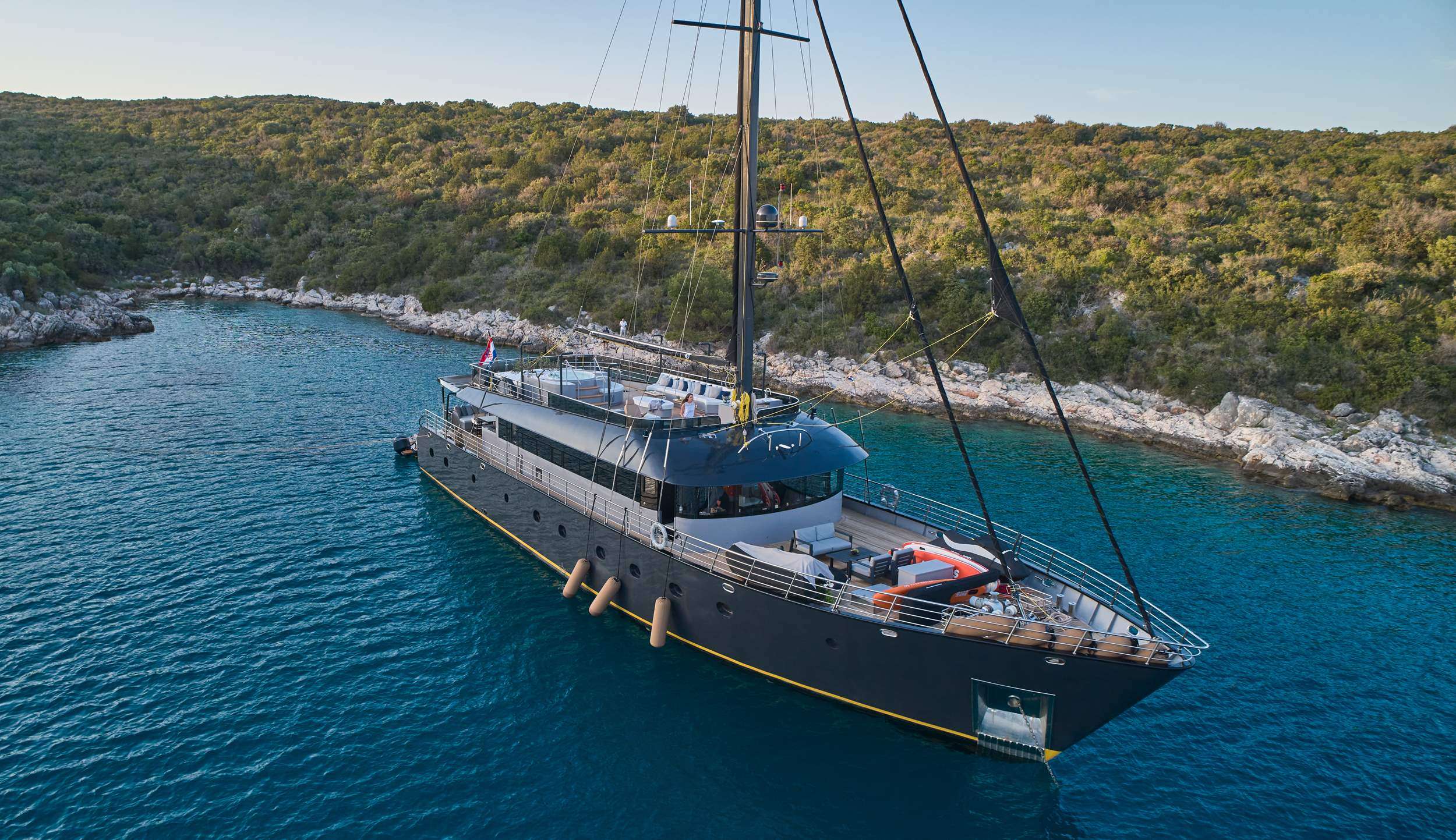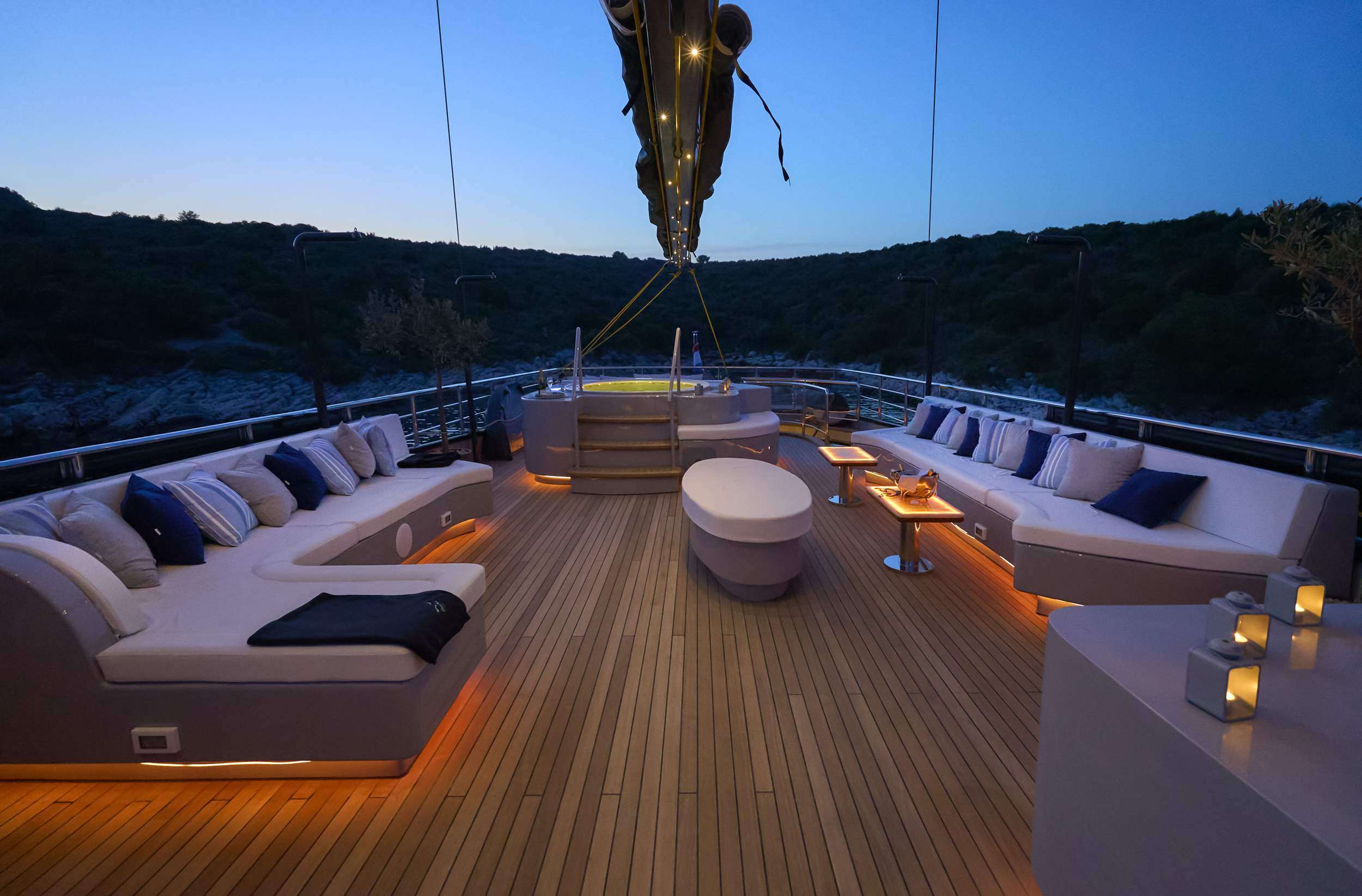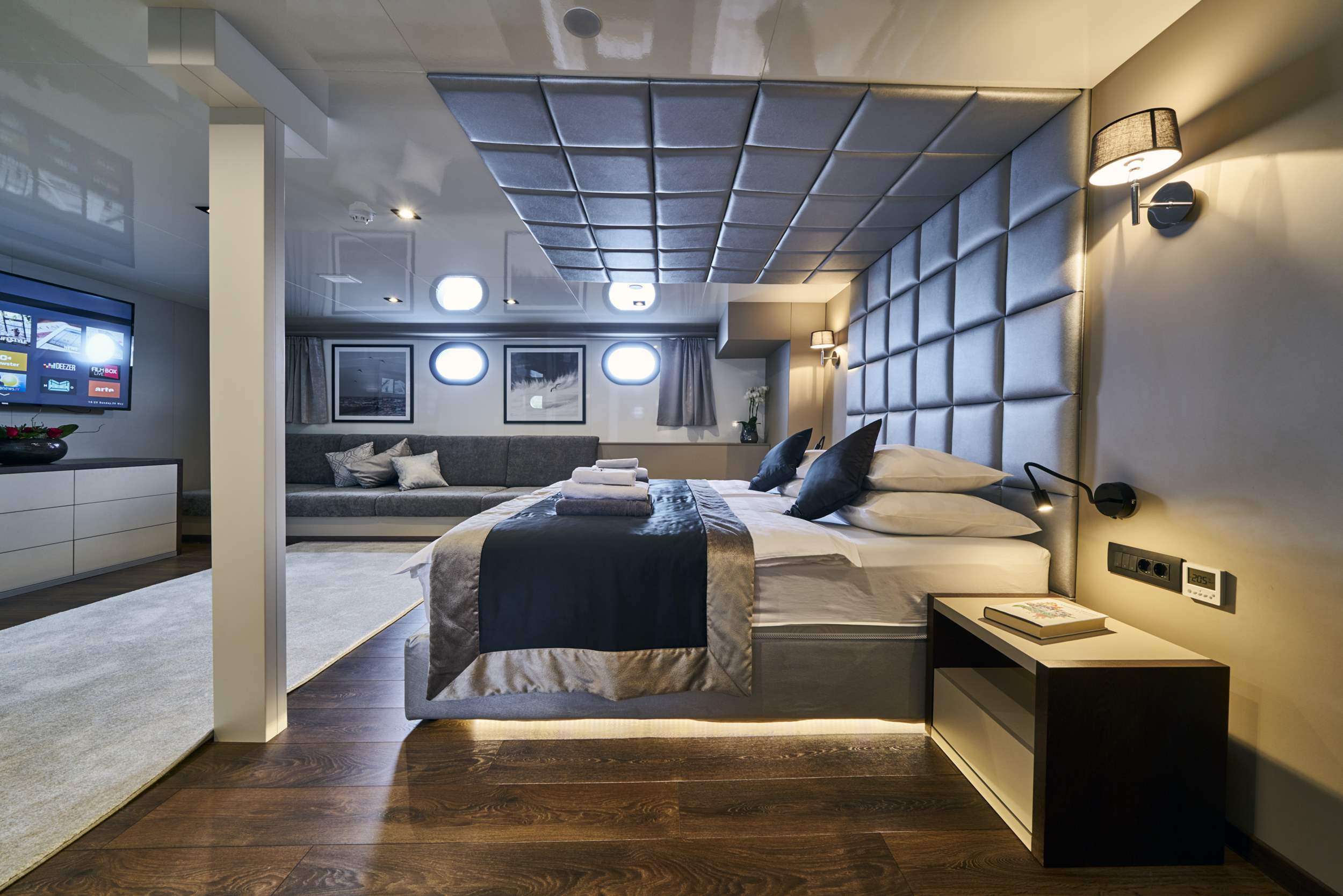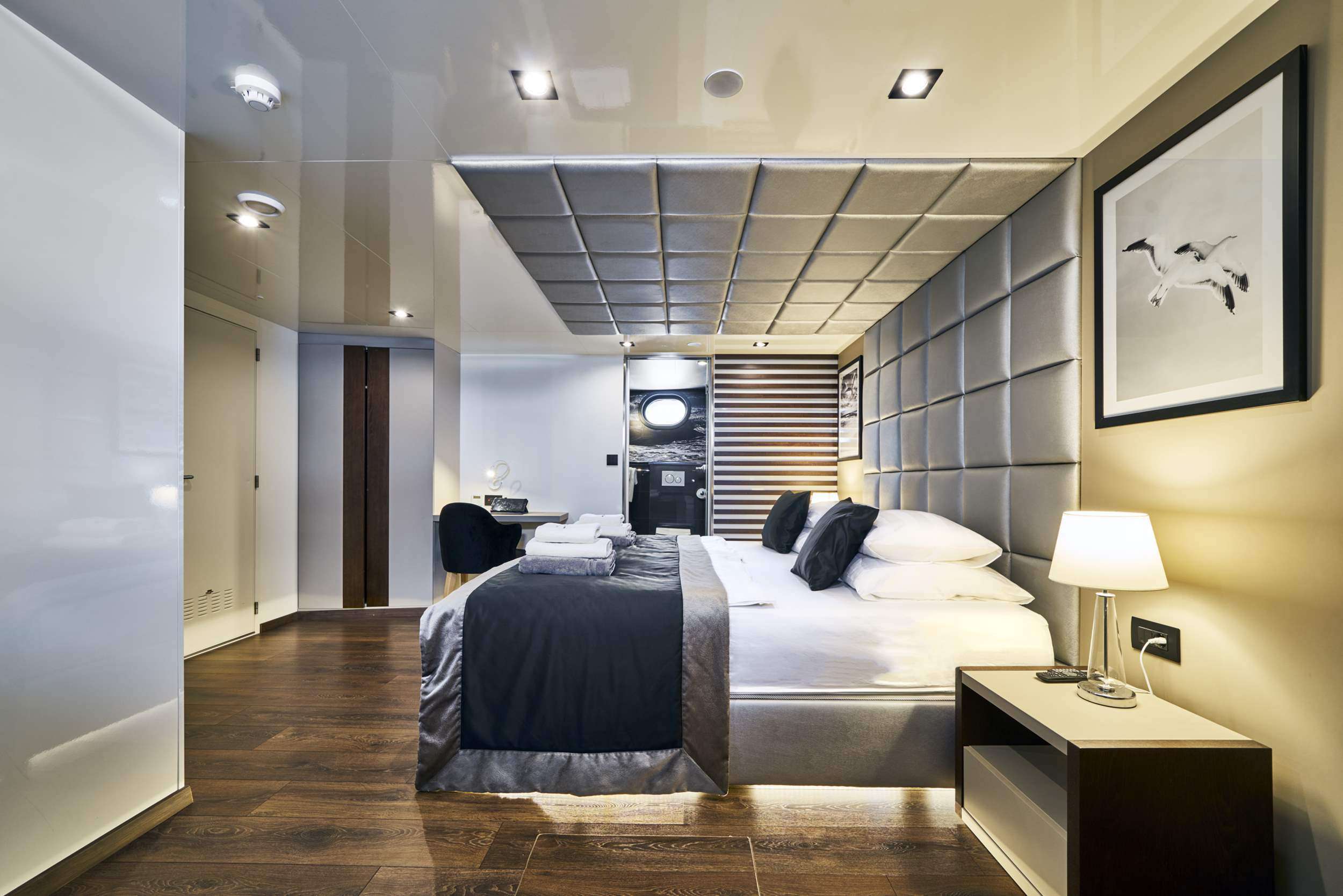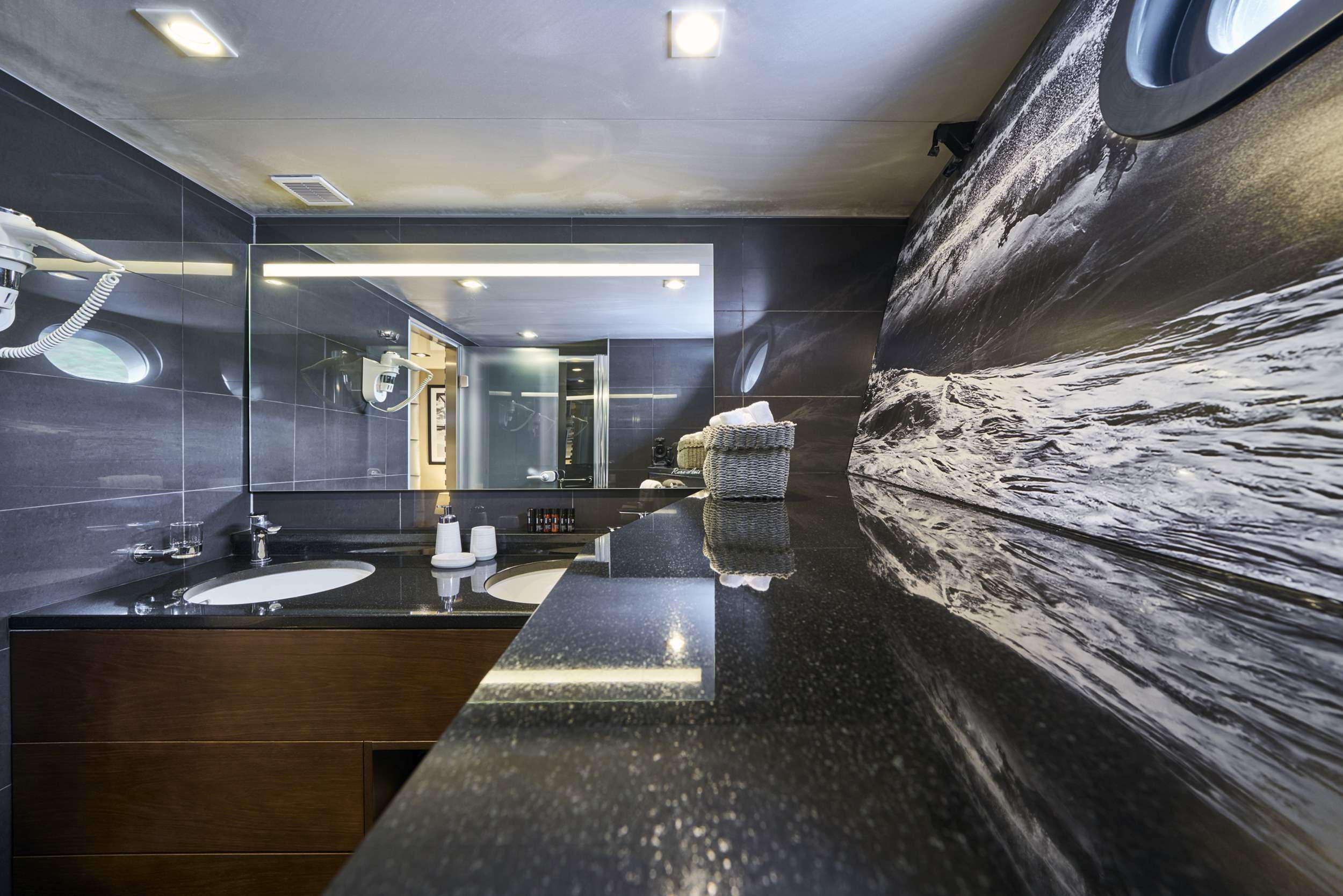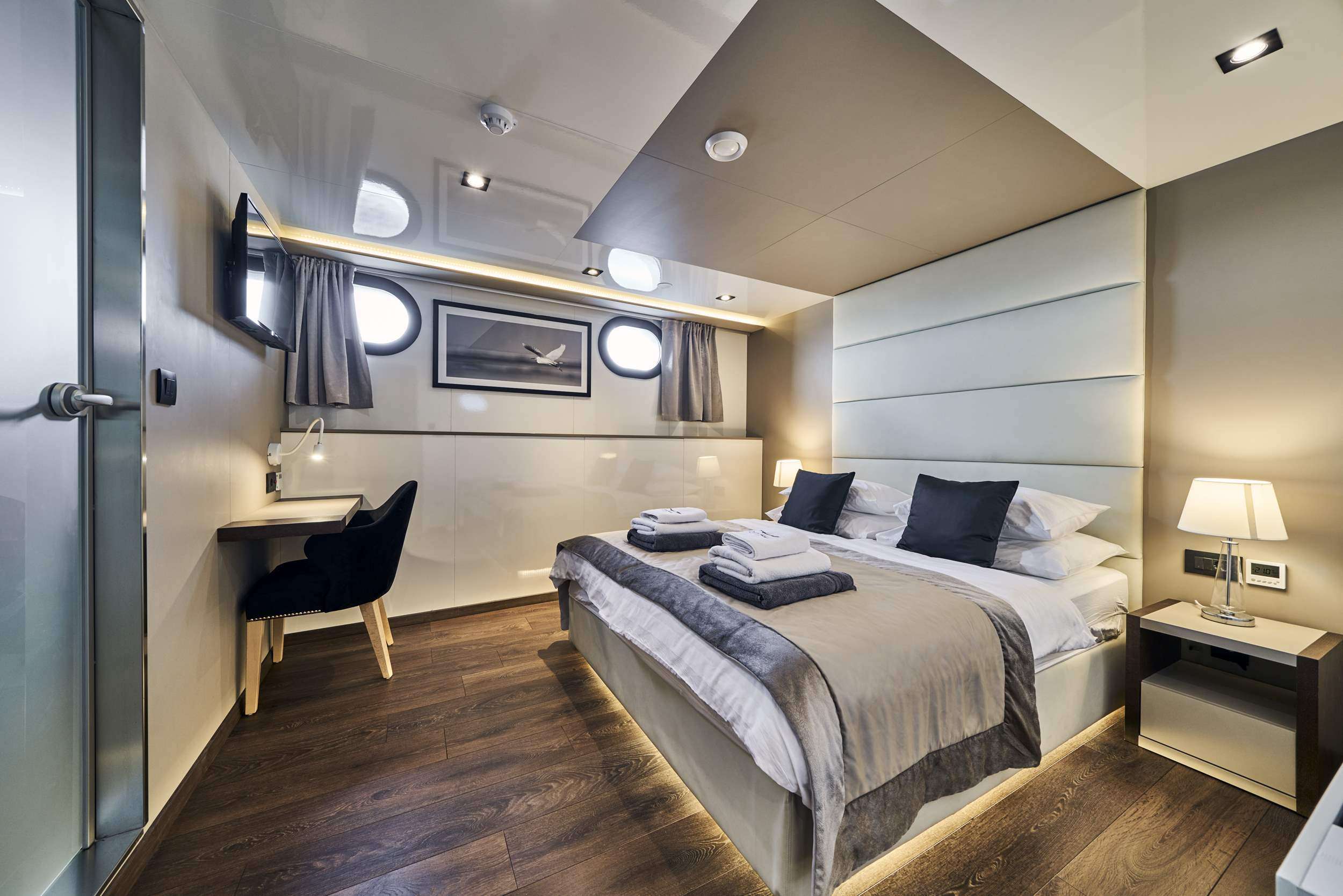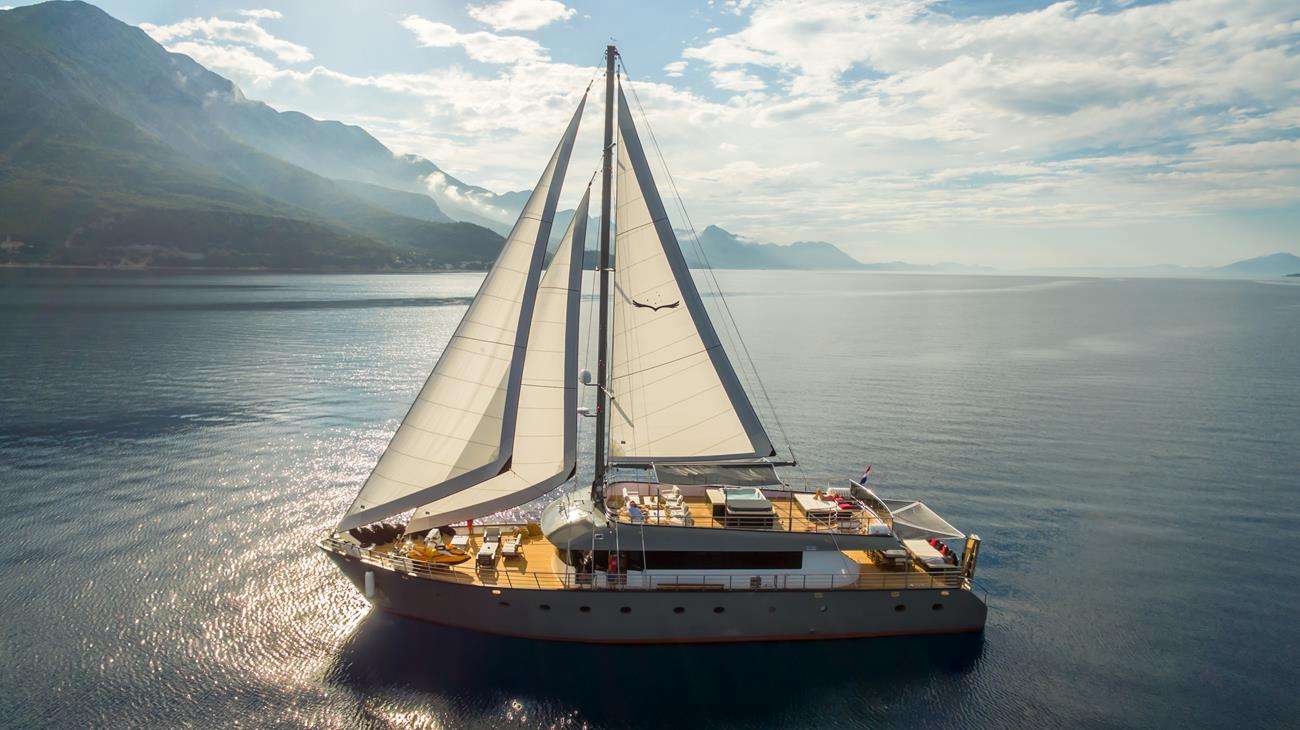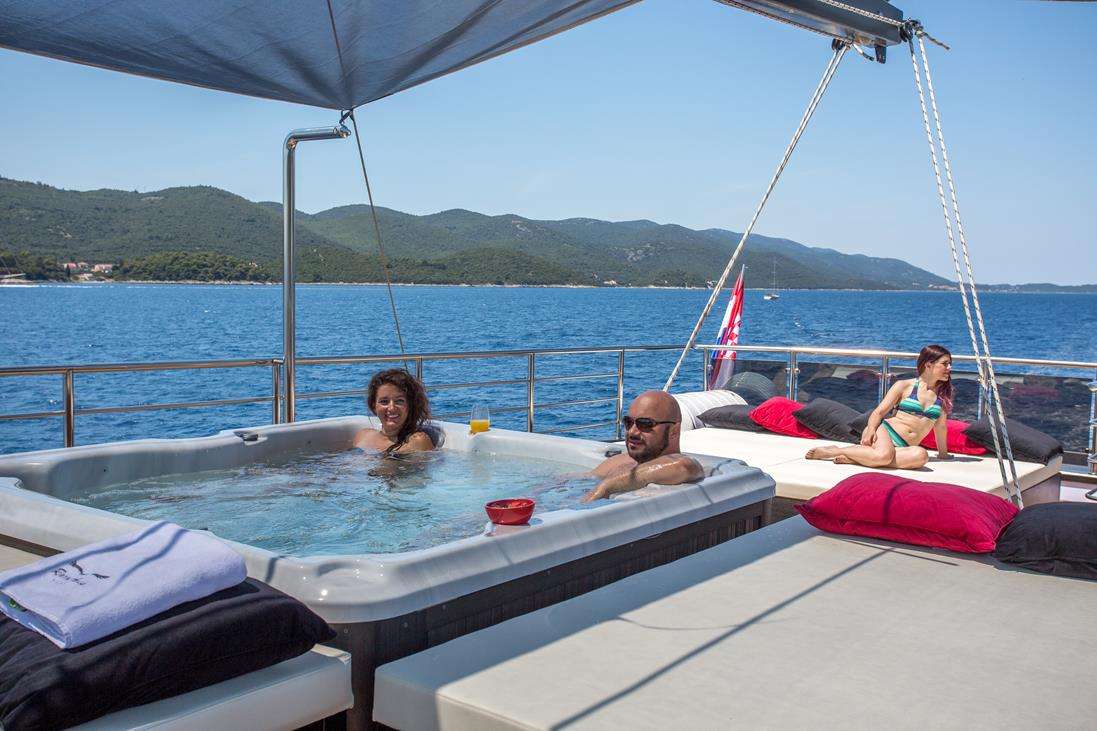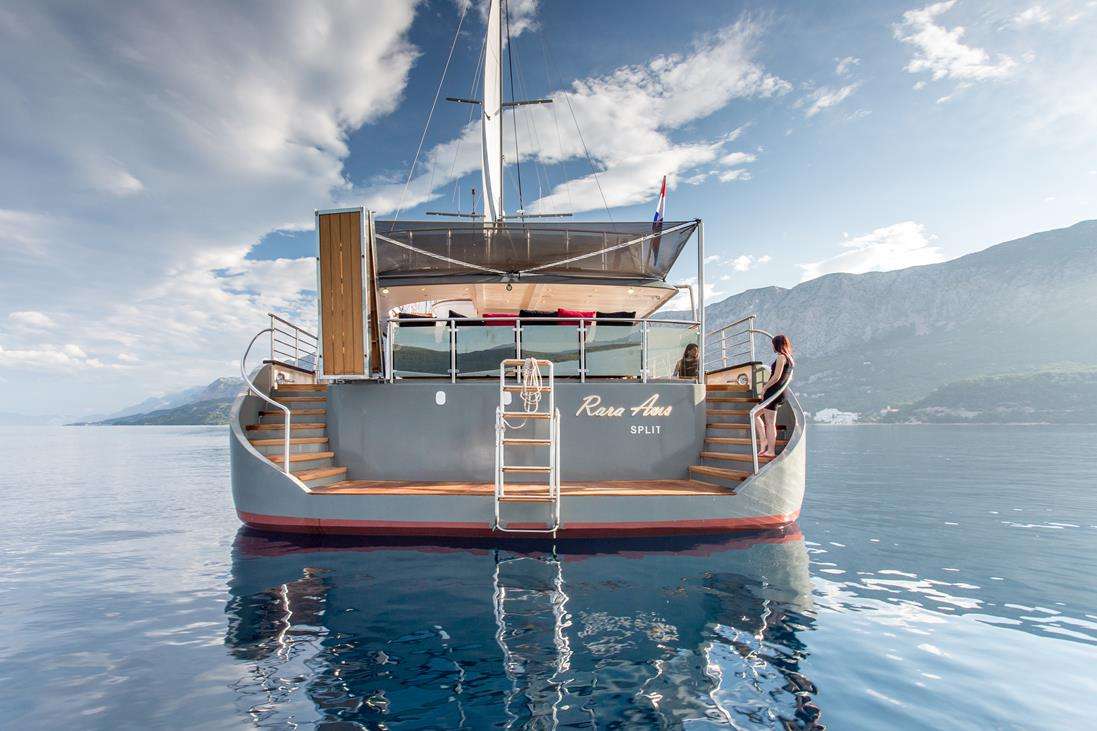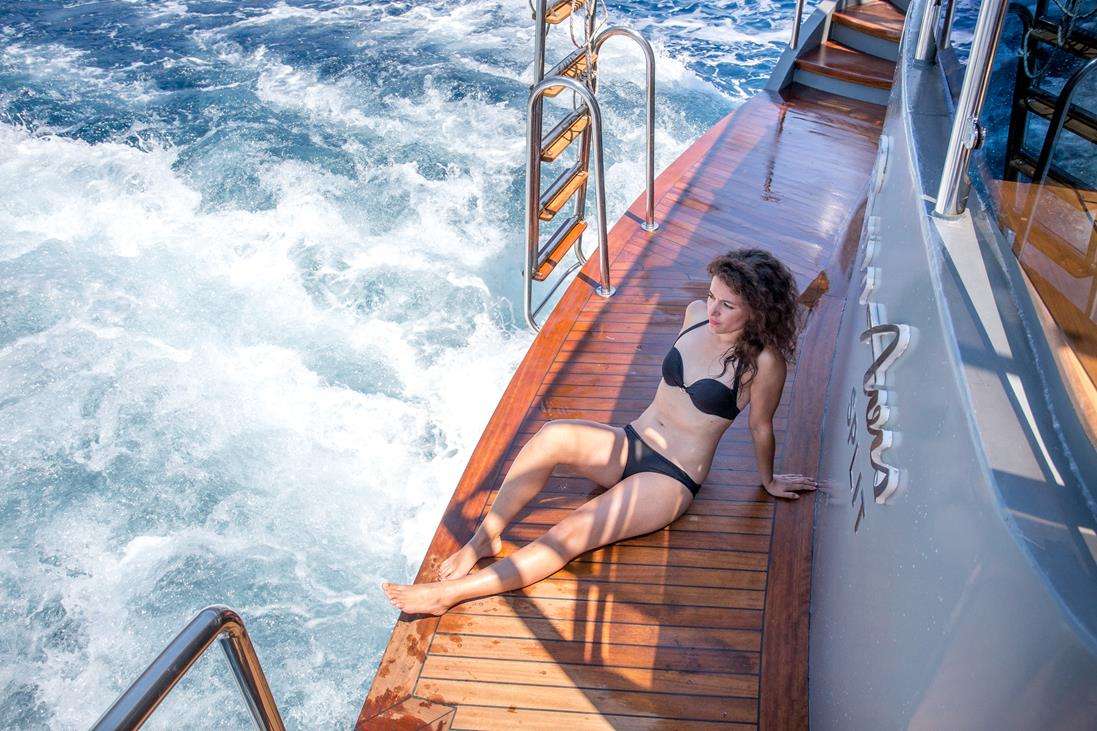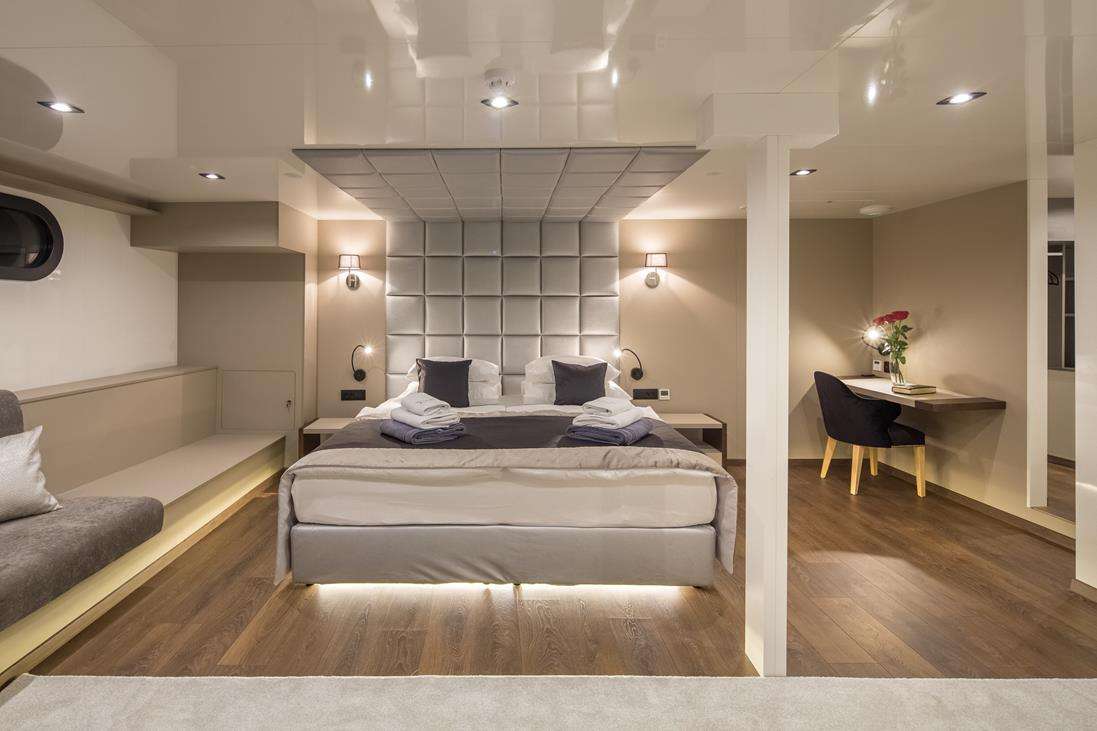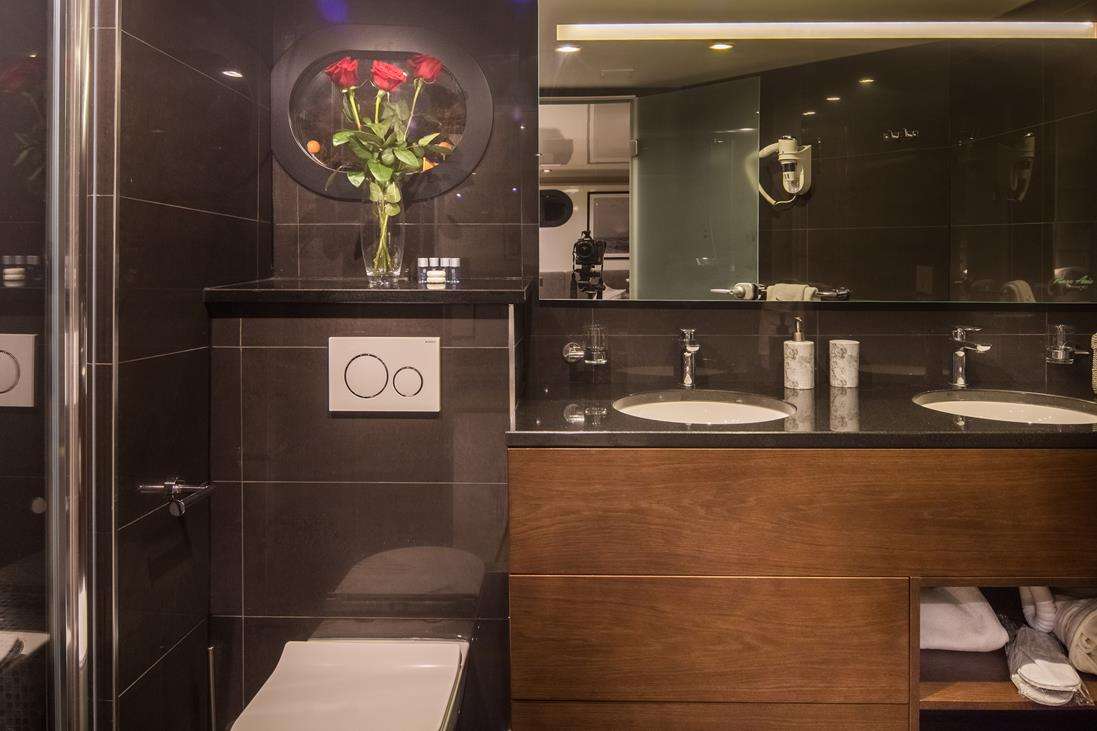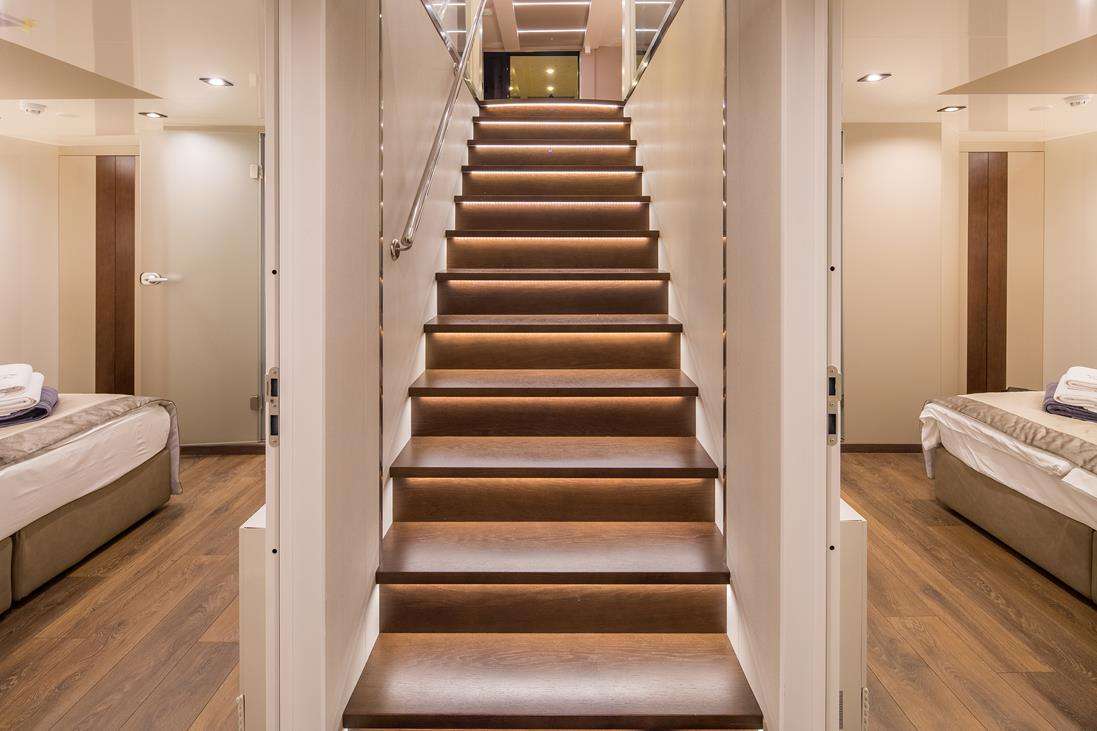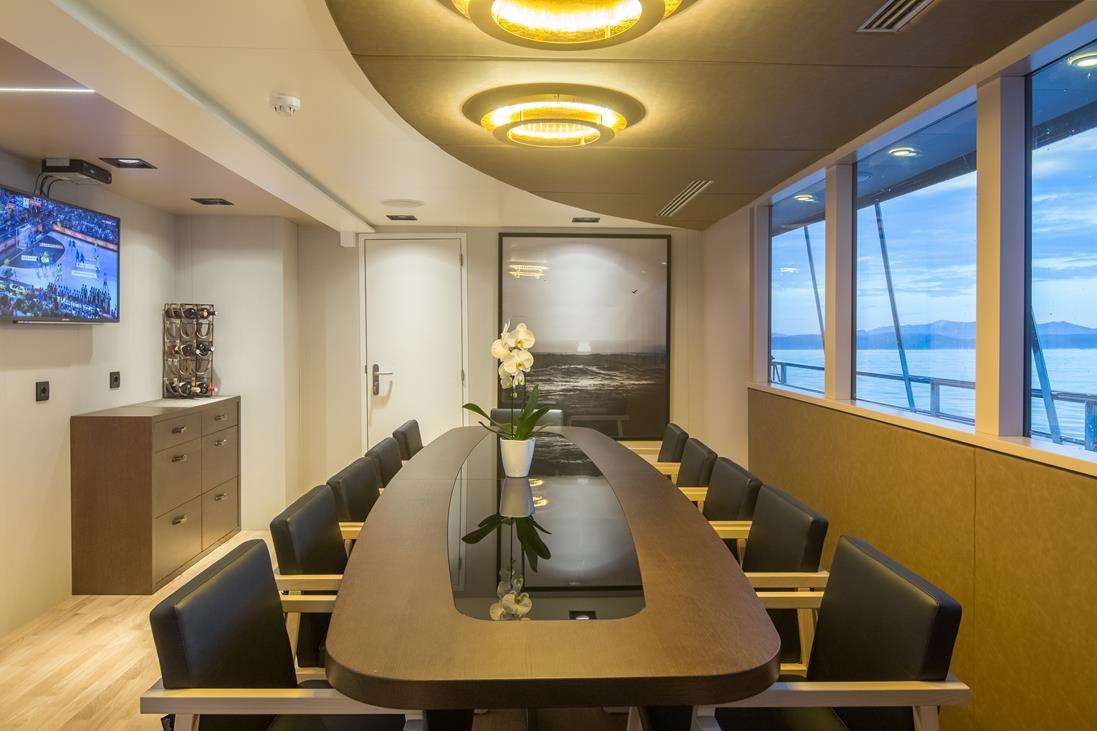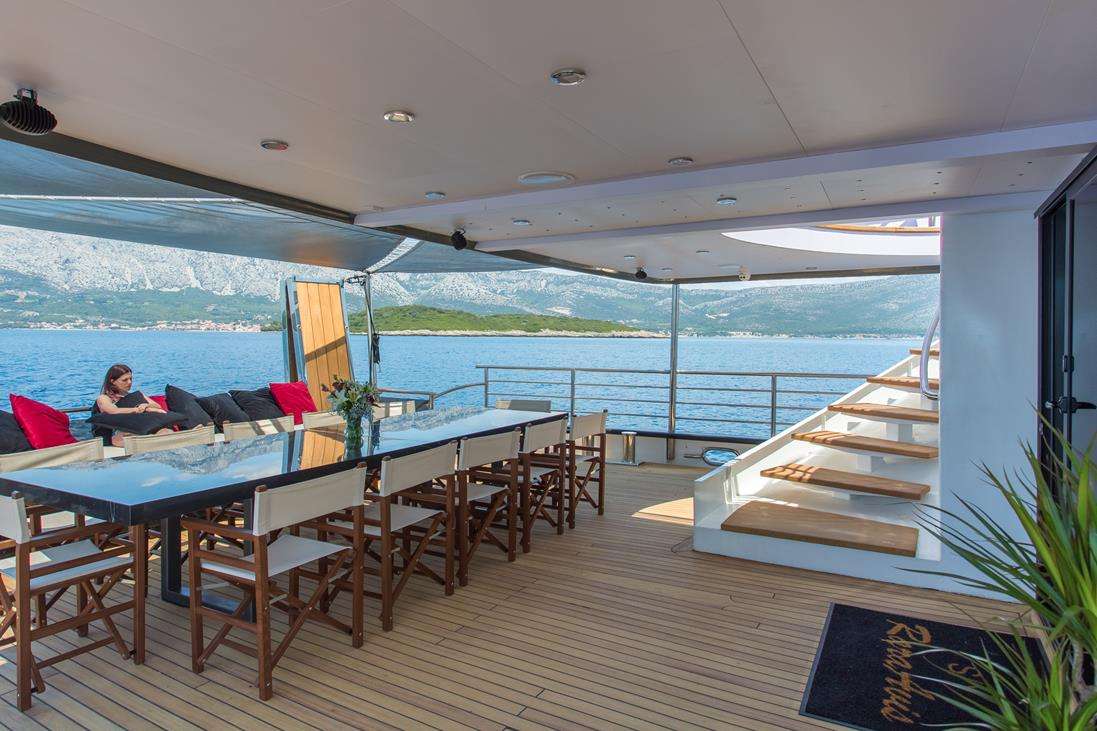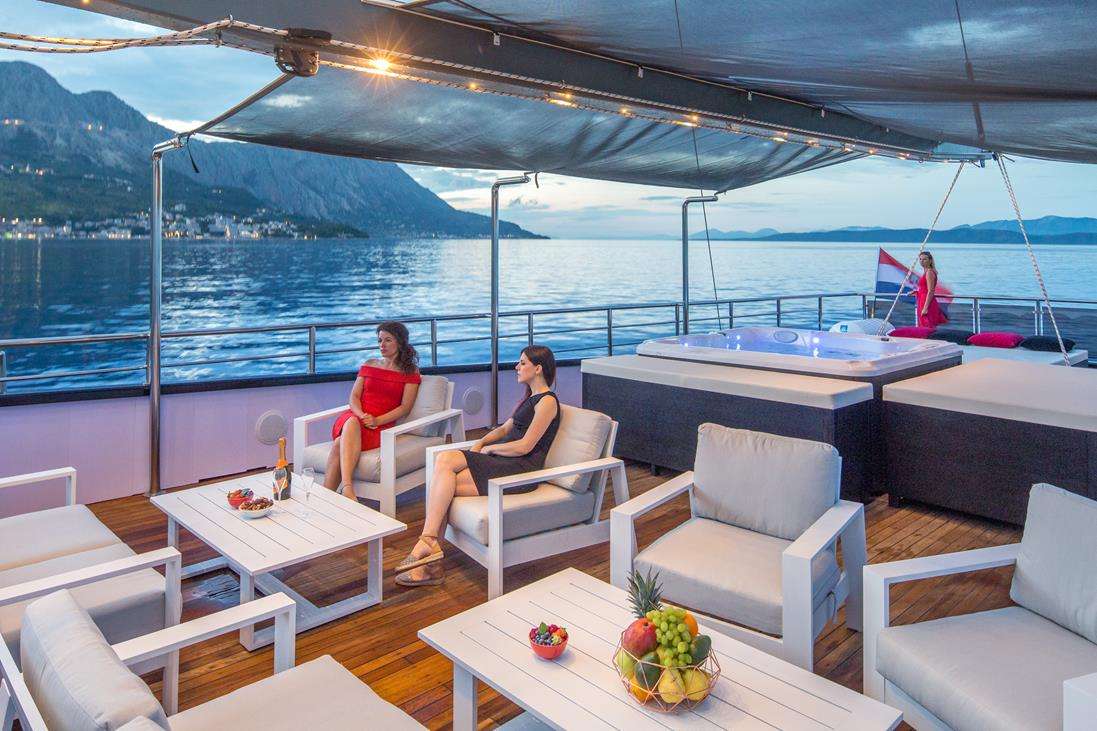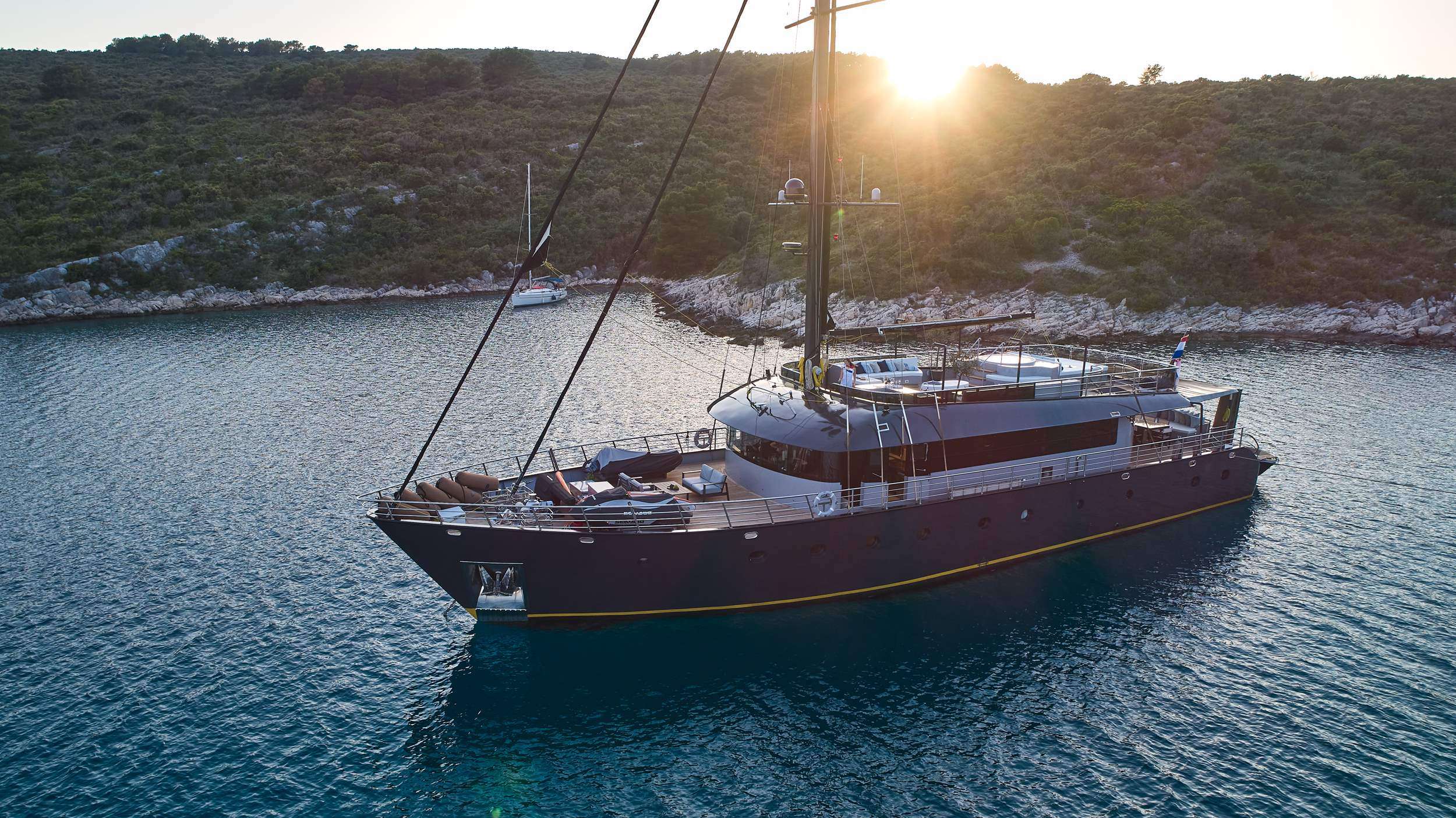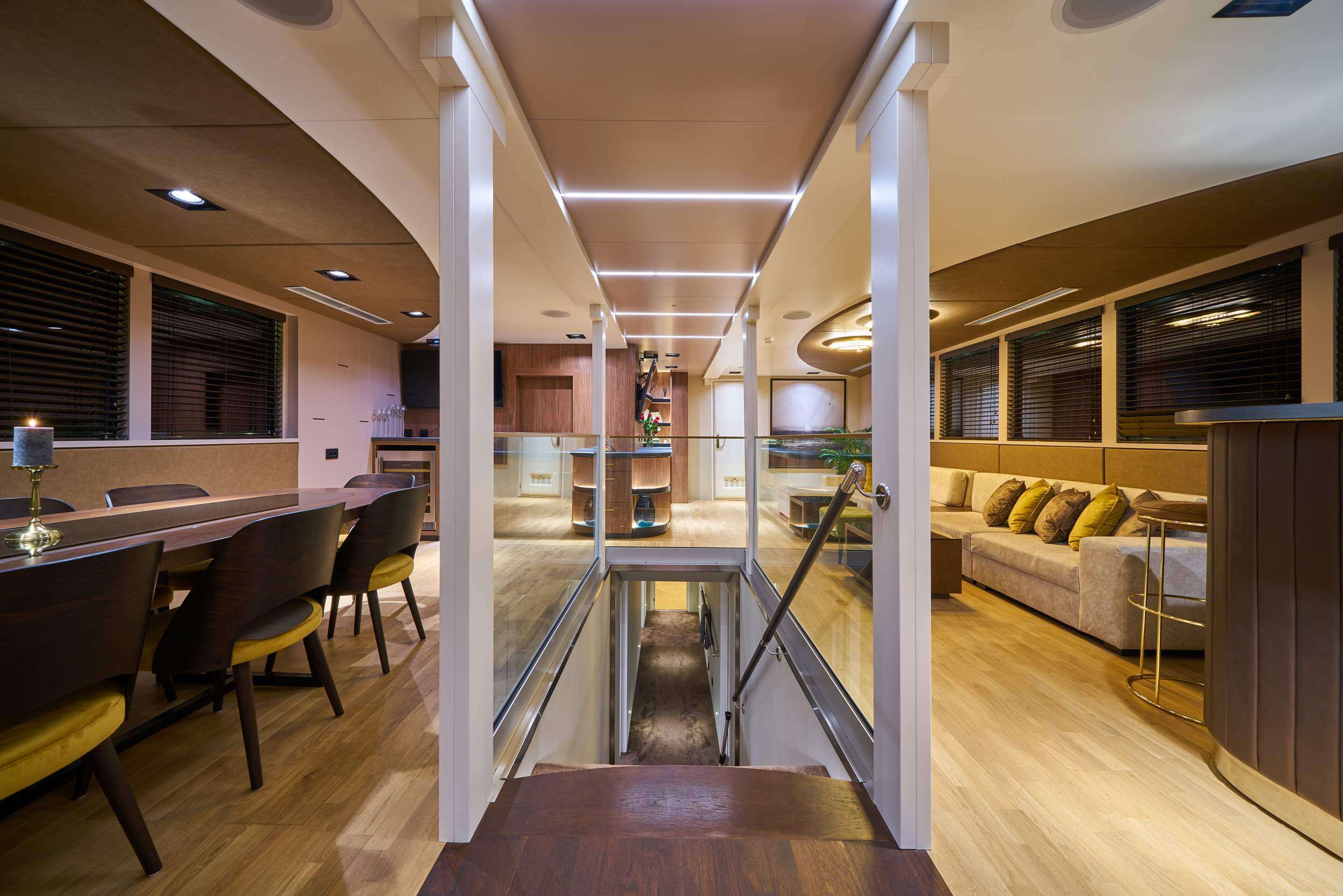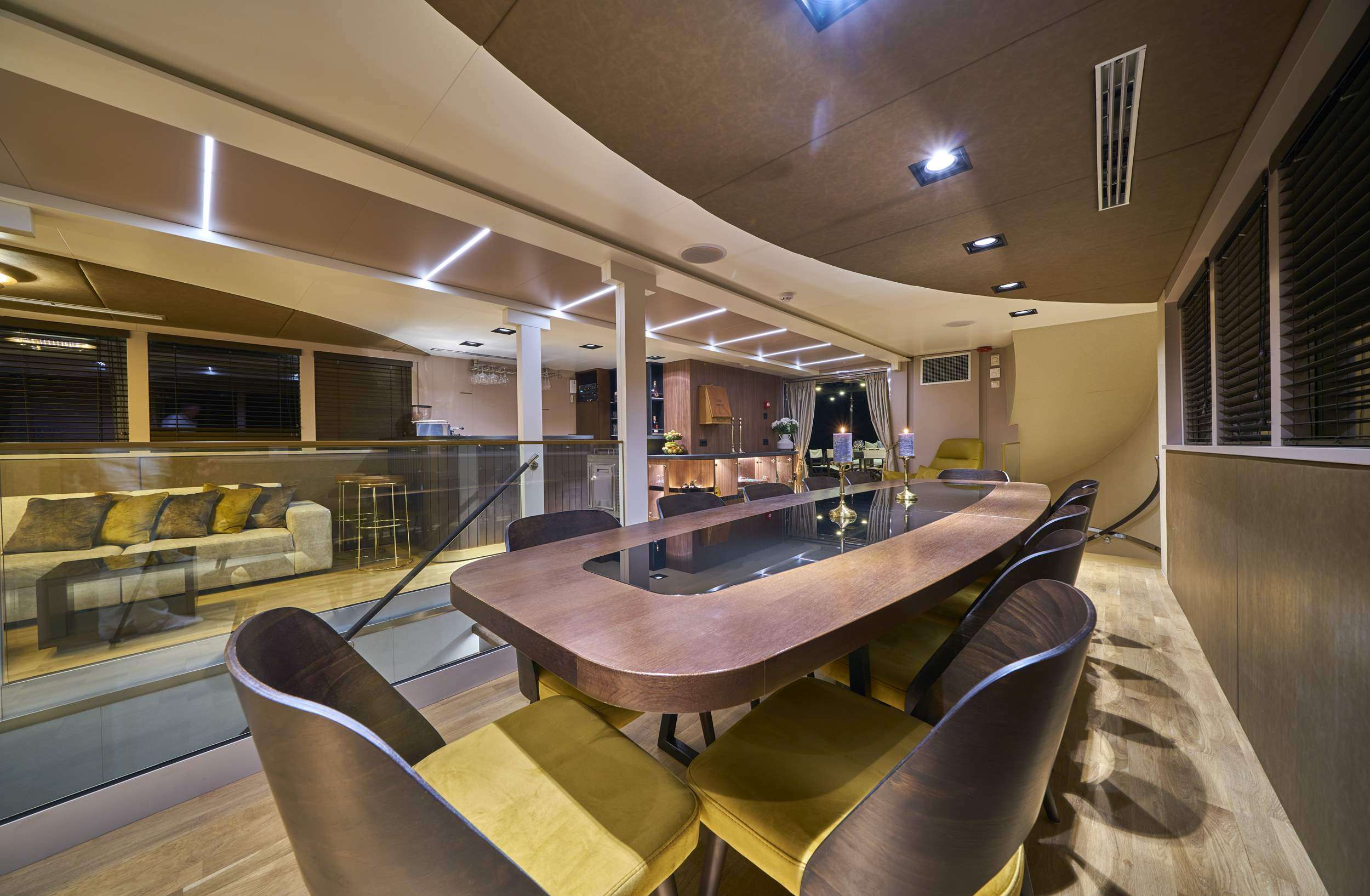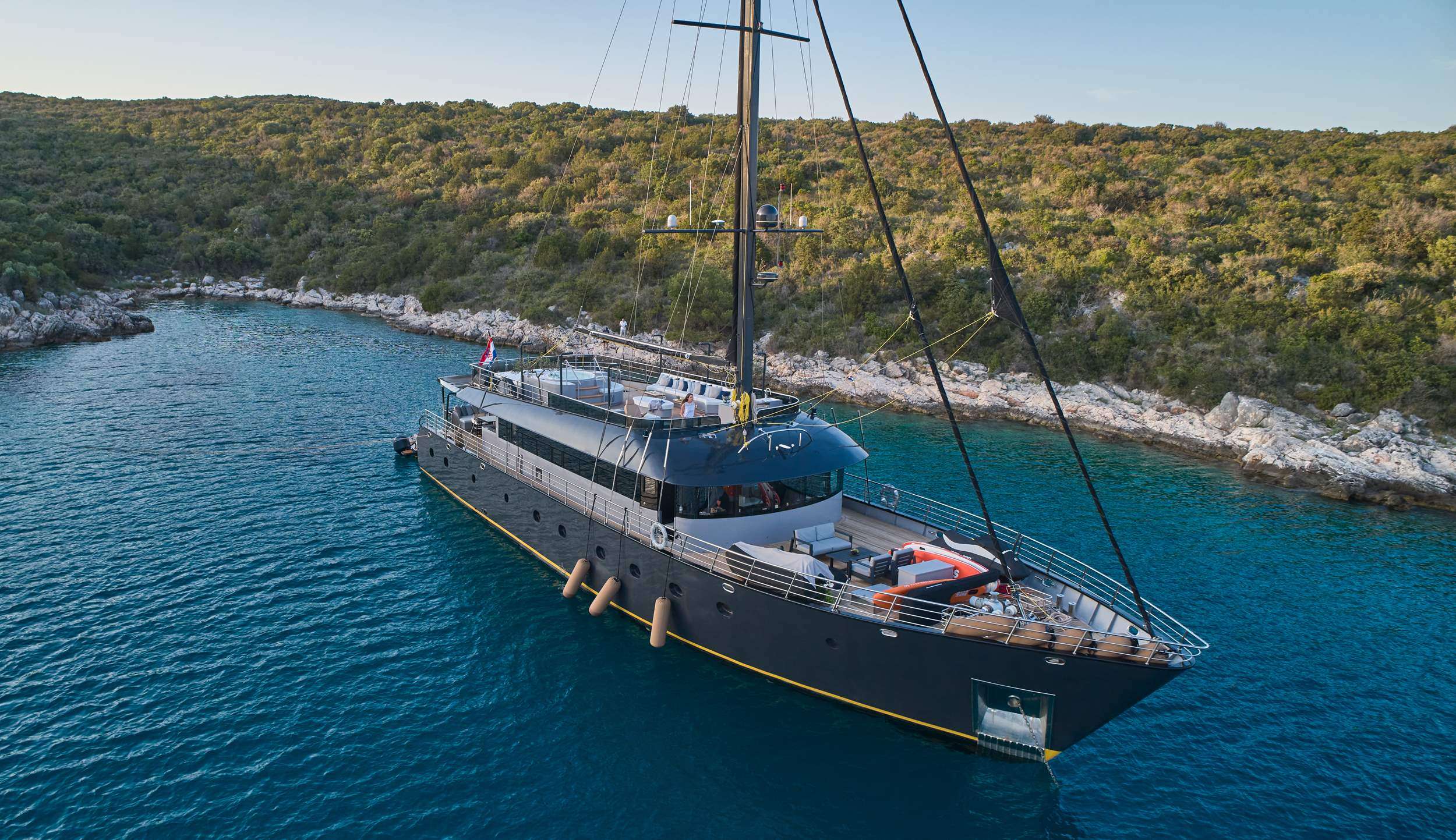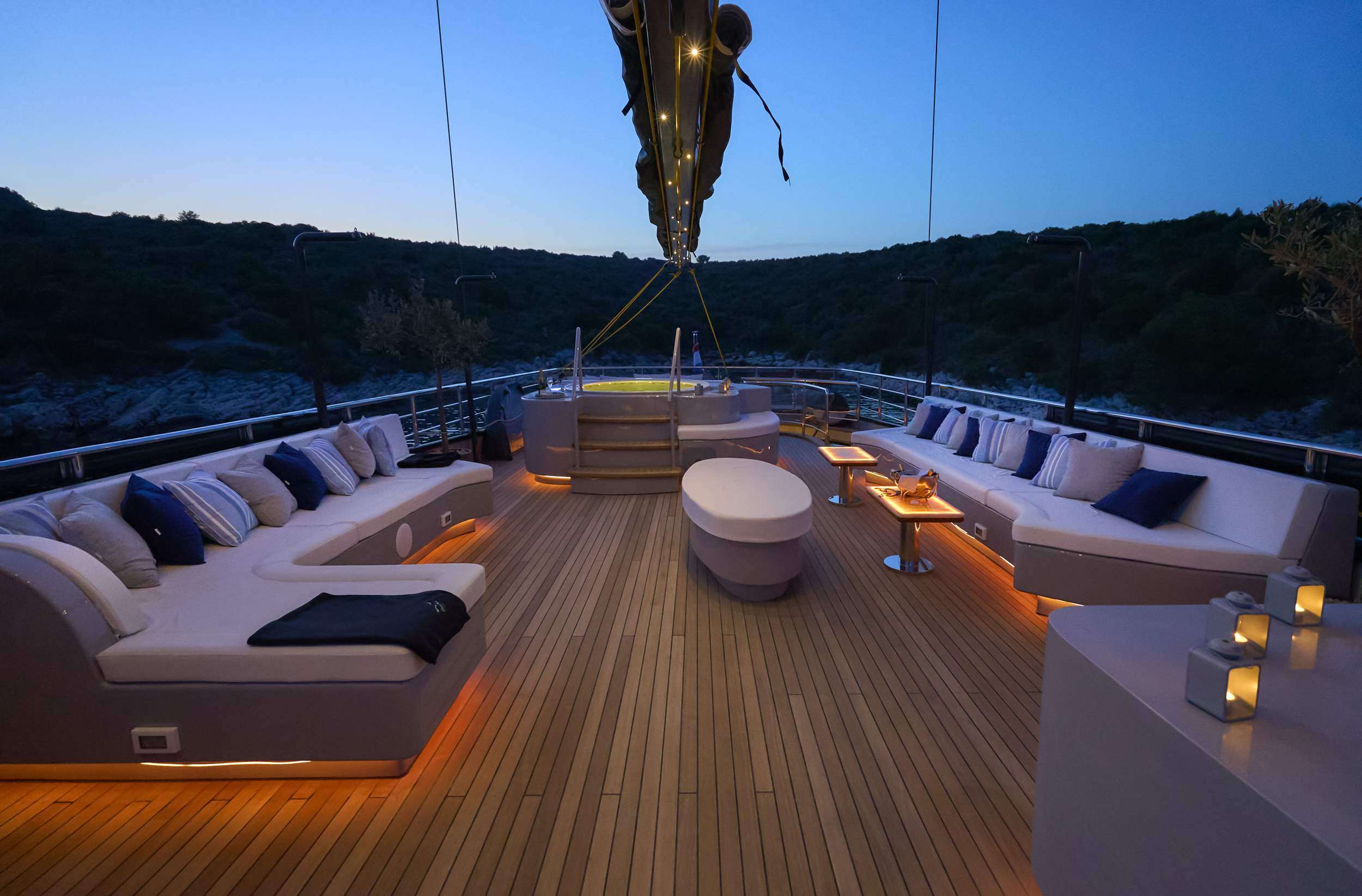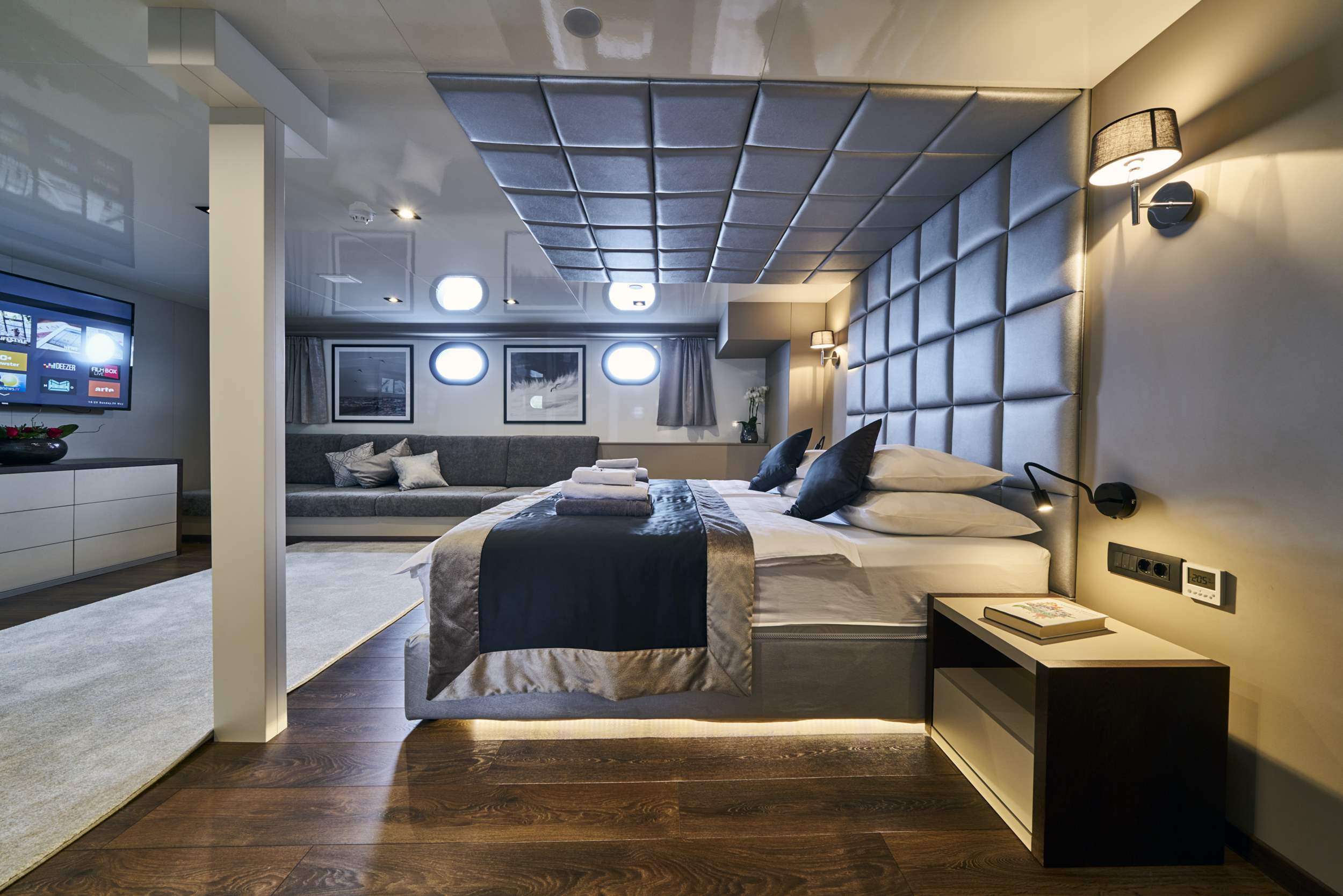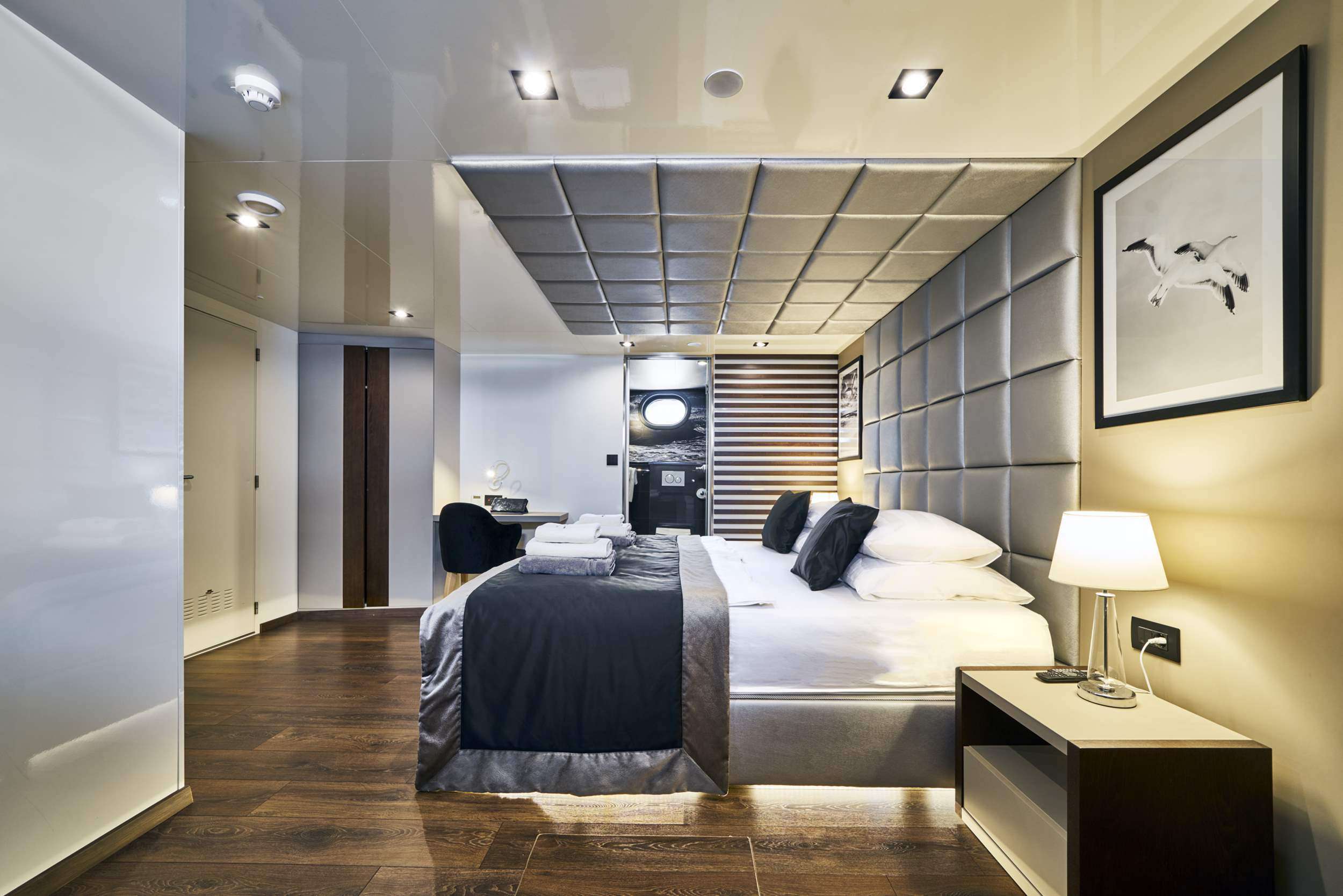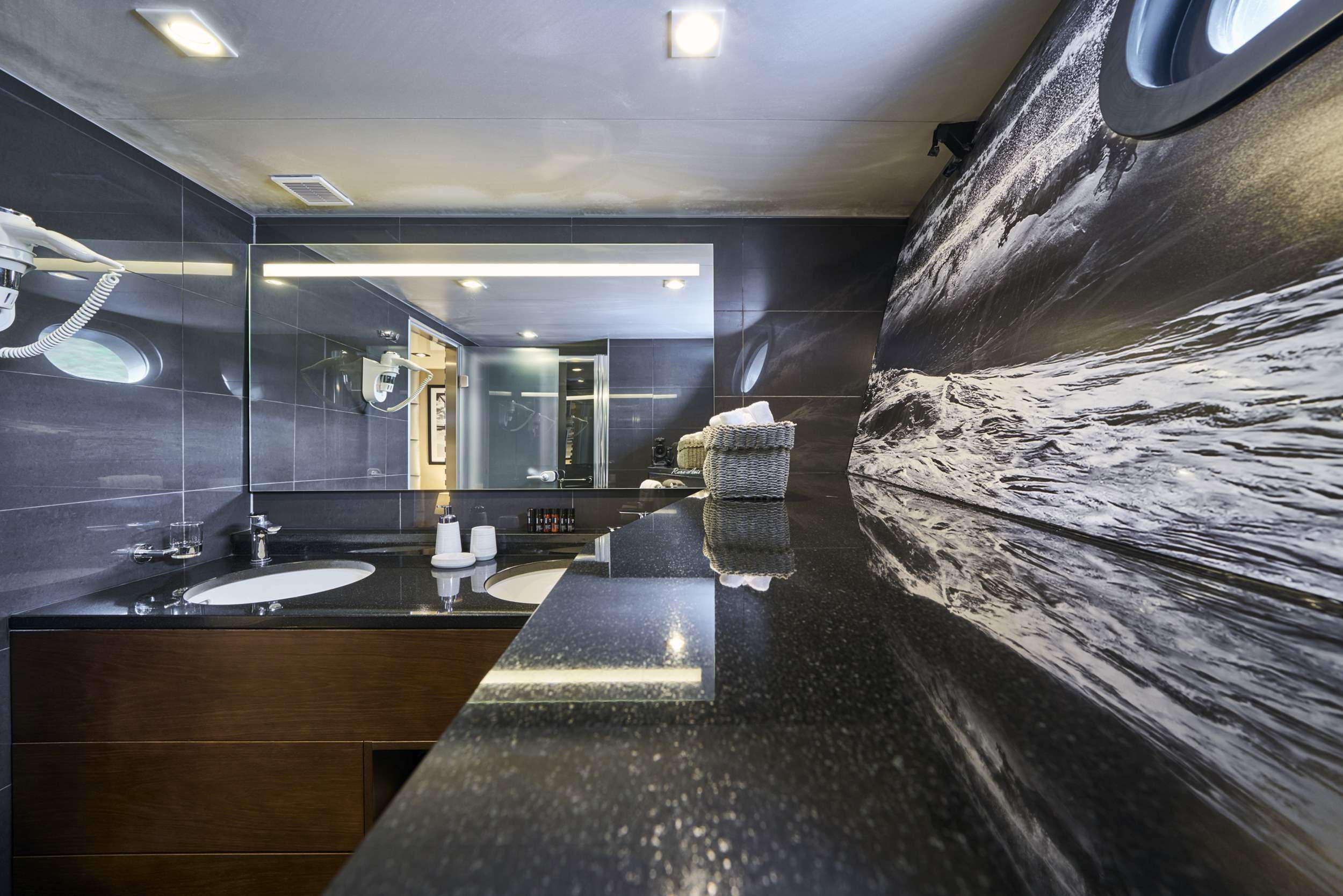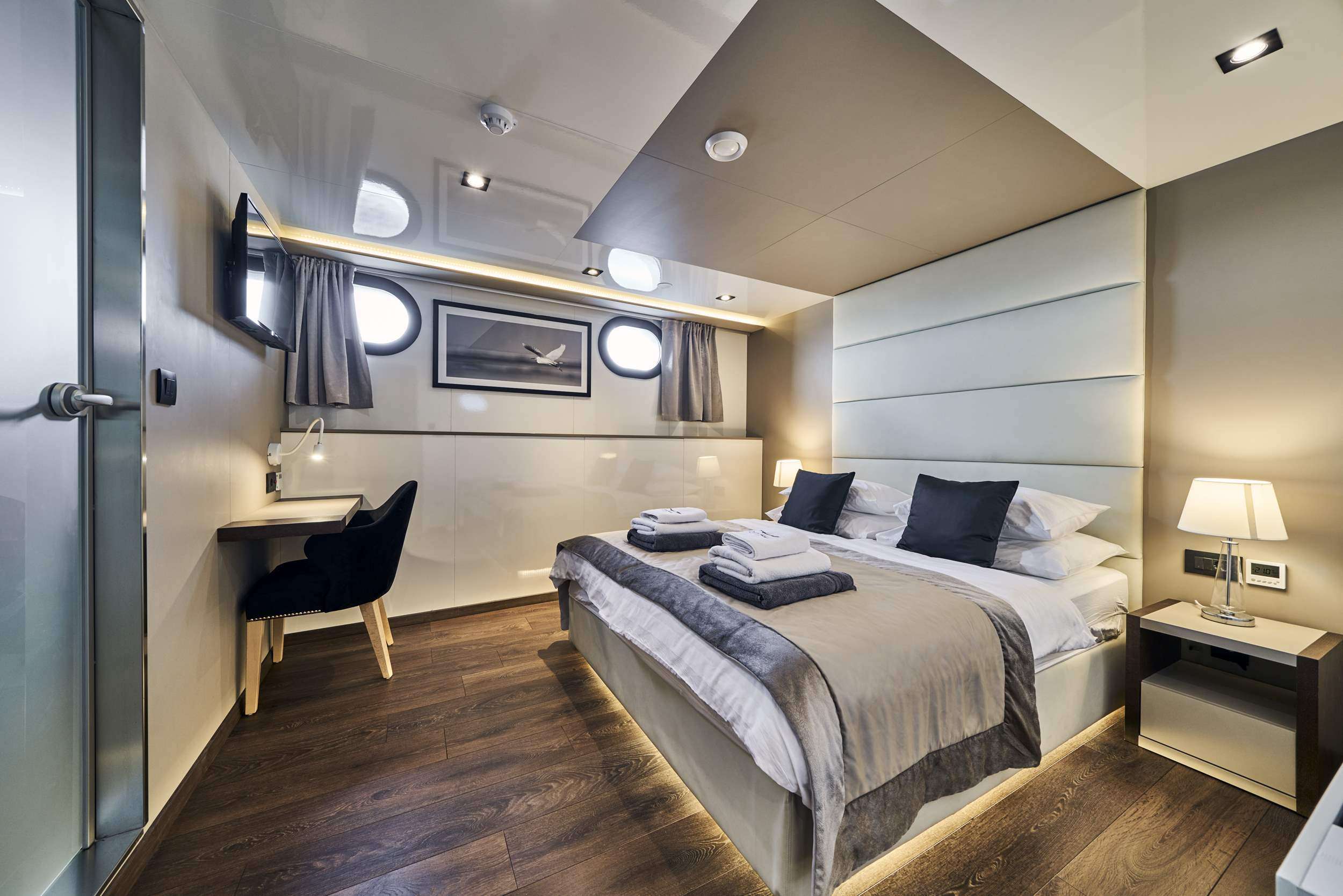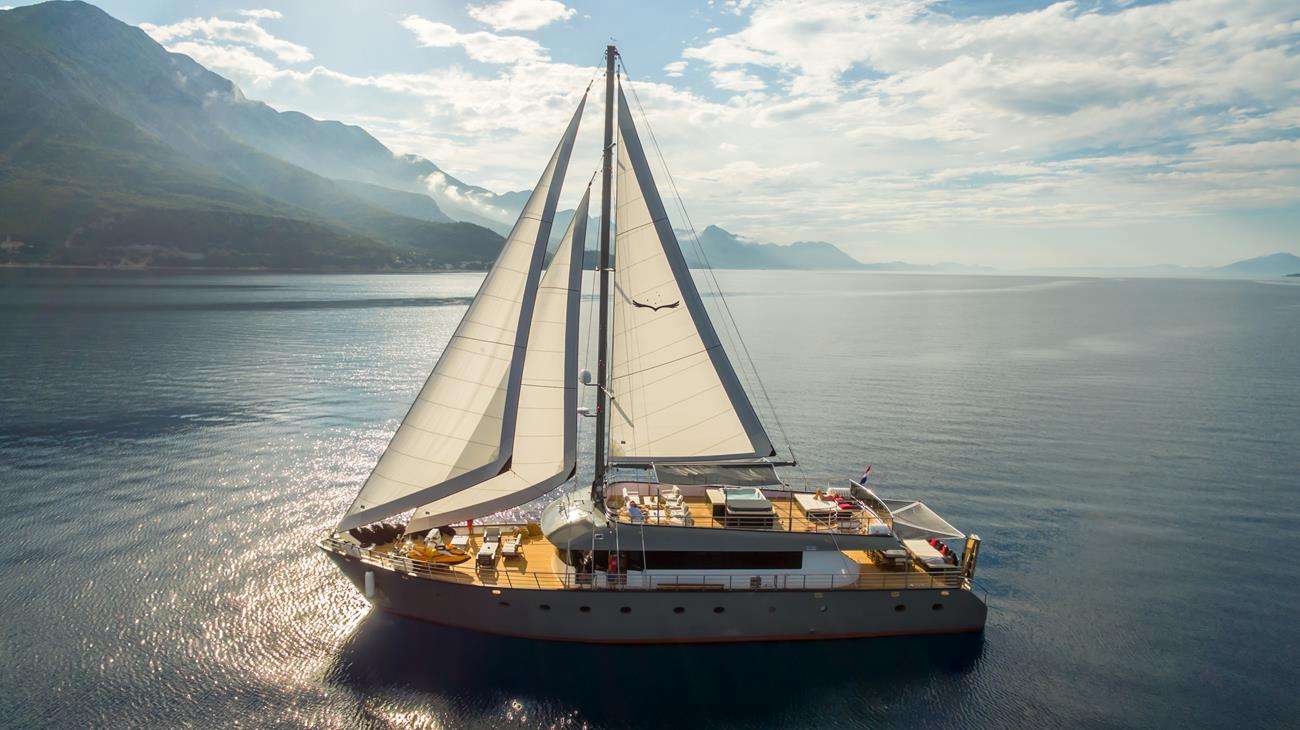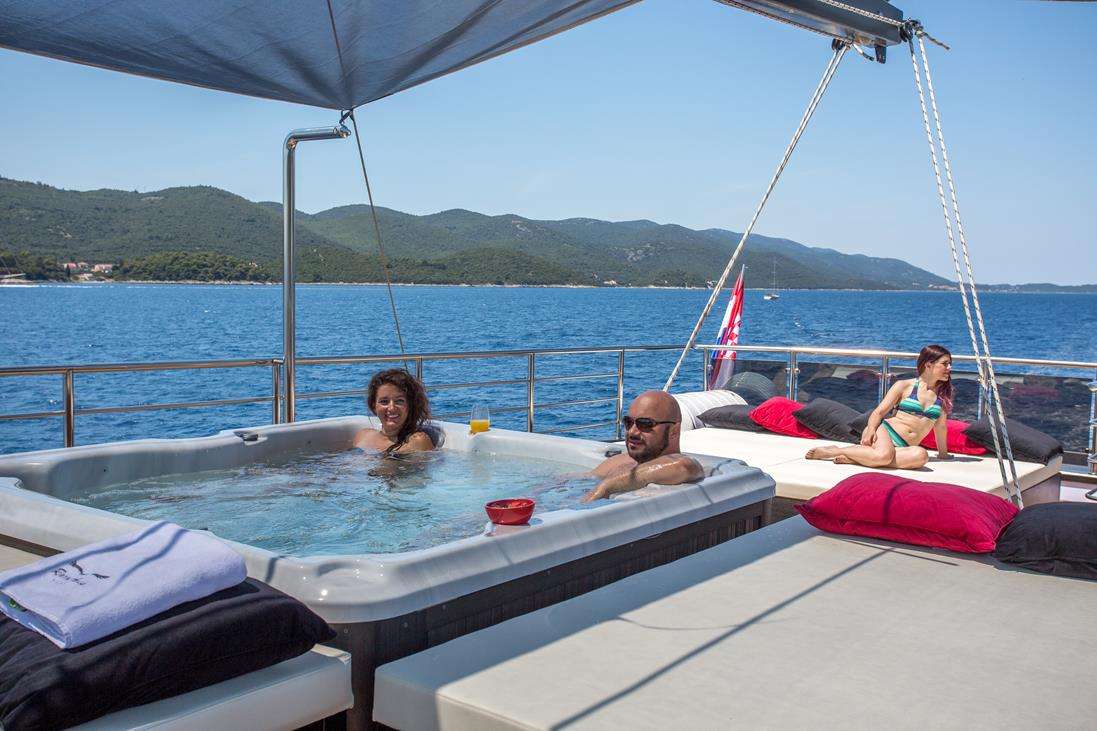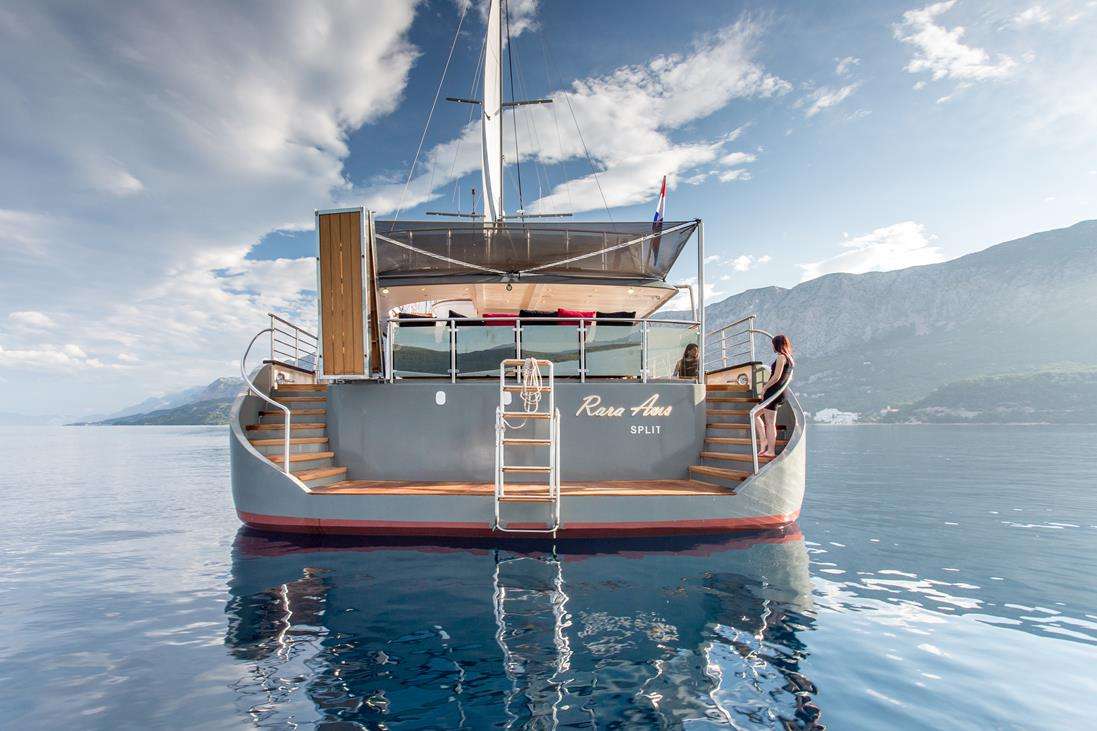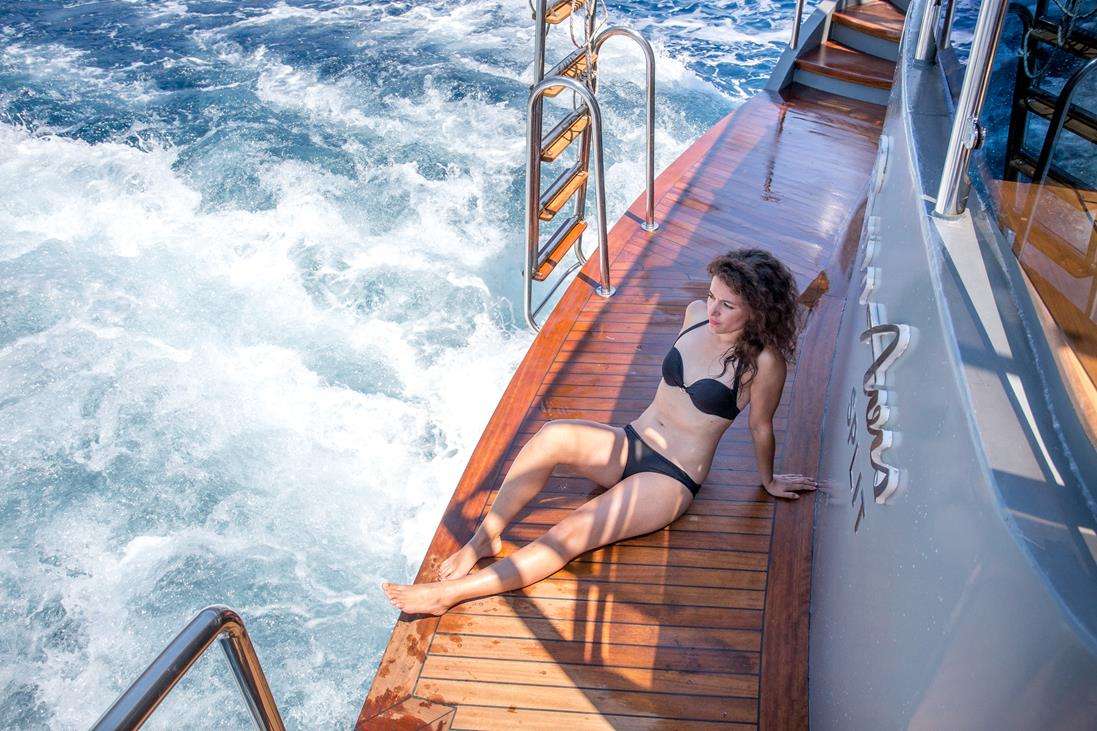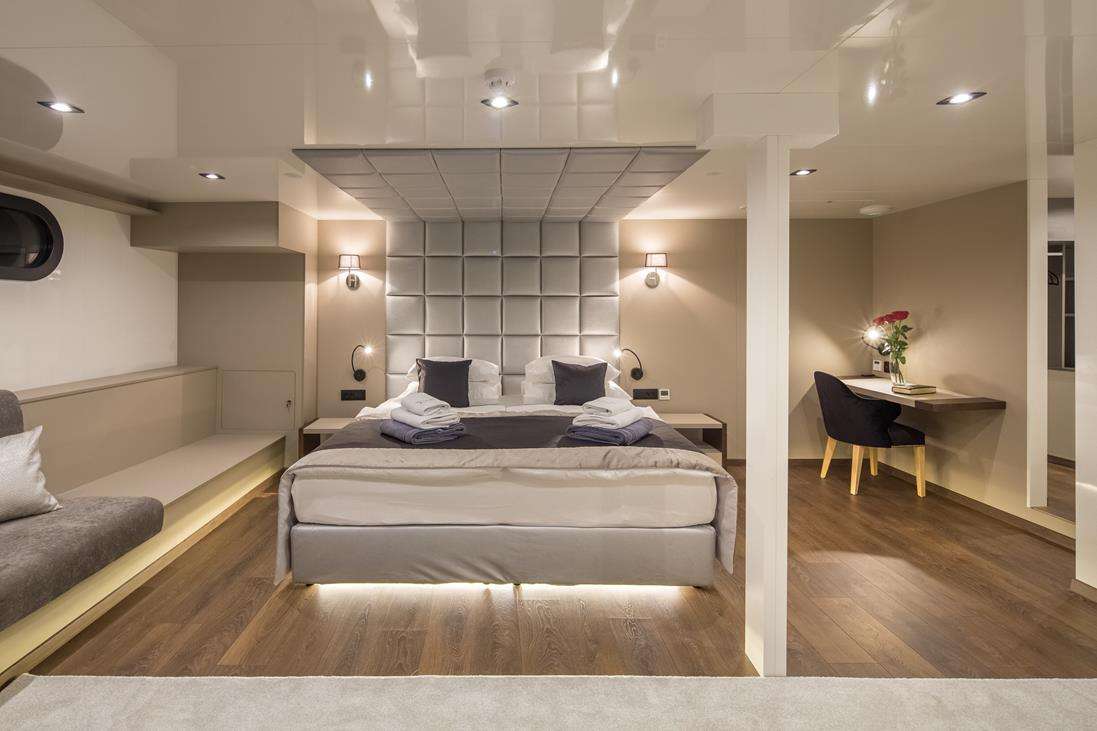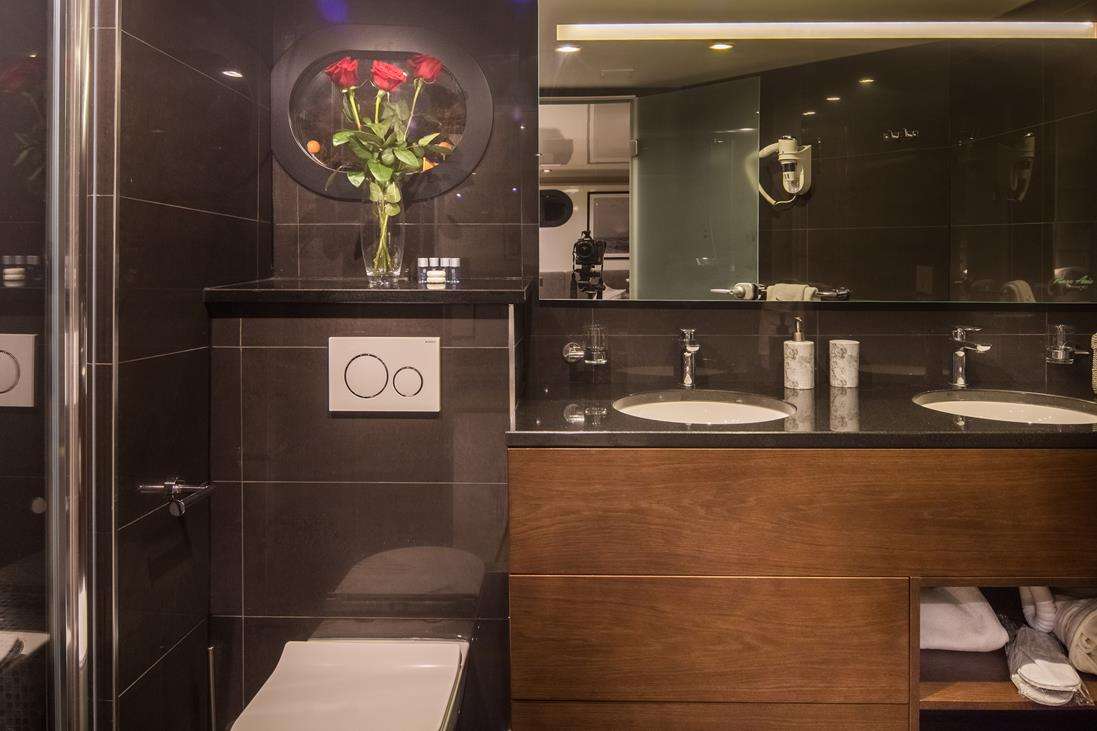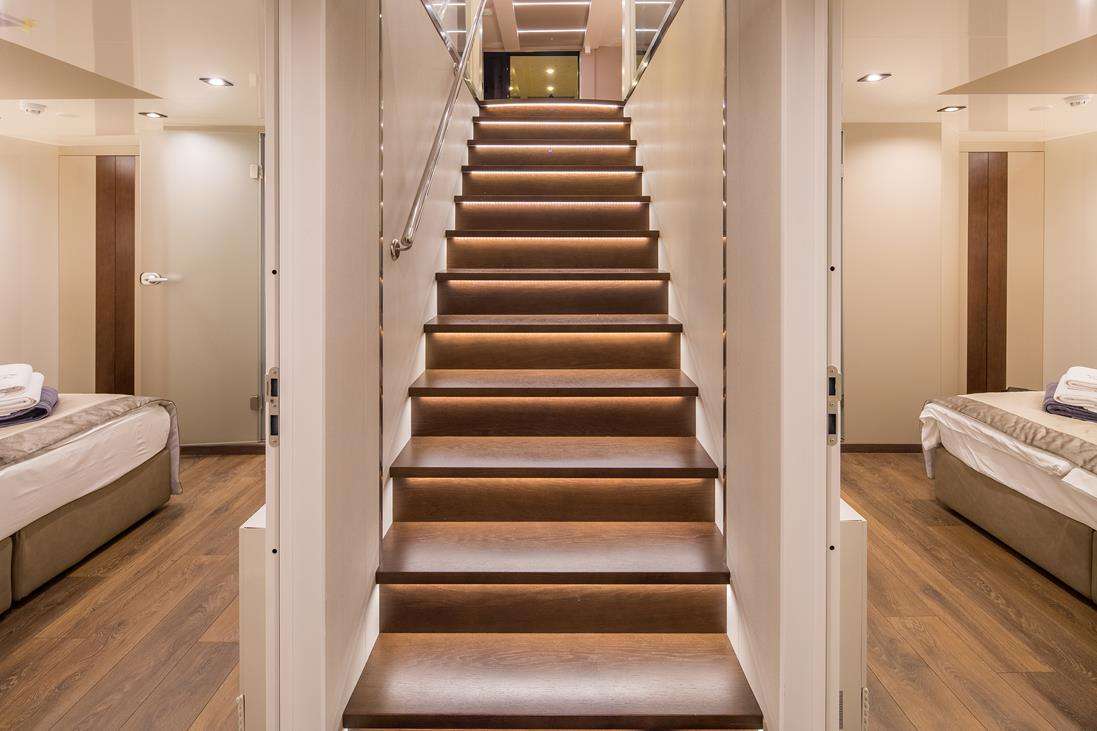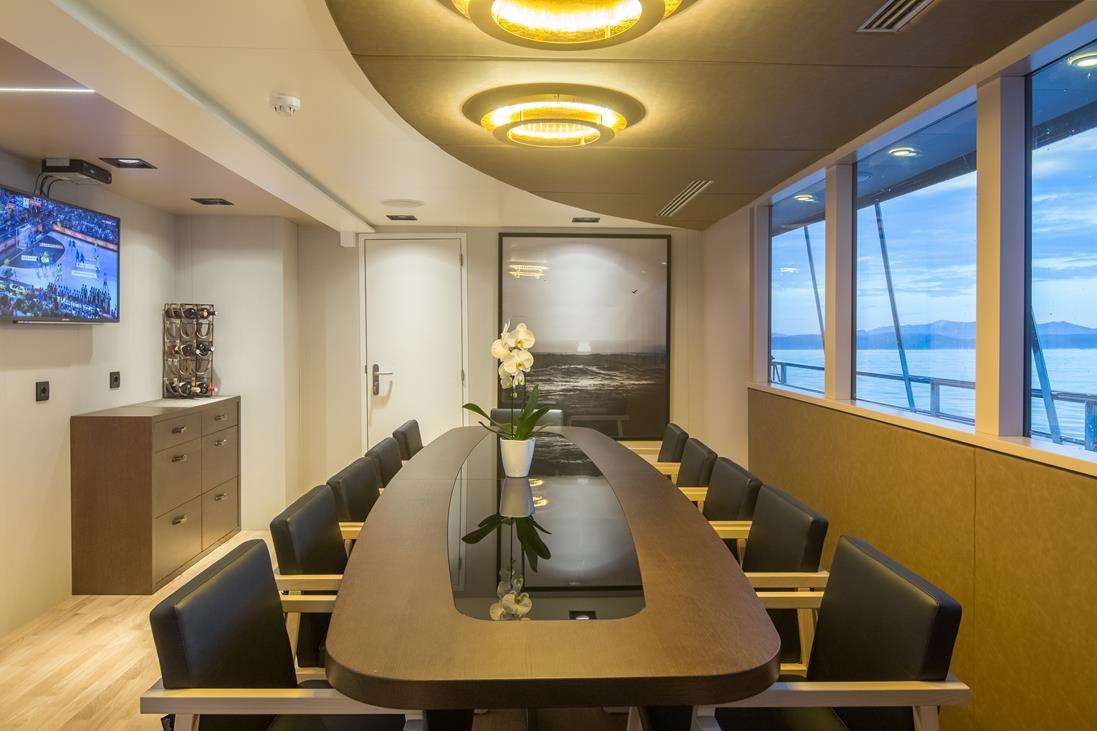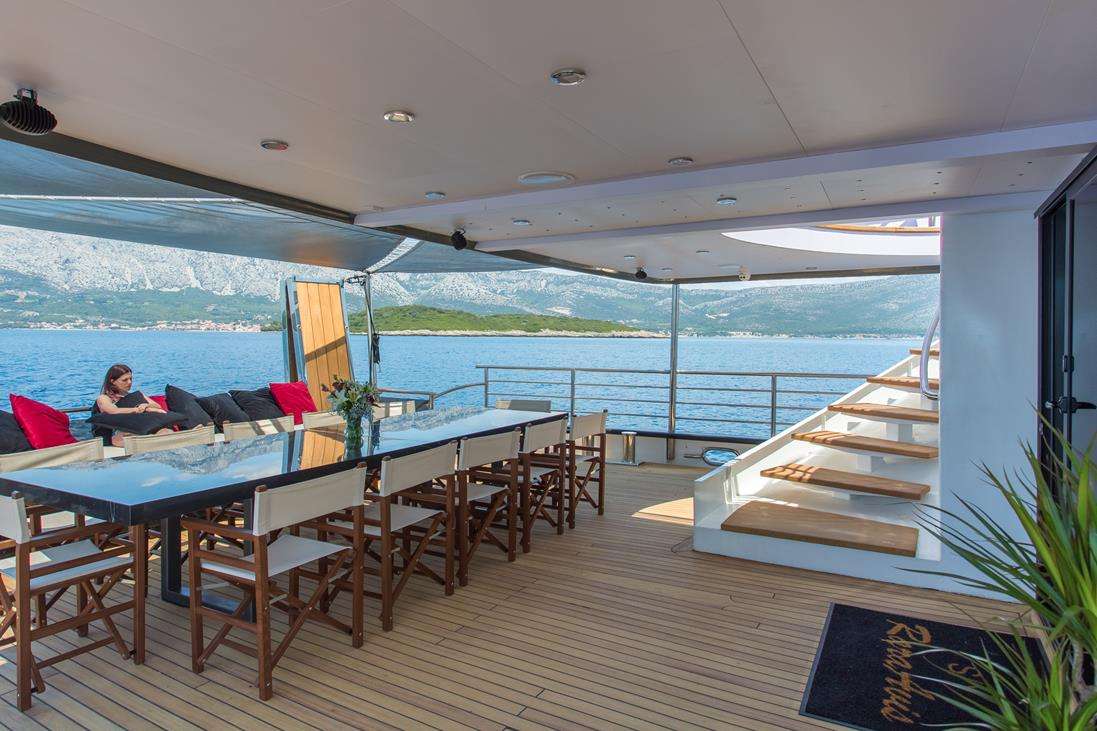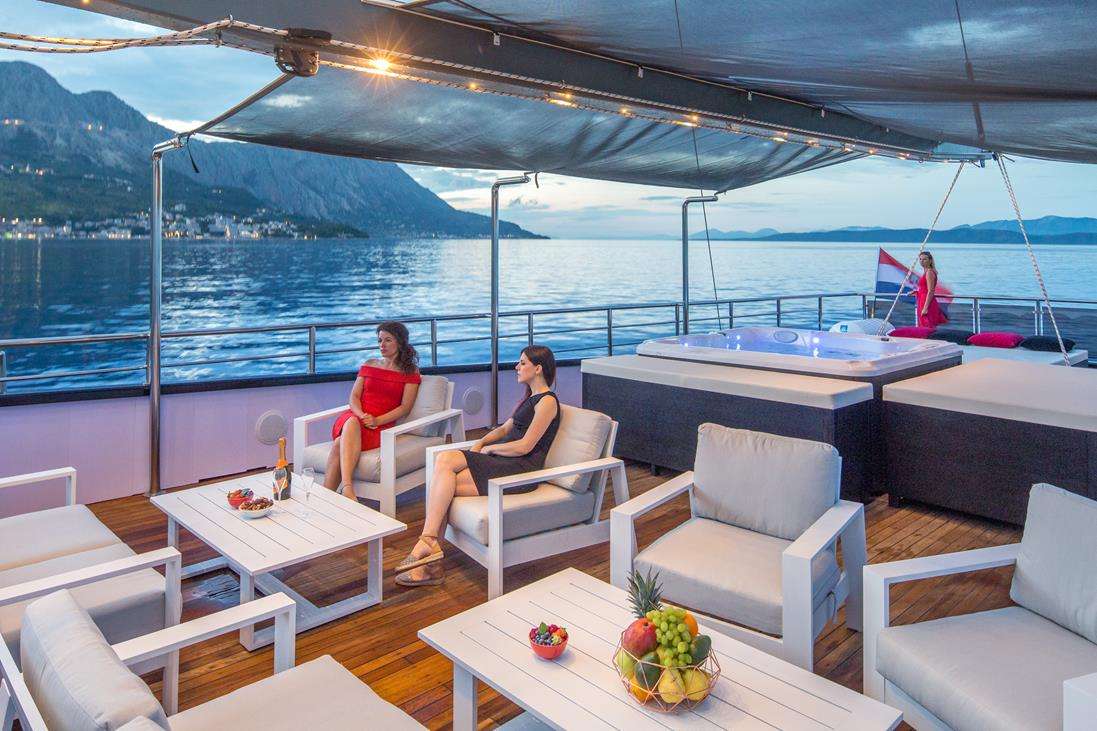 Accommodations
| | |
| --- | --- |
| Sleeps 12 guests in 6 guest stateroom(s). | |
| 1 with King Bed(s) | |
| 2 with Queen Bed(s) | |
| 2 with Twin Bed(s) | |
Details
– Master cabin: double bed (200*200 cm), 40 square meters.
– Vip cabin: double bed (200*200 cm), 22 square meters.
– 2 Double Cabins: double bed (190*200 cm), 15 square meters.
– 2 Twin Cabins (convertible to Double Cabin): twin bed (2 x 95*200 cm), 16 square meters
Layout Diagram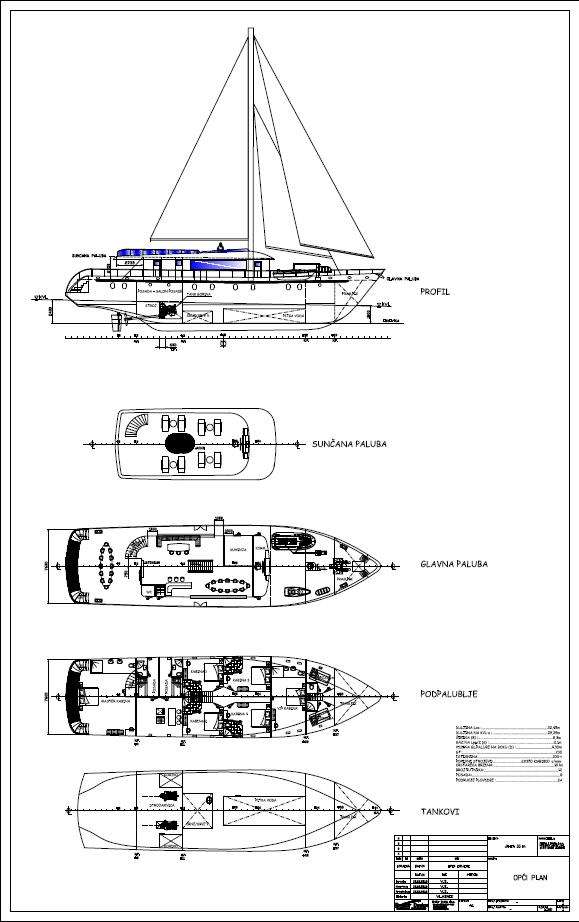 Specifications
| | |
| --- | --- |
| Guests | 12 |
| Staterooms | 6 |
| # Of Crew | 6 |
| Length | 108.00 Ft / 33.00 m |
| Beam | 8.40 m |
| Draft | 3 m |
| Built - Refit: | 2018 - No Refit Date Set |
| Builder | Custom Built Aluminum Cutter |
| Cruising Speed | 9 knots |
Watersports
| | |
| --- | --- |
| Dinghy | Rismarine |
| Dinghy HP | Yamaha 70 HP |
| Paddle Boards | Yes |
| Single Kayaks | Yes |
| Adult Water-skis | Yes |
| Kids Water-skis | Yes |
| Wakeboards | Yes |
| Jet Skis | Yes |
| Inflatable, towable tubes | Yes |
| Fishing Gear | Yes |
| Scuba Diving | Yacht offers Rendezvous Diving only |
Pricing
From: 55,000
To: 55,000

Pricing Details
charter price does not include VAT (13%)
PLEASE INQUIRE FOR FURTHER PRICING DETAILS
Crew Profile
ČASLAV RELJIĆ - CAPTAIN
From the first moment you come aboard Rara Avis you will feel you are in a safe and hospitable hands of Časlav, young 34 years old captain who has spent last 12 years of his life connected with sea.
Soon after finishing high school, he has realized his love is not commercial and marketing but sea and the boats. He started working as a sailor on different boats and patiently he sailed his way to become a captain. Experience that he gathered in meantime has made him an excellent host who can provide his guests the most memorable cruise. Časlav has been showing enthusiasm and love for the nature all of his life so when he is not sailing, he spends his free time on the mountains.
For him this is ideal way of recharging his batteries and connecting with nature and his family. He is married, has two children and his wife shares his love for this job as she comes from the family that has been working in nautical tourism for few generations now. Časlav has very friendly and cheerful nature and you will like him from the first moment you meet him especially as he takes his job very seriously and he wants to provide his client's complete experience.
He enjoys meeting new people from all over the world and he feels it is his mission to show them all the beauties of h is country.
This is why his main goal is happy and completely satisfied client. He speaks Croatian and English.
STIPE JERONČIĆ - FIRST OFFICER
If there was a photo under definition of "multitasking", it would most definitely be Stipe's photo. These versatile young many has a Curr iculum Vitae that you would need a whole hour to read all the way down. Stipe was born on June 19th 1990. in Split, where he was also raised and got his education.
The list of the jobs Stipe has done in the past goes on and on, but we will let you in on a couple of them which are quite interesting. He worked in greenhouses with flowers and vegetables, on construction work, in a Styrofoam factory owned by his uncle, he also did some kitchen furniture instalment part time, helping at archaeological excavations and restauration of historical monuments.
Somehow a career on sea at some point came to mind, so for the past 4 years he has been working as a hand on deck and a sailor. Stipe is also a proud founder of his own company for import/export of the stone coal from Bosnia and Hercegovina. He owns more than 12 maritime certificates of qualification and various courses.
At young age he was training athletics in the category 400m sprint for men as a member of the Secondary High School sport team. Stipe also found ed an internet forum for chemistry issues, as chemistry is his true passion, he moderated over 1500 articles themed in chemistry and demining for Wikipedia and he is an active member of his city district.
In other words, extremely valuable member of the staff on Rara Avis, an easy going and cheerful team player anyone would love to meet. Welcome aboard.
ROKO ERCEGOVIĆ - DECKHAND
Roko is the youngest crew member on Rari Avis. Although he is only 19 years old, his colleagues say that he is hardworking, enjoys the sea, and is gaining experience working as a deckhand.
He was born in Split, where he graduated from maritime school, and after this sea season he will continue his education at the Maritime Faculty. Among foreign languages, he speaks English, and in his free time he likes to play football the most.
MARKO MATIĆ - CHEF
Born and raised in the historical city of Sinj, where the antient battles for Croatia took place, chef Marko has that fighting spirit and the will to give the best that he can in everything he does.
And he does food, he is doing it with such legerity and enthusiasm. Marko has mastered cooking skills as a chef in several well-known and praised a la carte restaurants along the Dalmatian coast as well as on some other yachts. As a young chef, he has wider views in sense of being more familiar with new cooking ideas and ways of cooking, new flavors and very large spectrum of groceries selection.
His dedication to food preparation has made him not only a great cook but an amazing food decorator. His meals tell an authentic Mediterranean gourmet story that will enchant your flavor buds as much as your eyes.
Chef Marko takes special pride in rustic style meat & fish dishes preparation combined with modern cuisine tricks. Speaks English, very friendly and open to any menu suggestions from the guests as his only wish is to complete the cruising experience with terrific dining. His eagerness to please is very visible and tasteful in his food creations.
KRISTIAN VUČIĆ - BARTENDER
The latest addition to the Rara Avis team is Kristian Vučić, a 28- year-old waiter and a former professional Croatian basketball player.
Before entering the yacht industry, Kristian worked as a waiter and barista at some of the most acclaimed Croatian restaurants, bars, and nightclubs, where he obtained his 5-year-long hospitality experience. He brings an eclectic hospitality background to Rara Avis, and the Rara team and guests are truly fortunate to have him on board in season 2023.
His former colleagues describe him as a great team player and hardworking yet easy going. In his spare time, Kristian enjoys sports and spending quality time with his family and friends.
MATEA MILOVIĆ - HOSTESS
Matea was born in Split, September 16th 1996. where she graduated from Mathematical Gymnasium and continued her education as a philosophical faculty student, specialized for early and preschool upbringing of children.
Even though she is young, she has managed to gather a great deal of working experience in many different branches but most of them in tourism. Working as a waiter, brand promotor, sales person and receptionist, she is familiar with guest service from several different aspects. She speaks fluent English language.
Hearing about new luxury sailor yacht "Rara Avis" entering the market, she decided to go on a new adventure as a yacht hostess. From what we've heard from the guests on Rara Avis, she is doing an amazing job, always charming, professional and efficient.
In her free time, Matea loves spending time reading, cooking, roller blading and singing, also the only lady on board, which makes her a very special member of the crew.
Destinations