Gallery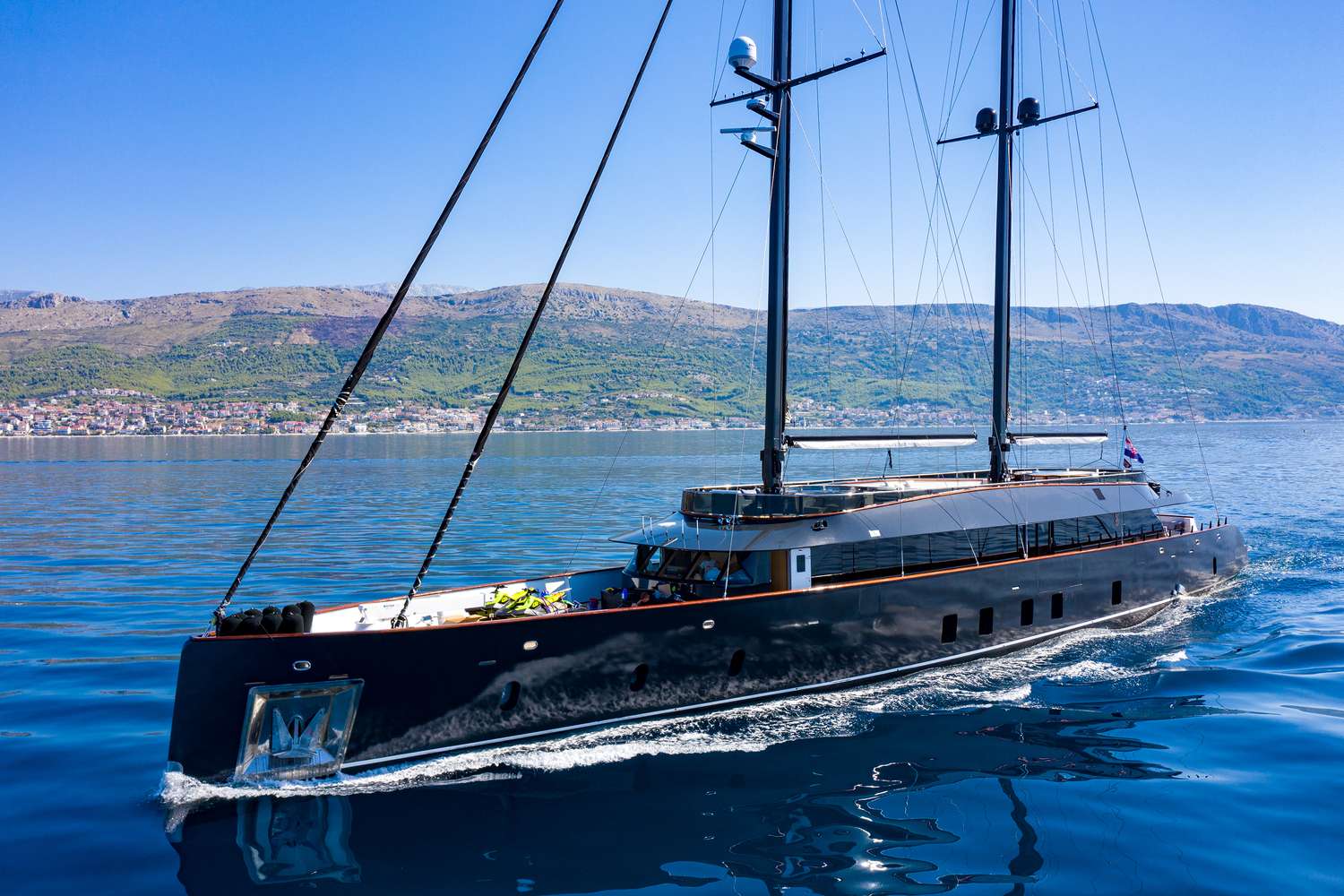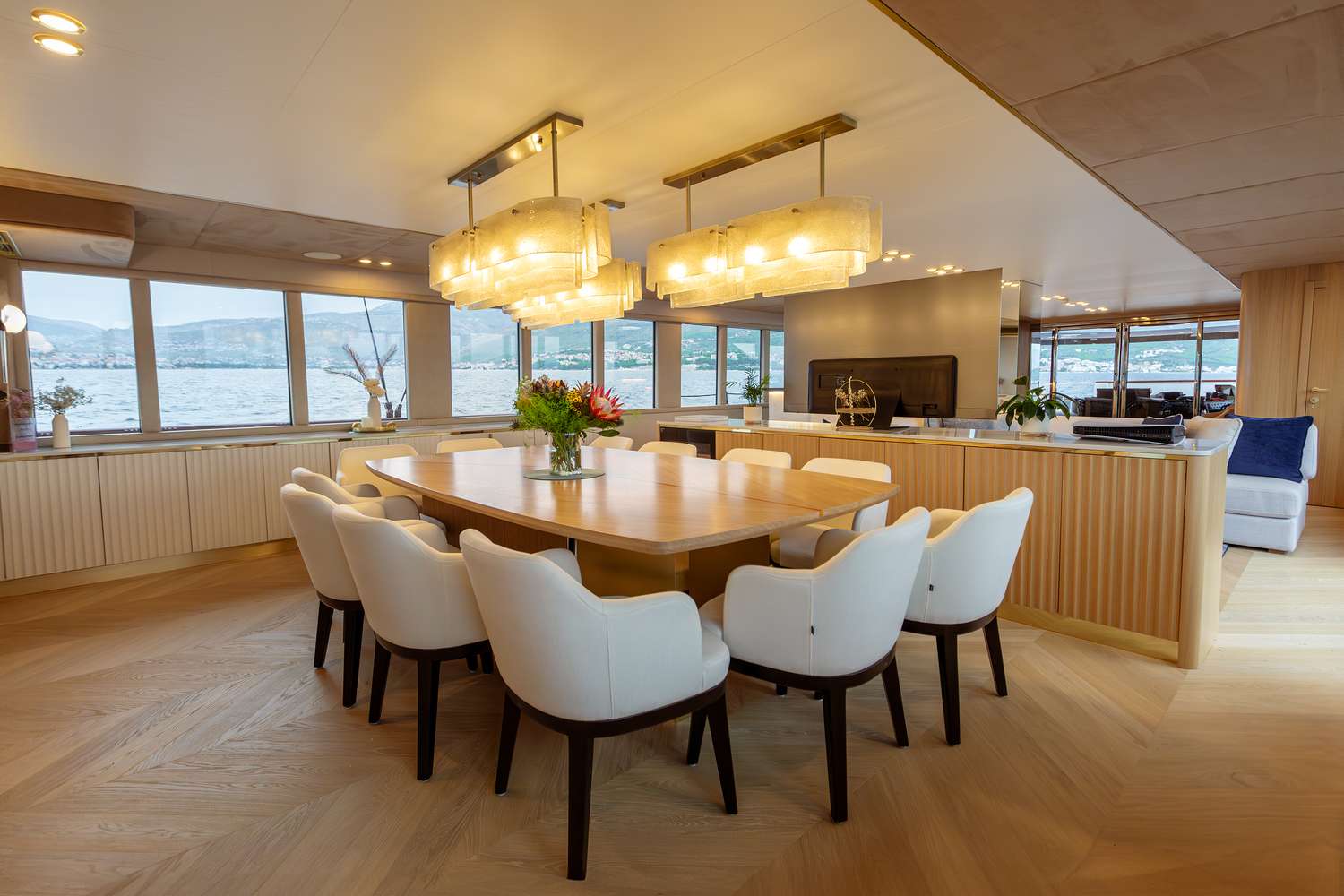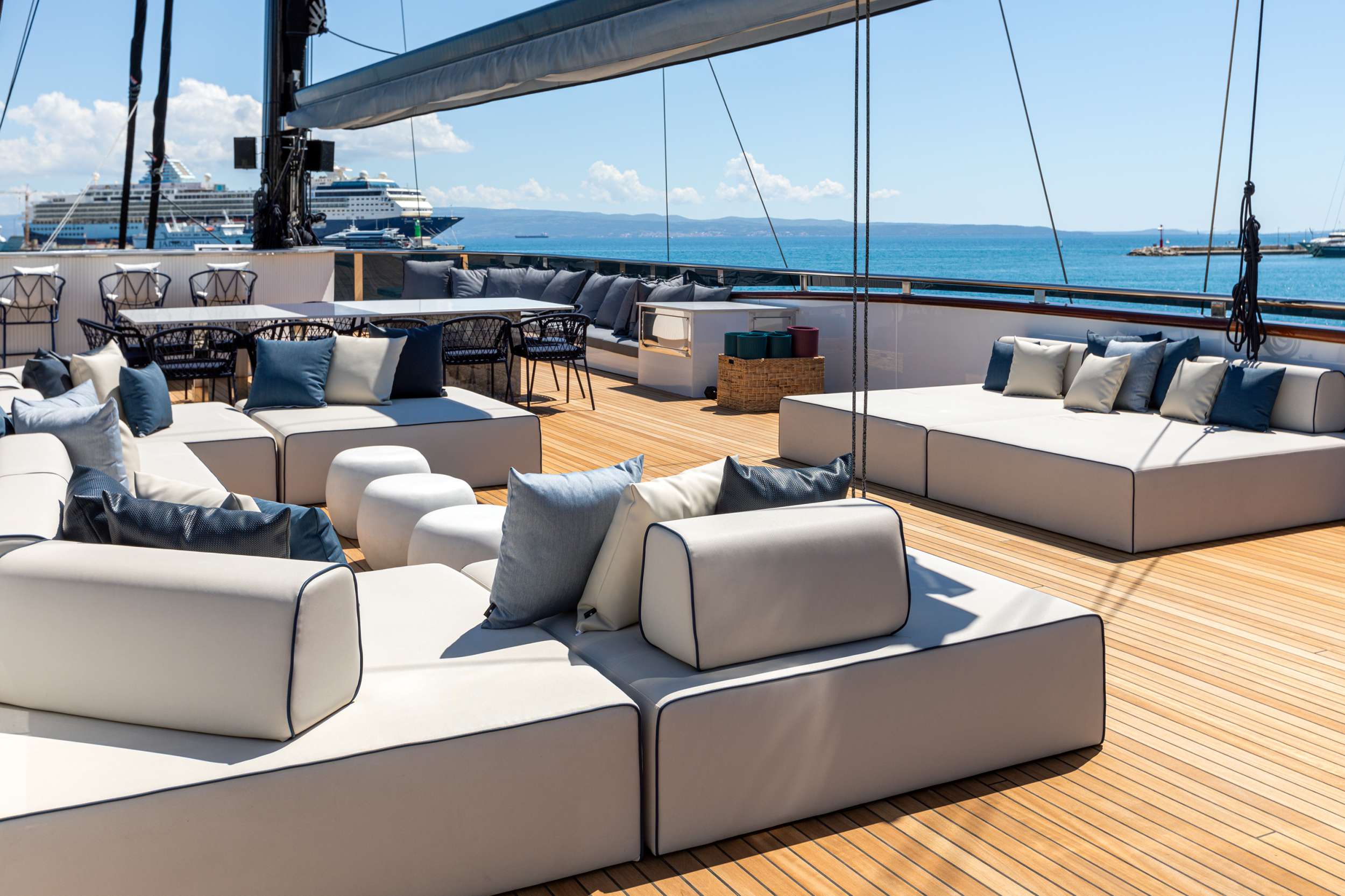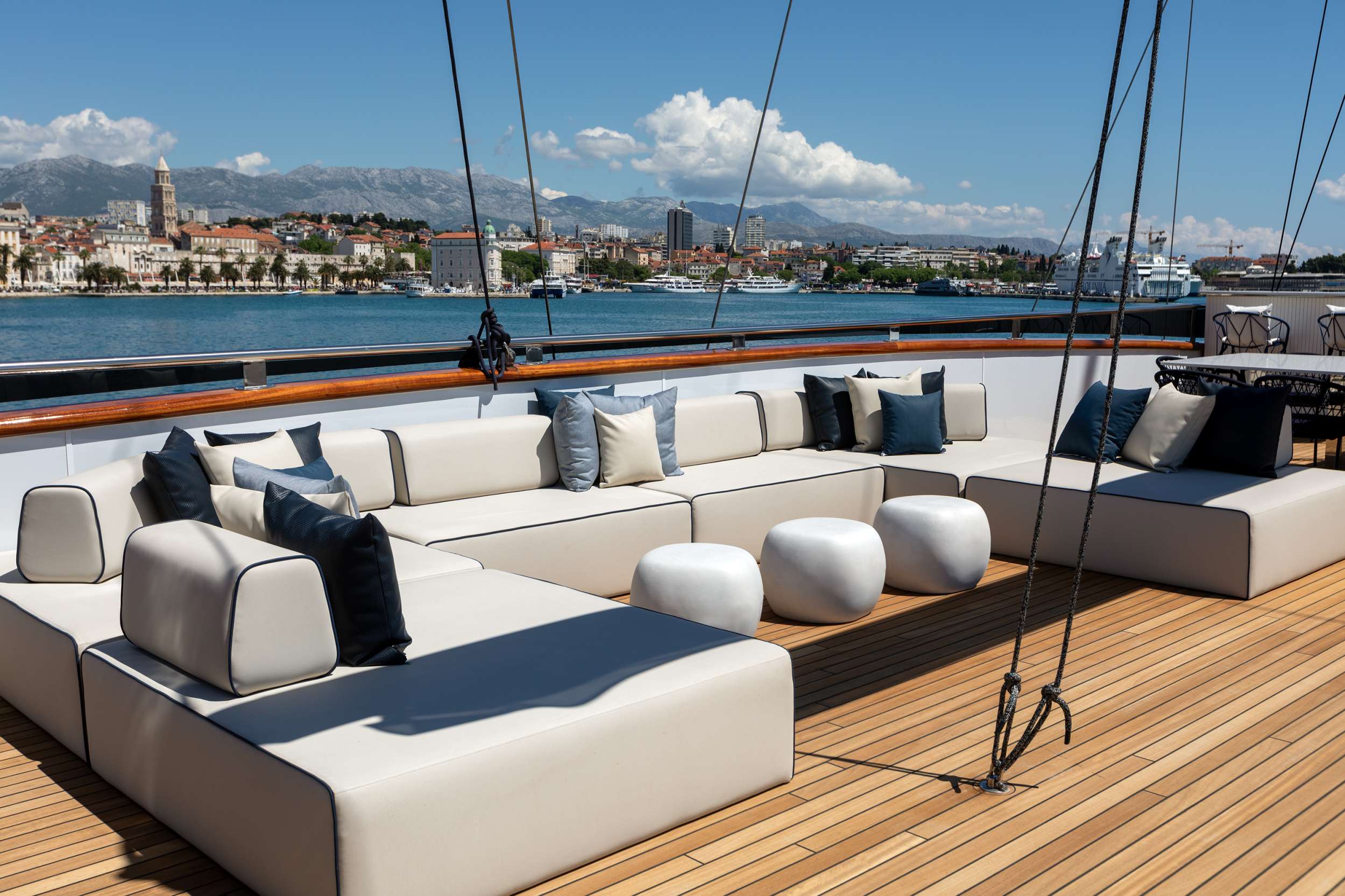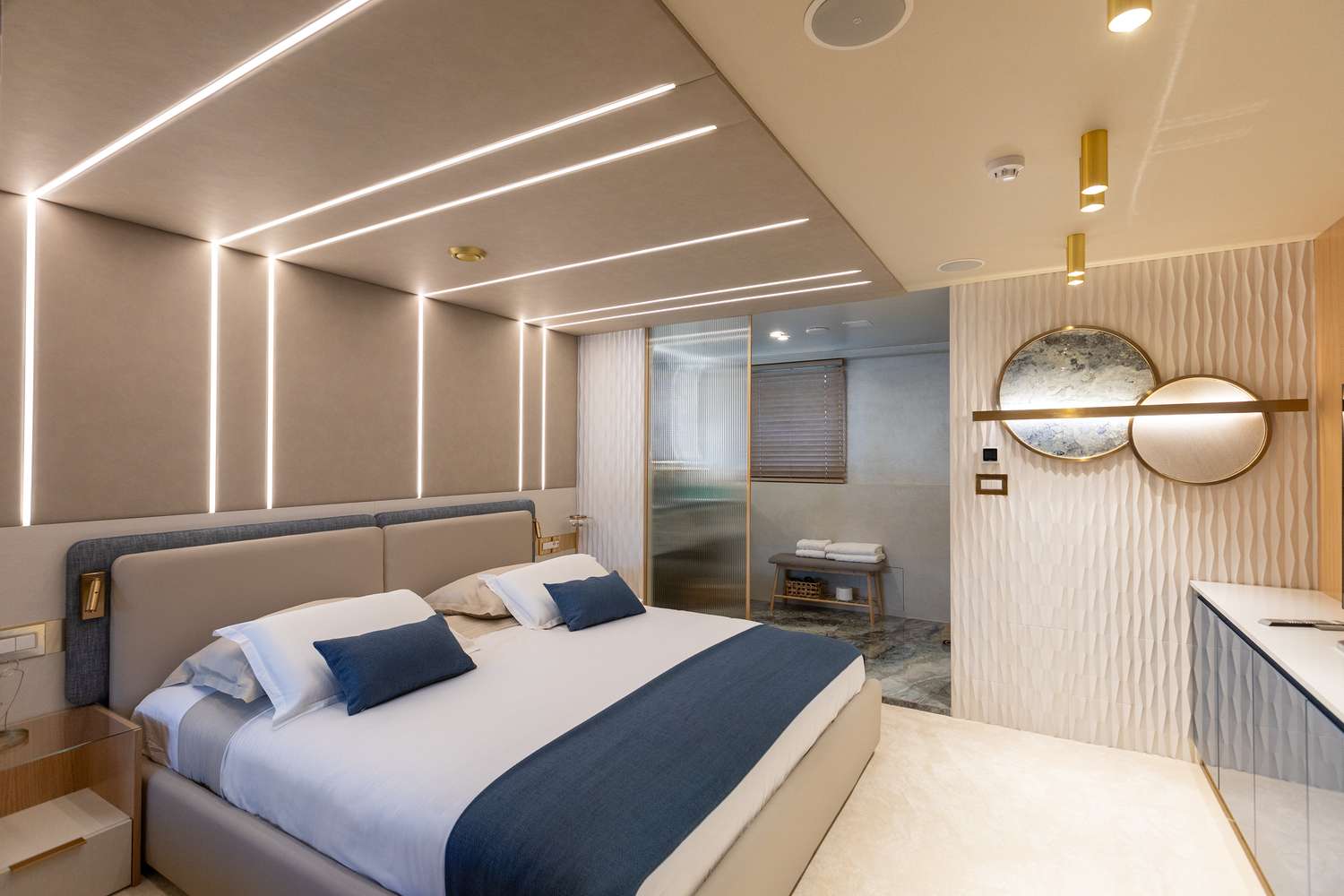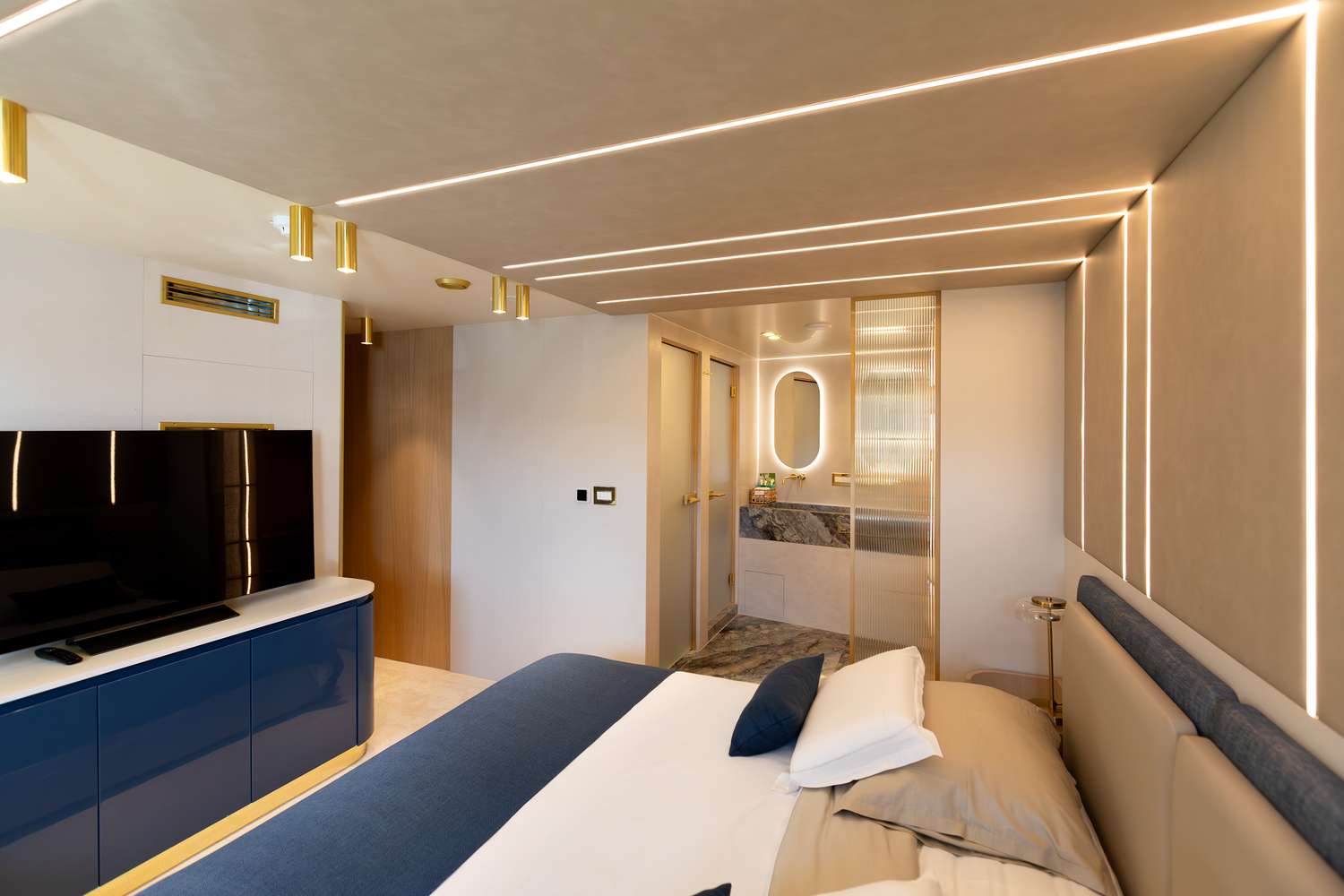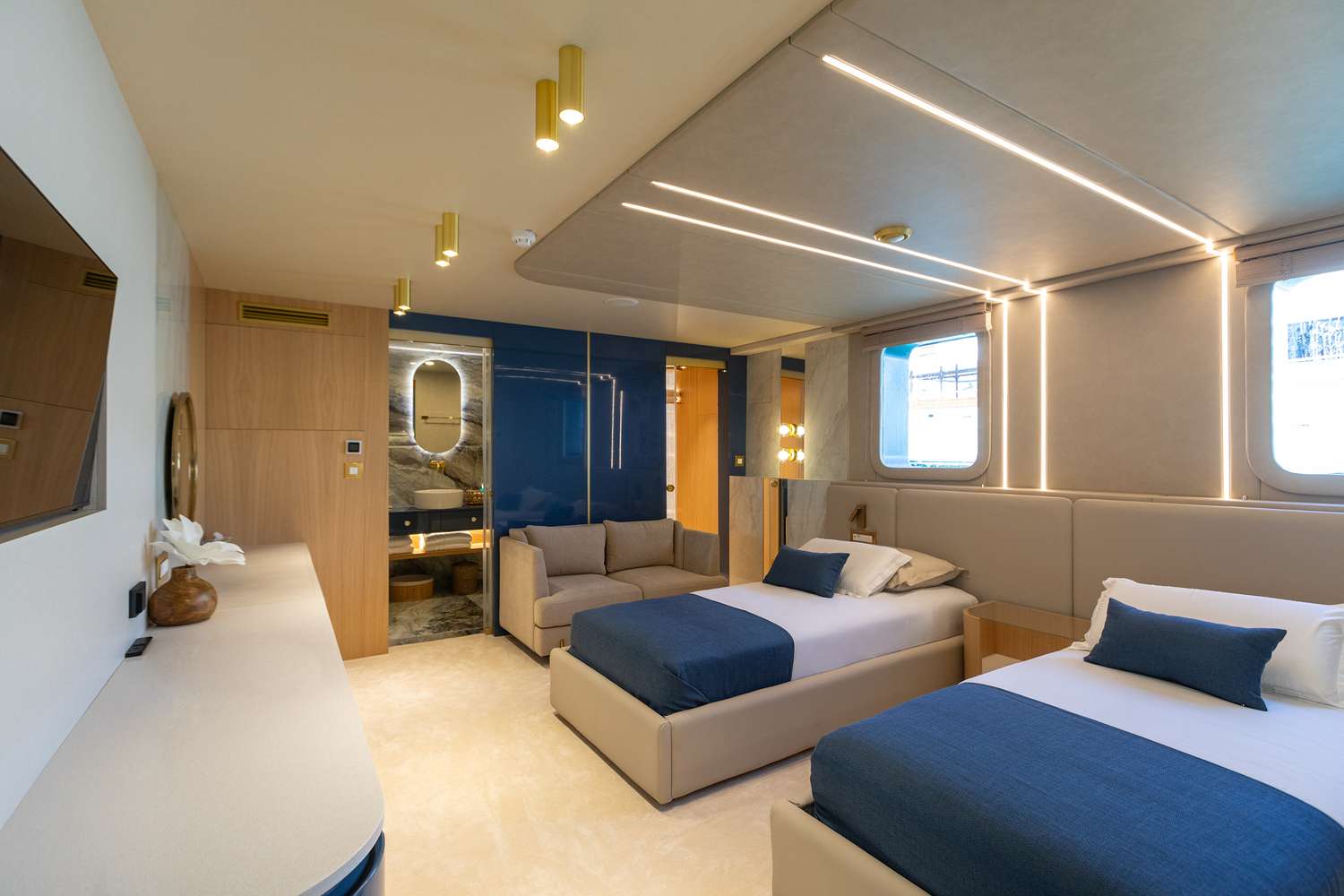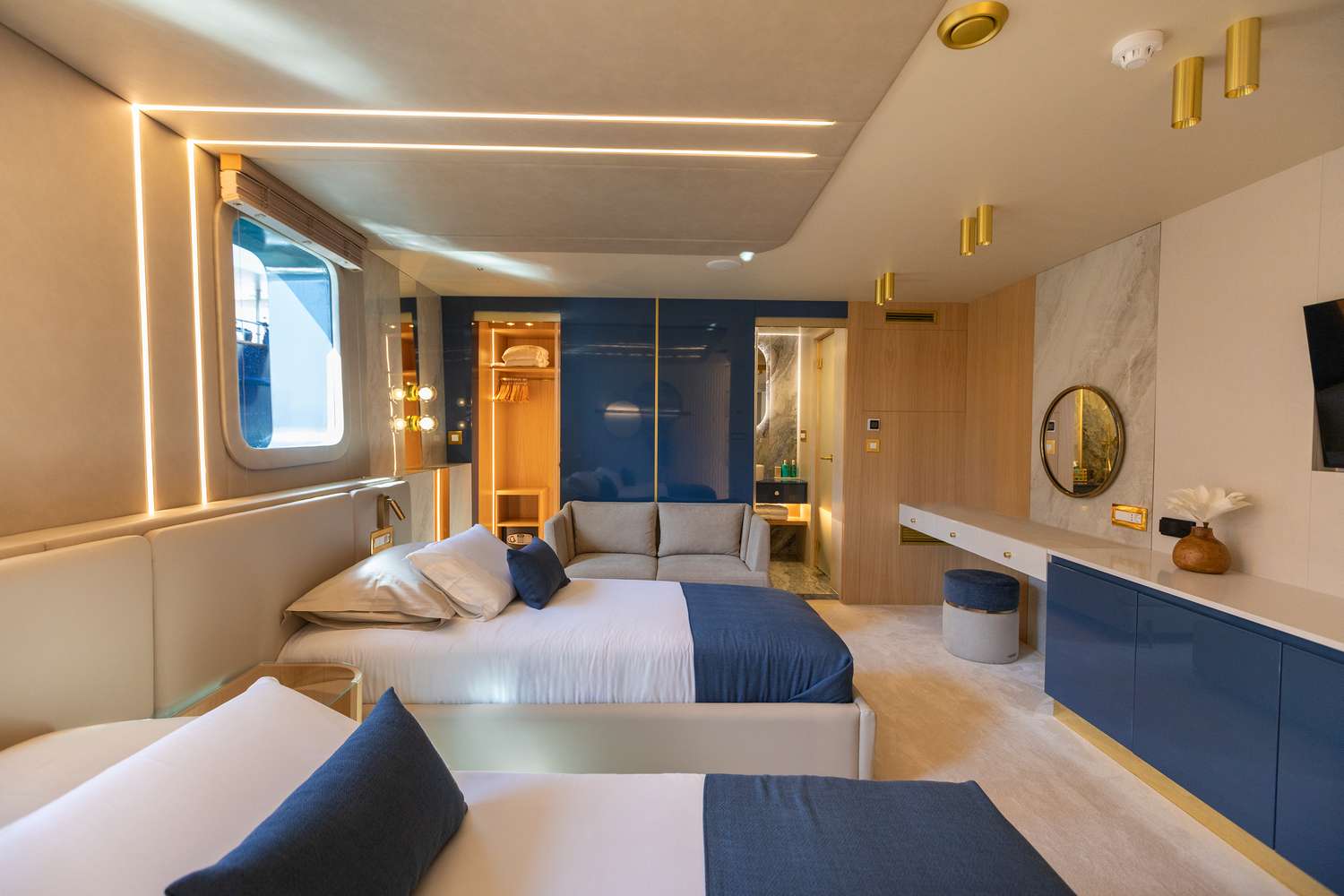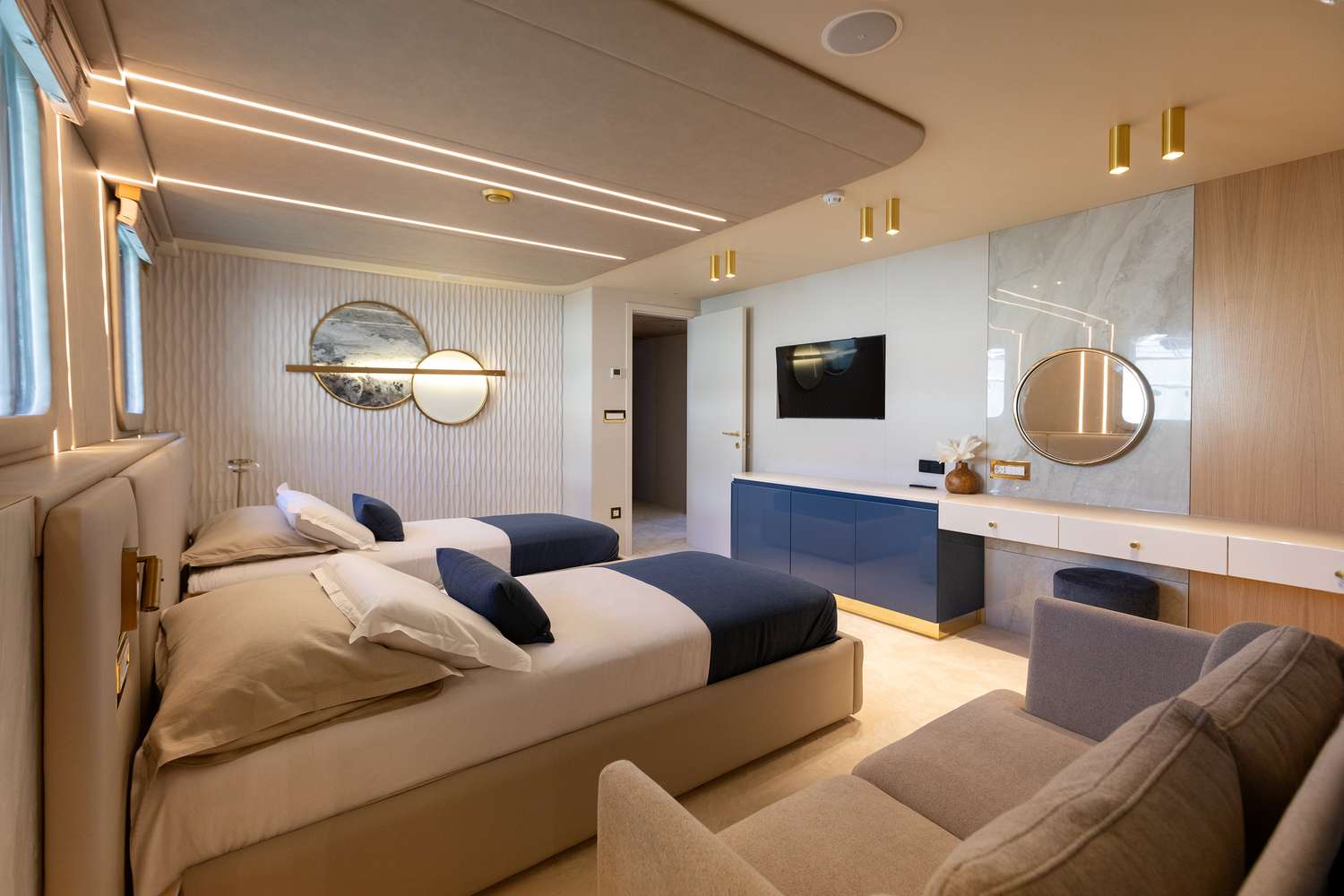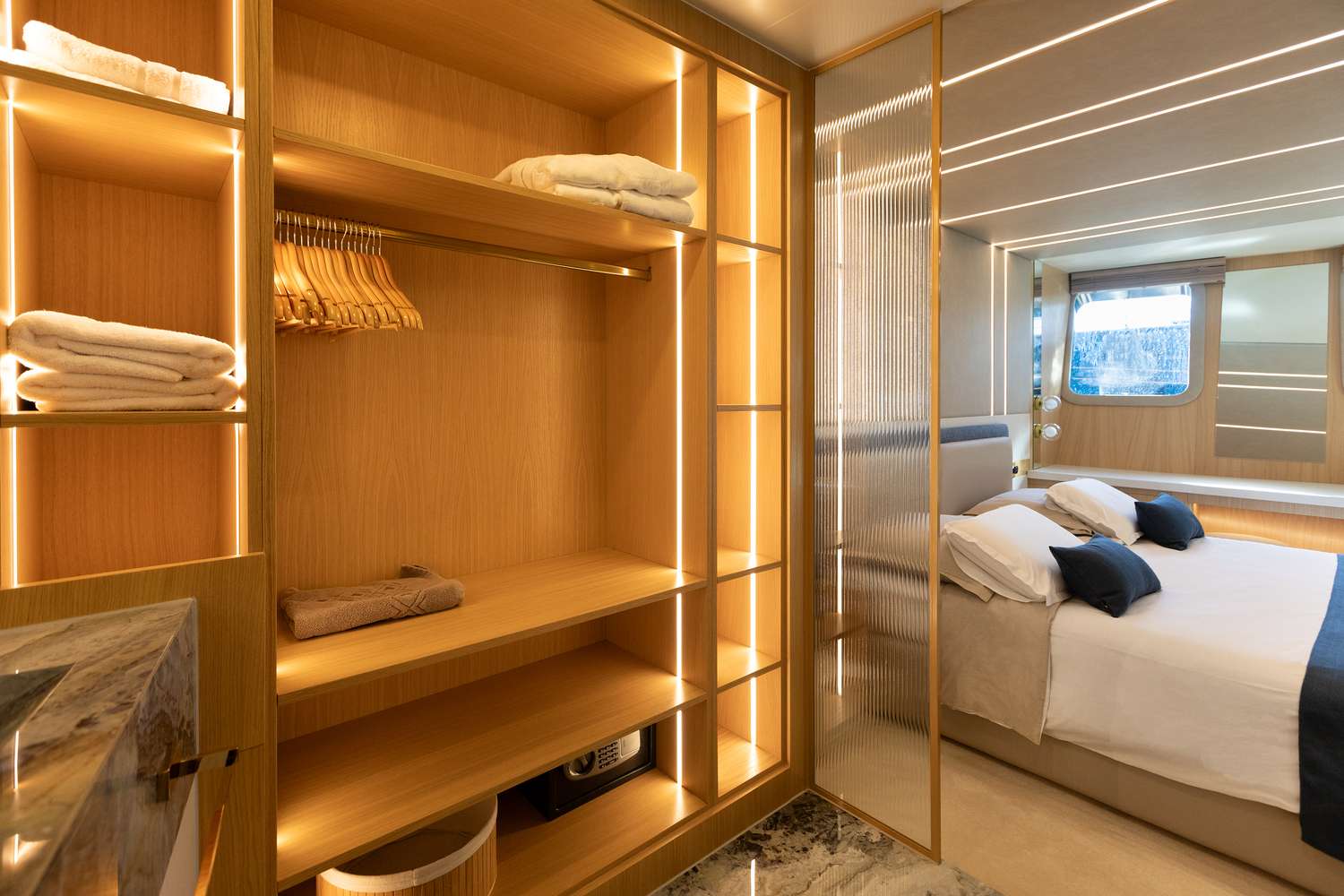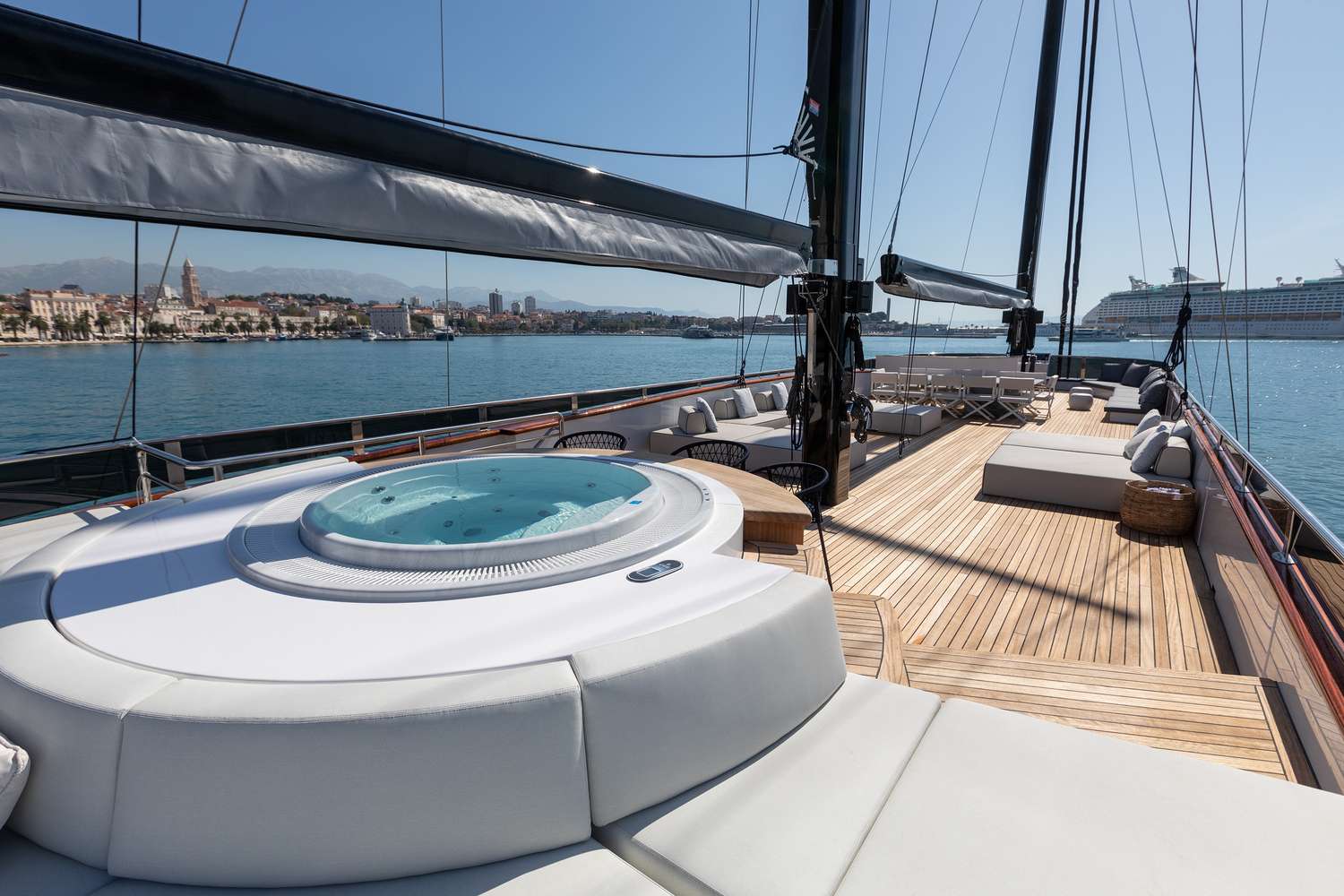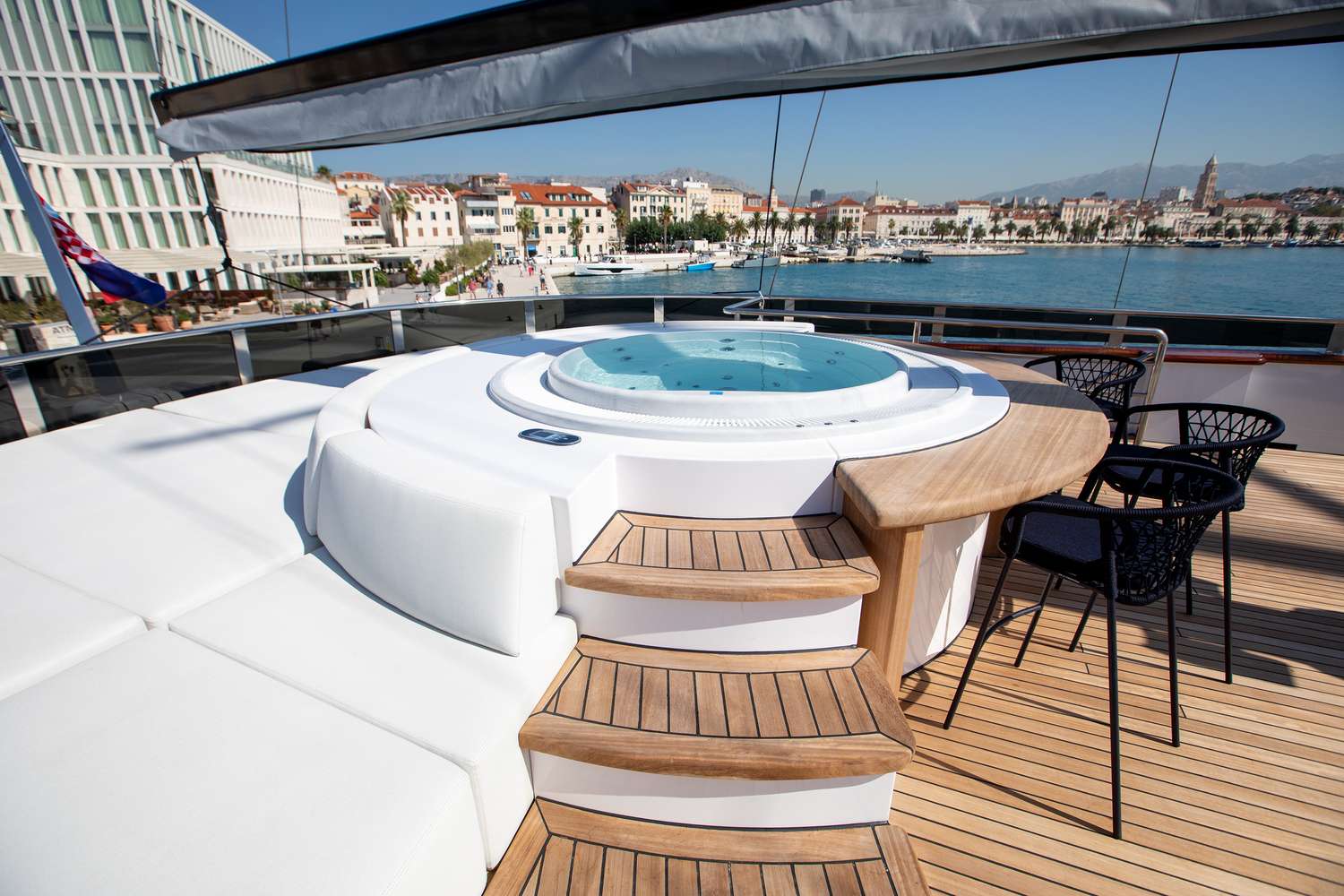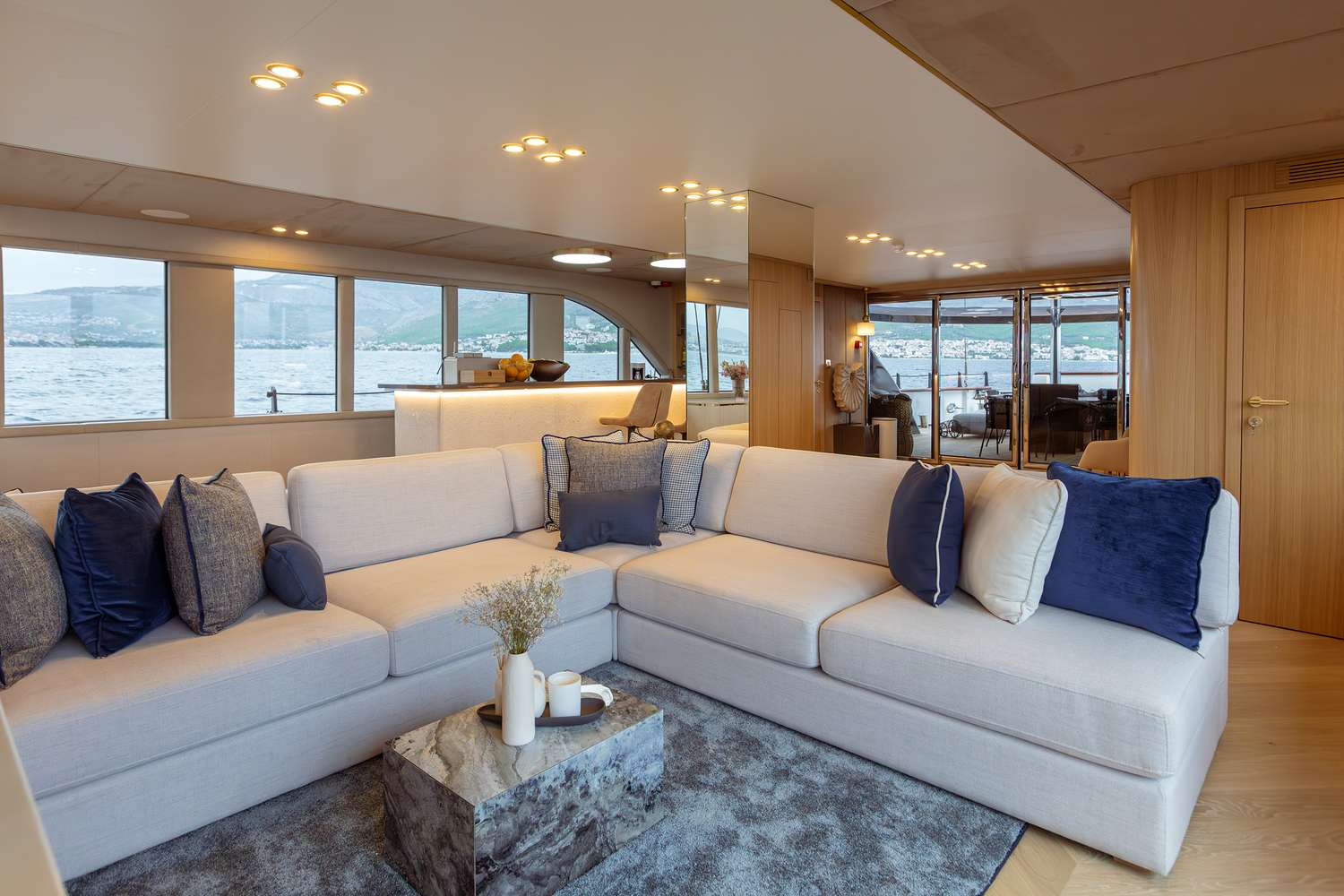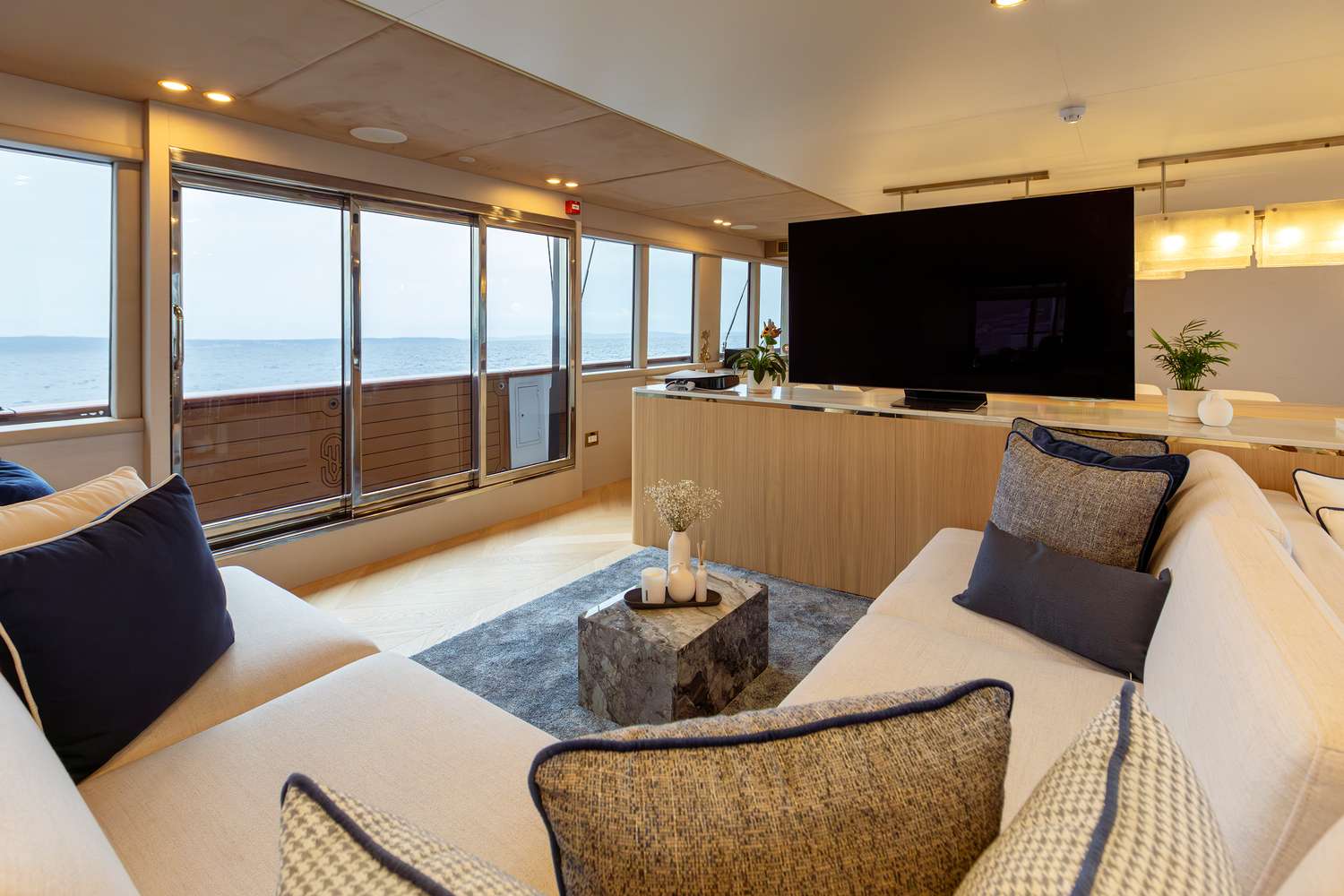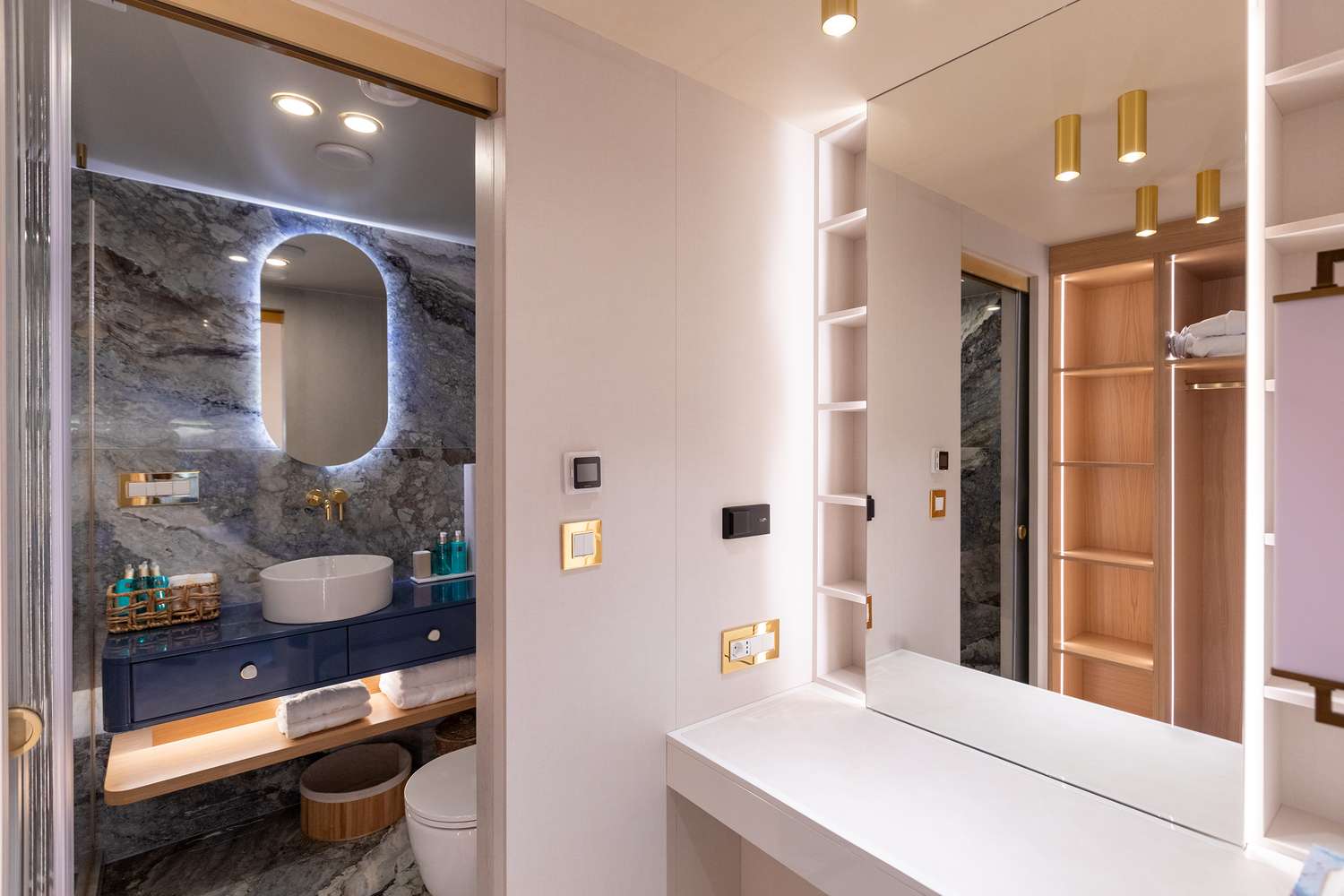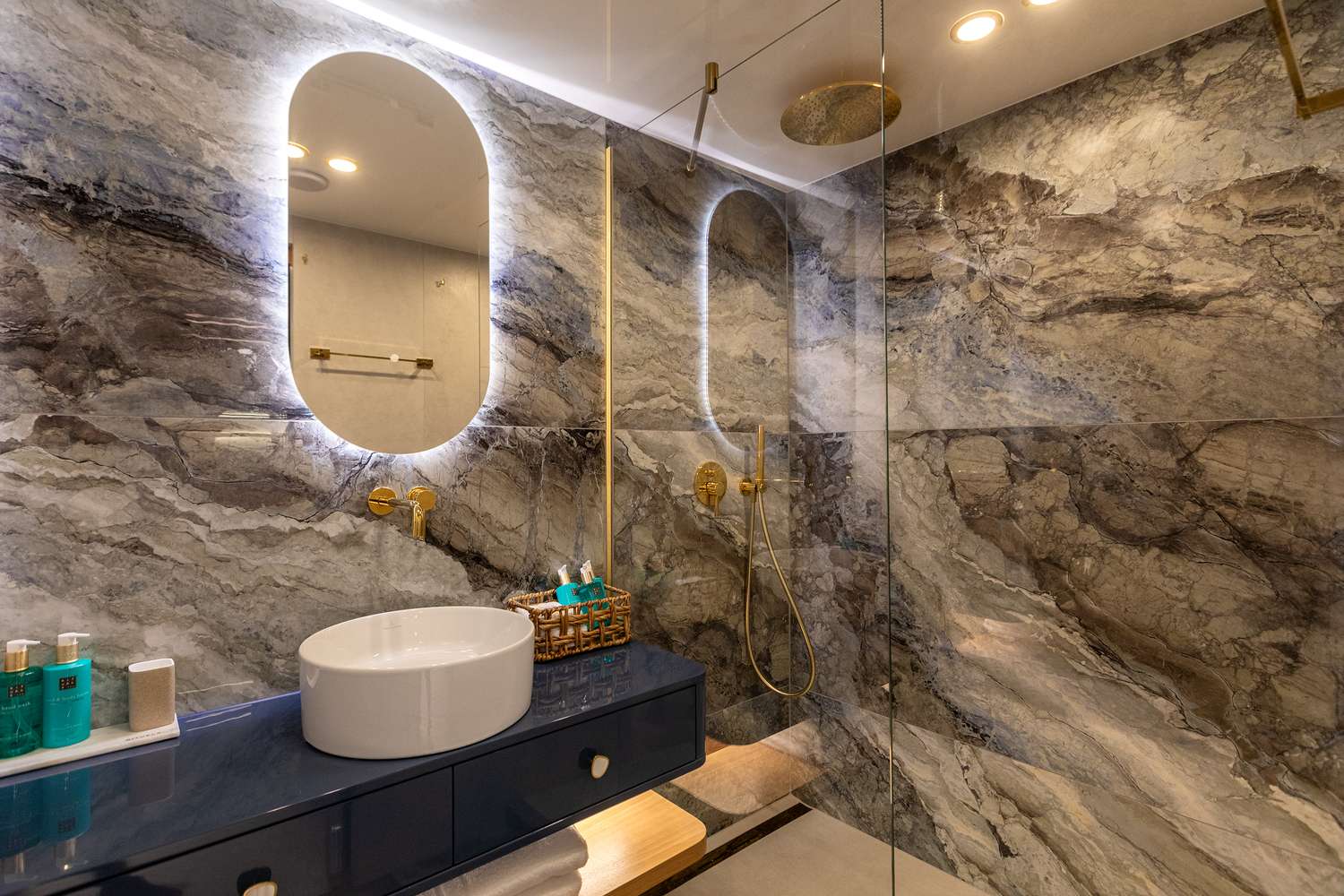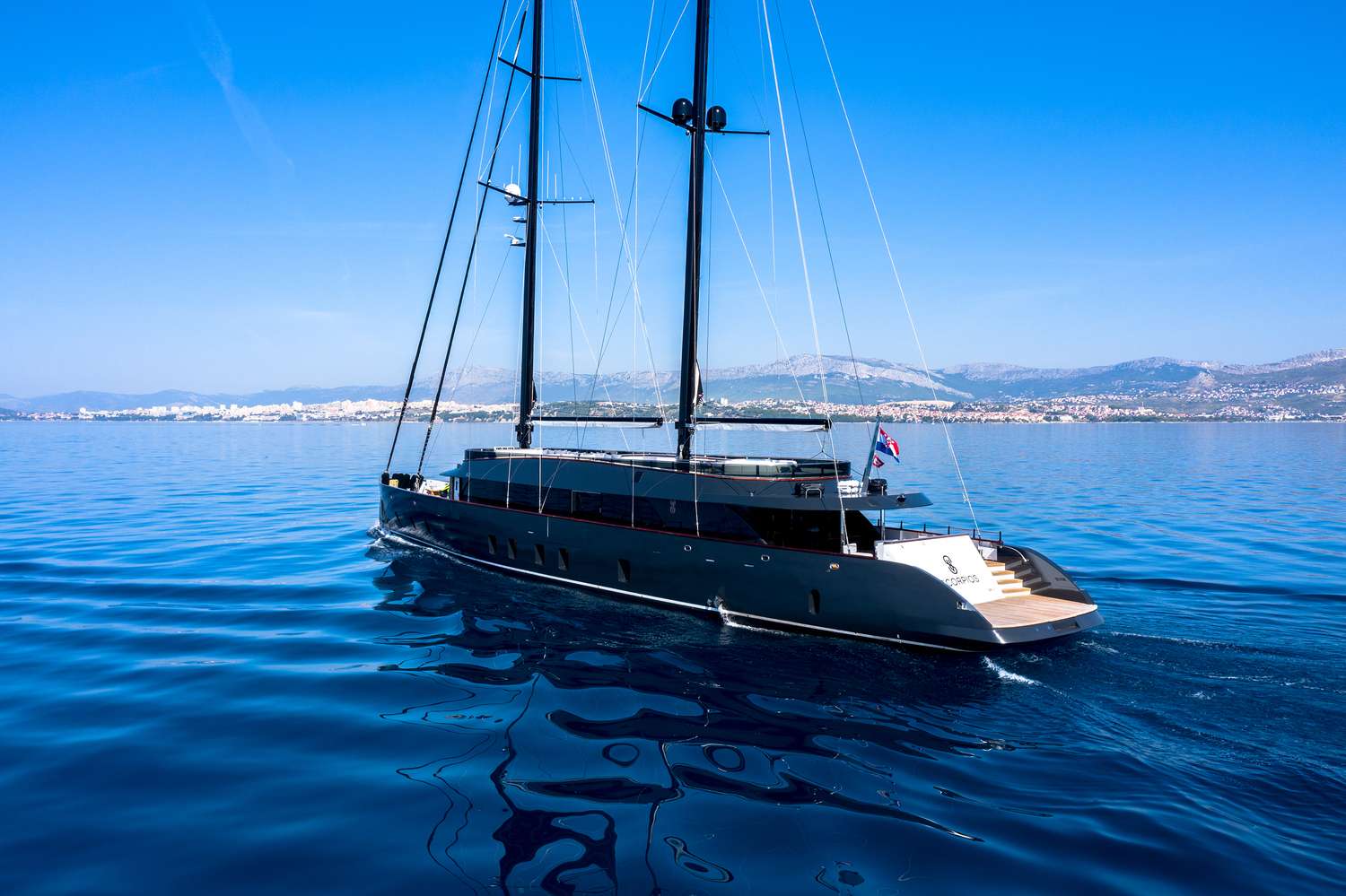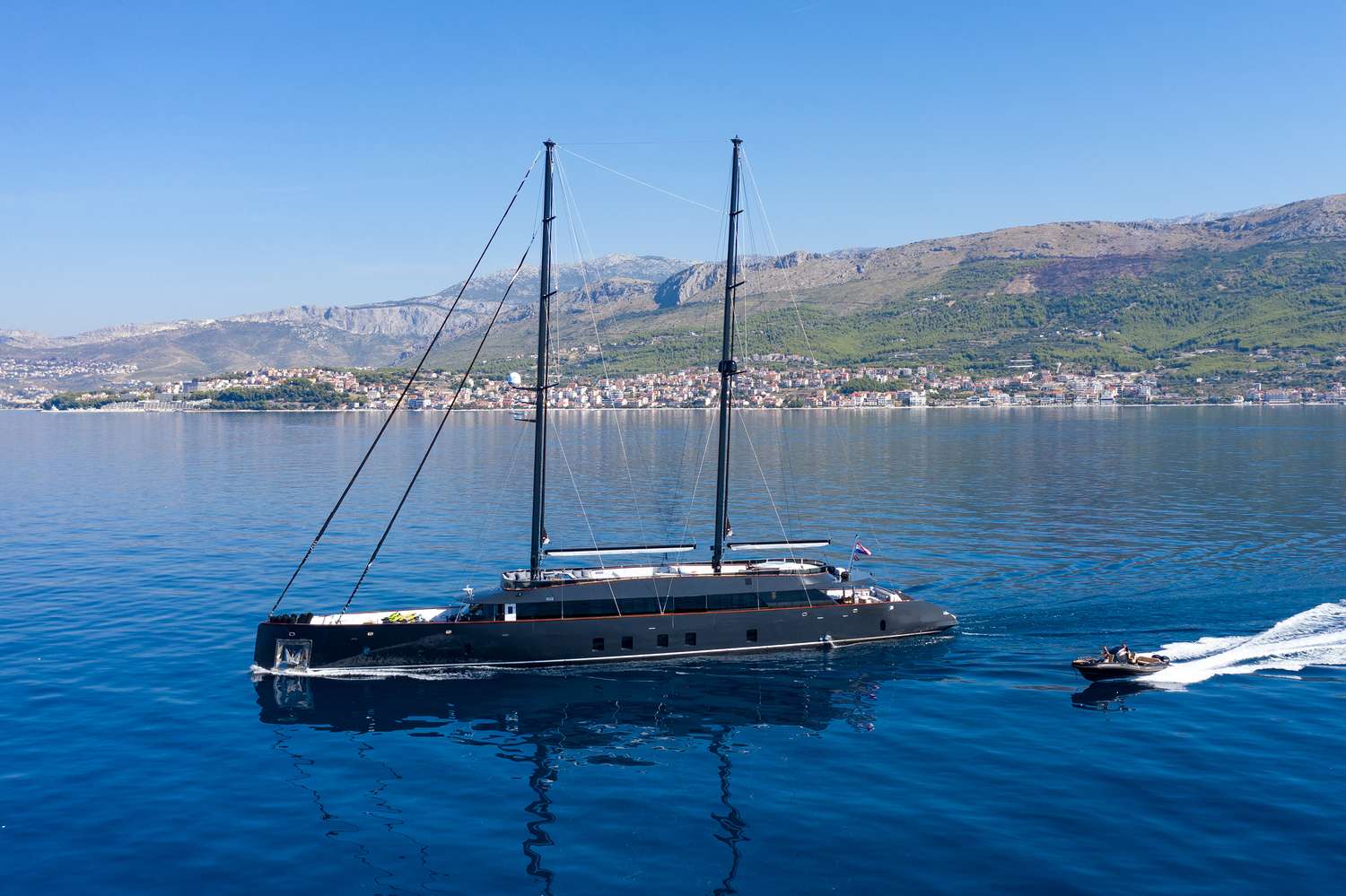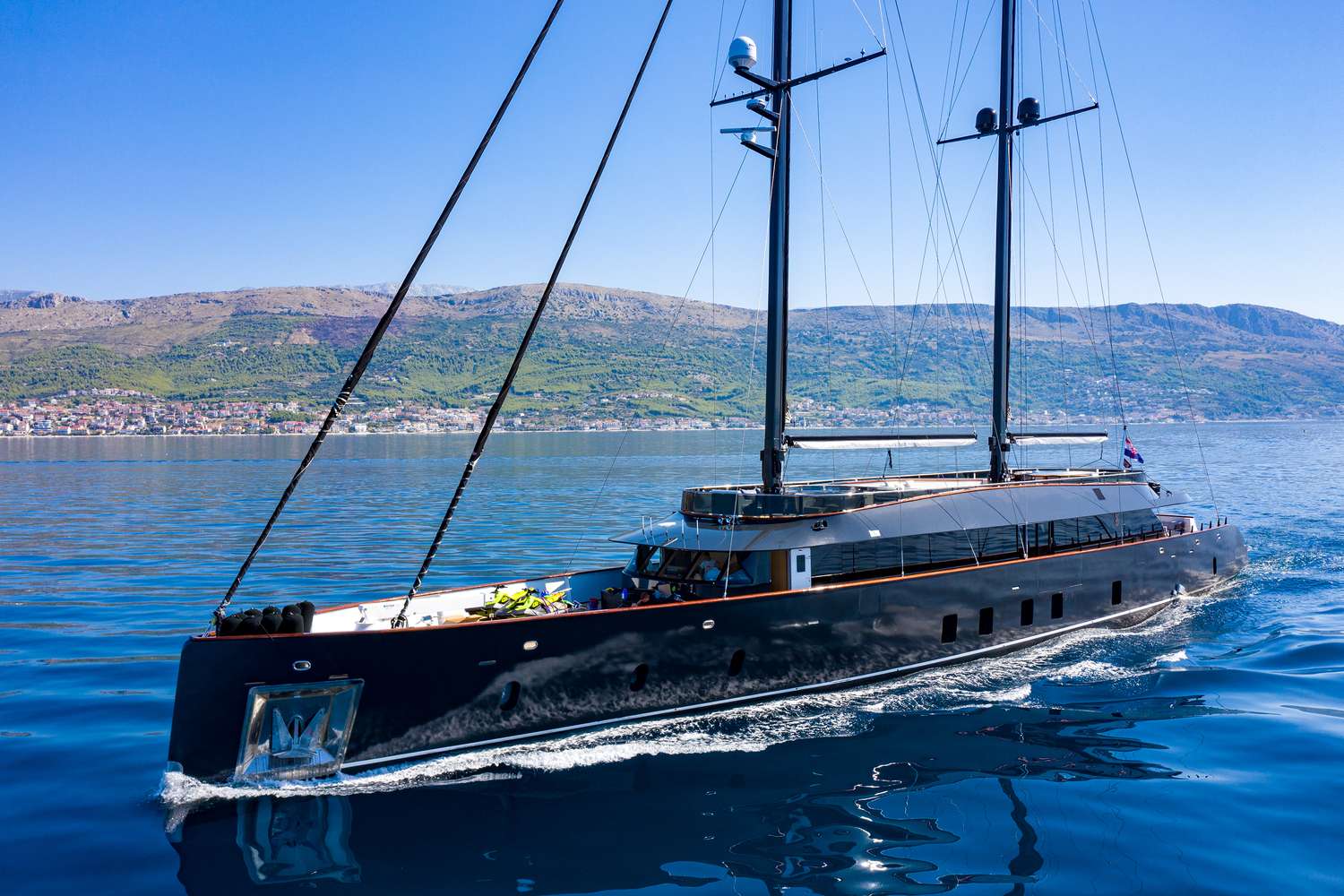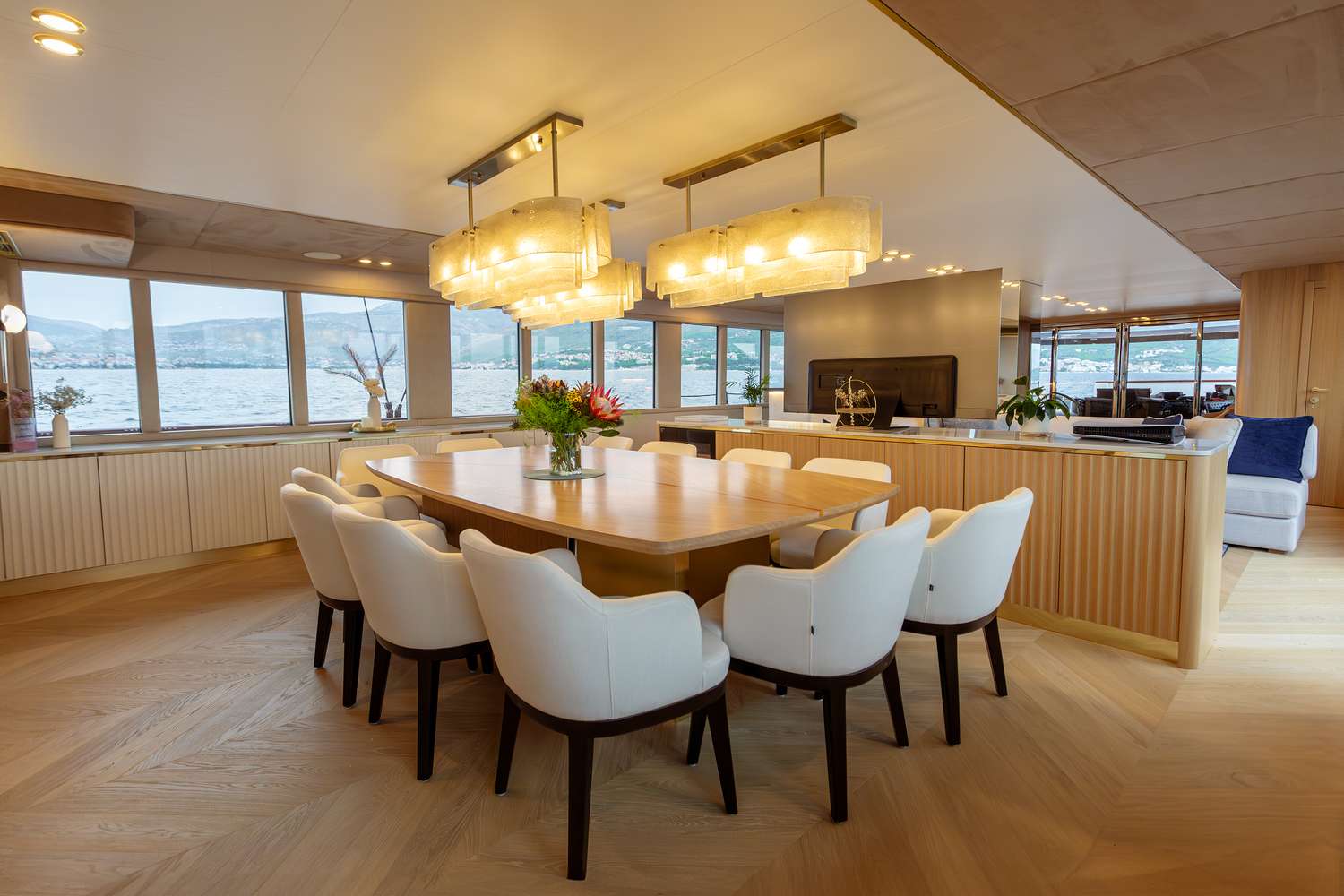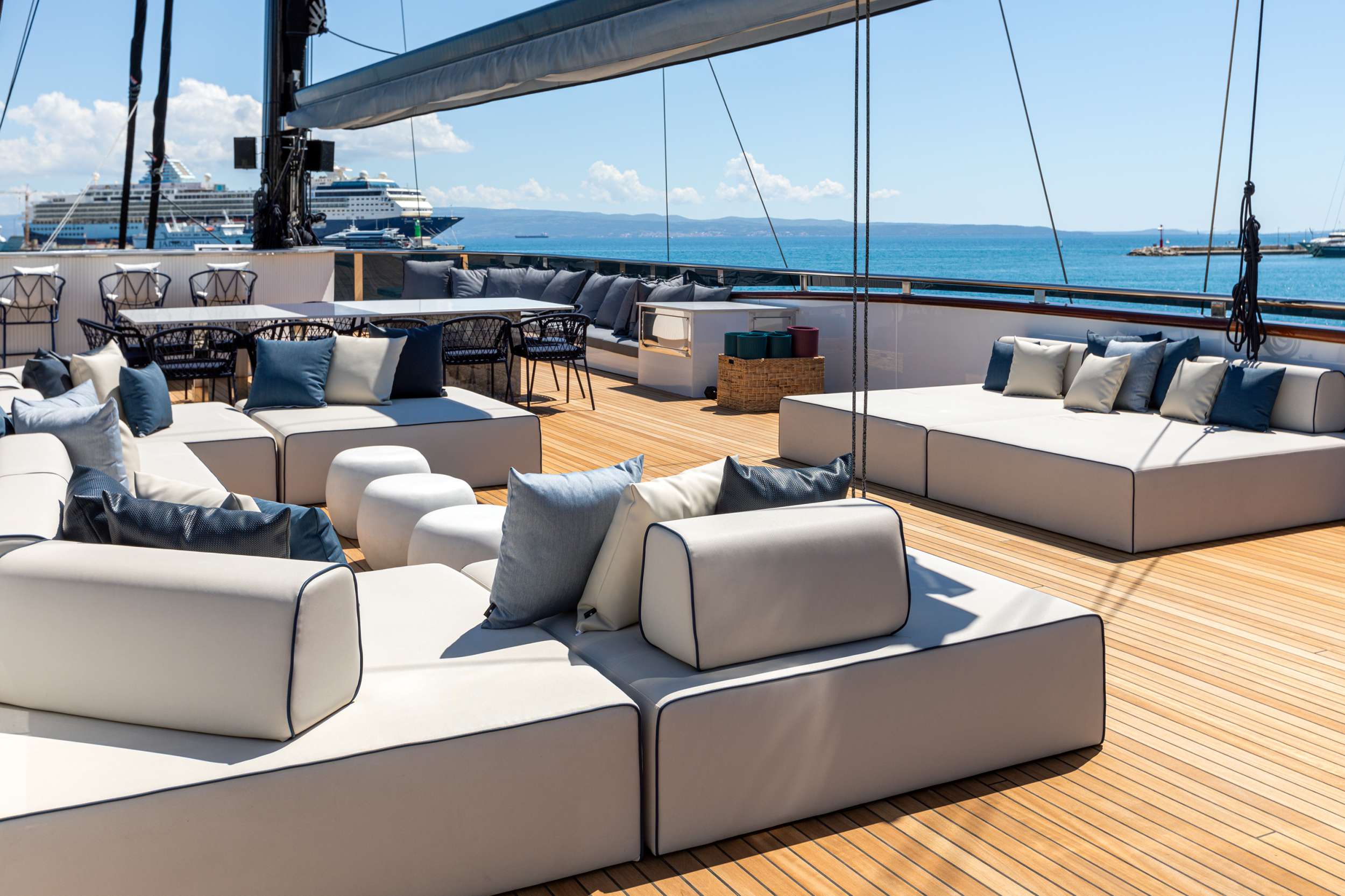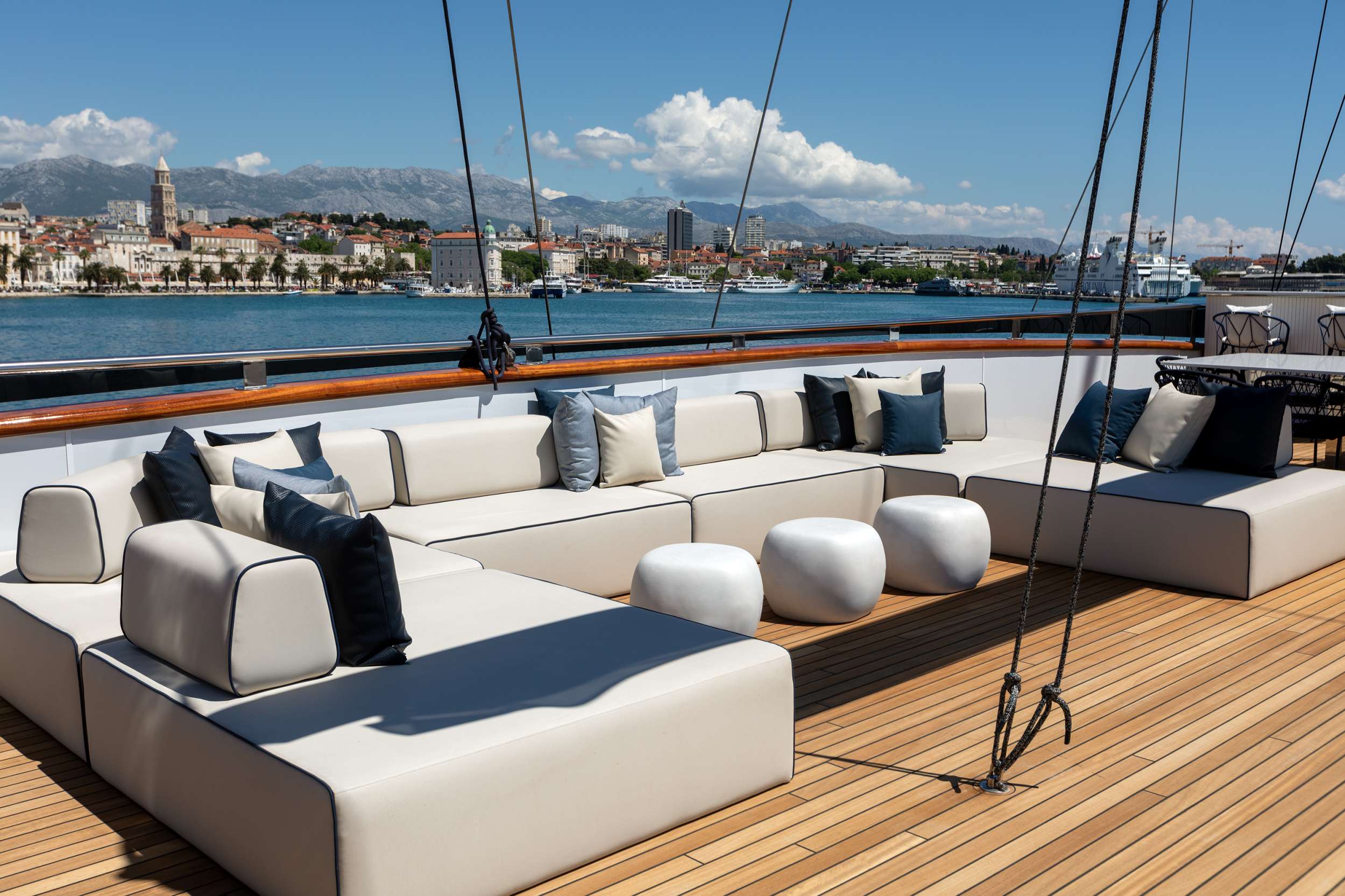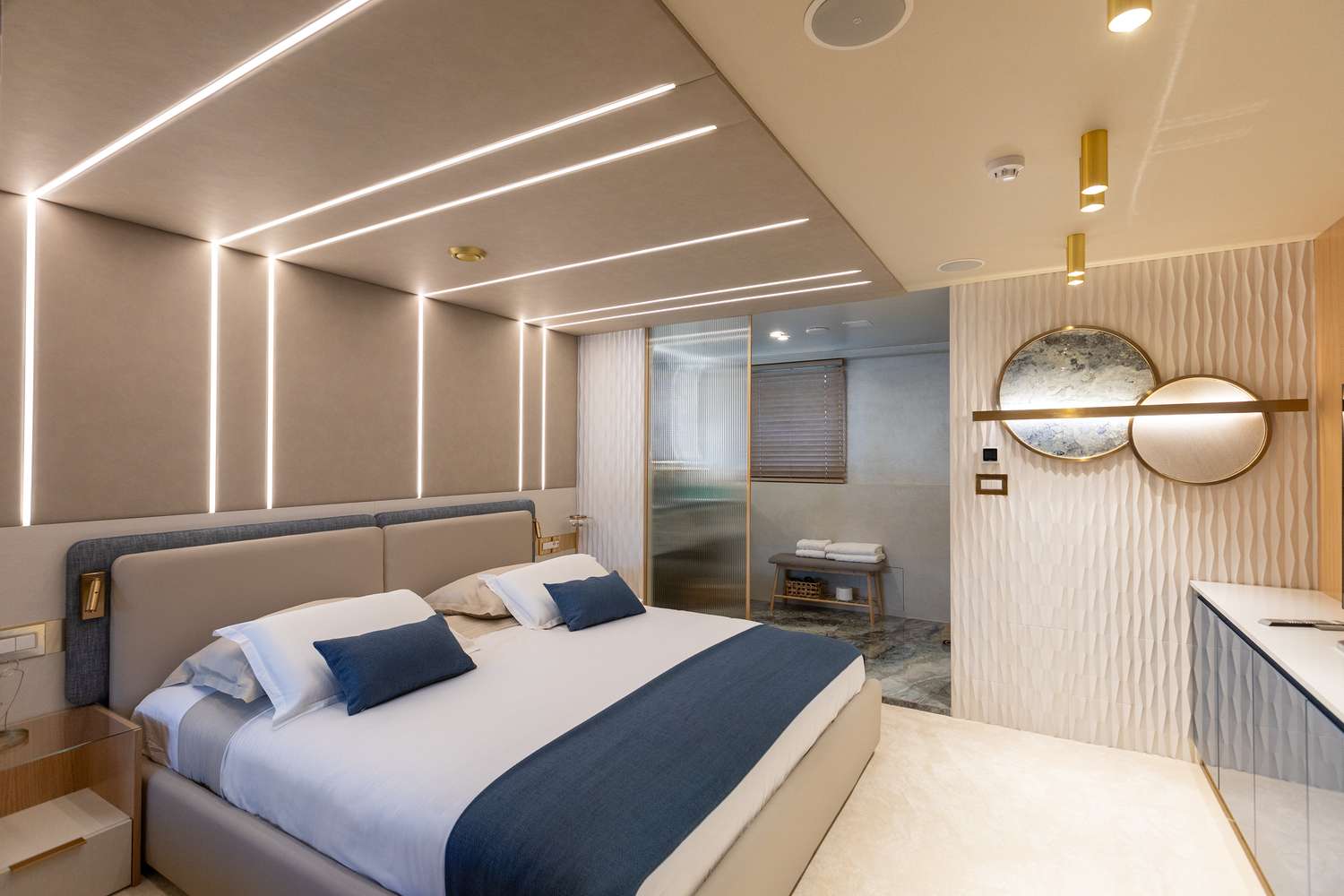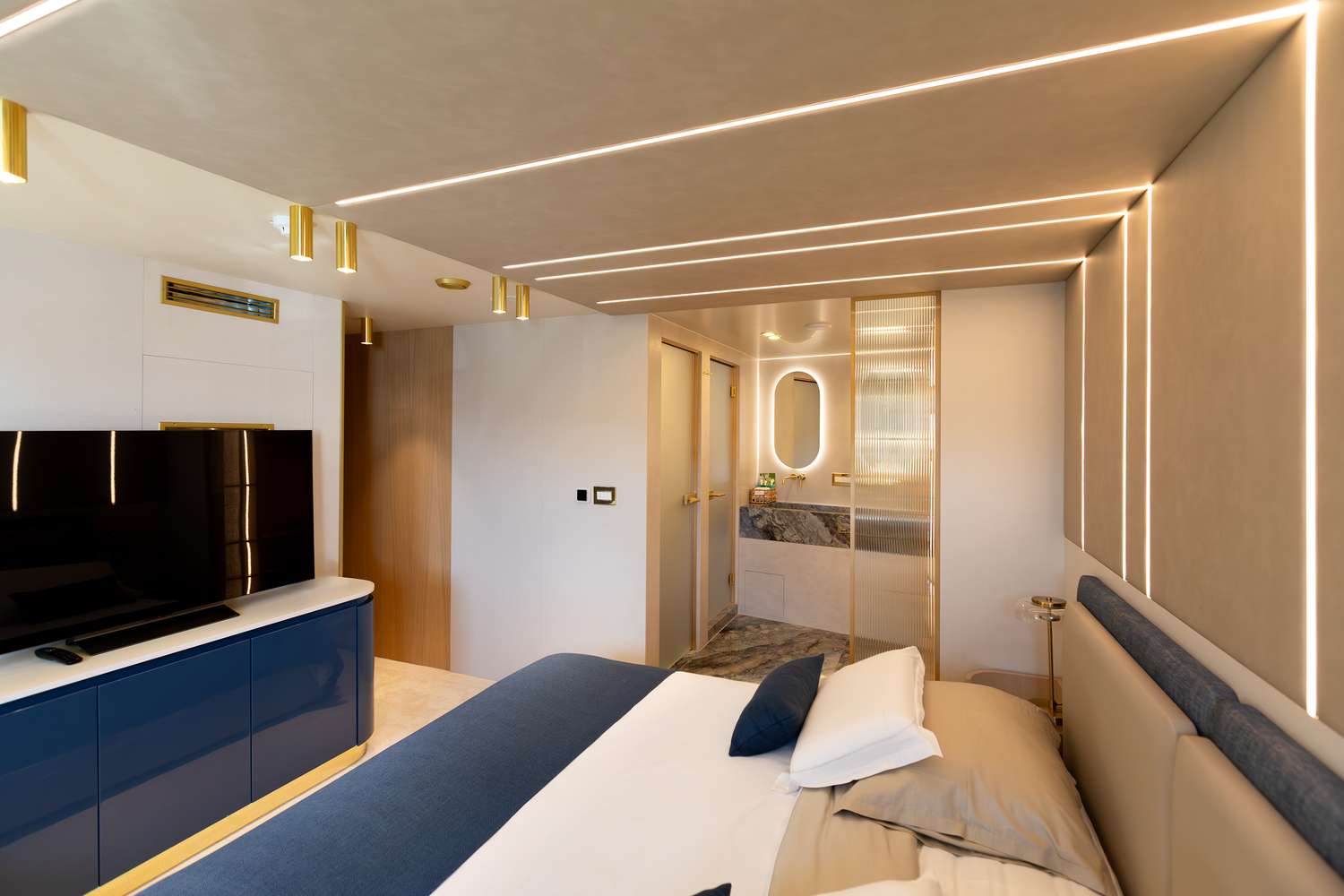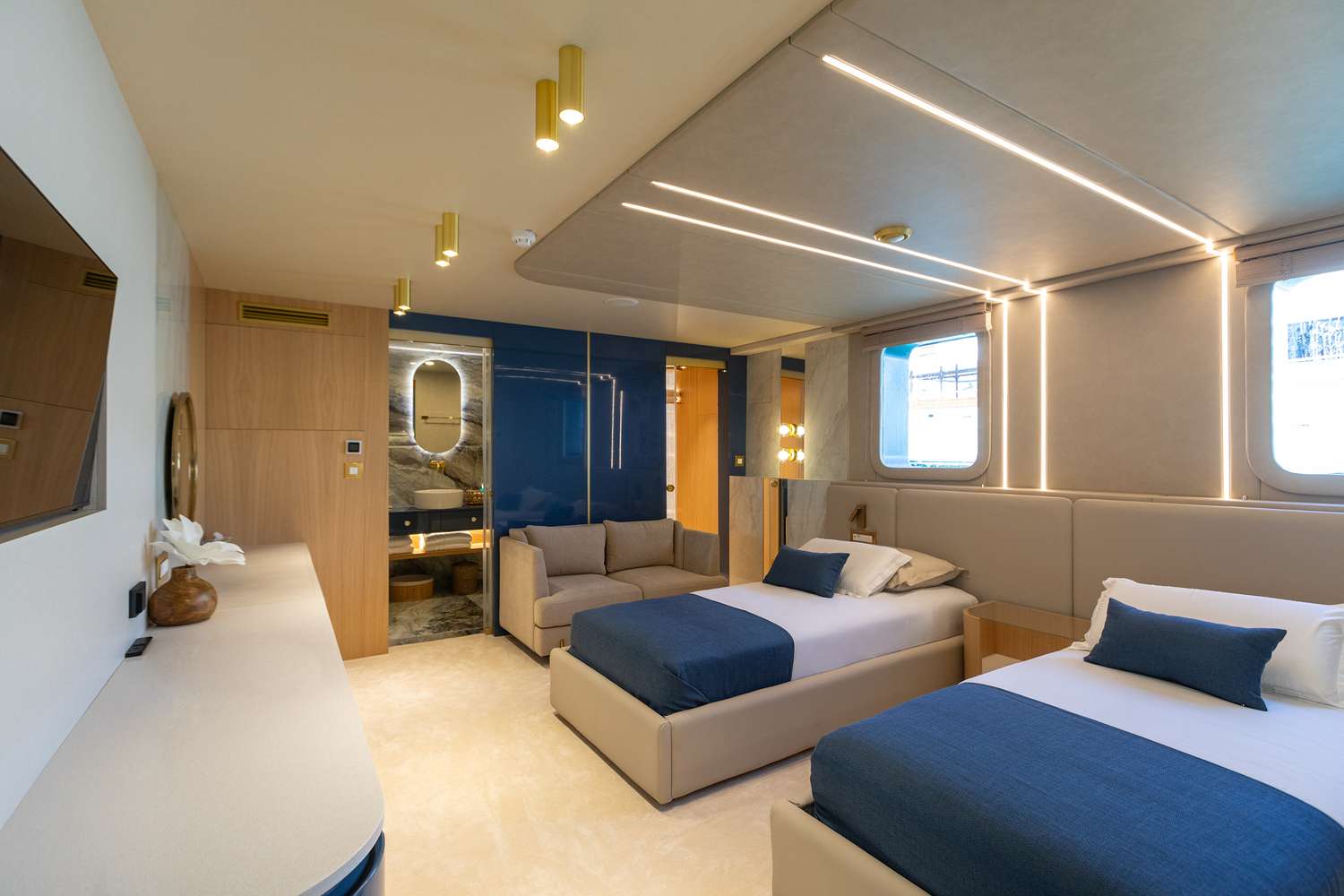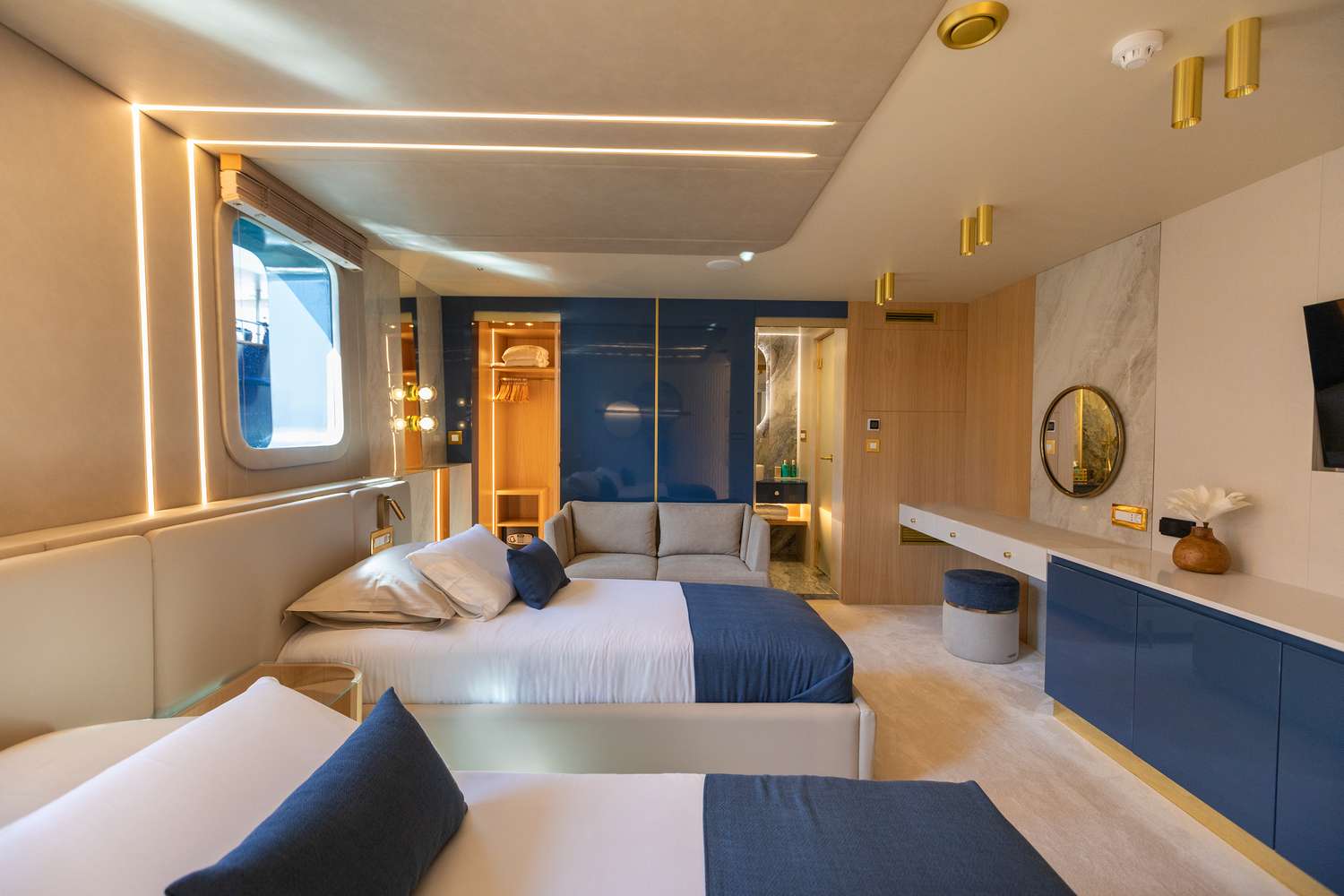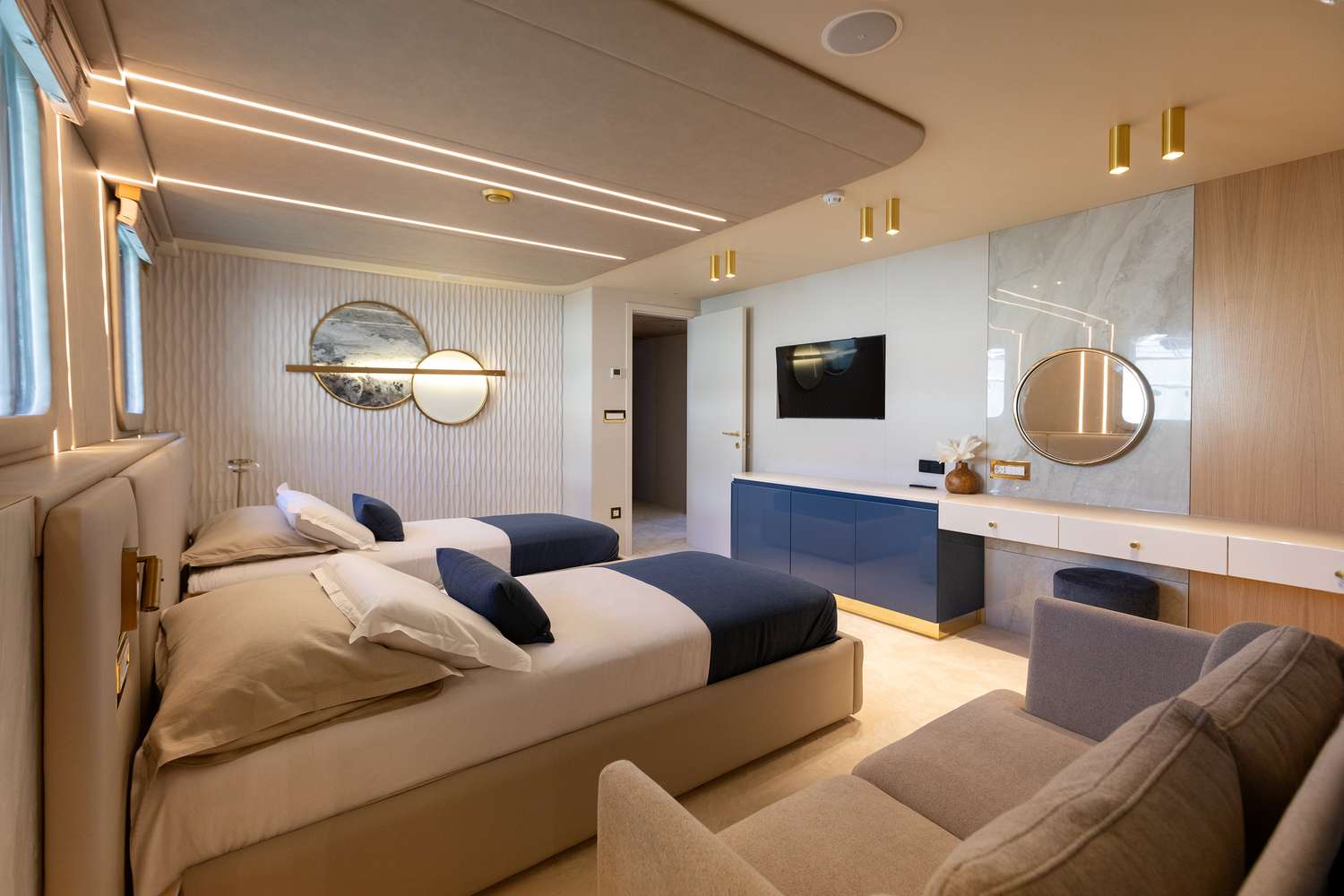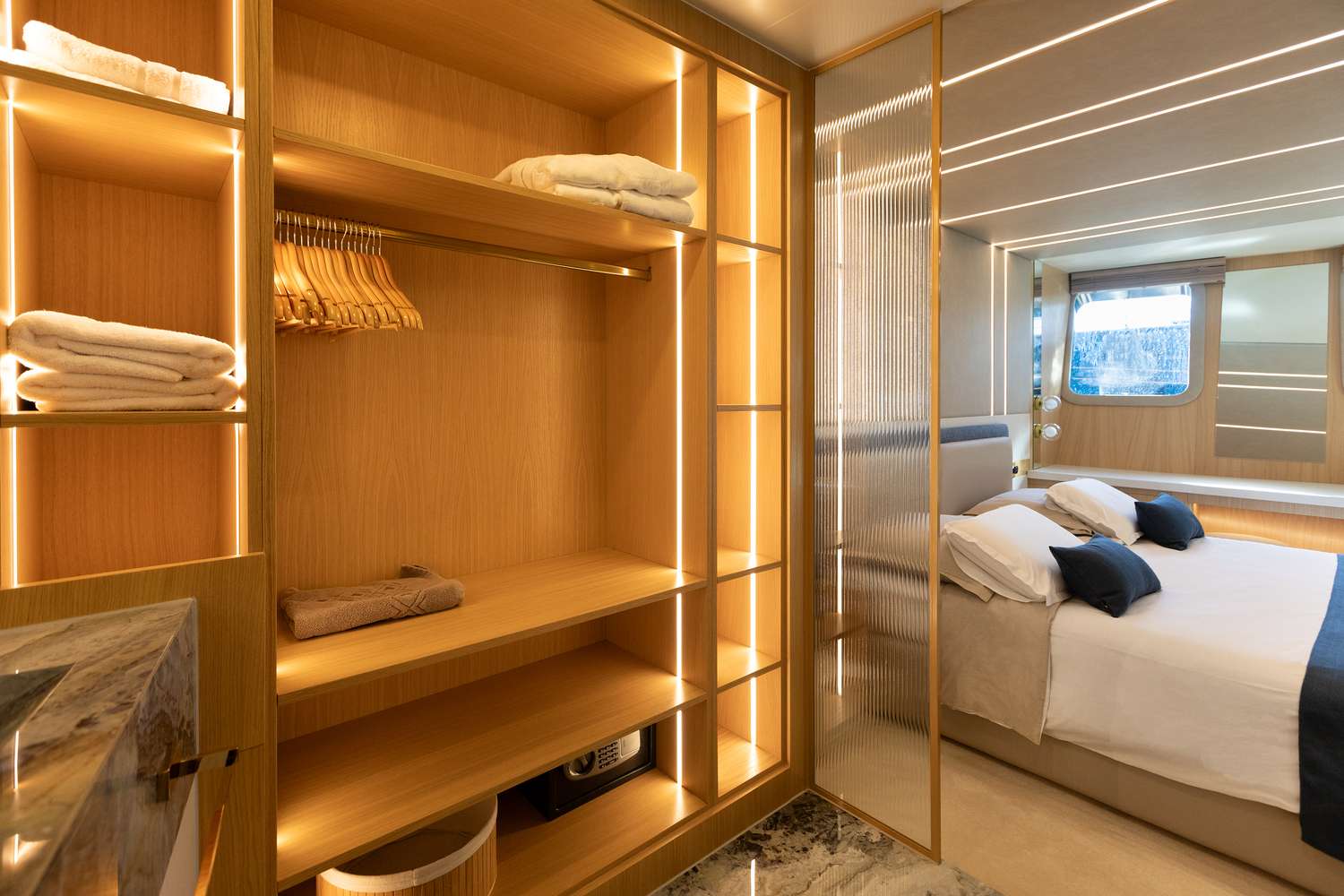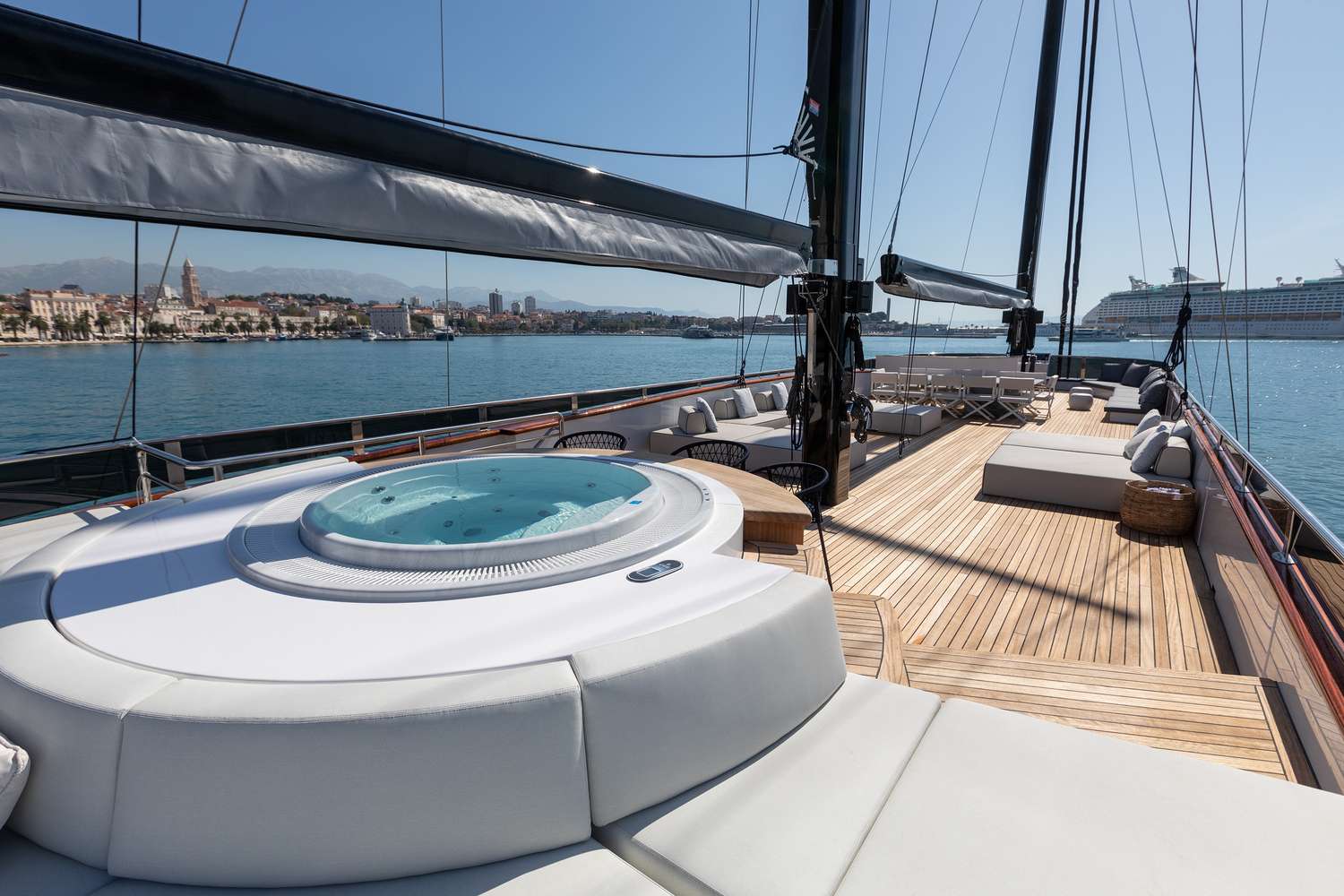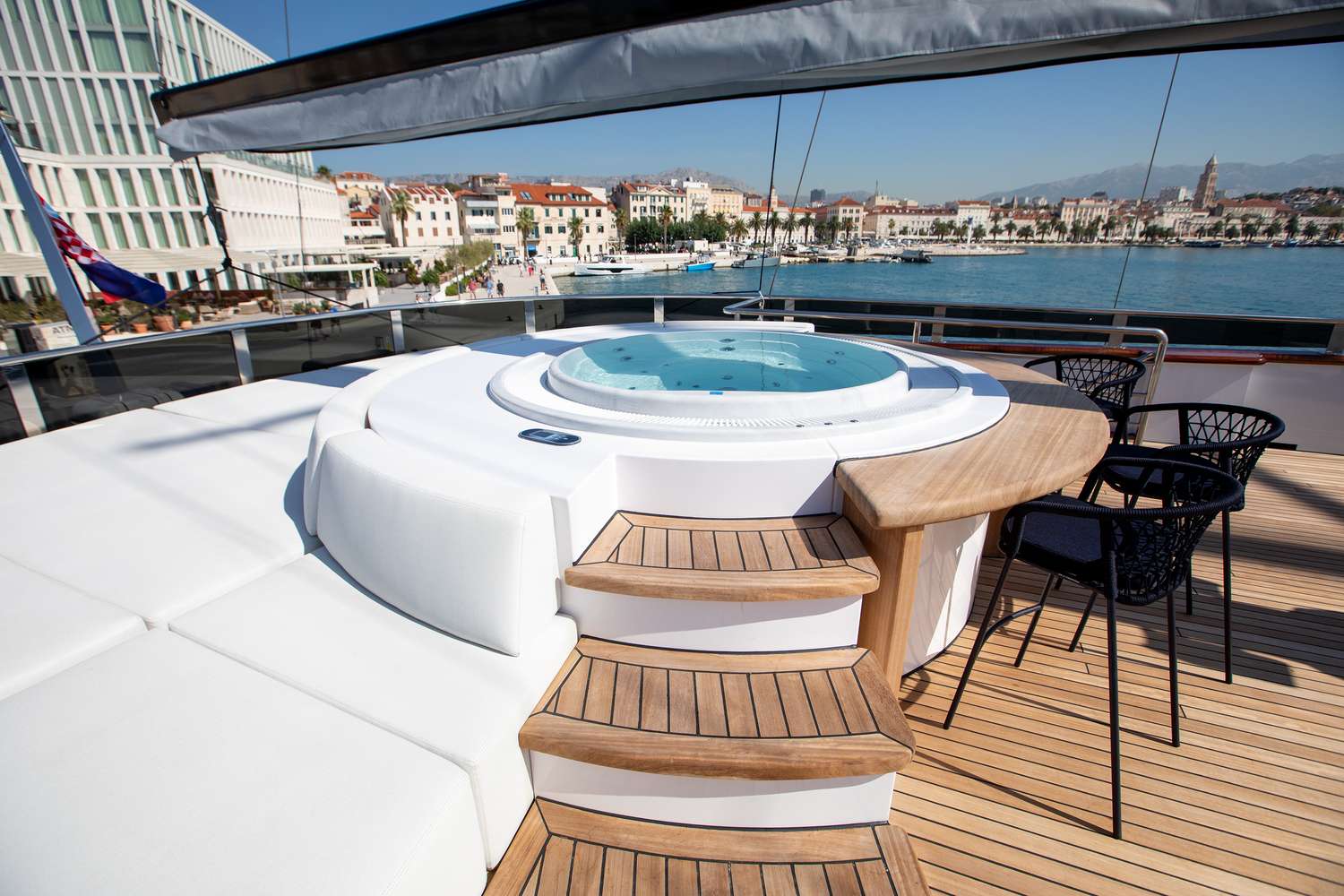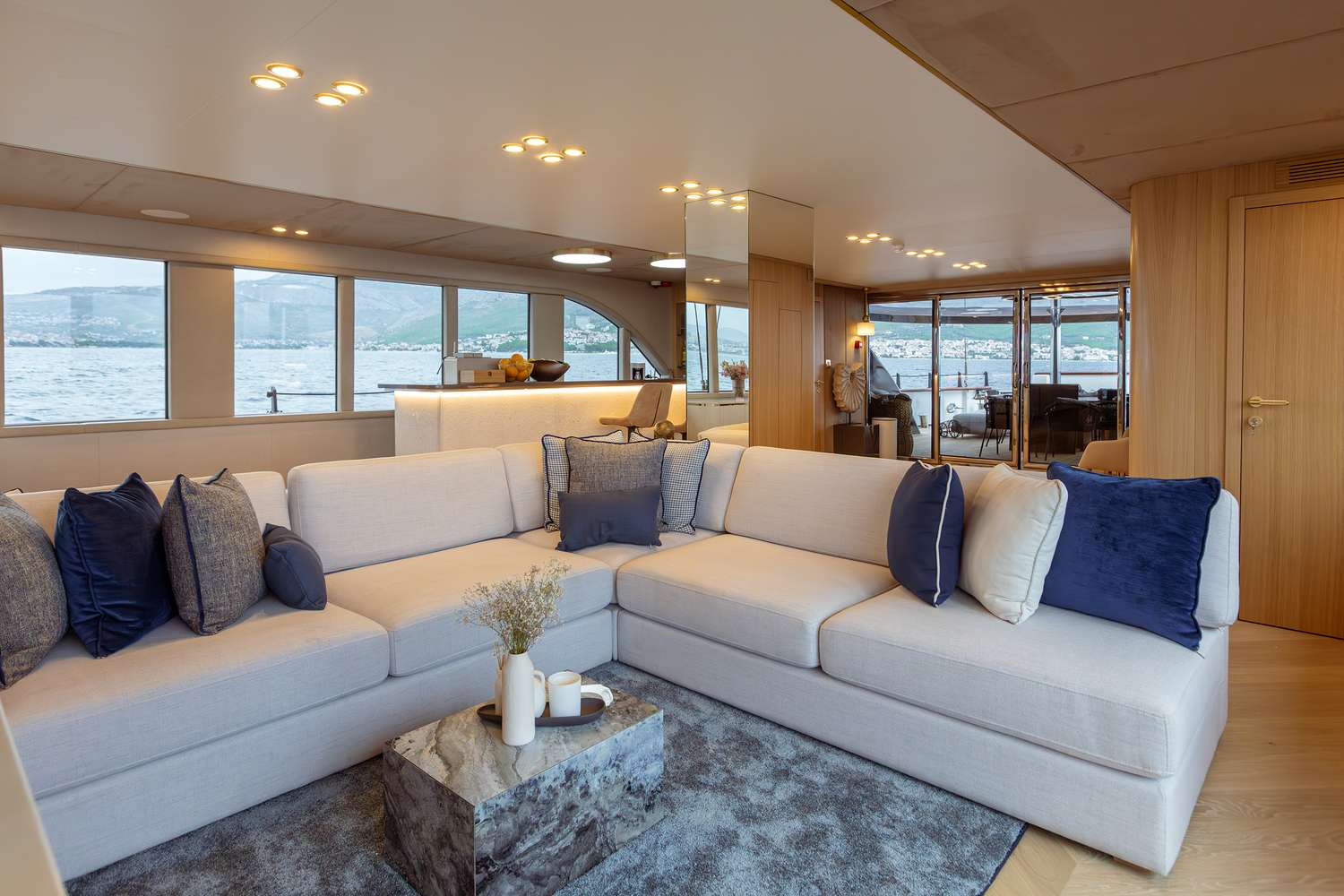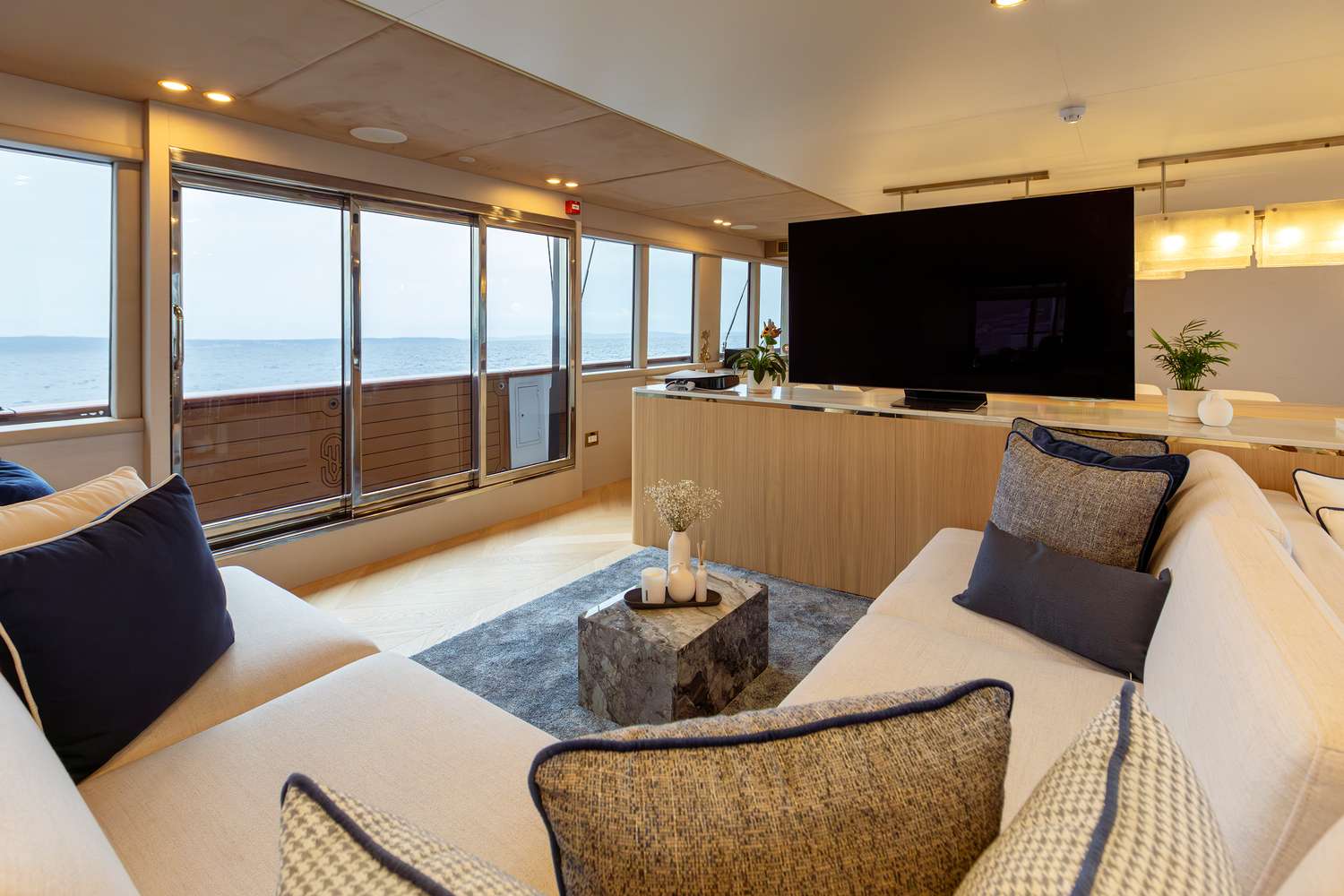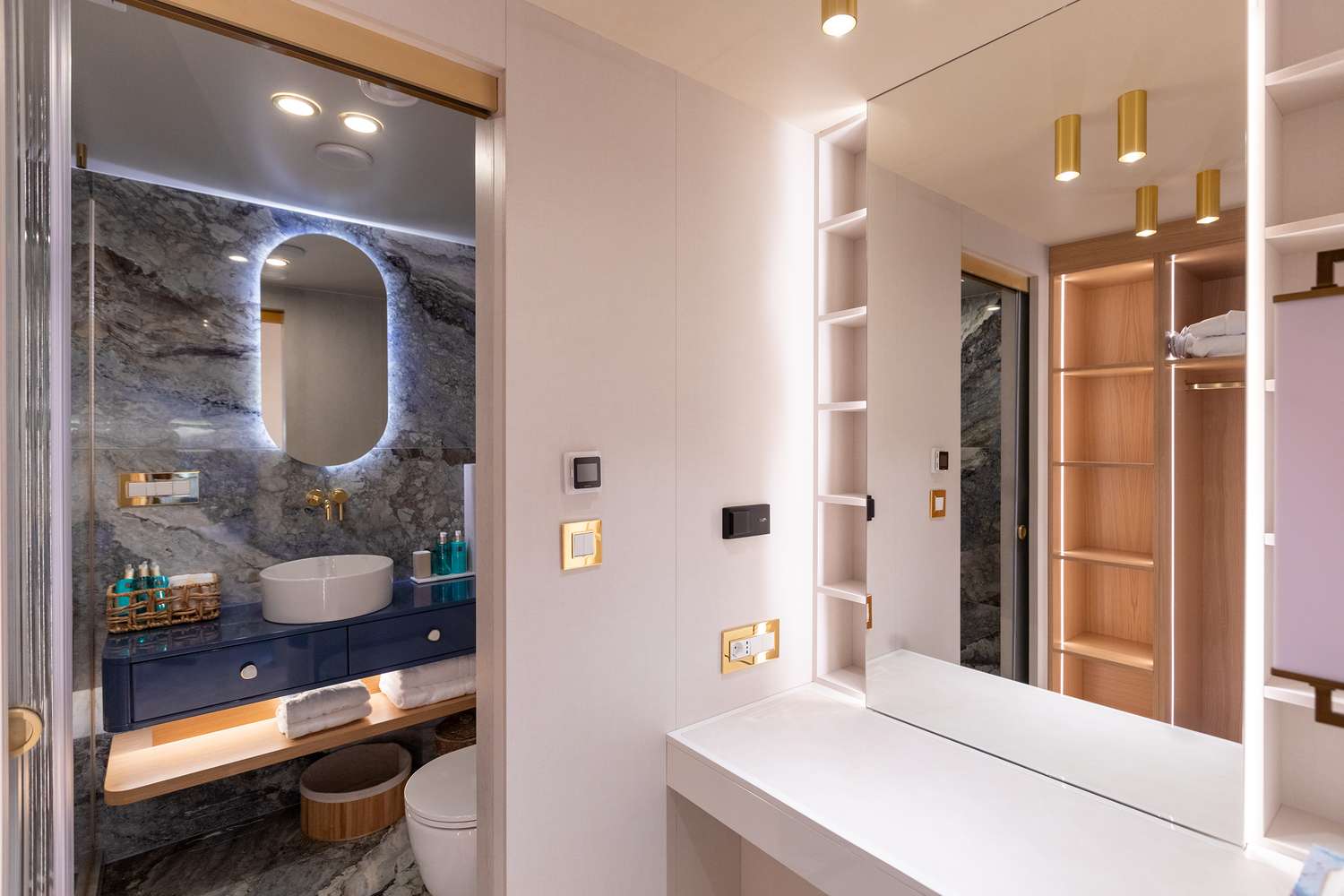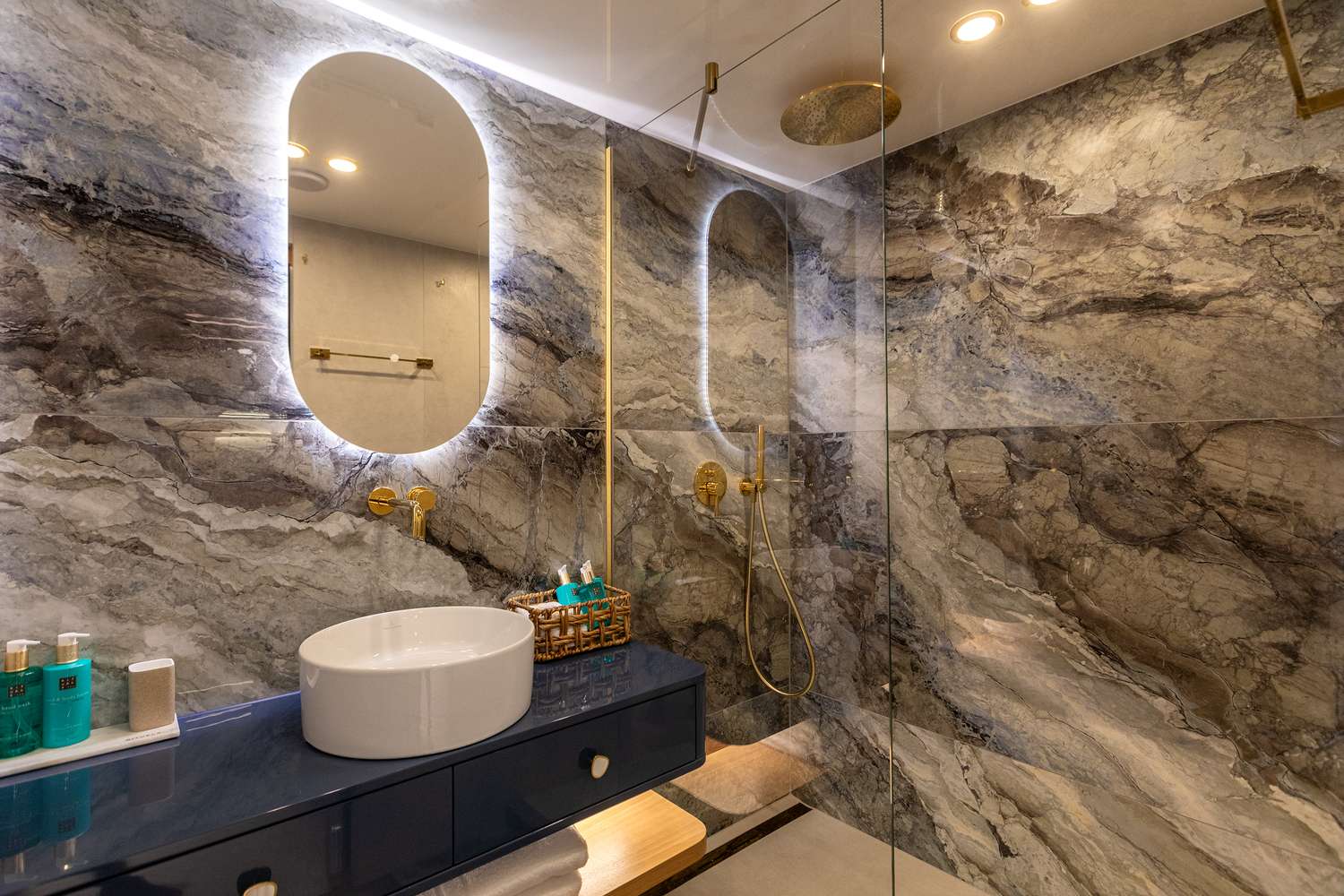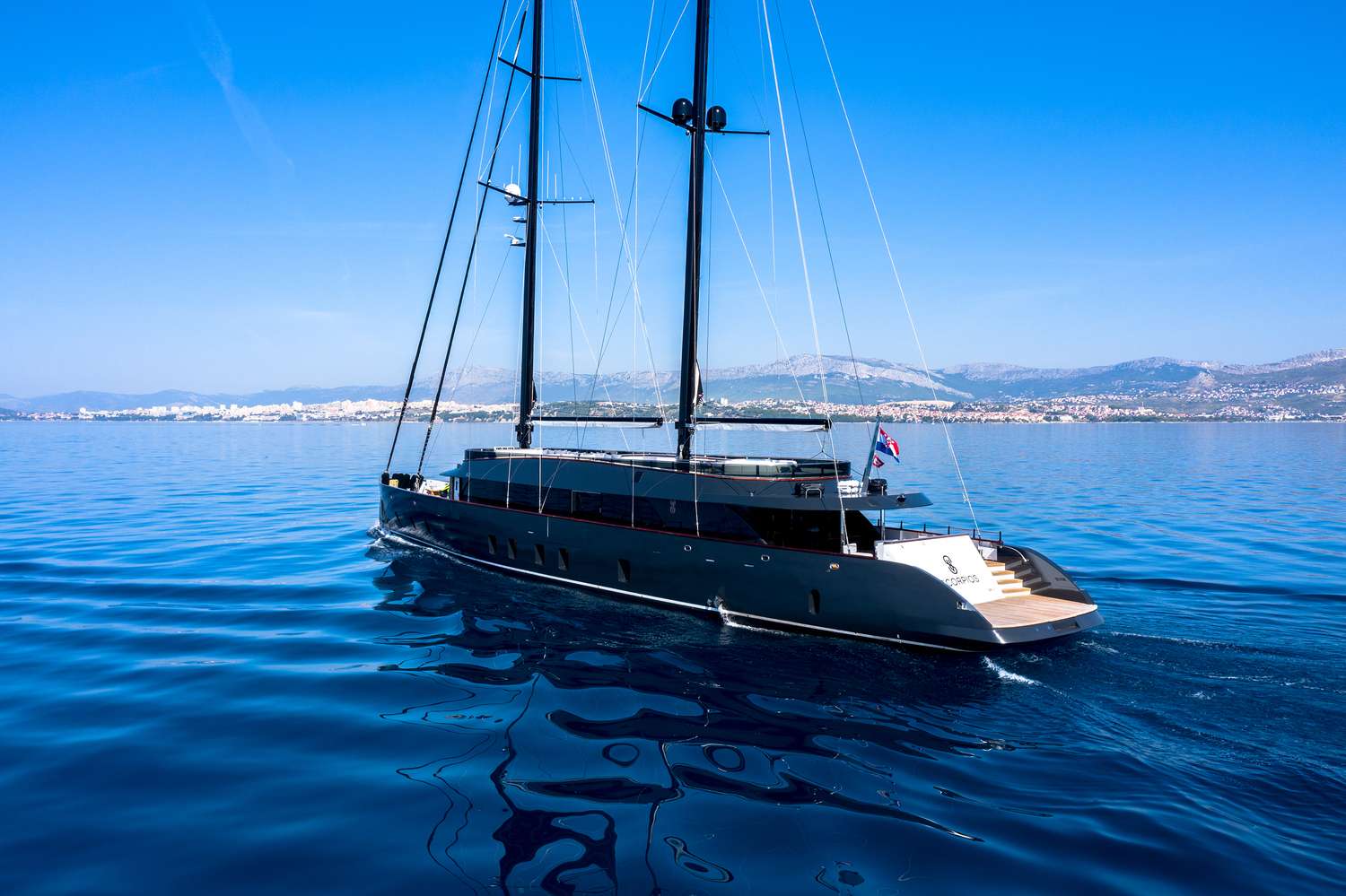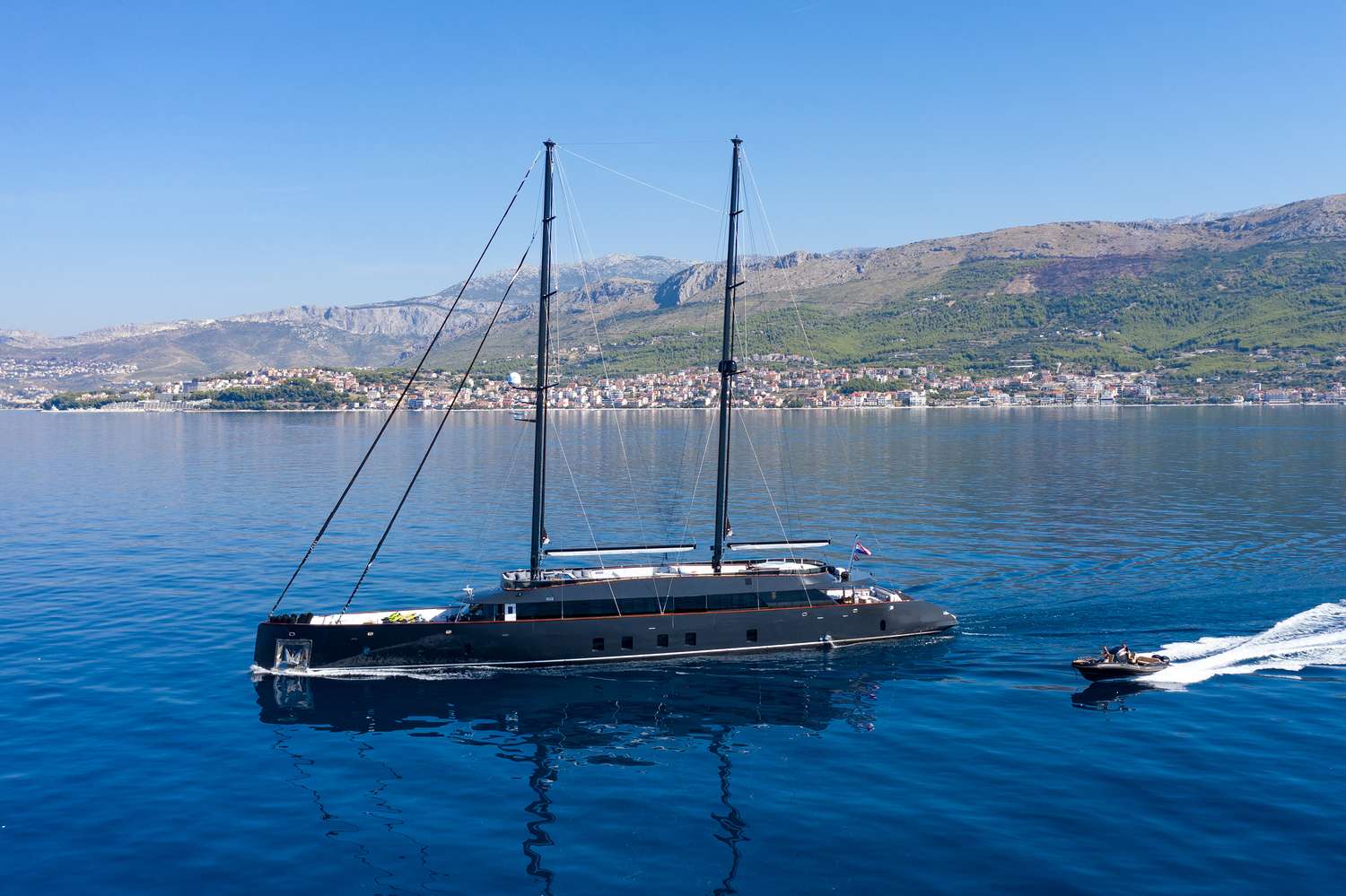 Accommodations
| | |
| --- | --- |
| Sleeps 12 guests in 6 guest stateroom(s). | |
| 6 with King Bed(s) | |
| 4 with Twin Bed(s) | |
Details
Few sailing yachts have such superior staterooms with the ability for all to convert to luxurious king sized beds. They are decorated with a muted palette of soft grey, warm wood and accents of subtle blue. The ensuite bathrooms blend perfectly into the suites and cleverly echo the colour scheme with the master ensuite boasting a full bathtub. All the suites are spacious, light, with comfortable beds and plenty of storage for guests. Each stateroom has a walk-in wardbrobe, robes and slippers, satelitle TV and music systems with USB and bluetooth connectivity and hairdryers, essential toiletries in the ensuite bathrooms.
CABIN DIMENSIONS
CABIN 1 (MASTER CABIN)
cabin 17.2 m2, bathroom 7.2 m2, wardrobe 4.8 m2, bed dimensions 180×200
CABIN 2 (CONVERTIBLE DOUBLE)
Cabin 19 m2, bathroom 4.9 m2, wardrobe 1.6 m2, bed dimensions 80×200
CABIN 3 (CONVERTIBLE DOUBLE)
Cabin 18.4 m2, bathroom 4.9 m2, wardrobe 1.4 m2, bed dimensions 80×200
CABIN 4 (CONVERTIBLE DOUBLE)
Cabin 12.9 m2, bathroom 3.5 m2, wardrobe 2.8 m2, bed dimensions 80×200
CABIN 5 (CABRIO DOUBLE)
Cabin 12 m2, bathroom 3.2 m2, wardrobe 2.9 m2, bed dimensions 80×200
CABIN 6 (VIP CABIN)
Cabin 14.5 m2, bathroom 6 m2, bed dimensions 180×200
"Convertible double" means a room with 2 "single" beds measuring 80×200, which can be combined into a "double" bed measuring 160×200 if necessary.
Layout Diagram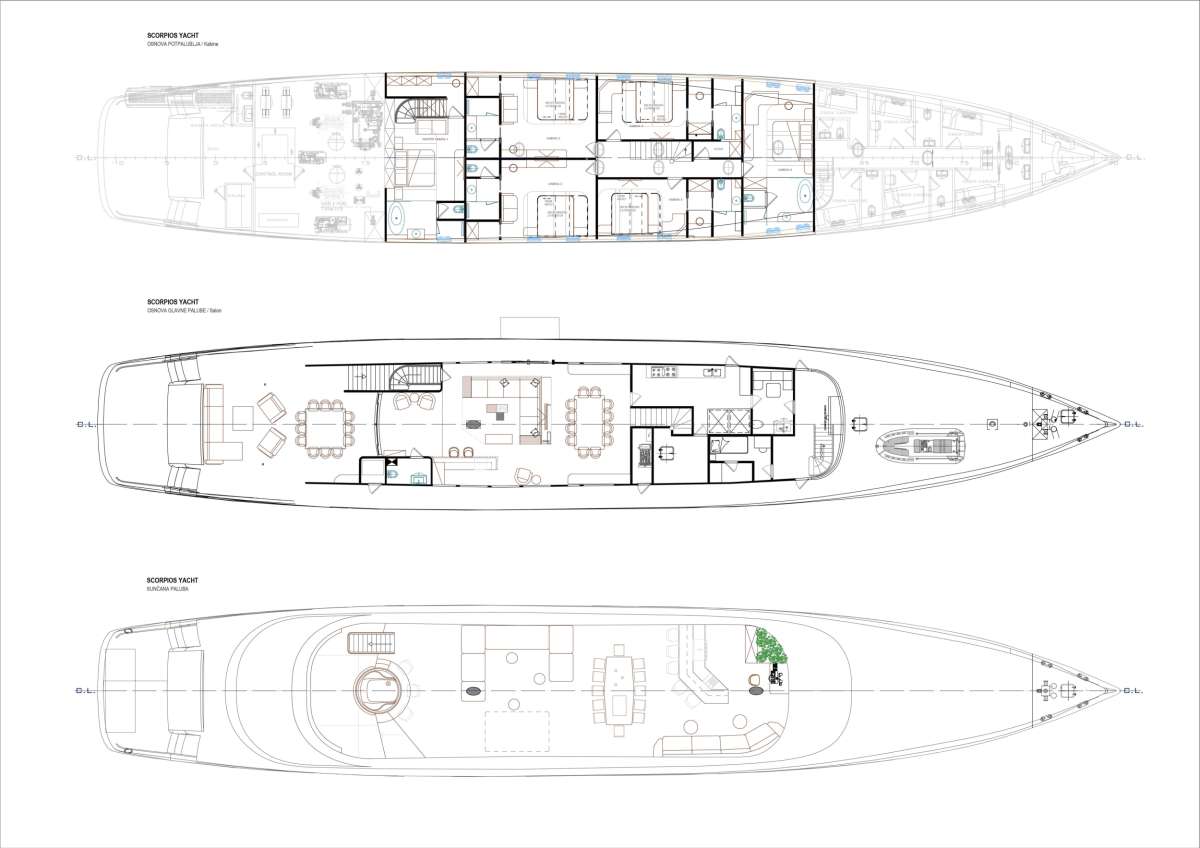 Specifications
| | |
| --- | --- |
| Guests | 12 |
| Staterooms | 6 |
| Length | 170.00 Ft / 52.00 m |
| Beam | 8.8 m |
| Draft | 3 m |
| Built - Refit: | 2023 |
| Cruising Speed | 11 |
Watersports
| | |
| --- | --- |
| Dinghy | Advanced 6.5m |
| Dinghy HP | 200 |
| Paddle Boards | 2 |
| Adult Water-skis | Yes |
| Kids Water-skis | Yes |
| Wakeboards | Yes |
| Jet Skis | 2 |
| Snorkeling gear | Yes |
| Inflatable, towable tubes | Yes |
| Fishing Gear | Yes |
| Scuba Diving | Yacht offers Rendezvous Diving only |
Other Toys
Tender: Advanced 6.5m 200HP
2 x Seadoo jetski
Wakeboard
2 x sea bob
2 x SU Paddleboards
1 x adult waterski
1 x children waterski
2-person donut
1 x e-foil
1 x water joust
1 x inflatable trampoline
Fishing gear
Snorkelling equipment
Pricing
From: 115,000
To: 135,000


Pricing Details
EUR 135,000 per week HIGH June 15 - Aug 31st
EUR 115,000 per week LOW From May - June 15 & Sept 1st onwards
+ 13% VAT + 30% APA


PLEASE INQUIRE FOR FURTHER PRICING DETAILS
Crew Profile
CREW PROFILES, MS SCORPIOS

Welcome aboard MS Scorpios, a yacht filled with experienced and passionate professionals who share the same philosophy – to go above and beyond for their guests and create memorable experiences. Every crew member has extensive experience in the yachting and hospitality industry. Another unique aspect of this crew is that there are three brothers aboard and most of the crew have known each other for years, this creates a genuinely warm atmosphere that guests feel. With her innovation and design, MS Scorpios and her crew aim to deliver an unparalleled yachting experience.

FILIP JAKIR, CAPTAIN
Filip's family seafaring history spans an incredible eight generations, and Filip has been at sea since he could walk. After captaining his family's MS Tajna Mora for a decade, Filip recently handed the helm to his younger brother, ready for a new challenge. He is now designing and building a luxury yacht but saw the opportunity to Captain MS Scorpios as a chance to further his knowledge in high-end service with different clientele. Having sailed across the eastern Atlantic on the 50-metre three-masted topsail schooner Oosterschelde, and in the Caribbean, Filip brings many years of experience to the table. A humble man, but Filip's crew would describe him as highly skilled and knowledgeable with an undeniable passion for taking care of his guests and crew. Aboard Tajna Mora, Filip built up an impressive amount of loyalty throughout the years both with his crew and returning guests – a powerful testament to his expertise and leadership. In addition to his maritime experience, Filip has an avid interest in meteorology and astronomy which he loves to share with guests. When he's not sailing, you can find him windsurfing with the same gusto. Filip's enthusiasm and joy for sailing are infectious and resonate with everyone he meets. The entire Scorpios team are thrilled to be working with Filip; guests can trust that they are in very good hands.

BRUNO LUKA SIMIC, CHEF
Bruno is a young and ambitious chef who already has 11 seasons aboard yachts under his belt. His career at sea began quite 'by accident', but he quickly fell in love with the freedom it gave him compared to restaurants. Now, Bruno is excited to develop his career and push his cuisine even further. Bruno is all about playing with the best local ingredients; he loves to give traditional dishes a modern twist, so guests experience the local cuisine. Bruno follows instinct rather than a cookbook, and his creative and inspiring approach never fails to surprise and delight guests. Bruno has a positive attitude and playful nature that promotes team spirit and morale. Bruno enjoys everything related to creativity and art; this creativity combined with a passion for food and people shines through in every dish Bruno prepares. His goal is to ensure that after each meal, his guests are not only happy, healthy, and satisfied, but also that they remember their charter as an unforgettable gourmet experience. Bruno is excited to join a team that shares his passion for creativity and the guest experience, and he looks forward to serving you aboard SY Scorpios.

IVAN TOMAS, SOUS CHEF
Growing up by the sea and with his family owning a 22-metre yacht, a career in yachting was a natural choice for Ivan. As he puts it, "this job chose me." During his 8 years in yachting, Ivan has been a deckhand, waiter, helmsman, and chef, highlighting his passion for learning. However, it is cooking which truly has his heart. Before yachts, Ivan was a waiter and chef at a well-known local Konoba. Ivan's love and inspiration for cooking comes from his father. While he prefers to cook traditional Croatian cuisine, he loves learning, which is why he has taken a Sous Chef position. Based on his work experience and playing sports for 20 years, Ivan is a team player, dedicated and diligent in everything he does. With a charismatic and upbeat personality, Ivan adds to a positive team atmosphere. When he isn't in the galley, you will find Ivan playing basketball or football, and during winter he loves snowboarding. Ivan has a flair for languages being fluent in English and Luxembourgish, and he has basic knowledge of French and German.

ANTONIO IVANIŠEVIĆ, 1st OFFICER
Antonio was born in Melbourne, Australia, and moved back to Croatia with his family in 2001. Antonio studied physical therapy and graduated in 2012. Antonio also played professional football in Italy, Romania, and Croatia for 6 years, before turning his hand to boats. For 6 years, Antonio was a tour guide aboard mini cruisers in Dalmatia which is where his love for Croatia and the industry grew. It was these experiences that lead Antonio to take his passion to the next level. In 2022, Antonio launched MS Clase Azul, a new-build yacht which he project-managed and crewed. Bringing this experience and knowledge forward, Antonio and his business partner designed and built Scorpios. The inspiration behind Scorpios was to bring something new to the market to create an unparalleled yachting experience with innovative design and excellent service. Antonio is a natural leader, with his mix of excellent communication skills and social intelligence, he has built a strong team. Guests benefit from Antonio's knowledge of the coast and his passion to create unique experiences.

GABRIEL IVANISEVIC, CHIEF ENGINEER
Being born by the sea and the in the heart of the yachting world in Dalmatia led Gabriel to pursue a career in yachting. Although he finished culinary school, he chose the engine room over the galley. Though young, Gabriel already has extensive experience at sea. In just five years, Gabriel has worked aboard a cruise ship, a mini cruiser, and he spent the last 3 years aboard a luxury yacht. Gabriel is highly motivated, a good communicator, with a friendly and outgoing personality. Gabriel loves learning and travelling, and his goal is to become a captain one day. When not aboard, Gabriel enjoys being active – at the gym, running, or playing soccer with his friends. Gabriel now excitedly joins his brothers and the rest of the team aboard SY Scorpios.

DANIEL IVANIŠEVIĆ, DECKHAND
Daniel has enjoyed a close affinity with the sea since a young age. Like his brother Antonio, Daniel was born in Australia, and moved back to Croatia in 2001. Daniel started his career at sea as a tour guide and manager aboard mini cruisers. After years of experience aboard boats in Croatia, joining Antonio in this venture was a natural step. Daniel's work ethic, team spirit, and dedication to creating the best possible experience for his guests make him an invaluable asset to the team. Diligent and passionate, Daniel is determined to build a successful career in the yachting industry. Thanks to his time as a tour guide and cruise manager, Daniel is highly service-oriented and takes great pride in showing off his country. Daniel is fluent in English and is always looking to learn new skills. Passionate about the outdoors, during the off-season Daniel is always active, whether hiking, biking or exploring.

NEVEN KLARIĆ, DECKHAND
Being born by the sea, Neven easily chose a career in the yachting industry, always feeling at home on the water. In his five years of experience, Neven followed a structured path from Deckhand to Chief Officer, meaning he knows all the intricacies of a yacht. As a plumbing technician, Neven has a logical and detail-oriented approach to problem-solving, which makes him a great asset to any yacht. Besides being technically adept, Neven is also hardworking and a team player. In 2022, Neven was involved in the build of MS Clase Azul, and so he brings this knowledge to Scorpios. Guests will feel safe and well taken care of in Neven's presence. His ultimate goal is to become a Captain one day, so Neven is excited to learn from Captain Filip. In his spare time, Neven loves playing football and spending quality time with friends and family.

TASH PERIČIĆ, CHIEF STEWARDESS
Born in New Zealand, Tash has been living in Croatia and working on yachts for the past decade. Tash's impressive career before yachting includes managing restaurants in New Zealand, Australia, and London. Managing and creating training systems for a Michelin-starred restaurant in London being a career highlight. For the last few years, Tash has been freelancing on luxury yachts and training yacht crew. She didn't think she would take up a Chief Stew position again, but she fell in love with the concept of Scorpios and is now excited to lead the interior team. Tash is passionate about what she refers to as the 'Heart of Service', the genuine care and attention of her guests. As well as being guest-focused, Tash is also passionate about leading and motivating her team, as she loves helping others reach their full potential. Outside of work, as a 'people person' and creative, Tash is always involved in projects that support art, culture, and community. With an interest in spirituality and wellbeing, she has also completed her Yoga Teacher Certificate, and studied meditation. With her extensive knowledge and passion for people, SY Scorpios and her guests will greatly benefit from having Tash as part of the team.

KRISTINA FILIPOVIĆ, 2ND STEWARDESS
Kristina was born and raised by the sea, so it was only a matter of time before she was drawn back to Dalmatia to pursue a career in the yachting industry. With 10 years of experience in hospitality, including restaurant management, Kristina has developed an impressive skillset. Kristina spent several years working in Germany, ultimately being promoted to Restaurant Manager, which speaks to her hardworking attitude, attention to detail, and passion for providing excellent customer service. Kristina is eager to join MS Scorpios; she values the opportunity to learn from and contribute to an experienced team. Her love of travel, history, learning, and meeting new people is also satisfied by the yachting industry. When she's not working, Kristina enjoys painting, writing, music, and cooking. Already fluent in English and German, Kristina is currently studying Italian too.

LARA BARTULOVIC, 3RD STEWARDESS
While the youngest member of the crew, Lara is a mature, professional, and hardworking crew member. Lara has worked in bars and restaurants from a young age, combined with her Maritime school Nautical studies, a career in yachting was the next step. Lara has a natural drive to learn and improve, she thrives in environments which challenge her and where she can learn new skills. Lara also understands the importance of customer service and gives everything to ensure the guests have the best experience. Guests will instantly feel her sweet and sincere nature. In her spare time, Lara enjoys playing the guitar, being out in nature, and meeting new people and cultures.

TINA MARCIC, INTERIOR STEWARDESS
Tina's passion for the yachting industry and eagerness to learn, make her an ideal addition to SY Scorpios. After finishing Hospitality studies, Tina chose to major in Management at the Maritime College – "I chose the yachting industry because I feel tranquillity at sea." With four years of experience in housekeeping aboard 40-passenger mini cruisers, Tina has a strong work ethic and a guest-first approach. She is intuitive and attentive and loves taking care of the small details that make a guest's experience memorable. As well as the guest experience, Tina loves being a part of a team that is harmoniously working together with the same aim. Tina wants to continue to learn and grow a lasting career in the yachting industry. Dedicated, hardworking, with a positive attitude, Tina perfectly complements the rest of the crew. Tina is fluent in English, loves the idea of a new adventure, meeting new people and still has many exotic places on her bucket list that she wishes to visit. Tina is looking forward to taking care of you aboard SY Scorpios.




Additional Information
Luxury yacht SCORPIOS is a 52m (170'7") sailing yacht and part of a new generation of motor sailers in the Eastern Mediterranean. Launched in 2023 to a design by yacht builder Radez, she looks set to gain a place as one of the premium sailing yachts in the area by the summer season. She can accommodate up to 12 guests in six cabins, with a crew of 10 also on board.
Destinations