Gallery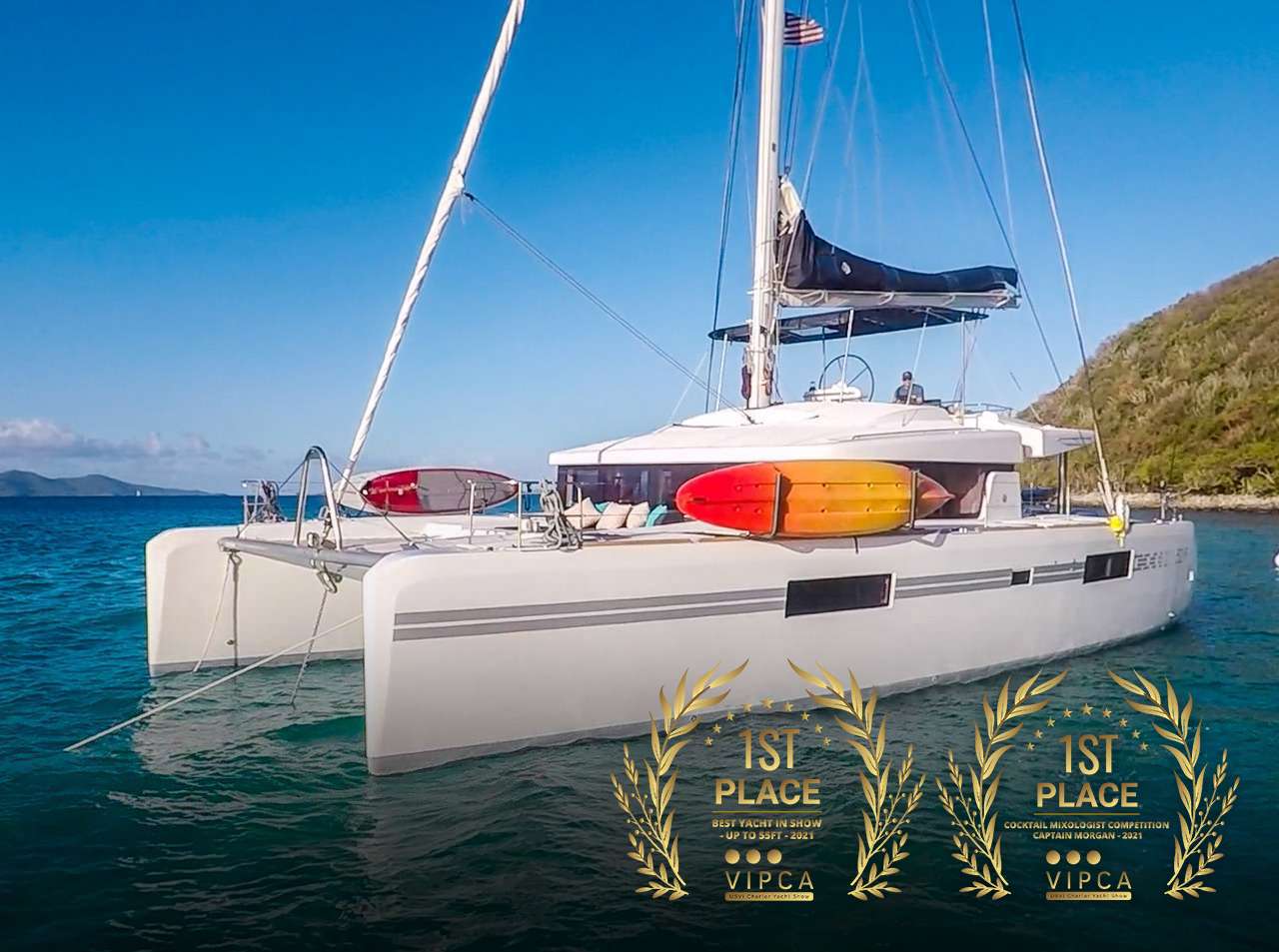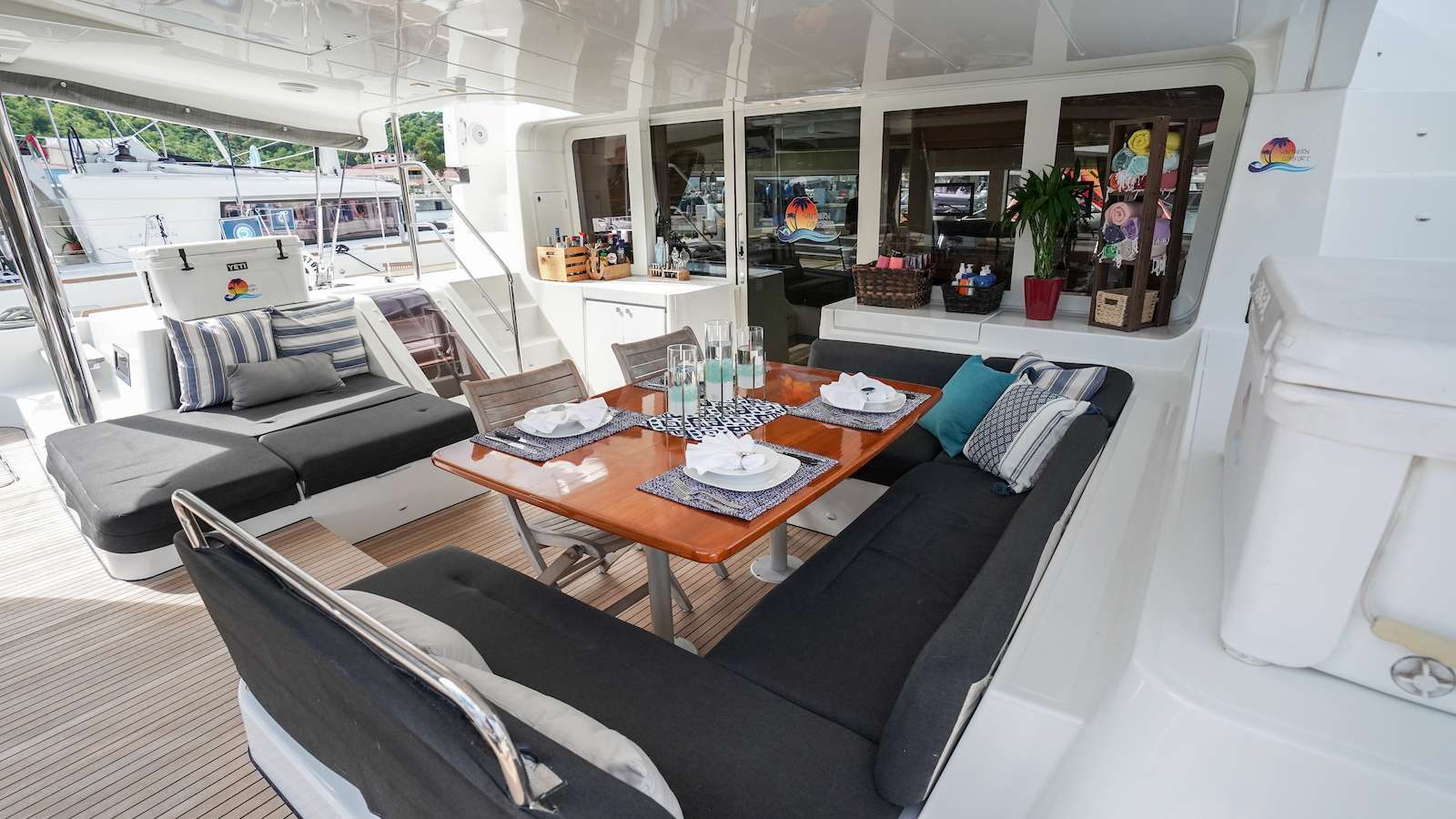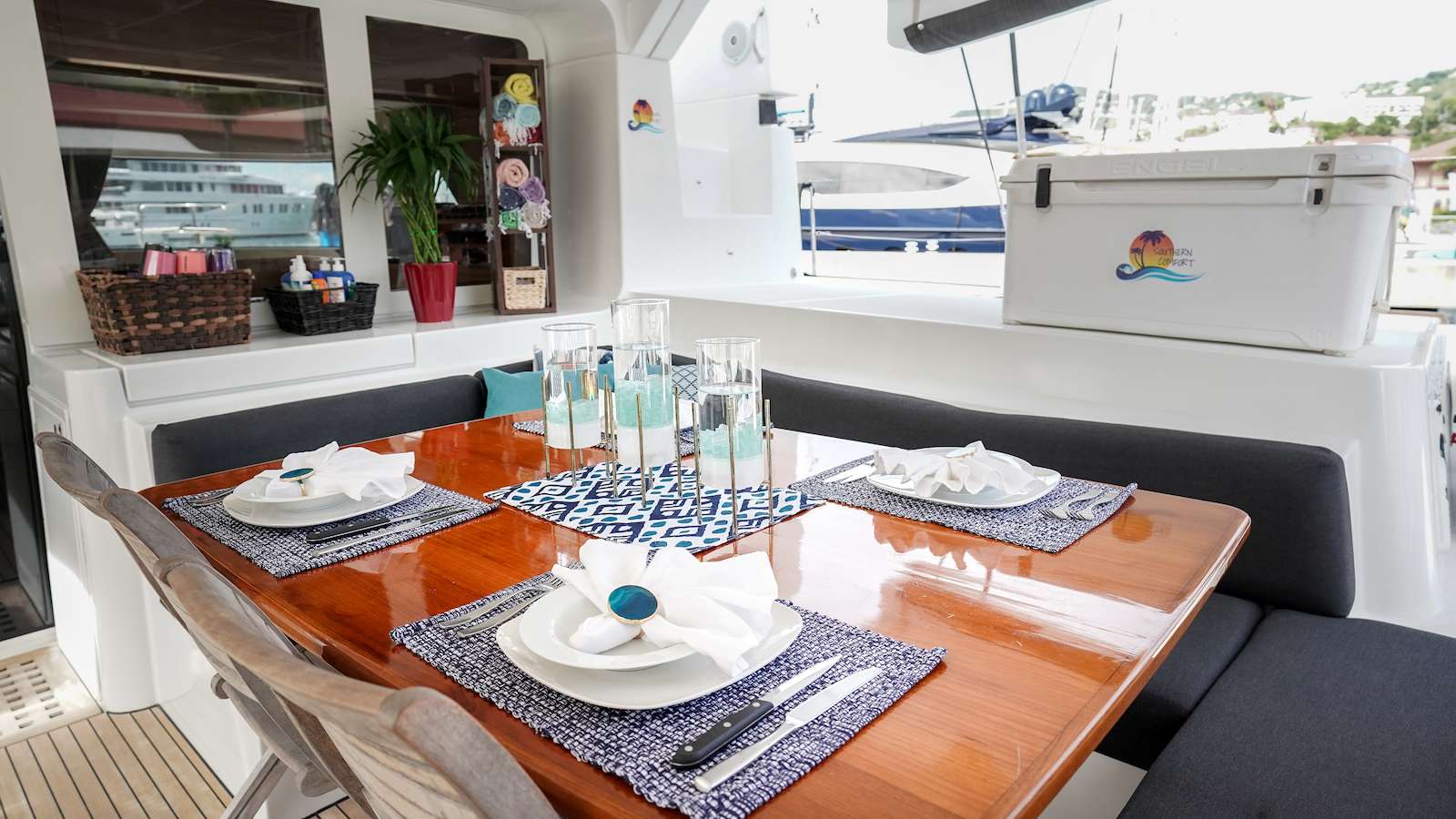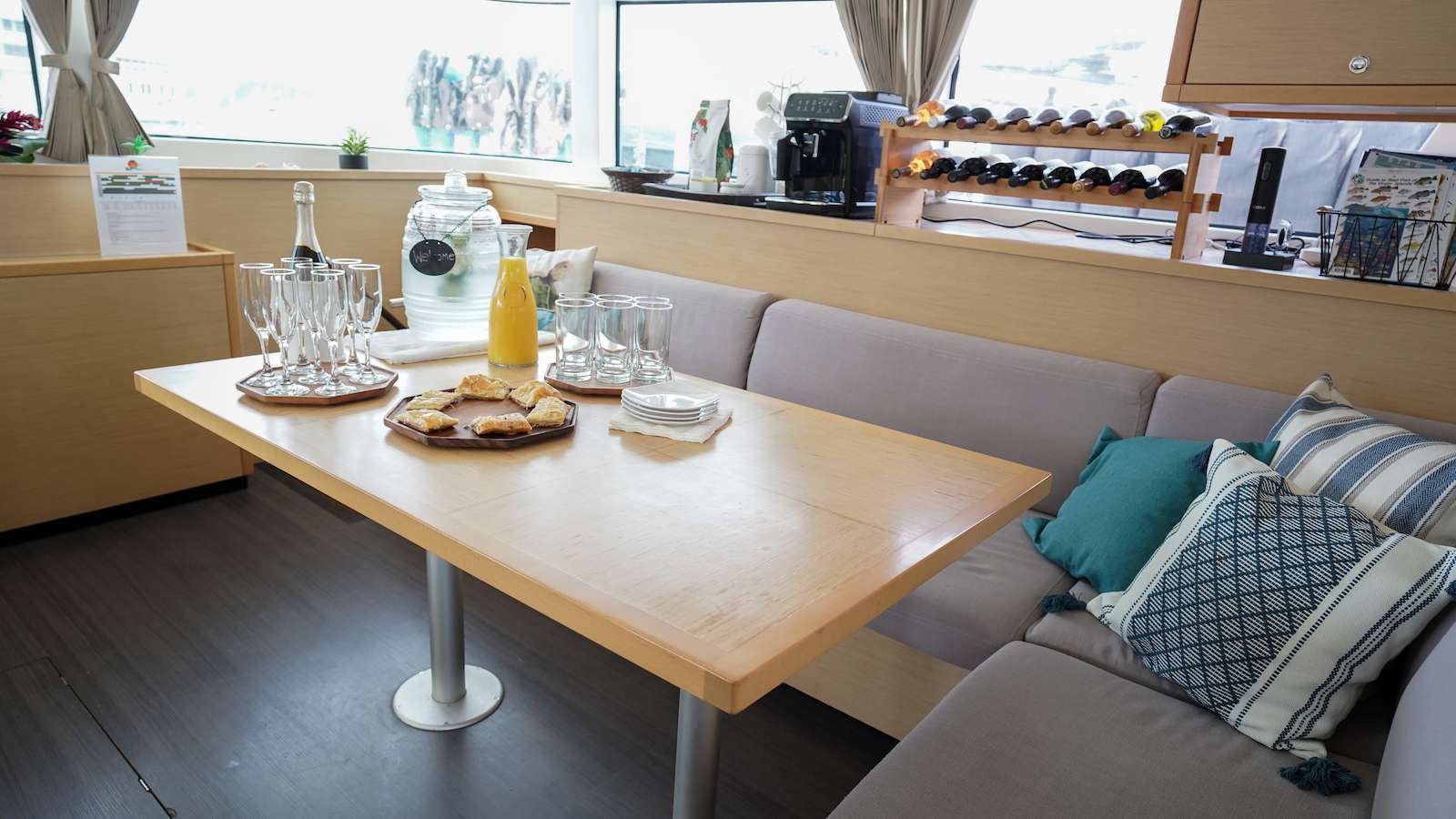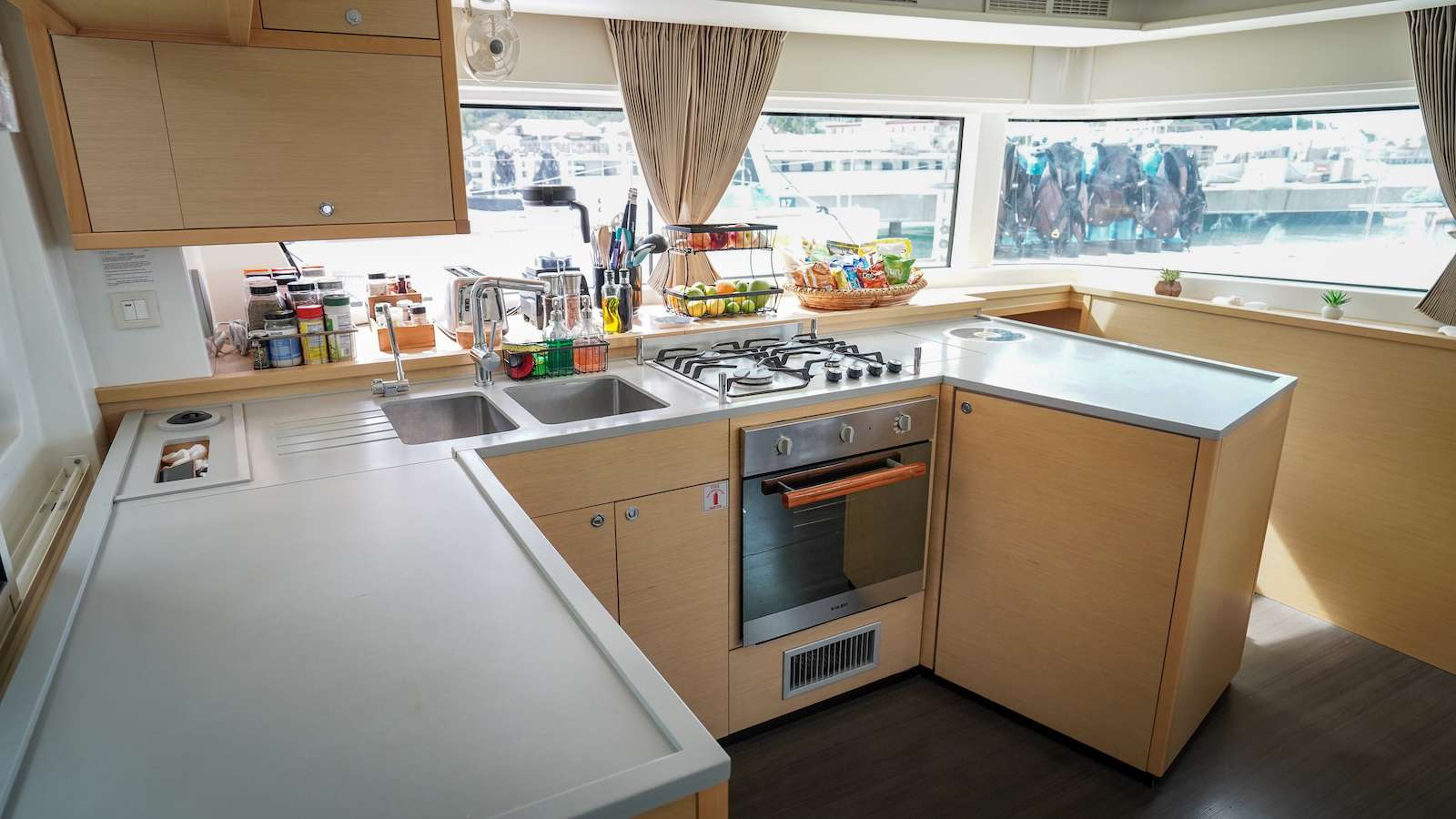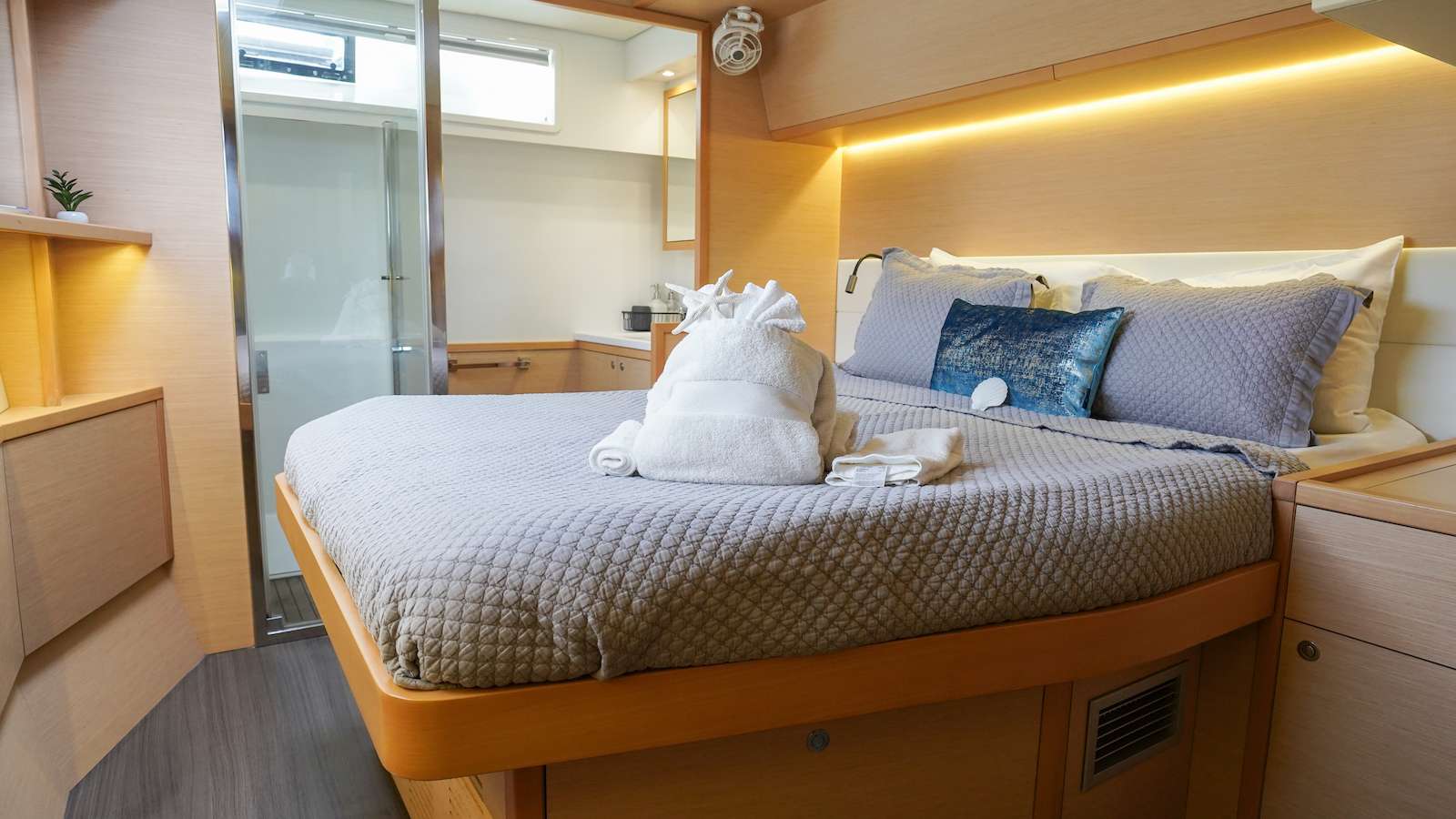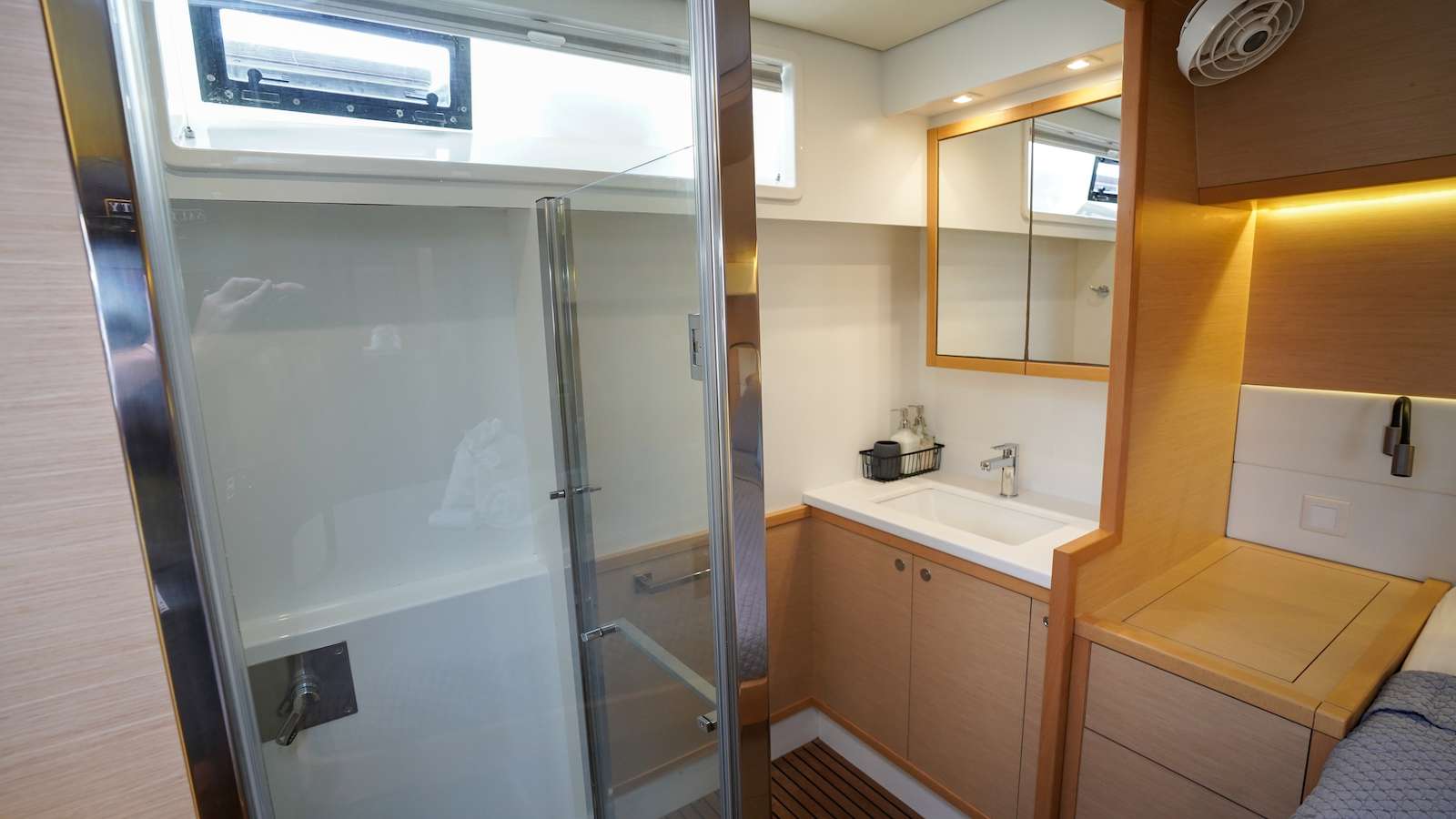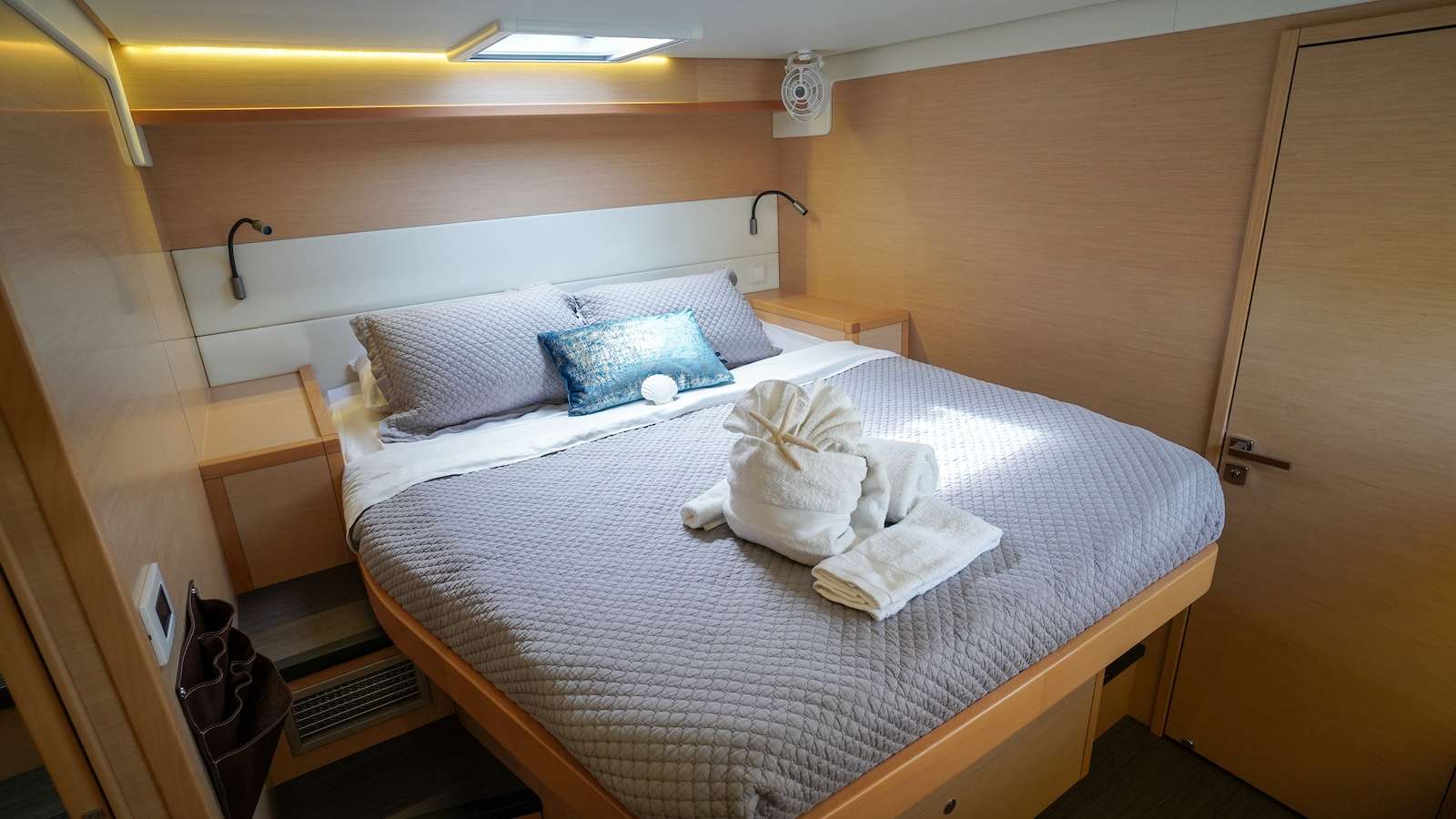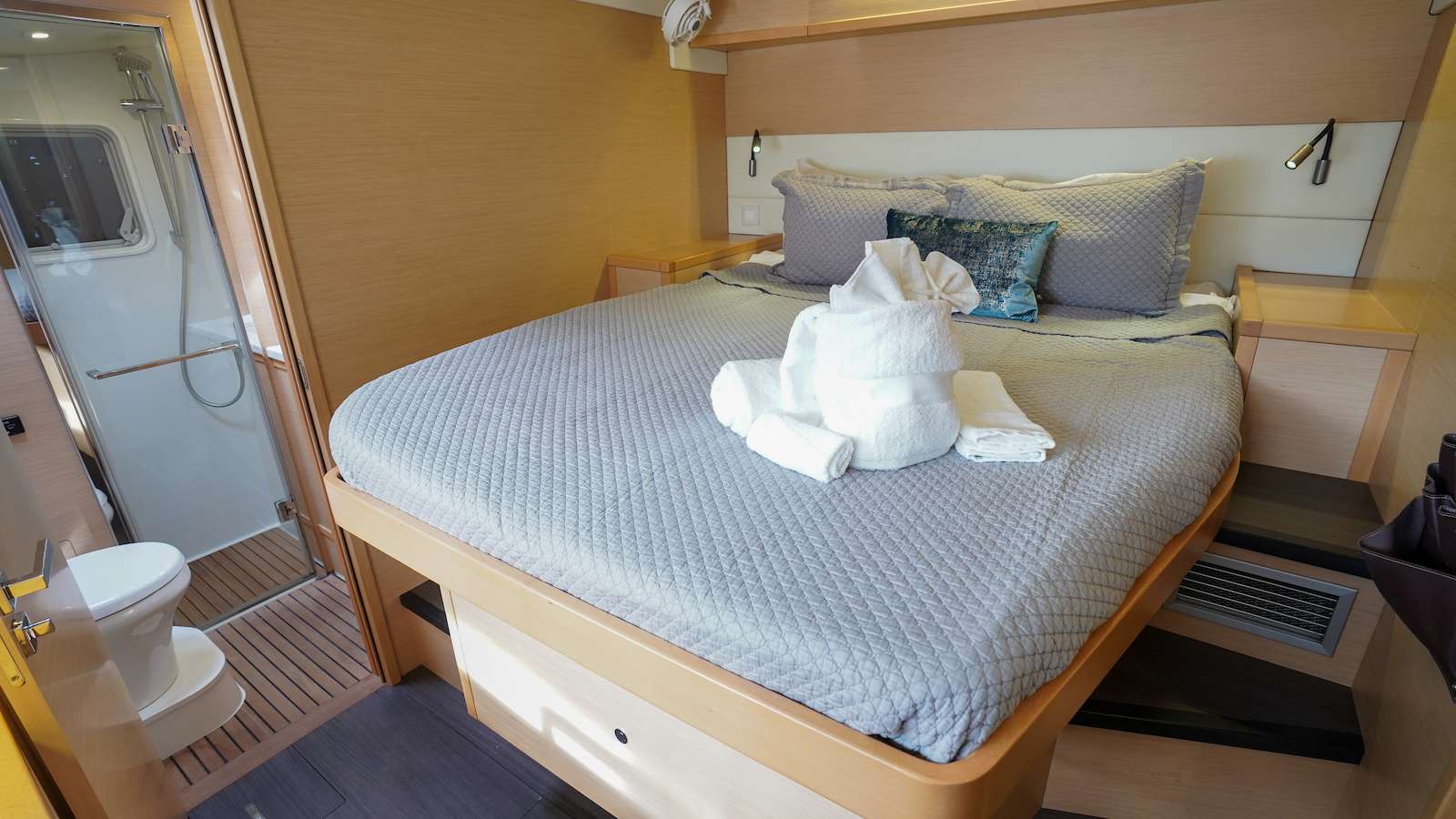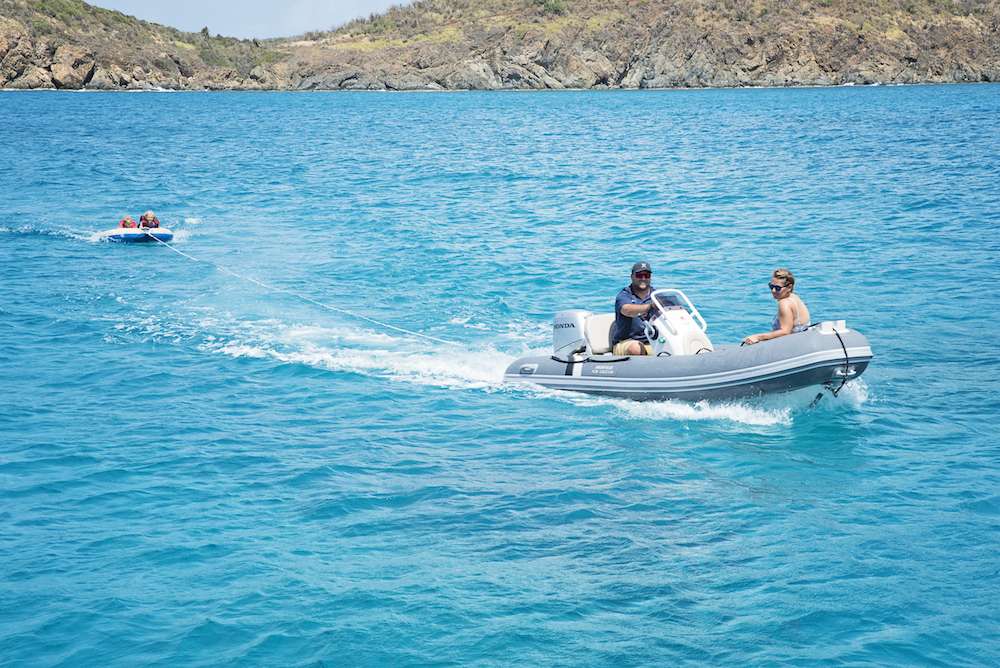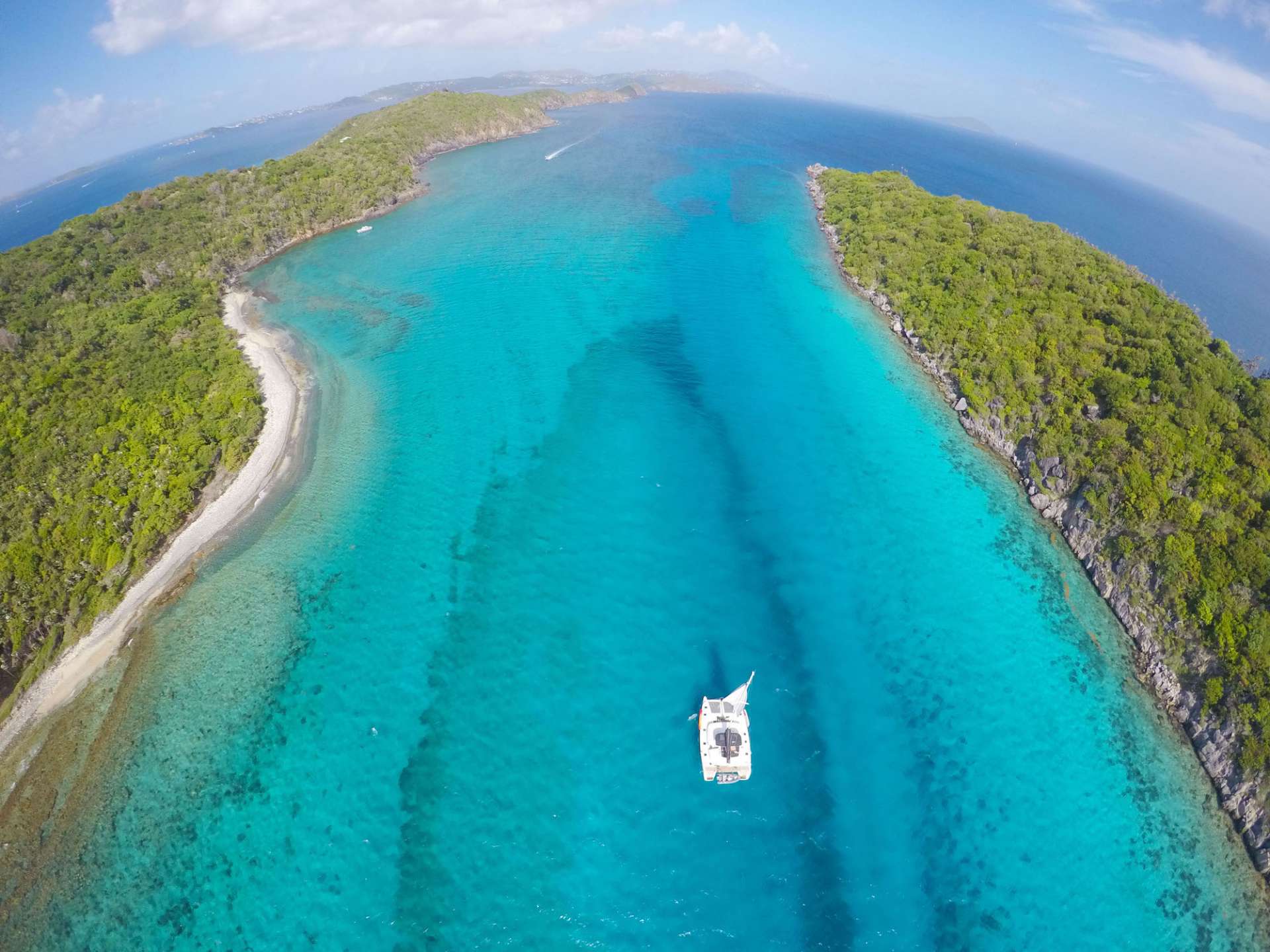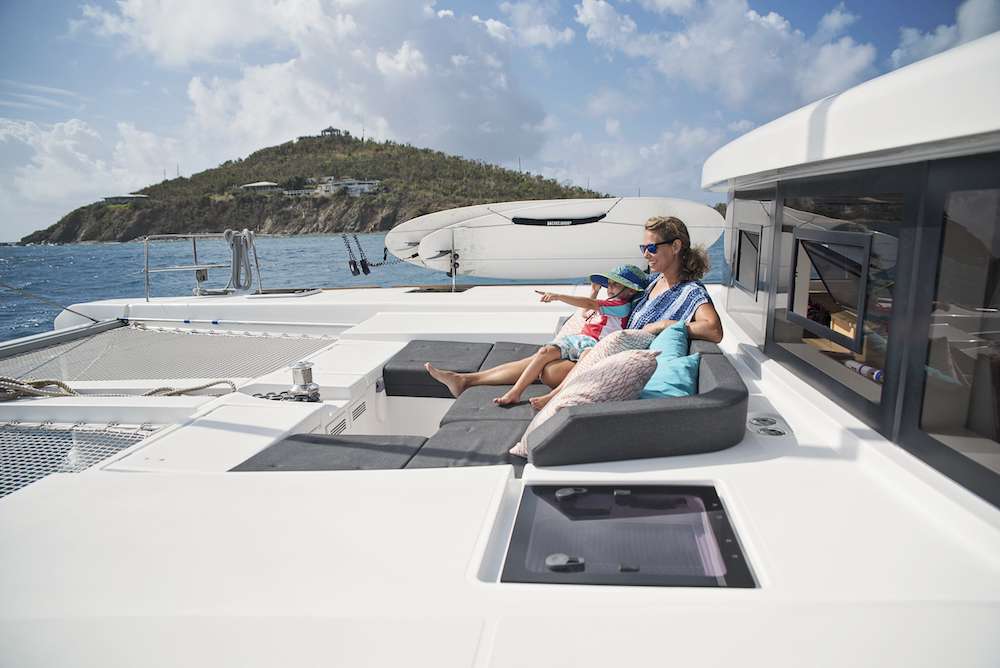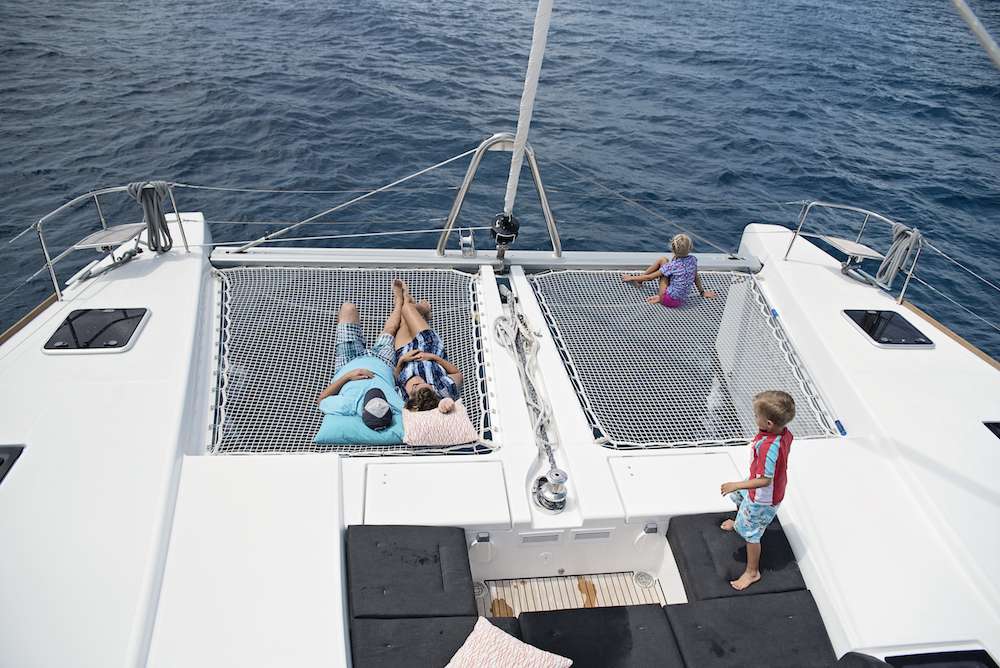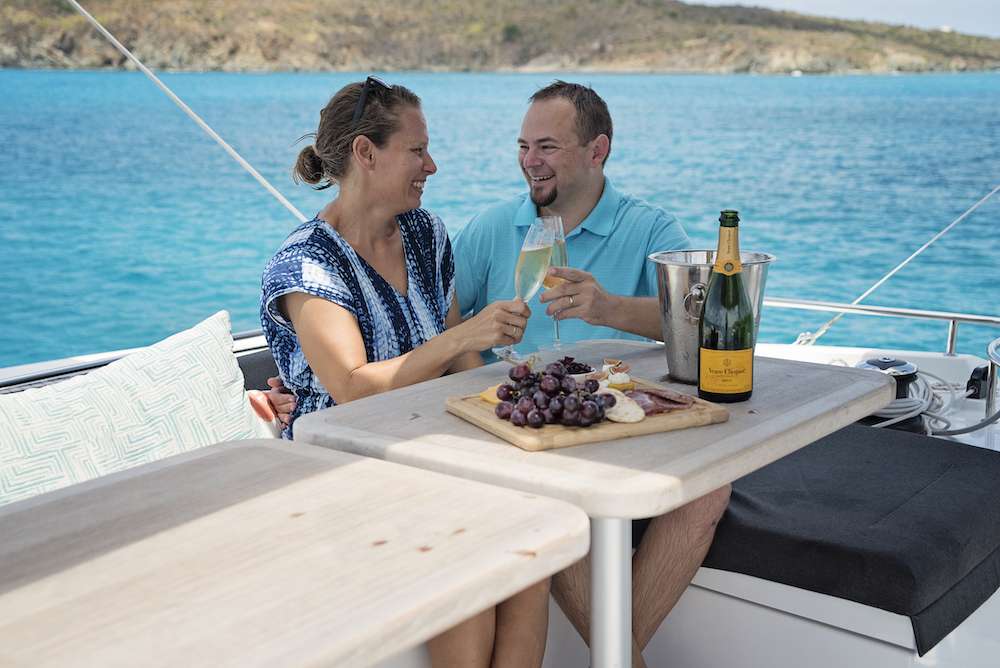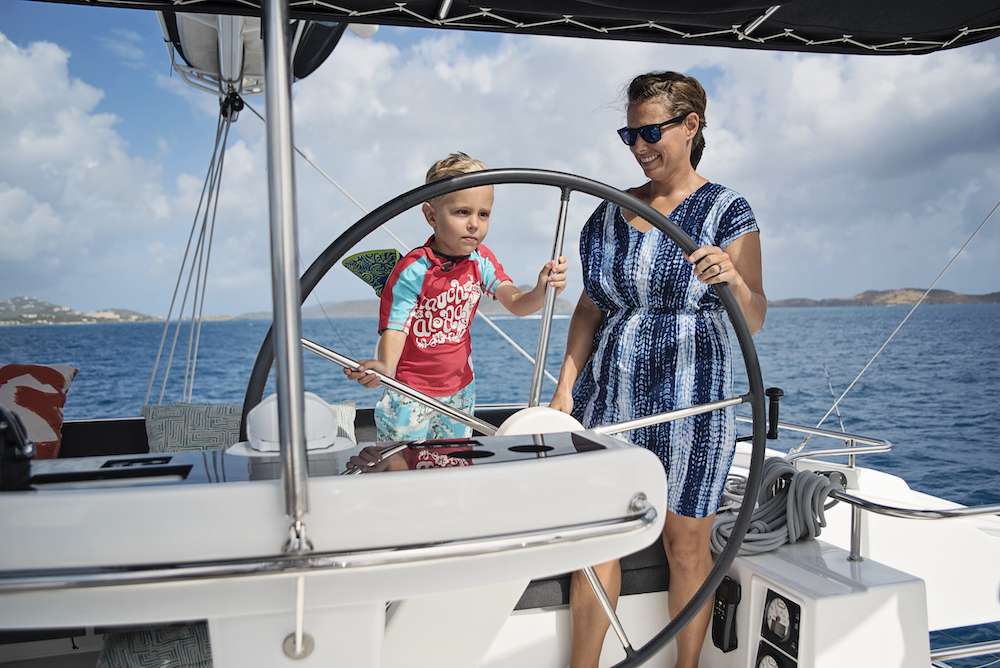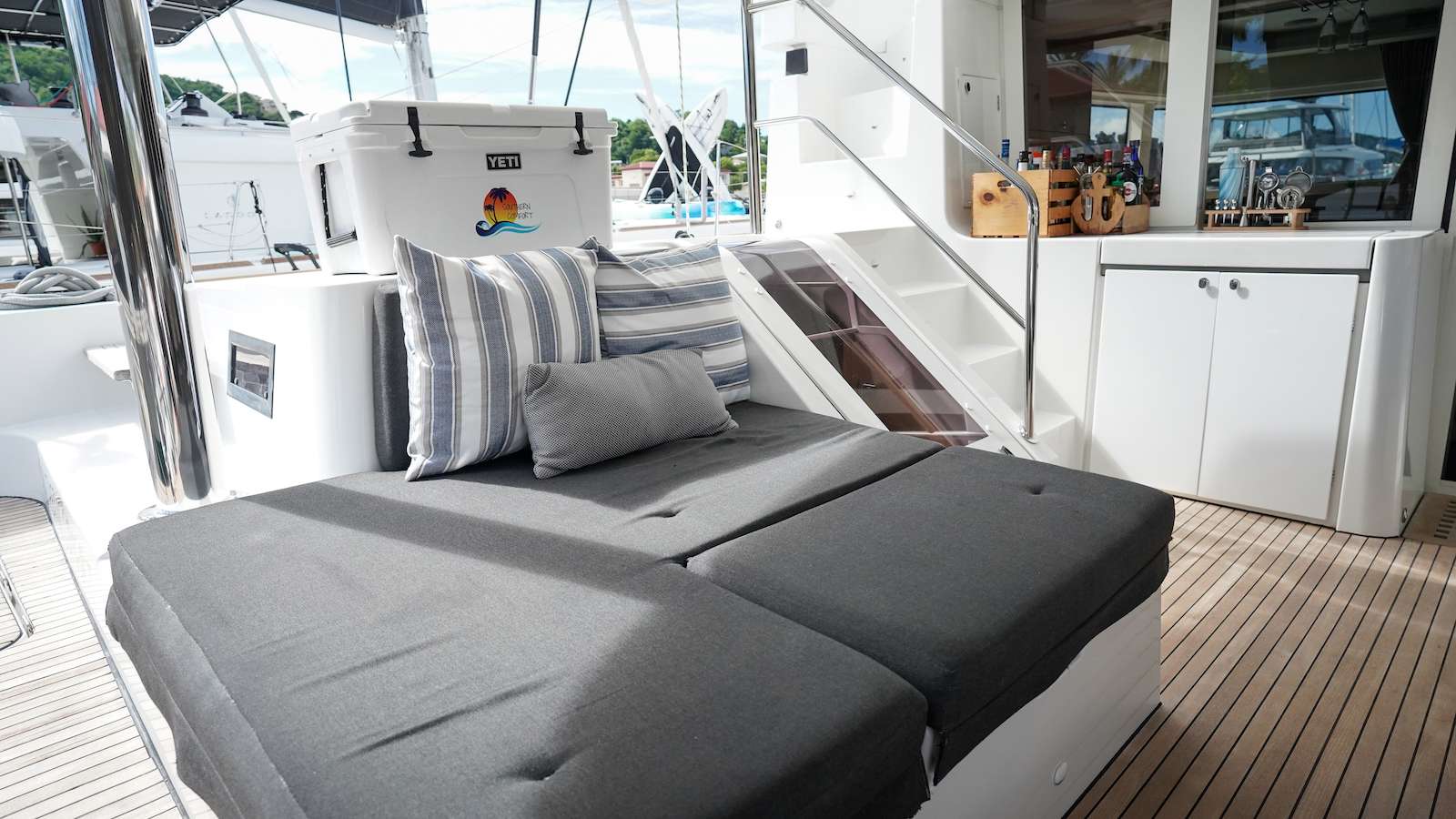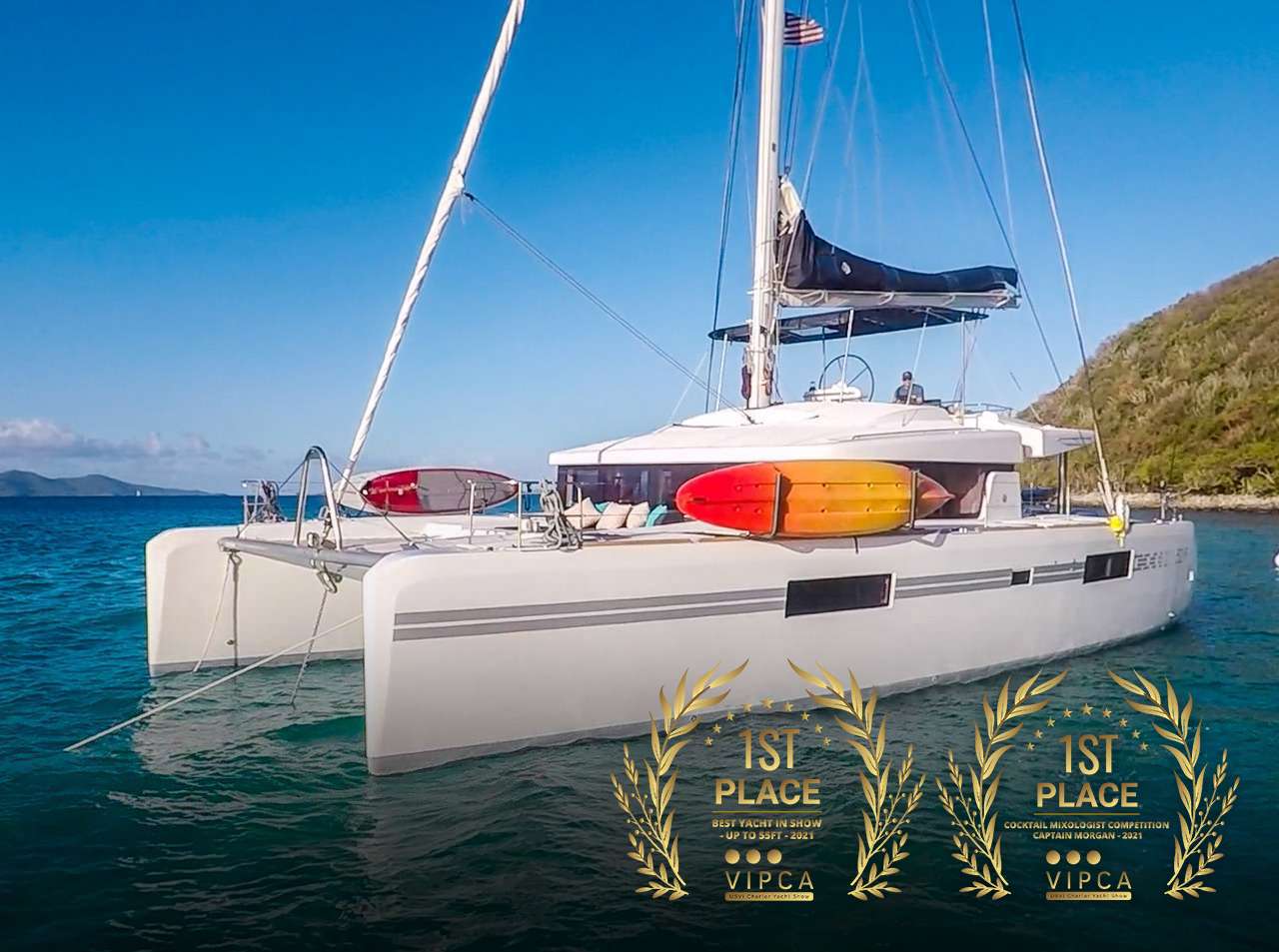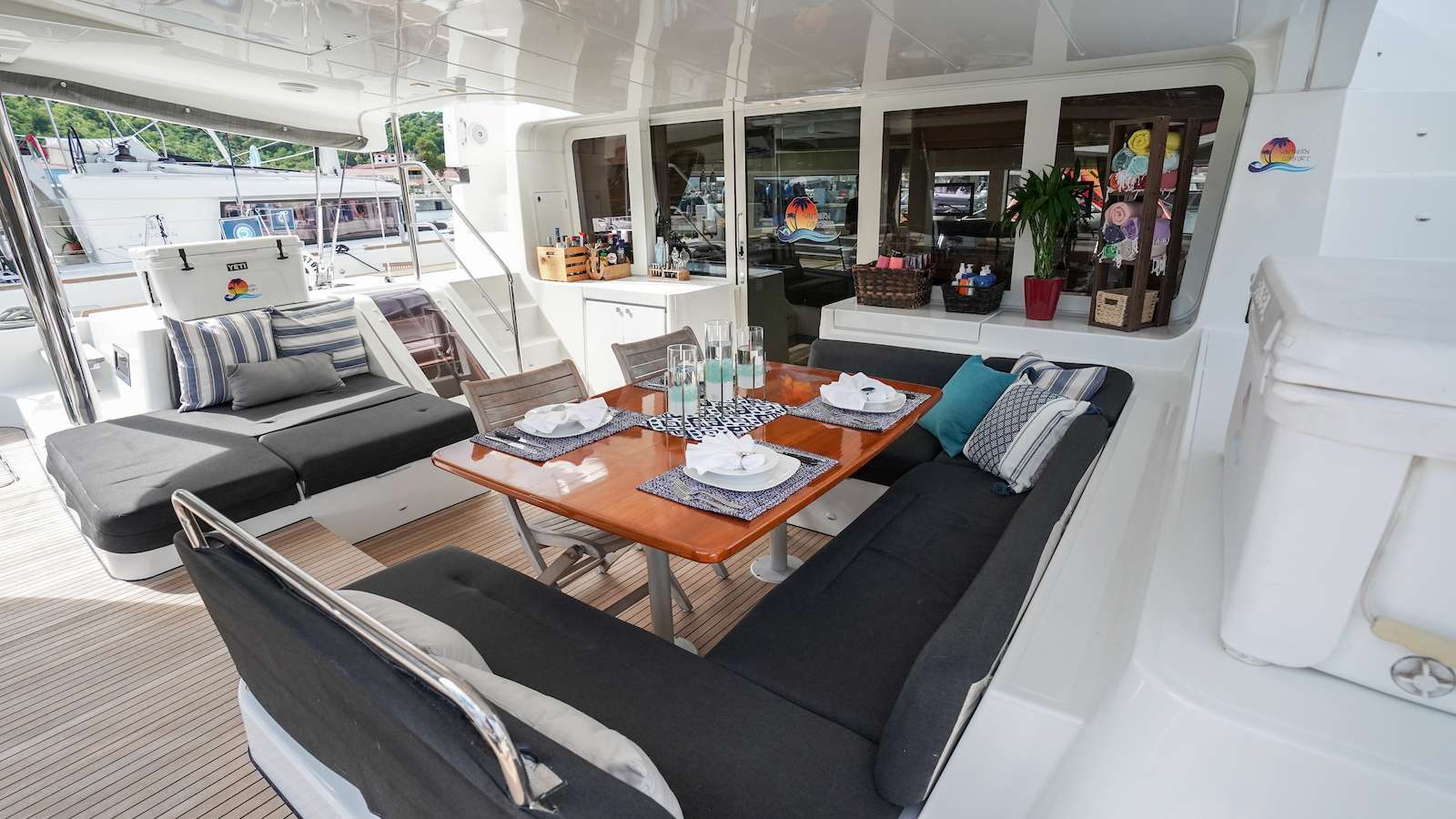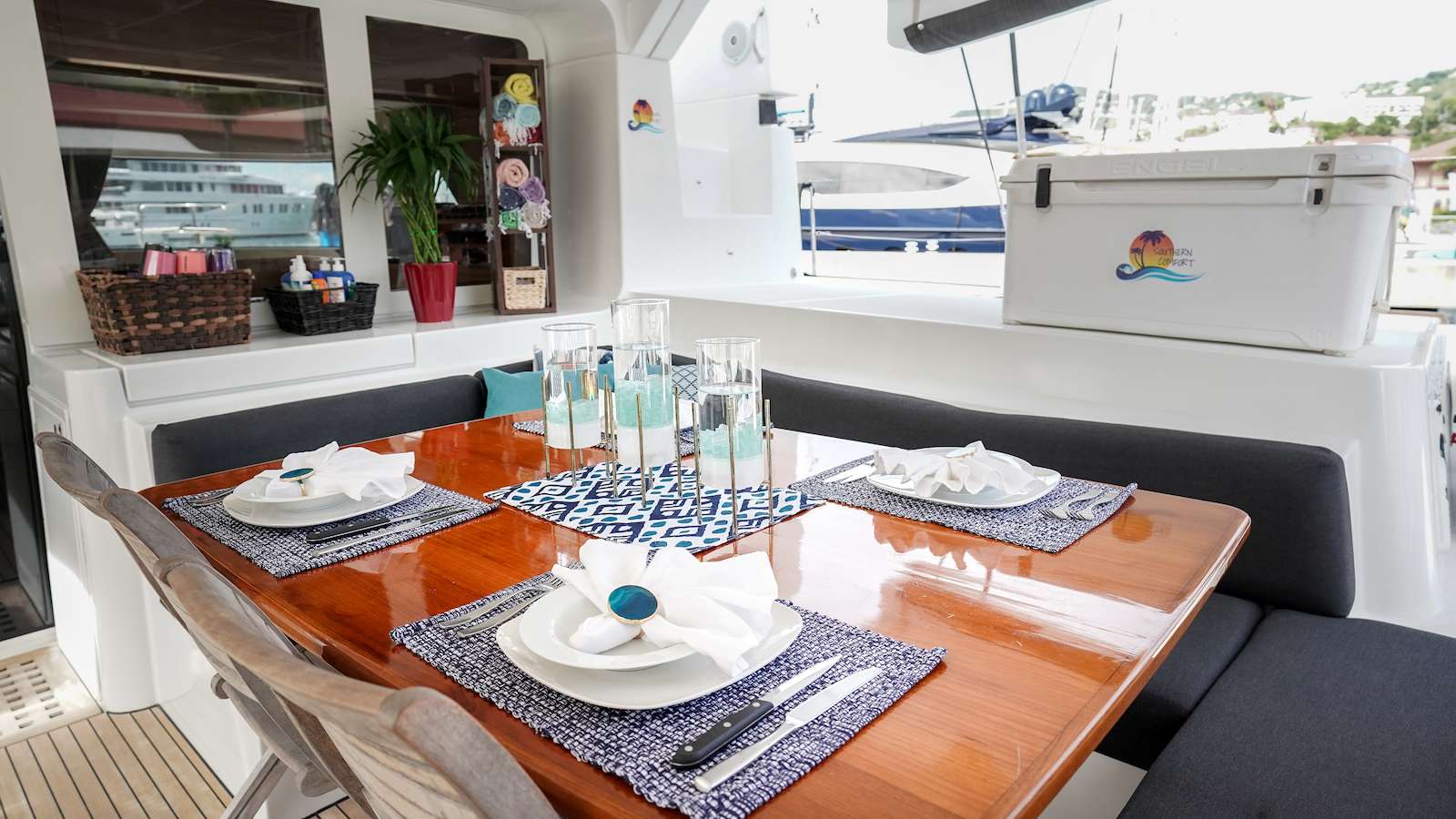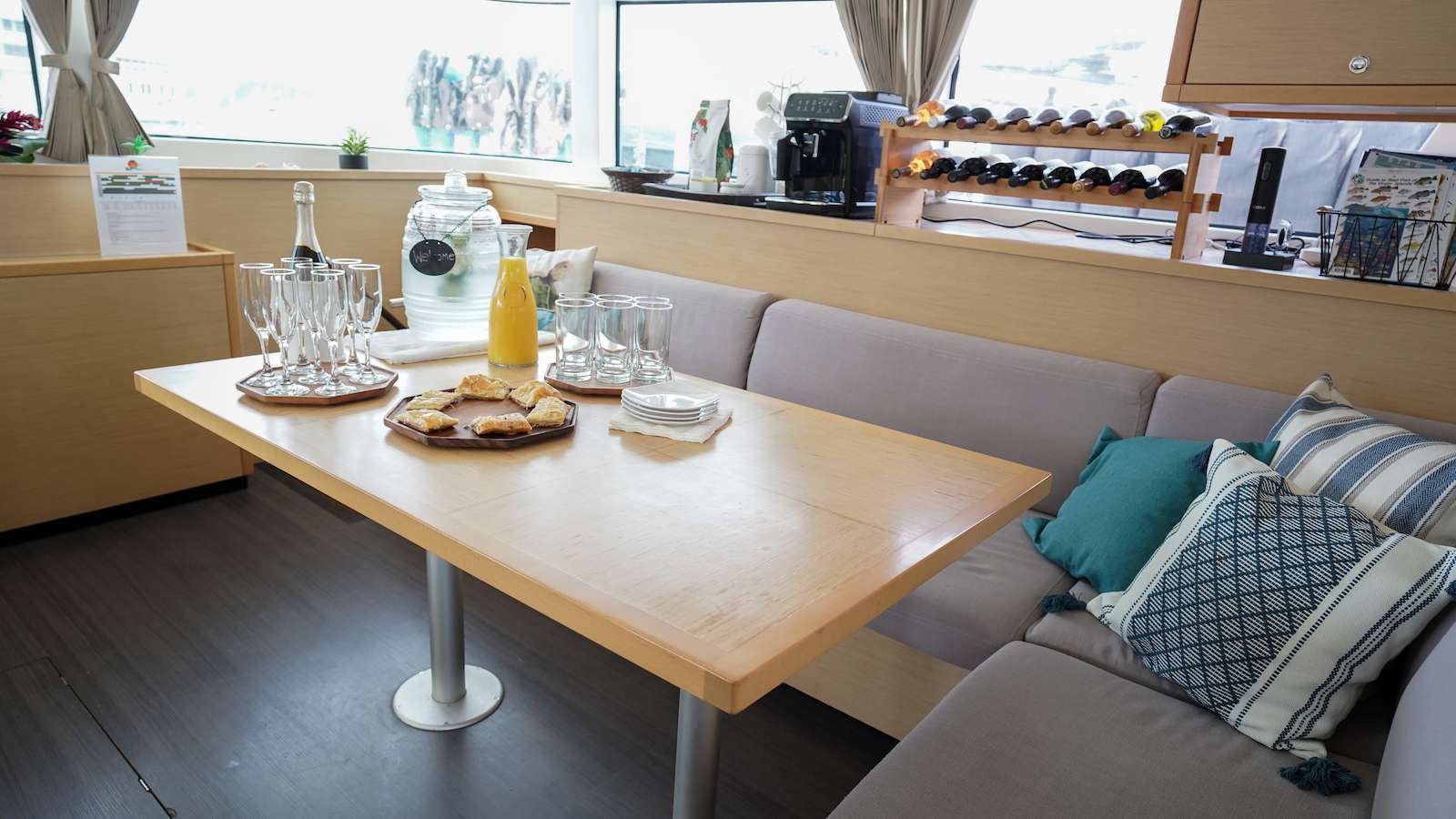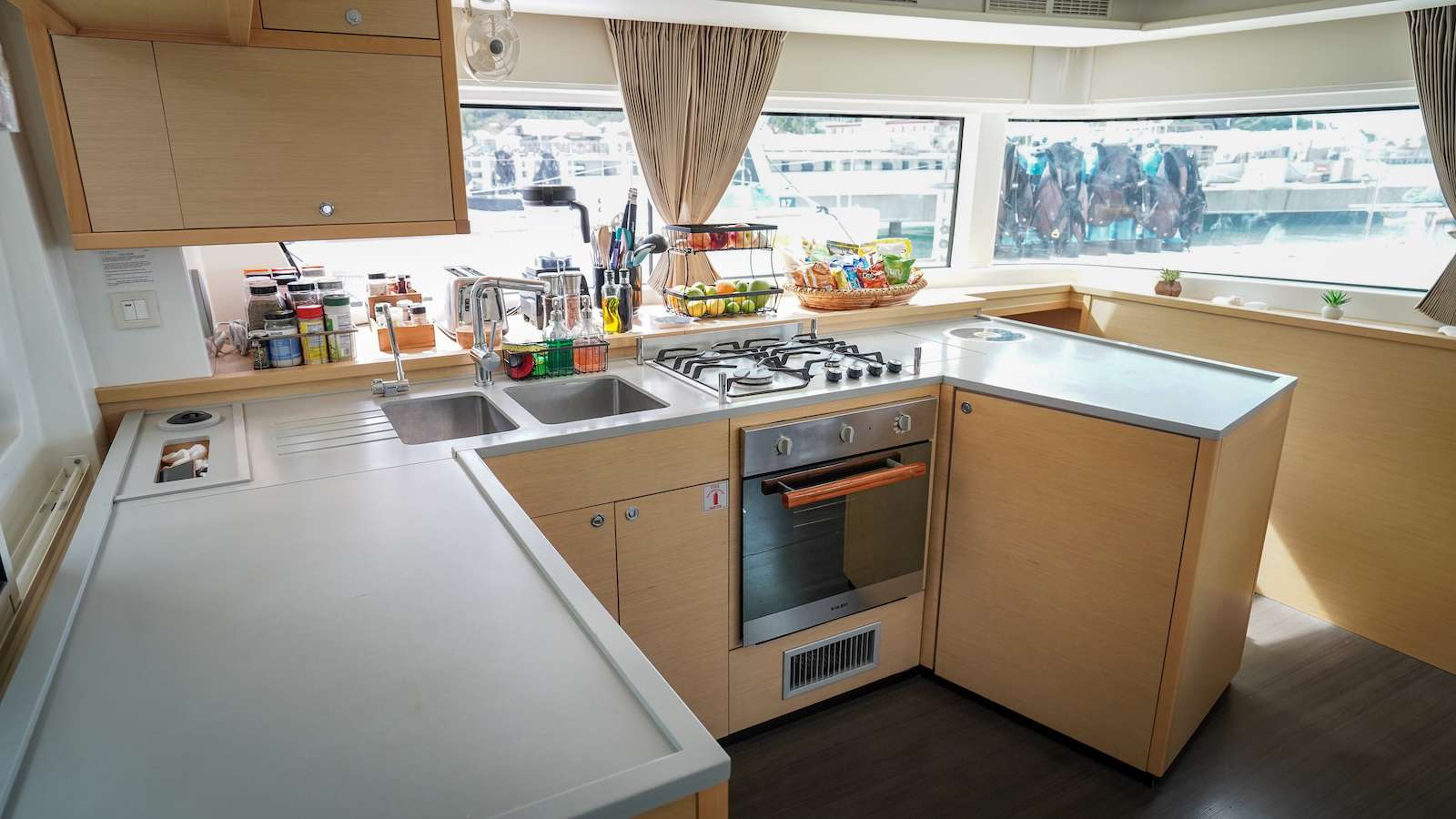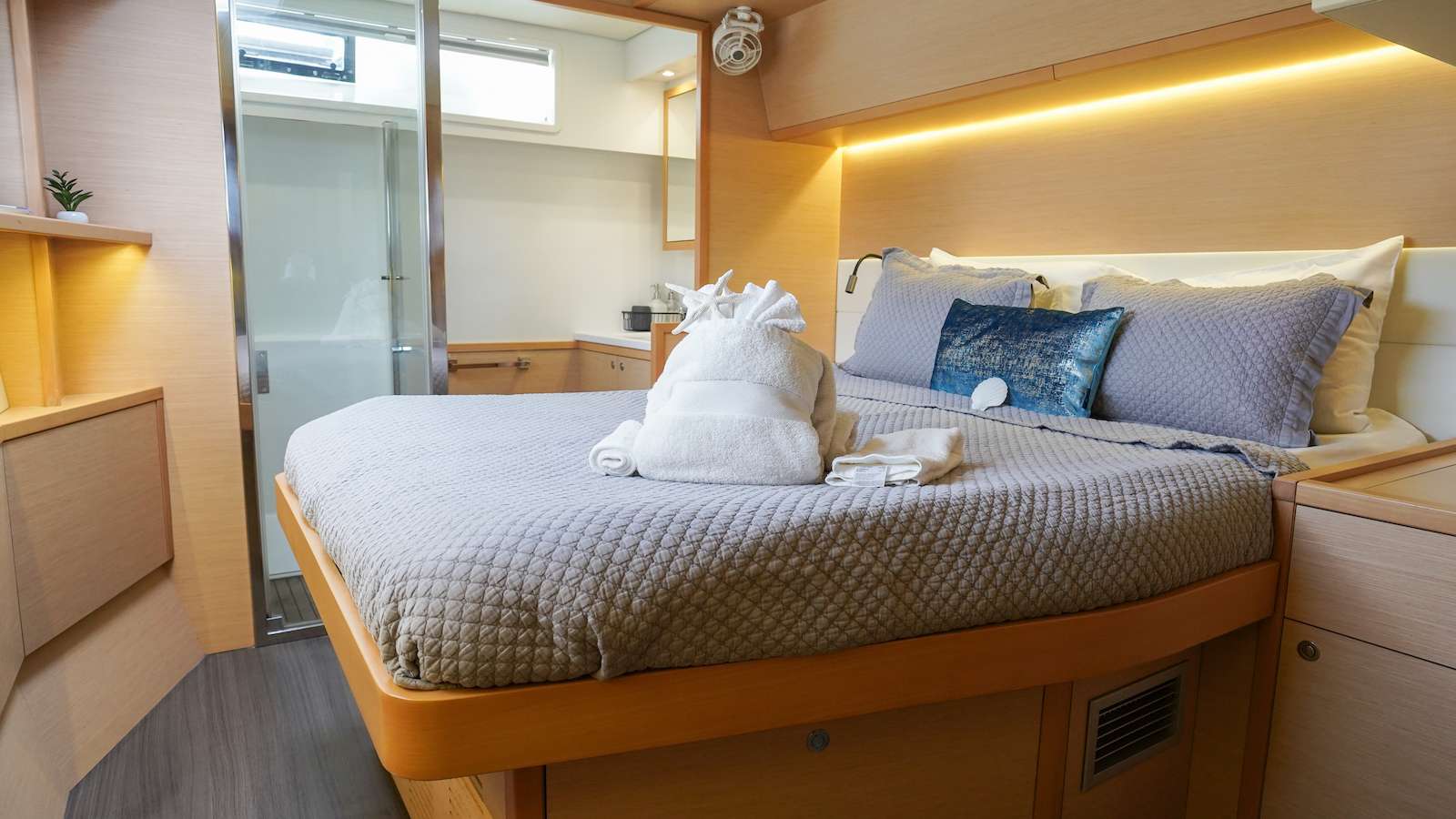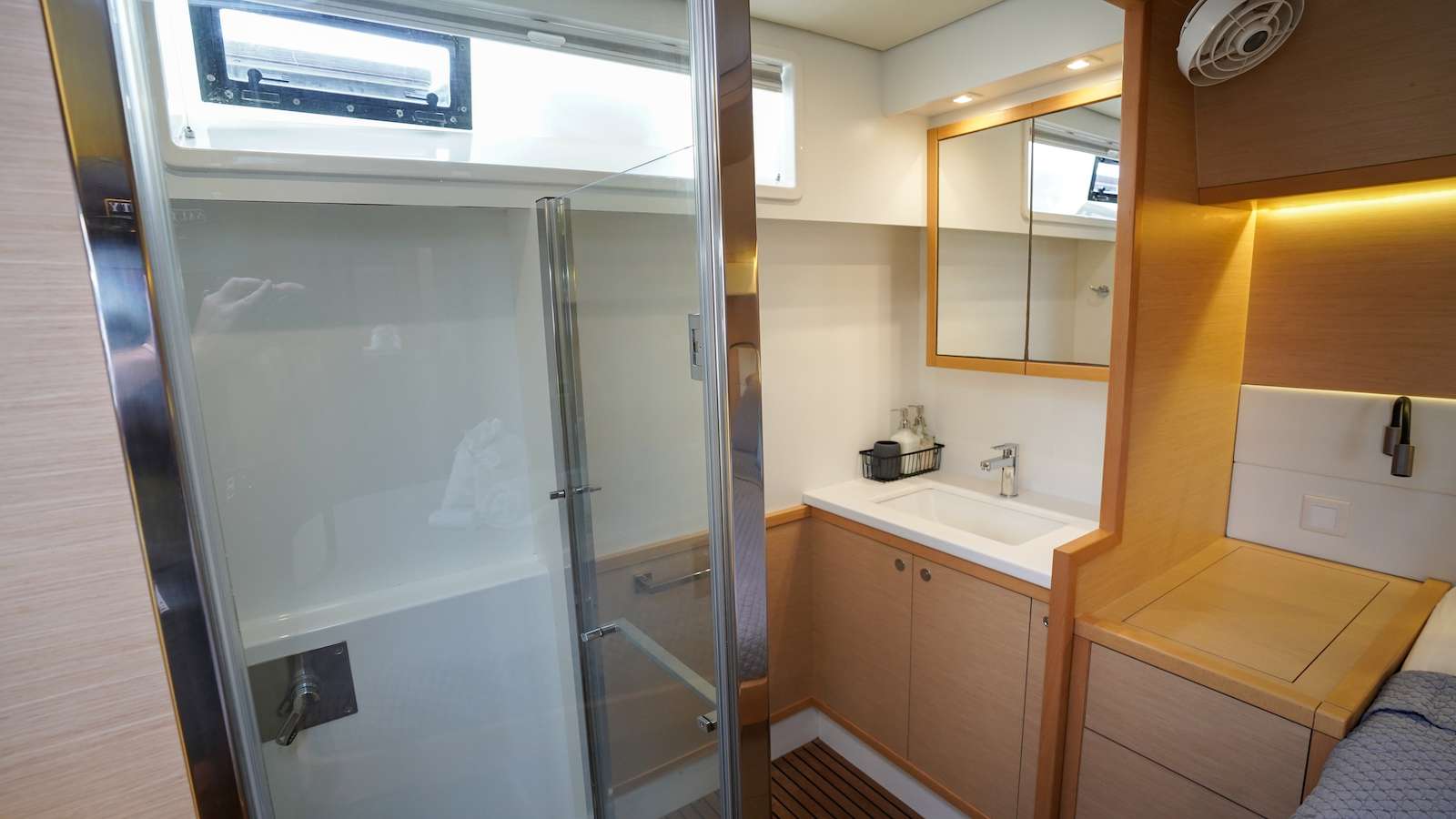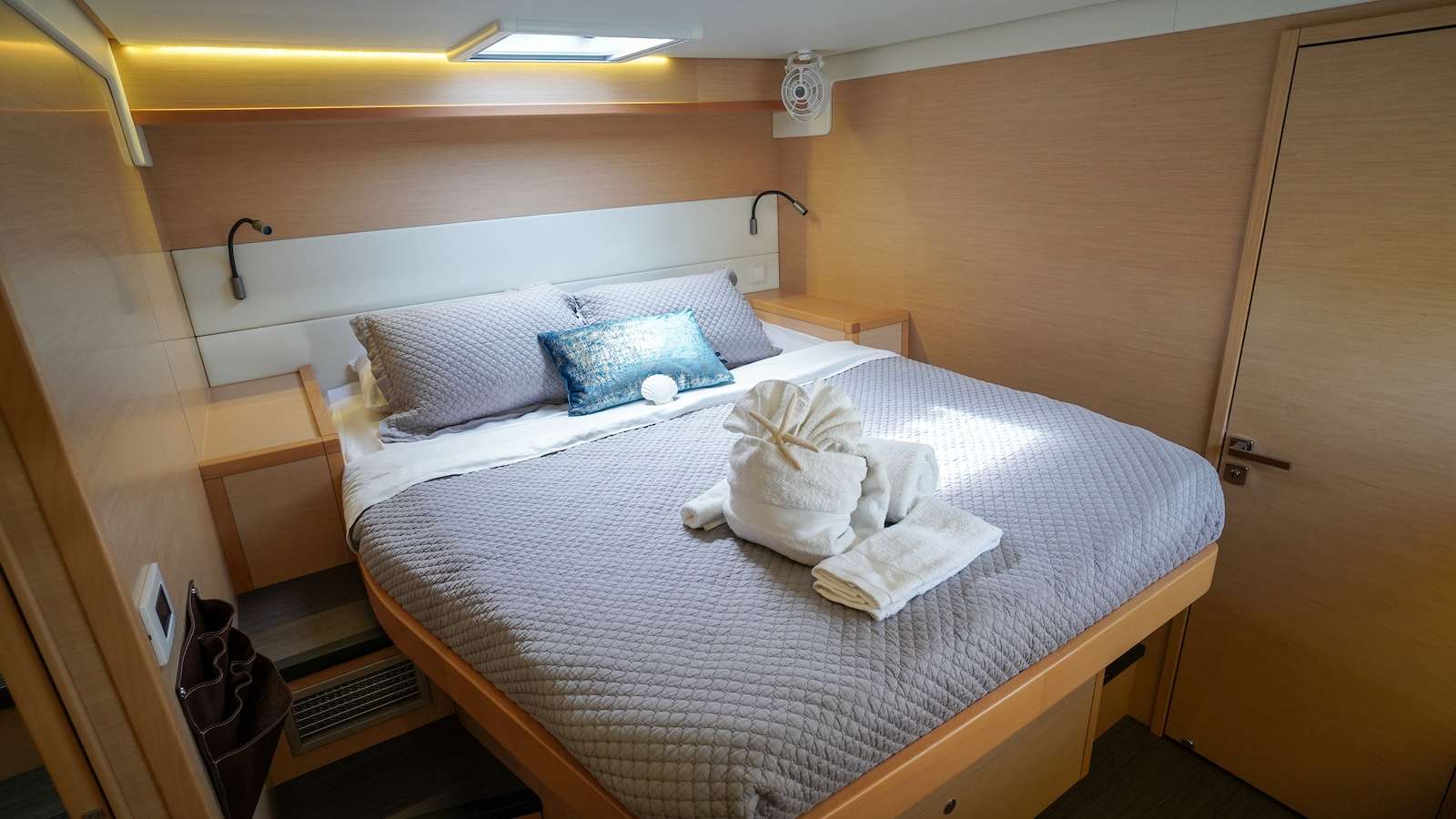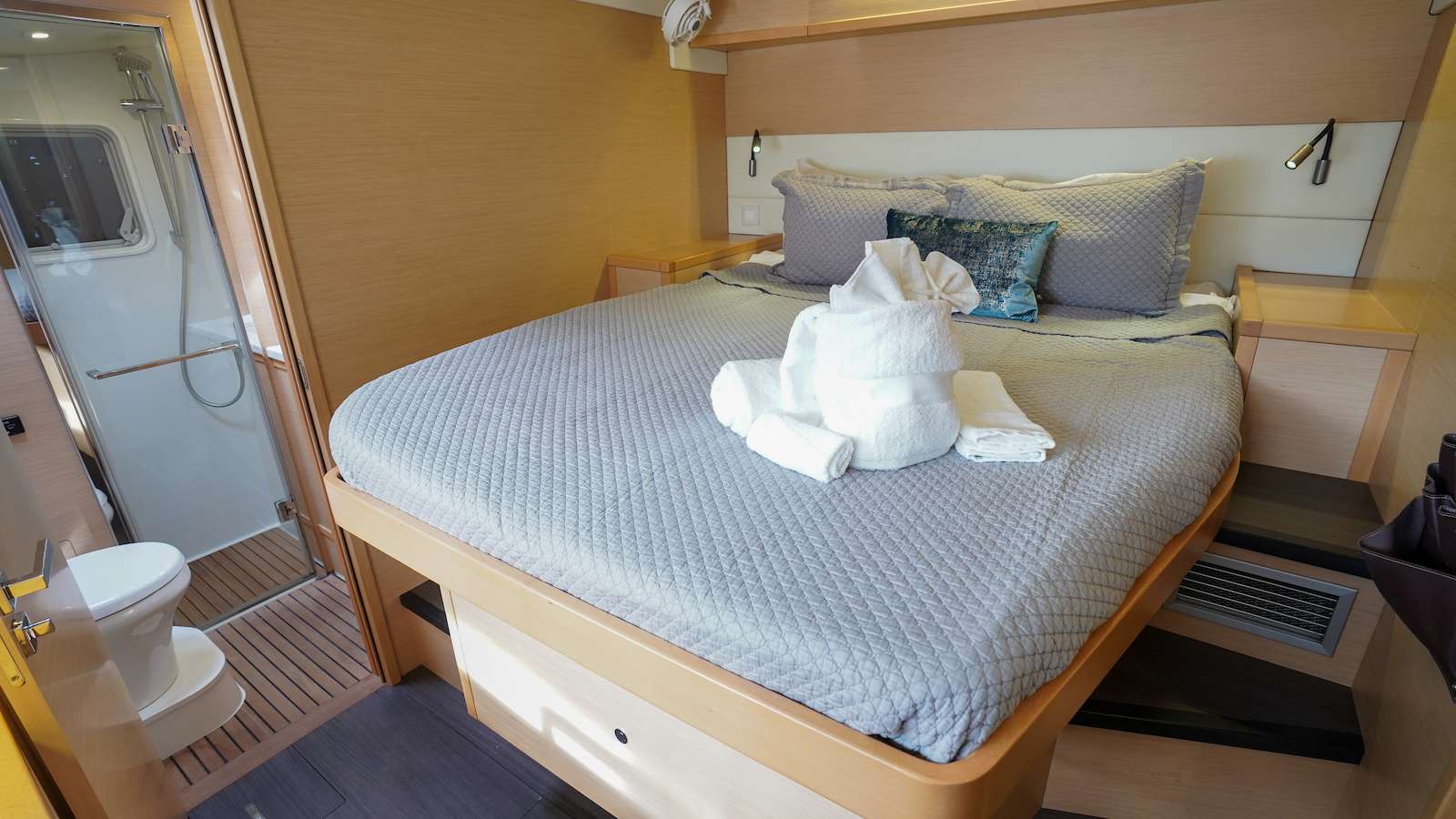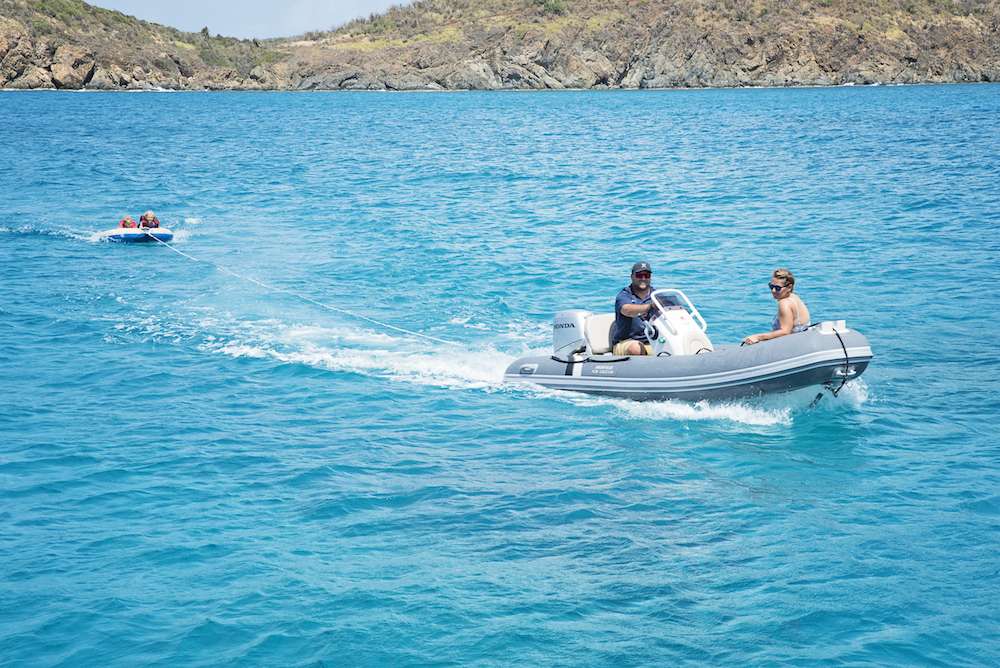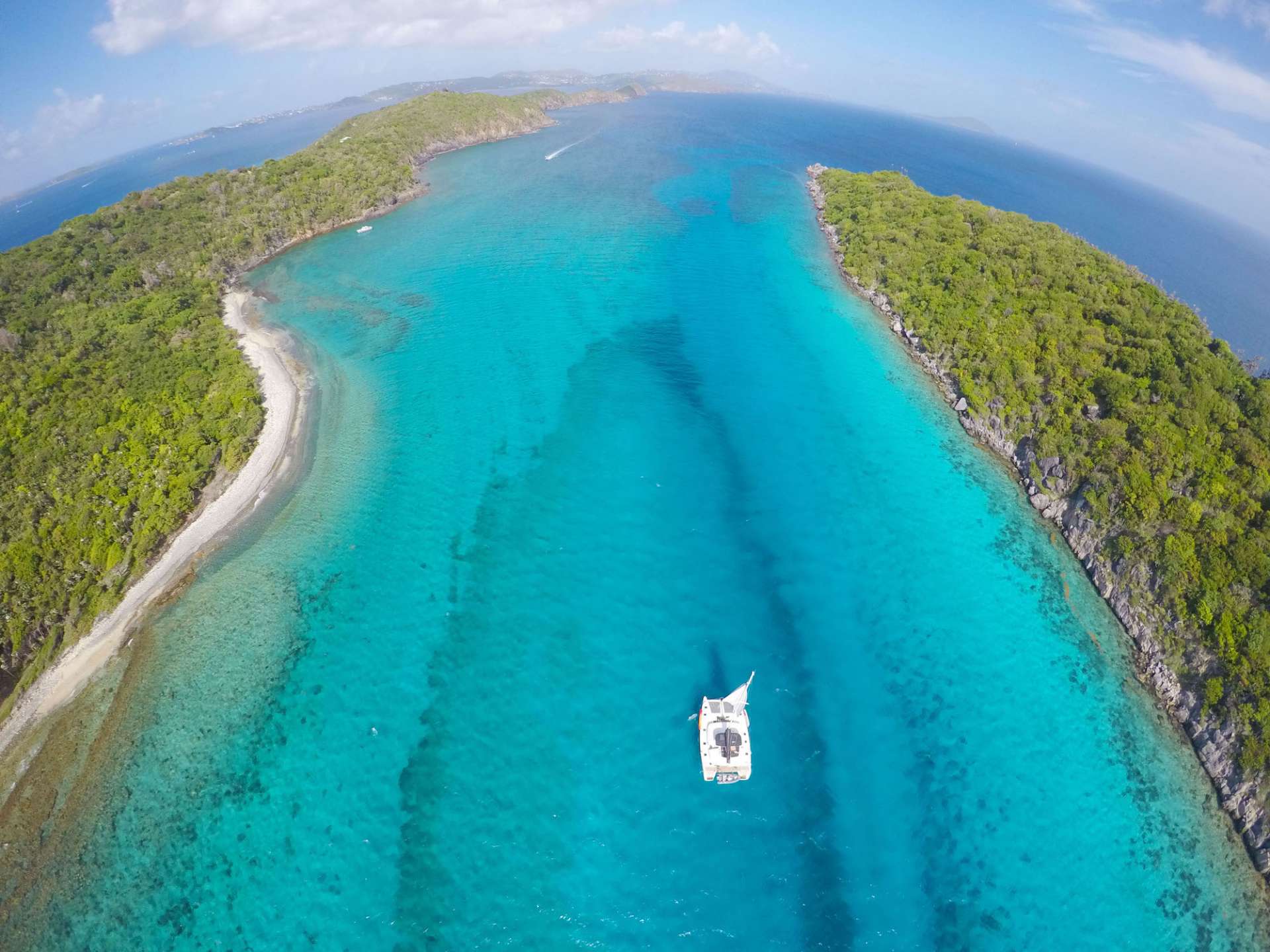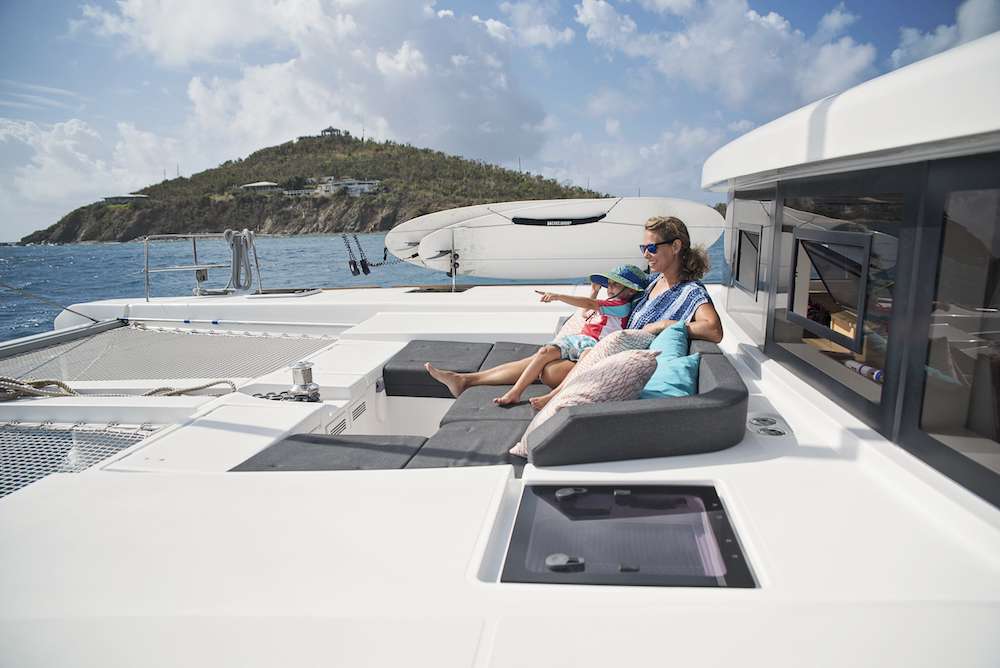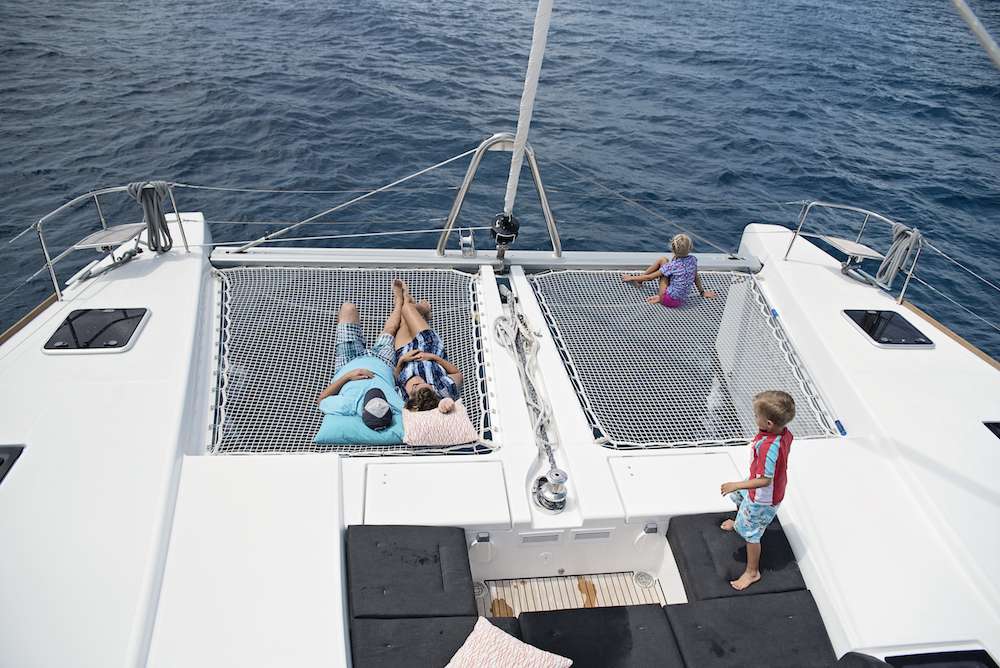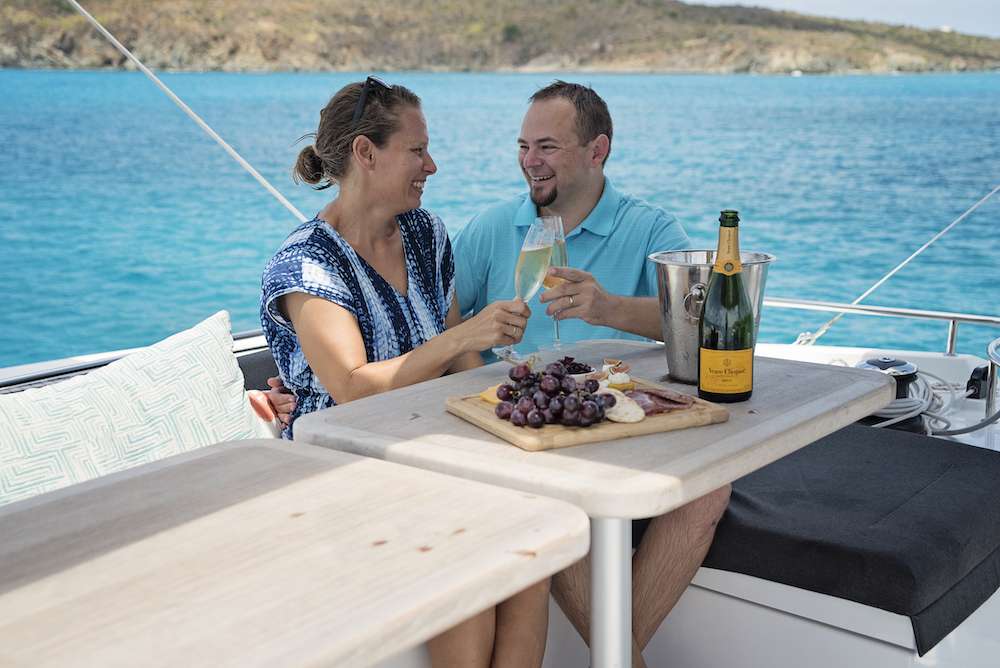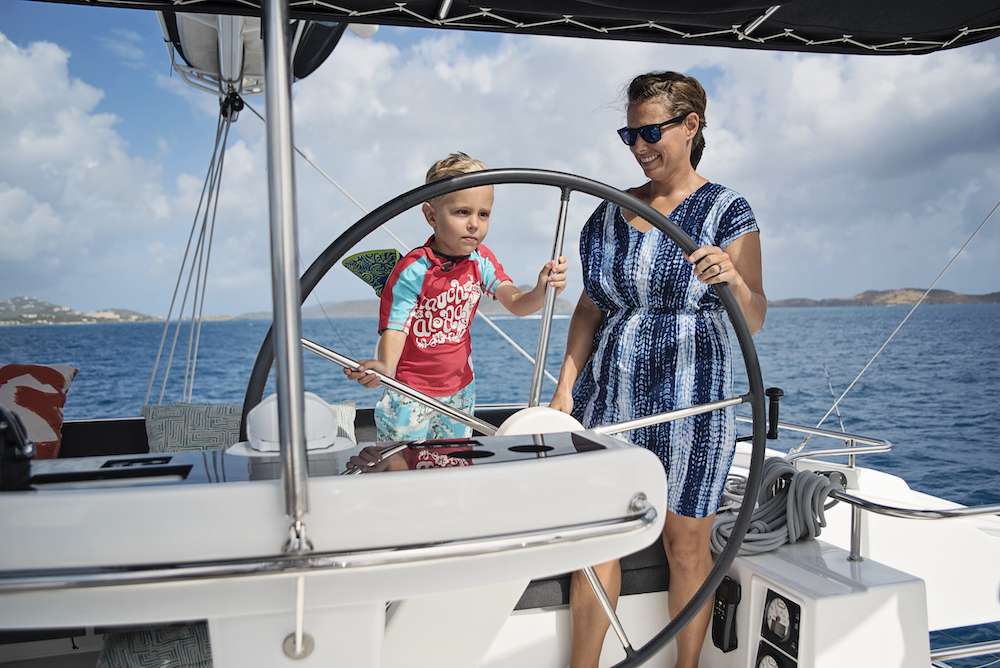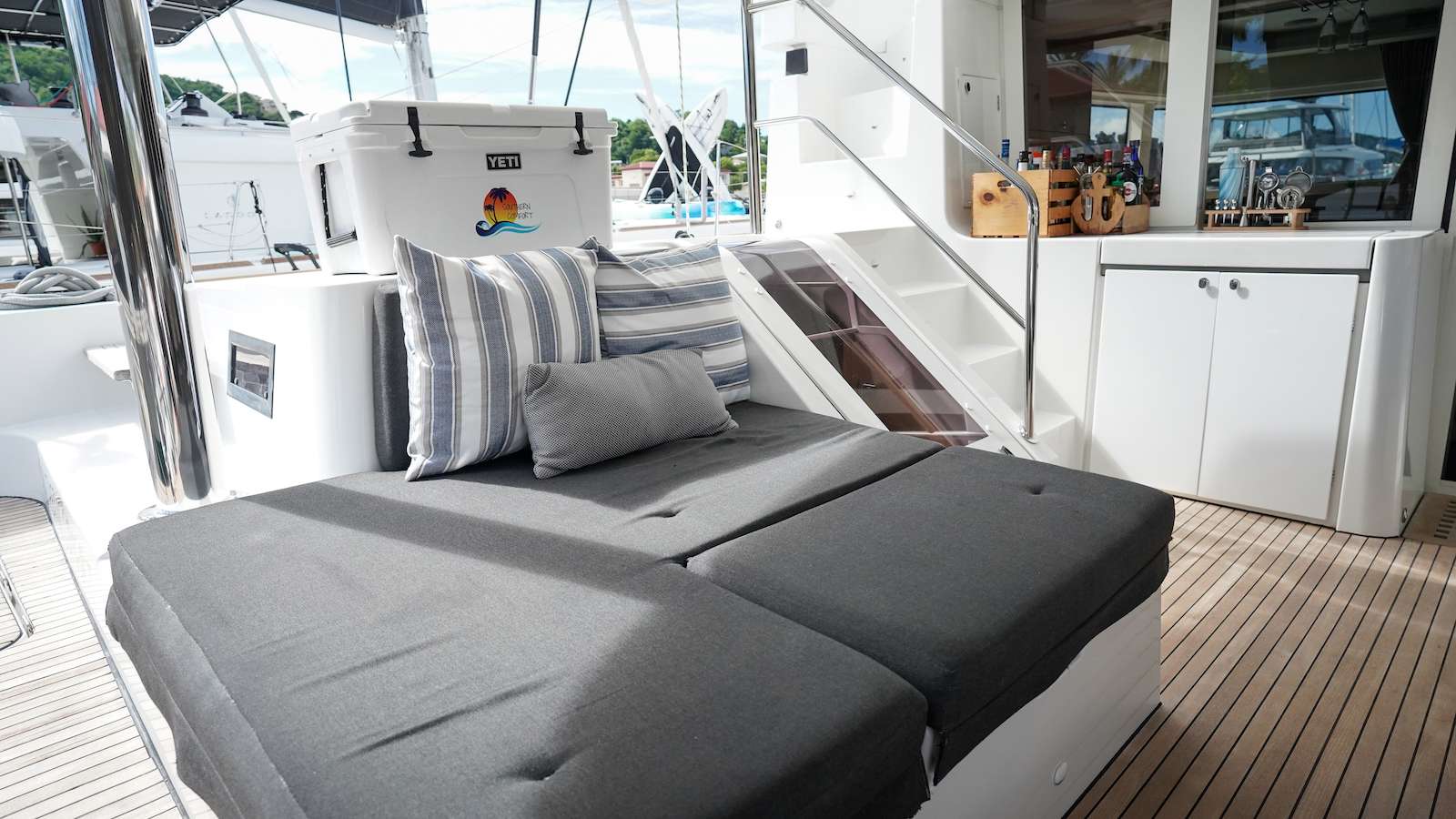 Accommodations
| | |
| --- | --- |
| Sleeps 8 guests in 5 guest stateroom(s). | |
| 4 with Queen Bed(s) | |
Details
5 Cabin Version:
4 Queen Staterooms and 5th Bunk bed Stateroom. Normally Crew will take the bunks, unless requested at booking contract.
Layout Diagram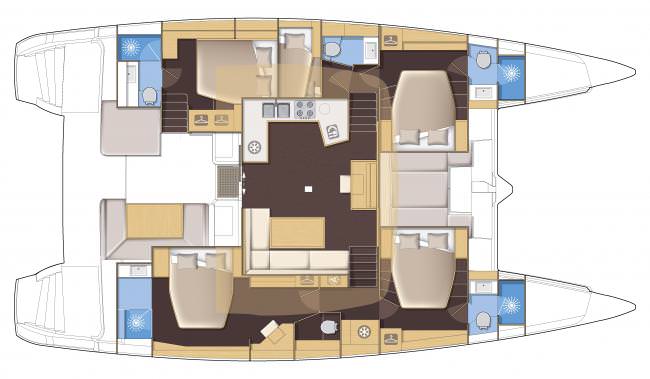 Specifications
| | |
| --- | --- |
| Guests | 8 |
| Staterooms | 5 |
| Length | 52.00 Ft / 15.00 m |
| Beam | 29 ft |
| Draft | 5 ft |
| Built - Refit: | 2017 - [] |
| Builder | Lagoon |
| Cruising Speed | 8 |
Watersports
| | |
| --- | --- |
| Dinghy. | 14' Highfield |
| Dinghy HP | 40 |
| Paddle Boards | 1 |
| Double Kayaks | 1 |
| Adult Water-skis | Yes |
| Kids Water-skis | Yes |
| Wakeboards | Yes |
| Snorkeling gear | Yes |
| Inflatable, towable tubes | Yes |
| Fishing Gear | Yes |
| Scuba Diving | Onboard |
Other Toys
2 Sub Wings
7'x7' floating dock
Upgraded cockpit table
Forward cockpit speakers
Complementary USVI and BVI map to track your charter

Pricing
From:
29,000

To:
38,000
Winter 2022 to 2023
| | |
| --- | --- |
| 2 Guests | 29,000 |
| 3 Guests | 29,500 |
| 4 Guests | 30,000 |
| 5 Guests | 30,500 |
| 6 Guests | 31,000 |
| 7 Guests | 31,500 |
| 8 Guests | 32,000 |
Summer 2023
| | |
| --- | --- |
| 2 Guests | 29,000 |
| 3 Guests | 29,500 |
| 4 Guests | 30,000 |
| 5 Guests | 30,500 |
| 6 Guests | 31,000 |
| 7 Guests | 31,500 |
| 8 Guests | 32,000 |
Winter 2023 to 2024
| | |
| --- | --- |
| 2 Guests | 29,000 |
| 3 Guests | 29,500 |
| 4 Guests | 30,000 |
| 5 Guests | 30,500 |
| 6 Guests | 31,000 |
| 7 Guests | 31,500 |
| 8 Guests | 32,000 |
Summer 2024
| | |
| --- | --- |
| 2 Guests | 29,000 |
| 3 Guests | 29,500 |
| 4 Guests | 30,000 |
| 5 Guests | 30,500 |
| 6 Guests | 31,000 |
| 7 Guests | 31,500 |
| 8 Guests | 32,000 |
Pricing Details
Southern Comfort is BVI legal

For charters confirmed as of March1st 2022, BVI Customs fees and cruising permits are included in the rate.

For Charters with BVI Cruising Grounds, confirmed prior to March 1st 2022 an additional $250pp will be paid by the charterer for BVI Customs and Cruising Permits to Charter Caribe prior to the charter..

*6 Night Minimum*
Boat Requires 48hr Turns


HOLIDAYS:

2023
Christmas Flat Rate $34,000 St Thomas pick up and drop off. 7 night minimum.
New Years Flat Rate $38,000 St Thomas pick up. 7 night minimum. Charter must start no earlier than 12/28/2023





HALF-BOARD RATES:
(7/4/3 BREAKFAST/LUNCH/DINNER): $150 off / person

***3 lunches and 4 dinners ashore at client expense***




LESS THAN 6 NIGHT CHARTERS DIVIDE BY 6 RULE:
(Rate / 6 X #Nights)

***(Rate divided by 6N X number of nights*** For 6 nights divide rate by 7 X 6N.



SLEEP ABOARD:
$2,200 Sleep aboard the night before the charter departs
Guests arrive to the yacht at 5pm. Snacks and welcome drink served, this is not an open bar. Dinner is ashore on clients expense. Continental breakfast provided next morning. Vessel departs at noon.

CHILD DISCOUNTS: Discount Applied First
Children 15 and under $500 discount
***must be 15 or under at the time of charter***
PLEASE INQUIRE FOR FURTHER PRICING DETAILS
Crew Profile
QUALIFICATIONS
Bachelor of Science in Counseling Psychology
Minor in Outdoor Leadership and Adventure Education
100 Ton Near Coastal USCG Captain's License with Aux Sail Endorsement
STCW 2010
PADI Dive Instructor/ Master Scuba Diver Trainer
Wilderness First Responder ASA 101: Basic Keelboat Sailing ASA 103: Coastal Cruising
ASA 104 Bareboat Cruising
As a child, Ish anxiously awaited the arrival of summer when he would head to his grandparents' cottage in Ontario. The waters of Lake Huron became the playground where Ish learned to sail his grandparents' 16' Wayfarer. On any given sunny summer day, he could be found out on the lake struggling to untangle himself from a rat's nest of lines or being caught by a sneaky gust that caused him to capsize. Those first few years with the Wayfarer served as a foundation for a great passion for sailing. After graduating from high school, Ish attended Prescott College in Arizona where he fed an insatiable appetite for the outdoors. College orientation, a 3-week backpacking trip through a canyon in Arizona, opened a whole new world of outdoor pursuits and possibilities. Over the next 4 years, he filled his spare time with surfing, backcountry skiing, white water rafting, rock climbing, stargazing, campfire-ing, and howling at the moon! A desire to sail in salt water persisted, even in the desert. Ish satisfied his salt water cravings with a job living and working aboard sailboats in the British Virgin Islands. Over 6 summers with Sail Caribbean, a summer camp for teens, Ish served as captain, fleet captain, and program director. He was able to also fulfill his aspiration to work on a commercial salmon fishing boat in Alaska before finally realizing his lifelong dream of leading unforgettable charters for guests in the Virgin Islands. His time in the VI has given him outstanding knowledge of the local culture and natural treasures to be enjoyed here. He has a deep love for these beautiful islands and the surrounding waters and is excited to share this passion with each and every guest who comes aboard.
Chef Danica Smith
QUALIFICATIONS
Bachelor of Secondary Education (2019) University of New Brunswick
Born and raised in the countryside of French Lake, NB Canada, Danica grew up playing outdoors, camping, and dancing. From the age of 13-19 Danica was a competitive dancer, and spent her teen years traveling the country competing! This travel sparked a passion in Danica that would shape the rest of her life. Just before graduating highschool, Danica spent most of her savings from her part time and summer jobs traveling Europe, exploring various cultures and falling in love with food. Danica then attended Renaissance College and graduated with a Bachelors of Philosophy and Interdisciplinary Leadership. While obtaining this degree, Danica was able to complete two internships, one of which took her across the world to the Himalayan Children Care Home and Environmental Conservation in Pokhara, Nepal. This internship not only opened up Danica's worldview and passion for lifelong learning, but also for the environment and cultural exploration. While living amongst 86 buddhist children, Danica had to not only change the way she lived and viewed the world, but she had to learn how to cook vegan meals for nearly 100 people three times a day! Although Danica has always loved food and trying diverse foods from all of her travels, this was her first experience really learning to cook! After returning home, Danica then went to the University of New Brunswick for her Bachelor of Education, specializing in Social Humanities, English, and the Arts for secondary students. Again, Danica was accepted to another international internship in the United Kingdom. Upon graduating with her B.Ed. Danica received her first full time teaching job, in Saint Lucia, teaching at the International School Saint Lucia. This is where Danica fell in love with the Caribbean and all things island life. While living in Saint Lucia, Danica spent all of her free time outdoors; snorkeling, diving, hiking, organizing beach clean ups, learning how to sail, and of course, exploring the local culture (mostly through her plate) trying all kinds of local foods and produce! During the global covid 19 pandemic, Danica continued working for the international school virtually and also began working for the startup environmental and ethical fashion company; Sisterly Swimwear. With only three employees at its start, Danica was able to not only learn an abounding amount about the fashion industry and clothing design/creation, but also cultivated her skills at social media marketing and content creation. It was in 2021 when Danica was already again itching for travel and the sea, and knew it was time for a new adventure. Danica and her partner bought a hurricane damaged Bavaria 33 cruiser from the BVI and spent the next year living off the grid aboard the vessel in the USVI while fixing her up! This proved to be one of the biggest learning and growth experiences of her life! While gaining a variety of new skills; such as being trained and working as a first mate, living off the grid, sailing a live-aboard vessel and assisting with various hands on boat repair jobs (as well as conducting the interior living renovation herself), Danica also got a part time job working at the Saint Thomas Yacht Club. Danica worked as a host and waitress for the STYC restaurant; The Galley, which scratched her love-of-food-itch, taught her about fine dining, and again improved her knowledge of cuisine and cooking. All the while, Danica used her expertise in social media content creation to start a youtube channel about her adventure. After a year of living on a sailboat, tons of hard work, and infinite learning, Danica is now ready to take her passion for travel, adventure, and culture and use it to help lead unforgettable charters for guests in the Virgin Islands. Her time living aboard/fixing Scallywag and working at The Galley in the VI has given her knowledge of the local culture, island food favorites, and all the fun and beauty these stunning islands have to offer! Danica prides herself in being a lifelong learner, and loves to take on new adventures and learning experiences while making those around her feel happy, safe, and excited about life!
<b>Crew fully vaccinated<b/>
Additional Information
Southern Comfort is a Lagoon 52F, and available for the best yacht charters in the Caribbean. The 52F, Lagoon's performance luxury model, perfectly intersects the ideas of comfort and capability. It's accommodations are fit for the collaboration of adventure and gratification. This 5-cabin version is perfect for a variety of charter make-ups.Groups of friends, families large and small, extended families, the possibilities are endless. 4 queen Staterooms are available to the guests on a regular basis, all with their own separate bathrooms and showers. The 5th cabin with bunk beds can be available to family groups that wish to have separate bunk options. Tremendous amounts of entertaining and relaxing space on board this vessel. The flybridge, where the helm and sailing functions meet the enormous convertible settee provide the best seat in the house whether under sail, or under stars. The forward Cockpit Lounge where morning coffee meets the sunrise. The aft cockpit where the exquisite meals are served and chaise Lounges are on both sides of the vessel. The main salon, which houses the open-concept galley, large sofa-chaise and flat-screen TV.
Destinations
Inquire about SOUTHERN COMFORT