Gallery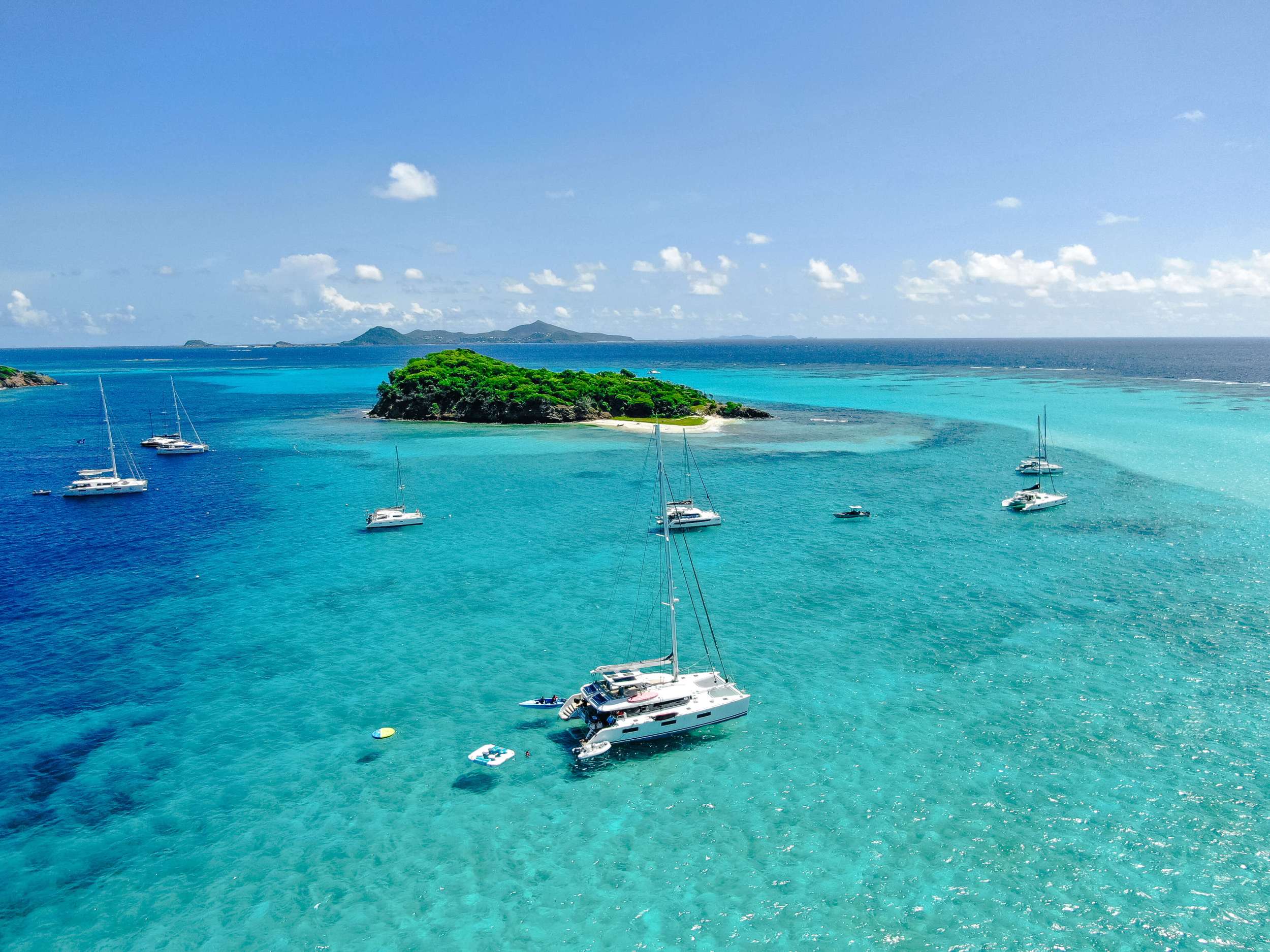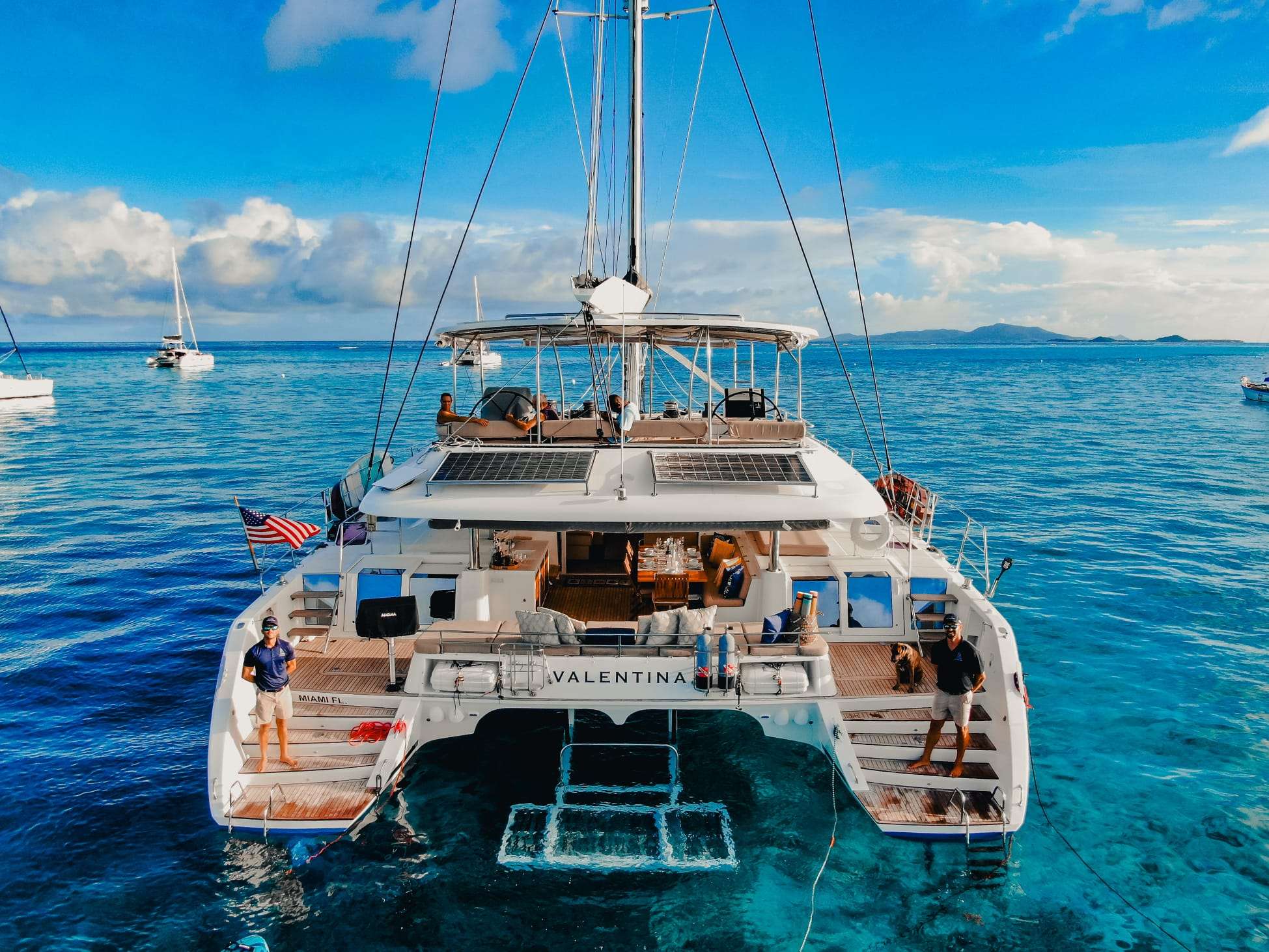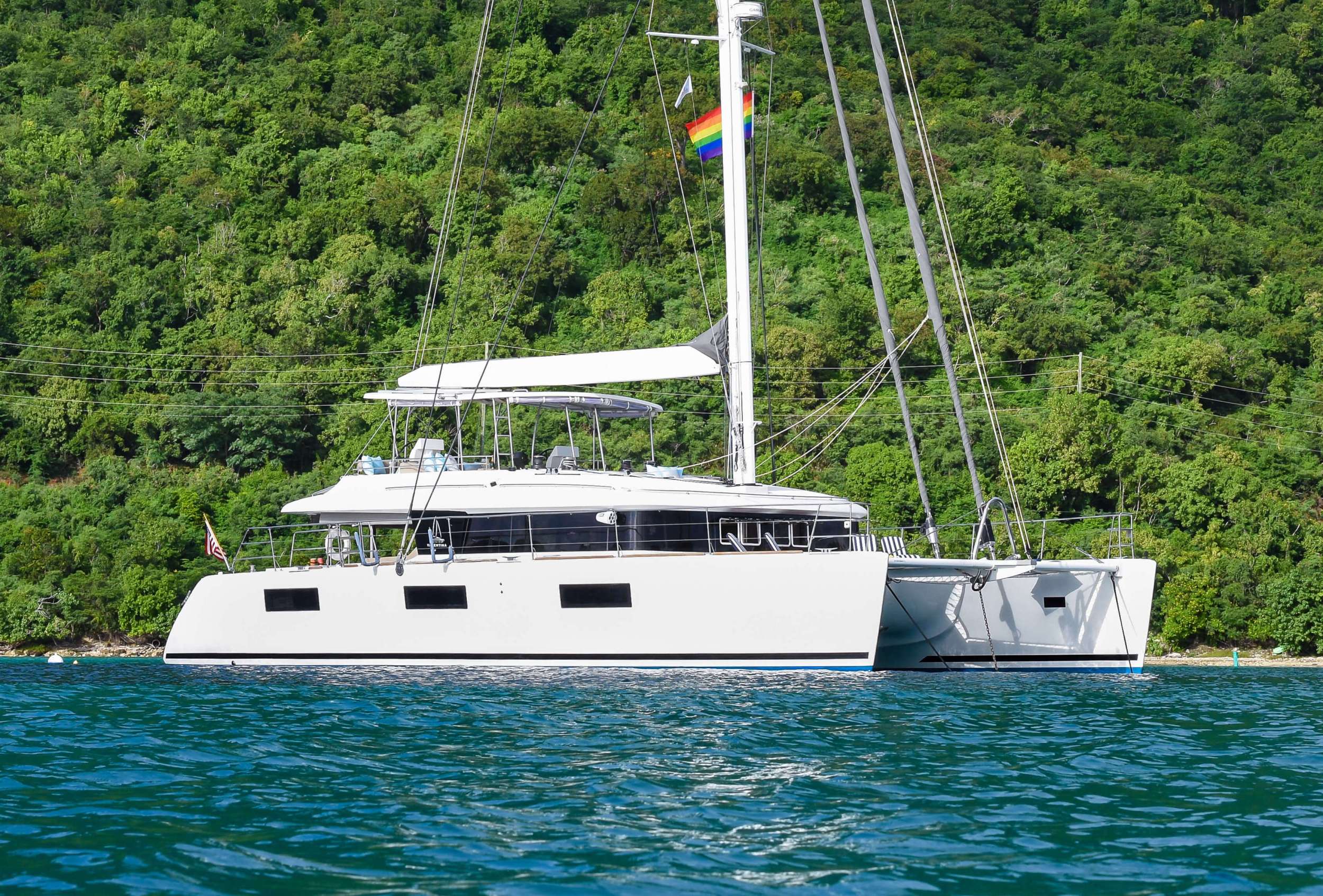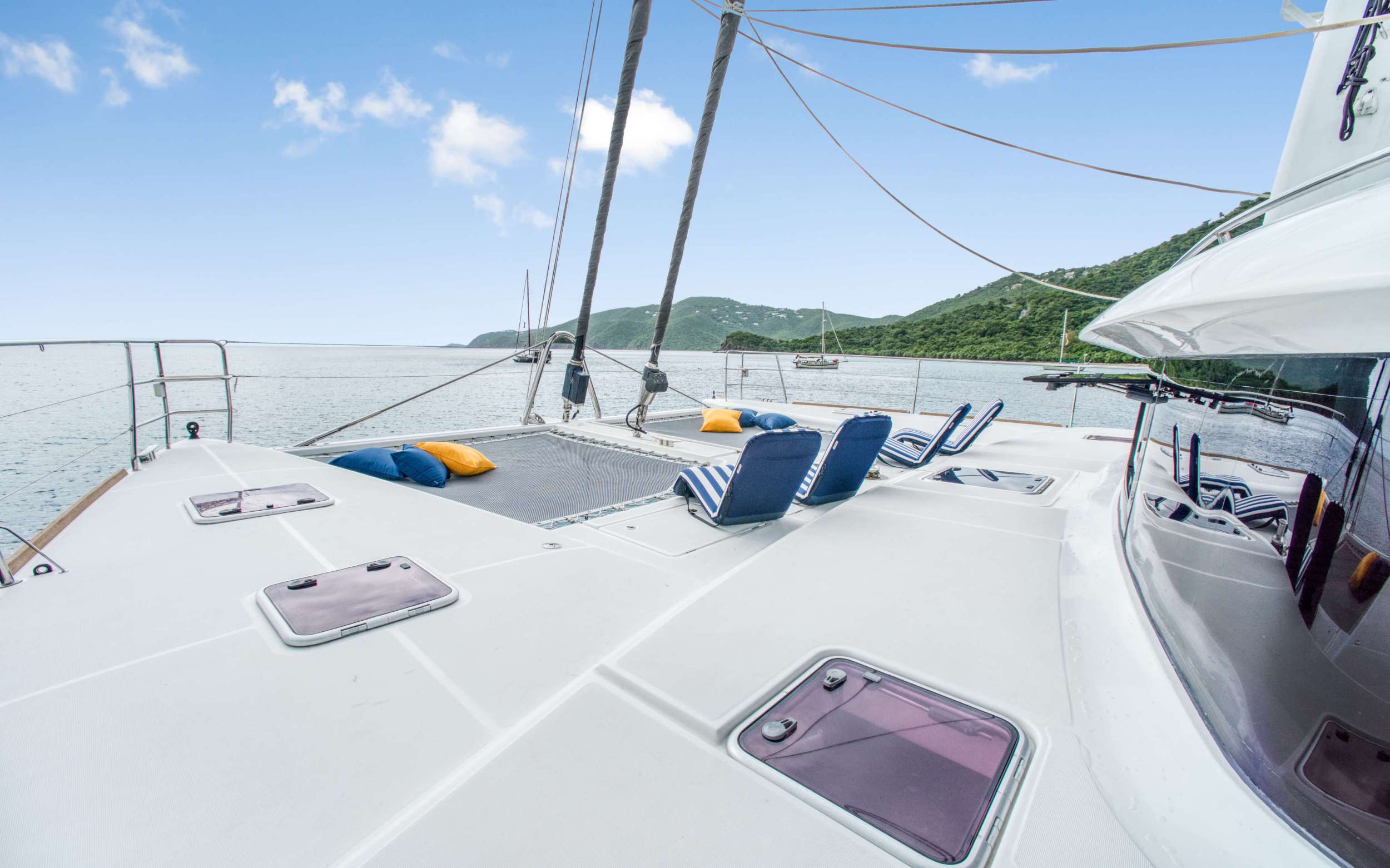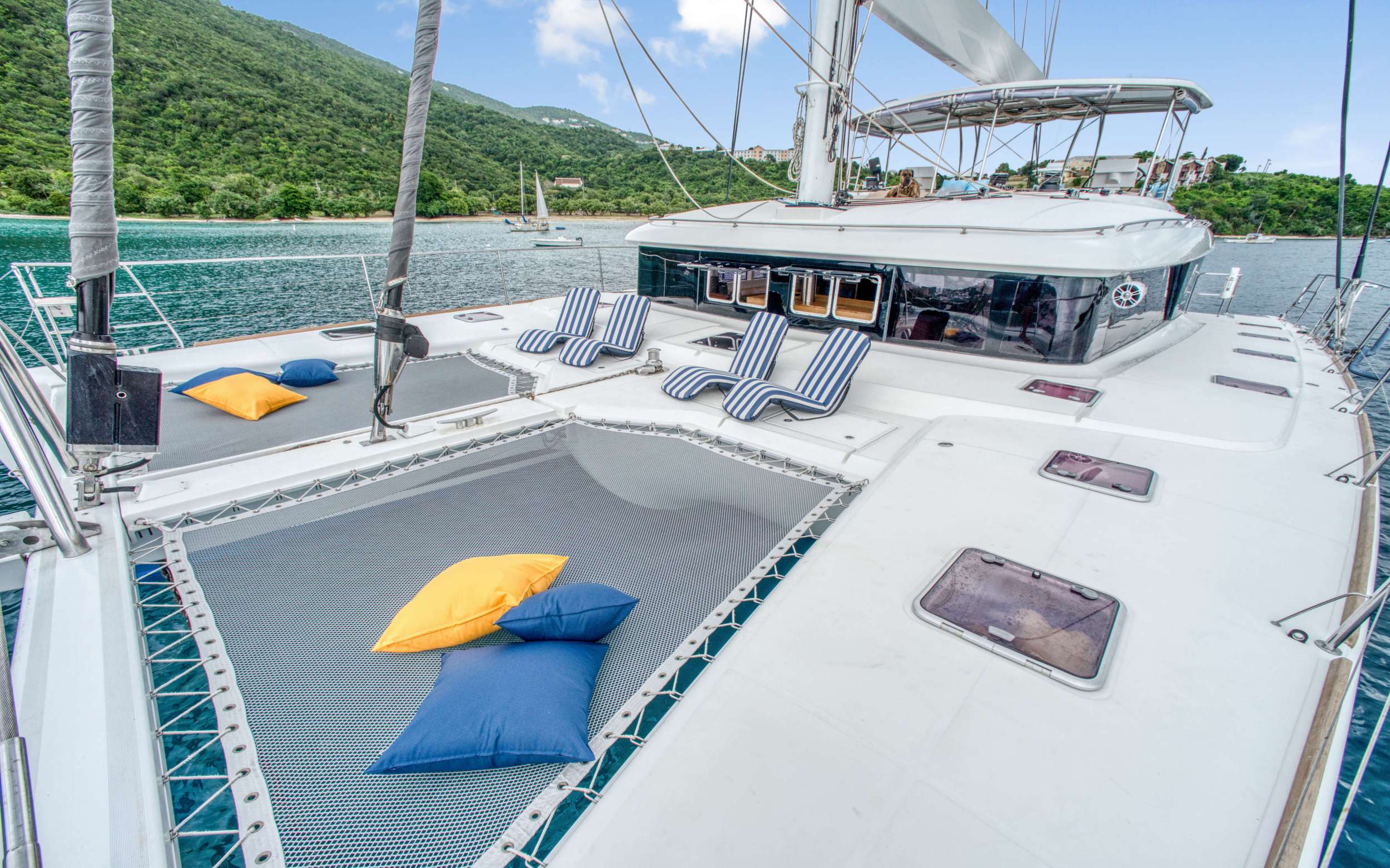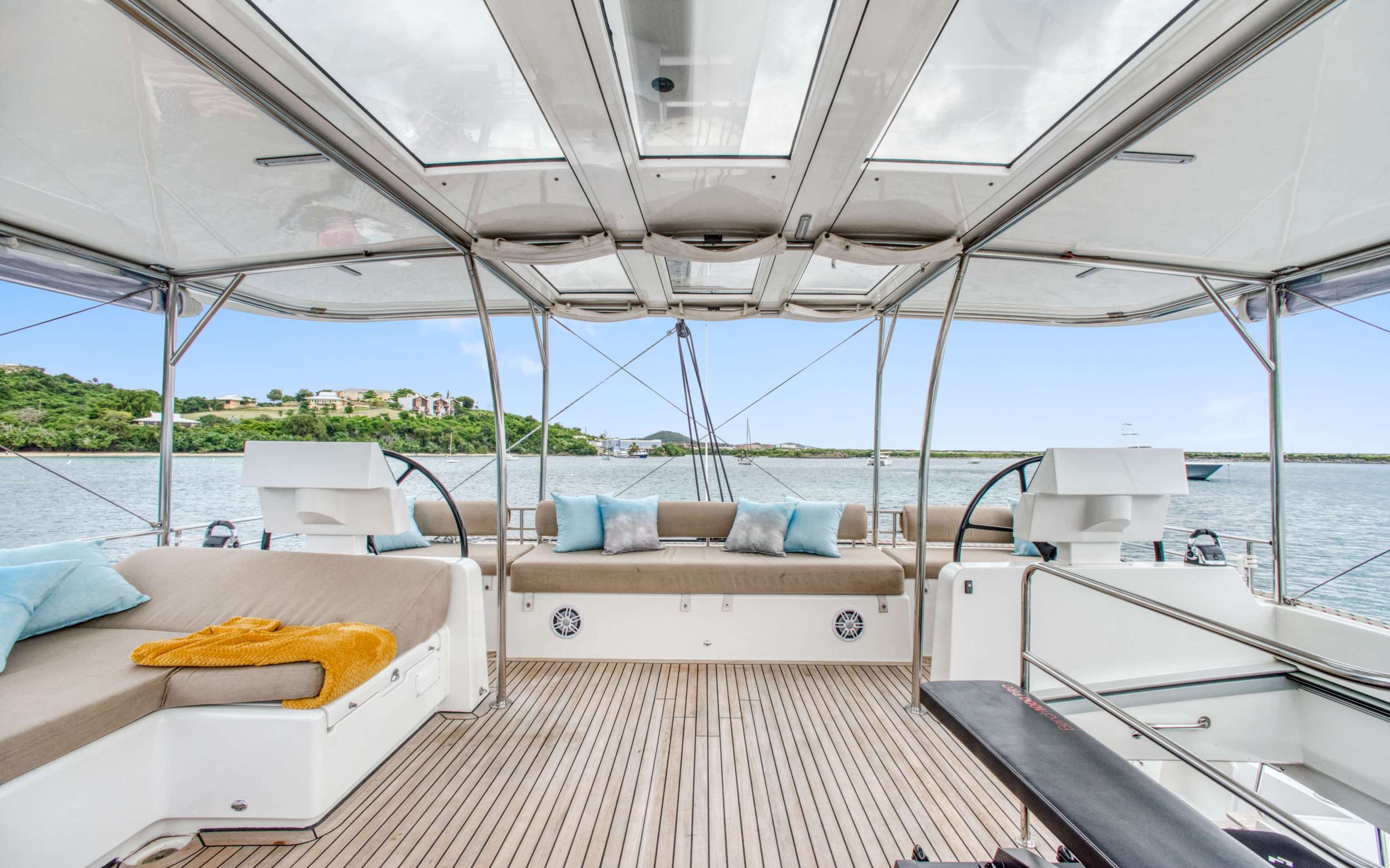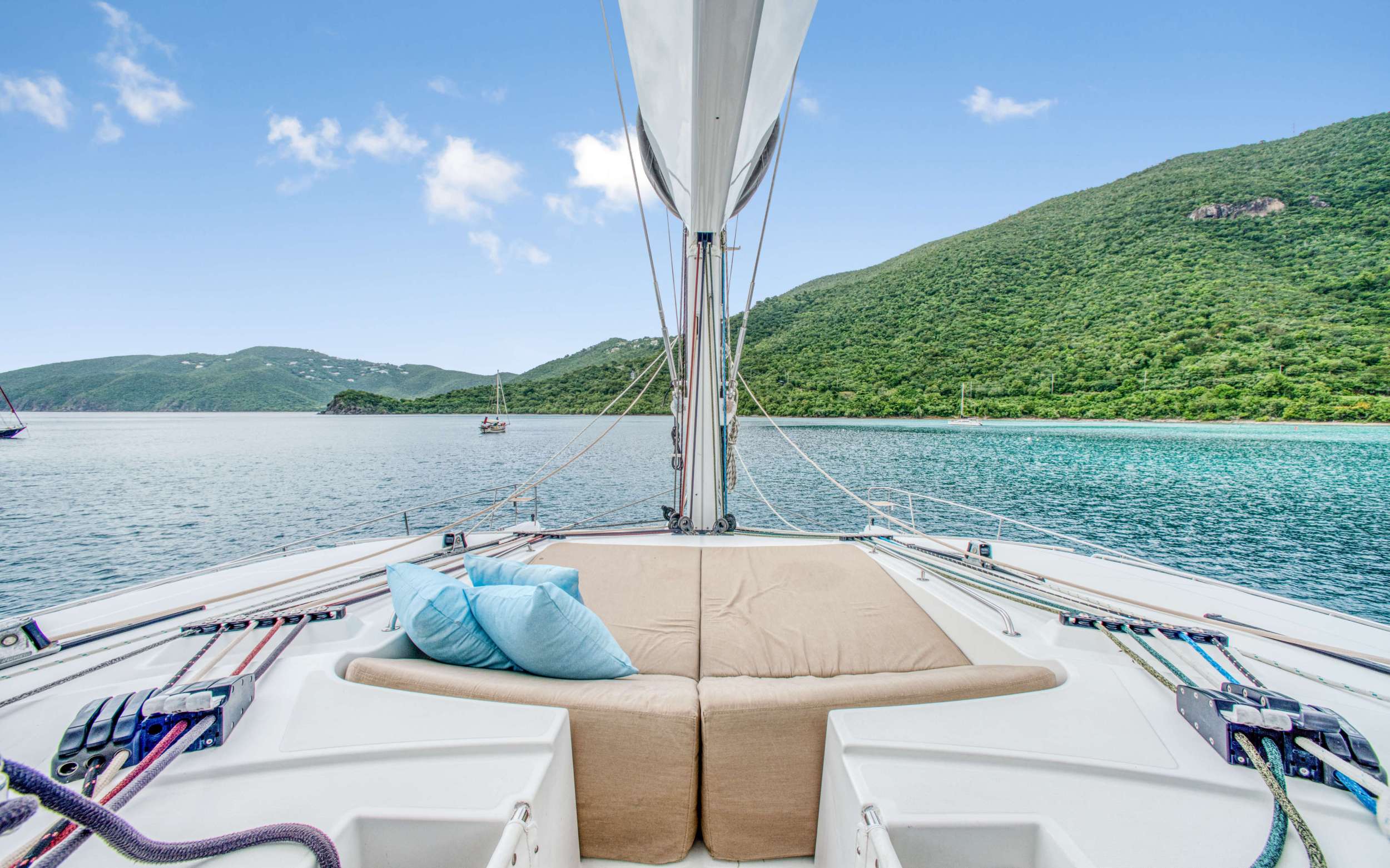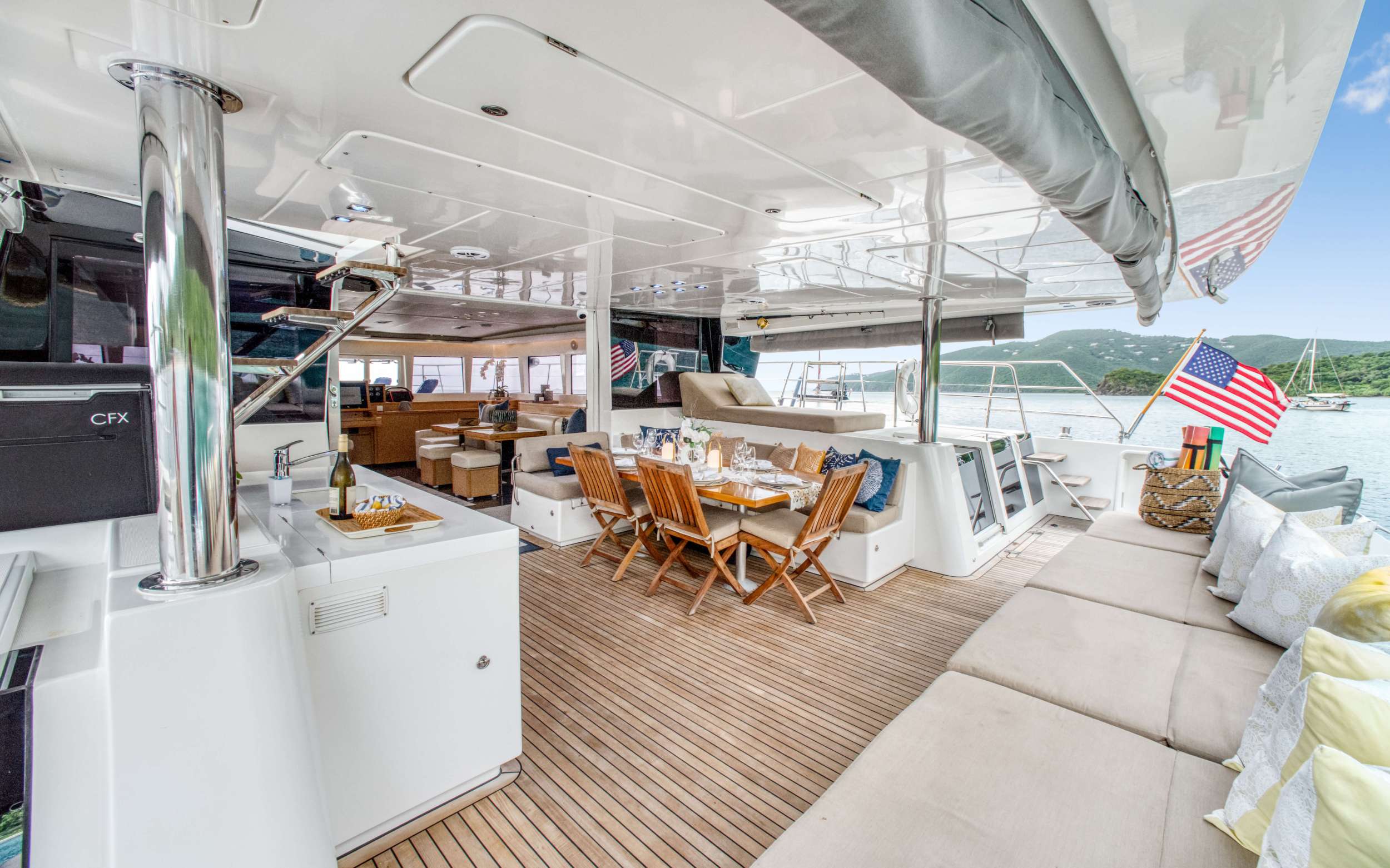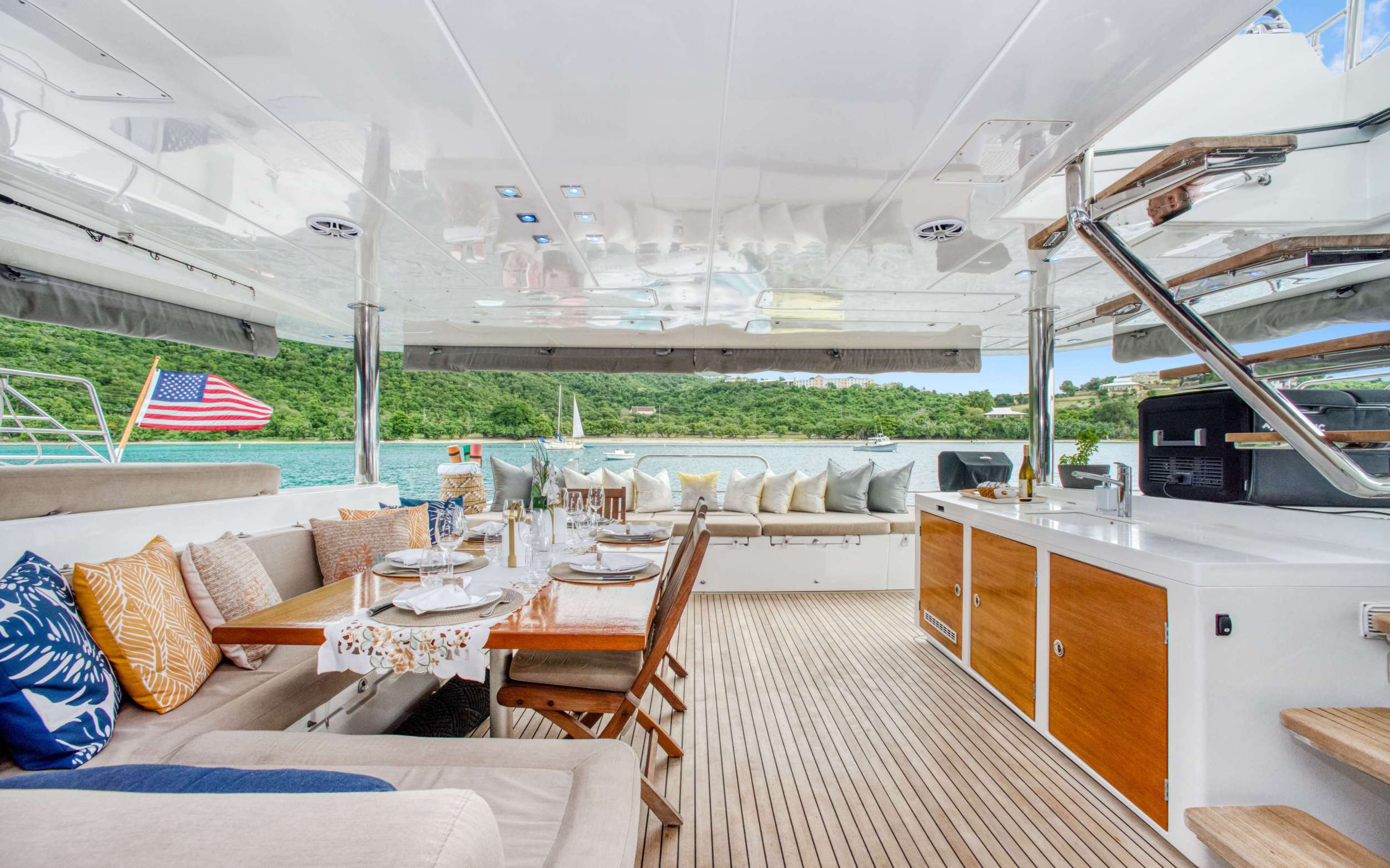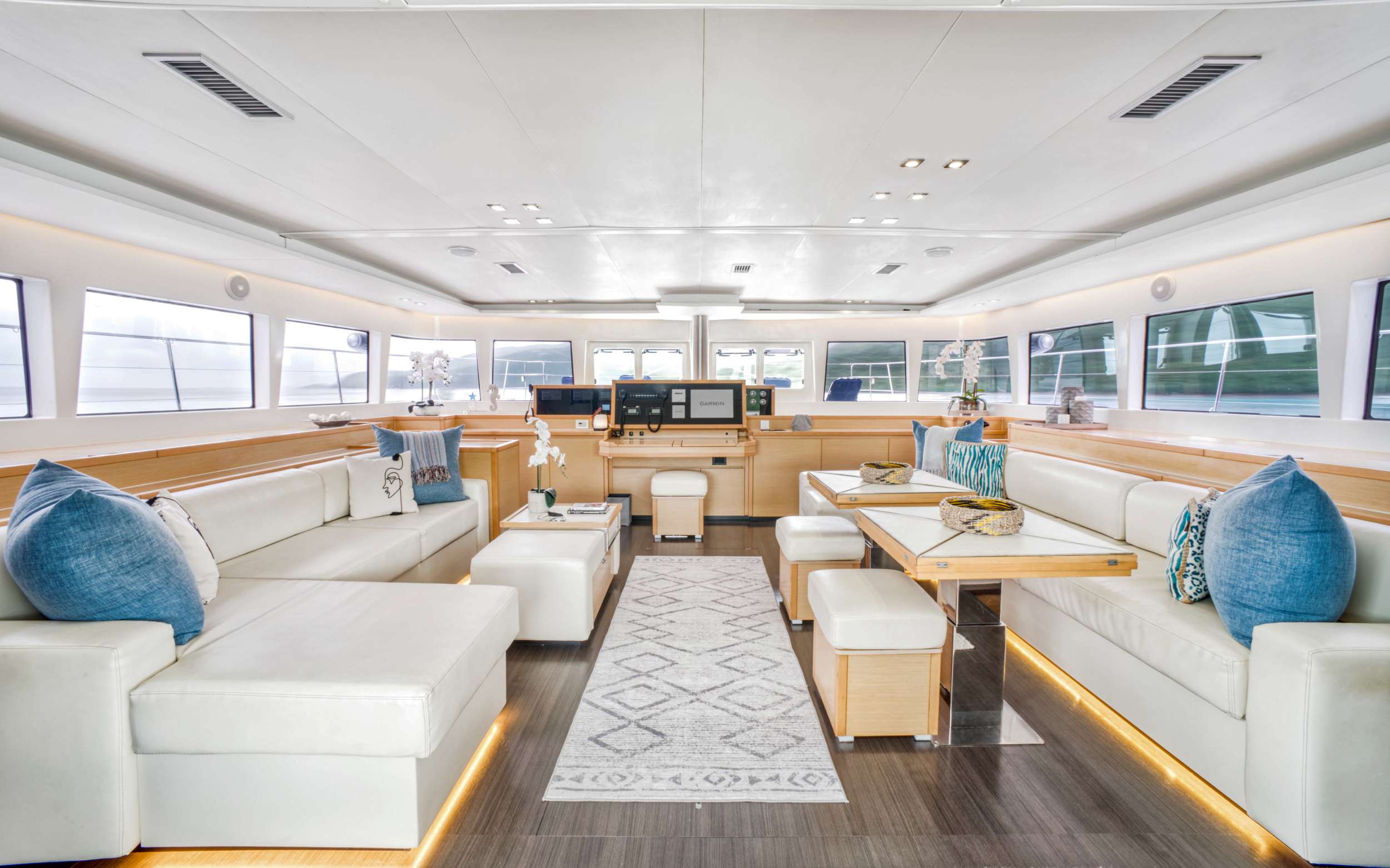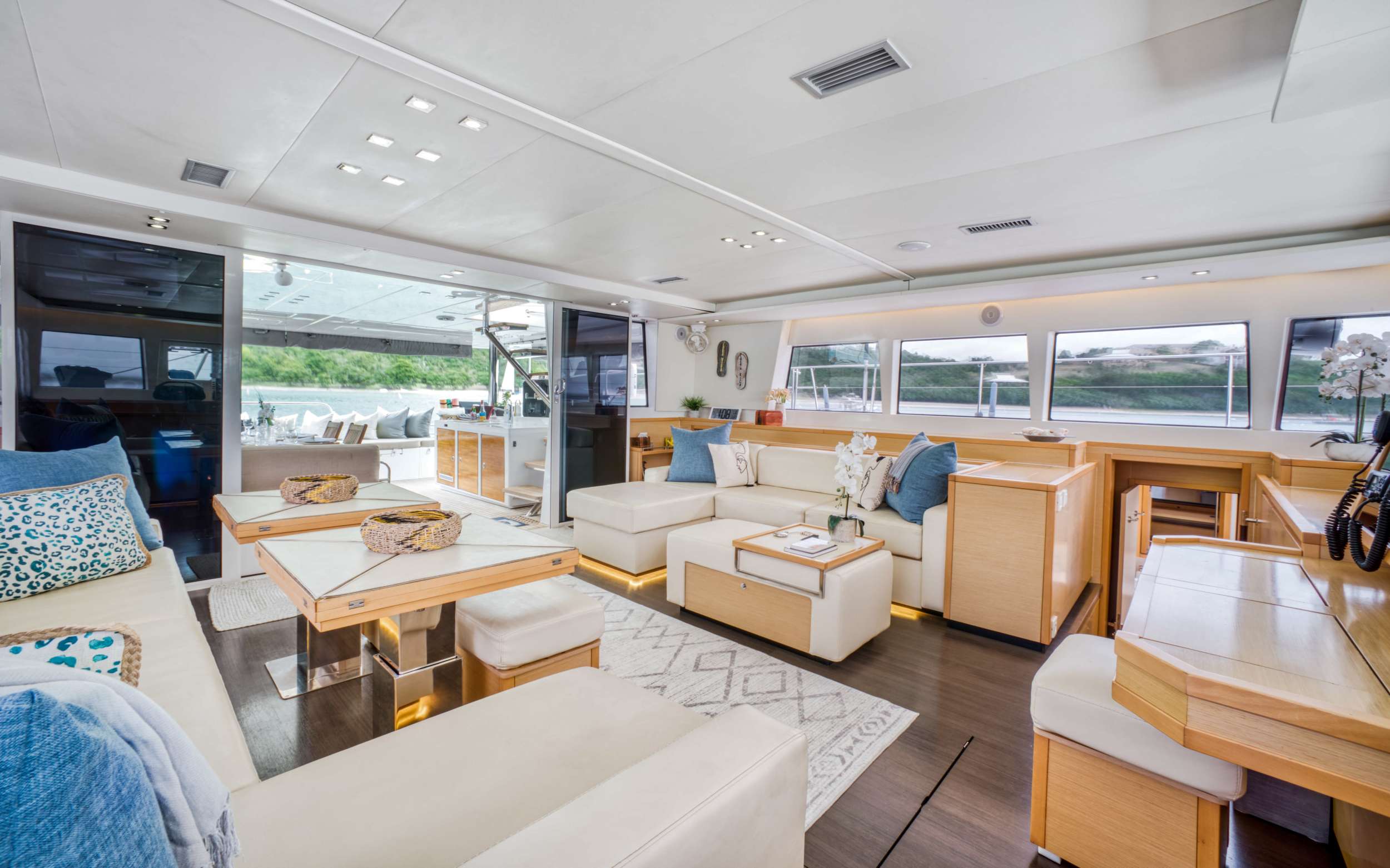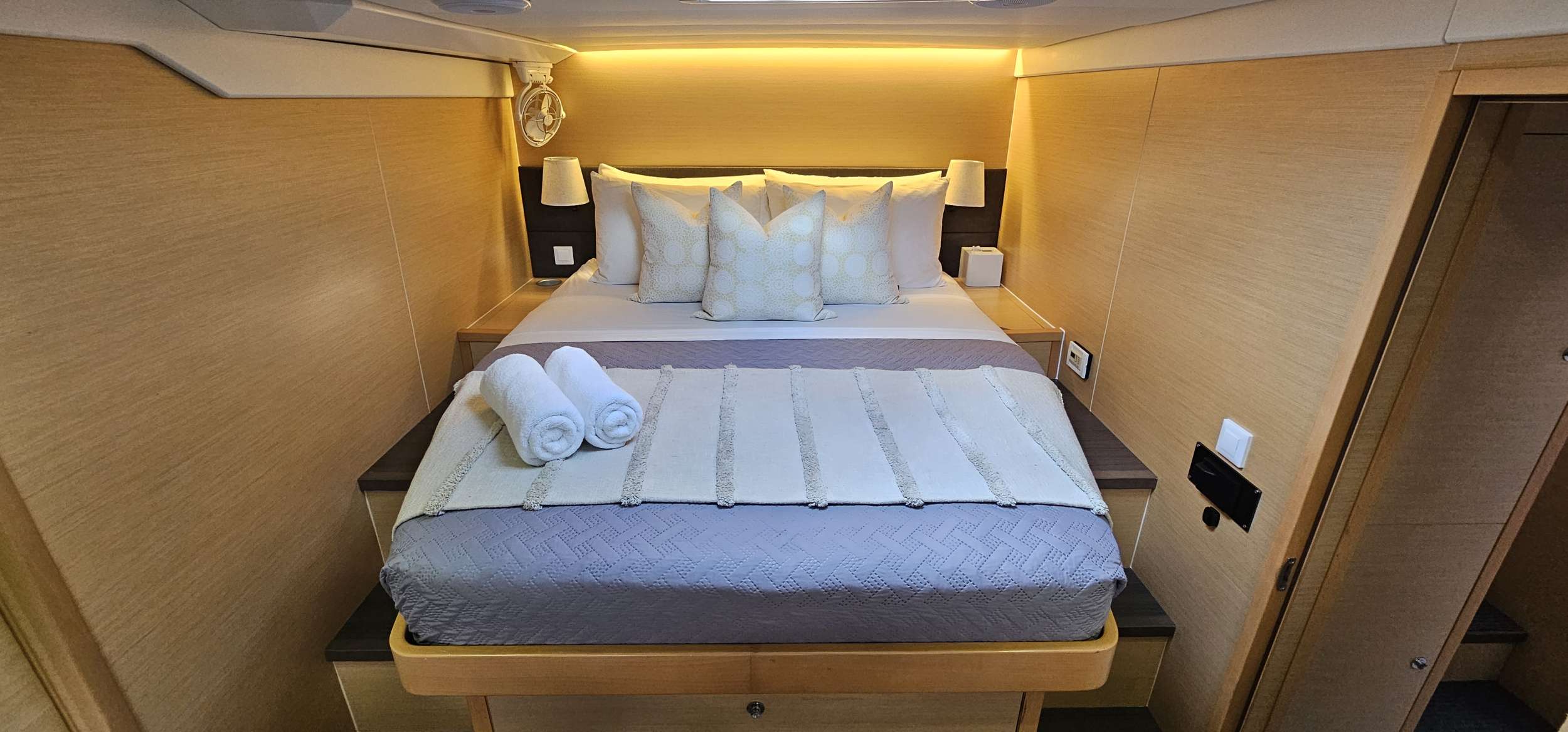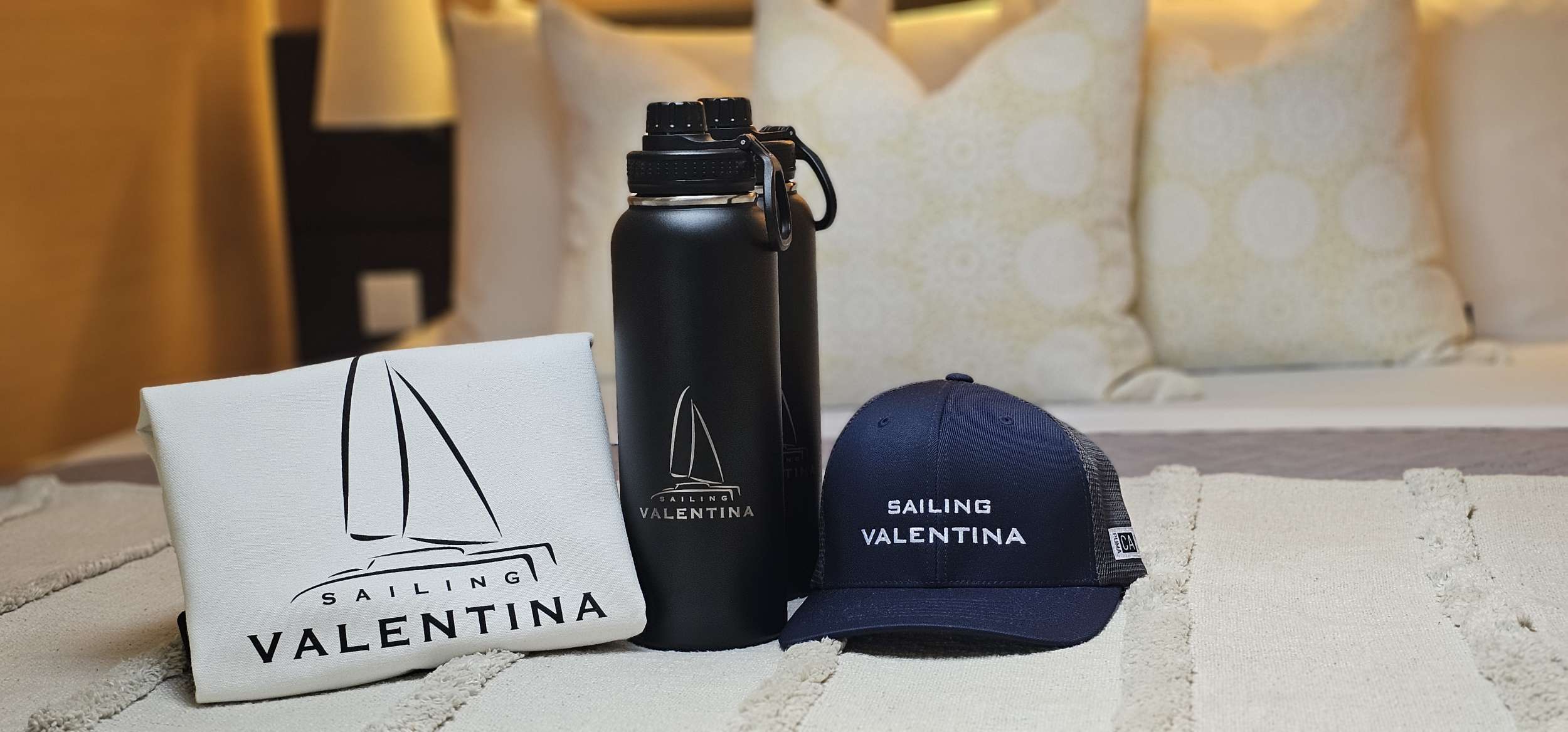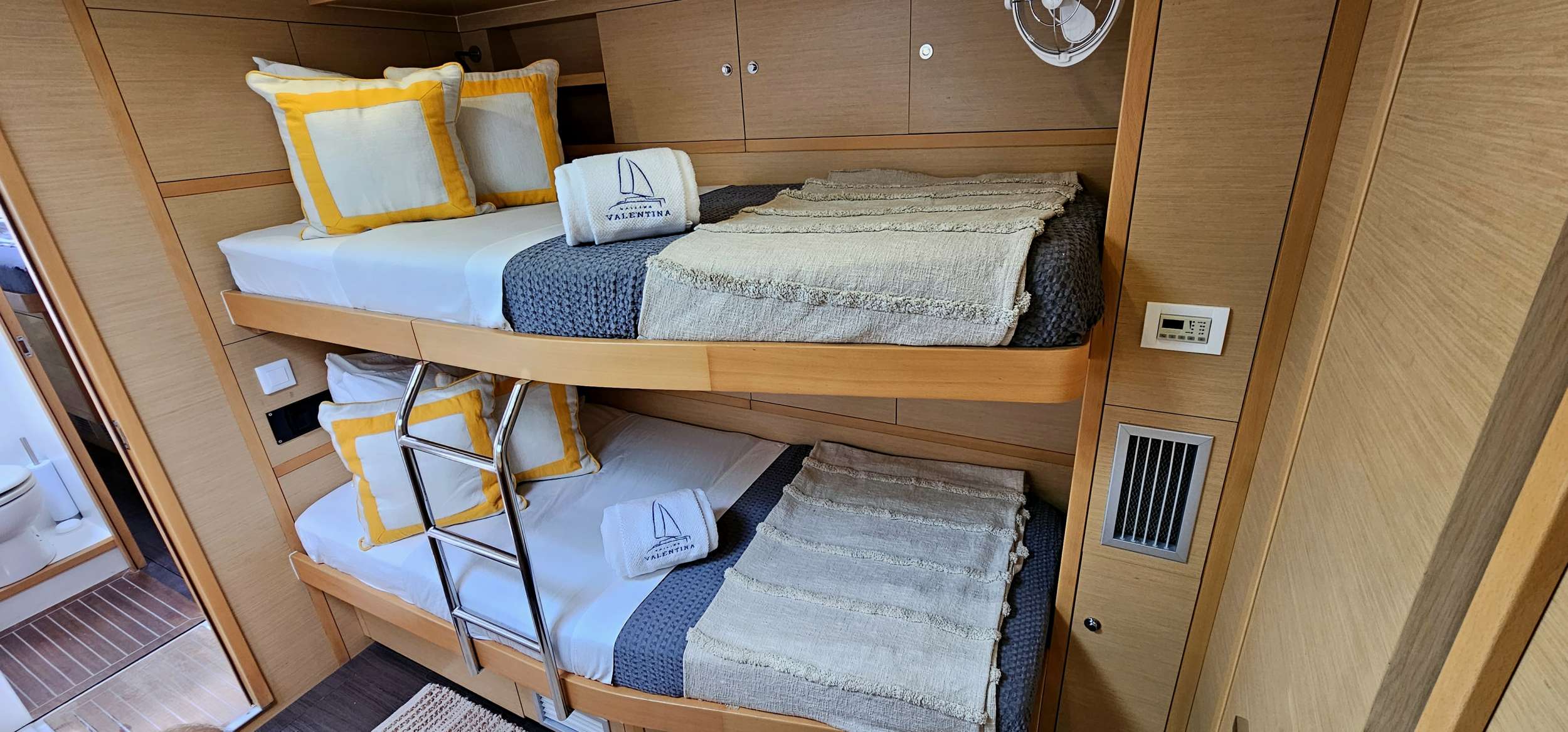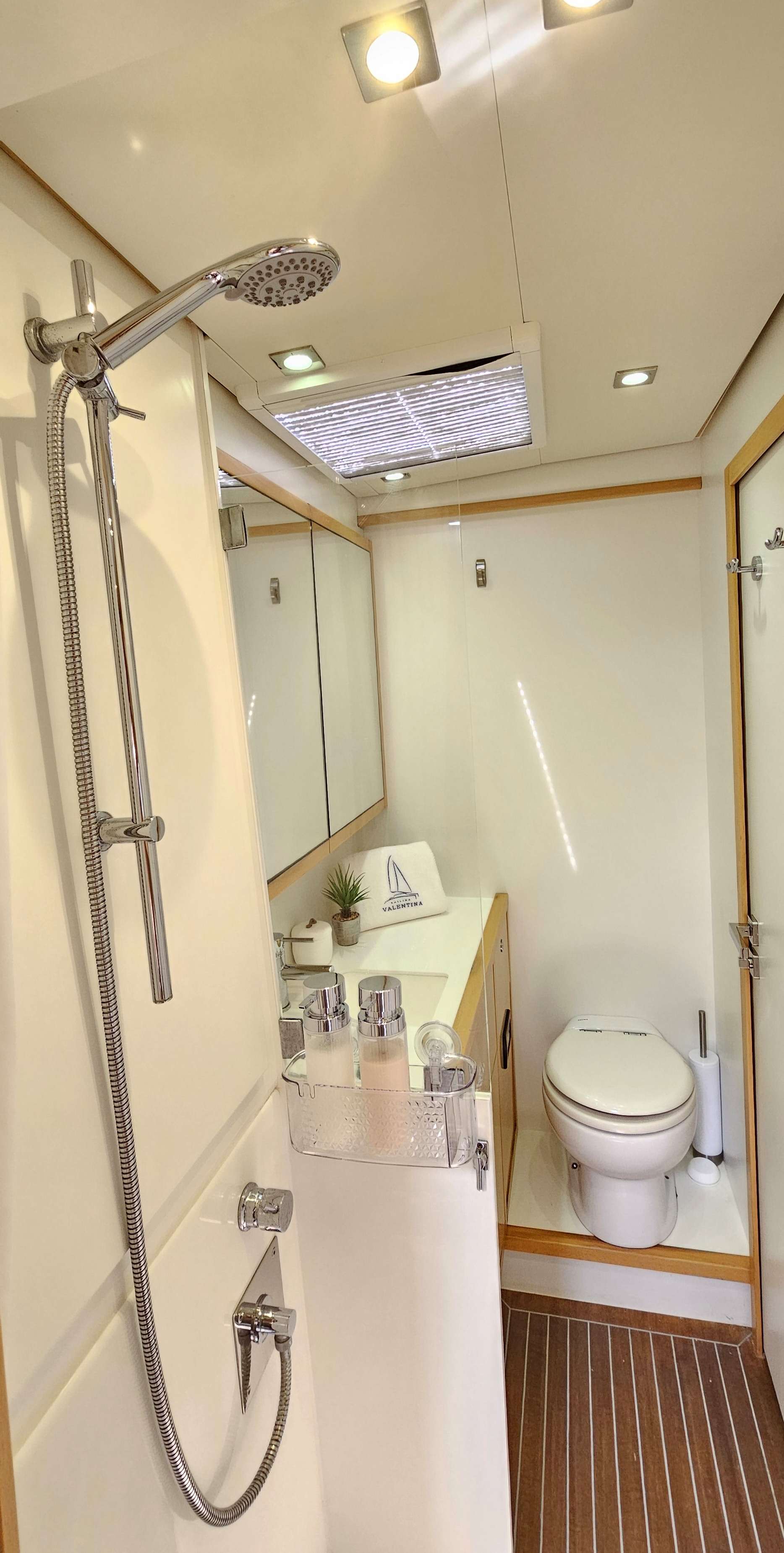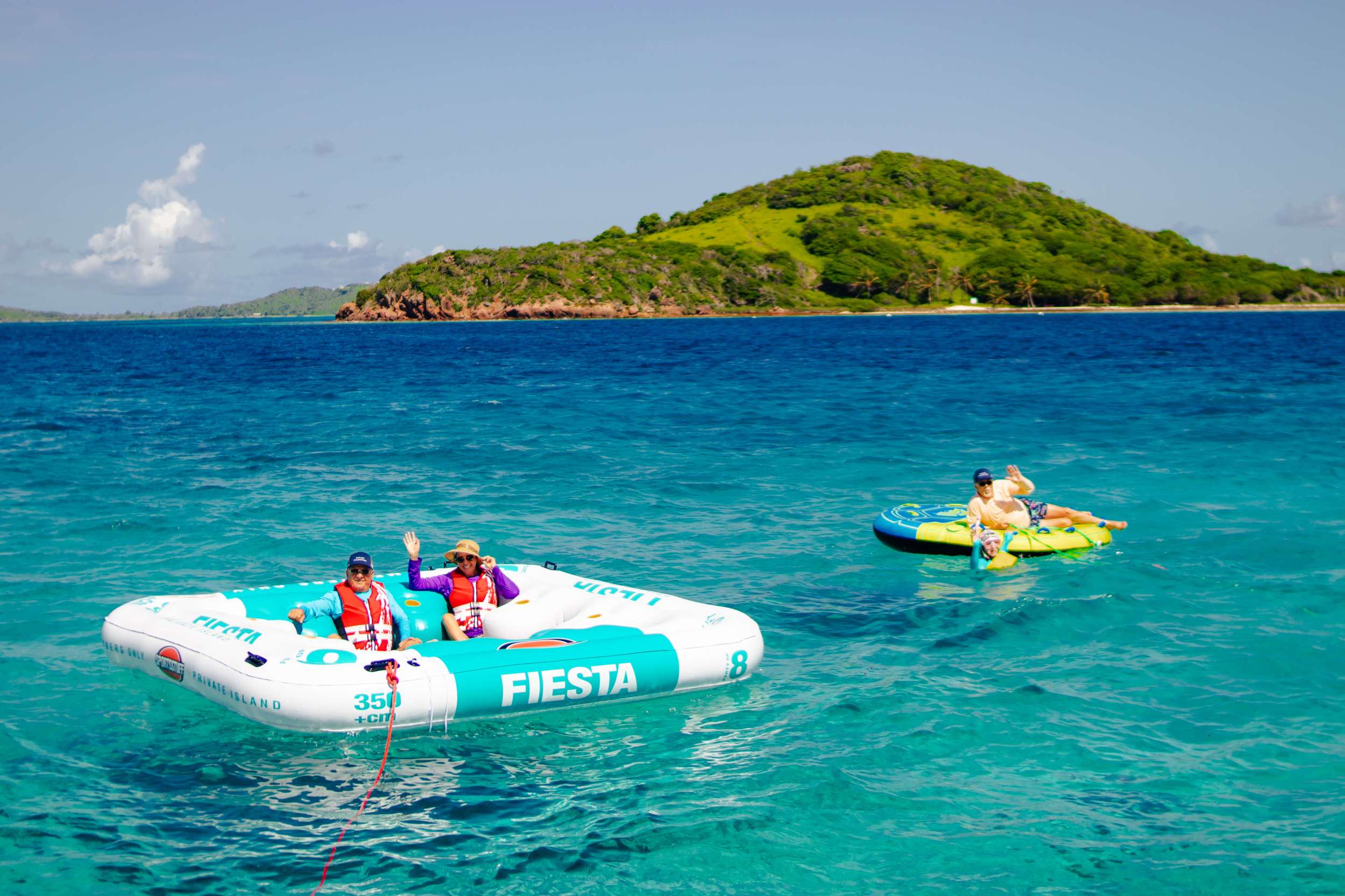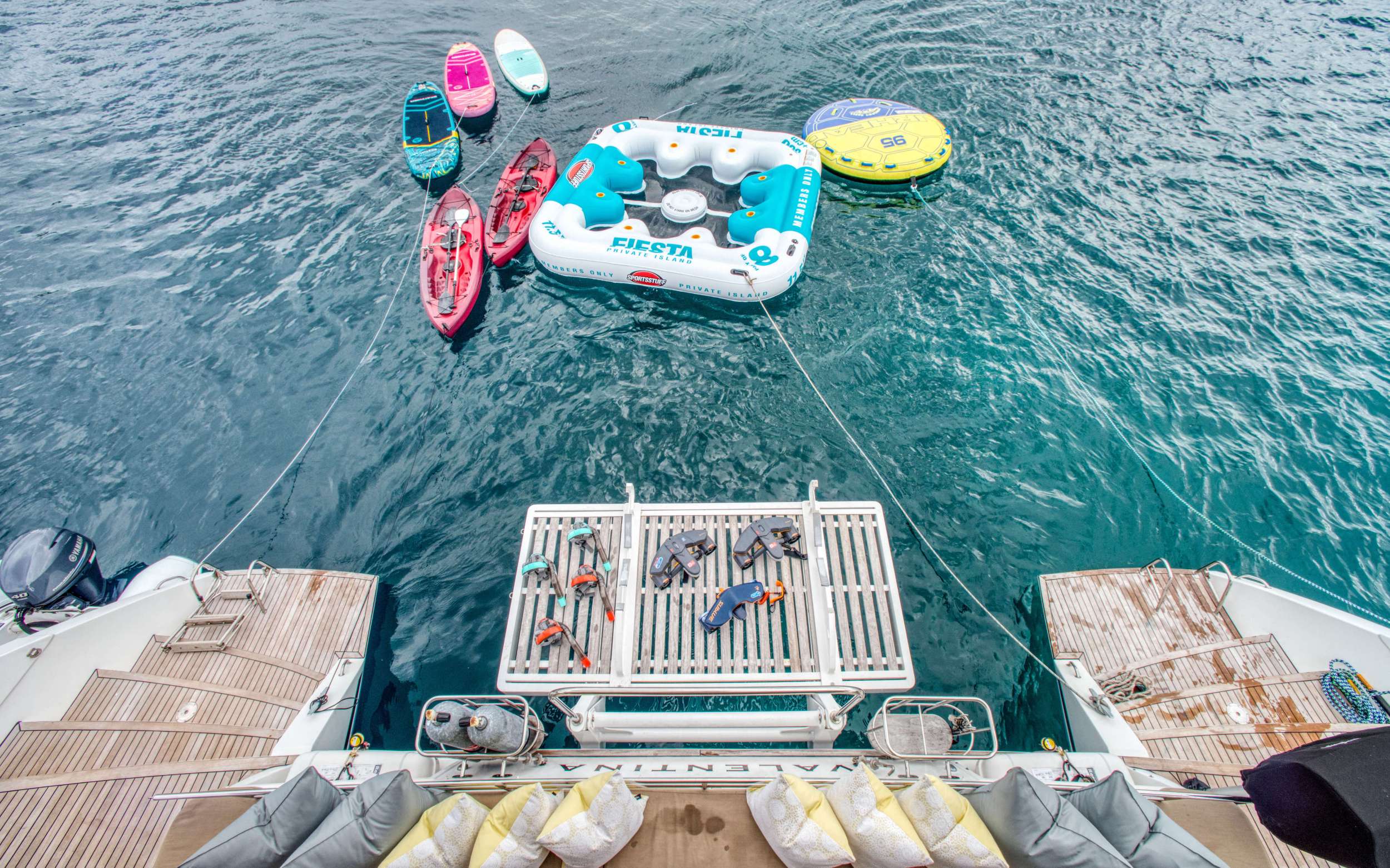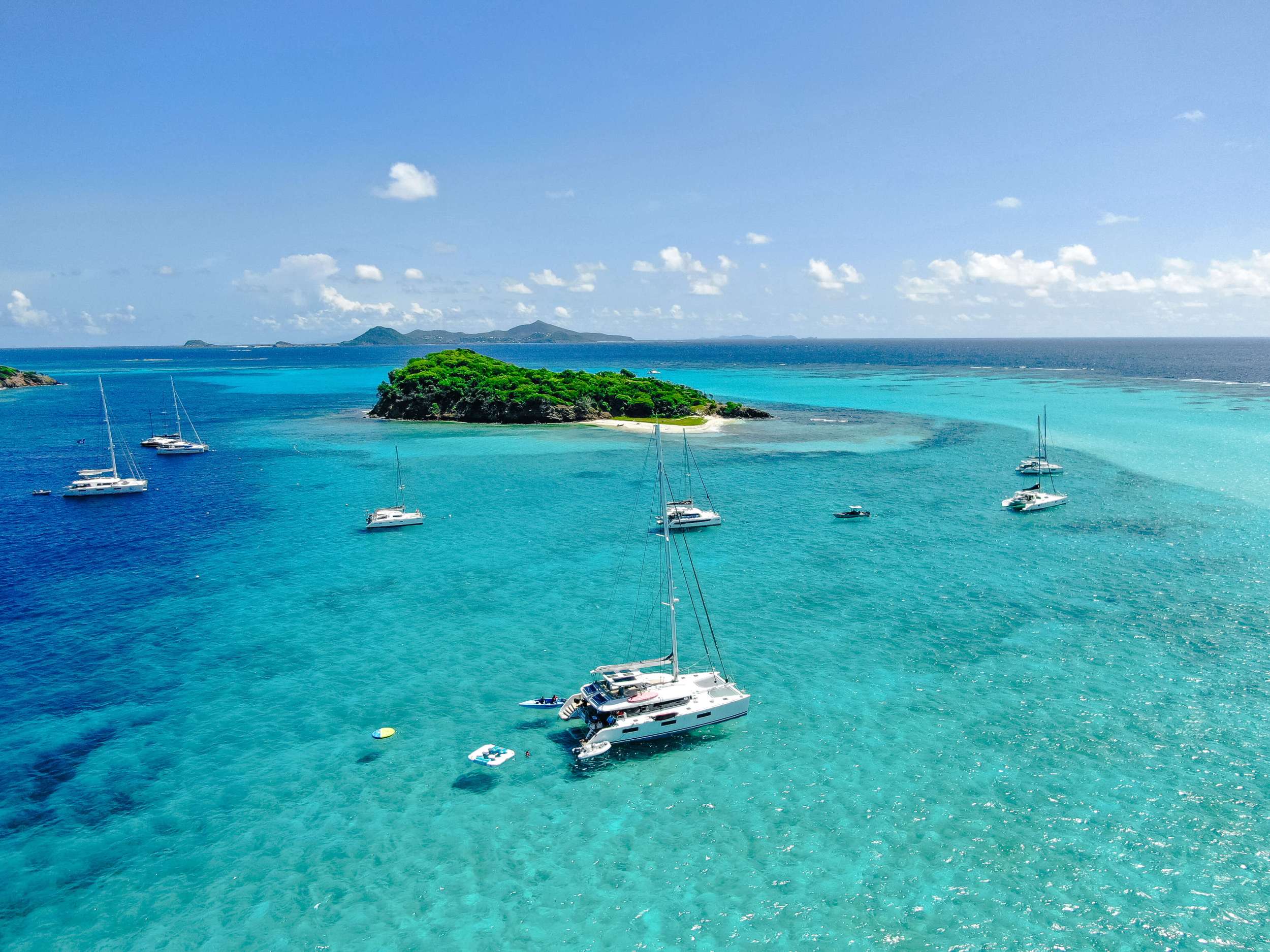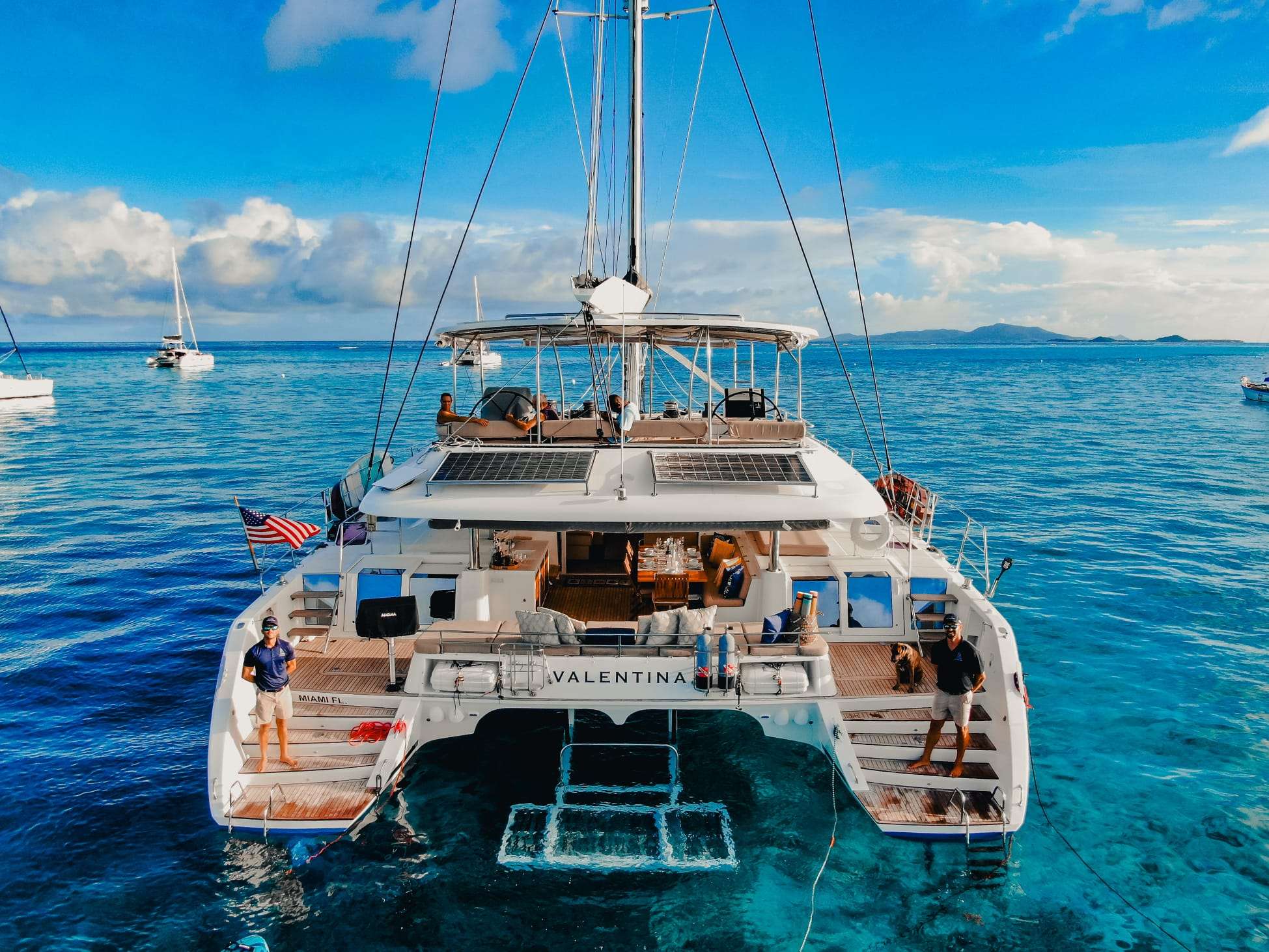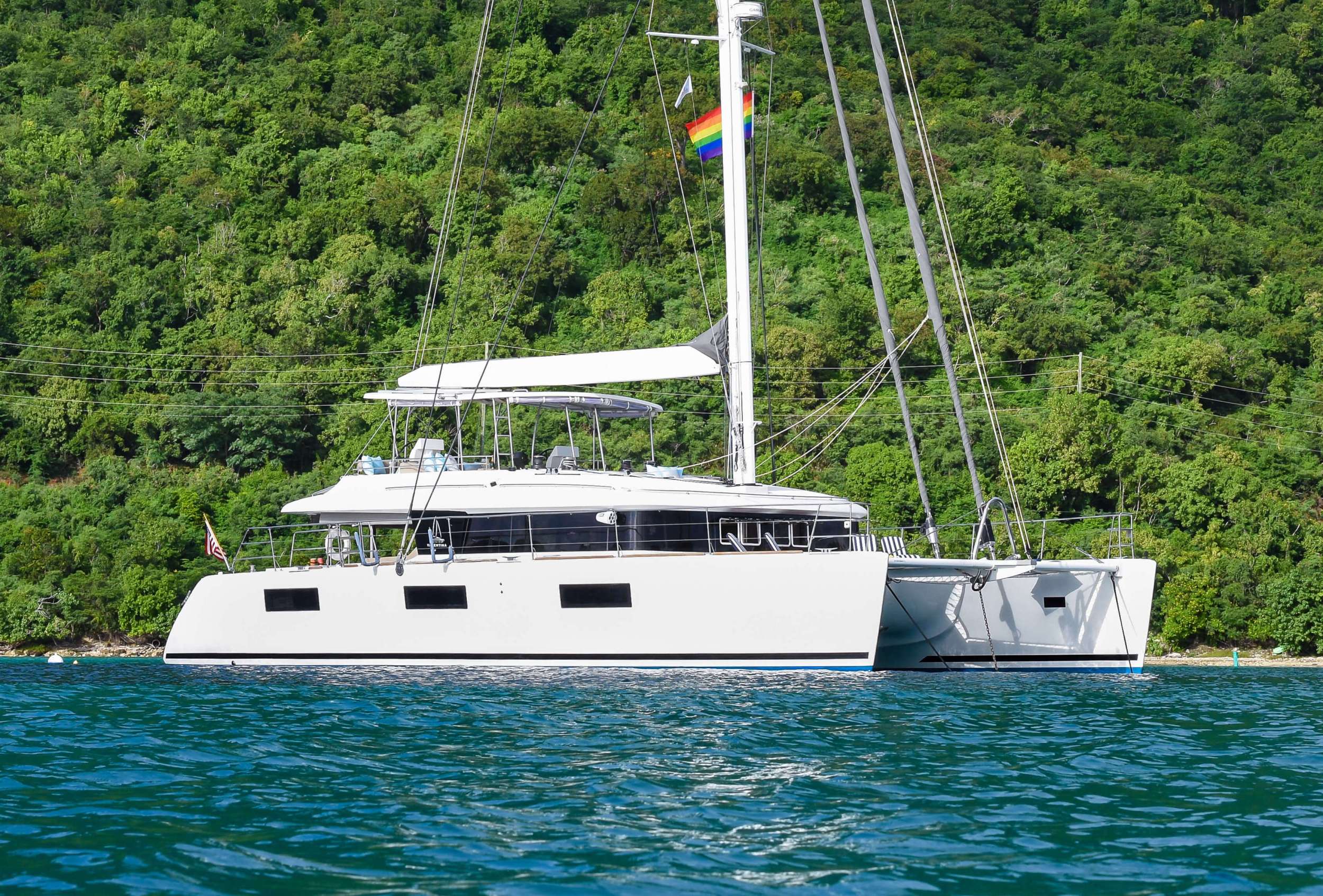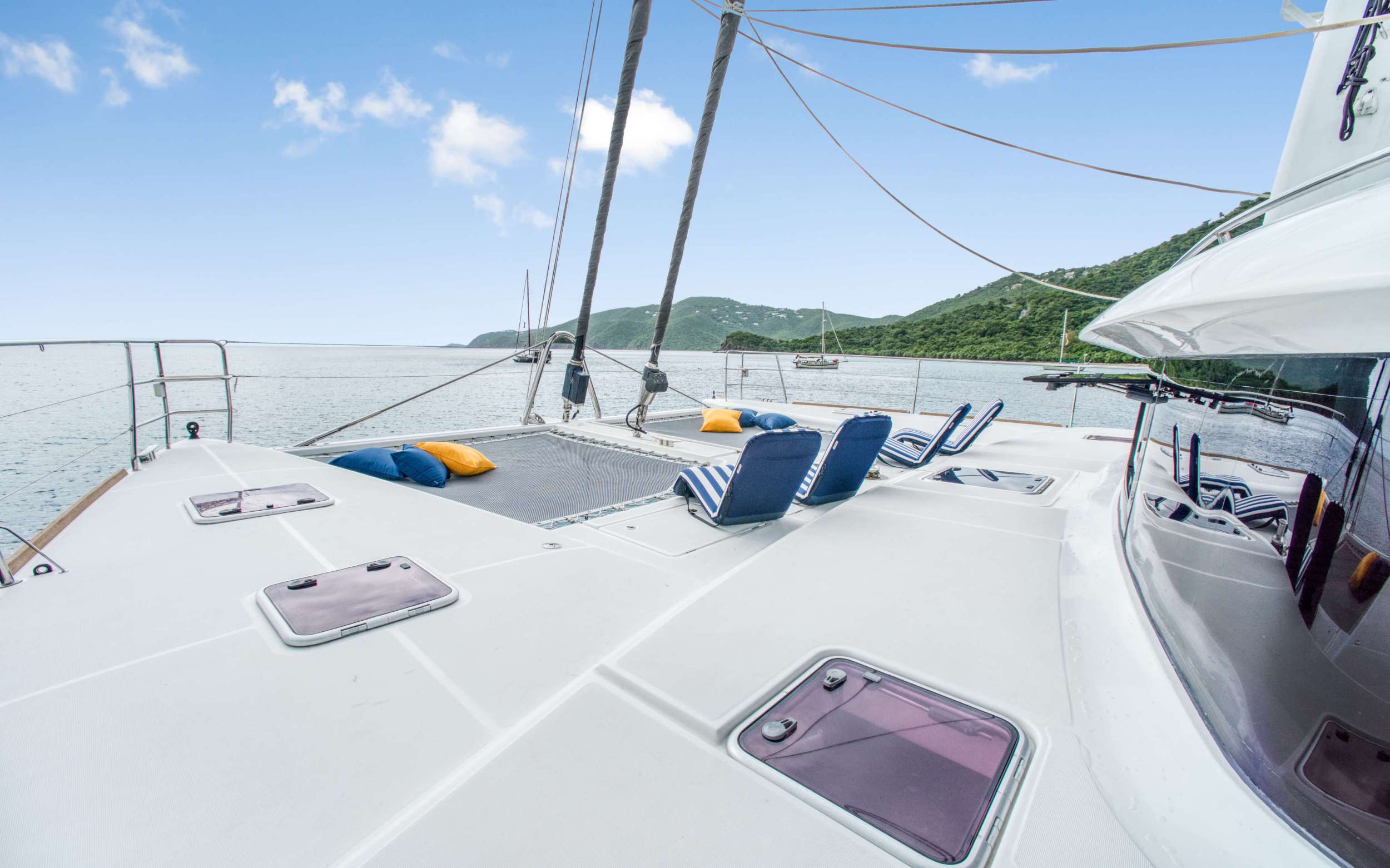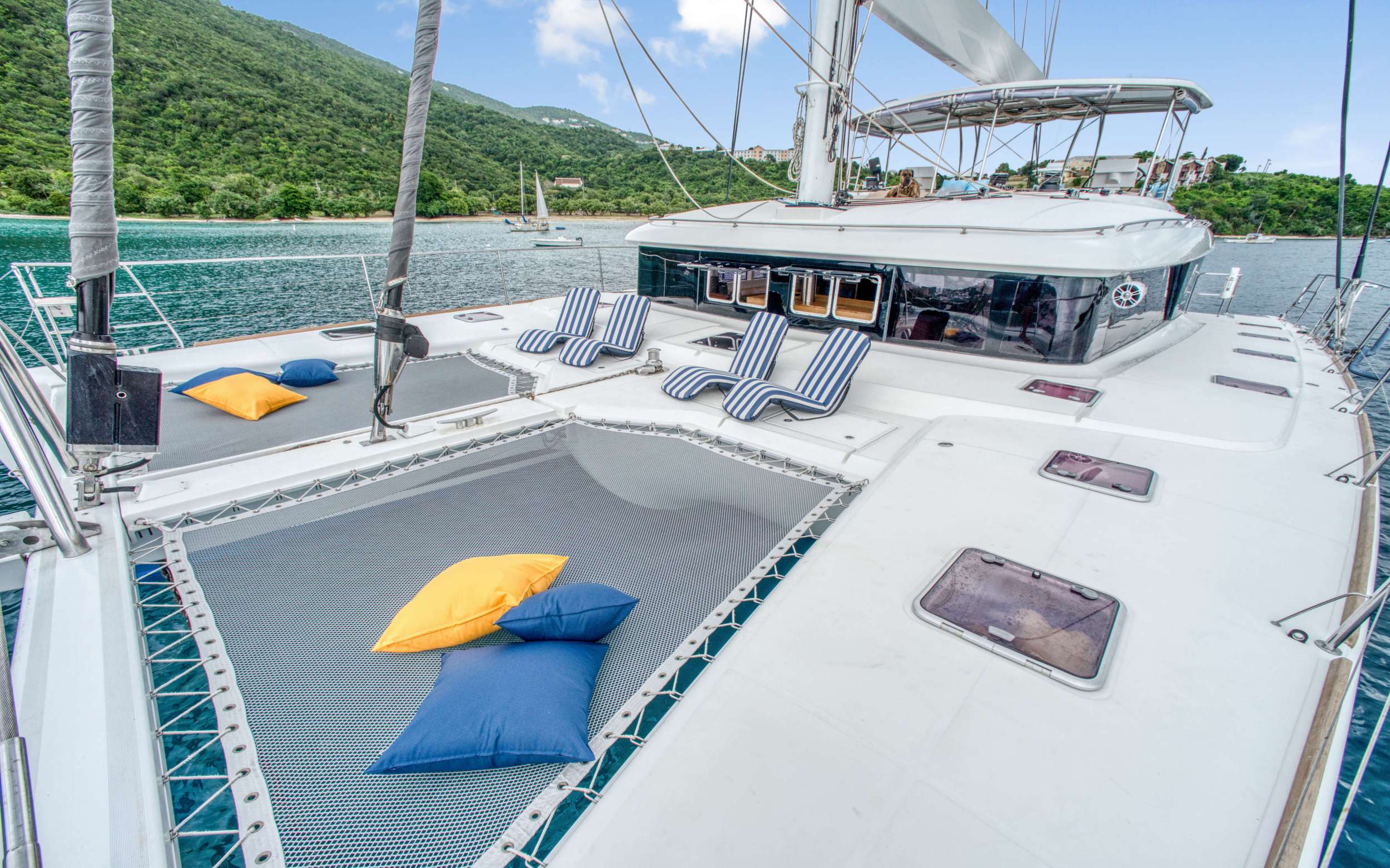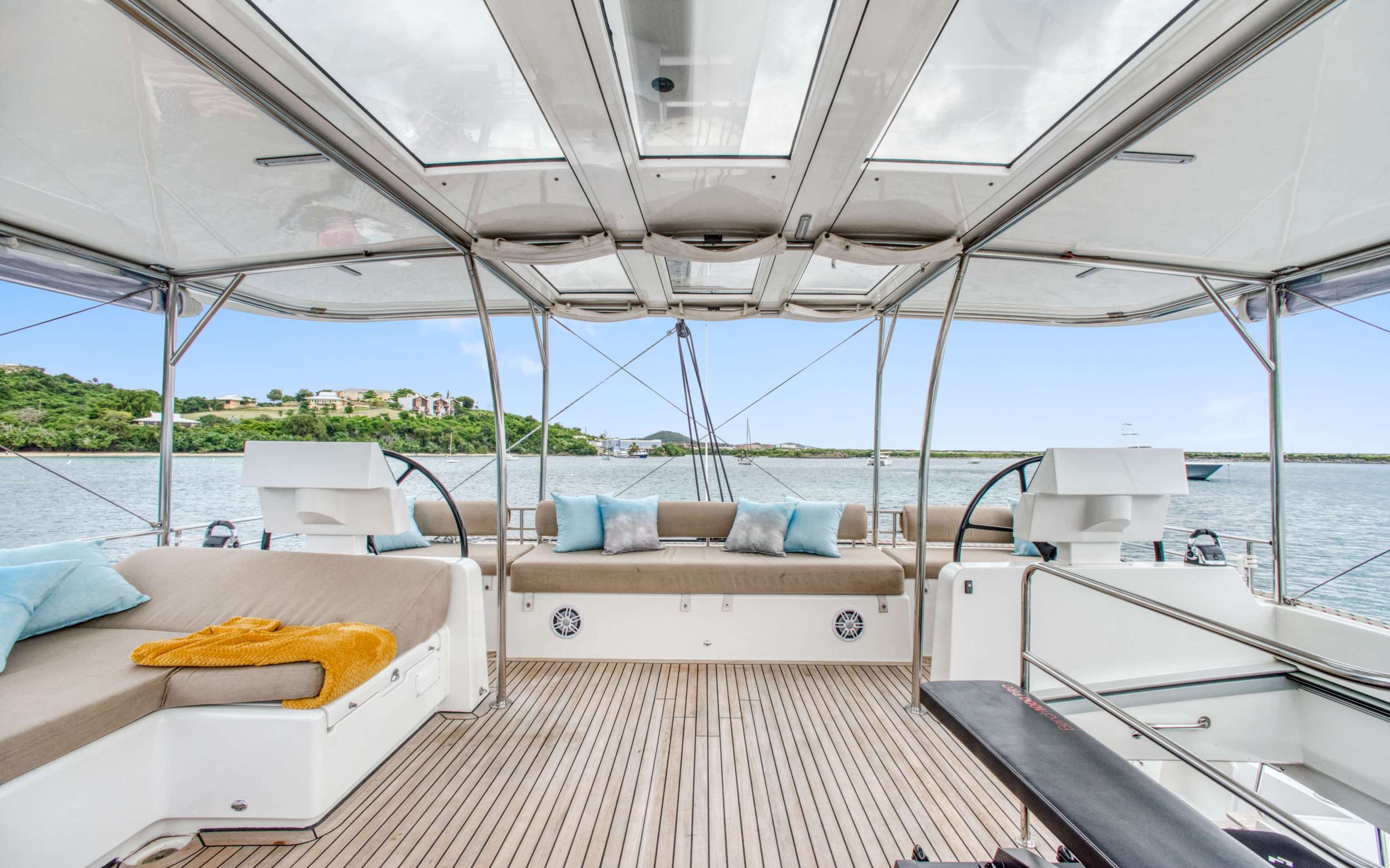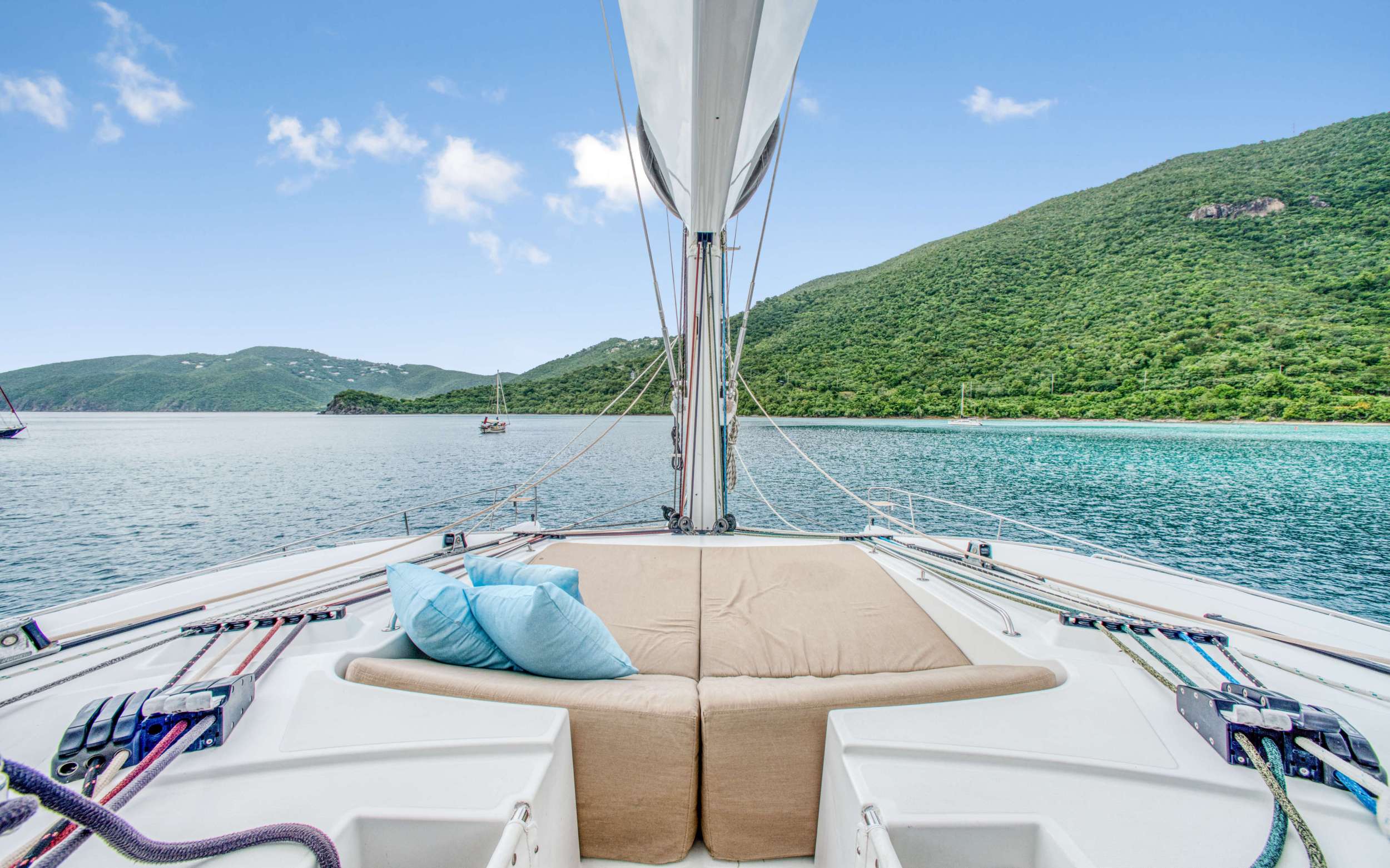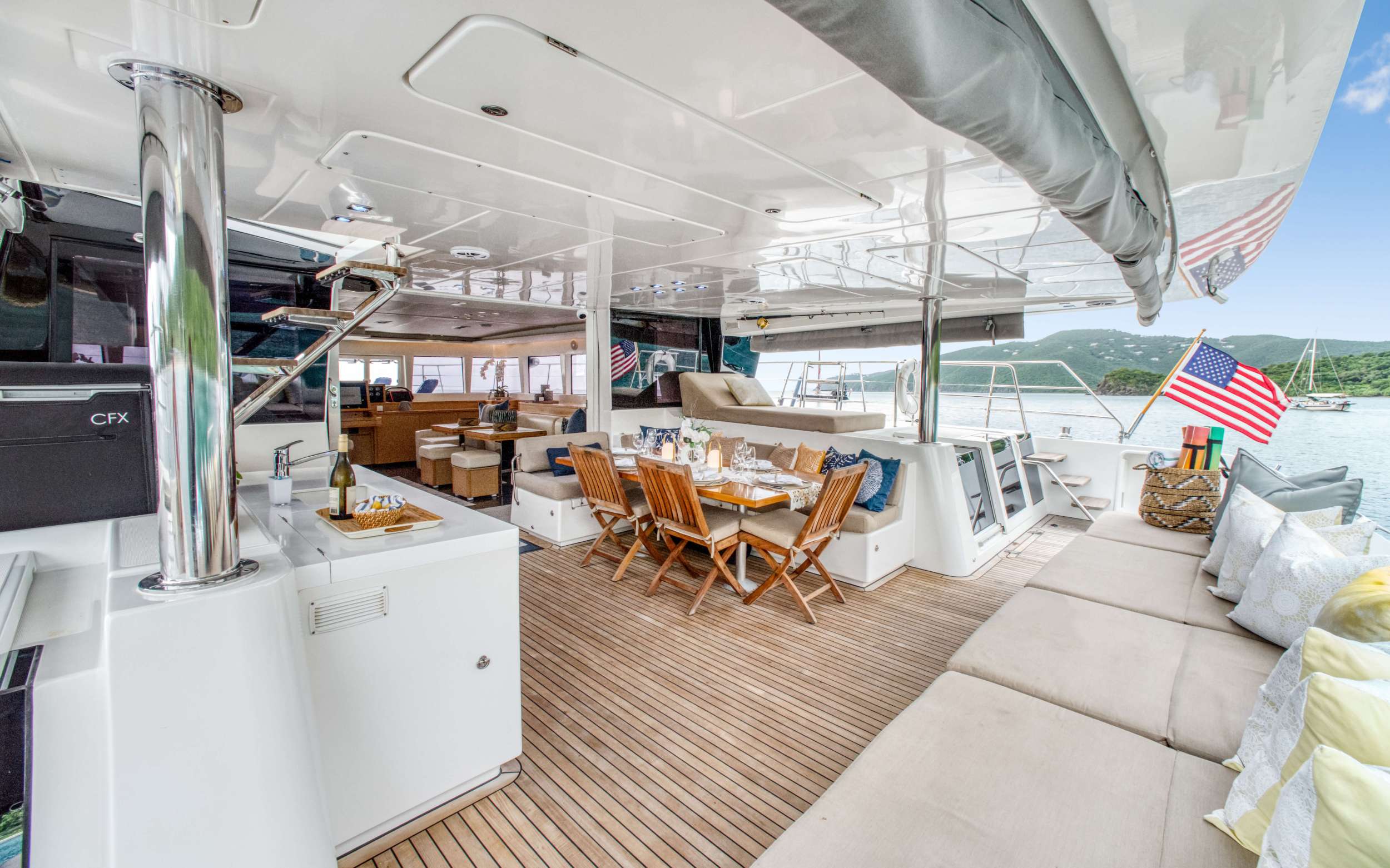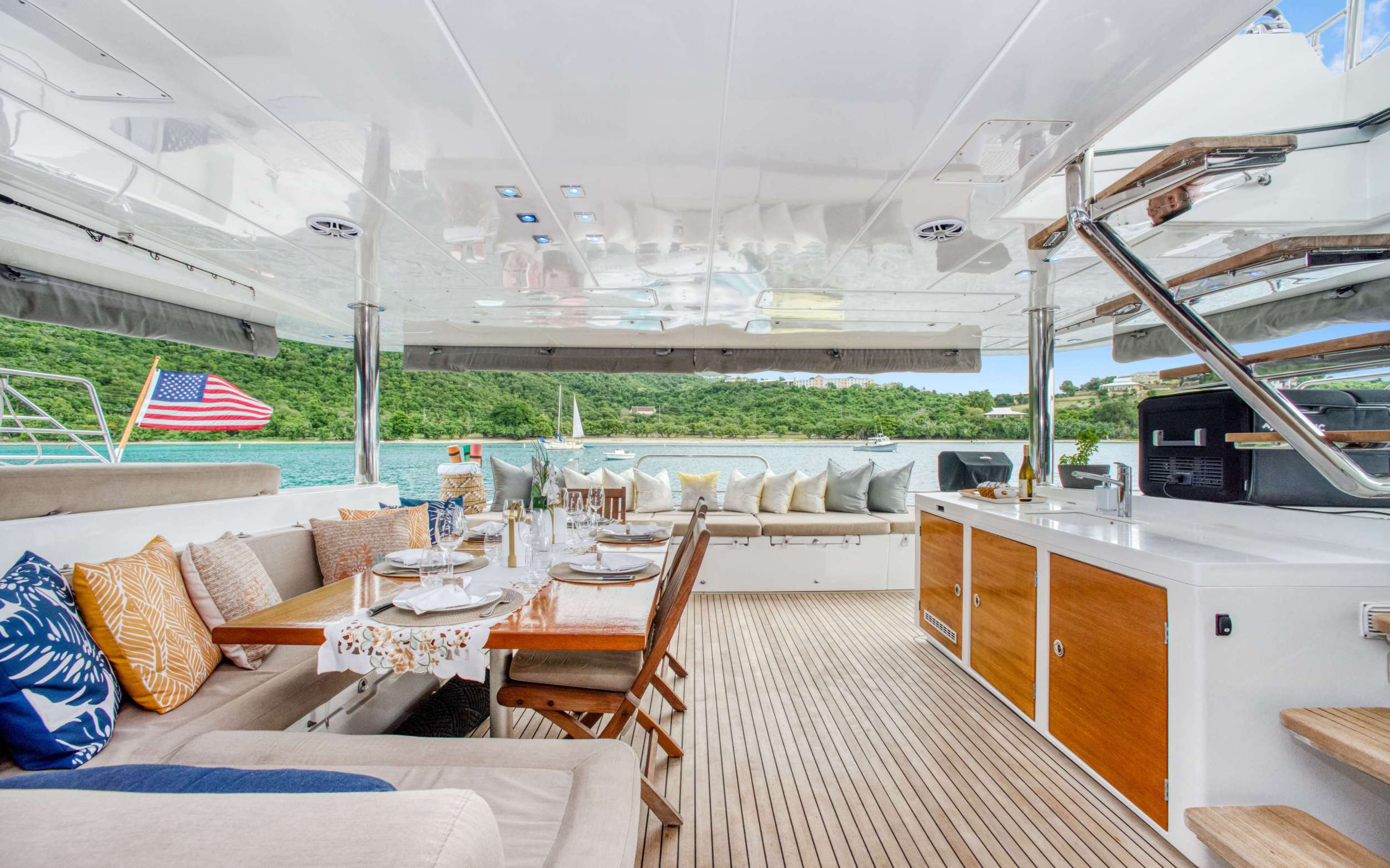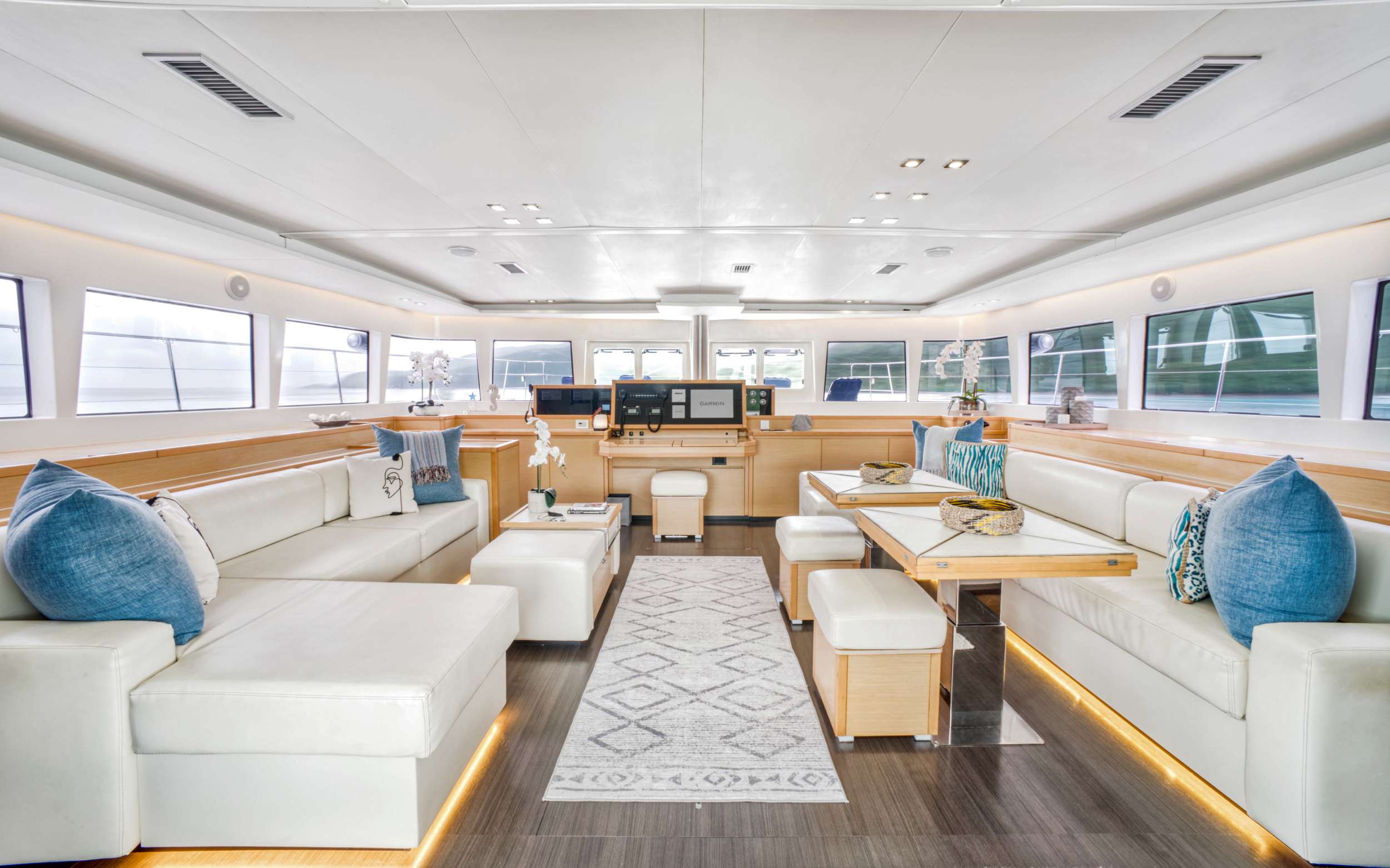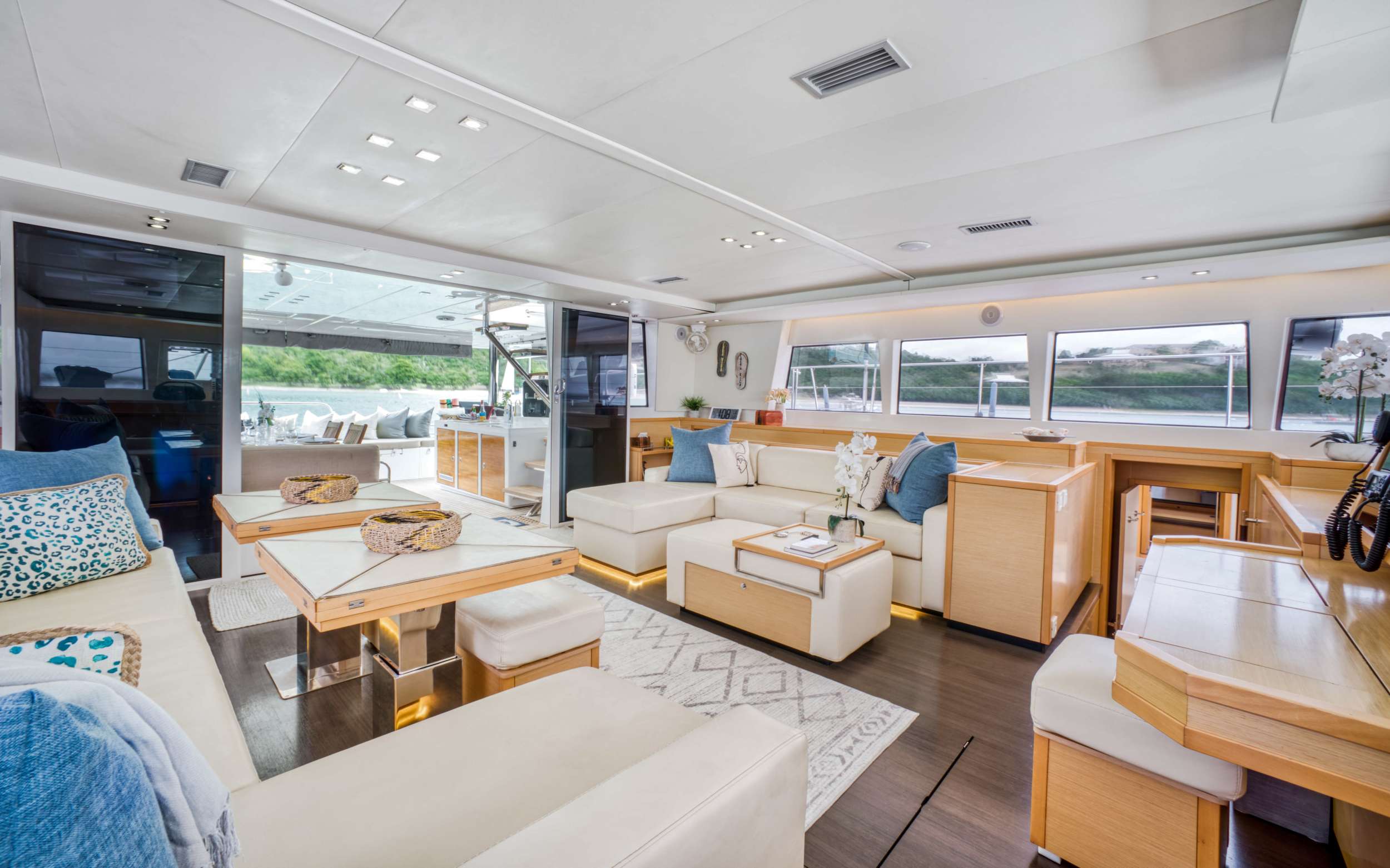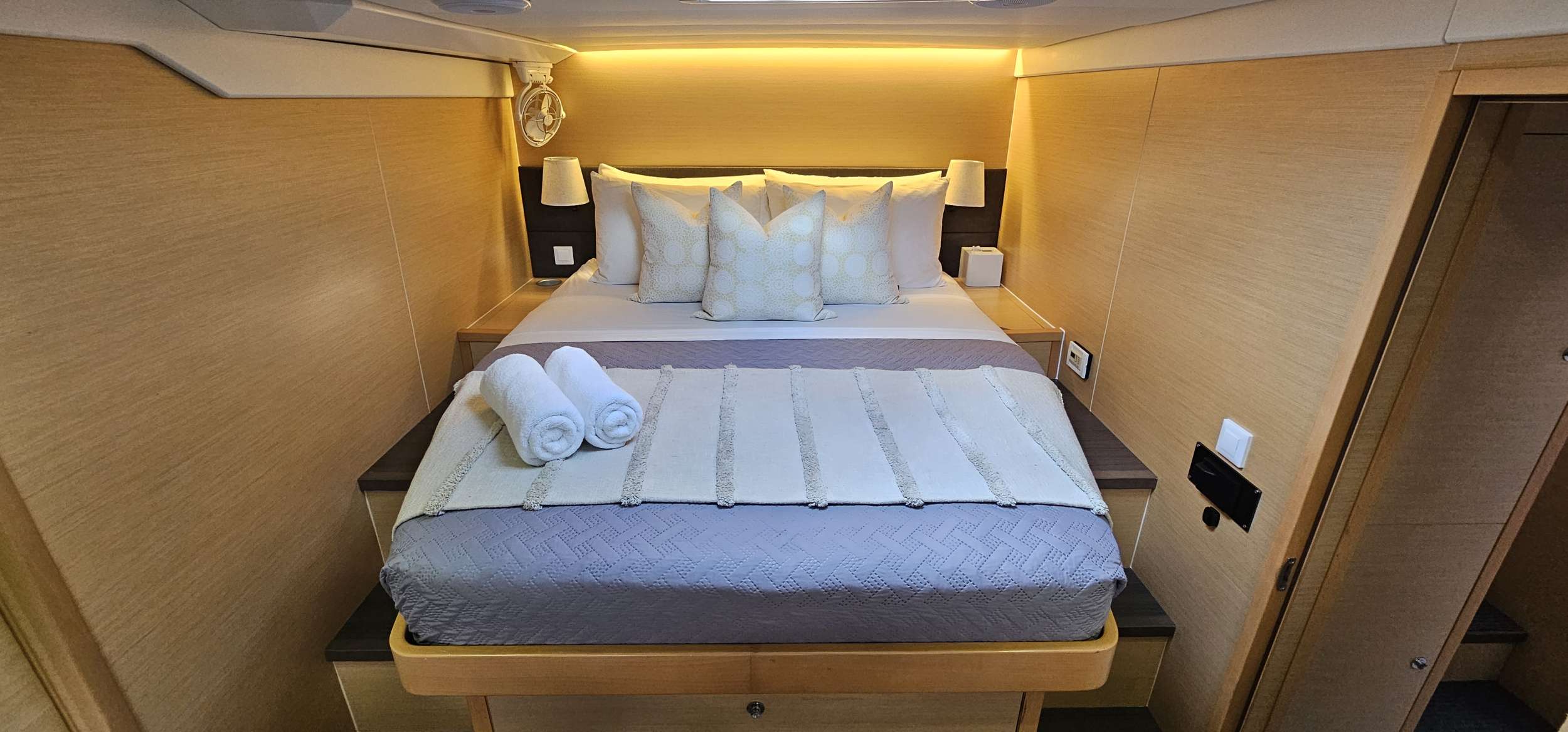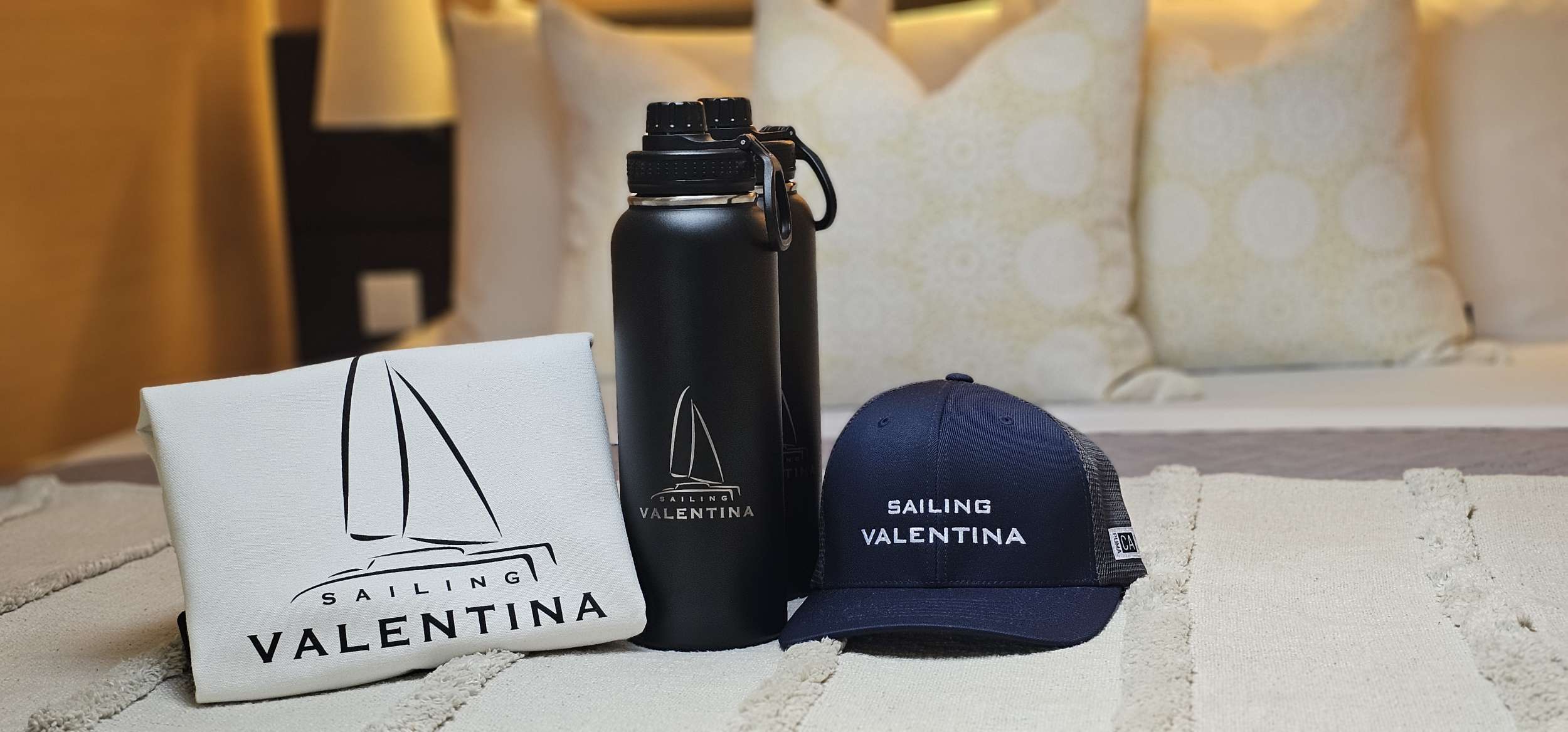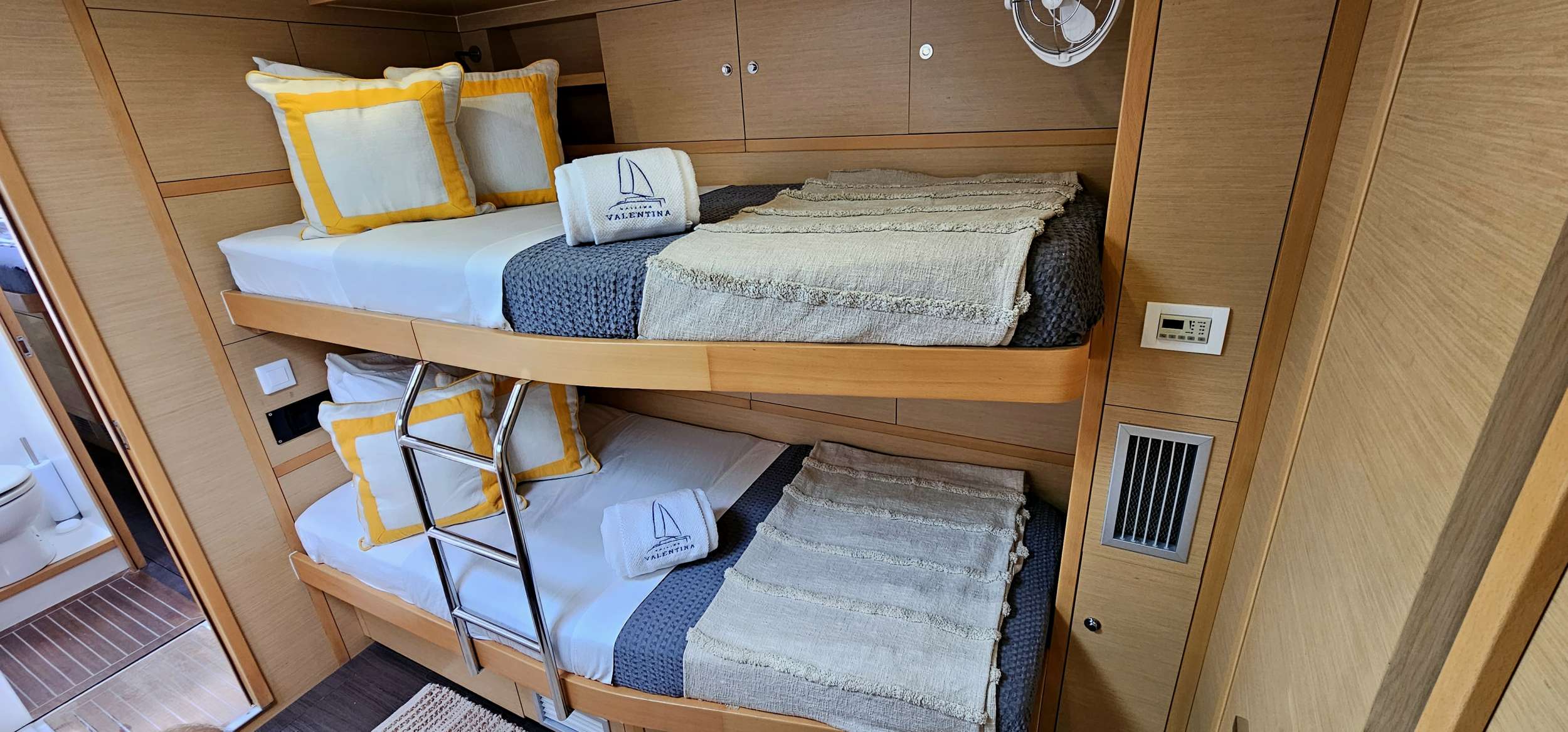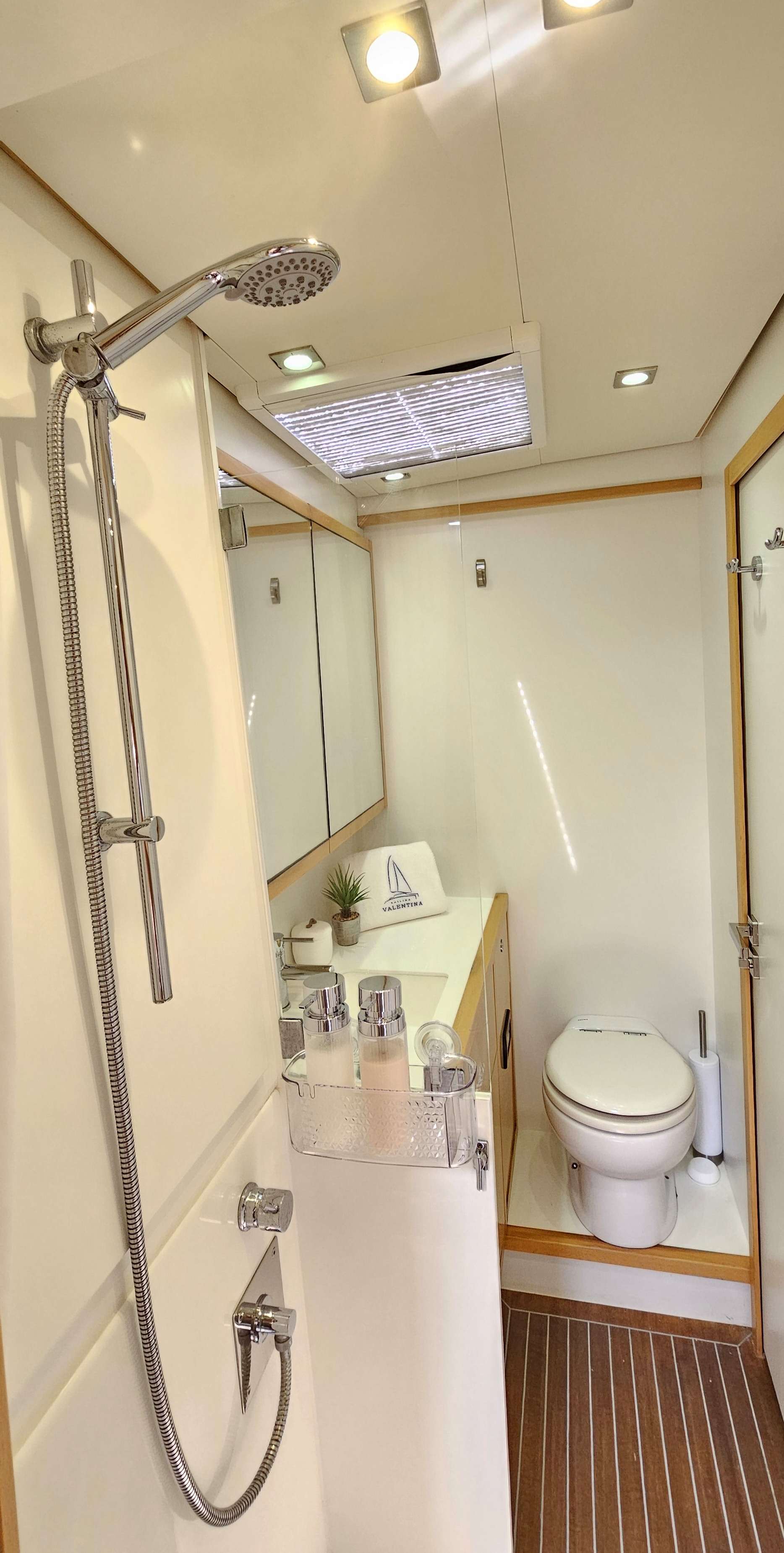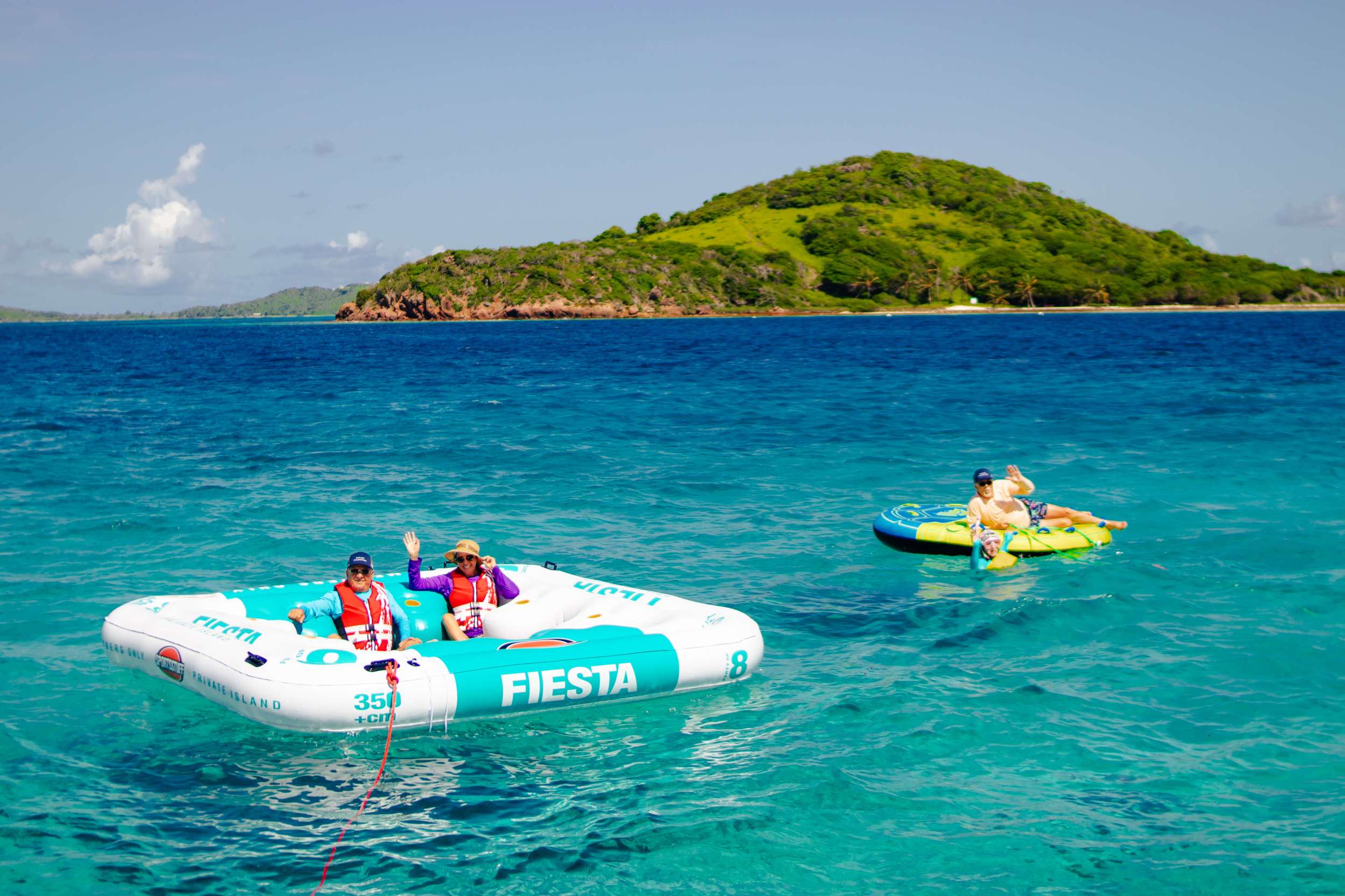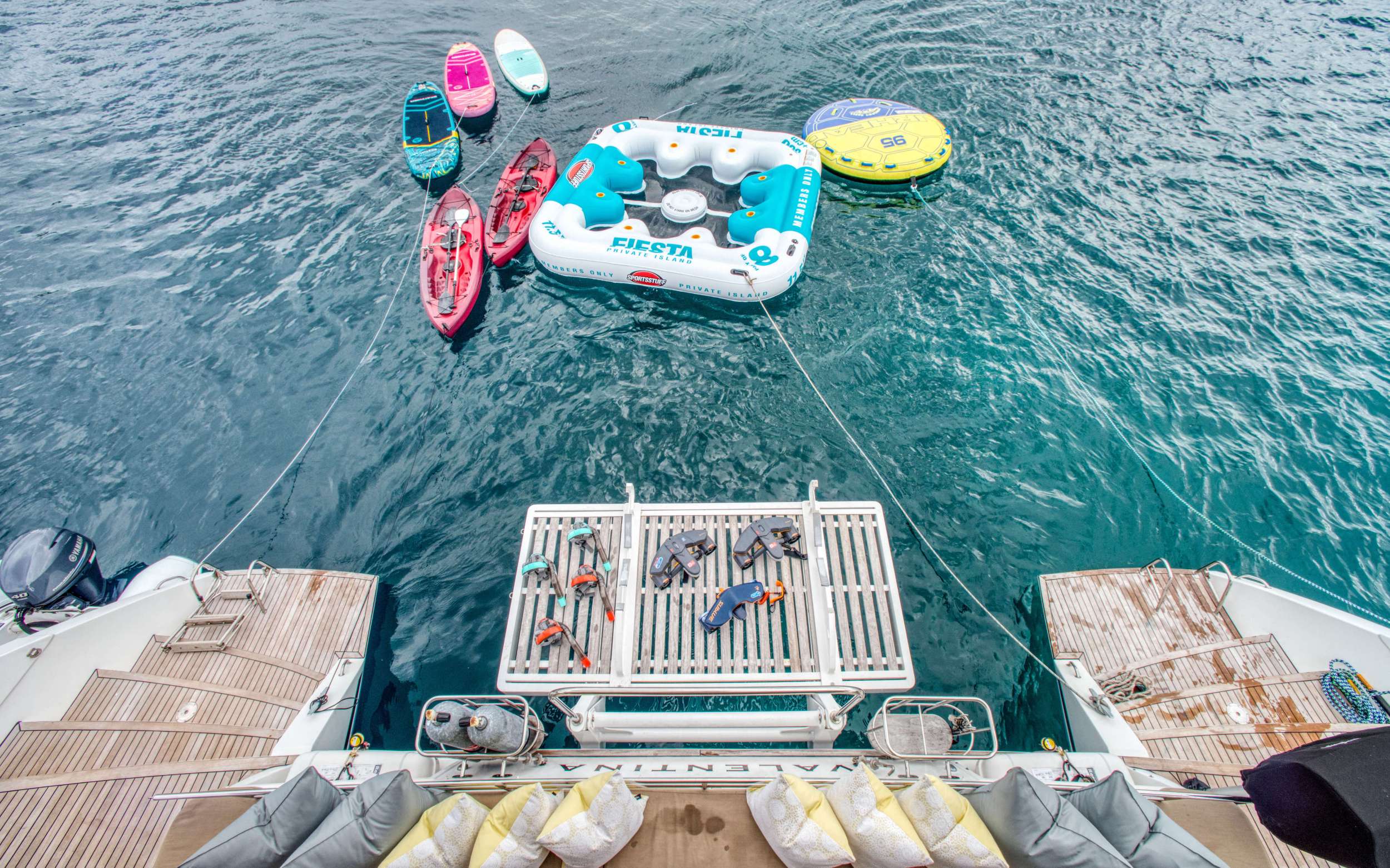 Accommodations
| | |
| --- | --- |
| Sleeps 6 guests in 2 guest stateroom(s). | |
| 3 with Queen Bed(s) | |
| 1 with Double Bed(s) | |
Details
Starboard Aft owners cabin is crew quarters. There are 2 queen forward staterooms and one midship cabin with 2 single bunk beds for guests usage.
Layout Diagram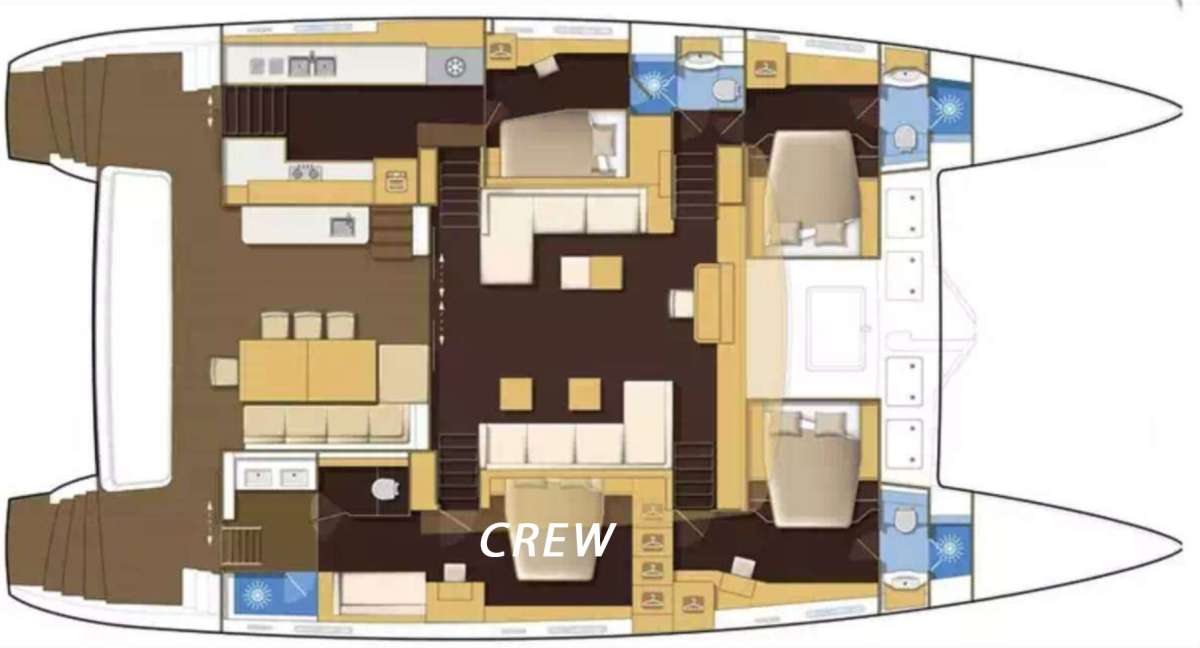 Specifications
| | |
| --- | --- |
| Guests | 6 |
| Staterooms | 2 |
| Length | 62.00 Ft / 18.00 m |
| Beam | 32 ft |
| Draft | 5 ft |
| Built - Refit: | 2013 - 2023 |
| Builder | Lagoon |
| Cruising Speed | 6 - 9 knots |
Watersports
| | |
| --- | --- |
| Dinghy | 2021 Gala V360HW, 11FT 10IN Aluminum Bottom Inflatable |
| Dinghy HP | 40 |
| Paddle Boards | 3 |
| Single Kayaks | 2 |
| Snorkeling gear | Yes |
| Inflatable, towable tubes | 2 |
| Fishing Gear | Yes |
| Scuba Diving | Yacht offers Rendezvous Diving only |
Other Toys
6 Noodles
Pricing
From:
28,530

To:
39,600
Summer 2023
| | |
| --- | --- |
| 2 Guests | 32,000 |
| 3 Guests | 32,500 |
| 4 Guests | 33,000 |
| 5 Guests | 33,500 |
| 6 Guests | 34,000 |
Winter 2023 to 2024
| | |
| --- | --- |
| 2 Guests | 32,000 |
| 3 Guests | 32,500 |
| 4 Guests | 33,000 |
| 5 Guests | 33,500 |
| 6 Guests | 34,000 |
Summer 2024
| | |
| --- | --- |
| 2 Guests | 32,000 |
| 3 Guests | 32,500 |
| 4 Guests | 33,000 |
| 5 Guests | 33,500 |
| 6 Guests | 34,000 |
Winter 2024 to 2025
| | |
| --- | --- |
| 2 Guests | 32,000 |
| 3 Guests | 32,500 |
| 4 Guests | 33,000 |
| 5 Guests | 33,500 |
| 6 Guests | 34,000 |
Pricing Details
**Valentina will be available for charters in The Grenadines from July 31st through November 1st. She will then transit to the Virgin Islands to conduct charters in the Virgin Islands and the Leeward Islands November 2023 through July 2024. Inquire for details** CURRENT SPECIAL: 10% will be discounted from the standard charter rate for charters started and completed between 11/18/23 and 12/17/23 - including Thanksgiving charters. The charter must be booked after 10/03/23, have a minimum of 5 nights and cannot be in conjunction with any other specials for the discount to apply. GENERAL NOTES: LESS THAN 7 NIGHT CHARTERS: For 6 nights divide by 7N X 6N. For less than 6 nights, divide by 6N X number of nights. MINIMUM NIGHTS: 5 HALF-BOARD OPTION: Includes 7 breakfasts, 4 lunches & 3 dinners, happy hour canapes, standard ships bar and snacks. Other meals ashore at client expense. 2@$31,700 | 3@$32,050 | 4@$32,400 | 5@$32,750 | 6@$33,100 LOCAL FARE OPTION: Includes 7 breakfasts, 5 lunches & 6 dinners, happy hour canapes, standard ships bar and snacks. Other meals ashore at client expense. 2@$31,850 | 3@$32,275 | 4@$32,700 | 5@$33,125 | 6@$33,550 SLEEP ABOARD: Available for half of the daily rate. Includes boarding after 4pm, snacks, welcome cocktails & continental breakfast. Dinner ashore is additional. Select option upon booking. EXCLUDES: Christmas and New Year's weeks. CHRISTMAS/NEW YEARS: 7 night minimum, Saint Martin SXM. CHRISTMAS: 1-6 guests $42,000 NEW YEARS: 1-6 guests $44,000 **SEE BROKER NOTES FOR MORE INFORMATION - WAIVER REQUIRED IN ADDITION TO CONTRACT** Copy link below & paste into browser to submit waiver: https://bit.ly/cyawaiver
PLEASE INQUIRE FOR FURTHER PRICING DETAILS
Crew Profile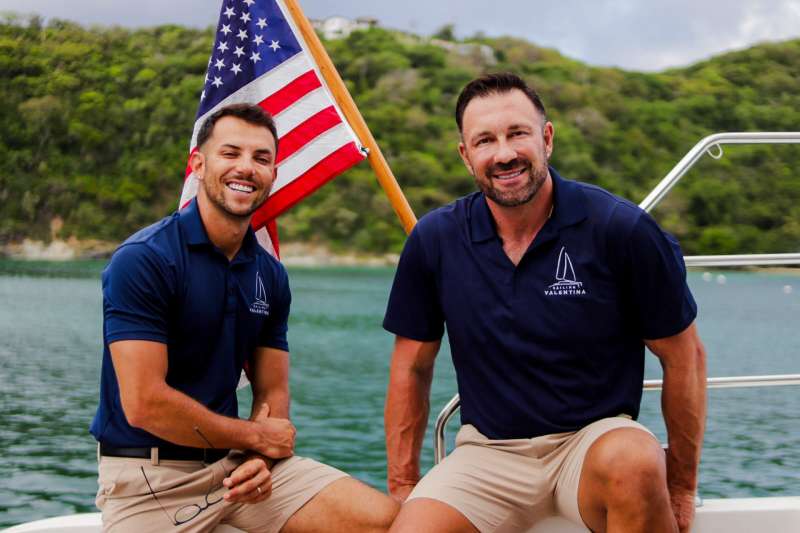 Growing up as a 90's child in the vibrant California East Bay area and Sacramento Valley region, my childhood was filled with the thrill of competitive gymnastics. However, it was during the summertime, away from the gym, that my true passion for boating and water sports blossomed. Spending countless hours at the lake and wakeboarding with my family ignited a lifelong love affair with open waters.
While I may have caught the sailing bug a little later in life than some, it certainly hit me hard and fast. The enchantment of sailing captured my heart during a sailing excursion as part of a cruise in 2018. From that moment on, I sought out numerous sailing trips, including a transformative 7-day charter with Gustavo, my future husband, in the mesmerizing Angra dos Reis region of Brazil—an experience that forever holds a special place in my heart. On a bit of a whim, I visited the Fort Lauderdale boat show in October 2018, ultimately leading to the purchase of Valentina in Marina Del Ray, CA, just five months later.
In pursuit of warmer waters and the allure of better and more affordable margaritas, Gustavo and I embarked on a remarkable journey down the Pacific Mexican coast, welcoming the addition of our fur baby, Linda, during our exploration of the Costa Rican volcanoes. Our adventurous spirit then propelled us to transit the Panama Canal and become captivated by the splendor of the San Blas Islands.
While we were basking in the beauty of the San Blas, the world was abruptly halted by the arrival of Covid-19. For four months, we found ourselves quarantined in the lush jungles of Puerto Lindo, Panama, tied to a mooring. With perseverance and a touch of good fortune, we obtained special clearance from the coast guard, enabling us to embark on a non-stop seven-day sail to Isla Mujeres, Mexico, a destination with fewer restrictions and better tacos.
As Covid-19 protocols began to ease, we resumed our journey, navigating through the waters of Florida, the Bahamas, and twice around the enchanting eastern Caribbean, including memorable stops in Los Roques, Venezuela, and the ABC Islands in 2022. Following our journey through The Thorny Path in early 2023, we decided to make the eastern Caribbean our home and share our passion for sailing by offering extraordinary charters throughout the Leeward and Windward Islands.
Come embark on an unforgettable adventure with us aboard Valentina, where we combine our love for sailing, expertise in the travel and hospitality industry, and commitment to creating exceptional experiences. Whether you seek relaxation, thrilling water sports, or immersive cultural encounters, our charters promise to exceed your expectations. Join us on Valentina and discover the true meaning of luxury, freedom, and the joy of sailing in paradise.
Gustavo Ryan
Originally hailing from an untouched farm town nestled in the picturesque state of Minas Gerais, Brazil, I spent my formative years surrounded by rolling hills, lush forests, freshwater rivers, waterfalls, and abundant greenery. Despite being far from the ocean, my vivid imagination transformed the vast blue sky into a boundless sea of wonder. Later, as a teenager, I embarked on a new chapter by relocating to Brasilia, the vibrant capital of Brazil, where I completed high school and entered the realms of customer service and government public welfare projects for three enriching years.
In 2008, I embarked on an entrepreneurial journey and established an IT support service catering to small businesses within my community. This endeavor not only empowered local entrepreneurs but also fostered a sense of collaboration and growth. Eventually, in 2013, with an unwavering thirst for fresh opportunities and thrilling escapades, I bid farewell to Brazil and set my sights on the United States.
Since my arrival in the USA, I have immersed myself in various domains, including the restaurant industry, hospitality, and customer service. Rooted in my unwavering passion for service, I take pride in my keen attention to detail, sincerity, and the Brazilian concept of 'aconchego'—a warm and cozy atmosphere.
My life took an extraordinary turn when destiny brought Josh and me together and we embarked on an amazing sailing journey. One day we simply left the ordinary life to sail the world and experience the joy of discovering the unknown, with the faith and courage to learn something new every day. Onboard Valentina we had found our new home, but it wasn't a place, it was a marvelous ongoing adventure.
As a Brazilian, I naturally possess the gift of gab and relish in the opportunity to connect with our guests, understand their preferences, and unveil the wonders of the Caribbean Islands that have captivated our hearts. I am also delighted to share glimpses of my culture, starting with brewing traditional Cafézinho (classic Brazilian coffee) and baking homemade Pão de Queijo (Brazilian cheese bread) using cherished recipes passed down from my vovó (grandmother). For sundowners, we serve delectable Caipirinhas in an array of delightful tropical flavors. If you're open to learning, you might even leave with the ability to impress your friends by speaking some Portuguese or mastering a few Samba dance moves.
Join us on this remarkable experience as we embrace the essence of hospitality, cultural exchange, and the pursuit of lifelong memories aboard Valentina. Together, let's sail towards extraordinary horizons.
Linda "Special Pawjects Officer" (onboard dog)
Within one glorious and lucky day my life changed from being an orphan amongst the mountains and coffee plantations of Atenas, Costa Rica to being the most important member of my new family and sailing the world aboard Valentina. I was living in a shelter that a kind woman was running from her small home. There were 16 of us dogs, and 25 cats, which made for a very full house and never enough food! On the day I was adopted I didn't even have a proper name yet, but my Papai (daddy) kept calling me "Que Linda, Que Linda", which I guess means something in Portuguese or Spanish or something… so I shortened it to Linda and now that's my name. People often ask what kind of dog I am, and to be honest I don't really know. I suppose I'm the spoiled kind.
I hadn't yet seen the ocean when my dads brought me home to Valentina. The dark smooth reflective flooring off the back of sugar steps looked interesting and I saw another dog there, so I went to investigate. Just as I was reaching my paw down to meet this other pup, I fell through the floor! After my dads fished me out, they explained how water works. Well, now I know better, and now I am a water aficionado. I have honed my swimming skills and beach detective prowess. I am happy to help you chase off those pesky lizards, and I always captivate onlookers with my impressive fishing talents. I have even caught a few. I love treats, nice people, kids of all ages, and all other dogs- big and small. I try to make friends with cats too, but they are a little mean and kind of scare me sometimes.
I am privileged to have collected more passport stamps in my four short years on this earth than most humans do in an entire lifetime. Since leaving Costa Rica I have been everywhere with my dads on Valentina. My dads say that I was originally supposed to help with security onboard, but I just want to play and be everyone's friend, or just take a nap. That doesn't stop me from being effective, however. Upon seeing me onboard most local islanders think twice before approaching our floating sanctuary. This helps discourage those with less than pure intentions, and I am an excellent judge of character. I can smell intent from a mile away and I am not shy about telling my dads when something smells fishy.
As we set sail to explore picturesque beaches and vibrant snorkeling spots, I am eager to share my zest for life and playful spirit with you. Join me aboard Valentina, where the allure of the sea merges with the joy of discovering hidden treasures. Let us embark on a voyage together, where the splendor of the ocean meets the warmth of companionship. Welcome aboard!
Additional Information
Valentina is a breathtaking 62' Lagoon Catamaran crafted in 2013. She showcases two luxurious queen cabins and a cozy bunk cabin accommodating six guests, each pampered with their own private ensuite baths, complete with modern amenities like electric toilets, vanities, and separate showers. Valentina presents a medley of luxurious spaces where one can recline, bask in the cooling trade winds, and enjoy a cocktail in the Caribbean's pristine cerulean waters. The salon, designed for comfort, can easily seat all guests, be it for leisurely lounging or indulging in delightful dining experiences. The exterior of Valentina invites guests to partake in alfresco dining, luxuriate in the seating area on the top deck, and unwind in the lounge adjacent to the helm. Additionally, a serene lower deck lounge area, nestled behind the trampolines, offers a peaceful sanctuary. With its abundant lounging spots, Valentina provides ample room for both group gatherings and secluded moments of relaxation, ensuring an idyllic escape for all. TOYS: 3 Stand Up Paddle Boards, Snorkeling Gear, Floating Mats, 2 1-Person Kayaks, 1 Inflatable Mat, 2 Inflatable Tubes, 2 Fishing Rods, & Onshore Games.
Destinations