Gallery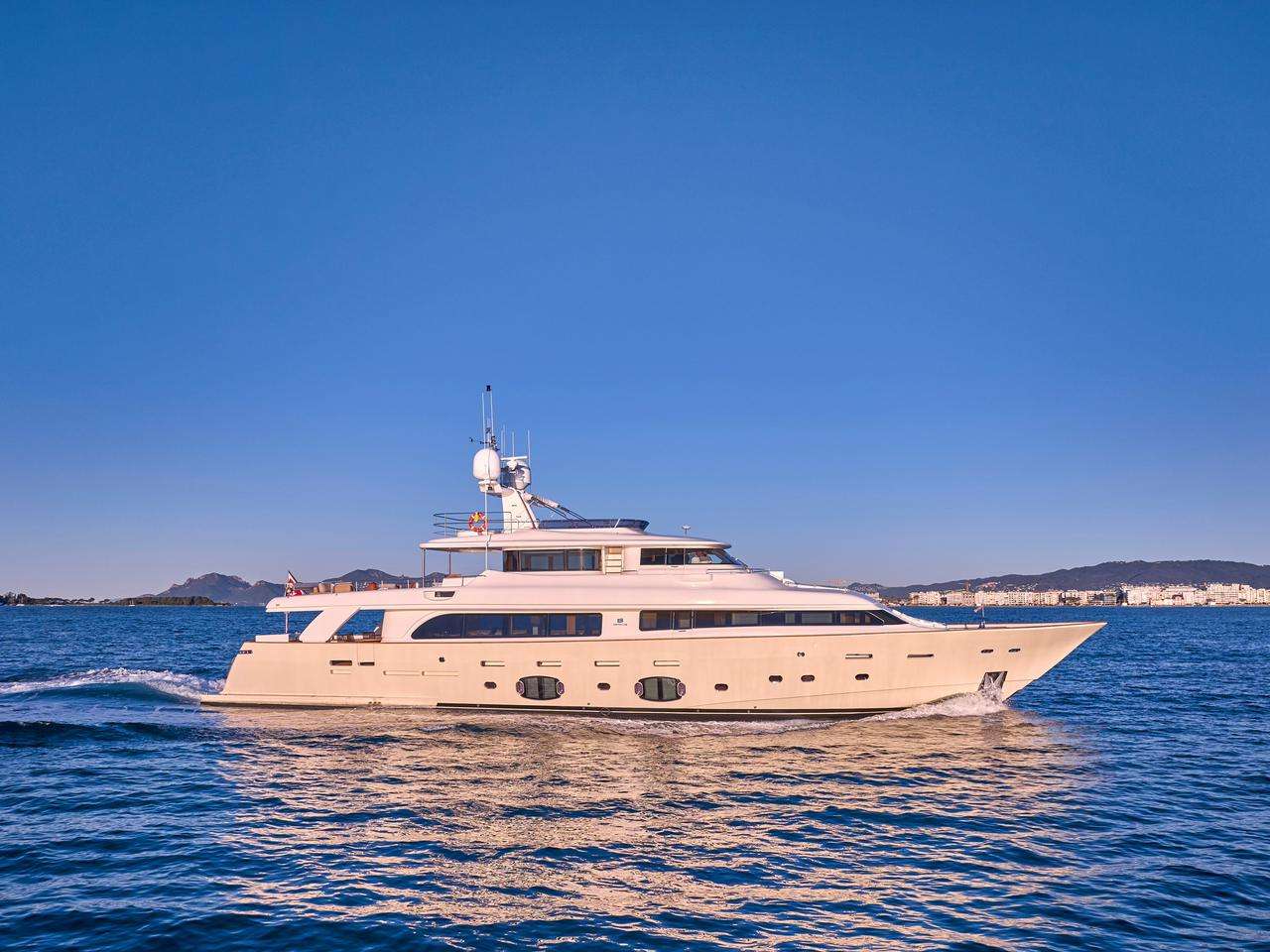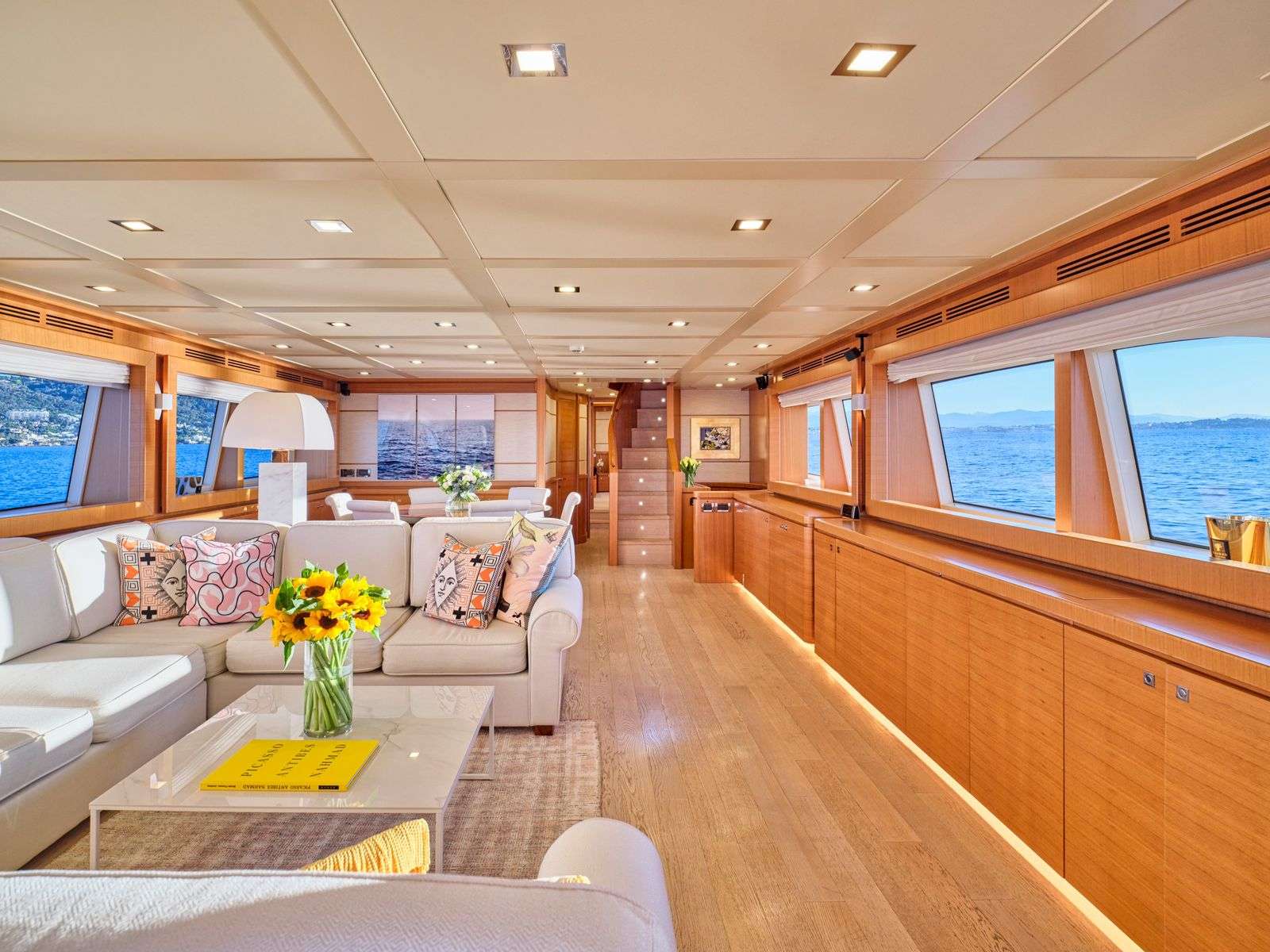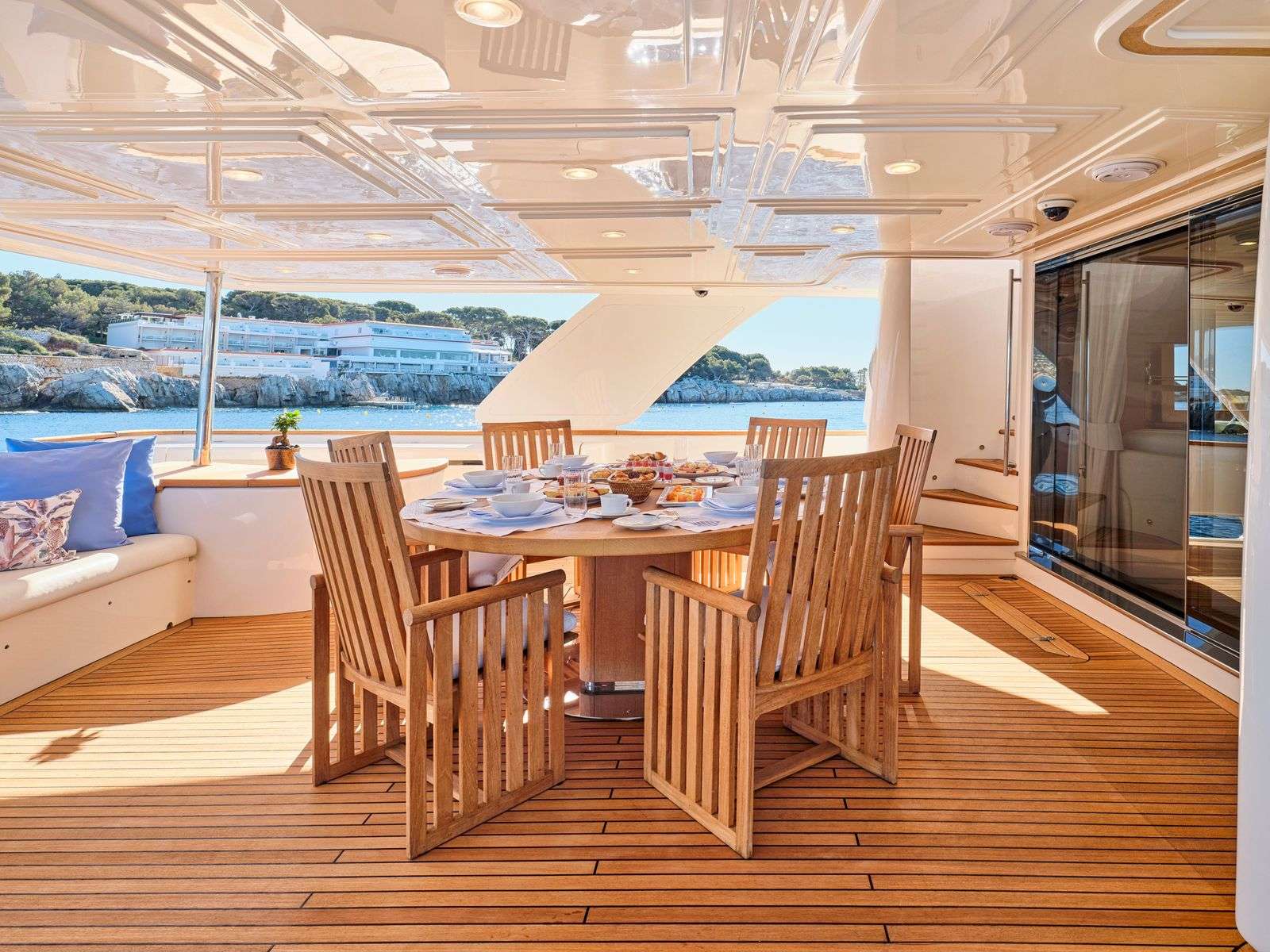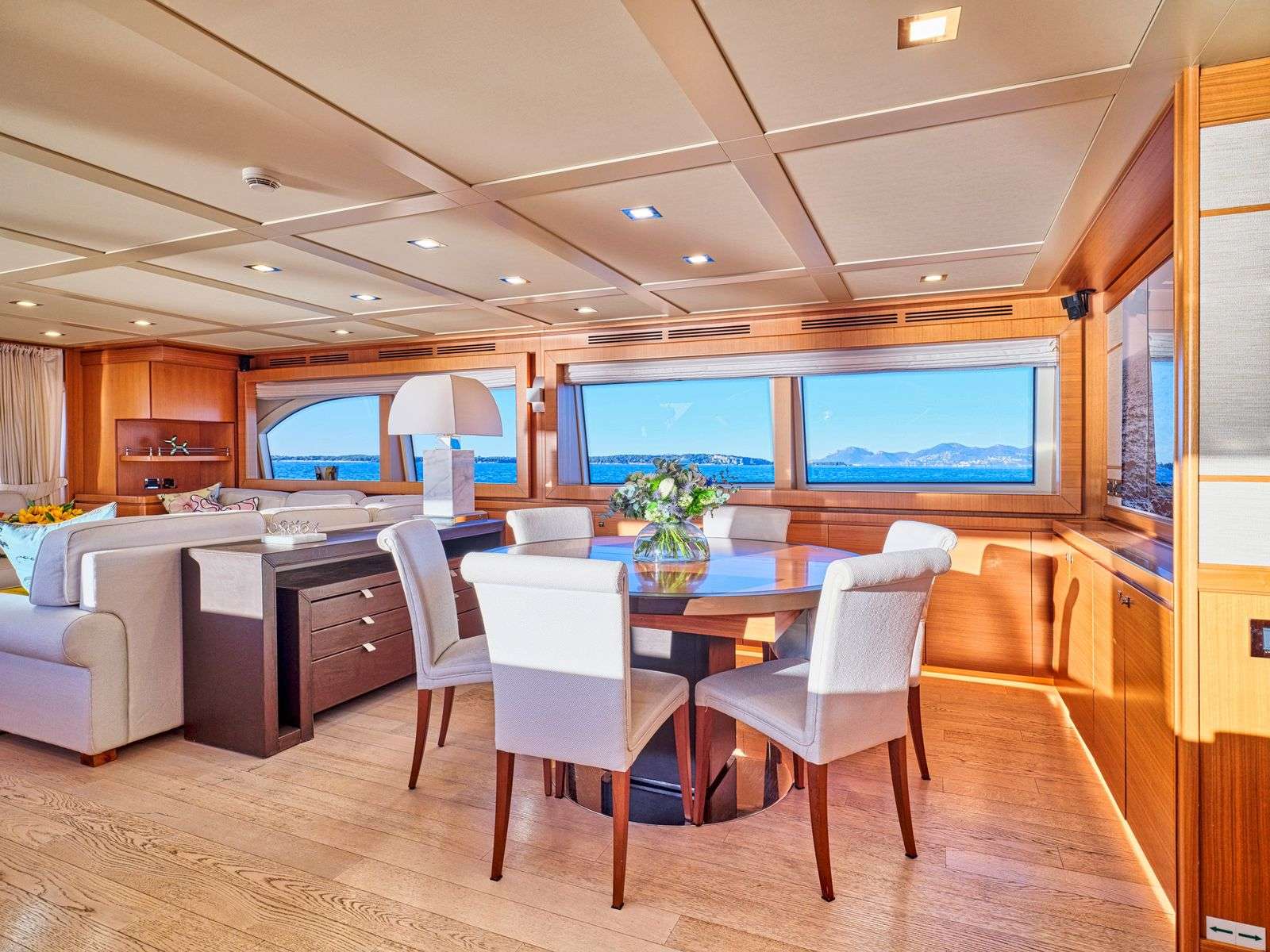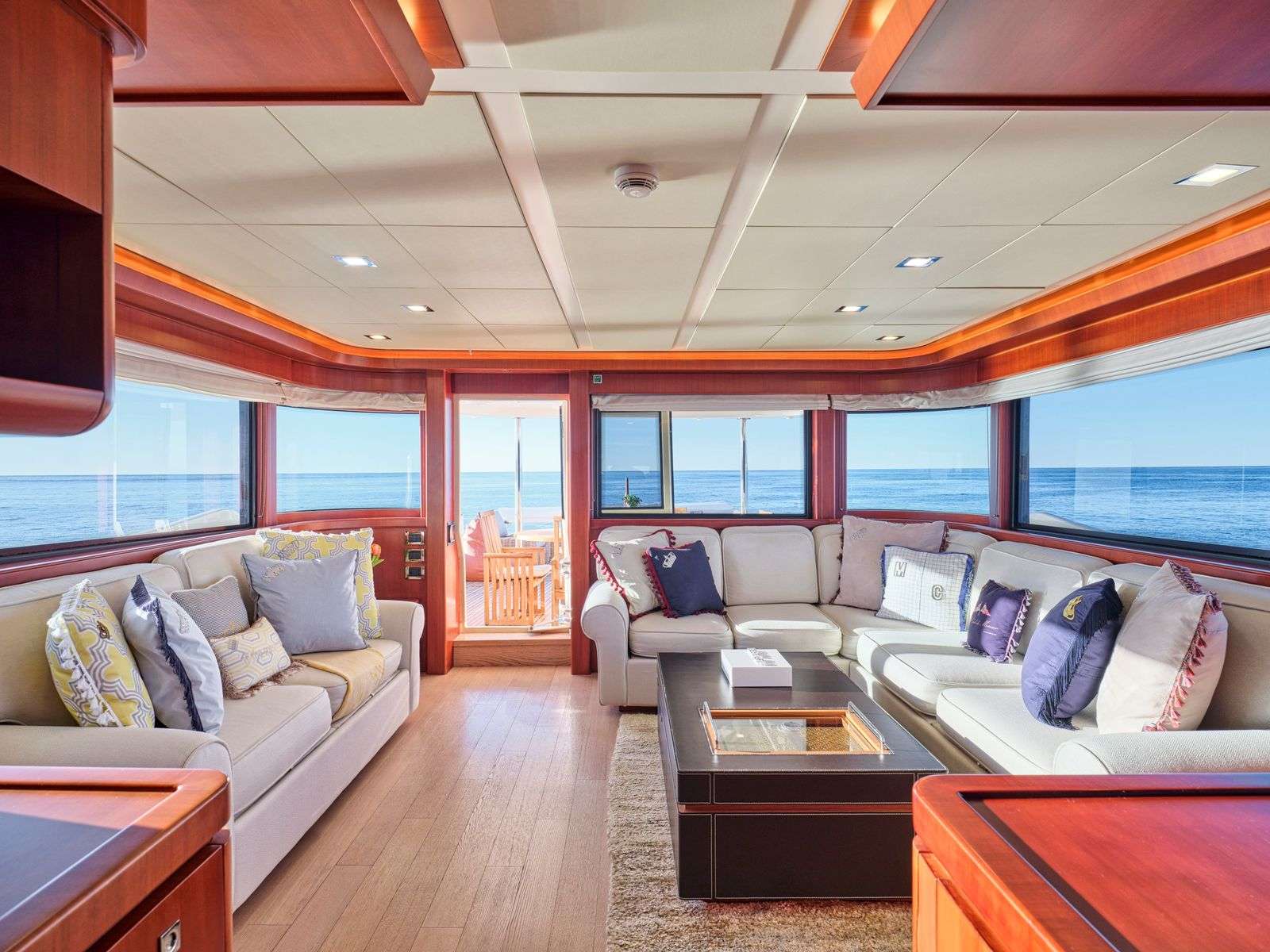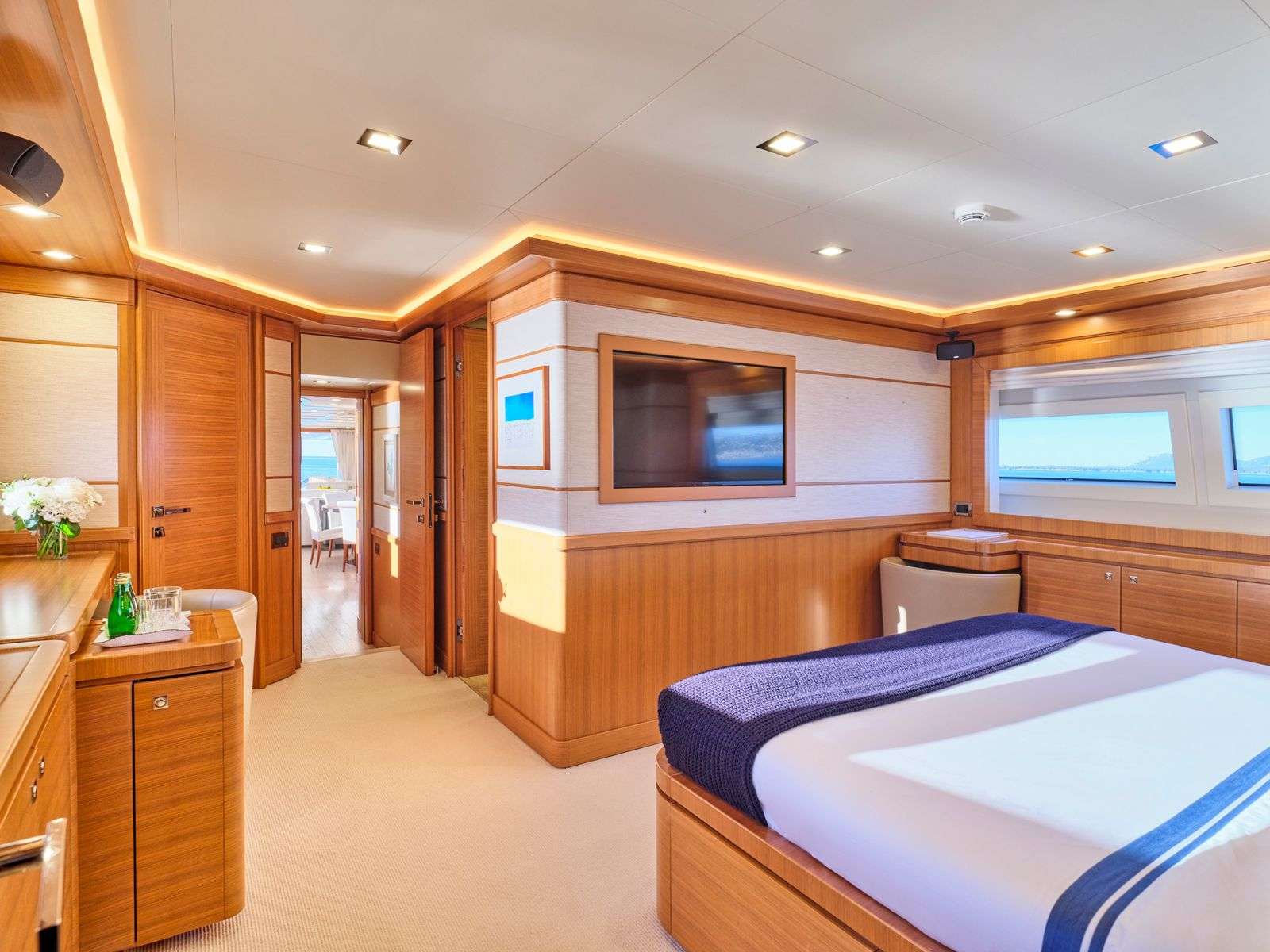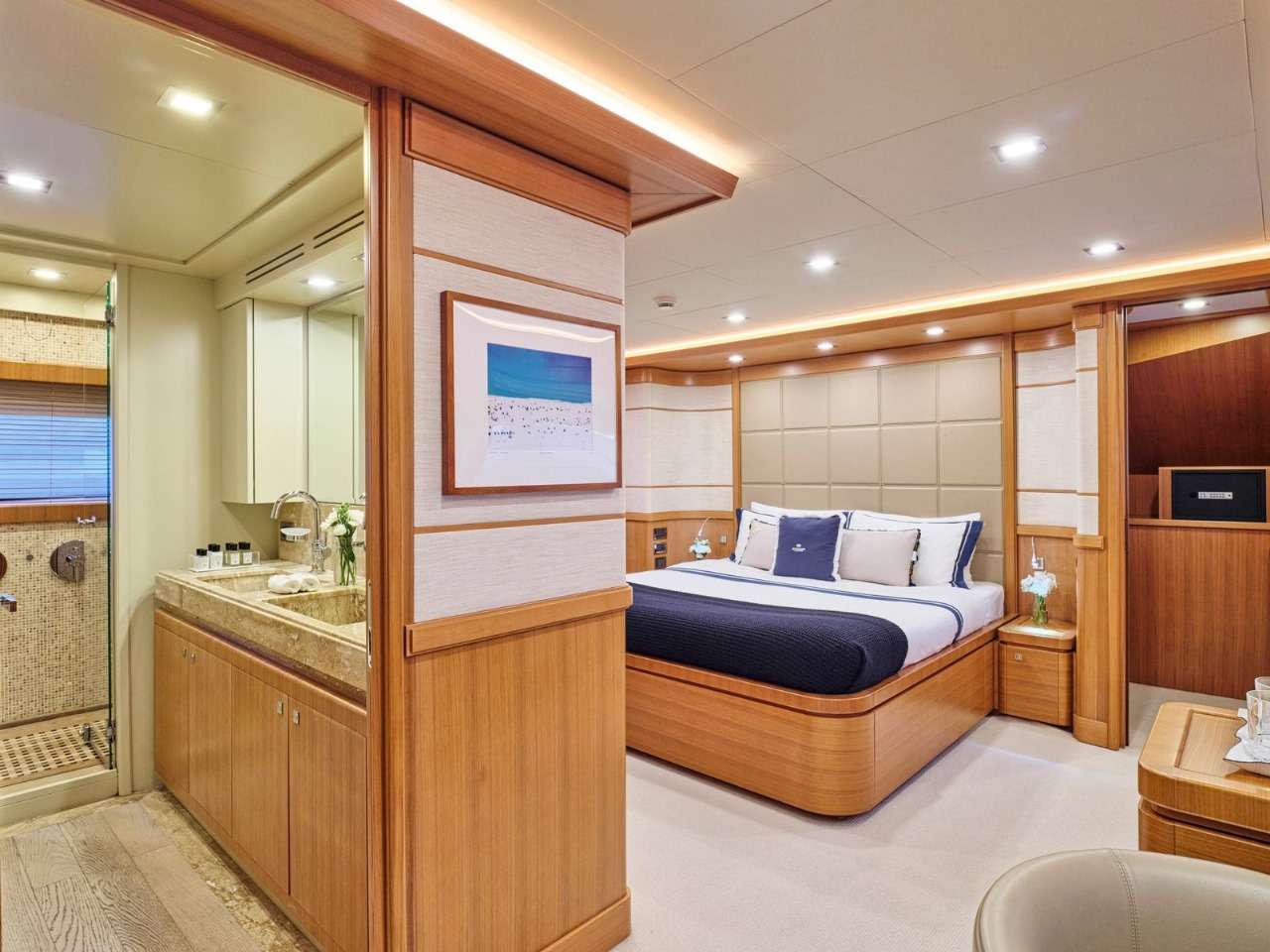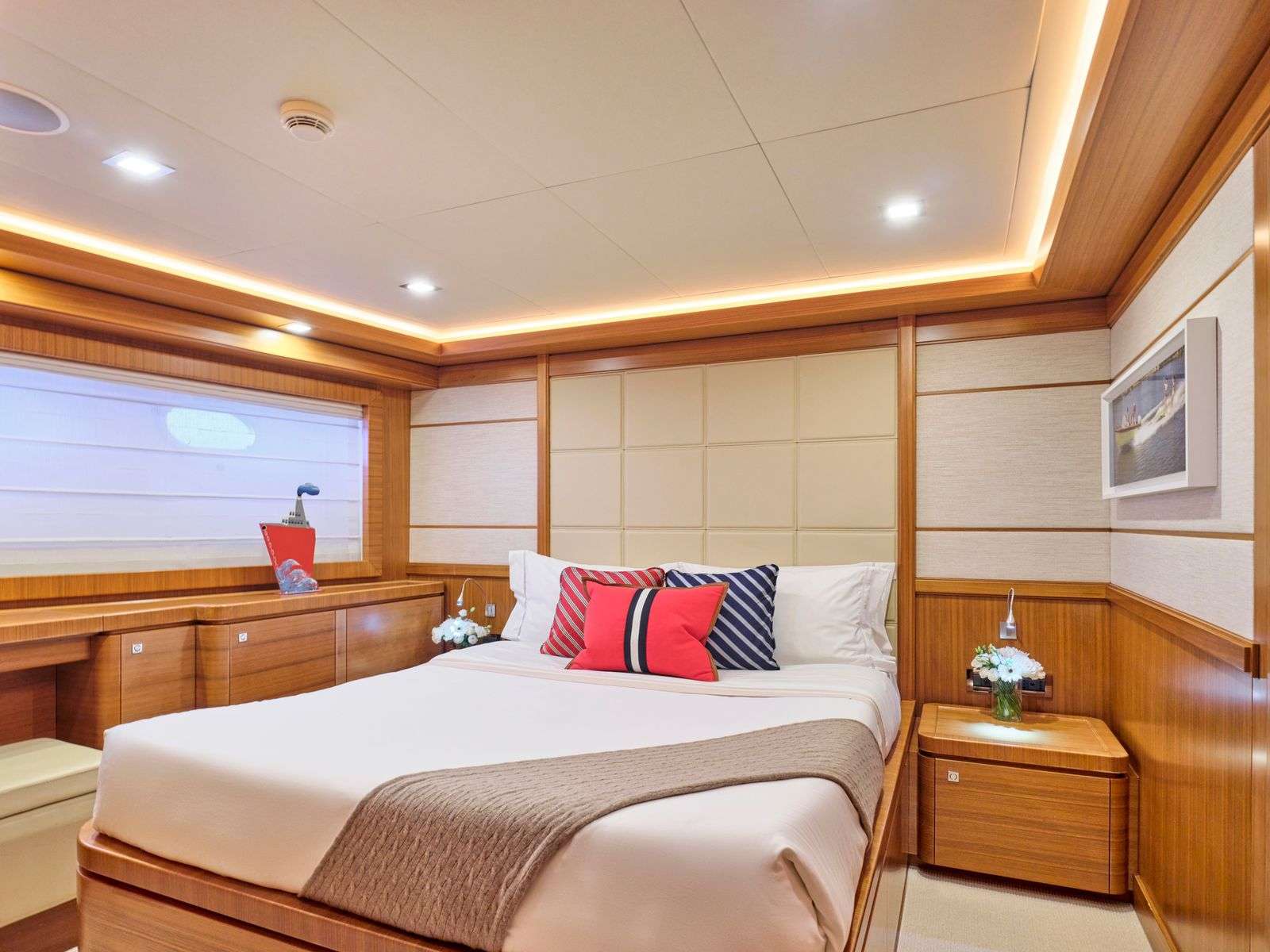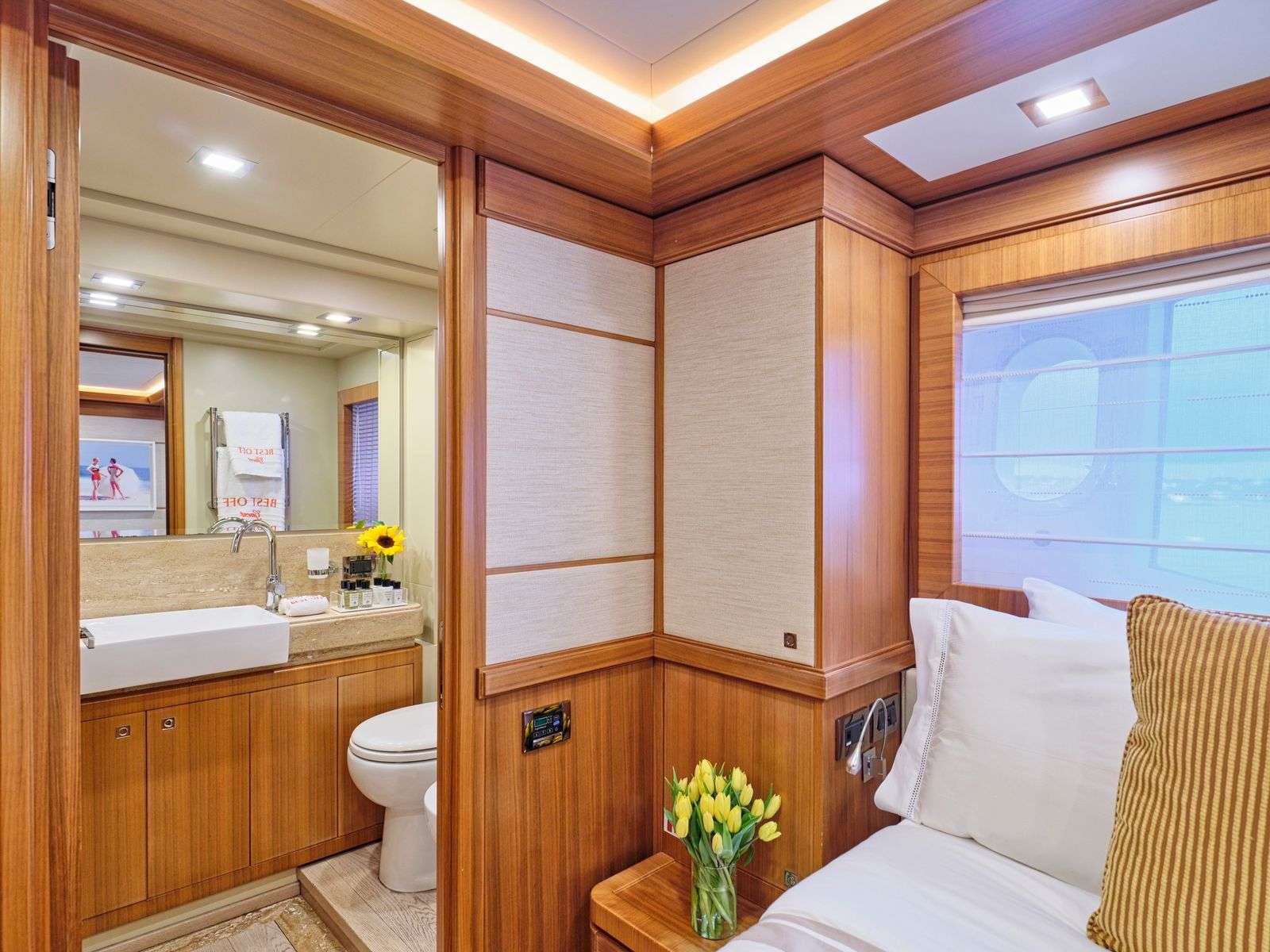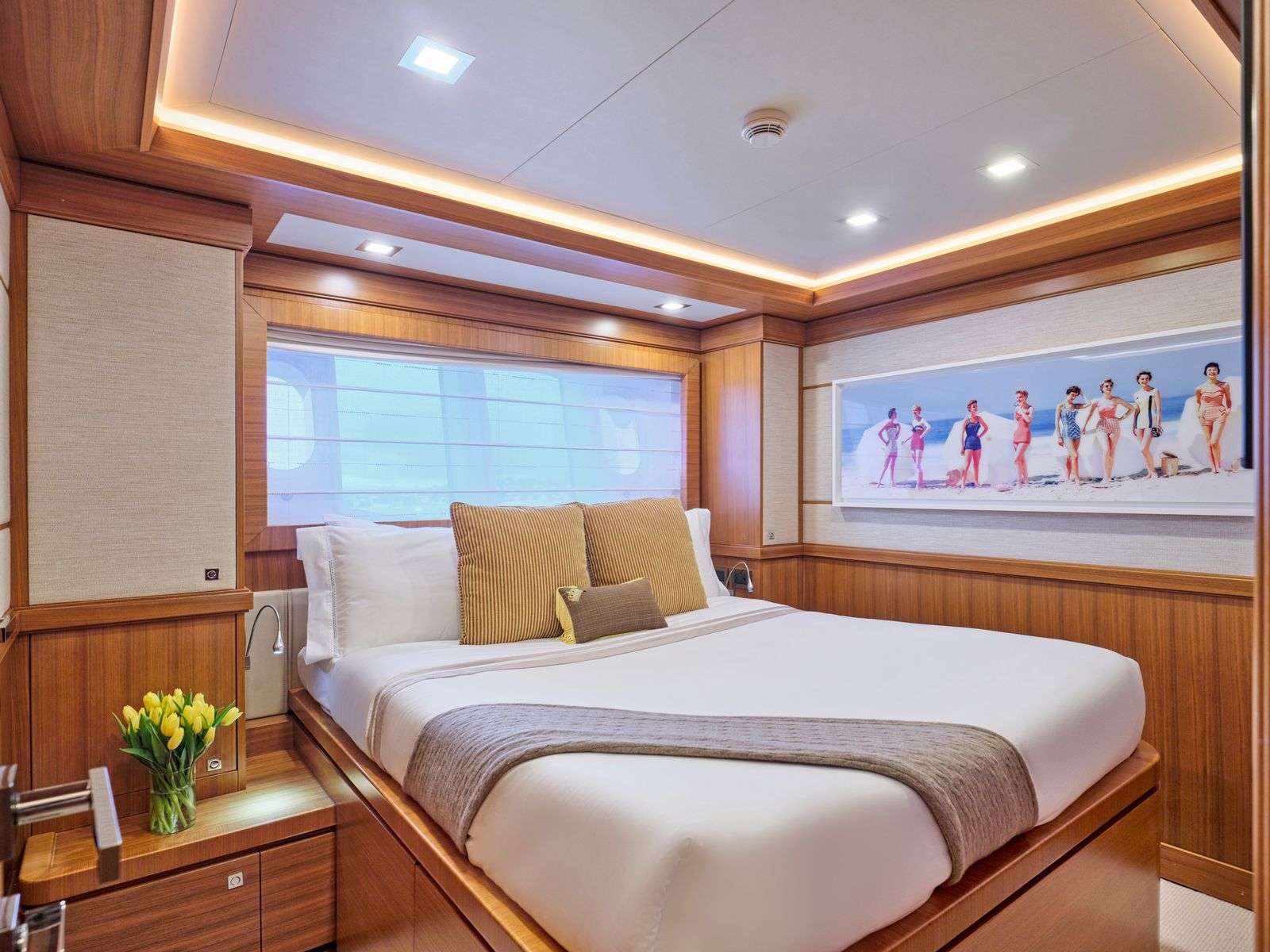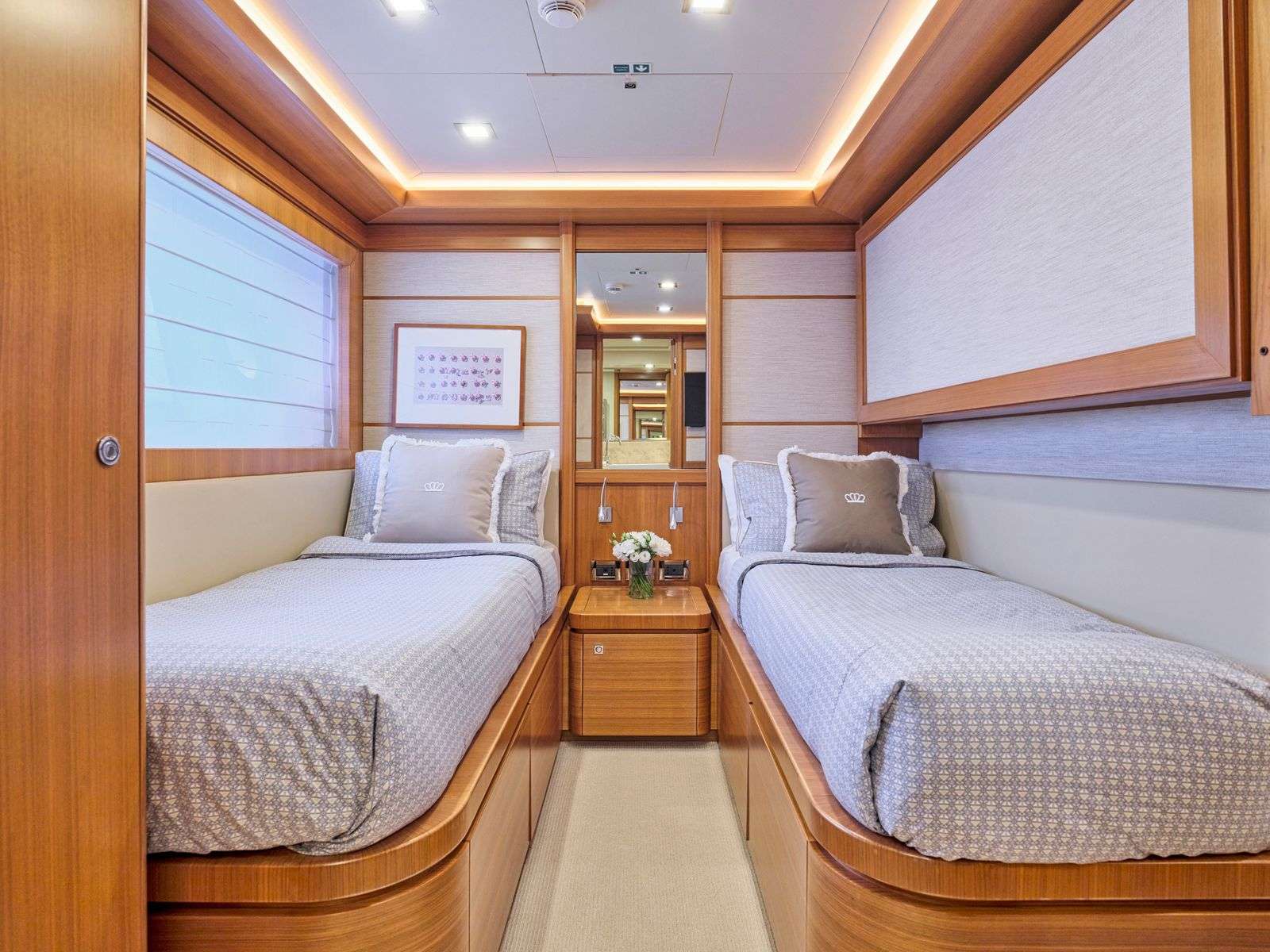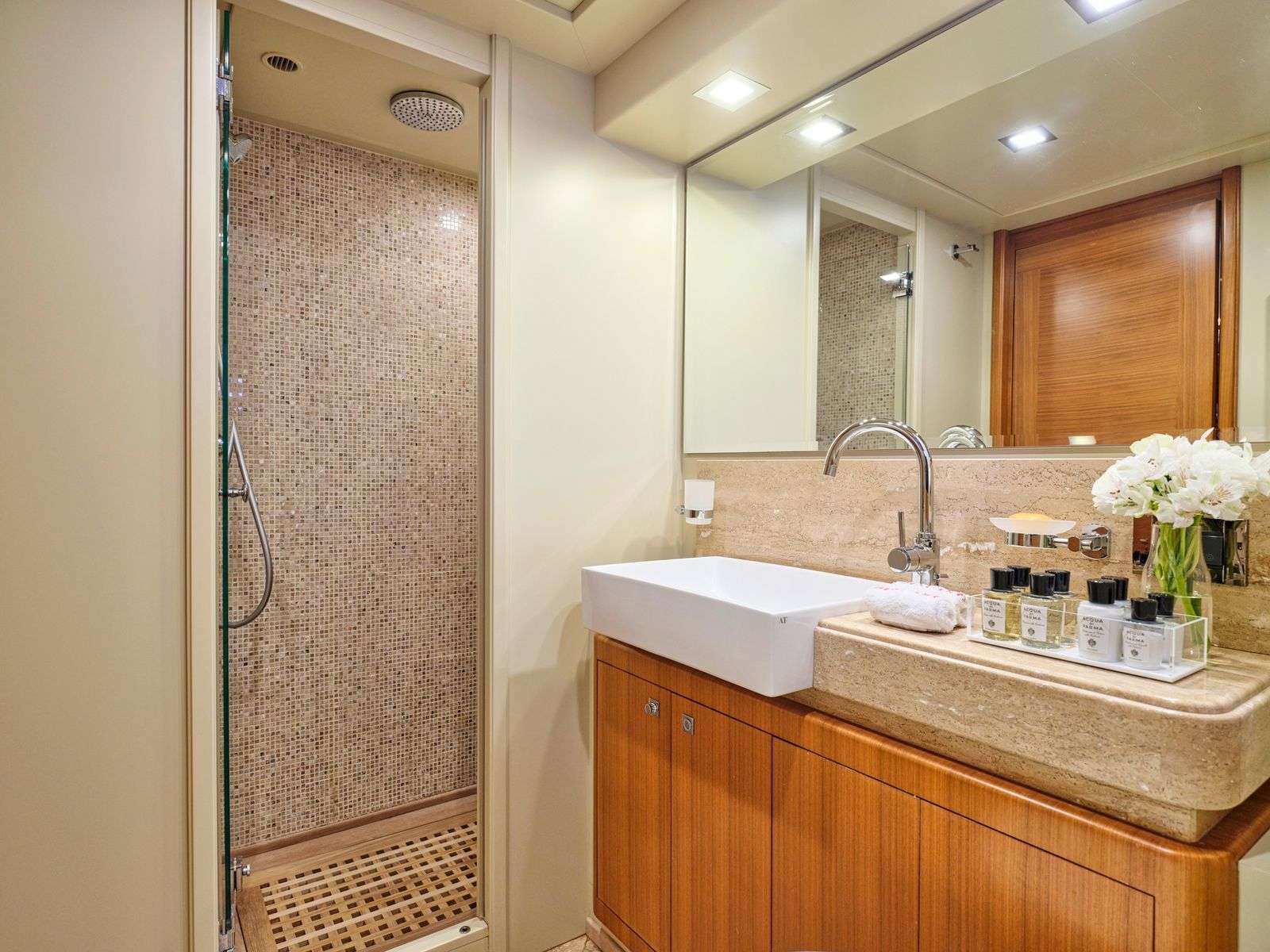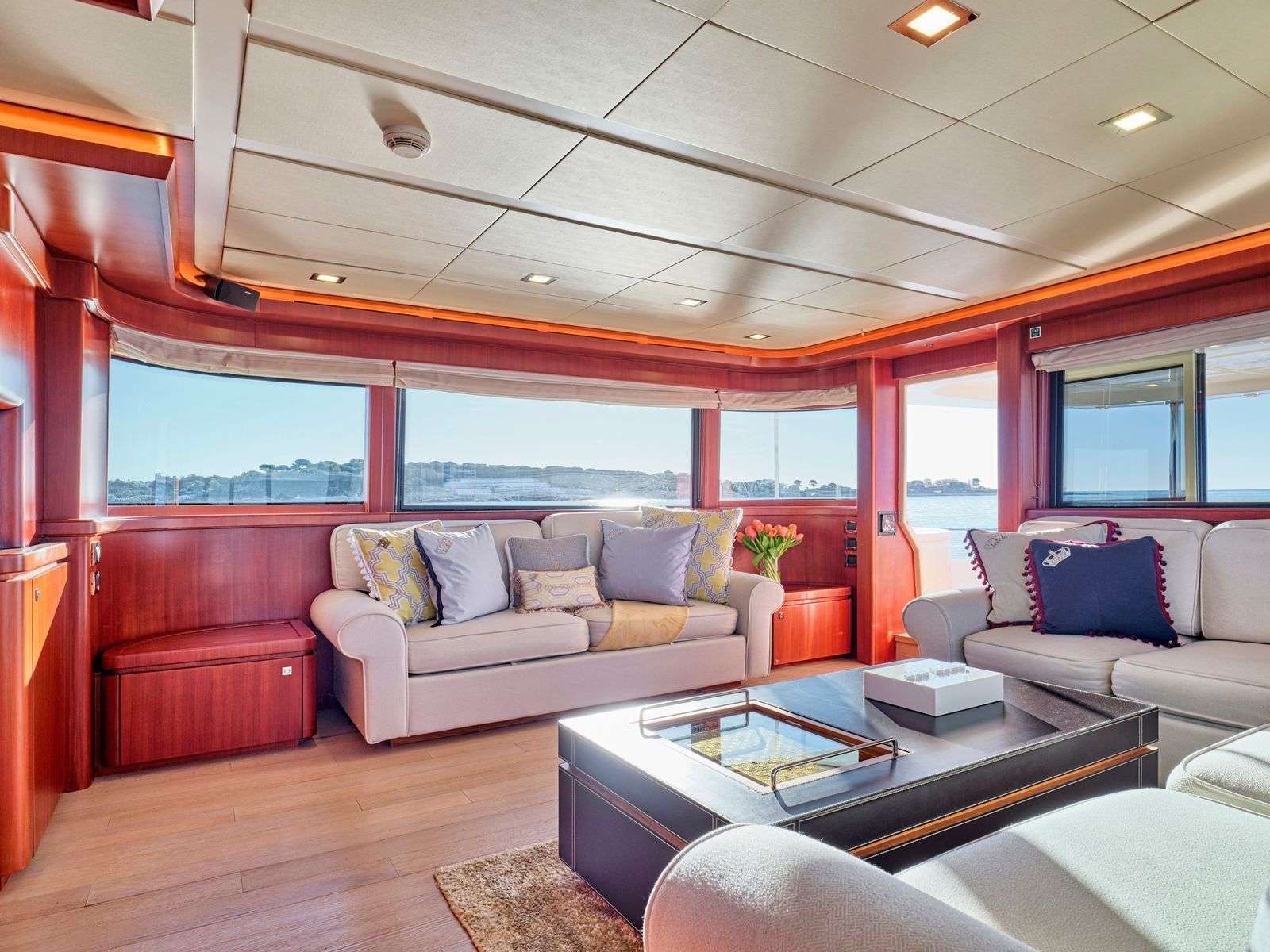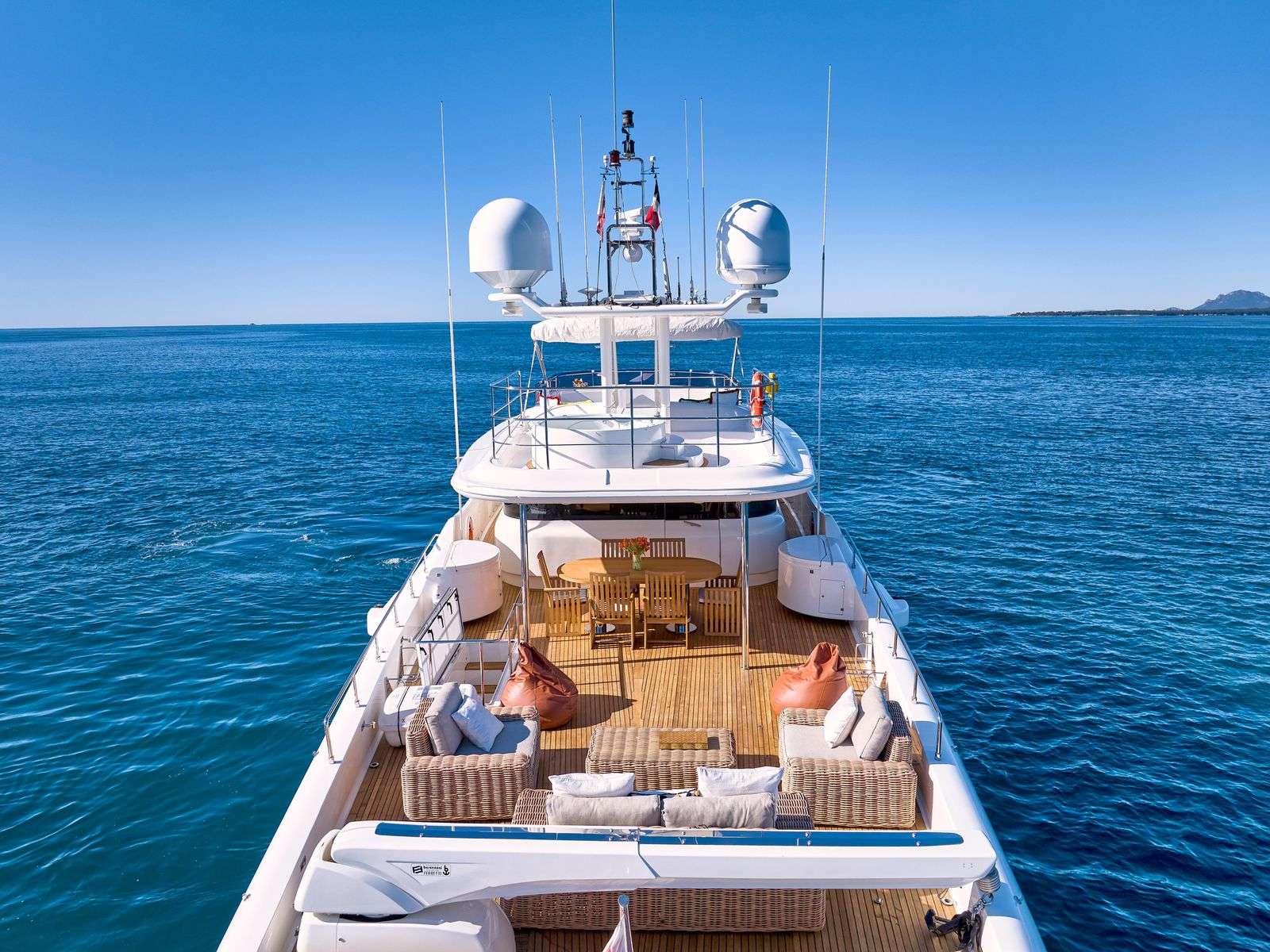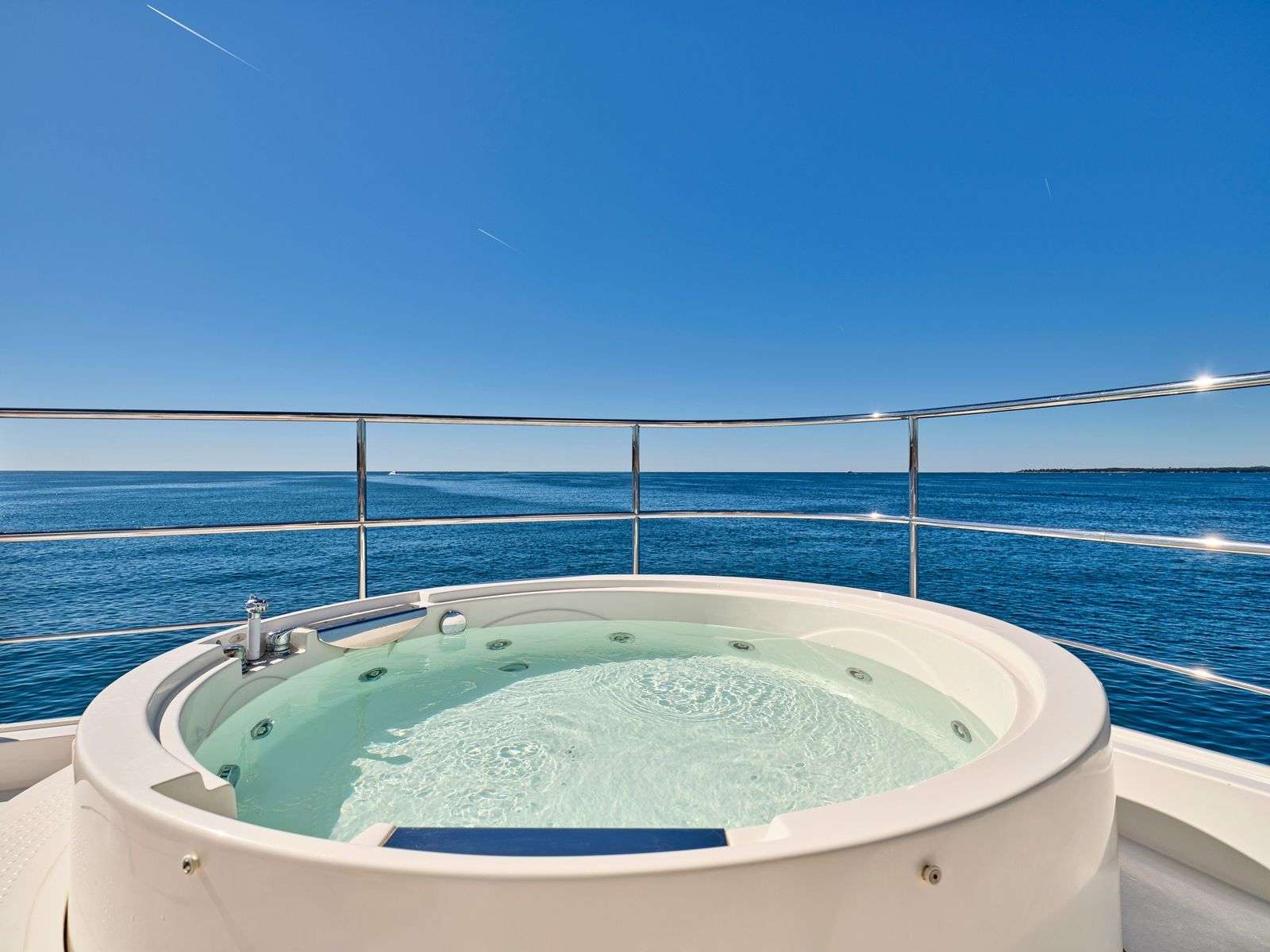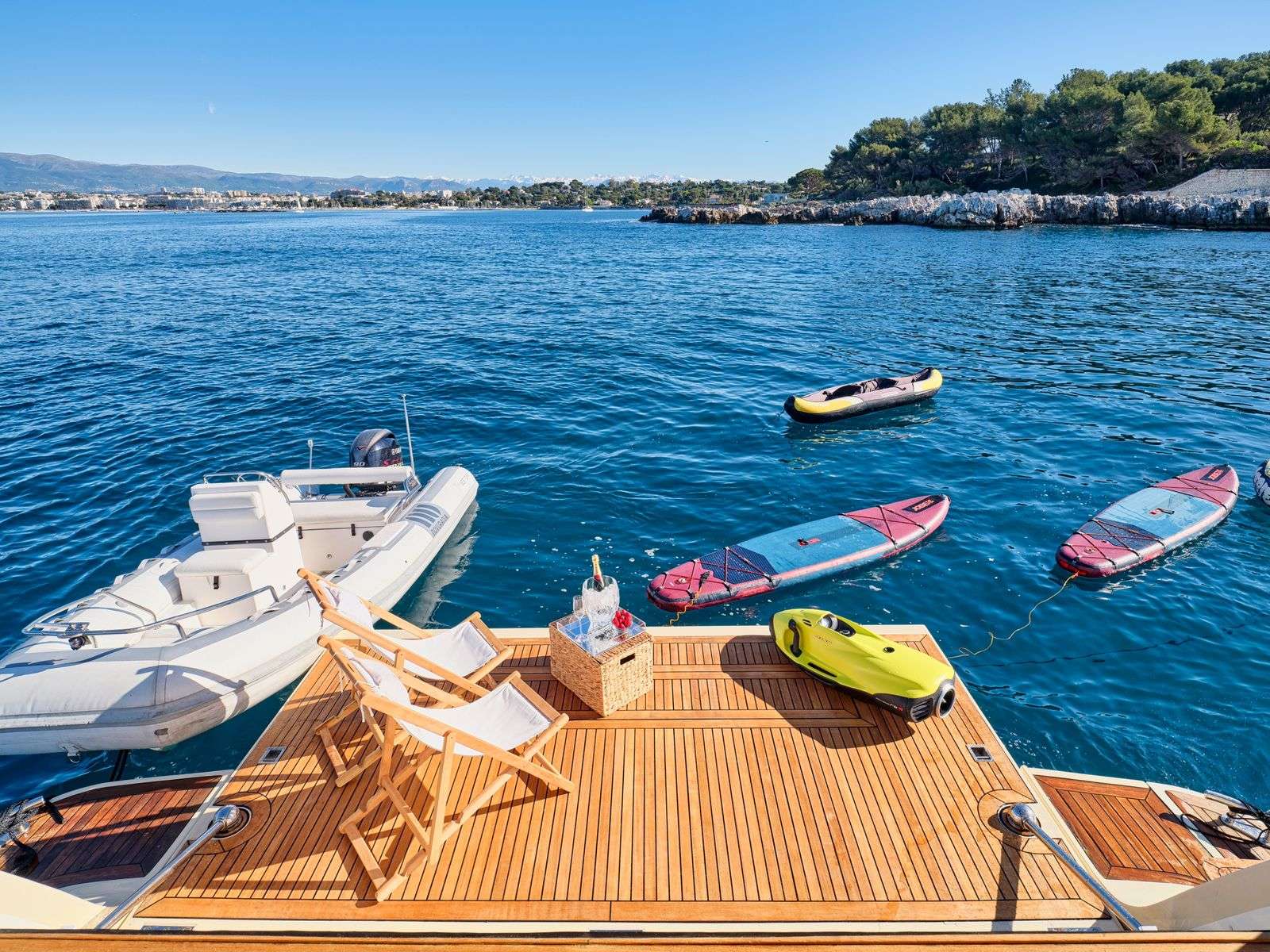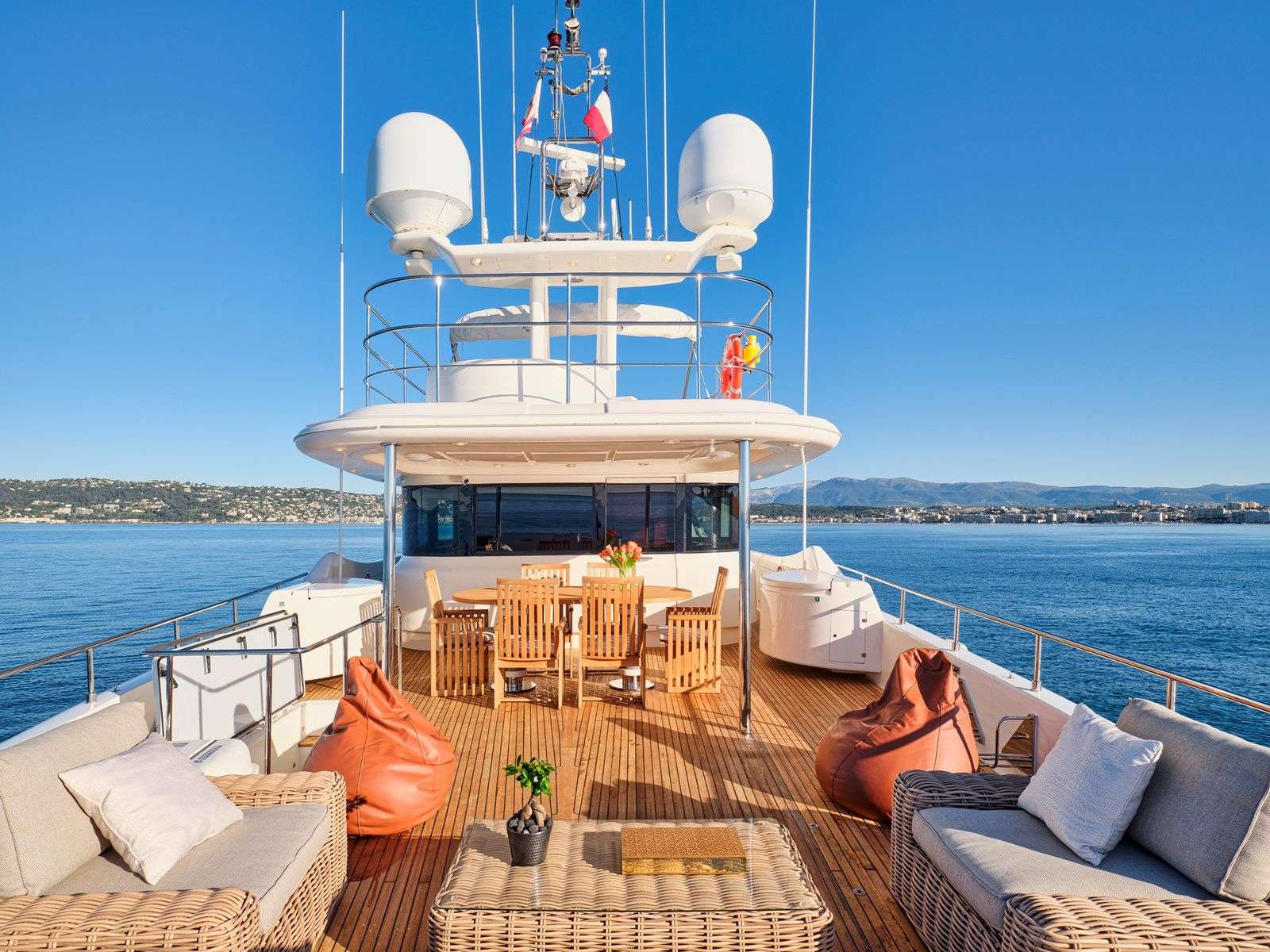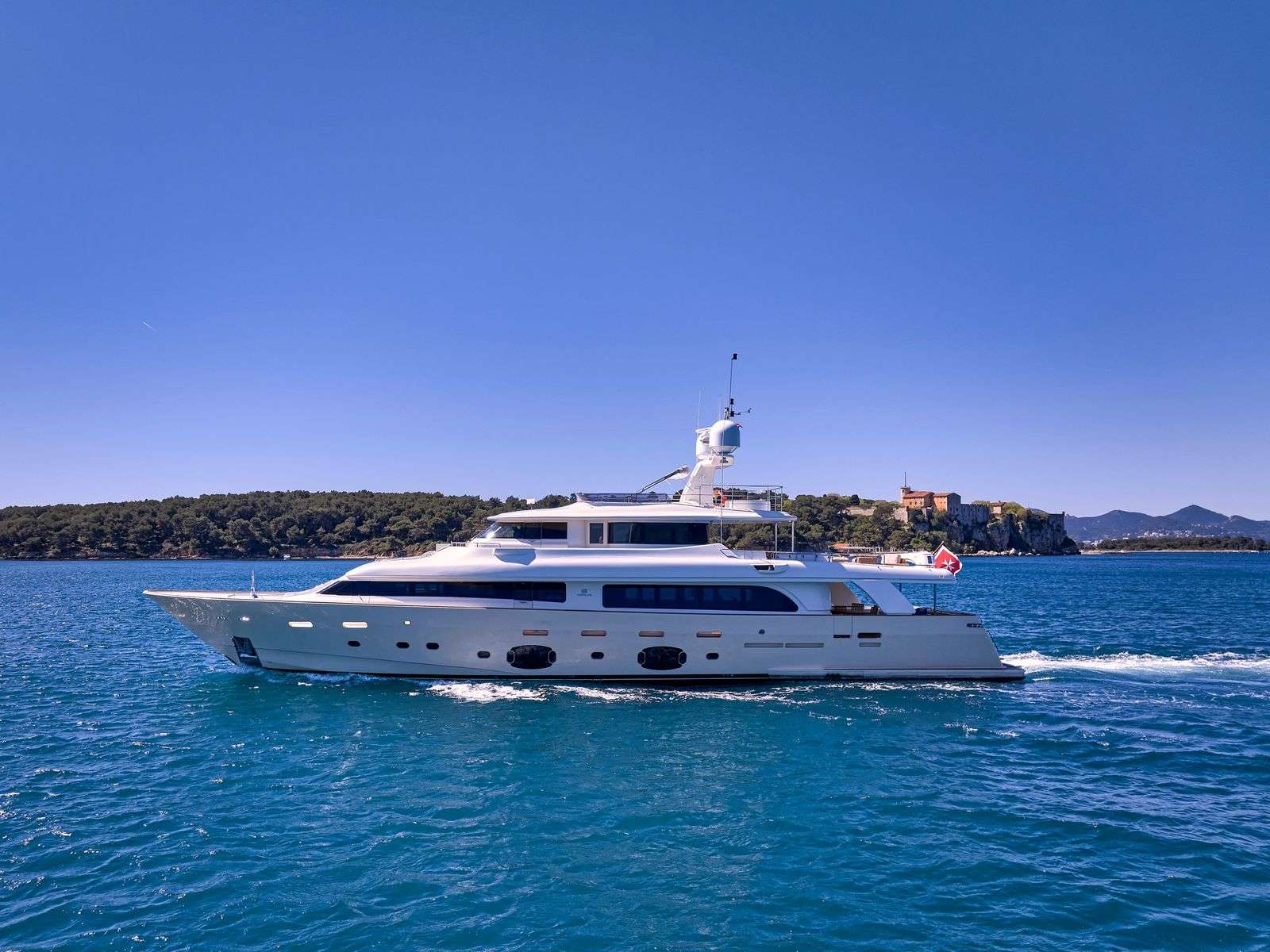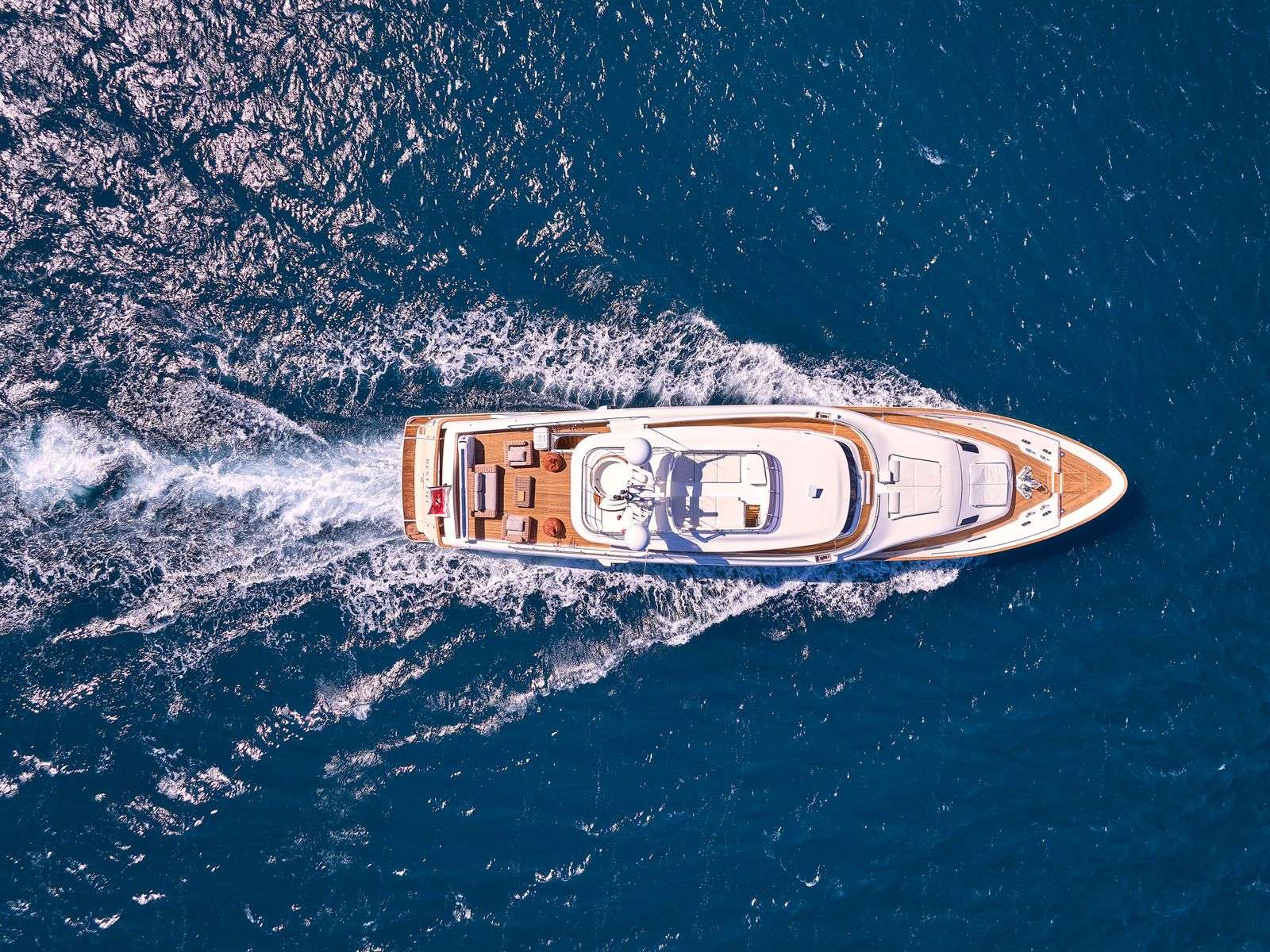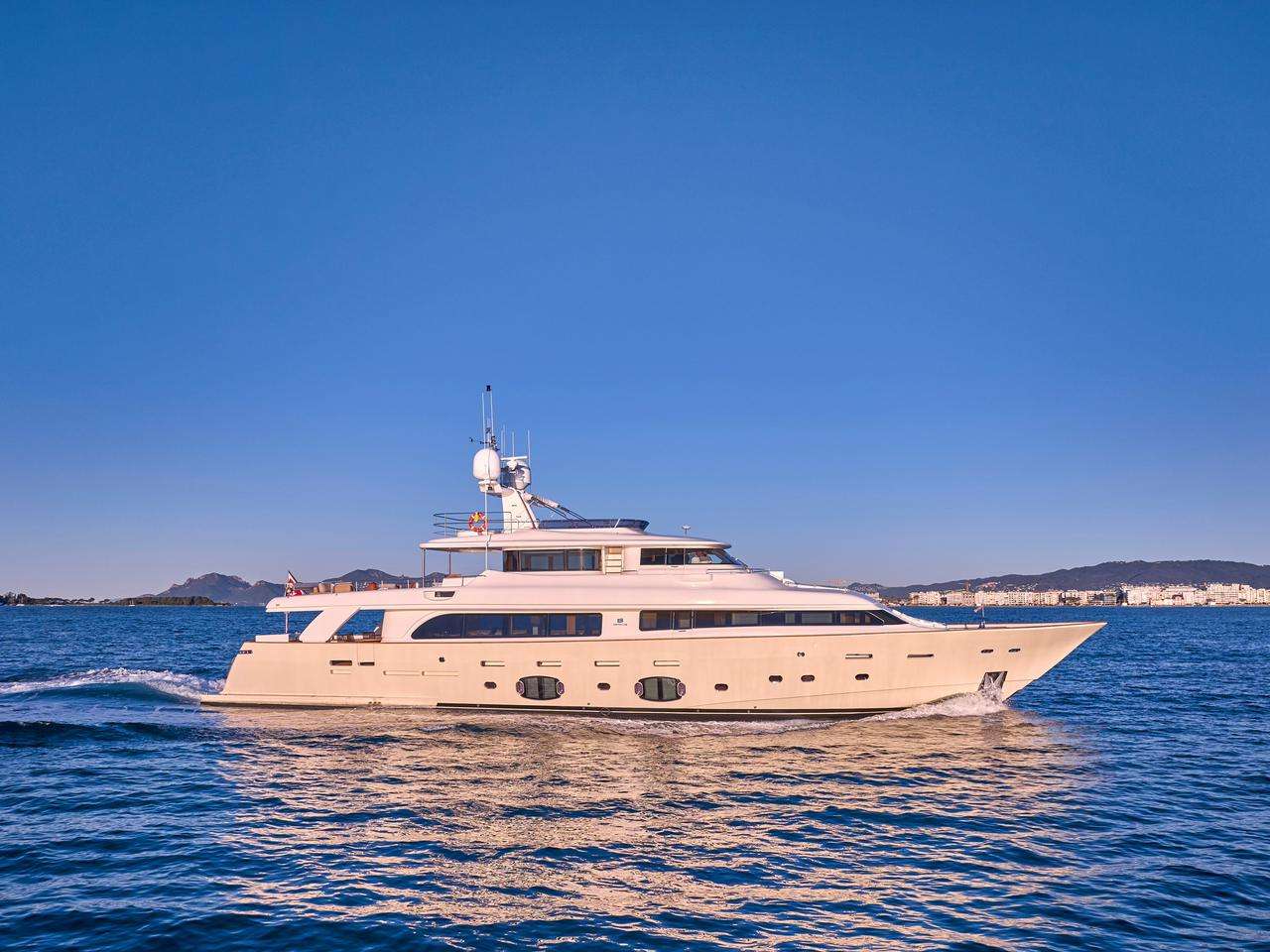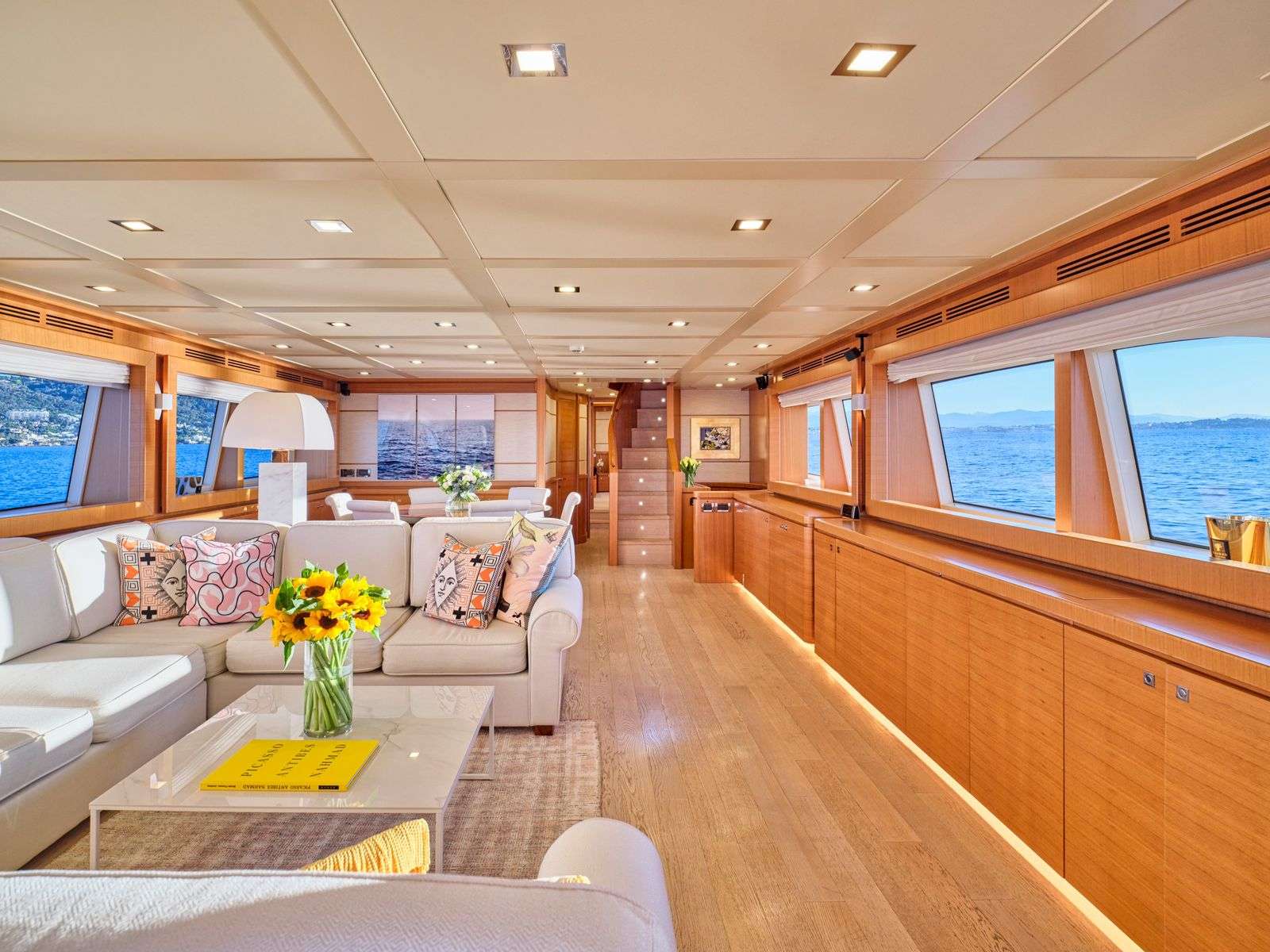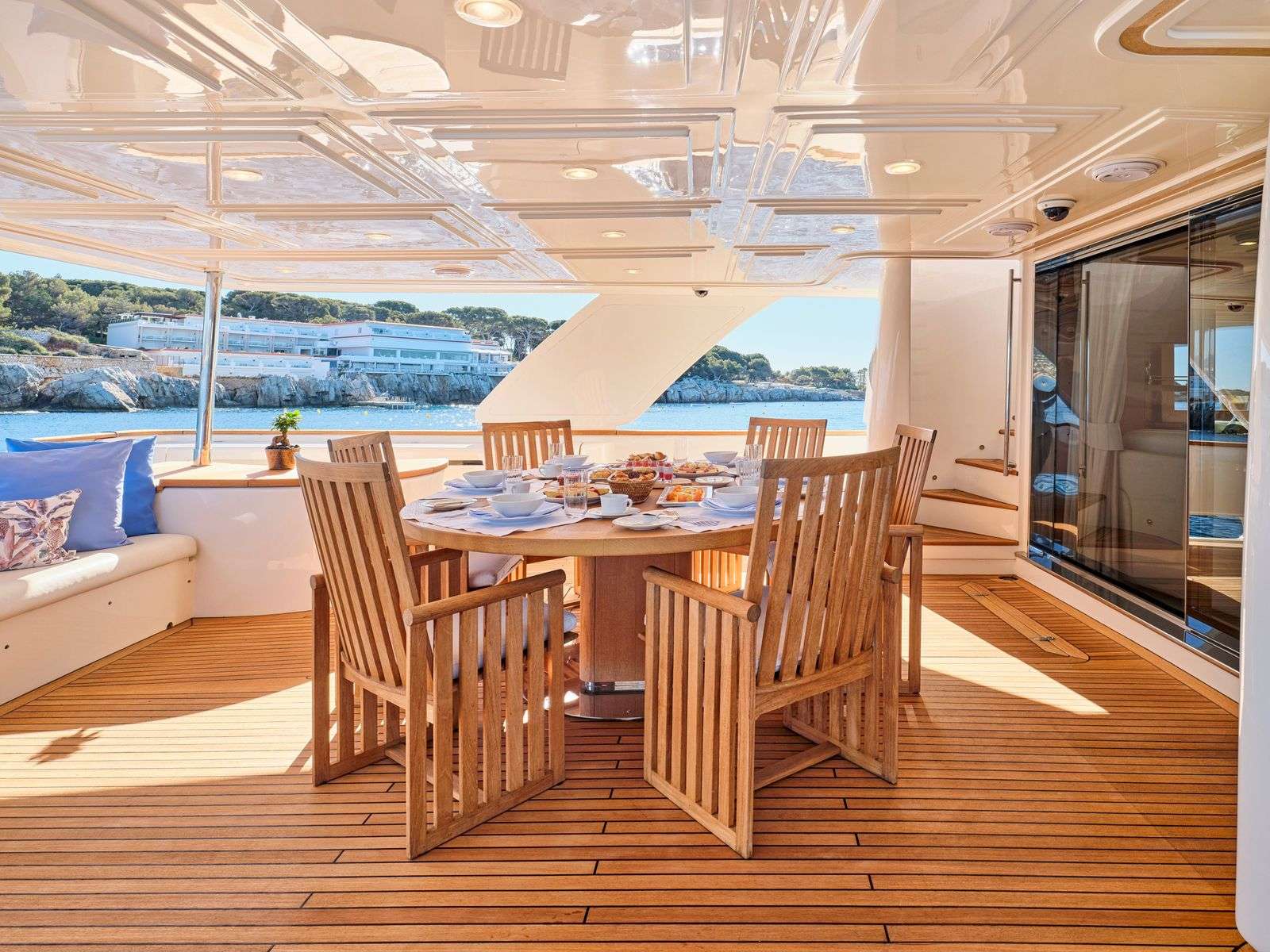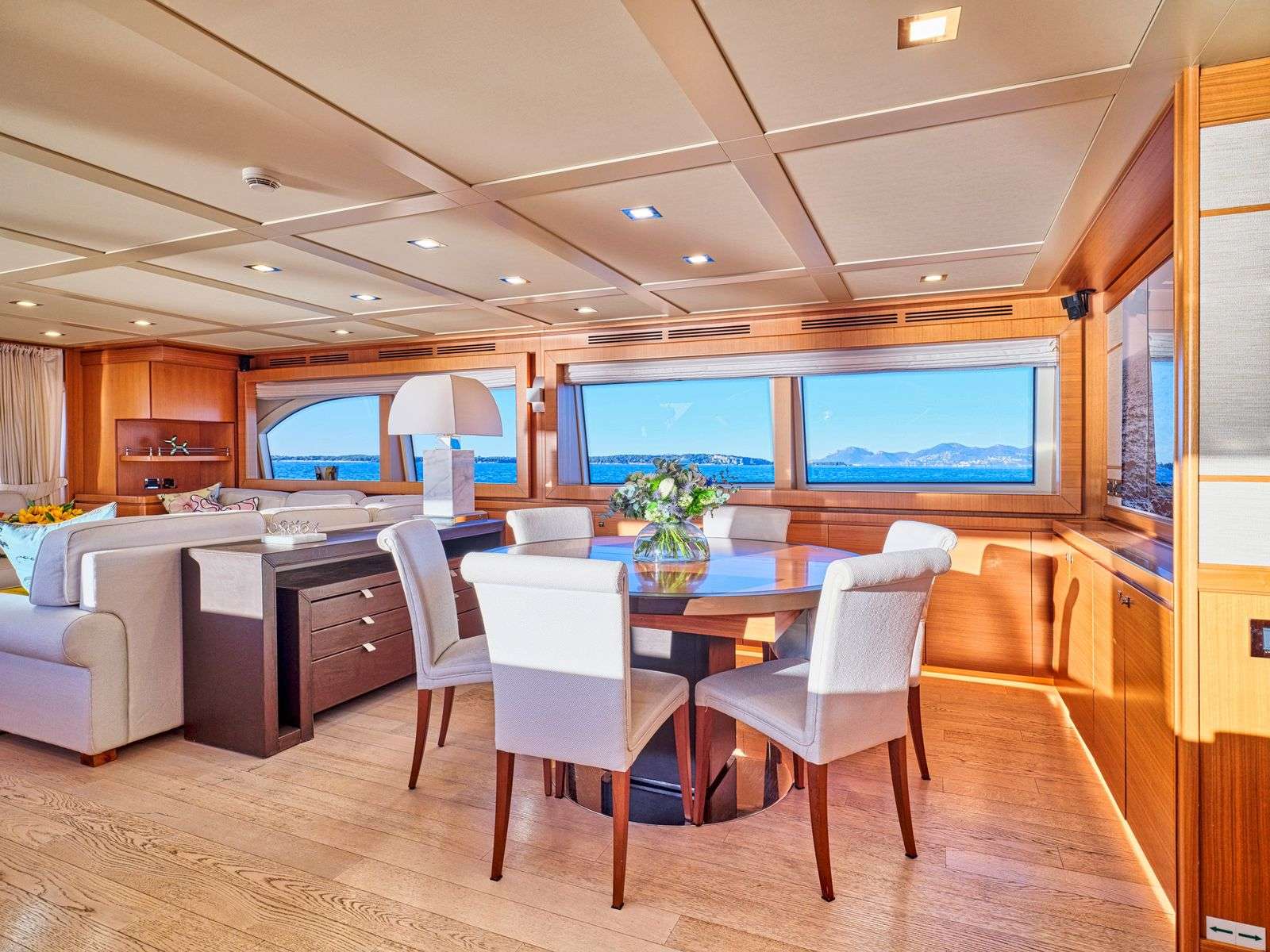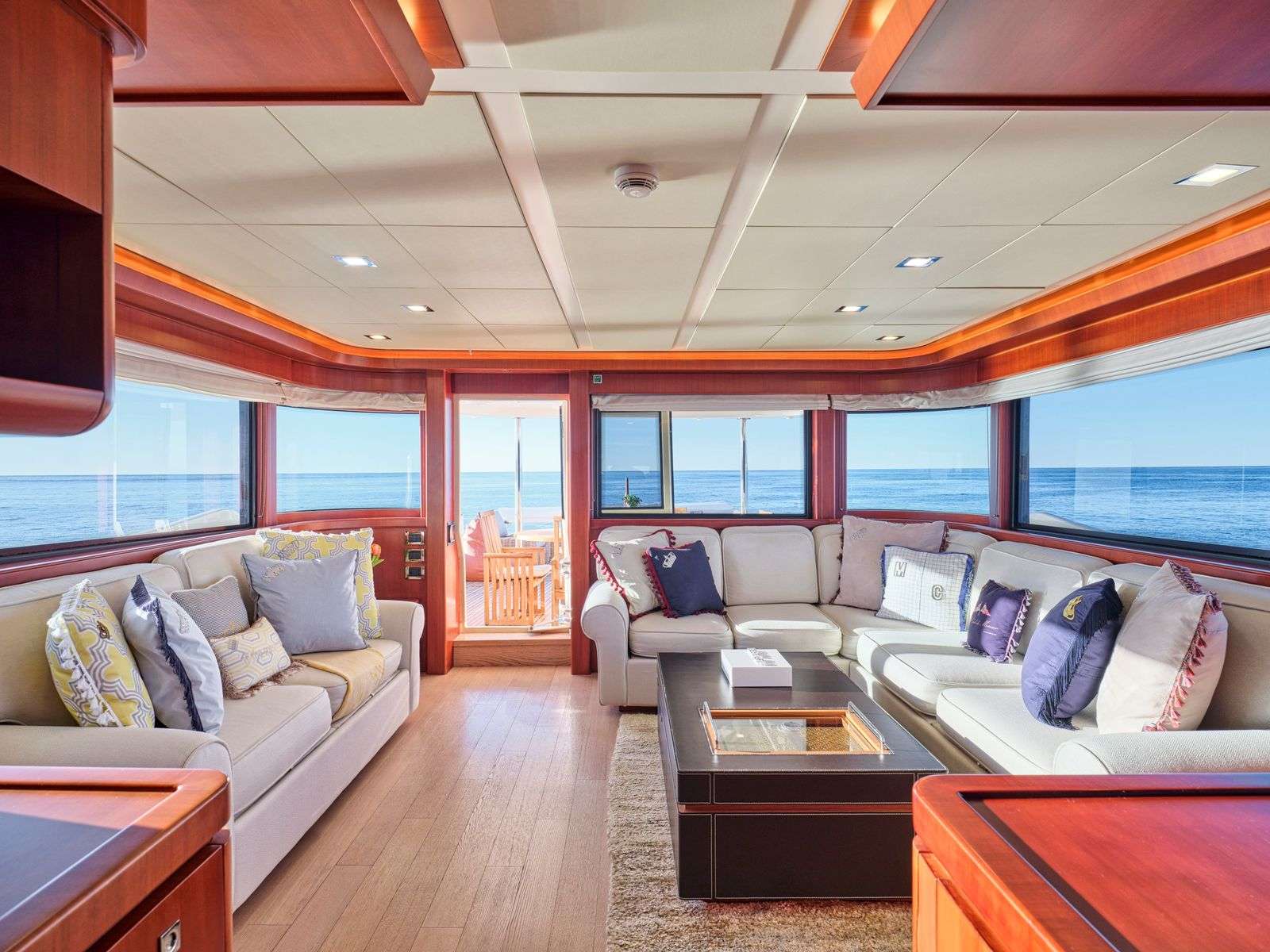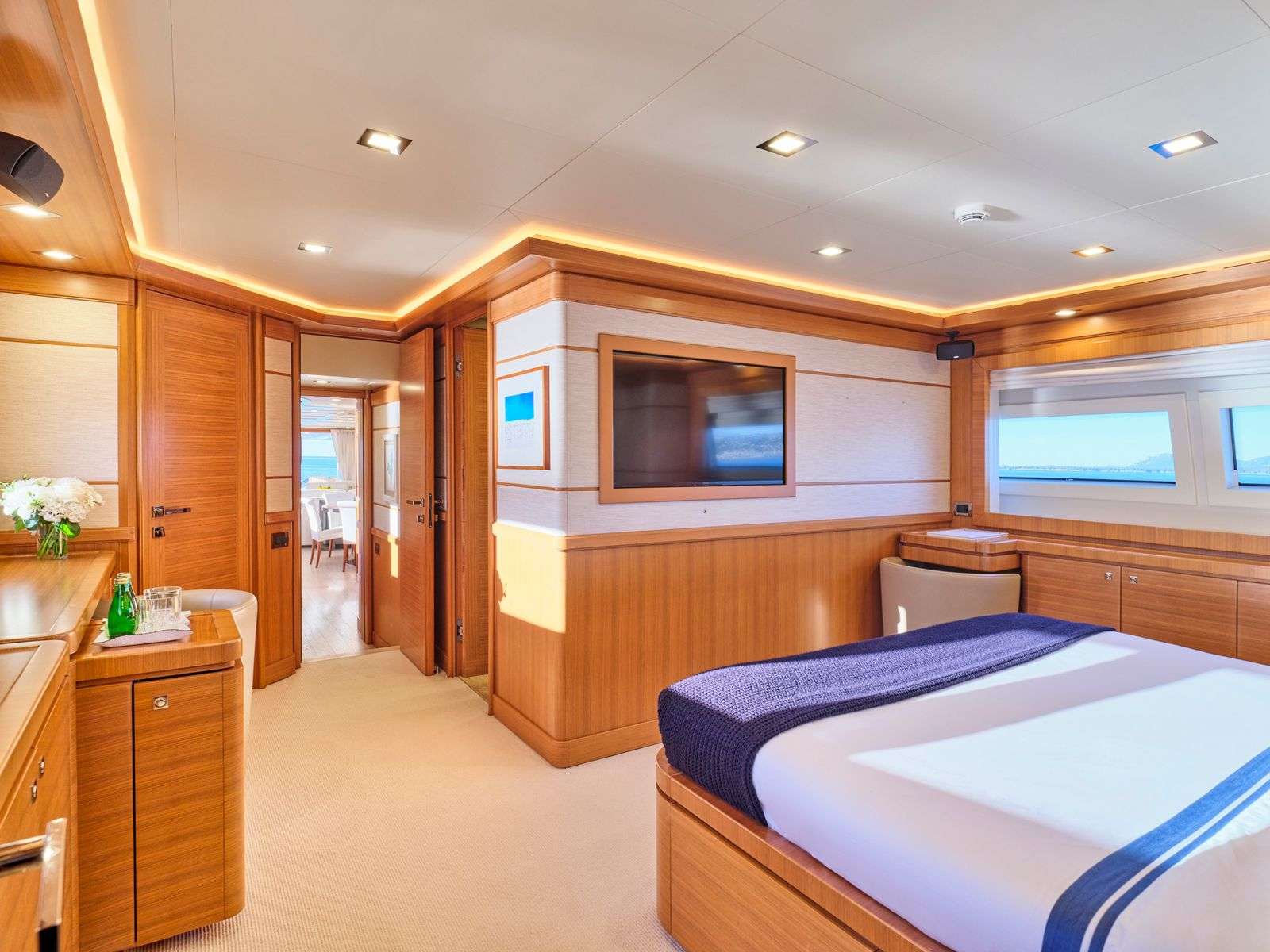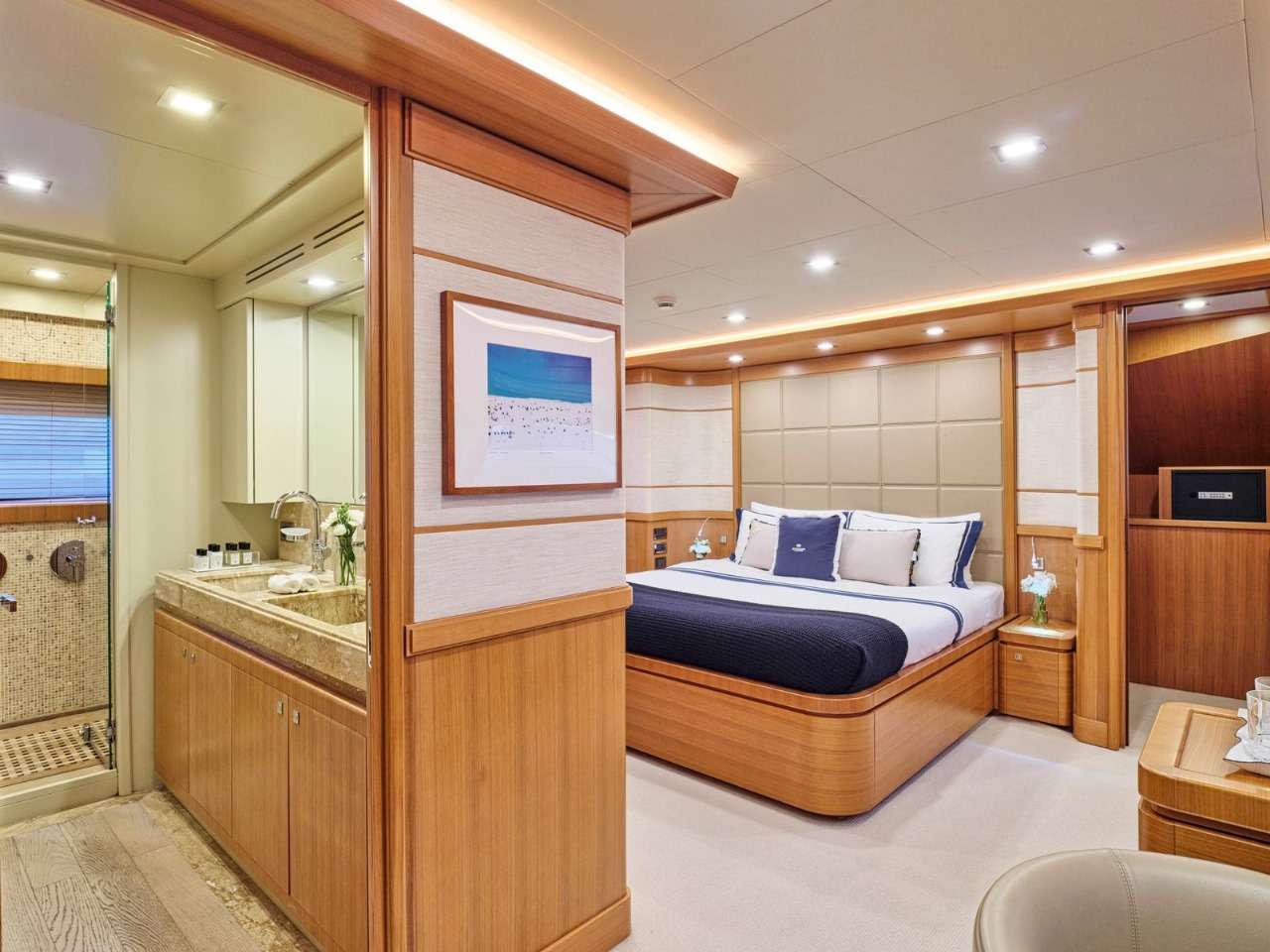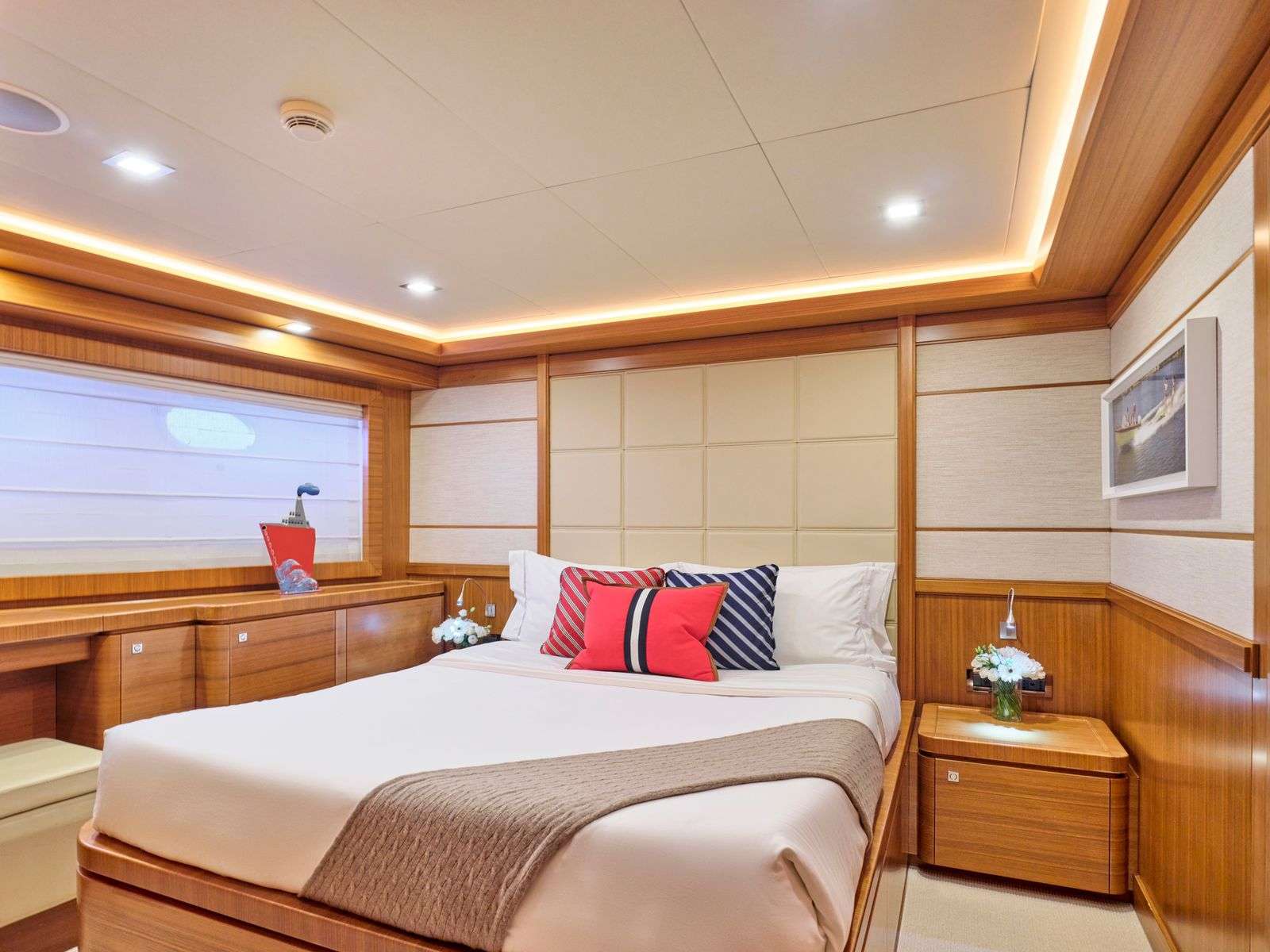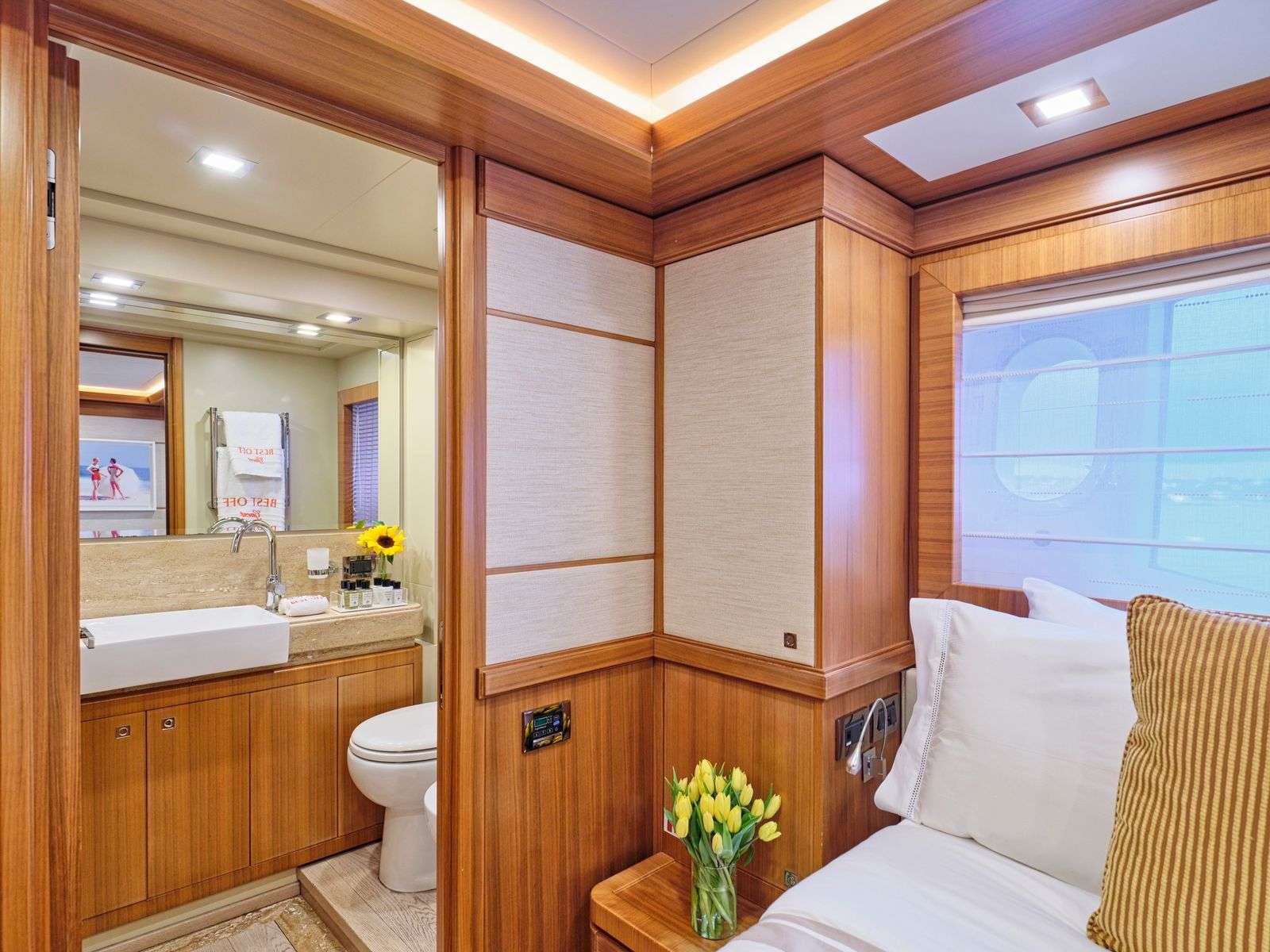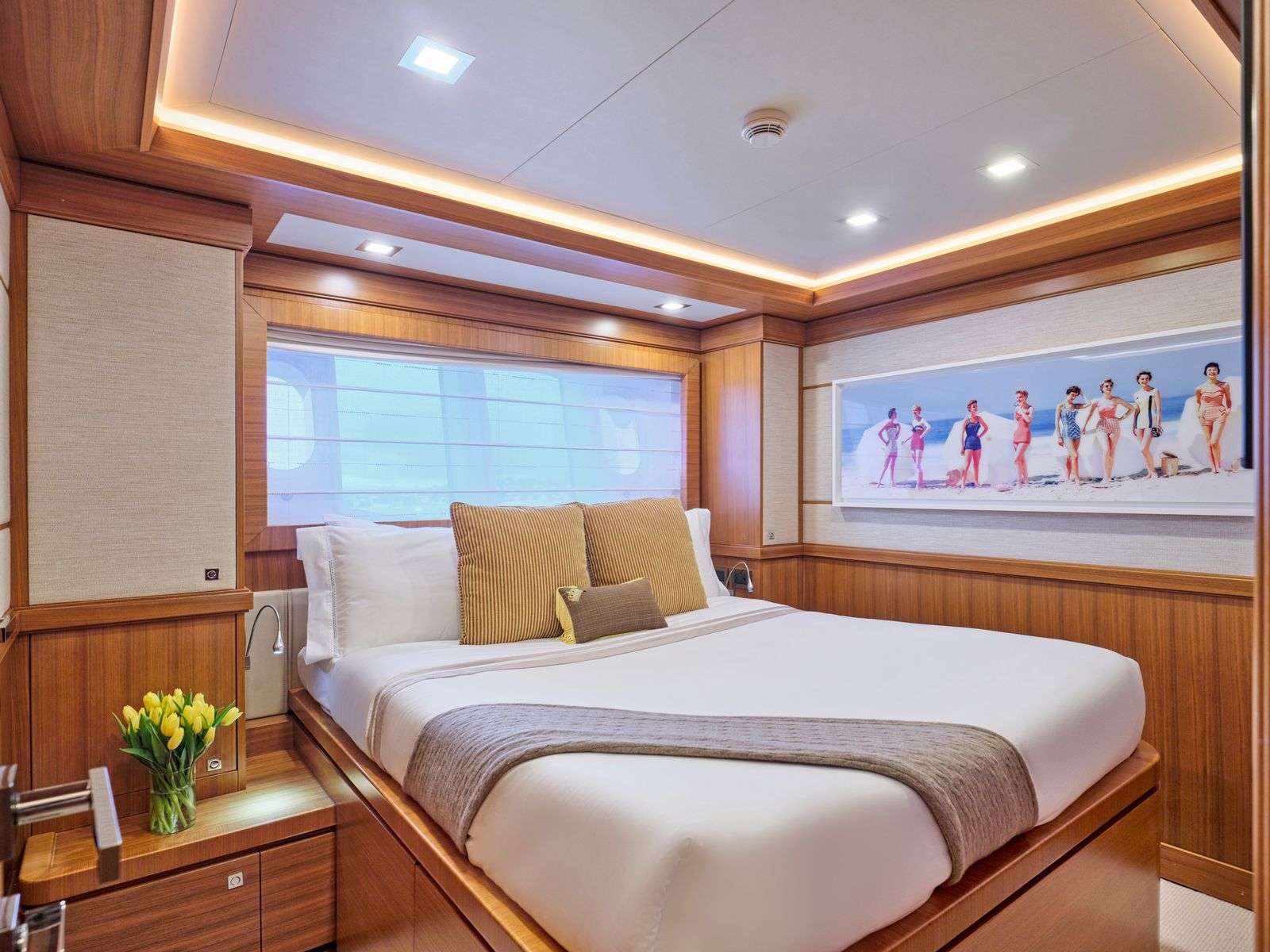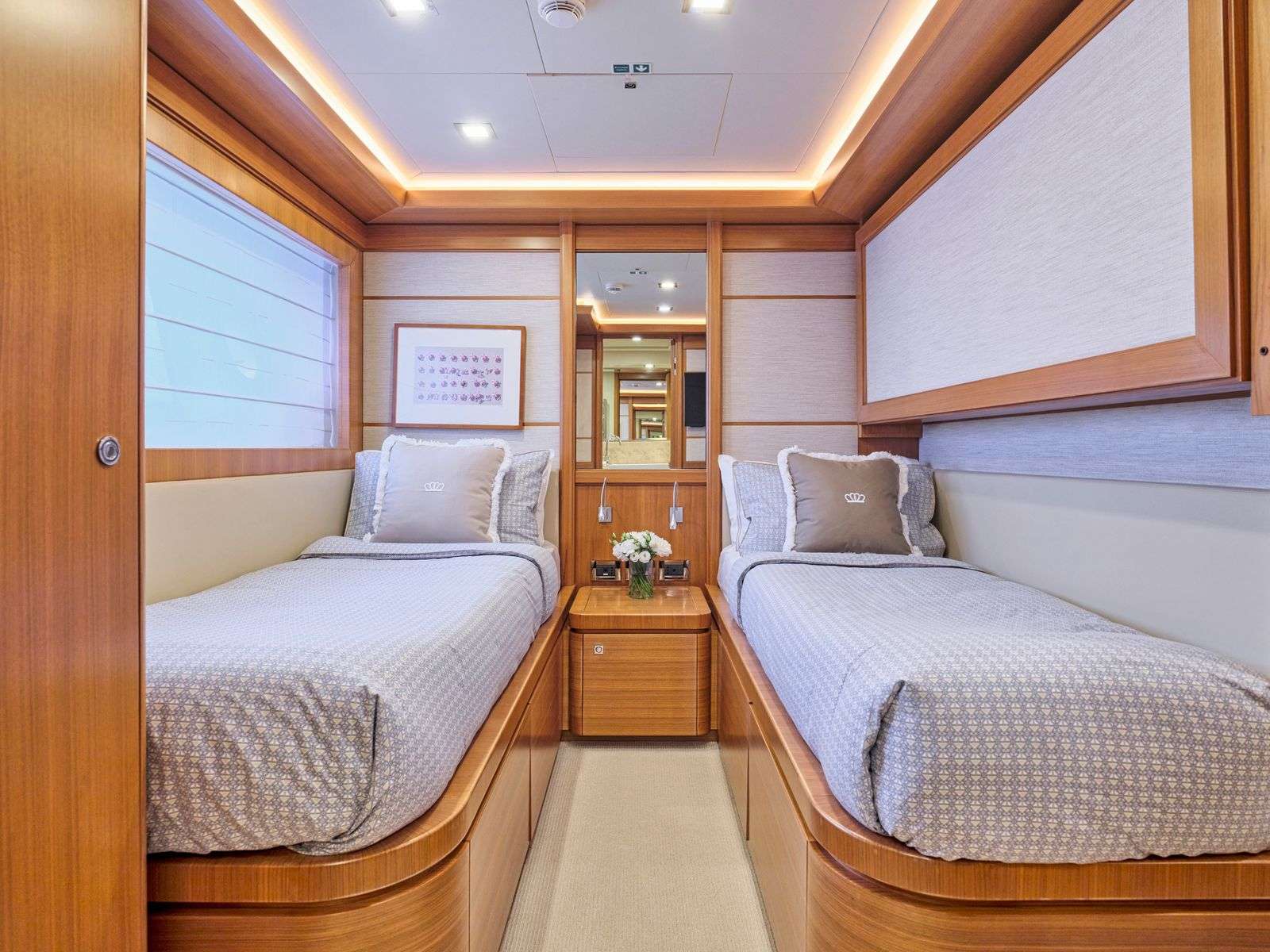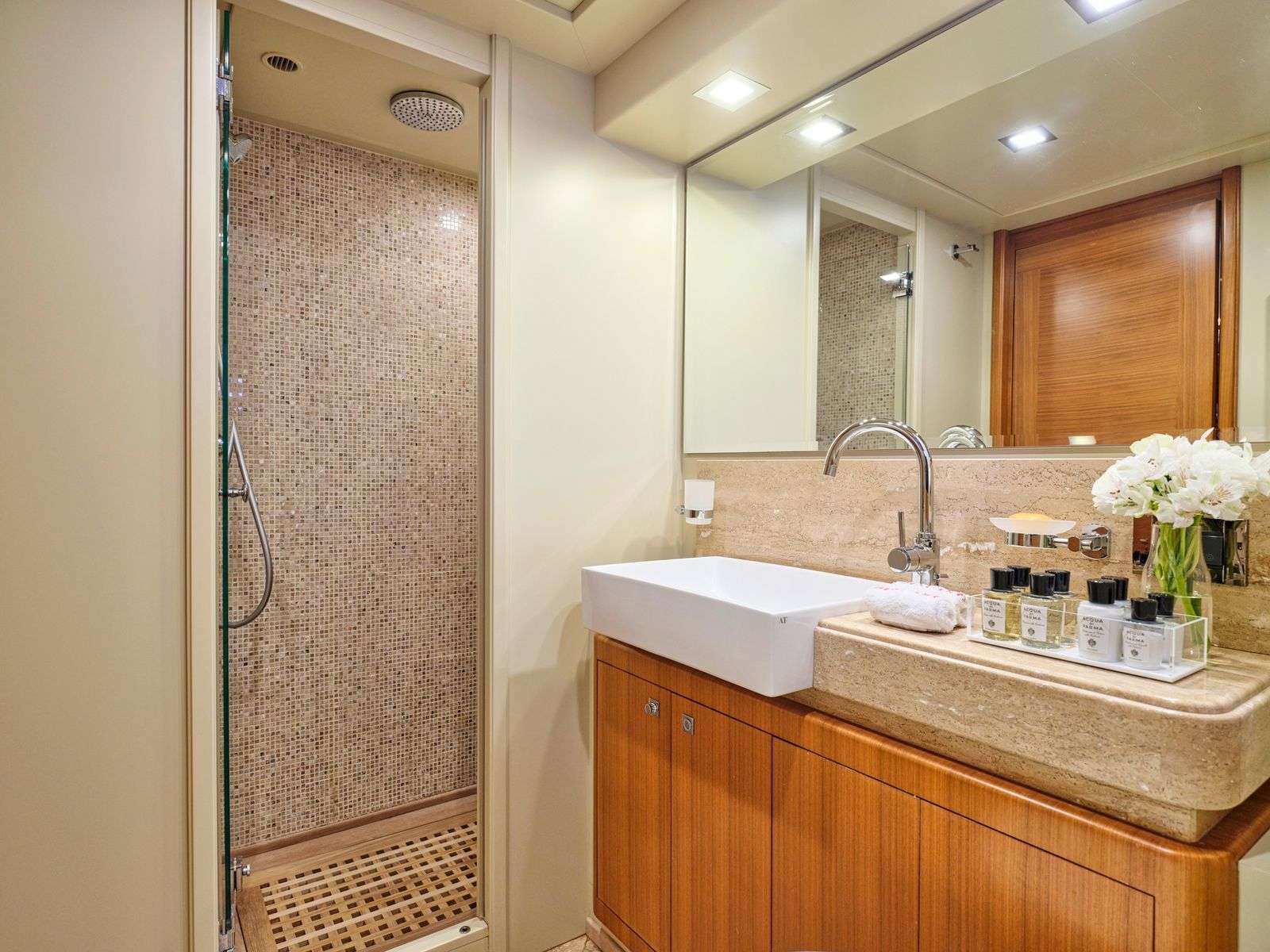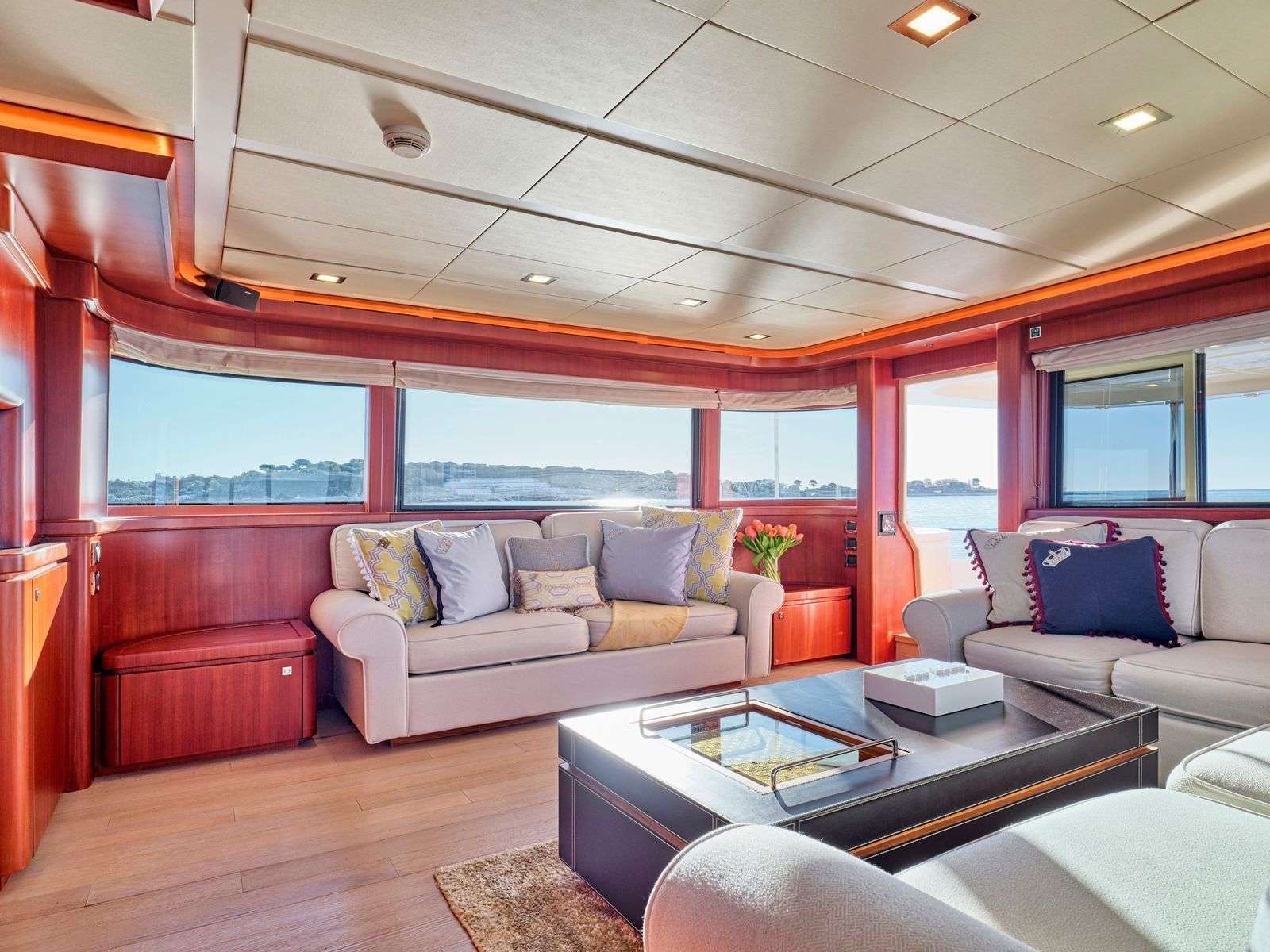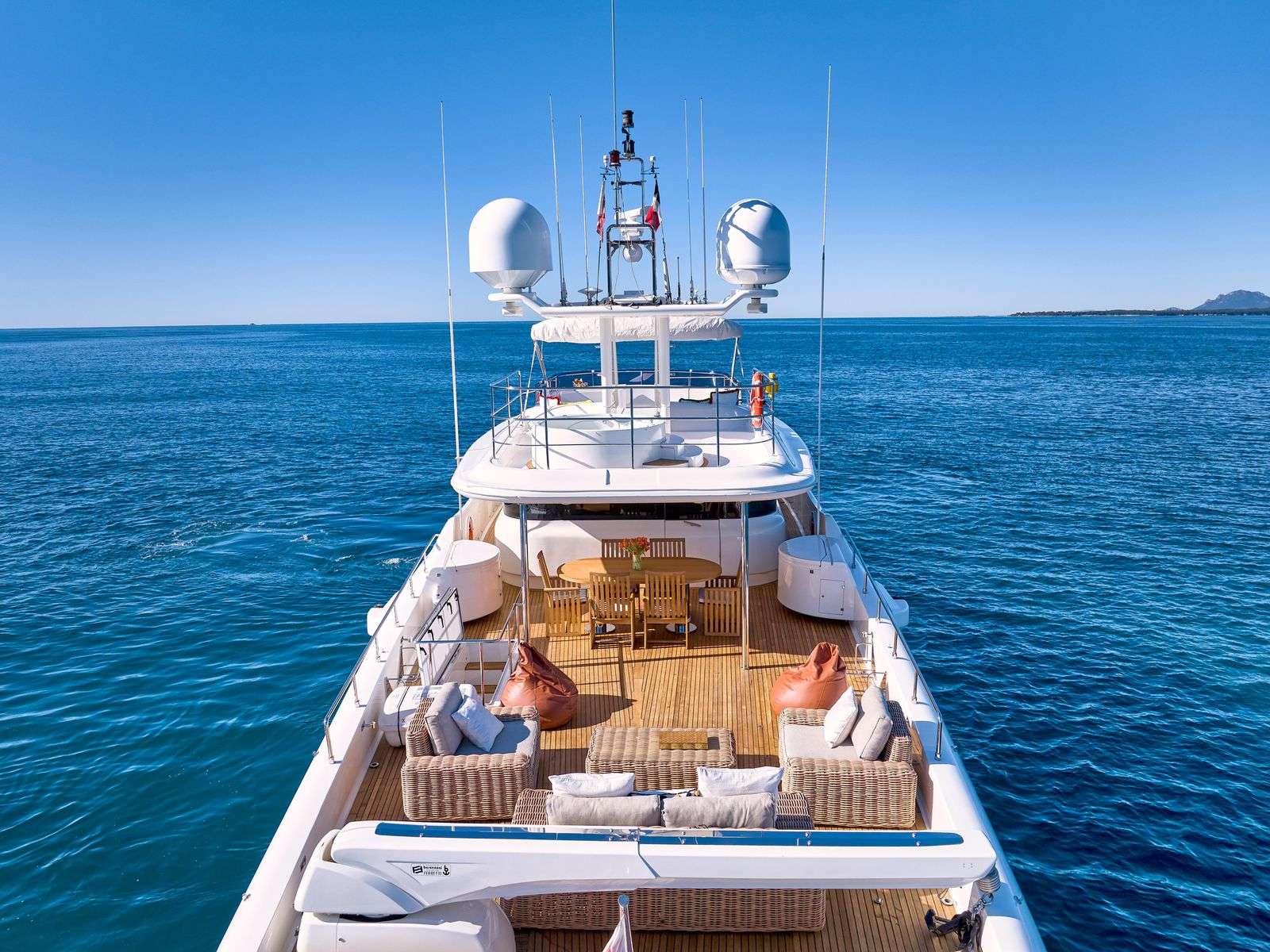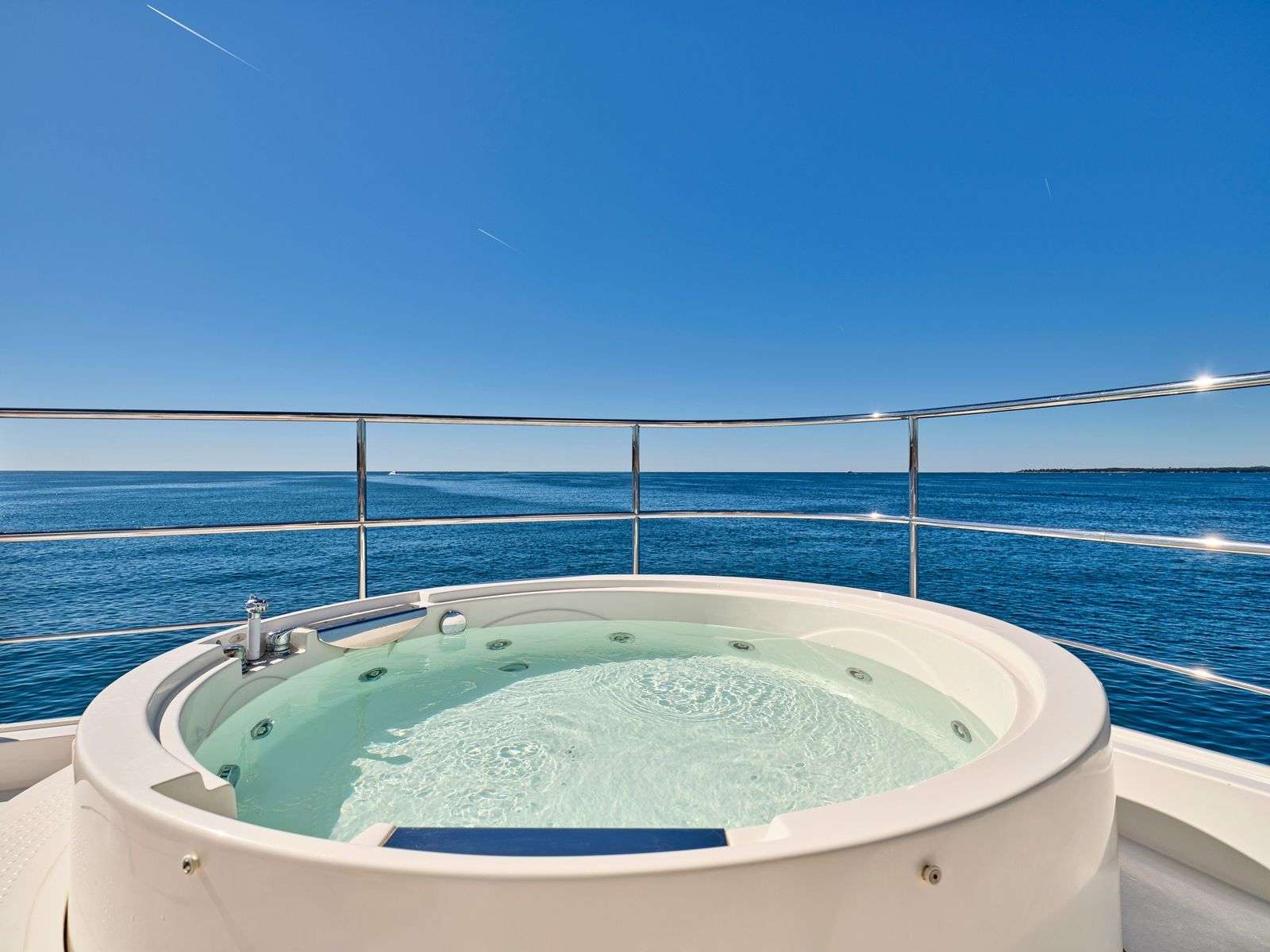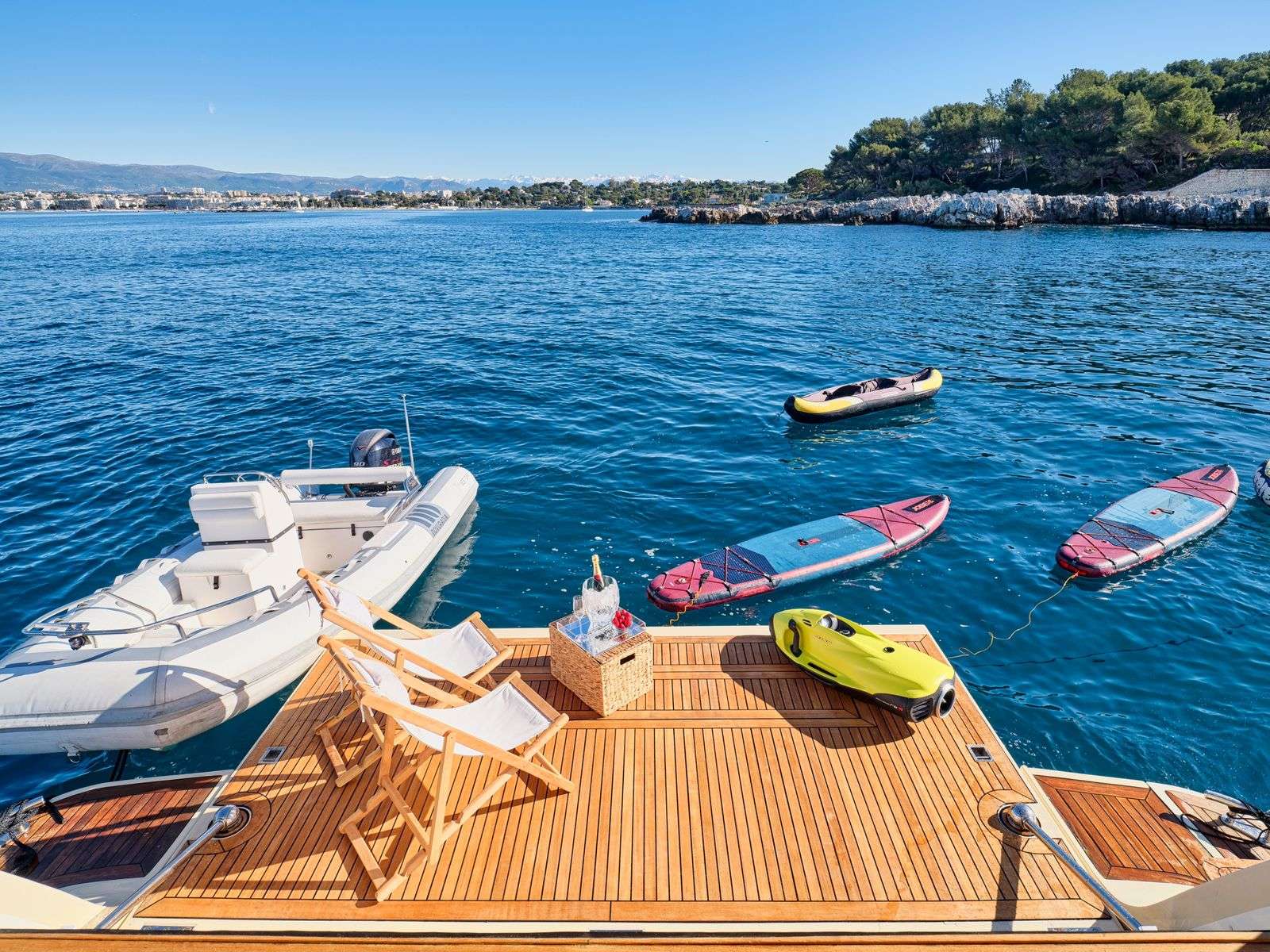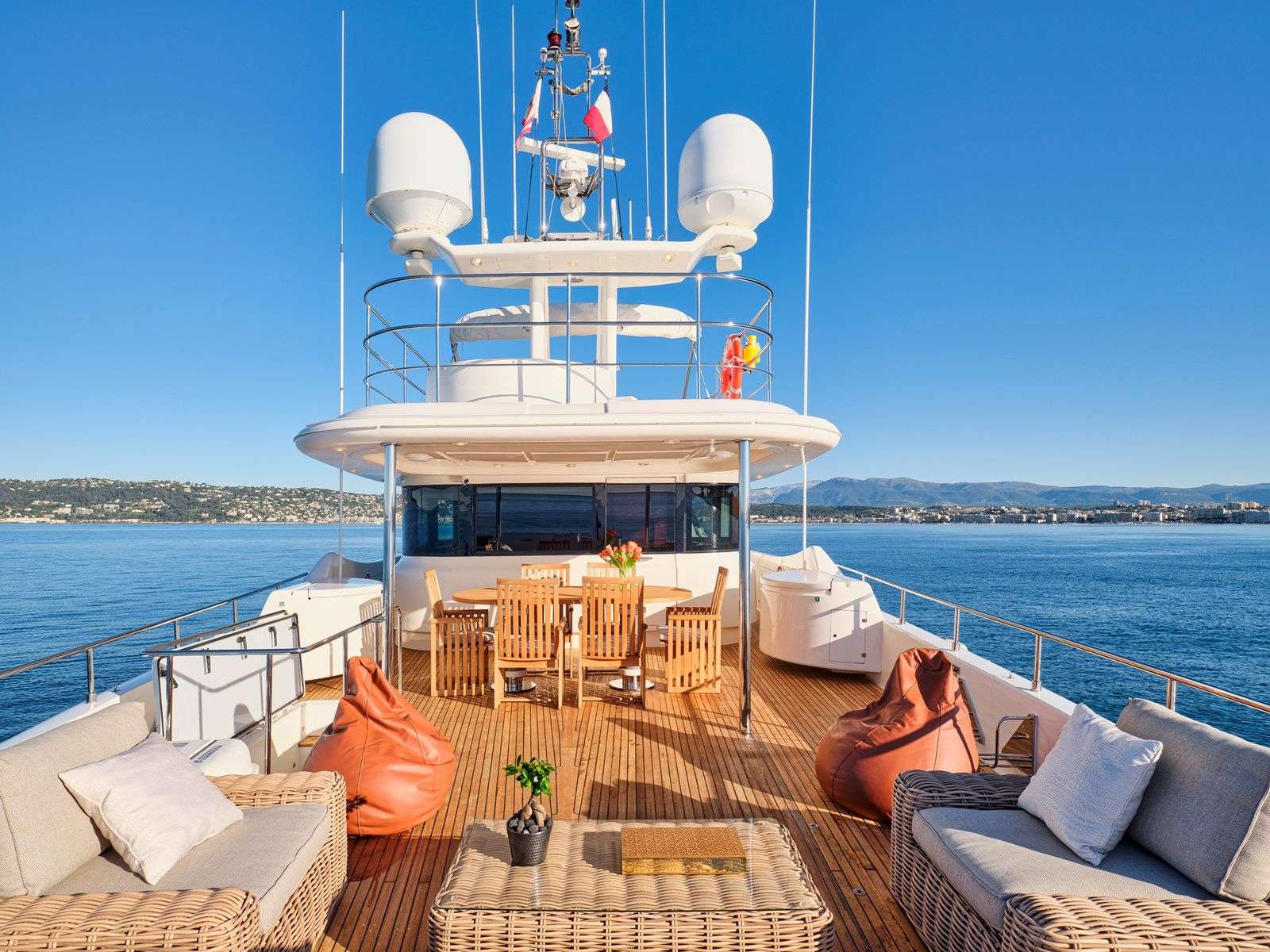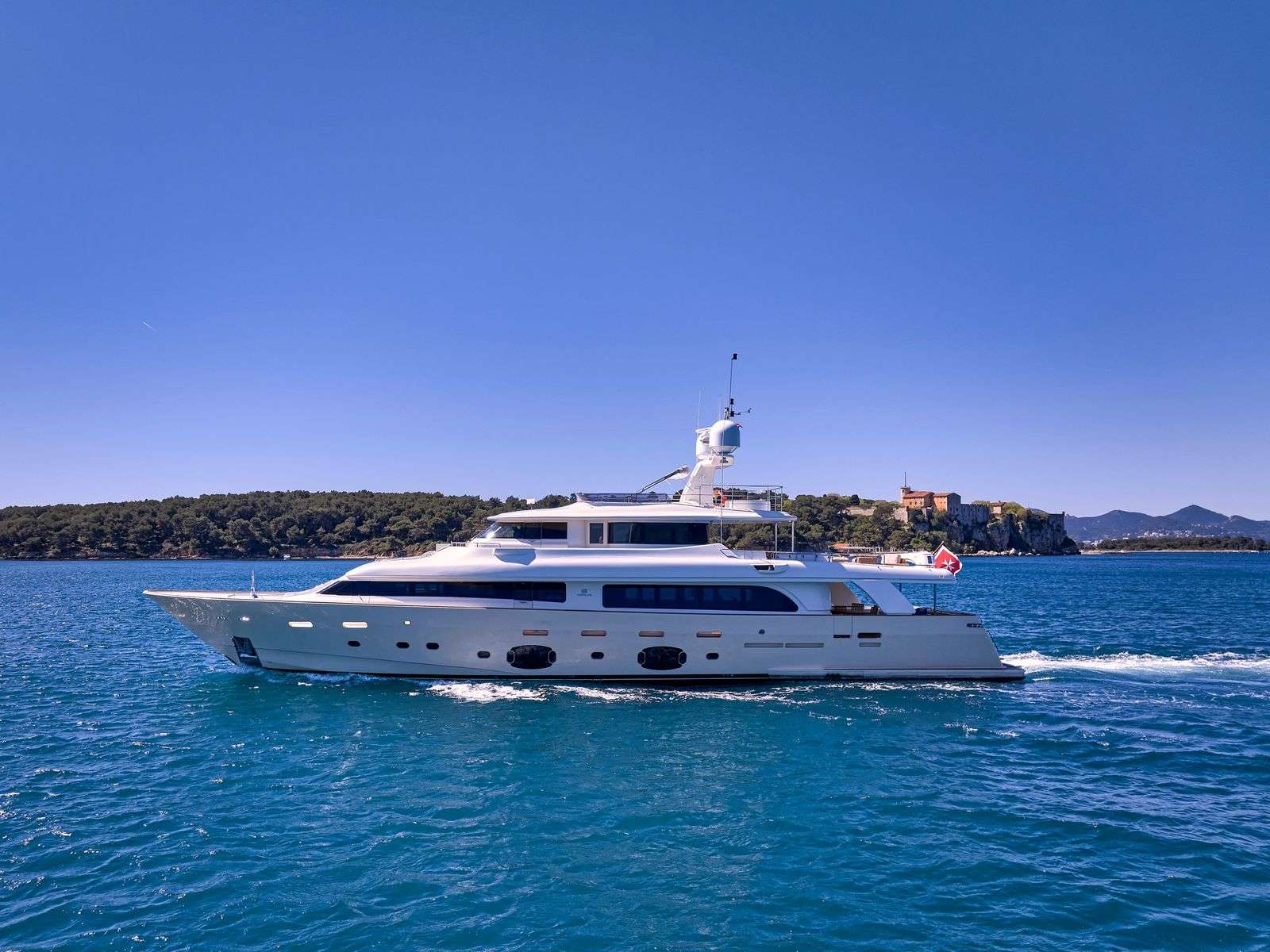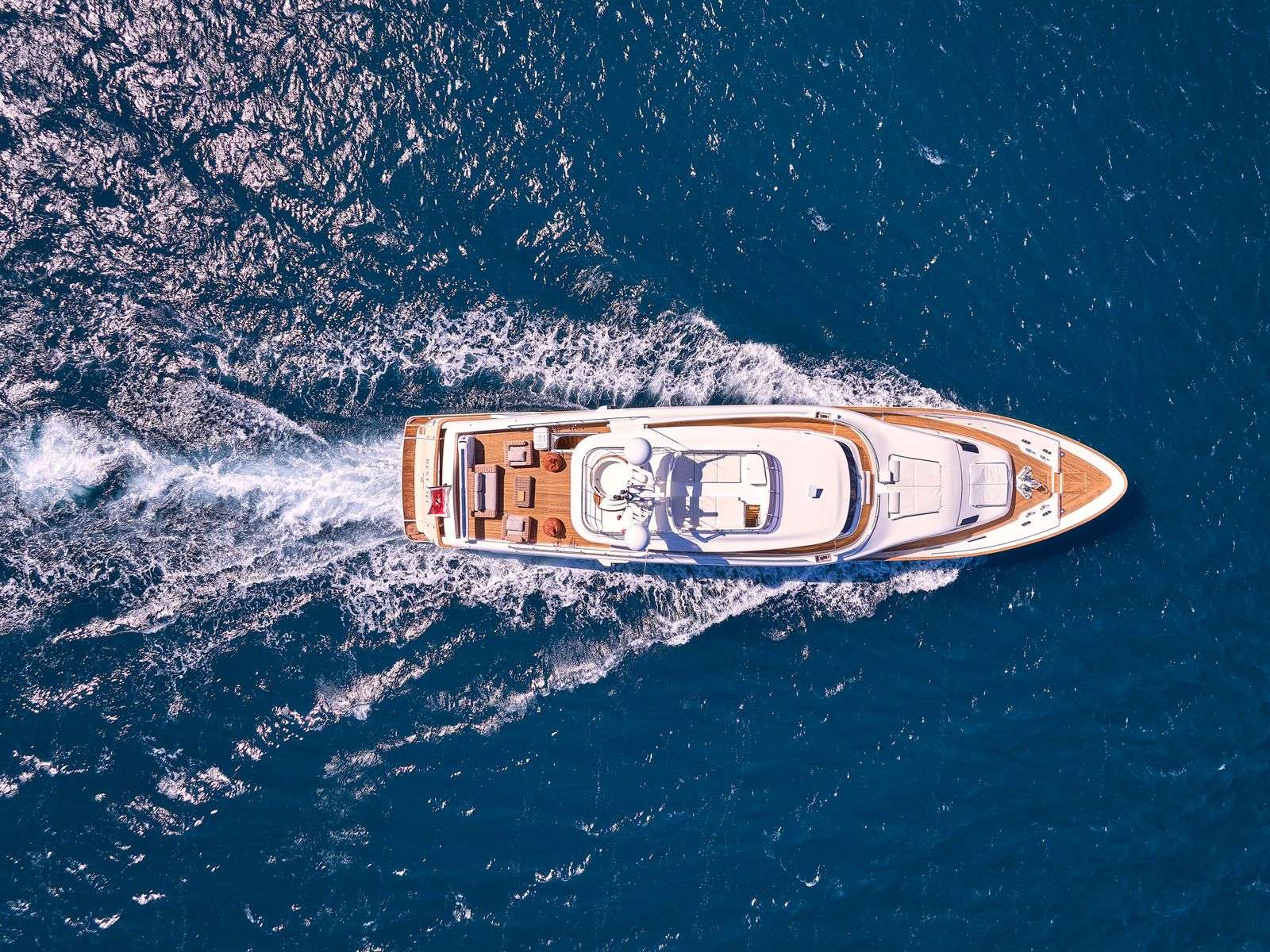 Accommodations
| | |
| --- | --- |
| Sleeps 11 guests in 5 guest stateroom(s). | |
| 2 with King Bed(s) | |
| 1 with Queen Bed(s) | |
| 1 with Double Bed(s) | |
| 1 with Twin Bed(s) | |
| 1 with Pullman Bed(s) | |
Details
A Master cabin with King Size Bed (2.00cm x 1.80cm) on the Main Deck with 2 Walk-in closets, Safe and en-suite facilities: Double Shower and Wash Basins, WC and Bidet. Total Cabin Size: 22 sq. m
Second VIP Master cabin with King Size Bed (2.00cm x 1.60cm) full beam on the lower deck with large windows on both sides (port and starboard) which can be opened. Walk-in closet with safe, Bathroom with double washing, large shower, WC & Bidet.
VIP Cabin with Queen Size Bed (2.00m x 1.60m) with en-suite facilities on the lower deck
Double Cabin Starboard Side with Queen size bed and en-suite facilities (Bed size: 1.80m x 1.50m)
Twin Cabins with One Pullman bed with en-suite facilities on the lower deck. (Twin Bed size: (1.80m x 80cm))
TV, Stereo with CD and USB with in all cabins
32" TV in both Master Cabins
Apple TV in all Cabins
Specifications
| | |
| --- | --- |
| Guests | 11 |
| Staterooms | 5 |
| # Of Crew | 6 |
| Length | 108.00 Ft / 33.00 m |
| Beam | 7.00 m |
| Draft | 2.3 m |
| Built - Refit: | 2010 - 2020 |
| Builder | Ferretti |
| Cruising Speed | 13 |
Watersports
| | |
| --- | --- |
| Dinghy | 5m Novurania |
| Dinghy HP | 80hp |
| Paddle Boards | 2 |
| Wakeboards | 1 |
| WaveRunners | 1 |
| Scuba Diving | Yacht offers Rendezvous Diving only |
Other Toys
5m Novurania Tender with Yamaha outboard engine (90hp)
Jet Ski Yamaha Waverunner, Three Seater
1 x Seabob F5
2 x Sublue Underwater SeaScooters
2 x Paddle Boards for Men and Women
1 x 3 Person Inflatable Sofa
1 x Double Donut
1 x 2 Person Towable Tube
1 x 3 Person Banana
1 x Wakeboard
1 x 2 Person Canoe
2 x Diving Equipment to be used with licence
3 x Fishing Rodes
4 x Snorkelling Equipment
1 x Stationary Bike
2 x Water Ski (adult and kids)
Pricing
From: 98,000
To: 110,000

Crew Profile
George Georgakopoulos
Captain
Greek
George, was born in 1984 in Greece. He joined the yachting industry in 2009, and quickly earned higher ranks, starting from Deckhand and Bosun to Chief Officer positions on yachts from 29 to 72m, cruising on both sides of the Atlantic. He has successfully completed several STCW training courses, including First Aid, Fire Fighting, Fast Rescue Boats, SSO Ship Security Officer, and he has a certificate for masters of Cargo and Passenger Ships. He has substantial experience cruising in the South of France and Italy in the past 10 years as Chief Officer of the same boat and is very comfortable interacting with guests, having worked on charter yachts throughout his career. George is meticulous and proficient in budget management and voyage planning in addition to navigation. He is a committed team leader of multi-skilled teams with the capacity to function in difficult environments and uphold the highest standards of health, safety, and the environment. In addition to cycling, swimming, and being a PADI certified diver, George enjoys travelling and discovering other cultures.
Languages: English, Greek
Previous Yachts: m/y Domino, m/y RM Elegant, m/y Omega

Dimitris Psomas
Chef
Greek
Introducing Dimitris Psomas, a highly skilled chef with extensive experience in catering and cooking, and a passion for baking, confectionery, and seafood. Dimitris has worked in various settings, including private villas, motor yachts, boutique hotels, and restaurants, where he has created, presented, and modified food menus to the highest standards of quality and hygiene. He has also been responsible for ordering and managing stock, maintaining kitchen organization and cleanliness, and ensuring the safety and proper functioning of utensils and appliances. Dimitris is an avid cyclist, hiker, and swimmer, which reflects his active lifestyle and adventurous spirit. He has a talent for creating new flavors and garnishing dishes with an elegant and playful touch. His latest position was as a chef on the 40m Motor Yacht Parvati, where he demonstrated his expertise in providing exceptional culinary experiences to charter guests. As the new chef aboard "Best Off," Dimitris is poised to impress with his delicious creations and attention to detail. His love for seafood will undoubtedly shine, as he sources the freshest ingredients to create mouth-watering dishes for guests to enjoy. With his expertise in bakery and confectionery, guests can expect delightful desserts that are both visually stunning and delicious. Dimitris' passion for cooking and his commitment to excellence make him an invaluable addition to the team. His ability to create memorable dining experiences will ensure that guests aboard the "Best Off" will have an unforgettable time.

Hanna Ryshkova
Chief Stewardess
Ukranian
Hanna is an experienced and dedicated Chief Stewardess with over 10 years of hospitality industry experience in multicultural environments. With a passion for adventure and a strong commitment to teamwork, Hanna has found her calling in yachting, where she combines her expertise in the hospitality industry to create exceptional guest experiences. Hanna possesses a solid understanding of all areas of the interior and is proficient in various service techniques, including formal dining and wine service. She has worked on busy charter and private/charter yachts ranging in size from 36m to 95m, steadily progressing to her current role as a Chief Stewardess. Her impressive skill set includes expertise in inventories, provisioning, table service (including silver service), wine knowledge, mixology, flower arrangement, table settings, decoration, event planning, housekeeping, laundry, and shipyard interior jobs. In her role as a Chief Stewardess, Hanna has successfully led interior teams through back-to-back charters and owner trips, achieving outstanding feedback. She has trained green stews, organized guest celebration parties, managed provisioning, coordinated external service providers, compiled inventories, and ensured smooth operations of the interior department. Hanna is fluent in English, Ukrainian, Russian, and has intermediate language skills in Greek and French. She is adept at various service styles, including plated (formal), silver service, buffet, family style, trench style, Russian style, and Arabic style. When not on board, Hanna enjoys activities such as pilates, mountain trekking and climbing, art and craft, and exploring the field of positive psychology. With her extensive experience, skills, and dedication to creating unforgettable experiences for guests, Hanna is a valuable asset to BEST OFF's team and their guests. Previous Yachts: M/Y O'NEIRO, O'NATALINA

Meletios Oikonomopoulos
Engineer
Greek
Meletios, born in 1987, is a Greek graduate of the Kesen Maritime School who holds an engineering certificate. He started his career on board the 133-metre superyacht, Al Mirqab, on which he gained a thorough understanding of how a well-organised team must work moving up the rank from the deck to the engine room. With already 5 years of experience prior to joining the team of BEST OFF, Meletios has a meticulous attitude towards engineering work and yacht maintenance. He is well trained in various sea toys and tenders while taking care to always keep them in top condition.
In addition, he is a PADI-certified open-water diver as well as an RYA-licensed power boat handler. Meletios loves music and travelling.

Jared Pollock
Deckhand
South Africa
Meet Jared Pollock, the newest addition to the crew of "BEST OFF"! Hailing all the way from South Africa, Jared is a skilled deckhand with a passion for the sea. When he's not busy varnishing or handling lines, you might find him whipping up a mean cocktail for the guests, thanks to his bartending expertise. Jared's maritime experience includes time on the M/Y Irama, where he honed his skills in tender driving, PWC operations, and navigation watch assistance. He's also a certified RYA Powerboat and PWC operator, with an ENG 1 and STCW 2010 under his belt. Off the water, Jared enjoys photography, field hockey, and dirt biking. With his discipline, professionalism, and commitment to excellence, Jared is ready to tackle any challenge that comes his way on board "BEST OFF"!

Ane Kuun
Stewardess
South African
Ane is a dedicated stewardess who brings her exceptional service skills and vibrant energy to BEST OFF. With a warm and friendly demeanor, Ane ensures that guests feel comfortable and well-cared for throughout their stay. She has received training in the yachting industry, completing courses such as Deckhand, Stewardess, STCW '10, PDSD, RYA PWC, RYA Powerboat Level II, and Food, Health, and Safety. With previous maritime experience on a few motor yachts, Ane has honed her skills in housekeeping, polishing, painting, and deck maintenance. Her attention to detail and dedication ensure that the yacht is maintained to the highest standards. Ane's education includes a Bachelor of Arts in Humanities from the University of Stellenbosch, majoring in Psychology, English, and Sociology. Additionally, she completed a post-graduate qualification for higher education, qualifying her as a teacher. Beyond her yachting experience, Ane has worked as a primary hostess, catering to high-profile events. She has also been employed as a boxing coach, au pair, and English teacher, showcasing her versatility and passion for teaching and helping others. In her free time, Ane enjoys engaging in various hobbies, including boxing, singing, playing the piano, painting, wakeboarding, and cooking. With her skills in event planning, combat sports training, and teaching English, Ane is a valuable asset to the crew of BEST OFF. Her ability to create memorable experiences for guests and her unwavering dedication to excellence make her an invaluable addition.
Destinations