Gallery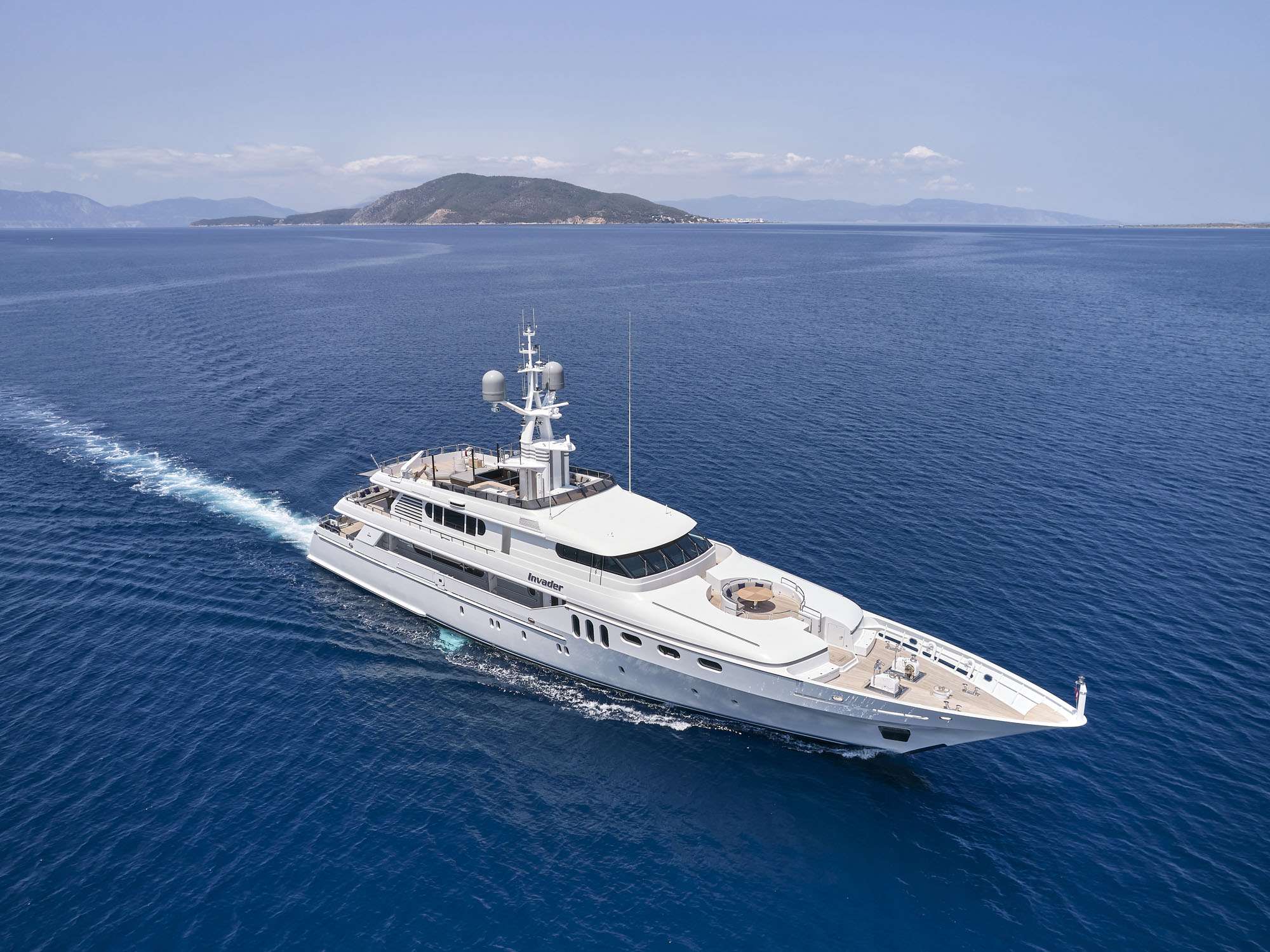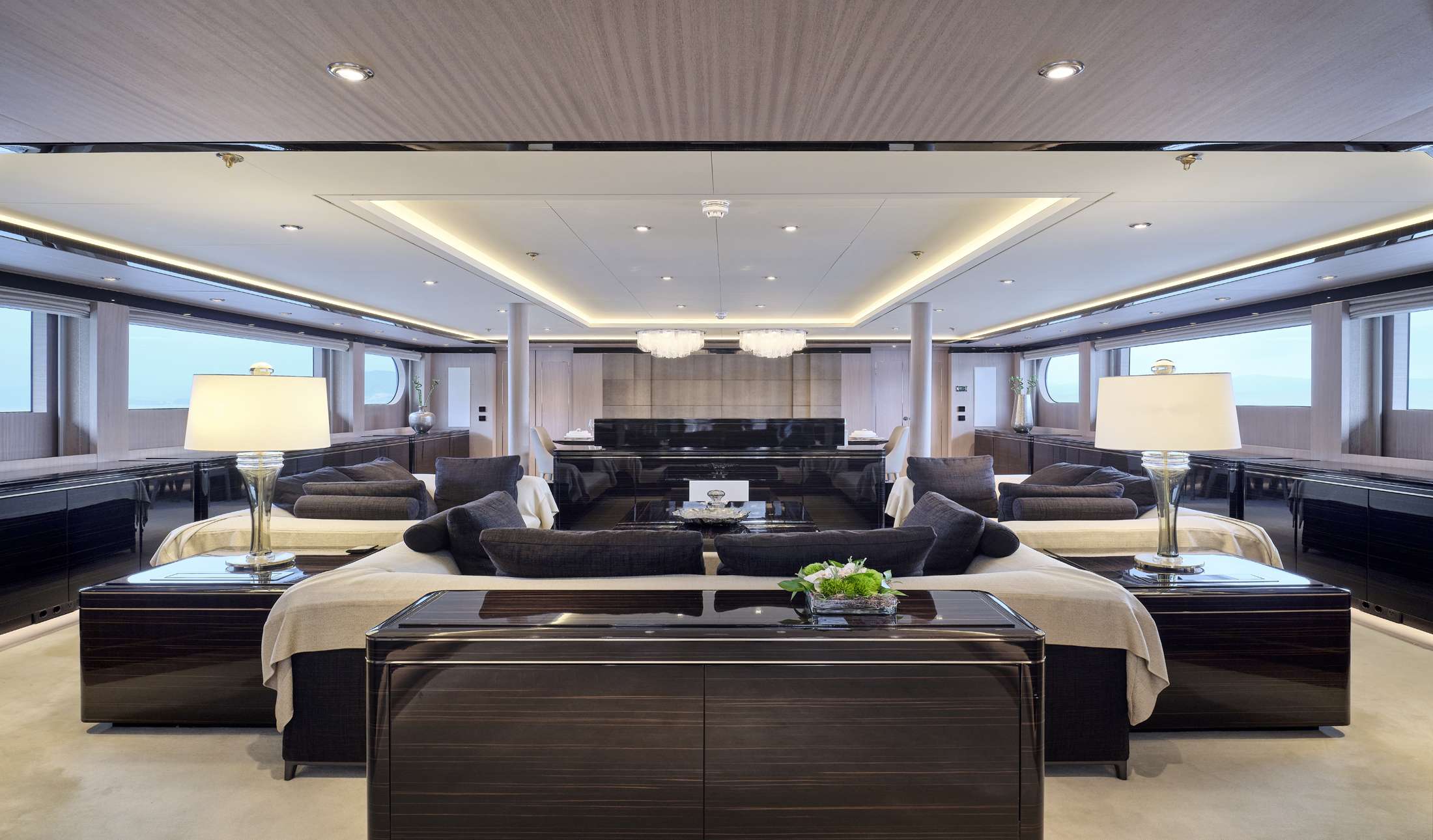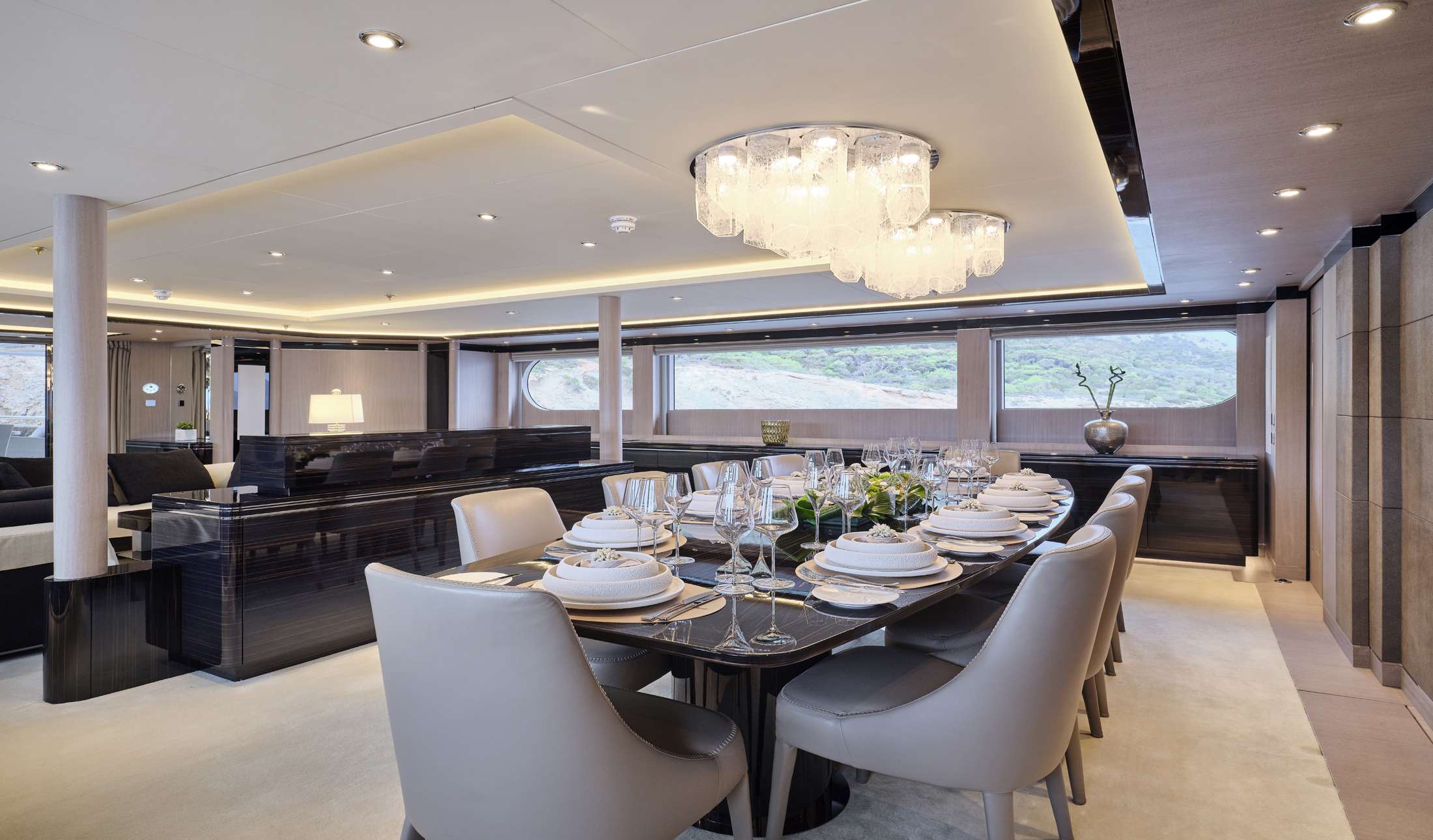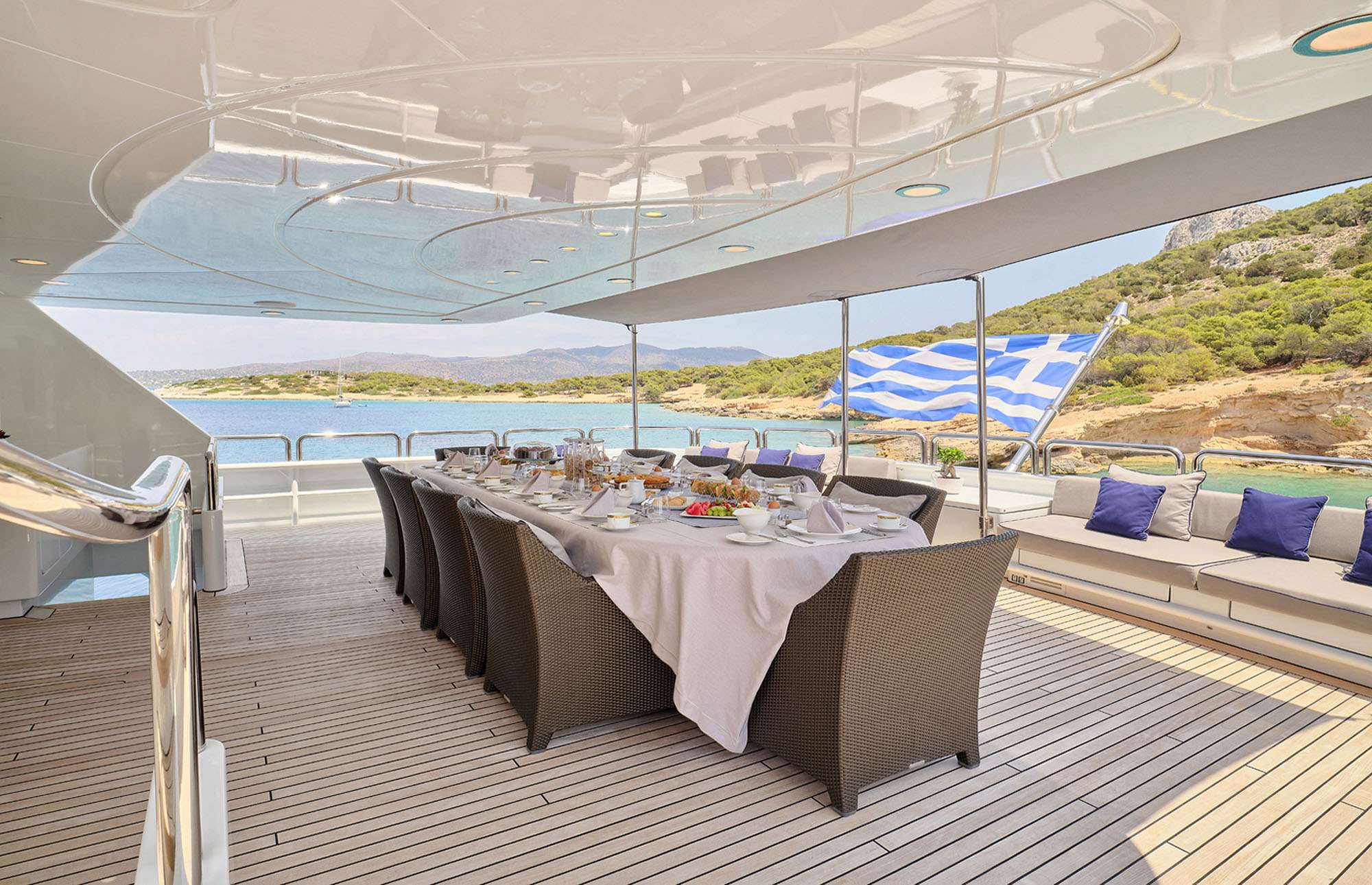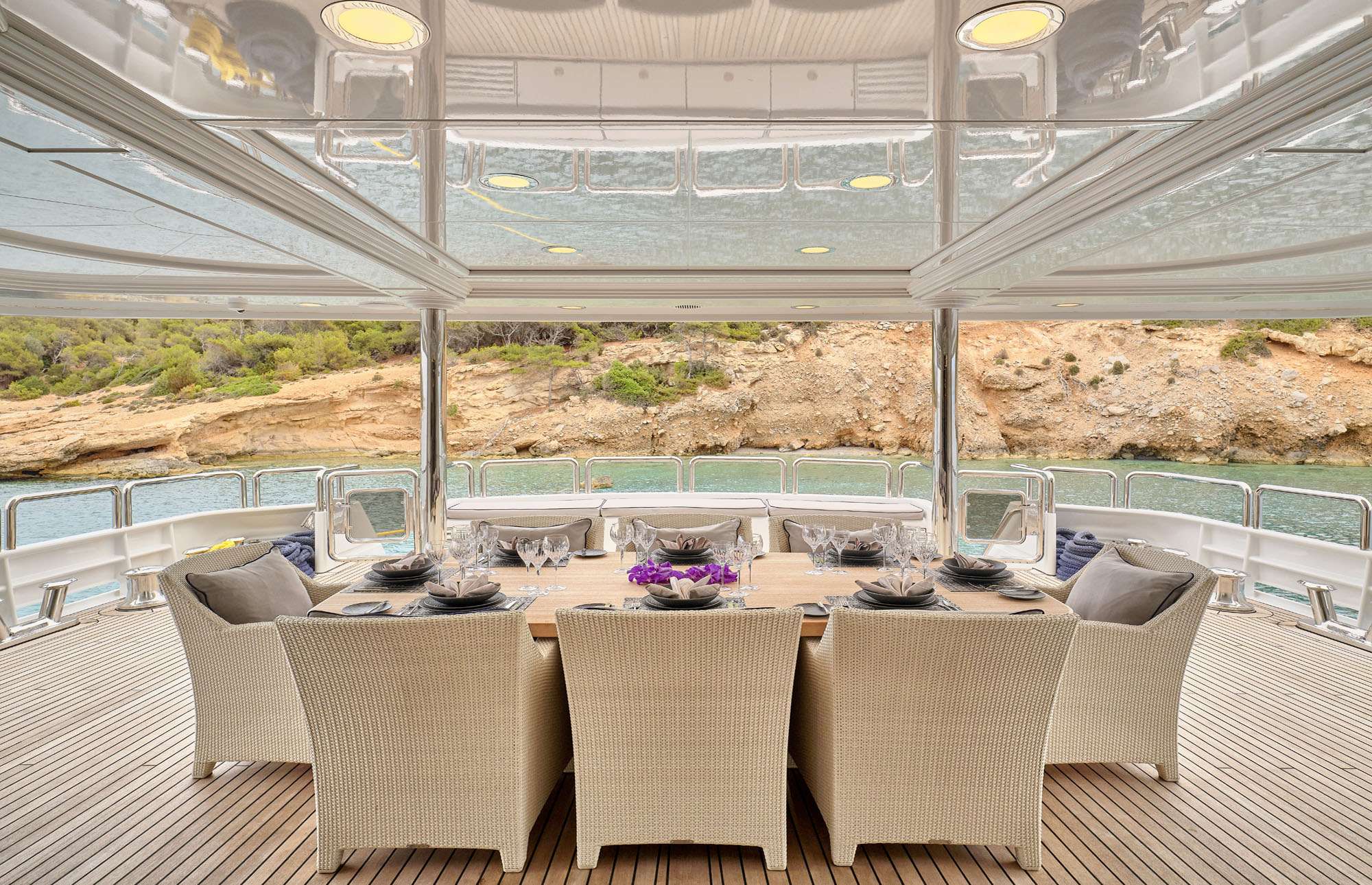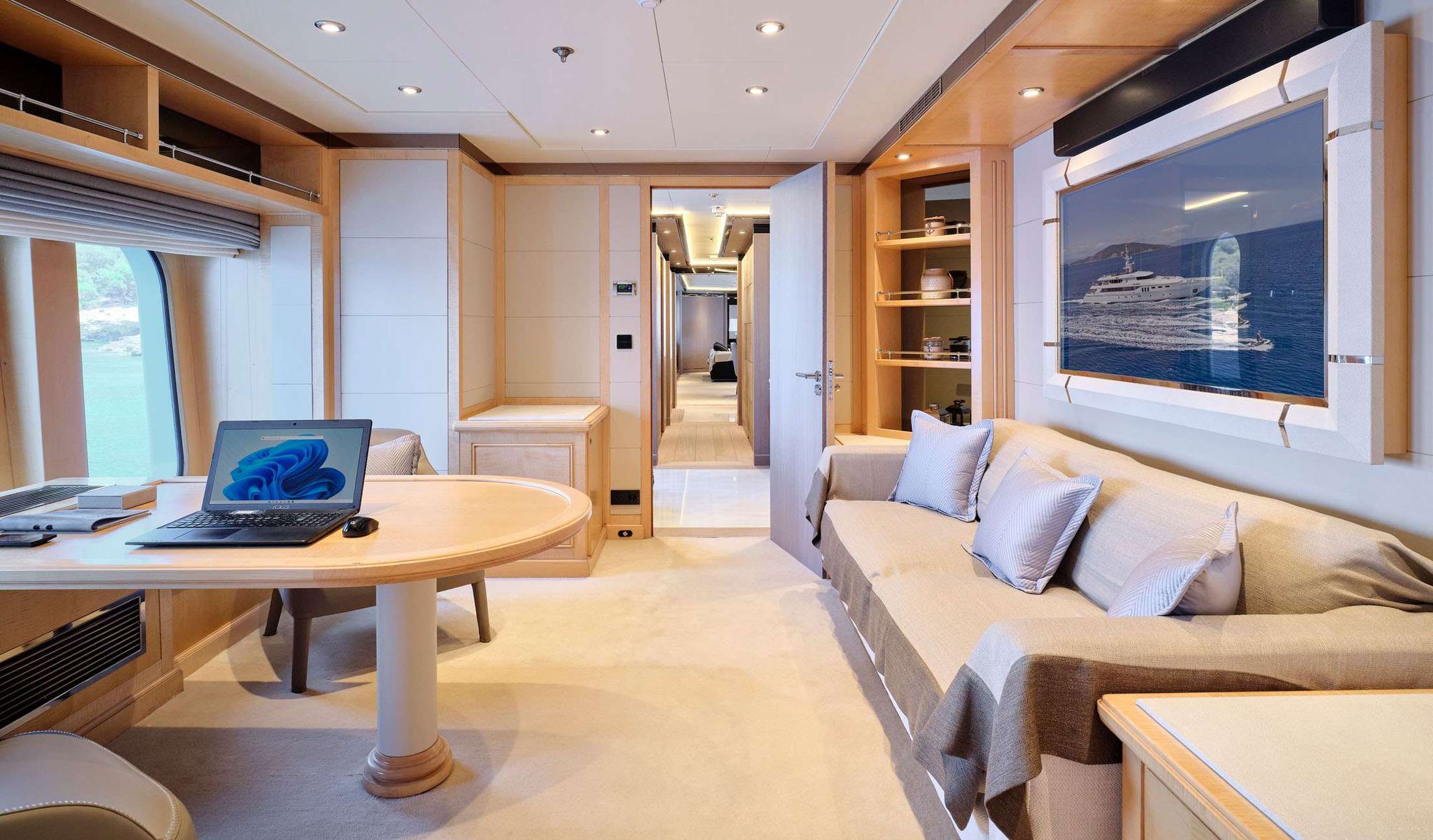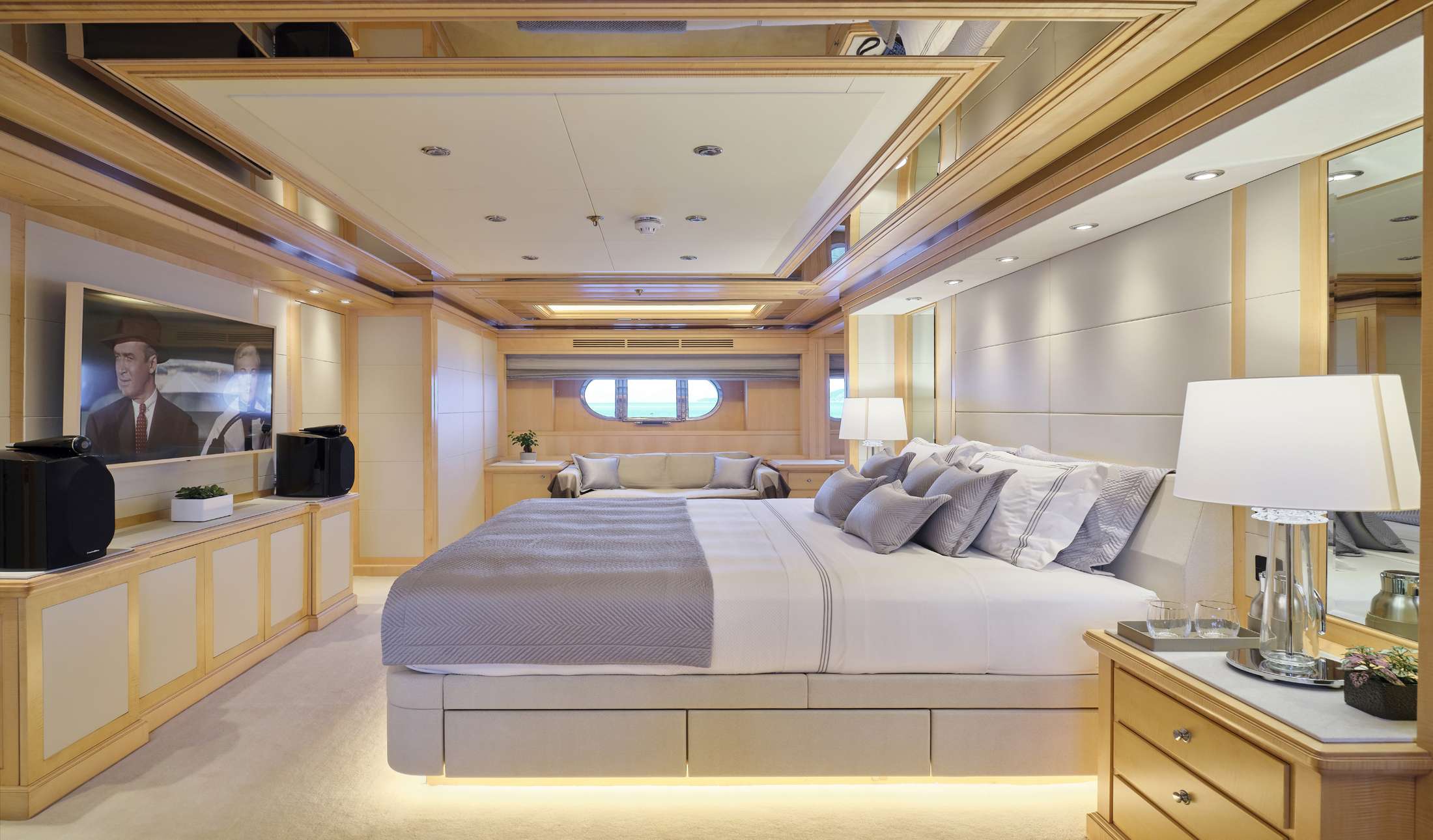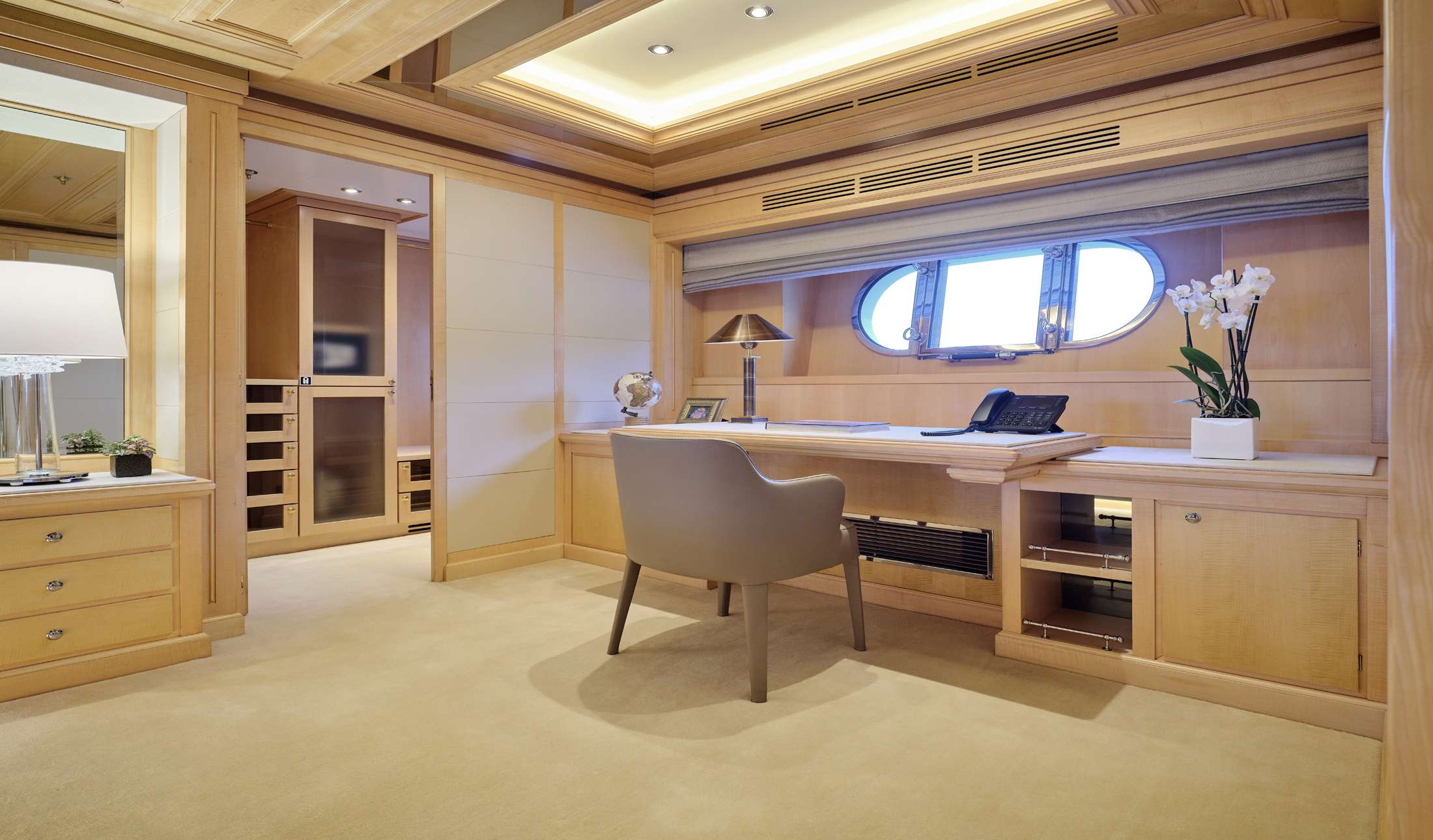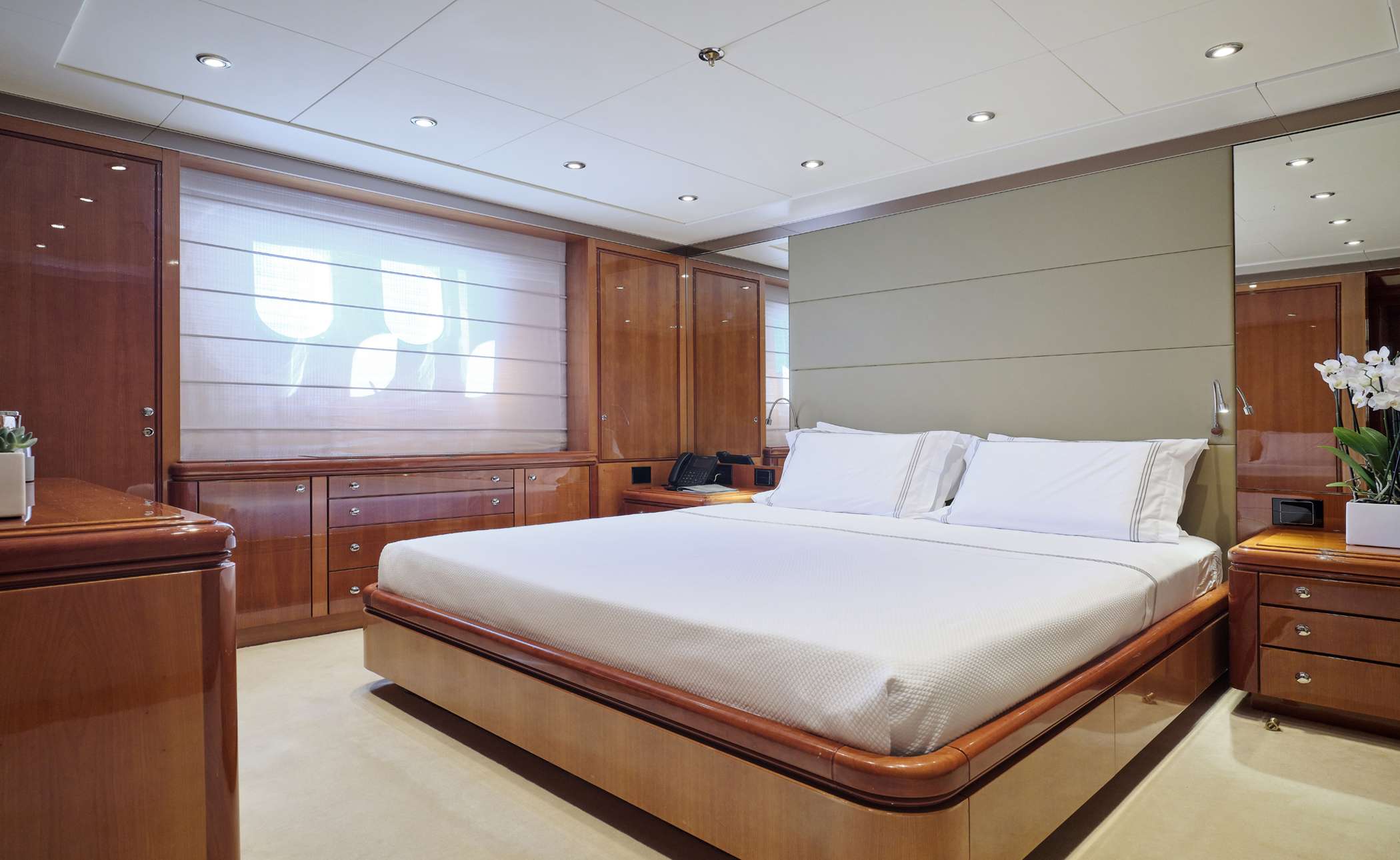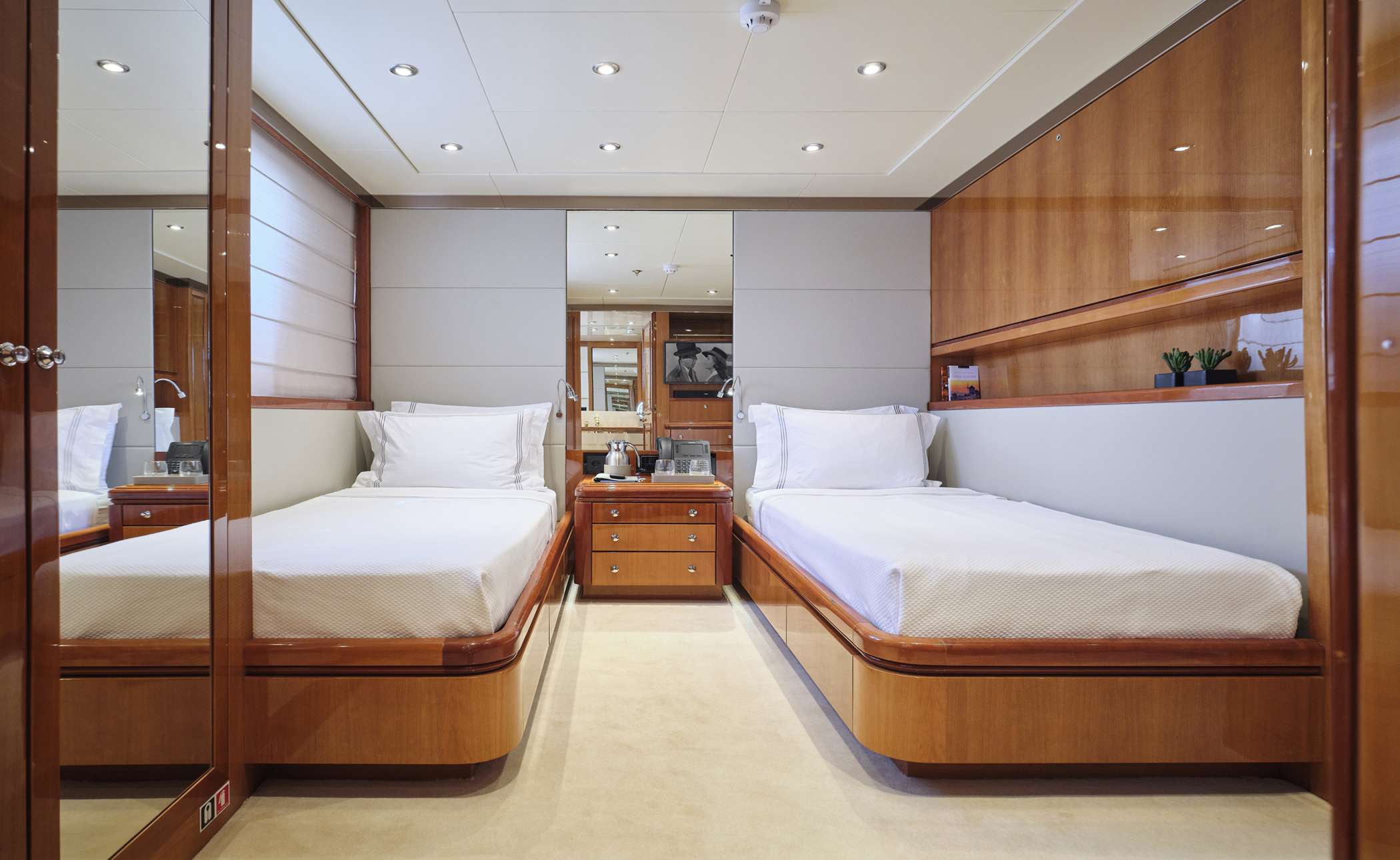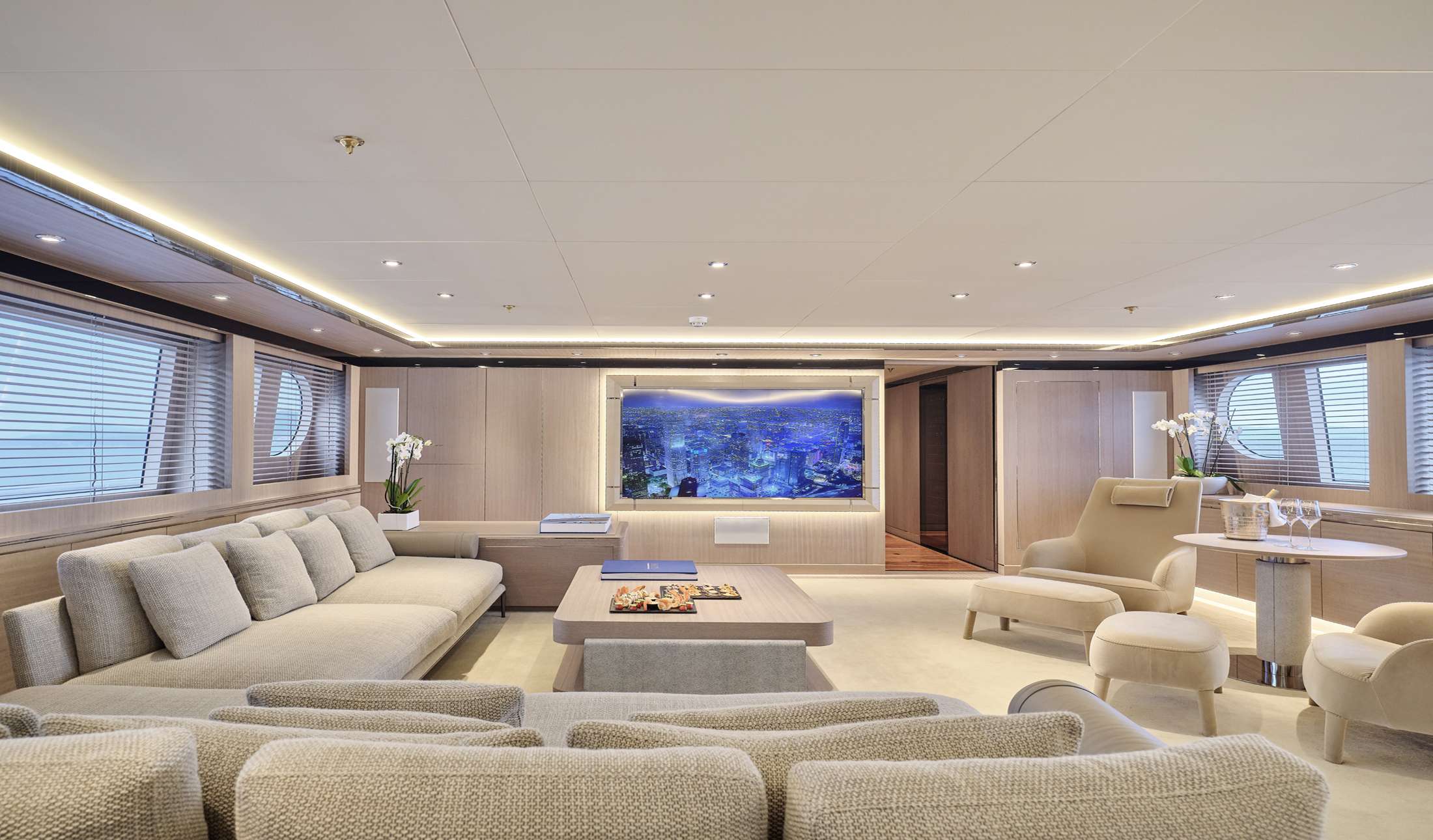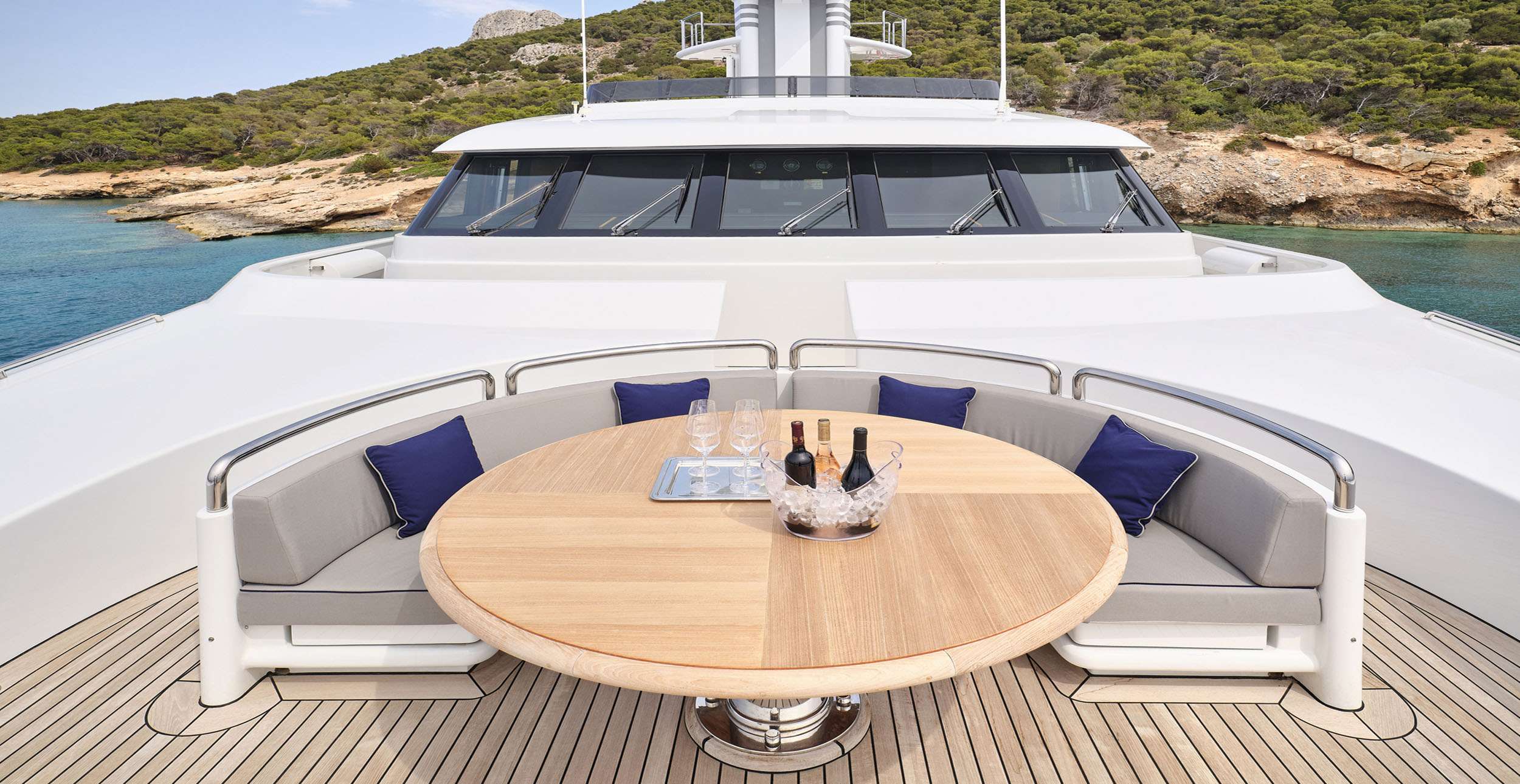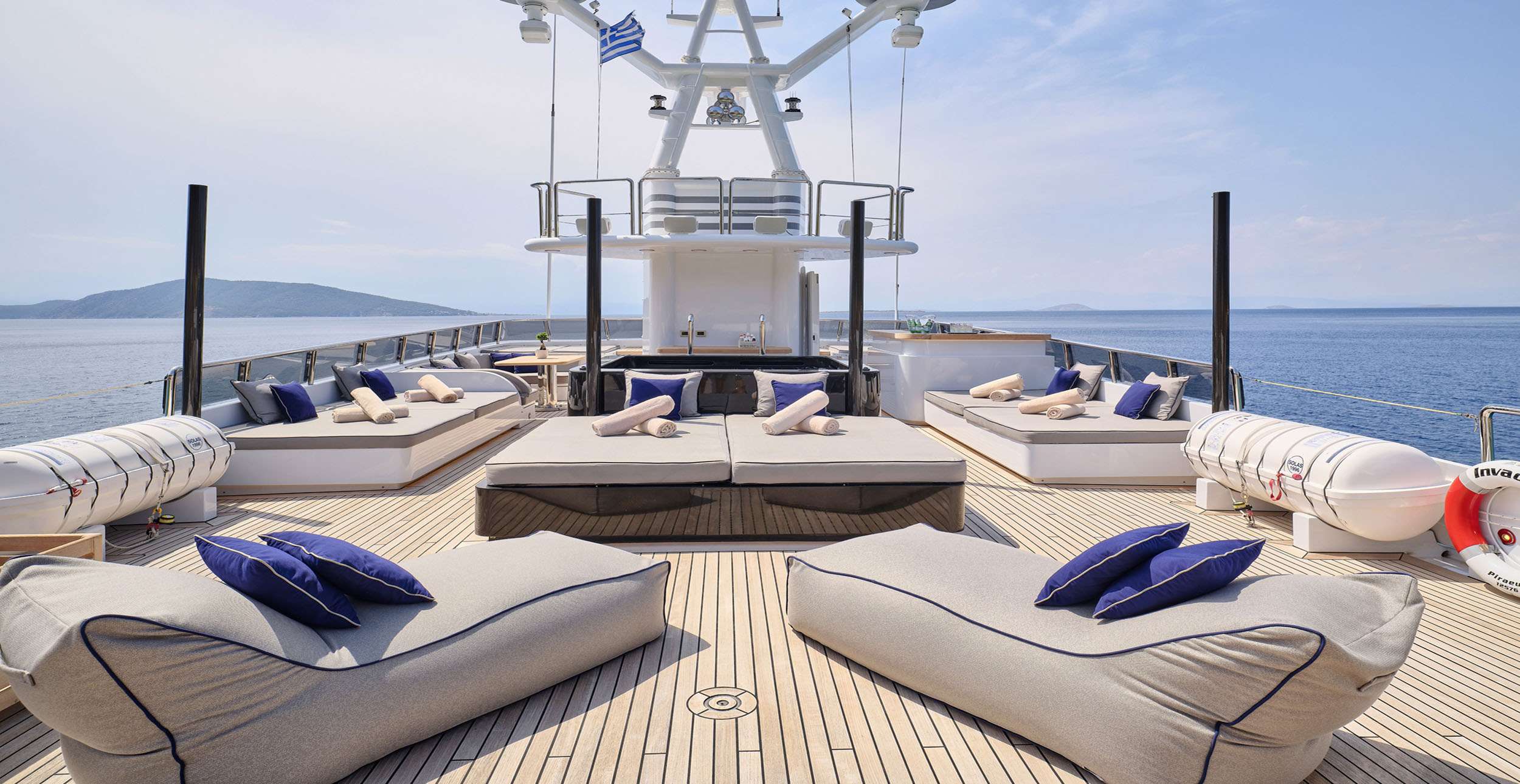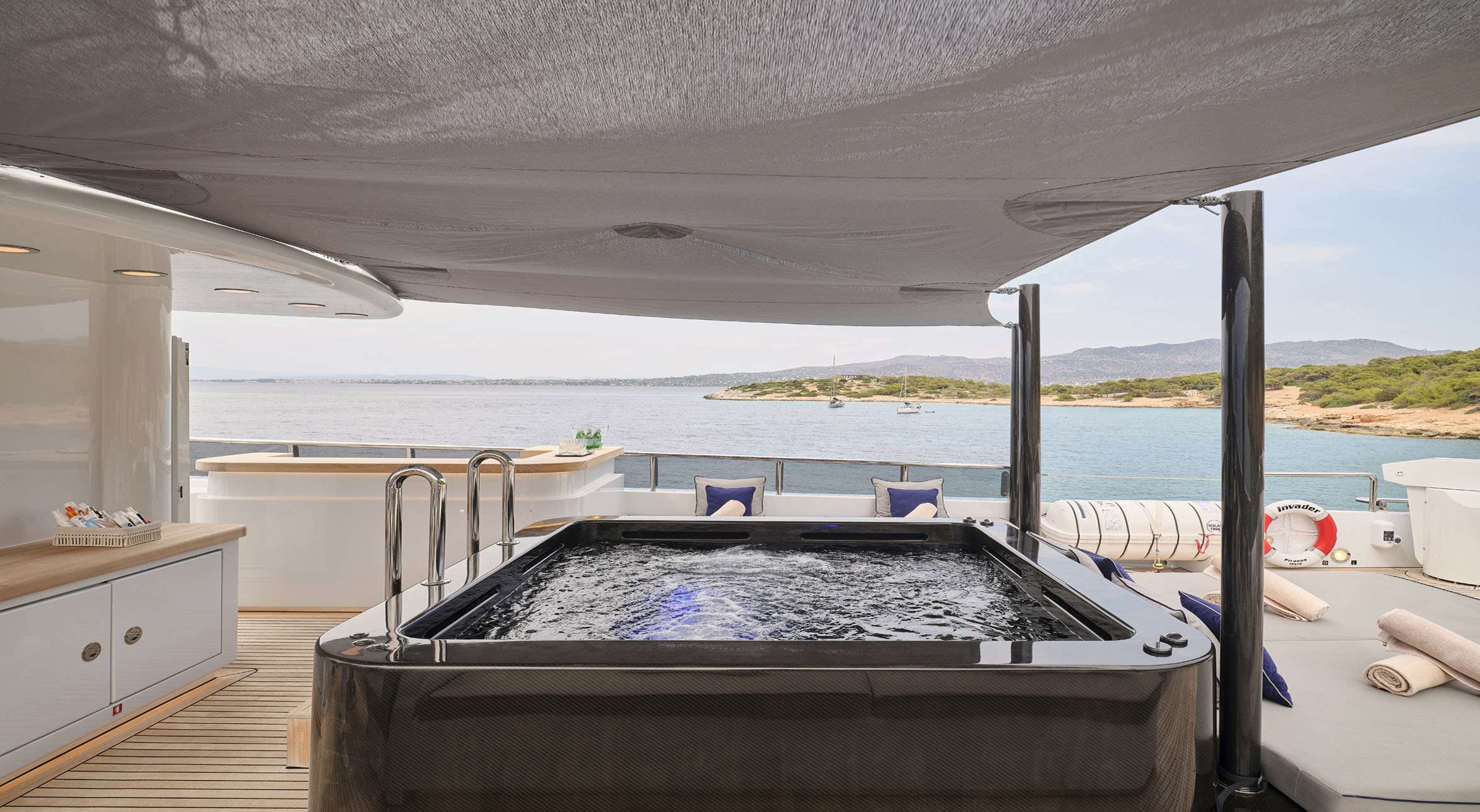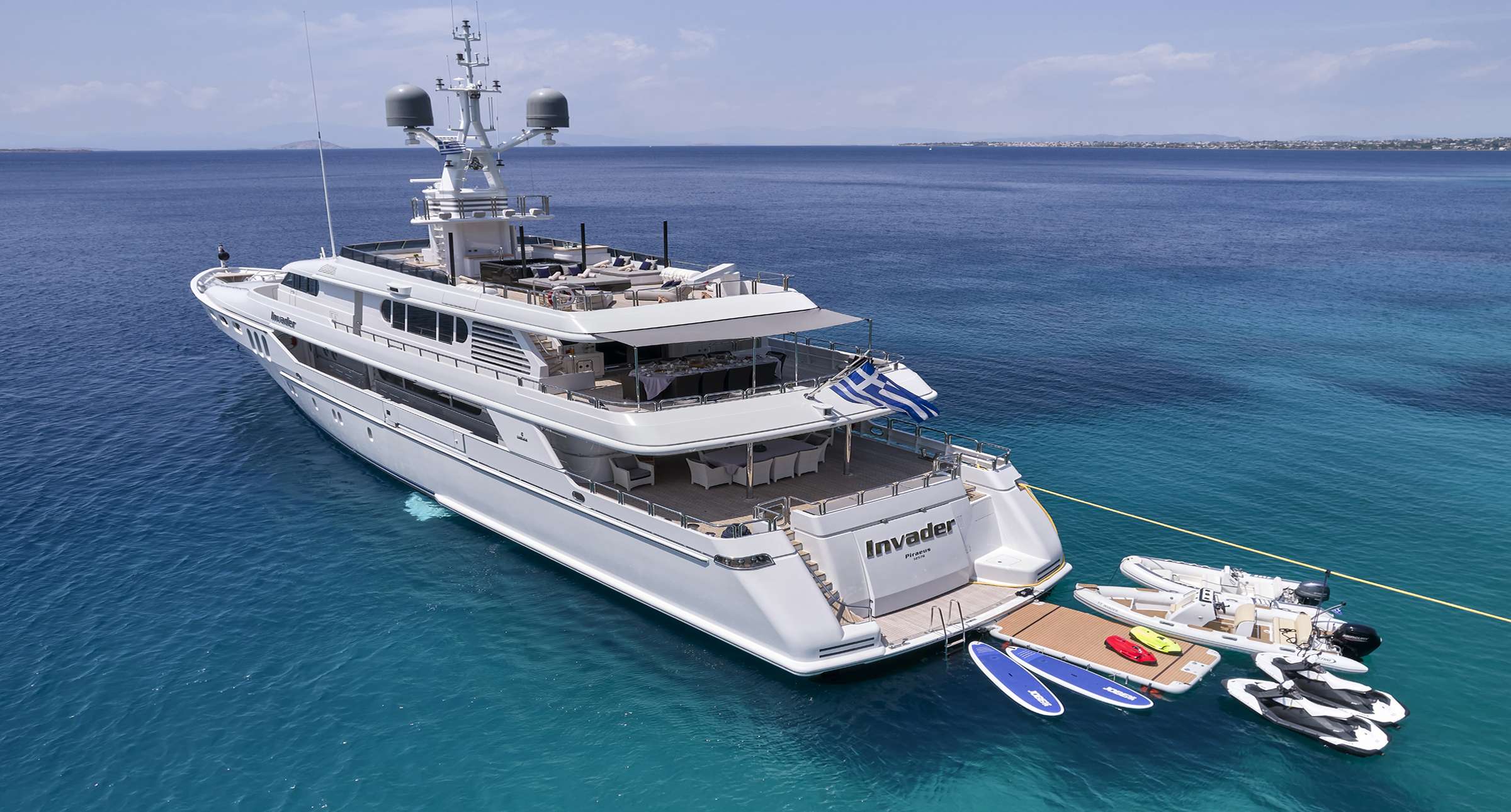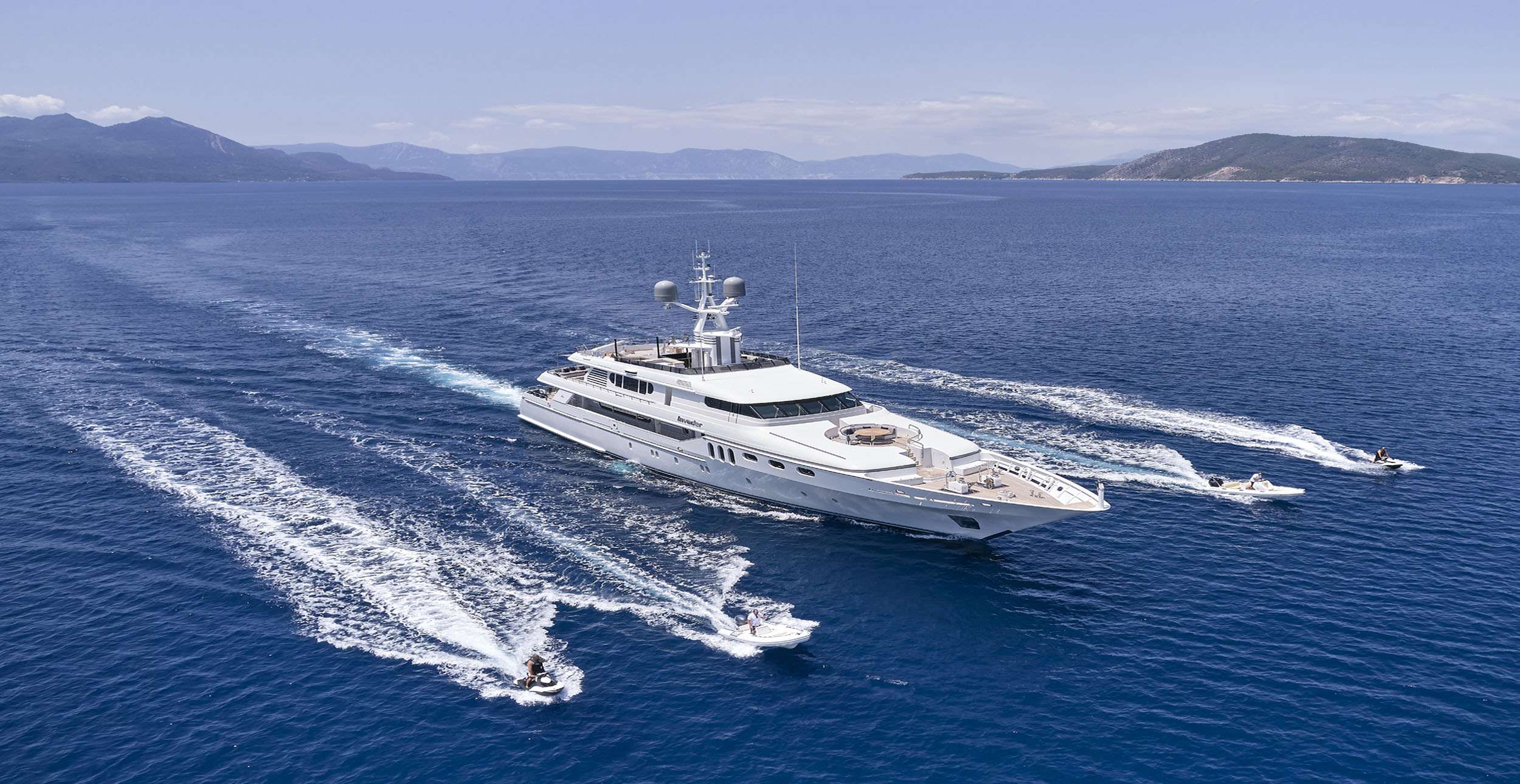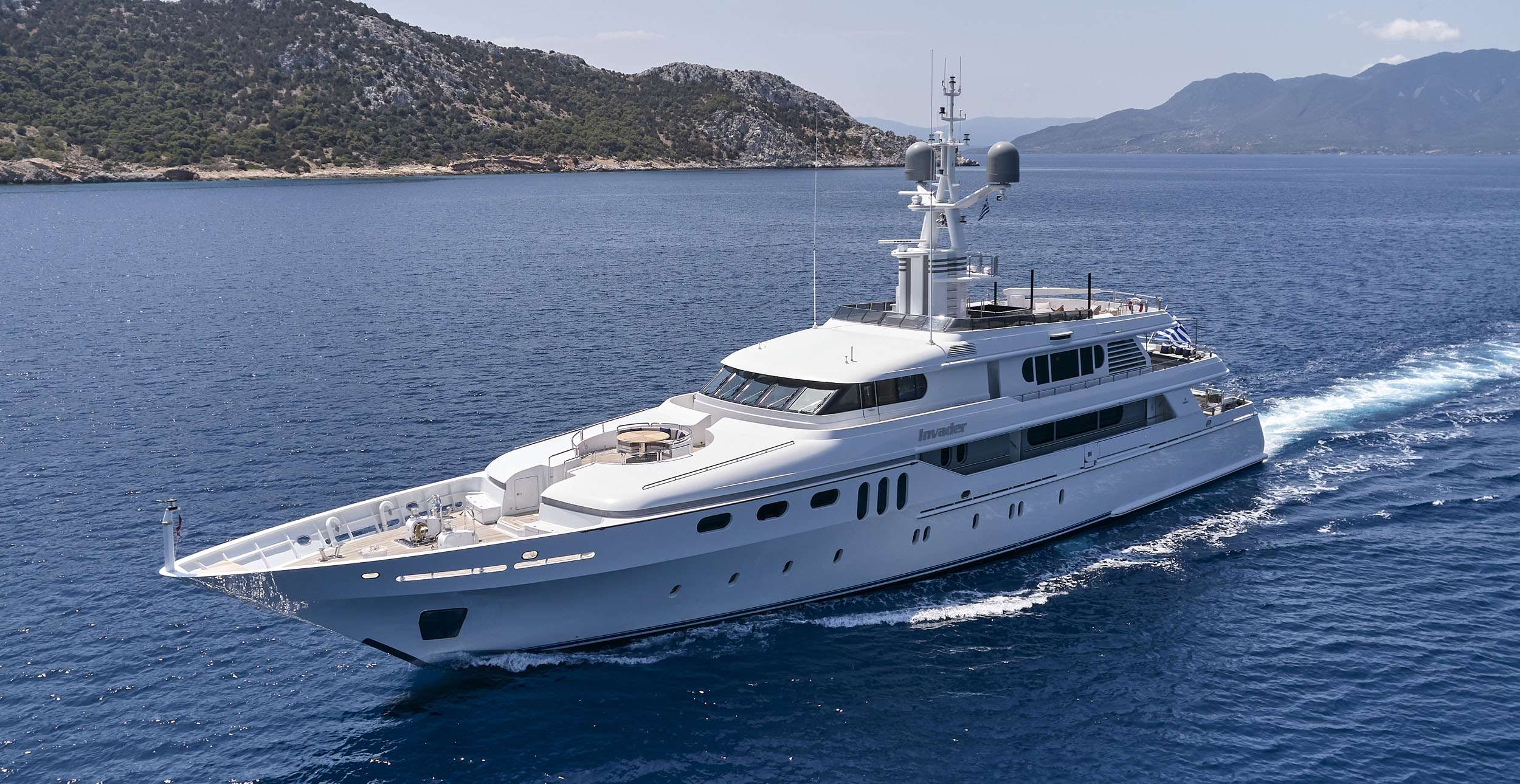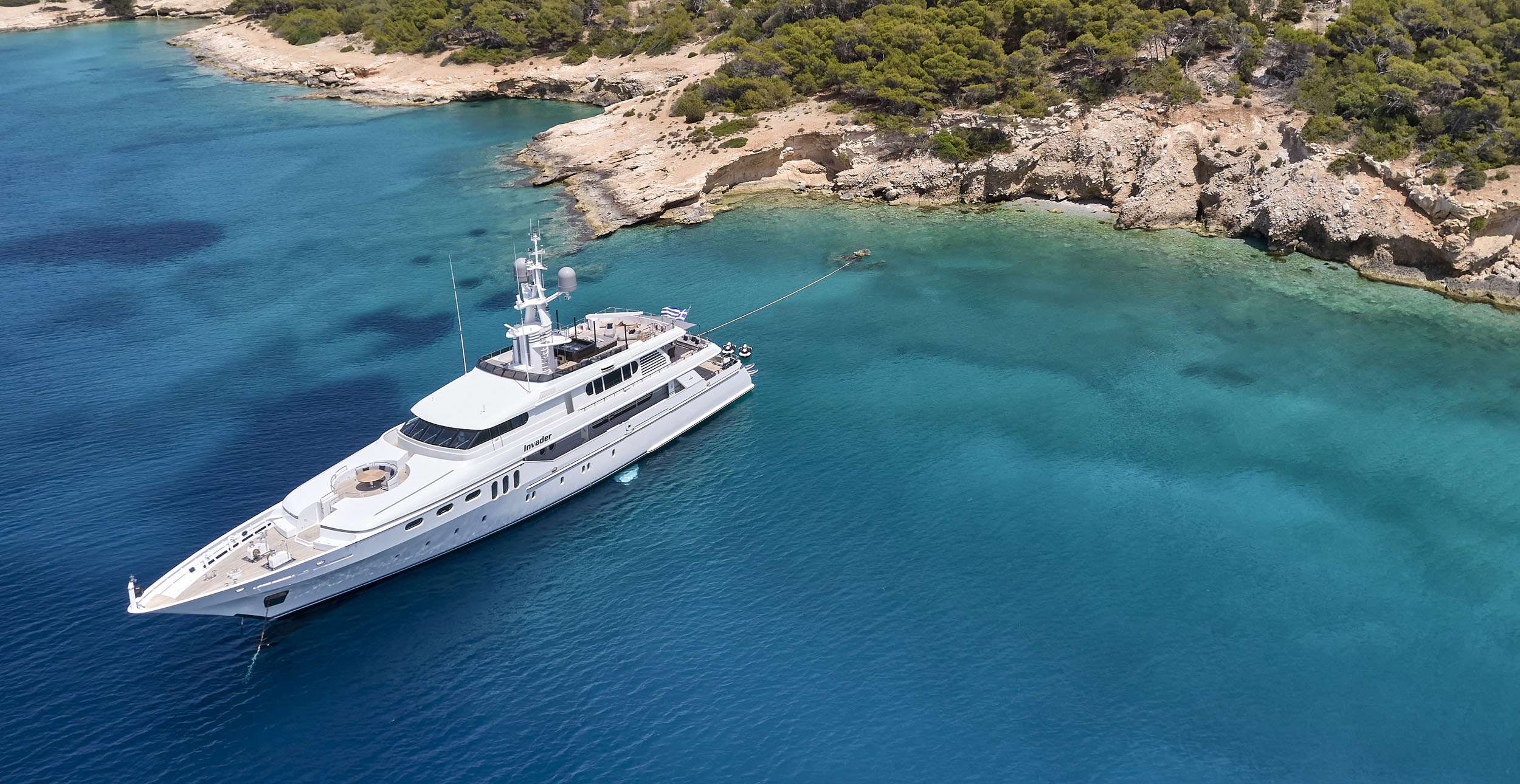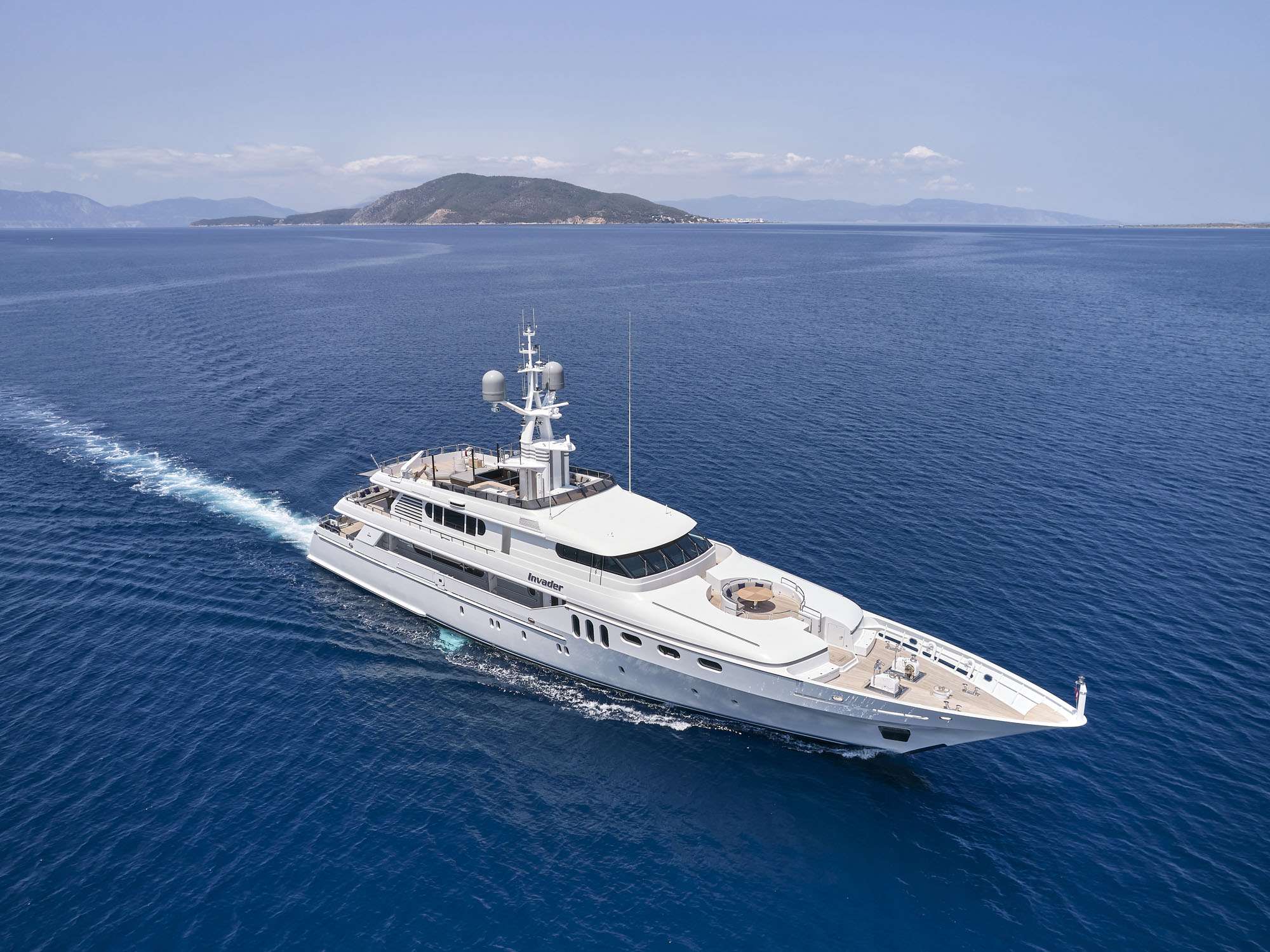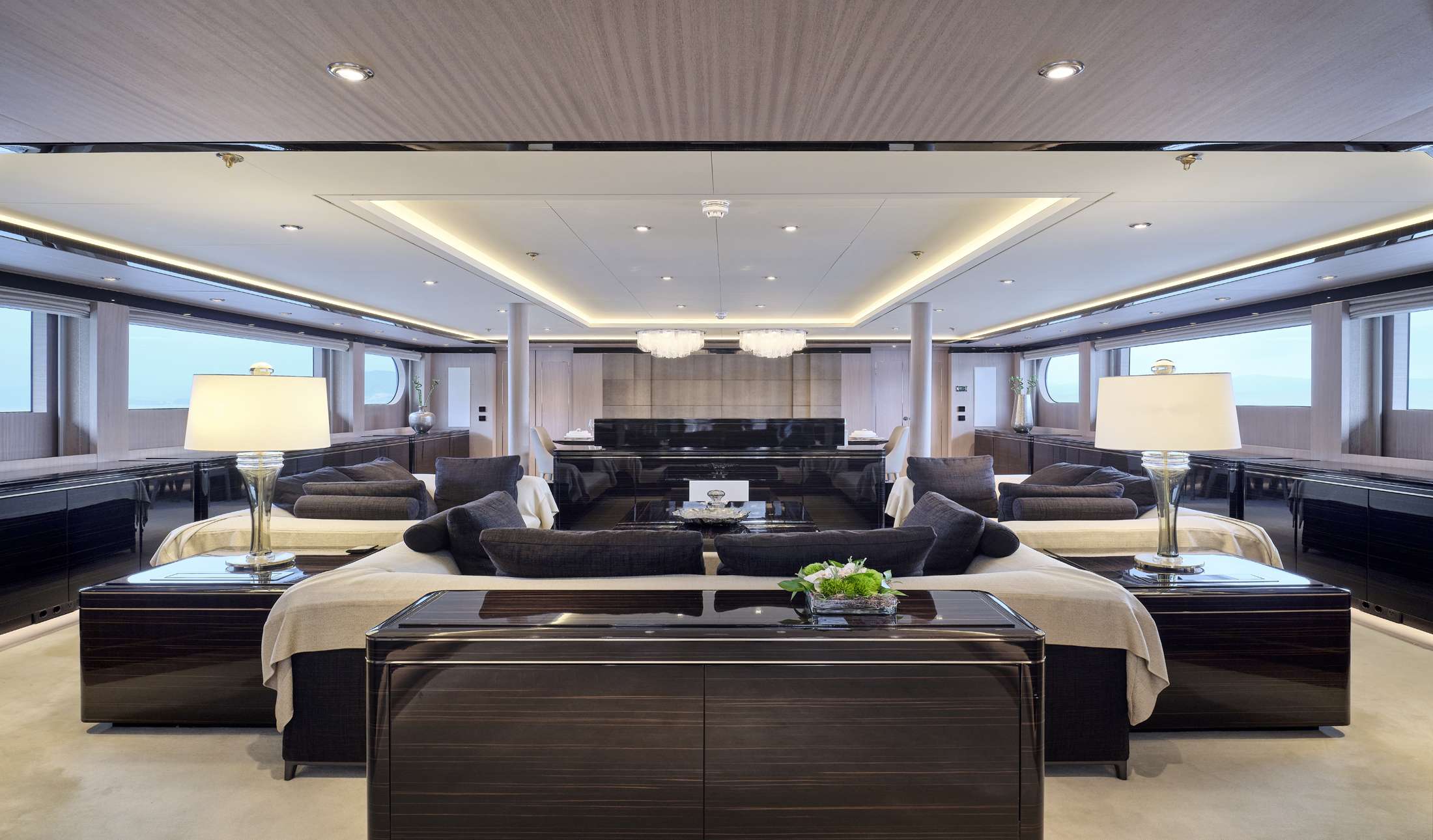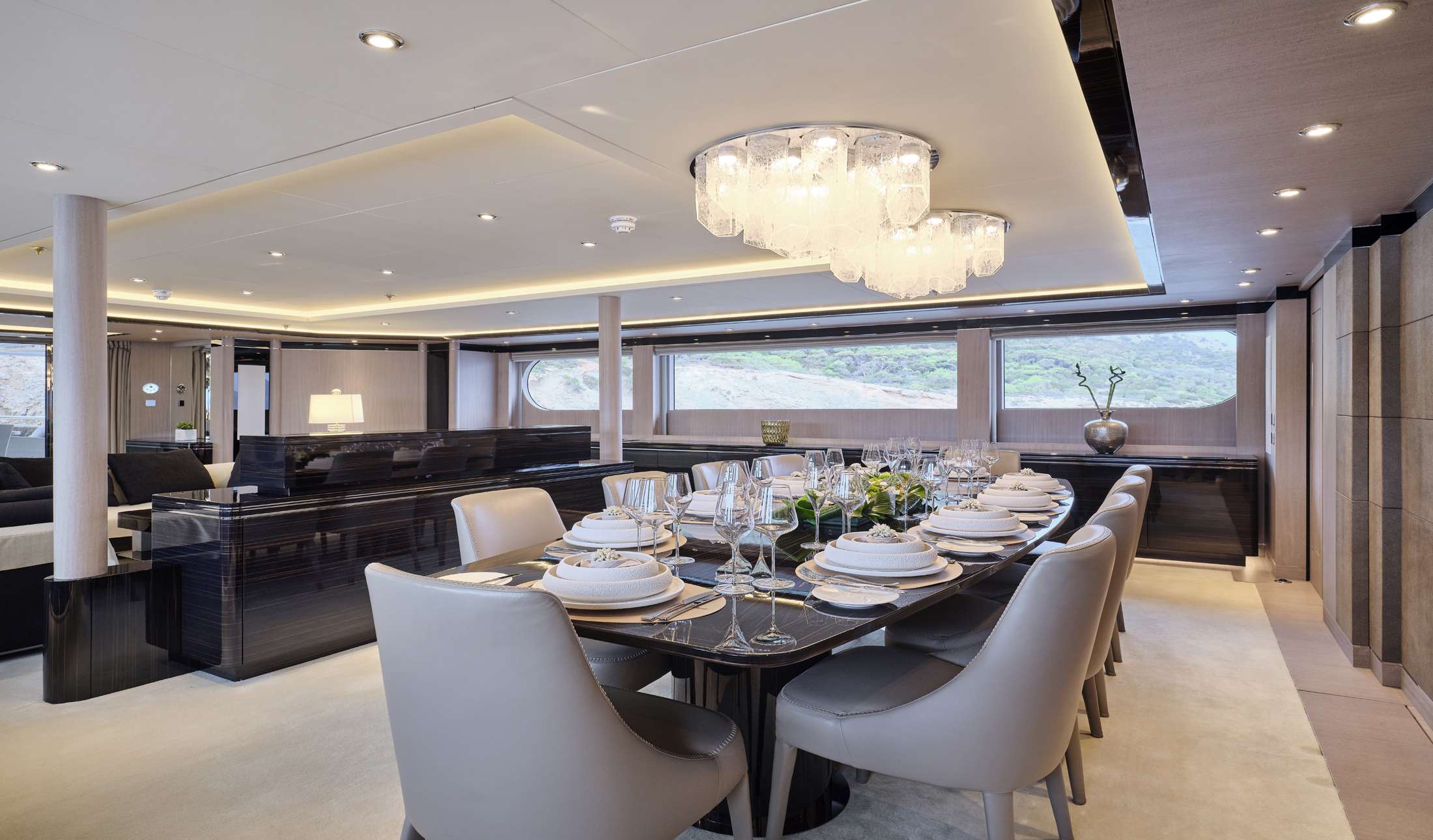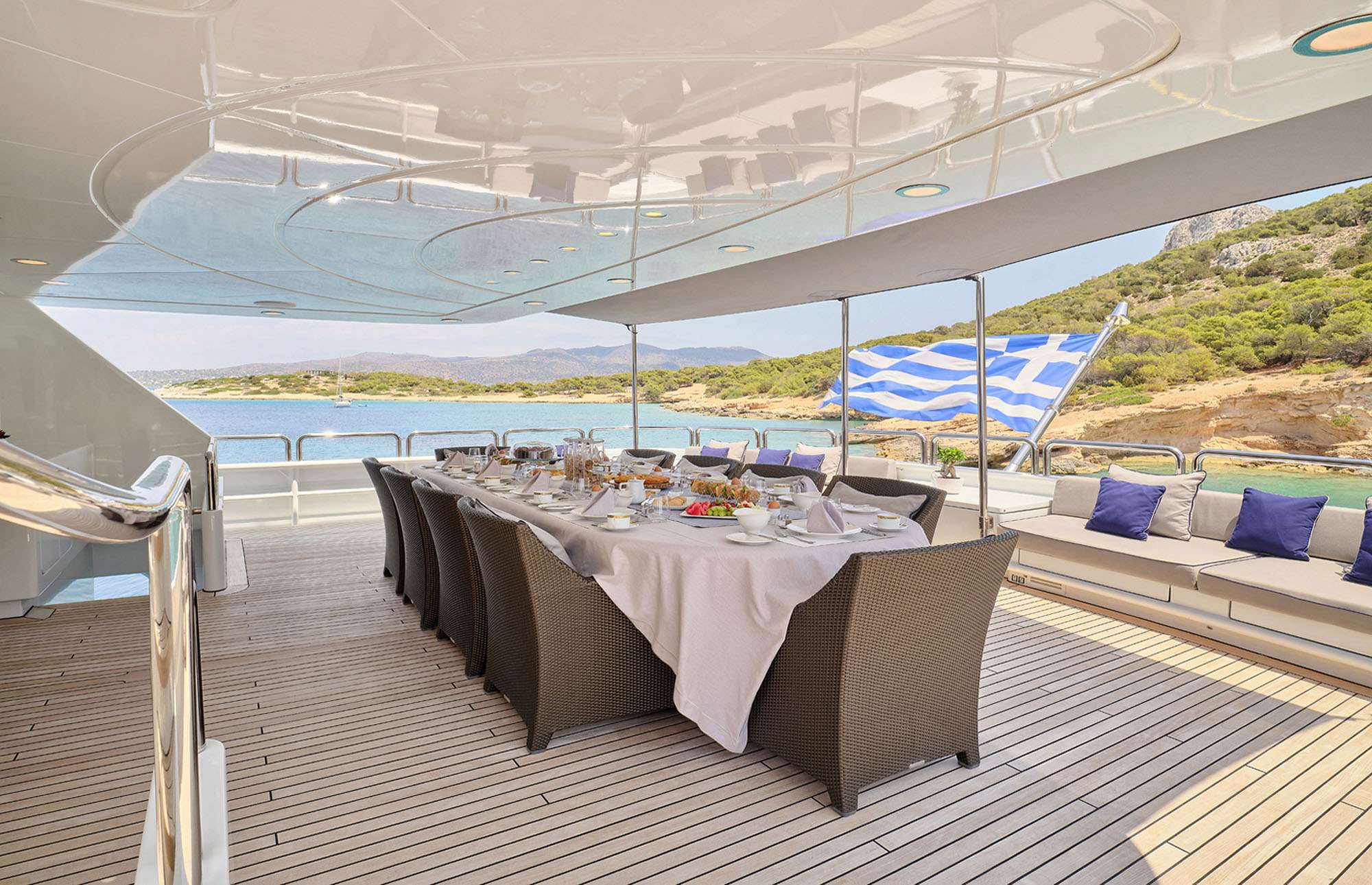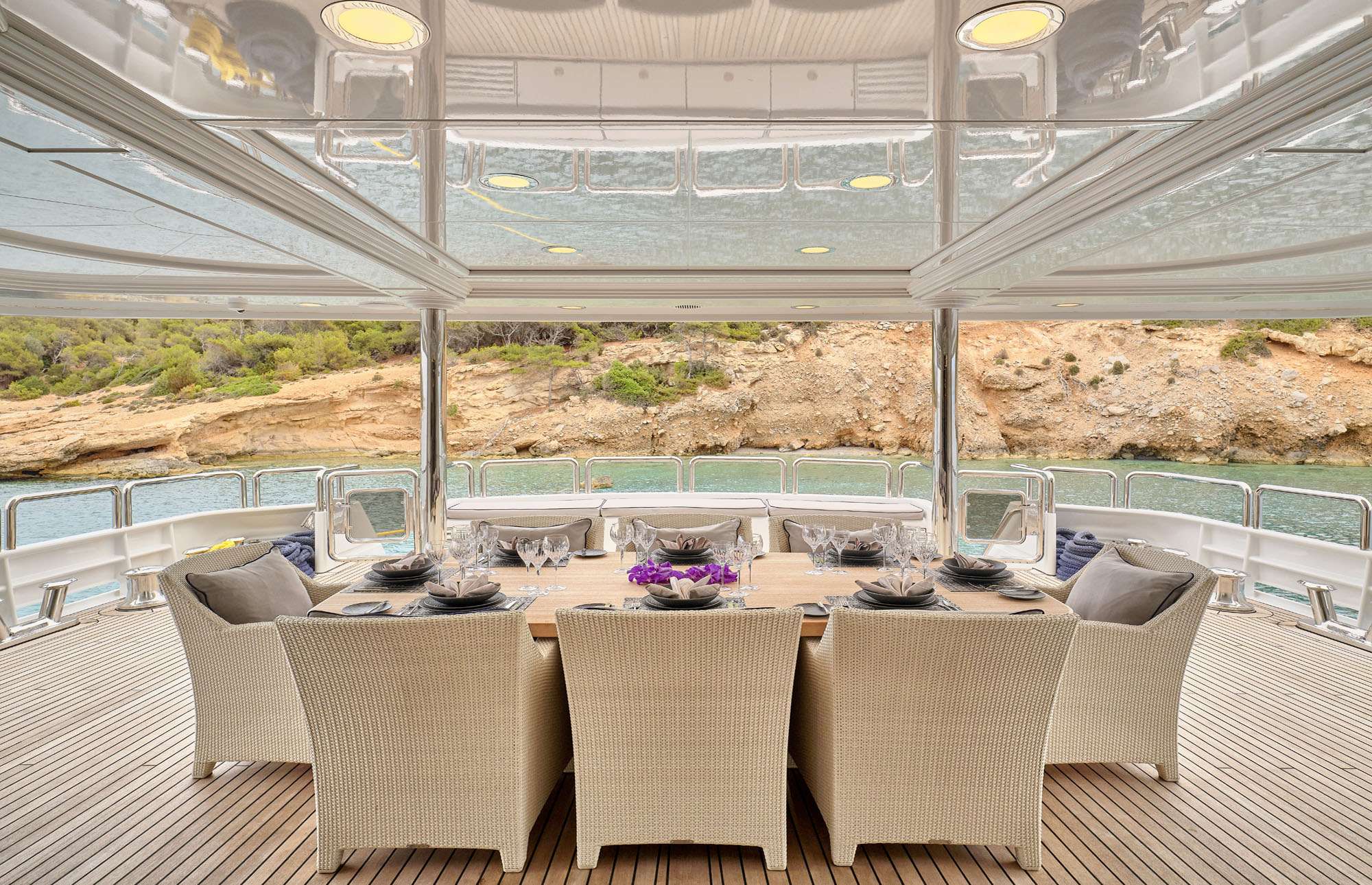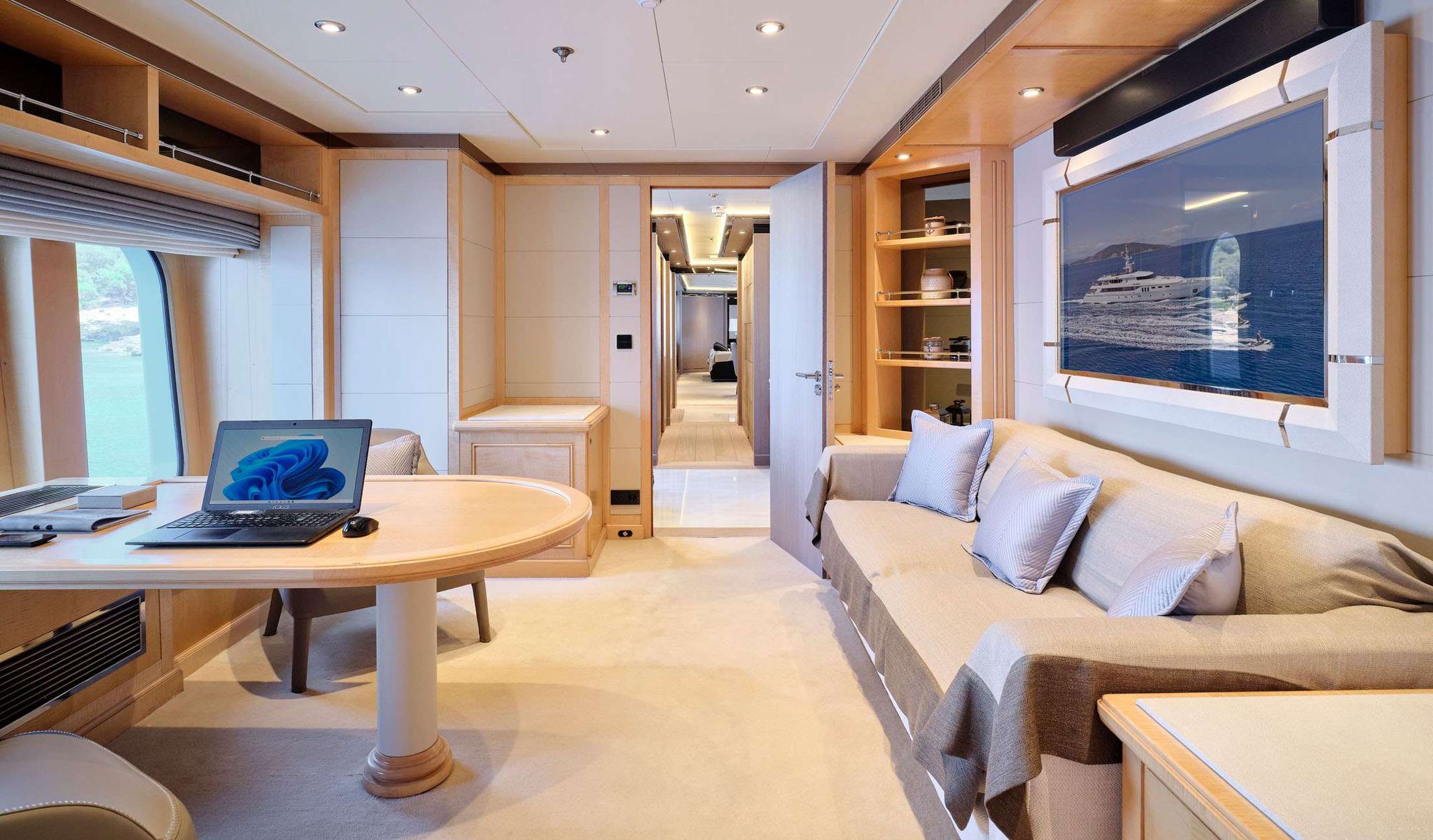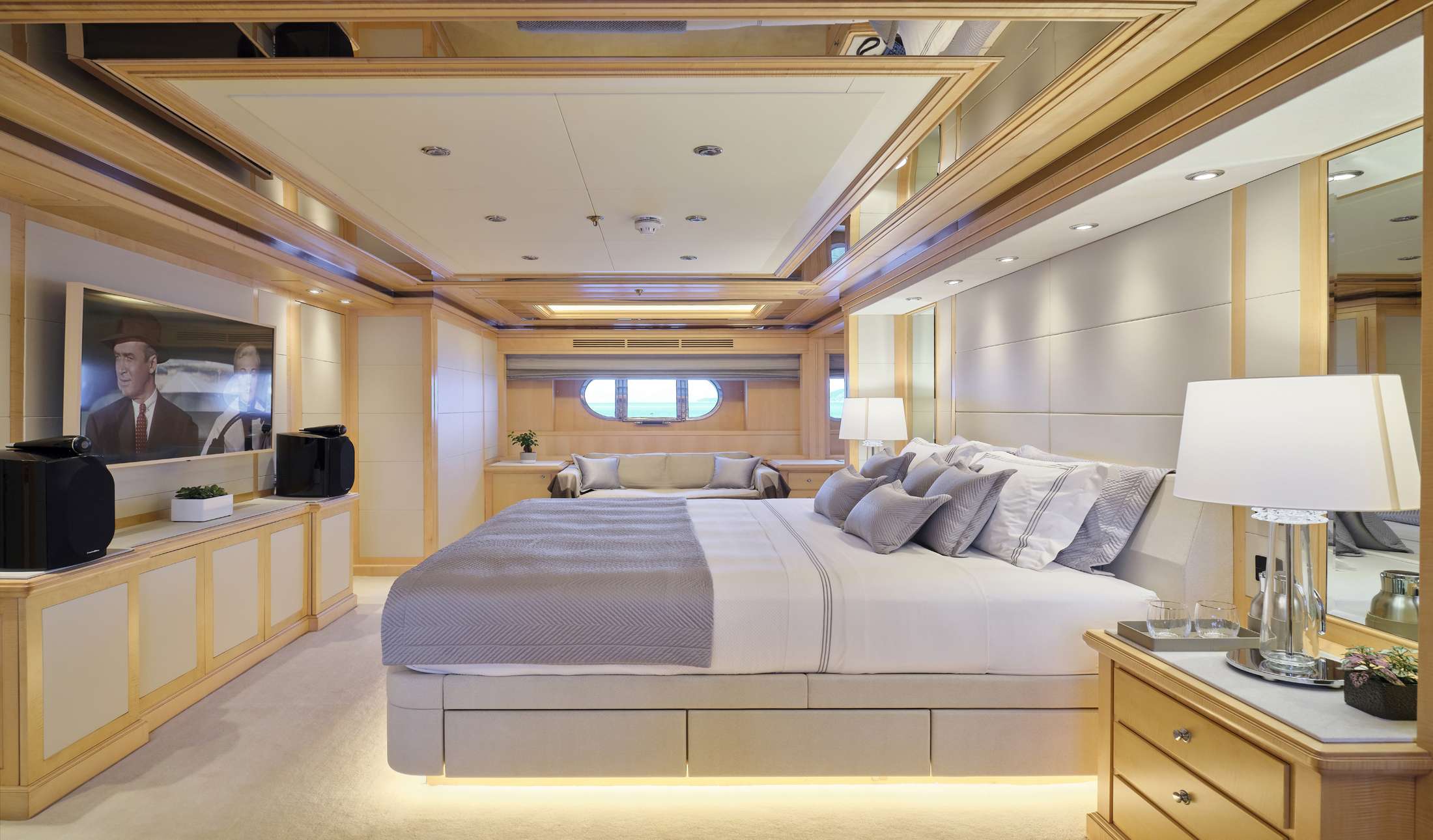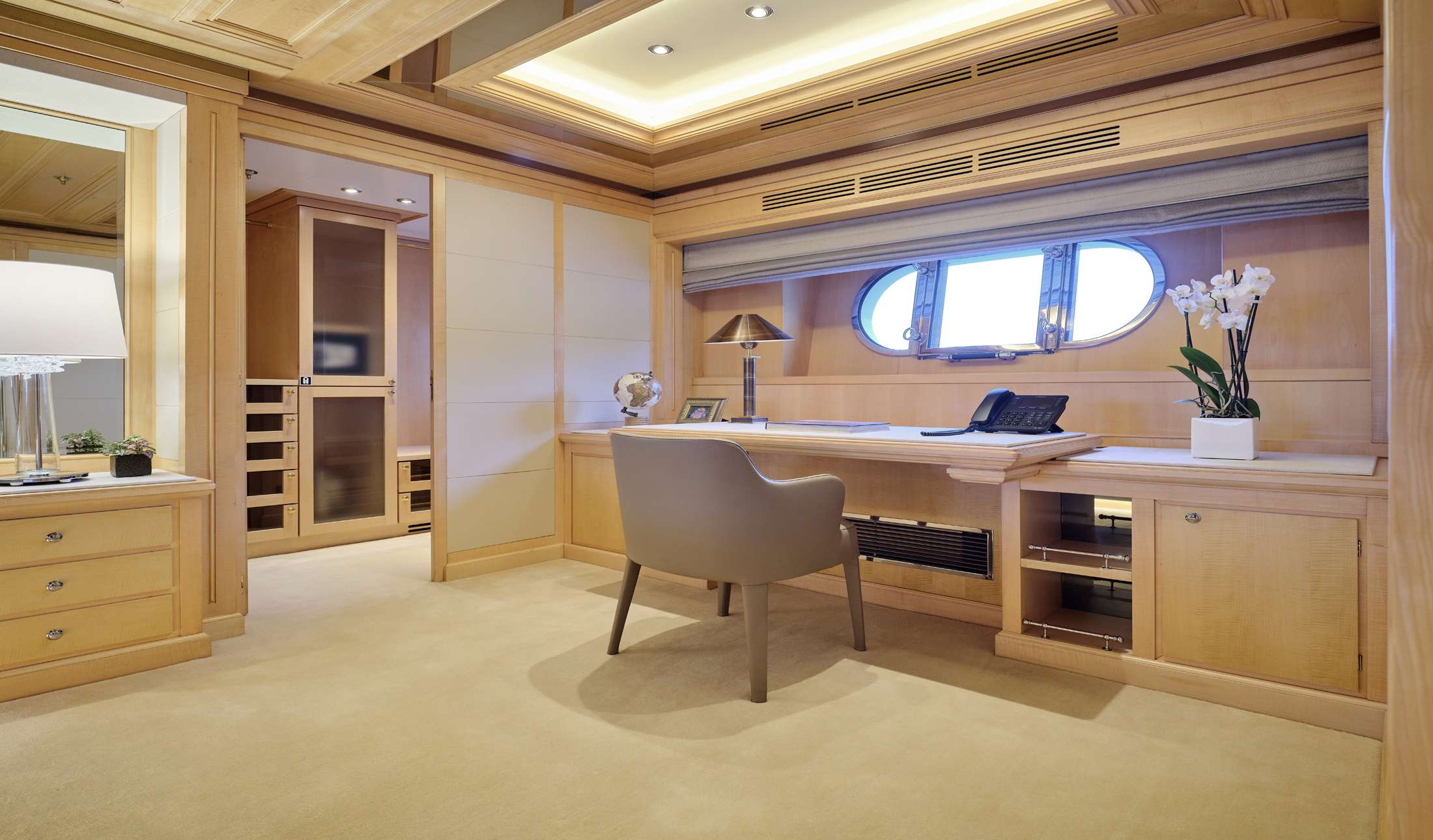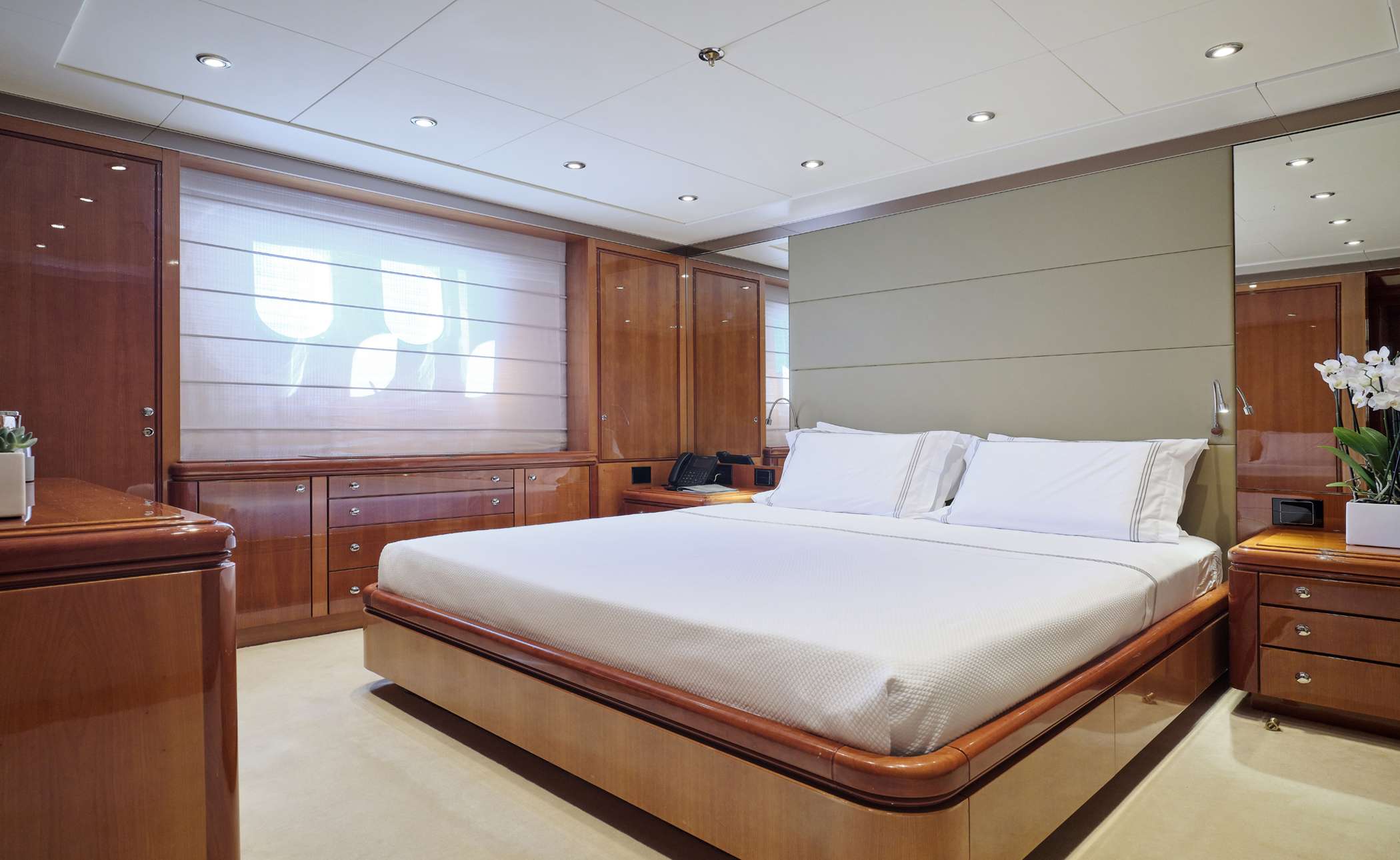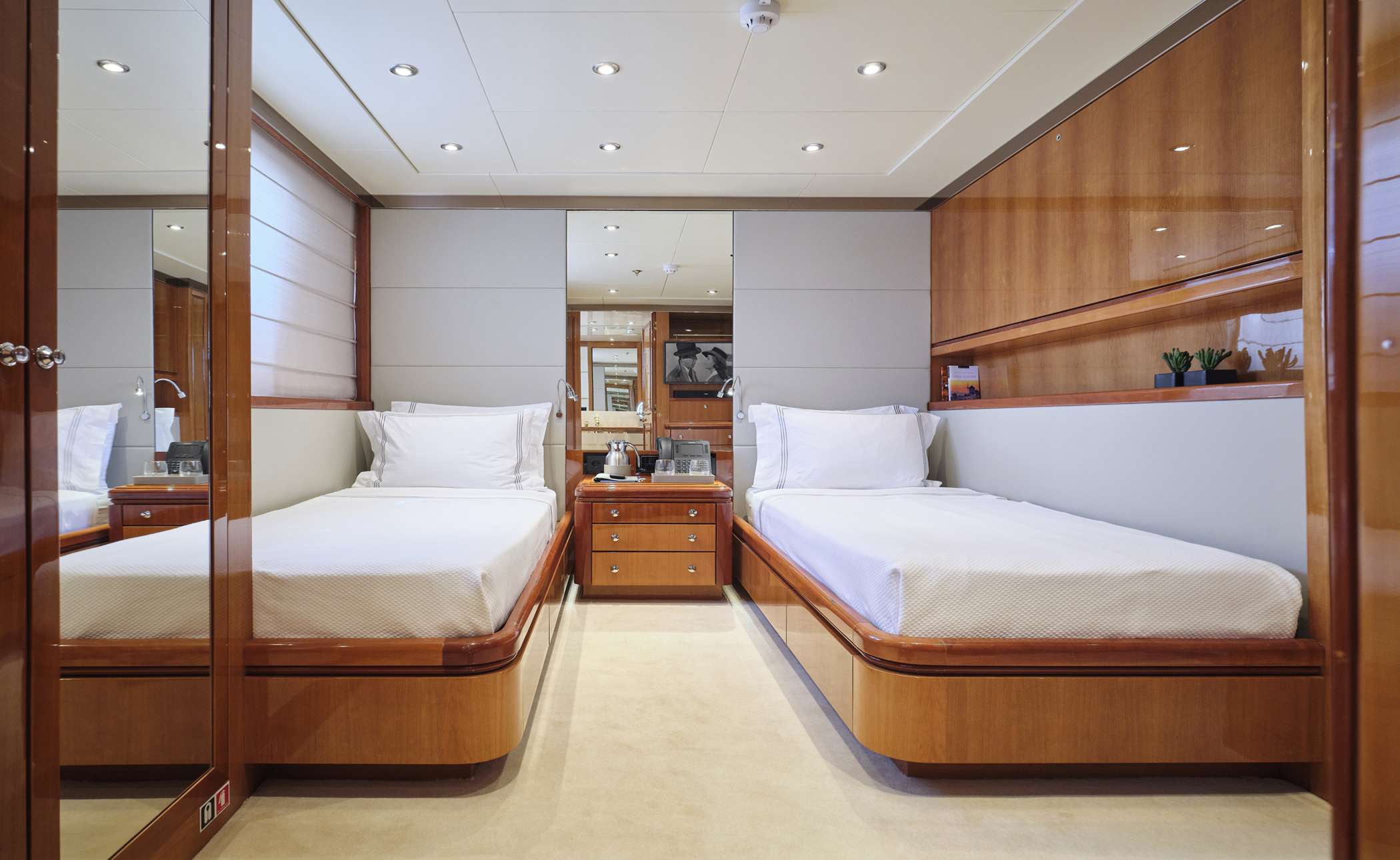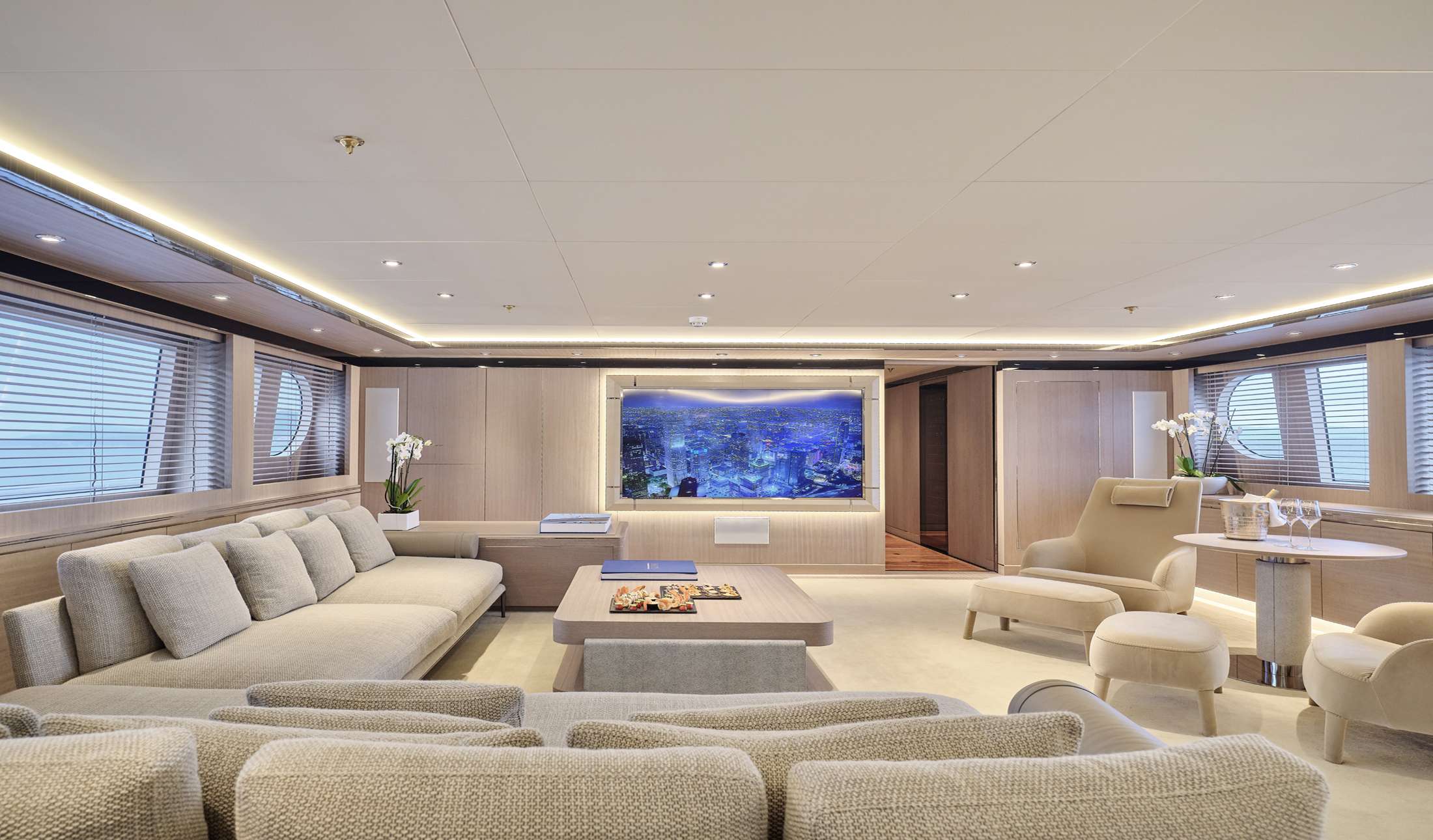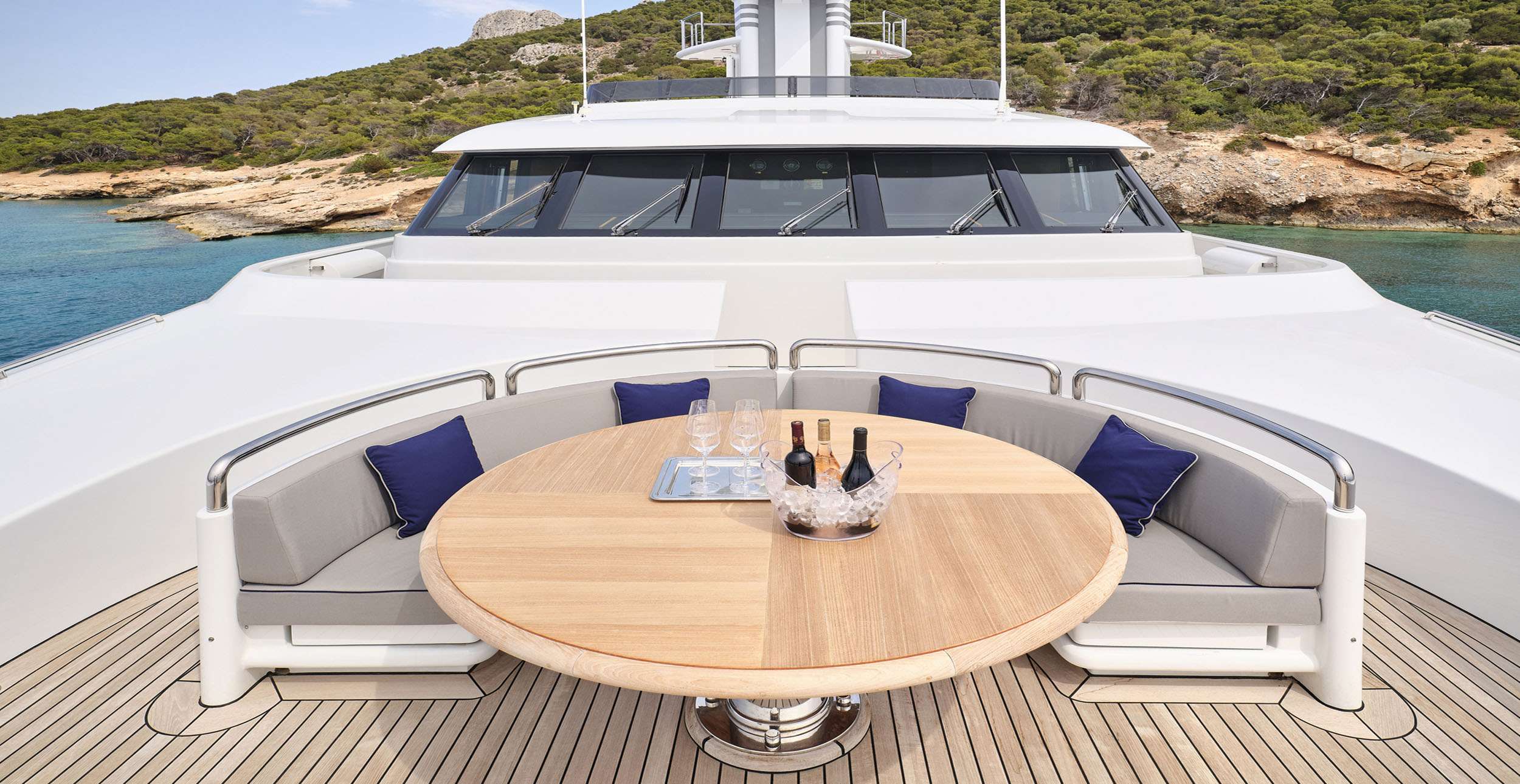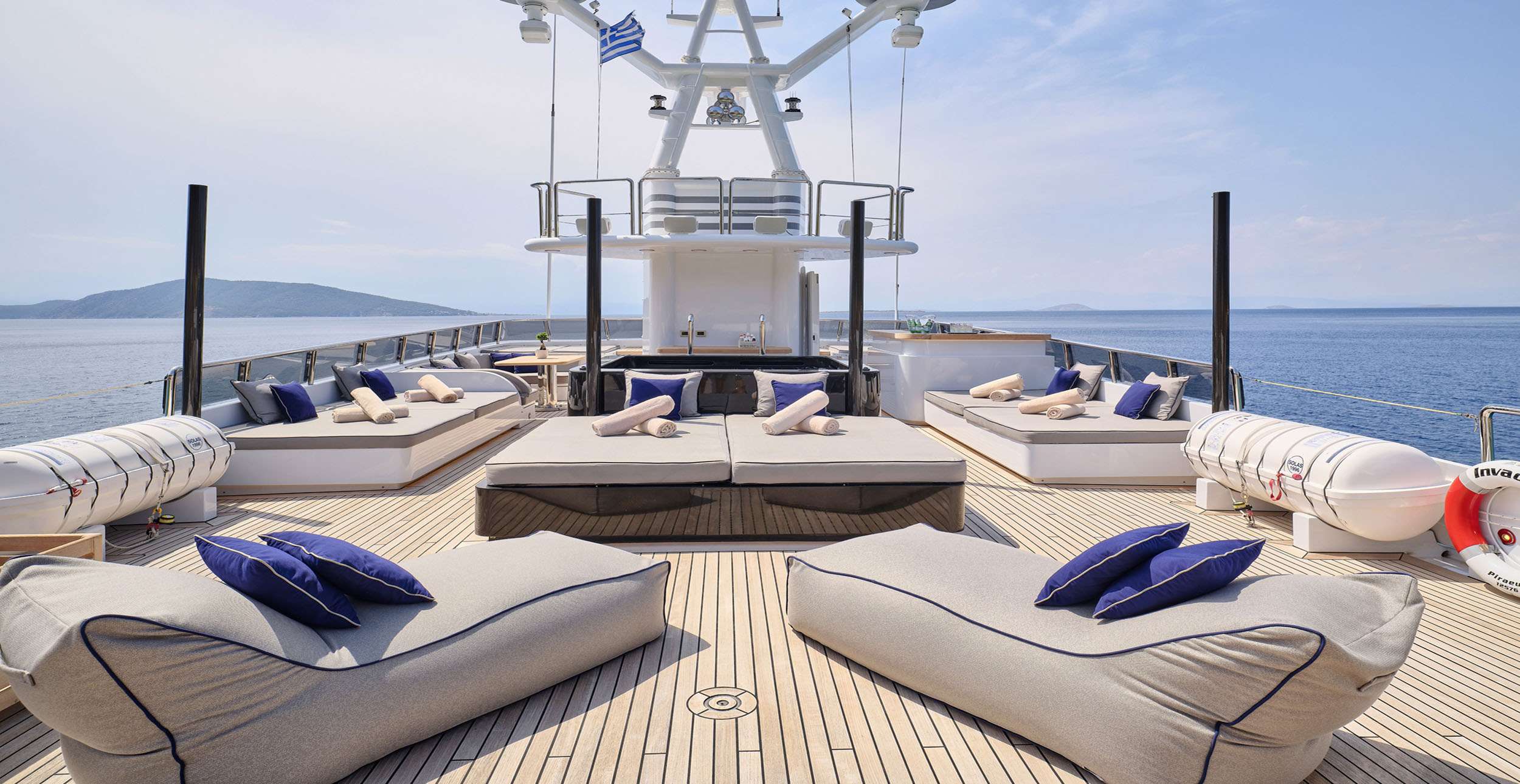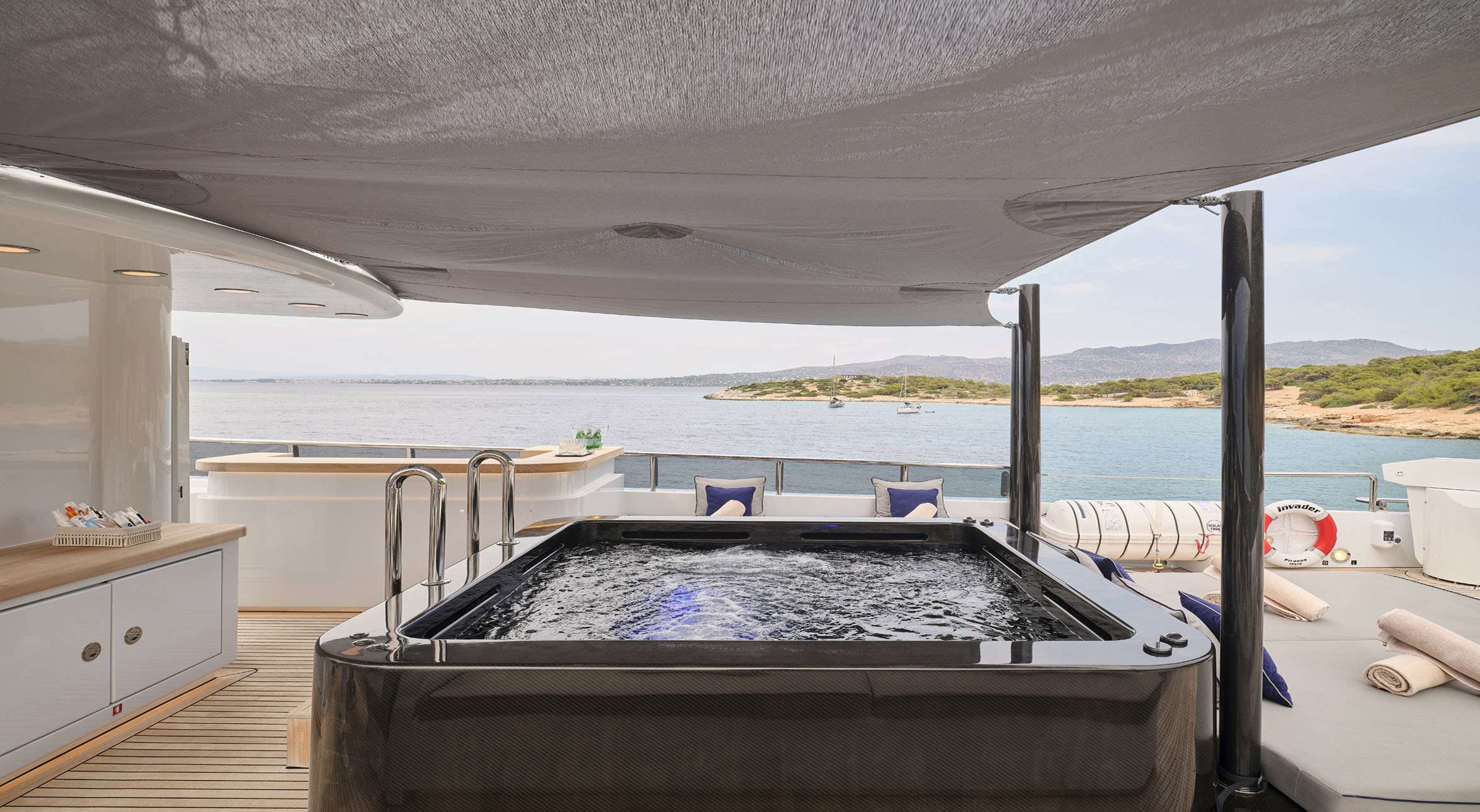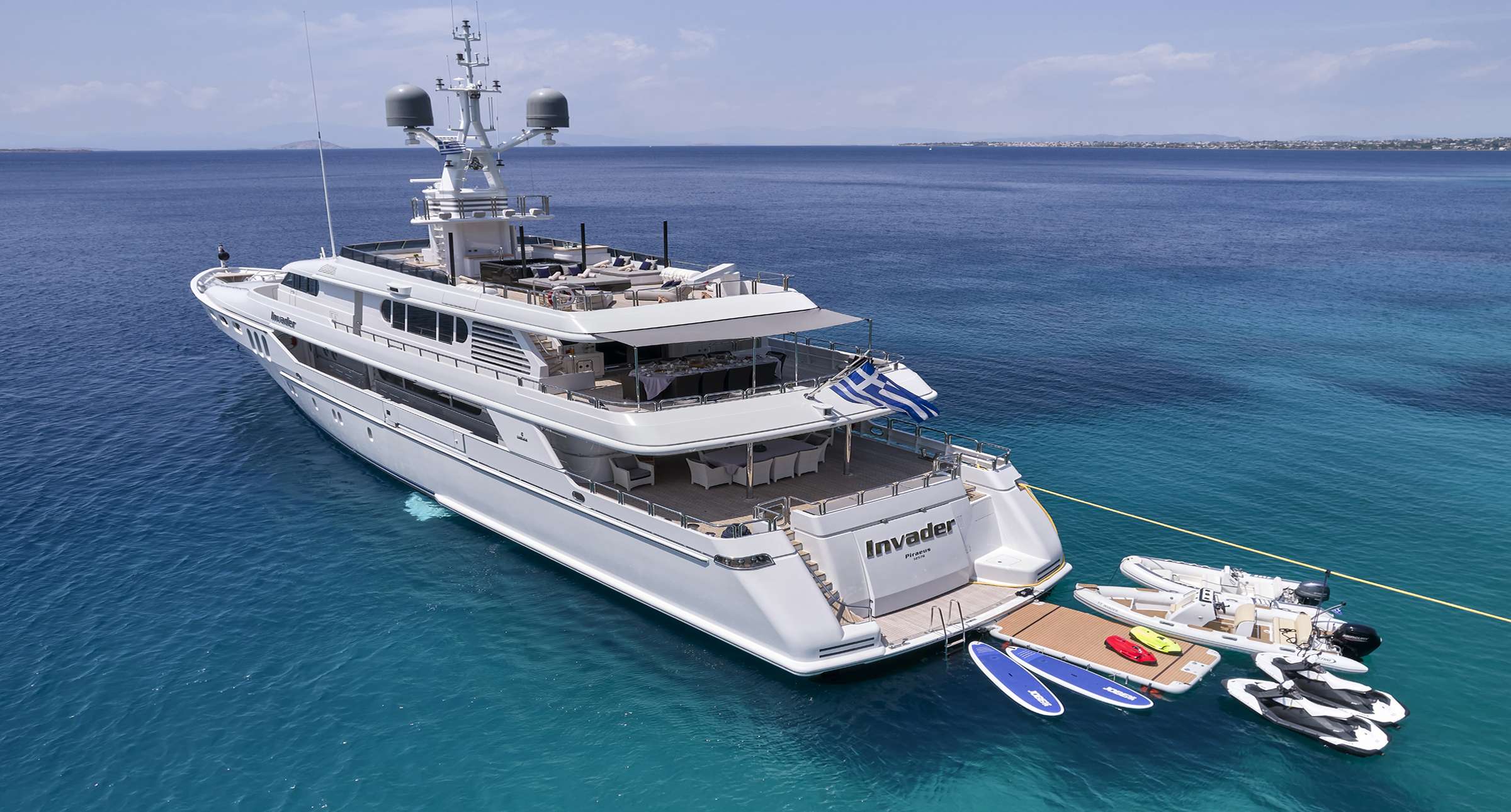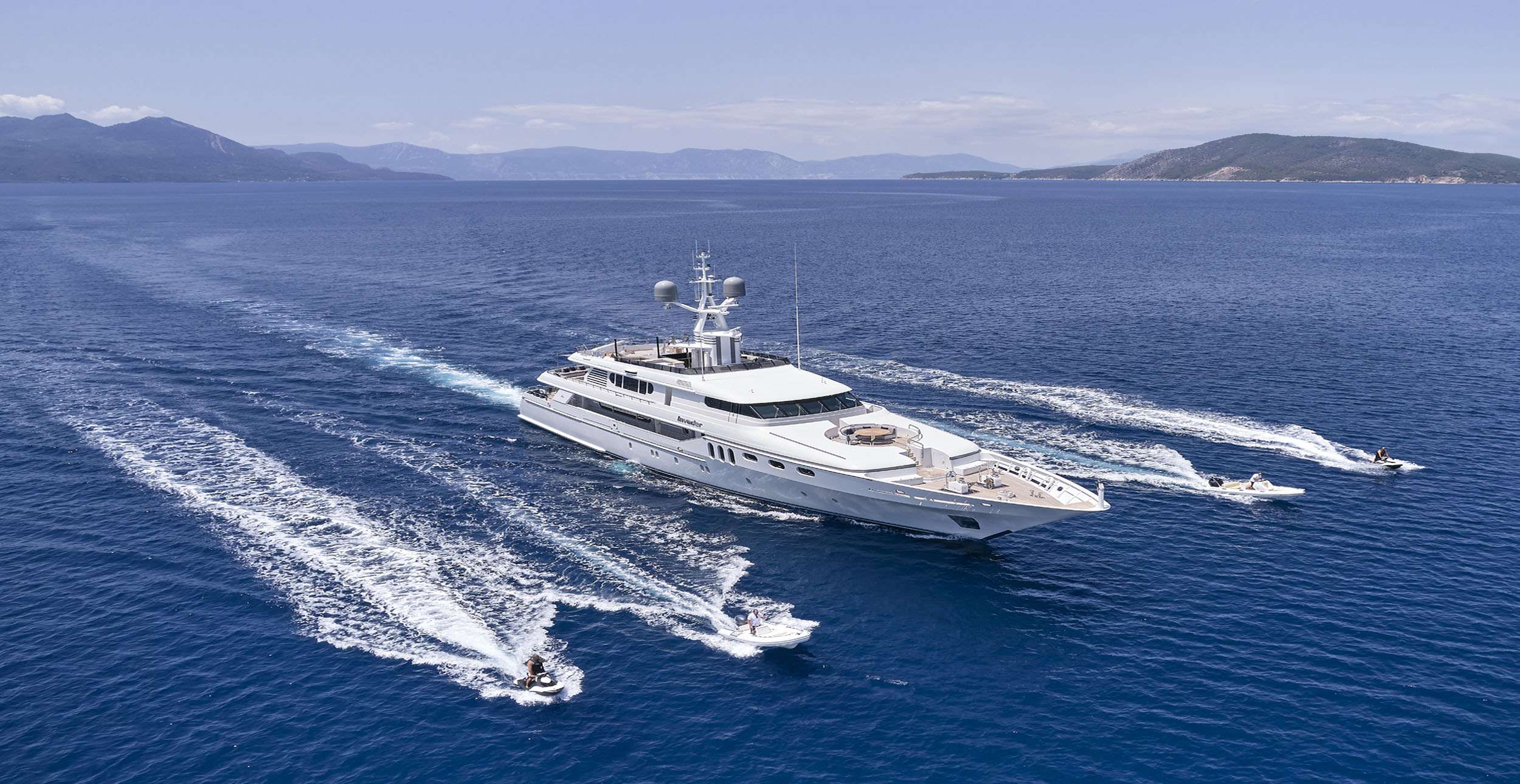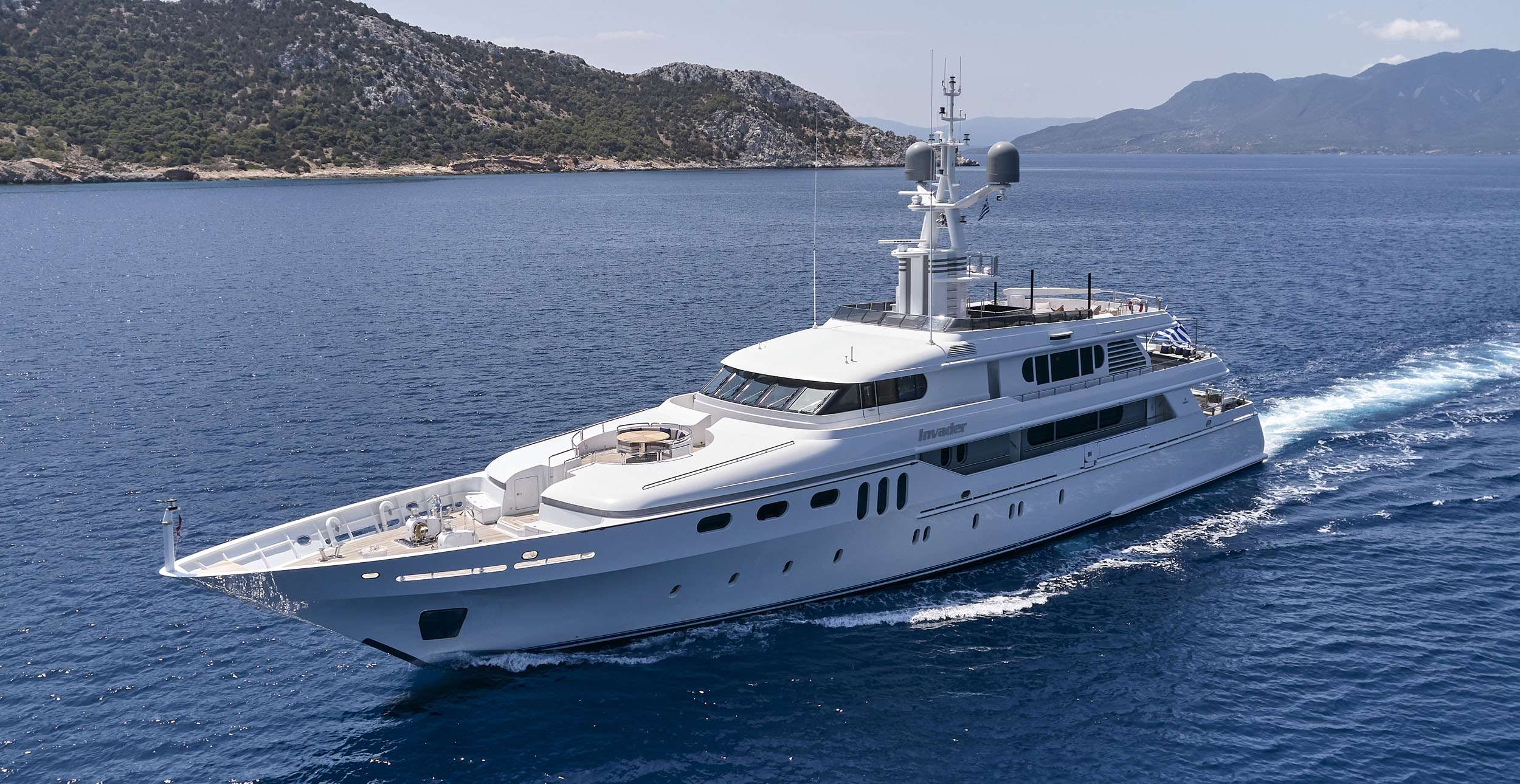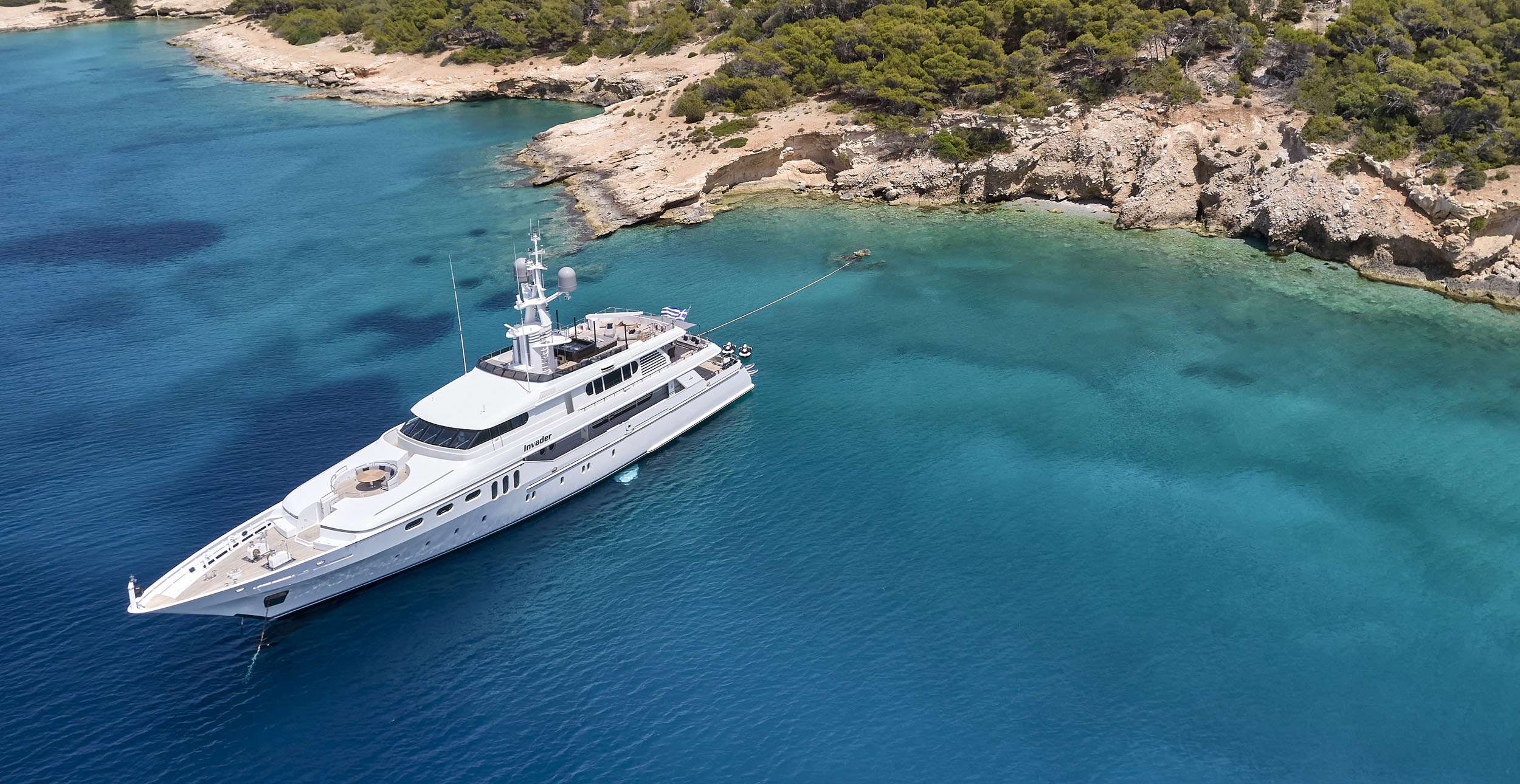 Accommodations
| | |
| --- | --- |
| Sleeps 12 guests in 5 guest stateroom(s). | |
| 1 with King Bed(s) | |
| 2 with Queen Bed(s) | |
| 3 with Double Bed(s) | |
| 2 with Twin Bed(s) | |
| 2 with Pullman Bed(s) | |
Details
1 x full beam Master Suite on main deck with a King size bed
2 x VIP Suites on lower deck with Queen size beds
2 x Twin Staterooms on lower deck with a pullman berth each
All cabins are equipped with safes and with en suite facilities
Layout Diagram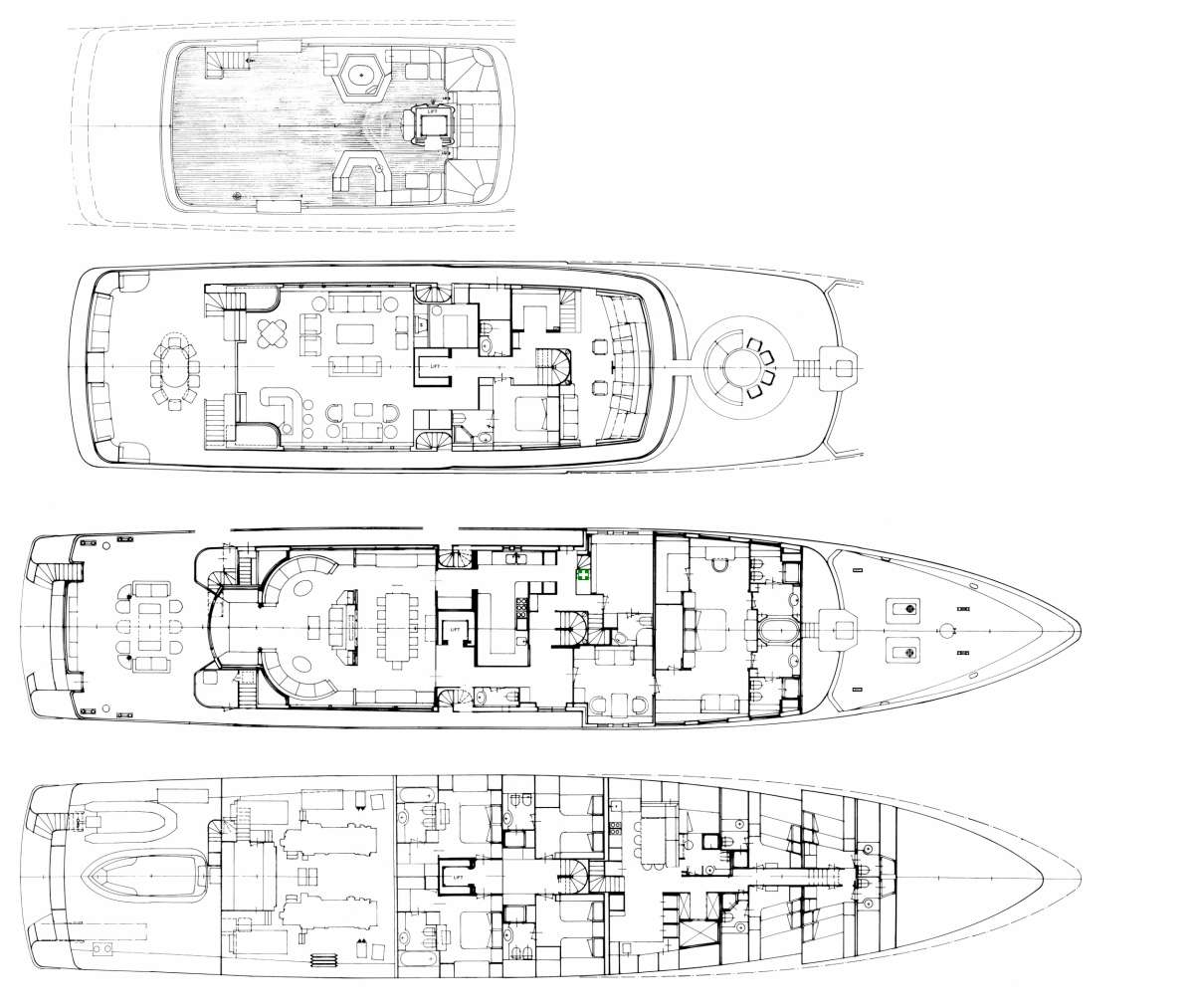 Specifications
| | |
| --- | --- |
| Guests | 12 |
| Staterooms | 5 |
| # Of Crew | 12 |
| Length | 164.00 Ft / 50.00 m |
| Beam | 9.5 ft |
| Draft | 3.10 ft |
| Built - Refit: | 1999 - 2019 |
| Builder | Codecasa |
| Cruising Speed | 14 |
Watersports
| | |
| --- | --- |
| Paddle Boards | 2 |
| Adult Water-skis | Yes |
| Wakeboards | 1 |
| Jet Skis | 2 |
| Snorkeling gear | Yes |
| Inflatable, towable tubes | 2 |
| Fishing Gear | Yes |
| Scuba Diving | Yacht offers Rendezvous Diving only |
Other Toys
1 x 4.3m Novurania DL430 - 70 Hp
1 x 5.5 Dive rib tender - 115 Hp
1 x Rib Seafighter chase boat 36' feet / 11 metres
2 x Sea Doos spark
2 x Stand-up paddleboards
2 x Seabobs
2 x Tubes 1 seat
1 x Towable sofa 3-seater
2 x Wakeboards
1 x Canoe 2 seats
Waterskis 1 for every age
1 x Wake foil
Snorkeling equipment
Fishing gear
NautiBuoy Voyager 800 teak platform
Pricing
From: 195,000
To: 210,000

Pricing Details
Additional Rate Details:
High Season July/August
Low Season all other months
PLEASE INQUIRE FOR FURTHER PRICING DETAILS
Crew Profile
Panagiotis Georgitsis / Captain
Nationality: Greek

Captain Panagiotis has many years of experience in the yachting industry, commencing his service at sea as 2nd Officer, and moving his way up to captain. He is a very dedicated and hardworking individual, highly qualified in all areas from navigation and maritime communication to safety and First Aid. Your safety and that of your guests will always be Captain Panagiotis's priority. You'll find him approachable and friendly; his manners enable the charterer and guests to feel at ease and will create the ideal atmosphere for them to enjoy the best charter experience. A natural leader confident and professional that leads and trains his crew to provide the highest level of service. When Panagiotis is not in command, he spends his spare time enjoying water sports, motocross, and reading. Apart from Greek, he speaks fluent English. His previous yachts include: M/Y This is Mine, M/Y Ouranos, M/Y Tyndareo, M/Y Quintessa and M/Y Xiphias.

Aristeidis Katsinas / Chief Officer
Nationality: Greek

Chief officer Aristeidis was born and lives in Athens. He graduated from the Greek Merchant Marine Academy as 2nd Officer with all the required marine licenses and certifications under his belt he has certainly made the most of his career at sea! After many years of experience onboard merchant vessels, he managed to obtain a master's license and decided to join the yachting industry. His love for travelling provides Aristeidis with the passion to research and organize all kinds of activities for the enhancement of the onboard experience. He is a consistent, trustworthy, responsible individual who is well-respected by both the crew and guests. Aristeidis' primary focus is the safety of his guests and crew, and he takes great pride in creating tailor-made experiences for each charter. He encourages a service-oriented daily work ethic among the crew while maintaining just the right tone of formal or casual ambiance aboard, as desired by the guests. His experience of the Greek seas is enough to ensure his guests will travel to the most memorable places of the Greek islands whilst at the same time feeling the utmost safety they want to feel!

Nikolaos Daramaras / Chief Engineer
Nationality: Greek

Nikolaos was born in Greece and graduated from the Greek Merchant Marine Academy as Chief Engineer. Before joining the yachting industry, he worked onboard merchant vessels for many years, gaining experience and knowledge. Nikolaos is in charge of the overall management of the Engineering department and maintenance of all safety and critical equipment. He is an enthusiastic and positive team member, with a great eye for detail. During his spare time, he adores traveling! Nikolaos speaks English, Italian & his mother tongue Greek.

Dimitris Kritikos / 2nd Engineer
Nationality: Greek

Dimitris was born in Greece and holds an Aircraft Technician certificate. His love for the sea, lead him to switch to the luxury yachting industry where he has remained ever since. With more than 10 years of experience under his belt, he has a profound knowledge of electronics and engineering and great communication skills! Dimitris is also equipped with a speed boat license and is a very skillful mariner. His favourite pastime is playing football. He speaks Greek and English.



Dionysis Gkionis / Chef
Nationality: Greek

Born in 1988 in Athens, Greece, Dionysis graduated in 2008 from the culinary school 'Le Monde,' and built his career by firstly gaining experience through luxury hotels as a Chef. He worked for many years at the Club Hotel Casino of Loutraki, with great success. In 2011, Dionysis joined the luxury yachting industry where he decided that this would be his life's path! He decided to further sharpen his skills and adapt to the new and exciting industry and attended a seminar on 'Yacht – Luxury and L'Art de la Table a la Francaise'. This turning point in his life made Dionysis realize how very passionate his love for gastronomy, the sea, traveling, and communicating with his guests were, and he is always eager to increase his knowledge daily and take his standards even higher, as the sky is the limit! Chef Dionysis is a dynamic element to the team, as he is very creative and detail-oriented, and offers his guests tastes from around the world through his gourmet dishes, always adding his own flair. Due to his wealth of experience, he can accommodate any dietary requirement or preference of his guests and loves to present all meals as beautifully as possible. When out of uniform, you'll find him experimenting in the kitchen or playing football. He speaks Greek and English.

Anna Amelina / Chief Stewardess
Nationality: Ukrainian

Anna was born in Ukraine and raised in Greece. She loves her career onboard luxury yachts as a Stewardess, where she has been working since 2011, building extensive experience and knowledge. She is a very organized, hard-working individual, very focused on her duties, of great assistance with the housekeeping, and a joy to be around! Anna has a background in event planning & marketing and adores socializing and being around her guests! In her free time, she loves to travel, cycle, and jog. She speaks English, Greek, and Russian.

Thanos Xanthopoulos / 2nd Steward
Nationality: Greek

Thanos commenced his career at sea in 2020, building upon his experience and knowledge of VIP service. Thanos always strives for the best possible through the correct organization, cooperation, responsibility, and time management. Friendly, hard-working, and dedicated, Thanos enjoys every moment onboard and ensures a welcoming environment for his guests.

Dionysia Patrinou / 3rd Stewardess
Nationality: Greek

Before joining the yachting industry Dionysia worked as a waitress and hairstylist as well as working in hospitality management, coordinating and multi-tasking in a busy environment. Her friendly, hardworking, and enthusiastic nature are a great asset to the team! Dionysia is happy to assist in all aspects of the charter. She loves to travel and be by the sea and speaks fluent English and Greek.

Marina Lazaridou / 4th Stewardess
Nationality: Greek

Following her Naval high school education, Marina started her career at sea by gaining an education at the Merchant Marine Academy, studying modules in Maritime Shipping, Maritime Law and International regulations on shipping as well as Seamanship International Regulations for preventing collisions at sea. She gained first hand experience by working on M/T vessels prior to joining M/Y Invader in the luxury yachting industry where she has remained ever since! With her warm-hearted demeanor Marina is a lovely addition to the team.


Efstratios Panagiotis Stinis / Bosun
Nationality: Greek

Efstratios was born in Greece and is a very enthusiastic, hardworking person. He is very approachable and friendly, making sure all his guests are well taken care of and have a holiday to remember! Efstratios assists in shipboard operations such as maintenance, tender & toys management, line handling, anchoring, and general deck care. He, of course, adores the sea, loves travelling, and has an excellent knowledge of ribs, tenders, and water sports. He speaks Greek and English.

Giorgos Zabelis / Deckhand
Nationality: Greek

Giorgos has many years of experience on a 57m luxury yacht and is a dedicated, hardworking, and very charismatic individual. He loves meeting new people and always wears his smile throughout the day, making his guests feel more than comfortable onboard. He is very experienced with ribs and watersports and will be pleased to help assist whenever needed. He is very committed to ensuring both comfort and security for all onboard and is a genuine team player. Giorgos loves to travel the world and speak Greek and English.

Spiros Konstantinos Kolomvos / Deckhand
Nationality: Greek

Spiros was born in Greece and adores his career at sea as he loves watersports and travelling. His friendly demeanor is a great attribute when welcoming guests onboard and attending to his duties in a very professional manner. Spiros is keen to assist his crew members, making sure all operations are carried out smoothly. During his spare time, he enjoys bike racing and is also a free diver. He speaks Greek and English.

Additional Information
Destinations