Gallery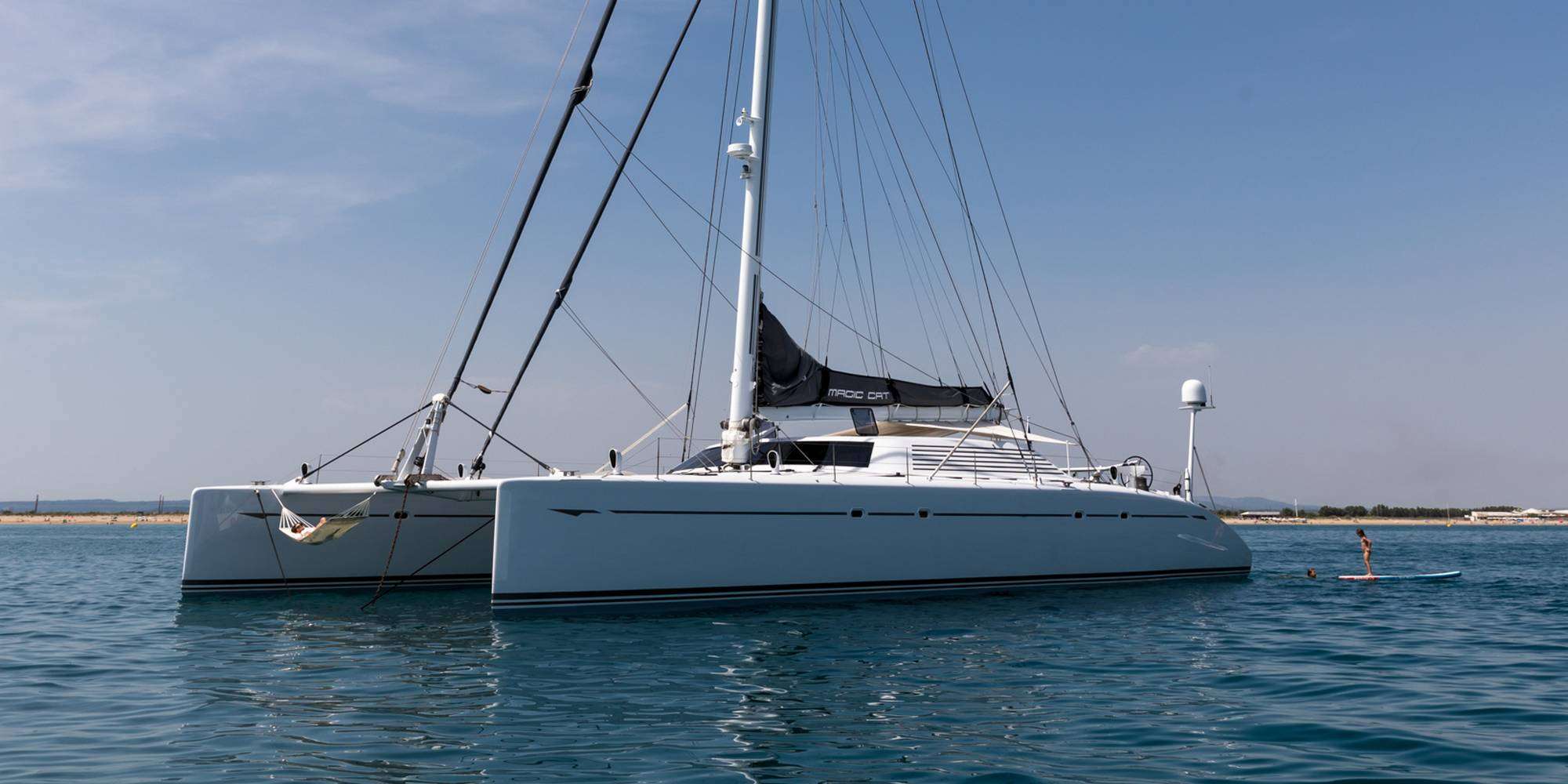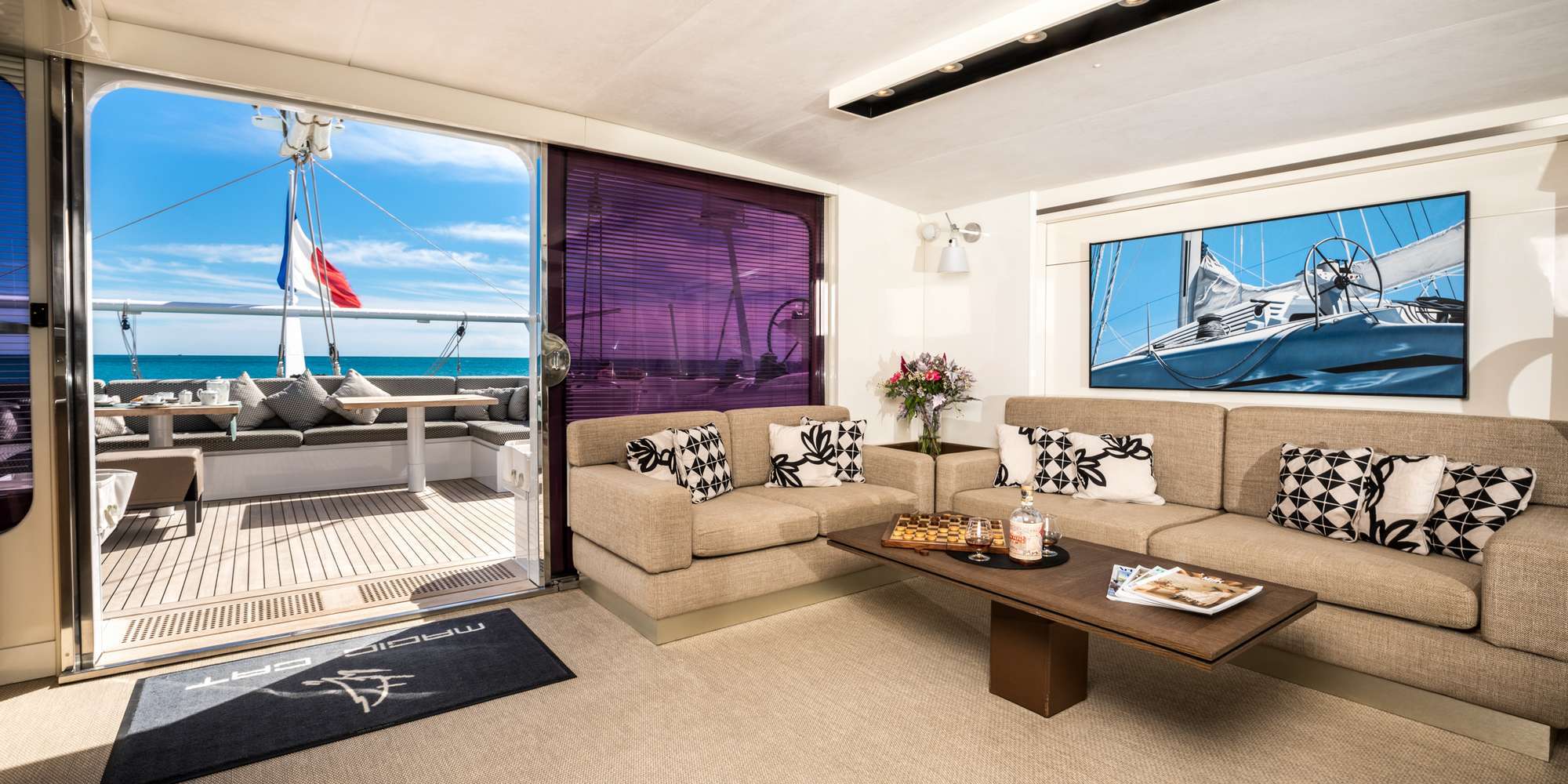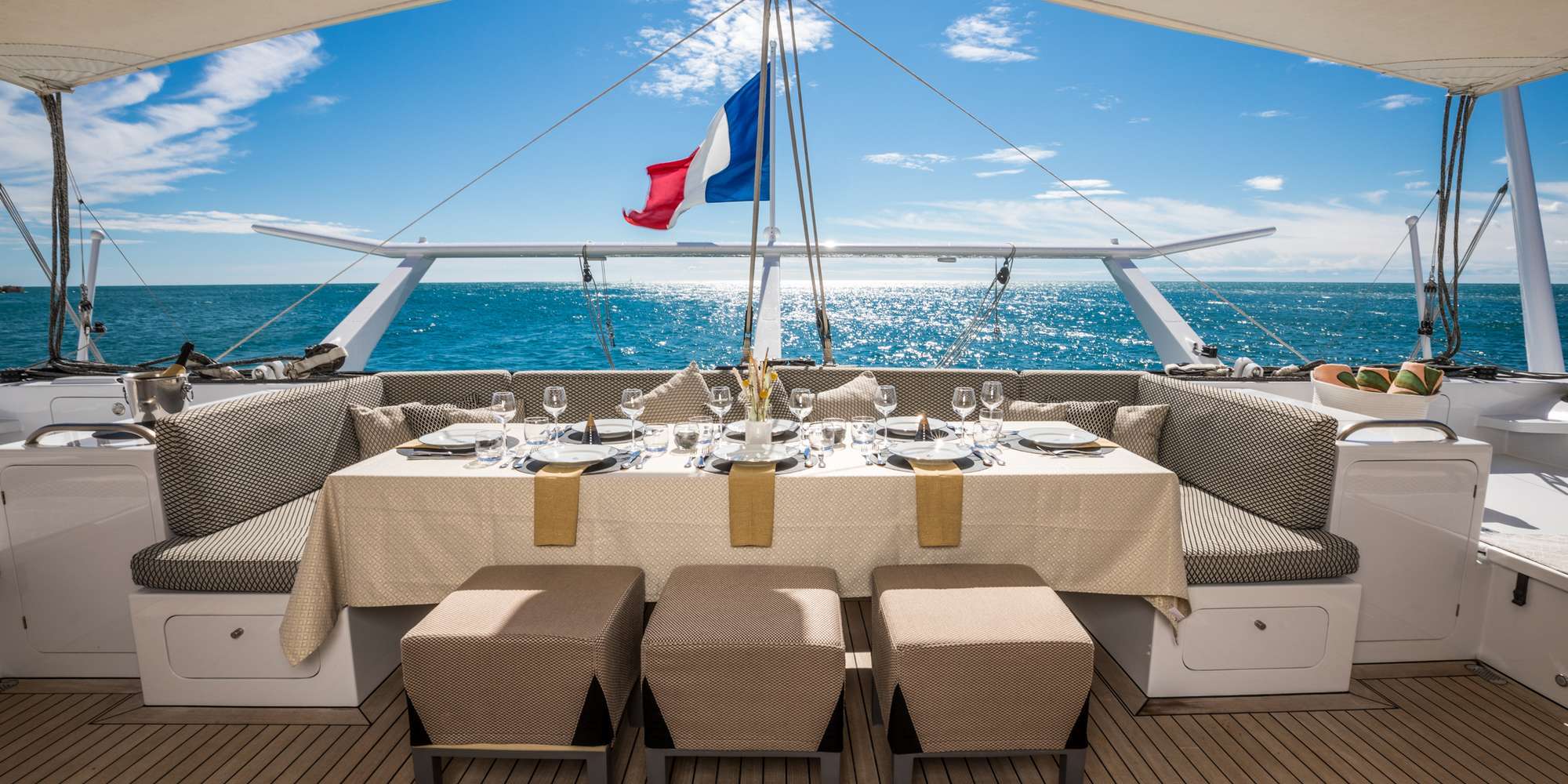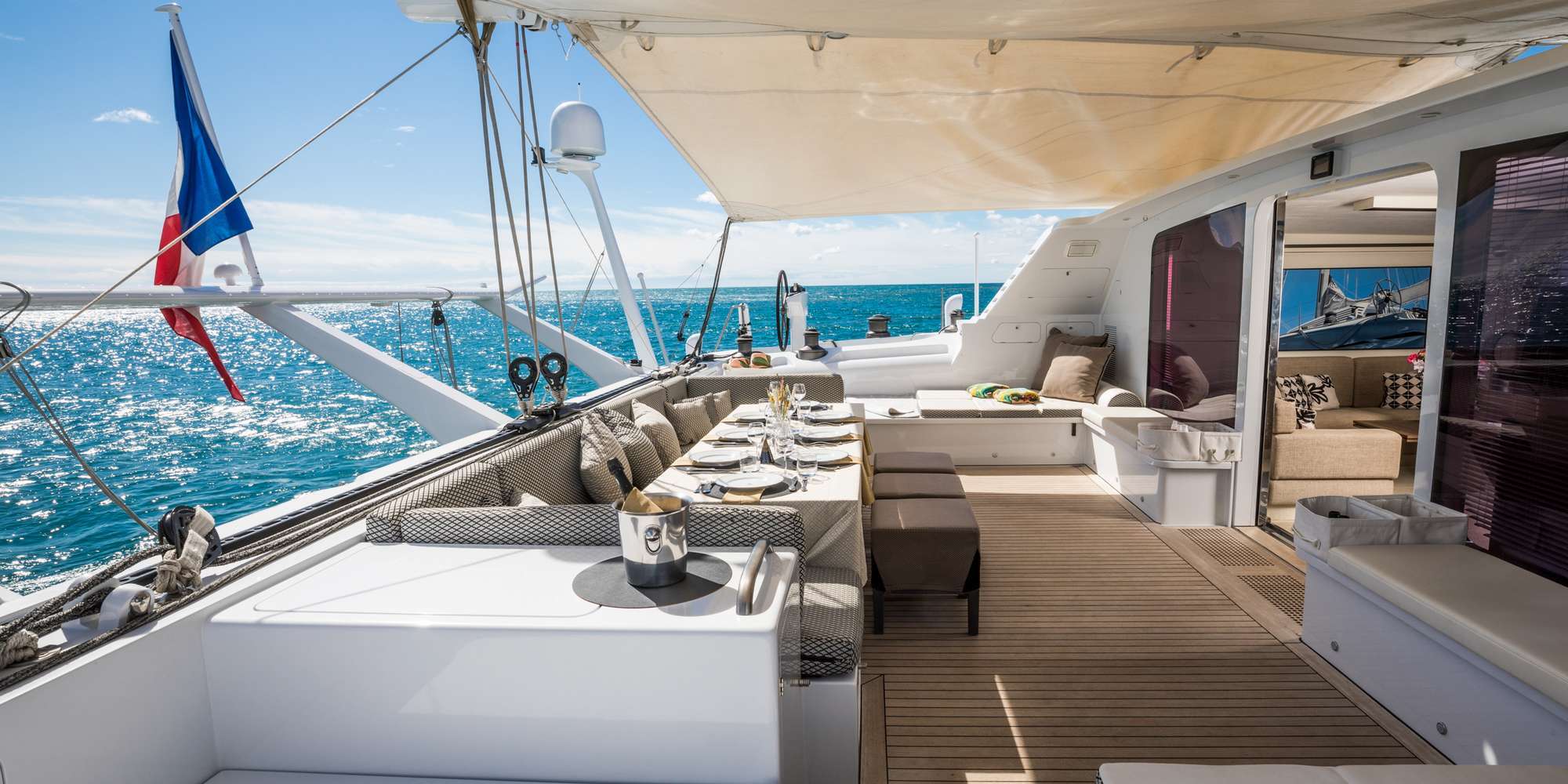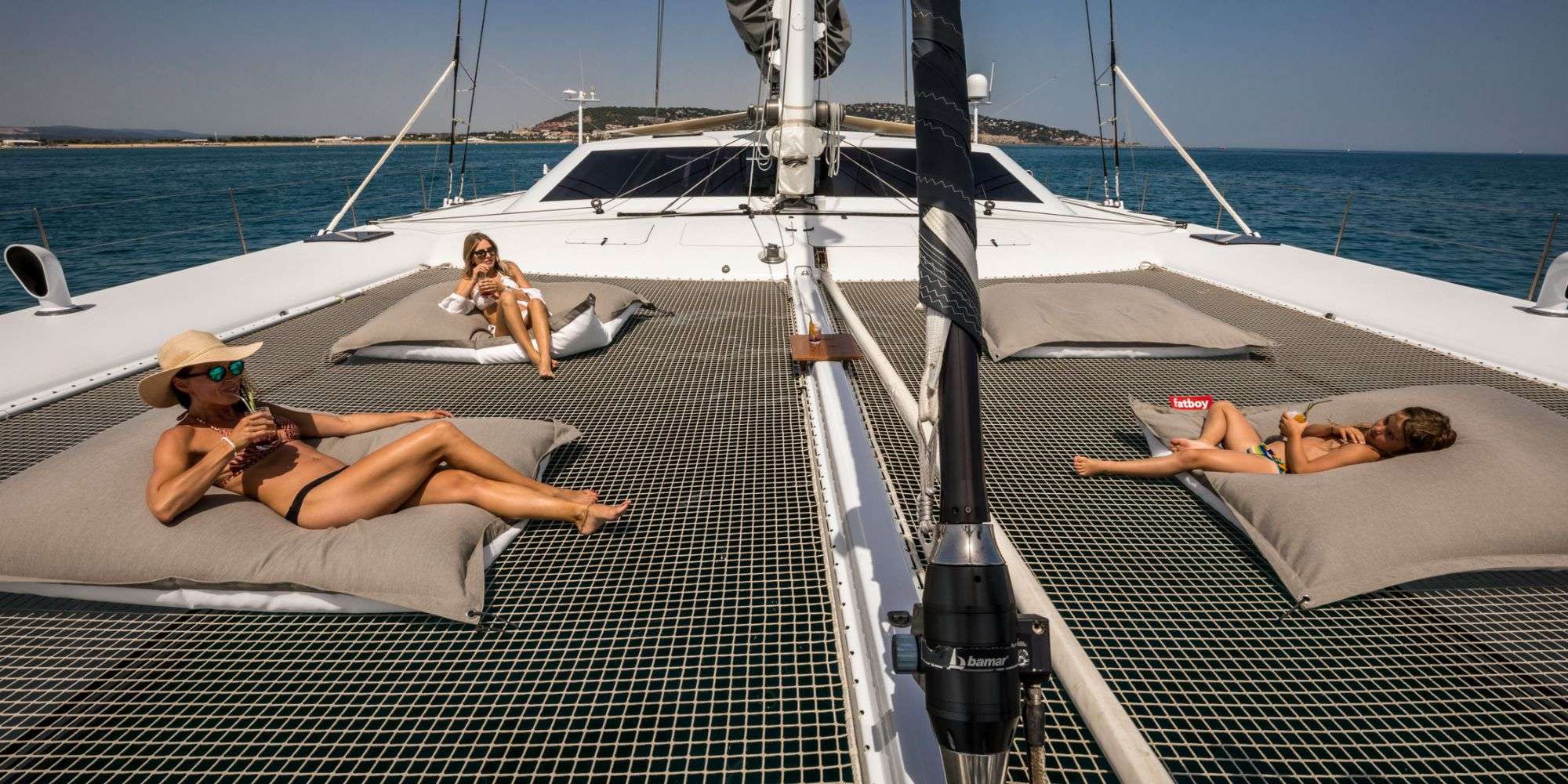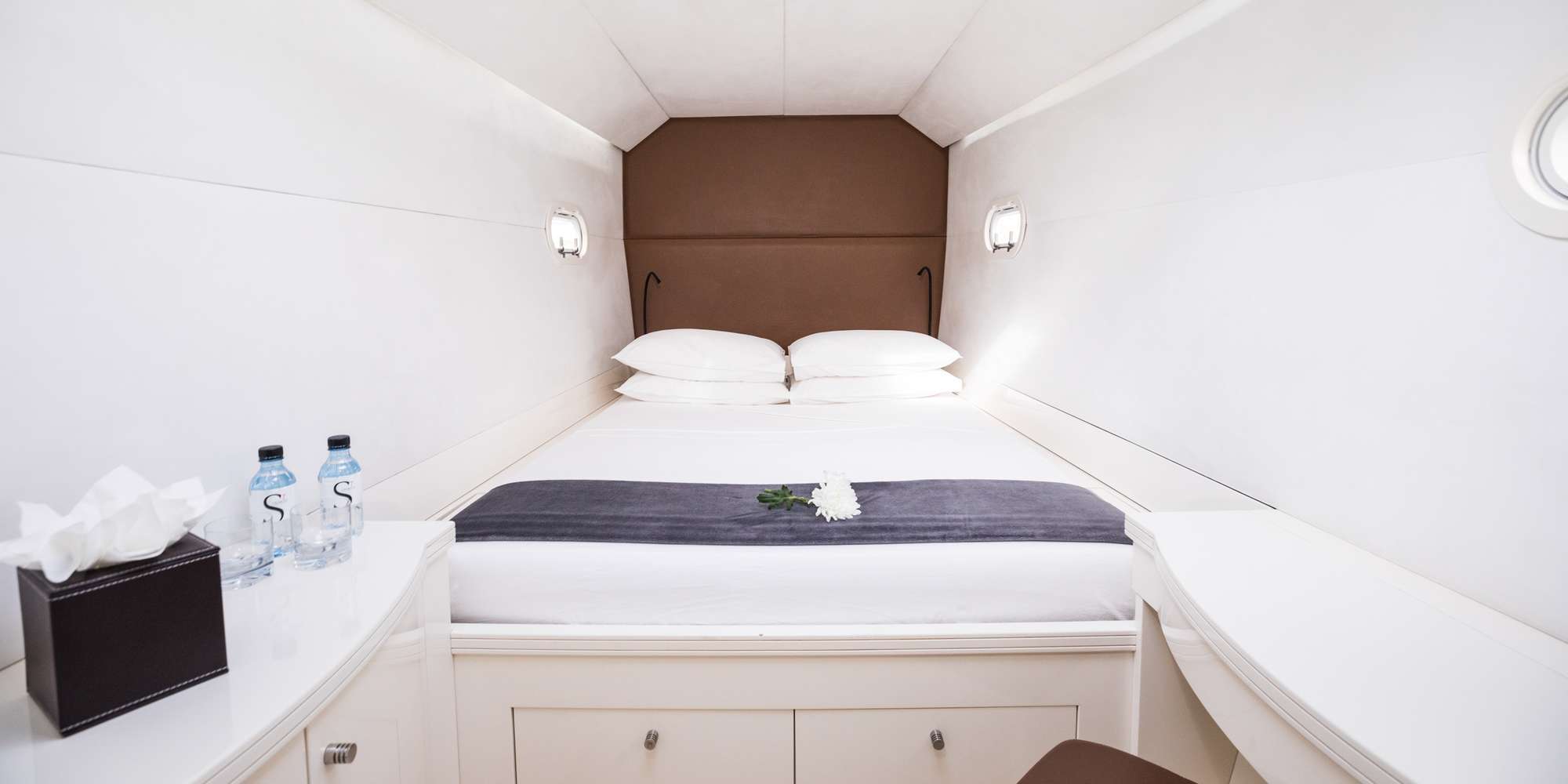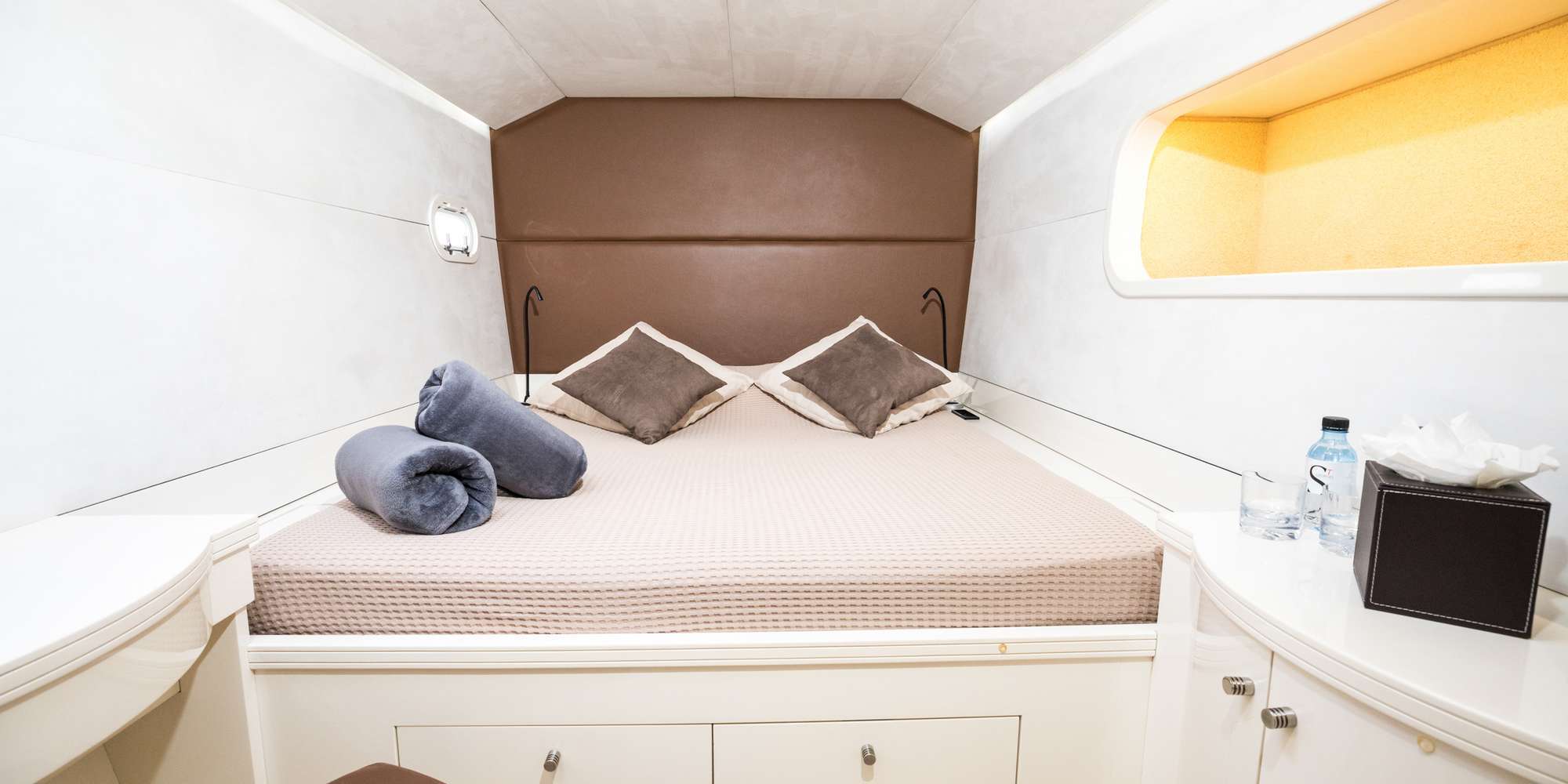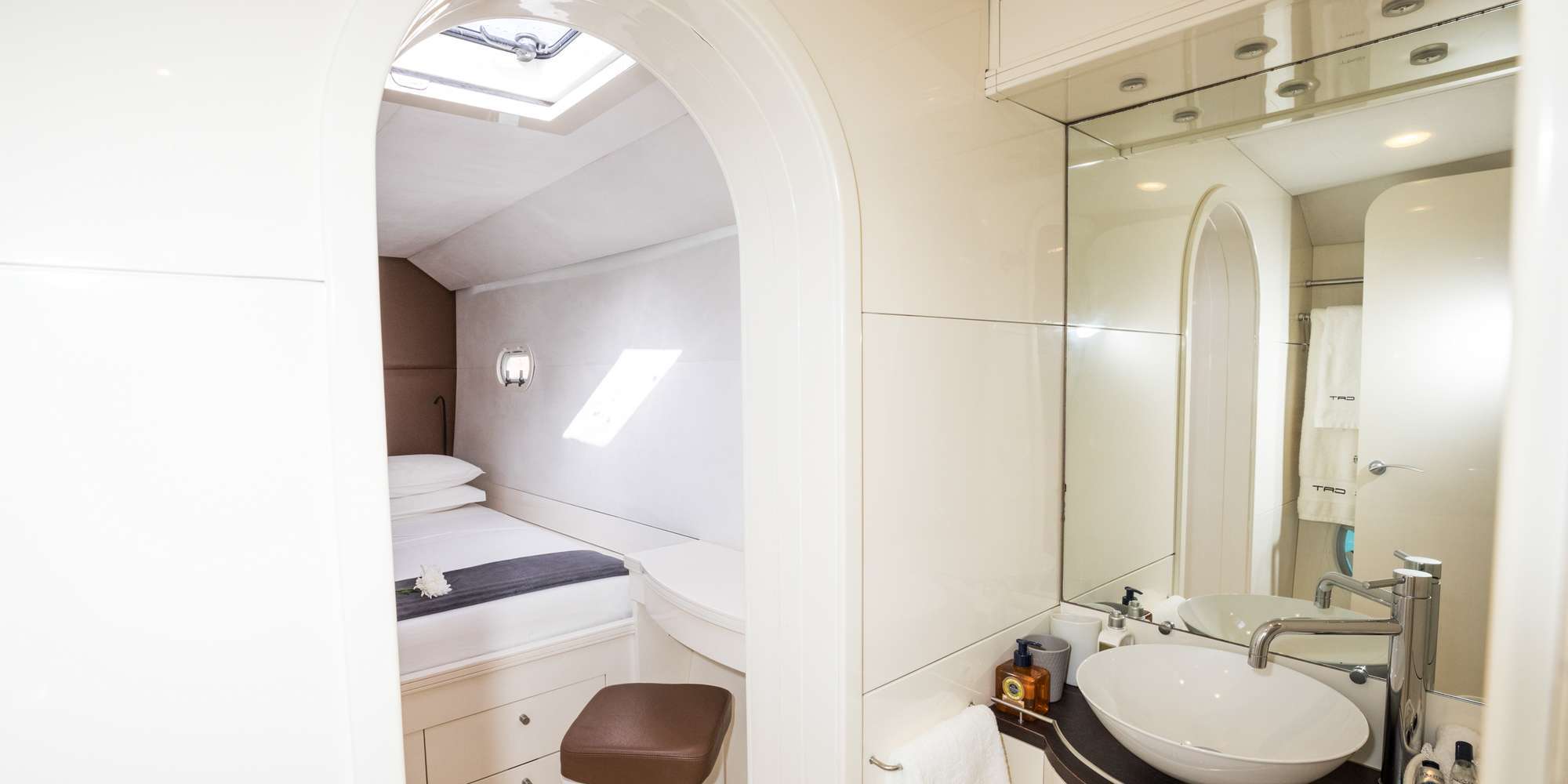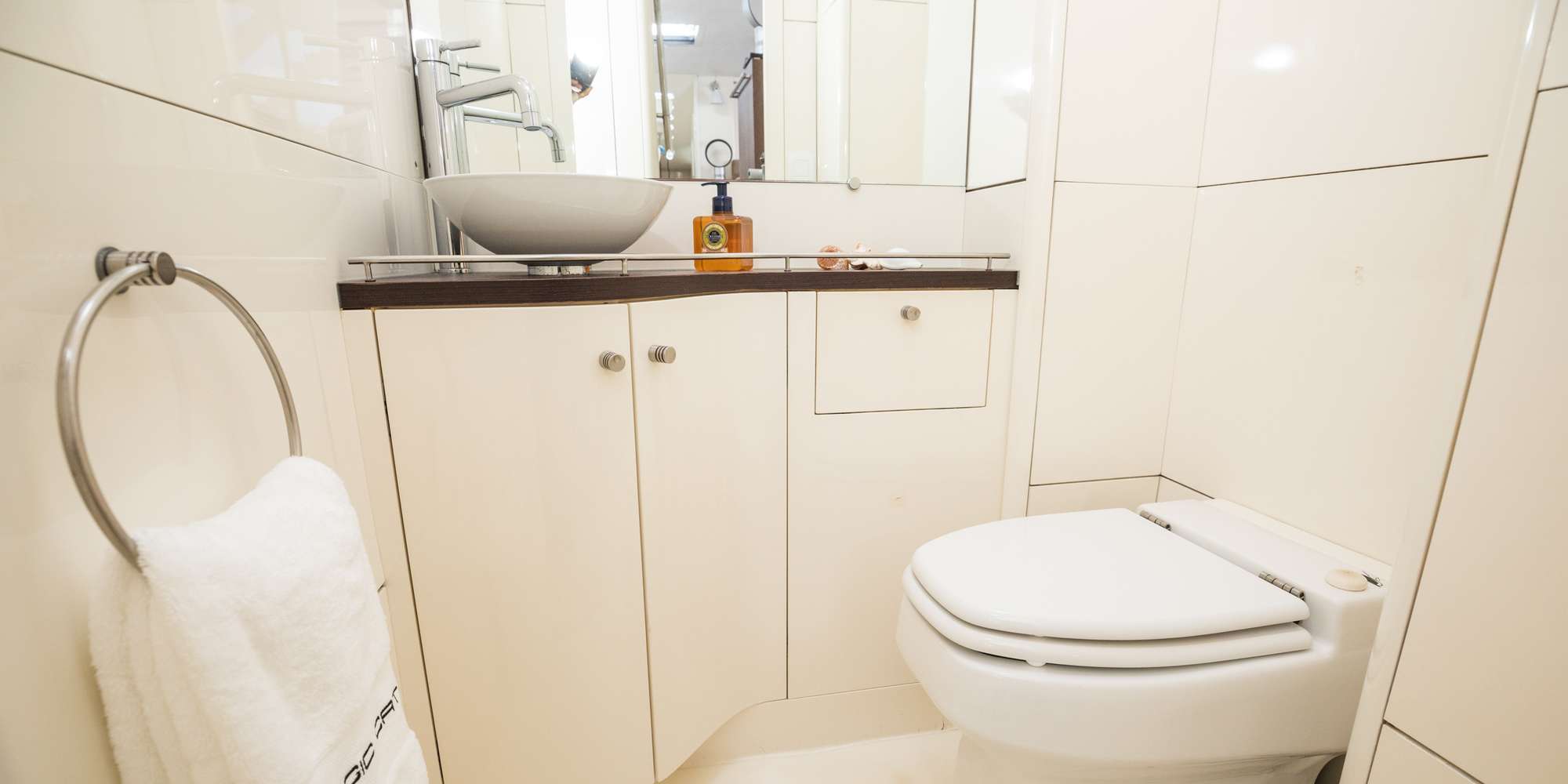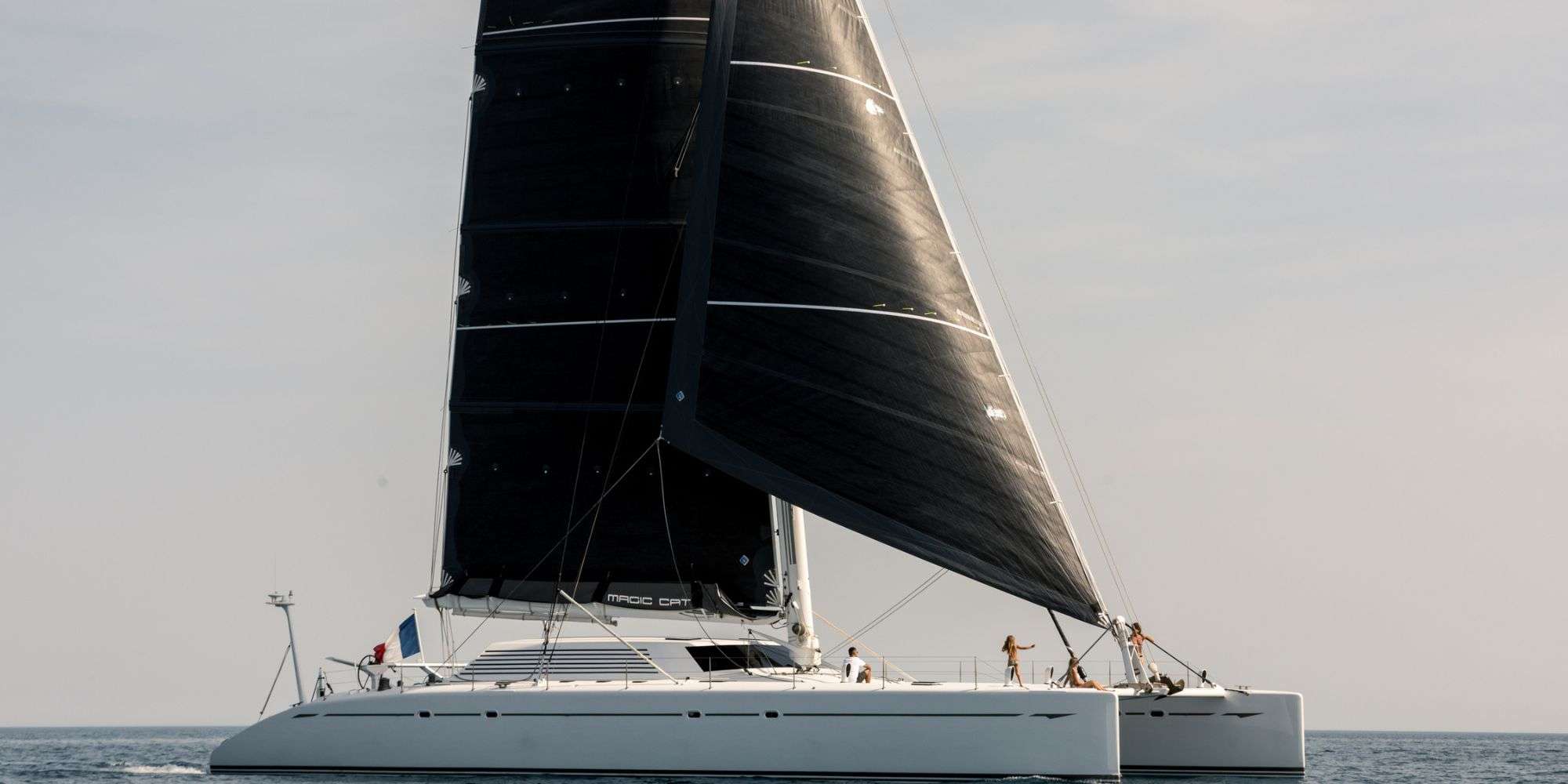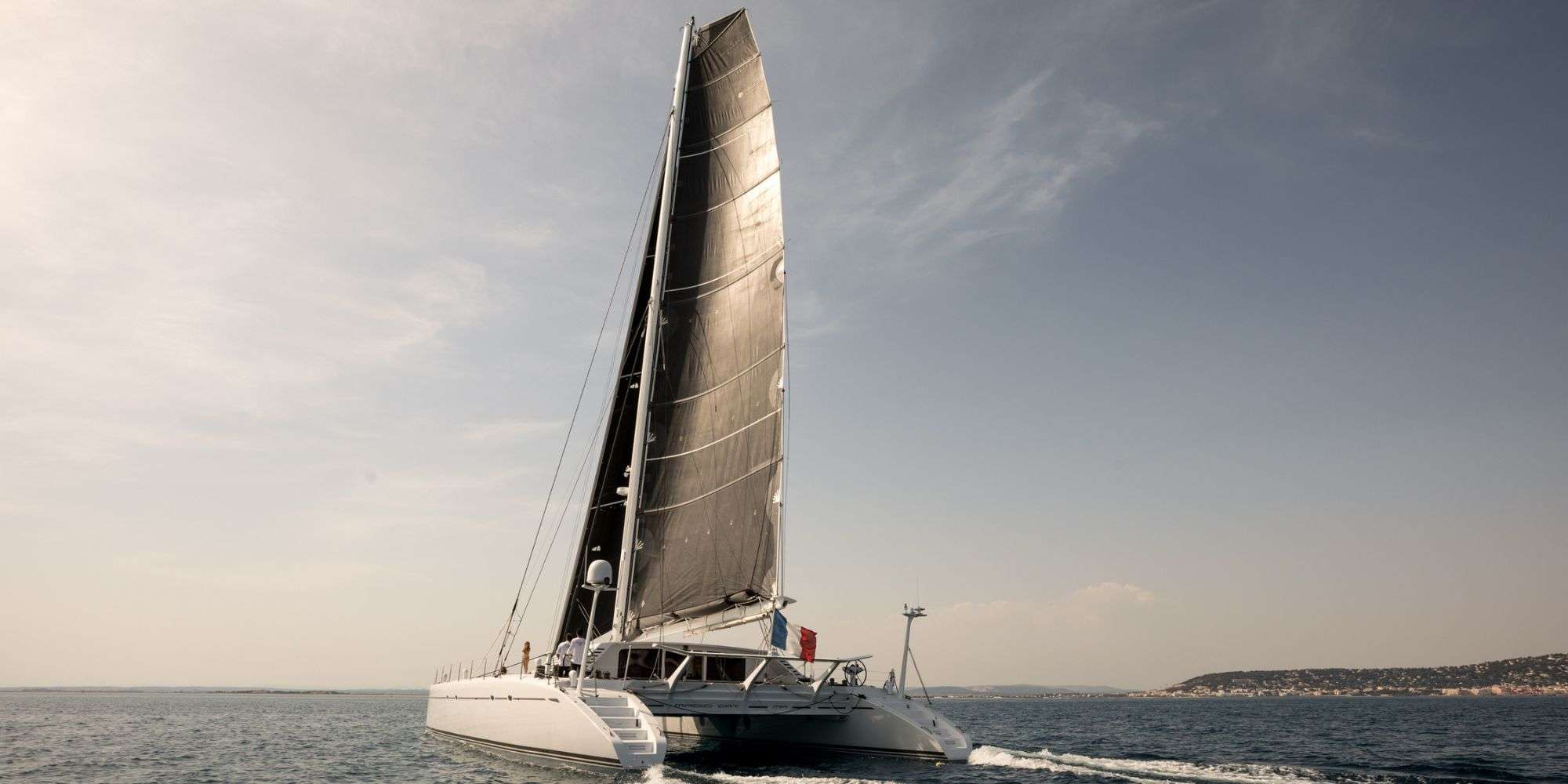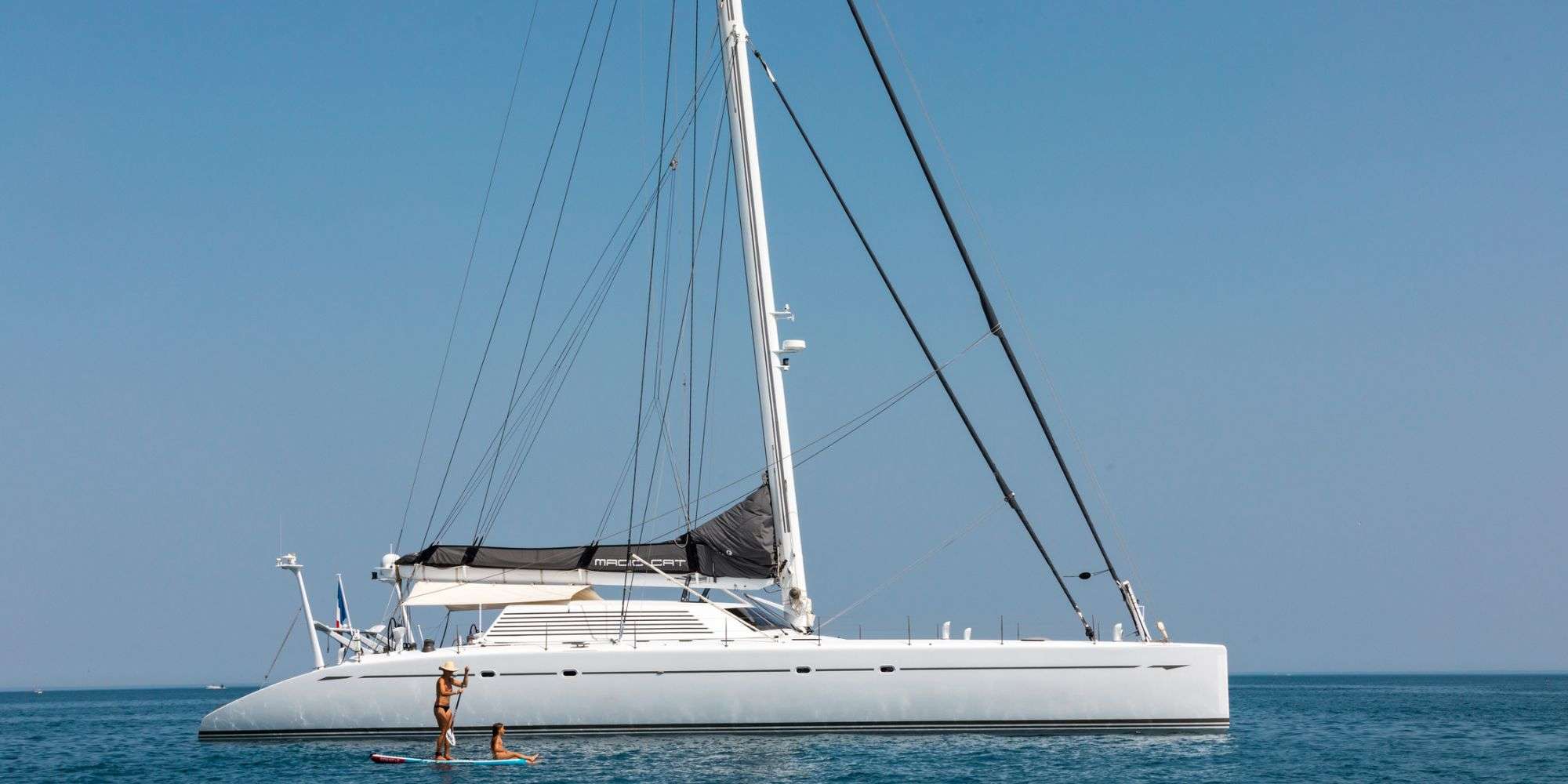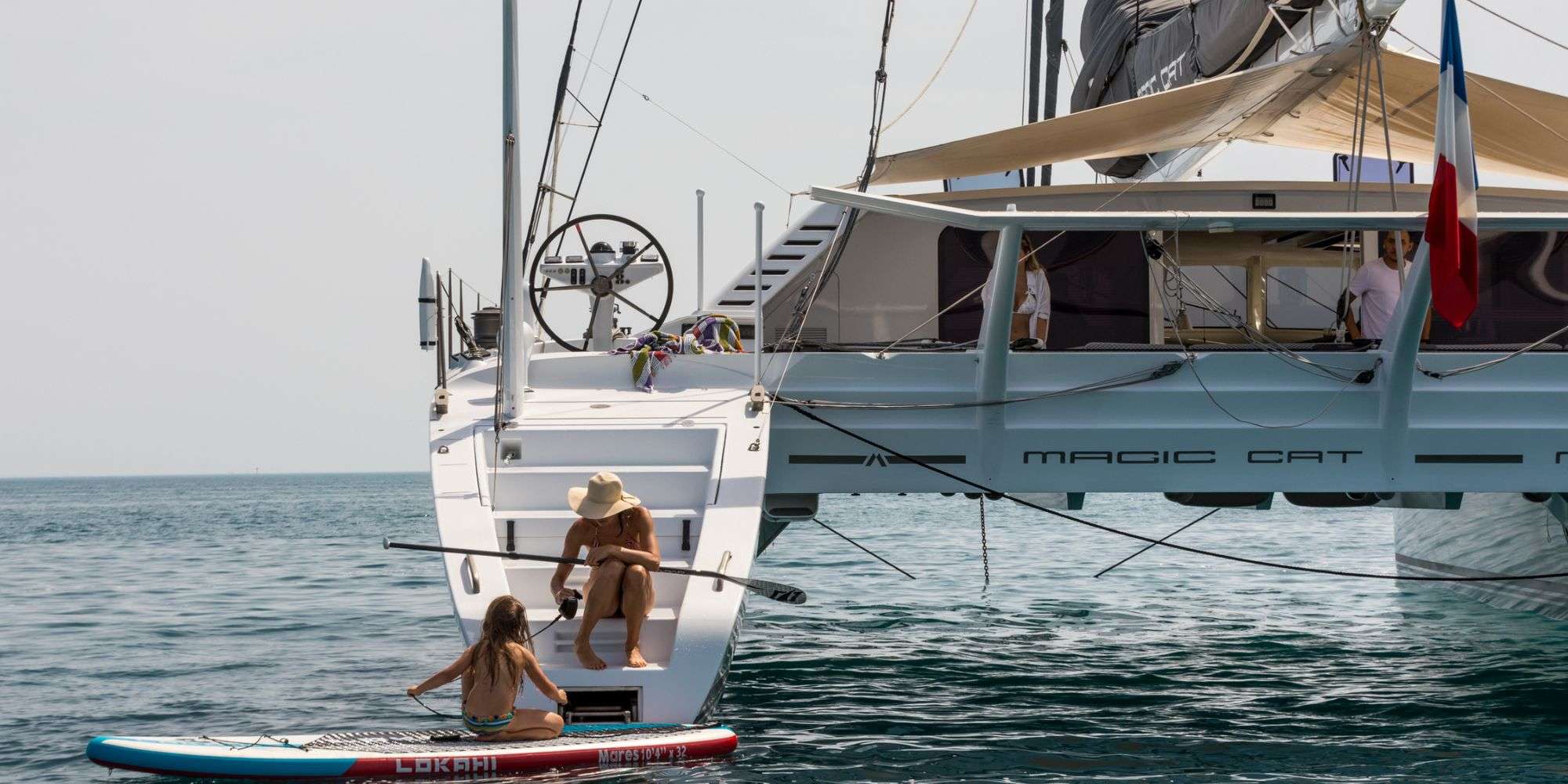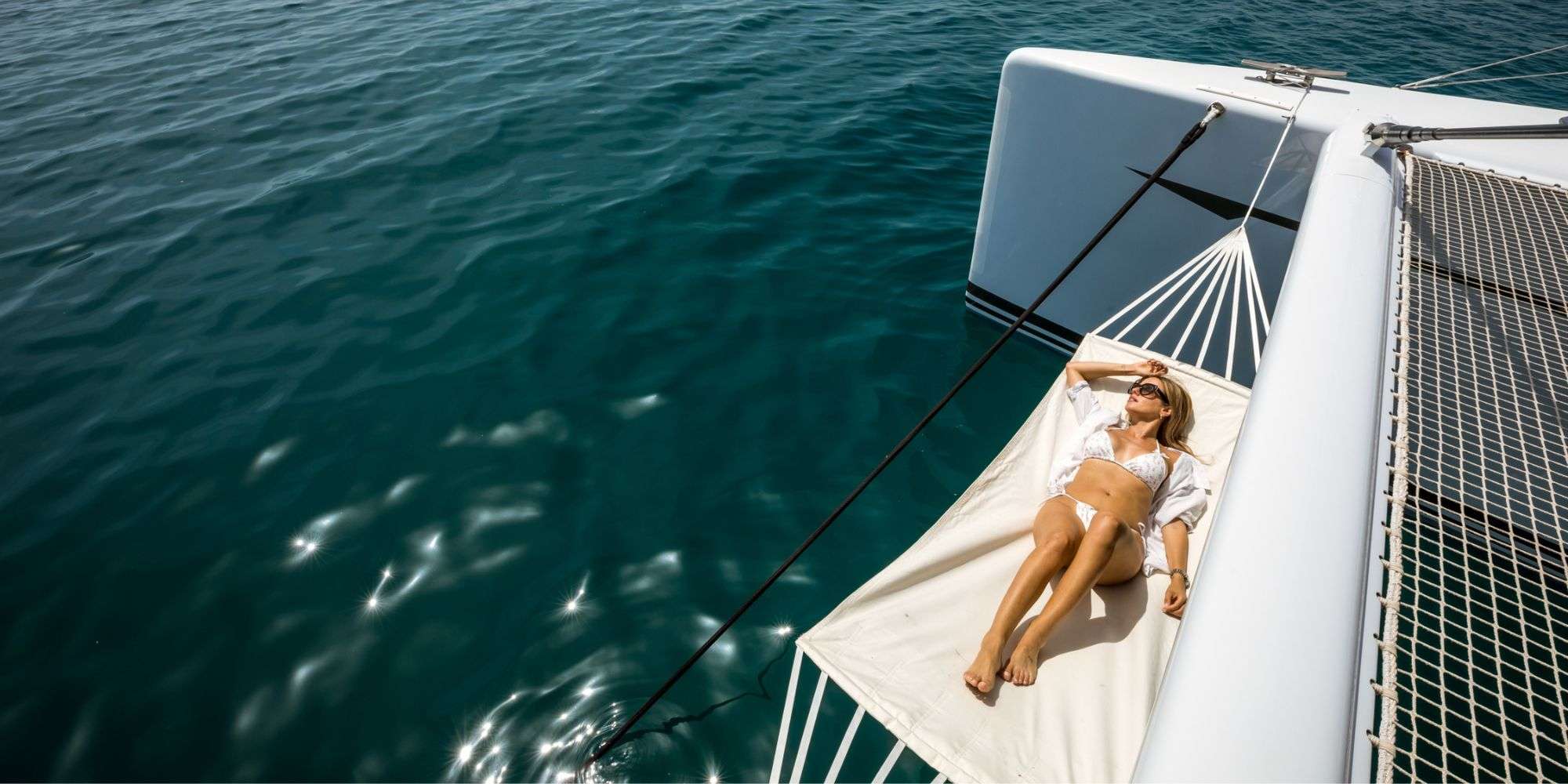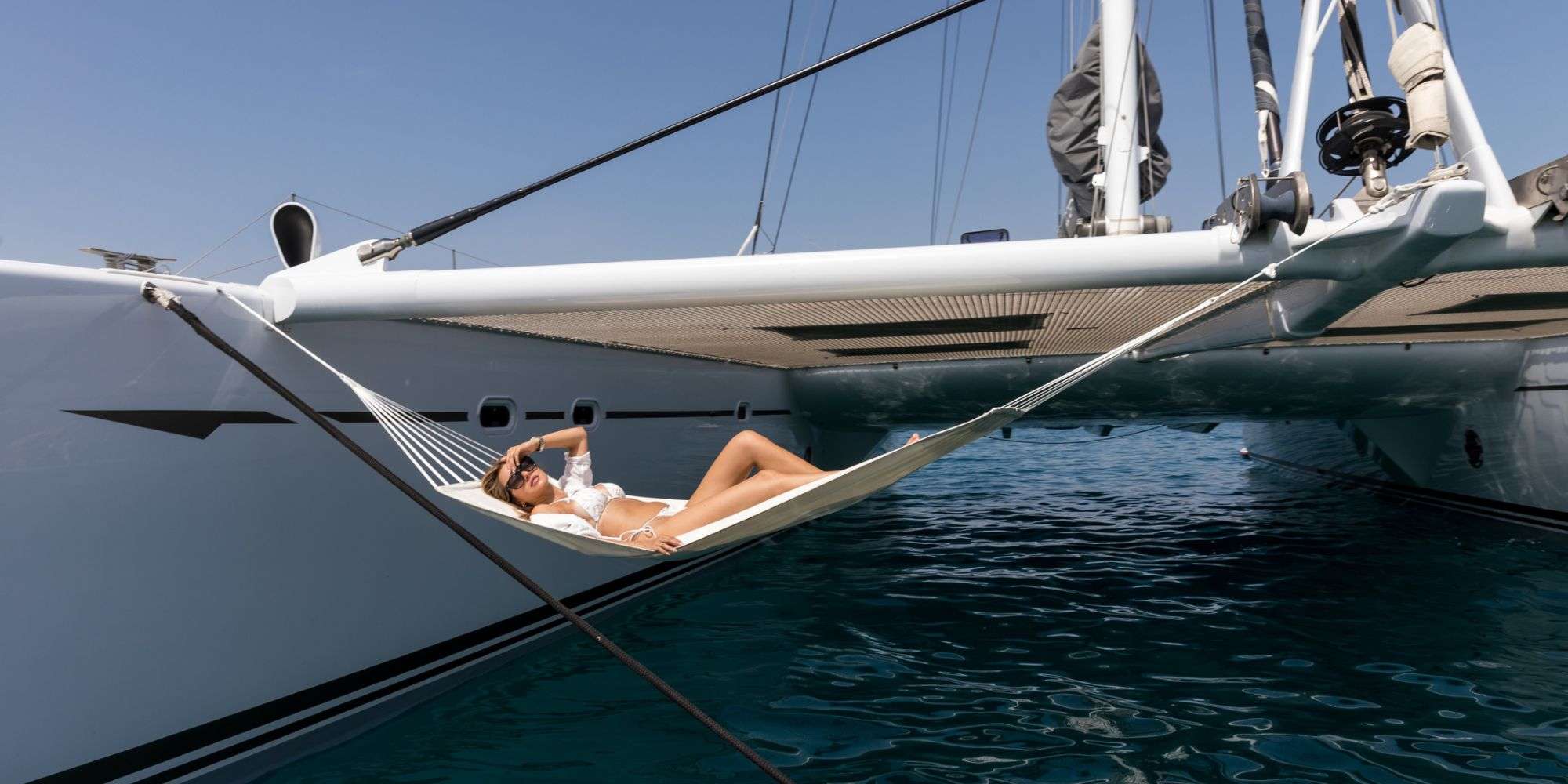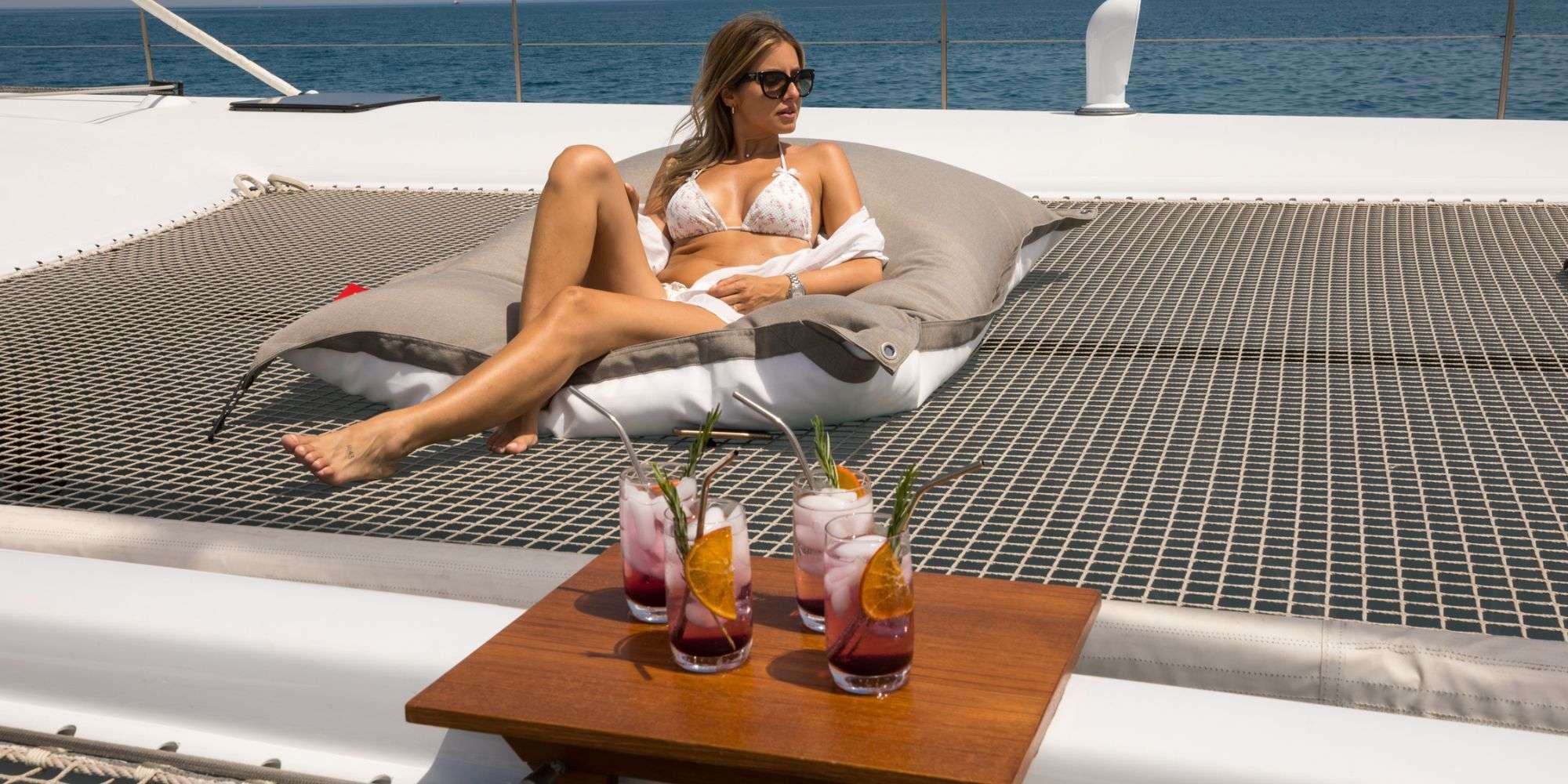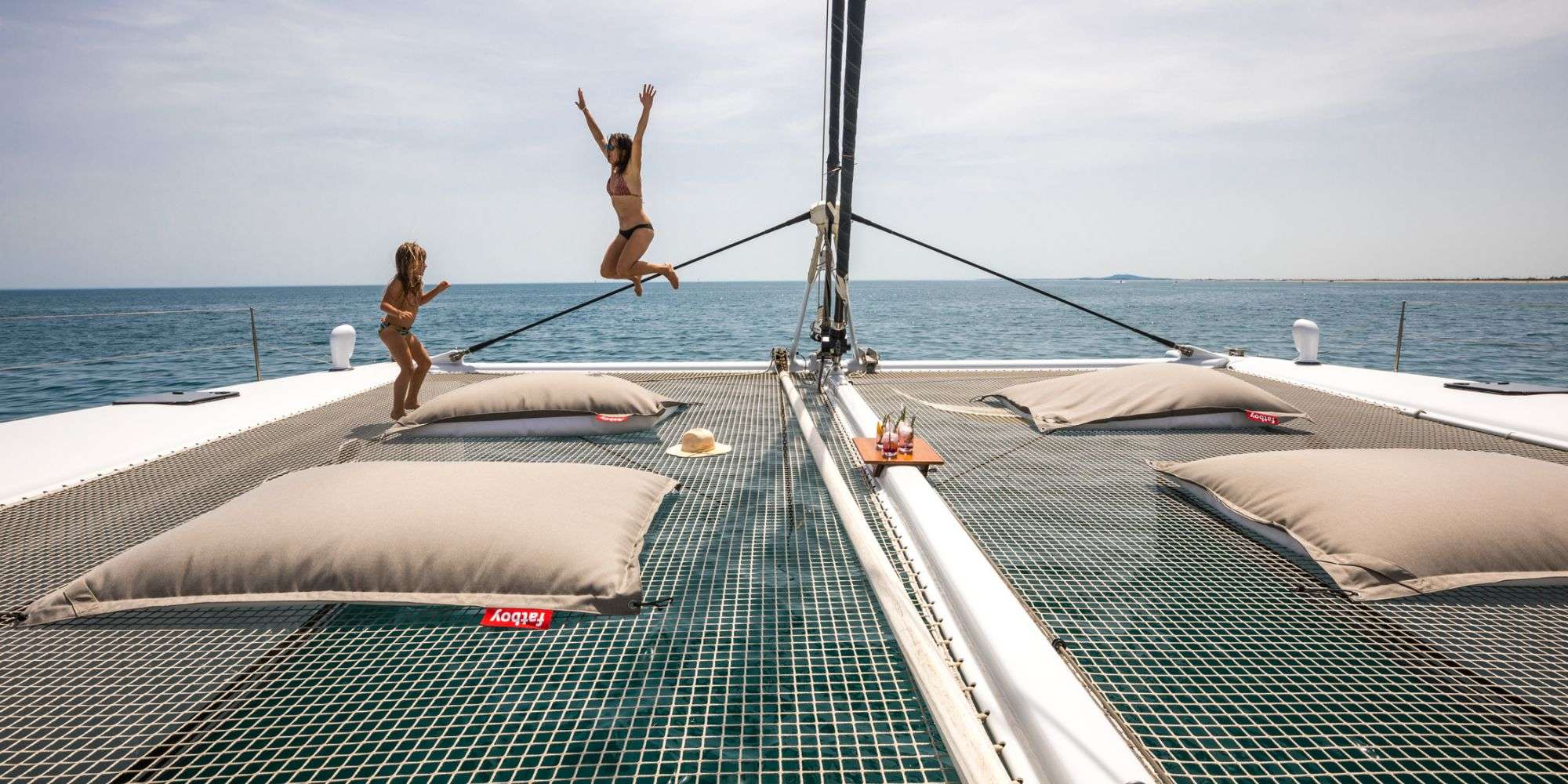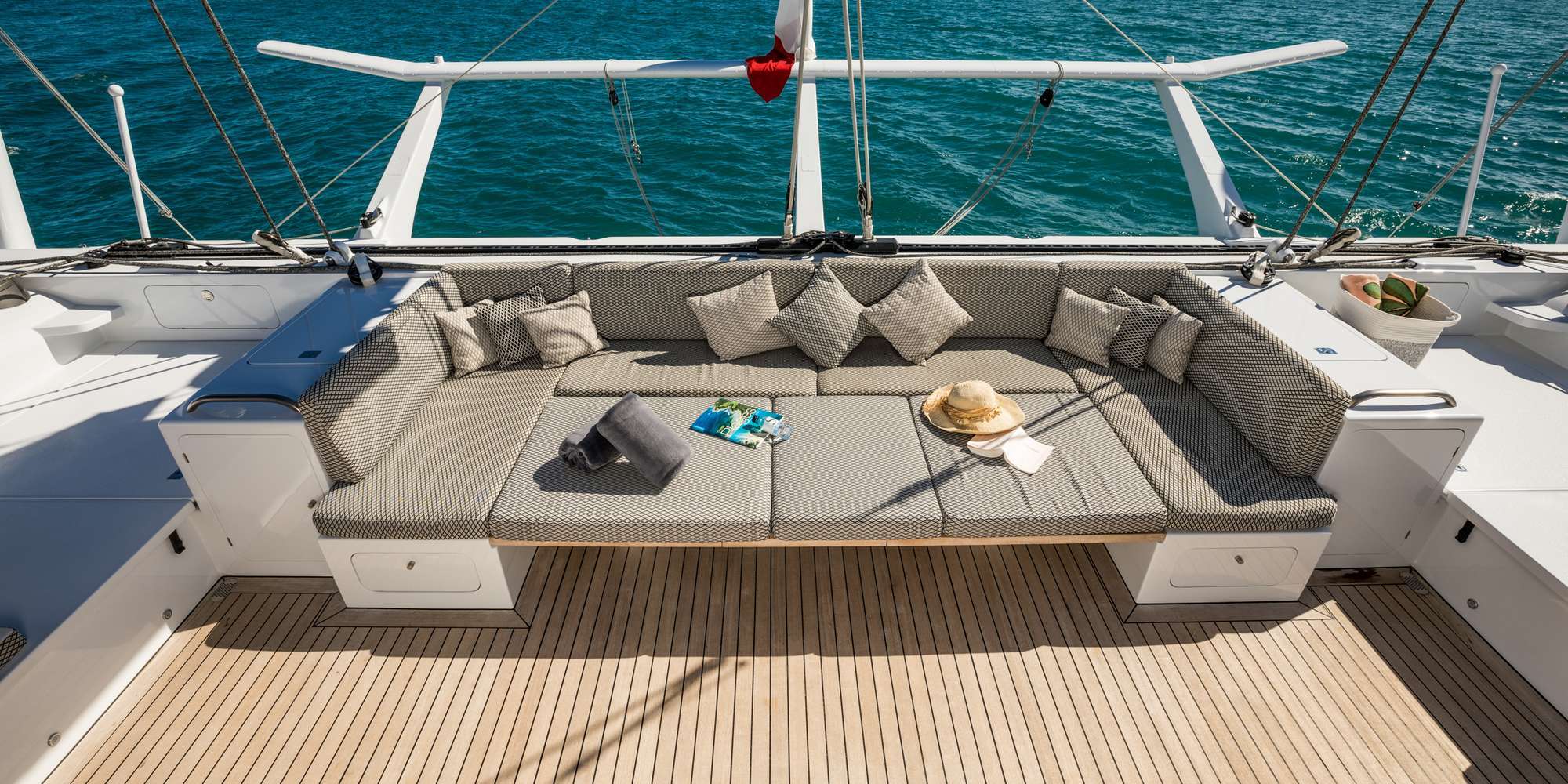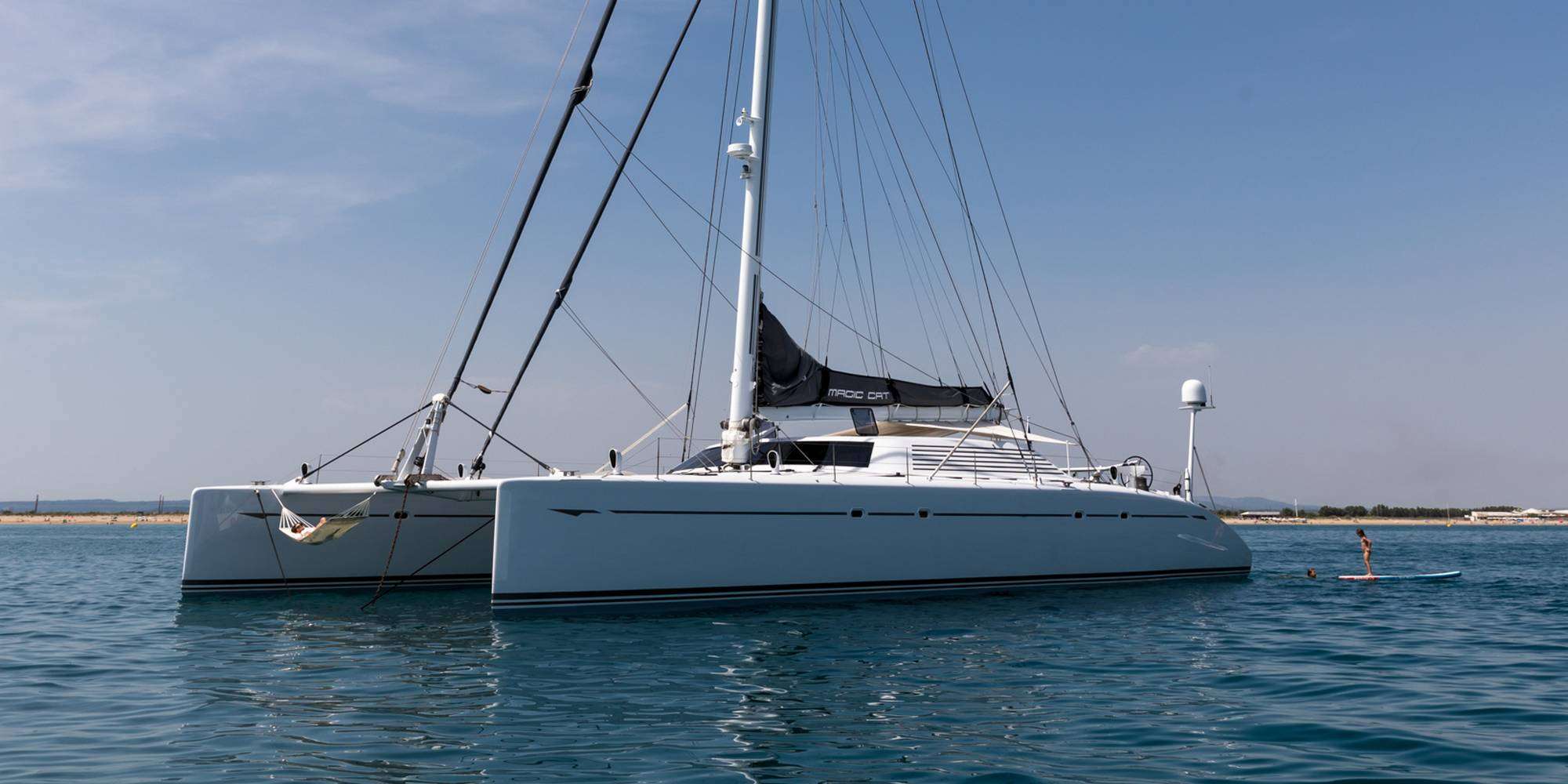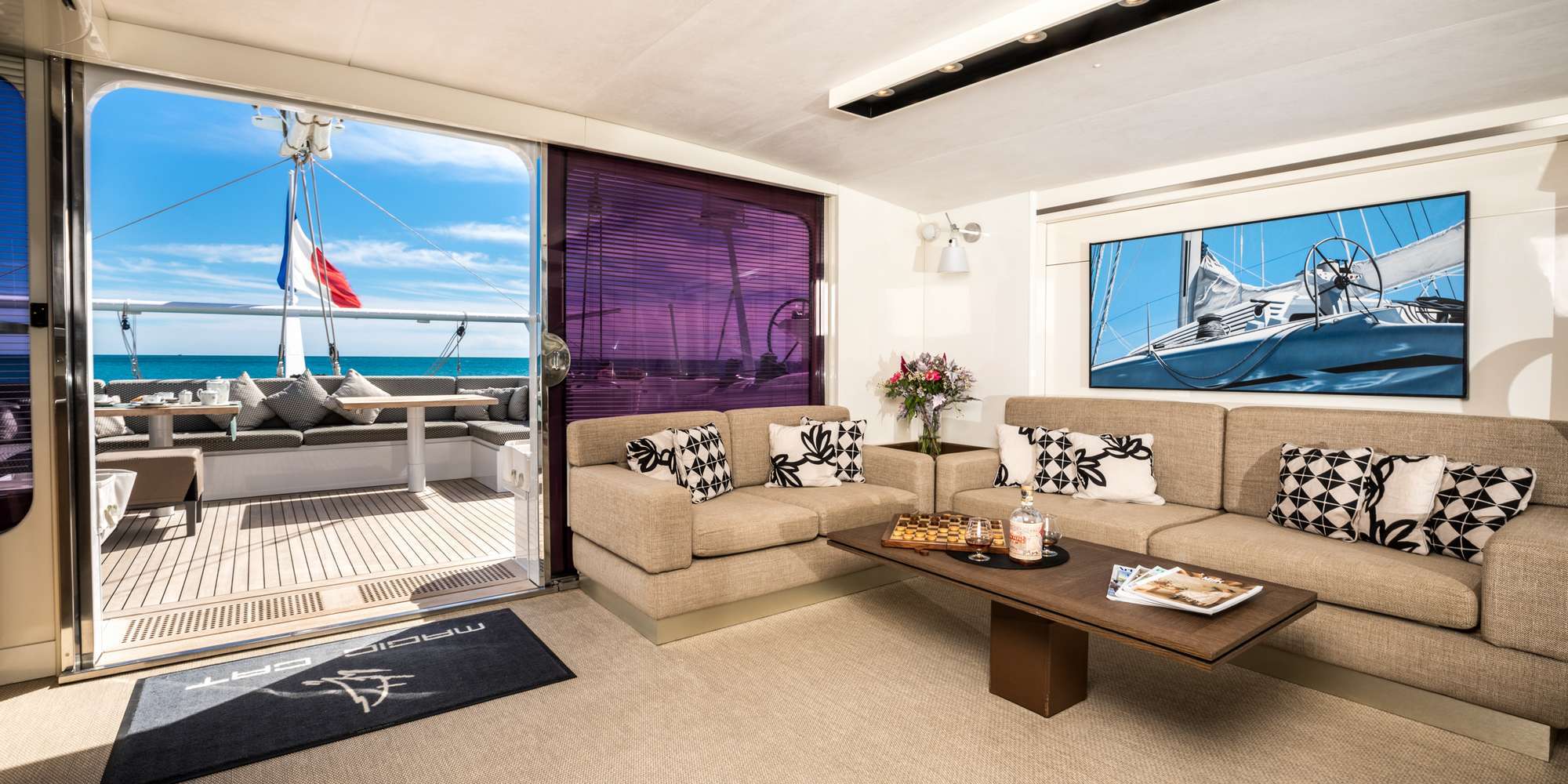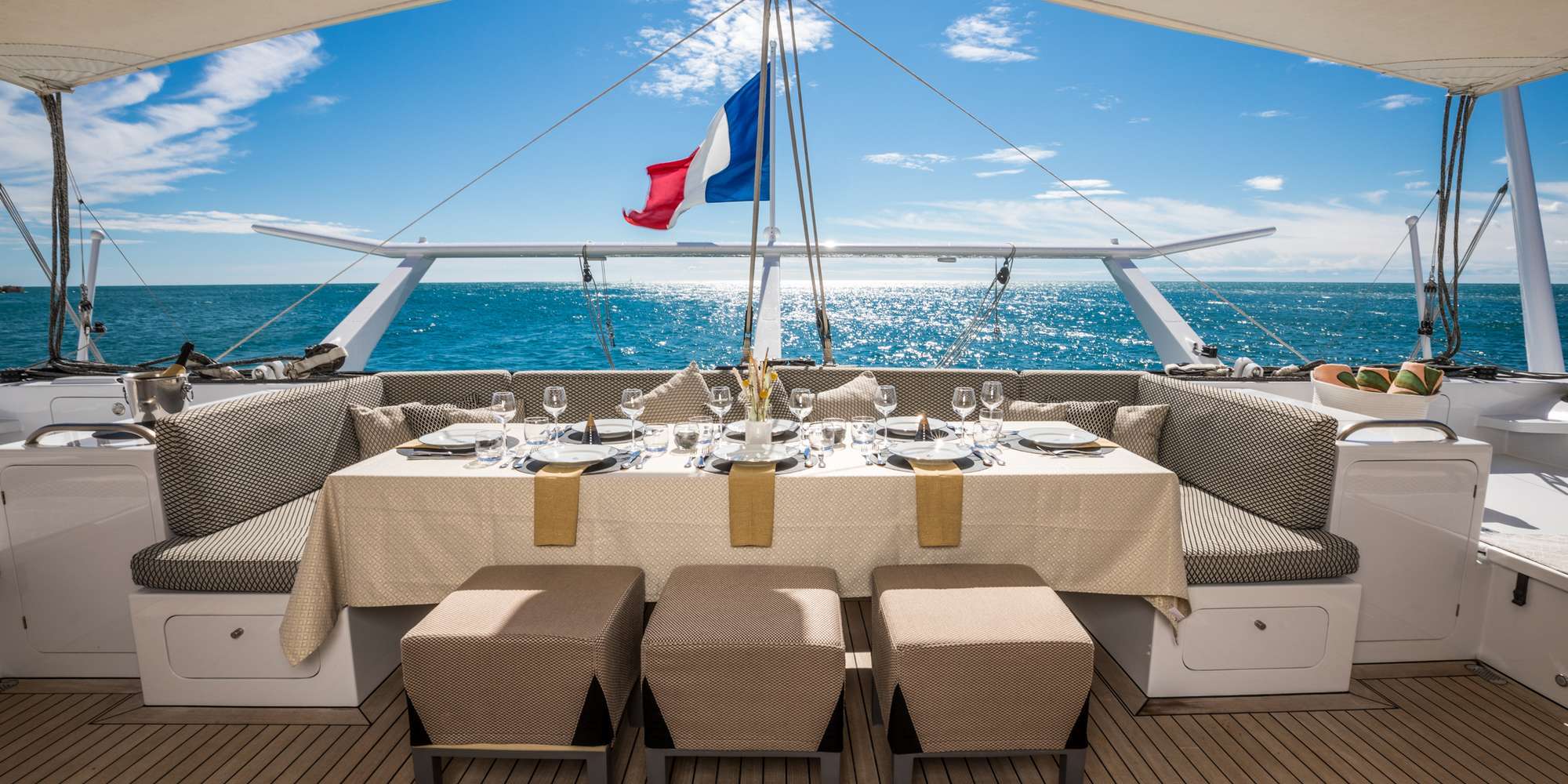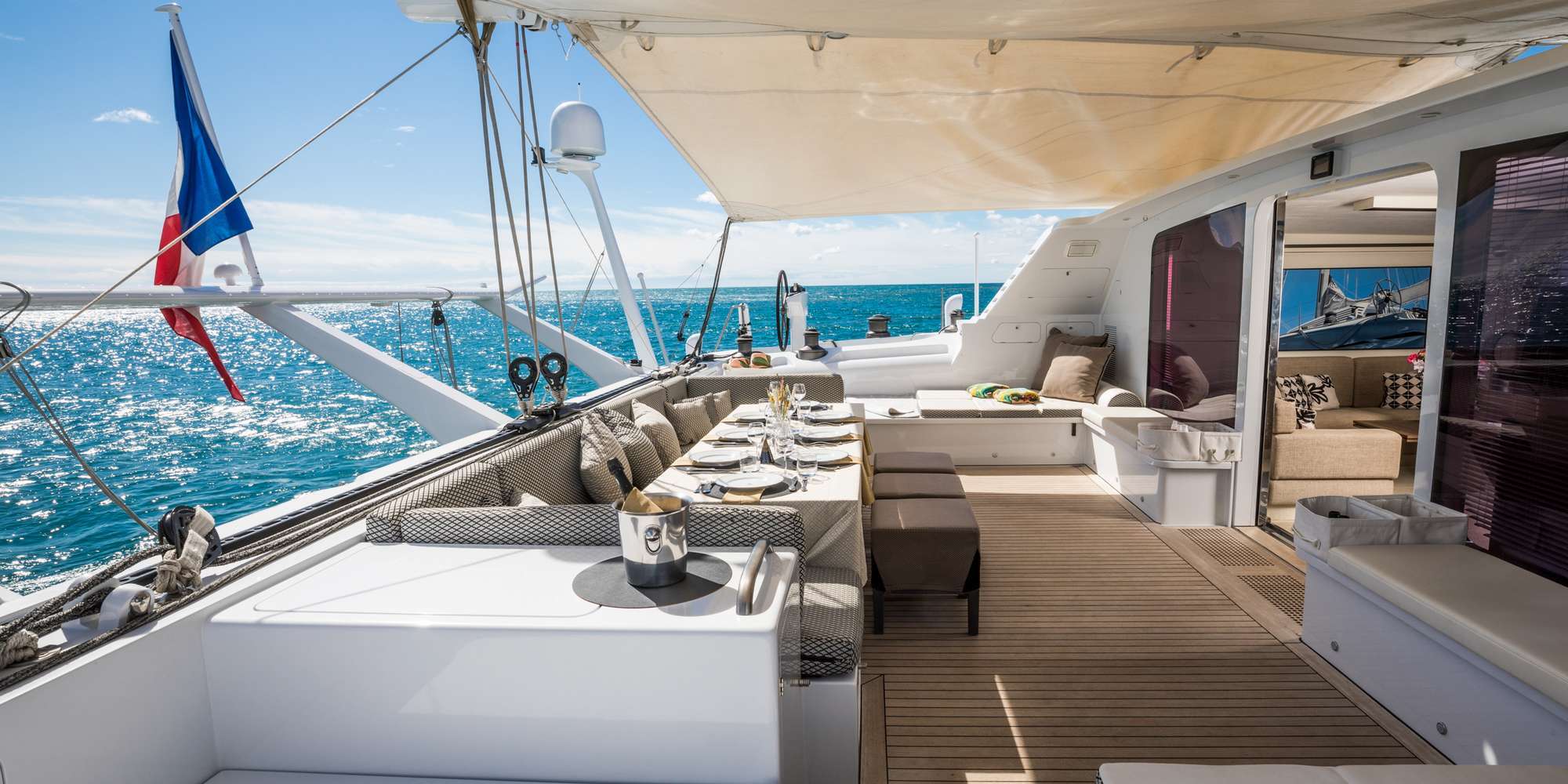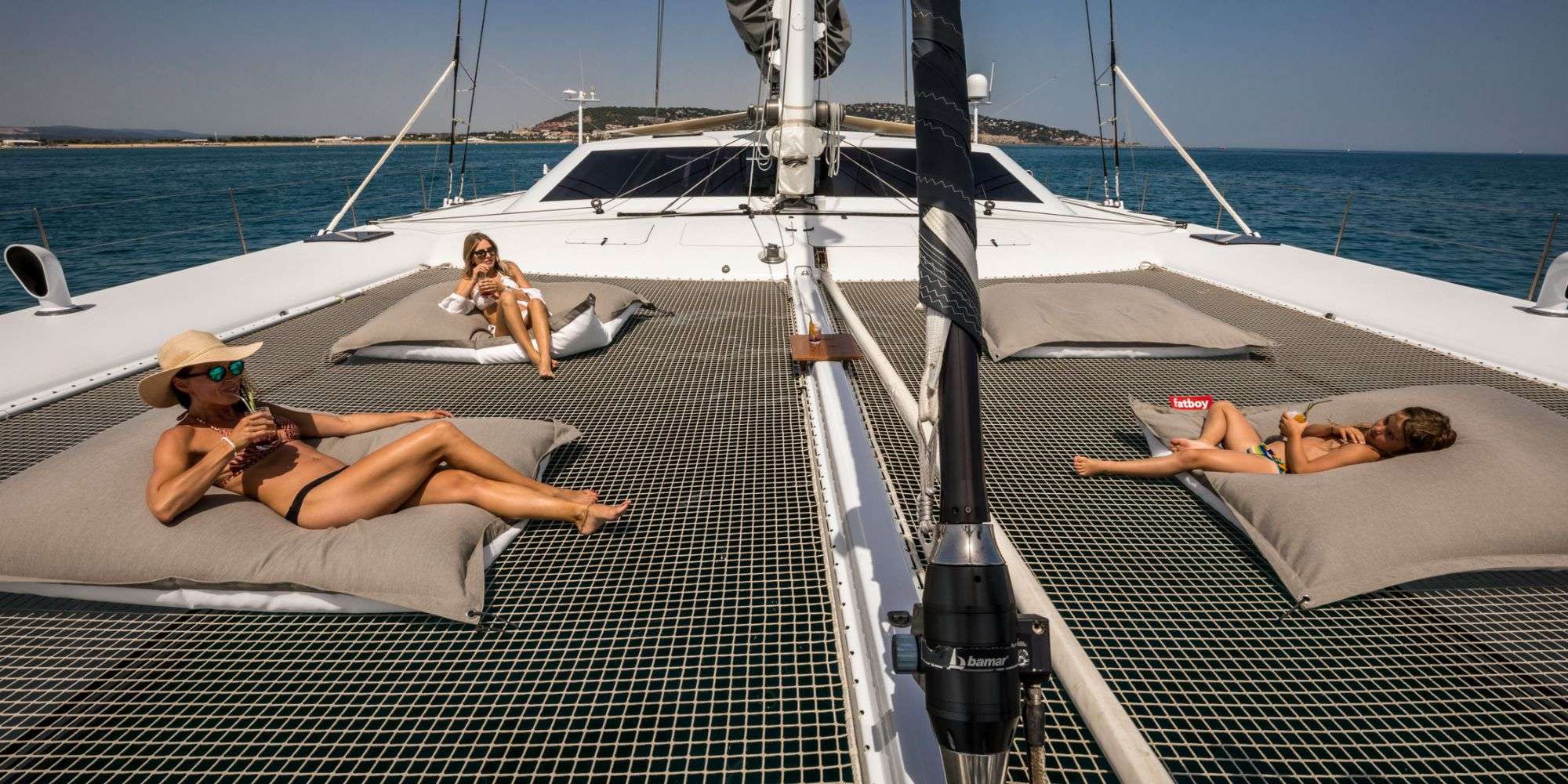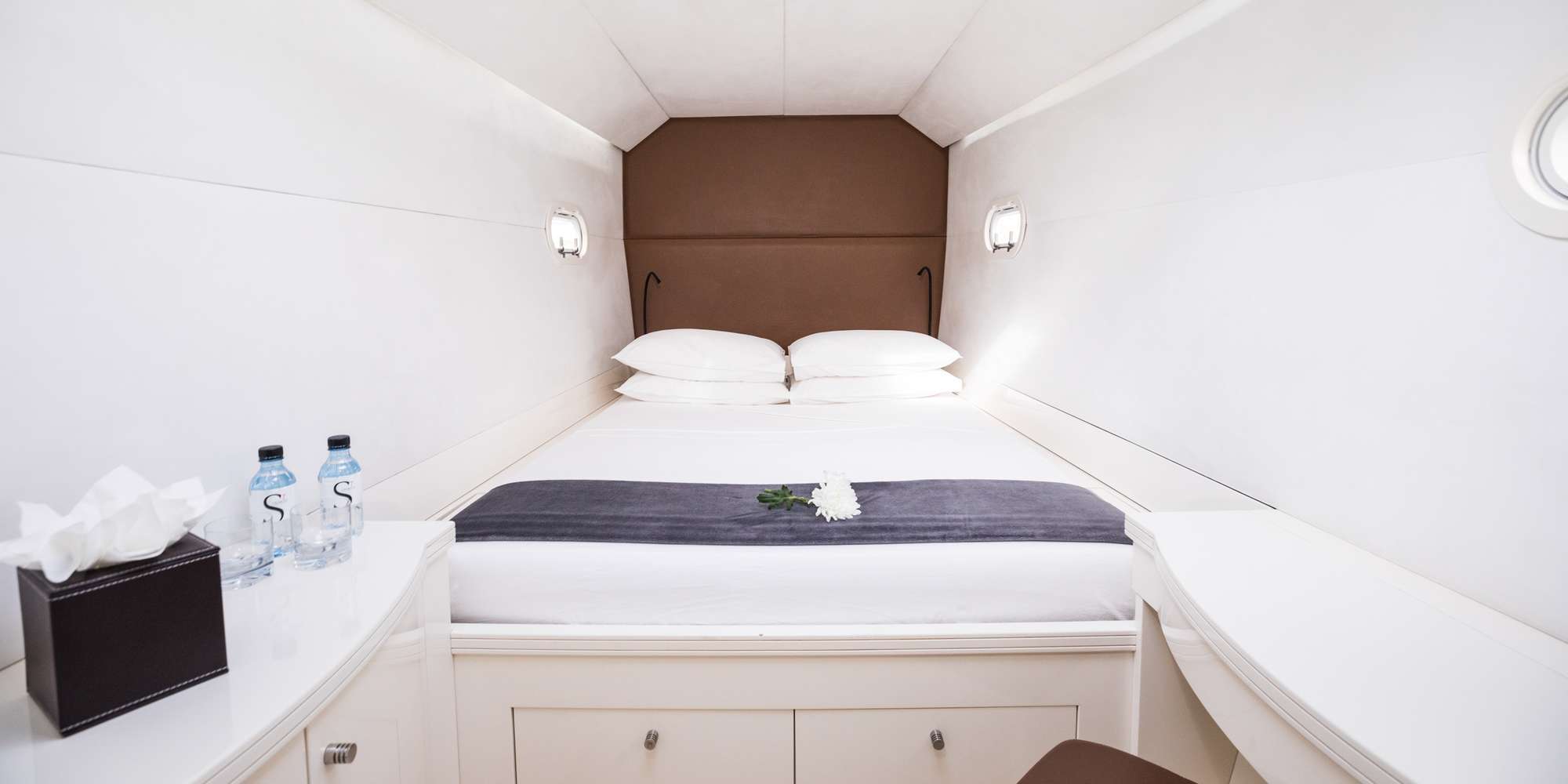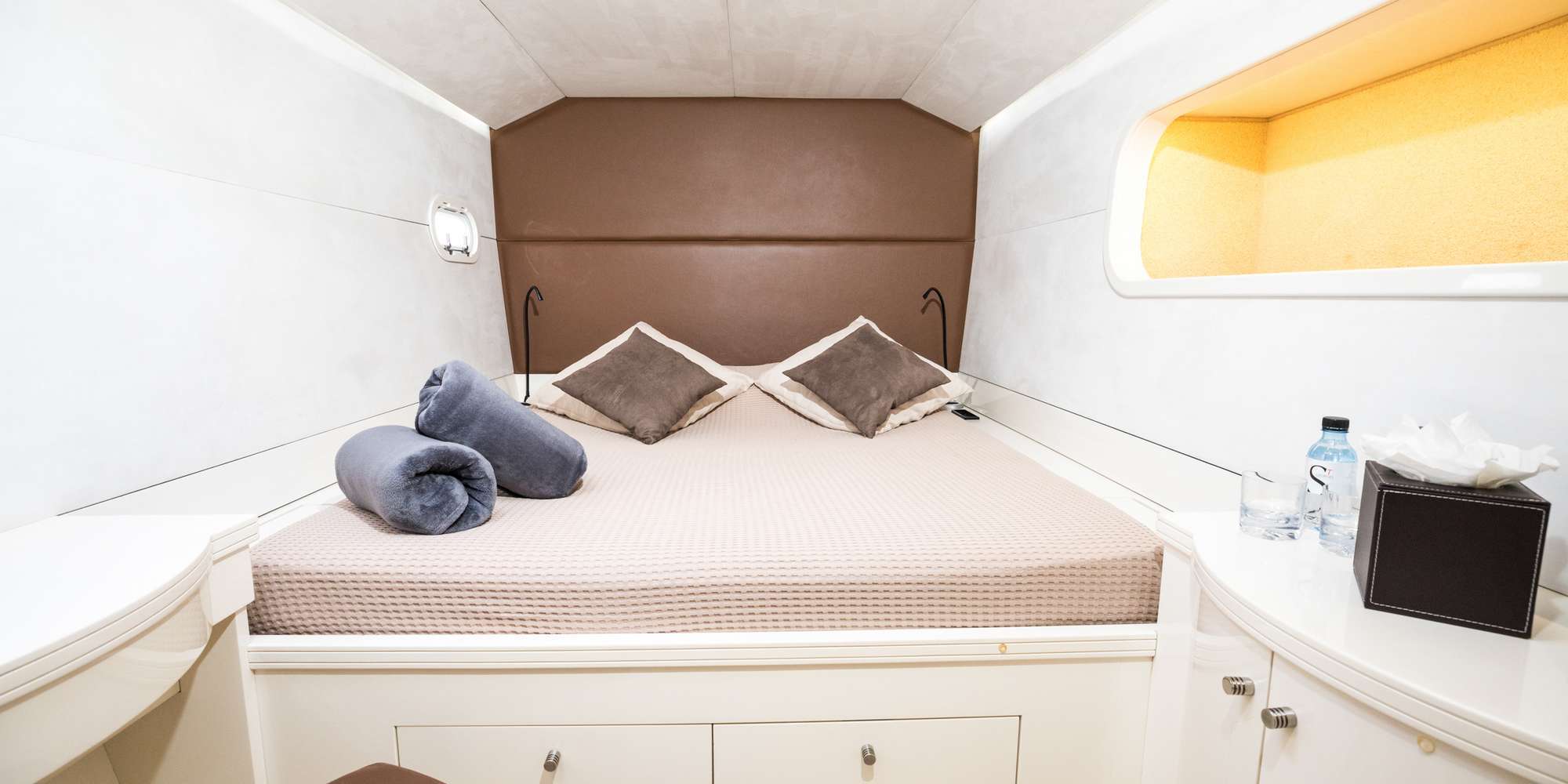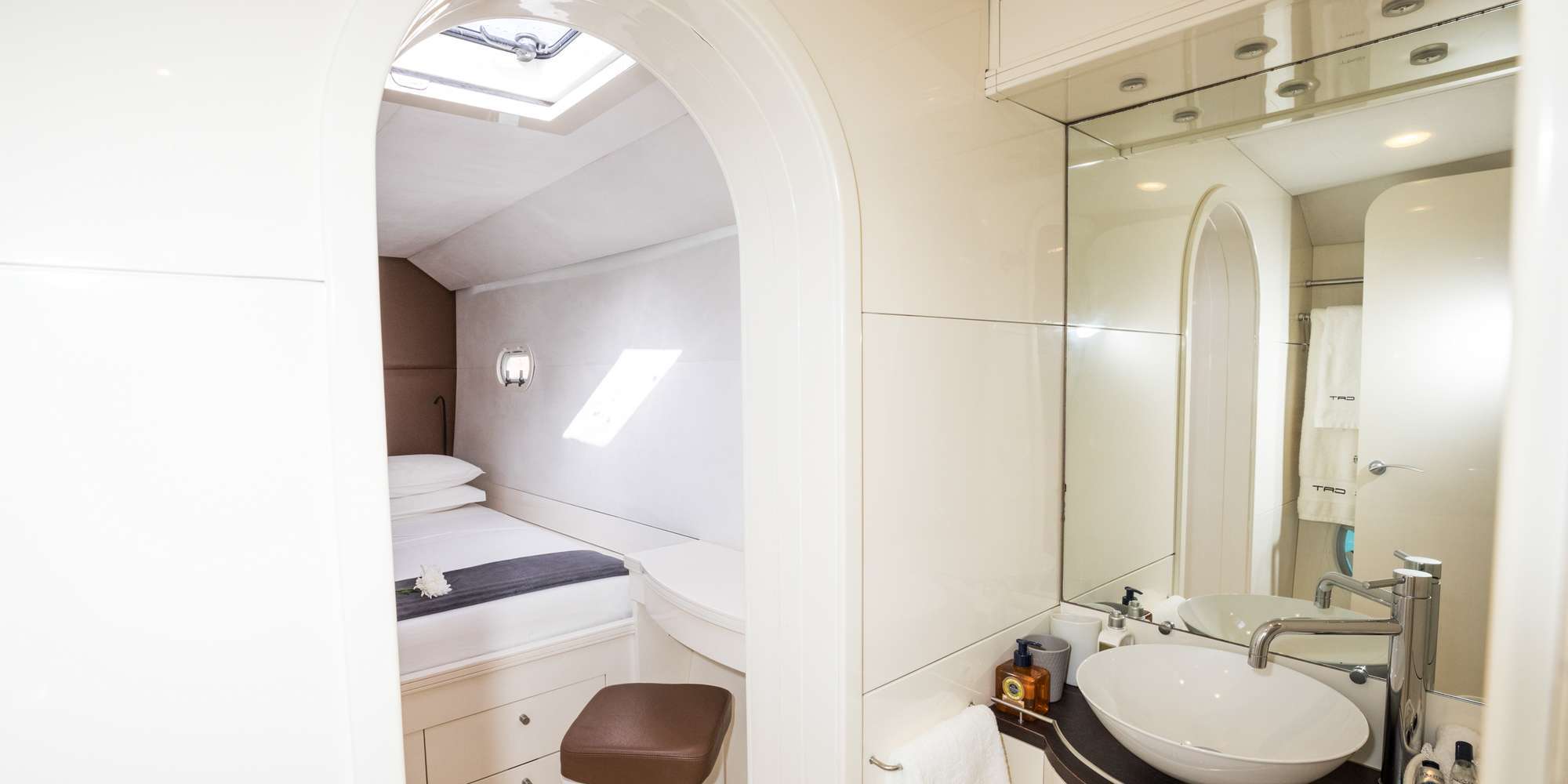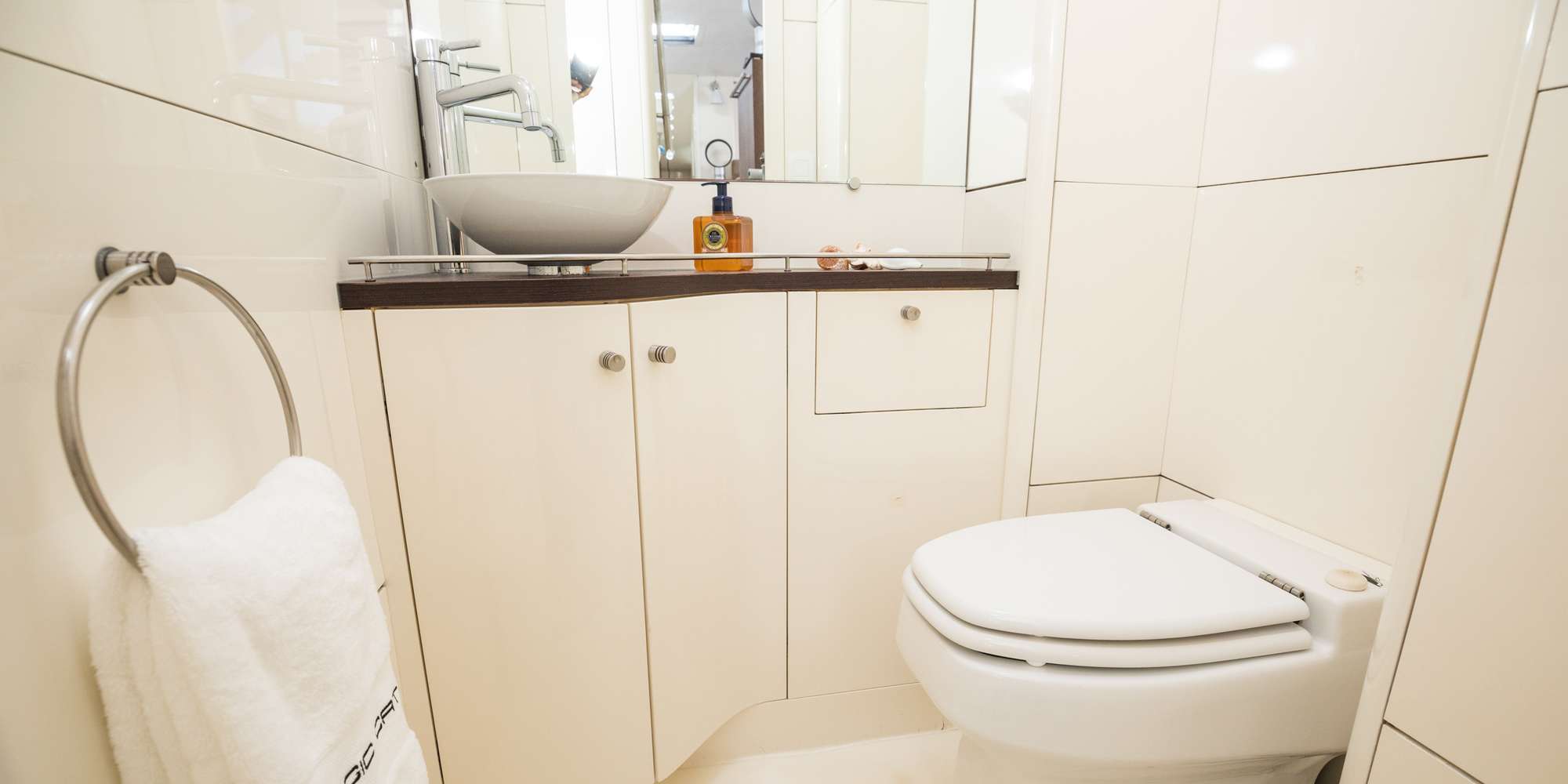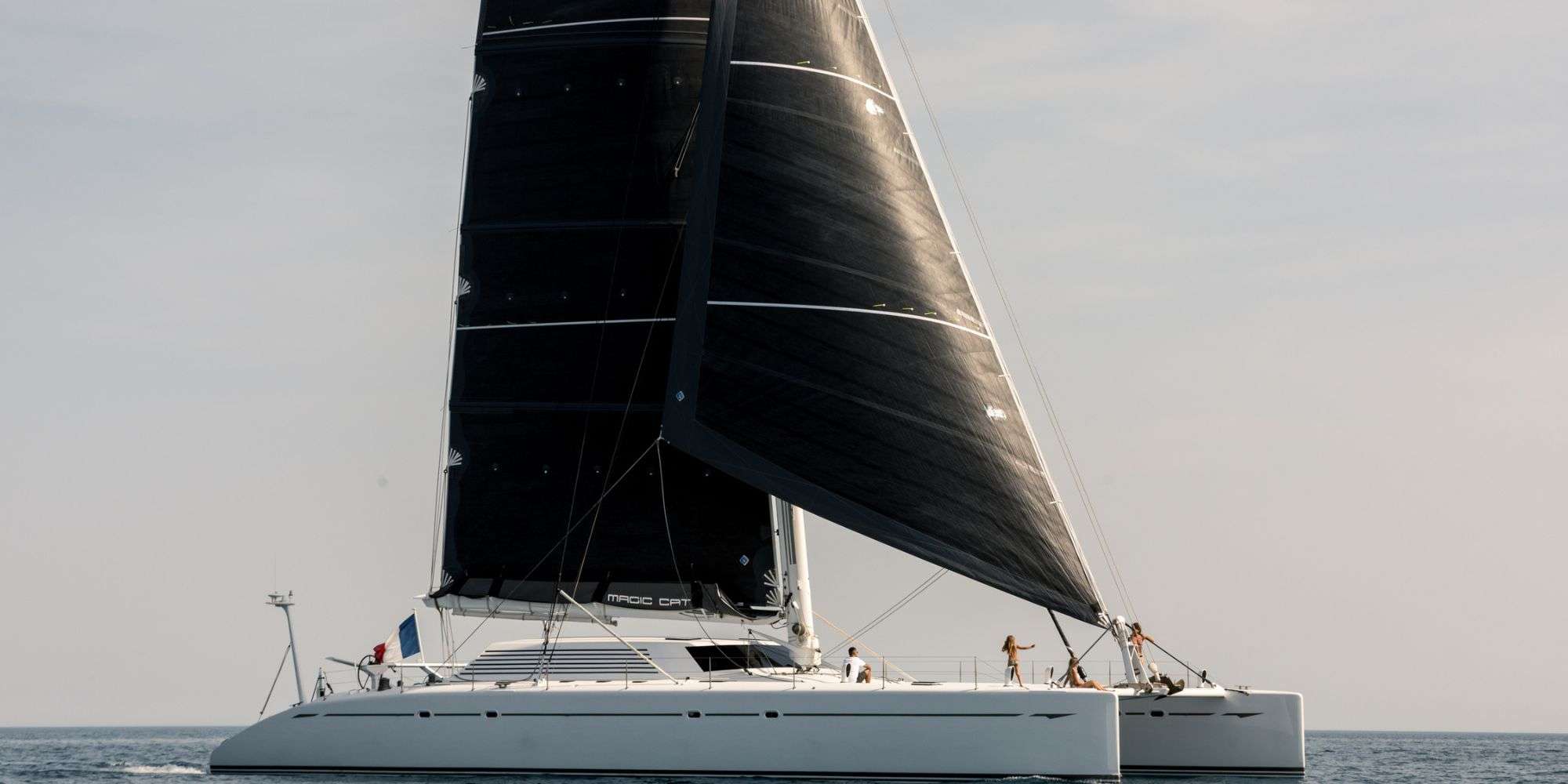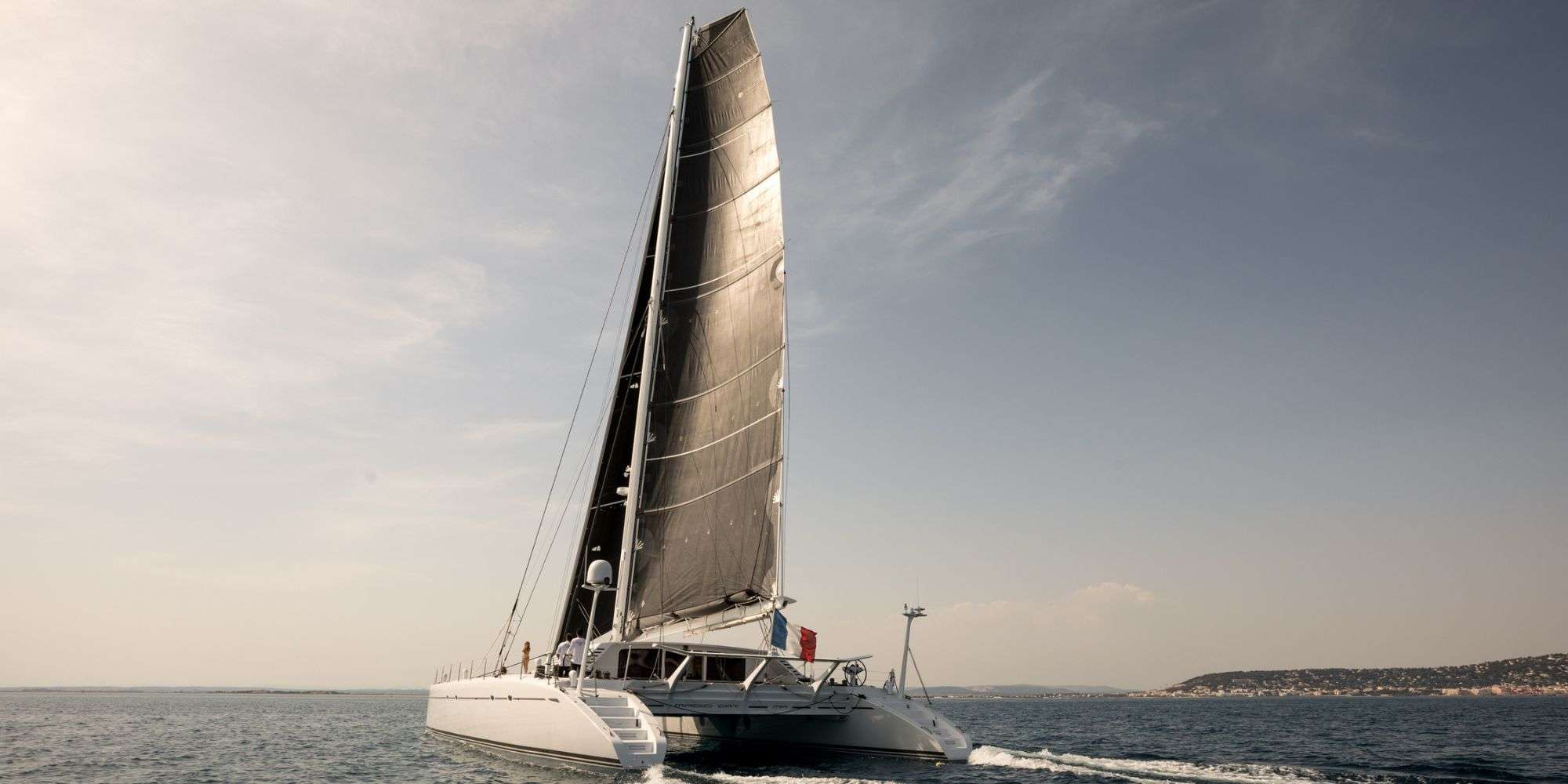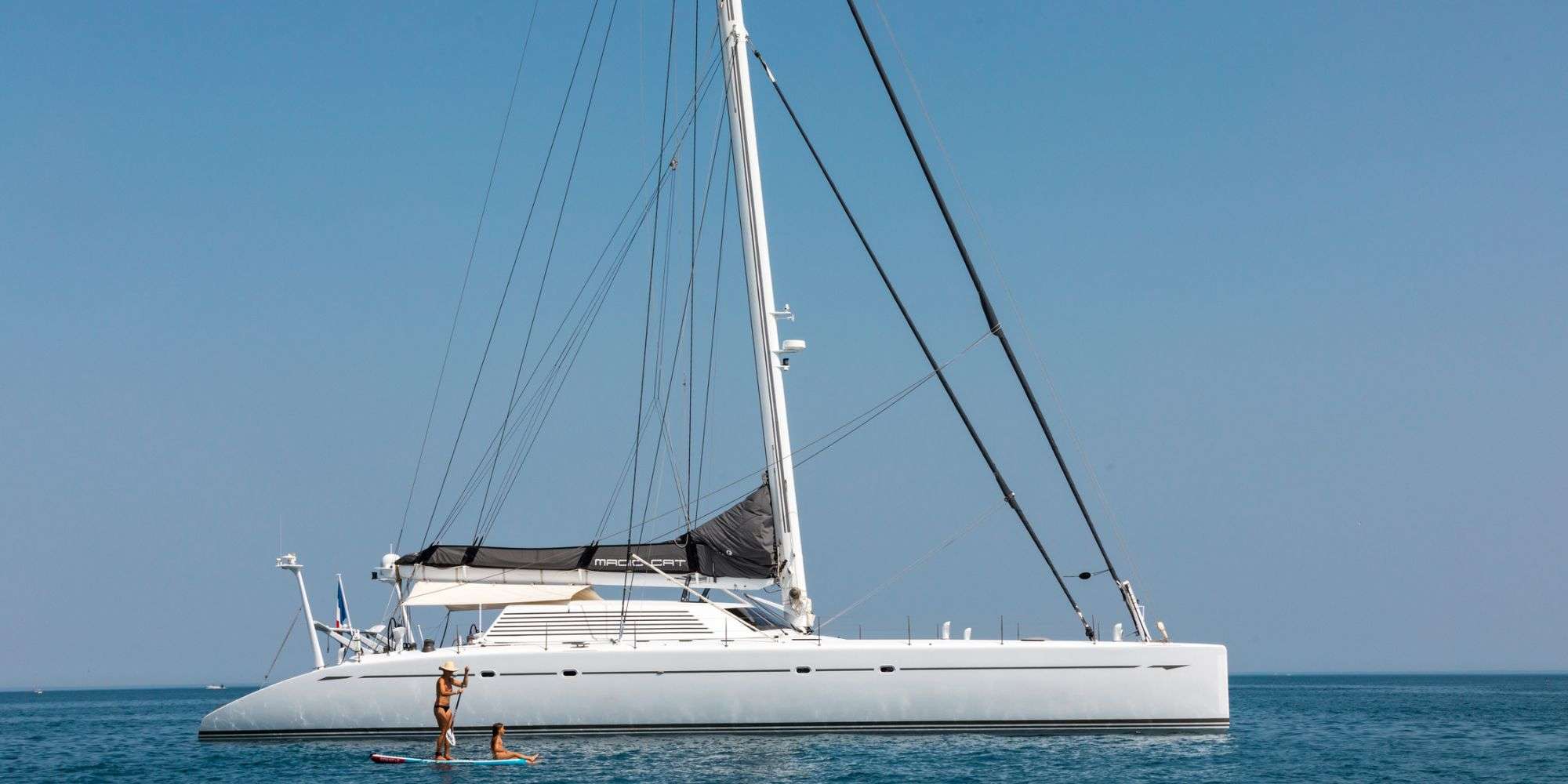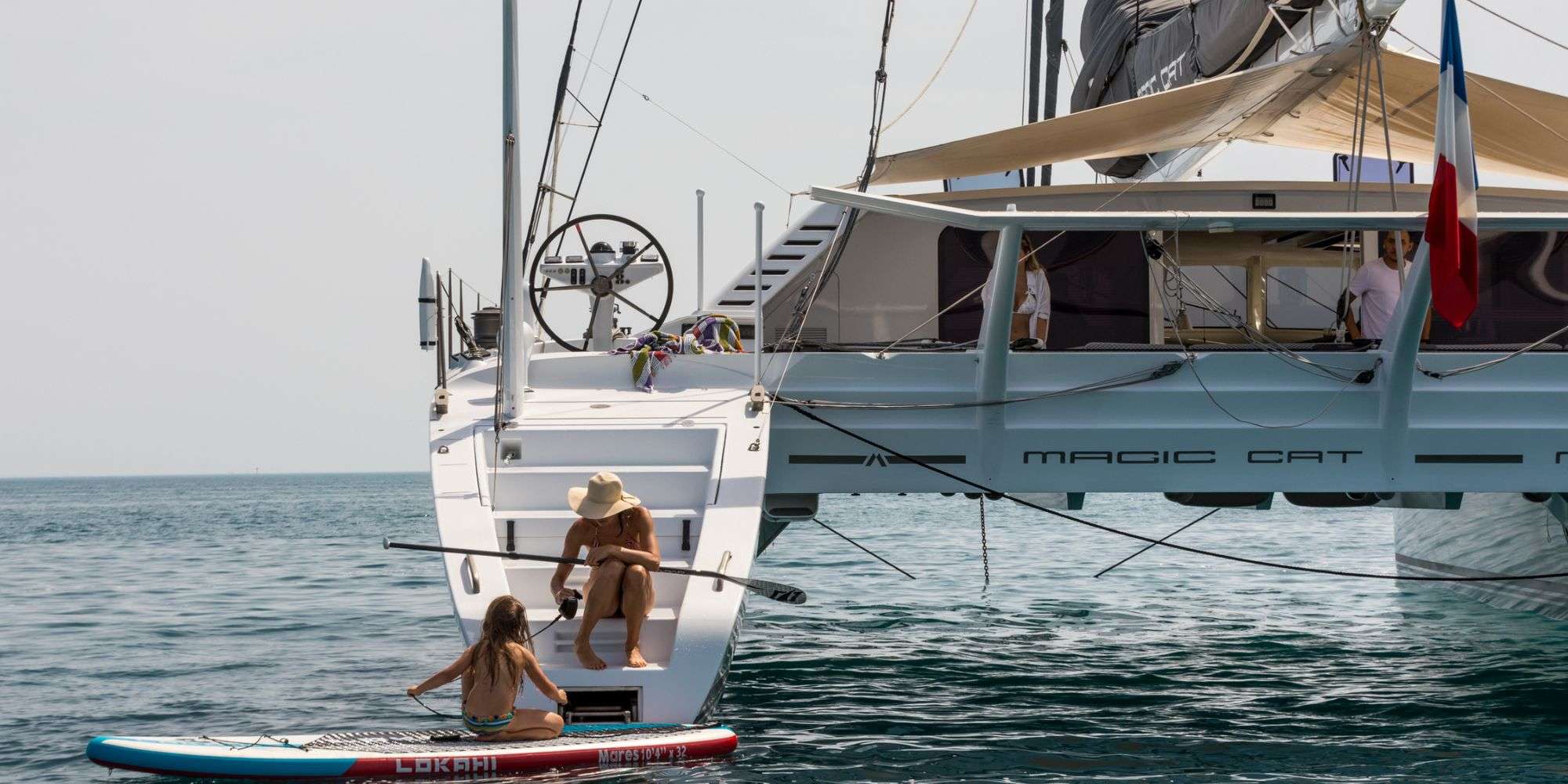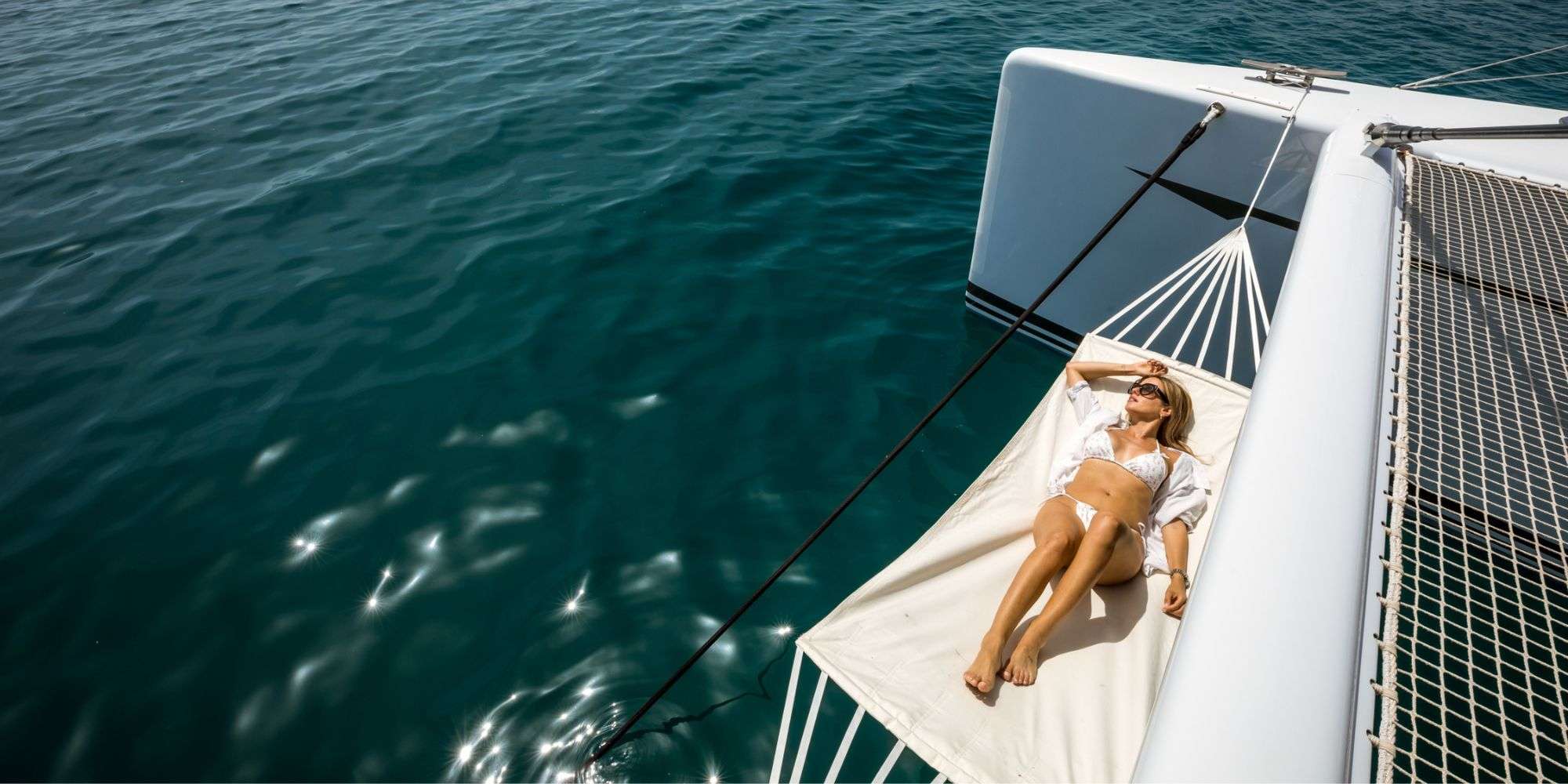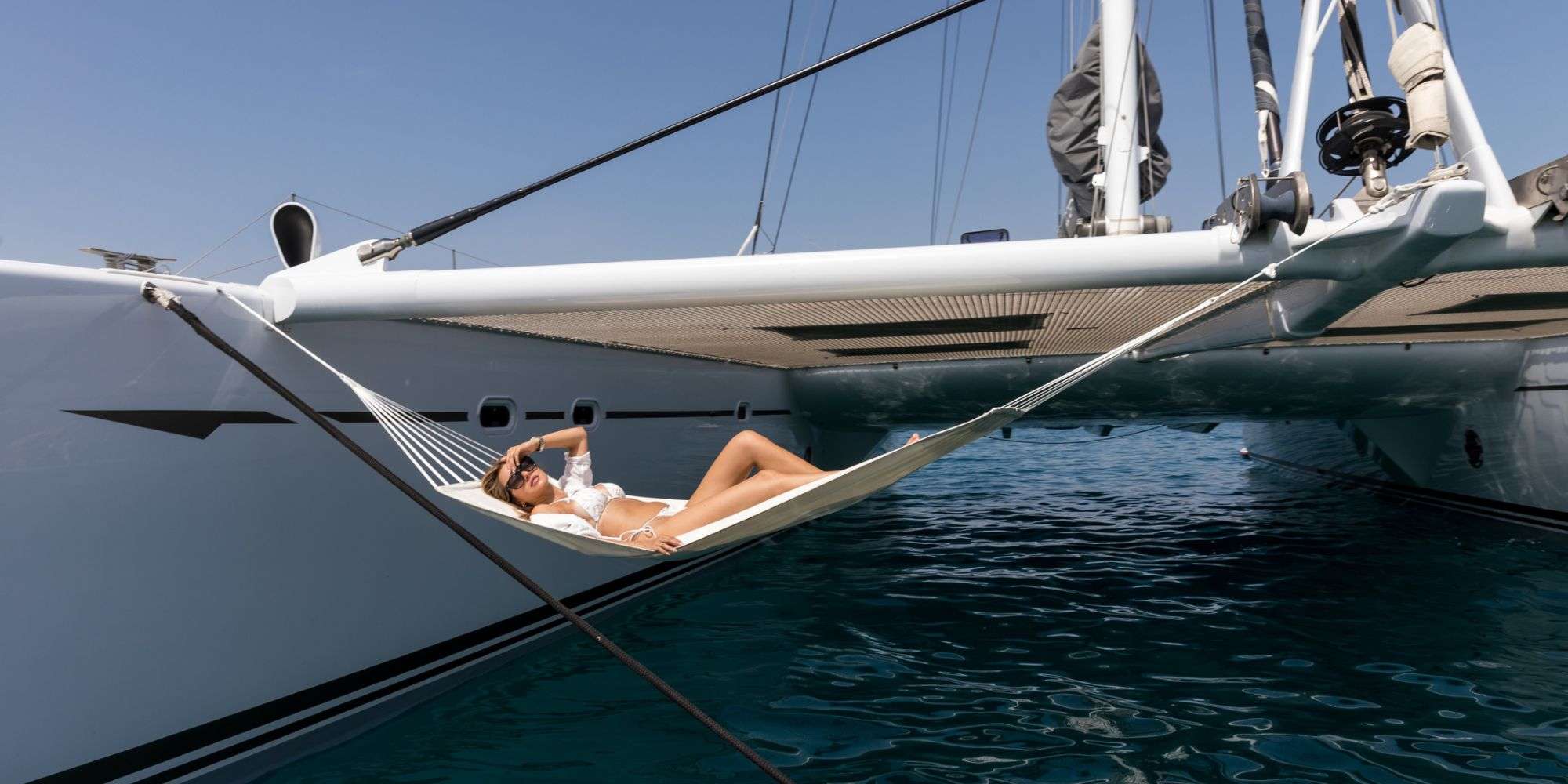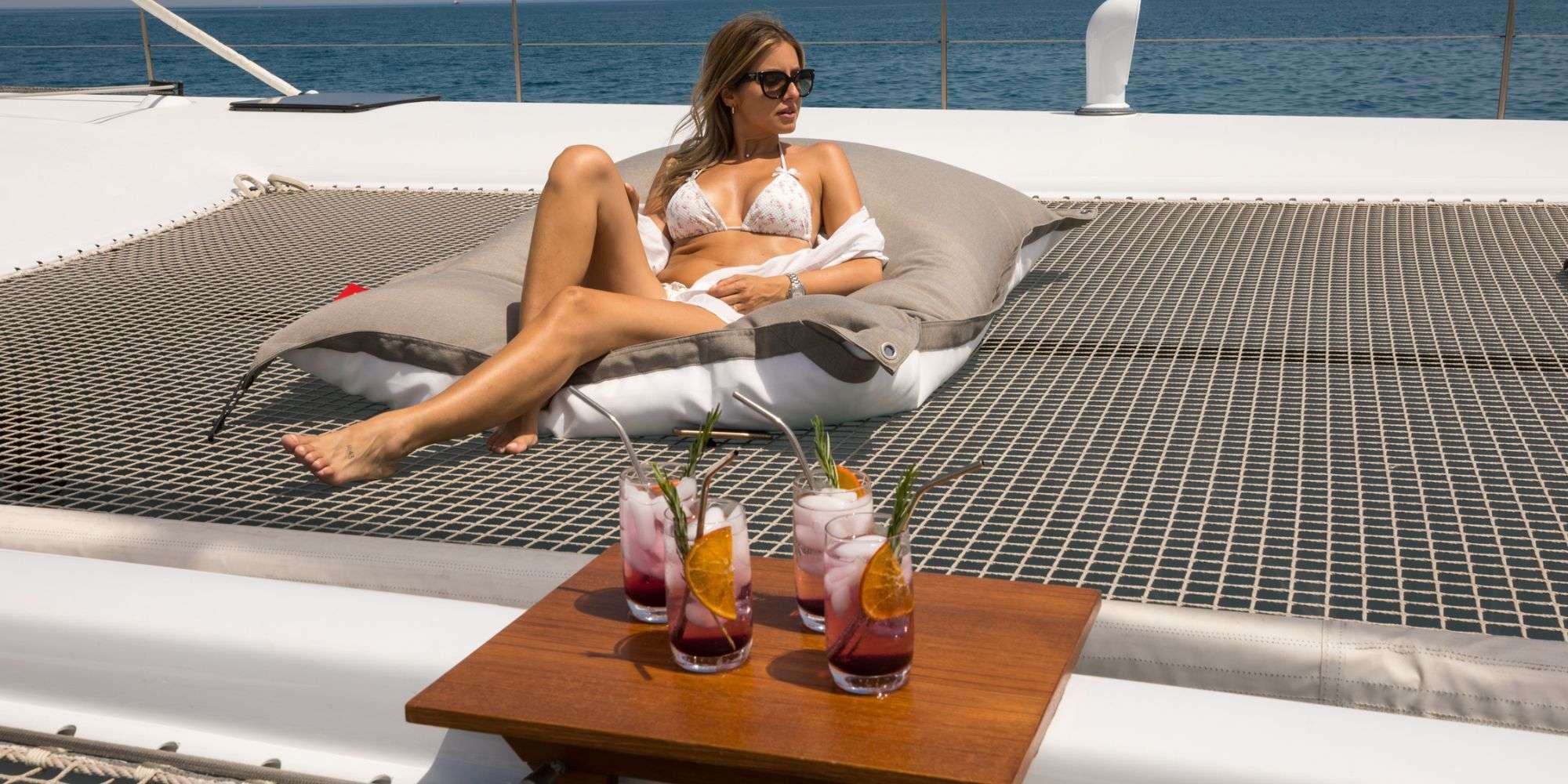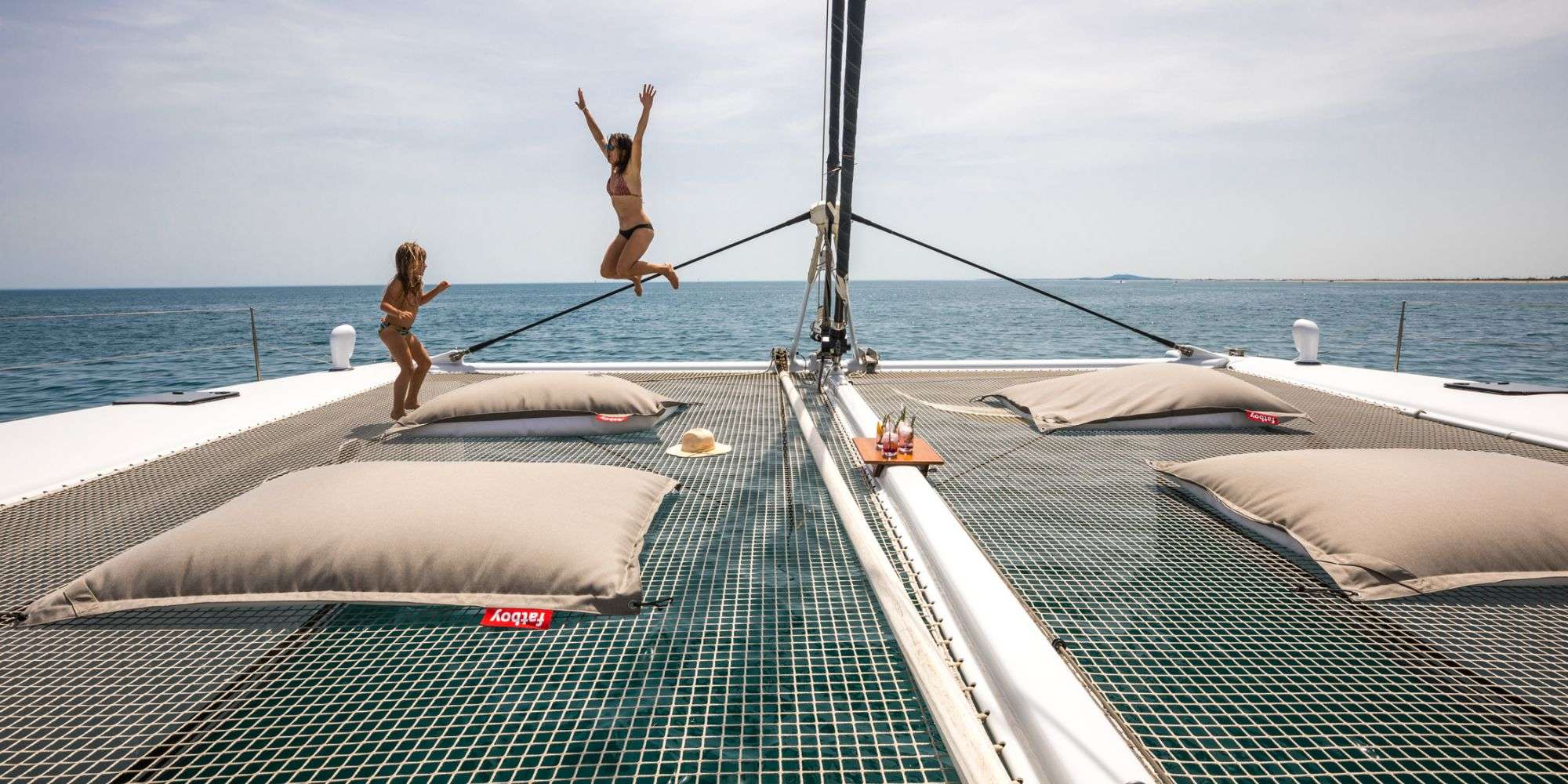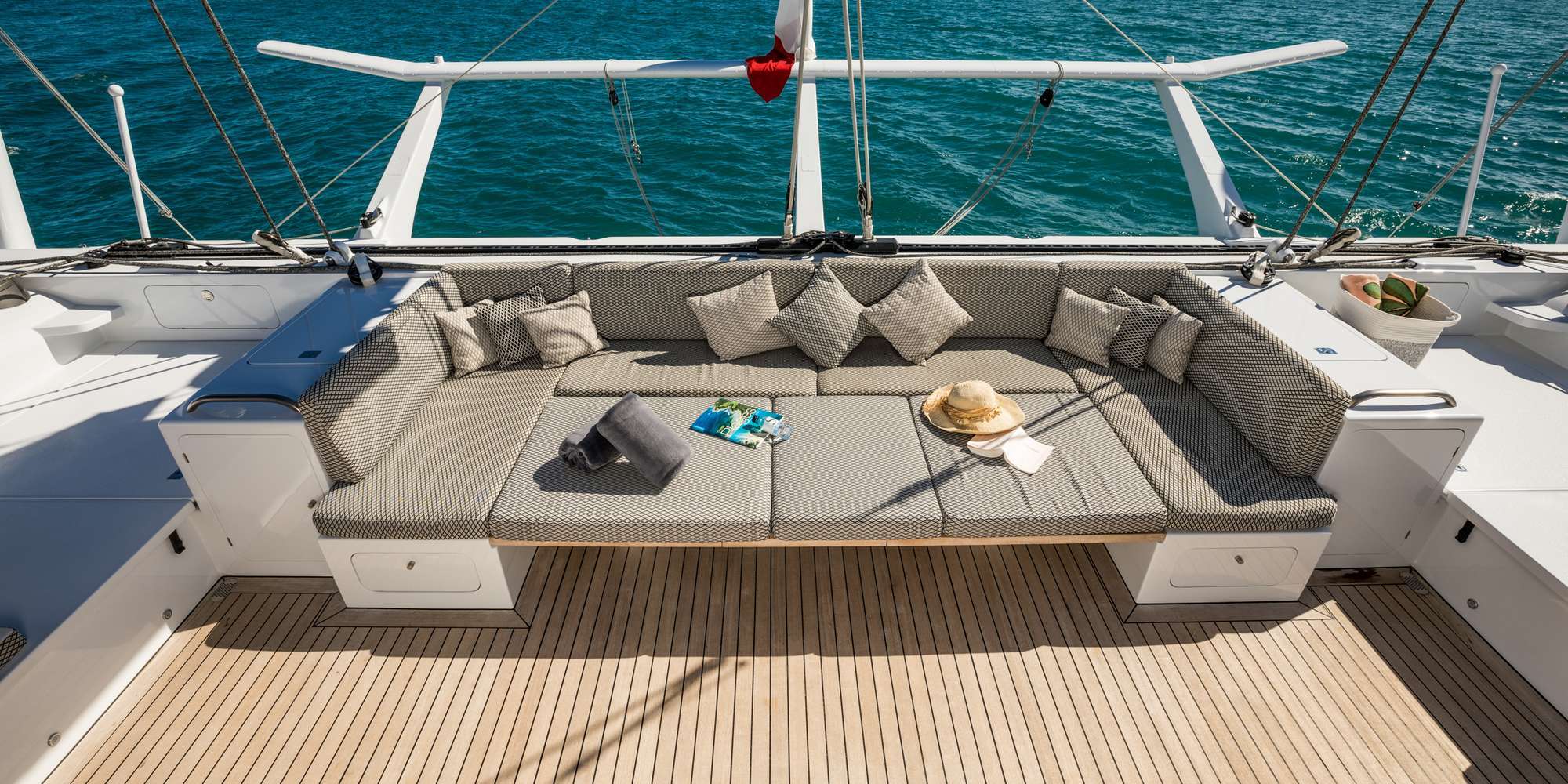 Accommodations
| | |
| --- | --- |
| Sleeps 8 guests in 4 guest stateroom(s). | |
| 4 with Double Bed(s) | |
Details
Number of cabins: 4
Cabin configuration: 4 Double
Number of guests: 8
Layout Diagram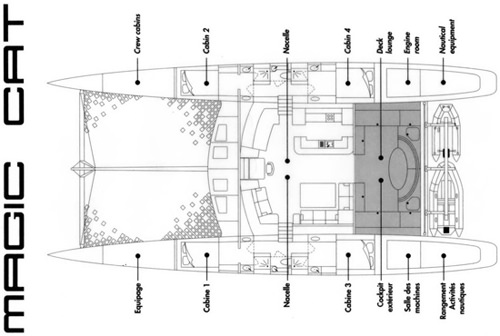 Specifications
| | |
| --- | --- |
| Guests | 8 |
| Staterooms | 4 |
| Length | 82.00 Ft / 25.00 m |
| Beam | 11.7 m |
| Draft | 1.85 m |
| Built - Refit: | 1996 - 2011 |
| Builder | MULTIPLAST |
| Cruising Speed | 10 |
Watersports
| | |
| --- | --- |
| Paddle Boards | [] |
| Single Kayaks | Yes |
| Adult Water-skis | Yes |
| Kids Water-skis | Yes |
| Wakeboards | Yes |
| WaveRunners | Yes |
| Snorkeling gear | Yes |
| Inflatable, towable tubes | Yes |
| Fishing Gear | Yes |
| Scuba Diving | Yacht offers Rendezvous Diving only |
Pricing
From: 35,000
To: 38,000


Crew Profile
CAPTAIN – Cedric Treiber – French / German – 34
Sail and Work Experience:
Cedric has always had a passion for sailing and confirmed it as his career choice after a three-year round the world trip, several seasons in the Caribbean and many convoy trips. He began working on yachts with a 75-foot catamaran in 2010, and has since then worked on nine different yachts, gaining 60 000 nautical miles of experience. Cedric also has an interest in water sports, including fishing, wind surfing and scuba diving. He intends to make a comfortable environment on board for guests while maintaining his professional work ethic.
Job Description:
Cedric is responsible for navigation, safety, the overall running and financial management of the vessel, crew and guests. He ensures the safe and efficient operation of the yacht at all times, including compliance with all safety procedures and regulations. He takes care of adhering to flag regulations, port state and local laws and regulations, and manages the crew to ensure adherence to, and a full understanding of, the vessel's policies. He provides daily leadership for the crew and encourages teamwork, individual growth and personal attention by delegating duties and supervising all crew tasks.
Licenses and Certificates:
- Engineer Patent 750 KW
- ESTCW 2010 – Marine firefighting, first aid at sea, PSSR, PST
- Master 200gt (sailing yacht)
- PADI Advanced Open Water / Confident Diver
- 60 000+ Nautical miles ocean sea time experience
Languages:
French, English and German
FIRST MATE – Jean Pierron – French – 37
Sail and Work Experience:
While commencing his career path by travelling the world and doing odd jobs here and there, Jean quickly found a passion for yachting and worked his way up the ranks. He gained experience as a boat technician and painter, before moving on to deliveries as a first mate and now as part of the charter crew. Jean has proven himself as responsible and reliable, essential qualities for a first mate, with the adaptability to fall into the captain's role should he need to.
Job Description:
Jean has the expertise required to stand in for Captain in his absence, acting as second in command. He assists the Captain during navigation and participates in all on-deck operations, respecting guest's activities. He has extensive knowledge of sailing yachts maintenance and is responsible for the running of deck equipment and machinery.
Licenses and Certificates:
- Master 200 GT (sailing yacht)
- Medical Care Training Level 3
- STCW Deckhand and Seamanship Certificate
- STCW Certificate of Proficiency in: Basic Safety Training, Medical Assistance, Marine Hygiene, CAEERS Survival Craft and Rescue Boat, Maritime Security Awareness
- Boat Technician Training Course
- PADI Advanced Open Water / Confident Diver
Languages:
French, English and Spanish
STEWARDESS – Iris Arlene Orozco Fuentes - Mexican
Sail and Work Experience:
A very experienced stewardess with a dedication to quality care and ultimate guest satisfaction for those on board, Iris is a proven team member of MAGIC CAT. Working on yachts since 2019, Iris is familiar with silver service and has a wealth of knowledge of the wilderness travel industry. As a keen diver, she has a passion for the ocean and discovering exciting new destinations which she is eager to share with guests.
Job Description:
Iris is responsible for organization, management and cleanliness of all interiors. She maintains an accurate inventory of all service items and supplies. She ensures cleaning and preparation of the vessel to the highest standards prior to any and all guest trips. In charge of vessel provisioning for both guests and crew, and all aspects of daily life. When guests are onboard, she ensures they are properly cared for and that all their requirements are met. She offers a particular attention to details and a polite and entertaining spirit. Thanks to her sailing capability, she can assist on deck during navigation.
Licenses and Certificates:
- STCW Basic Training and Crowd Management Certificates
- Certificate of Proficiency in Security Awareness
- Seafarer Medical Certificate
- Seaman Certificate (Initiation for Deck, Engine and Catering)
Languages:
English, French, German and Spanish
CHEF – Owen Nyakudya – South African
Sail and Work Experience:
Owen has over five years of experience working in fine dining restaurants, alongside catering for private wedding events and high-end dinners. His foundation in different cuisines allows for versatility as a chef and providing specialised meals for those with dietary restrictions. Skilled in artisanal baking, fermentation and charcuterie among many others, Owen will provide creativity and innovation to your meals aboard MAGIC CAT.
Job Description:
In charge of the galley and is responsible for all guests and crew meals, assuring a rich variety of food. Owen estimates food needs, reviews inventory assuring adequate supplies are available, sticking to budget and guests' expectations. Carries out food service activities in order to have meals prepared at scheduled times and makes sure he complies with health regulations. Thanks to his creativity, he develops new recipes and ways of serving food in order to satisfy different guests' wishes.
Licenses and Certificates:
- STCW Basic Training Certificate
- Food Hygiene Level 2 Qualification
Languages:
English
Additional Information
The MAGIC CAT sailing catamaran is not a simple mass-produced yacht. The performance of MAGIC CAT is known to all experienced sailors. This sailing catamaran was built by the Multiplast shipyard, where the racing catamarans 'Orange 2' and 'Groupama 3', two of the fastest boats in the world, were also built! MAGIC CAT was designed by naval architect Gilles Ollier. The MAGIC CAT catamaran will seduce all sailing enthusiasts, who will be charmed and surprised by the sensations at the helm. The design and the refined style of MAGIC CAT will delight you. Its comfort, stability and safety will guarantee that you will feel at ease on board.
Destinations