Gallery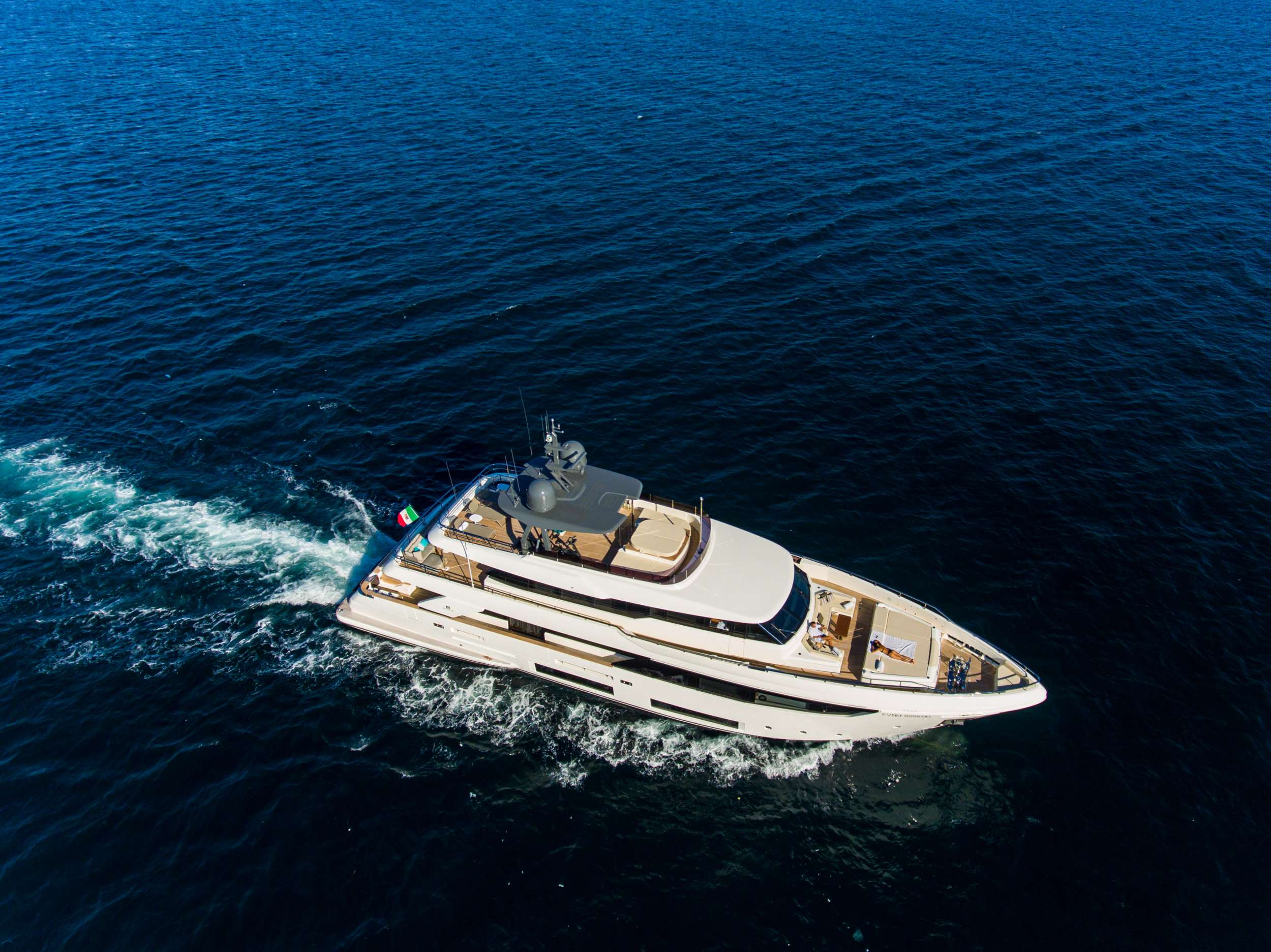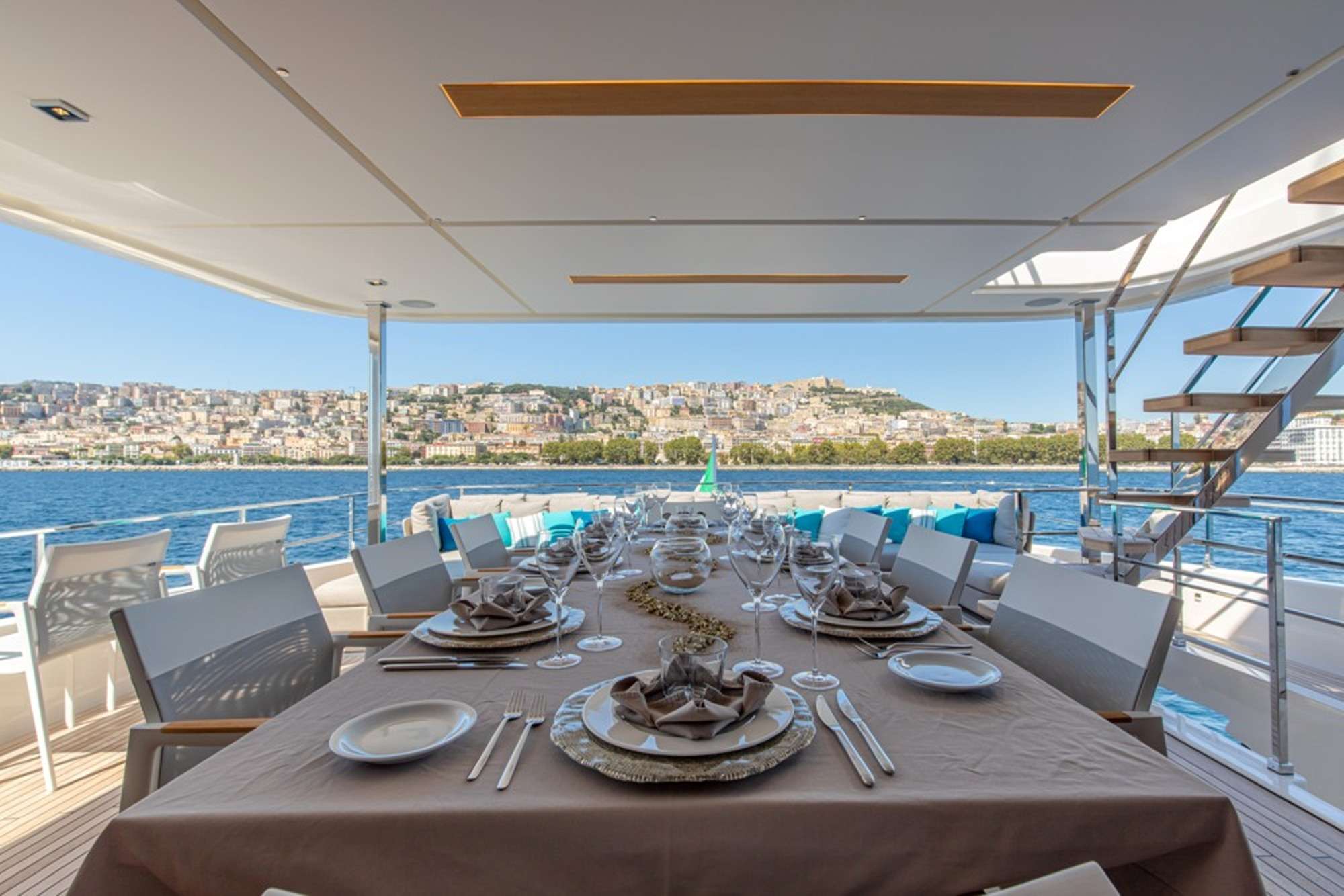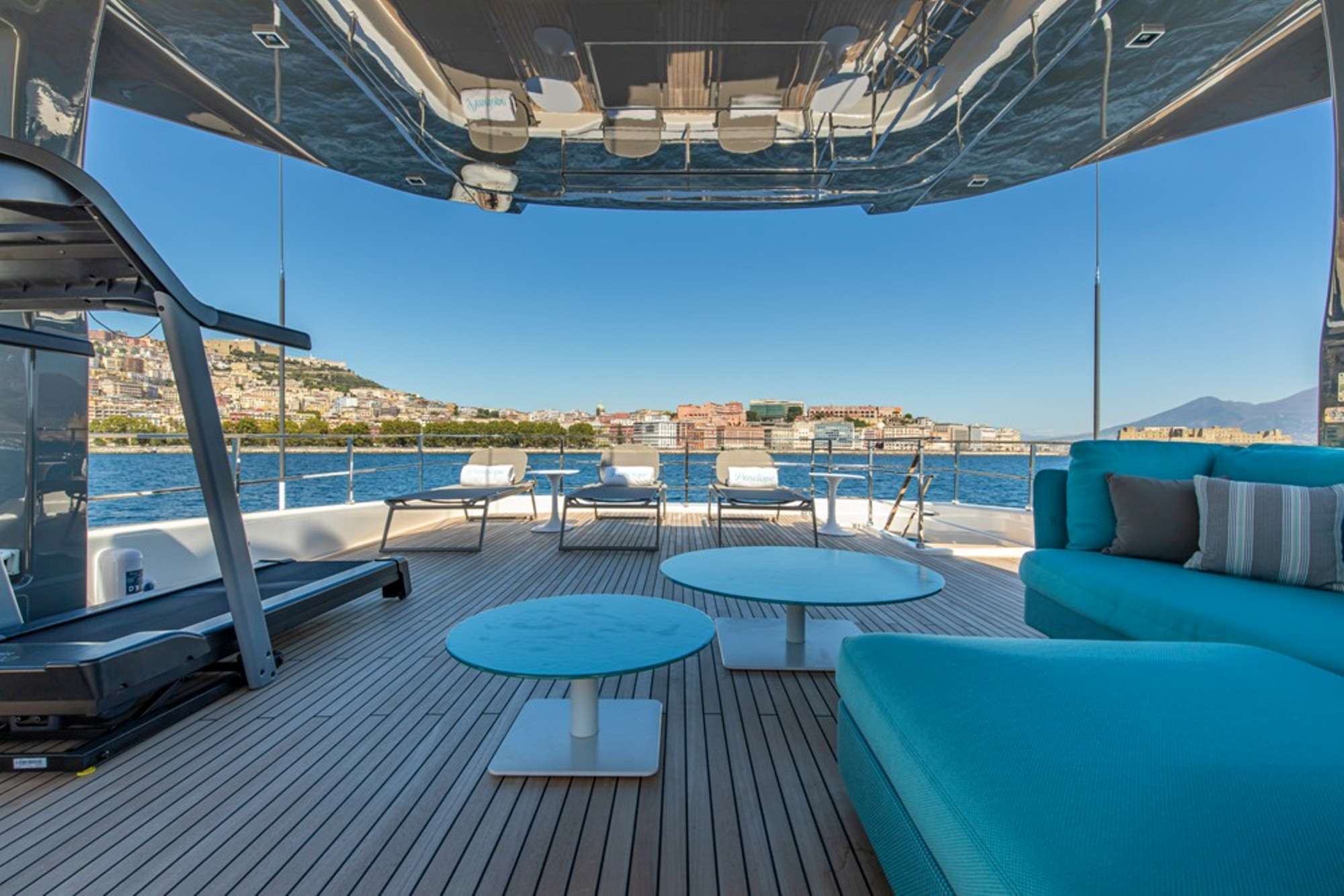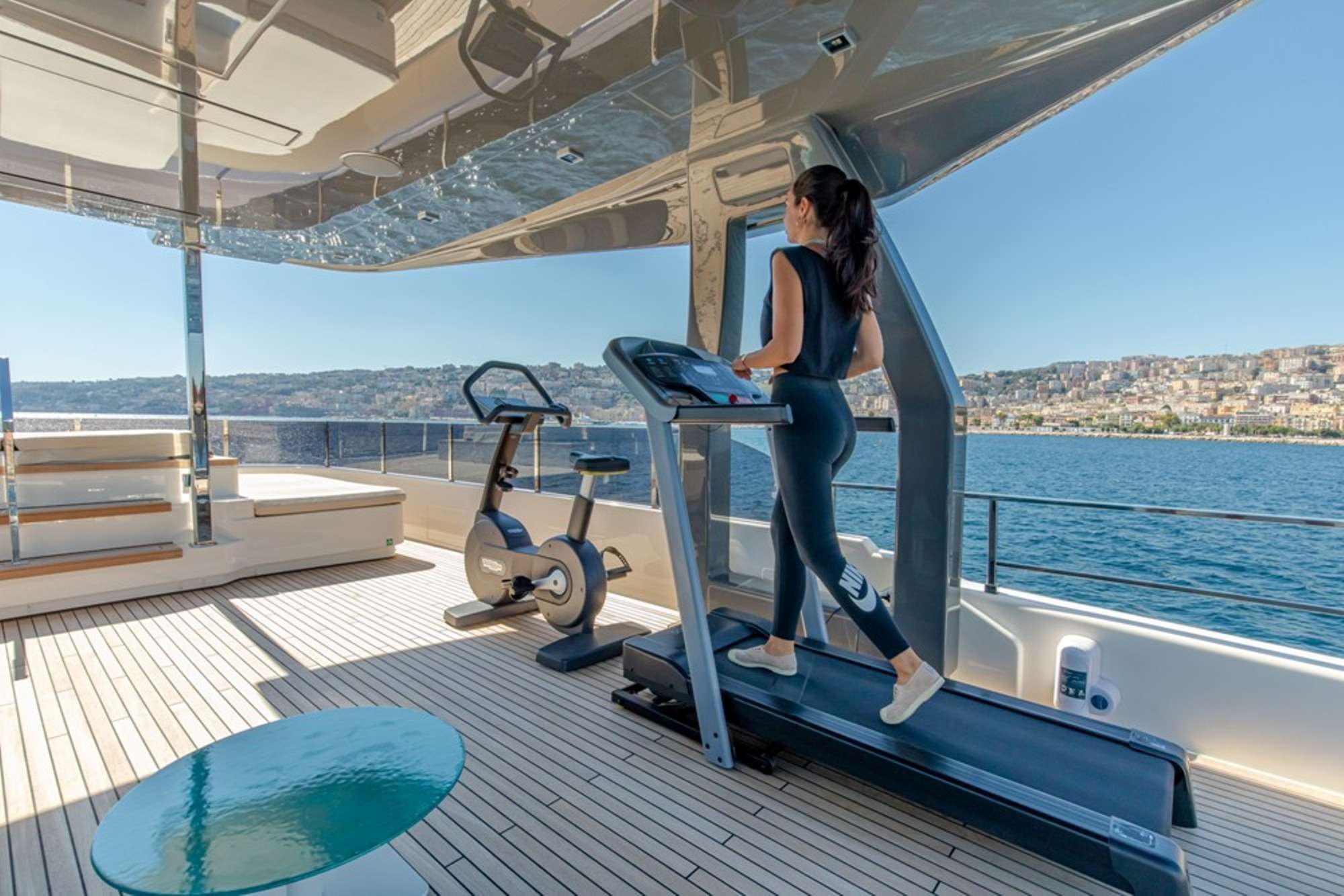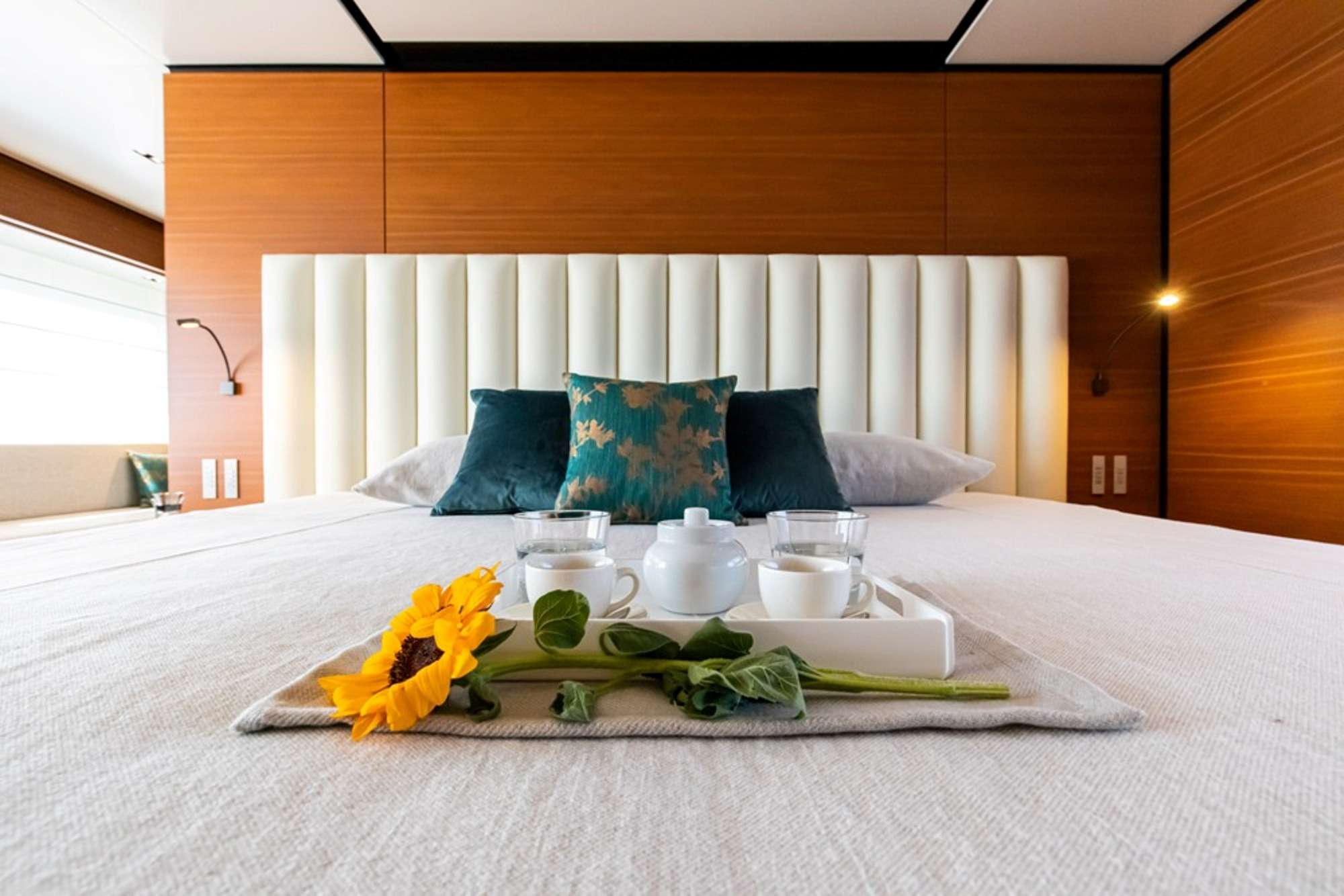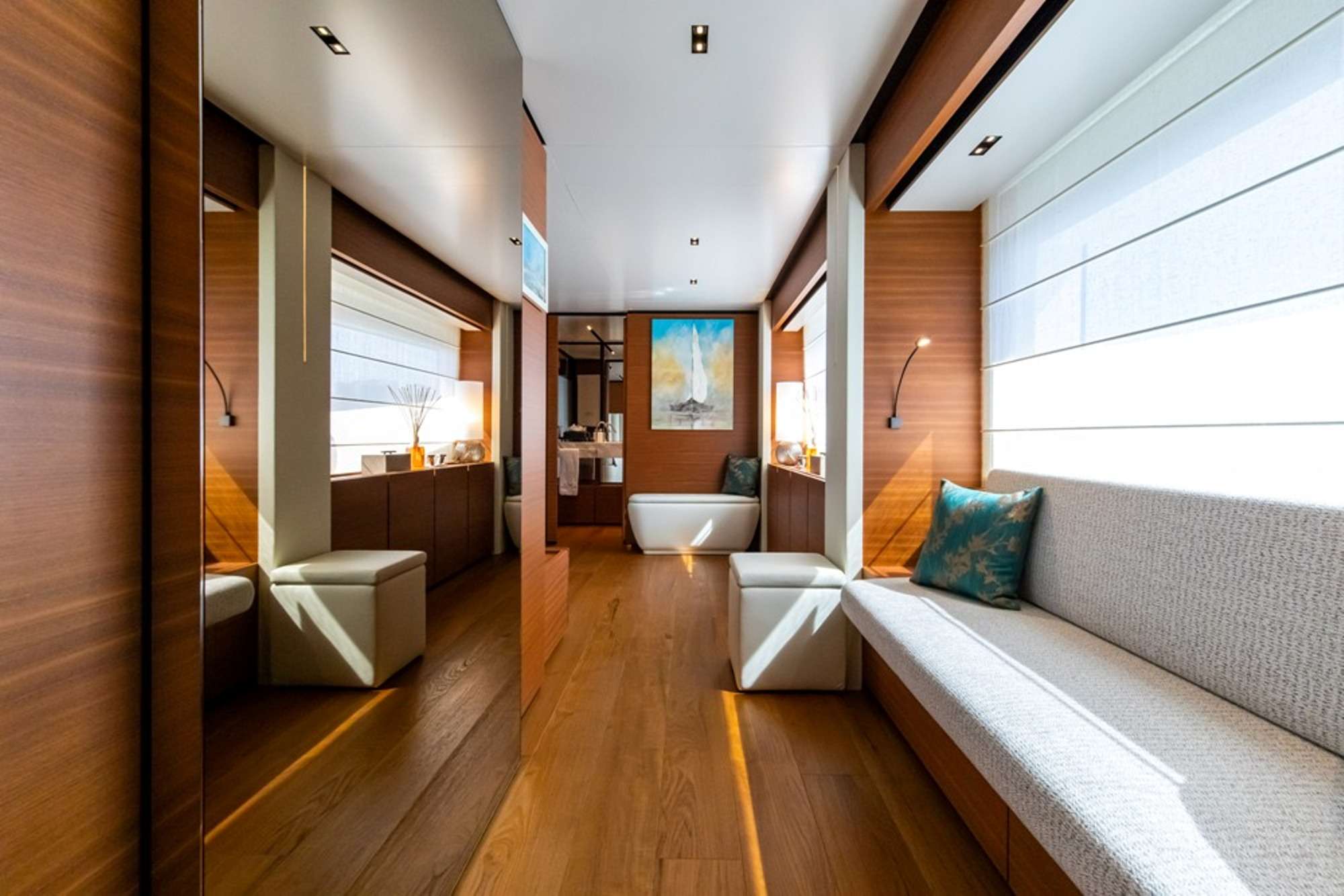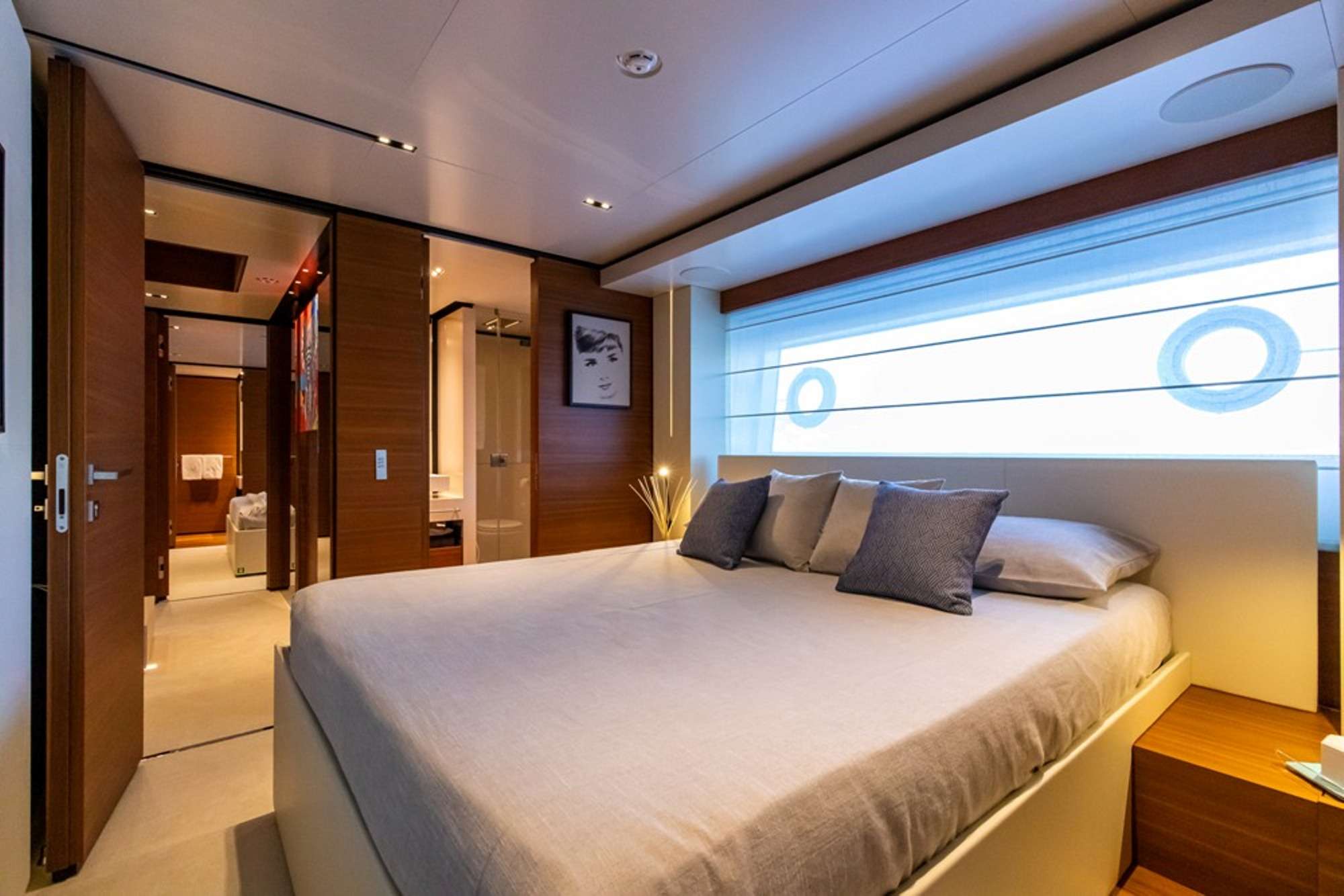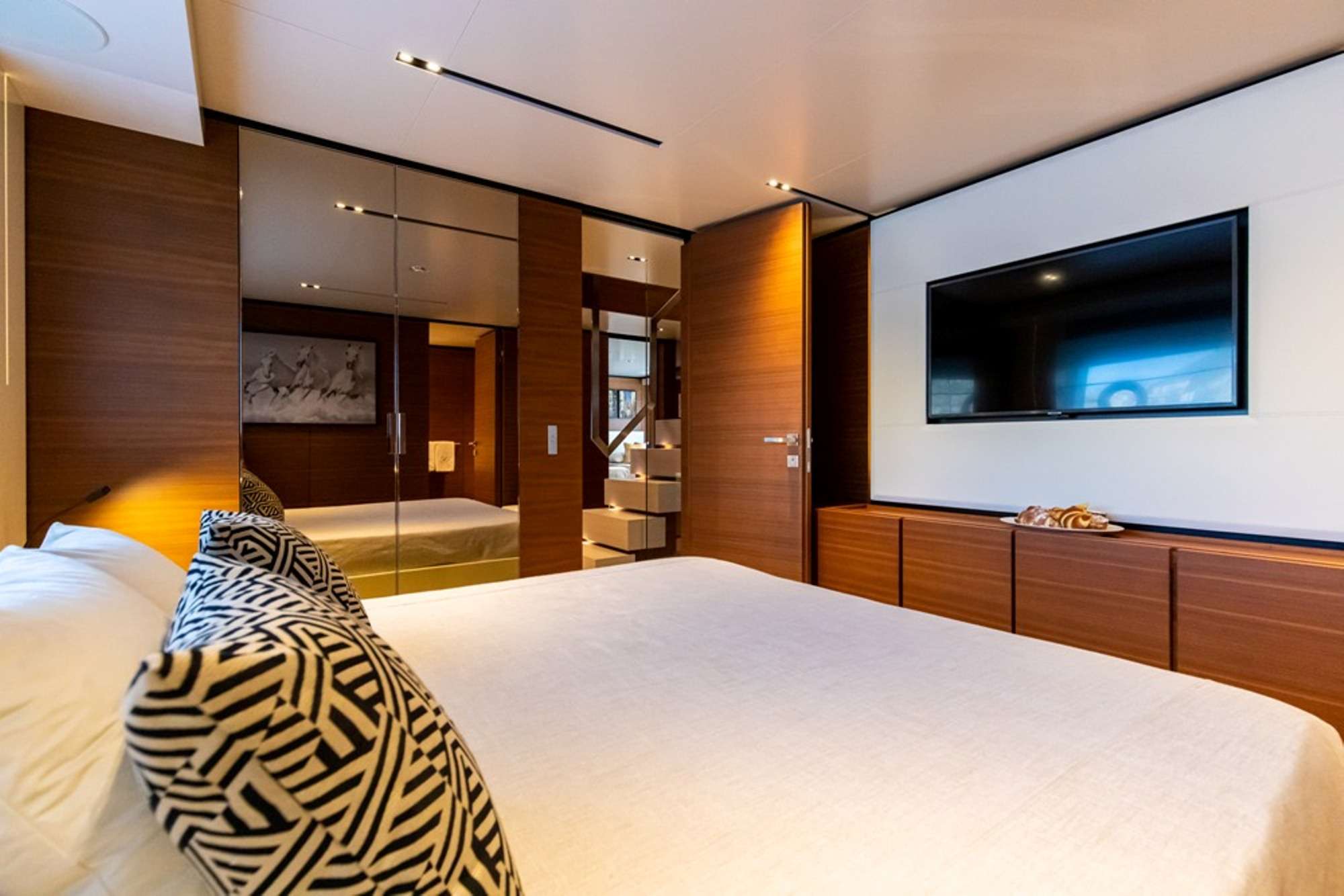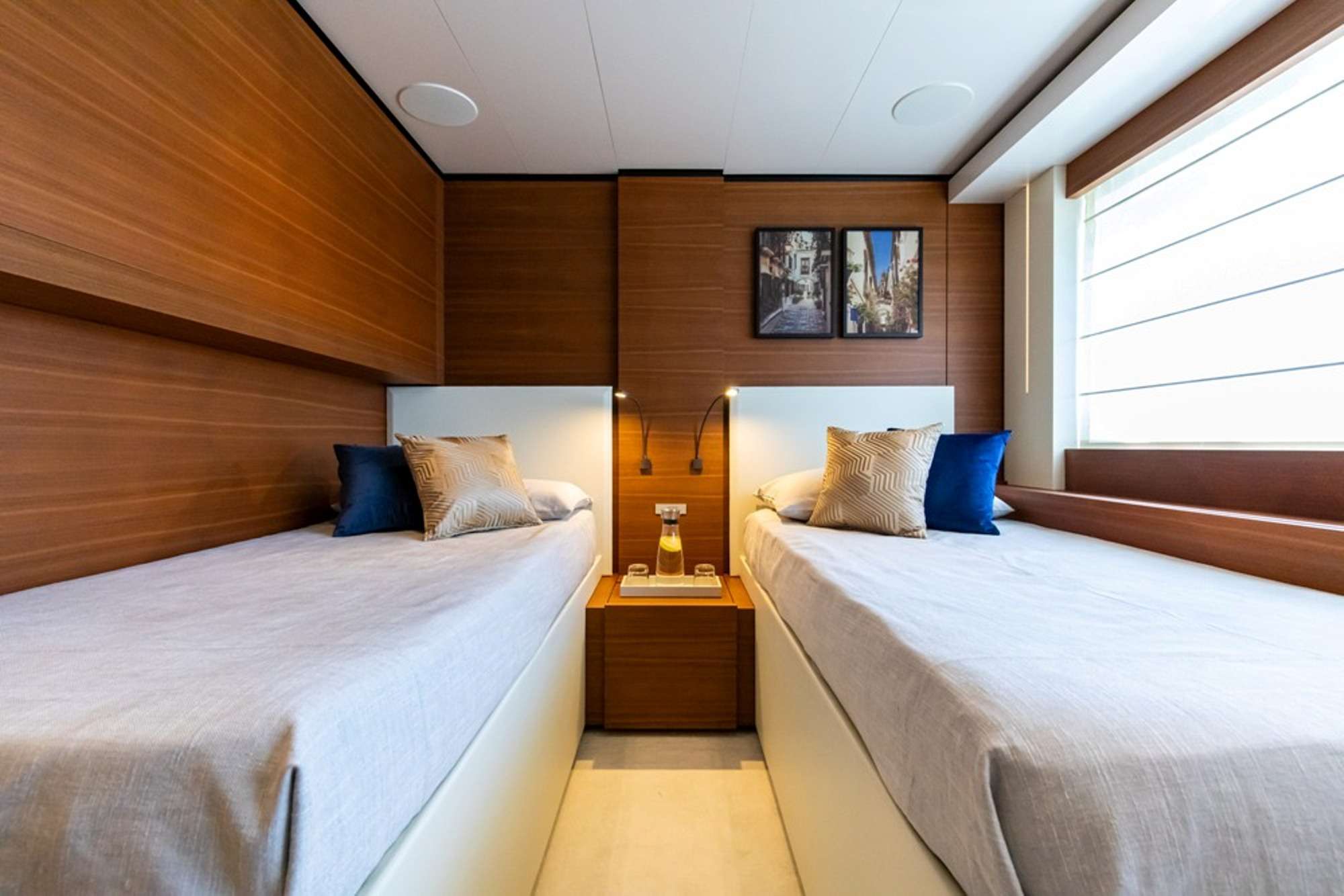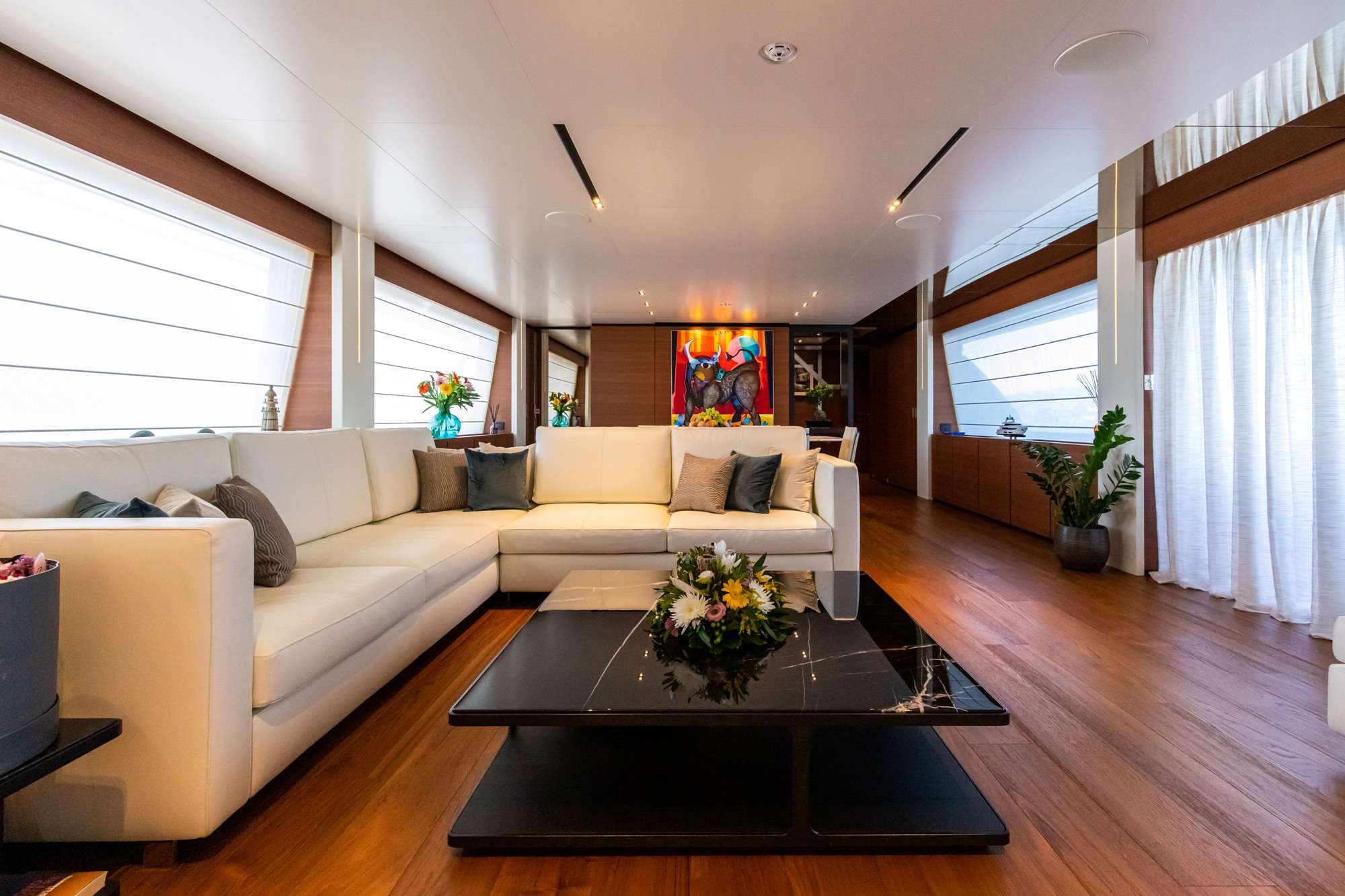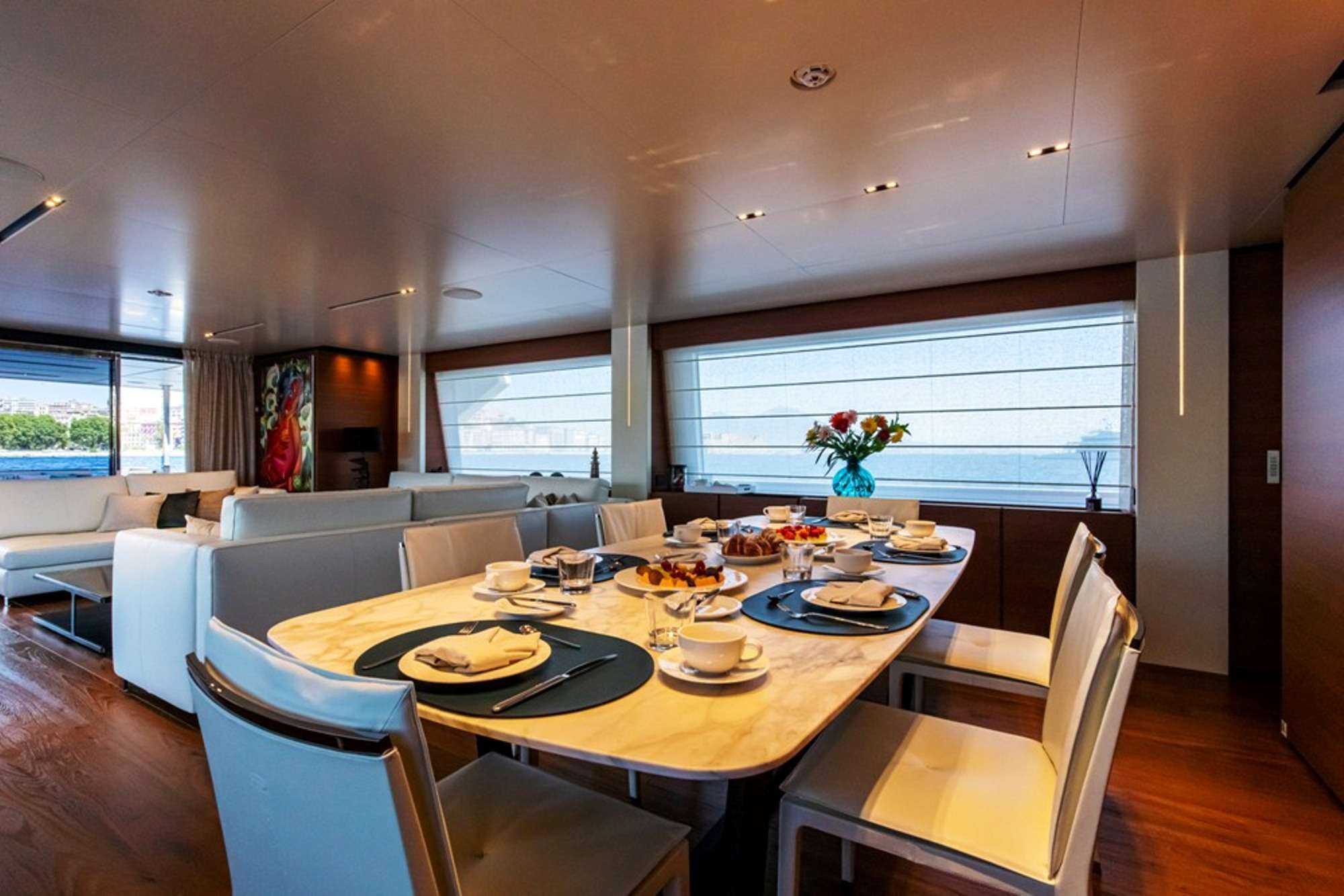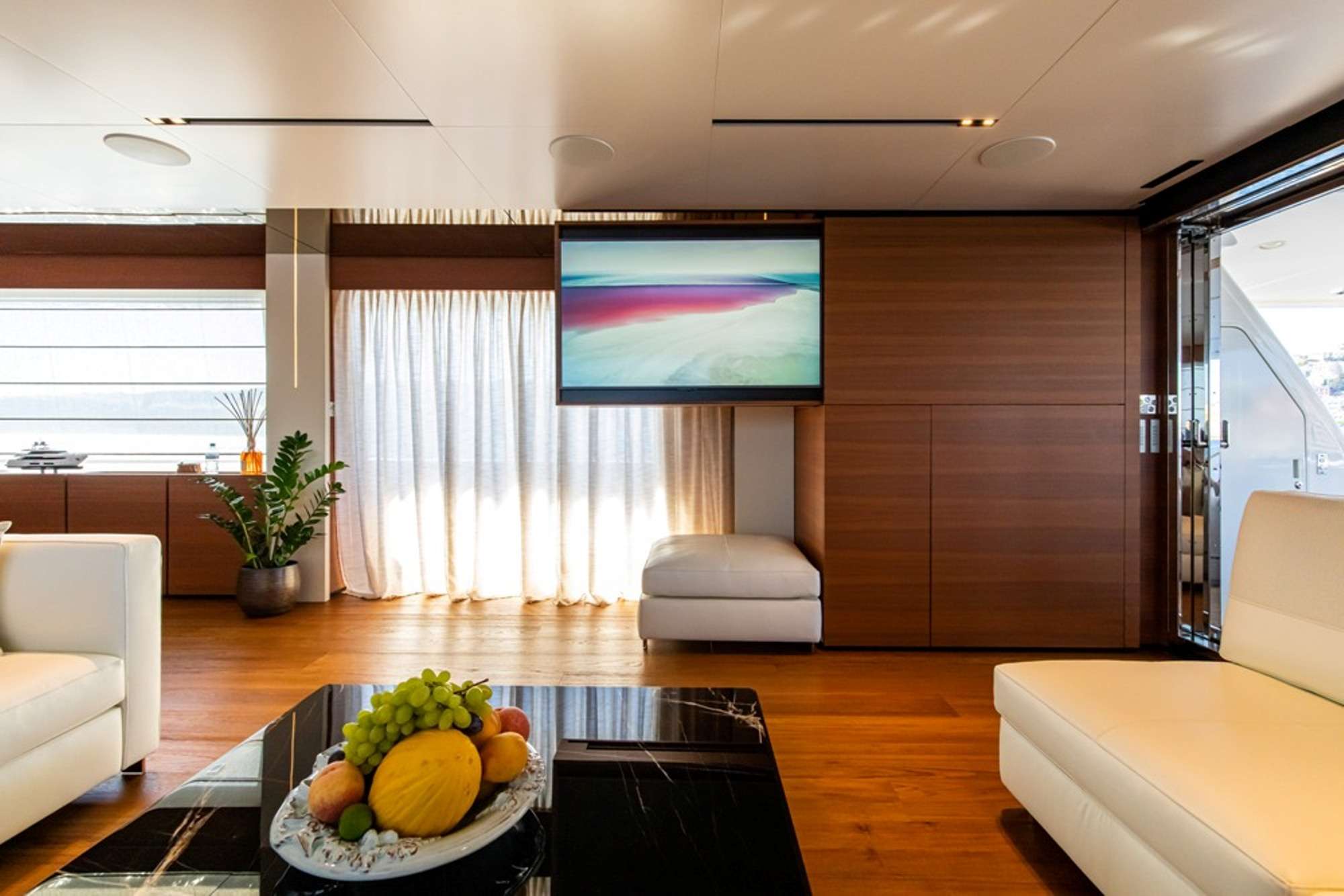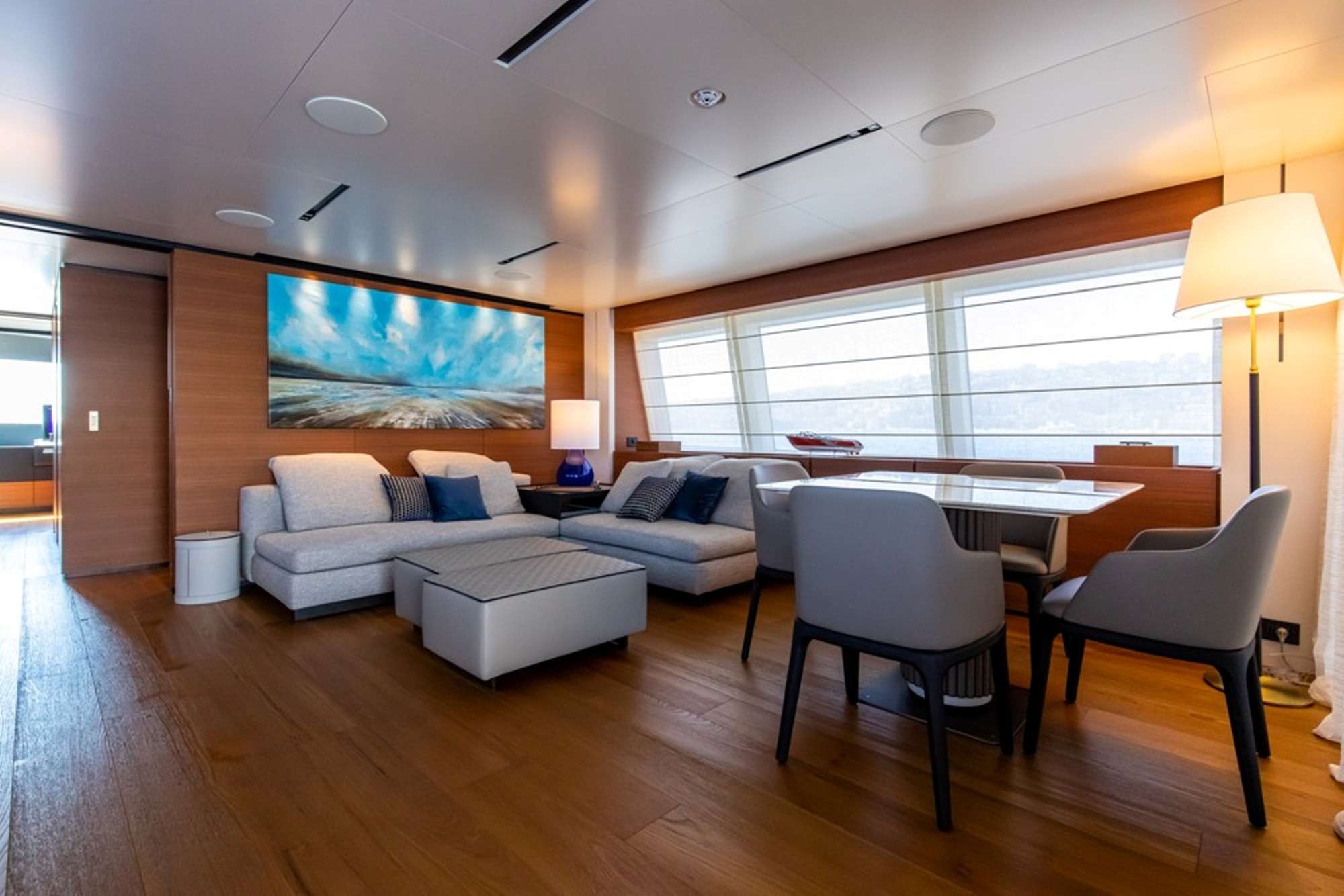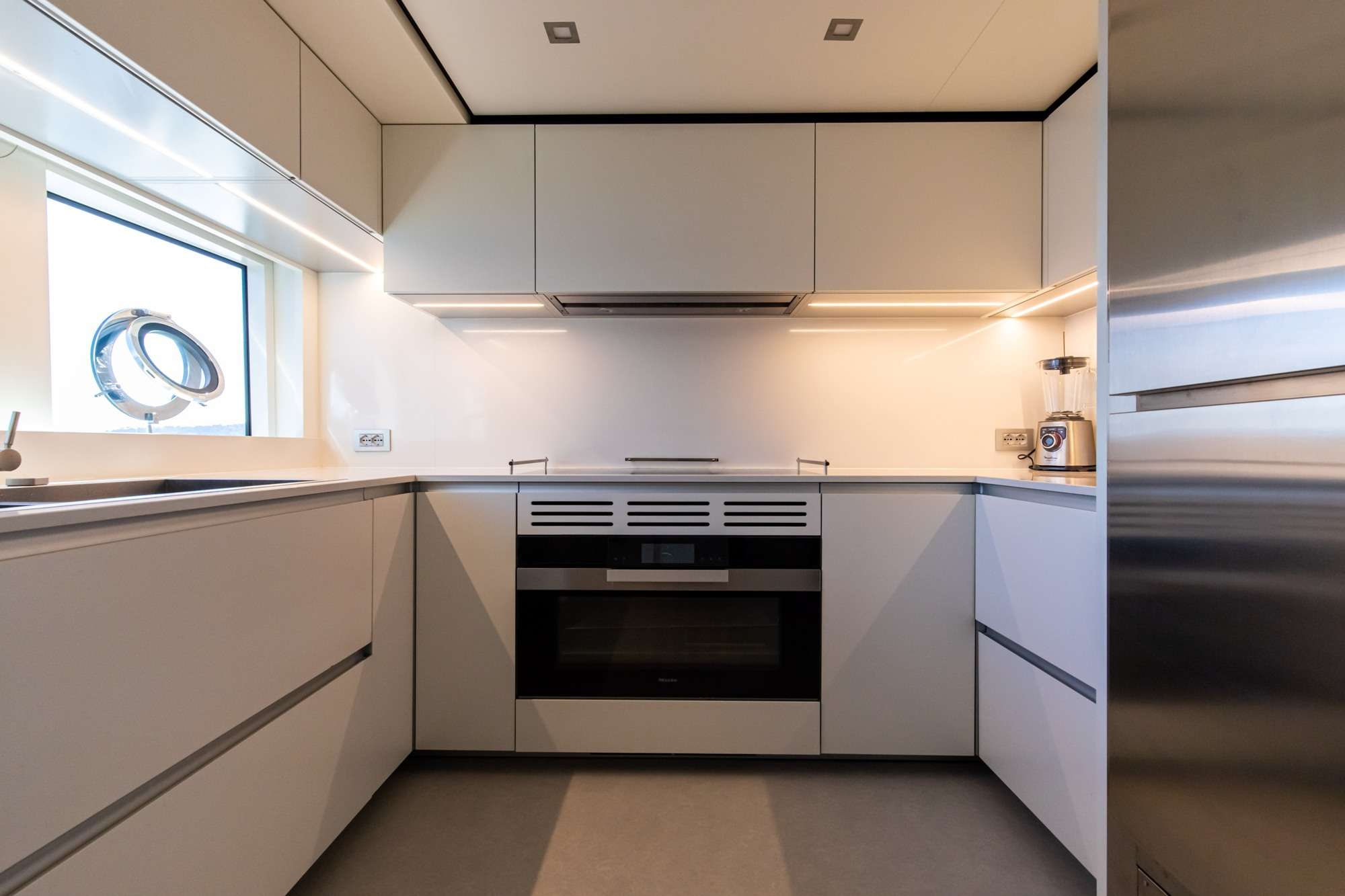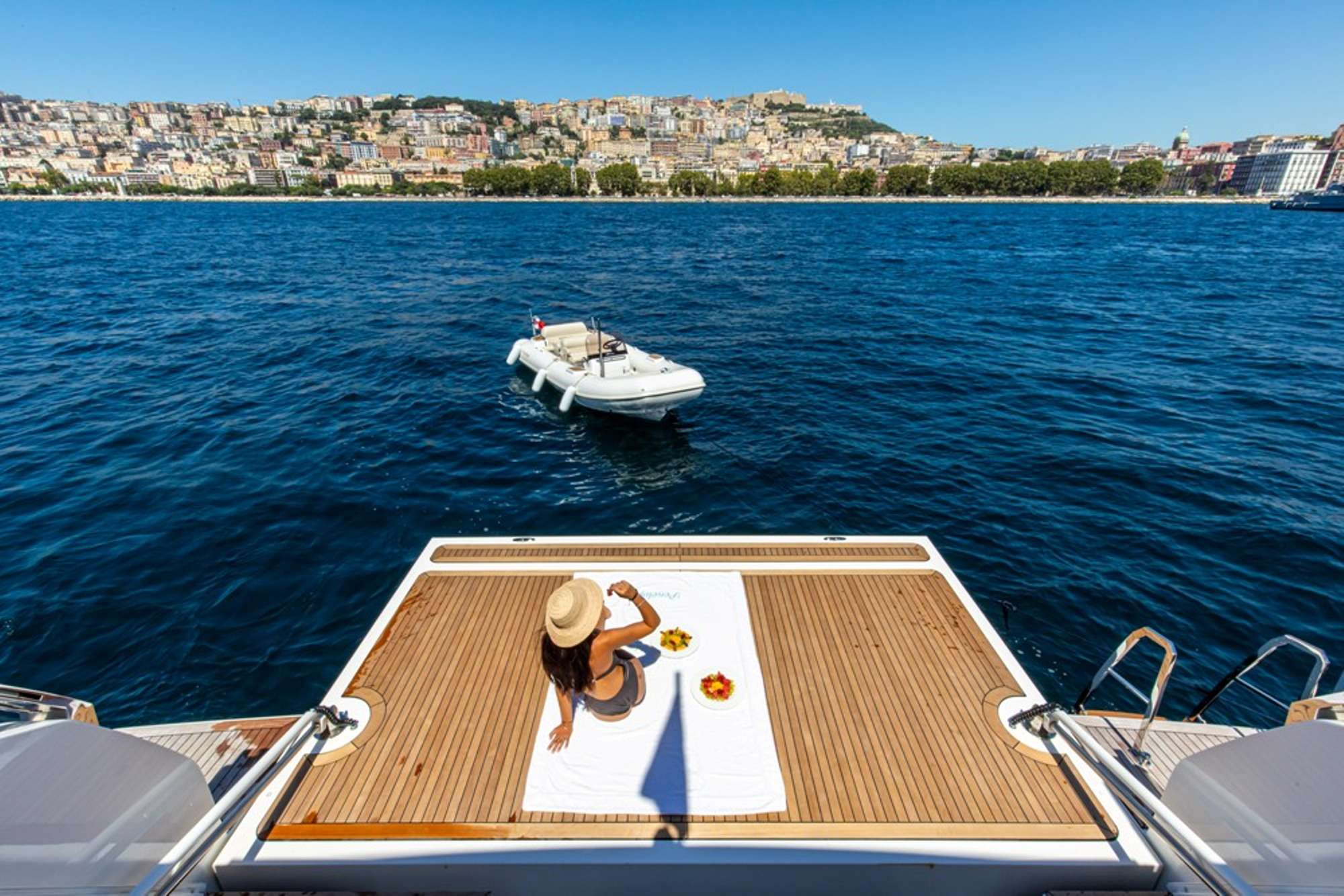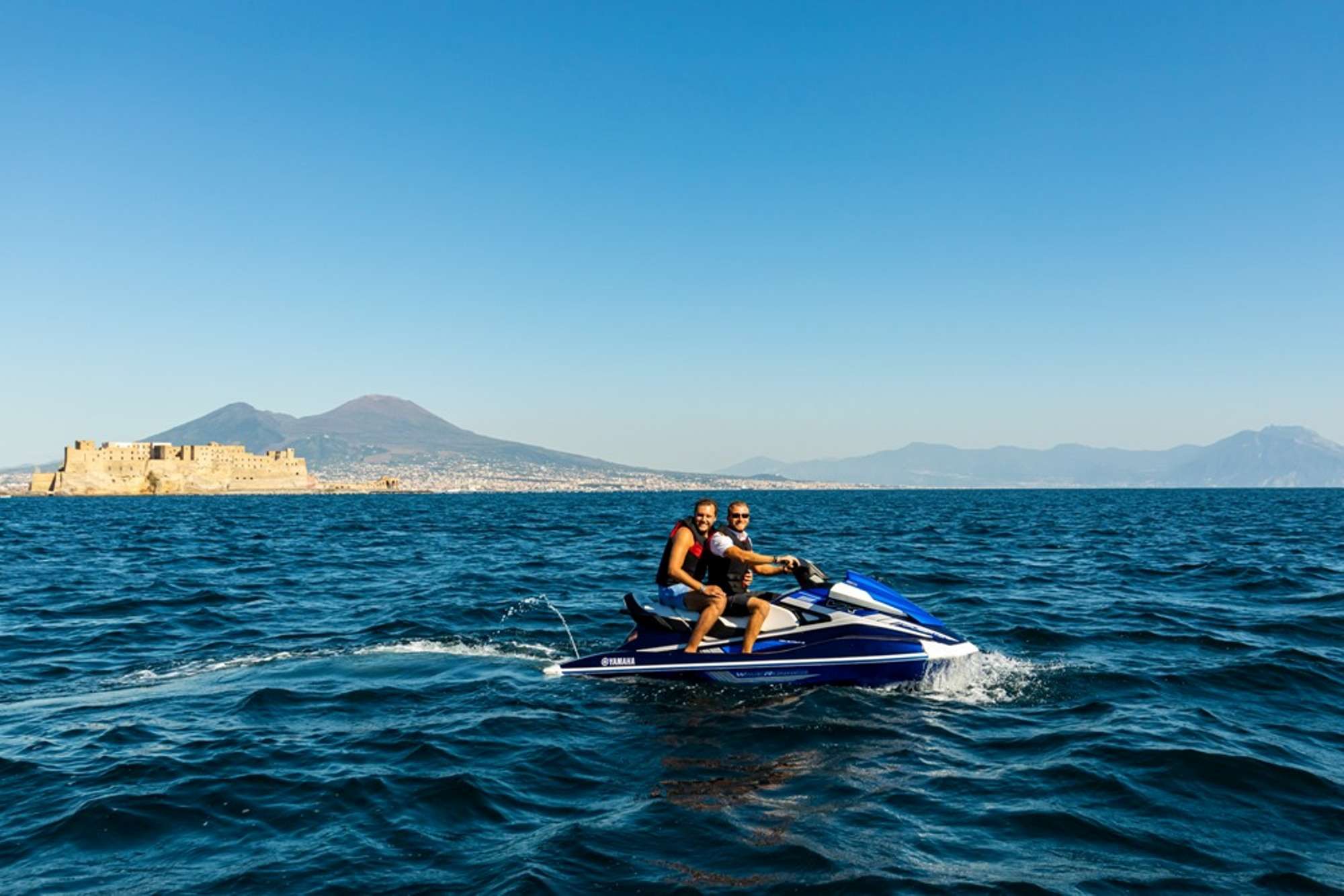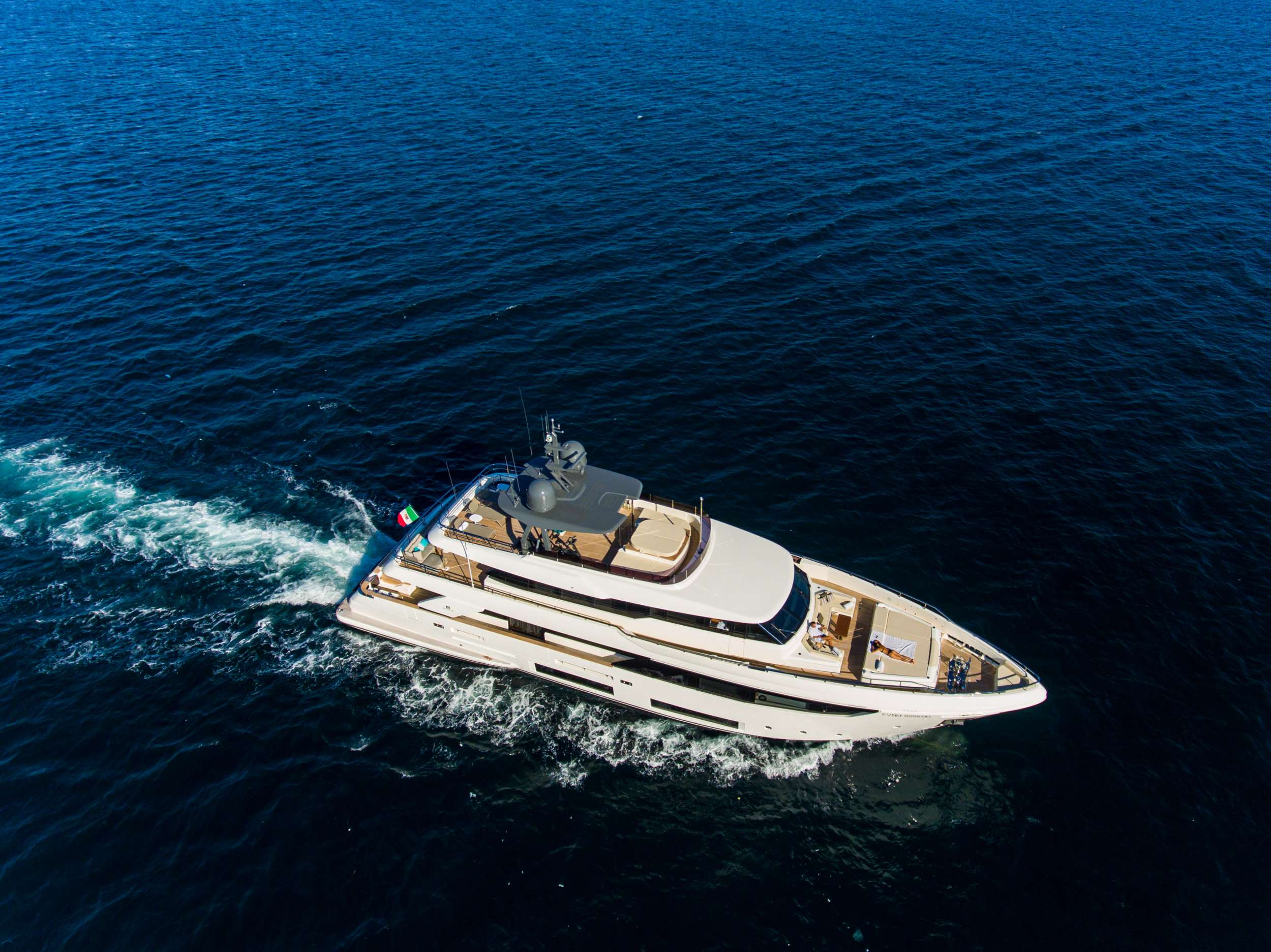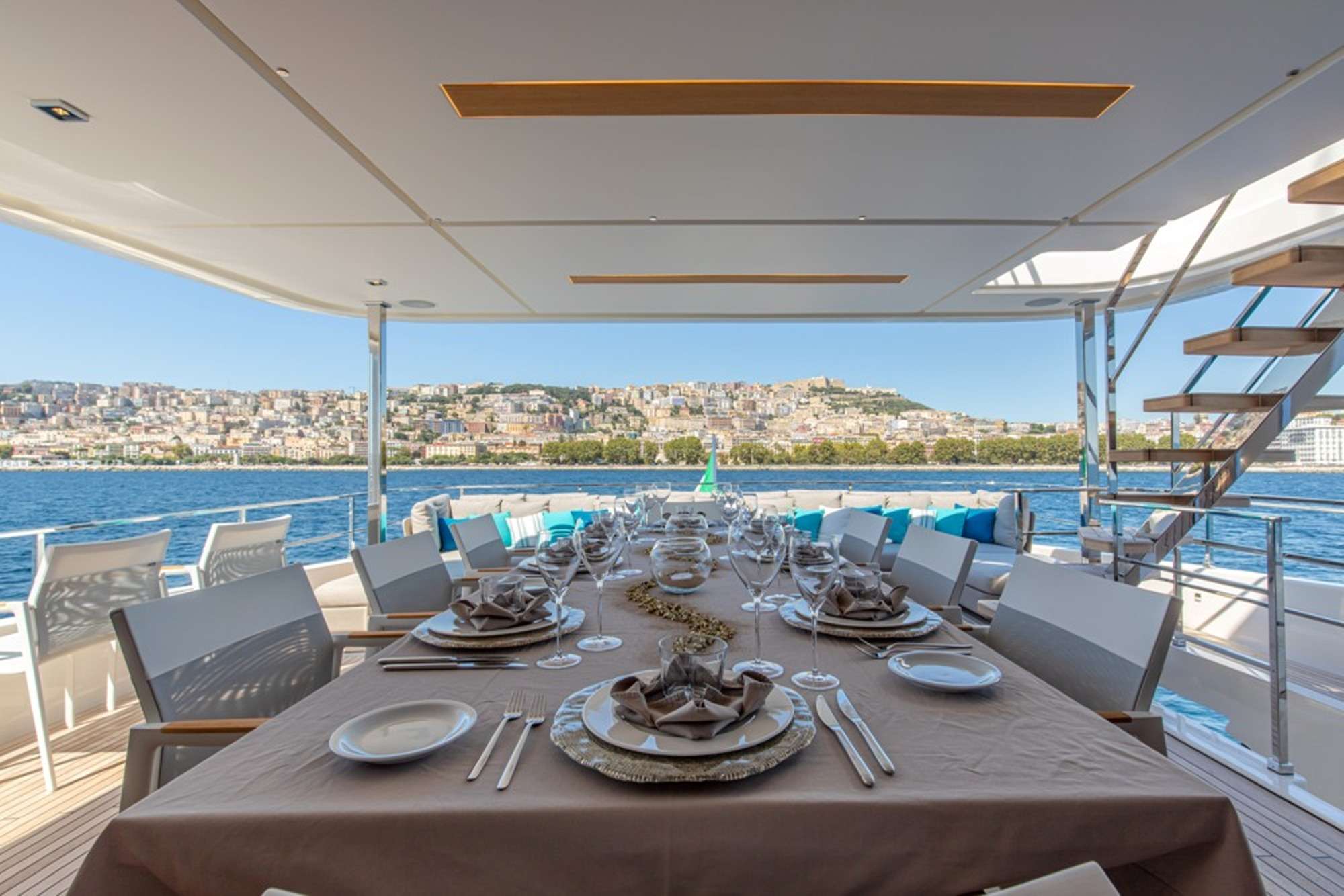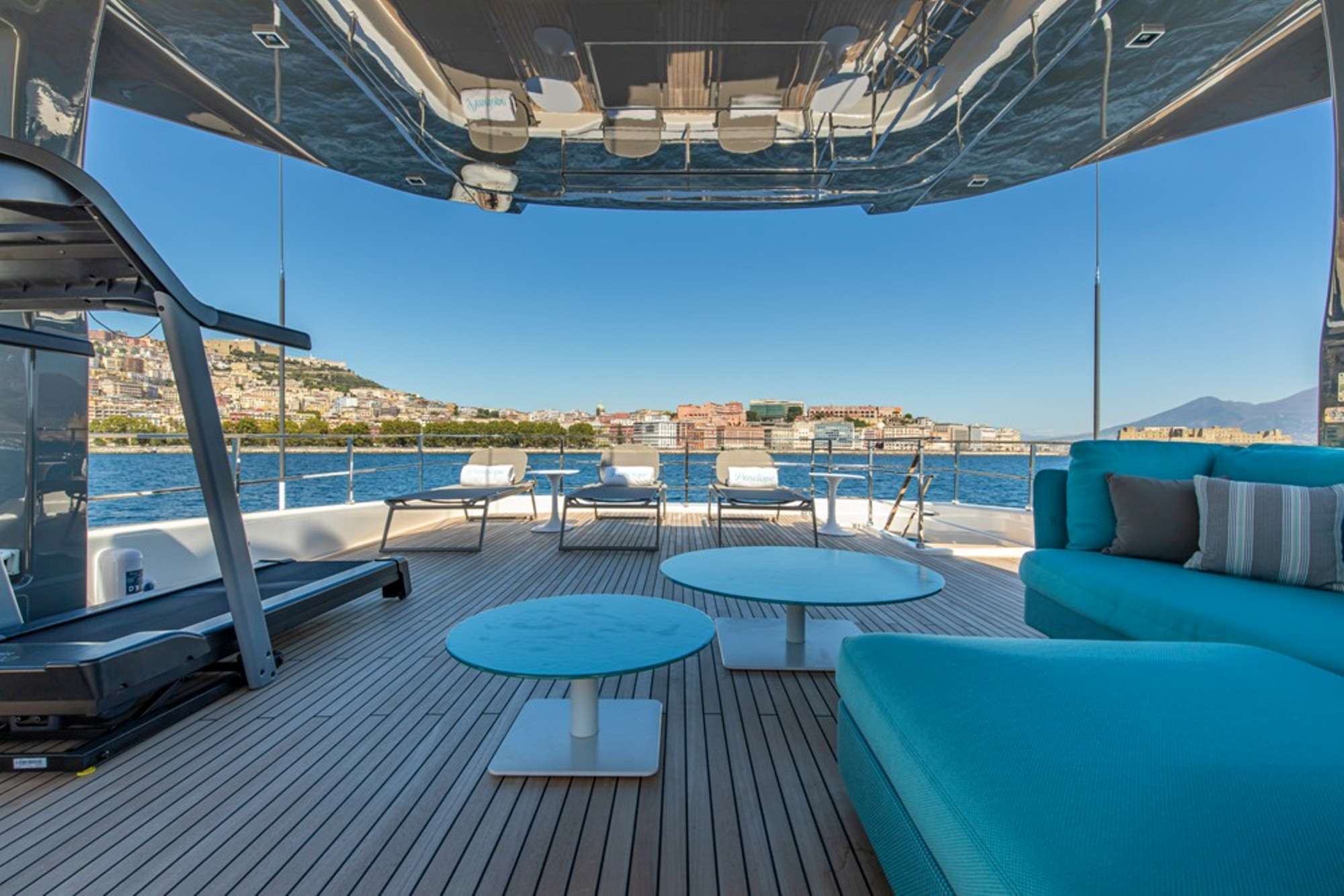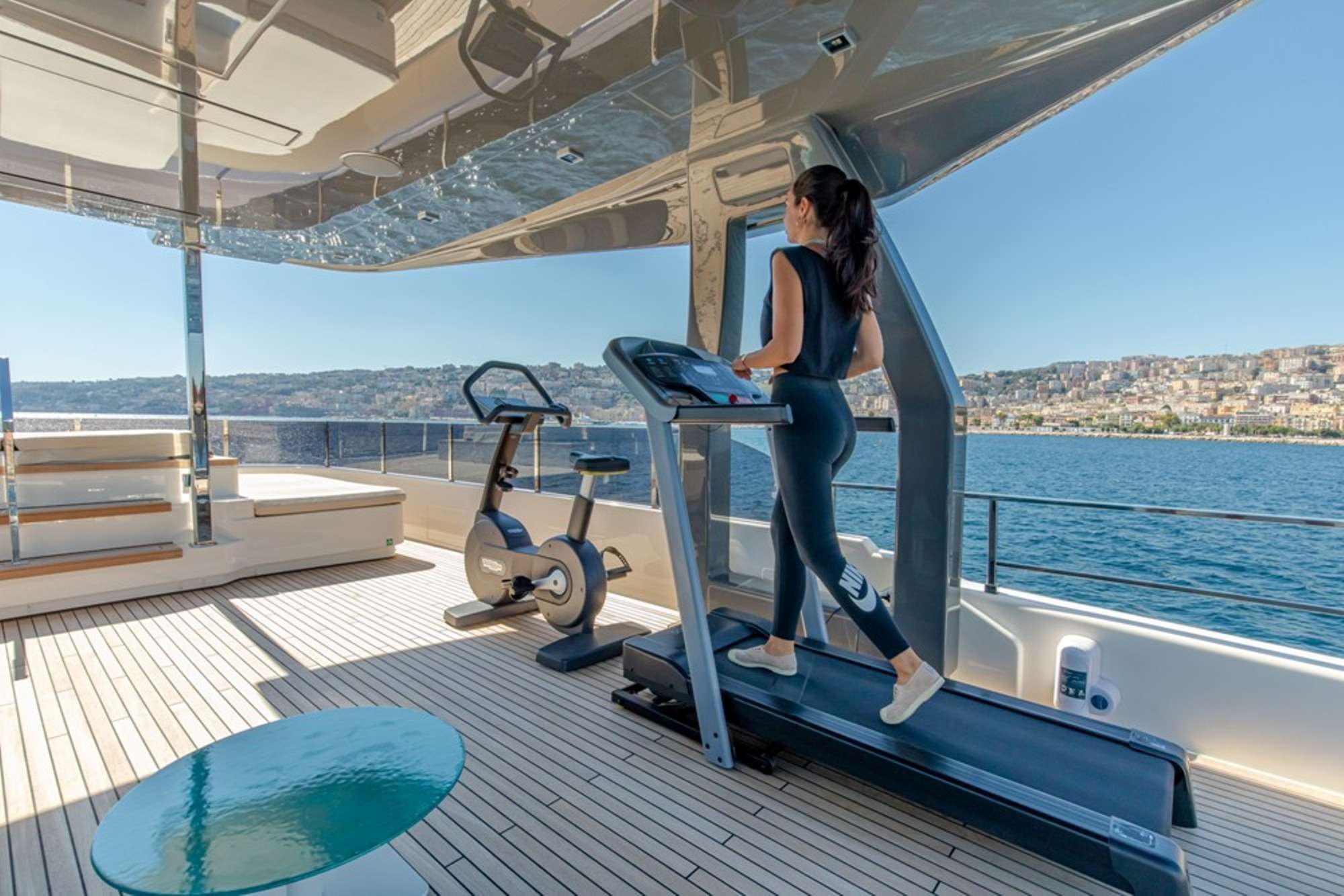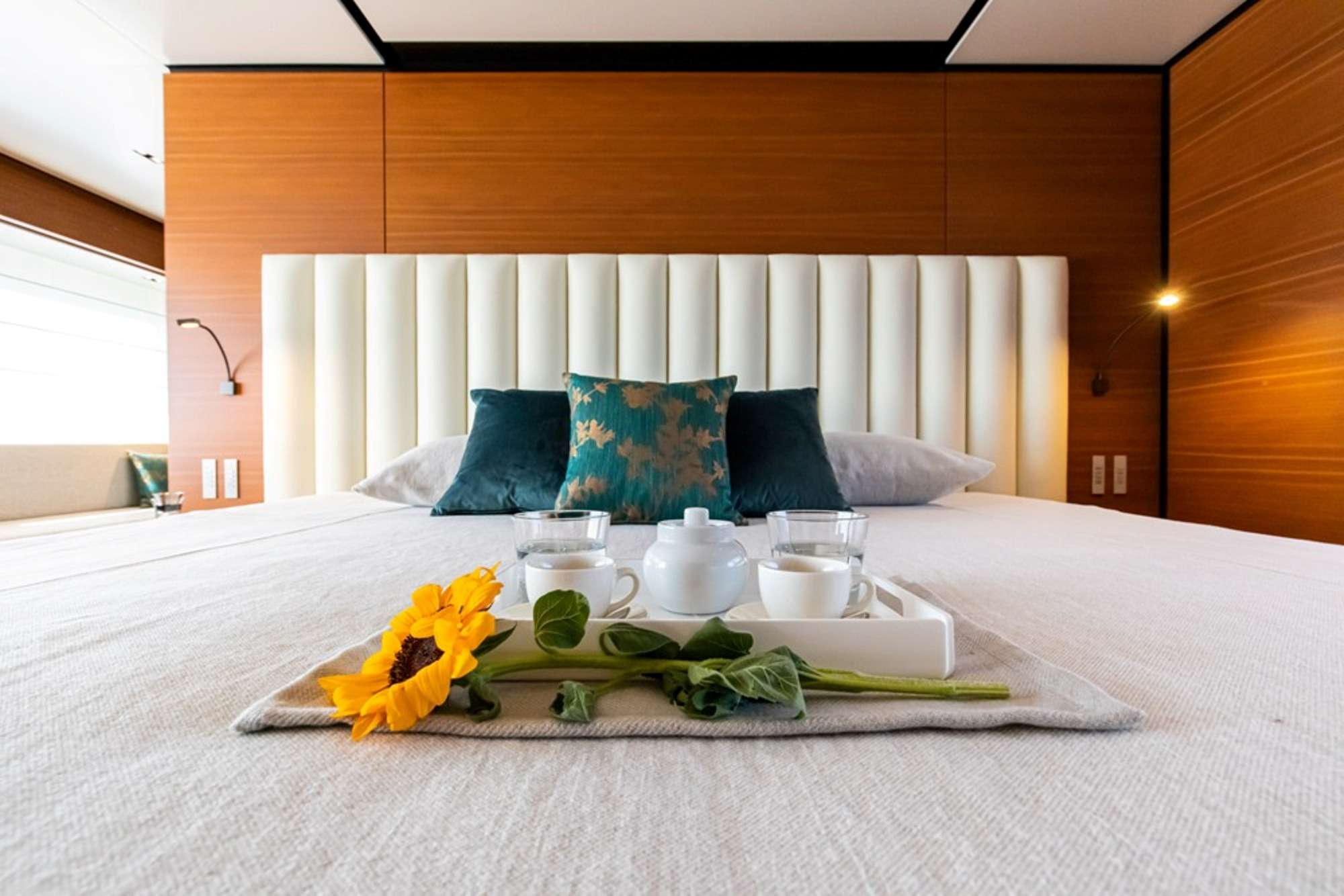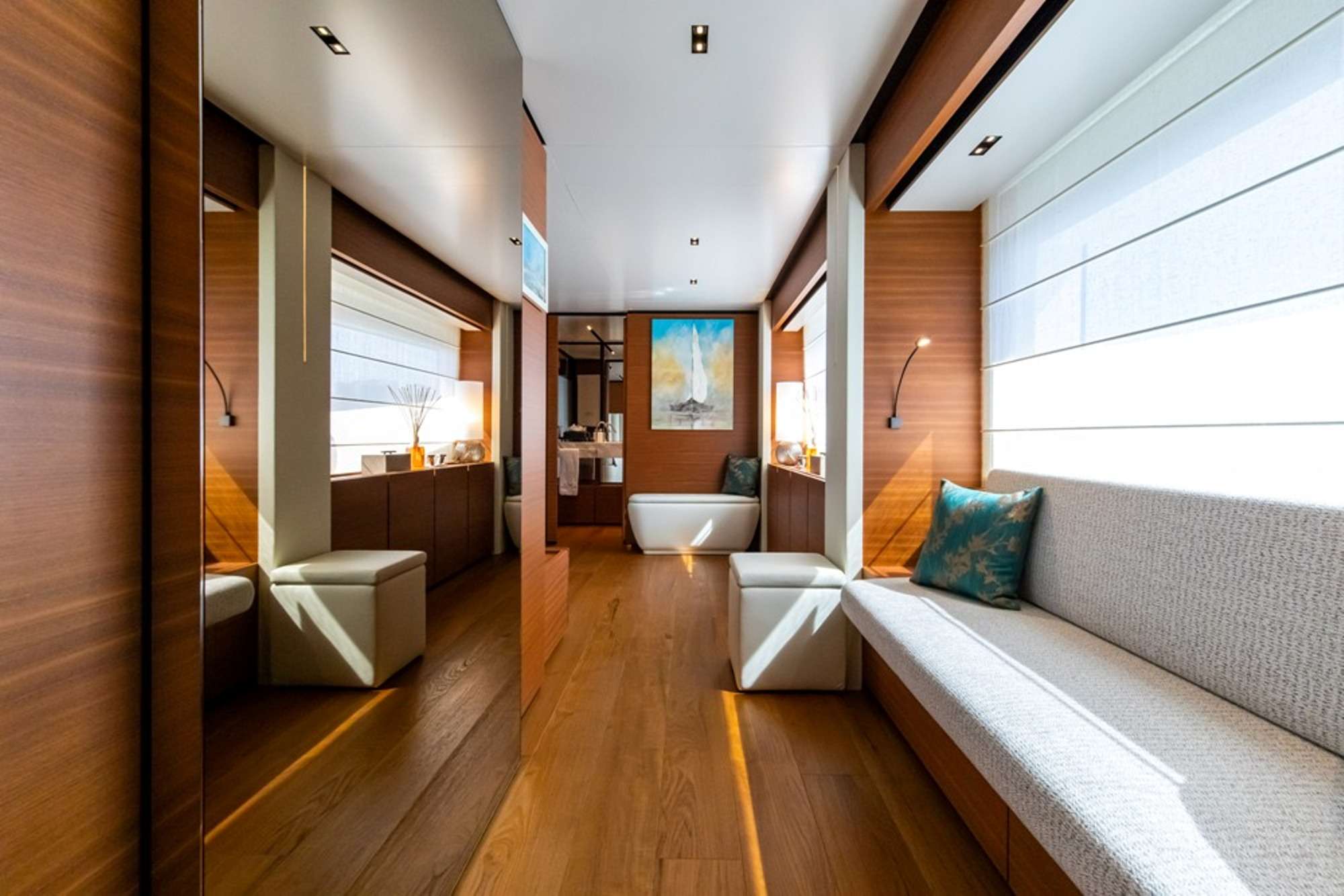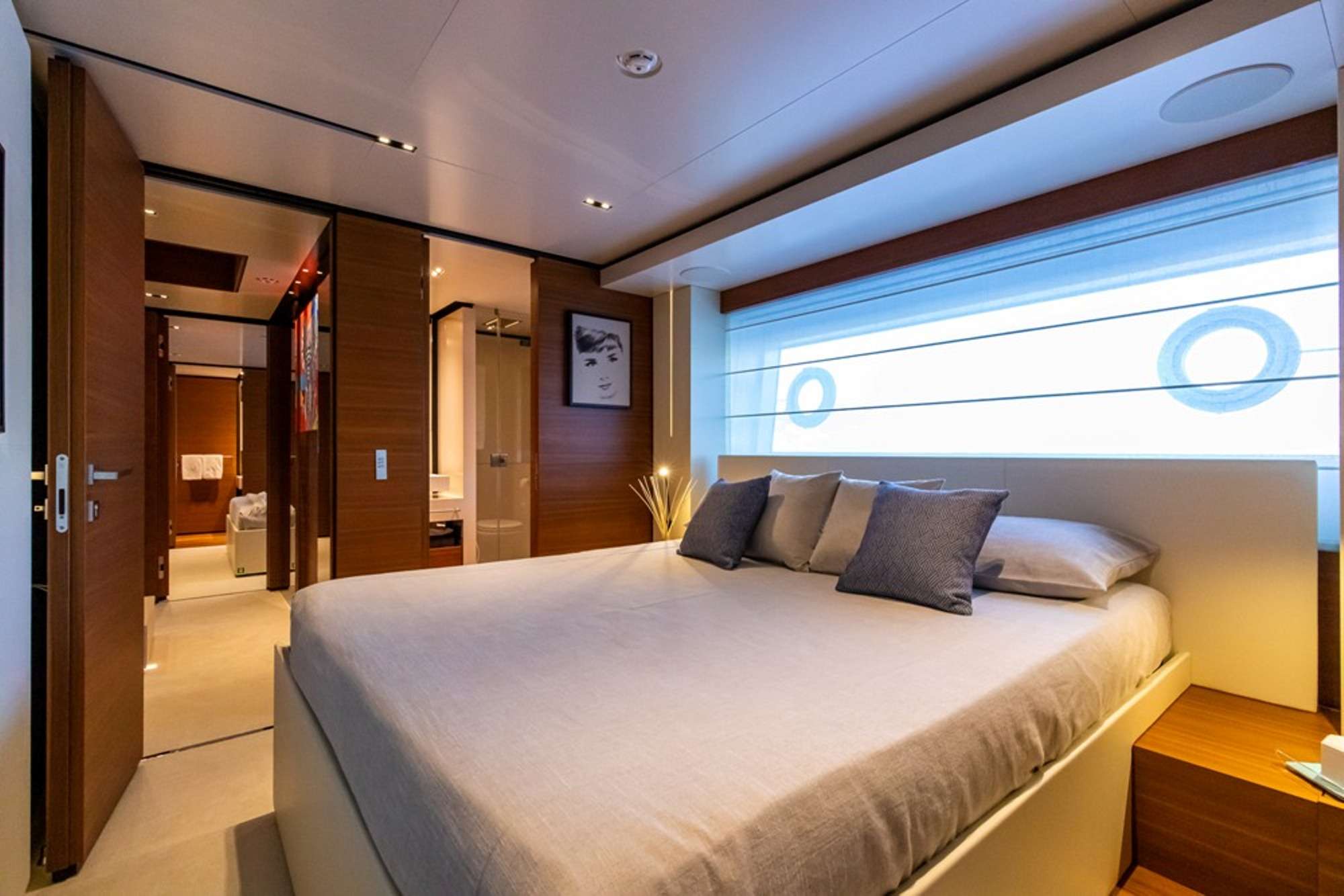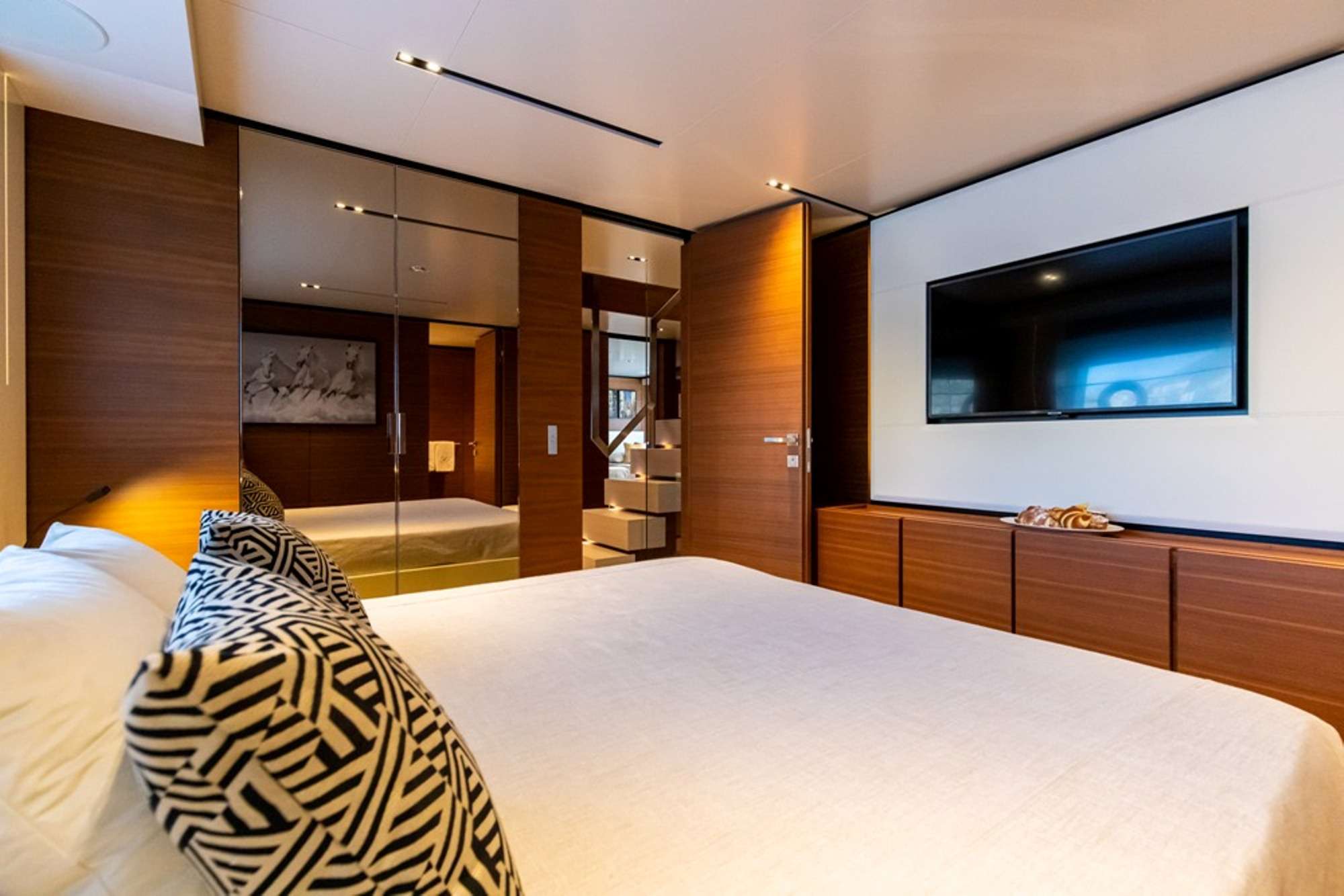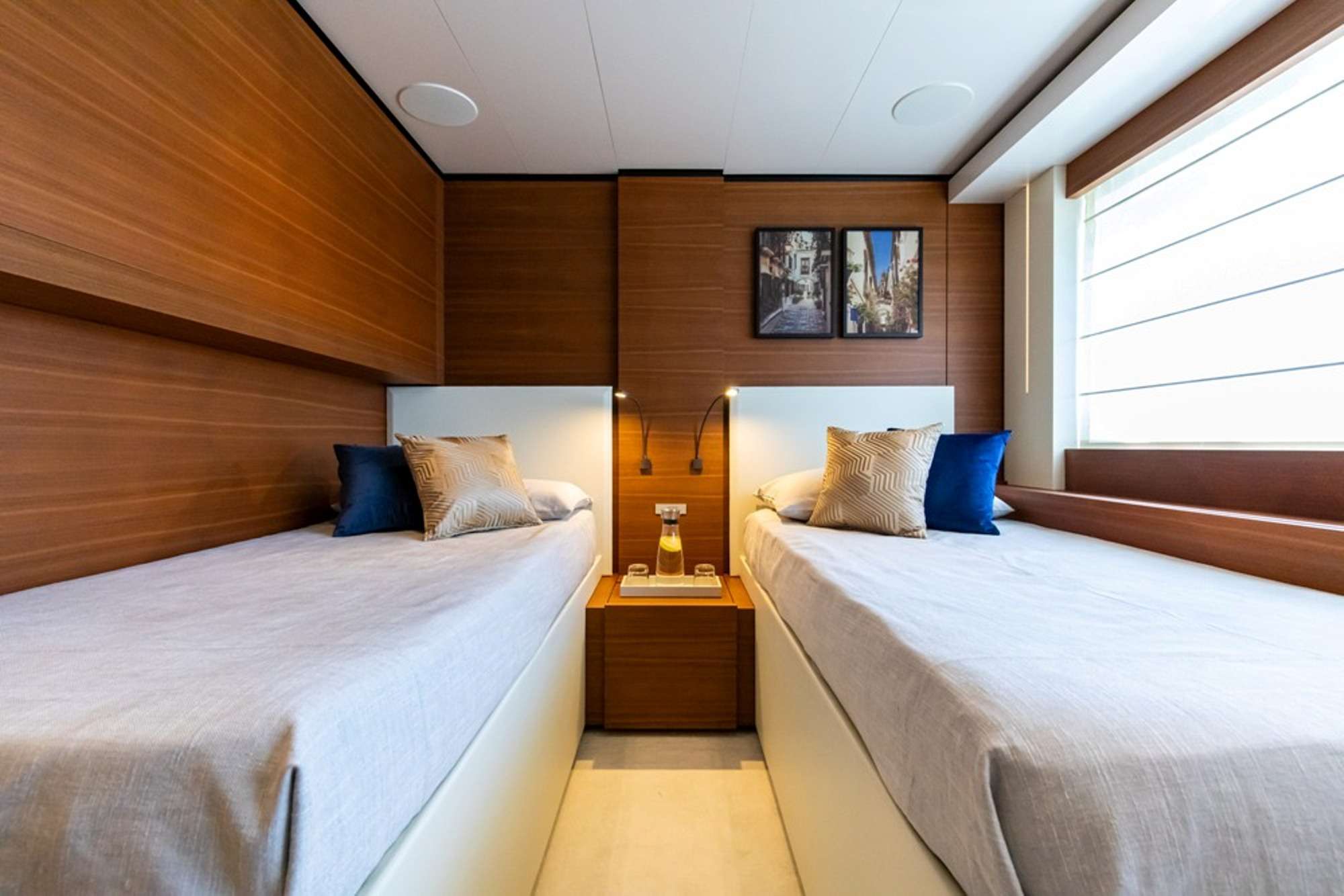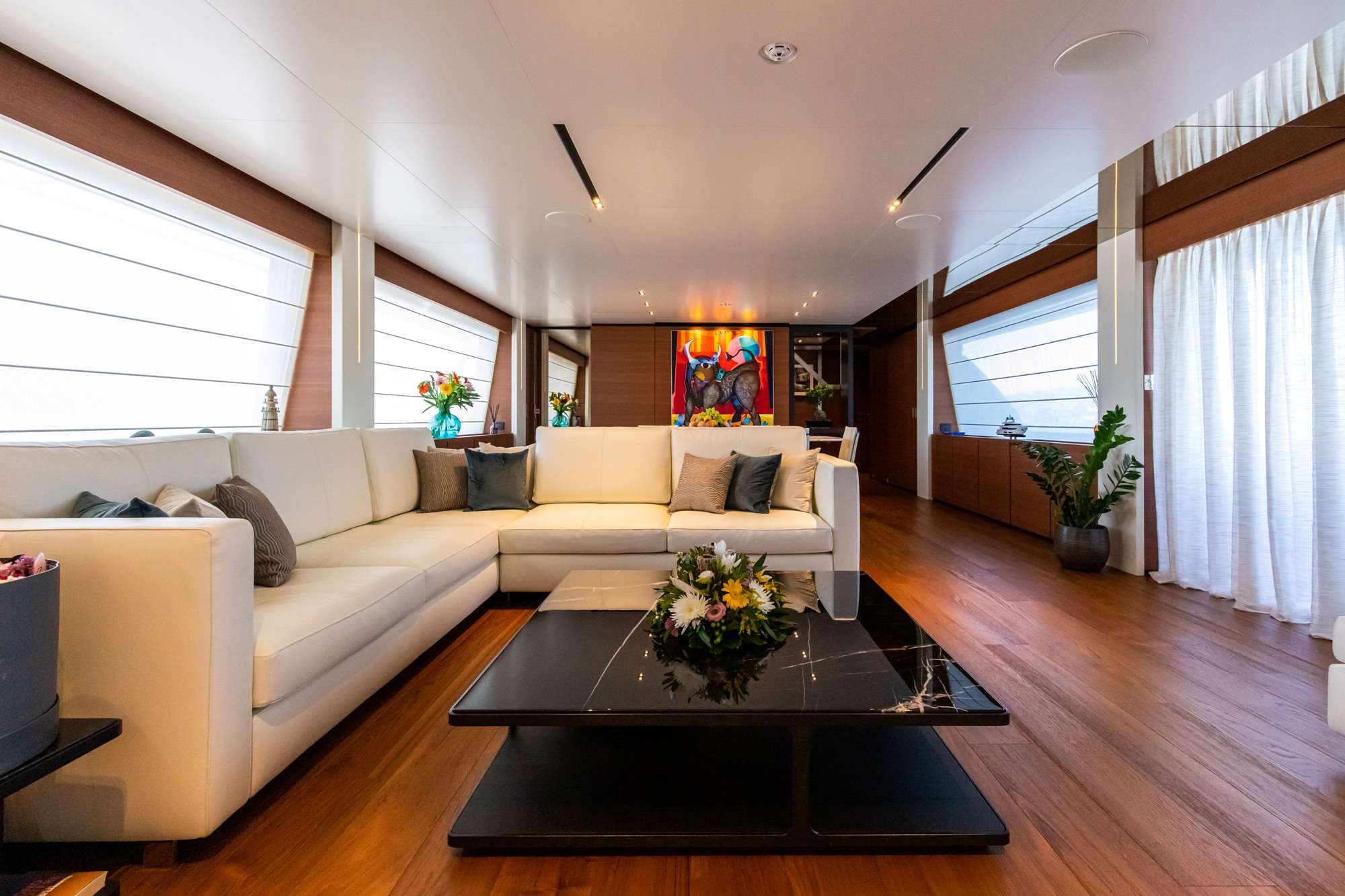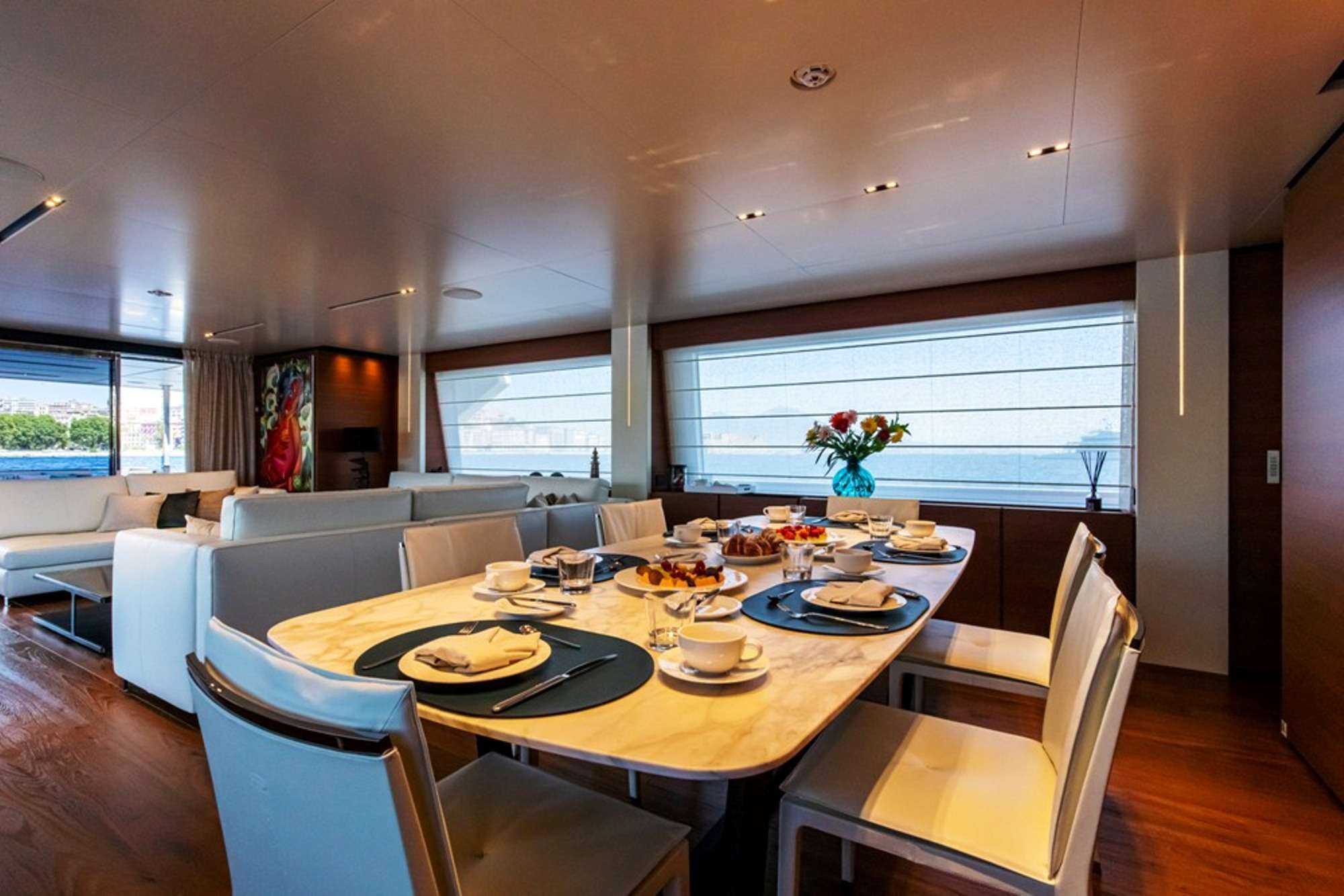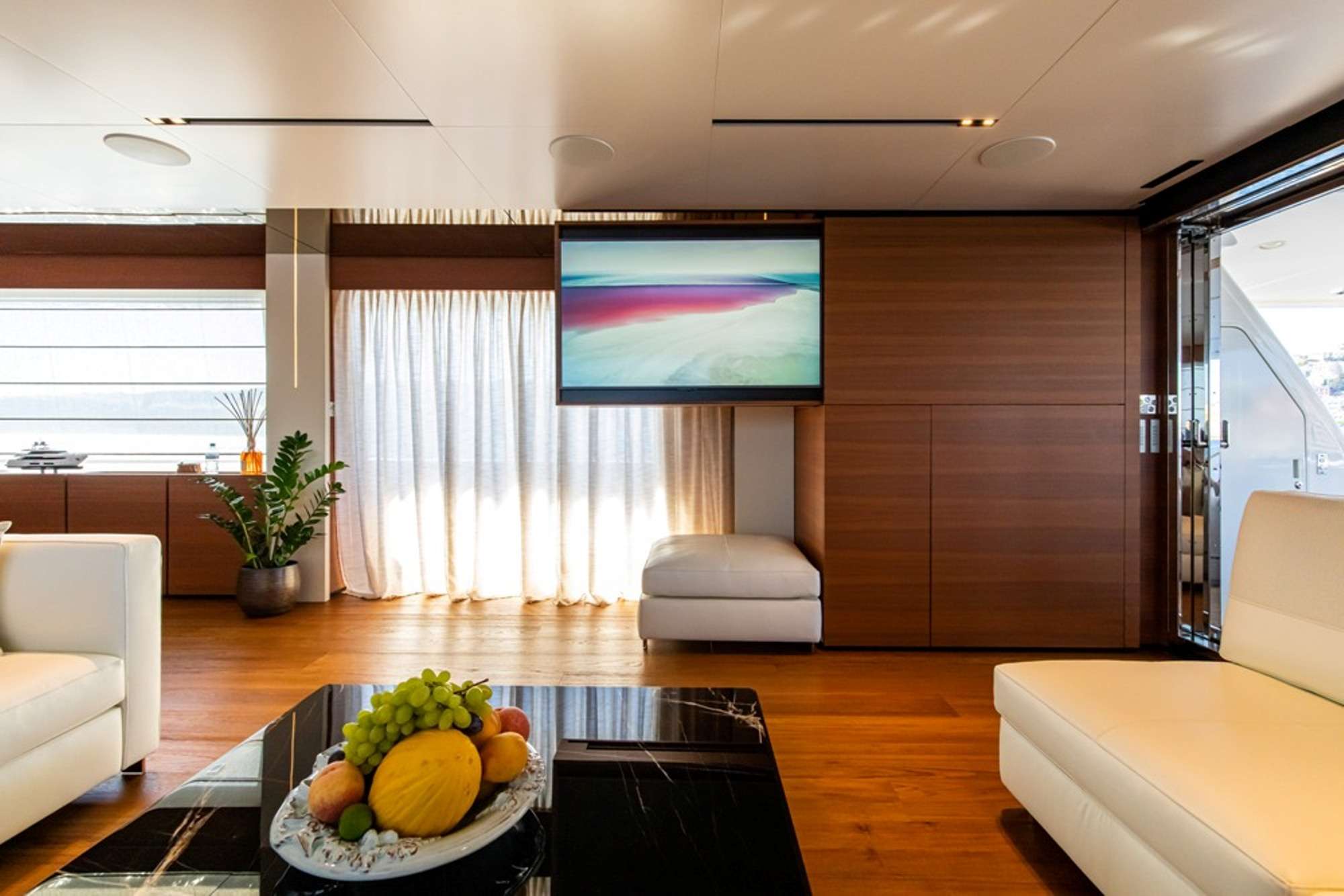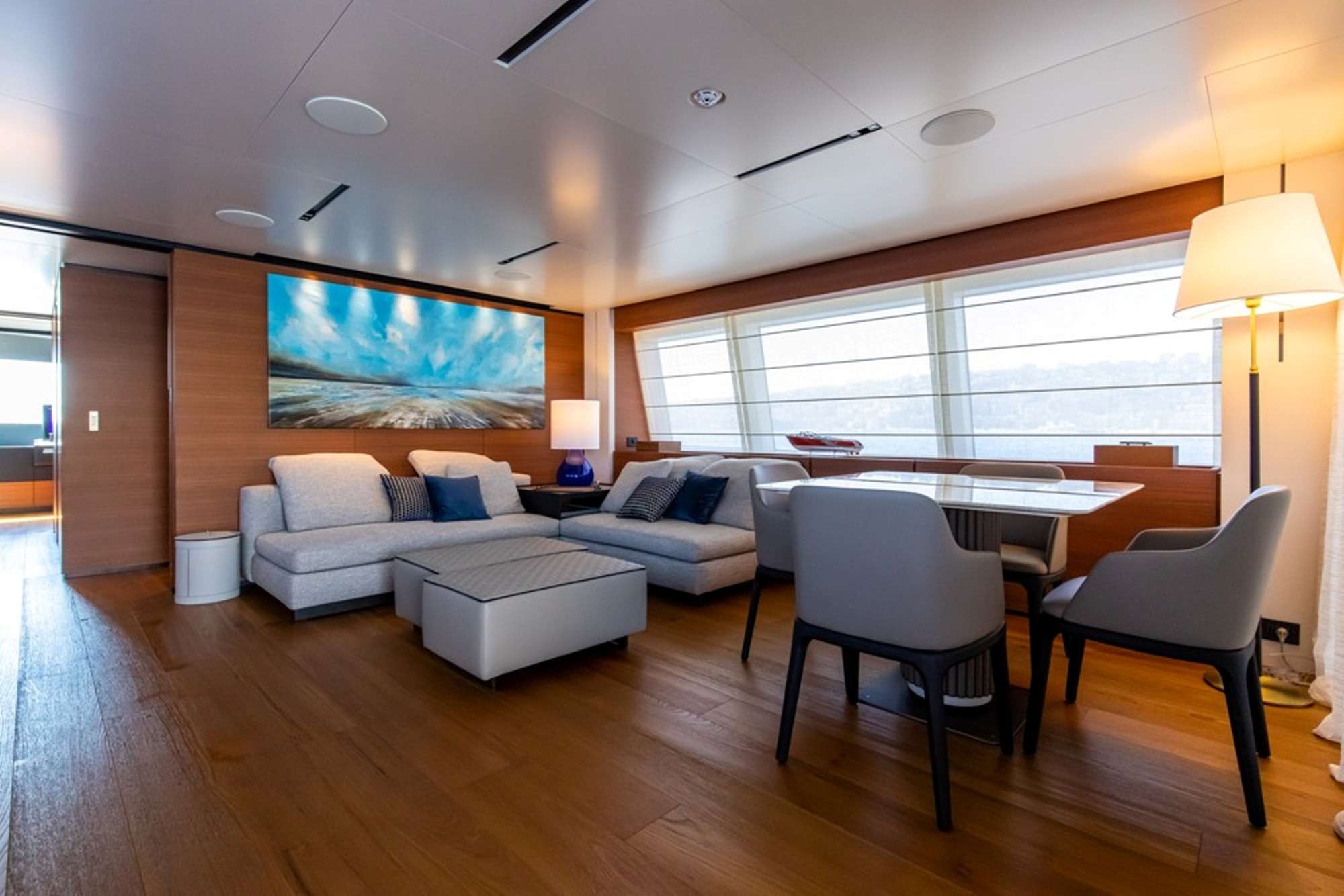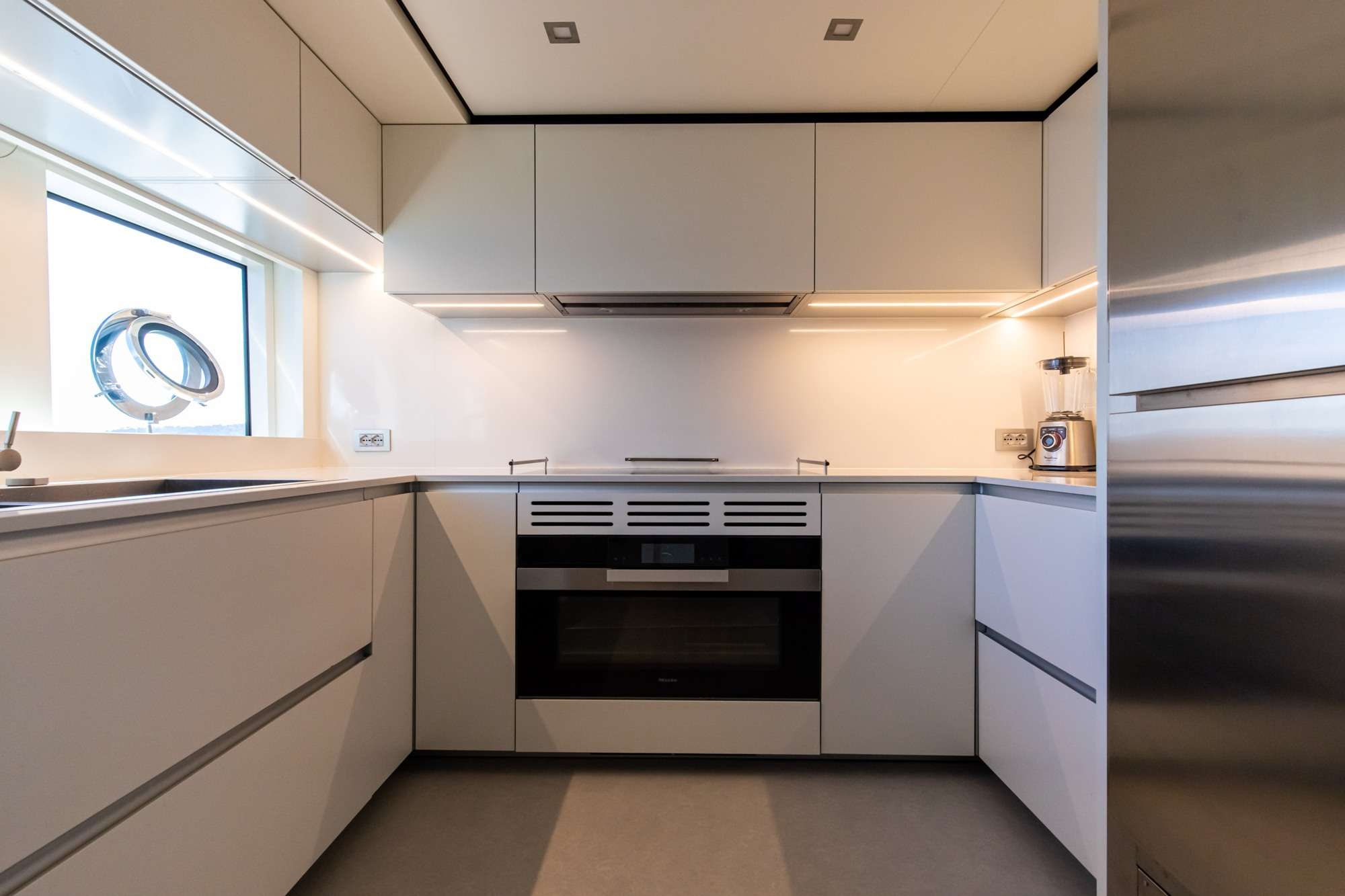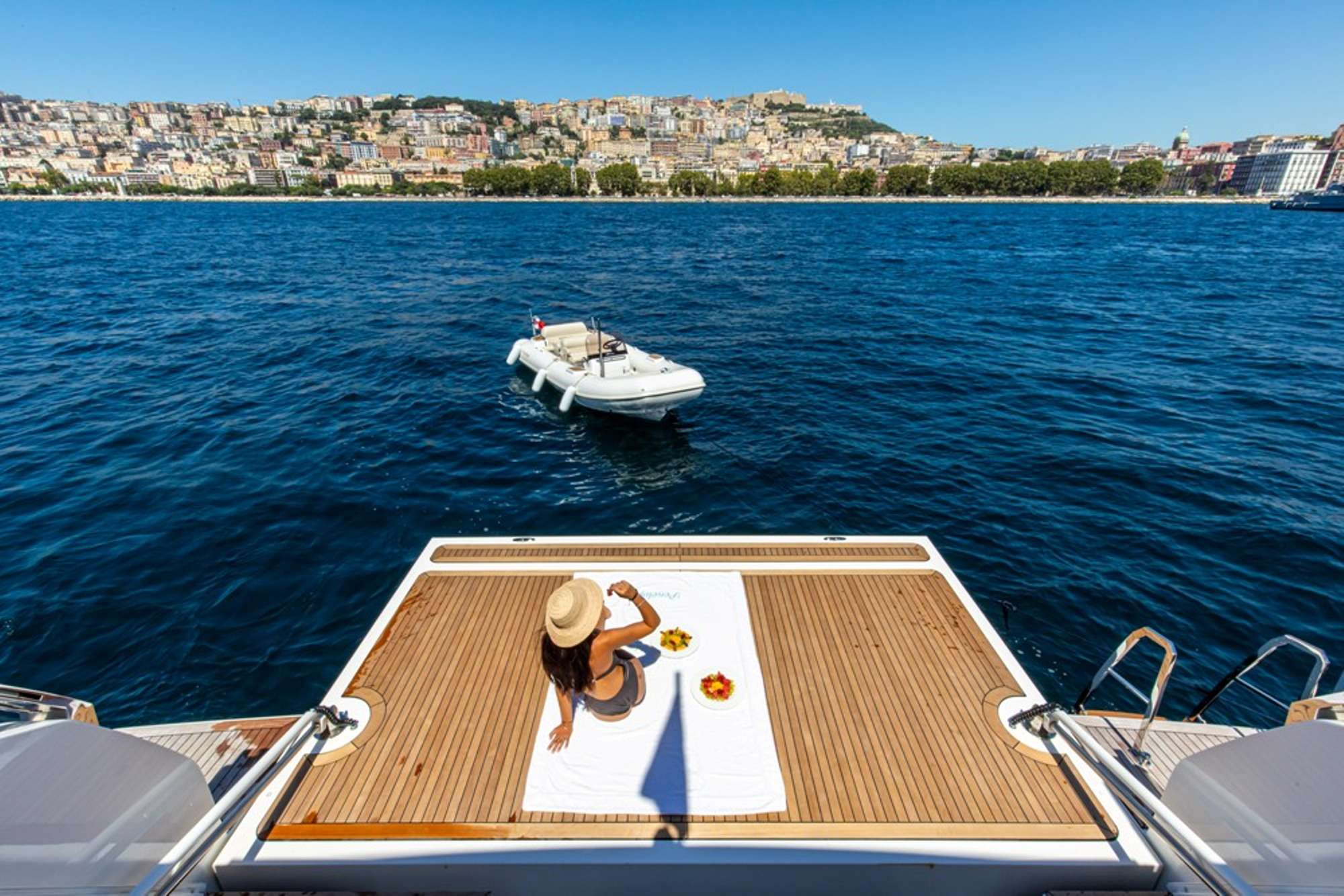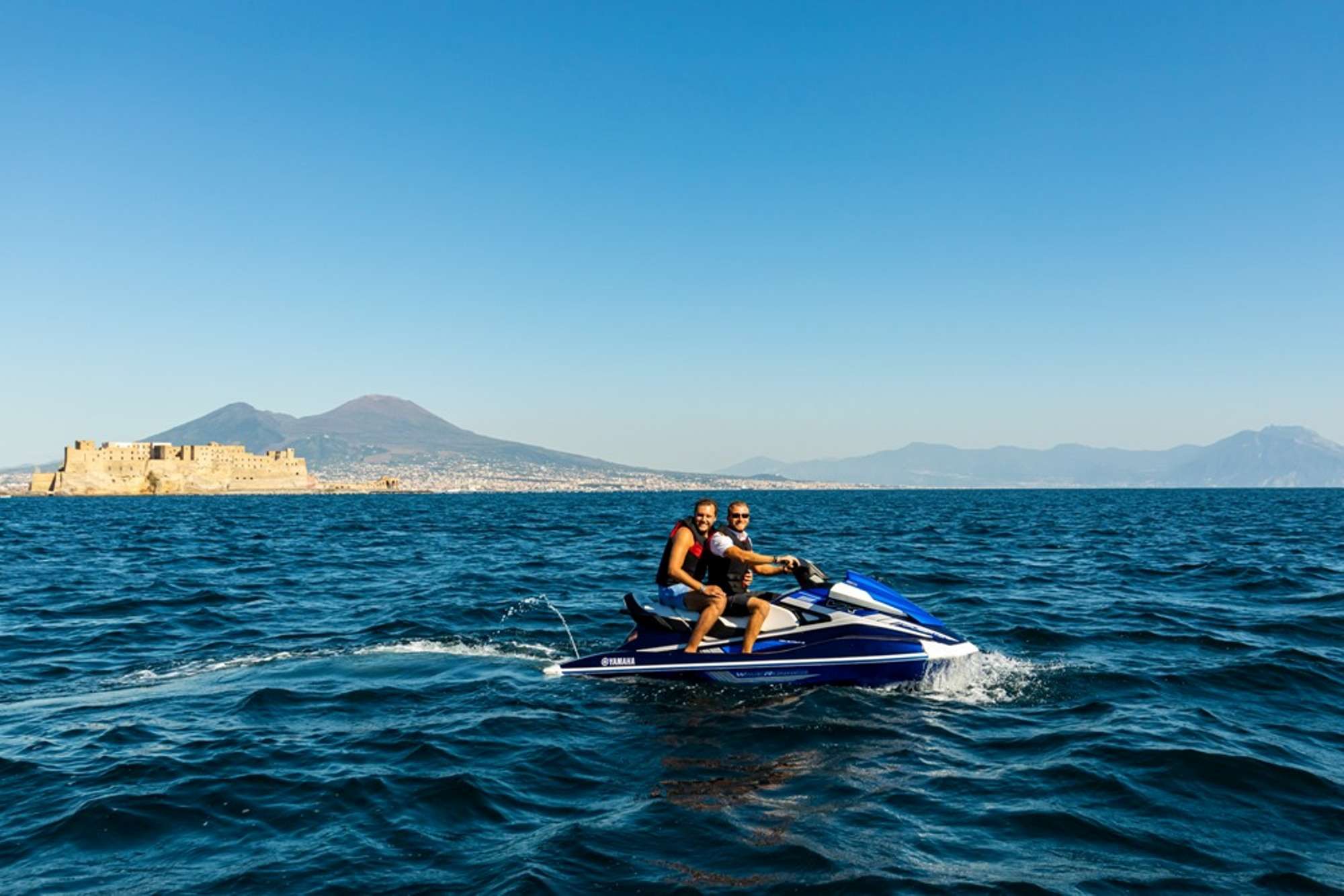 Accommodations
| | |
| --- | --- |
| Sleeps 10 guests in 5 guest stateroom(s). | |
| 4 with King Bed(s) | |
| 1 with Queen Bed(s) | |
| 4 with Double Bed(s) | |
| 1 with Twin Bed(s) | |
Details
Penelope sleeps up to 10 guests in 5 cosy cabins: One Master suite on the main deck, 3 double and one Twin with separate beds.
Layout Diagram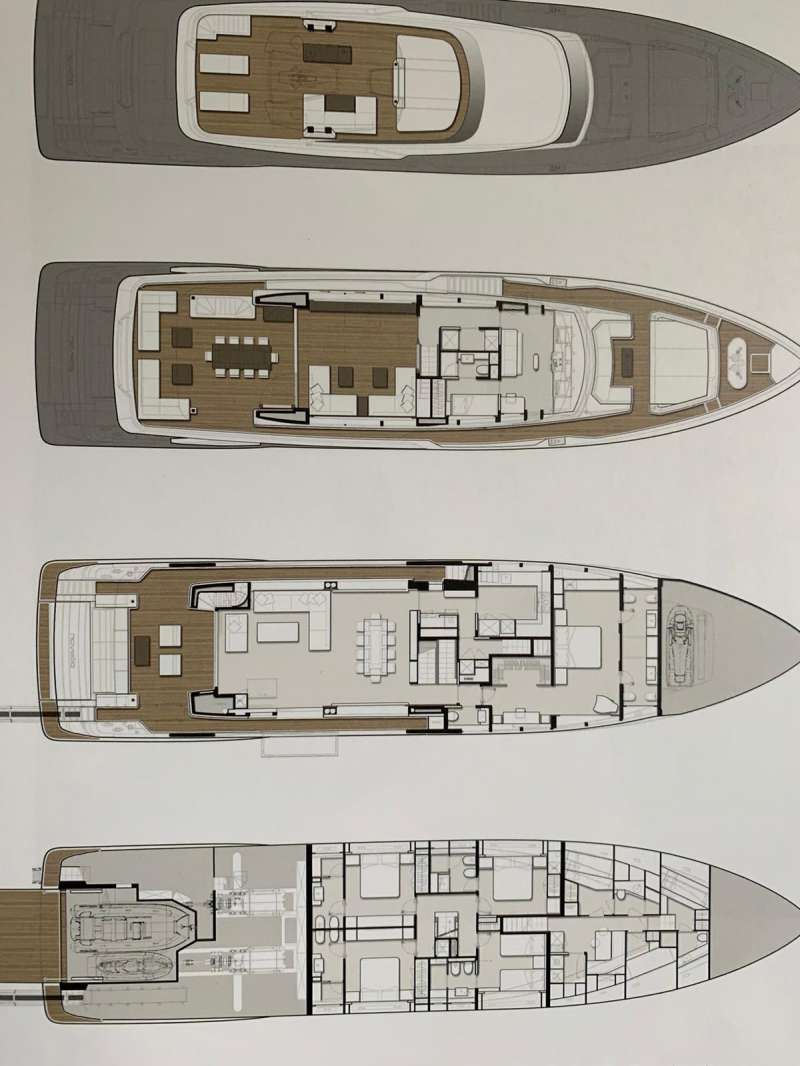 Specifications
| | |
| --- | --- |
| Guests | 10 |
| Staterooms | 5 |
| Length | 108.00 Ft / 33.00 m |
| Beam | 7.68 m |
| Draft | 2.2 m |
| Built - Refit: | 2020 |
| Builder | Ferretti |
| Cruising Speed | 12 |
Watersports
| | |
| --- | --- |
| Adult Water-skis | Yes |
| WaveRunners | Yes |
| Inflatable, towable tubes | Yes |
| Scuba Diving | Yacht offers Rendezvous Diving only |
Pricing
From: 110,000
To: 125,000


Pricing Details
VAT exempt
PLEASE INQUIRE FOR FURTHER PRICING DETAILS
Crew Profile
Captain: Alessandro Abbate, Italian 50 y.o.
Alessandro is a reliable and highly skilled Captain, with many years of experience in the maritime field. His father introduced him to sea life since his young age, bringing him to sea aboard his boat.
Alessandro also has great technical expertise: he oversaw the maintenance and refit of private sailing and motor yachts on different occasions.
His passion for the sea is not limited to the career: in his spare time Alessandro participates in important international regattas, achieving exemplary results and gaining the podium on several occasions.
Italian native speaker, speaks good English.
Chef: Giovanni Rocca, Italian, 46 y.o.
Giovanni is a talented, well trained Chef graduated from the Culinary art and professional cookery school in Rome.
He boasts a wide professional experience of over 30 years as Head Chef in the main Rome's restaurants and aboard Navy ships in Italy and abroad.
Experienced with bakery and fish Mediterranean cuisine, Giovanni has worked for 8 years as Head Chef at La Rotonda Shilling Restaurant in Rome where he attempted with new recipes, and artistic menus and at the same time he trained and grow new staff members.
Giovanni cooks in a wide range of styles, including Asian, Arabic, Vegan and Gluten free cuisine to deliver every guest the culinary experience they desire. Giovanni pays special attention in sourcing the freshest ingredients through his considerable experience and offers the highest possible standards of cuisine for his guests. Italian mothertongue, he has an advanced knowledge of English.
First Mate: Antonio Bleve, Italian, 25 y.o.
Antonio is a young, friendly and efficient crew member. Fond of sea life since ever, in 2016 he achieves the Technical Diploma in Transports and Logistics "Conduction of the naval means", gaining a solid knowledge in the field of Mechanical Engineering and Machinery, Law of navigation, Logistics of flows and Cargo handling. In 2018 he has the chance to implement his skills, working as sailorman during the summer season in Puglia at the guidance of a boat- powered by 9mt., training to perform approaches and berths at the docks. Later he has the opportunity to improve his English knowledge, during a 5 month stay in the United Kingdom. Once back in Italy, Antonio gives up again to the call of sea and embarks as Official Blanket Cadet on a 24mt yacht pleasure vessel used for charter where he carries out the duties related to all phases of navigation (support to the commander in mooring operations and assistance to navigation) and extraordinary activities like support to the staff of yard in the operations of cleaning of hull and flap and launch of the ship. Used to work in team, he holds also the knowledge of the main on-board software.
Italian mothertongue, Antonio speaks a good level of English.
Chief Stewardess (TBC): Marika Daversa, Italian, 36 y.o.
Marika is a very young and energetic woman, fond of sport and of the sea. She's very meticulous and hard working and she loves meeting people from all around the world.
She was raised in close contact to the sea, due to her parents holding a boat, and she merged her passion for the sea with her passion for the sport by practicing free-diving. After taking a diploma in Business and Marketing, she opted for a dynamic job that could suit her active nature and decided to embark as a stewardess on board charter yachts.
Her attention to the detail and her positive approach make her a valuable addition to the crew, and a very pleasant presence for guests to interact with.
Italian mother-tongue, she has a basic knowledge of English.
Stewardess (TBC): Marta Digirolamo, Italian 27 y.o.
Marta is a cheerful, friendly crew member, used to work in team.
She holds the Silver Service Basic Course, developing competences and skills to offer a five star guests
service. Marta has gained her experience as stewardess working aboard charter yachts helping with house
keeping and cooking. Always focused on advancing her career, she recently worked as second stewardess aboard a 40 mt.
private yacht handling with events management and assisting Captain during anchoring and mooring
operations.
With a keen sense of duty, Marta works hard to make guests' experience aboard the best it can be.
Italian mothertongue, Marta speaks a basic level of English and Spanish.
Deckhand: Aldo Rispoli, Italian, Italian 24 y.o.
Aldo is an enthusiastic and valuable crew member, since very young he has lead a very active life strongly centered around the sea. Born and raised in Positano, the pearl of Amalfi Coast, Aldo began very soon to work in the maritime field.
Aldo has steadily worked his way up through the Yachting Industry, starting at 18 years as mooring guy and shortly after as deckhand aboard a Sunseeker 60'.
In winter 2019, he embarked on a cargo ship as deck cadet and in 2022, thanks to his remarkable experience, he employed as deckhand aboard a 24m. gulet for 3 seasons in a row.
Willing to pursue his career in Yachting Industry, Aldo holds the boat license within 12 miles and the Yacht Master Off-Shore.
With his hardworking and professional attitude, Aldo will do his utmost best to ensure guests a pleasant stay aboard.
Italian mother tongue, he speaks a good level of English and a basic level of Spanish.
Additional Information
Navetta 33 is the semi-displacement yacht that turns true sophistication into absolute luxury. With her chic, essential aesthetic style, this amazing superyacht is not afraid to reveal her high-tech side. Thanks to the ingenious bulbous bow, she assures best-in-class stability and seaworthiness with a range of around 2,000 nautical miles. Inside, every space is an affirmation of the Navetta 33 vision and her owner's unique character. The areas dedicated to the family and their guests open up on all 4 decks from the wide-body master suite forward on the main deck to the 4 guest cabins below. And the stylistic watchword is elegance. Penelope is runned by a stable crew of 6 led by Captain Alessandro Abbate. The base crew has already worked together in 2018 and 2019 with huge success on board the preceding Ferretti Custom Line 97 Penelope (same name/same owner).
Destinations