Gallery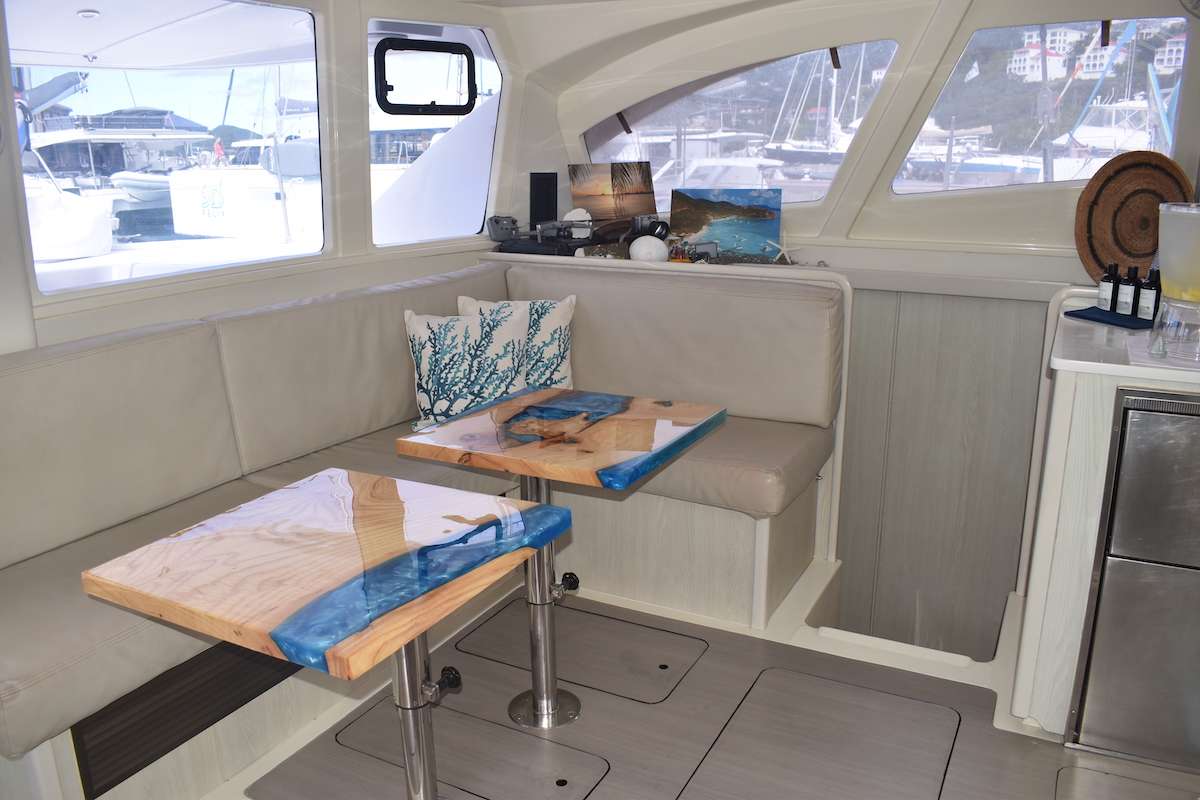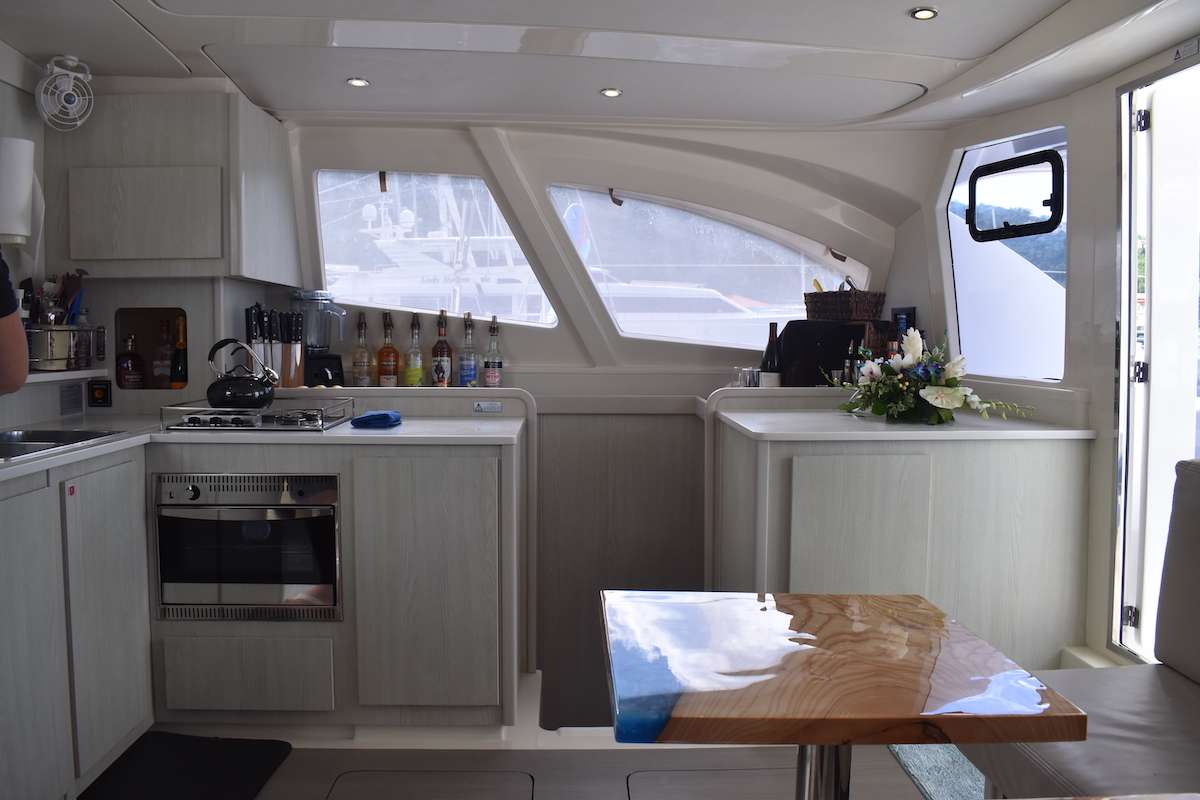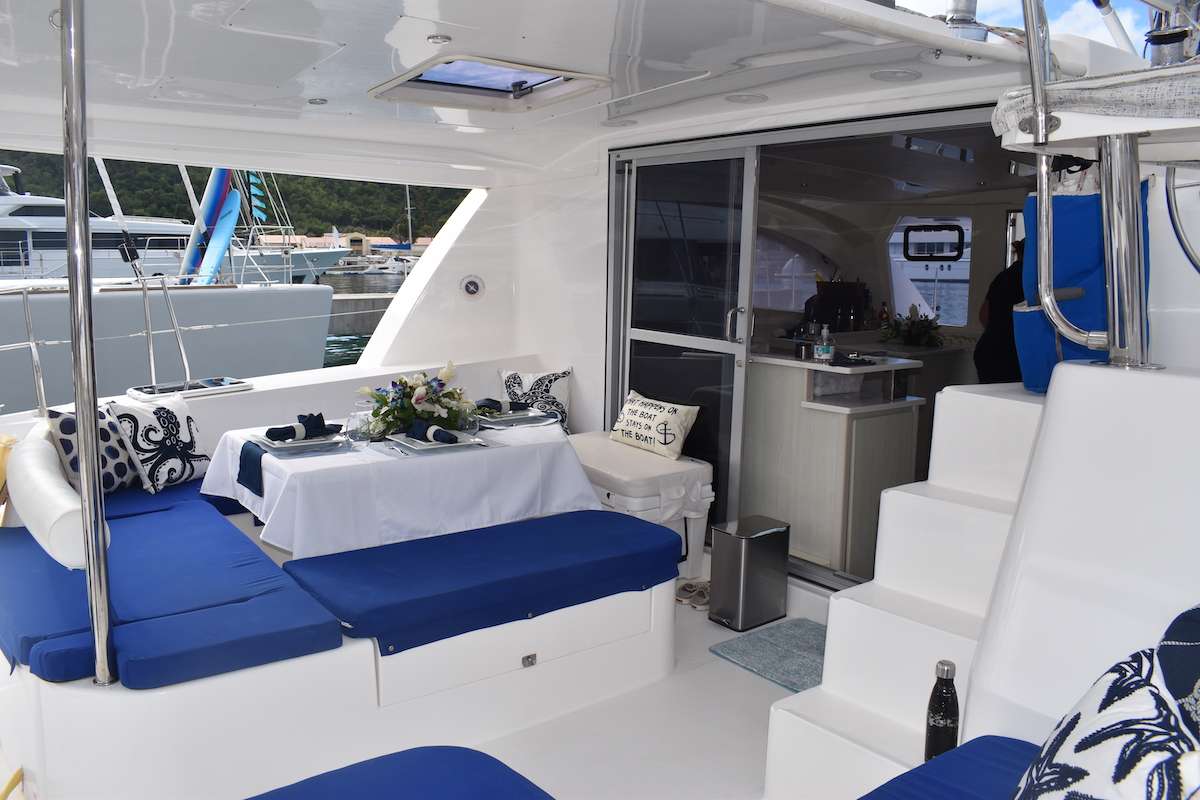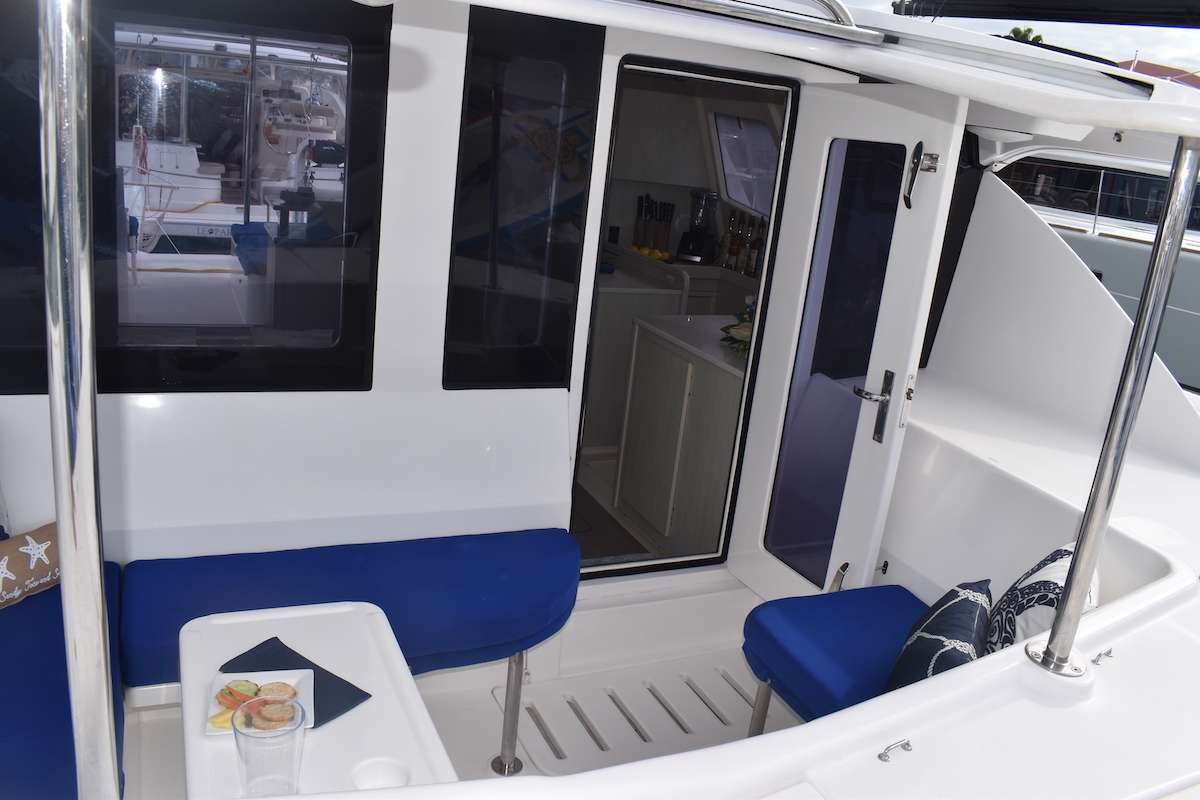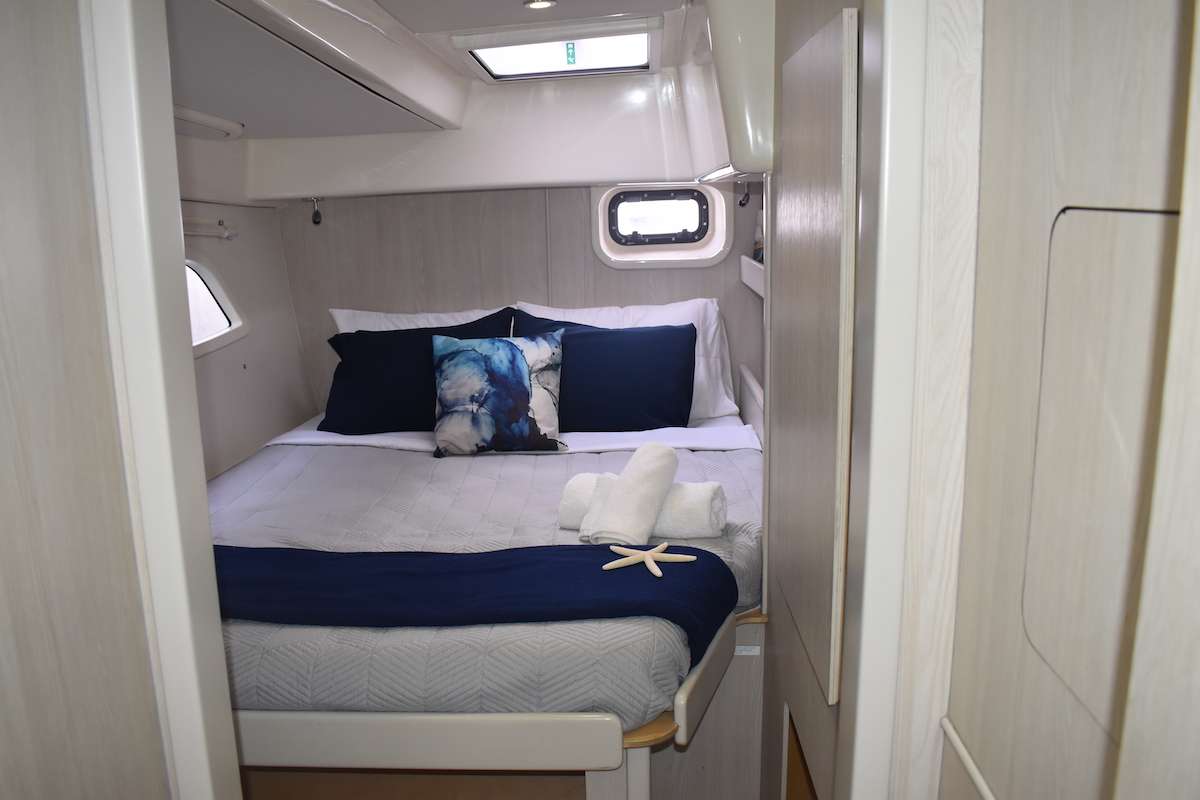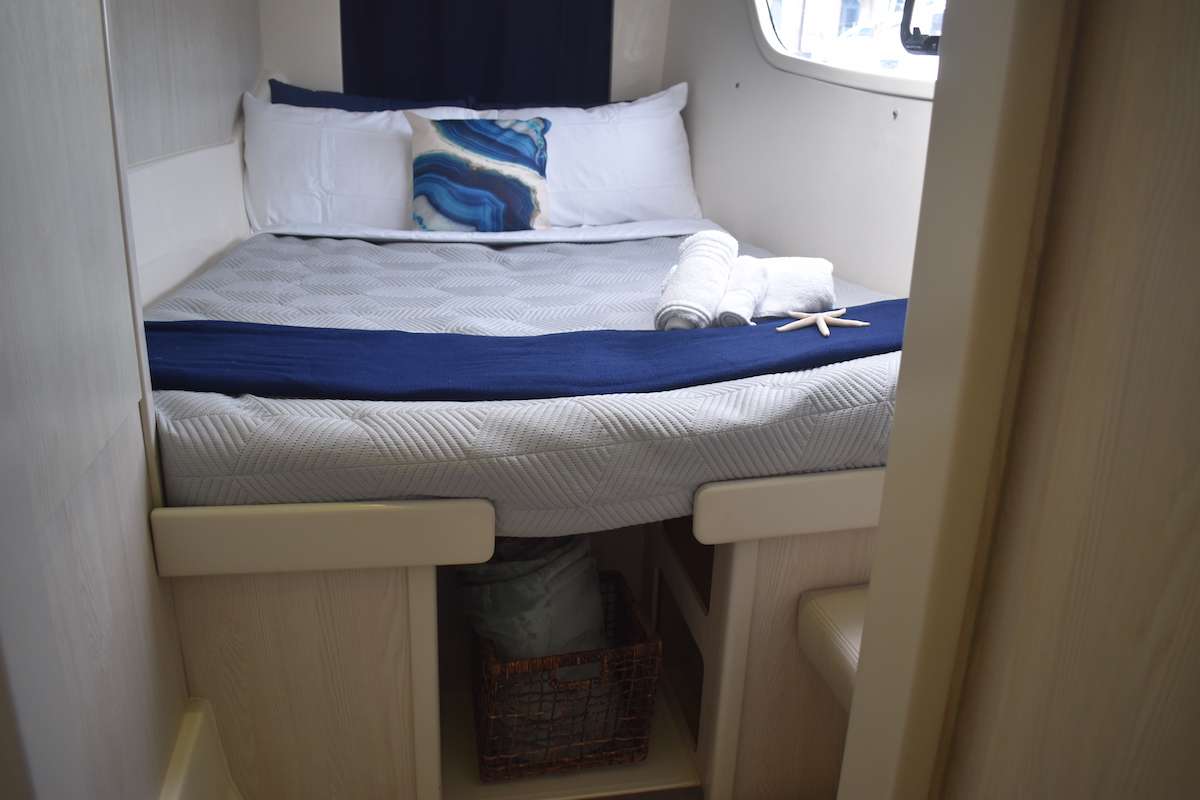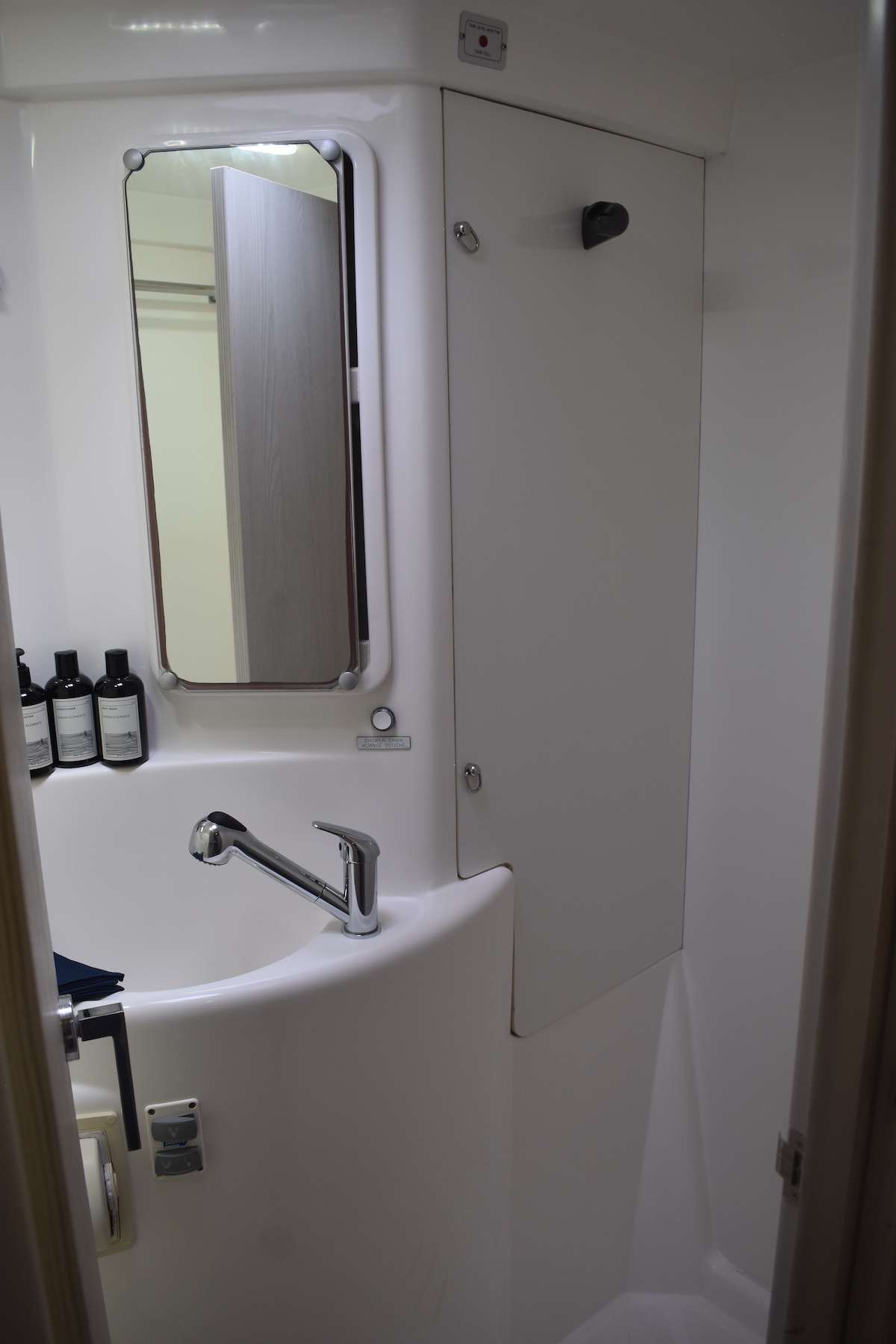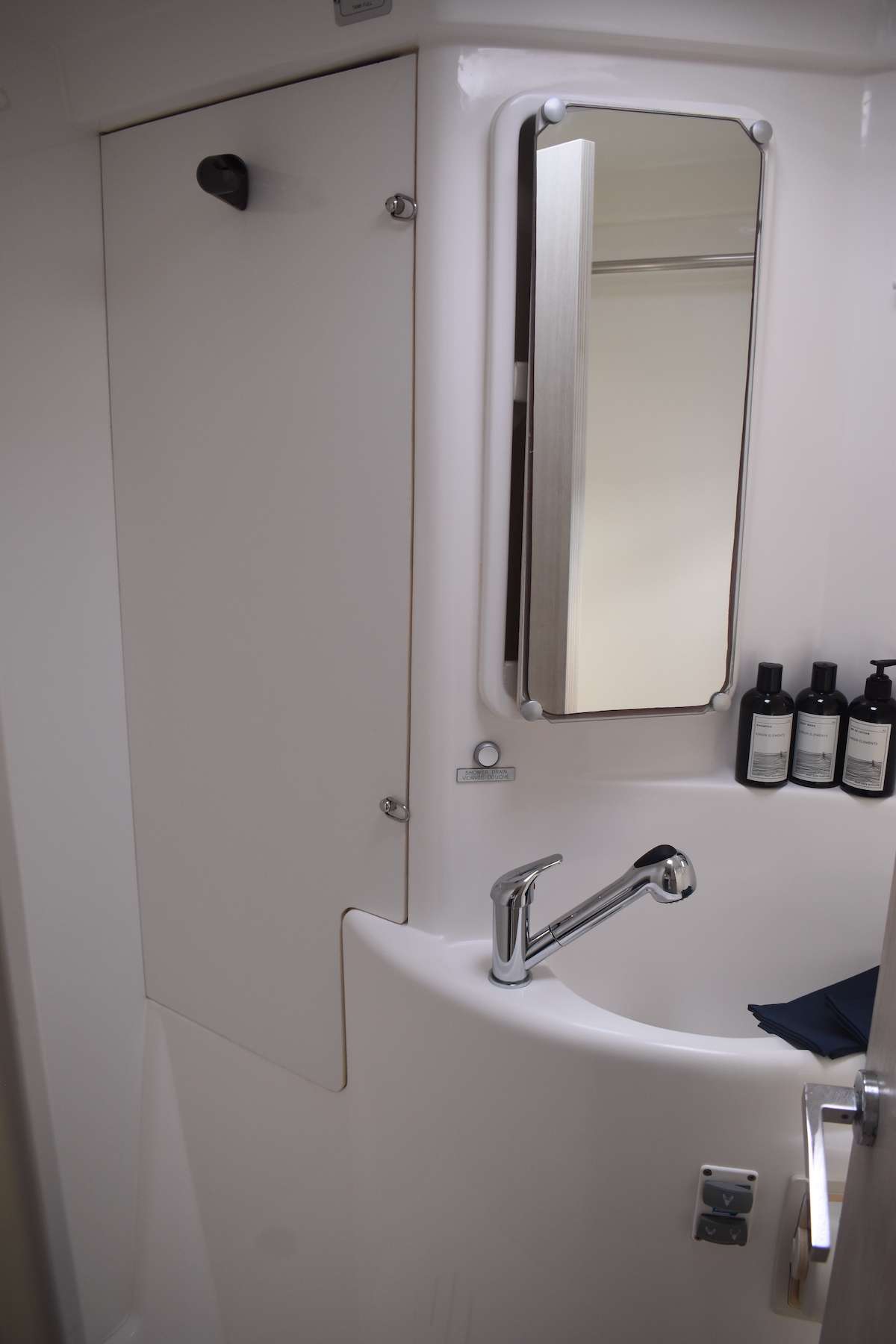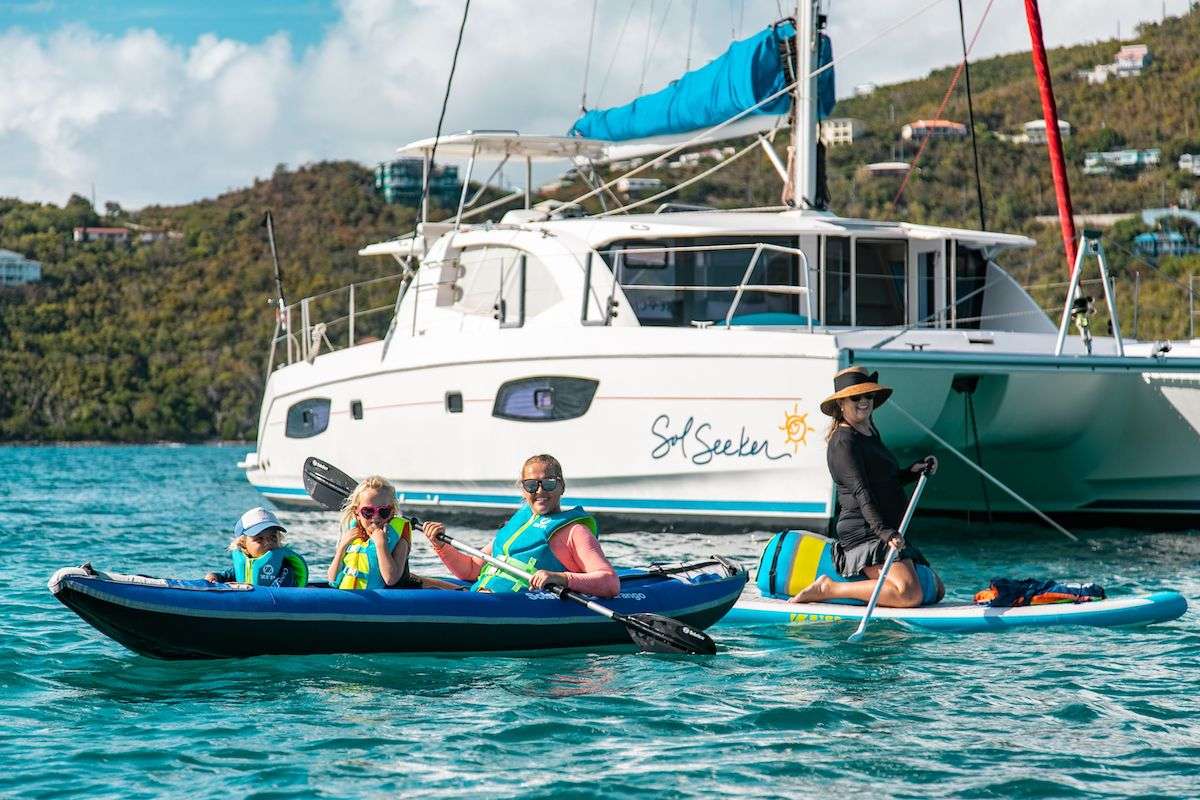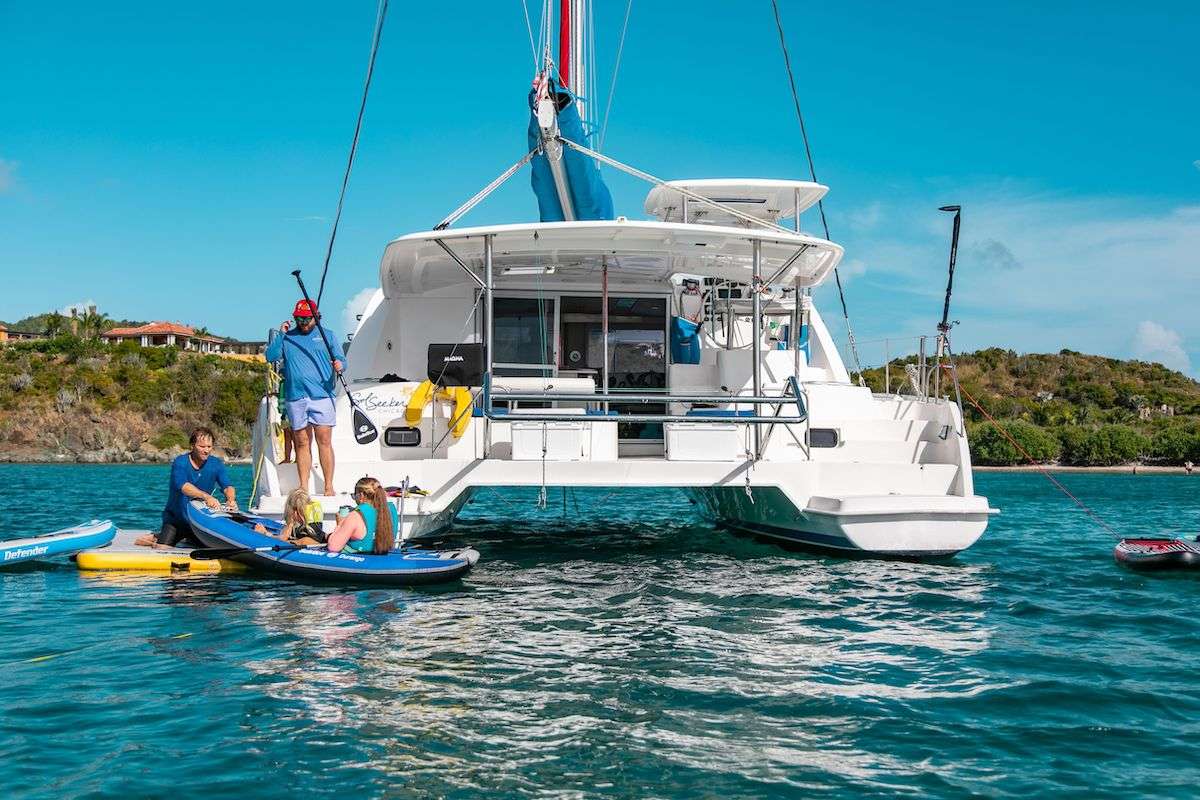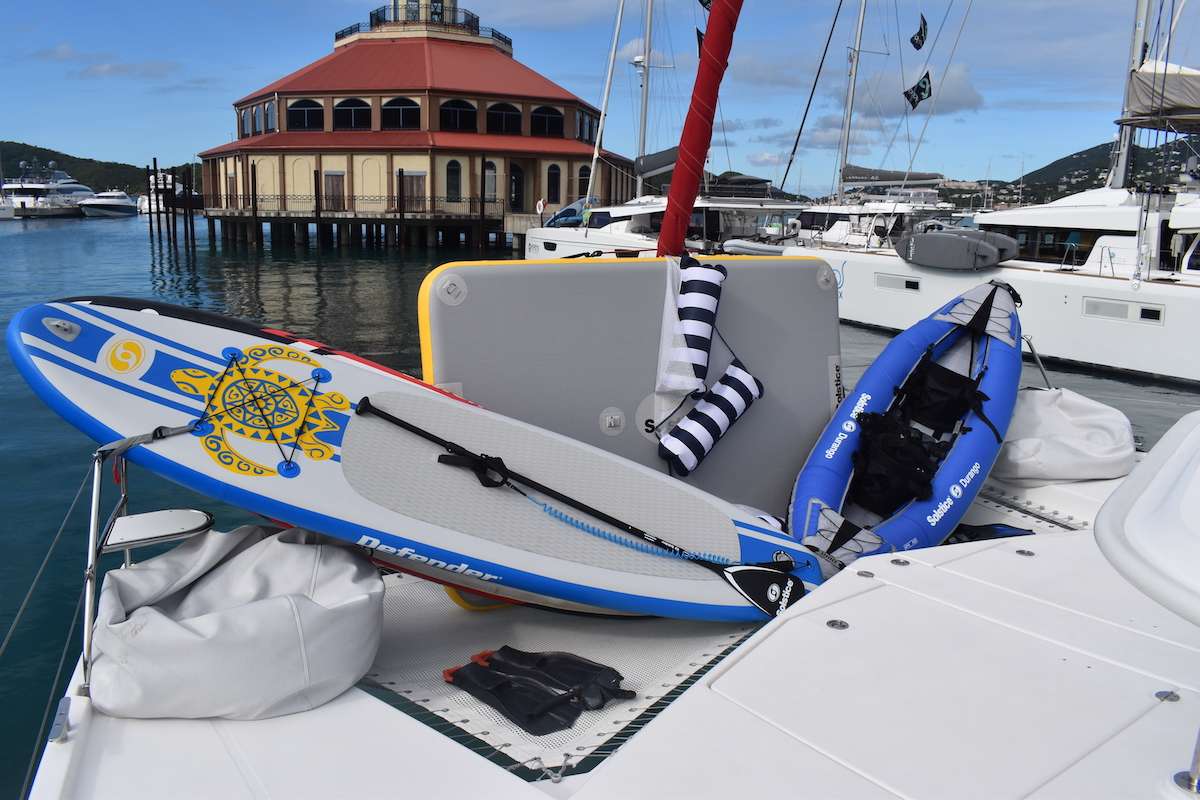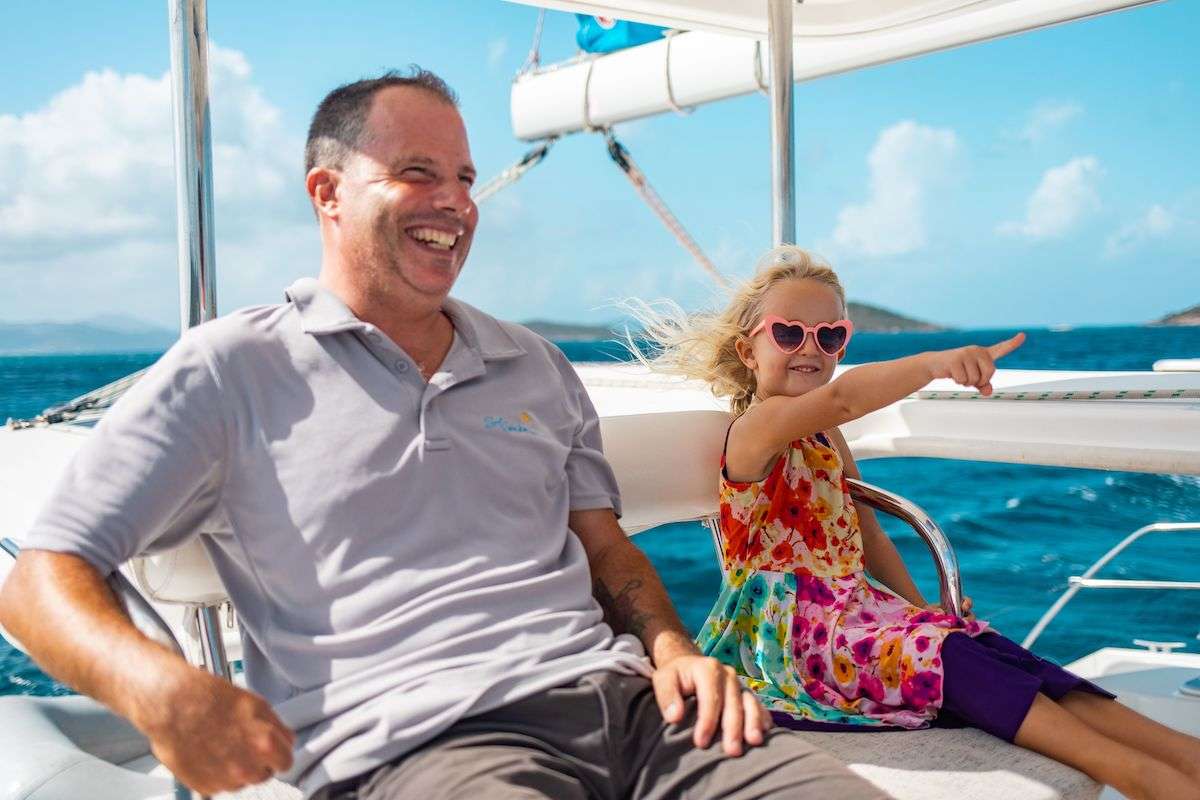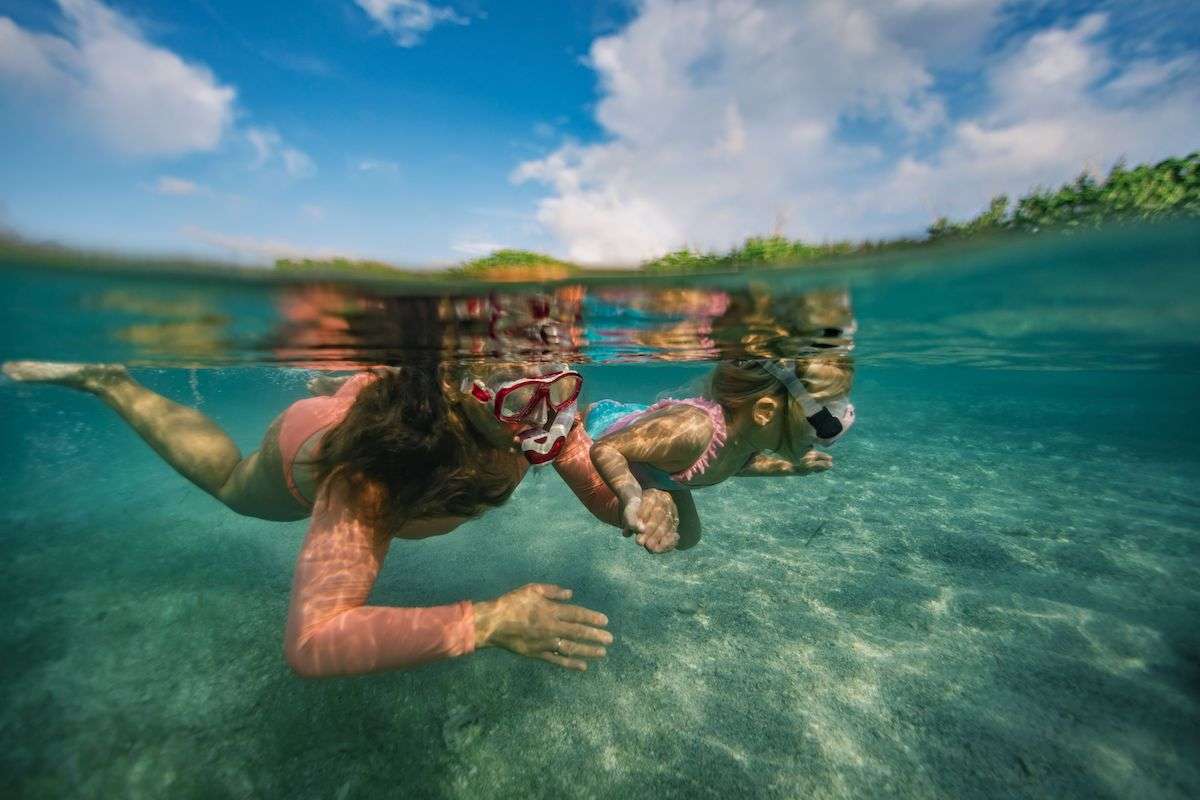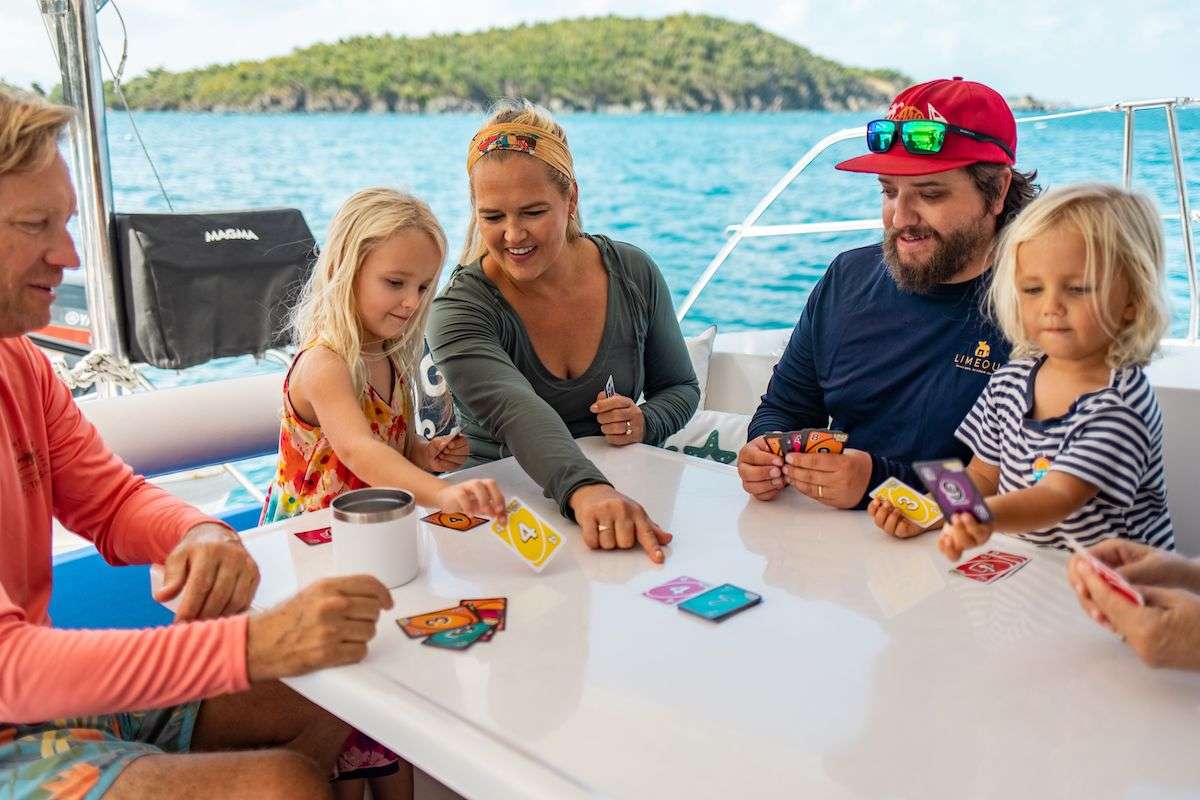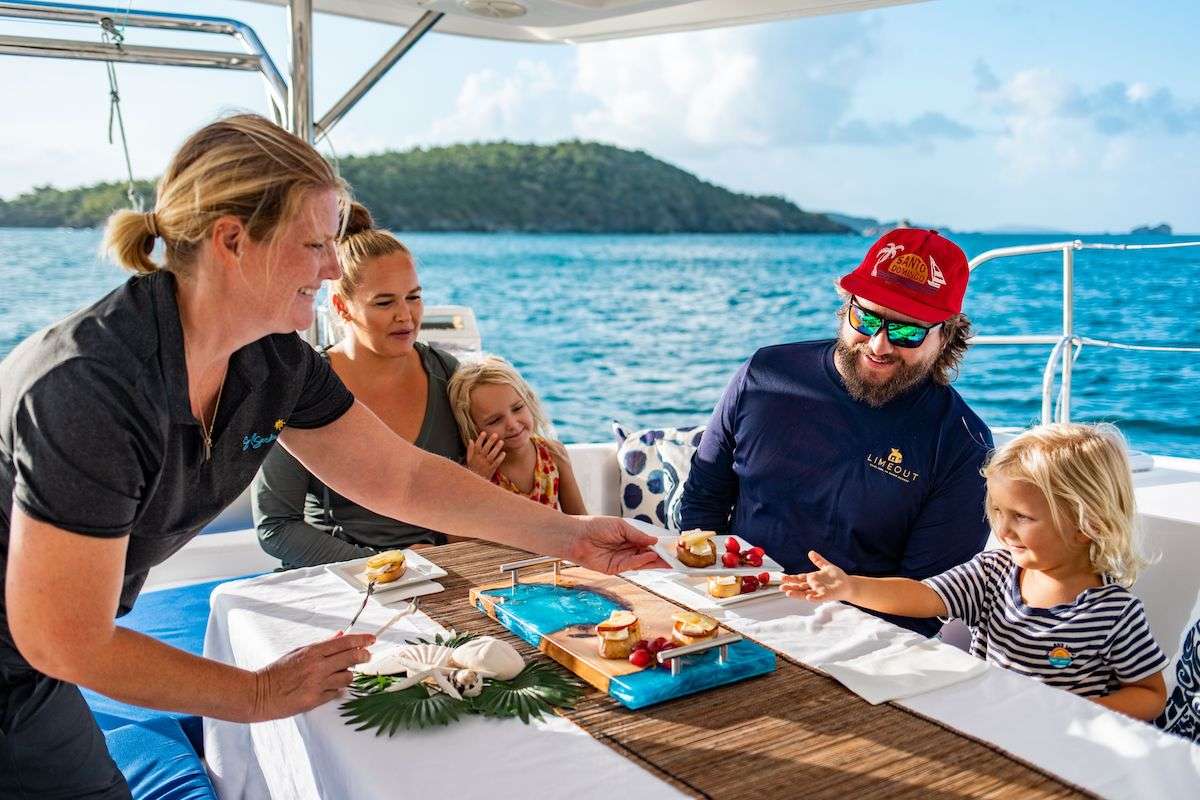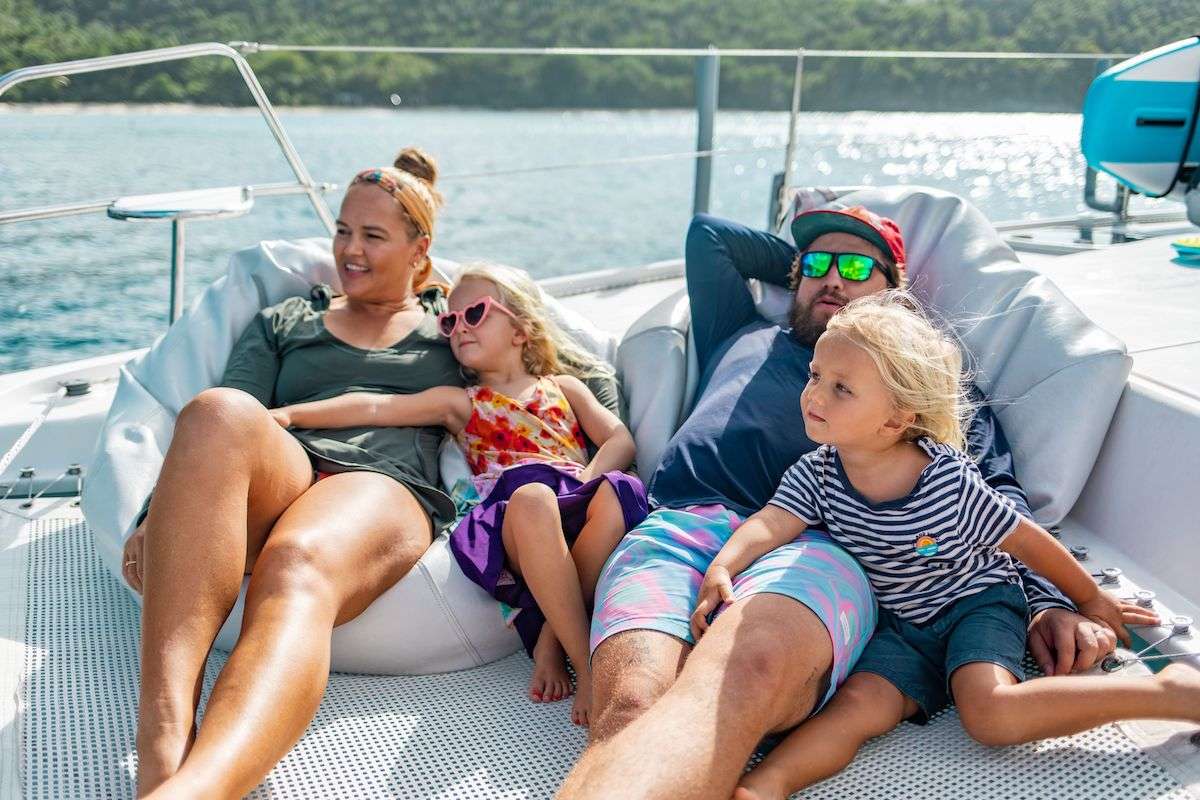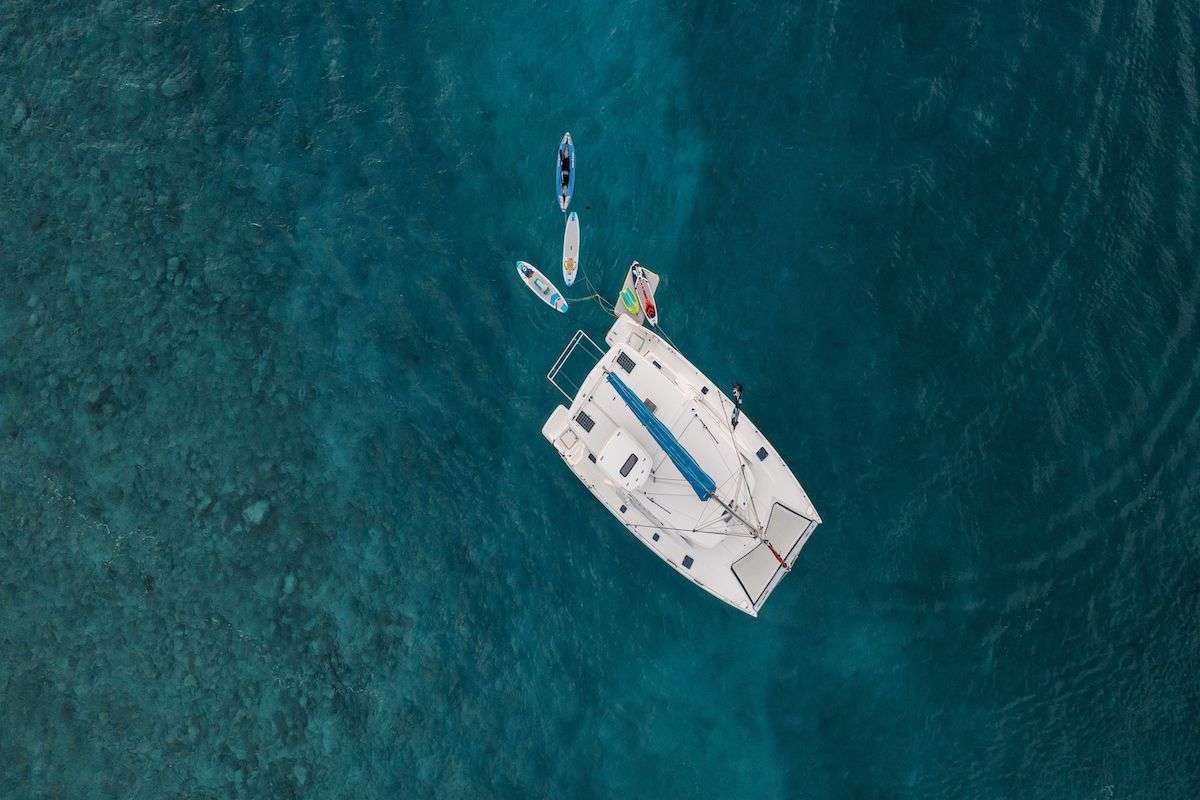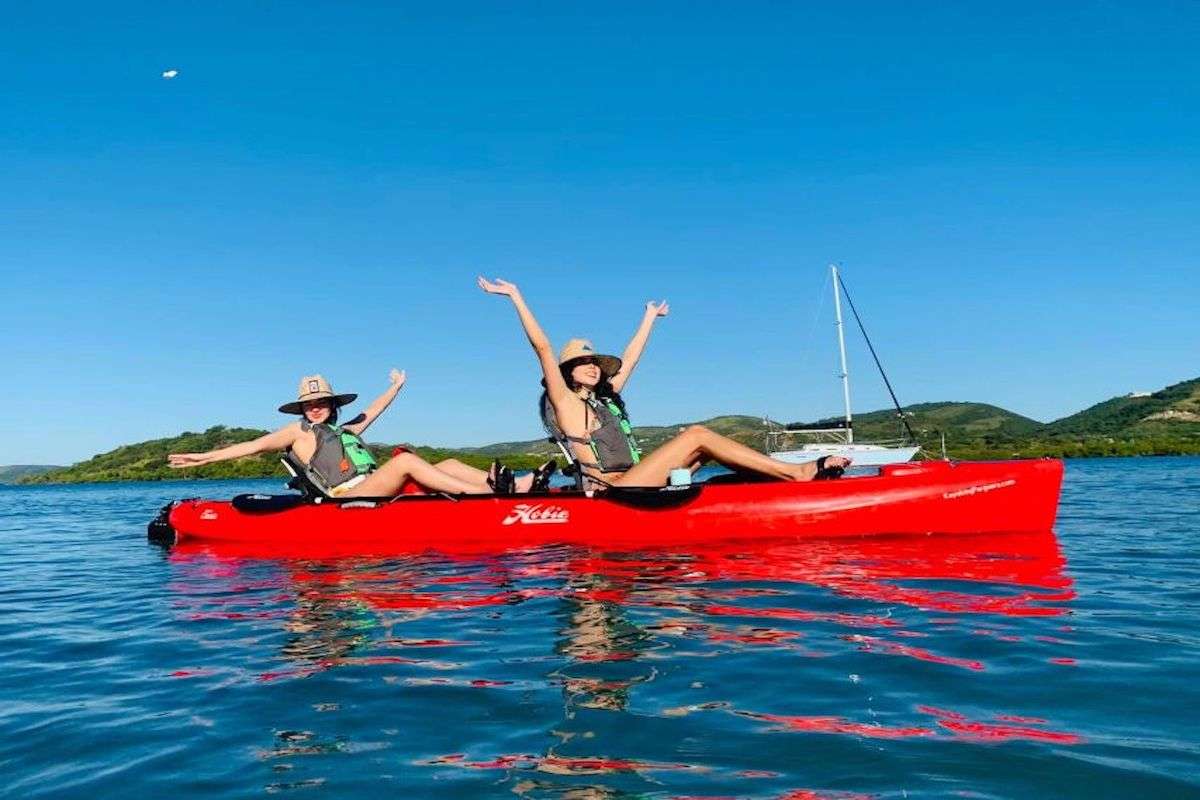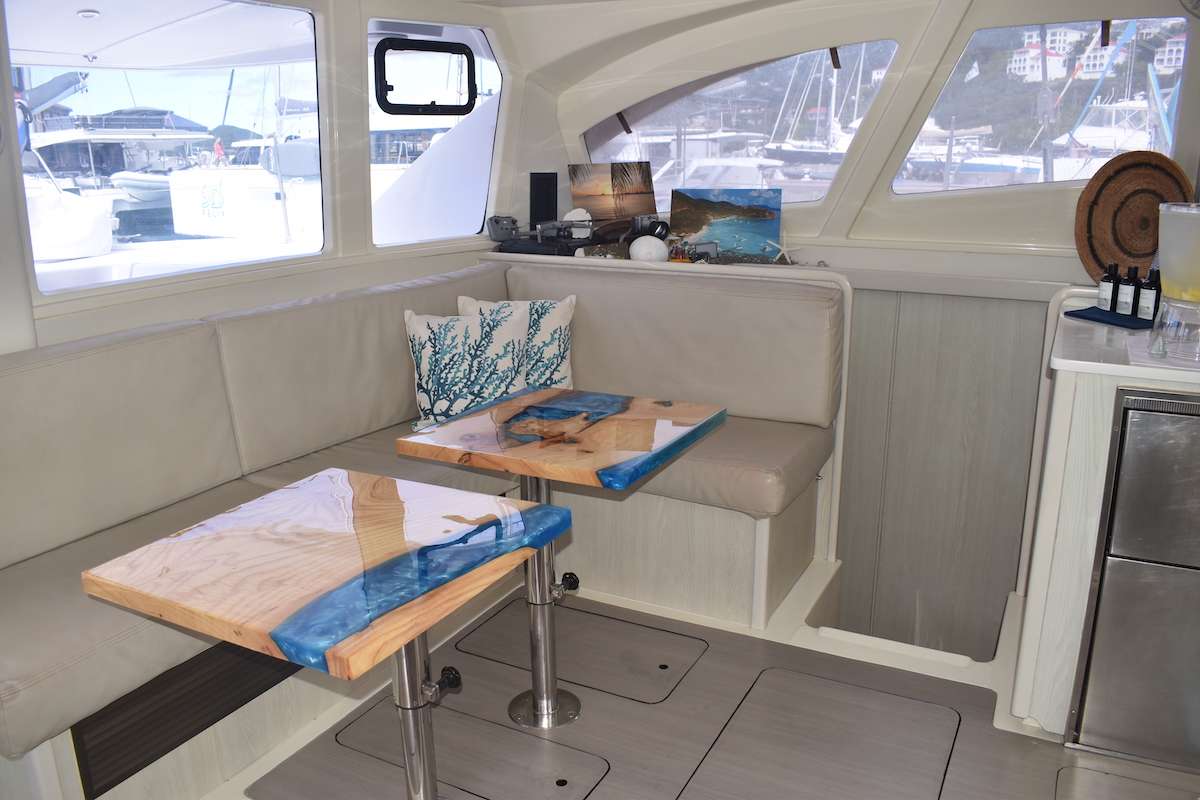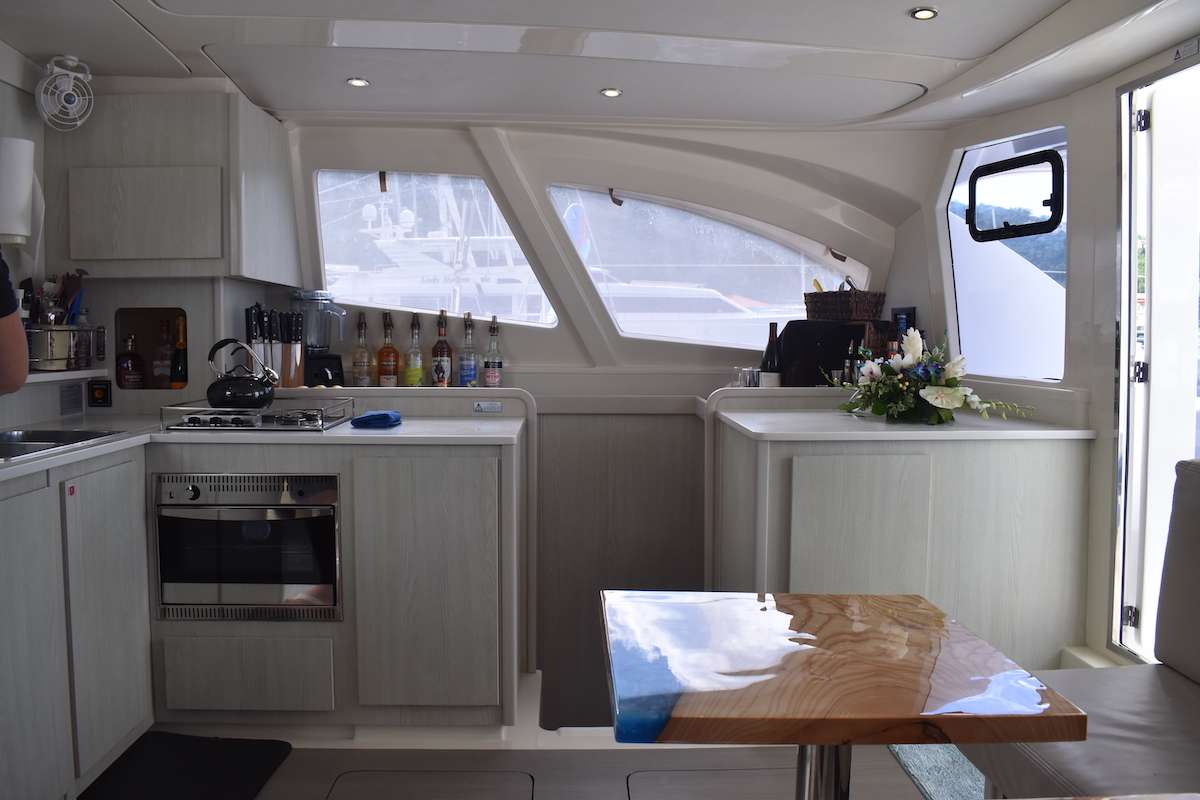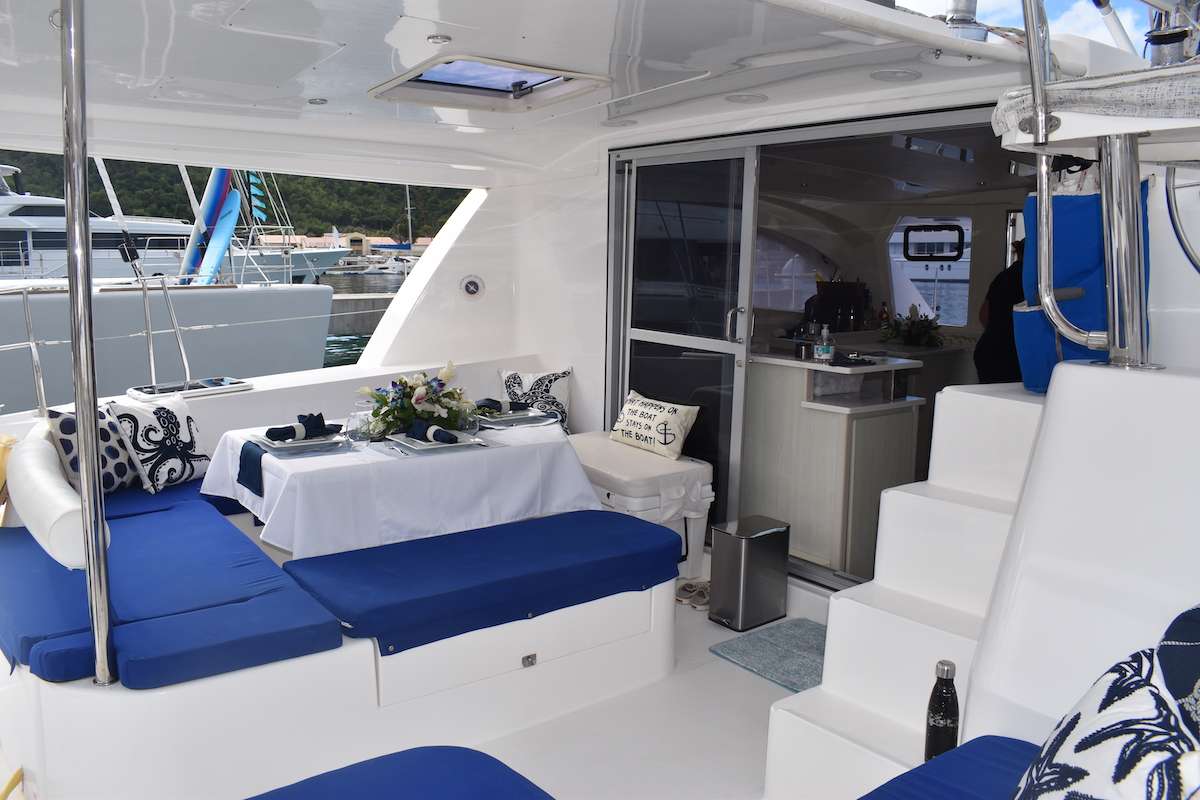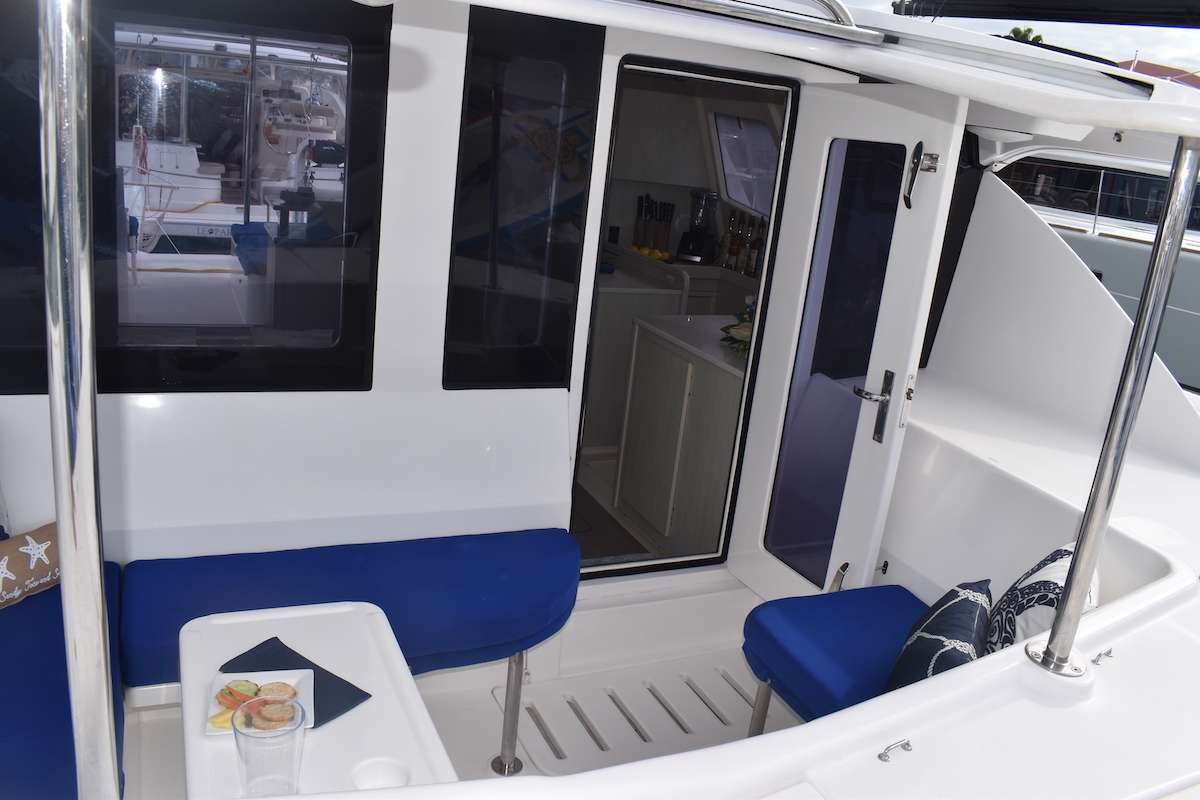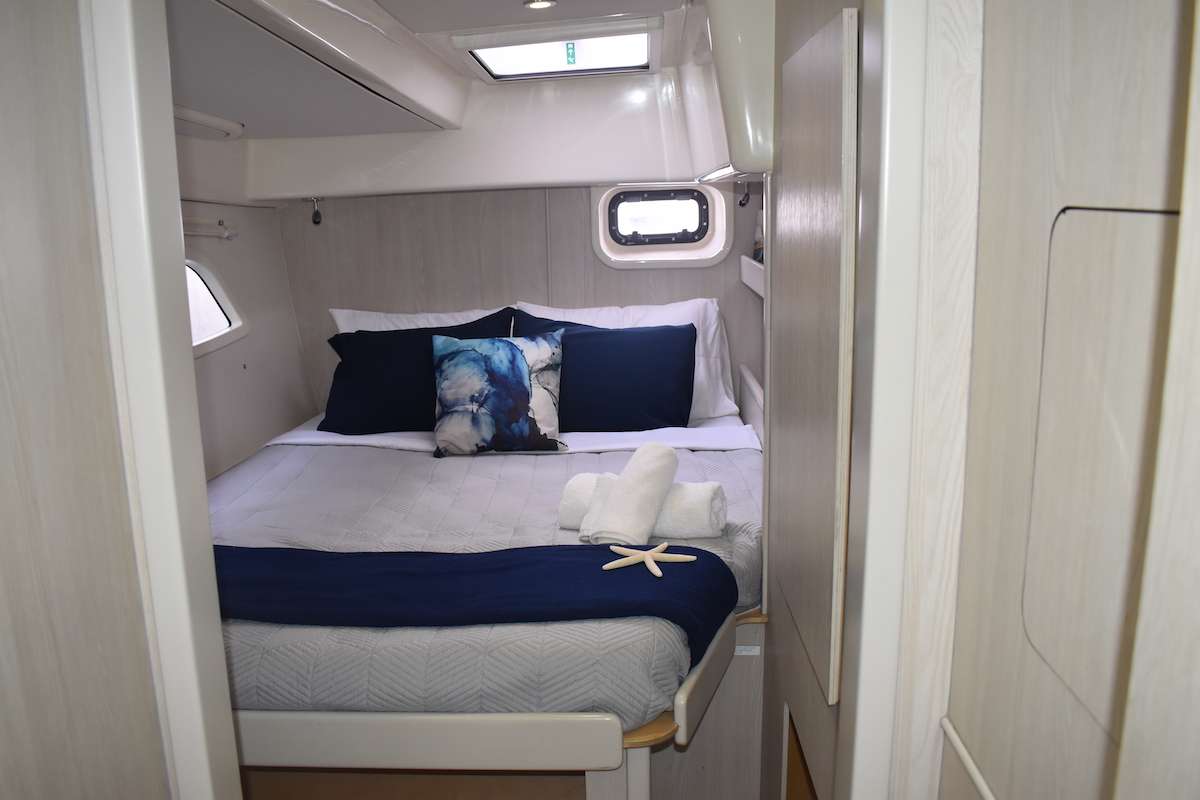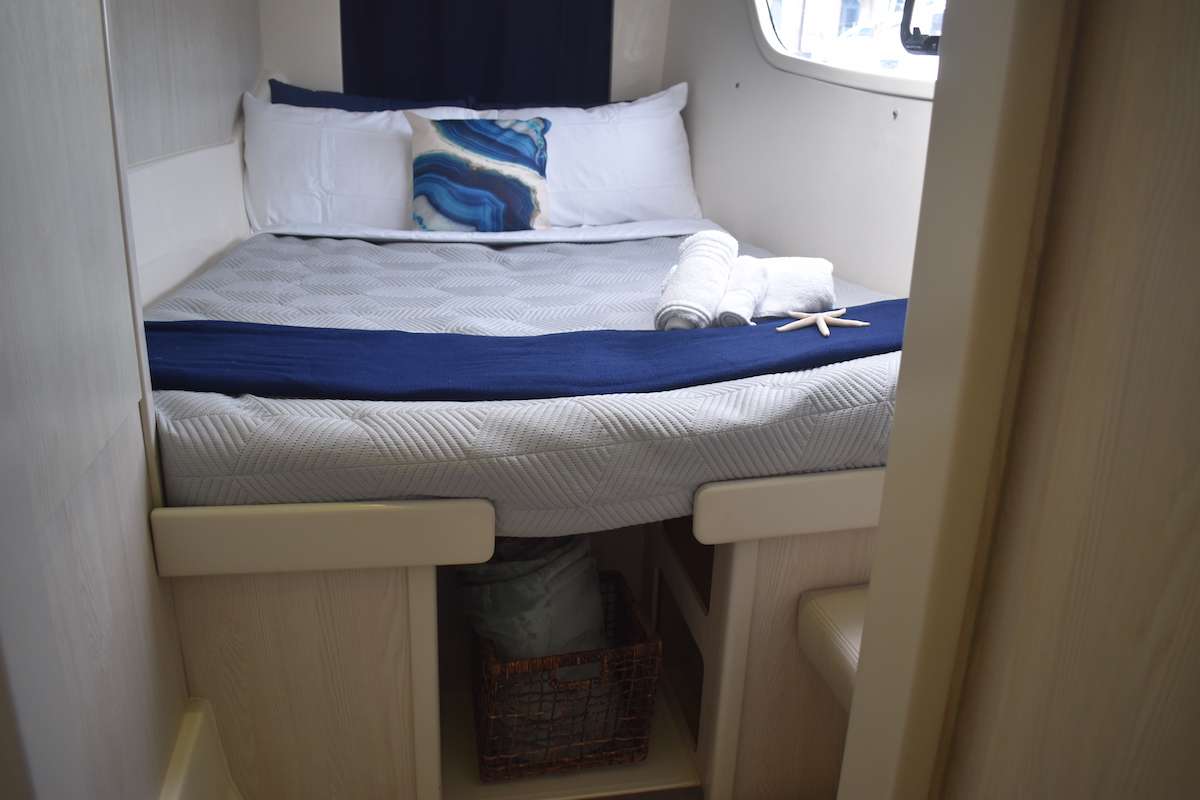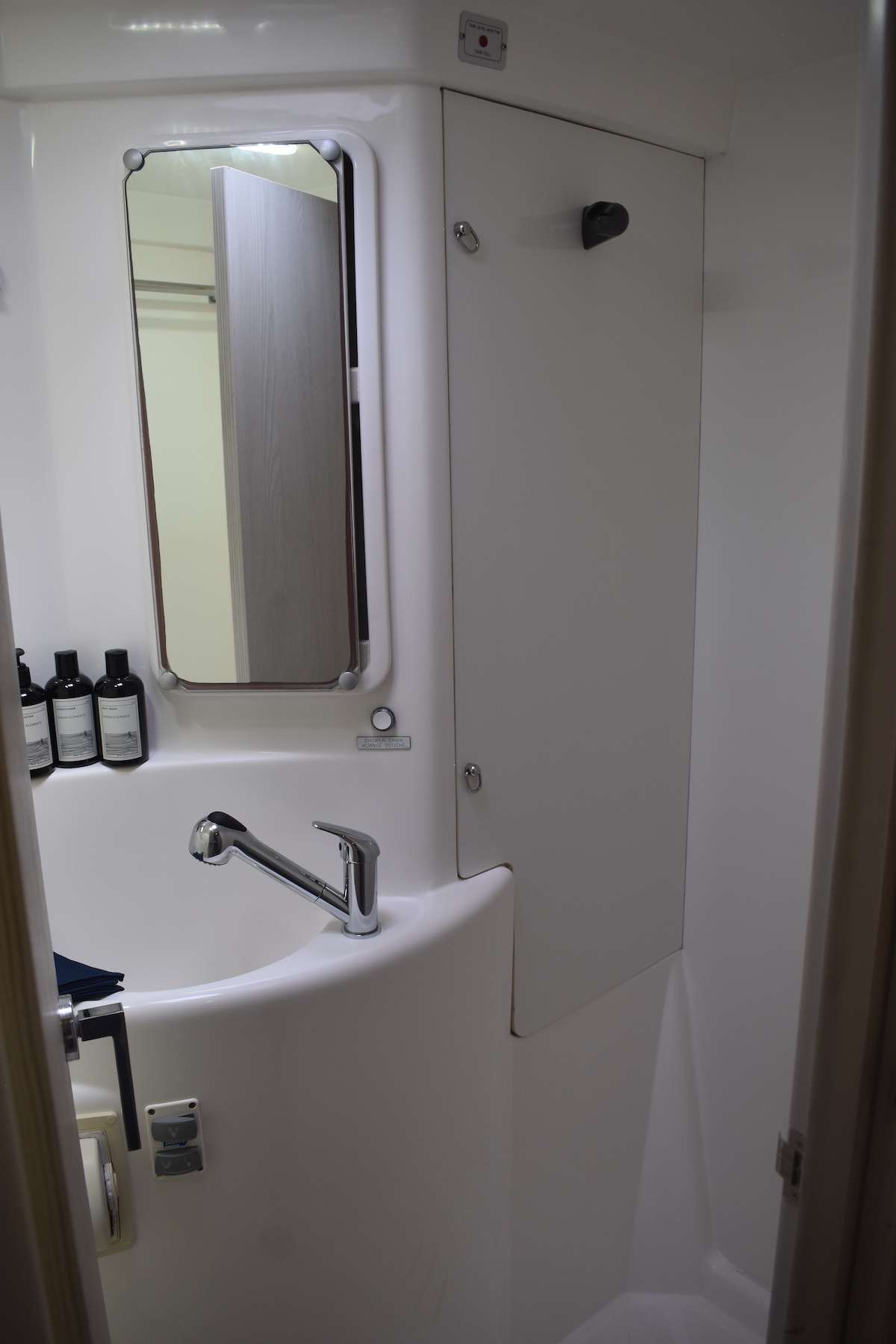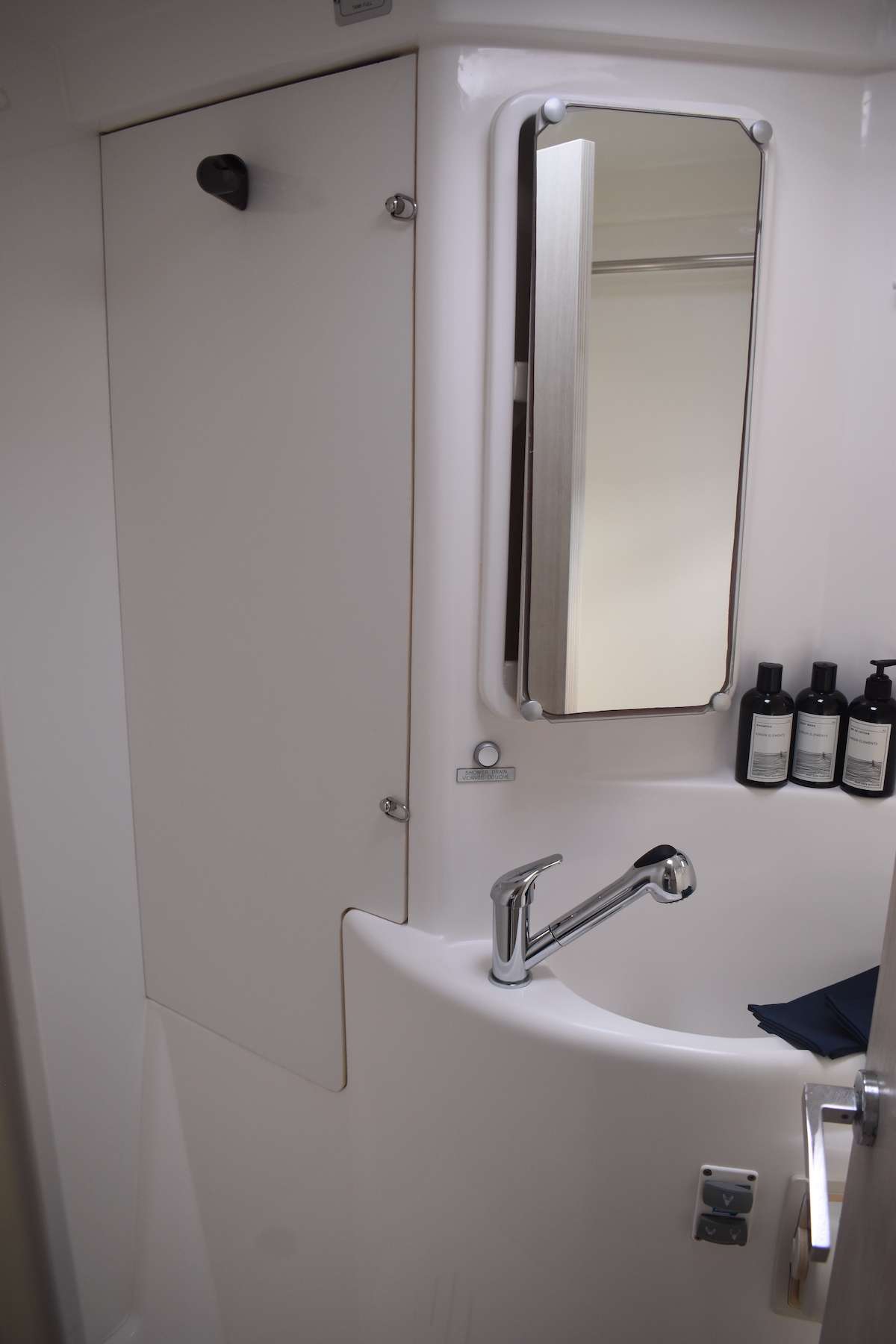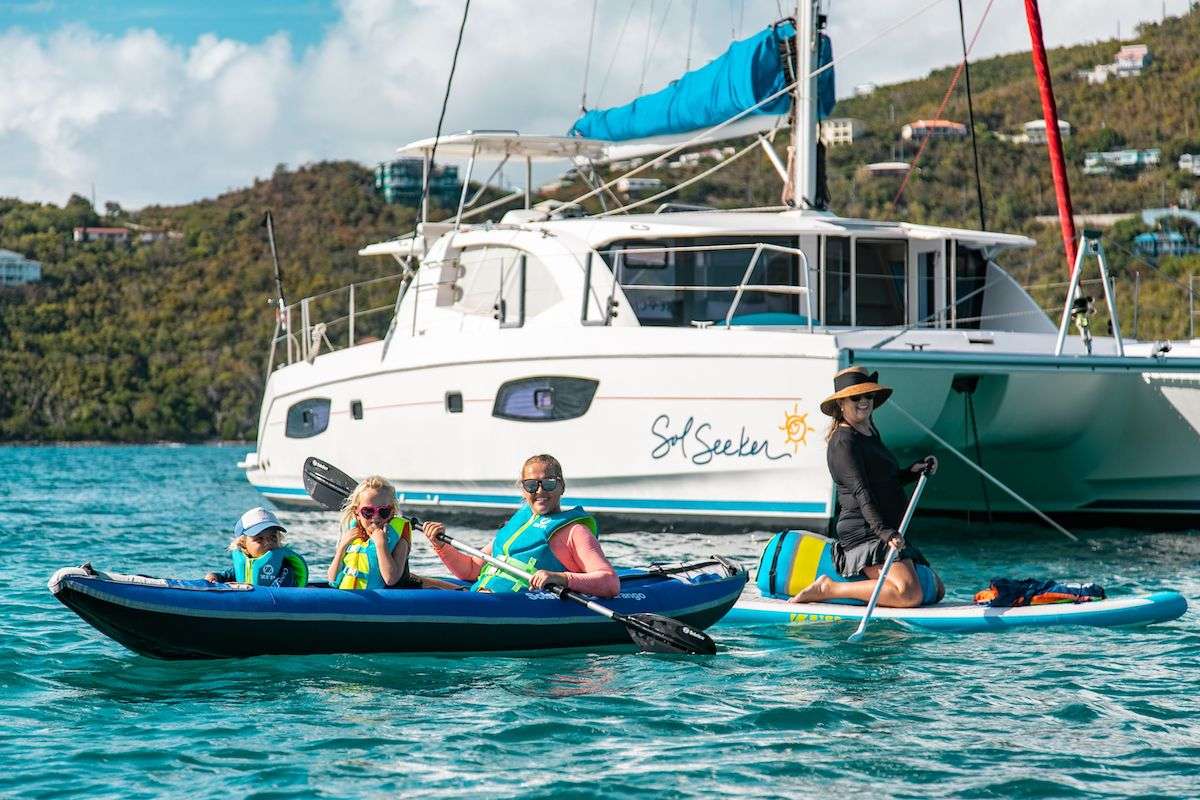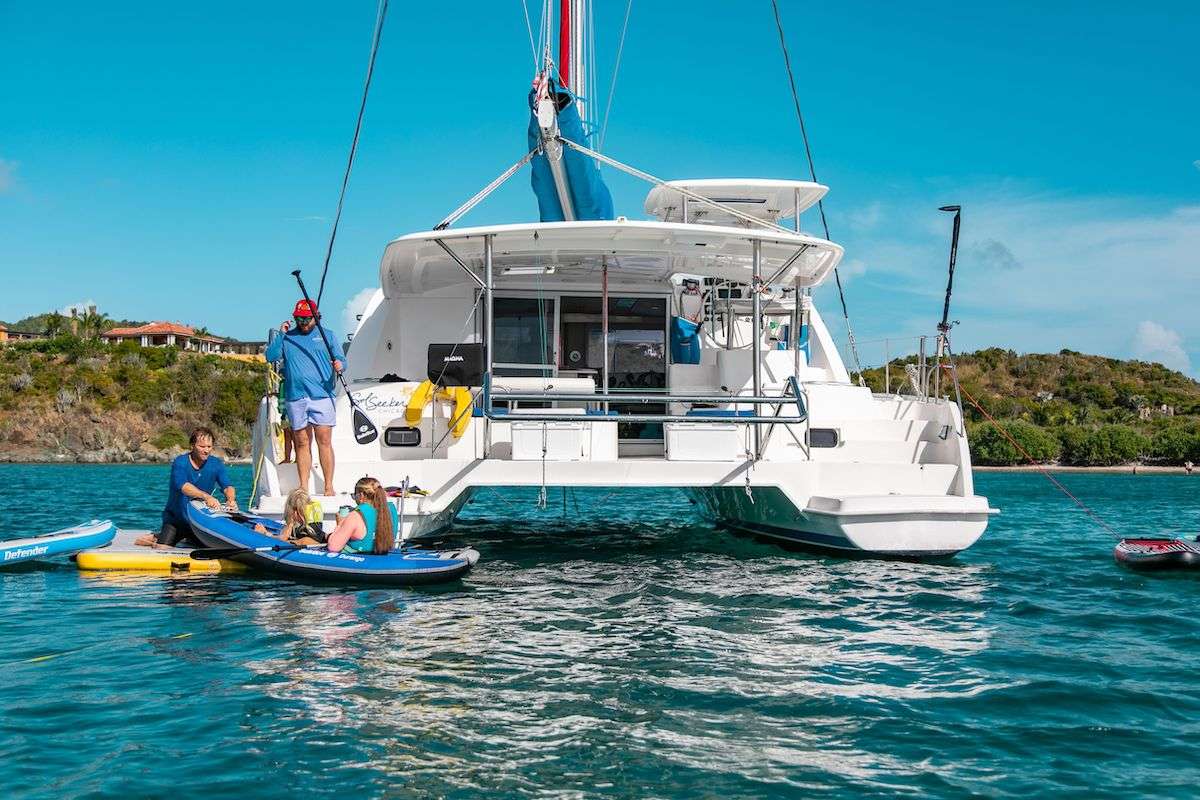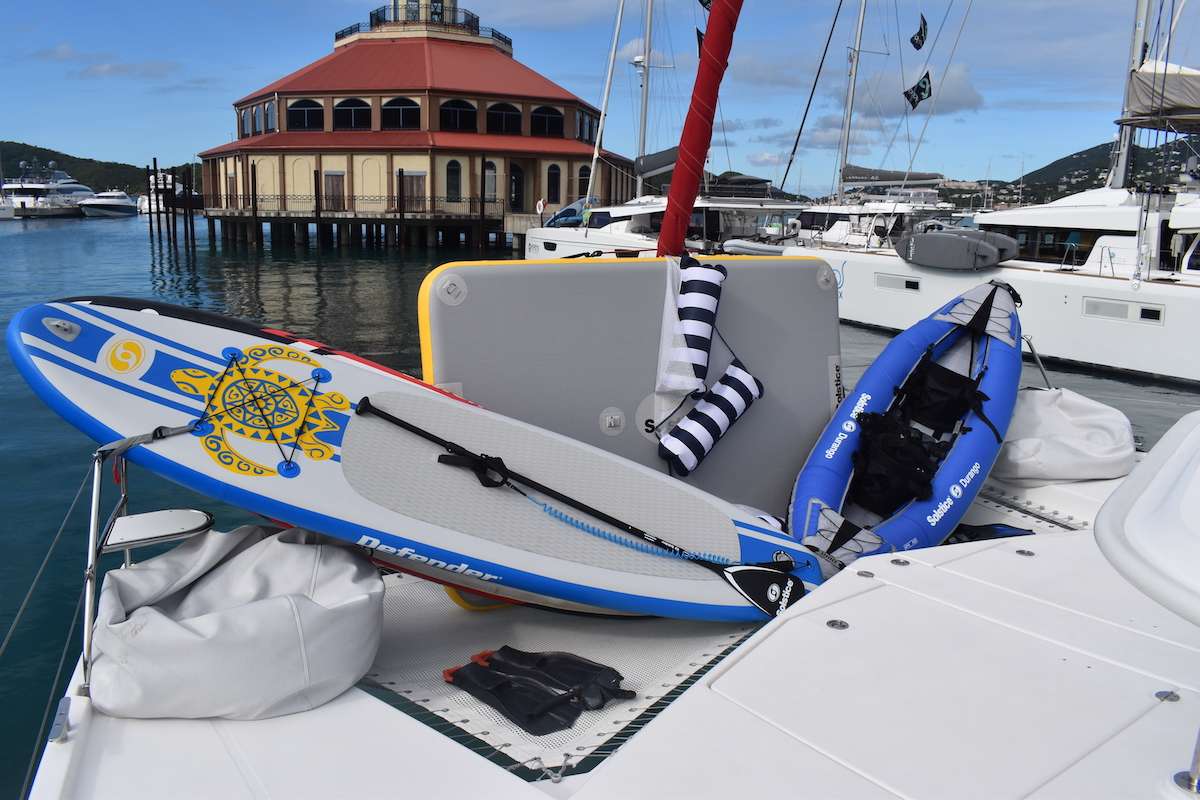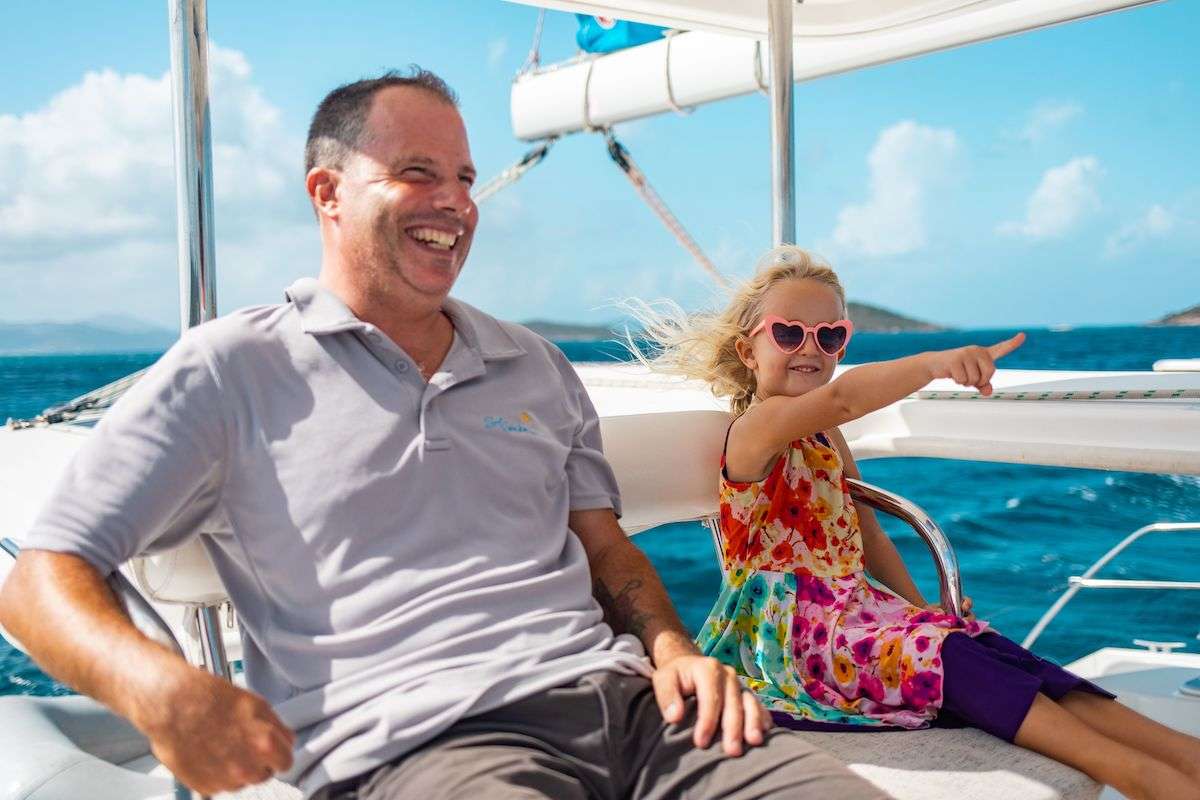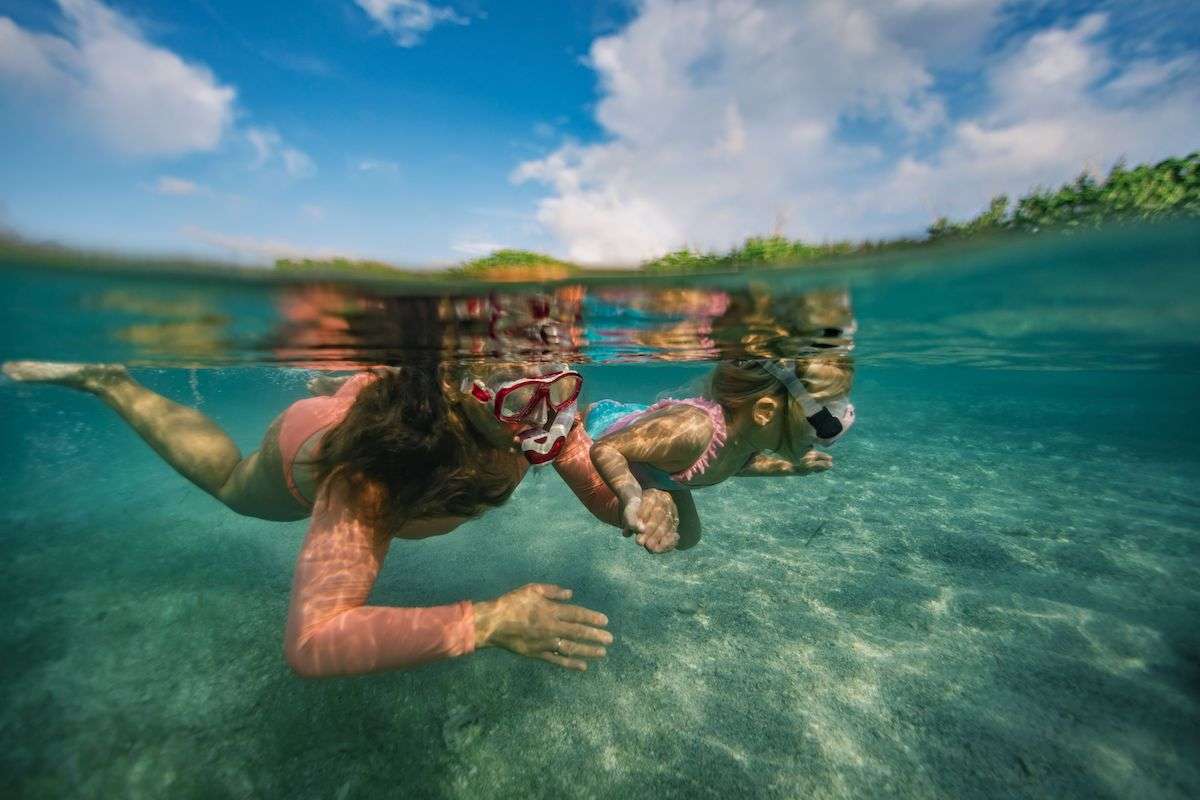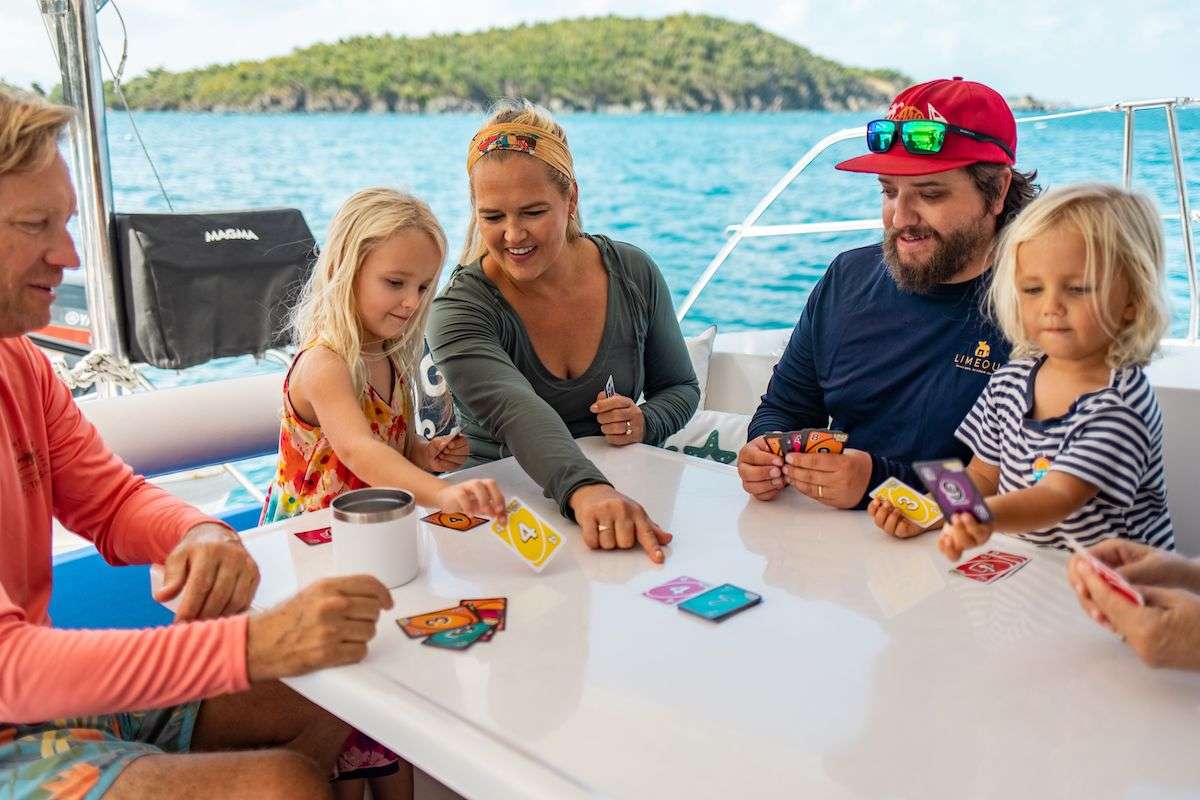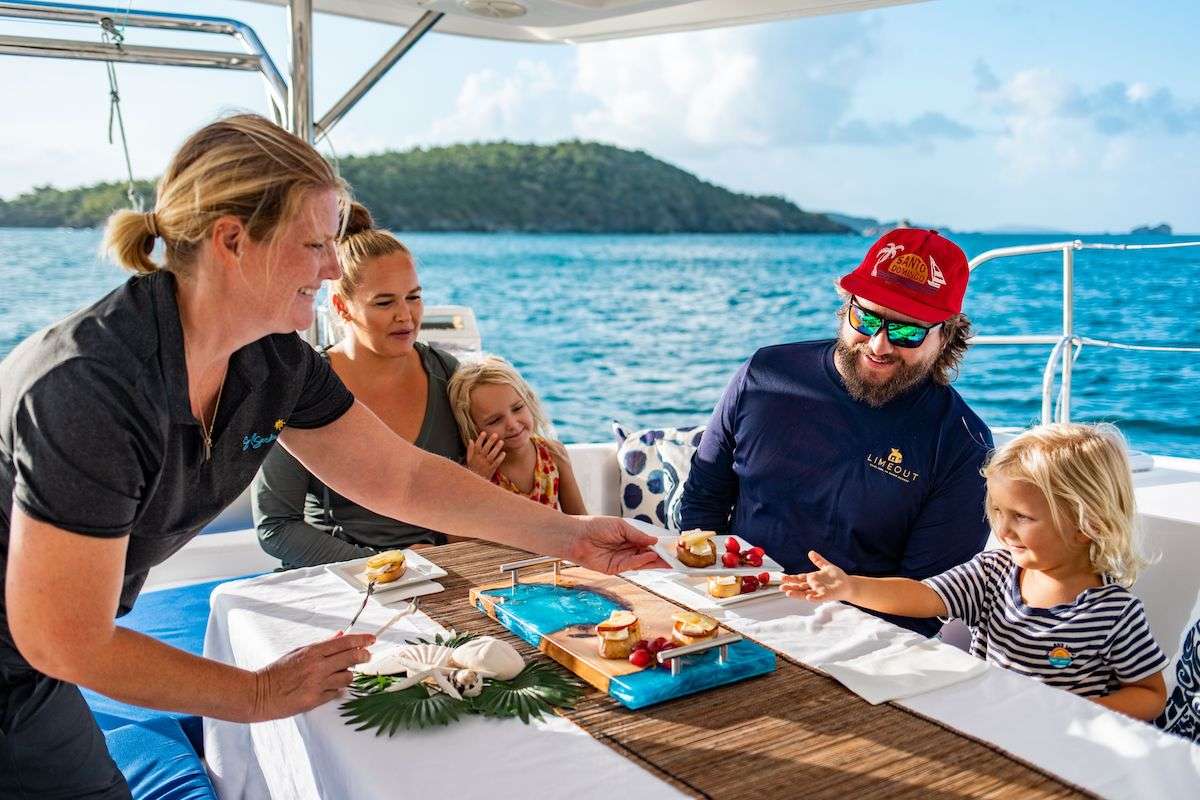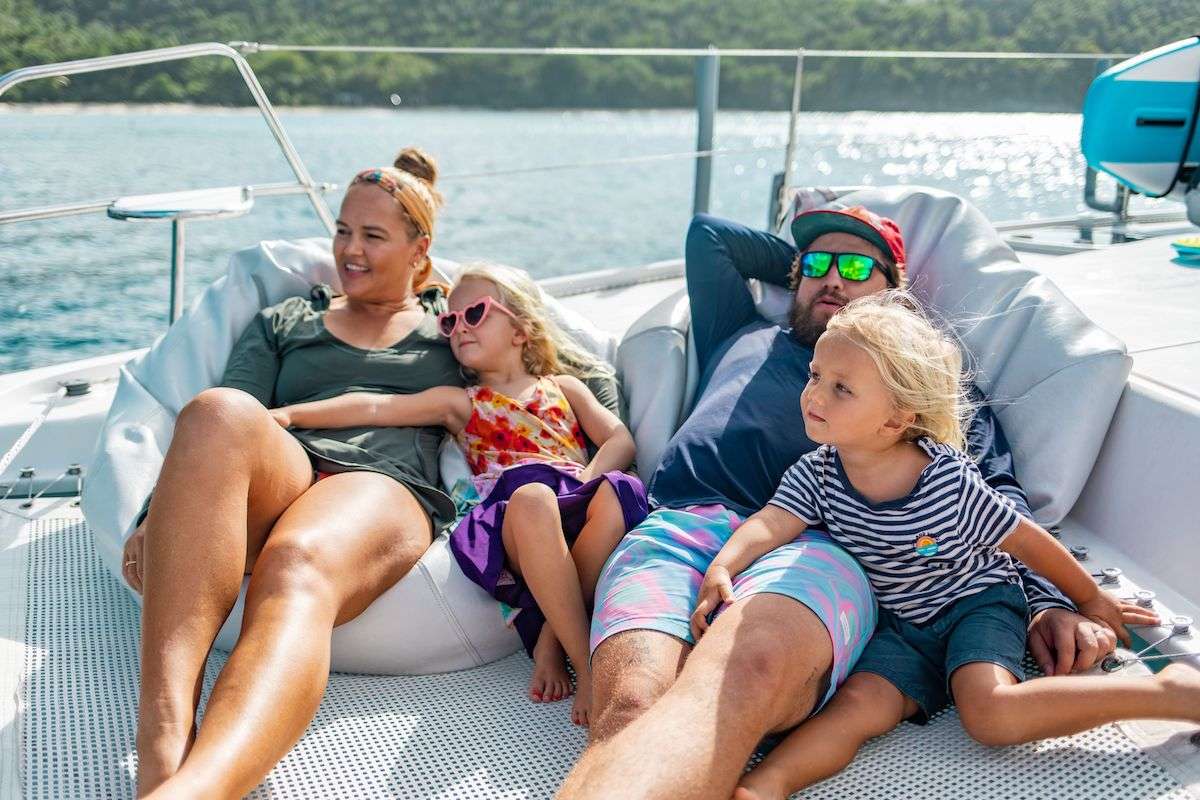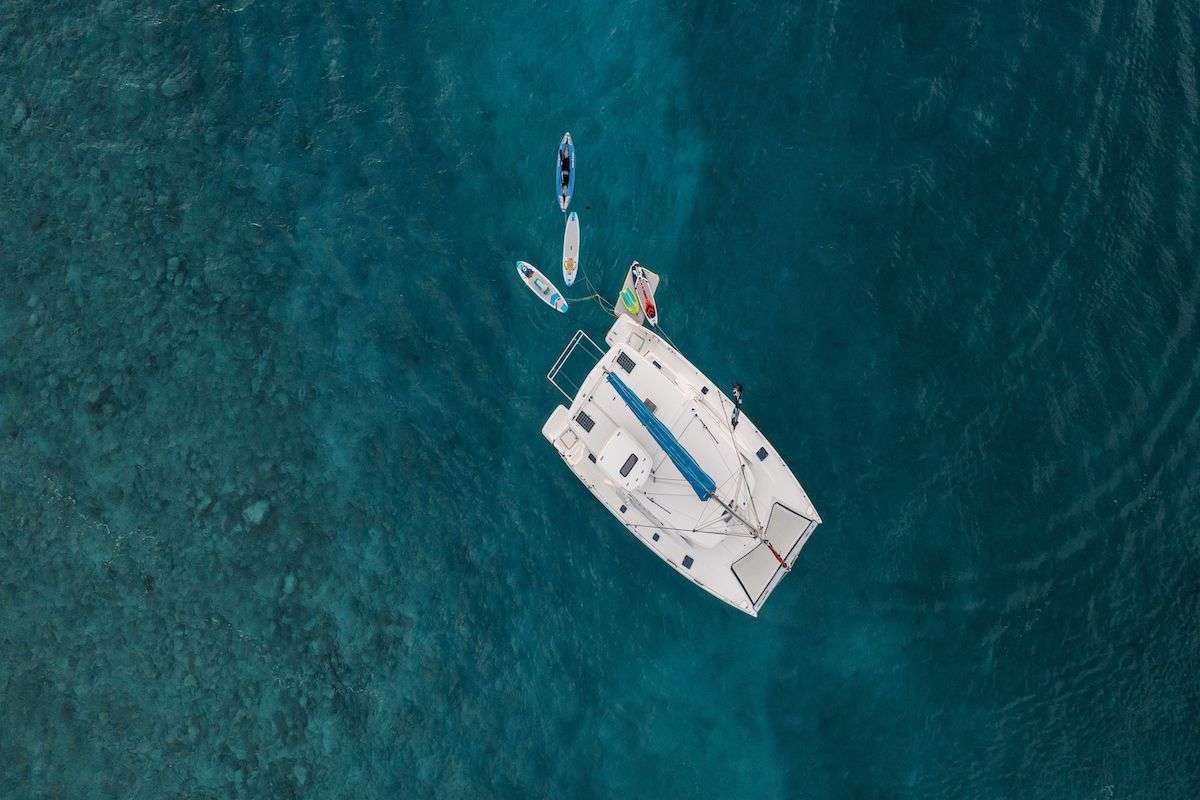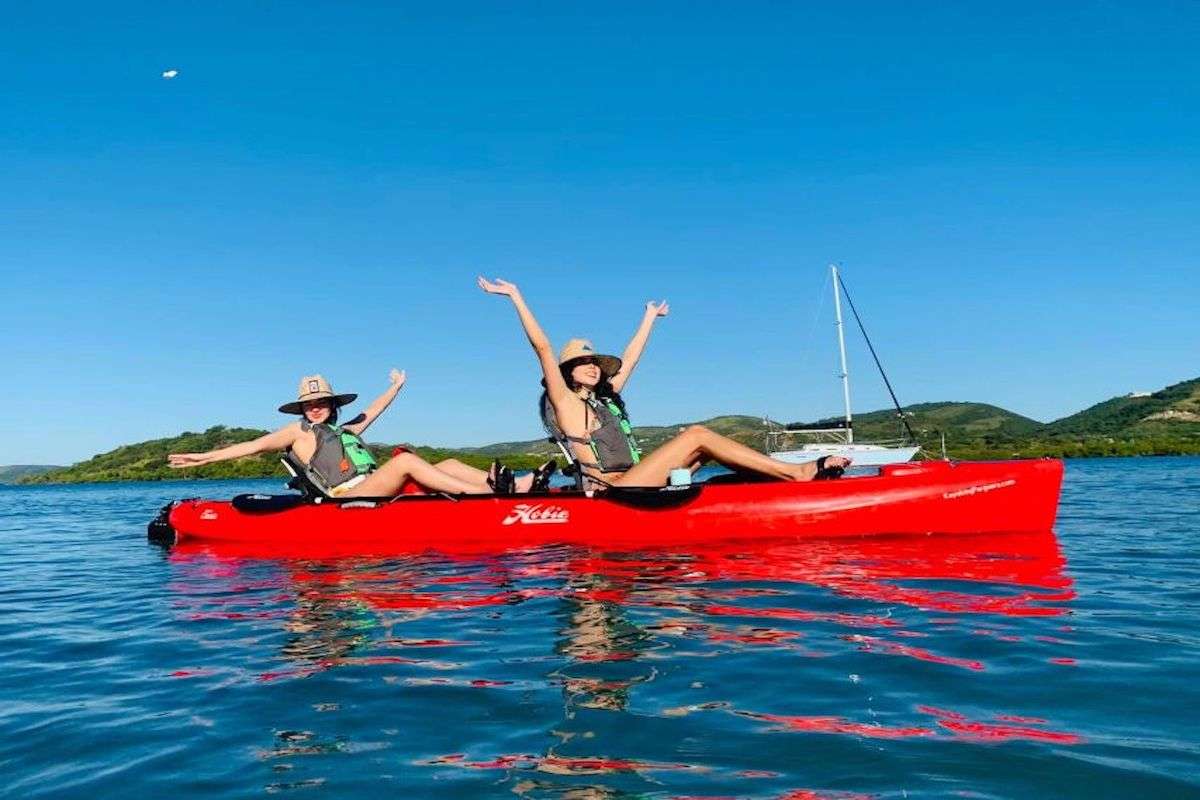 Accommodations
| | |
| --- | --- |
| Sleeps 6 guests in 3 guest stateroom(s). | |
| 3 with Queen Bed(s) | |
Details
3 queen cabins with ensuite bathrooms
Layout Diagram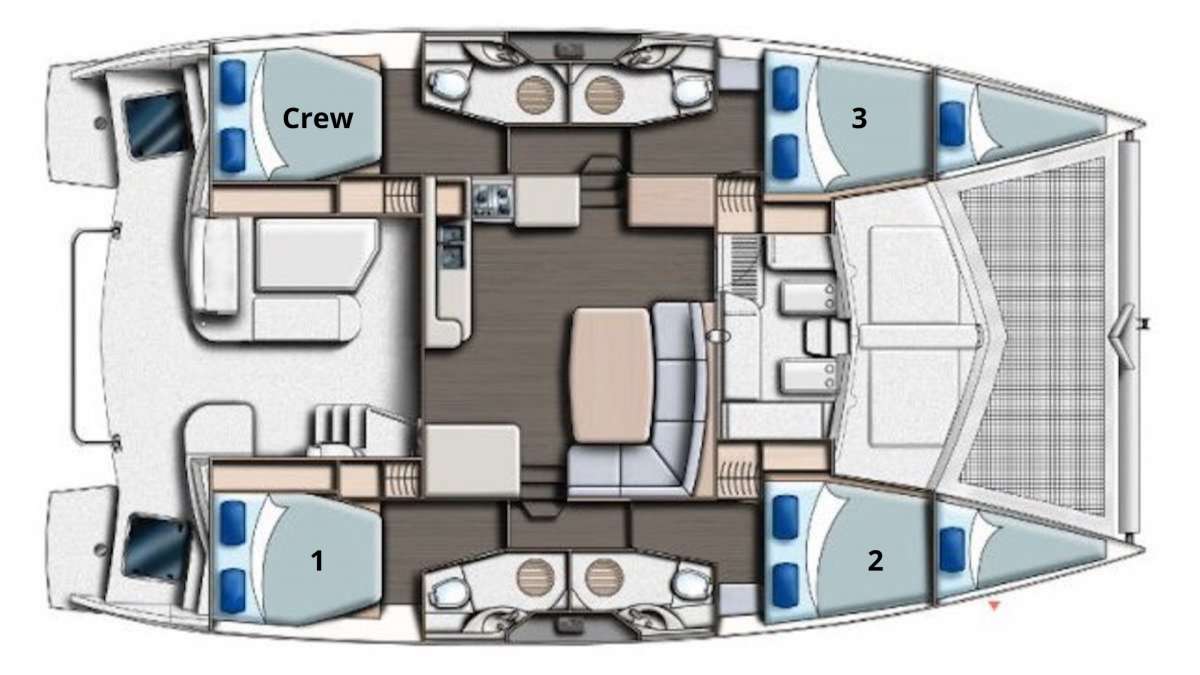 Specifications
| | |
| --- | --- |
| Guests | 6 |
| Staterooms | 3 |
| Length | 44.00 Ft / 13.00 m |
| Beam | 24 ft |
| Draft | 4.5 ft |
| Built - Refit: | 2014 - [] |
| Builder | Leopard |
| Cruising Speed | 6kn |
Watersports
| | |
| --- | --- |
| Dinghy. | 11' |
| Dinghy HP | 15 HP |
| Paddle Boards | 2 |
| Double Kayaks | Yes |
| Snorkeling gear | Yes |
| Fishing Gear | Yes |
| Scuba Diving | Yacht offers Rendezvous Diving only |
Other Toys
Chef Nikki and Captain Scott taught sailing for years and love to teach guests that are interested in sailing.

Chef Nikki's passion is to teach beginners the basics. She is patient and has many techniques to help guests remember what they have learned.

Captain Scott is an SLC instructor. The SLC is a prestigious international sailing certificate that allows sailors to bareboat anywhere in the world. If sailors have experience and do the online coursework prior to charter, Captain Scott is able to do the on the water test for the SLC throughout their vacation and certify them if they pass the requirements.

Floating mat
2 Stand-Up Paddle boards
1 Tandem kayak
1 Fishing rods and tackle
Subwing
Movie projector - for watching movies under the stars
Pricing
From:
14,000

To:
17,000
Winter 2022 to 2023
| | |
| --- | --- |
| 2 Guests | 14,000 |
| 3 Guests | 15,000 |
| 4 Guests | 15,500 |
| 5 Guests | 16,000 |
| 6 Guests | 17,000 |
Summer 2023
| | |
| --- | --- |
| 2 Guests | 14,000 |
| 3 Guests | 15,000 |
| 4 Guests | 16,000 |
| 5 Guests | 17,000 |
| 6 Guests | 18,000 |
Winter 2023 to 2024
| | |
| --- | --- |
| 2 Guests | 14,000 |
| 3 Guests | 15,000 |
| 4 Guests | 16,000 |
| 5 Guests | 17,000 |
| 6 Guests | 18,000 |
Summer 2024
| | |
| --- | --- |
| 2 Guests | 14,000 |
| 3 Guests | 15,000 |
| 4 Guests | 16,000 |
| 5 Guests | 17,000 |
| 6 Guests | 18,000 |
Pricing Details
BVI:
Yacht is able to charter in the BVI
ST. Thomas pick-up and drop-off.

CRUISING FEES:
BVI Cruising fees are excluded.

SLEEP ABOARD: 1/2 the daily rate. Dinner ashore at client expense. Includes boarding after 4pm, welcome cocktail and breakfast the next morning and early start.

HALF BOARD: Discount of $150 per person
Includes: 7 breakfasts, 4 lunches & 3 dinners. Requires 3 lunches and 4 dinners ashore at client expense. Also see Local Fare option below.

LOCAL FARE MEAL PLAN: Discount of $75 per person
7 breakfasts, 5 lunches & 6 dinners. Requires 2 lunches and 1 dinner ashore at client expense.

CHRISTMAS: Flat Rate $19,000 Must end no later than Dec 26th
NEW YEARS: Flat Rate $20,000 must begin no sooner than Dec 27th

CHILDREN: $200 discount per child under aged 12 up to a max of 2 children.
Must be accompanied by 2 paying adults




PLEASE INQUIRE FOR FURTHER PRICING DETAILS
Crew Profile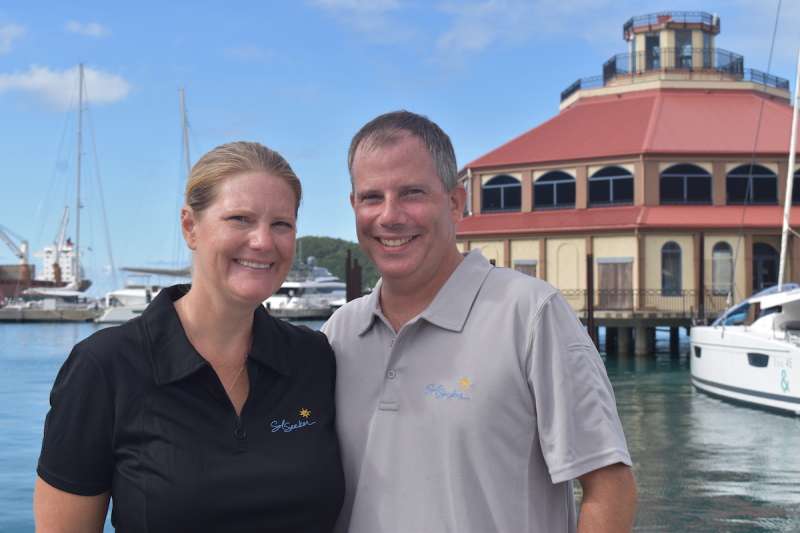 Scott, is a lover of adventure, land, air, and sea. He spent his life on land as an educator, teaching biology and earth science with a love of nature and exploration. He loves learning and teaching and has filled his mind with a plethora of trivia, nautical and otherwise. His aquatic experience started with SCUBA diving at the ripe, young age of 16. He learned to sail across the seasons on Lake Michigan, braving the chill of spring and fall while taking care of charter guests in the narrow summer months. He brings creativity and excitement to your adventure with a desire to always find something new and unique on every trip. Captain Scott is a certified mixologist creating amazing cocktails.
Nikki, was raised on the waters of the Mississippi River and has loved water her entire life. She grew up camping and boating, finding adventure and excitement in the water. A love of photography grew as she found more and more memorable pieces of nature to capture on film. Her love of food extends not only to the pleasure of the palate but also a respect for allergies and preferences across diets. She has spent the majority of her life as a Sign Language Interpreter, working in every field including medicine and travel just to name a few. For the past decade she has been learning and honing her sailing skills on the mercurial Lake Michigan, and taken those skills to the Mediterranean, Atlantic, and Caribbean to see the world from the water. In recent years she has taken new sailors under her wing to share her knowledge. She loves sharing both the thrill of the reefed sail and heavy heel as well as the peace and quiet of a hoisted sail and silenced motor.
Nikki is a nationally certified American Sign Language Interpreter, fluent in ASL. Nikki is the perfect match for charters that have a Deaf person on board. The Deaf client(s) gain access to communication for safety and accessibility. If they would like to take land tours, Nikki would be able to interpret for these tours. Nikki also enjoys teaching signs to children and adults alike. Guests love learning the sign for turtle, octopus, fish, sailboat, etc.
Chef Nikki specializes in allergy and specialty diets. She is extremely knowledgeable particularly in Gluten Free diets due to cooking for someone with Celiac's Disease for decades. She also has a close family member that is vegan and members of her family with nut allergies. She has years of experience cooking keto, paleo and Whole 30. Chef Nikki is competent and happy to accommodate guest allergies and preferences.
Chef Nikki and Captain Scott taught sailing for years and love to teach guests that are interested in sailing. Chef Nikki's passion is to teach beginners the basics. She is patient and has many techniques to help guests remember what they have learned. Captain Scott is an SLC instructor. The SLC is a prestigious international sailing certificate that allows sailors to bareboat anywhere in the world. If sailors have experience and do the online coursework prior to charter, Captain Scott is able to do the on the water test for the SLC throughout their vacation and certify them if they pass the requirements.
Together they will sail you around the islands and keep your mind on vacation as you join them on Sol Seeker seeking adventure in the sun.
Additional Information
With an abundance of outdoor space, the spacious three double cabins and 3 ensuite bathrooms plus the large saloon and galley, Sol Seeker is both luxurious and practical - plenty of room for groups and families. It's a family friendly boat. No age restrictions. We have a V berth attached to a forward berth that they can set up if you want to keep your little ones close. Sol Seeker had stunning new salon tables that were custom made by an artist and installed in November 2021. They are a unique feature that brings life and art to the space. Sol Seeker features a walkthrough salon for the comfort and safety of guests. There is also a front seating area outside that is ideal for guests with mobility issues or younger children. They feel like they can still be out front in a safe way and included in the fun that happens on the trampoline instead of separated from the group. Actually most guests say this is one of their favorite spots on the boat.
Destinations