Gallery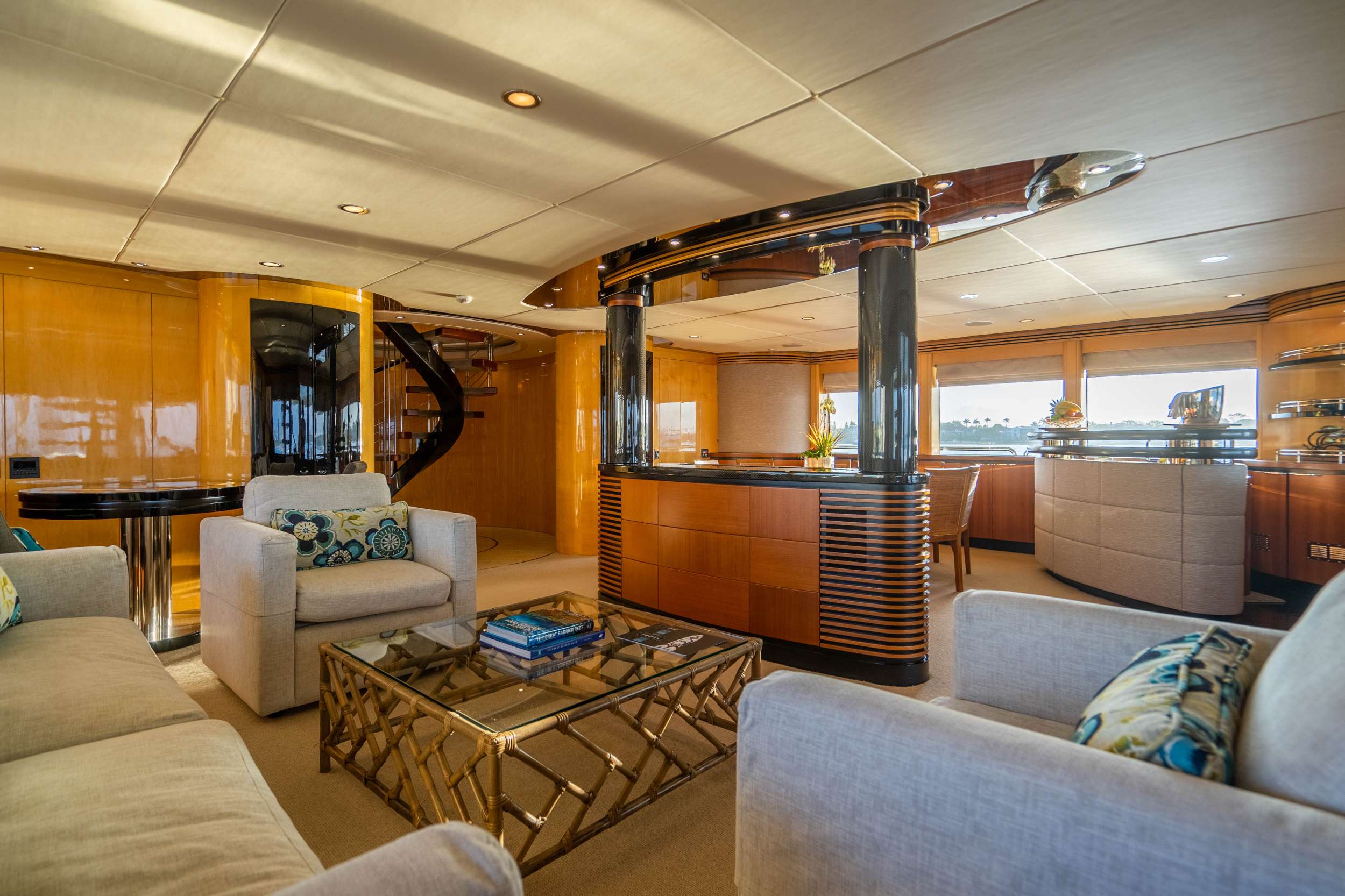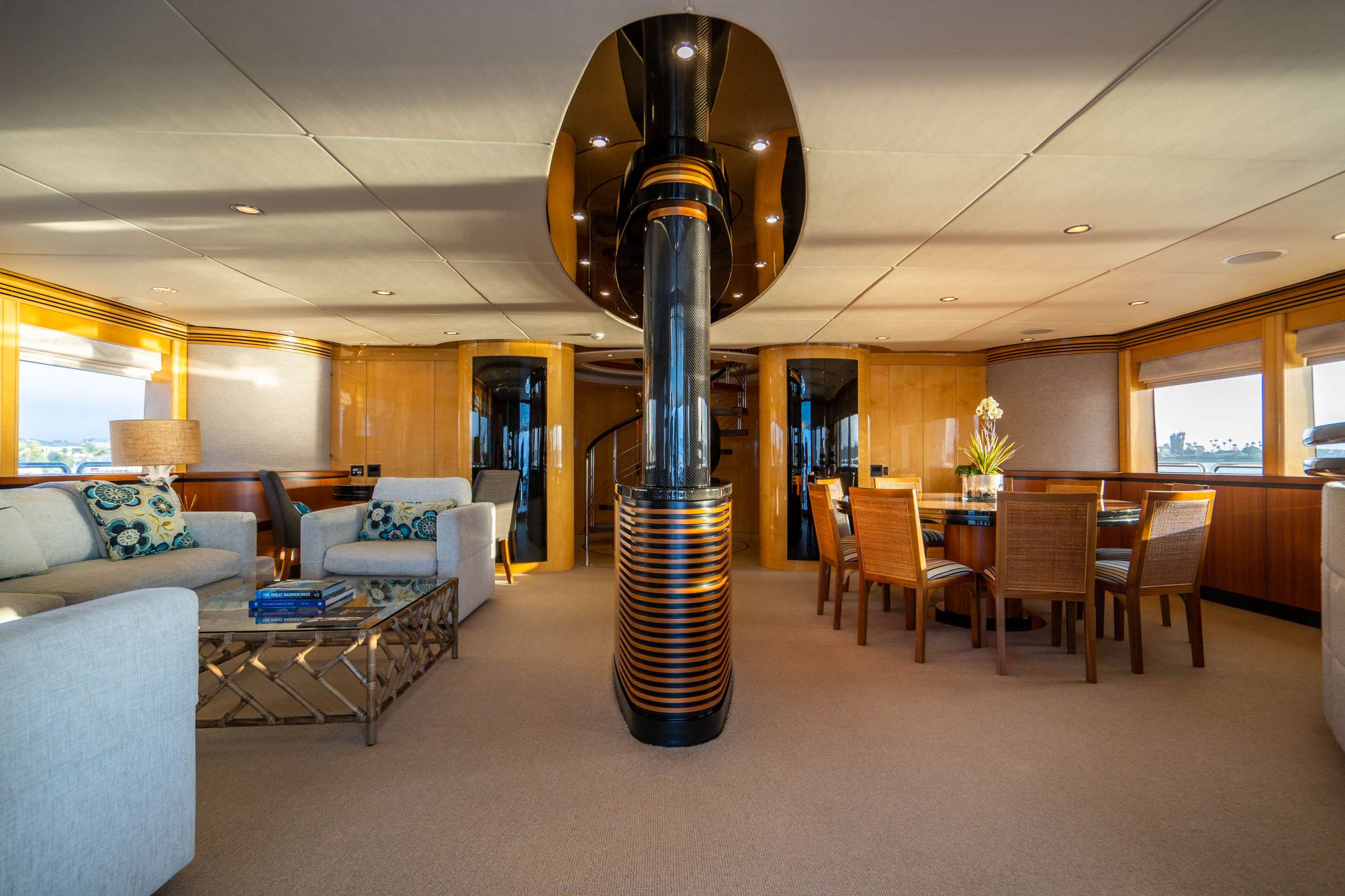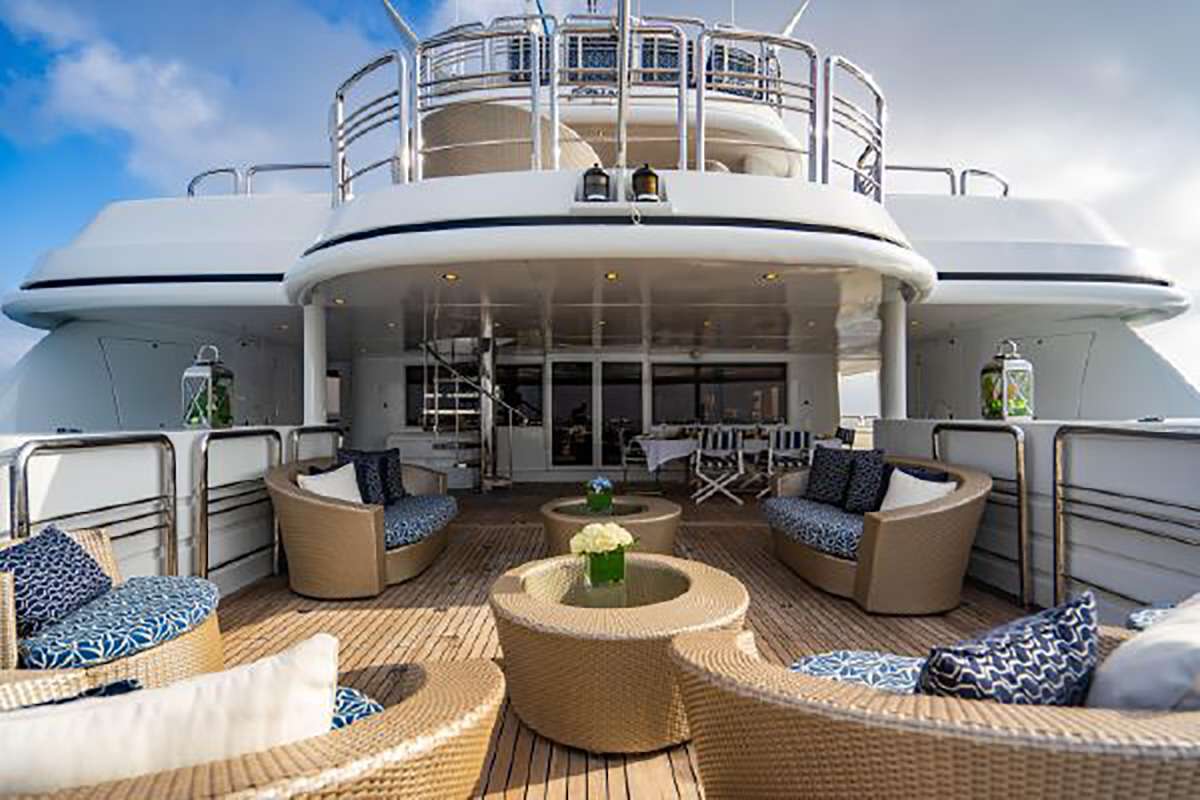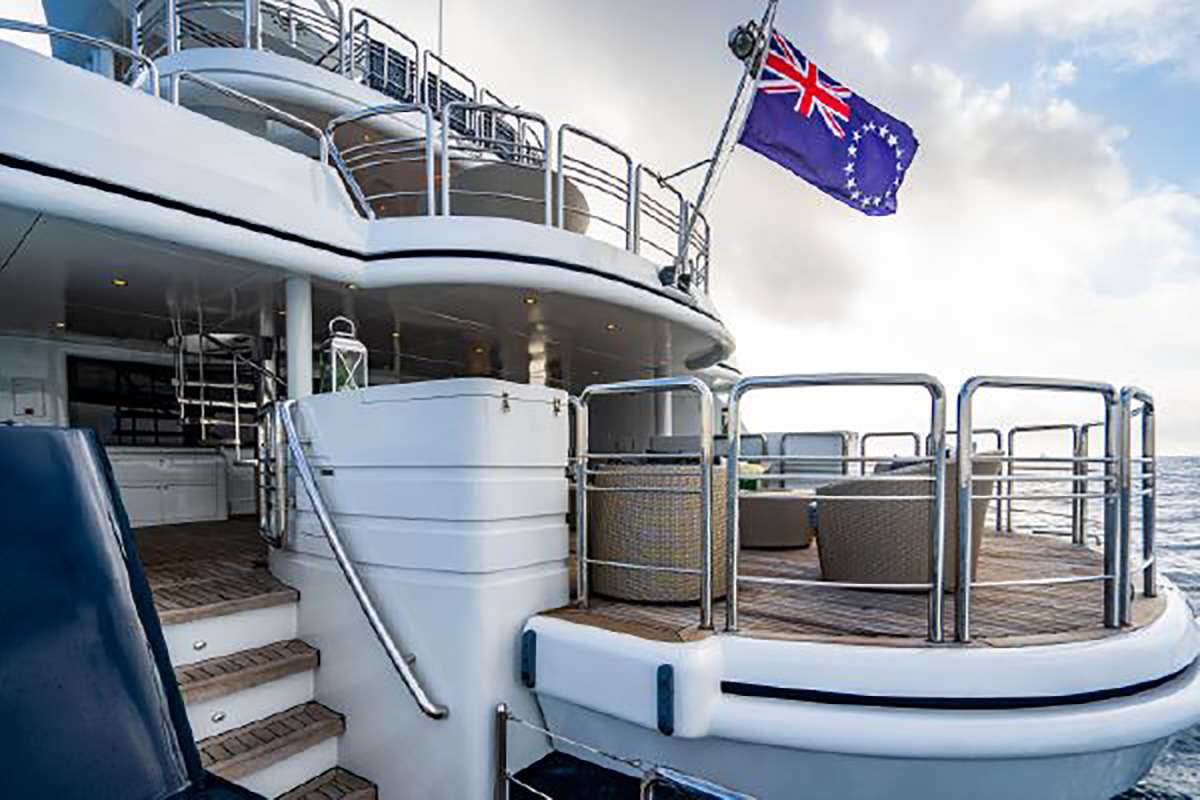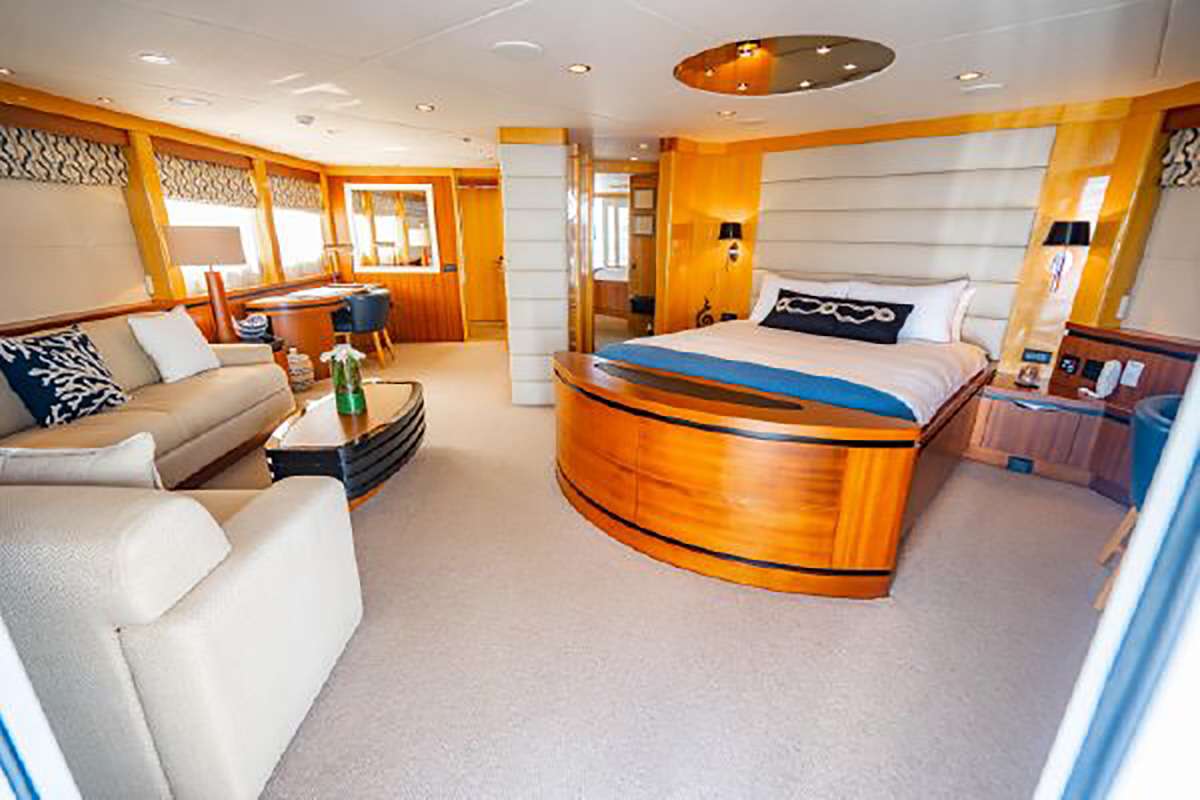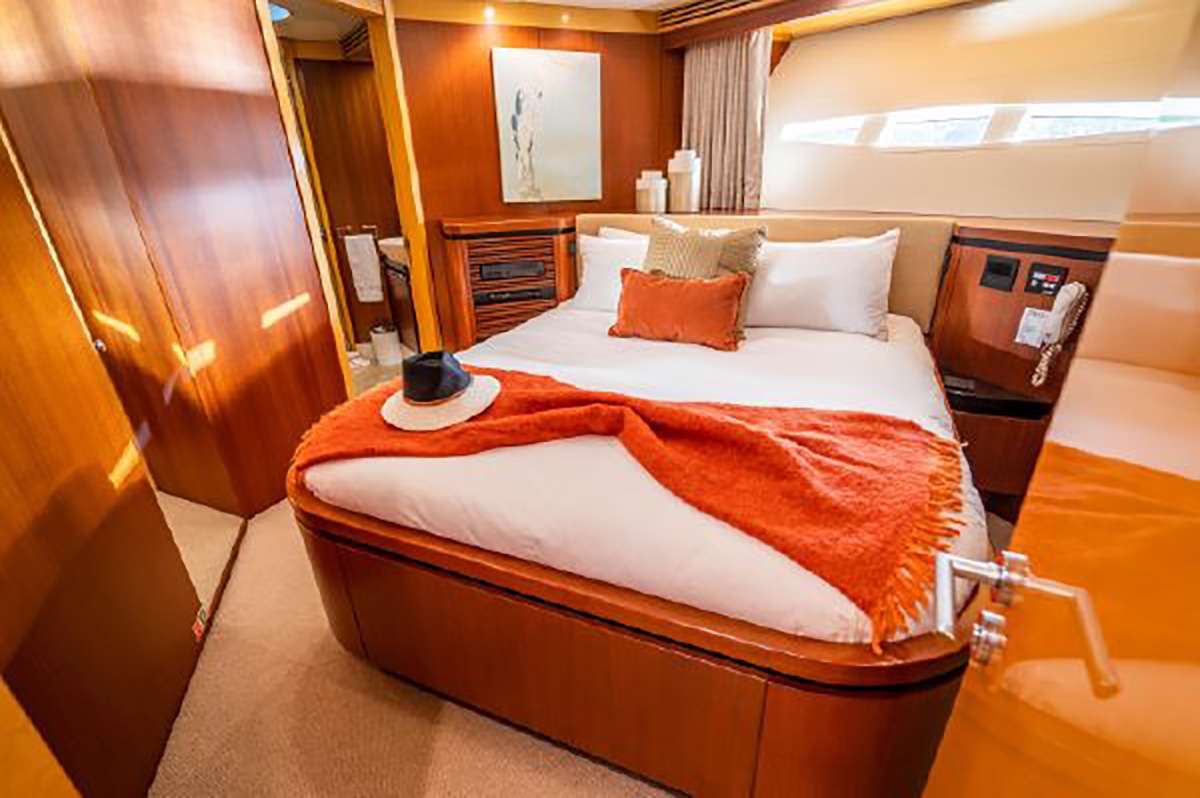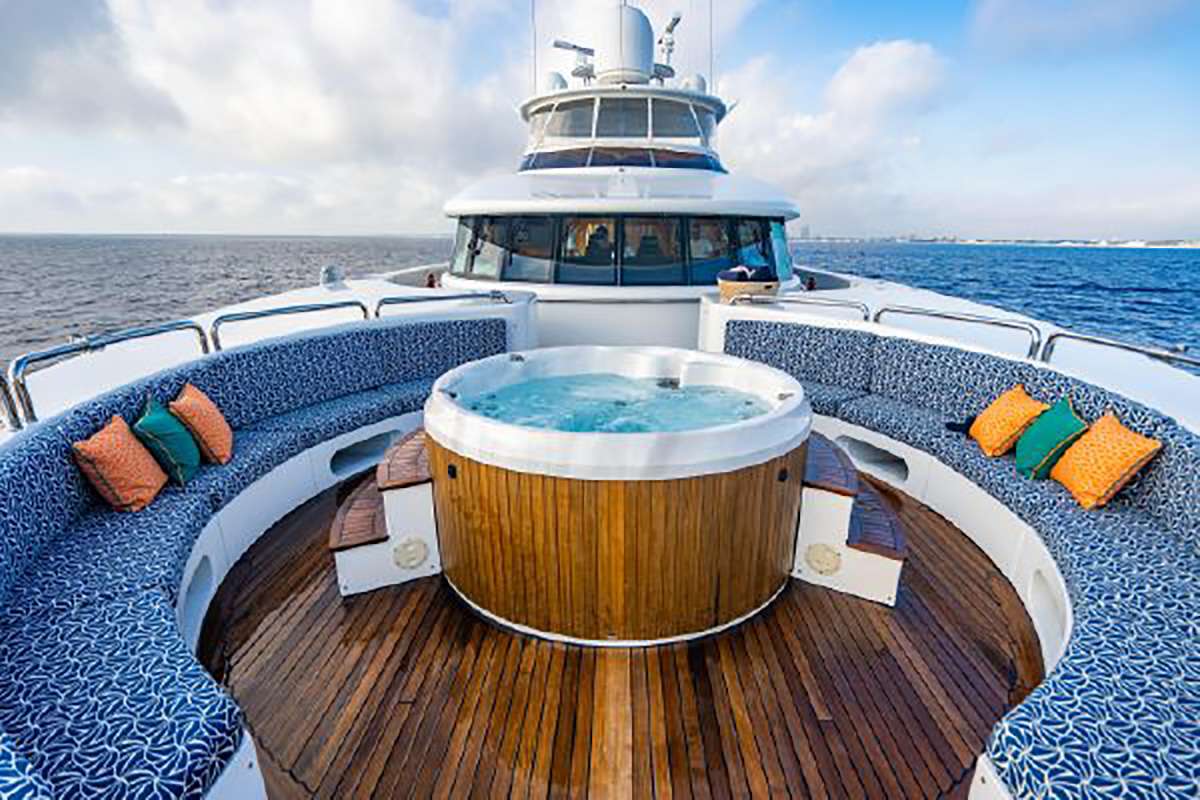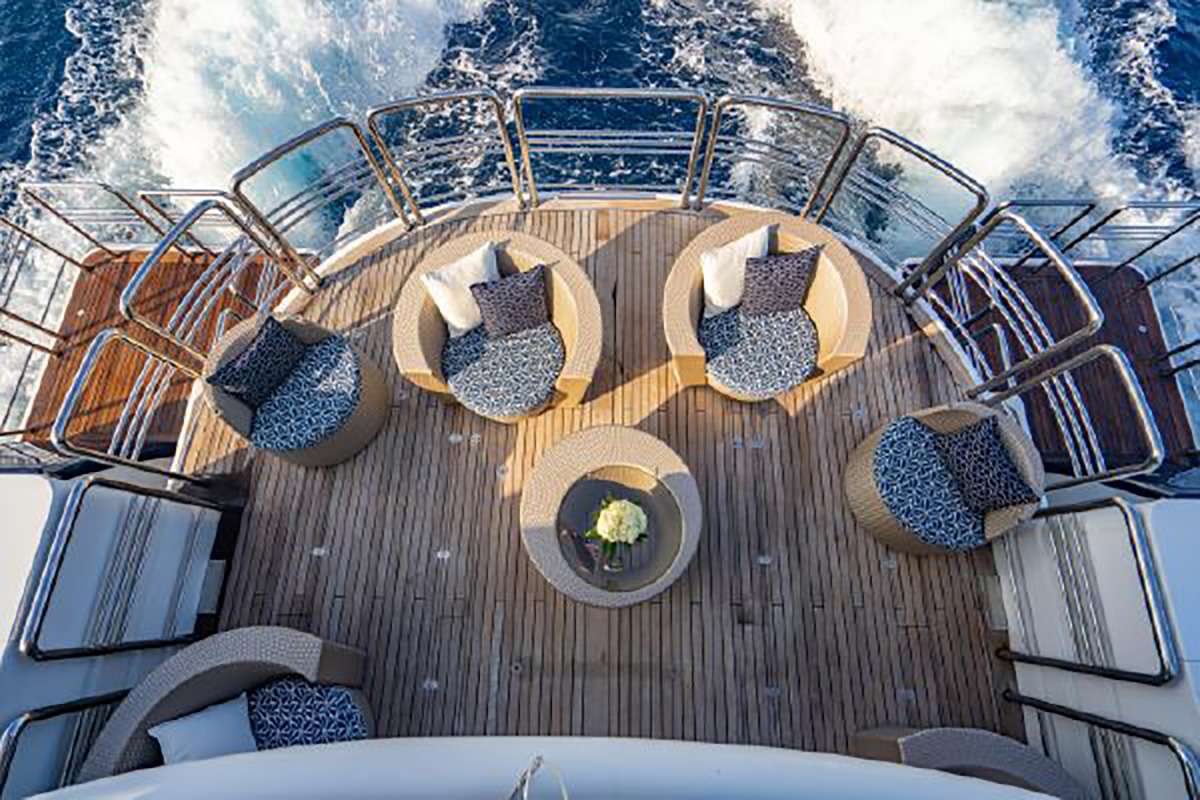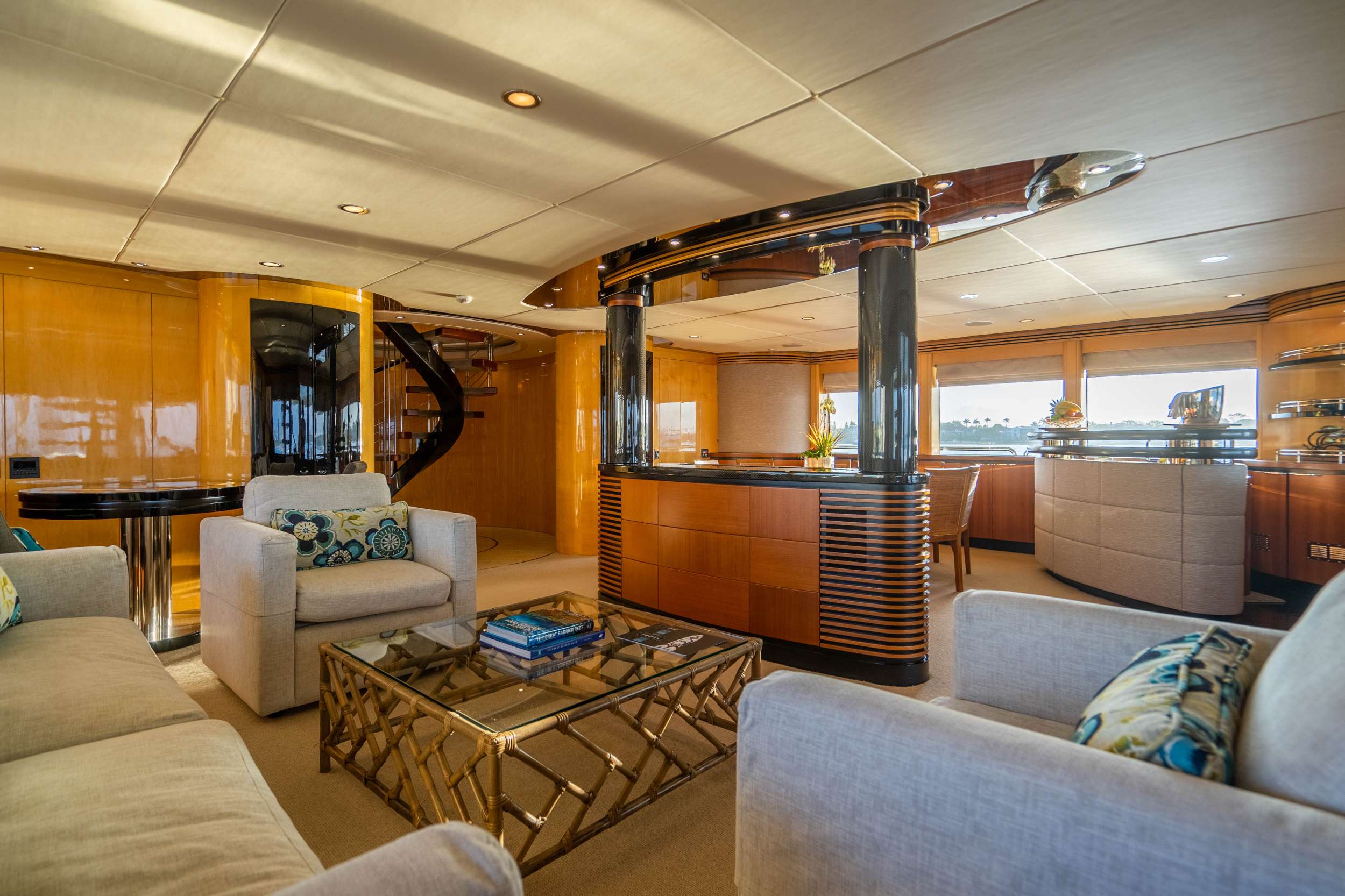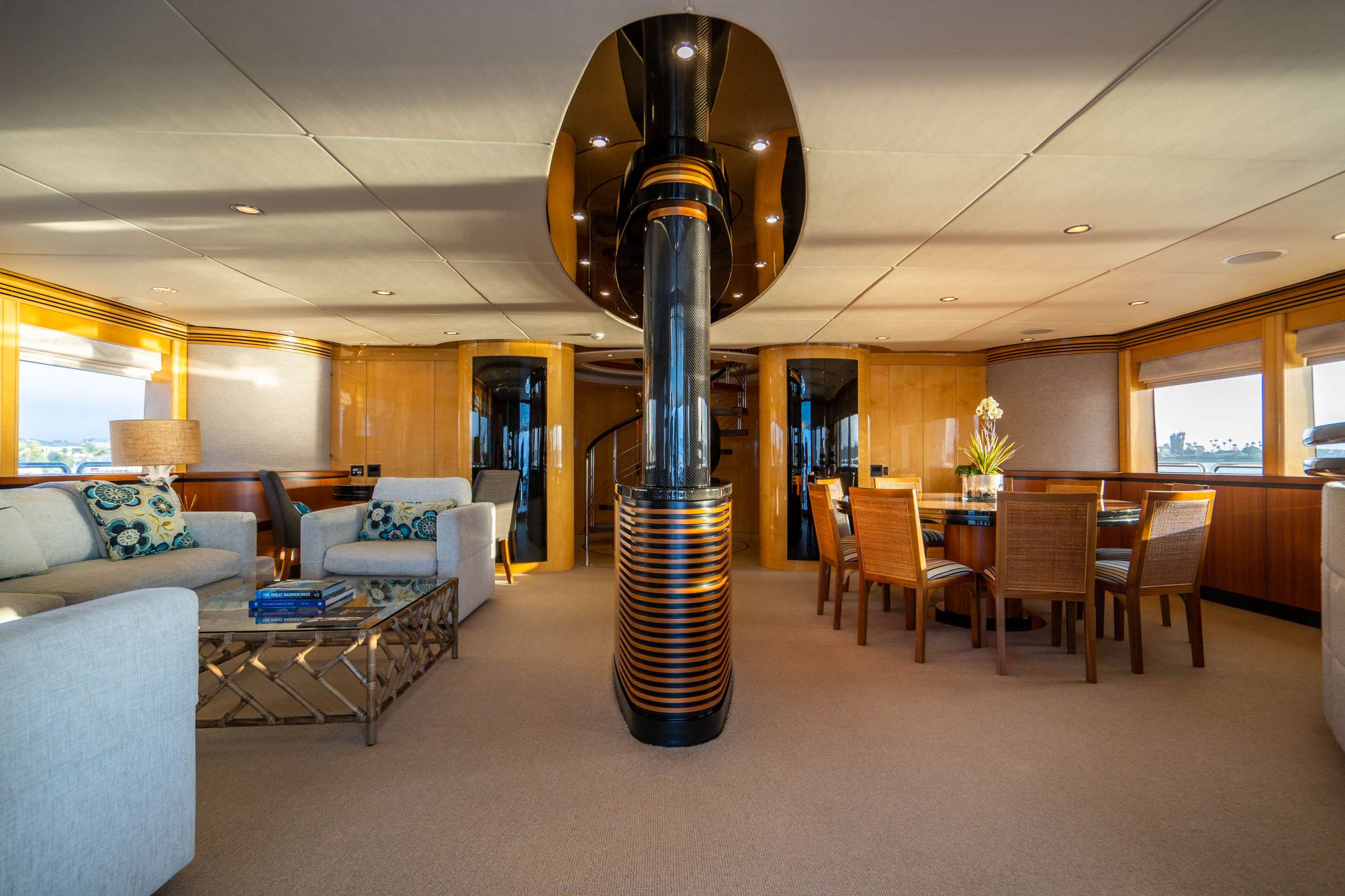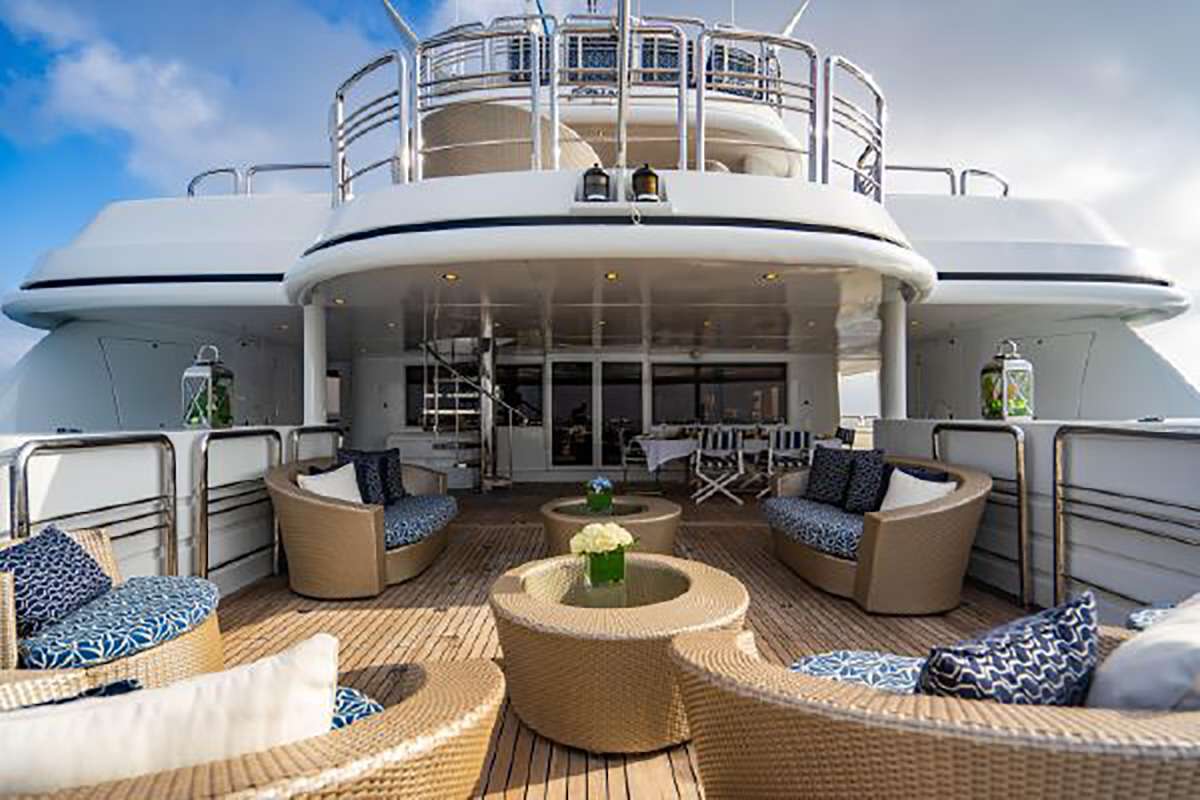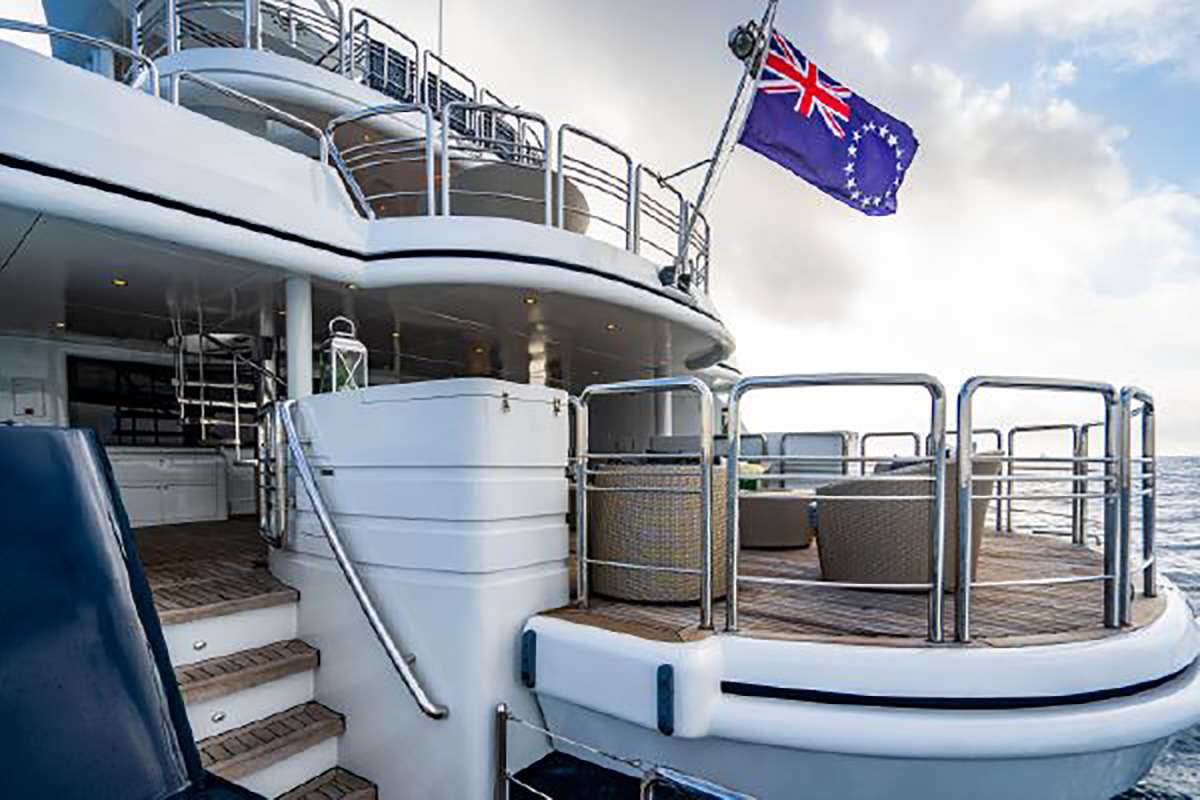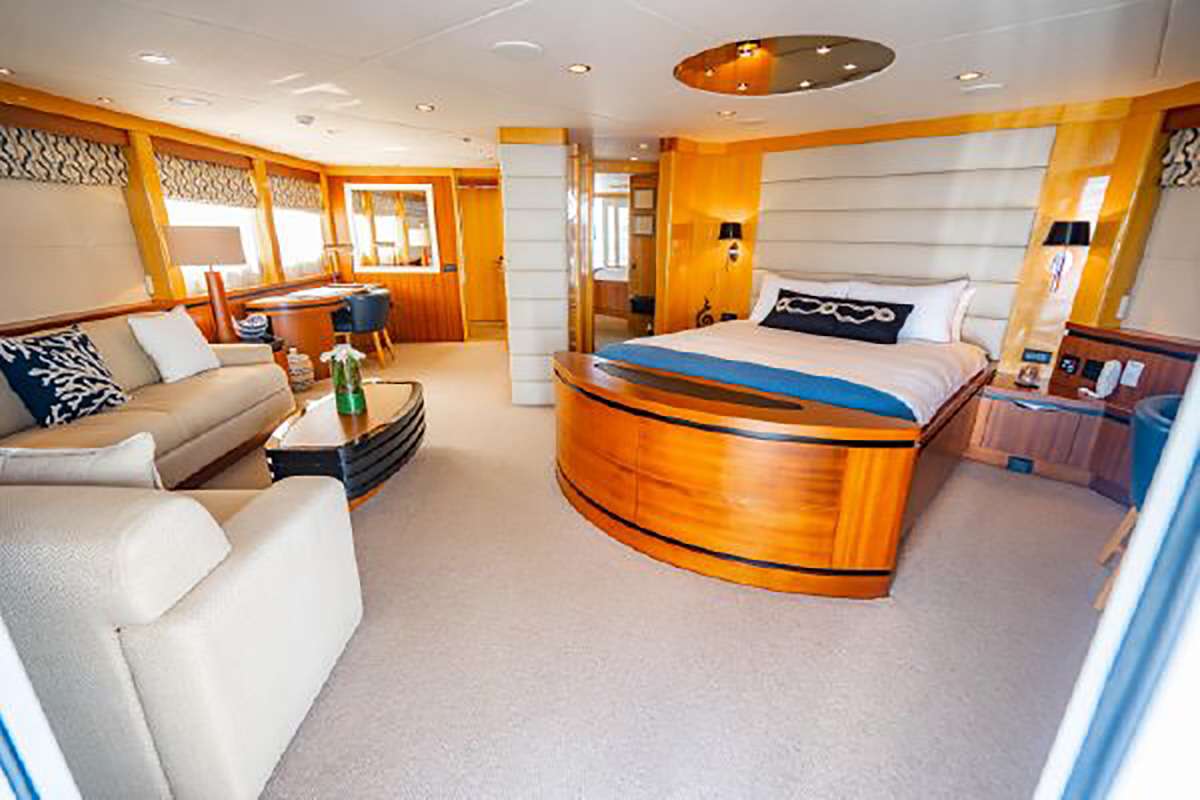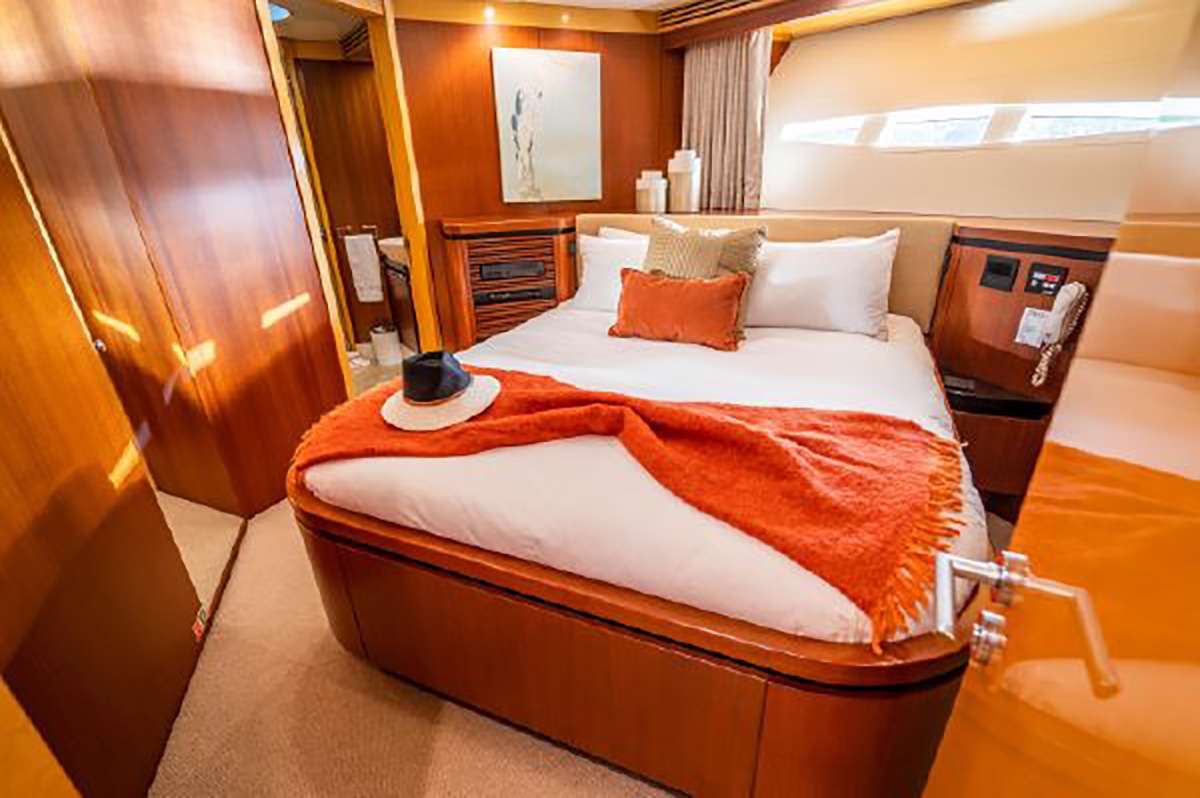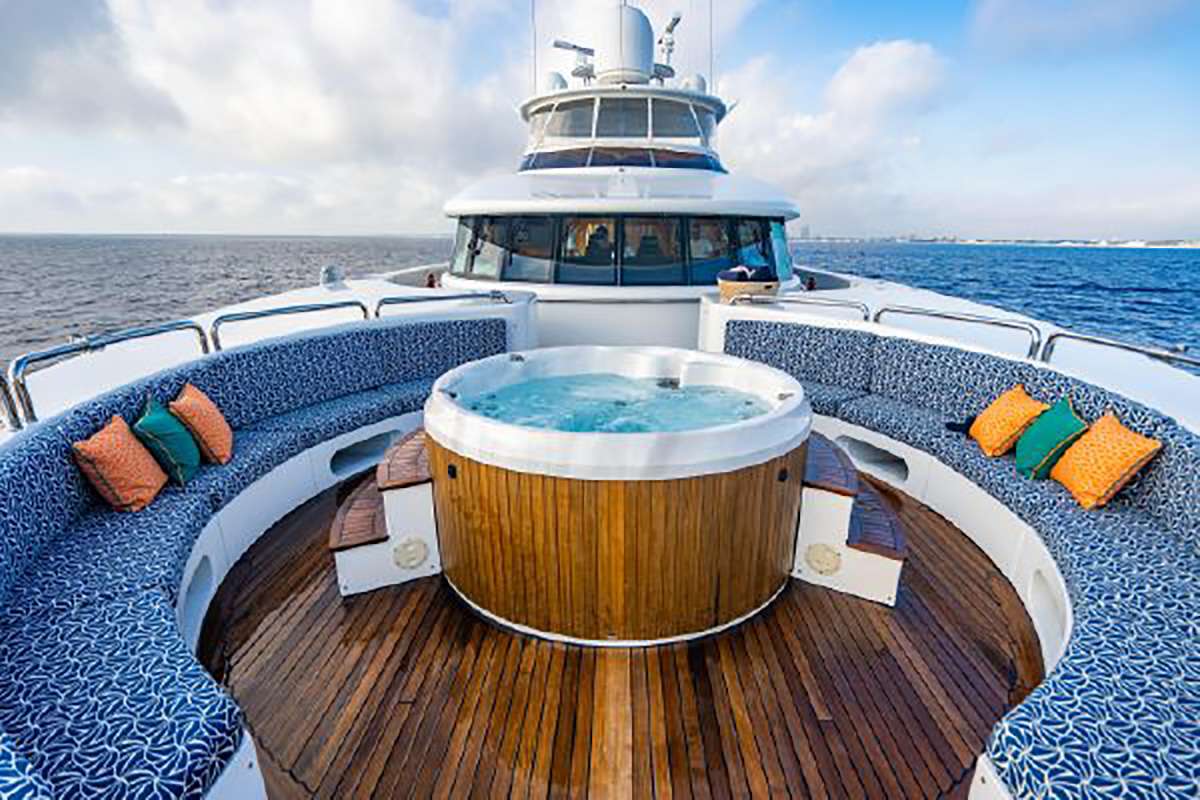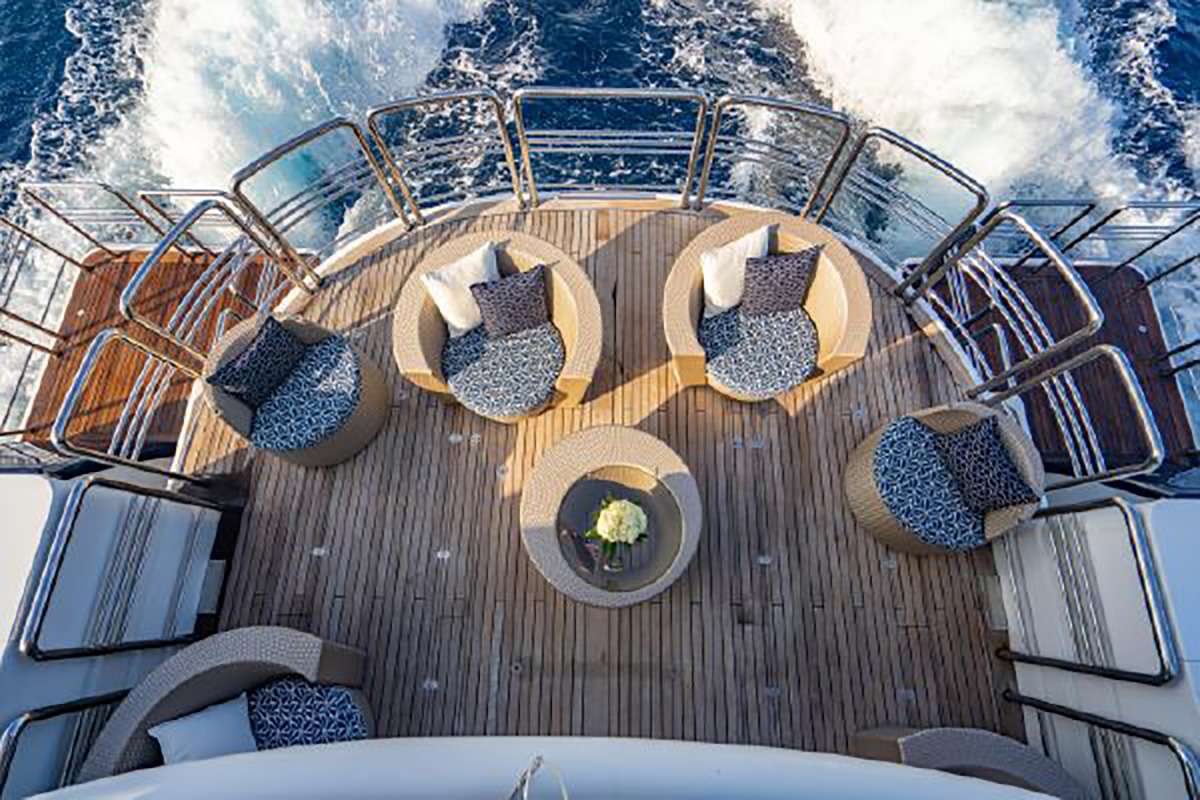 Accommodations
| | |
| --- | --- |
| Sleeps 12 guests in 5 guest stateroom(s). | |
| 1 with King Bed(s) | |
| 4 with Queen Bed(s) | |
| 5 with Double Bed(s) | |
Specifications
| | |
| --- | --- |
| Guests | 12 |
| Staterooms | 5 |
| Length | 115.00 Ft / 35.00 m |
| Beam | 35.5 ft |
| Draft | 6.10 ft |
| Built - Refit: | 2005 - [] |
| Builder | New Zealand Yachts - Whangarei |
Watersports
| | |
| --- | --- |
| Scuba Diving | Yacht offers Rendezvous Diving only |
Other Toys
28' Cobra Rib Tender (Seats 12 ppl)
4 - iAQUA Sea Dart (Better than a SeaBob) / Website - https://www.iaquaus.com/shop
2 - Yamaha VX Series Jet Skis (3 Seater) - 55 knots Top Speed
1 - Yamaha Jet Pod
10 Set Snorkel Equipment
Pro- Fishing Equipment (Excursion Guide Required)
Tubing (Tender Pulled)
6 Inflatable SUPs
1 Solid SUP
2 Wakeboards
Swimming platform with large beach club
Pricing
From: 115,000
To: 125,000


Pricing Details
Available for short term and day charters. Rate TBD for New England.
PLEASE INQUIRE FOR FURTHER PRICING DETAILS
Crew Profile
Captain David Coates Palgrave
Previous yachts: S/Y ADELE 180ft |
M/Y AMADEUS 230ft | M/Y ULYSSES 196ft |
S/Y EOS 305ft | S/Y ATHENA 300ft |
M/Y SOLEMAR 201ft | S/Y ELFJE 180ft |
M/Y AMARYLLIS 255FT | M/Y VIXIT 173ft
Born in Zimbabwe, David left at age 3 for South Africa where he grew up and developed his love for life on the ocean. He was raised in a rugged and beautiful country, which bred in him a sense of adventure and exploration. His 22 year career has allowed him to crew on not only the world's largest sailing yachts but also several large superyachts which has allowed him to travel the world's oceans from the Mediterranean to the USA and Pacific and New Zealand. Since gaining his 3000GT master license in 2015 he has Captained several vessels both Private and Charter up to 255 Ft mainly in and around the USA and Caribbean and Mediterranean. David's interests include kayaking, sailing, rugby and adventure sports on land and sea. He has now joined the great young vibrant team on MY SPIRIT, looking forward to their exciting first season together and promising you an enjoyable and adventurous vacation.
Chief Engineer - Morné de Villiers
Morné was raised in Central South-Africa. He and his family moved to Florida in 2015 when he started his maritime career as Mate/Engineer. His yachting travels have taken him through the Bahamas, Caribbean waters of both the US and British Virgin Islands, and Saint Maarten. He has experience working on motor yachts and tri-jet boats up to 160ft. As Chief Engineer Morne' has a calm and pleasant demeanor. Don't worry if you don't see him – everything is fine Morné's main hobbies include golf, running, and water sports like water skiing and fishing. He also enjoys exploring the beautiful areas in and around the states with his family.
First Officer - Alan Mans
Previous yachts: BENGUELA 42FT RACING YACHT |  
M/Y SOARING 98FT | M/Y BRAVO EUGENIA 360FT |  
M/Y AMARYLLIS 255FT | M/Y VIXIT 173FT    
Alan is an experienced crew member with a unique background in lifeguarding, emergency response, and health & safety. Born in South Africa, Alan has always had a passion for sports and the outdoors. He spent 5 years working as a lifeguard before working as a NATO contractor in the Crash/Fire/Rescue team in Afghanistan for 7 years, where he developed exceptional emergency response skills and the ability to work well under pressure. After his time in Afghanistan, Alan worked as a health & safety executive in the UAE for 2 years. Four years ago, he completed his Yacht Master offshore certification and has been working towards his OOW while completing additional courses to further develop his skills and experience. Alan's commitment to his professional development and passion for the outdoors make him a valuable member of any crew. Alan is now working on the adventurous boat M/Y Spirit and is excited about the upcoming events and experiences ahead as he is eager to contribute to a successful and enjoyable voyage. 
Chef - Liebe de Klerk
Liebe was born and raised on a farm in the heart of South Africa. She started her love for food from a young age, as her mother and grandmother were chefs too. She has always been artistic and travelled through Europe to learn more about the rich history of art. Her love for food grew fonder and she decided to study Culinary Arts. She did her Diploma in Culinary arts and Patisserie. She also specialized in Media communication and food photography. For the past few years, she worked at a few fine dining restaurants and catering companies as well as in the magazine and film industry.
Liebe always strives to be the best version of herself while being caring and hardworking. She decided to join the yacht industry to combine her love for cooking, travelling and growing her knowledge.
Deckhand - Ruan De Villiers
Ruan was raised in Central Southern Africa. He and his family moved to Florida in 2015 to follow a career in professional golfing. During school holidays he spent his time on the water in South Florida and the Bahamas working on several private vessels as a deckhand learning the ropes and thoroughly enjoying himself. In a gap year while he awaits his college application to be accepted he has joined the team on My Spirit for their first
Ruan's main hobbies include all manner of sports especially in and around the sea like water skiing, wakeboarding and fishing he also plays drums in a local band. He continues to play golf at a high level and ultimately would like to turn professional one day.
Chief Stew - Milrie Swanepoel
Milrie was born in Namibia, raised in South Africa and
now resides in Florida. She studied Hospitality
Management at City and Guilds in South Africa. She
has spent 5 years in hospitality working in some of South Africa's finest hotels, restaurants, and various
promotional events. Her love of travel brought her to the USA where she has spent 4.5 years working in some of the country's most prestigious country clubs in Florida and New York. Her desire to travel more and use her hospitality experience brought her to yachting where she has been for 8 years traveling between the USA, Caribbean, Europe and the Bahamas. Passionate about her career, Milrie also loves any kind of outdoor exercise when time ashore allows and takes any opportunity to travel. Milrie's enthusiastic, high attention to detail and hardworking personality will make your stay aboard M/Y Spirit a fun and unforgettable time.
Stewardess - Jade Deftereos
Jade Deftereos is a bubbly, good humored South African stewardess which joined the yachting industry in 2022 as she wanted to challenge herself as well as wanted to live by the ocean. Passionate about her career, she aims to deliver the best possible guest experience and service. Jade enjoys being active, swimming as a sport and for leisure as well as snorkeling and spending time with friends and family.
Additional Information
Built in 2005 by New Zealand Yachts SPIRIT won the superyacht of the year award for her revolutionary design, efficiency, and construction. The Brett Bakewell White designed 115ft Wavepiercer boasts an impressive 304 GT comparable in volume to many 140-150ft vessels. The 36 ft wide beam offers multiple outdoor entertaining areas, wide decks, and increased stability all within in a fuel-efficient design. MY SPIRIT boasts 5 large guest cabins (1 King, 4 Queen -Two queens can split to twins-) with ensuite bathrooms including a vast master stateroom with two office areas, 180-degree views and a private deck. With accommodations for up to 10 crew all your needs can be catered to
Destinations