Gallery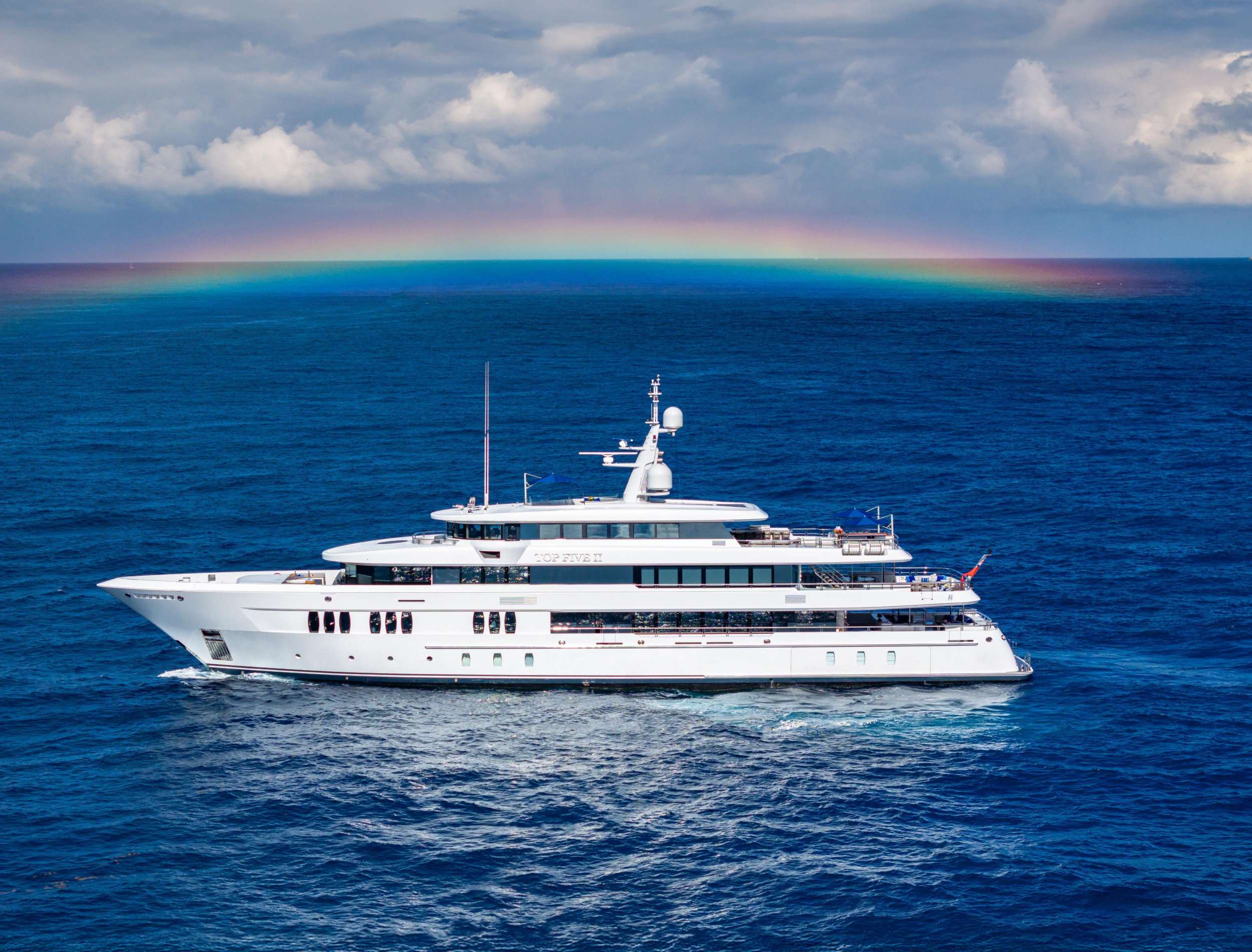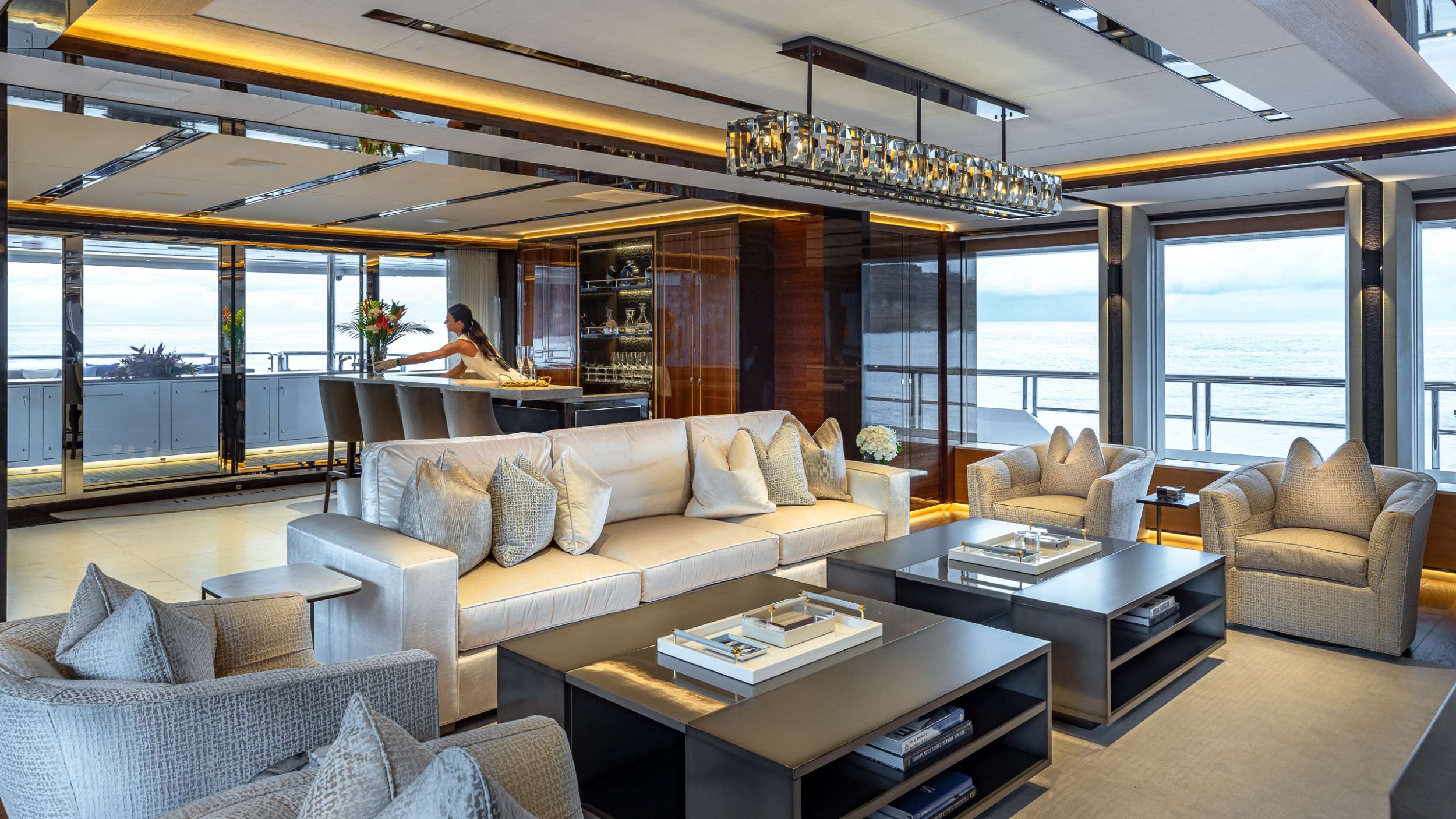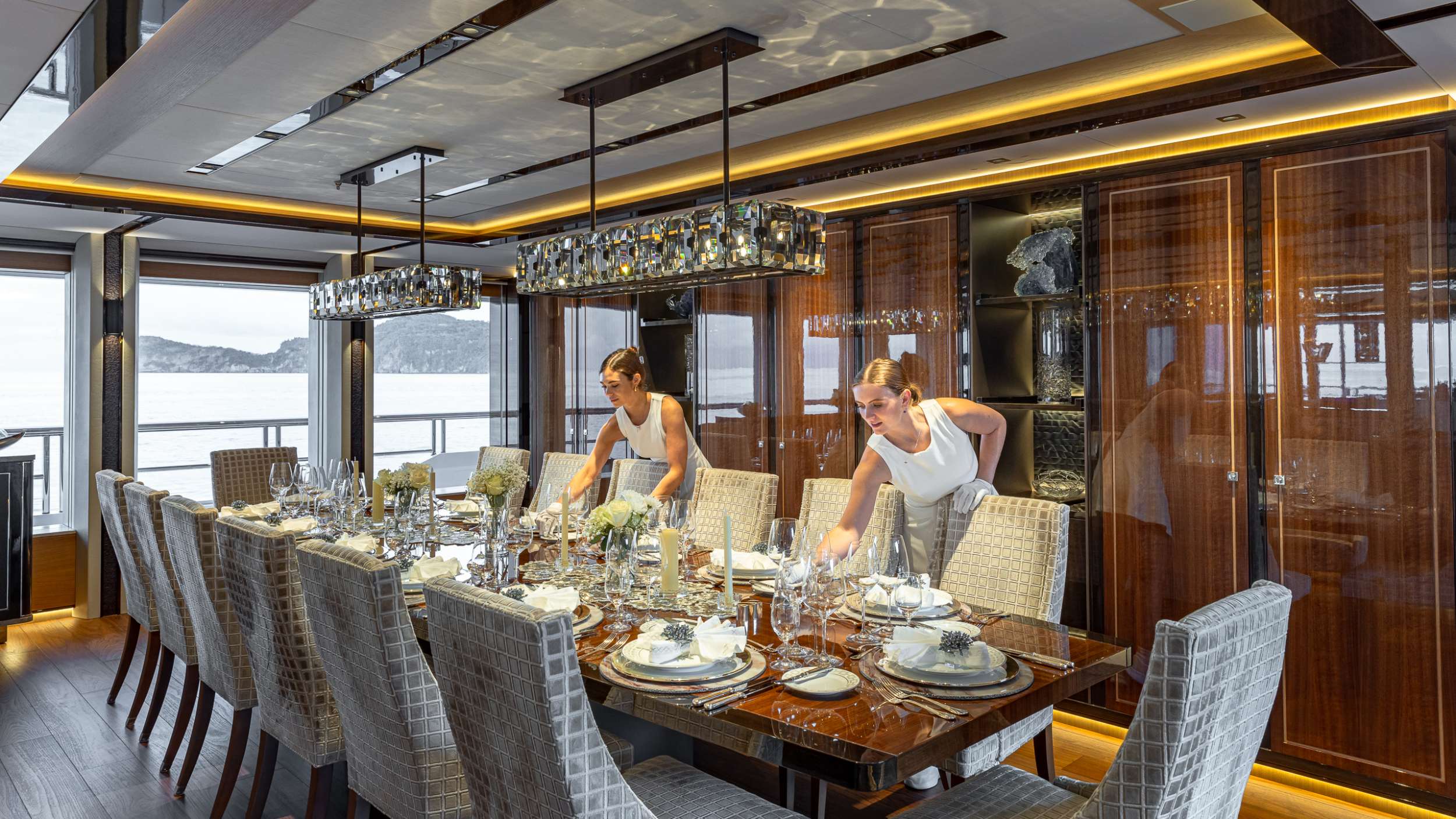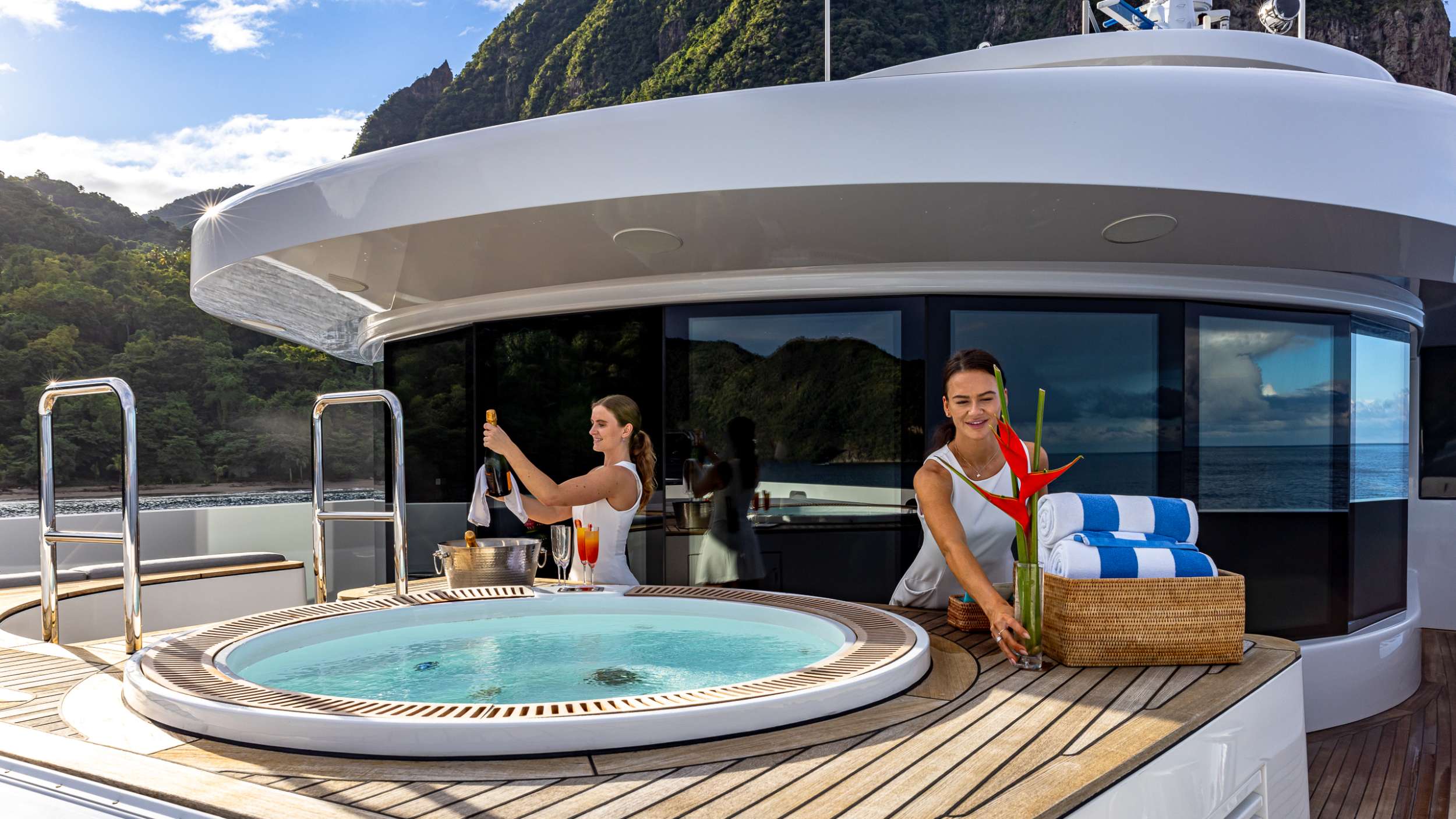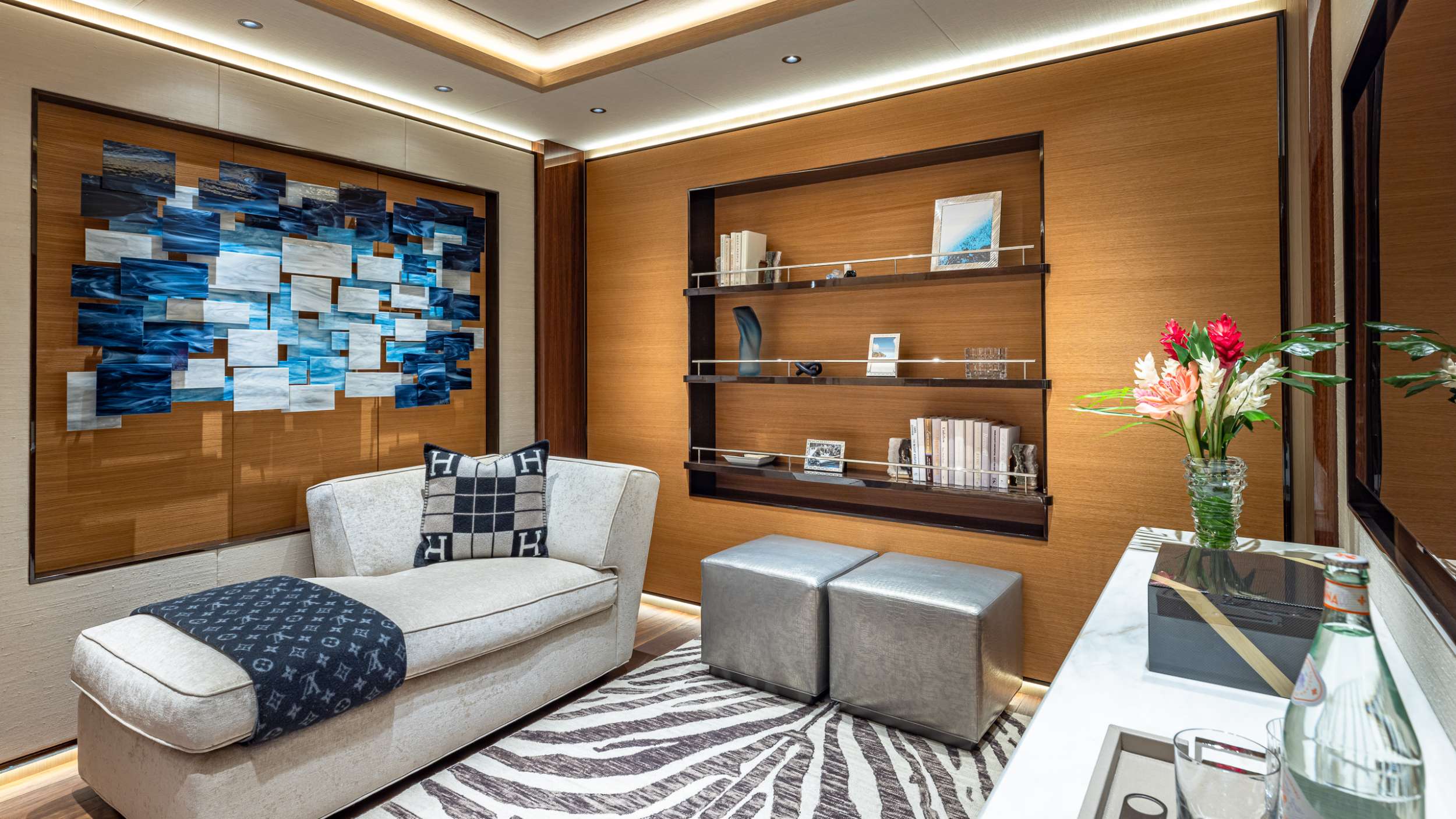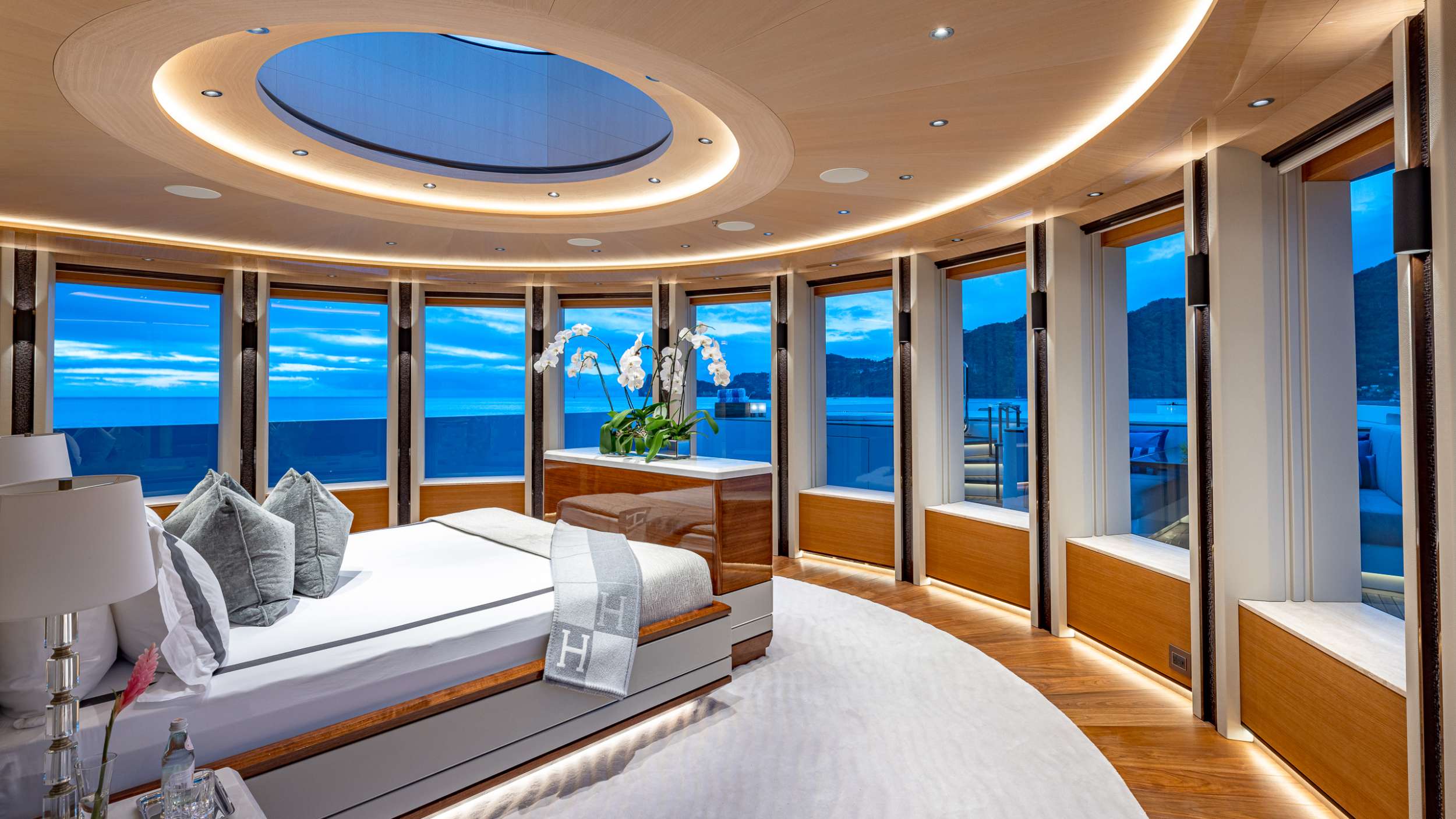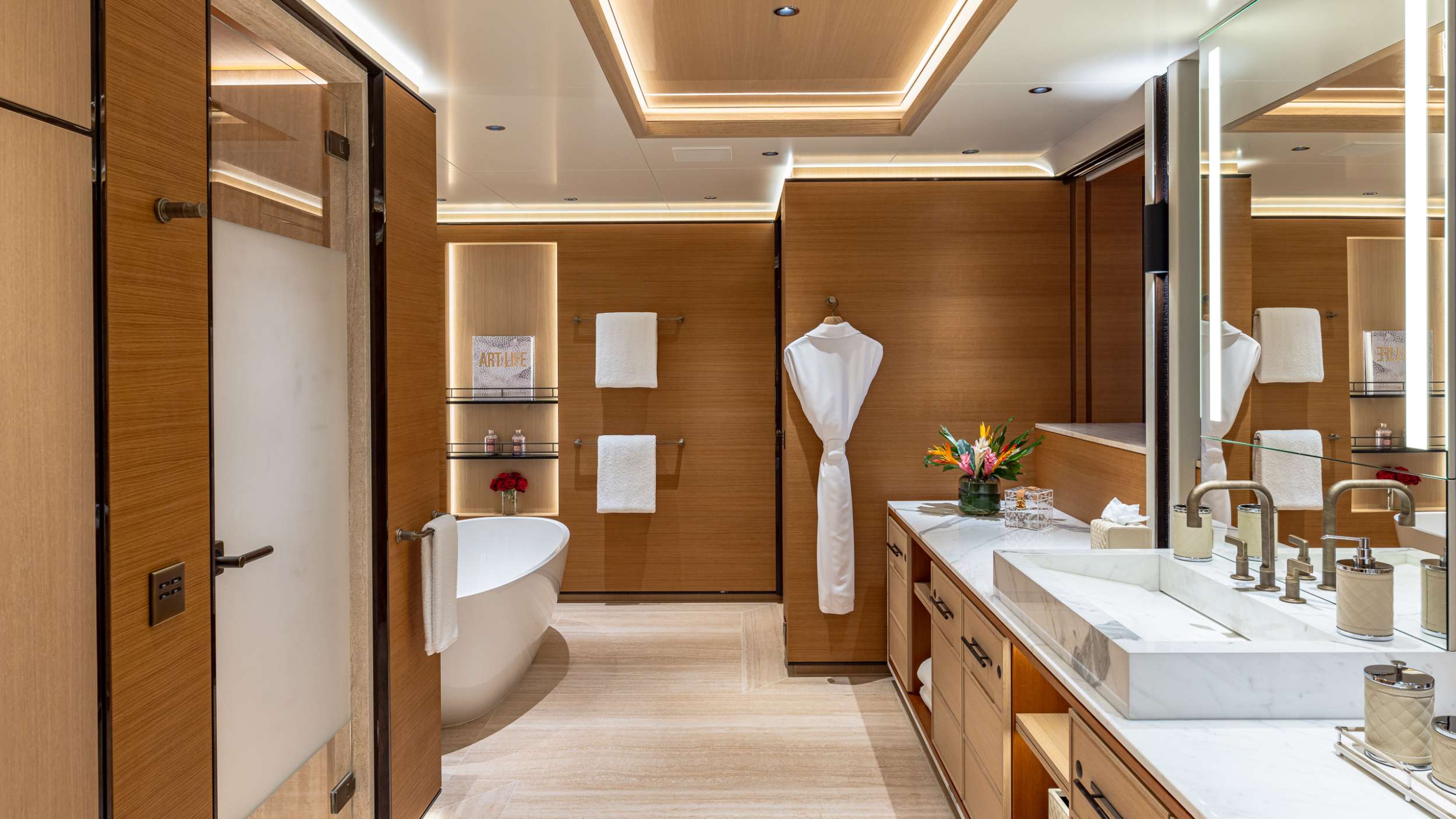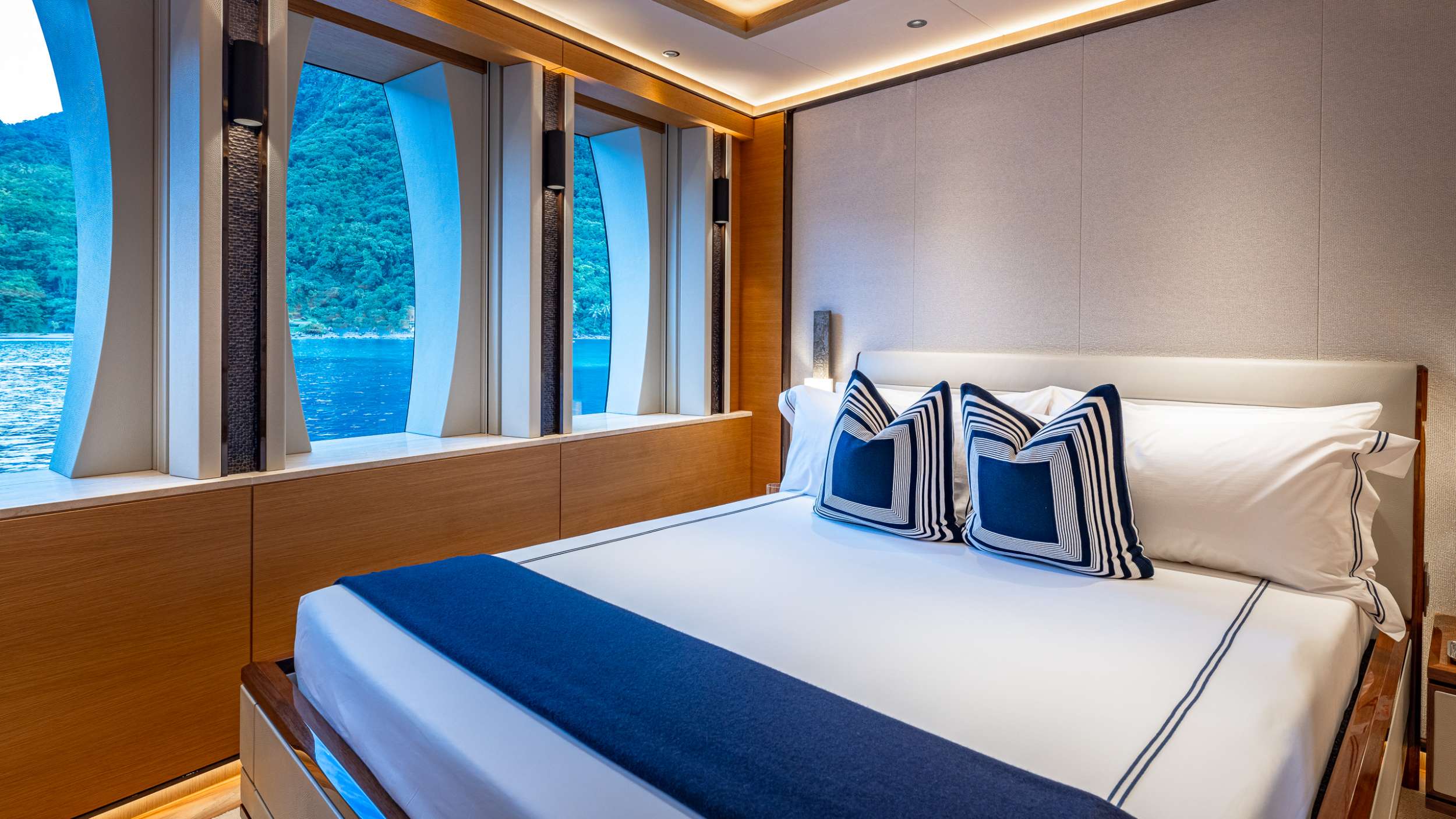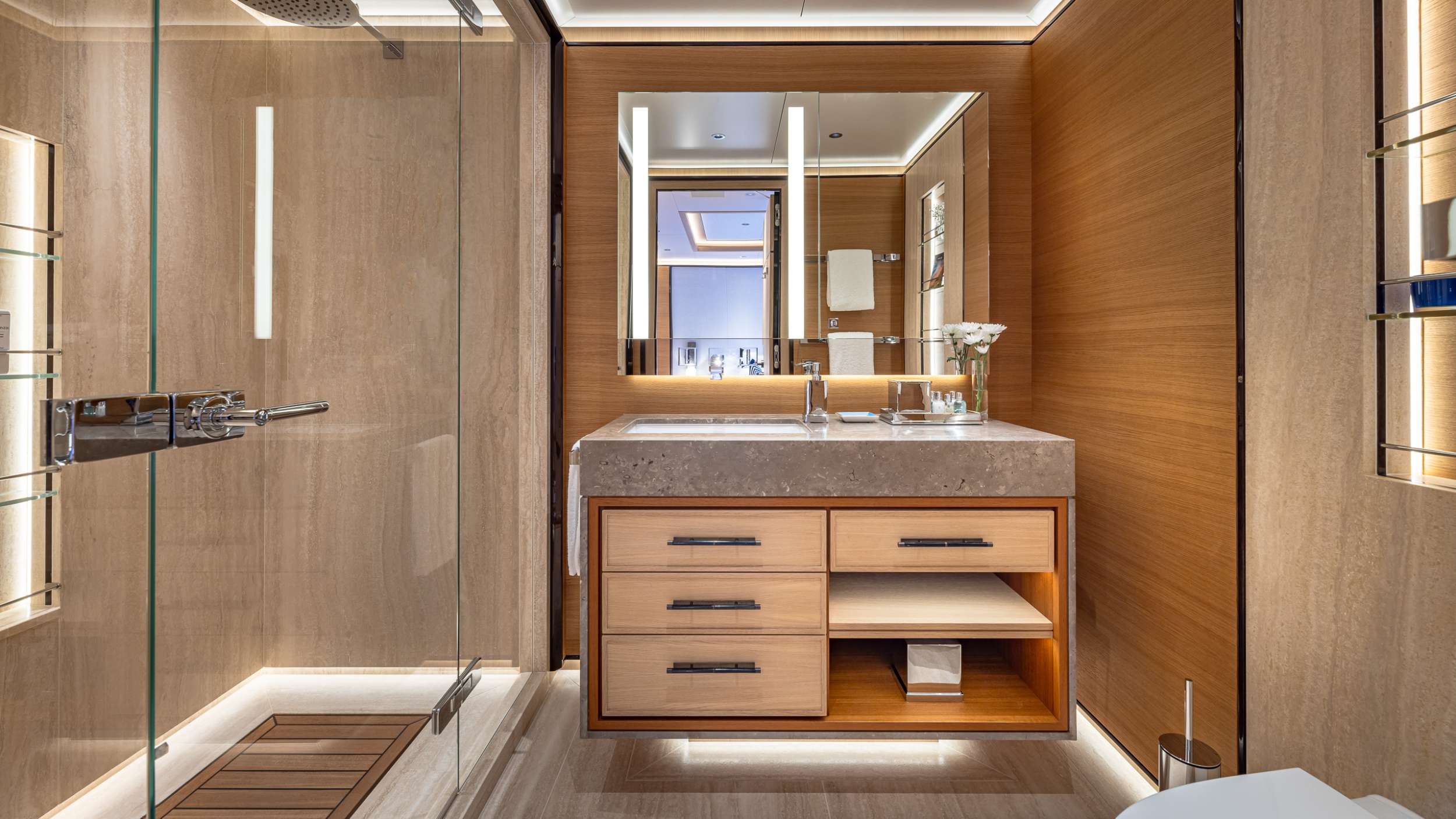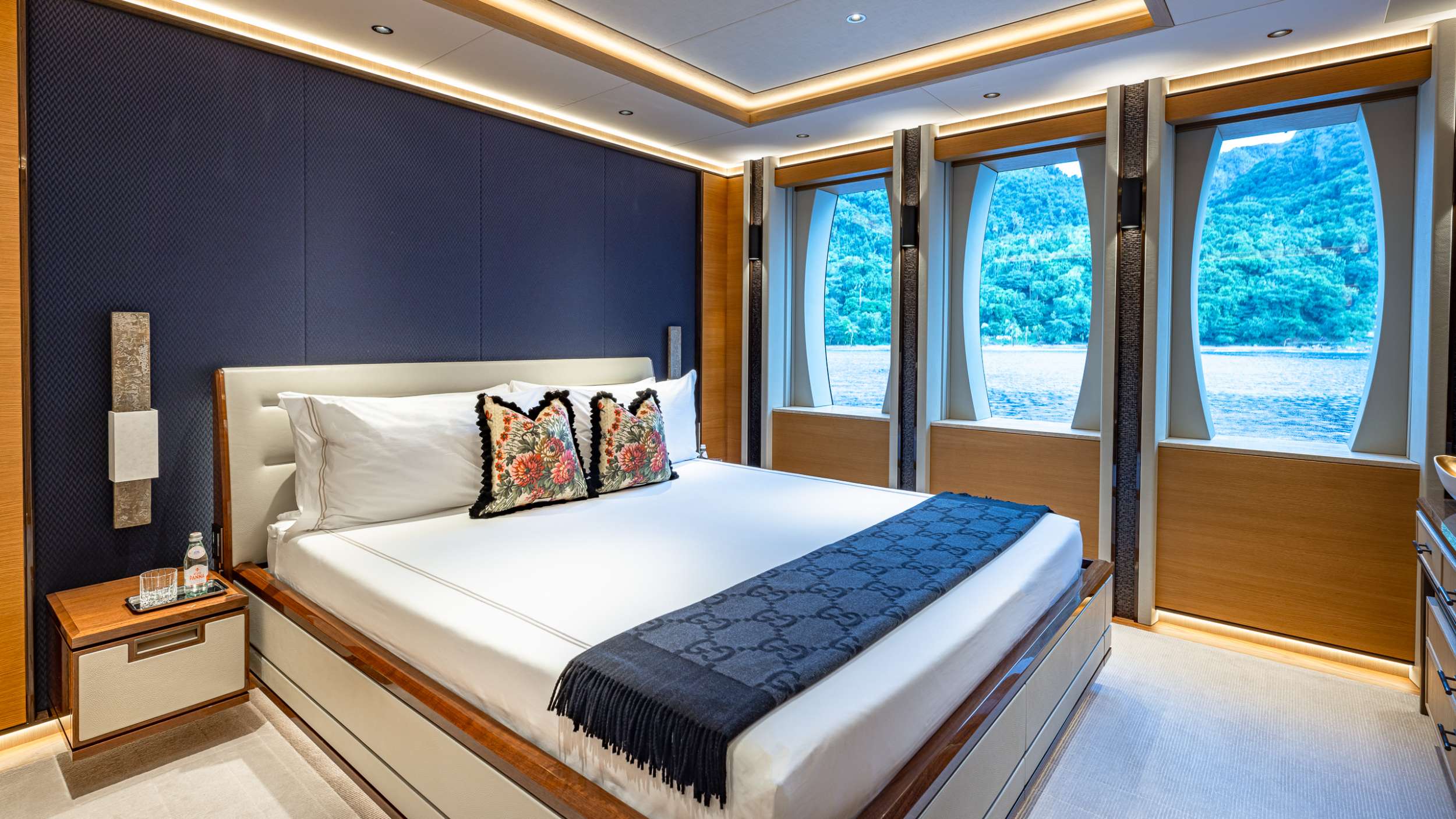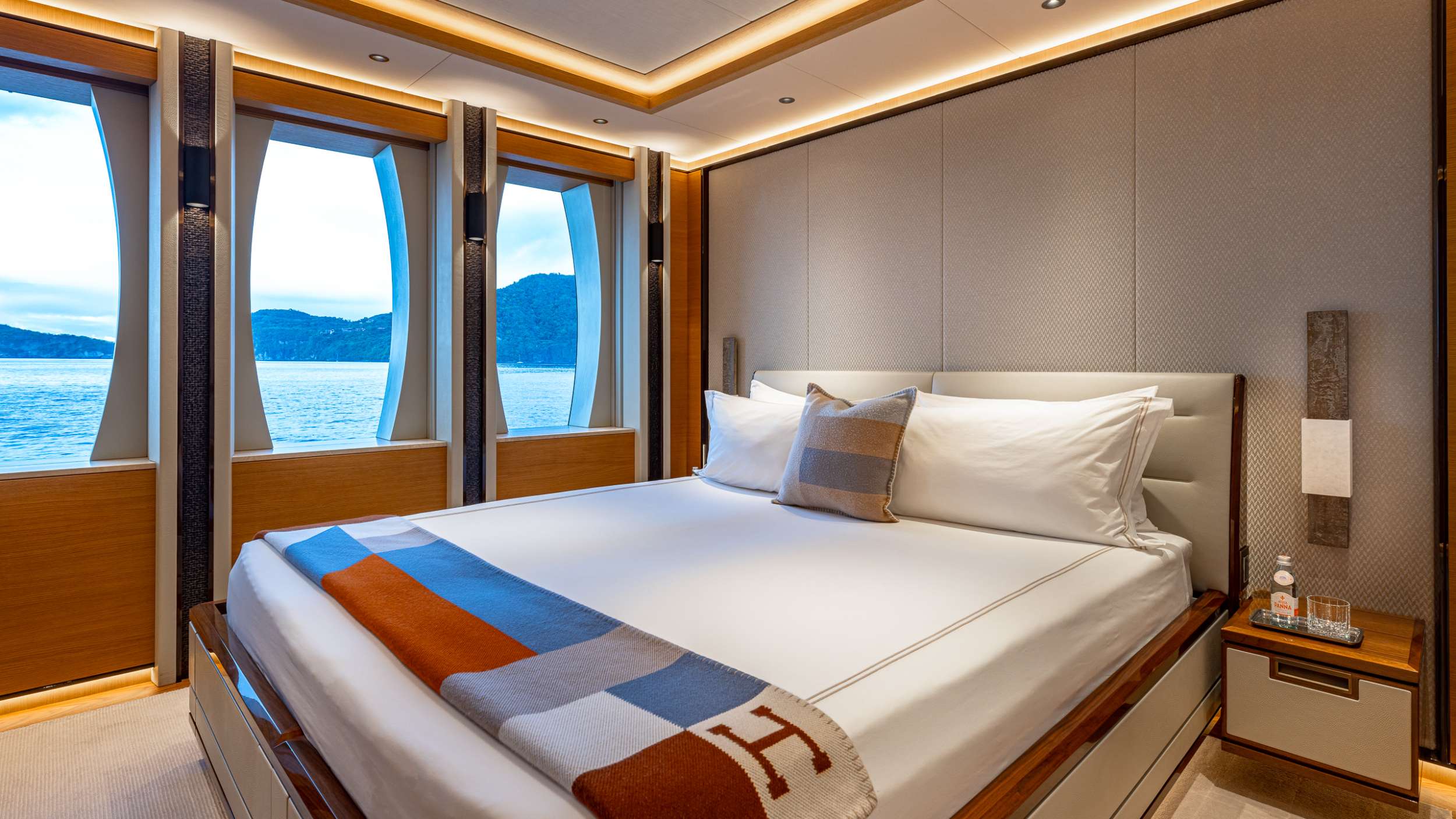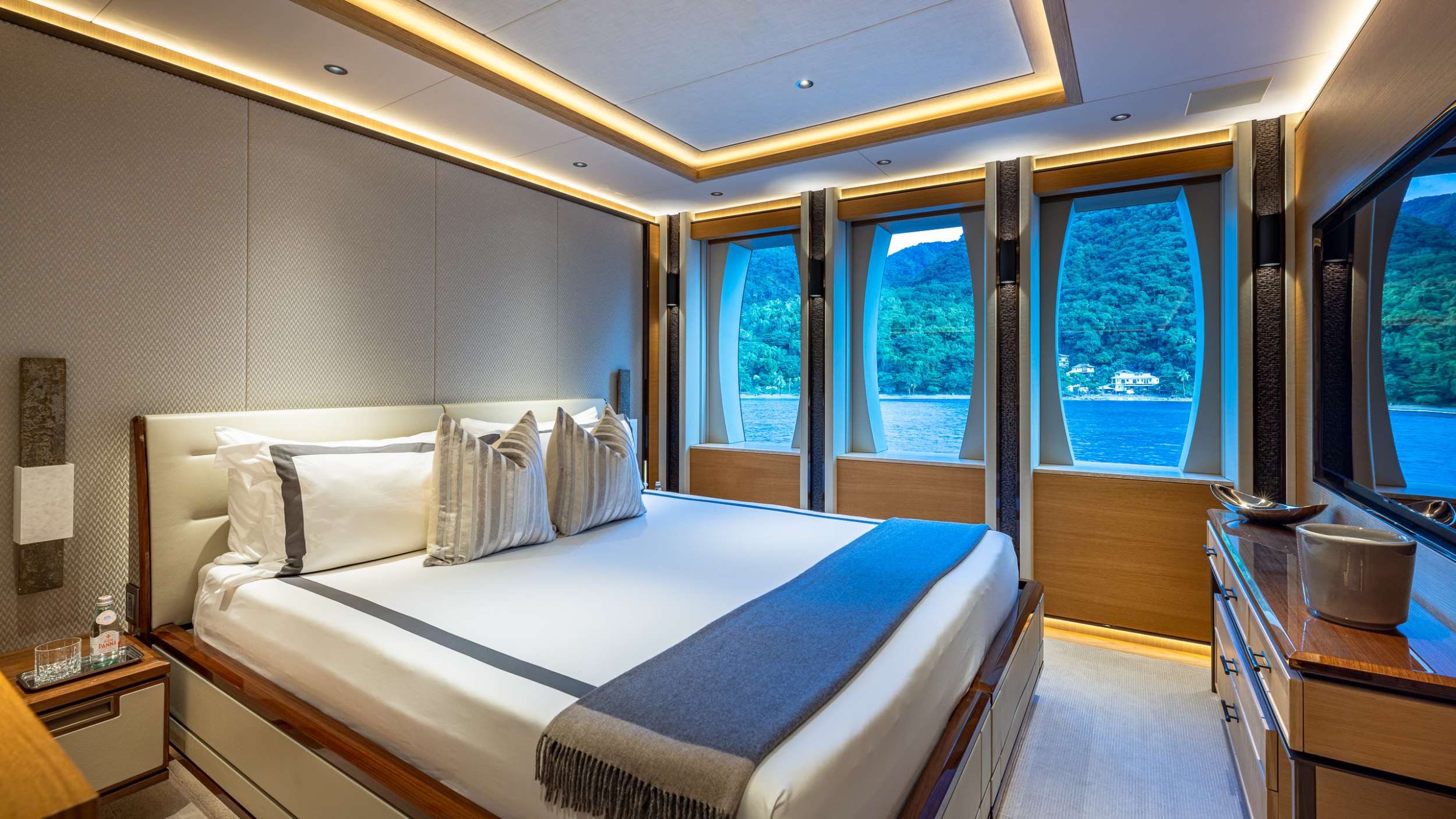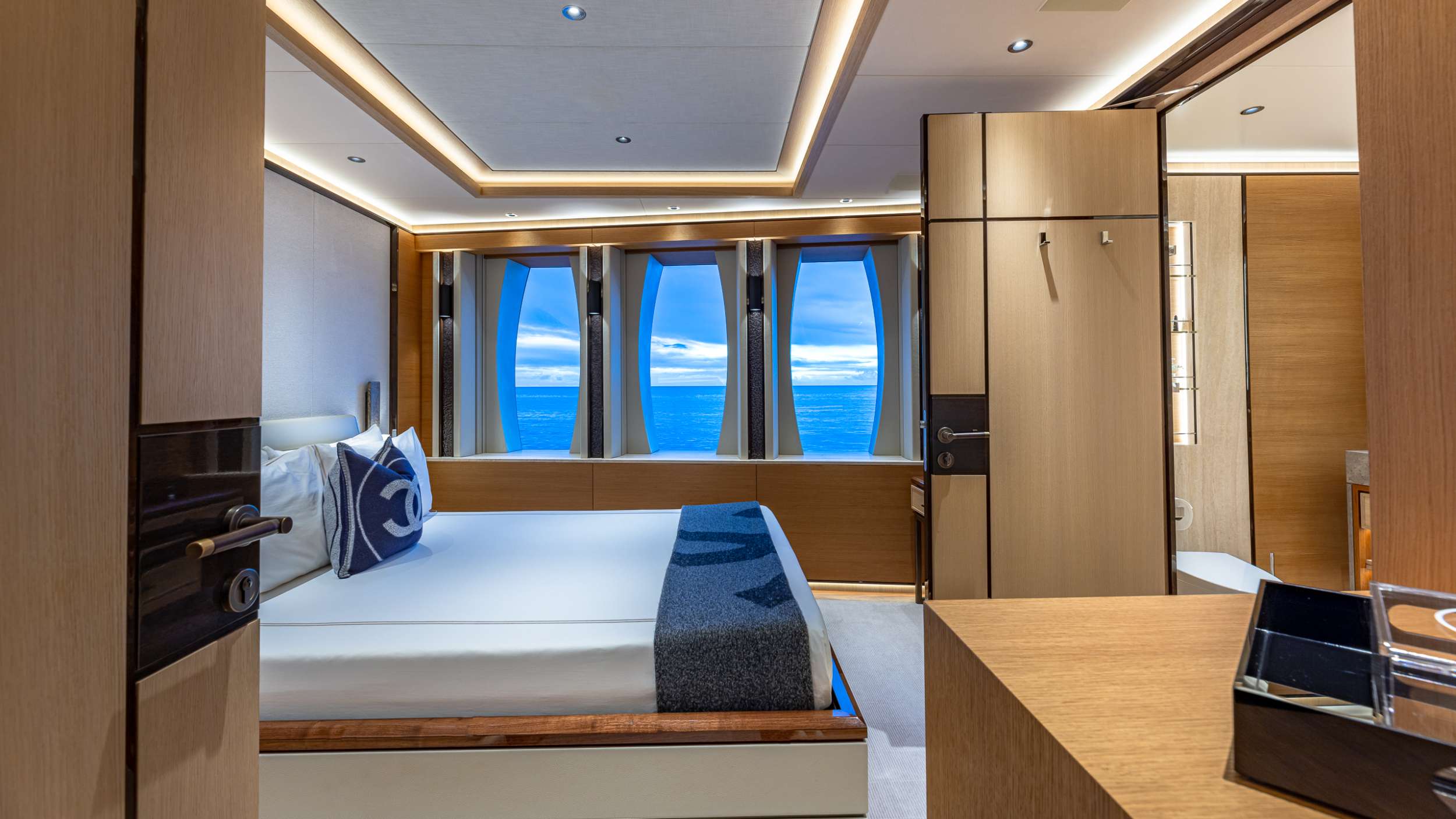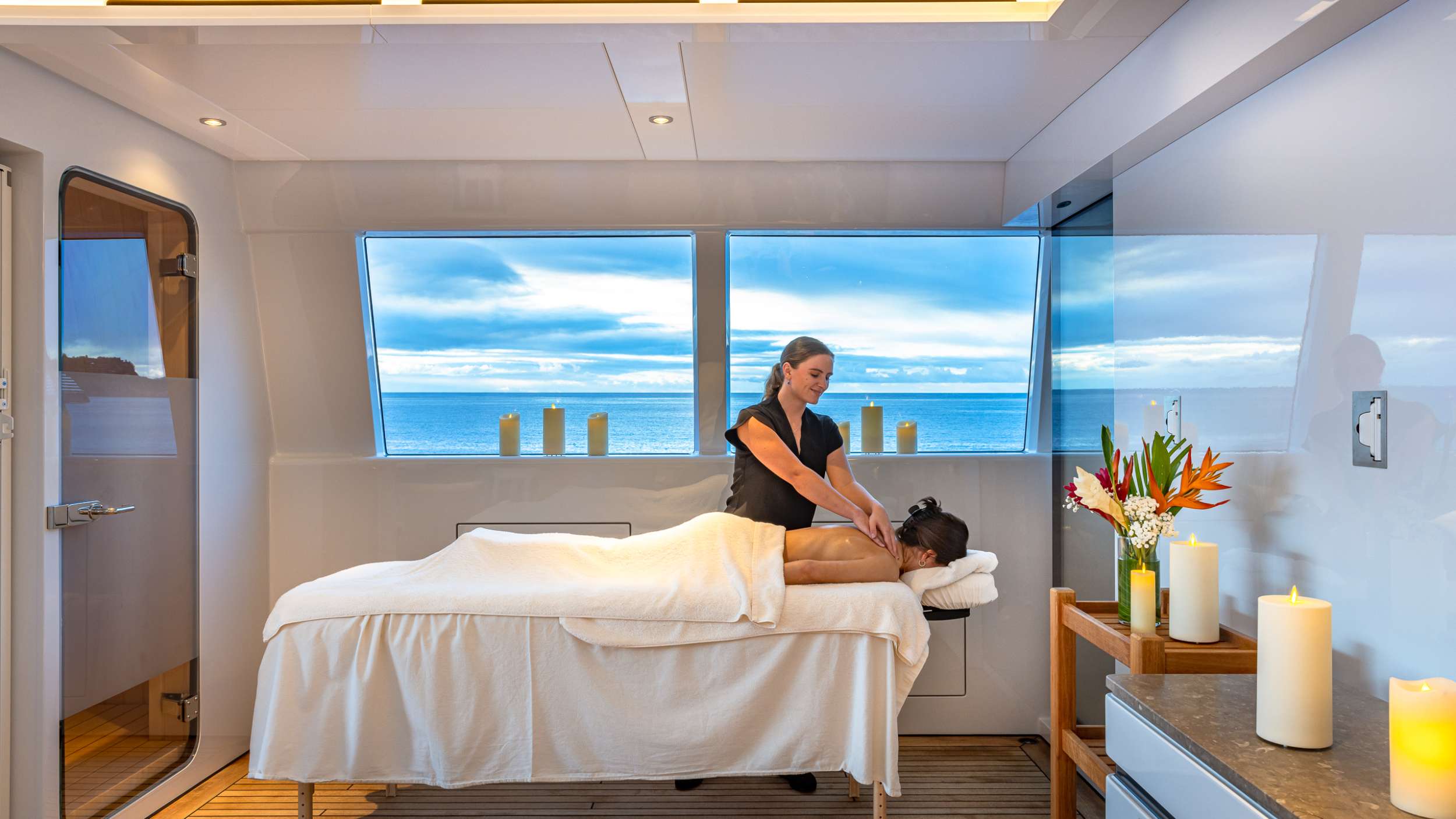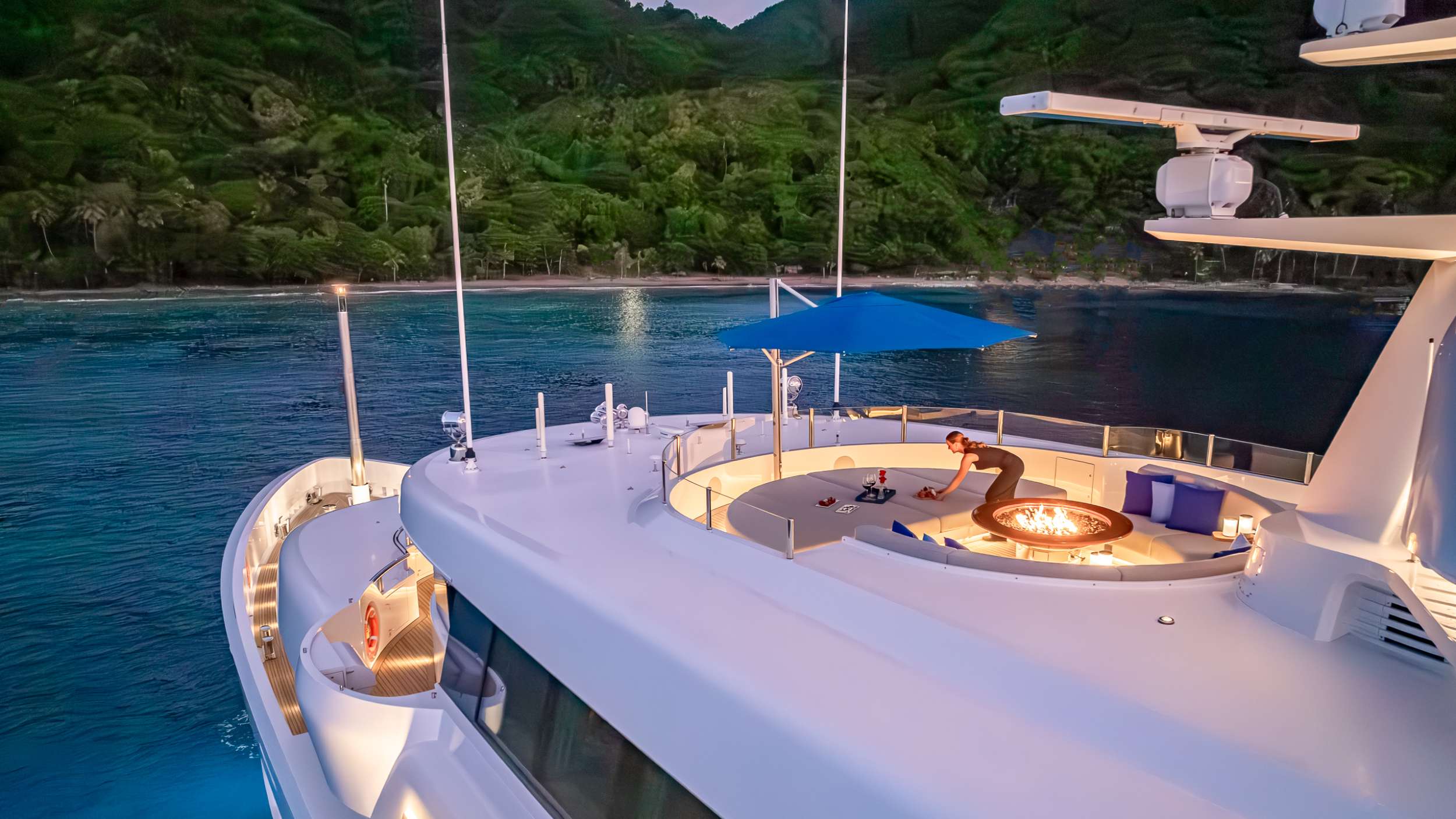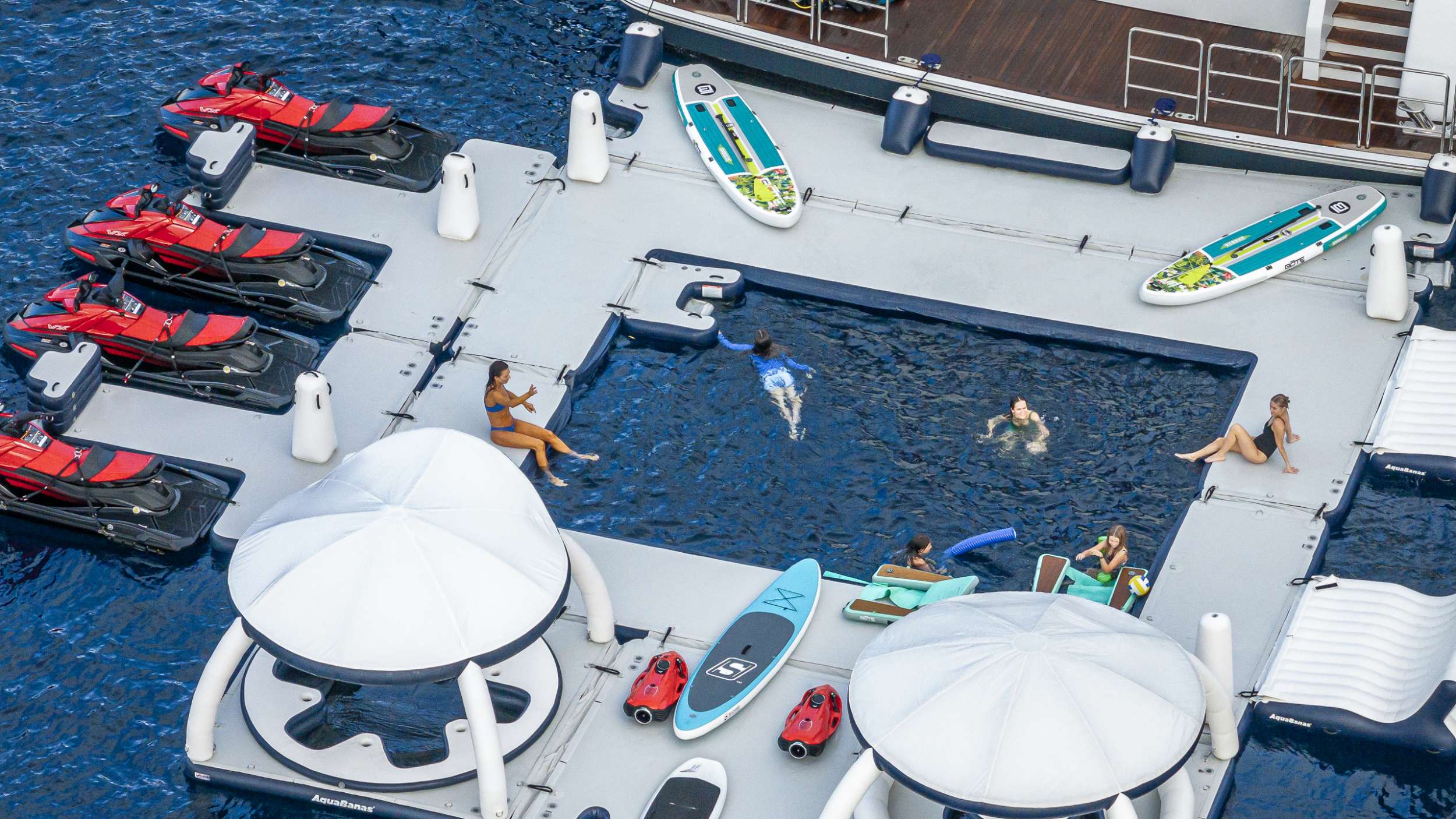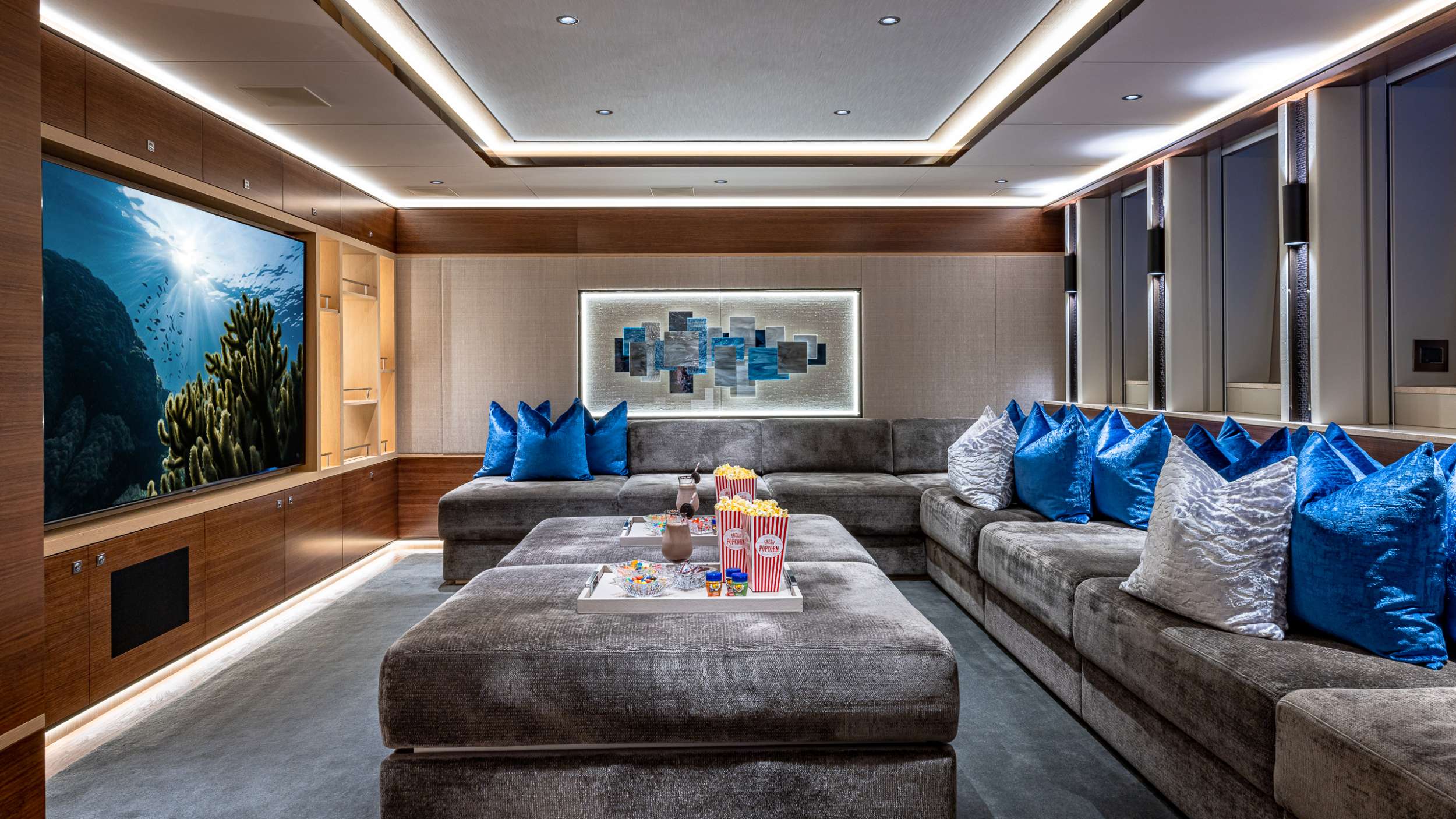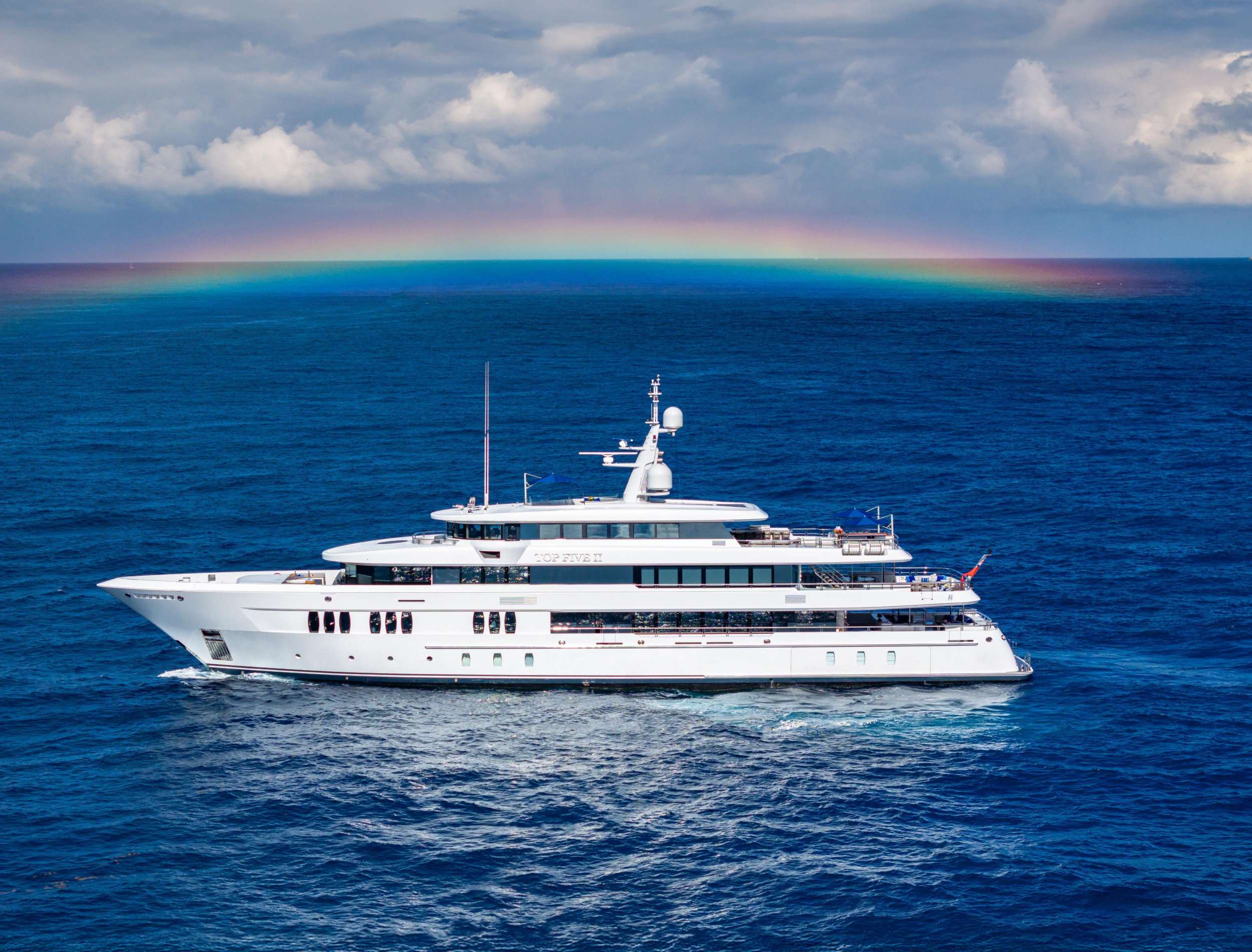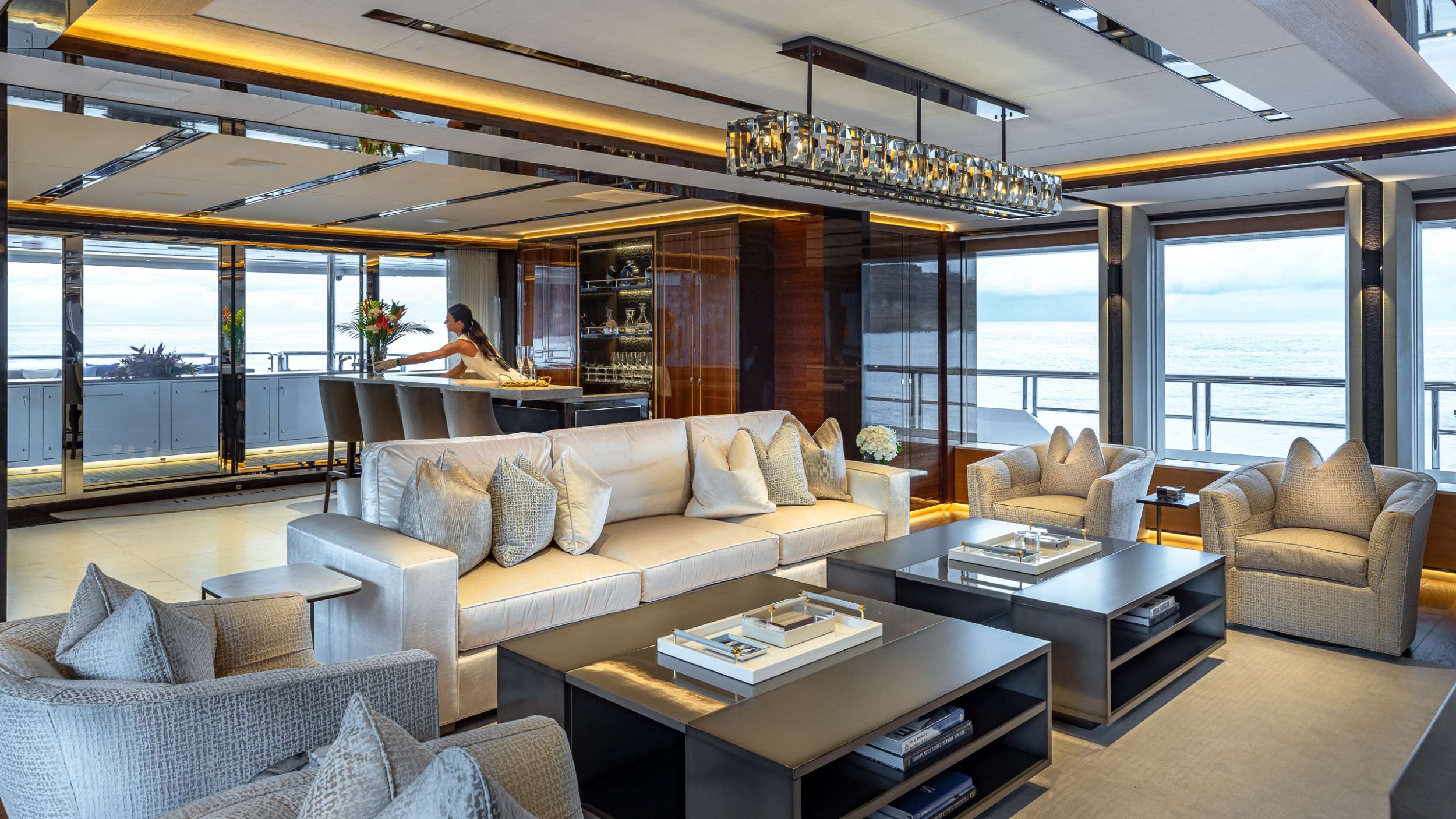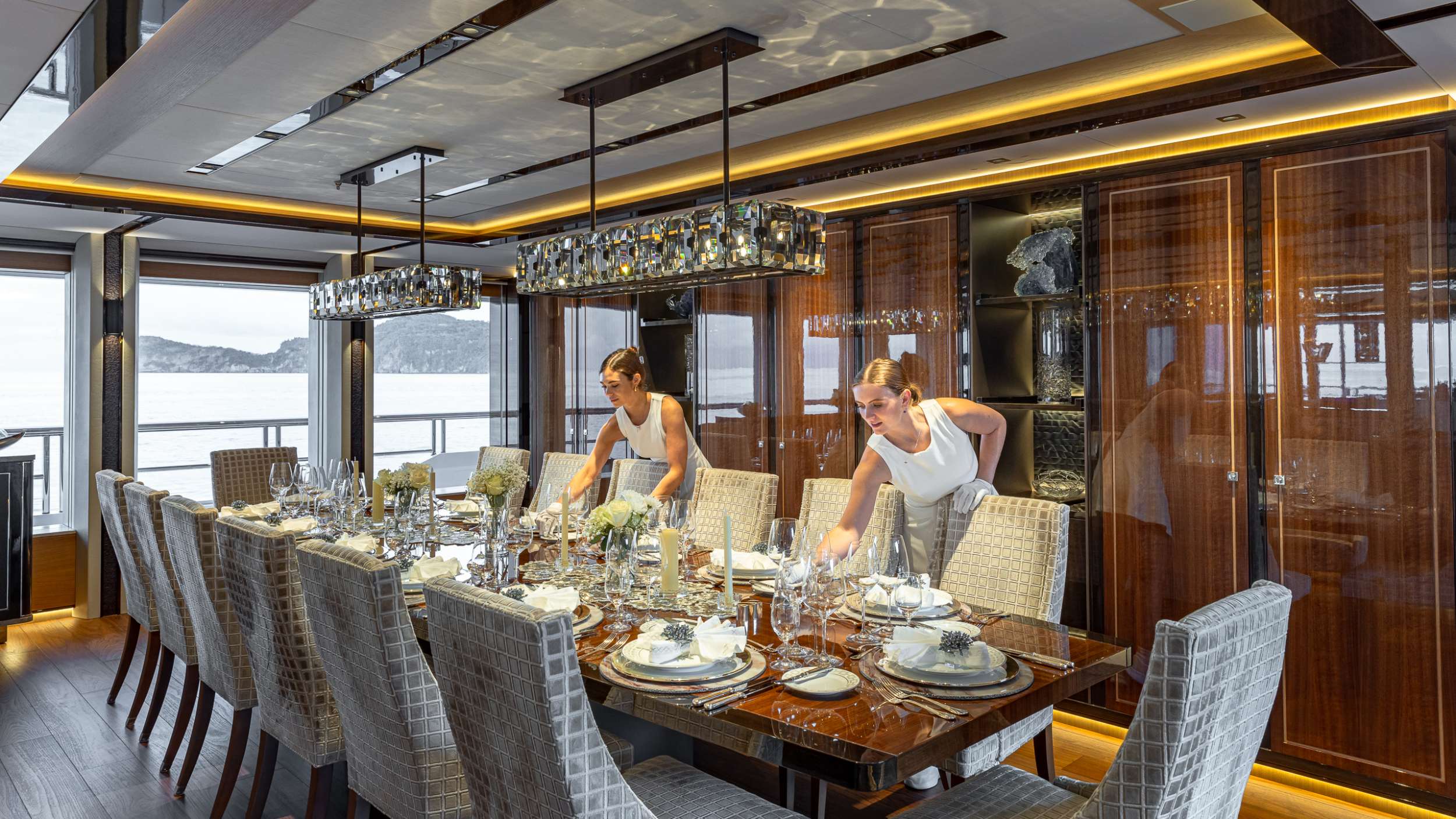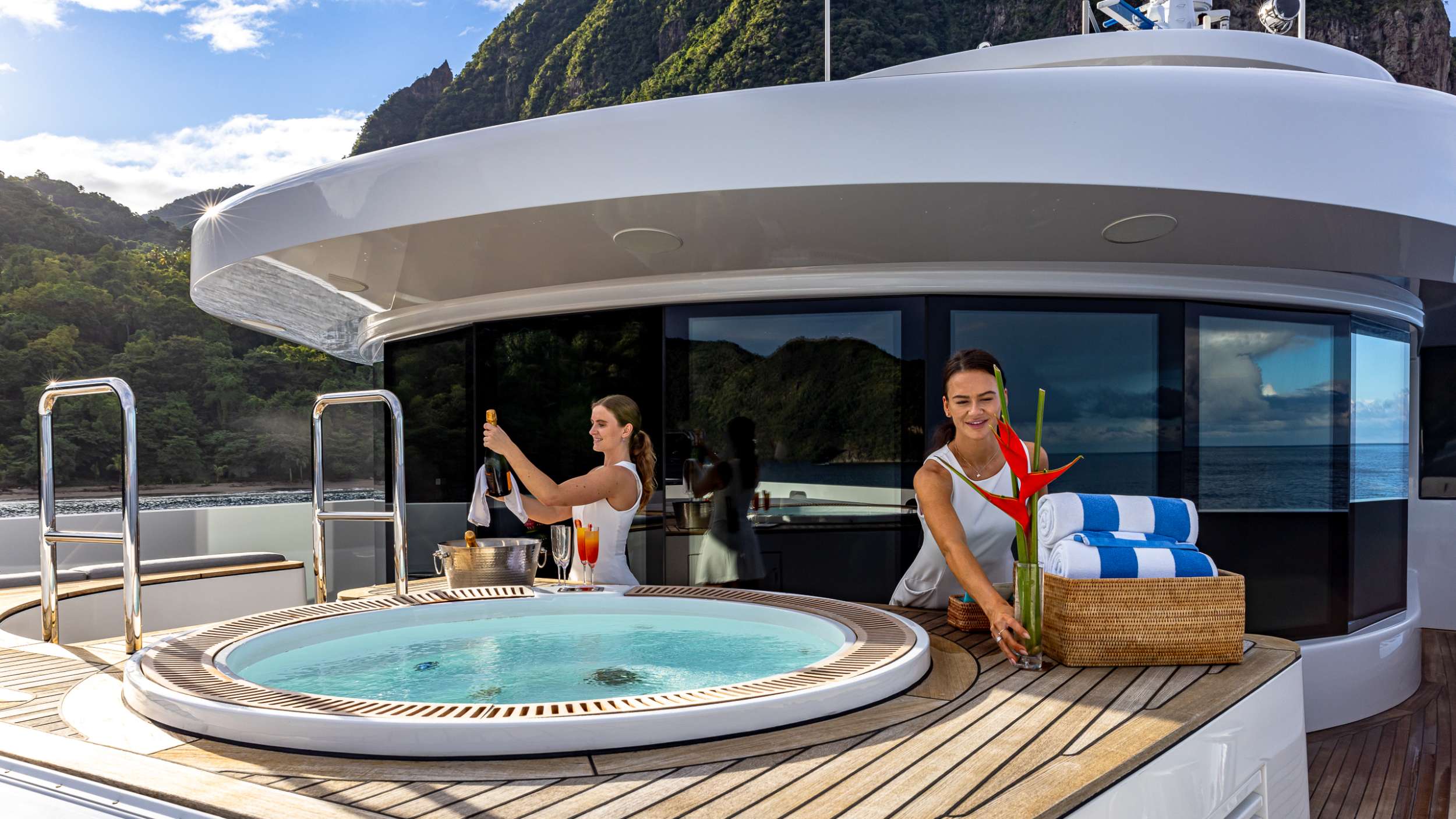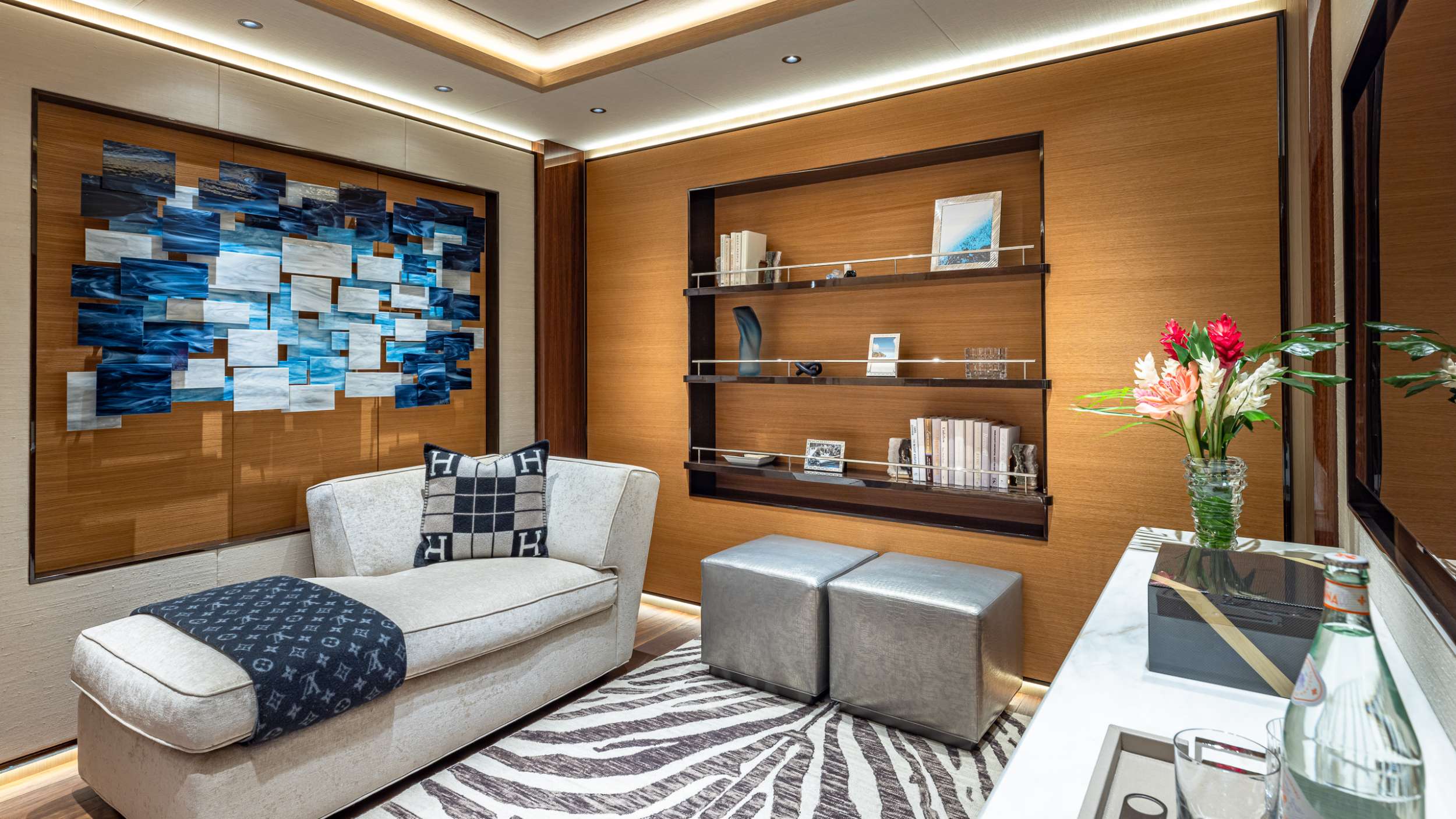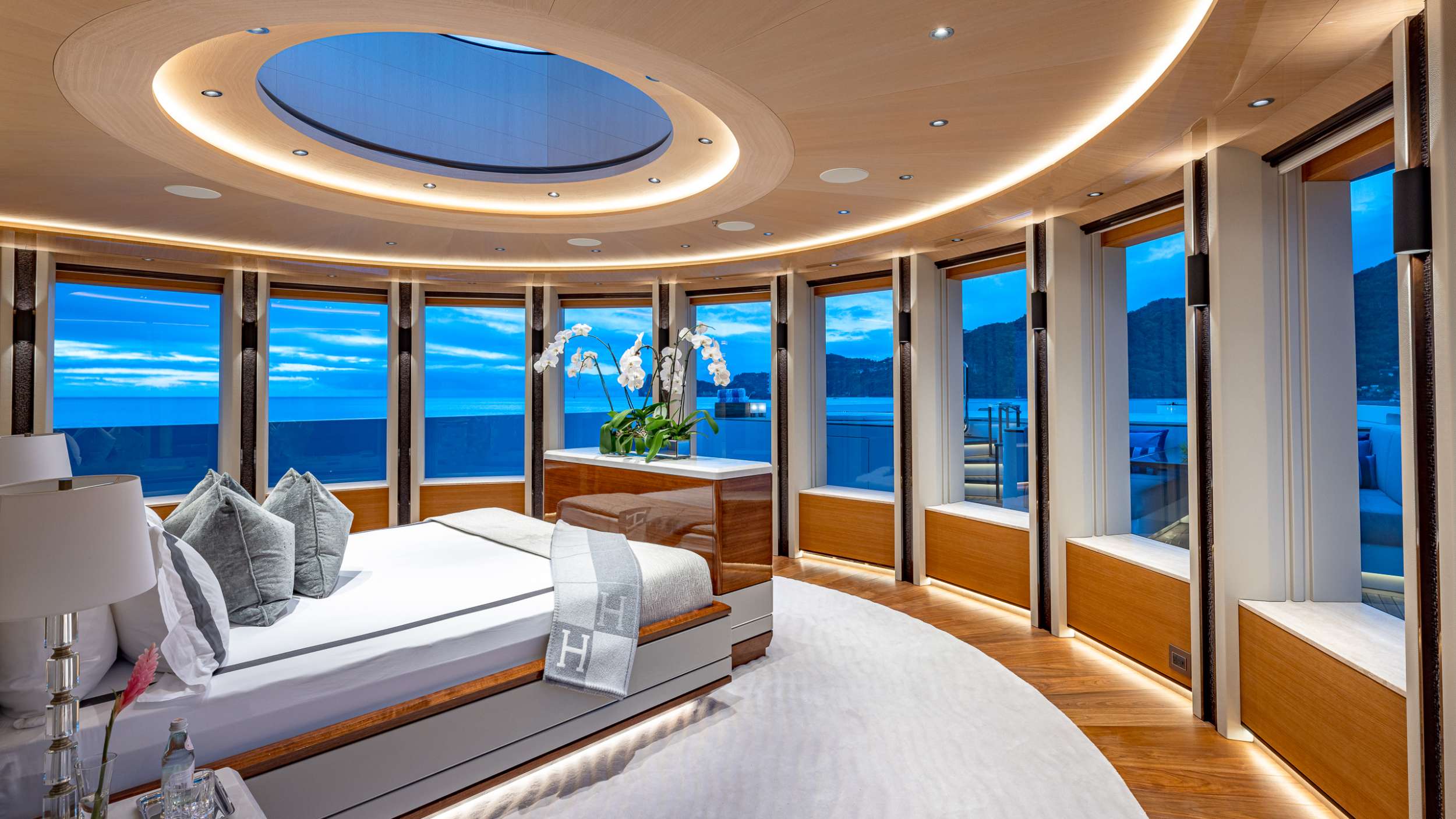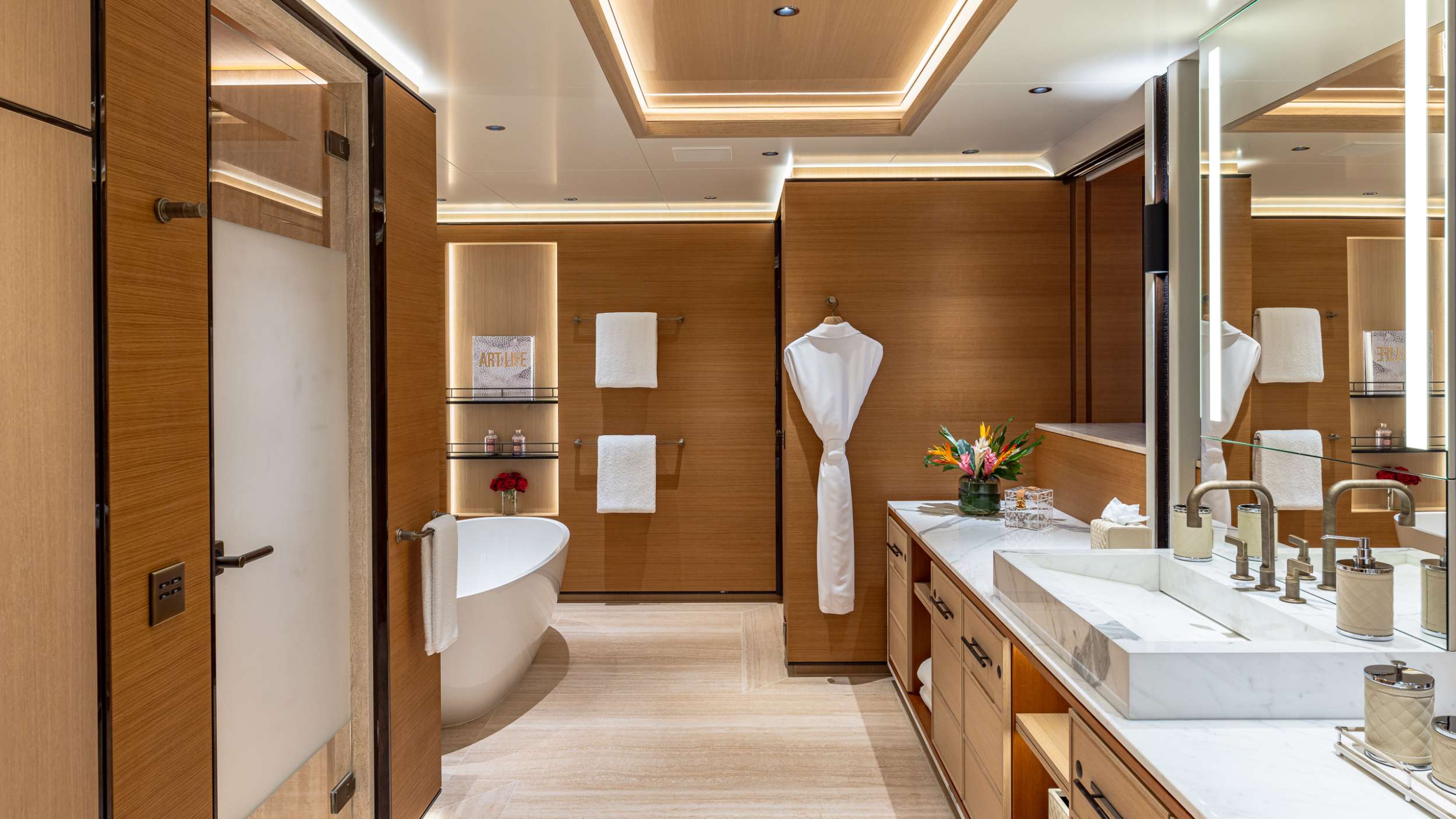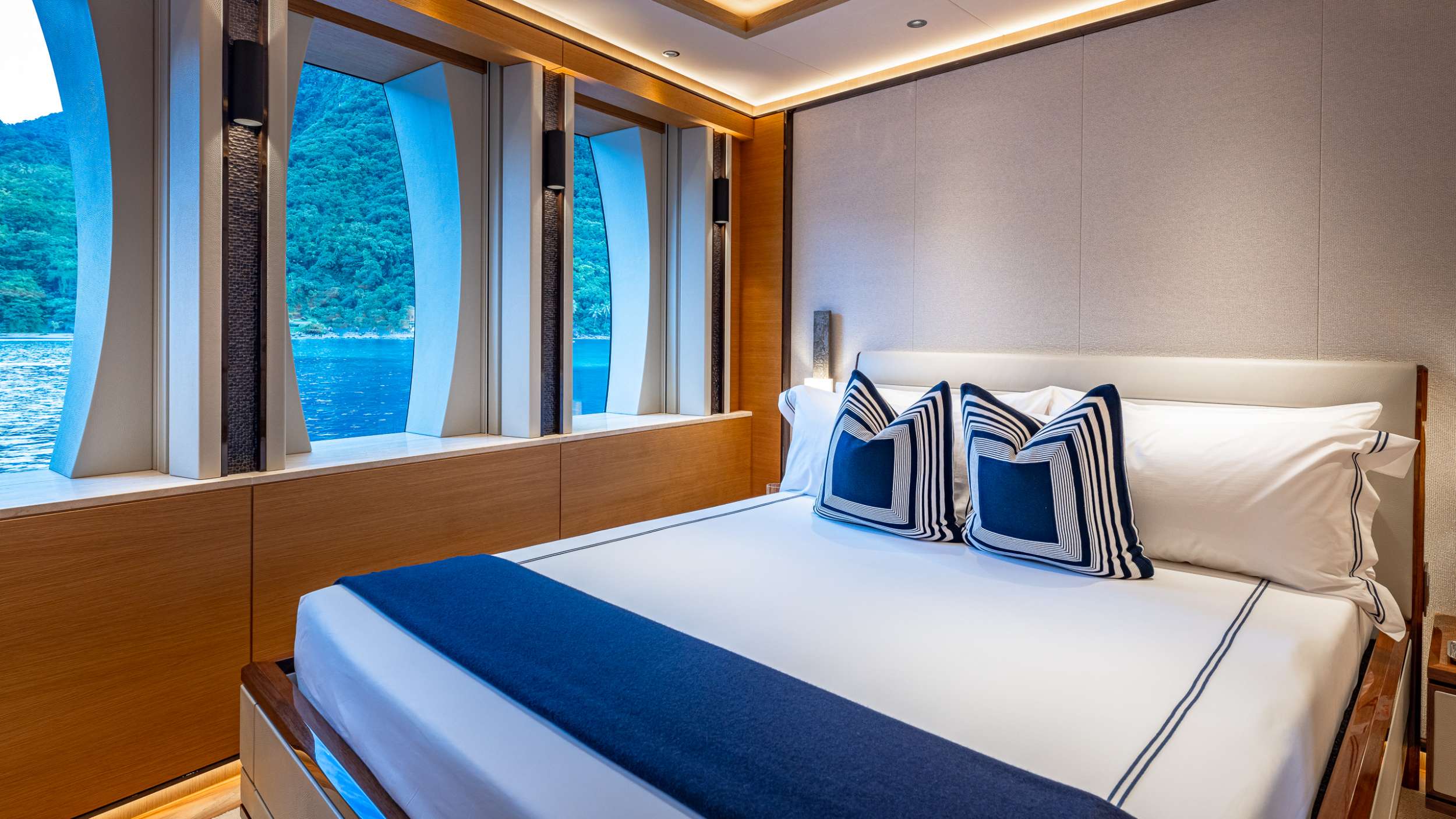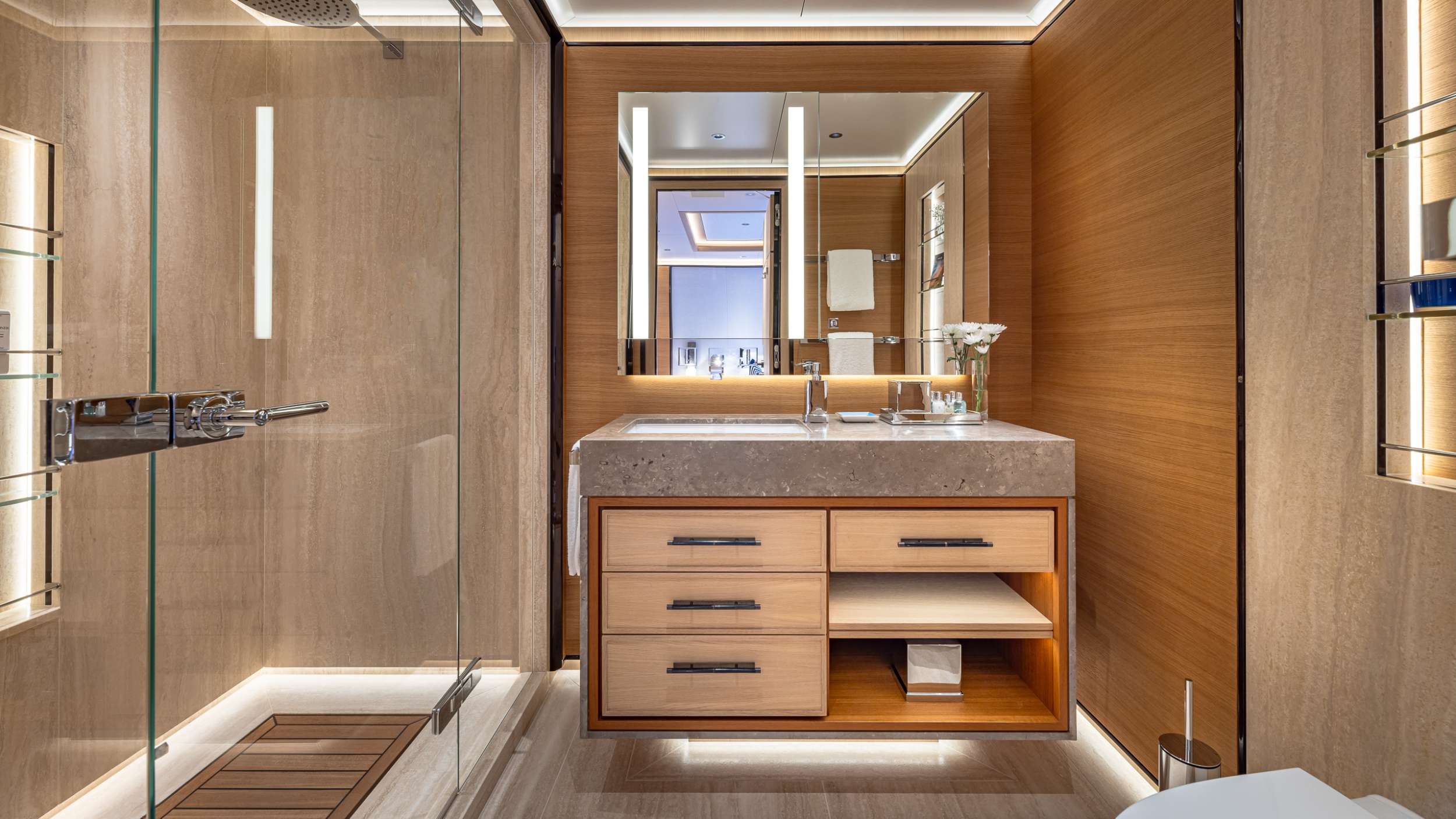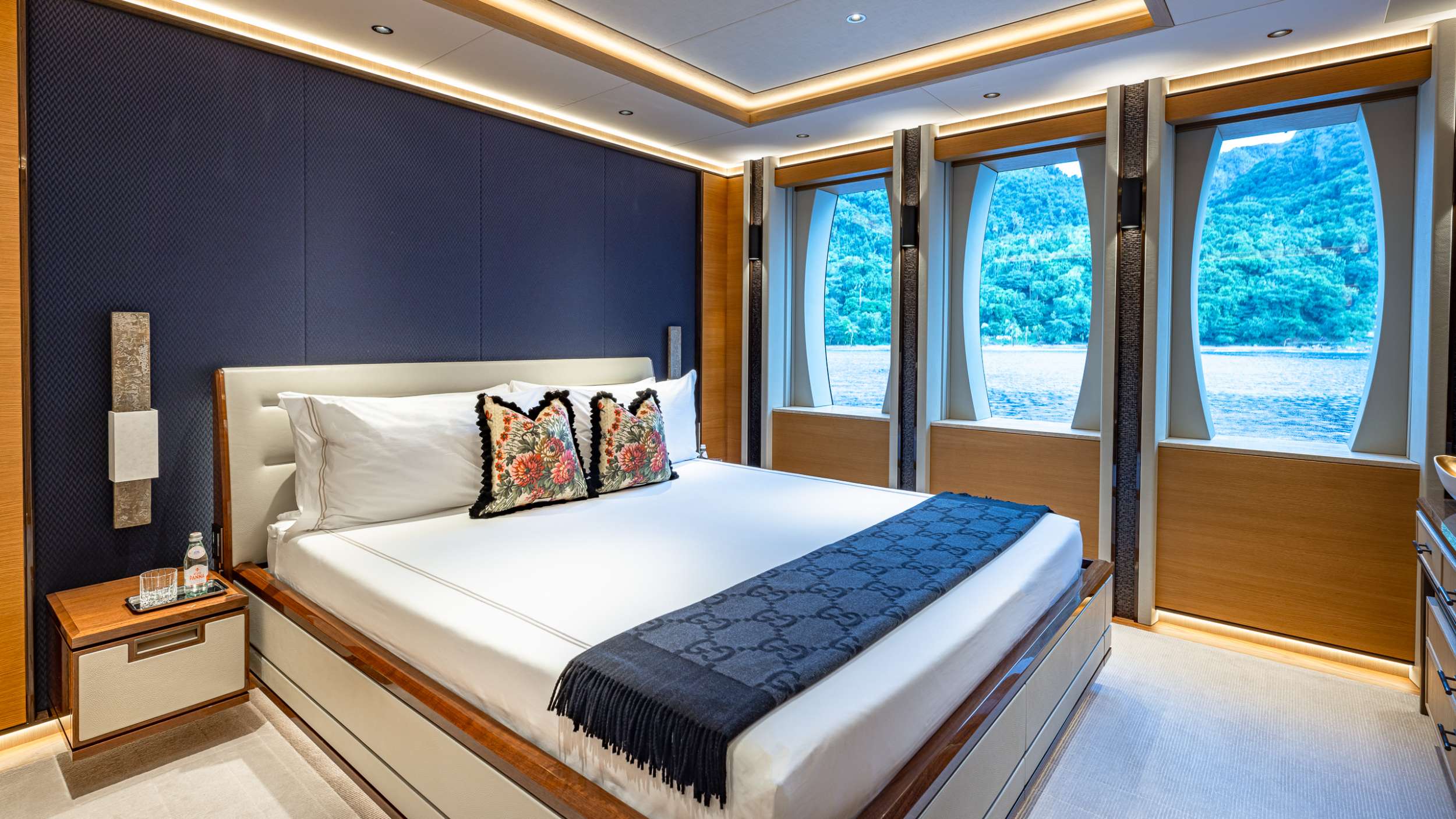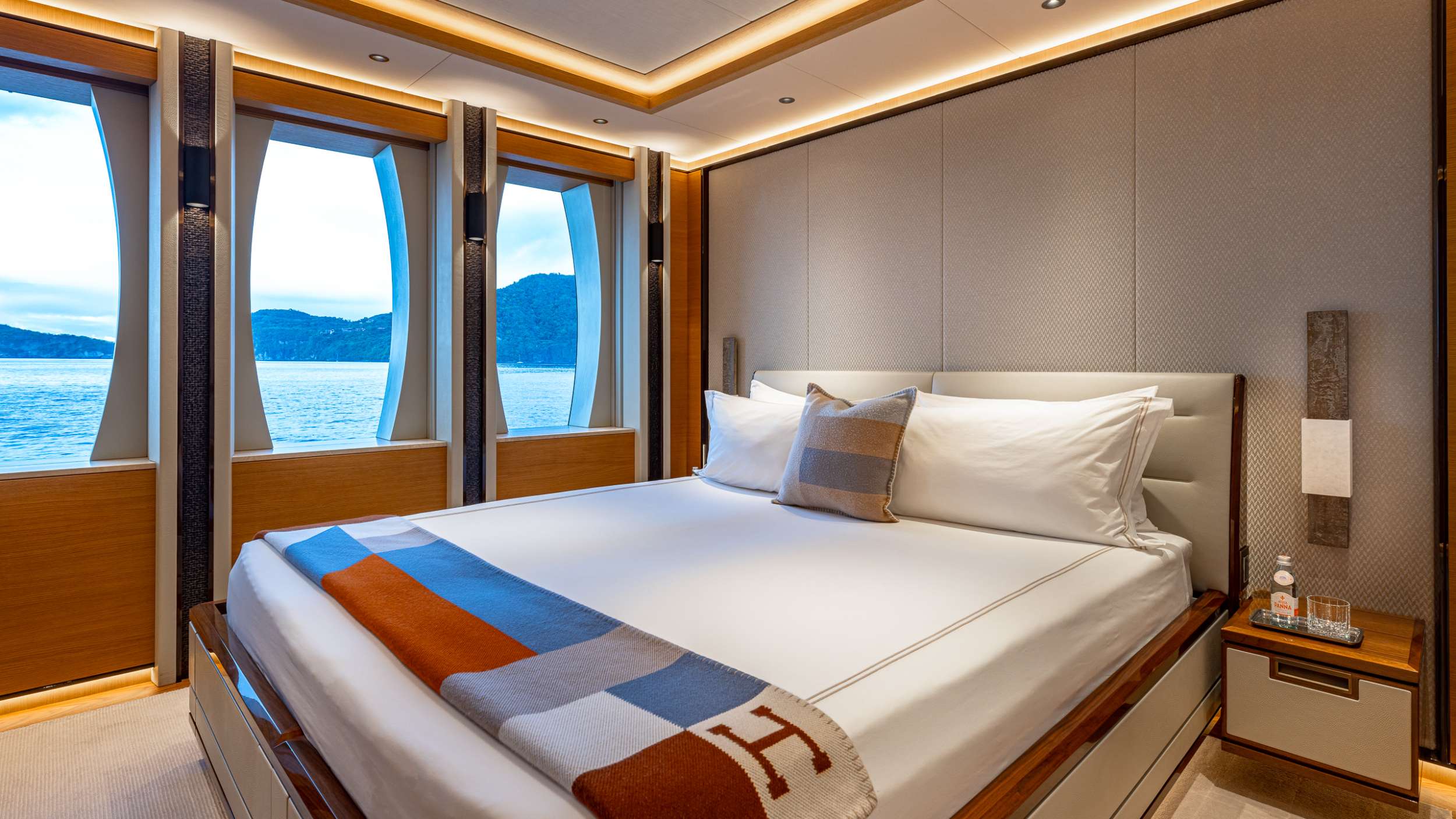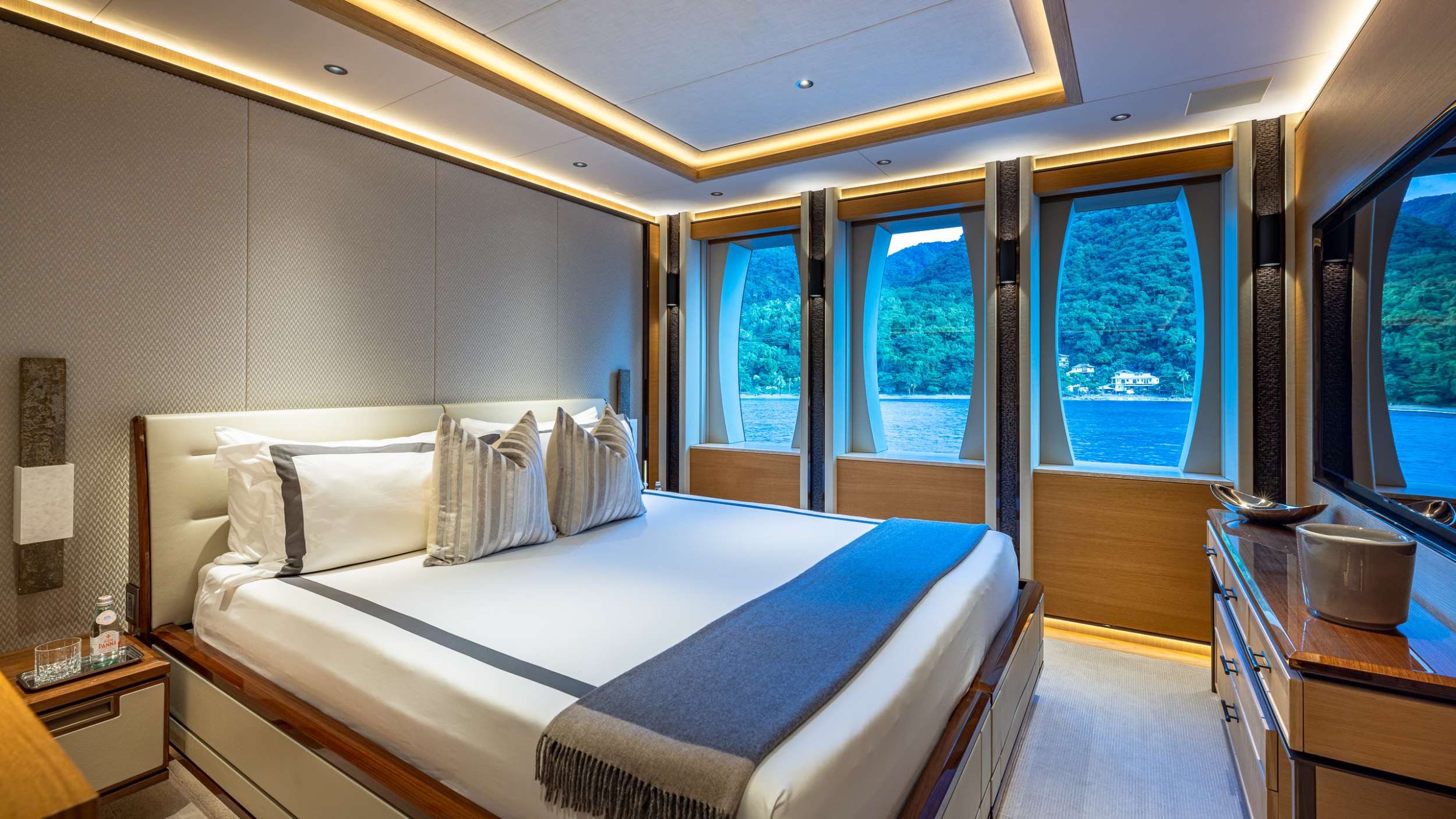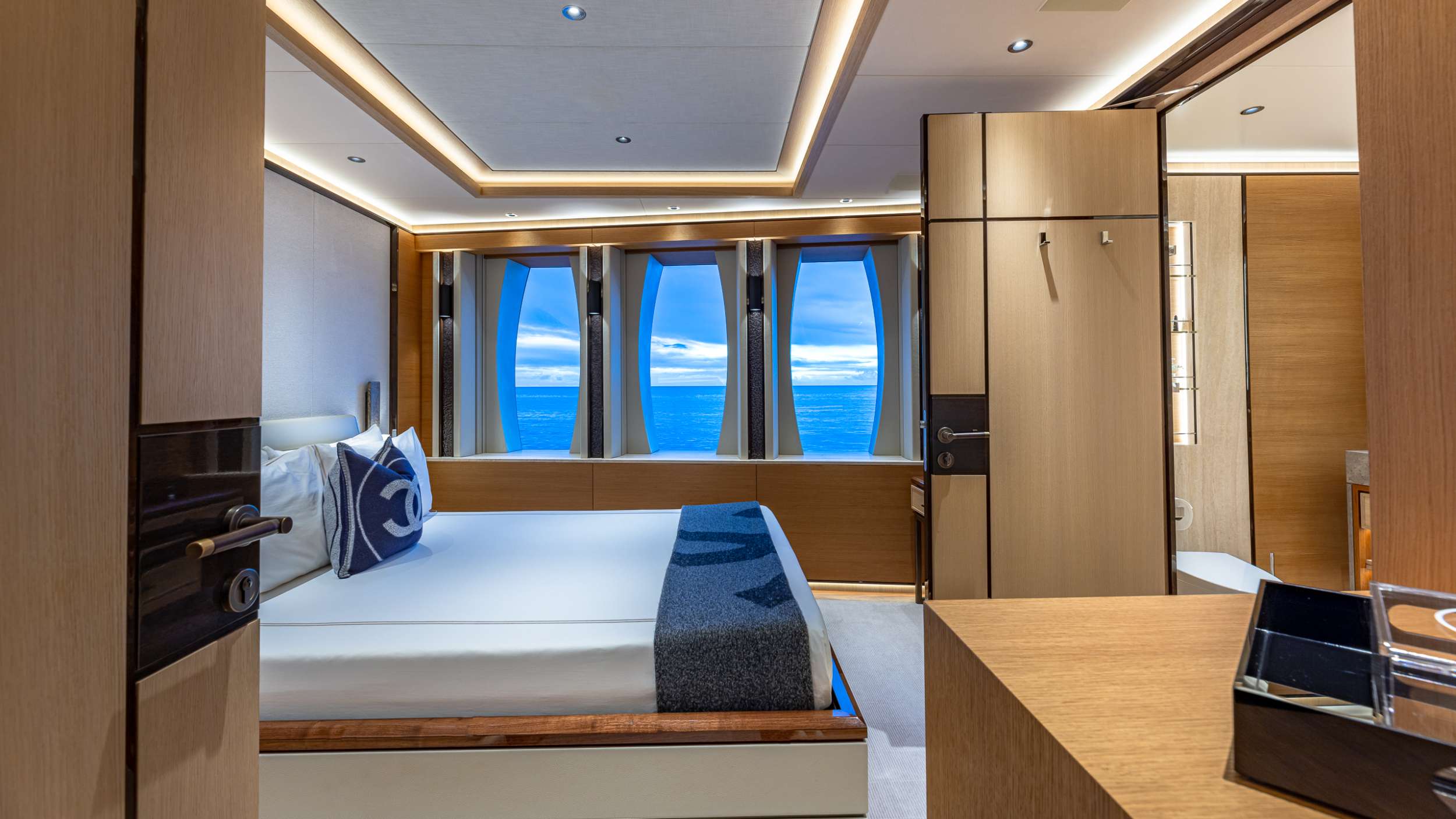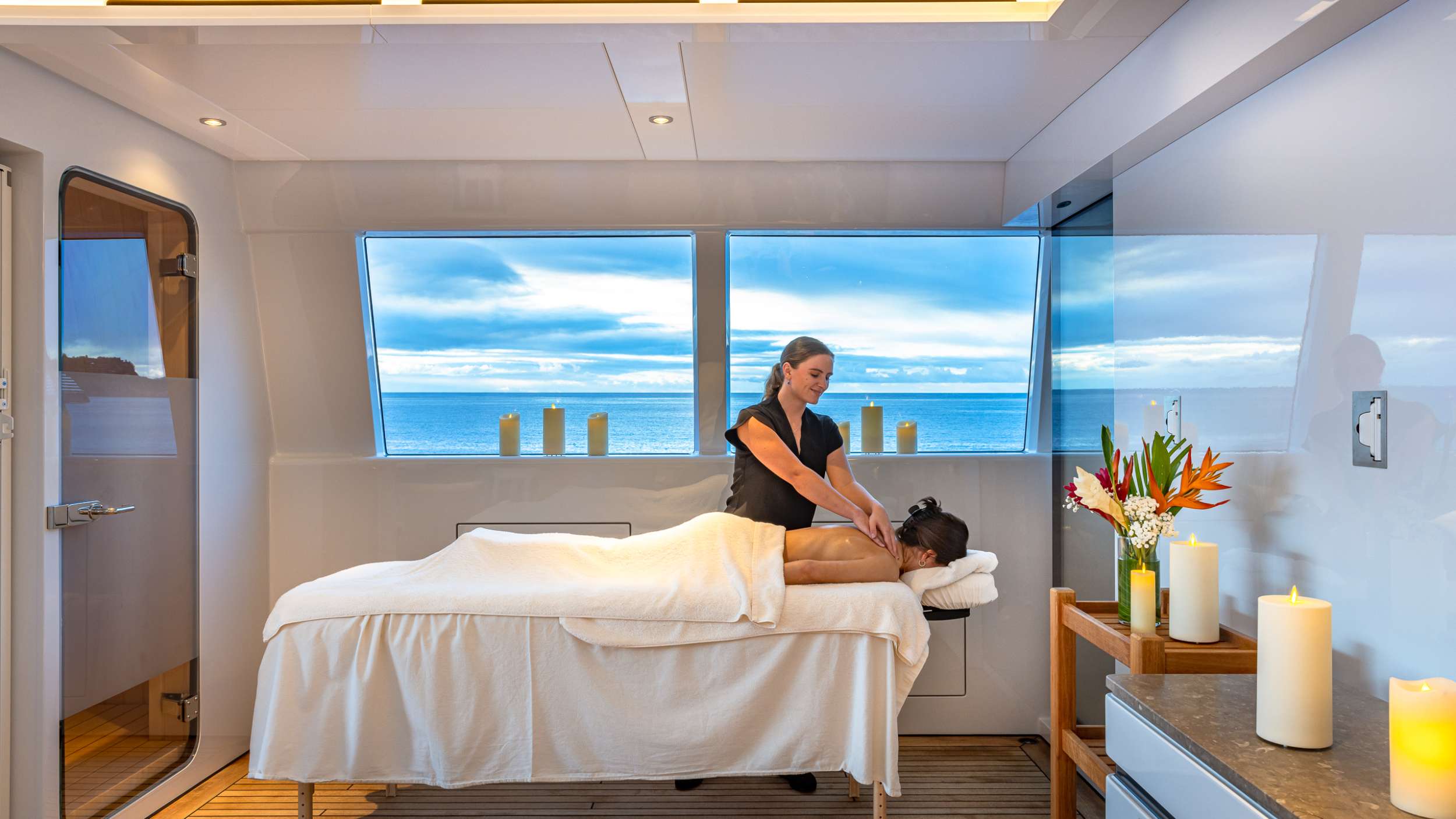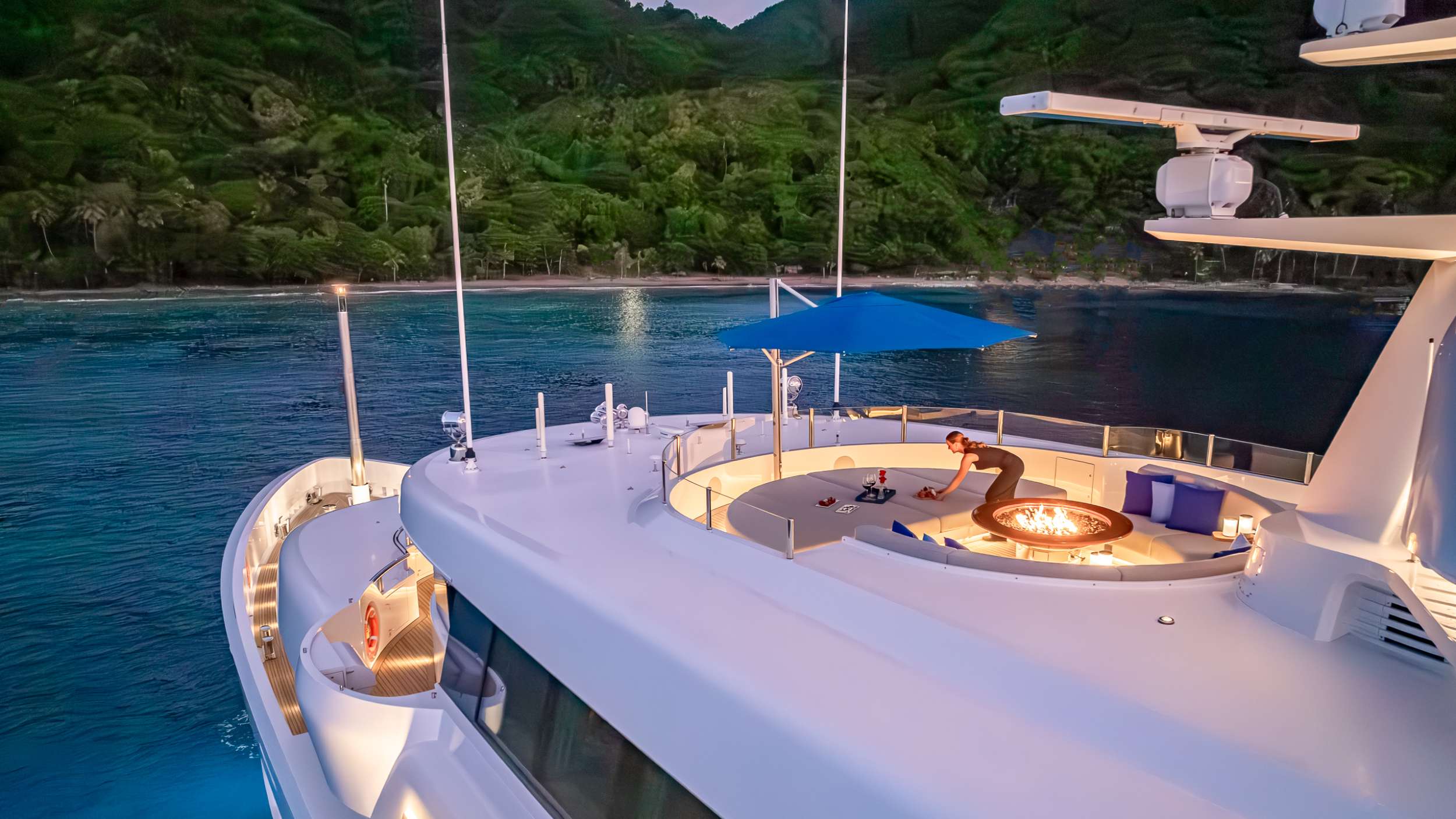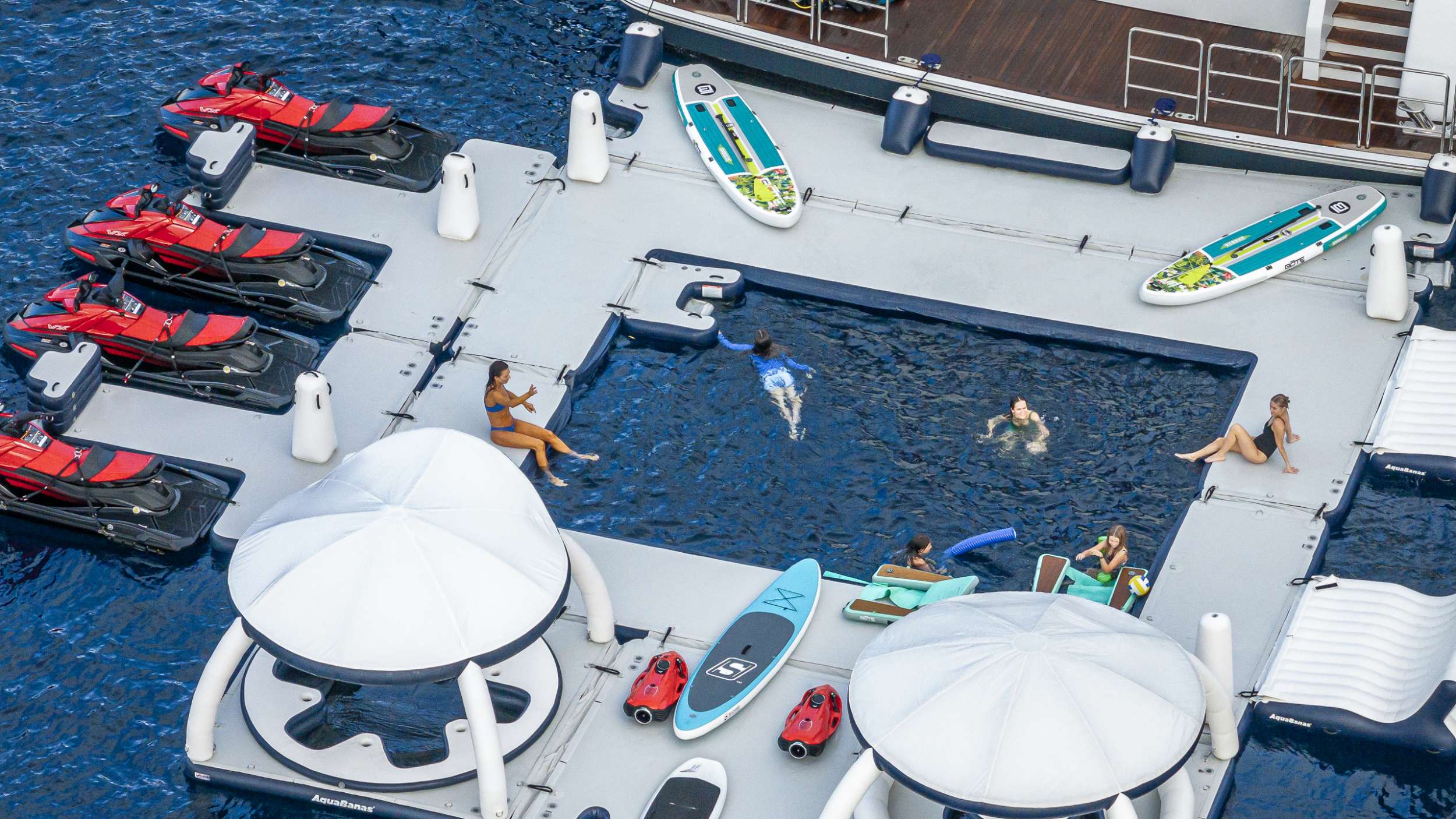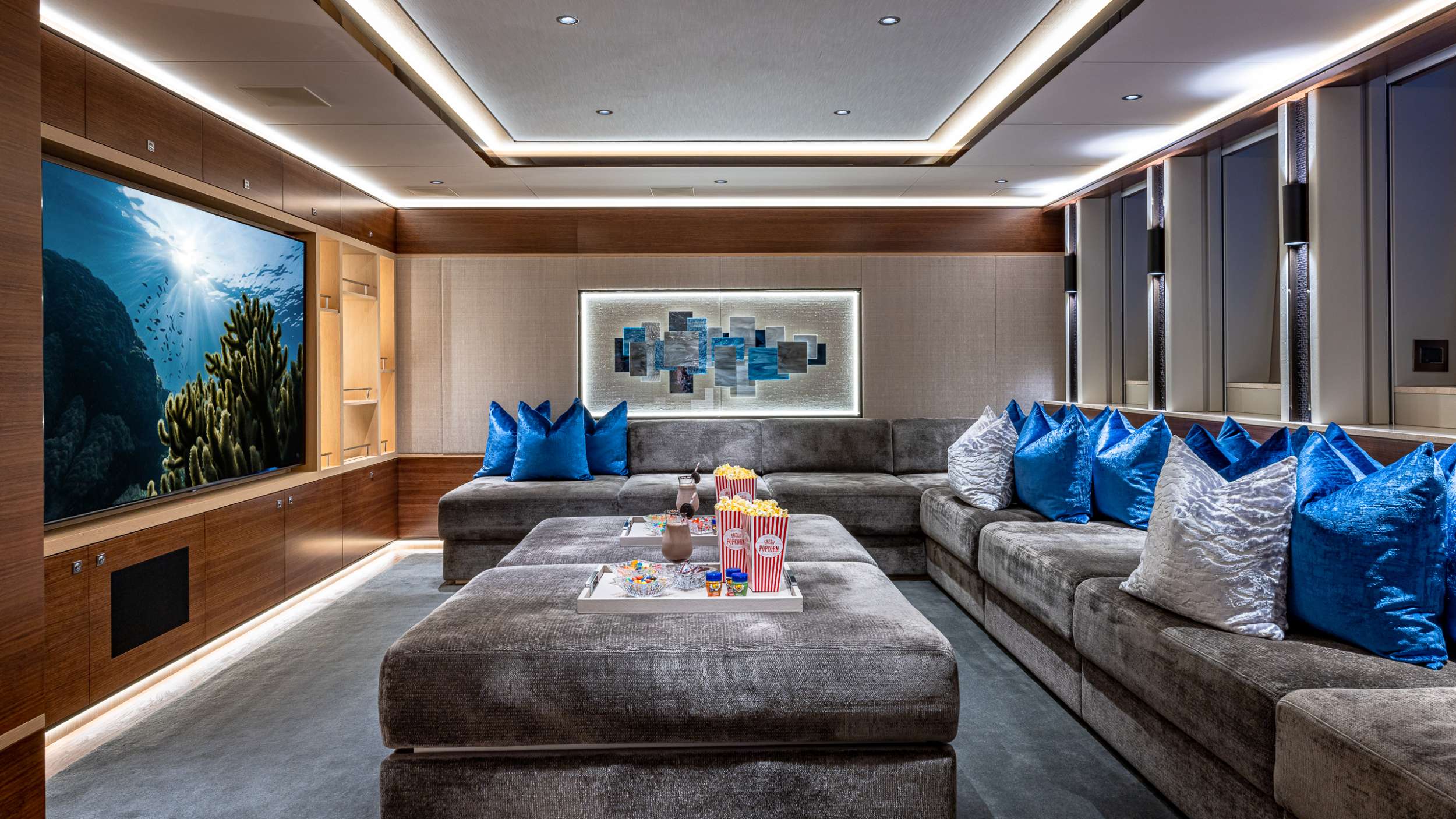 Accommodations
| | |
| --- | --- |
| Sleeps 12 guests in 6 guest stateroom(s). | |
| 4 with King Bed(s) | |
| 2 with Queen Bed(s) | |
| 1 with Pullman Bed(s) | |
Details
12 guests in 6 Staterooms
Specifications
| | |
| --- | --- |
| Guests | 12 |
| Staterooms | 6 |
| Length | 200.00 Ft / 61.00 m |
| Beam | 10.80 m |
| Draft | 3.33 m |
| Built - Refit: | 2021 - [] |
| Builder | Hakvoort |
| Cruising Speed | 12.7 |
Watersports
| | |
| --- | --- |
| Dinghy. | 7.5m X-Craft Beach landing Tender |
| Dinghy HP | [] |
| Paddle Boards | 2 |
| Single Kayaks | 2 |
| Wakeboards | Yes |
| Inflatable, towable tubes | Yes |
| Fishing Gear | Yes |
| Scuba Diving | Yacht offers Rendezvous Diving only |
Other Toys
7.5m X-Craft Beach Landing Tender
37" Marlago with Twin Mercury Outboards
4 Jetskis
Wake Surf
Jet Surf
2.6 M Flexifoil Powerkite - Trainer
D2 Driftsun Wakesurf
Beach Volleyball
2x Airvolution Inflatable Kayak
Connelly Hot Rod
2x Connelly Reverb 136cm Wakeboard
Connelly Surge Wakeboard
Connelly Benz Wakesurf
Connelly Big O Tube
2x Seabobs
Connelly C-Force 3 Tube
2x Connelly Ski Eclipse Combo
2x Bote 2021 Stand Up Paddle Board
Connelly Cadet Child Ski's
Snorkeling Equipment
Scuba Diving Equipment
Aquabana Inflatable Set Up
Inflatable Slide
Trawling & Jigging Fishing Equipment and Accessories
15" Blow Up Outdoor Cinema With Projector
27x Life Jackets - Various Sizes
Pricing
From: 550,000
To: 600,000


Crew Profile
JOHANNES BUYS | Rotational Captain | South Africa
The distinguished yacht captain began his yachting career in 1996. Growing up on a farm in South
Africa's Free State, Joe was easily drawn to the yachting lifestyle. He began his yachting career as
an engineer and eventually became a yacht captain in 2002. Joe's natural navigation and mechanical
skills combined with his positive attitude make him a true asset to the yachting industry. His dedication
to yachting is seen in his many achievements, including obtaining his Y3 Chief Engineer license.
These certifications have provided an impressive foundation for his yachting career. Today, Joe holds
20 years of captaincy under his belt. Boasting a Master Y4 3000 GT MCA Captain's license, Joe has
travelled through the Bahamas, Caribbean, Mediterranean, along with most coastal waters. Wellversed
in navigating the world's oceans, Captain Johannes is sure to provide the ultimate yachting
experience.
GRANT HEUNIS | Rotational Captain | South Africa
Grant grew up in East London, South Africa and joined Top Five II from a well-known and successful
charter yacht - M/Y Elysian. Grant began his career as a Deckhand giving him an invaluable understanding
of each position onboard. He gained his MCA Master 3000 Ton License in 2012 and took
over as full-time Captain of M/Y Passion. Having acted as a relief Captain for some time already,
this was a smooth transition for Grant, and he has since exceeded all expectations in the role. Grant
has extensive cruising experience in the Caribbean, Bahamas, East Coast of the USA, Mediterranean,
Adriatic, and Aegean waters. Grant is a qualified PADI rescue diver and RYA Jet Ski Instructor.
A keen sportsman, having competed for his provincial team in water polo, he enjoys the outdoors,
surfing, keeping fit and hiking.
ROB FULLER | Head Chef | England
Chef Rob has been a Chef for many years & has travelled all over the world. Originally from England,
where he was formally trained in the culinary arts, Rob seized the opportunity to be a Sous chef at
the prestigious Ritz de Paris. From Paris he joined the yachting industry where his culinary knowledge
has served him well. Mediterranean cuisine to Japanese cuisine is quite a diversification in the
culinary world. Having worked with employers such as the Fayyad family, Danielle Steele and Giorgio
Armani in their residences, villas and yachts, Chef Rob can supply high-end culinary masterpieces for
the charter and guests. Chef Rob understands the diverse requirements for the client regardless of
location or resources, creating menus from local ingredients is a fulfilling challenge.
ROB SOLOMAN | Rotational Chief Officer | South Africa
Rob was born in Johannesburg, South Africa. Having grown up on a lake, Rob spent all day in and
around the water. He has a strong passion for all water sports and loves being outdoors. Rob joined
the industry in 2003 and now has his Chief Mate 3000 qualification. He has worked on a variety of
vessels over the years and has cruised the Adriatic, Mediterranean, Caribbean, Bahamas, east coast
of Africa and east coast of the USA. He was a crew member on the first Top Five so when the new
build was commissioned, he jumped at the opportunity to join the program again. His vast skillset
and very friendly nature make him a great asset to the team. Rob loves anything that involves being
outdoors and is an avid hiker. After summiting Kilimanjaro, he is planning to do the seven peaks culminating
in Everest. The next peak on the list is Aconcagua in Argentina.
LUKE DU PREEZ | Rotational Chief Oficer | South Africa
Luke grew up on the East Coast of South Africa and has a passion for fishing and diving and often
combines the two to spearfish. Luke completed a degree in financial management and shortly after
graduating he went and taught English in Vietnam for a year. Luke then decided to pursue a career
in something that complimented his love for being at sea which led him to the yachting industry.
Luke holds his Chief Mate 3000 is a master tender driver.
NICO TRUETER | Deckhand | South Africa
Nico was born in a small town called Riversdale in South Africa. Nico developed a real passion for sport, especially rugby from a very young age. Building on his love for rugby, he always enjoys; swimming, water sports, shooting, hiking and running. He always enjoys relaxing and taking timeout while reading a book. Nico studied at the University of Stellenbosch, where he qualified as an account. He returned to his hometown to complete his three years of articles. Once he had qualified, he realised that being tied down behind a desk and crunching numbers was not for him, so in 2018 he took to the seas, where he could be physically and mentally stimulated and has never looked
back. Nico is embracing each day and learning as much as he can to build a firm foundation as he climbs the ladder to being a captain. Nico being as active as he is and enjoying a good challenge and can impressively do a handstand starting from a seated position.
BROC MILLS | Deckhand | South Africa
Broc Mills grew up in Johannesburg, South Africa. Broc joined the industry in 2021 after selling his
business which he ran during the early covid times in South Africa. This is Broc's first boat, and he
has been a part of the Top Five II team since before she was officially launched. Although growing
up in-land he preferred to spend most of his time on the coast, diving, fishing and being outdoors.
Broc is a qualified Scuba Diving Instructor and holds his Yacht master 200GT license. Broc enjoys
freediving and surfing, along with a variety of other outdoor activities, during his free time.
MILO COEN | Deckhand | American
Milo grew up in Upstate NY, on the Finger Lakes. He started yachting after he graduated high
school. He hasn't looked back and is enjoying being part of the Top Five II team. He is working
towards his future goal of being a Captain one day. Milo loves being in the outdoors and in his spare
time he enjoys spearfishing and freediving, and his newfound love of saltwater fishing. Milo has his
Able-bodied seafarer's ticket under the USCG licensing and is working towards more advanced
qualifications.
ANDRE STEYL | Deckhand | Zimbabwe
Andre grew up on a farm in Zimbabwe. His family had a lake that they spent a lot of time fishing or
doing watersports on – this is where his love for the outdoors was born. Andre's Grandfather also
had a workshop where he built and refurbished small boats that he often got to help him with.
Andre decided to take the plunge and complete his courses to become a deckhand. He joined us on
Top Five II and hopes to make our guests stay as memorable as possible. A fun fact about Andre, he
qualified to shoot (Archery) in the Commonwealth Games. Andre holds his personal training
qualification.
JONA BRINK | Deckhand | South Africa
Jona grew up on a farm in the central part of South Africa called Senekal. Where he has been spending
most of his time fishing, diving doing water sports as well as improving on his carpenter skills
over the years. Jona loves the great outdoors and being in nature. He joined the yachting industry
shortly after finishing high School He wanted to pursue his passion to travel the world and learn
about new cultures which is why he joined yachting. Jona loves improving himself in his spare time
by learning and practising his wakeboarding skills. He has been working in America and the Bahamas
and would like to make a long-term career out of yachting and work his way up to Chief Officer one
day.
RIKUS VAN ZYL | Deck/Engineer | South Africa
Rikus grew up in George, a small town in South Africa. As a teenager he spent his summer holidays
working as a lifeguard on the numerous beaches in the area and it was during this time that he discovered
his love for the ocean. After graduating from High School, Rikus knew that yachting would
be the perfect fit for his future. He obtained the necessary qualifications to start this new journey
and thus his career in this industry took shape. Rikus has obtained his AEC Qualification which qualifies
him to assist the engineer, and he am working towards obtaining his Second Engineer Certification.
During his free time, he enjoys hiking and exploring new areas, especially in nature as well
as reading and learning new skills that he can apply to his professional and personal life. A fun fact
– Rikus is a qualified custom knife maker and during his free time he enjoys making these custom
knives from scratch.
JEREMY COLLISTER | Rotational Chief Engineer | New Zealand
Jeremy was raised in Auckland, New Zealand. Growing up he could be found either on the water or
pulling apart anything he could get his hands on; this combination naturally led him to a career as a
Yacht Engineer. Jeremy has his SVE 9000kW 3000GT. Jeremy has cruised The Mediterranean,
Caribbean, and the Pacific oceans. In his spare time, he enjoys sailing, kitesurfing and generally
exploring the area around us. His early love for sailing helped him understand and respect the ocean
in all forms. This love led him to sailing from Italy to Australia on his 44ft sail boat, much of it single
handed.
SEAN WEEKS | Rotational Chief Engineer | New Zealand
Sean was born and raised in the coastal town, Auckland New Zealand. After leaving school he did
a technical apprenticeship and attended university. After completion of his studies, he travelled to
North America with friends and ended up starting his yachting career while in Florida. He cruised the
East Cost of the US crossed the Atlantic Ocean and cruised the Mediterranean whilst continuing his
studies. Once Qualified he joined a world cruising charter sail yacht doing 20k miles per a year. Sean
has his MCA Chief Engineer 3000GT and a diploma in Electrical Engineering. Having spent the last
few years in Florida he now lives here permanently with his long-term girlfriend. Sean likes to spend
his free time outdoors, either on the mountains in the snow or biking as well as trying different foods
from different cultures. He loves the ocean, boating, fishing, and sailing as well as engineering science
and modern and historical engineering.
FILIP BANKS | Rotational Second Engineer | Poland
Filip was born in Poland and lived there for several years before moving with his family to the UK.
This taught him to be bilingual as well as have an understanding for different cultures. That in-turn
brought about a spark of interest towards being open minded as well as an appetite for travel. His
first encounter with yachting came about at the age of 19, since then he has sailed in Asia, the Mediterranean,
the Atlantic and the Caribbean. Fillips previous vessel, Teleost, took him across to the
Caribbean where he had the opportunity to learn to dive and see some of the most amazing sites.
Before this he gained his qualifications with cruise ships (Royal Caribbean) as Engineer Officer of
the Watch Unlimited (Merchant Navy Qualification). Fillips interests tie into literature, nutrition, and
fitness. In the winter he enjoys clipping into a snowboard and cruising down white slopes.
ANDREW DAVIS | Rotational Second Engineer | Ireland
Andrew is from a small seaside town called Skerries in Dublin, Ireland. He came into yachting from a
J1 in Vancouver, British Colombia, having worked on Joe's BBQ Boats on Granville Island. A captain
on a small vessel called Lady Sovereign offered him a job by chance and he hasn't looked back. Andrew
holds his Y4 engineering ticket. So far, he has travelled the Pacific, Mediterranean and Atlantic.
Prior to joining the yachting industry, Andrew worked for 4 years on the History Channel show called
Vikings – he has even appeared in the show in Season 4. In his spare time, Andrew enjoys being outdoors,
running, playing rugby & keeping fit in the gym.
CASSIDY JERRAM | Chief Stewardess | South Africa
Cassidy was born in Cape Town, South Africa. Growing up on the beach she has always had a love
for the ocean through surfing and wakeboarding. After matriculating, Cassidy flew straight over to
the yachts and has been in the industry ever since. Since early 2015 she has cruised the Mediterranean,
USA, Seychelles, and the Bahamas. In her spare time, she loves spending time outdoors
in group sports, horse riding, nature hikes, and enjoying the local cuisines and cultures. She never
misses a Wordle and loves a good crossword puzzle. When she is home, she enjoys working on her
1971 Chevrolet L/S Edition. Cassidy is also a qualified Yoga Instructor, she holds her 200Hr YTT, she
is also the Medical Officer onboard M/Y TOP FIVE II.
PAIGE SLOCUM | Second Stewardess | United States
Paige grew up on a lake in small town Indiana, USA. Since the day she was born, she's been boating
and enjoying all the winter and summer activities that the lake has to offer. After graduating
high school, she knew she wanted to get out of the Midwest and experience life to the fullest. With
a background in hospitality, yachting seemed like the perfect career for her to expand on her skills
and see the world! When she's off the clock, Paige enjoys reading, fitness, scuba diving, and just
about any new experience that will get your heart racing! From bungee jumping in the Swiss alps to
biking through the mountains of northern Vietnam, she won't say no to a new adventure. One day,
Paige hopes to follow in her sisters footsteps and become a Chief Stewardess
ROELENE VAN ASWEGAN | Third Stewardess | South Africa
Roelene was born in a small town in South Africa, called Hartswater. She grew up on a farm close to
a river. Roelene was raised in an Afrikaans speaking home but has mastered the English language
and now speaks both languages fluently. Roelene is an avid traveller and enjoys exploring and discovering
new places as often as she can. Roelene enjoys creating elegant and creative table scapes.
She studied botany and loves putting together flower arrangements and taking care of all the plants
on the boat.
CHARLOTTE WIGHTMAN | Junior Stewardess | America
Charlotte was born in La Jolla California, but grew up in Arizona. She spent her summers sailing with
her family and found great interest in being on the water. Charlotte's first few years in the industry
were spent as a Deckhand, cruising between the Mediterranean and the Caribbean. Now she has
the esteemed pleasure of being a stewardess on board Top Five II. Charlotte loves exercising in her
spare time and has recently completed her personal training certifications. Fun fact, her older sister
Kahle worked as the sous chef onboard Top Five II in the past.
JAMIE VAN SCHOOR | Junior Stewardess/Masseause | South Africa
Jamie grew up in the beautiful Cape Town, South Africa with a passion for fitness and human
anatomy. Jamie went to study Sports science at Stellenbosch University where she graduated with
her degree and completed her sport massage courses. Jamie has a history of working in the fitness
and hospitality industry and decided to pursue a career in yachting as it appealed to all her passions
and skills. This yacht is a starting point in Jamie's career where she is excited to grow and progress
in this industry. She is excited to join as a stew/ masseuse and treat people to make them feel better.
She has a passion for the water and loves all water sports like surfing and water polo.
BRANDON POLLITE | Sous Chef | America
Brandon grew up in St Louis, Missouri and after High School he attended the Military. He has lived
in various states across the country and ended up going to culinary school in Colorado. It was here,
working on the Ski slopes, that he was introduced to the yachting industry. He decided to jump at
the opportunity and has loved every minute. Brandon likes spending his free time reading various
cookbooks, as well as bike riding and relaxing at the beach. Thanks to his time in Colorado, he is
also an avid skier.
LUCCA BARONI | Stew / Masseuse | America
Lucca grew up in South Louisiana where she was always doing water sports like wakeboarding and
water skiing. Shortly after finishing her schooling for massage therapy she quickly knew she wanted
to live on a coast where she could continue to live the lifestyle she always wanted and meet new
people. She also found during school her calling for helping people heal through the process of
massage therapy and truly loves helping people to find comfort. Lucca also worked in private country
clubs and enjoyed the service industry. Being able to purse her passions all at once, she made
the choice to join the yachting industry. She hopes this decision will result in making a long term
career and working her way up to chief stew.
MICHAEL BOUWER | Deckhand | South Africa
Mike was born in the tropical coastline of Durban, South Africa. He grew up in the ocean enjoying
some of the best surf spots SA has to offer. Whilst at high school he played many sports mainly excelling
in rugby and soccer. Upon completing the degree, he began his career as a property broker
for around three years. Since then, he has been searching for the next road to travel in life and his
love of the ocean, coupled with his energetic lifestyle has brought him to the yachting world. Mike
brings a positive attitude, discipline, dedication, and life experience which will assist in any team
environment. Mike has extensive surfing and wakeboarding skills which will assist any beginner who
is wanting to learn. If you are more land based, he has an extensive personal training background
ready to cater to any of your desired training regimes. Mike is our Kiteboard instructor onboard.
Additional Information
Amassing an impressive length of 200'2" (61m), the Royal Hakvoort yacht offers an array of standout amenities, an ice-class reinforced hull, and immense ceiling heights throughout. Five well-appointed guest suites and a dedicated owner's deck provide plush accommodations for 12 onboard guests. TOP FIVE II's voluminous interior was designed by Sinot Yacht and Architectural Design. Interior elements emulate warm and rich emotions by utilizing oak, walnut, and leather complemented with Italian marble and rich fabrics. Higher ceiling heights allow for larger windows, flooding the interior with natural light. The Royal Hakvoort living spaces were designed with entertaining in mind. Formal dining areas are featured throughout the yacht. The galley is an open, socially-oriented space, that is also properly adapted for the onboard chef. A glass elevator reaches all decks onboard, transporting guests to any of the 5 decks. The dedicated owner's deck features a private dining area and a foredeck jacuzzi for privacy and relaxation. The large king bed is surrounded by 180-degree floor-to-ceiling windows allowing sunlight to illuminate the suite. Additional guest rooms offer convertible spaces to fit any combination of families, friends, or corporate charters. Each stateroom features large windows, providing a stunning view from every angle. One stateroom is wheelchair accessible. TOP FIVE II is also equipped with Starlink Maritime.
Destinations
Inquire about TOP FIVE II